! >
Broadway To Vegas
  SHOW REVIEWS     CELEBRITY INTERVIEWS     GOSSIP     NEWS 
| | |
| --- | --- |
| | |
Copyright: June 7, 1999
By: Laura Deni
CLICK HERE FOR COMMENT SECTION

PARTY HARDY AWARD WINNERS
To all the winners who took home a Tony last Sunday night we offer sincere congratulations. Fosse won the Best Musical Award while Parade was honored by bestowing upon Jason Robert Brown, who made his Broadway debut as a composer, his first Tony. Alfred Uhry, who wrote the book for Parade, also brought home a Tony.

Matthew Bourne's inventive choreography and directing the all male Swan Lake earned him two Tony awards. Dame Judi Dench, who already has an Oscar on her mantle, added a Tony for her starring role in Amy's View. The Special and Lifetime Achievement Awards to Arthur Miller and Uta Hagan were well deserved.

The Tony Awards culminate a month of theatrical awards, including the Tony Ball, which follows the Tony Awards. One guest told me he really "loves the Tony Ball because you get a sack of unbelievable goodies on your way out." In the past the booty has included; hair dryers and shampoos, CDs and books, colognes - "It's a good haul. They get good stuff because they know it's either celebrities or the well healed. It's an up-scale market interested in theater and the arts."
BRIAN DENNEHY explaining how he'll feel on Tony Awards night. "I'm going to be s---faced." Photo By: Laura Deni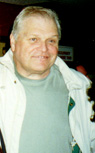 The closest race was between Kevin Spacey who stars as Hickey in Eugene O'Neill's The Iceman Cometh, and Brian Dennehy who holds down the formidable lead as Willie Loman in Arthur Miller's Death of a Salesman.

Dennehy told me he's happy going to work each night. "That's one thing that is really great about being 60. You decide what is it you really want." When I asked him what it is he wanted he replied, "Doing exactly what I'm doing. I want is to be up on that stage doing that part in that play."

Both are powerful revivals. Both men deliver. For the entire award season Spacey and Dennehy, who know and respect each other, have been pitted again one another.



KEVIN SPACEY "ALL OF THIS AWARD RIVALRY IS A BUNCH OF CRAP," declared Spacey. Photo By: Laura Deni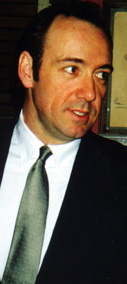 When the Drama Desk voted Brian Dennehy Best Actor, it was Spacey who presented the award. That flip flopped when the Outer Critics Circle gave the Best Actor award to Spacey. It was Dennehy who presented the prize.

On Sunday night it was Brian Dennehy who stepped up to claim the Tony. His co-star Elizabeth Franz also took home the prize as Best Featured Actress and Death of a Salesman was named Best Revival.

In accepting their awards Dennehy and cast paid tribute to Kevin Spacey.

Kevin Spacey made his Broadway debut in 1982 as Oswald opposite Liv Ullman in Ibsen's Ghosts. In his knock performance in The Iceman Cometh Spacey delivers a 20 minute monologue.



TONY DANZA, APPLAUDING THE WINNERS.
Photo By: Laura Deni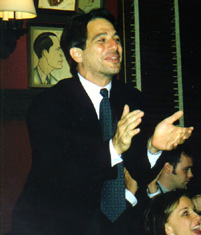 Tony Danza, currently appearing in The Iceman Cometh isn't new to the theater. Ages ago he drove actors to and from the Papermill Playhouse and got a small part in 1776. He co-starred with George C. Scott off-Broadway in Wrong Turn At Lungfish, was part of the dozen in 12 Angry Men and took over the lead in A View From The Bridge. Not bad for the Brooklyn born Anthony Iadanza who worked part time as a dish washer at a catering firm.

He became a household name on television and won over skeptics when he developed a song and dance cabaret act.The affable performer brings his nightclub show back to Las Vegas, opening September 3 at the Desert Inn.



BERNADETTE PETERS: A TOAST TO HER TONY WIN.
Photo By: Laura Deni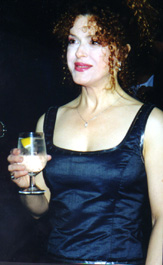 The gorgeous and talented star has been collecting awards for her starring role of Annie Oakley in the revival of Annie Get Your Gun, including adding a new Tony to her collection.

Born Bernadette Lazzara in Ozone Park, N.Y., by age five she was a regular on TV's Horn & Hardart Children's Hour. Six months later she won $800 on Name That Tune. Peters, who took her stagesurname from her father's bread route, made her stage debut at the age of 13 playing Dainty June in Gypsy. While still a teen, she understudied on Broadway in The Girl in the Freudian Slip followed by Johnny No-Trump and the musical George M! with Joel Grey.

However, it was an off-Broadway production of Dames at Sea that catapulted her to the status of being one of the musical theater's bright young lights. She won her first Tony Award in 1985 for her starring role in Song and Dance.

She's also been a Las Vegas crowd pleaser. She's spent over 20 years starring in Las Vegas impressing the crowds with her versatility as a singer, dancer and comedian.

At one of the theater parties I couldn't help but notice that Bernadette's skin is flawless. That milk and honey complexion is why Bernadette was hired for a major commercial - 35 years ago. Bernadette appeared in a TV spot for Pond's Seven Day Beauty cream. That classic commercial had her announcing that she was going to marry "Marvin." In real life Bernadette married stockbroker Michael Whittenberg under a tree at her friend Mary Tyler Moore's upstate New York house. He's Jewish, and she's Italian, so of course they had Irish-Scottish music.



GEORGE AND SONIA SEGAL
Photo By: Laura Deni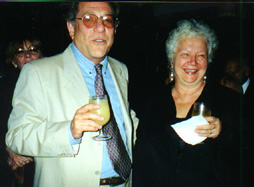 George Segal, currently starring in Art brought his wife, Sonia to the Outer Critics Circle party. The happy couple is a living romance novel. They first fell in love while high school sweethearts at the Quaker School in Bucks County, Pa. They were forced to separate when they went to different colleges. They didn't reunite until 45 years later, after devoted husband George was mourning the death of his second wife, Linda. Suddenly, he started thinking about Sonia and tracked her down. In a heartbeat they both realized they loved each other as much as they had as teenagers.

Sonia Segal is now enjoying watching her husband star on Broadway. As for 65-year-old George, he's busier than he's ever been. In addition to starring on Broadway, he's got a hit television series Just Shoot Me. The avid banjo player, told me that he's still a member of the Beverly Hills Unlisted Jazz Band but hasn't been able to make any of the performances because - "I don't have any time. I'm just too busy."



MARTIN SHORT: A TONY AND A TV SHOW.
Photo By: Laura Deni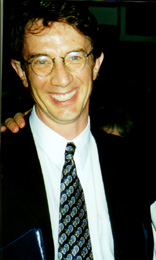 Martin Short is all smiles over his Tony win for Little Me. He's also grinning ear to ear over his new television talk show. Jumping into the hotly competitive talk show arena has the versatile performer all psyched up."I'm really happy about the talk show," he told me.

The Canadian born comedian attended McMaster University as a pre-med major and then switched to social work. He was persuaded to go to Toronto to act by a McMaster University classmate, comedian Eugene Levy. In 1982 Short participated in his first audition and got a role in Godspell. Among the cast were Gilda Radner, Paul Schaefer, Andrea Martin, Victor Garber. Nancy Dolman, an understudy, became his wife.

Short is a performer who has enjoyed his theatre awards this season, but he's kept the kudos in perspective. While growing up and developing the first of his brash, inventive characters, tragedy struck his family. In 1962, his brother whom Martin idolized, was killed in a car crash. Six years later, his mother succumbed to cancer, and within two years, his father had died of a stroke.

"My mother died when I was 18, my father when I was 20; so I've known for along time that the real issue is not whether the audience likes you, but how's your health. It gives you perspective that life is fleeting and we're here to have some fun."

His performance in the revival of Little Me required the rubber faced comedian to play a plethora of parts, more than Sid Caesars undertook in the original version. Short's chameleon quality - of being able to go from slapstick to sincerely in a nanosecond - could give him an edge on television. If a guest doesn't show, Martin can always play all parts.



KRISTIN CHENOWETH. TONY CALIBER BROADWAY DEBUT.
Photo By: Laura Deni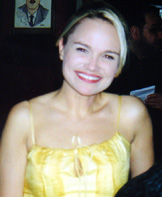 Kristin Chenoweth is a petite lady with a little girl voice, a disarming four octave operatic singing voice and a Tony Award, for her breakout performance as the tart-tongue Sally in You're A Good Man, Charlie Brown.

The Oklahoma native with a Masters Degree in Opera Performance came to New York to continue a career in opera, but came down with the theatre bug instead. Her mega watt success on Broadway is the stuff that keeps wannabes inspired. This is not only Kristin's Broadway debut, but in a role written especially for her.

You have better odds at winning a lottery.



ANN REINKING: HER LABOR OF LOVE BROUGHT FOSSE TO THE STAGE.
Photo By: Laura Deni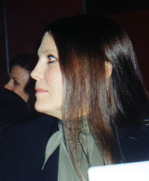 Beautiful, talented and gracious, Ann Reinking joined forces with Bob Fosse's widow, Gwen Verdon to make Fosse a musical tribute to the man they both loved. Fosse has captured both the Outer Critics Circle and The Drama League Award as Best Musical.

Passionate about dancing Ann told me that she simply makes the time for her training programs that help talented dancers.



KATHLEEN CHALFANT: CANCER SURVIVORS INSPIRE HER.
Photo By: Laura Deni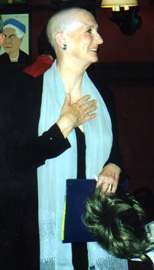 Kathleen Chalfant has walked away with virtually every award possible for her magnificent portrayal of a woman dying of ovarian cancer in the off Broadway production of Wit.

Kathleen shaves her head for the part and is shown in the photo carrying the wig that she wears during part of the play. Kathleen told me that what has affected her and means the most are when cancer survivors see the play and then tell her that her portrayal is accurate and meaningful.


SWOOSIE KURTZ AND HER MOTHER MARGO KURTZ.
Photos By: Laura Deni

| | |
| --- | --- |
| | |
Swoosie Kurtz, who was named after her father's airplane, gave an award winning performance, playing a dual role in The Mineola Twins.

A Tony presented, she's been having a great time making the theater party rounds with her mother, author of the nonfiction work My Rival In The Sky about her marriage to Swoosie's father, Col. Frank Kurtz, a one time Olympic diver and one of America's most decorated Air Force pilots.

After the Tony Award party Swoosie began packing. She moves back to Los Angeles where she's set to star in a new half hour television series.





Broadway To Vegas is supported through advertising and donations. Priority consideration is given to interview suggestions, news, press releases, etc from paid supporters. However, no paid supporters control, alter, edit, or in any way manipulate the content of this site. Your donation is appreciated. We accept PAYPAL. Thank you for your interest.


LIGHTS, CAMERA, ACTION


The second annual Las Vegas International Film Festival opened last Thursday and runs through June 11 at the Orleans hotel. The showcase will include 41 new films - 35 features and six shorts, selected from a field of 350.

Oscar winner Kim Hunter, who played Stella to Marlon Brando's Stanley Kowalski in this adaptation of Tennessee Williams' stage classic A Streetcar Named Desire, introduced the screening of director Elia Kazan's original cut, with restored explicit sexual scenes censored for the movie's 1951 release.

Angie Dickinson introduced Brian DePalma's 1980 chiller Dressed To Kill, about a psycho killer stalking two women. Dickinson will also present Hunter with the festival's Acting Achievement Award.

Producer/director Roger Corman received the Career Achievement Award for Filmmaking, in recognition of his work mentoring the careers of Martin Scorsese, Francis Ford Coppola, Jonathan Demme, and Peter Bodgdanovich.

Corman introduced three new features from his Concorde-New Horizons production company: Eruption, a political thriller; The White Pony, a children's fable and The Ghostly Rental, billed as a literary chiller. That stars Michael York, a festival Acting Achievement Award winner, who introduced Merchant of Venus, a romantic comedy in which he stars.



THE DEATH OF PAPA by Horton Foote features Hallie Foote, Dana Ivey, Andrew McCarthy and Jean Stapleton. Directed by Michael Wilson. Through June 27 at the Hartford Stage in Hartford, CT.

THE JOB winner of the L.A. Drama Critics Award for Best New Play, written by Shem Bitterman, at the WPA Theatre, NYC.

SWEET CHARITY by Neil Simon with music by Cy Coleman and Dorothy Fields June 10-27 Theatre Charlotte, N.C.

MISS SAIGON the Tony Award winning musical which tells the story of the love and self-sacrifice between a young Vietnamese girl and a U.S. soldier at the time of the fall of Saigon in 1975. Opens tomorrow at the Ordway Music theatre, St. Paul, Minn. Performances through July 3.

IF LOVE WERE ALL starring Twiggy and Harry Groener at the Lucille Lortel Theater, is a marvelous bit of tap dancing fluff, reminiscent of the 20s. If you've had your quota of soul searching, meaningful, angst filled productions and just want to relax and have a good time - If Love Were All - the Noel Coward-Gertrude Lawrence Musical - is a stress relieving, tuneful good time.

THE ATLANTA OPERA presents The Capulates & The Montagues, June 10-13 Fox Theatre, Atlanta.


WHO'S WHERE

DAVID CAMPBELL & ANDREA MARCOVICCI together in concert for the first time, Alcazar Theater, San Francisco June 11-12.

LAURENCE LUCKINBILL keeps busy. He was featured in last Sunday night's television movie Dash and Lilly and recently starred in his one man show Clarence Darrow Tonight -see Broadway To Vegas columns of March 1 and 8, 1999- is on Broadway as part of Cabaret.

RAY ROMANO does a solo gig at Carnegie Hall Wednesday as part of the 10 day Toyota Comedy Festival. Master storyteller Alan King, founder and co-producer of the festival, does shows Friday and Saturday at Westbury. Sharing the bill is Mal Z. Lawrence. King is one of a handful of artists that Las Vegas casino officials will admit actually did draw high rollers. He was part of the Vegas days when top billed performers became party to the action. One night when King was performing at the Golden Nugget he sauntered into the lounge and watched from the back as the maitre'd seated the audience that King would soon perform before. When the maitre'd became busy and the captains were scurrying to seat people, the phone rang. I was standing next to King when he reached over, answered the phone: "Showroom" - and copied down reservation requests - asking such things as "How many are in your party?" The caller never knew it was King who took their order.

LISA ASHER a MAC and Bistro Award winning singer will make her national TV singing debut on the Rosie O'Donnell Show Friday, June 11. Rosie's musical director, John McDaniel attended Lisa's last cabaret show and encouraged Rosie to book Lisa. She'll sing Mary Chapin Carpenter's I Feel Lucky. Also on the show Mike Myers, whose new Austin Powers' movie The Spy Who Shagged Me opens that day; and TV actress Clea Lewis, currently appearing Off Broadway in the play Things You Shouldn't Say Past Midnight.

GARY WOLF younger brother of Scott Wolf, star of TV's Party of Five and Broadway's Side Man has his own starring role - in the Ensemble Studio Theater's annual marathon of one-act plays. Wolf opened last Thursday in War. We caught big brother's Scott's debut in Side Man which will be reviewed in next week's Broadway To Vegas column.

THE MCGUIRE SISTERS kick off the Flamingo Hilton's Las Vegas popular Summer Concert Series Saturday, June 12.



The McGuire Sisters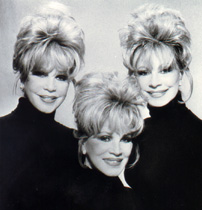 The McGuire Sisters - Christine, Dorothy and Phyllis - first got their start as hymn singers in their mother's church in Middletown, Ohio.

The silky voiced singers have performed for the Queen of England, five U.S. presidents.

At the peak of their popularity, in 1968, the three decided to each go their separate way. In 1985 fans persuaded them to reunite.

They are not only performing on stage, they're releasing a compact later this year called The McGuire Sisters Anthology.


THIS AND THAT

TONY RANDALL invites you to a party in his New York apartment for a $5,000 annual donation to the National Actors Theatre. Just one of the many perks membership offers. If $5,000 is too much for your budget, consider a $500 donation. That will put you on the invite list to a Members cocktail party hosted by Randall.

THINGS YOU SHOULDN'T SAY PAST MIDNIGHT the sexy "a comedy in three beds" at the Promenade Theater NYC is offering discounted $25 tickets to anyone who shows up wearing pajamas, a negligee or silk underwear.

MATTHEW BRODERICK currently starring in Night Must Fall likes the audience. Unlike a lot of performers who bow and run - Matthew frequently comes out into the lobby to meet and greet the showgoers. We recently revisited Night Must Fall and a complete review will be in next week's Broadway To Vegas column.

BUDDY HACKETT the 75 year old rubber faced stand-up comedian/storyteller, who first played Las Vegas almost 40 years ago, is starting a new career - he's co-starring in a new Fox series Action. Buddy will play a chauffeur/bodyguard. Career moves haven't always been on the ascendant for Buddy. There was a time when Vegas bookings dropped off. "Without Vegas I was forced to sell a couple of cars and some paintings to support myself. It got to the point where I had to go back to being an upholster. I did a couple of chairs for Blake Edwards, the movie producer. He told me he liked the work, but instead of paying me for the chairs, he would give me a part in his next movie. I told him I'd rather be paid for the two chairs. He eventually paid the bill."

TOM WOPAT who plays opposite Bernadette Peters in Annie Get Your Gun and opened the Tony Awards show with the number There's No Business Like Show Business says he's considering doing a big band album. The label that put out the show's cast album has made the offer. Tom, who's been in three previous Broadway shows - a revival of Carousel in Washington and an off-Broadway show Olympus on My Mind, which is based on a Greek legend and Tom played the god Jupiter - became a household name starring as Luke in Dukes of Hazzard. He told me that he's a keep it simple, no frills kind of guy. "From the time I rolled out of bed until I was in the truck with a coffee mug in my hand - was seven minutes," he recalled about his Dukes days. "All you had to do was get to the studio. They did everything for you; hair, make-up, costumes. On Broadway you have to do a little more for yourself." So, how long does it take him to get ready for Annie Get Your Gun. "Longer than Dukes. Instead of seven minutes, I have to allow fourteen."

SPARKLE, SPARKLE The glitter on the Tony Awards telecast wasn't all from the talent. Some of that flash and gleam came from the gems the stars wore. Performing as living mannequins were: Julie Andrews in diamond cluster earrings worth half a million dollars; and Parade star Carolee Carmello laden in baubles worth $600,000. When the exit music played security guards took the ice back to the jewelry store. Not everything was on loan - when the Tony nominations were announced Champagne Taittinger presented each nominee with a $2,000 gift basket.


FINAL OVATION

MEL TORME` The Velvet Fog passed away Saturday in Los Angeles. Torme, 73, recovered from a stroke he suffered on August 8, 1996 which caused slurred speech, and left side weakness. He then developed pneumonia and a partially collapsed lung. Nominated for 10 Grammy awards he received Grammys for Best Jazz Vocalist in 1982 and 1983. He composed The Christmas Song in just 35 minutes in 1946. The song, one of 300 that Torme composed, has been recorded more than 500 times. A favorite of generations, at the age of 70, shortly before his stroke, he received a standing ovation and eight curtain calls from 55,000 Seattle rock-and-roll fans while he was sharing the bill with the Ramones and Mudhoney. He was a regular on Night Court and sang the Top 10 List on Late Show with David Letterman. He began performing in Las Vegas in the 1960s. One of his last projects, the making of a Mountain Dew television commercial, was done in Las Vegas. Considered a singer's singer, he credited his distinctive vocal style to a piece of tonsil that grew back. Divorced three times, he is survived by his widow, Ali, five children and his sister, Las Vegas resident, Clark County Commissioner Myrna Williams.



Mention BROADWAY TO VEGAS for Special Consideration
Call (800) 942-9027



Next Column: June 14, 1999
Copyright: June 7, 1999. All Rights Reserved. Reviews, Interviews, Commentary, Photographs or Graphics from any Broadway To Vegas (TM) columns may not be published, broadcast, rewritten, utilized as leads, or used in any manner without permission, compensation and/or credit.
Link to Main Page
---
Laura Deni




For the snail mail address, please E-mail your request.
CLICK HERE FOR COMMENT SECTION