! >
Broadway To Vegas
  
 SHOW REVIEWS CELEBRITY INTERVIEWS GOSSIP NEWS

| | |
| --- | --- |
| | |
RUDE BRITANNIA: BRITISH COMIC ART - - FRED ASTAIRE'S WIDOW SUES ASTAIRE AWARDS - - CULTURE PROJECT'S BLUEPRINT FOR ACCOUNTABILITY - - EQUUS STARS ALEC BALDWIN - - MAME CD REVIEW - - A MUSICAL ABOUT POPE JOHN PAUL II OPENS - - WIN A PHANTOM OF THE OPERA POSTER - - AMERICA HONORS PAUL McCARTNEY - - DONATE . . . Scroll Down


'JUNE IS BUSTING OUT ALL OVER' - WITH MUSIC FESTIVALS
Steve Martin and the Steep Canyon Rangers performing in Seattle.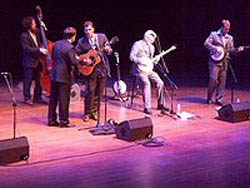 Bonnaroo - Adelaide - CMA - Lilith Fair are just four of the music festivals which get the beat pounding this month.

The Bonnaroo Music and Arts Festival takes place June 10-13 in Manchester, Tenn. Now in its ninth year, the godfather of American rock festivals will feature headlining sets from Stevie Wonder, the Dave Matthews Band, Jay-Z and King of Leon.

The typically diverse roster also includes Tenacious d, Weezer, The Death Westherm Damian Marley & Nas, Phoeniz, Norah Jones, Michael Frati & Spearhead, John Fogerty, Regina Spektor, Jimmy Cliff, LCD Soundsystem, The Avett Brothers, Thievery Corporation, Rise Against, Tori Amos, The Natonal, Les Claypoll, John Prine, The Black Keys, Steve Martin whose last album, The Crow/New Songs For The Five-String Banjo, won a Grammy for Best Bluegrass in January of this year will be joined by The Steep Canyon Rangers, rock legends Jeff Beck, mainstream country Zac Brown Band and indie-rock buzz bands The National, as well as Conan O'Brien.

A lot of buzz about the Oklahoma psychedelic alternative rock band Flaming Lips performing Pink Floyd's Dark Side of the Moon album - in its entirety - featuring Stardeath and White Dwarfs.

The 10th Adelaide Cabaret Festival in Australia will take place from June 11 - 26, 2010 at the Adelaide Festival Centre, under the direction of the new artistic director, David Campbell. Since its inception in 2001 it has become the place where people from around the world join over 45,000 South Australian's in kicking up their heels.

Just ask Shoshana Bean whose Facebook petition - Bring Shoshana Bean to Adelaide when she comes to Australia - worked. Bean who has appeared on Broadway in Wicked and Hairspray, and starred in Jerry Mitchell's Peepshow in Las Vegas, will play the Festival June 25 and 26 in a show she describes as "some good ol' dirty blues and soul."



Natalie Cole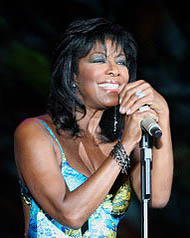 The Adelaide Festival touts unforgettable nights of music, satire, comedy, storytelling and an opportunity to dance the night away.

To make it all happen the Adelaide Festival Centre complex is transformed into 10 different cabaret venues plus bars, cafes, restaurants, clubs and comfy nooks to chat and enjoy a drink. The venues have tables and chairs and the audience may take drinks with them into the performances.

The 2010 program features some 400 artists from across Australia and around the world including 41 artists from the United States of America, United Kingdom, Italy, Japan and France. There will be 12 international shows, 12 Adelaide premieres, including 9 Australian premieres and 7 world premieres - coming together to create over 200 performances across the 16 nights of the Festival.

Headlining this year's Cabaret Festival and appearing in her only Australian performances will be nine-time-Grammy award winner Natalie Cole, performing on June 12-13. Cole will sing some of the great lyrics and melodies of the American songwriters, accompanied by the Adelaide Art Orchestra. Stephen Schwartz will be bringing Broadway to Adelaide in An Evening with Stephen Schwartz & Friends. Leading ladies Liz Callaway, Caroline O'Connor and Donna McKechnie will each perform their one woman shows.



Donna McKechnie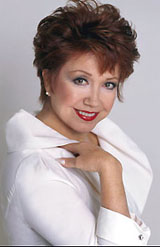 Mark Nadler will be performing Broadway Hootenanny in the Piano Bar. Making his Adelaide Cabaret Festival debut will be John Waters, with a night of French Cabaret that highlights the songs of French Chanson singer-songwriter, Jacques Brel.

Another Adelaide first timer is Italian artist Ennio Marchetto. Hugh Sheridan performs Newley Discovered. Tenor David Hobson will be premiering Am I Really Here. Giving cabaret a laid back charm, David Harris can be seen in Til the Night is Gone and Mitchell Butel will bring the smooth sounds of jazz and blues with Killing Time. Alex Rathgeber sings through the iconic songbook of Cole Porter. Unusualist Raymond Crowe transports the audience to a wonderful world of shadow puppetry while Robyn Archer crosses the border with German Cabaret Berlin Between The Wars. Darley, Day and Tin Can Alley promise to lift your spirits with A Night with the Flying Horses.

Vaudeville fantasy will be led by iOTA in Smoke & Mirrors. Australian cabaret star Kim Smith brings European cabaret fresh from New York in Morphium, while school is in with Frisky & Mannish from the UK who are in a class all of their own with their Adelaide premiere of School of Pop. French group Nouvelle Vague will be performing in the Late Night Banquet Room.

Six string songstress Lanie Lane will sing the golden era of music of the 30s, 40s and 50s and Marika Aubrey has a repertoire of songs from some of the world's most iconic flaming dames in Redhead. Queenie Van De Zandt will present her no-holds-barred self expose in a brand new show and Joy Yates will perform the extraordinary story of Billie Holiday in Lady Day at Emerson's Bar & Grill.



Trevor Ashley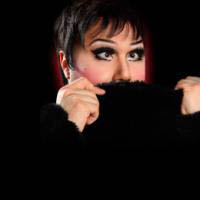 Well known cabaret starlet Meow Meow will be bringing her feline performance art back to the Festival with Feline Intimate. Direct from a sell-out season at the Melbourne International Comedy Festival comes the princess of plucking and preening Marney McQueen, who will be stripping her audiences bare (figuratively speaking) with Rosa Waxes Lyrical.

While on the subject of pruning, Trevor Ashley will perform Liza (on an E), with his cheeky channeling of one of cabaret's superstars, dishing the dirt and singing the songs in true diva style and Sarah-Louise Young transforms between three comic creations in the Australian premiere of Cabaret Whore. The transformation continues with Italian performer Ennio Marchetto, the one-man-living-cartoon, who uses paper costumes to morph into well-known artists within split seconds.

The father/daughter duo Dick & Christa Hughes come together in 21st Century Blues. The Divine Cabaret is written and performed by Geraldine Quinn, Mark Jones and Karlis Zaid. The Sydney Theatre Company's Wharf Review is shameless satire and political parody in Pennies from Kevin. Mic Conway's National Junk Band is also set to play. Broadway songwriters Pasek & Paul are on stage as is Earl Okin, Diesel and Tim Rogers. Damien Leith stages a traditional Irish session in An Irish Journey.



Brad Paisley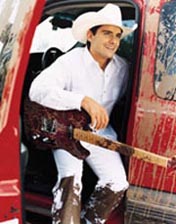 The CMA Music Festival, formerly known as Fan Fair has been one of Music City's biggest tourist draws since 1972. This year, it takes place June 10-13 and will serve as Nashville's unofficial grand reopening following the May floods. The Judds will reunite to kick off the event, which offers up-close-and-personal access to entertainers. It also will feature performances by top talent such as Lady Antebellum, Keith Urban, Brad Paisley and Carrie Underwood.

The Greased Lightning Fan Fair Hall is where fans have a chance to meet their favorite artists.

"The fan and artist interactions are the heart of the CMA Music Festival experience," said CMA Board Chairman Steve Moore. "We have a terrific list of artists eager to spend one-on-one time with their fans."



The Judds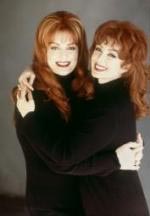 The Judds will make an exclusive appearance in the CMA Booth, marking the first time the popular mother/daughter duo has signed autographs at the event since the 1990s when the event was held at the Tennessee State Fairgrounds. Other artists signing in the CMA Booth include Laura Bell Bundy, Danny Gokey, Randy Houser, Craig Morgan, Kellie Pickler, Darius Rucker, Josh Thompson, and Chuck Wicks.

Some of the other stars confirmed to sign throughout the Greased Lightning Fan Fair Hall include Jason Aldean, Lynn Anderson, Katie Armiger, David Ball, Frankie Ballard, The Band Perry, Bo Bice, Big Kenny, Bomshel, Ash Bowers, Luke Bryan, Burns & Poe, Carter's Chord, Tommy Cash, Cherryholmes, Mark Chesnutt, Terri Clark, Cowboy Troy, Diamond Rio, Whitney Duncan, Emerson Drive, Fast Ryde, Colt Ford, Larry Gatlin, Gloriana, Josh Gracin, The Grascals, Jack Greene, Adam Gregory, George Hamilton IV, Wade Hayes, Ty Herndon, Mallary Hope, Julianne Hough and Joey + Rory.

Also ready for writer's cramp are Lady Antebellum, Blaine Larsen, Jesse Lee, LoCash Cowboys, Lonestar, Love & Theft, Patty Loveless, Irlene Mandrell, Jo Dee Messina, Randy Montana,

Trace Adkins set to perform at the CMA. Yesterday, June 5, he was awarded the DAR Medal of Honor from the National Society of the Daughters of the American Revolution in Nashville presented in recognition of his patriotism and humanitarian works. The DAR is a nonprofit, nonpolitical volunteer women's service organization dedicated to promoting patriotism, preserving American history and securing America's future through better education for children.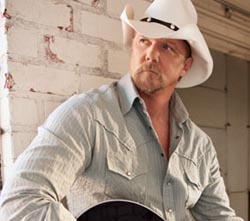 Jimmy C. Newman, Joe Nichols, Jerrod Niemann, O'Shea, James Otto, Jake Owen, Danielle Peck, Melissa Peterman, Richard Petty, Point of Grace, John Rich, Julie Roberts, The Roys, Sawyer Brown, Brady Seals, Kevin Sharp, Blake Shelton and Ricky Skaggs.

TGhere will also be Mel Tillis and his daughter Pam Tillis, Trent Tomlinson, Trailer Choir, Two Foot Fred, Uncle Kracker, Bryan White, The Whites, Mark Wills, Darryl Worley, Billy Yates.

Several stars and their fan clubs opt to present their own booths, which often reflect the artists' personal style including: Trace Adkins, Razzy Bailey, Brooks & Dunn, Bucky Covington, Billy Gilman, Con Hunley, Alan Jackson, Buddy Jewell, The Kentucky Headhunters, Mindy McCready, Dolly Parton, Marty Raybon, Riders In The Sky, LuLu Roman, Ashton Shepherd, Doug Stone, Gretchen Wilson and Chris Young.



Sarah McLachlan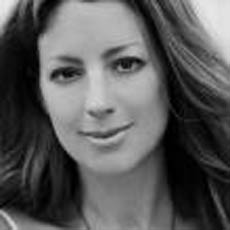 Lilith Fair 2010 appears in various cities June 27-August 16. From 1997 through 1999, Lilith Fair was one of the highest grossing touring festivals in the world, with over 1.5 million fans in attendance and raising over $10 million dollars for national and local charities.

Founded by Grammy-award winning artist Sarah McLachlan along with Dan Fraser, Marty Diamond and Terry McBride, Lilith Fair was the only tour of its kind - a celebration of women in music

Last year McBride announced that the all-female festival would make its return in Summer 2010.

Sarah McLachlan is in the rotating lineup, along with Kelly Clarkson, Miranda Lambert, Colbie Cailfat, Carly Simon, Emmylou Harris, Go Go's, Gossip. Jill Scott, Sheryl Crow, Rihanna, Mary J. Blige, Metric, Miranda Lambert, Norah Jones, Sara Bareilles, Court Yard Hounds, Cat Power, Jenni Rivera, Indigo Girls, Erykah Badu and many more.



Broadway To Vegas is supported through advertising and donations. Priority consideration is given to interview suggestions, news, press releases, etc from paid supporters. However, no paid supporters control, alter, edit, or in any way manipulate the content of this site. Your donation is appreciated. We accept PAYPAL. Thank you for your interest.


ART AND ABOUT


RUDE BRITANNIA: BRITISH COMIC ART

Margaret Harrison Banana Woman 1971 Tate Museum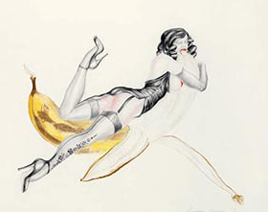 at the Tate Britain London art gallery is a special exhibition that analyzes how artists have used humor in various mediums.

Gasp, cringe, or have a sly chuckle: Rude Britannia will certainly cause a reaction. See politicians brought down to size and the great and the good exposed; blush at the saucy postcards and laugh out loud at the slapstick fun - but watch out for that banana skin!

Put together with some the country's best-known cartoonists and comedy writers, this exhibition explores British comic art from the 1600s to the present day. Bringing together a wide array of paintings, sculptures, film and photography, as well as graphic art and comic books, the exhibition celebrates a rich history of cartooning and visual jokes.

Rude Britannia: British Comic Art will also open-up debate on the part of humor in British culture.

A special section devoted to rude humor such as saucy seaside postcards by Donald McGill and works by Sarah Lucas and Aubrey Beardsley. Also on show will be Edward Lear's eccentrically absurd pictures and Hogarth's satires of Georgian society. The ever-popular works by Gerald Scarfe, poking fun at the Government, will also be showcased.

The room on the Absurd is curated by comedian Harry Hill, and includes such diverse materials as Alice in Wonderland illustrations, David Shrigley's sculpture, and films by Edwina Ashton and Oliver Michaels . Within the Bawdy, Donald McGill's smutty seaside postcards can be seen with works by artists as different as Aubrey Beardsley, Sarah Lucas, and Grayson Perry. The rooms exploring Politics, Social Satire and Cruikshank's Victorian masterpiece The Worship of Bacchus, have been put together with Gerald Scarfe, Steve Bell, and the cartoonists from Viz. These show the power of comic art as a form of social and political commentary throughout history, from satires of Georgian society by Rowlandson and Gillray to Spitting Image's damning Thatcher puppet.

Attendees are advised to bring their sense of humor. June 9, 2010 - September 5, 2010 at the Tate Britain.



THE MUSIC GOES ROUND AND ROUND


MAME with music and lyrics by Jerry Herman, who won a Grammy Award for this cast album.

From the Golden Era of Broadway musicals, the original Broadway cast starred Angela Lansbury, who is currently nominated for her 6th Tony Award. She won her first Tony Award for her title character role in this production. Her co-star was Beatrice Arthur who took home the Tony Award, for Best Featured Actress in a Musical, for her role as Vera Charles. The other talented cast members are: Frankie Michaels who also received a Tony Award for Best Featured Actor in a Musical, Charlotte Jones, Johanna Douglas, Randy Kirby, Sab Shimono, Charles Braswell, Jane Connell, Williard Waterman, Jerry Lanning, George Coe, Margaret Hall, John C. Becher, Diana Walker, Diane Coupe.

This CD also features five bonus tracks featuring Jerry Herman at the piano and singer Alice Borden. Herman, who has never claimed to be a singer, gives what only Jerry Herman can deliver - the composer playing and singing his own hit songs; St. Bridget, It's Today, Camouflage which was cut from the show, Open A New Window and Mame.

Musical director and vocal arranger Donald Pippin. Orchestrations by Philip J. Lang. From the vibrant overture to the finale, Mame doesn't contain a weak song or arrangement.

Based on Patrick Dennis' 1955 novel Auntie Mame and the hit play and film it inspired, Herman's musical version was the final blockbuster of the 1965-66 Broadway season, making a star of veteran character actress Angela Lansbury and introducing one of Herman's most popular scores.

There is the unforgettable and effervescent title song, the haunting show stopping, If He Walked Into My Life, which had become a chart topping Eydie Gorme hit by the time Mame opened on Broadway, and a song that has turned into an annual favorite, We Need a Little Christmas.

There is also Jane Connell who, as pregnant Agnes Gooch, explains how that happened in Gooch's Song. While on stage she was a scene stealer, hearing it via CD is still delightful. The words speak for themselves. Listening to Open a New Window is a better prescription than any antidepressant medication. Putting the proper edge on the clever and bitchy Bosom Buddies are Angela Lansbury and Bea Arthur.

The only down side to the recording that neither the original 78 LP nor this re-issue give even a remote reference to any of the musicians. All stellar, especially the brass section which is prominent on several numbers.

Mame opened on May 24, 1966 at the Winter Garden Theatre. Three years later, it transferred to The Broadway Theatre, where it remained until closing. Between the two venues, it ran a total of 1,508 performances.

The show received eight Tony nominations, winning three. The original cast album was recorded May 29, 1966, in Columbia 30th Street Studio, New York, NY. The producer was Goddard Lieberson. Original Engineer Fred Plaut. Reissue Producer Thomas Z. Shepherd. Reissue Engineer Darcy M. Proper.

This new CD released by Masterworks Broadway has an eco-friendly package.


FRED ASTAIRE'S WIDOW SUES ASTAIRE AWARDS


Fred Astaire's widow, Robyn Astaire filed a lawsuit in Manhattan Federal Court, which claims his daughter, Phyllis Ava Astaire McKenzie, is using the famous dancer's name without permission to promote The Fred and Adele Astaire Awards, - the gala slated for June 7 in the Gerald W. Lynch Theater at John Jay College in New York City.

Robyn Astaire also sued the Career Transition For Dancers and producers Patricia Watt and Yaron Glucksman, according to the Courthouse News Service who filed the report on May 28, 2010.

Robyn Astaire wanted her late husband's name removed from the event, which this year intended to raise funds for Career Transitions for Dancers, a not-for-profit organization that enables dancers to define their career possibilities and develop the skills necessary to excel in a variety of disciplines. That group immediately removed itself from the proceedings after learning of the lawsuit.

The New York Times reported on May 31 that Astaire's widow "stopped approving the use of her late husband's name several years ago." Astaire's widow had previously granted the awards show the right to the Astaire name, but revoked her approval in 2006 due to a change in the "nature and character" of the event, according to the Times.

The complaint sought an injunction for the impending awards ceremony and also filed for damages of $275,000 or more. On Tuesday, June 1, the court considered the temporary restraining order request, which wasn't granted since Career Transition for Dancers had already withdrawn itself from the event.

Tony Award winner Ben Vereen is set to host the gala. Emmy Award-winning High School Musical director and choreographer Kenny Ortega will be presented with the Douglas Watt Lifetime Achievement Award.

Lee Roy Reams will direct the evening that will feature performances by singer Robin Cofer, Evidence Dance Company and a tribute to both Ortega and Reams. Reams will perform with dancers who once performed with Fred Astaire.

The Astaire Awards, established 26 years ago by the Anglo-American Contemporary Dance Foundation, recognize outstanding achievement in dance on Broadway each season.


SUMMER MUSIC THEATRE FESTIVAL 2010 TO KICK OFF JUNE 10
Shoshana Bean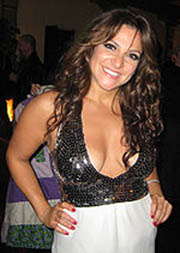 Broadway star appearances and performances by award-winning guest artists will mark the 2010 Summer Music Theatre Festival at the Theatre and Interpretation Center at Northwestern University. A musical tribute to Tony Award-winning composer Stephen Schwartz also is planned as well as a revised version of You're A Good Man Charlie Brown.

Performers will include vocalists Capathia Jenkins and Shoshana Bean, Tony-nominated composer and lyricist Craig Carnelia, Grammy Award-nominated composer and lyricist Andrew Lippa, and Grammy Award-winning Nashville singer and songwriter Lan Whte.

For the second year, the festival will kick off June 10 with a Summer Preview featuring sneak peaks of songs from 2010 summer festival productions. The event will be hosted by American Music Theatre Project (AMTP) Executive Director Dominic Missimi and theatre department Chair Rives Collins. The free event will include appearances by festival casts and creative teams.



Capathia Jenkins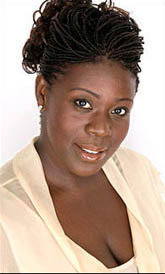 Summer productions include (June 25 to 27) Capathia Jenkins and Louis Rosen in Concert: The Ache of Possibility, and (July 1 to Aug. 8) You're a Good Man, Charlie Brown, a family friendly musical based on Charles M. Schultz's classic comic strip Peanuts.

Also in July, Broadway writers Neil Bartram and Brian Hill will team up with award-winning director and Northwestern theatre faculty member Amanda Dehnert and one of Broadway's top designers, Eugene Lee, to create the new musical Not Wanted on the Voyage, a modern re-imagining of the Great Flood. Bill as an epic production, complete with rain, fire, magic and an eclectic score. The production is presented by the American Music Theatre Project at Northwestern University July 15-August 8.

The annual Johnny Mercer Songwriters Project takes place in August. Featuring celebrated and emerging songwriters and singers, this weeklong endeavor will conclude with two events that are open to the public - a (Aug. 6) Songwriters Showcase featuring original tunes written by this year's young composers and lyricists and (Aug. 7) A Celebration of Stephen Schwartz, a star-studded evening honoring Tony Award-winning composer Stephen Schwartz for his mentorship of young songwriters in the tradition of Johnny Mercer. This one-night-only event featuring the music of Stephen Schwartz will include performances by Bean, Carnelia, Lippa, White and Schwartz himself.






SPREADING THE WORD


FORD'S THEATRE SOCIETY PRESENTS ANNUAL GALA SUNDAY, JUNE 6, 2010

Kelly Clarkson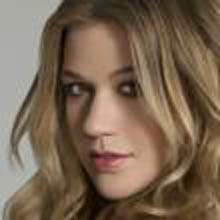 The evening's performance, titled America Celebrates July 4th at Ford's Theatre, will be taped for broadcast on the ABC Television Network to air July 2, 2010.

Modern Family cast member Ty Burrell hosts a star-studded program with appearances by Kelly Clarkson, Renée Fleming, George Lopez, Lionel Richie, Robin Roberts, Dick Van Dyke, Laura Michelle Kelly and Gavin Lee from the Broadway Company of Mary Poppins, The Soldiers' Chorus of the United States Army Field Band, and cast members from the Ford's Theatre production of Little Shop of Horrors. President Barack Obama and First Lady Michelle Obama have been invited to attend.

The invitation-only evening will include the presentation of the Ford's Theatre Lincoln Medal to South African human rights activists Archbishop Emeritus Desmond Tutu and Justice Albie Sachs, whose accomplishments exemplify the character and lasting legacy of President Abraham Lincoln.

First Lady Michelle Obama serves as the honorary chair of the gala celebration. Honorary co-chairs are Mrs. Landra Reid of Nevada, The Honorable Elaine L. Chao, Mrs. Deborah I. Dingell, Mrs. Abigail P. Blunt, Dr. Sharon Malone and Mrs. Catherine B. Reynolds.

Gil Cates is the executive producer of America Celebrates July 4th at Ford's Theatre. Dennis Doty is producer and Paul Miller directs. Michael Seligman is associate producer. Talent Producer is Danette Herman. Bill Conti is Musical Director. The Director of Ford's Theatre Society is Paul R. Tetreault.

Since its reopening in 1968, more than a hundred years after the April 14, 1865, assassination of President Abraham Lincoln, Ford's Theatre has been one of the most visited sites in the nation's capital. Ford's Theatre has enthralled visitors because of its unique place in United States history, and its mission to celebrate the legacy of Abraham Lincoln and explore the American experience through theatre and education.

CULTURE PROJECT'S BLUEPRINT FOR ACCOUNTABILITY Academy Award winning producer Fisher Stevens will screen archival footage and bring to life compelling dramatic scenes, which will be performed by the actors is a unique and provocative blend of theater, film, journalism and debate featuring James Spader, Emmy Award Winner, Boston Legal; Liev Schreiber, Tony Award Winner, Glengarry Glen Ross; Julianna Margulies, Golden Globe Winner, The Good Wife; Mariska Hargitay, Golden Globe Winner, Law & Order: SVU; Matt Dillon, Oscar Nominee, Crash; Sister Dianna Ortiz, Founder, Torture Abolition & Survivors Support Coalition International.

Rule of Law: Torture. Democracy. Privatization. Habeas Corpus, Igniting an unprecedented sense of hope and possibility, the election of Barack Obama served to position American resolve and commitment as never before. Spurred by the one-year anniversary of the President's pronouncement to close Guantanamo, and the fates of nearly 200 detainees still hanging in the balance, Culture Project presents the second installment of its groundbreaking Blueprint for Accountability series to engage the public in constructing a "blueprint" for a more just and democratic future.

Assembling some of the most important and influential voices of our time to help us understand the unprecedented events, policies and circumventions of the past administration, the Blueprint for Accountability series fuses theater, film, debate, and discussion to call attention to these crimes, urging policy makers, elected officials, and world citizens to craft a decisive moral response, capable of restoring both America's dignity and standing throughout the international community.

In addition, there will be a panel discussion with former CIA Officer Valerie Plame Wilson, retired Iraq commander Lt. General Ricardo Sanchez, author and environmentalist Robert F. Kennedy, Jr., best-selling author and investigative journalist Jeremy Scahill, Pulitzer Prize-winning journalist Ron Suskind, Executive Director of the Center for Constitutional Rights Vince Warren, Poet and Human Rights Activist Rose Styron and Dr. Allen Keller, Director, Bellevue/NYU Program for Survivors of Torture.

June 7 at the Skirball Center for Performing Arts at NYU.

QUINN SOSNA-SPEAR is an 18-year old playwriting prodigy who is having her third play produced. In All Honesty officially opened last night and is on the boards of the Rubicon Theatre through June 13.

In All Honesty is the second of five plays written by Quinn Sosna-Spear, a senior at Dos Pueblos High School in Santa Barbara, CA. The teen-ager has had two previous productions presented at Rubicon as part of the company's Young Playwrights' Festival, the first directed by Gioia Marchese and the second by Brian McDonald. Since then she has won the California Young Playwright's Award, and will have her latest play work-shopped at The Old Globe in San Diego this spring. Sosna-Spear begins USC in the fall as a Screenwriting major.

In All Honesty, helmed by Devin Scott, is billed as "a touching, offbeat comedy that reminds us anything is possible. Richard is a British office worker living a sensible, uneventful existence. He is forced to take the tube while his car is in the shop. After missing the first train, he is accosted by Eileen, a strangely charming young woman sitting on a bench. Although he's none- too-certain getting friendly with her is a good idea, they meet each day, and eventually Eileen changes the way Richard thinks about strangers, breakfast, birthdays, manatees, luck and life. This witty story of two idiosyncratic souls is filled with heartwarming insights and lots of laughs."

The cast includes Dan Gunther, Carla Tassara, Nancy Nufer and Robert Lesser.

THE OLD GLOBE

Presiding over the Open House will be Marion Ross appearing as Queen Elizabeth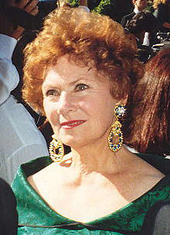 will host an Open House event that begins the Globe's year-long 75th Anniversary celebration. The free event will take place on Sunday, June 13 and feature performances, backstage tours, costume displays, sword fighting demonstrations, bagpipes and Elizabethan dances. Presiding over the Open House will be Queen Elizabeth – played by Old Globe Associate Artist Marion Ross.

Shakespeare was first produced at the Globe in 1935 as part of the California Pacific International Exposition and has been central to the Globe's mission since that time. During the two years of the Exposition, the Globe presented abbreviated versions of Shakespeare's plays performed in repertory. One of the fair's most popular events was Dancing on the Green where the Shakespeare troupe would perform Elizabethan-era dances on the lawn in front of the theater. With a nod to its past, the Globe will once again present short scenes from Shakespeare's plays and Elizabethan dancing at the Open House event.

To celebrate the 75th Anniversary of Shakespeare in Balboa Park, Adrian Noble, the acclaimed director and former head of the Royal Shakespeare Company, is serving as the Artistic Director of the 2010 Shakespeare Festival. Noble will direct King Lear (June 12 – Sept. 23) and The Madness of George III (June 19 – Sept. 24). Presented in repertory, the Festival will also include The Taming of the Shrew (June 16 – Sept. 26) directed by Ron Daniels.

The Old Globe is located in San Diego's Balboa Park in San Diego, CA.






SWEET CHARITY


THE IRISH REPERTORY THEATRE ANNUAL BENEFIT GALA a rare concert performance of Brigadoon by Alan Jay Lerner and Frederick Loewe. Starring: Len Cariou, Jason Danieley, Christine Ebersole, Melissa Errico, Ciaran Sheehan and Don Stephenson plus a full orchestra and chorus of 50! Irish Rep artistic director Charlotte Moore will direct.

Brigadoon tells the story of a mysterious Scottish village that appears through the mist for one day every hundred years.

When two cynical and jaded New Yorkers stumble across the "Bridge O'Doon," entering the village on the very day of its once-a-century appearance, they are seduced by its charm and astonished by its story. A love story strong enough to re-arrange time and space ensues when one of the strangers has to choose between returning to the life he left behind and a life with his love in Brigadoon.

One of the most lush and beautiful scores ever on a Broadway stage - including Almost Like Being in Love; Waitin' For My Dearie; Come To Me, Bend To Me and Brigadoon, - will be performed.

Brigadoon at the Shubert Theatre, followed at dinner at Sardi's with the cast. Monday, June 14, 2010.






SIR PAUL McCARTNEY

Sir Paul McCartney receives The Gershwin Prize from President Obama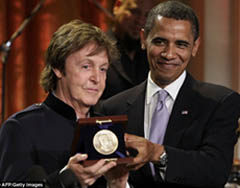 winner of The Library of Congress Gershwin Prize for Popular Song, an award given to a composer or performer for their lifetime contributions to popular music. Created in 2007 by the Library of Congress, the prize is named for brothers George and Ira Gershwin.

McCartney was presented with the award last Wednesday in the East Room of the White House, with an all-star line-up performing some of the former Beatle's greatest hits.

Stevie Wonder had the Obamas clapping to We Can Work It Out, the Jonas Brothers did Baby You Can Drive My Car. British star Corinne Bailey Rae slowed things down with Blackbird. and Elvis Costello crooned Penny Lane.

Others performers included Emmylou Harris, White Stripes singer and guitarist Jack White and Foo Fighters frontman Dave Grohl. Comedian Jerry Seinfeld served as Master of Ceremonies.

Playing the same bass from when the Beatles performed on TV's Ed Sullivan Show in the 1960s, it was the honoree who stole the show by singing - partly in French - the love ballad Michelle, to First Lady Michelle Obama who seemed to enjoy every note. She began mouthing the words along with McCartney while the president was swaying in his seat.

McCartney told the crowd that despite all of the awards he has received in his career, performing before the Obamas in the East Room was a thrill.

"For an English kid growing up in Liverpool, the White House - that's pretty special," he said.

Previous recipients of The Gershwin Prize, America's highest award for popular music, are Paul Simon (2007) and Stevie Wonder (2009).

The music for the event was taped for a PBS special, which will air on PBS July 28.


OTHER PEOPLE'S MONEY


LAWYERS FOR ABBA actually the mouthpieces for Universal Music in Sweden, have dispatched legal notices to more than 15 Abba tribute acts telling them to stop using the name "Abba," citing an infringement of the band's intellectual property rights. The acts have all been ordered to change their names immediately.

Abba does not license out their name, with tribute acts paying to use it - a practice employed by some iconic names.

TENNIS PLAYER RAFAEL NADAL has been playing tennis at the French Open wearing a watch. We're not sure how often a tennis player looks at his watch while trying to hit the ball. This isn't your typical timepiece. Rather, an RM 027 Tourbillon, which sounds like it should be a fancy-schmancy sports car - especially since it costs about same - $535,000 - before sales tax. A Porsche Carrera GT is only $484,000.

Nadal is under contract with Richard Mille, a prestigious Swiss watch brand that is young, expensive and exclusive. Only 50 of them are being made and we're guessing they'll fly off the shelf.

Brazilian Formula 1 driver Felipe Massa also wears a similar model in every Grand Prix, which may mean that there are only 48 for purchase.

The watch is called "a technical wonder". It weighs 20 grams, the case is made of carbon-based composite material. The tiny parts in its delicate mechanism are made of titanium, magnesium, zirconium and copper. No figure given on how much it costs to replace the battery.






PHANTOM OF THE OPERA HEADS TO HIGH SCHOOLS AND COLLEGES


See below on how to enter our contest to win a wonderful Phantom of the Opera poster courtesy of R&H Theatricals.

Andrew Lloyd Webber's The Phantom of the Opera will soon be haunting high schools and colleges around the country. For the first time ever, high school and college students in the US and Canada will have the chance to be a part of Broadway's longest running musical. R&H Theatricals, a division of The Rodgers & Hammerstein Organization (RHO), will be accepting license requests immediately for performances beginning on September 1st, 2010.

"Andrew's passion for bringing young people into the musical theater is so deeply felt that he has authorized us to release Phantom to schools even while it continues to thrive on Broadway and all over the globe," notes Ted Chapin president of R&H Theatricals, an Imagem Company and a division of The Rodgers & Hammerstein Organization (RHO). "We always believed that school performances of Phantom would bring out the best in each and every student, and the pilot productions we saw across America more than confirmed that belief."

Anticipating the release of Phantom to schools, R&H Theatricals created a pilot project working closely with RUG (Lloyd Webber's Really Useful Group). In the 2007-8 academic year, Phantom was presented - in full productions and in its entirety - by two colleges and four high schools: Baldwin-Wallace College, Berea, Ohio; Elon University, Elon, North Carolina; Carroll Senior High School, Westlake, Texas; Nyack High School, Nyack, New York; Fairfield Senior High School, Fairfield, Ohio; and Capital High School, Charleston, West Virginia.

"Phantom was "a once-in-a-lifetime experience," said Stacie Martinsen of Carroll Senior High School. "It helped our department's recognition level go through the roof, and the number of kids who wanted to be involved in theater after Phantom nearly doubled."Phantom was "more profitable and [received] far more media attention than any other show we've produced," said Mindy Reed of Fairfield Senior High School. "It helped gain respect from the community for our theatre program." It was a "wonderful opportunity" for Baldwin-Wallace College, said administrator Scott Plane. "There was a great deal of 'buzz' about this piece that generated a kind of energy we don't usually experience, which helped our program grow. I'd recommend Phantom to any school that wishes to push themselves; it's ultimately extremely rewarding."

The Phantom of the Opera features music by Andrew Lloyd Webber, lyrics by Charles Hart, additional lyrics by Richard Stilgoe, and a book by Richard Stilgoe and Andrew Lloyd Webber. Based on the classic novel Le Fantôme de l'Opéra by Gaston Leroux, The Phantom of the Opera tells the story of a masked figure who lurks beneath the catacombs of the Paris Opera House, exercising a reign of terror over all who inhabit it. He falls madly in love with an innocent young soprano, Christine, and devotes himself to creating a new star by nurturing her extraordinary talents and by employing all of the devious methods at his command. Its sensational score includes Think of Me, Angel of Music, Music of the Night, All I Ask of You, Masquerade and the title song.

The winner of seven 1988 Tony Awards, including Best Musical, The Phantom of the opera has been seen by over 100 million people in 144 cities in 27 countries.

ENTER OUR CONTEST Three lucky winners will each receive one Phantom of the Opera poster courtesy of R&H Theatricals. To enter, E-mail Broadway To Vegas

listing your favorite Phantom song and - in 25 words or less - why that song in your favorite. All entries must be received by 11:55 PM EST June 12, 2010. You must include your name and mailing address. The winners' names and their cities (not addresses) will be posted in the Broadway To Vegas column of June 20, 2010.



EQUUS

Alec Baldwin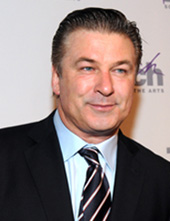 by Peter Shaffer. Directed by Tony Walton. Starring Alec Baldwin and Sam Underwood.

Equus features Alec Baldwin as the over-extended psychiatrist, Martin Dysart, who is faced with the most challenging case of his career, brought to him by magistrate Hesther Salomon (Kathleen McNenny).

A young man, Alan Strang (Sam Underwood), who is obsessed with horses, has committed a horrifying crime with no clear reason as to cause.

The boy doesn't seem a dangerously atypical seventeen year old and yet, throughout their sessions, Dysart is forced to question his own sadly dispassionate life as he searches for the answer - or for a cure - to the boy's lethal psychological chaos.

The show is a limited run from June 8 - July 3 at Guild Hall in East Hampton, NY.

On Friday, June 11, an Opening Night Benefit dinner is scheduled. Cocktails, a light supper and then the performance, followed by a meet and greet plus an invitation to the cast and crew party.

LES MISERABLES will be welcoming Nick Jonas to the cast in what will be his London theatre debut. The 17-year-old Jonas Brothers singer will take over the role of Marius in Britain's longest-running musical at the Queen's Theatre in for a three-week period from June 21.

According to publicity releases Nick was first earmarked for the role when he was just 10 years old after being spotted by producer Cameron Mackintosh playing Gavroche in the production's run on New York's Broadway.

Cameron told the Daily Mail newspaper: "I went up to him at the closing night party in New York and told him he was terrific and hoped that one day he would return to play Marius. We've been in touch a lot and, of course, since then he has become this world-famous star.

NON ABBIATE PAURA (DON'T BE AFRAID)

Pope John Paul II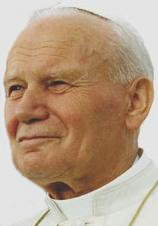 a world premiere musical with a book by Father Giuseppe Spedicato. Music by Father Biagio Mandonno. Directed by Gianluca Ferrato.

A new musical about the life of Pope Paul II.

The production covers the pontiff's early years under Nazi occupation in his native Poland, his struggle against communism and his election to pope in 1978. It will also depict the assassination attempt in 1981, when a Turkish gunman, Mehmet Ali Agca, shot him in the stomach, hand and arm as the pontiff rode in his open-topped Popemobile through St Peter's Square in the Vatican.

Song and dance sequences will depict key events in his life, although not all of the music is original. The actor playing the part of Agca, will sing a famous Italian song from the 1960s called God Is Dead which the director told the press "fits the situation perfectly."

The cast of 21 stars Simone Sibillano as Pope John Paul II. Sibillano has previous been seen in Jesus Christ Superstar, The Phantom of the opera and Robin Hood.

Choreographed by Dancus Flavia Astolli and Caterina Felicioni.
Performances June 11-12 at Rome's Teatro Italia Theatre in Rome, Italy followed by a summer tour before returning to Rome for a month long run in October.

GYPSY on June 5 Gypsy's son, Eric Lee Preminger, presents My G-String Mother in which he hosts an unforgettable evening of hilarious stories and rare films from The Queen of Striptease, plus a special sneak peak of MTWichita's season premiere production of Gypsy, which runs June 9-13 at the Music Theatre of Wichita in Wichita, Kansas.

Gypsy has music by Jule Styne, lyrics by Stephen Sondheim, and a book by Arthur Laurents. Wayne Bryan directs.

One of the truly great musicals, this fact-inspired American saga puts Madame Rose center stage, a fearless and endlessly resourceful stage mother determined to survive the Depression by pushing her daughters into the spotlight. Based on the hilarious and heartbreaking memoirs of stripper Gypsy Rose Lee, the incredible songs include Let Me Entertain You, Small World, You'll Never Get Away from Me, All I Need is the Girl, You Gotta Get a Gimmick and Everything's Coming Up Roses.

The cast includes: Karen L. Robu as Rose - Timothy W. Robu is Herbie - Lisa Rohinsky is Louise - Eloise Kropp is June - Gina Austin is Tessie - Patty Peeder plays Mazeppa/Miss Cratchitt - Cynthia Atchinson is Electra - Addison Baker is Baby Jane - Faith Northcutt is Young Louise.

The Character Men are Richard Campbell, John Boldenow, Michael J. Parker and Jacob Gutierrez.

Johnny Stellard as Tulsa and Daxton Bloomquist, Skyler Adams, Josh Smith, James Tolbert and Christopher Wood.

Toreadorables / Mothers are: Erin Clemons, Kaleigh Cronin, Kimberly Fauré, Sasha Hutchings, Emily Mechler and Natasha Scearse. The Newsboys are: Keaton Fish, Marak Gann, Justin Kim , Gavin Myers and Brennan O'Rourke. The Vaudeville Girls are Morgan Purdy and Lauren Voigt.

Choreography by Amy Baker. Thomas W. Douglas serves as musical director and Jesse Warkentin is the assistant musical director. Sets are from the Pittsburgh CLO. Costumes from American Musical Theatre of San Jose Collection. Lighting by David Neville. Sound Design by David Muehl. The Production Stage Manager is Emily F. McMullen.

ONE DESTINY

Photo of Michael Bunce and Stephen F. Schmidt by Gary Erskine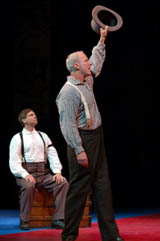 written by Richard Hellesen. Mark Ramont directs Michael Bunce and Stephen F. Schmidt.

In this one-act play, comedic actor Harry Hawk and co-owner of Ford's Theatre Harry Ford grapple with whether they could have changed the course of history. Could John Wilkes Booth have been stopped? Revisit April 14, 1865, and the events surrounding the tragic assassination of Abraham Lincoln through the eyes of the men who were there when history happened.

June 8 to June 19, 2010 at Ford's Theatre in Washington, DC.

The Ford's Theatre Museum features some of the items Booth was carrying during his 12-day run from authorities. Some of the items include; the revolver carried by John Wilkes Booth during his escape; it was with him when he was caught and killed - Photographs found in Booth's pocket at the time of his capture include Lucy Hale who was his fiancé and daughter of Senator John P. Hale, a well-known abolitionist - One of the two Spencer Carbines owned by John Wilkes Booth. Booth was armed with the gun when he was apprehended, though he never fired a shot. Another rifle was found at Mary Surratt's tavern in Maryland - Whistle carried by John Wilkes Booth during his flight through Maryland and Virginia. Signal whistles were used as a means of communication across distances at that time.

TEA AT FIVE a one-woman show by Matthew Lombardo based on Katharine Hepburn's life, starring Stephanie Zimbalist.

This favorite of the Cape Playhouse opens the season. In an afternoon spent in her beloved Fenwick home, filled with laughter and joy, Ms. Hepburn (Stephanie Zimbalist) reflects on a life filled with stories of dizzying heights, adventures in show business, how the Philadelphia Story came to be, romance with Spencer Tracy, and four Oscars.

Today, June 6, a special screening of George Cukor's 1941 Oscar-winning classic romantic comedy The Philadelphia Story, starring Katharine Hepburn, unspools in celebration of the June 7th opening of the 2010 Cape Playhouse Season. The screening is a benefit for Cape Playhouse. Tea At Give runs June 7 – June 19 at Cape Playhouse in Dennis, MA.

JACQUES BREL IS ALIVE AND WELL AND LIVING IN PARIS Production Conception, English Lyrics and Additional Material by Eric Blau and Mort Shuman. Based on Jacques Brel's Lyrics and Commentary. Music by Jacques Brel. Directed by Stafford Arima.

Starring Brent Carver with Jewelle Blackman, Mike Nadajewski and Nathalie Nadon. Laura Burton leads the four-piece band, composed of :Quincy Armorer, Amanda Lisman, Anand Rajaram and Jennifer Paterson.

Officially opens June 11 at the intimate Tom Patterson Theatre. Stratford Shakespeare Festival in Ontario, Canada.

THE RENDEZVOUS

Cherry Boom Boom.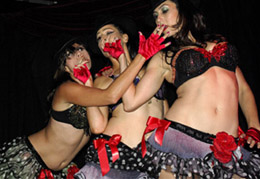 Director/choreographer Lindsley Allen, member of The Actors' Gang and former Pussy Cat Doll, fuses burlesque with Commedia in a new cabaret that stars Cherry Boom Boom.

The leggy ladies of this nouveau cabaret combine burlesque moves, Fosse-style choreography and Commedia dell'Arte to put a shiny new coat of gloss on a classic romp. Not your typical dance revue.

Cherry Boom Boom dancers: Lindsley Allen, Linda Cevallos, Lisa Eaton, Sharon Ferguson, Vanessa Huntoon, Ruthie Inchaustegui, Katie Miller, Kelleia Sheerin, Angela Berliner, Brian Kimmet. Special Guest: Carolina Cerisola. Hosted by Sharon Ferguson.

A portion of all proceeds from performances will be donated to The Actors' Gang, which is dedicated to promoting the arts and their power to change society.

The Rendezvous will take place on the last Thursday of every month through December 30 at King King in Hollywood, CA.

A SHAYNA MAIDEL written by Barbara Lebow. Produced and Directed by Shashin Desai.

In 1946, a Polish immigrant living in New York is reunited with her sister who remained in Poland and lived through the Holocaust. A Shayna Maidel is billed as "a powerful, poignant, and emotionally charged tale of sustenance and hope, and the belief that from a broken and bitter past, a better future may be born."

Starring Liza de Weerd, Larry Eisenberg, Laura Howard, Charles Pasternak, Julia Silverman, Erin Anne Williams.

June 8-July 3 at the International City Theatre in Long Beach, CA.

LOVE, LOSS, AND WHAT I WORE an intimate collection of stories by Nora Ephron and Delia Ephron is based on the best-selling book by Ilene Beckerman, as well as on the recollection of the Ephrons' friends. Directed by Jenny Sullivan.

Like the popular book, Love, Loss, and What I Wore uses clothing and accessories and the memories they trigger to tell funny and often poignant stories that all women can relate to.

The rotating cast production welcomes Lucy DeVito, Conchata Ferrell, Nancy Travis, Justina Machado and Rhea Perlman who begin their performances June 8-July 3 in the Audrey Skirball Kenis Theater at the Geffen Playhouse, Los Angeles.

For those who wonder about the names De Vito and Perlman, Lucy is the daughter of Rhea Perlman and Danny DeVito. They are the first mother-daughter to perform this play. In 2009 they were in the New York production at the West Side Theatre.

THE GRAND MANNER a world premiere of playwright A.R. Gurney's semi-autobiographical look at his own youth and an encounter with stage actress Katharine Cornell. Mark Lamos directs.

The cast features Tony Award nominee Bobby Steggert as Gurney's younger self, with three-time Tony nominee Kate Burton as Cornell. Four-time Tony Award winner Boyd Gaines portrays Cornell's husband, director Guthrie McClintic, and Brenda Wehle is Gert Macy, Cornell's general manager.

In 1948 playwright A.R. Gurney, then a young boarding school student, traveled to New York where he attended a performance of Shakespeare's Antony and Cleopatra, going backstage afterwards to meet the production's star, the great stage actress Katharine Cornell, who was dubbed 'The First Lady of the American Stage' by the legendary critic Alexander Woollcott. According to the production this play is "A mix of remembrance and imagination, The Grand Manner is a love letter to this fabled actress and a heartfelt look back at the glorious heyday of the Broadway theater."

The production has set design by John Arnone, costume design by Ann Hould-Ward, lighting design by Russell H. Champa and original music and sound design by John Gromada.

In previews at the Mitzi E. Newhouse Theater, the production for Lincoln Center Theater, will officially open June 27 running through August 1.





WHO'S WHERE


NEW KIDS ON THE BLOCK open a two nighter on Thursday, June 10, at Casino Rama in Rama, Ontario. On Saturday the show is at Caesars Windsor in Windsor, Ontario, Canada.

JAMIE CULLUM performs Monday, June 6, at the Heineken Music Hall in Amsterdam, Netherlands. On Wednesday he's on stage at the Forest National in Brussels, Belgium. On Thursday he begins a two night stand at the Olympia in Paris, France.

PINK MARTINI in the spotlight Monday, June 6, at The Midland in Kansas City. On Friday they begin a two night romp at the Palmer Events Center in Austin, Texas.

MICHAEL FEINSTEIN on stage Monday, June 7 at the Filton Center for the Arts in Hamilton, OH.

BON JOVI kicks off a five engagement series at the O2 in London with shows Monday, June 7, followed by performances on Tuesday, Thursday, Saturday and next Sunday, June 13.

WEDNESDAY NIGHT AT THE IGUANA hosted by Dana Lorge and Richard Skipper, winner of two 2010 Manhattan Association of Cabarets and Clubs Awards (MAC) for Outstanding Variety Show and Outstanding Hosts. Barry Levitt on keyboard & Saadi Zain on bass. Wednesday's guests include: Glen Charlow, Susan Eichhorn-Young, Earl Levitt, Dora Ruben, Maureen Taylor. June 9th, Iguana VIP Lounge, NYC.

TONY BENNETT crooning Thursday, June 10, at the Township Auditorium in Columbia, SC.

ELTON JOHN on stage Tuesday, June 8, at the Sportarema in Budapest, Hungary. On Thursday the show is at the O2 Arena in Prague, Czech Republic. Saturday finds him at the Piata Constitutiei in Becharest, Romania. Next Sunday, June 13, he can be enjoyed at the Lokomotiv Stadium in Sofia, Bulgaria.

DIANA ROSS singing her hits Wednesday, June 9, at the Nokia Theatre in Los Angeles. On Friday the show is at Humphrey's Concerts by the Bay in San Diego. Saturday's show is at The Mountain Winery in Saratoga, CA.

SHERYL CROW participates in the Riverbend Festival on Friday, June 6, in Chattanooga, TN, On Saturday she's at the Horseshoe in Elizabeth. IN.

HARRY CONNICK, JR performs Friday, June 11, at the Fox Theatre in St. Louis. On Saturday he's in the spotlight at the Pavilion at Riverband in Cincinnati. Next Sunday the show is at the Pavilion in Charlottesville, VA.

YVETTE CASON, VON SMITH, MATT ZARLEY in The Mighty Mississippi featuring the music of Louis Armstrong, Elvis Presley and Prince. Sunday, June 6, at the La Mirada Theatre for the Performing Arts Cabaret Lounge in La Mirada,CA.

KAREN AKERS SINGS PORTER: ANYTHING GOES in which the award-winning American concert and cabaret star will toast the work of Cole Porter. June 8-13 at Pizza on the Park in London.




FINAL OVATION


LARRY FRENCH the musical actor died in his sleep on Friday, May 28, of a massive heart attack. He was 58 years old. He appeared on Broadway in the 1980 revival of Brigadoon and the following year as a replacement actor in the Public Theater's revival of The Pirates of Penzance.

His numerous stage credits included the national tours of The Pirates of Penzance, as well as tours of Evita and The Sound of Music, in which he appeared with his wife Jeanne Lehman French. A member of the 2001 Acting Company of the Stratford Shakespeare Festival in Canada, Mr. French performed there in The Sound of Music, The Merchant of Venice, The Seagull and Master Class. He also made appearances at Augusta Opera, Alaska Light Opera and North Carolina Theatre.

He is survived by his wife, Jeanne Lehman French of New York City, and his mother, Bernice French, of Dallas, Texas.

There will be a memorial service on Monday, June 7, at the Fifth Avenue Presbyterian Church, in New York City. In lieu of flowers, the family requests that donations be made in his name to the Actors Fund of America.

RUE McCLANAHAN an Emmy Award winning actress died in the New York Presbyterian Hospital on June 3, 2010, following a massive stroke she had suffered three days earlier. She was 76 years old.

Born in Healdton, Oklahoma, she began acting on Off-Broadway in New York City in 1957, but did not make her Broadway debut until 1969 when she portrayed Sally Weber in the original production of John Sebastian and Murray Schisgal's musical, Jimmy Shine, with Dustin Hoffman in the title role.

McClanahan's best-known role came when she co-starred with Bea Arthur, Betty White and Estelle Getty in the comedy series The Golden Girls about four aging women.

ALFRED "AL" GUZMAN innovative Las Vegas hotel public relations executive passed away May 29, 2010 in Las Vegas. He was 78.

Guzman is credited with being a major contributor in making Las Vegas what it is today. He began his career at the Desert Inn Hotel. From 1972-1981, he went on to the Sands Hotel assuming the position of director of advertising and public relations, again creating many media events that made national headlines. He opened his own advertising business in 1982. In 1985, Guzman opened and led the Laughlin Regional Office of the Las Vegas Convention and Visitors Authority He retired in 2000.




Next Column: June 13, 2010
Copyright: June 6, 2010. All Rights Reserved. Reviews, Interviews, Commentary, Photographs or Graphics from any Broadway To Vegas (TM) columns may not be published, broadcast, rewritten, utilized as leads, or used in any manner without permission, compensation and/or credit.
Link to Main Page
---
Laura Deni



For the snail mail address, please E-mail your request.
CLICK HERE FOR COMMENT SECTION