! >
Broadway To Vegas
  
 SHOW REVIEWS CELEBRITY INTERVIEWS GOSSIP NEWS

| | |
| --- | --- |
| | |
GLENN MILLER FESTIVAL CELEBRATES 100th BIRTHDAY - - RAVINIA FESTIVAL HAS 100 STARRY NIGHTS - - LIBERACE LAWSUIT BASIS FOR PLAY - - TONY AWARD WINNERS - - MUSEUM RE-CREATES POW CAMP - - JOHNNY MERCER AWARD TO STEVIE WONDER - - RONALD REAGAN PERFORMED IN LAS VEGAS - - GOODSPEED HONORS GERALD SCHOENFELD - - DONATE . . . Scroll Down


GLENN MILLER FESTIVAL CELEBRATES HIS 100th BIRTHDAY - CLARINDA MUSEUM REPLICATES LOCAL POW CAMP
Glenn Miller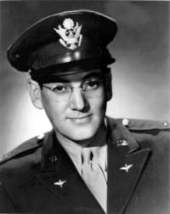 Clarinda is a little Iowa town with a big history. Glenn Miller was born there. The 4H program was founded there. The infamous Orphan Train dropped off the children there. And, Clarinda was home to a World War II POV camp, one of only two in the United States that housed both German and Japan POWs.

This week many of those factors intersect.

Three generations of the Miller family lived in the Clarinda vicinity before Alton Glen Miller was born, in a tiny house on 16th Street in 1904, securing the southwest Iowa town its place in musical history. One hundred years later, Miller - who eventually changed his name to Glenn - remains the town's favorite son and is remembered annually at an event named in his honor.

This year the June 9-13 Glenn Miller Festival will feature a returning group of Japanese entertainers and a German band that is appearing for the first time in Clarinda - two particularly interesting highlights of the 2004 event. During World War II, Clarinda was one of only two Midwestern cities with a POW camp that housed prisoners from both Japan and Germany. The other was Camp McCoy, Wis.

Iowa was one of only two of the then-48 U.S. states to have all three Axis-power POWs on its soil.



Nodaway Valley Museum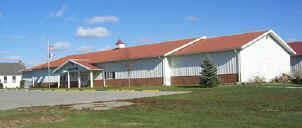 Today the POW camp is remembered in the Nodaway Valley Museum in Clarinda. Broadway To Vegas spoke with the Museum Curator Betty Ankeny about the POW exhibit.

"We built a replica of one of the barricks buildings," explained Ankeny who has been the curator since the museum opened 16 years ago. "A lot of people have donated articles. When they closed the camp they had an auction sale and a lot of people bought things. And, now that their parents are dead, the kids are bringing these things in. We have so many things that we decided to build a replica of the building, to house the artifacts and show what life was like for enemy prisoners."

Beginning in 1944 and continuing beyond the end of World War II, Iowa was the destination for thousands of Germans, some Italians and lesser numbers of Japanese captured by Allied forces.

The Clarinda camp had a capacity for 3,000 prisoners and under the command of Lt. Col. A.T. Lobdell received it's first large group of German prisoners in March of 1944.

"It is important that this is maintained for history," she stressed. "We were the only inland camp to have all three."

POW camps had a significant impact on the economy of the communities and their surrounding areas. 700 men were involved in the camp construction in 1943. They needed housing and to be fed. Even the post offices had to prepare for the onslaught - handling mail for both prisoners and guards.

Administration of the camps and treatment of the prisoners were governed by provisions of the Geneva Convention.



German POWs working in the kitchen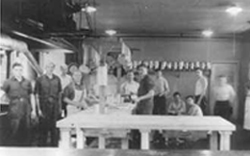 Prisoners rode on trains to Clarina which was termed a "sort of clearinghouse" for POWs. It was their first stop as they made their way to their assigned camp. At Clarinda, they were documented, vaccinated and given a prisoner number. In compliance with the Geneva Convention, a postcard was provided so that prisoners could notify a loved one of their capture.

"We treated our prisoners very well," Ankeny emphasized.

Prisoners worked inside the camps as cooks and bakers, as maintenance men, as cabinet makers, sign painters, and even, one Christmas, as toymakers for the children of their guards.

Prisoners also entertained themselves with theatrical performances, complete with costumes, glee clubs, a soccer team, gardening, lectures and other programs.



German POW Band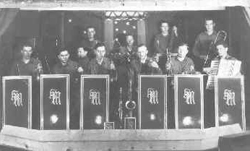 "We're a Germany community. Most of us have a heritage that is German," she explained. "It worked out real well. The prisoners went out and worked on the farms because our farm boys had been drafted. They were paid ten cents an hours - something like that - very minimal."

"There were no problems," she stressed.

The value of the work done by the German prisoners in the four state Iowa area has been estimated at $3,506,000.

"Some of them came back after the war - not to live - but to visit," continued Ankeny. "They came back to visit the people they had worked for, or friends they had made here. They brought their wives and children over. We've had quite a few do that."

Ankeny indicated the POW display has received no backlash.

"Not that I know of," she quickly replied. "One time I took the Japanese band on a tour - the Tamana Band," she said referring to the world-famous Tamana Girls High School Band, from the Tamana High School in Japan. The group is composed of fifty young ladies, between the ages of 16 and 18-years-old, who dazzle and delight with their remarkable and authentic musical styles of Glenn Miller's big band era.



Japanese prisoners being transferred to POW camps in American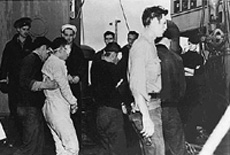 "Every year they bring their high school band over to play in the Glenn Miller Festival," continued Ankeny. "I took them down to where the POW camp used to be. They were just fascinated, but they just couldn't understand quite what it was all about. But, you see, that would be their great grand parents. Not their dad or grandpa."

"I feel bad when I see people on TV talking about the Japanese. They always seem to mention that Japan attacked us, that they started the war. I wonder what the Japanese here think about that. It wasn't their fault. The people that are here now are the children, grand-children, great-grand children. It wasn't there faul."

"A couple of years ago a wonderful history about the camp was written called, Camp Clarinda. We've really been selling the book like crazy at the museum. We are also going to have a program at the Museum this coming Sunday (today, June 6) on the POW camp."

"Dan Eshelman, who wrote the book, is going to give the main part of the program. Some of the people who helped build the display will be on the program."

"We do have a section - quite a good display - on Glenn Miller. It's not a huge one, because a lot of his artifacts are up in his home," she said referring to Miller's birthplace home, located on South 16th Street between the museum and the town square.

The Museum has no paid staff and relies on volunteers to maintain a little museum that is historical significant for all of America - if not the world. From POWs to Glenn Miller, the Orphan Train that brought about 20,000 orphans to Iowa between 1854 and 1929, and the founding of 4H - all taking place in Clarinda. In August an Orphan Train reunion will take place in Clarinda.

"We kind of feel that way," agreed Ankeny about the historical role and added, "we have a very large natural history section - mounted animals - and a big Indian display of Indian artifacts."

"We have no paid enployees - all volunteer. I have anywhere from four to 10 women. I have six here today," she reported last Tuesday.

Love of the community?

"I guess," laughed Ankeny whose own volunteer career at the museum is astounding.

700 dues paying historical society members help fund operating costs.

"Sometimes schools bus children in. We even having a teaching country school. We let the teachers come and teach the kids for a day in the old fashioned country school. 4-H was started in the school that we have on the museum grounds."

The Glenn Miller Festival; the dedication last week of the World War II Memorial; the Clarinda Museum recreation of the POW camp.

"It all ties in together, that's for sure," said Ankeny.



The Swing Dance Orchestra, founded in 1987 by Andrej Hermlin is Germany's most important and successful swing band. They will be making their first appearance at the Glenn Miller Festival.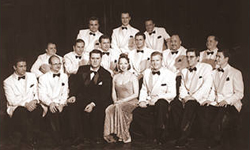 Thousands of Big Band enthusiasts from around the world will descend on Clarinda to enjoy performances by international bands, picnics, tours of Glenn Miller's birthplace, a Big Band Dance and much more. The Glenn Miller Orchestra will also delight audiences at this award-winning festival which is held to to celebrate the music and memory of Alton Glenn Miller, American bandleader, composer and arranger who disappeared while directing the Glenn Miller AAF Band during World War II.

On December 15, 1944, Glenn boarded a single engine C-64 Norseman aircraft to travel to Paris, France where he was to make arrangements for a Christmas broadcast. Tragically, the plane never reached France and was never found. The band, without Miller, performed the scheduled Christmas concert under the direction of Jerry Gray and continued to perform, playing their last concert on November 13, 1945 at the National Press Club dinner for President Truman in Washington, D.C. At that time, General Dwight Eisenhower and General Hap Arnold thanked the band for a job well done.

The Glenn Miller Festival in Clarinda, Iowa June 9 - 13.


100 STARRY YEARS - 100 STARRY NIGHTS
Itzhak Perlman backed by the Chicago Symphony Orchestra with Peter Oundjian conducting on June 27th.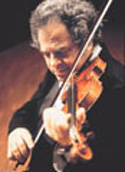 The 2004 Ravinia season which opened June 4, running through September 12, celebrates "100 starry years" with "100 starry nights," making it the longest and most ambitious season in Ravinia history.

North America's oldest music festival opens its milestone season with the American premiere of the first South African opera, Princess Magogo kaDinuzulu. Composer Mzilikazi Khumalo and librettist Themba Msimang based the opera, which originated in Chicago's sister city of Durban in 2002, on the life of the popular Zulu princess, who was herself a singer. Ravinia closes with Ravinia's Carousel of the Animals, a new mix of words and music inspired by Ravinia's earliest days as an amusement park.

Of the 100 nights that make up the season, 10 have been programmed to reflect the past glories of the festival. Each of these special "10x10" concerts will recall an event that defined a particular decade since the park first opened its iconic gates.



Daniel Barenboim conducts the Chicago Symphony Orchestra in the Marriage of Figaro on June 19th.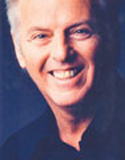 These decade-by-decade events include the return of the New York Philharmonic, the first orchestra to perform at Ravinia in 1905; The Joffrey Ballet paying homage to George Balanchine in honor of his centennial and the festival's long dance history; and Daniel Barenboim leading the Chicago Symphony Orchestra in a concert of Mozart's Le nozze di Figaro to evoke the years when Ravinia was considered the summer opera capital of the world.

Special centennial events include the first live broadcast from Ravinia of National Public Radio's A Prairie Home Companion with Garrison Keillor on the eve of the park's anniversary; a free day of music on Ravinia's actual anniversary date, Aug. 15; and Ravinia's Carousel of the Animals, a closing-night music theater concert that recognizes Ravinia's earliest days as an amusement park.



The Beach Boys on stage June 14th.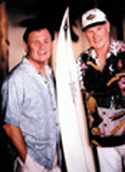 Premieres include the centennial "train commission" by Jennifer Higdon, Kevin Volans's Shiva Dances and four works commissioned for Ravinia's Steans Institute for Young Artists, including Ned Rorem's Yesterday, Today and Tomorrow.

Ravinia's annual jazz festival is one of summer's hottest sounds. Headliner concerts in the Pavilion and intimate Preludes in the Martin Theatre are complimented by Master Classes and Late Shows with young artists.

Three great pianists share the bill this year when Artistic Director of Jazz at Ravinia Ramsey Lewis concludes this year's Jazz in June series with the legendary Dave Brubeck and Marian McPartland.



Mary Chapin Carpenter performs on June 29th.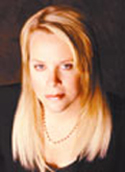 The park's centennial brings the fourth installment in Ravinia's acclaimed Sondheim 75 series, the appropriately titled Sunday in the Park with George, starring Audra McDonald and Michael Cerveris with a special appearance by Patti LuPone. LuPone appeared at Ravinia in two plays with the Acting Company in addition to starring in each of the previous Sondheim concerts.

The "Queen of Soul," Aretha Franklin, returns for two performances after making her sold-out Ravinia debut just last year.

On Monday, July 12, rocker Don Henley will make his Ravinia debut. And, back by popular demand, Blues Traveler will travel to the Pavilion Tuesday, July 27.

This summer at Ravinia - celebrating one hundred years of great music under the stars with 100 spectacular nights of concerts. From June 4 through September 12, you won't want to miss a starry note of it.



STEVIE WONDER has been selected recipient of the Johnny Mercer Award by The National Academy of Popular Music/Songwriters Hall of Fame.

The award will be presented June 10 at the 2004 awards dinner at the Marriott Marquis Hotel in New York City.

The Johnny Mercer Award is annually bestowed upon what the Songwriters Hall of Fame refers to as 'songwriter's songwriter.' Past recipients include Carole King, Billy Joel, Jimmy Webb, Hal David, Burt Bacharach, Jerry Leiber, Mike Stoller and Paul Simon.

Between 1929 and 1976 Mercer penned lyrics to more than 1,000 songs and received nineteen Academy Award nominations.

TONY AWARD WINNERS will be specified after the presentations. Broadway To Vegas congratulates them all. CLICK FOR LIST OF NOMINEES AND WINNERS



Broadway To Vegas is supported through advertising and donations. Priority consideration is given to interview suggestions, news, press releases, etc from paid supporters. However, no paid supporters control, alter, edit, or in any way manipulate the content of this site. Your donation is appreciated. We accept PAYPAL. Thank you for your interest.


SPREADING THE WORD


BEBE NEUWIRTH AND ANN REINKING AT MAKOR TO DISCUSS THEIR NEW SHOW HERE LIES JENNY

Bebe Neuwirth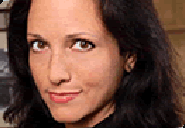 Tony Award-winners Bebe Neuwirth and Ann Reinking come to Makor on Tuesday, June 15 to discuss their new off-Broadway show, Here Lies Jenny, running at the Zipper Theater through July 24. Neuwirth stars as Jenny, a one-time saloon singer drawn to a bar that, like her, has seen better days. The show is choreographed by Reinking and set to the songs of Kurt Weill, with music direction by Leslie Stifelman. Neuwirth's Cheers co-star Roger Rees directs the show.

New York Times culture writer Anita Gates will moderate the discussion. June 15 at the Makor 92nd St Y in Manhattan.


SWEET CHARITY


GOODSPEED GALA which takes place Saturday, June 12, will honor Gerald Schoenfeld with The Goodspeed Award for Outstanding Contribution to Musical Theatre, in recognition of the indelible impact he and The Shubert Organization have made on theatre in the last 30 years.

Previous award recipients include Ira Gershwin, Tommy Tune and Susan Stroman.

Proceeds from the Gala will support Goodspeed Musicals and its mission to preserve and advance the art of musical theatre.

The Chairmen for this event are John Barlow and Scott Rudin.

Goodspeed Musicals produces six musicals each season at the historic Goodspeed Opera House and The Norma Terris Theatre, opened in Chester, Conn., in 1984 for the development of new musicals. In addition to its onstage productions, Goodspeed also maintains The Scherer Library of Musical Theatre.

LILLY TOMLIN stars in a one-night-only benefit in support of Seattle Rep's Education Programs. Thursday, June 10 at the Bagley Wright Theatre in Seattle, Washington. Tomlin will bring many of her most-loved character to life; following the performance Ms. Tomlin will take questions from the audience.

PRINCE CHARLES will attend the Royal Gala Performance of Mamma Mia! which transfered to the Prince of Wales theatre on May 27, from the Prince Edward Theatre, after playing over 2,000 performances. The June 10th gala will officially reopen the newly refurbished 1,100 seat Prince of Wales Theatre in London.



LIBERACE'S SUIT

Liberace at the Las Vegas Hilton June, 1981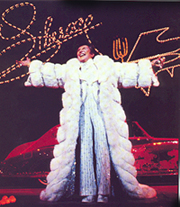 by T.K. Light. Based on the High Court libel case between Liberace and The Daily Mirror during the 1950s. Starring legendary British pianist Bobby Crush. Directed Phil Willmott.

The year was 1956. At the time homosexuality was illegal and a career death sentence.

Upon Liberace'ss arrival in London in September 1956, William Connor, writing under the pseudonym of Cassandra, described Liberace as, "this deadly, winking, sniggering, snuggling, chromium-plated, scent-impregnated, luminous, quivering, giggling, fruit-flavored, mincing, ice-covered heap of mother love".

"I am not a homosexual," he said time and time again. "I am against the practice because it offends convention and it offends society."

Incensed, Liberace sued the paper and won libel damages of 8,000 pounds and an apology.

After his death, a plethora of tabloid confessions and lawsuits from the pianist's former boyfriends made headlines. The The Daily Mirror demanded their payment back from Liberace's estate.



Liberace and Elvis Presley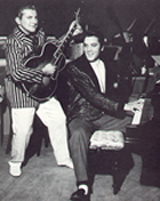 Just weeks before his death he was still playing to huge crowds at New York's giant Radio City Music Hall, setting records that remain unmatched.

His stage shows became more opulent and outrageous and in Las Vegas. Liberace epitomized what he called the "ever better, onward and upward attitude" of Las Vegas.

Each stage performance surpassed previous one for gorgeous - often outrageous - outfits that glittered in cunningly conceived stage sets and skillfully executed lighting.



Liberace flaunting his red, white and blue hot-pants at Caesars Palace in May, 1971. Photo by John Cook.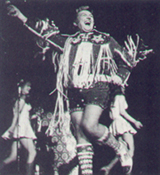 In 1971 he drove on stage in a custom car, wearing red, white and blue hot pants. Two years later, wearing a bejeweled, feathered cloak, he made a spectacular exit flying off the stage on a highwire. Liberace's Suit has designs by Nigel Hook and Lighting by Hans Jorg Schmitt.

Costumes by Julia Morgan who got eye strain after sewing about "80 million sequins" onto the outrageous costumes - the finale outfit is white tails covered in 14 kilos of Swarovski crystal beads.

Both Light and Crush area avid Liberace fans. Author Light even owns a Liberace original - a subdued gold lame and lace creation.



Bobby Crush portrays Liberace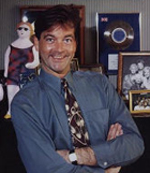 Liberace's Suit has been years in the making. Light was rebuffed when he tried to speak to Liberace's defense witnesses, including the late Bob Monkhouse.

The Las Vegas based Liberace Museum also refused to cooperate.

If the London press is correct, should Light intend for the play to move to other venues, including the United States, script tweaking may be beneficial - as in providing more insight and depth of character.

Liberace's Suit opened at the Jermyn Street Theatre in London on May 25 and plays until June 19.

JOE'S PUB IN THE PARK a series of paid and free concerts featuring Toby Lightman, Jamie Cullum, Bebel Gilberto, Jonatha Brooke, Mos Def, Gavin DeGraw, Joe Jackson, Ute Lemper, Meshell Ndegeocello, Todd Rundgren and Suzanne Vega, among others.

From Aug. 16 through Aug. 27 the concerts can be enjoyed at the Delacorte Theater in Central Park, presented by the Public Theater, in association with MTV and VH1.

The Public Theater will begin its 49th season of free Shakespeare in Central Park with seven weeks of Much Ado About Nothing on June 22.

Written by William Shakespeare and directed by David Esbjornson the witty and sophisticated comedies will feature Kristen Johnston, Brian Murray, Jimmy Smits, Elisabeth Waterston and her father Sam Waterston.

A MIDSUMMER NIGHTS DREAM abridged & directed by Stuart Vaughan with the Actors Studio Drama School of the New University graduating class. Presented by the White Barn Theatre by special arrangement with the Lucille Lortel Theater Foundations. Produced by Vincent Curcio and Artistic Supervisor Donald Saddler. At the Lucille Lortel Theatre in NYC June 11-13.

LORD OF THE DANCE the international phenomenon spawned by the worldwide success of its predecessor, Riverdance, comes to the Music Hall at Fair Park for the first time, for the 2004 Dallas Summer Musicals season. June 8-13.

LITTLE WOMEN an adaptation of Louisa May Alcott's classic novel, this opera premiered in Houston in 1998. Lyric's production will be stage directed by the composer, Mark Adamo. Jun 16 - Jun 24 at the Drury Theatre in Cleveland, Ohio.

COOKIN' AT THE COOKERY The Music and Times of Alberta Hunter. Written and Directed by Marion J. Caffey. Geffen Playhouse at UCLA. June 15 to August 5.

ALMOST, MAINE a world premiere by playwright John Cariani, who made his Broadway acting debut this season in Fiddler on the Roof. His portrayal of Mote - the darling nerve-racked suitor of Tzeitel, Tevye's oldest daughter. won Cariani a best featured actor Outer Critics Circle Award. The Amherst College grad, with a major in history, hasn't forgotten in Maine roots.

Almost, Maine is composed of quirky little love vignettes, set in the potato country of northern Maine, promising an evening of enchantment and revelations. This world premiere is already scheduled to go to New York in March of 2005. It will be staged October 16-Nov. 21 at the Portland Stage Company in Portland, Maine.


| | | |
| --- | --- | --- |
| | | |
WHO'S WHERE


JEWEL will perform an acoustic show, combining her early folk songs with some more recent numbers, on June 12 in downtown Reno. at the City Center Pavilion. The show is presented by Circus Circus Reno, Eldorado Hotel Casino, Harrah's Reno and Silver Legacy Resort Casino.

JAMIE CULLUM performs tonight at the Aladdin Theater in Portland, Oregon. On June 7th he'll be singing his chart topping sounds at the Century Ballroom in Seatlle, WA. On June 8th he's on stage at Richards on Richards in Vancouver, BC.

VAN HALEN performs Friday, June 11 at the Greensboro Coliseum in Greensboro, NC.

MARC ANTHONY on stage Friday, June 11, at the Coliseo de Puerto Rico in San Juan.

THE WHO are across the pond in the UK. On Monday at the National Indoor Arena in Birmingham. Thursday finds them at the Cardiff International Arena in Cardiff and on Saturday they are on stage at the Isle of Wight Festival in the Isle of Wight.

PRINCE in the spotlight Wednesday at the CNV Center in San Antonio, Tecas. On Friday he performs at the American Airlines Center in Dallas and on Saturday the show is at the CenturyTel Center in Bossier City, LA.

DAVID BOWIE stars at the Amsterdam Arena in Amsterdam on Friday, June 11th.

ERIC CLAPTON kicks off a two-month, 29-city tour June 9 in Oklahoma City. The tour is in support of Clapton's blues album Me and Mr. Johnson.

JOHNNY MATHIS "Chances are" you will enjoy an evening under the stars with this favorite romantic crooner. Monday, June 7th at the Filene Center Wolf Trap in Vienna, Virginia.

BIG BAD VOODOO DADDY performs Saturday at the Britt Pavillion in Jacksonville, OR. Next Sunday the guys are at Sundays in the Park in Ukiah, CA.

HARRY CONNICK, JR has a busy week. Today he performs at the Amphitheatre at Regency Park in Cary, NC. On Wednesday he's center stage at Chastain Park Amphitheatre in Atlanta, Ga., where he also returns on Thursday. Friday finds him at the Rupp Arena in Lexington, KY and on Saturday he can be enjoyed Live at the Garden in Memphis, TN.


FINAL OVATION


RONALD REAGAN

Ronald Reagan, (2nd from left) performing at the Last Frontier Hotel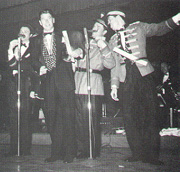 Nancy and Ronald Reagan cruising Lake Mead on the hotel boat
former Las Vegas headliner, movie and television star, died Saturday, June 5th. He was 93.

In early 1954, then film star Ronald Reagan performed at the Last Frontier Hotel on the Last Vegas Strip.

When not cavorting on stage Ronald and Nancy enjoyed taking the hotel boat on a cruise of Lake Mead.

This was the only time the future governor of California and 40th U.S. President starred in Sin City.

On March 30, 1981 an assassination attempt was made on his life. As Reagan was leaving a Washington hotel after addressing labor leaders, John Hinckley fired six shots at him. A bullet lodged an inch from Reagan's heart, but he fully recovered.

That incident is one of the assassination attempts portrayed in the Broadway musical Assassins.

Reagan's body will be flown to Washington to lie in state in the Capitol Rotunda. The funeral is expected to be at the National Cathedral, followed by burial at the Reagan Library in California.
















Next Column: June 13, 2004
Copyright: June 6, 2004. All Rights Reserved. Reviews, Interviews, Commentary, Photographs or Graphics from any Broadway To Vegas (TM) columns may not be published, broadcast, rewritten, utilized as leads, or used in any manner without permission, compensation/credit.
Link to Main Page
---
Laura Deni


CLICK HERE FOR COMMENT SECTION