!>
Broadway To Vegas
  
 SHOW REVIEWS CELEBRITY INTERVIEWS GOSSIP NEWS

| | |
| --- | --- |
| | |
SONGWRITERS HALL OF FAME - - OLD LOG THEATER CELEBRATES 65 YEARS - - THE TONY AWARDS - - CARTER'S WAY - - GALA BENEFIT FOR CARNEGIE HALL - - PRINCE MUSIC THEATER GALA - - EXPLORING SUMMER THEATER - - JOHN FOGERTY ON TOUR - - DONATE . . . Scroll Down


Copyright: June 5, 2005
By: Laura Deni

CLICK HERE FOR COMMENT SECTION
OLD LOG KEEPS ROLLING ALONG


The place should have failed. Instead, it launched the careers of Nick Nolte, Lonnie Anderson, Julie Duffy and Steve Zahn. Playwright Ray Cooney uses it as his secret venue.

The Minnesota based Old Log Theater is located in Greenwood, a one-half of a square mile community on St. Albans Bay of Lake Minnetonka. The curtain rose as a summer stock theater in 1940. Old Log is considered the nation's oldest continuously running professional theater with more than 6 million people having attended its shows. Last night began Old Log's 65th anniversary celebration.

Owner and artistic director Don Stolz spoke with Broadway To Vegas about his uniquely successful venue.

How did you make it work?

"I haven't the faintest idea," he responded. "We've never accepted any grant. Never had any subsidy of any kind. Never had a board of directors. We've never sold any stock, except a ticket to see the play. It's been a remarkable record, really."

They should have failed a long time ago.

"That's right," he agreed.



Adjacent to the lobby and dining room is the auditorium. Our theater offers comfortable and roomy seating for 655 people.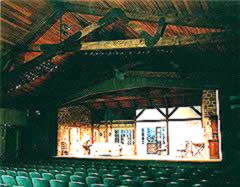 Full course dinners are served prior to performances in the dinning room, overlooking the beautiful grounds and natural wetlands.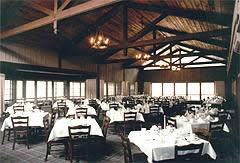 Stolz, 86, joined the theater in 1941. Except for being distracted into the Navy due to World War II, he's been there every since.

"They hired me as an actor director," recalled the native of Hutchinson, Kansas. "I had started as an actor. I came from Oklahoma City University and then I did my Masters work at Northwestern at Evanston. While there I was hired to come to The Old Log as an actor/director.

"At that time The Old Log was just a summer operation. We did 13 plays in 13 weeks. I don't know how we did it. We opened on Wednesday night and started rehearsals Thursday morning for the new play."


During the other 39 weeks Don accepted every acting job that came his way - including puppetry.



Rupert LaBelle on Fish 'n' Chips, with one of the puppet characters. Fish 'n' Chips was a WCCO-TV children's program that aired in the mid-1950s. The show starred long-time Old Log Theater actor Rupert LaBelle. Old Log director Don Stolz did the puppetry. Photo from WCCO-TV.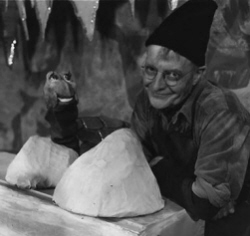 "We did 13 weeks until 1960. In the winter of 1958, working out of a little office in downtown Minneapolis, Rupert LaBelle and I had sold 10,000 tickets, thought we didn't know the name of any one of the plays we were going to do, nor had we signed a contract with any actor."

"I said - Rupert it's time we did something more than this. We should have a year round theater. He said - I think you're crazy."

Crazy like a fox.

"I managed to get a mortgaged loan from a prominent insurance company here in town and we built a new, beautiful theater, which opened in the fall of 1960. It seats 655 people. We have a dining room which seats about 500. You go from the dining room into a regular dinner theater with opera house seats."

While the dinner portion is optional, approximately 50 percent of the patrons opt for both dinner and show.



Ray Cooney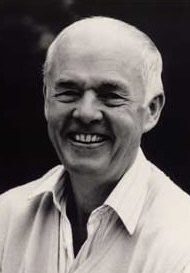 "Fifteen years ago we deviated from 13 plays in 13 weeks to running a play for a whole 13 months. It was Ray Cooney's Run For Your Wife," he recalled. "Ray Cooney came and saw the production - loved it! Ever since there we've done every play that he writes and he sends up the script before they open in London. We do the play first."

You're his test ground.

"Well, yes. No, nobody knows that," he divulged.

Nor do many realize that The Old Log, a for profit theater, has been called the only theater in the US built in the last 150 years without any drive for funds.

Specializing in comedy and farces from Broadway and the West-End. success has been achieved with local actors, including one of Stolz's sons.

"We have two actors who are so good in the Clooney plays Tom Soltz and Steve Shafter - two of the best comedic actors I've ever seen in my life." The father's pride is stood up by critical raves.

"We don't bring in actor's who are known nationwide, because once you do that you're caught, he emphasized.

"We've had people who have became known nationwide - started their careers here - like Nick Nolte, Lonnie Anderson, Julie Duffy, Steve Zahn."



Nick Nolte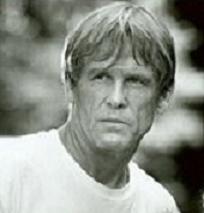 "I'll tell you, Nick Nolte has been given a lot of bad publicity," declared Stolz. "He was marvelous in our company. He loved to rehearse and a lot of actors don't, but he did. He came prepared. He was never late. He was never intoxicated. He was a perfect performer. He worked so diligently on the script. I picked up his script from time to time and he had everything out to the side - note after note after note to himself. He did 25 different plays here."

While The Old Log has been a springboard to fame, many prefer to stay put.

"We had a marvelous actor here - Ken Senn - who was the first actor to ever be 25-years at the same theater. He looked like Zero Mostel and he was a great talent. I remember people said to him - Ken, you ought to go on to New York. He said - No, why should I go? I have a summer cottage and a winter home. I have two cars and a boat and children growing up in a wonderful community And - an audience that is just as important as any audience in the world, so why should I leave?"

"He was right," said Stolz.

"Our philosophy has always been just that. There is no audience more important than the one we have that night."

"Our audience is still primarily Minneapolis and quite a number from St. Paul."

"We're on 10 acres of really park land, between the main Lake and St. Alban's Bay. Yes, I own the land. You could have an expert come out and they'd say - there is no way a theater could succeed there. It's too far from town - too far from this or that. But, it has."

How are the winters?

"Cold," came the snappy reply, followed by a surprise comment. "The winters are our best season. I think the reason the summers aren't more successful is because, after they spend the winter inside, they are eager to get into the open. They don't want to interrupt their lake activities with going to the theater."

The Old Log is also family.

Don and his wife, Joan, whom he met who while attending Midshipmen School at the University of Notre Dame, were married in 1942. They have five sons. "Four of them work here. Tom is an actor who is one of the area's favorite actors. Our oldest son, Peter, is working out in San Francisco. He did work for Lucas and Spielberg and the San Francisco Opera. Donny is box office manager. Timmy writes the program and does publicity and is stage manager. John, the youngest son, is the set designer and technical director."

It's Don who is considered the spine. Accustomed to working as many as 20 hours a day, seven days a week, quadruple bypass surgery at Abbott Northwestern Hospital slowed him down just a bit. He was back at work after two weeks. Now he only works 11 hours a day.

The 65th anniversary festivities got in gear yesterday with WCCO Radio. "That is the CBS Infinity station here and the most important station anywhere around here," said Stolz. Longtime radio personalities Charlie Boone and Roger Erickson did their Saturday morning program remote from the stage of the Old Log.

"Our big celebration is Thursday night," he explained. "Reception, strolling musicians, dinner then going into the theater with a ceremony involving local politicians and dignitaries followed by the play." That's Weekend Comedy, which runs through September 10.

The Greenwood City Council will also honor the Old Log Theater at its June 7 City Council meeting.

"We have a number of concerts," he continued. "On June 13 Russ Peterson's Big band - 16 of the finest musicians you've ever heard - will be playing music of the 40s, which is when the theater started. The week after that, June 20, we are presenting what we call the Minnesota All Stars. In 1940 there were 400 professional musicians who played weekly in downtown Minneapolis. Some of those musicians are still playing and they are excellent," he said naming Cliff Bruzell, Jeanne Arland Peterson, Larry Malmberg, Russ Moore, Irv Williams, Percy Hughes, Jimmy Robb and Mary Davis. "They are all in their 80s and we have one who is 95 and plays guitar and he plays beautifully. That should be fun, too."

Plans for the future?

"To hold on," he answered.

"Like all theaters we are trying to rebuild our audience after 9/11. That was a terrible blow. One third of the theaters in the country have closed. Most of them have not re-opened. Why? Nobody seems to know. People still go to football games and baseball games. But, I think there they can physically react, which relieves whatever stress they have," he reasoned.

Laughter is also a good stress remedy and The Old Log season tends to be sold out. Soltz is proud of The Old Log's track record.

"I think the longevity of it - the fact that it has not been subsidized - is important," he emphasized. "The first subsidized professional theater in this country was around 1960. Subsidizing theater is a relatively new thing. I think one thing we have done is we have always tried to do something to the audience - move them, show them beauty character of people, make them laugh which not the worst thing in the world. We have always put the audience first. That does not mean we have given in to their wishes or desires. The last thing in the world to do is ask them what shows they'd like to see next. That doesn't work. We've never done it and never will. We've felt that you have do to something to an audience - anything but bore them."


SONGWRITERS HALL OF FAME HONORS THEIR OWN
John Fogerty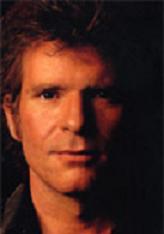 Steve Cropper, John Fogerty, Isaac Hayes and David Porter, Richard and Robert Sherman and Bill Withers will be inducted into the Songwriters Hall of Fame this year, on Thursday, June 9 at the Marriott Marquis Hotel in New York City.

The organization, which is dedicated to recognizing the work and lives of those composers and lyricists who create popular music around the world, returns for its highly anticipated 36th annual induction and awards dinner.

"The Songwriters Hall of Fame Awards is very special because it's a time when premier songwriters come together to honor their own," commented SHOF Chairman and songwriter extraordinaire, Hal David. "We're proud of the growing impact of our event, which is now one of the high points of the year. We are looking forward to another terrific and memorable evening where we spotlight the accomplishments of those who have provided us with the words and music that form the soundtrack of our lives!"



Smokey Robinson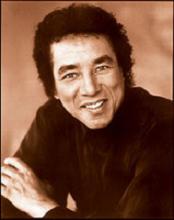 Smokey Robinson will be this year's recipient of the prestigious Johnny Mercer Award exclusively reserved for a songwriter who has already been inducted into the Songwriters Hall of Fame in a prior year, and whose body of work is of such high quality and impact, that it upholds the gold standard set by the legendary Johnny Mercer.

"In a career of more than 40 years, Smokey Robinson has written lyrics that combine an earthy directness with a subtle and playful wit," emphasized Hal David. "On the musical side, he possesses an unerring sense of melody that spans the generations. He is a songwriting master and a most welcome addition to our distinguished list of Johnny Mercer Award recipients."

This years Abe Olman Publisher of the year award goes to Beebe Bourne, part of the legendary Bourne music publishing family. Bourne Co., now approaching its 86th anniversary, was founded by her father, Saul Bourne. Beebe, who took over the reins of the company in 1991, controls the publishing of such American classics as Unforgettable, Me And My Shadow, When You Wish Upon A Star, Swinging On A Star and Black Magic Woman.

Alicia Keys will be the recipient of the Starlight Award. The Starlight Award has been established to honor gifted songwriters in the early years of their careers who are making a significant impact in the music industry via their original songs.



Henry Juszkiewicz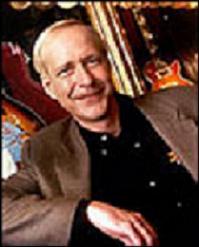 Henry Juszkiewicz, 2005 recipient of the Patron of the Arts award, is the Chairman and CEO of Gibson Guitar Corp. Refocusing the company on achieving the highest possible standards of quality and customer service, he drove Gibson from the brink of closing to a company that has regained worldwide respect with annual average growth of 20 percent over the last decade. Juszkiewicz began fulfilling his vision of Gibson as a full-line musical instrument company by acquiring other music-related companies. Today, Juszkiewicz oversees Gibson, Epiphone, Dobro® guitar lines and the Baldwin Piano Company, among others. The Patron of the Arts Award goes to influential executives who are great supporters of the performing arts. Past awardees include Martin Bandier, Edgar Bronfman, Jr., Iris Cantor, Roger Enrico, Theodore Forstmann, Michael Goldstein, Robert Mondavi, Stephen Swid and Jonathan Tisch.

Les Paul will be the recipient of the prestigious Sammy Cahn Lifetime Achievement Award. Still active after seven decades in music, Les Paul is a unique blend of musician and inventor. His many recording innovations--including sound-on-sound, overdubbing, reverb effects, and multi-tracking - greatly accelerated the advancement of studio recording. The Les Paul Trio, which included his talented wife Mary Ford, produced such hits as Tennessee Waltz, Mockin' Bird Hill, How High The Moon, and Vaya Con Dios. He also won a 1977 Grammy with Chet Atkins for the album Chester and Lester. As an inventor, Mr. Paul's breakthrough creation of the solid-body electric guitar paved the way for electric music and made the sound of rock and roll possible. The Gibson Les Paul guitar went into production in 1952 and was the first solid body electric that Gibson made. In 1953 while performing with Bing Crosby, he perfected the first multi-track recording machine, allowing separate lines of instrumental music and vocals to be blended together. In 1978, he was inducted into the Rock and Roll Hall of Fame.

You've Lost That Lovin' Feelin' written by Barry Mann, Phil Spector and Cynthia Weil will be honored as the Towering Song and Bill Medley, founding member of The Righteous Brothers, will receive the Towering Performance Award.


RURAL HIGH SCHOOL STUDENTS LEARN FROM PROFESSIONAL PLAYWRIGHTS
Lisa Dillman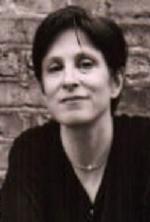 In culmination of two months of specialized study, Labette County High School students of Altamont, Kansas, presented an evening of student-written plays and monologues. This special presentation was part of the school's first-ever Playwrights-in-the-Schools program, held in conjunction with the William Inge Center for the Arts at Independence Community College.

The program brings professional playwrights into the classroom to teach the art of playwriting and is one of a small number of such programs throughout the nation to serve rural schools. The readings are free to the public and take place at the ICC William Inge Theatre in Independence.

The instructors are playwrights Bryan Davidson, of Los Angeles, and Lisa Dillman, of Chicago. "The students' plays range from heartbreaking to hilarious," said Davidson. "The key thing is that they have written from their life and community with insight, wit, and brilliance."

The playwrights live in Independence in the historic William Inge family home and write their current works-in-progress in the same surroundings that inspired Inge to his Pulitzer Prize and Oscar-winning work. The late William Inge wrote Picnic, Bus Stop, and Splendor in the Grass, among many others.

Funding for the project at Labette County High School is provided by grants from the U.S. Forest Service/National Endowment Arts and Rural Community Assistance program and the Kansas Arts Commission.

Davidson's play War Music was selected as the Los Angeles Times top ten Notable Shows of 2002 and was produced at the Geffen Playhouse in 2004. He is also author of a play for youth commissioned by Cornerstone Theater Ensemble to accompany a touring exhibit from the National Archives and is currently at work on a commission from the Los Angeles Philharmonic for their Toyota Youth Symphony Series.

Davidson is program director for Playwrights in the Schools of Los Angeles, an arts residency program that teaches playwriting to at-risk youth.

Dillman's plays have appeared on many stages, including American Theatre Company, Chicago; Transparent Theatre, Berkeley; Steppenwolf Theatre, Chicago; Toledo Repertory; City Theatre in Wilmington; Stageworks, Tampa FL; and Asylum Productions at Chicago Dramatists.

She has received two commissions from Steppenwolf Theatre's New Play Initiative as well as fellowships from the Illinois Arts Council, the Ragdale Foundation, and the O'Neill Theater Center, among others.

The participating students whose plays or monologues were presented are: Caitlin Almond, Justin Blake, Aleya Broadway, Lindsay Cooper, Autumn Finley, Abigail Garrett, Kyleigh Hucke, Jeffrey Johnstone, T'lynda Lehman, Charlee Luallen, Thorr Miller, Katherine Myers, Megan Myers, Tara O'Brien, Lauren Perez, Jon Rowland, Kristy Scheuer, Shane Shamblin, Alex Stoneberger, Danielle Tongier, and Levi Walker.



Broadway To Vegas is supported through advertising and donations. Priority consideration is given to interview suggestions, news, press releases, etc from paid supporters. However, no paid supporters control, alter, edit, or in any way manipulate the content of this site. Your donation is appreciated. We accept PAYPAL. Thank you for your interest.



THE TONY AWARDS Hosted for the 3rd straight year by Tony winner Hugh Jackman, the Tony Awards air tonight on CBS.

Celebrities on hand to present Tony Awards includes Alan Alda, Joan Allen, Christina Applegate, Angela Bassett, Matthew Broderick, Mario Cantone, Don Cheadle, Marcia Cross, Jon Cryer, Laurence Fishburne, Jeff Goldblum, Ann Hathaway, Dennis Haysbert, Ethan Hawke, Allison Janney, James Earl Jones, Nathan Lane, Laura Linney, Jesse Martin, Idina Menzel, Esai Morales, Megan Mullally, Bernadette Peters, David Hyde Pierce, Sandra Oh, Doris Roberts, Emmy Rossum, Keri Russell, Liev Schreiber, Tony Shaloub, Julia Stiles, Kathleen Turner, and Leslie Uggams.


For a list of all the nominees and winners click here.


SWEET CHARITY


GALA BENEFIT FOR CARNEGIE HALL Rodgers & Hammerstein's South Pacific. Music by Richard Rodgers Lyrics by Oscar Hammerstein II. Book by Oscar Hammerstein II and Joshua Logan. Adapted from the Pulitzer Prize–winning novel Tales of the South Pacific by James A. Michener.

Starring: Reba McEntire (Nellie Forbush), Brian Stokes Mitchell (Emile de Becque), Jason Danieley (Lt. Cable), Lilias White (Bloody Mary), Conrad John Schuck (Captain Brackett), Dylan Baker (Cmdr. William Harbison), Alexander Gemignani (Stewpot), Remainder of cast to be announced.

Orchestra of St. Luke's Paul Gemignani, Music Director and Conductor Walter Bobbie, Director.

Thursday, June 9 at Carnegie Hall in NYC.

PRINCE MUSIC THEATRE GALA 2005: IT'S DE LOVELY a magical evening aglow with the glamour of Cole Porter starring Karen Akers.

The even honors the achievements of Sharon & Allan H. Gordon.

Gala Chairs: Shelli & Bill Fedullo, Jerome B. Muchnick, Sharon Pinkenson and Joseph H. Weiss.

Tribute Album Chairs Robert C. Daniels & Herbert F. Koslby Patrons Party Chairs Connie & Stuart Chalfin.

Monday, June 13 at the Prince Music Theatre in Philadelphia.


SPREADING THE WORD


EXPLORING SUMMER THEATRE is the next American Theatre Wing Seminar, which will take place Friday, June 10.

Sybil Christopher (Producing Director, Bay Street Theatre); Alison Harris (Executive Director, Westport Country Playhouse); Kate Maguire (Executive Director, Berkshire Theatre Festival); Jackie Maxwell (Artistic Director, Shaw Festival); Max Mayer (Producing Director, New York Stage and Film) and Howard Sherman, Executive Director of The American Theatre Wing will moderate the panel.

Elebash Recital Hall, Graduate Center of the City University of New York.



CARTER'S WAY written just for the Kansas Coty Rep by Tony, Academy and Emmy Award nominee Eric Simonson who also directs. Music by Darrell Leonard.

Musicians; Bobby Watson, Tenor and alto saxophone. Darrell Leonard, Trumpet. Joe Cartwright, Piano. Gerald Spaits, Bass. Tommy Ruskin, Drums.

It's the peak of Kansas City's legendary jazz era, 1936. Gangsters rule, the recording industry is booming. There's a new entertainment called radio and segregation is intense.

Brilliant and enigmatic black saxophone artist Oriole Carter doesn't want his music recorded or broadcast.

It's just his way.

But fate pairs him with Eunice Fey, a white singer who's also the girlfriend of the nightclub's mobster boss.

With its original score, this epic tragedy in jazz builds to a stunning climax.

Opened June 3 with performances through June 26 at Kansas City Repertory Theatre.

THE RANDY NEWMAN PROJECT Music & Lyrics by Randy Newman. Conceived by Randy Newman, Michael Roth and Jerry Patch.

Randy Newman's songs speak straight from the bones of America. As a Grammy and Emmy Award-winner he has received, 16 Oscar nominations for writing the scores of films ranging from Toy Story to Seabiscuit, and won an Oscar for Monsters, Inc. But Randy initially became famous during the 1960s and 70s for writing quirky, darkly funny, or sharply satirical songs that painted vivid portraits of true-to-life characters.

In this new stage piece, Randy takes us on an odyssey through his own life: his adventures in Hollywood and New York, his identity crises, and his passionate views of America over the past forty years. In songs like Sail Away, My Country, Political Science, and Days of Heaven, Newman deals with American upheaval, change, and triumph.

The show features both fresh takes on some of his greatest hits and new material created specifically for the Prince production. Broadway star Dan Jenkins will portray Randy Newman on stage, The composer will be on hand for special subscribers-only events.

The Philadelphia Premiere opened last night. June 4, with performances through June 26 at The Prince Music Theater in Philadelphia.

WAVING GOODBYE Written by Jamie Pachino. Directed by Martin Bedoian.

Starring Scott Cummins, Michelle Duffy, Heather Fox, Damien Midkiff and Hope Shapiro.

Originally produced at Steppenwolf Theatre in Chicago, Waving Goodbye is a multi-award winning play having won: the Joseph Jefferson Award for Best New Work in 2001-2002; the Boston Theatre Works, New Works Festival; and the Kennedy Center Fund for New American Plays production grant -- among many others.

Waving Goodbye is the story of Lily Blue, a 17-year-old artist who loses her father in a mountain climbing accident, and must spend her 17th year with the mother who abandoned her. Taking place in the past and the present, Waving Goodbye is also about loss, grief, change, making art, being stalled, wishing things were different, moving forward, first love, not turning into your mother, and those irrevocable moments after which nothing is ever the same.

Opens Friday, June 10th and run for six weeks through Sunday, July 17th at the Los Angeles Theatre Center.

A BODY OF WATER by Lee Blessing. Directed by Ethan McSweeny. A man and a woman awake in an unfamiliar house atop a mountain surrounded by water. Nothing but the air is clear — they have no idea where they are or how they got there, or even who they are. Bemused concern becomes anxious despair: they have lost their long-term memory. Whether viewed as a poetic expression regarding memory loss or a metaphoric interpretation of the fluid nature of reality, the consequences are profound: without the foundation of memory, life is a never-ending stream of uncertainties.

Pre-Play Symposium on Sunday, June 12. Post-Play Discussions Sunday, June 19 and Wednesday, June 29.

June 11 - July 3, at the Guthrie Lab in Minneapolis.

H.M.S. PINAFORE New York Gilbert & Sullivan Players.

Experience Gilbert and Sullivan's first blockbuster hit. This comic tale of marriage and personal ambition comes alive with witty exchanges and classic songs like O Joy, O Rapture Unforeseen, I am the Captain of the Pinafore, We Sail the Ocean Blue, and I'm Called Little Buttercup. June 10-11 at the Filene Center, Wolf Trap in Vienna, Virginia.

SHERLOCK'S LAST CASE by Charles Marowitz. Someone is trying to kill Sherlock Holmes. Now the greatest detective on earth must solve the case of his life. Come travel back to Arthur Conan Doyle's foggy Victorian London to witness hair-raising twists and turns, scenes of odd happenstance and outbursts of comic brilliance. As the sinister plot unravels, you'll be drawn inexorably to a stunning climax that will take your breath away. But will it also take our hero's…forever?

June 8 - July 10 at The Colony Theatre in Los Angeles.

AIDA by Elton John ad Tim Rice. With the marriage of music by one the most successful recording artists of our time and lyrics from the man who composed the libretto for such mega-hits as Evita, Jesus Christ Superstar, and Joseph and the Amazing Technicolor Dreamcoat, this creation has become an exciting adventure through time that touches the heart.


LAUGHING WILD by Christopher Durang Directed by Nicholas Martin. The production stars outrageous playwright and satirist Durang as a bisexual anger-management therapy patient and Tony and Emmy Award-winner Debra Monk as the hysterical woman who has figured out the key to existence.

A chance encounter in the tuna aisle at a New York City grocery store brings together a neurotic woman and an insecure, affirmation-spouting man. Separately they recount the increasingly absurd confrontation and unveil their own quirks before mysteriously appearing in each others wacky fever dreams. The production lampoons all your favorite 80s icons from Sally Jessy Raphael to Dr. Ruth, Ronald Reagan, and Mother Theresa in this hilariously offbeat comedy.

Opened June 3 with performances through June 26 presented by the Huntington Theatre Company at the Wimberly Theatre in Boston.

MAME starring Linda Dano and Anna Stuart. Music and lyrics by Jerry Herman. Book by Jerome Lawrence and Robert E. Lee. June 8 -19. Bucks County Playhouse in New Hope, Penn.

1776 Music and Lyrics by Sherman Edwards Book by Peter Stone Based on a concept by Sherman Edwards Original production directed by Peter Hunt Originally produced on the Broadway stage by Stuart Ostrow

During the summer of 1776, the nation is ready to declare independence - if only our founding fathers can agree to do it! 1776 follows John Adams, Benjamin Franklin, Richard Henry Lee, and Thomas Jefferson as they attempt to convince the members of the second Continental Congress to declare independence from the British monarchy. 1776 puts a human face on the pages of history as we see the men behind the historic icons: proud, frightened, uncertain, irritable, charming, often petty and ultimately noble figures determined to do the right thing for a fledgling nation June 8 – July 3 at the Flat Rock Playhouse in Flat Rock, N.C.

TRAILERVILLE

John Dufresne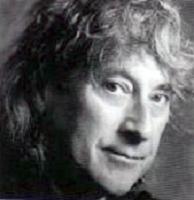 a world premiere by John Dufresne.

Trailerville takes place on Labor Day Weekend at the Trailerville Mobile Home Park in Ouachita Parrish, Louisiana.

Merdelle Harris' husband of forty-one-years, Bobby, is rapidly disappearing behind the veil of Alzheimer's disease. Merdelle is determined to care for him, to save him, if she can. In saving Bobby, she's saving her own life, she believes. There are days Bobby doesn't know her, doesn't know himself. "What part of us am I?", he asks Merdelle.

Arlis Bryant lives in the trailer next door with his daughter, three grandchildren, and her hot-tempered boyfriend. Arlis has fallen in love with Merdelle, and his attentions are both a comfort and a torment to her. She has to choose between the man who loved her once and the man who loves her now, between the past and the future.

Furthermore, her fourteen-year-old grandson has fallen in love for the first time. The annual Labor Day Telethon provides a backdrop for the ensuing comedy and drama about love and family, obligation and desire, hope and compassion.

And what about that loaded gun?

Performances began June 3 at the Blue Heron Theatre in NYC.


| | | |
| --- | --- | --- |
| | | |
WHO'S WHERE


MICHAEL BUBLE stars Monday, June 6 at the Community Auditorium in Thunder Bay, ON. On Tuesday he's on stage at the Centennial Concert Hall in Winnipeg. Wednesday finds him at the Centennial Auditorium in Saskatoon, SK. Friday the performance is at the Francis Winspear Centre For Music in Edmonton, AB and on Saturday he can be enjoyed at Casino Regina in Regina, SK, and next Sunday he is singing at Round-Up in Calgary.

NEIL DIAMOND opens a three night engagement Monday, June 7, at the S.E.C.C. in Glasgow. On Saturday Neil takes the show to Landsdowne Road in Dublin.

DURAN DURAN on stage Saturday, June 11, at Museumsinsel in Berlin, Germany.

LILY TOMLIN telling funny stories Tuesday, June 7, Aronoff Center in Cincinnati.

DANA REEVE performing June 10th and 11th at Feinsteins at the Regency in NYC.

JERRY SEINFELD telling funny stories June 10-11 at Caesars Palace in Las Vegas.

GEORGE BENSON on stage June 10-11 at the Golden Nugget in Las Vegas.

JOHN FOGERTY kicked off a new tour yesterday. There is a new addition to the band, Matt Nolen, who'll double up on keyboards and guitar. He's joining Billy Burnette/guitar, Bob Britt/guitar, George Hawkins, Jr./bass and John Molo/drums, forming the fullest band John has ever toured with. They perform tonight at the State Theatre in Portland, Maine. On Tuesday June 7 they are on the Palace Theatre stage in Stamford, Conn. Wednesday finds them at Irving Plaza in New York City. ON Saturday they can be enjoyed at the Midtown Music Festival in Atlanta.

CHAKA KHAN AND WILL DOWNING Eastman Theatre Series Spotlight, part of the Rochester, New York International Jazz Festival takes place Saturday, June 11.

JASON ROBERT BROWN performing songs from his new CD Wearing Someone Else's Clothes. Friday, June 10 & Saturday, June 11 at the El Portal Theatre in North Hollywood.

ALANIS MORISSETTE on stage Tuesday at the Hummingbird Centre in Toronto. Wednesday finds her at the Masonic Temple Theatre in Detroit. ON Friday the show is at the Orpheum Theatre in Minneapolis and on Saturday she is center stage at the Auditorium Theatre in Chicago.

BIG BAD VOODOO DADDY gets the room dancing Thursday, June 8 at High Falls Festival Site in Rochester, NY. On Friday the joint will be jumpin' at Penn's Peak in Jim Thorpe, PA. Saturday finds the guys at High Hopes Riding Arena in Old Lyme, CT and next Sunday they can be enjoyed at Crystal City Festival in Arlington, VA.

BLIND BOYS OF ALABAMA performing Monday, June 6 at the Apollo Theatre in New York City. On Friday they are in the spotlight at a private function in San Diego and on Saturday the show is at the Mable House Amphitheatre in Mableton, GA.

TONY BENNETT performs next Sunday, June 12 at the Pala Casino in Pala,CA.
















Next Column: June 12, 2005
Copyright: June 5, 2005. All Rights Reserved. Reviews, Interviews, Commentary, Photographs or Graphics from any Broadway To Vegas (TM) columns may not be published, broadcast, rewritten, utilized as leads, or used in any manner without permission, compensation and/or credit.
Link to Main Page
---
Laura Deni


CLICK HERE FOR COMMENT SECTION