Broadway To Vegas
  
 SHOW REVIEWS CELEBRITY INTERVIEWS GOSSIP NEWS

| | |
| --- | --- |
| | |
STAMFORD PERFORMING ARTS CENTER REACHES OUT FOR NEW WORKS - - FORMER CHILD STAR NOW IMPORTANT GOVERNMENT OFFICIAL - - THE CAPE COD THEATER PROJECT - - THE FESTIVAL OF THE WORLD'S SYMPHONY ORCHESTRAS - - THE 3RD ANNUAL NAKED BIKE RACE - - AVENUE Q CLOSES IN VEGAS AND OPENS IN LONDON - - NATIONAL THEATRE SPAMALOT DC GRAND GALA - - LORRAINE BRACCO SPEAKS OUT - - DONATE . . . Scroll Down
STAMFORD CENTER FOR THE ARTS WANTS TO BE PART OF THE CREATIVE JOURNEY
Stamford at night. Does it have a road leading to Broadway?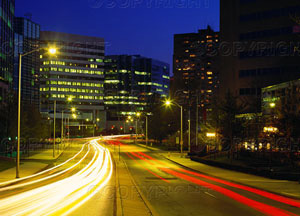 The road to Broadway is a winding one with roadblocks and perilous curves. An unusual welcome mat has been extended by the Stamford Center for the Arts. While not offering a bread and breakfast, the SCA does possess a stage and spotlight.

"We want to really work with producers, writers and directors and help them develop new works no matter what stage it is in," declared Jenny Ober, Director of Programming. She spoke with Broadway To Vegas about their new direction.

"We are changing to become more of a producing house, rather than a presenting house. What we'd like to be is a test ground. We're outside of the spotlight of New York," she said of the arts complex which is about 45 minutes from The Big Apple - located in one of the many picturesque New England towns on the Connecticut coast between New York and New Haven. Long Island.

"When Alex Cohen came to Stamford Center for the Arts in 1992, he brought in some road shows," she recalled about the late Tony nominated producer, writer and theatrical general manager she worked for in New York. When he relocated to Stamford she was brought down to continue as his right arm.

"So, we were taking the touring shows. Tommy Tune's Moonlighting, Dancing at Lughnasa, Falsettos - shows that were out on the road," recalled Ober. "We were also producing the occasional show ourselves. As time went on we found that those got expensive. And, we had a very limited number of seats. So, they just weren't financially viable for us to do."

"I have really been spending the last six or eight months speaking with writers, directors and regional theater producers that we have worked with before and would like to forge relationships. We deal with producers, agents, writers, directors, other regional theaters that are looking to further develop a piece - that are looking for partners."



Kander and Ebb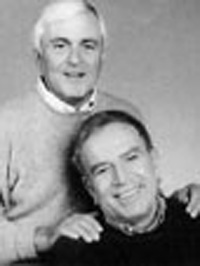 "This process is really fairly new and it hasn't taken on any really strong shape. Mainly because we were looking to launch this next year."

"For example, we are doing a series of readings during the month of June. They are free and open to the public. It's everything from a children's play to a new musical review featuring songs from Kander and Ebb," she said of Lover, Liar and Lady, and the Women of Kander and Ebb, which takes place this evening.

Conceived by Steven Yuhasz, Lover, Liar, Lady, and the Women of Kander and Ebb is a new revue that, following tonight's reading, will have a full production in August at the New Provincetown Theatre Company.

"It's all over the place," Ober continued about the SCA Stages Series, "and we are working with the Lark Play Development Center in Manhattan."

That institution, The Lark, has the aim to integrate audiences into the creative process from its initial stages, by bringing together actors, directors and playwrights to allow writers to learn about their own work by seeing it— and by receiving feedback from a dedicated and supportive community.

"There are a lot of different ways in which we are exploring new work and exploring new ways with writers and directors and producers of other regional producers," Ober continued. "Whether it's a reading or whether it is a producer looking to take the next step - we want to be of assistance."

"We have a lot of flexibility in how we present and produce work. by having a number of stages," she explained. "We have the Palace Theatre which holds almost 1600. We have Rich Forum which is a nice 699 seat theater and then we have our Black Box space which sits between 100 and 150," she said about the Palace and Rich. which are two facilities.

The Palace Theater is a Thomas Lamb designed vaudeville house, acclaimed as Connecticut's Most Magnificent when it opened in 1927. It was restored and re-opened in 1983 for live theatre, concerts and art exhibitions in the Sackler Gallery. The 1992 constructed, state-of-the-art Rich Forum, includes the proscenium Truglia Theatre and the Leonhardt Studio - black box theatre. Both are within four blocks of each other in downtown Stamford, Connecticut.

Both the Rich Forum and Palace Theatre seasons include performances by Connecticut Grand Opera and Orchestra, Stamford Symphony Orchestra, New England Lyric Operetta, Ballet School of Stamford, Young Artist Philharmonic, Lumina String Quartet, Zig Zag Ballet and The Perry Players.

So what does Ober do to prevent herself from being inundated with scripts from those lacking talent.

She laughed.

"You know, you never know," she said thoughtfully. "Beauty is in the eye. "We are interested in all different types of works. That's the bottom line. There is room for a lot of different kinds of theater out there."

"Our Fringe Festival is a place where we develop new works. We do 4-6 plays with script in hand. They rehearse for about 20 hours and we have a reparatory company to do this. So, it is a new, interesting way to kind of take a play off the page a little bit more. There is blocking. It's a wonderful process."

It may be a wonderful process but getting a play mounted is not instant gratification.



Eartha Kitt and Susan Greenhill in the cematary scene from Expectations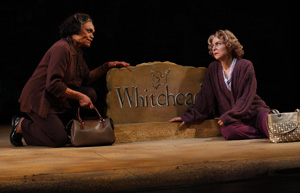 "We've always had a reading series here," she elaborated. "That is something that I've been involved with for the past 10 years. One of the plays that I can recall doing was a new play by Susan Barskey called Expectations. We did a reading as part of our reading series. It's was wonderful. Susan is a talented, talented writer. Then we had our Fringe Festival a number of years later, probably 2000, and in reading the scripts for this I thought - Geez, this play is very familiar. I know this work. It was Expectations. So, the play was in our Fringe Festival. Then a year ago January we staged it as a full production with Eartha Kitt. Here was a play that took eight years but it did come through that whole process full circle."

Ober stressed that SCA is a catalyst not a hands on re-write center.

"Changes are up to the creative team. What we really try to do is to help a creative team figure out what the problems are. We want to be part of that process, where they say this works - or this doesn't work. We need time to take this piece and reconstruct this ... or what if we wrote out this character or what if we added in this character or maybe we need so and so's back-story. We're not a destination. We're part of the journey."

Financial involvement is unique to each effort. "We don't have investors. We're a not for profit organization. The financial details are different with each production," she stressed.

"Our goal is to help develop and to really be an incubator for new works in whatever stage it may be," she reiterated. "Business is business and the audience is the audience. We're really looking to develop and rebuild our audience."

"I think the audience, especially being this close to the New York market, is really fascinated by the process. So, if we can help by being a place where an audience and a creative team can meet - because the communication between the audience and what is going on stage is absolutely vital. You can write until you're blue in the face, direct and redirect, but it doesn't come into being until an audience sits there and you see that happen."

"In Stamford there is that demographic base to enjoy all forms of theater. It is a very diverse and growing audience. We have a discussion after each performance. That is a big part of it for the writers and directors who are involved. They are here to learn about the piece and what they need to do and see what people respond to. So the audience comments are absolutely essential."

We're only 45-minutes from New York. It's a perfect place to come down and try something, work on something and continue to develop a piece of work. This is ideal. Who knows what is going to happen in the future and this whole idea blossoms - who knows what shape it will take. It could go in any direction. We are in discussions with a couple of people about projects."

Her biggest problem?

"Projects are expensive and money is tight," said Ober who started at SCA in the fund raising department. Ober stayed at SCA "because you have these three fabulous spaces. You have a great audience and the possibilities are limitless. We lost both our executive director and artistic director last year. So, while they were searching for a new executive director I became the director of programming."

Referring to the ongoing concern of producing versus money she reflected on her never ending concern.

"It's trying to grow the institution and the program - and trying to develop an audience at the same time - while keeping your eye to the budget. You have to make a big investment and that's a tough thing to do when money is so tight."

She discounts high gas prices constructing a customer road block.

"I think people will still drive. People will still go to New York," she surmised. "The train is sooo convenient for us. We're right on the train line. In the Stamford area people go by train. Going by car is expensive. If you are driving to New York City, forget the cost of gas. It's the parking which is just frightening by itself. You have a lot of issues to contend with when you go into New York. I think people will see what they want to see. New York is an experience and we don't want to compete. It doesn't make sense to compete with New York. It makes sense for us to have a program that works and really stands on its own."

"We have a children's musical called Reality. That is on Sunday, June 11."

With a book by Bixby Elliott, music and lyrics by Lawrence Goldberg, Reality is straight out of today's obsession with television reality shows. Reality - a family musical - follows high school student Henry Hatcher as his life becomes a reality show.

Ober reported that the venue doesn't own a property where a guest star can crash. Each contract contains different demands.

"Some of the stars want a house. Some want a hotel. Everybody is different. It's very hard for the stars who come to a new place they are not familiar with and they are working on a new work - especially is they are a star from a different genre of the arts. They are taking a big risk. A number of the artists that we work with are probably from the New York area, so they are all pretty familiar with this space."

As to whose responsibility it is to secures the demands Ober answered, "it can go either way. It depends upon the deal. We are very flexible. We are here to create the marriage between the audience and new works."



Broadway To Vegas is supported through advertising and donations. Priority consideration is given to interview suggestions, news, press releases, etc from paid supporters. However, no paid supporters control, alter, edit, or in any way manipulate the content of this site. Your donation is appreciated. We accept PAYPAL. Thank you for your interest.


SWEET CHARITY


NATIONAL THEATRE SPAMALOT DC GRAND GALA takes place Thursday, June 8. Pre and post theatre receptions at The Willard Hotel. Wedged in between the parties is the performance of Spamalot at The National Theatre.

The National Theatre, the oldest performing arts institution in Washington, DC., is a nonprofit institution managed by The Shubert Organization.


OTHER PEOPLE'S MONEY


DALE CHIHULY

Massive Chihuly ceiling fixture at the Bellagio Hotel in Las Vegas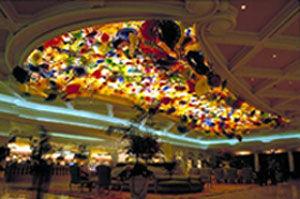 the creative genius known for his glass sculptures, including a 40,000-pound light fixture installed in the ceiling lobby of the Bellagio Hotel in Las Vegas, has filed a lawsuit in Federal Court accusing two glass blowers - one a 20-year collaborator - of copyright infringement. The suit charged that they imitated his signature off-center creations, and other designs inspired by the sea.

Chihuly, Inc., based in Washington has 93 employees.

Bryan Rubino, who worked as an employee of Chihuly for two decades, fired back with an aggressive counterclaim. That says, in part, that Chihuly, who lost an eye in a traffic accident three decades ago, is not even directly involved in the creation of many of the pieces that bear his name. The countersuit also alleges that Chihuly has been known to purchase objects and then put the Chihuly name on them, a contention that Chihuly vehemently denies.



THE CAPE COD THEATRE PROJECT has announced the winners of it's first annual Ten Minute Play Contest. 62 submissions by residents of Cape Cod, Martha's Vineyard and Nantucket were received and three were chosen. The Cape Cod Theatre Project, which presents staged readings of new American plays during the month of July in Falmouth, will present the winners of its first annual Ten Minute Playwrighting Contest. The contest was the brainchild of founder and Artistic Director Andrew Polk, who wanted to give local writers of all levels an opportunity to be heard.

First Place: Crows Over Wheatfield by Gregory Hischak South Yarmouth, MA. Second Place; Digging For Potatoes At The End Of The World by Jamie Callan Falmouth, MA. Third Place; This Is Milton Cross by Chuck Chesnut South Chatham, MA.

These three plays will be presented at Barnes and Noble Books in Hyannis, MA on June 16th, and at the Arts Alive! Festival in Falmouth on June 17th. The first prizewinner, Crows Over Wheatfield, will be also be presented at the Theatre Project's Summer Benefit on July 9th. In addition, the winners will receive cash awards of $500, $300 and $100 respectively.

The Project has helped develop the work of such prominent playwrights as Lanford Wilson, Paula Vogel and Neil LaBute, as well as work by promising writers Anne Marie Healy, David Schulner, Garth Wingfield and Etan Frankel to name just a few. Notable directors who have worked at the Project are Marshal Mason, Christopher Ashley, Kate Whoriskey, Gabriel Barre and Pam Mackinnon. All have worked on and off Broadway.

The Project has also attracted many of the country's most outstanding actors including Bill Pullman, Anna Paquin (Academy Award winner), Frank Wood (Tony Award Winner), Amy Ryan (Two time Tony Nominee), Johanna Day (Tony Nominee), Diedre O'Connell (Obie Award winner), Jeffrey Carlson, John Cunningham (Obie Award winner), Josh Hamilton, Marin Hinkle, J.C. McKenzie and Miriam Shor among many others.

Since 1995, the Project has presented 38 plays, 25 of which have gone on to stages around the country. In the 2004-2005 season seven plays went to New York.

CALIFORNIA STATE SENATOR SHEILA JAMES KUEHL AND AT&T'S MICHAEL-JON SMITH

Sheila James Kuehl
were honored Friday, June 2, by the Gay Men's Chorus of Los Angeles with their Voice Awards.

Actually two events took place. The presentation of the GMCLA "VOICE" awards and a concert of new music by the organization;s Classical Ensemble. New works by Rosephanye Powell, Daniel Catan and Enrique Gonzalez-Medina; and the ensemble also performed pieces by Piazzolla, Alice Parker and Samuel Barber, among others.

Friday night's gala at USC's Nazarian Pavilion honored two remarkable individuals who have made a difference to the community. To show you just how far Sheila James Kuehl has come - in a list of educational and political accomplishments that exceeds a page - one sentence at the bottom says - "In her youth, she was known for her portrayal of the irrepressible Zelda Gilroy in the television series, The Many Loves of Dobie Gillis.

As a child star, she played Jackie, Stuart Erwin's tomboy daughter in the television show, Trouble with Father. She became even better known for her portrayal of the "irrepressible" Zelda Gilroy in the long-running 1950s TV show The Many Loves of Dobie Gillis. In her role as Zelda, Sheila chased Dwayne Hickman who played Dobie. Network executives offered her her own spinoff series as Zelda. Four episodes were filmed but never aired. The show was abruptly cancelled after rumors of her homosexuality circulated.

Sheila took her television walking papers and marched towards Harvard Law School where she was the second woman in the school's history to win the Moot Court competition. Graduating in 1978, she served as a member of the Harvard University Board of Overseers from 1997 to 2005. She was elected to the State Senate in 2000 and again in 2004 after serving for six years in the State Assembly. During the 1997-98 legislative session, she was the first woman in California history to be named Speaker pro Tempore of the Assembly. She is also the first openly gay or lesbian person to be elected to the California Legislature. A former pioneering civil rights attorney and law professor, Ms. Kuehl represents the 23rd Senate District in Los Angeles and Ventura Counties.

In her 12 years in the State Legislature, Sen. Kuehl has authored 141 bills that have been signed into law, including legislation to establish paid family leave, establish the rights contained in Roe vs. Wade in California statute, overhaul California's child support services system; establish nurse to patient ratios in every hospital; require that housing developments of more than 500 units have identified sources of water; further protect domestic violence victims and their children; prohibit discrimination on the basis of gender and disability in the workplace and sexual orientation in education; increase the rights of crime victims; safeguard the environment and drinking water; many, many others.

Not bad for a child star who never caught the man she was chasing and got her series pulled.


SPREADING THE WORD


LORRAINE BRACCO WITH DR. GAIL SALTZ: ON THE COUCH Known to millions as Dr. Jennifer Melfi on The Sopranos, Lorraine Bracco has had a fascinating life off screen. In her recent memoir, On the Couch, she reveals the personal side of her very public persona. In a conversation with Dr. Gail Saltz, Bracco discusses her struggles with depression and motherhood and her very public divorce from Harvey Keitel.
Dr. Saltz, a regular contributor to NBC's Today, is an associate professor of psychiatry at New York Presbyterian Weill-Cornell School of Medicine. Her most recent book is Anatomy of a Secret Life: The Psychology of Living a Lie.

Thursday, June 8 Buttenwieser Hall at 92nd St Y in NYC.

MALE CULTURE IN MICHELANGELO'S FLORENCE Michael Rocke focuses on the social, cultural, and sexual experiences of males in Florence in Michelangelo's youth and early career. Michael Rocke, Harvard University Center for Italian Renaissance Studies, has written extensively on issues relating to masculine gender identity and to sexuality in Renaissance Italy.

Thursday June 8 at the Lecture Theatre of the British Museum, London.

I AM MY OWN WIFE by Doug Wright, is the topic of discussion, Wednesday, June 7th, at Northshire Bookstore in Manchester, VT. Producing Director Steve Stettler of the Weston Playhouse will be joined by Brad Heberlee, the actor who will portray Charlotte Von Mahlsdorf and all the other characters in this Pulitzer Prize and Tony Award winning drama, which opens July 26 running through August 13 at the Weston Playhouse in Weston, VT.



THE FESTIVAL OF THE WORLD'S SYMPHONY ORCHESTRAS

Lorin Maazel will conduct Italy's Arturo Toscanini Philharmonic in two concerts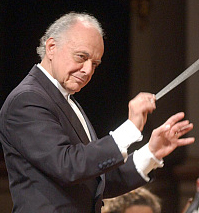 Four of the world's top orchestras including the Israel Philharmonic with Zubin Mehta, and Italy's Filarmonica Arturo Toscanini led by Lorin Maazel, began on June 3 and continue until June 12, Russia Day. That's the anniversary of the day in 1990 when the Russian Parliament issued a declaration of sovereignty, saying its authority took precedence over Soviet rule within Russia's boundaries. Most Russian citizens ignore the day and this music festival, a state-sponsored event, is designed to bolster attention to the state holiday.

The Festival's co-organized is the Federal Culture and Cinematography Agency.

Appearing at the festival are the Academy of St. Martin in the Fields, from Britain, conducted by Claus Peter Flor; and the Radio France Philharmonic Orchestra, conducted by Korea's Myung-Whun Chung.

In addition, the Novosibirsk Academic Symphony Orchestra will stage a concert of Russian music under conductor Arnold Kats. Last night's opening concert featured Mehta conducting the Israel Philharmonic Orchestra in a program of Beethoven's third Leonora Overture, Richard Strauss' symphonic poem Till Eulenspiegel, and Berlioz's Symphonie Fantastique.

Tickets to the festival's concerts, start at cheap 300 rubles ($11) and go up to a mind-boggling 15,000 rubles ($550). All concerts are staged in the grand Hall of Columns at Dom Soyuzov, or the House of Unions, a former club for Moscow's pre-revolutionary nobility.

THE REAL DR, STRANGELOVE by Peter Goodchild. Directed by Matt August. The birth of Armageddon. The first H-bomb detonates and the proud father is Edward Teller. But he's on a collision course with Robert Oppenheimer, the inventor of the bomb that obliterated Hiroshima. Now Oppenheimer has turned pacifist and the government will stop at nothing to "neutralize" him. And Teller is their star witness!

Opens June 7 at LA Theatre Works.

All performances of LATW's The Play's The Thing! are recorded live for later broadcast on Satellite and Public Radio worldwide! Performed at The Skirball Cultural Center in Los Angeles.

PLAY IT AGAIN, SAM Woody Allen's hilarious comedy is about a homely, insecure man who is searching for love in all the wrong places. For advice on dating, he conjured up the spirit of the late, great Humphrey Bogart.

The comedy runs June 8-11, 13-18 at the Blackhills Playhouse nestled in Custer State Park, about a half-hour drive from Rapid City, the Black Hills Playhouse has been providing Broadway quality plays to the delight of Black Hills locals and tourists for over 60 years.

JESUS CHRIST SUPERSTAR The first rock opera. The first musical by Andrew Lloyd Webber. This spectacular Andrew Lloyd Webber/Tim Rice collaboration, set in the last seven days of Jesus' life, has become a cultural phenomenon! The Seaside Music Theater premiere of the production, directed by SMT's own Lester Malizia takes place June 8 - 18 at the Seaside Music Theater in Daytona Beach, Florida.

SMT is the largest professional theater within a 100-mile radius and the only major resident musical theater company in the Southeast.

HELLO DOLLY! Book by Michael Stewart. Music and Lyrics by Jerry Herman. Original Production Directed and Choreographed by Gower Champion. Based on the play The Matchmaker by Thornton Wilder. Choreographed by Mia Michaels.

Directed by Mark S. Hoebee.

Starring Tovah Feldshuh as the meddling matchmaker Dolly Gallagher Levi.

One of America's most beloved musicals is back in a thrilling new production. New York. 1890s. Dolly Gallagher Levi, a refined matchmaker-extraordinaire, has been hired to arrange yet another marriage. But this time, she's in business for herself. Employing a host of other talents - like corset re-boning, ear piercing, pierced ears re-plugging, and dance instructing - Dolly attempts to win over her unsuspecting husband to be. Winner of 10 Tony Awards, including Best Musical, Dolly! is the show-stopping "perfect match" for every musical fan.

Paper Mill Playhouse June 7-July 23. Millburn, NJ.

THE KING AND I Book and Lyrics by Oscar Hammerstein II, Music by Richard Rodgers. Directed by Melissa Lucero McCarl. Jonathan Farwell who was the understudy of the legendary actor Yul Brynner and Elizabeth Welch.

East meets West when widowed Anna and her son come to 1860's Siam to teach English to the King's Children. Your heat will soar with hits like Whistle a Happy Tune, Getting to Know You, Hello Young Lovers, and Shall We Dance?

Through June 18 at the Town Hall Arts Center in Littleton, Colorado.

AVENUE Q the 2004 Tony award winning musical with lyrics and music by Robert Lopez and Jeff Marx and a book by Jeff Whitty began London previews on June 1 at the Noel Coward theatre.

The creative team includes choreography by Ken Roberson, set design by Anna Louizos, costume design by Mirena Rada, lighting design by Howell Binkley, and puppet concept and design by Rick Lyon.

The cast features Jon Robyns as Princeton and Rod. Simon Lipkin as Nicky and Trekkie Monster. Julie Atherton as Kate Monster and Lucy The Slut. Clare Foster as Mrs T. Sion Lloyd as Brian. Ann Harada as Christmas Eve. The production also features Luke Evans, Matthew J Henry, Gloria Onitiri, Giles Terera, Gabriel Vick, and Yanle Zhong.

Avenue Q is the story of Princeton, a bright-eyed college grad who comes to New York City with big dreams and a tiny bank account. He soon discovers that the only neighborhood in his price range is Avenue Q; still, the neighbors seem nice. Together, Princeton and his newfound friends struggle to find jobs, dates, and their ever-elusive purpose in life.

The only change for the other side of the pond audience is that Gary Coleman is no longer the superintendent of Princeton's apartment building. Avenue Q officially opens June 28th.

Avenue Q played it's final performance May 28 at Wynn Resort in Las Vegas. The show opened there on September 8, 2005. Avenue Q continues on Broadway at the Golden Theatre.

PROUST starring Mary Beth Peil. A world premiere presented by About Face Theatre. Written by Mary Zimmerman. Based on the writings of Marcel Proust and Céleste Albaret. Directed by Eric Rosen.

When she took the job as Marcel Proust's housekeeper, Céleste Albaret thought she was just filling in for someone on sick leave. Little did she know that she would spend the next dozen years at Proust's side, serving his smallest whim, staying up until dawn gossiping about the glitterati – and hearing of his shocking sojourns into Paris' infamous brothels.

Proust chronicles the unlikely relationship between one of the world's most revered novelists, and the unlettered country girl who fell under his spell, becoming his closest companion and his steadfast defender against persistent rumors of his "secret life."

Scenic design Dan Ostling. Costume design Mara Blumenfeld. Lighting design Chris Binder. Sound design Andre Pluess. Dramaturg Elizabeth Williamson.

A Steppenwolf Theatre Visiting Company Initiative. Production begins June 9. Presented in The Steppenwolf Upstairs Theatre, Chicago.

A VOYAGE ROUND MY FATHER John Mortimer's autobiographical play is the affectionate portrait of a son's relationship with his father. Growing up in the shadow of an eccentric barrister whose blindness was never mentioned by his family, the son continually yearns for his father's love and respect.

Thea Sharrock directs the cast which includes; Christopher Benjamin, Lily Bevan, Neil Boorman, Osmund Bullock, Joanna David, Jamie De Courcey, Derek Jacobi, Natasha Little, Dominic Rowan, Sadie Shimmin, Katie Warren.

Designer: Robert Jones. Lighting Designer: Peter Mumford. Sound Designer: Gregory Clarke.

Donmar Warehouse in London, June 8 - August 5.

THE FACULTY ROOM by Bridget Carpenter. Directed by artistic director Howard Shalwtiz. Featuring Woolly company members Michael Russotto & Michael Willis with Megan Anderson, Ethan Bowen and Miles Butler.

Bridget Carpenter explores the darker side of high school life from the inside of that mythic room, the teacher's lounge.

Dedicated yet desperate, inspired yet burnt out, hateful yet oh-so-loving - the teachers of Madison Feury High are a bundle of contradictions in Carpenter's rich portrait.

A funny and caustic look at how truly f#%ked up the relationships between teachers and students can get, The Faculty Room erupts with gunshots, desperate longing and a growing wave of spiritual fanaticism. Our education system may never recover.

June 5 - July 9 at Woolly Mammoth Theatre in Washington, D.C.

FOR SENTIMENTAL REASONS Written, Conceived, and Directed by Edward Keith Baker.

Joining Keith on stage will be Ellen Bullinger and newcomer Demetria Joyce Bailey.

A Tribute to the "unforgettable" Nat King Cole and the songs he sang.

Nat "King" Cole and his distinctive satiny-smooth baritone voice conquered the charts in the Fifties and early Sixties with hits like Mona Lisa and Unforgettable and breezy, countrified sing-alongs like Ramblin' Rose and Those Lazy-Hazy-Crazy Days of Summer. In addition, songs in this tribute include Smile (Though Your Heart is Breaking), These Foolish Things, Straighten Up and Fly Right, When I Fall in Love, and many, many more.

June 8 through June 18, at the Bristol Riverside Theatre in Bristol, PA.


| | | |
| --- | --- | --- |
| | | |
WHO'S WHERE


ELVIS COSTELLO on stage Saturday, June 10 at the Oneida Casino in Green Bay, WI.

JAMIE CULLUM entertains Friday, June 9 at Club Quattro in Nagoya, Japan. On Saturday the show is at the Shinsaibashi Club Quattro in Osaka, Japan.

BRUCE SPRINGSTEEN on stage Monday, June 5 at the Greek Theatre in Los Angeles. On Tuesday the performance is at Sleep Train Pavilion in Concord, CA. Saturday finds the show at the Wells Fargo Arena in Des Moines, Iowa and next Sunday fans will be entertained at the Xcel Energy Center in Saint Paul, MN.

JOHN PRINE AND TODD SNIDER perform Friday, June 9 at the Majestic Theatre in San Antonio, Texas. On Saturday they are on stage at the Verizon Wireless Theatre in Houston.

LEE GREENWOOD in the spotlight Saturday, June 10, at Tart Park in Dunn, NC.

FAITH HILL AND TIM McGRAW singing their hits Tuesday, June 6 at No. Charleston Coliseum in North Charleston, DC. On Wednesday the show is at the Richmond Coliseum in Richmond, VA. Friday finds the husband and wife duo at the RBC Center in Raleigh, NC. On Saturday the performance is at the Charlotte Bobcats Arena in Charlotte, NC.

THE NEVILLE BROTHERS AND BIG BAD VOODOO DADDY in the spotlight Friday, June 9 at the Silverton Casino in Las Vegas. On Saturday the show is at the Long Beach Arena in Long Beach, CA.

DEE DEE BRIDGEWATER has a four night gig at the Catalina Bar and Grill in Hollywood, CA beginning Thursday, June 8.

MADONNA opens a two night stand Monday, June 5 at the Save Mart Center in Fresno, CA. On Thursday she has another two nighter at the Glendale Arena in Glendale, AZ.

RED HOT CHILI PEPPERS perform Tuesday, June 6 at the Halle Trony Garniuer in Lyon, France. On Thursday they kick off a two night gig at the Palais Omnisports in Paris.

ERIC CLAPTON on stage today, June 4, at Schleyerhalle in Stuttgart, Germany. The German performances continue Tuesday at the Leipzig Arena in Leipzig and on Wednesday at the Wuhlheide in Berlin. On Friday Clapton is in England performing opening a two nighter at London's Hampton Court.

JAMES NAUGHTON who yook home Tony awards as best actor in a musical for Chicago and City of Angels,Looking for the Heart of Saturday Night continues through through June 10.


PIFFLE AND PROFUNDITIES


THE 3rd ANNUAL NAKED BIKE RACE

2005 Race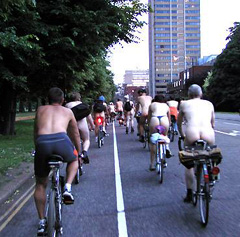 The object of this year's bare bottom peddle is to raise awareness about oil dependency as well as challenging how we view our bodies.

While the gawking may not be for the faint of heart, the event also benefits better cycle paths, improved safety for pedestrians, and bringing an end to global warming. All of that naked flesh peddles a six mile route around London from Green Park to Hyde Park.

In anticipation of Bike Week starting on June 17, the birthday suit ride begins Friday evening June 9 lasting through Saturday June 10th. Other in the buff two-wheeler excursions take place simultaneously across the United Kingdom and abroad.

An outlandish event, full of the most gregarious cyclists ranging from chilled out hippies to blatant exhibitionists. Press covering the event are not required to strip down but participants are encouraged to wear helmets.

Suddenly confronting it can be a bizarre experience - naked bodies speeding past you as body parts flap in the wind. Not for the easily distracted.
















Next Column: June 11, 2006
Copyright: June 4, 2006. All Rights Reserved. Reviews, Interviews, Commentary, Photographs or Graphics from any Broadway To Vegas (TM) columns may not be published, broadcast, rewritten, utilized as leads, or used in any manner without permission, compensation/credit.
Link to Main Page
---
Laura Deni


CLICK HERE FOR COMMENT SECTION