! >
Broadway To Vegas
  
  REVIEWS INTERVIEWS COMMENTARY NEWS

| | |
| --- | --- |
| | |
UNUSUAL 4th OF JULY CELEBRATIONS - - AMERICAN ART AT THE SMART MUSEUM - - ABOLITION OF SLAVERY BY THE NETHERLANDS - - STARS ATTEND CHARLIE AND THE CHOCOLATE FACTORY OPENING - - REALLY ROSIE - - SAG HARBOR GUILD HALL SUMMER SPECTACULAR - - BROADWAY IN THE BERKSHIRES - - LAS VEGAN IS JIMMY AWARD NOMINEE - - DONATE . . . Scroll Down





Copyright: June 30, 2013
By: Laura Deni
CLICK HERE FOR COMMENT SECTION


UNIQUE 4th OF JULY CELEBRITY EVENTS: RED, WHITE AND BLUE USED TO BE GREEN
The clever Elvis 4th of July Bed Races in East Moline, IL. Photos: Genesis Firecracker Run /The Dispatch & The Rock Island Argus.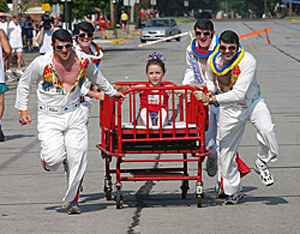 Bed racers dressed as Elvis take to the street in East Moline, IL. Photos: Genesis Firecracker Run /The Dispatch & The Rock Island Argus.
Fire works - so traditional. The official color for the United States was going to be green. As that great sage Kermit the Frog put it - "it's not easy being green."

Celebrating the 4th of July can become repetitious. After all, we've been doing it since the 1700's. Some feel that re-inventing the holiday is progress.

Determining who or what can move the fastest seems to be a time honored tradition.

Bed races are a favorite. Not just any old bed races will do for East Moline, IL They perhaps have the most creative bed race in the country. As part of their annual Genesis Firecracker Run, hospital beds are raced and contestants need to be dressed as Elvis.

Siren, Wisconsin has a bed race as does Winnebago, IL, while those adventurous folk in Detroit have 4th of July chicken and turkey bowling contests - and a bed race. Brainerd Lakes, Minnesota stages both pig and bed races. Bar Harbor, Maine holds an annual lobster race where "local businesses put their lobsters to the test in a high-speed crustacean contest where guts and determination will reign supreme." Proceeds benefit the MDI YMCA Scholarship Program.

Sand Lake, Michigan staged its first annual bed race in 2011. Newport, Vermont has bed races and wine tasting.

The Ticonderoga, New York festivities which take place July 1-4 include bed races. Rules for all bed races are generally the same. Bring your own bed.

The annual Ticonderoga event draws thousands of visitors from near and far. It's a super fun get together where teams of 5 race to the finish line on, yup you guessed it, a bed. Beds are homemade vehicles that 'doesn't have to be a bed, but must resemble a bed,' including being outfitted with 1 blanket and 1 pillow. Four team members will run while the other team member rides. At the half way point there will be a 'Chinese Fire Drill' - meaning that "the member on the bed will have to take a pushers spot and the pusher will have to become the rider.

All members must stay in contact with the bed at all times. Silly costumes are encouraged.

In Brevard, NC the Duck Race for Kreative Kids has hundreds of feathered friends flocking together to help provide creative opportunities for youth in Transylvania County. They'll float, paddle and go with the flow down King's Creek.

You can release your pent up emotions by hissing and booing at The Great Western Melodrama at the Brevard Little Theatre.

It's a free, family-friendly, vaudeville-style melodrama presented by BLT as part of Transylvania County's Arts & Culture Week and the Heart of Brevard's Fourth of July Celebration. Directed by Elly Leidner and Sonia Arnold patrons are invited to "boo, hiss and cheer" while you enjoy a good, ole-fashioned, American melodrama in air-conditioned comfort.

Bristol, Rhode Island's annual Fourth of July celebration, established in 1785, is the oldest continuous celebration in the United States.

Bristol also stages a button contest in which students in three age categories from K-12 design official buttons, which must have a patriotic theme and utilize only red, white and blue colors.

Red, white and blue is the new green.

"Back in the early 19th century, they celebrated with a lot of greenery," American University 4th of July historian and librarian emeritus James R. Heintze wrote in his book The 4th of July Encyclopedia.

Green being the color of choice was "started by George Washington and his troops. Soldiers wore greens in their caps, and buildings were decorated (in green). But as red-white-and-blue paper [became widely available], and the flag became more important, (green) fell out of favor."

Since 1970, the annual 6.2 miles Peachtree Road Race is held in Atlanta, Georgia.

Since 1868, Seward, Nebraska has held a celebration on the same town square. In 1979 Seward was designated "America's Official Fourth of July City-Small Town USA" by resolution of Congress. Seward, a town of 6,000, swells to 40,000+ during the July 4 celebrations.

In Venice Beach, California the Mr. and Mrs. Muscle Beach contest takes place. Muscled and toned men and women will be competing in a body building contest in the quintessential Venice Beach style. Winners will be featured in Iron Man Magazine.

For those who prefer the traditional, tried and true patriotic red-white-and-blue celebrations, you're not forgotten.

The free, ever-popular reading of the Declaration of Independence features some of the most stirring words of political rhetoric ever written, spoken out loud by Shakespeare & Company actors and special guests from Lenox, MA. Filled with music, barbeque, sweets and treats, this jubilant summer event is always a huge July 4th hit, drawing over 1,000 patrons last summer.

Along the same lines in New York City's Strawberry Fields there are public readings of the Constitution and the Bill of Rights.

The venerable Boston Pops will once again throw one of the country's largest Fourth-of-July parties on the Charles River Esplanade. This will mark the 40th year of the Boston Pops Fireworks Spectacular. The Hollywood Bowl's annual party includes Josh Groban, patriotic music and thrilling fireworks, while Jackson Brown with special guest Sara Watkins returns to Tanglewood for the first time in 15 years.

Continuing the celebration past July 4th will be the Bay-Atlantic Symphony. The first in their five-concert summer series at the Music Box at Borgata Hotel Casino & Spa, in Atlantic City will take place on Sunday, July 7. Music Director Jed Gaylin will conduct the orchestra in a concert of music by Aaron Copland, John Philip Sousa, Peter Ilyich Tchaikovsky and others.

The program will include Copland's A Lincoln Portrait, narrated by Bay-Atlantic Symphony Adult Education Director Paul M. Somers, Sousa's Stars and Stripes Forever, Tchaikovsky's 1812 Overture, and other selections.







Broadway To Vegas is supported through advertising and donations. Priority consideration is given to interview suggestions, news, press releases, etc from paid supporters. However, no paid supporters control, alter, edit, or in any way manipulate the content of this site. Your donation is appreciated. We accept PAYPAL. Thank you for your interest.


ART AND ABOUT


THE LAND BENEATH OUR FEET: AMERICAN ART AT THE SMART MUSEUM

Frederick Childe Hassam (October 17, 1859 – August 27, 1935) was a prolific American Impressionist painter, noted for his urban and coastal scenes.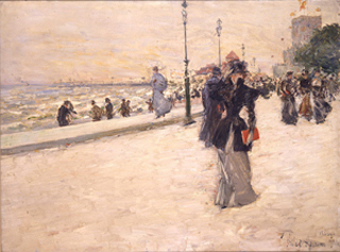 Tracing a chronological arc of almost a century, this exhibition showcases both familiar and lesser-known works from the Smart Museum's collection of American art. It presents approximately eighty works - paintings, sculptures, prints, drawings, and photographs - by American artists, while exploring national context and changes in art between 1850 and 1940.

The exhibition will make a subtle nod to the hundredth anniversary of the 1913 Armory Show with paintings by two key artist-organizers, Arthur Davies and Walt Kuhn. Among other highlights are a wealth of survey photographs - including exceptional panoramas of the American West - taken by Timothy O'Sullivan and William Bell in the 1860s and 70s; celebrated etchings by James McNeill Whistler; landscape paintings by Tonalist master George Inness; and photographs by Walker Evans.

Artists: William Bell, William Merritt Chase, Jasper Francis Cropsey, Arthur Davies, Manierre Dawson, Arthur Dove, Walker Evans, Margaret F. Foley, Childe Hassam, Lewis Hine, Winslow Homer, Georges Inness, Rockwell Kent, Walt Kuhn, John La Farge, Robert Laurent, John Marin, Timothy O'Sullivan, Guy Pène du Bois, Ben Shahn, John Sloan, Raphael Soyer, and James McNeill Whistler, among others.

Curated by Anne Leonard, Smart Museum Curator and Associate Director of Academic Initiatives.

On display through August 25, 2013 at the Smart Museum, University of Chicago.

THE NEW YORK METROPOLITAN MUSEUM OF ART will begin staying open seven days a week beginning July lst.

Museum Director Thomas Campbell said the decision was made to make the Met "accessible whenever visitors have the urge to experience this great museum."

The Met had a record 6.28 million visitors last year.


SWEET CHARITY


SAG HARBOR GUILD HALL SUMMER SPECTACULAR takes place Saturday, July 6, with the performance of the season by Audra McDonald, record-tying five-time Tony Award-winner and two-time Grammy Award-winner.

Joined by a jazz ensemble, McDonald will perform an intimate evening of favorite show tunes, classic songs from the movies, and original pieces written especially for this extraordinary artist.

The performance will be followed by a private dinner at a home nearby.

BROADWAY IN THE BERKSHIRES Special Benefit Performance takes place July 8 in the Tina Packer Playhouse, Lenox, MA.

On the heels of the hugely successful inaugural Broadway-in-the-Berkshires benefit event in 2011, Producer and Company member Deborah Grausman is bringing together a dazzling array of guest stars, some of whom were previously featured in Broadway in the Berkshires, paired with a new group of performers from both on and off Broadway, and beyond.

This special benefit will include a brief live auction. All proceeds will benefit Shakespeare & Company's internationally acclaimed Education and Training Programs.


CULTURAL EVENTS REMEMBER ABOLITION OF SLAVERY BY THE NETHERLANDS
The Slavery Remembrance Foundation commemorates the abolishment of slavery. Photo: Stichting Herdenking Slavernijverleden (Foundation Remembrance Slavery Past)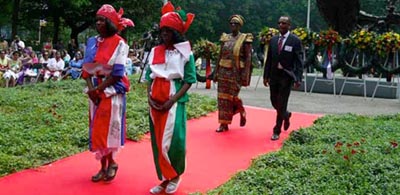 On July 1, 2013, it will be precisely 150 years since slavery was abolished in the then Dutch colonies of Suriname and the Dutch Antilles. Because of the important role that Amsterdam played in the slave trade, the city is staging an extensive program of events celebrate its abolition.

Andrée Van Es, the City of Amsterdam's alderman for Citizenship and Diversity, emphasized the importance of these memorial activities.

"Remembering slavery is still very relevant. For many living in Amsterdam, the slave trade is part of their personal history. You can see this history throughout the city, in its art, architecture and literature – so the history of slavery is both distant and nearby. We commemorate it, partly so that we can look forward and learn lessons for the future."

For almost 400 years colonial plantation owners kept Africans on their estates. Over the course of those four centuries, a lively transatlantic slave trade existed in the Netherlands, solely aimed at making a profit.

Amsterdam will be hosting photography exhibitions, theatre performances and documentary screenings, lectures and symposia.

The remembrance program is being organized by the Slavery Remembrance Foundation 2013 and will continue throughout 2013 and 2014. The focal point of the program will be the remembrance ceremony on July 1, 2013 at the National Slavery Monument in Amsterdam's Oosterpark. In 2014, the program will be officially closed in the province of Zeeland.


LAS VEGAS STUDENT IS A JIMMY AWARDS NOMINEE
Laura Osnes and Santino Fontana in Rodgers & Hammerstein's Cinderella.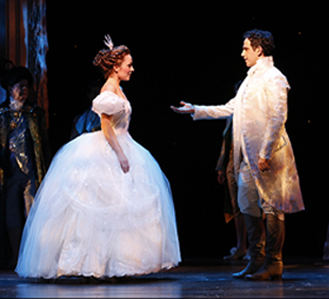 The Jimmy Awards, more formally known as the The National High School Musical Theater Awards, will stage it's 5th annual event on July 1, headed up by two of the Tony-nominated stars of Rodgers & Hammerstein's Cinderella - Laura Osnes and Santino Fontana. The event will take place at the Minskoff Theatre on Broadway.

Nominees qualified to compete in the national program by winning top honors at 31 regional high school musical awards competitions. These annual events involve more than 50,000 teens in cities across America and are sponsored by the country's leading performing arts organizations.

While in New York City, participants, including Ray Winters from Bishop Gorman Hgh School in Las Vegas, prepare for their "Broadway debut" during a five-day intensive training program.

They are housed and attend classes and rehearsals on the campus of New York University. The future Broadway stars experience private coaching, master classes and rehearsals with theater professionals including NYU Tisch School of the Arts' New Studio on Broadway faculty members Liz Callawat, Telly Leung, Michaek McElroy, Leslie Odom, Jr., Schele Williams-Kleinberger plus other theater professionals.



Ray Winters of Las Vegas, Nevada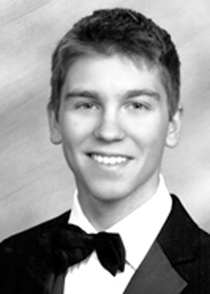 Their week's journey concludes with a panel of industry experts selecting exceptional students for The Jimmy for Best Performance by an Actress and Actor. Students receive opportunities for merit scholarships, professional advancement and other prizes.

That panel of industry experts includes; multiple Tony Award winner Scott Ellis, Tony nominated director Kent Gash, Tony Award-nominee Montego Glover, Rachel Hoffman, Alecia Parke, Nick Scandalios of the Nederlander Organization and Bernie Telsey from MCC Theater.

In the week leading up to the performance, the 62 nominees were treated to lunch and a talk-back session with special guest Kirstin Tucker from Rodgers & Hammerstein's Cinderella. A former student of NHSMTA choreographer Kiesha Lalama, she graduated from Point Park University and has since danced her way to the Broadway stage. She offered advice about college training, answered questions about her responsibilities as Assistant Dance Captain, and even taught a mini dance lesson.

R&H Theatricals sponsored the lunch and provided t-shirts.

Other events for the nominees included exploring New York City, a first time experiencing for many. Surrounded by the famous caricatures at Sardi's, the nominees were treated to dinner, with delicious cheesecake for dessert, thanks to the Shubert Organizaztion. While at Sardi's, they were visited by Bob Wankel, President and Co-CEO of The Shubert Organization. Afterwards, everyone attended a performance of Annie the Musical featuring Jane Lynch as Miss Hannigan.

The 2012 Jimmy Awards were featured in PBS's documentary Broadway or Bust.





SPREADING THE WORD


CHARLIE AND THE CHOCOLATE FACTORY at the Theatre Royal in London had a star-studded opening. Sarah Jessica Parker and Matthew Broderick brought their son, James. Also taking the red carpet walk were Doctor Who star Jenna-Louise Coleman, 30 Rock's Jane Krakowski and Glee's Matthew Morrison.

Also on hand, Uma Thurman, Composer Andrew Lloyd Webber, former EastEnder Barbara Windsor, Tony Award winner Patti LuPone, and daughters of the author Roald Dahl, Lucy and Ophelia, the latter being the chair of the Dahl literary estate.

Dahl's much-loved 1964 book, about Charlie Bucket and the golden ticket that takes him on a magical journey through Willy Wonka's chocolate factory, has been adapted for the stage by David Greig, with songs by Marc Shaiman and Scott Wittman. Sam Mendes directs.

Olivier and Tony Award winner Douglas Hodge stars as factory boss Willy Wonka, with Nigel Planer as Grandpa Joe. Jasna Ivir as Mrs. Gloop, Clive Carter as Mr. Salt, Myra Sands as Grandma Georgina, Paul J. Medford as Mr. Beauregarde, and Iris Roberts as Mrs. Teavee.

Various children children play the lead role of Charlie.

The cast includes Joe Allen, David Birch, Alex Louize Bird, Michelle Bishop, Mireia Mambo Bokele, Simon Campbell, Matthew Clark, Alex Clatworthy, Ross Dawes, Jennifer Davison, Luke Fetherston, Nia Fisher, Kate Graham, Derek Hagen, Clare Halse, Mark Iles, Daniel Ioannou, Kieran Jae, Jane McMurtrie, Natalie Moore-Williams, Sherrie Pennington, Damien Poole, Antony Reed, Paul Saunders, Jack Shalloo and Jay Webb.

As an aside, Chocolate Day is always celebrated on July 7, although many feel the wonderful substance should be consumed on a daily basis.

THE COLORADO SHAKESPEARE FESTIVAL has "been forced to postpone No Little Rebellion from this season's line-up, Clay Evens, Director of Public Relation told Broadway To Vegas. He added "but hope to get to it next summer!"


CHINA'S ENTERTAINMENT INDUSTRY BOOMING
Located in the Beijing Poly Plaza, the Poly Plaza International Theater began holding international artistic events in 1991. Since then, more than 3,000 musical, dance and drama numbers have been performed by 300 local and international artistic groups.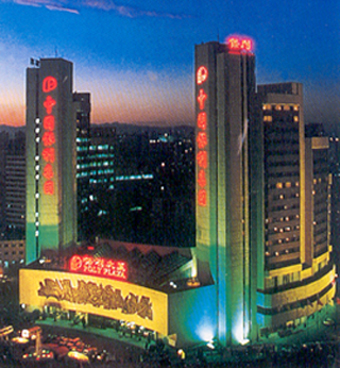 Entertainment is a growth market in China. According to the 2013 Report on the Performance Market by the Ministry of Culture, China's entertainment industry in 2012 grew to $9.83 billion, an increase of 60 percent from 2011.

In 2011 it was announced that China expected to double the size of its entertainment industry over the next five years.

In January of this year CNBC reported that "the Chinese Cultural Industry Investment Fund (CCIIF) plans to invest $3 billion in businesses whose combined 2012 box office totals amounted to almost $4.8 billion nationwid.

"One musical producer eyed by the fund is United Asia Live Entertainment, which staged Chinese-language versions of Cats and Mama Mia. United Asia was formed in 2010 with backing from Shanghai Media Group, China Arts and Entertainment Group, and South Korea's CJ E&M."

According to the fund's director, Chen Hang, combined ticket sales for live theater performances, concerts and various tourist shows reached $2.1 billion," according to CNBC.

There were 2.01 million performances in China last year.

In 2012, there were 13,000 registered performing groups, 3,059 agencies and 1,966 venues. The number of private performing groups reached 10,000, an increase of 25 percent over the previous year.

The report projected continued robust growth thanks to a 2009 bill which permitted more non-government capital to be invested in entertainment. However, concern was expressed over a lack of theaters, resulting in high rental costs.

Because of escalating rental costs, the China Association of Performing Arts presented several suggestions to the government.

Those recommendations including dividing government-owned theaters into non-commercial theaters and commercial theaters. The former would mount public cultural events and receive government funding, while the latter would operate according to market rules.

Other suggestions were to encourage private investment for the construction of more theaters and coordinating different government sectors so that theaters could more easily be opened.

The association also opined that the management personnel of theaters should pay better attention to not wasting space, encourage the establishment of theater chains and establishing a system to fund various performance projects.

Han Hongyue, a manager with Poly Chain Theaters, told China Daily that "because Poly Culture Group runs 30 theaters throughout China, it can stage performance tours more easily than those companies without theaters."

The poly Culture Group is involved in theatrical performance, theatre management, antique collection (especially by recovering the Chinese bronze zodiac heads looted from the Old Summer Palace from overseas collectors), artworks auction, film & TV program production, film distribution and cinema chains management. It was designated as "cultural industry's role model" by the Chinese Ministry of Culture.

Another problem with China's entertainment industry that the 2013 Report on the Performance Market pointed out concerned scalpers. The report found at least 400 illegal ticket sellers online that sell complementary tickets or scalp tickets for higher prices.

"The government should regulate ticketing companies and encourage a healthy competition mechanism," the report said.

Two weeks ago, the ministry announced that it would authorize provincial cultural departments to approve performances involving artists from abroad, which is expected to add impetus to the entertainment industry.

"The Dylan concerts will be a milestone for our company," Wei Ming, general manager of Gehua-Live Nation, told China Daily immediately after those tickets were put on sale. The tour was a joint-venture between Chinese culture enterprise Gehua and the United States-based entertainment company Live Nation. "Dylan is one of the artists that we wanted most to bring to China," stressed Wei Ming.


OTHER PEOPLE'S MONEY


THE MEGAFIGHT BETWEEN Floyd Mayweather Jr. and Saul "Canelo" Alvarez at the 16,200-seat MGM Grand Garden in Las Vegas on September 14 sold out in less than 24 hours after going on sale. Ticket prices? From $350 to $2,000.



THE LIQUID PLAIN by Naomi Wallace. A world premiere directed by Kwame Kwei-Armah, artistic director at Center Stage in Baltimore, Maryland.

This new work by the prize-winning playwright is the fifth American Revolutions production staged at the Oregon Shakespeare Festival.

As with all American Revolutions plays in production, the playwright has been in residence, participating in the rehearsal process and working on the script with Kwei-Armah, the cast and crew.

Wallace's story is set in the late 1700's in Bristol, Rhode Island - a state that played a dominant role in the international slave trade. On the docks of Bristol, two resourceful former slaves, Adjua and Dembi, are waiting for the captain and the vessel they have hired to return them to Africa. They haul a dead man out of the water, but as they remove his clothes to sell them, he returns to consciousness. What follows is a fiercely-told tale of individuals and cultures, irrevocably changed as a result of the slave trade. Wallace weaves a revelatory story born from the ruthless legacy of slavery.

The cast features June Carryl as Adjua, Kimberly Scott as Dembi, Danforth Comins as Cranston, Armando Durán as Balthazar and William, Kevin Kenerly as Liverpool Joe, Bakesta King as Bristol, Josiah Phillips as Nesbitt, Richard Elmore as Gifford, and Michael Winters as James De Woolf.

Scenic design is by Brenda Davis, costume design by Constanza Romero, lighting design by Christopher Akerlind, projection and video design by Alex Koch, associate projection and video design by Dave Tennent, and composition and music design by Victoria Deiorio. Julie Felise Dubiner is dramaturg; David Carey is voice and text director; and U. Jonathan Toppo is fight director. D. Christian Bolender is stage manager, assisted by Karl Alphonso.

The Liquid Plain received the Edgerton Foundation New American Play Award and the 2012 Horton Foote Prize. The Liquid Plain was commissioned by American Revolutions: the United States History Cycle, OSF's 10-year program of commissioning up to 37 new plays about moments of change in United States history.

The Liquid Plain will be produced at Center Stage in 2014 and run from April 16 through May 25. Opens July 6, 2013 in the Thomas Theatre, Ashland, Oregon.

HELLO DOLLY! starring Klea Blackhurst at Goodspeed Opera House in East Haddam, CT. was extended before it even opened. The 12 added performances have the iconic musical by Jerry Herman running through September 14.

BORN YESTERDAY by Garson Kanin. Directed by John Miller-Stephany.

From celebrated entertainer Garson Kanin, with a golden career spanning more than 60 years with credits including Tracy and Hepburn classics Adam's Rib and Pat and Mike, comes this deliciously witty comedy about a corrupt businessman trying to get ahead.

Harry Brock, a junk-dealer millionaire on the rise, heads to Washington with his chorus girl girlfriend Billie Dawn in tow, hoping to influence a senator in some personal business dealings. But he soon gets advice suggesting that his seemingly dim-witted blonde will need a little polish to get ahead in D.C. society. Brock hires a newspaperman for the task but gets more than he bargained for when, in a deliriously funny turn of events, he discovers a little bit of learning can be a dangerous thing!

July 6 - August 31, 2013 on the Wurtele Thrust Stage of the Guthrie Theater in Minneapolis.

NUNSENSE-MUNY STYLE! created by Dan Goggin who will also serve as the Production supervisor. Directed by Matt Lenz.

Choreographed by Teri Gibson with musical direction by Michael Horsley.

The Muny is "blessed" to usher in the 30th anniversary all-Muny edition of this international phenomenon. This divine comedy follows the Little Sisters of Hoboken, members of a spirited and inspired convent, in their effort to raise money to bury members of their order - victims of an unfortunate vichyssoise incident. It's more fun that you can shake a ruler at!

July 1-7 at the Muny in St. Louis. MO.

RAGTIME book by Terrence McNally. Music by Stephen Flaherty. Lyrics by Lynn Ahrens.

Based on the novel Ragtime by E.L. Doctorow.

Directed by Pierre Brault. Music Director is Eddie Carney.

Ragtime paints a nostalgic and powerful portrait of life in turn-of-the-century America. Based on E.L. Doctorow's distinguished novel, Ragtime intertwines three distinct stories that poignantly illustrate history's timeless contradictions of wealth and poverty, freedom and prejudice, hope and despair, and love and hate.

July 5 - 7; 11 - 14 and 18 - 20 at Mercury Summer Stock in Cleveland, Ohio.

REALLY ROSIE based on a series of books by famed children's author Maurice Sendak and with music by the legendary Carole King.

Directed by Marcia Milgrom Dodge.

Billed as "the perfect show for the entire family."

Rosie, the sassiest kid on her block of Brooklyn's Avenue P, entertains herself and her friends by acting out show biz fantasies, notably directing and starring in an Oscar-winning movie. The production includes "a cast made up of all kids."

July 5-21 at the Bucks County Playhouse in New Hope, PA.


WHO'S WHERE




HOLLYWOOD BOWL 4th OF JULY SPECTACULAR STARRING JOSH GROBAN Celebrate the Fourth at the Bowl's annual party. This year's spectacular includes Josh Groban, patriotic music and thrilling fireworks. The Los Angeles Philharmonic Orchestra will be conducted by Sarah Hicks. Also entertaining will be the US Air Force Band of the Golden West.

The two night event is July 3-4 at The Hollywood Bowl in Los Angeles.

TAYLOR SWIFT entertains Saturday, July 6, at Heinz Field in Pittsburgh, PA.

BRUCE SPRINGSTEEN AND THE E STREET BAND entertain Friday, July 5, at the Borussia Park in Monchengladbach, Germany. Next Sunday, July 7, they'll be in the spotlight at the Red Bull Arena in Leipzig, Germany.

BRUNO MARS stars off July with a show on Monday, the lst, at the Prudential Center in Newark. Tuesday's show is at the Consol Energy Center in Pittsburgh. On Wednesday the tour stops at the Molson Canadian Amphitheatre in Toronto. On Friday he's in the spotlight at the Bell Centre in Montreal. He ends the week by returning to the Molson in Toronto.

PHISH performs Wednesday, July 3, at the Waterfront Pavilion in Bangor, ME. On Friday they begin a three night gig at the Performing Arts Center in Saratoga Springs, NY.

NEW KIDS ON THE BLOCK bring their tour to the Staples Center in Los Angeles on Friday, July 5. On Saturday they perform at the Mandalay Bay Events Center in Las Vegas. Next Sunday, July 7 the show is at the HP Pavilion in San Jose, CA.

MICHAEL BUBLE will play six nights at London's O2 Arena beginning today, Sunday, June 30th through Sunday, July 7th, which marks the third longest run of dates ever performed at the venue by a male solo artist after Prince and Roger Waters.

PINK has a four date gig at the Adelaide Entertainment Centre in Hindmarsh, Australia with a performance on Monday, July 1, followed by shows on Tuesday, Thursday, and Friday.

DOM IRRERA doing his stand up routine Monday, July 8, at the Bay Street Theatre in Sag Harbor, NY.

JUSTIN BIEBER performs Tuesday, July 2, at the Chesapeake Energy Arena in Oklahoma City. On Wednesday he'll be creating excitement at the American Airlines Center in Dallas. Saturday finds him at the Century Link Center in Omaha, NE. Next Sunday, July 7, he'll be on stage at the Wells Fargo Arena in Des Moines, IA.

JACKSON BROWNE The performs his hits like These Days, The Pretender, Running On Empty, Lawyers in Love, Doctor My Eyes, Take It Easy, For a Rocker, and Somebody's Baby. With Special guest Sara Watkins. Tuesday, July 2, 2013 at the State Theatre in New Brunswick, NJ.

PAULA POUNDSTONE will be telling funny stories July 5-6 at the Orleans Hotel in Las Vegas.

KELLIE PICKLER will perform her hit singles during a July 5 concert at the Silverton Casino Hotel's Veil Pavilion in Las Vegas.


FINAL OVATION


JAMES GANDOLFINI, who passed away on June 19, at the age of 51, was mourned by the Broadway community when the marquees of Broadway theatres in New York were dimmed in his memory on Wednesday, June 26th, at exactly 8:00 p.m. for one minute.

GARY DAVID GOLDBERG creator of the television sitcom Family Ties died at his home in Montecito, California on June 22, 2013 - three days before his birthday. The cause of death was brain cancer. He was 68.

A two time Emmy Award winner, Goldberg's numerous credits include his co-creating the series Spin City, and penning episodes of M*A*S*H.

His production company was named after his dog. All of the credits to his shows had a famous ending - a photograph of his black Labrador Retriever in front of the Louvre in Paris, with Goldberg saying: "Sit, Ubu, sit! Good dog," followed by a bark.

in 2005 Goldberg's statements regarding an age discriminatory lawsuit made headlines.

Tracy Keenan Wynn and more than 150 other television writers over age 40 went to court with AARP as their co-counsel in a far-reaching series of 23 class action lawsuits that charge Hollywood's television industry - networks, studios, talent agencies and production companies - with age discrimination. The most famous industry quote cited in the case came from Gary David Goldberg, who told TV Guide Magazine his program had "no writers on the set over the age of 29 - by design."

On January 6, 2009, the Superior Court of the State of California, for the County of Los Angeles, granted final approval to a consent decree resolving age discrimination claims asserted against defendants International Creative Management, Inc. (ICM) and Broder Kurland Webb Agency (BKW). The consent decree effected a full and final resolution of the class claims, including all individual claims subsumed in the cases. Under the terms of the consent decree, defendants ICM and BKW paid the sum of four and one-half million dollars ($4,500,000) into a settlement fund.

Goldberg is survived by his wife Diana Meehan, their daughters Cailin Goldberg Meehan, comedy writer Shana Goldberg Meehan, three grandchildren and a brother, Stanley.

BOBBY "BLUE" BLAND the debonair blues balladeer, a Rock "n Roll Hall of Fame inductee, died June 23, 2013 at his home in Germantown, Tenn., a suburb of Memphis. He was 83.

The musician dropped out of school in the third grade to work in the cotton fields. Though he never learned to write music or play an instrument, he cited the music of the pioneering blues guitarist T-Bone Walker as an early influence.

After moving to Memphis in 1947 Bland began working in a garage and singing spirituals in a group called the Miniatures. In 1949 he joined the Beale Streeters, a loose-knit collective whose members at various points included Johnny Ace, Rosco Gordon, Earl Forest and B. B. King, all of whom went on to become popular blues performers as solo artists.

He was inducted into the Rock and Roll Hall of Fame in 1992 and received a Grammy Award for lifetime achievement in 1997.

Neil Portnow President/CEO of The Recording Academy issued the following statement:

"Recording Academy Lifetime Achievement Award recipient Bobby "Blue" Bland was a prolific blues singer and balladeer. His signature performance style seamlessly blended a mix of blues, country, gospel, jazz and pop music to create his unique sound. He was a stylistic pioneer who influenced countless musicians across many genres, with a career spanning nearly eight decades. Our music community has lost a tremendous and legendary talent, and we mourn this loss with his family, fans and all those who had the pleasure and privilege of working with him."

He is survived by his wife, Willie Mae; a daughter, Patrice Moses; a son Rodd Bland and four grandchildren. In addition. Rodd Bland told the press that his father had recently learned that the blues singer and harmonica player James Cotton was his half-brother.








Next Column: July 7, 2013
Copyright: June 30, 2013. All Rights Reserved. Reviews, Interviews, Commentary, Photographs or Graphics from any Broadway To Vegas (TM) columns may not be published, broadcast, rewritten, utilized as leads, or used in any manner without permission, compensation and/or credit.
Link to Main Page
---
Laura Deni



For the snail mail address, please E-mail your request.
CLICK HERE FOR COMMENT SECTION