! >
Broadway To Vegas
  
  REVIEWS INTERVIEWS COMMENTARY NEWS

| | |
| --- | --- |
| | |
LAS VEGAS ILLUSIONIST TELLER TO SCARE WITH THE EXORCIST - - BROADWAY CABARET - 54 BELOW - - SPIDERMAN JUDGE HAS SUPERHERO KNOWLEDGE - - MEGA LAW FIRM BITES THE DUST - - WAYNE NEWTON AWARDED TEMPORARY RESTRAINING ORDER - - CYNTHIA NIXON MARRIED - - POLLY DRAPER IN MY BRILLIANT DIVORCE - - BENTLEY CREATED 60 SPECIAL CARS - - DONATE . . . Scroll Down


Copyright: June 3, 2012
By: Laura Deni
CLICK HERE FOR COMMENT SECTION

LAS VEGAS ILLUSIONIST TELLER TO MAKE MAGIC WITH THE EXORCIST
Penn (L) and Teller (R). Before Teller totally concentrates on The Exorcist the duo will work their magic on June 8 at the Horseshow Hammond in Indiana.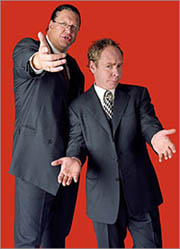 Teller of the famed debunking of illusions team - Penn and Teller - intends to have heads spinning as a creative advisor for the upcoming production of The Exorcist at the Geffen Playhouse in Los Angeles.

The most chilling test of faith comes to life on stage, promises the venue. "This world premiere adaptation of the famous 1971 novel documenting the terror and redemption of a ten-year-old girl remains as frightening and relevant as when first experienced. Under the direction of Tony Award winner John Doyle and adapted by acclaimed playwright John Pielmeier, The Exorcist transforms the unsettling battles of good versus evil, faith versus fact and ego versus ethos into a uniquely theatrical experience as sophisticated as it is suspenseful."

Spiritual-music composer Sir John Tavener will be providing the music.

Last year Teller spent time in London with Pielmeir working on The Exorcist script.

A lot of this may be old hat for Teller, a Las Vegas resident, who once produced 500 live cockroaches from a top hat on the desk of David Letterman.

Raymond Joseph Teller more commonly known as simply Teller is the brainy but silent illusionist who has written for The Smithsonian. In that recent article he described the neuroscience that underpins magical illusions - weird ways that our brains can be made to fool us. His thoughts included:

"It's hard to think critically if you're laughing. We often follow a secret move immediately with a joke. A viewer has only so much attention to give, and if he's laughing, his mind is too busy with the joke to backtrack rationally."

Teller is noted for hanging upside-down over a cushion of spikes in a straitjacket, Teller submerged in a huge container of water, Teller being run over by an 18-wheel tractor-trailer, Teller swinging going through stage partner Penn's hands. Many of their effects rely heavily on shock appeal and violence, although presented in a humorous manner.

It's the "shock appeal and violence, although presented in a humorous manner" reputation which will be the key to The Exorcist.

Teller is a guy who knows how to control what the audience thinks it's seeing.

However, the play is not the movie.

According to published reports, the play will "focus on the psychological aspects and questions of faith." At least, that's according to Ken Novice, the managing director of the Geffen Playhouse.

Novice added: "I think it's going to be more powerful than green pudding and spinning heads. Not that the show will be without some kind of theatrical effects. It's still going to be very interesting to look at. There will be a spectacle to it, but we don't want people coming in and expecting the movie."

The production will have some top names on stage.

Brooke Shields and Richard Chamberlain star as Chris MacNeil and Father Merrin, respectively. David Wilson Barnes appears as troubled young priest Father Damien Karras and Tony Award nominee Harry Groener is director Burke Dennings. UCLA School of Theater, Film and Television graduate Emily Yetter plays the young Regan MacNeil, who is possessed by the devil.

The world premiere of The Exorcist, will also feature Stephen Bogardus as Dr. Strong, Manoel Felciano as Father Joe, Tom Nelis as Dr. Klein and Roslyn Ruff as Carla.

The production team also includes Tony Award-winning scenic and costume designer Scott Pask, lighting designer Jane Cox and sound designer Dan Moses Schreier.

The play materializes July 3 with a run through August 12, 2012 at the Geffen Playhouse in Los Angeles.





Broadway To Vegas is supported through advertising and donations. Priority consideration is given to interview suggestions, news, press releases, etc from paid supporters. However, no paid supporters control, alter, edit, or in any way manipulate the content of this site. Your donation is appreciated. We accept PAYPAL. Thank you for your interest.



ART AND ABOUT


CYCLING, CUBO-FUTURISM AND THE FOURTH DIMENSION

Jean Metzinger's At the Cycle-Race Track.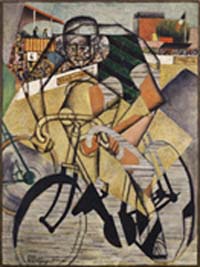 Jean Metzinger's At the Cycle-Race Track. Curated by Philip Rylands, Erasmus Weddigen.

The exhibition centers on Jean Metzinger's At the Cycle-Race Track (Au Vélodrome) of 1912.

This is one of the pivotal Cubist works at the Peggy Guggenheim Collection.

It brings together two other paintings and drawings by Metzinger on the same theme, from private and public collections, in addition to Mario Sironi's Cyclist in the Peggy Guggenheim Collection, and Umberto Boccioni's Dynamism of a Cyclist in the Gianni Mattioli Collection.

Like Metzinger's painting, as the exhibition shows, unites a passion for the sport of cycle-racing with an inquiry into the nature of the 4th dimension, which was much discussed in Metzinger's circle.

Photographic material of the Roubaix vélodrome, racing cycles old and new, and related ephemera will be presented, in addition to a new sculpture about time by contemporary Swiss artist Paul Wiedmer.

June 9 - September 16, 2012 at the Guggenheim Palazzo Venier de Leoni in Venice.

JIAWEI GONG: SWEET SALVATION The Reading Public Museum has a special treat for guests with the opening of the this installation in the Central Gallery.

Gong uses the traditional Tibetan sand mandala-making process to create a contemporary symbol, but instead of sand he uses various types of sugar.

Watch him create this symbol in person, or, during time when he is not in The Museum, you can see recorded footage of him making the sugar mandala. The symbol will take approximately two weeks to complete and the video will be displayed for the remainder of the installation's stay at The Museum.

While Gong often incorporates modern symbols, he explains in his artist statement, "I draw my inspiration from my daily life and cultural background. Traditional Chinese philosophy and literature serve as a dominate and informative resource for my artwork." The modern symbol sugar-mandala is a prime example of this combination of the modern and traditional.

Jiawei Gong, who was born and raised in China, attended China National Academy of Fine Arts and received his bachelors degree in painting and drawing. After moving to the U.S., he attended Southern Illinois University Carbondale where he received his masters degree in 2-D with a specialization in Digital Media. Currently, Jiawei resides in Reading, Pennsylvania and teaches in the Fine Arts department at Kutztown University.

The exhibition opened June 2 and remains on display through July 8, 2012.

BLOOMINGDALE'S the famed retailer in The Big Apple is hosting a Tony Awards fashion retrospective at its flagship NYC store on 59th Street. Now through June 18, visit the fourth floor to view costume pieces from The Phantom of the Opera, Aida, The Lion King, Beauty and the Beast, The Drowsy Chaperone, The Coast of Utopia, Priscilla Queen of the Desert, The Producers, Crazy for You and Sister Act.


SWEET CHARITY


CHEF JAM returns to the Rock and Roll Hall of Fame and Museum for another tasty year as Cleveland's top chefs serve up specialties inspired by their favorite band or musician and dress like the rock stars they are featuring.

Each ticket includes samples of all the dishes offered at each food station during the event, as well as Great Lakes Brewing Company beer, wine and tours of the Museum's exhibits. Proceeds from the event will go to support the Rock Hall's education programs and the Ohio City Farm.

Restaurants that will be represented at Chef Jam 2012 are ABC, B Spot, Bar Cento, Bluepoint Grill, Bonbon, Flying Fig, Greenhouse Tavern, Melt, Momocho, Moxie, Pier W, Properity Social Club, Pura Vida, Sasa, Spice, Tremont Taphouse, Umami, Washington Place and Zack Bruell Restaurants.

Sunday, June 10, 2012.

THE IRISH REPERTORY THEATRE 2012 ANNUAL BENEFIT GALA starring Brian Stokes Mitchell, James Barbour and Melissa Errico with other Broadway Stars, full orchestra and chorus, including a children's choir.

Monday, June 11, 2012 at The Shubert Theatre in NYC.


BENTLEY CREATES 60 CARS TO HONOR QUEEN ELIZABETH
Special Bentley Diamond Jubilee Edition in honor of Queen Elizabeth's Jubilee. Money shouldn't be discussed in polite company. (Think in excess of $400,000.) Photo: Bentley.
Take about bringing home a souvenir. If you can't wrap a ribbon around Prince Harry, you can at least put a bow on a new Bentley.

To mark the 60th Anniversary of the reign of Queen Elizabeth II, the storied auto maker had introduced an exclusive special edition of their top-of-the-line Mulsanne.

Limited to just 60 cars, the Bentley Mulsanne Diamond Jubilee Edition was unveiled not in the UK itself, but in Beijing – the capital of the country that is now Bentley's largest market.

Designed by the craftsmen and women of Bentley's Mulliner division, the creators of the State Limousine presented to Queen Elizabeth II in 2002, just 60 cars have been created with each car representing a year of Her Majesty's reign.

These very special Bentleys are distinguished by a range of exquisite, handcrafted features paying tribute to the Jubilee. These include bespoke embroidery to all four headrests using gold stitching, veneered picnic tables in the rear cabin decorated with a gold overlay depicting a royal carriage used for great occasions of state as well as luxurious, hide cushions featuring the same motif.



Interior of special Bentley Diamond Jubilee Edition Car Photo: Bentley.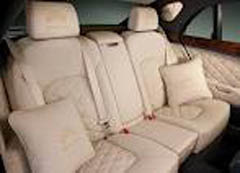 Two beautiful, highly-polished stainless steel treadplate plaques featuring the famous Bentley Mulliner, England script and Diamond Jubilee Edition have also been commissioned for these Mulsanne models.

Mulliner came to prominence when the family was commissioned to build carriages for the Royal Mail in 1760. By the late 19th Century Mulliner was hand-crafting the coachwork for the new "horseless carriage" – the first cars.

True to the Mulliner tradition, the Diamond Jubilee Edition cars feature a spectrum of paint and hide colors that sets them apart from other Bentleys and which stylishly uses various combinations and shades of red, white and blue - the colors of the Union Flag - to underscore the British connection. Hand-applied Single Fine Lines – using these same three colors – provide an elegant finishing touch as do two distinctive Bentley 'B' badges positioned on each 'D' pillar.

The matter of cost would simply not be discussed in polite company.

Think in excess of $400,000.


NAKED IN LAS VEGAS
Nudist activities aren't confined to Las Vegas. Some naked participants in a bike race.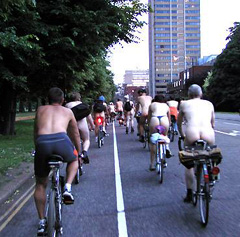 Those who like to let it all hang out - as in nudist - strutted their clean and manicured bodies this past week-end in Las Vegas.

The first Nudist ClubhouseExpo took place in Sin City.

Of course.

Among the activities:

A naked rock band KISS themed, indoor glow-in-the-dark, mini-golf course was there for the unclothed to enjoy for two hours of nude use.

We don't know how many balls got hit.

The entire KISS indoor golf facility is lit by blacklight, "so get ready for some glow-in-the-dark body paint, rock and roll music, and the best time you've ever had in Las Vegas!" the conventioneers were promised.

In addition to swinging those clubs, a vow-renewal group nude wedding ceremony for any interested couples took place.

There were also two evening nude BBQ and pool parties which occurred at the Artisan Hotel Boutique - noted for accommodating the no shoes, no shirt, no pants crowd - because the Alexis Park Hotel, where the convention was headquartered - is a "clothed hotel." The nudists were advised that while on the Alexis property - "you will need to be dressed at all times."

Attendees were offered a nude alternative. "If you want a nude experience in Las Vegas, please look at "Option 2" under "Places to Stay". That nude hotel option immediately sold out.

It wasn't all flapping around fun.

Keynote speaker was Andrew Einhorn who was born in Philadelphia, where he earned a degree in photojournalism from Temple University, before moving to New York City in 1994.

"After discovering his passion for film and video, Einhorn created the much beloved public access television show Dog the Cat, which offered New Yorkers a humorous look at local interest stories as well as the occasional nude photo shoot. While hosting and producing 100 episodes for his loyal cult following, Andrew realized his true calling - turning beautiful everyday women into "naked happy girls." Einhorn has since published three photography books, Naked Happy Girls, Bubble Bath Girls, and Naked Coast to Coast, and starred in two seasons of Cable TV's hit reality show, Naked Happy Girls. He currently lives in New York City, where he enjoys hockey, comedy, politics and chasing dogs."

Did he say 'hockey'?

Careful of that puck.


BROADWAY WELCOMES A BROADWAY CABARET - 54 BELOW
54 Below illustration by Tony Award winner John Beatty.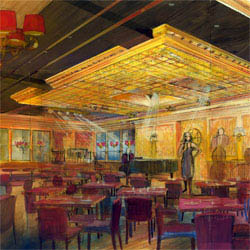 54 Below.

This isn't your ordinary cabaret and it's not intended to be.

It's a Broadway throw back with hopes for a glorious future.

If 'location, location, location' means anything, 54 Below is a winner.

The name comes from the venue being located under what was the famed and infamous Studio 54.

If the ghosts of naughtiness haunt, the current owners welcome their aura.

The joynt is owned, designed and operated by Broadway veterans.

The restaurant's bio reads like a theatrical press release:

"Designed by multiple Tony Award winners John Lee Beatty (restaurant design) and Ken Billington (lighting), sound designer Peter Hylenski and architect Richard Lewis, 54 Below's creative team includes Tony Award winner Scott Wittman (Hairspray, Smash) as Creative Consultant, MAC Award winner Phil Geoffrey Bond as Director of Programming and Union Square Events, the events services arm of Union Square Hospitality Group, New York's premiere restaurateurs, as consultants for food, beverage and restaurant operations."



Patti LuPone will open 54 Below with a two week gig.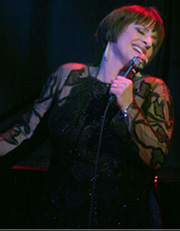 Broadway producer Richard Frankel owns the place with Tom Viertel, Steven Baruch and Marc Routh, the producing team behind several hit Broadway musicals including The Producers and Hairspray.

Indeed, this is a speakeasy which caters to the Broadway in-crowd but visitors are welcome.

Good luck with that. Getting into what has become the "in spot" (even before it opened) may be as difficult as getting past the red rope with the original Studio 54.

While the venue will feature up to three shows nightly as well as a late night lounge, the place can only accommodate 144 people in the main dining room, with all tables no more than 24 feet from the stage. A small bar seats 16.

For those staging a party or performers with an ear towards recording a Live at 54 Below CD, the facilities include the capability to broadcast and record audio and video.

Once inside, patrons should be impressed.

54 Below was constructed much as a Broadway show. First there is the script. That was written by Viertel who gave it to Beatty.

The storyline involved "a group of thieves whose hideaway morphs into a speakeasy."

Patrons won't have to knock and say 'Joe sent me', but they will enter the club by descending a long, dramatic staircase.

Beatty's take on the plot was a décor which features deep shades of red, purple and brown, and wood and leather in the main room.

54 Below, located just steps from Times Square, opens officially next week with a two-week engagement by Patti LuPone.



Linda Lavin performs her cabaret act September 17 & 23.
Victor Garber on stage at 54 Below on August 13 & 20.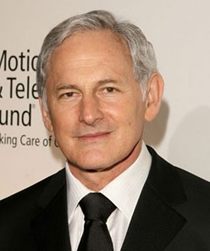 Other performers inked to perform include names to make other cabarets drool. Just a few of the A-list performers include: Ben Vereen, Rebecca Luker, Andrea Martin, Brian d'Arcy James, Jamie deRoy and Friends, Lance Horne, Andrea McArdle, Marin Mazzie, Linda Lavin, Victor Garber, Lea DeLaria, Darlene Love, Christine Ebersole, Dee Hoty, Megan Hilty, Leslie Uggams, Tonya Pinkins, Liz Callaway, Faith Prince, Ann Hampton Callaway, Alison Frazer, Adam Pascal, Mary Testa, and - of course - a Tony Awards viewing party.

54 Below goes into previews tonight, Sunday, June 3, with a show by the comedian Jackie Hoffman.

LuPone will be backed by a five piece orchestra. Her all new show will feature a mix of contemporary songs from the world of pop and Broadway and a selection of Paris and Berlin Cabaret Songs from the 30's and 40's.

Scott Wittman, the Hairspray lyricist is the club's creative consultant and the director of LuPone's show. One of the booking requirements is that the performer do new material created especially for 54 Below. You can't just trot out your old program.

Phil Geoffrey Bond, the director of programming, has been quoted as saying: "the theater industry, from chorus boys to stage managers, is the target audience for Sundays, after most shows end their work week, when the club will feature Broadway cast members."

A Monday night series will showcase emerging songwriters and singers.

In addition to entertainment, there is food, which promises to be as intriguing and satisfying as the on stage performances.



Chef André Marrero won The Food Network's cooking competition Chopped.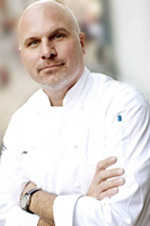 Chef André Marrero trained at The French Culinary Institute in New York and went on to work in some of New York's leading kitchens with some of the best chefs in the world. Among them: DB Bistro Moderne, Jean-Georges Vongerichten's Perry Street Restaurant and L'Atelier de Joel Robuchon in the Four Seasons Hotel. Most recently he was the Executive Chef of Event Operations at his alma mater where he oversaw the creation of a world-class Catering and Private Events Division. He was honored to be selected as Guest Chef for the prestigious James Beard House for New Year's Eve, and won The Food Network's cooking competition, Chopped.

Marcella Anise Smith General Manager / Beverage Director attended the University of Arkansas where she put herself through school by being employed in the restaurant industry. She pursued a degree in - of course - theater.

Marcella eventually landed in New York City where instead of starring on Broadway, she accepted a role at L'Ecole, The Restaurant of the French Culinary Institute. In 2007 Marcella was named the Assistant General Manager of L'Ecole, and in 2009 she was promoted to General Manager/ Beverage Director overseeing an award winning wine list with over 400 selections. Marcella is a certified sommelier and beverage educator and has trained with the American Sommelier Association, the Society of Wine Educators and the Court of Master Sommeliers.

"Influenced by the speakeasies of our past, our beverages will include classically inspired, specialty cocktails, a full array of artisanal spirits, a thoughtful selection of international wines and craft beer sourced from small batch brewers both domestic and abroad."

54 Below promises to "become Broadway's living room; a home away from home for Broadway professionals and audiences combining grace and style in an intimate environment."


SPIDERMAN - TURN OFF THE DARK HAS JUDGE WITH SUPERHERO KNOWLEDGE
Judge Katherine Forrest knows her comic book superheroes.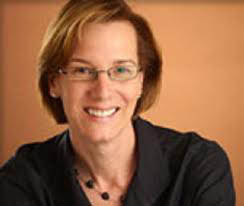 U.S. District Judge Katherine B. Forrest isn't about to let herself get tangled up in the Superman-Turn Off The Dark web.

That knotty production with enough legal issues between the Broadway producers and its former director Julie Taymor, to keep lawyers financially afloat for years, has finally ended up in a courtroom.

Judge Forrest let it be known that she knows her comic book characters.

"I've got a 10-year-old son. I know a lot about superheroes," she said.

POW! Shazam!

Last Friday three routine procedural motions went before Judge Forrest who had requested oral arguments on two of the motions: the producers' request for dismissal of one of Taymor's copyright claims, over her original three-page script treatment for the musical, and a request by the show's original producing company, Hello Entertainment, to be removed from the case.

Lawyers for Taymor oppose both motions.

The judge also considered a motion by Taymor to dismiss the counterclaims filed by the producers.

Spider-Man producers along with - Bono and the Edge of U2 - fired Taymor in March 2011.

The troubled production after three months of preview performances, shut down, was rewritten and has successfully reopened.

Taymor sued the producers first, in November, seeking more than $1 million in back pay and future royalties, as well as copyright protections for her work. The Tony Award winner co-wrote the script and conceived the production with Bono and the Edge, the show's composers. The producers, led by Michael Cohl and Jeremiah J. Harris, countersued in January, asserting that Taymor had been in breach of her contract by refusing to work cooperatively with them.

The trial with millions of dollars (and egos) at stake begins next year.

During Friday's arguments, attorney Dale Cendali argued on the producers' behalf, claiming that what Taymor penned in her original proposal for the musical was simply the most obvious elements of comic books and Spider-Man movies. She emphasized that Taymor even cited the Spider-Man movie in her proposal.

Cendali charged that she had "never seen a case where someone made a more blatant admission that they were copying an earlier work."

She added: "They can't monopolize Spider-Man. They don't own Spider-Man."

Arguing on behalf of Taymor, attorney Charles Spada insisted that his client created new material for the Broadway production, including a new character playing a pivotal role - that would be the goddess Arachne who gave Spider-Man his powers. Many have voiced the opinion that Taymor patterned Arachne after herself.

"There is originality," he said. "This is not just a case about a compilation."

The judge said she would like to view a video of the Broadway production. Cendali cautioned that she wanted steps taken to prevent that appearing on the Internet.

In addition to her son, Forrest can fall back on her own legal expertise.

She earned a bachelor's degree with honors in 1986 from Wesleyan University and a law degree in 1990 from New York University School of Law.

Forrest joined the New York law firm Cravath, Swaine & Moore right out of law school in 1990, becoming a partner in 1998 and handling an array of commercial litigation with a particular focus on antitrust, copyright and digital media. She "was cited as being one of the country's leading practitioners in the antitrust and intellectual property arenas in Chambers USA 2007: America's Leading Lawyers for Business.

Forrest was also cited by the American Lawyer as one of the top 50 young litigators in the U.S. and by Lawdragon as one of the leading litigators in the nation. In 2005, she was named in the Global Competition Review (GCR) in the "40 Under 40" issue "as one of the top competition practitioners or economists worldwide."

Forrest also was profiled in the GCR "as one of the top women antitrust practitioners worldwide."

Spidey isn't the only legal issued that has resulted in Forrest making headlines.

Just two weeks ago on May 16, 2012, she issued a ruling preliminarily enjoining enforcement of the highly controversial provisions for indefinite detention of suspects in the National Defense Authorization Act. Forrest's ruling was issued as part of a lawsuit brought by seven plaintiffs which challenges the NDAA as a violation of "their free speech and associational rights guaranteed by the First Amendment as well as due process rights guaranteed by the Fifth Amendment of the United States Constitution.

While many thought the lengthy, tech problem disaster Spider-Man-Turn Off The Dark could be classified as indefinite detention of patrons who thought that after buying a ticket they had due process to actually see a show, the musical has re-woven itself. On any given night the appropriate target audience - 13-15 year old boys - can be found in front of the theater hoping to snare a ticket.


ESTATE AUCTION OF ARTHUR LAURENCE APPROPRIATELY TITLED 'THE WAY HE WAS'
Laurents townhouse interior. Photo: Roland Antiques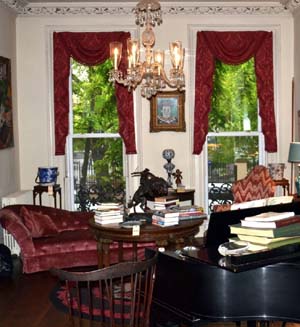 Arthur Laurents, whose credits include West Side Story, Gypsy, La Cage Aux Folles, Hallelujah, Baby and The Way We Were, among many others, had a long and distinguished career, both on Broadway and in Hollywood. He directed I Can Get It For You Wholesale, launching the career of Barbra Streisand, and was hand-selected by Alfred Hitchcock to adapt his play Rope for the screen, starring Jimmy Stewart and Farley Granger.

Laurents died at the age of 93 in May 2011.

David Saint, Laurents' close friend and literary executor, decided to sell the townhouse and much of the contents. On June 2, in New York City, Roland Antiques wielded the gavel.

Saved from the hammer were Laurents' personal papers, including manuscripts, letters and record albums, which were given to the Library of Congress.

Approximately 400 lots from the estate - and 700 lots in total - of fine art, Art glass and Americana, Broadway memorabilia, antique furniture and books that once filled the Arthur Laurents' townhouse in Greenwich Village hit the block.

In 1950, Arthur Laurents became a target of the House Un-American Activities Committee's witch hunts, resulting in being blacklisted for a brief period. Fortunately, he cleared his name and continued to become one of the great names in American theater and film history. Mr. Laurents was nominated six times for a Tony award, having won twice for Hallelujah, Baby, and La Cage Aux Folles. He also has been the recipient of the Drama Desk Award, Writers Guild of America Award, and the National Board of Review Award for Career Achievement. He received multiple nominations for the Academy Award and Golden Globe.

Highlights of the auction included a collection of nine 18th and 19th century needlepoint samplers which Laurents collected. One by Hannah Merrill, states her birth date as May 8, 1789. Another says "This wrought in the year 1790." Still another has the name Sarah Webster stitched into it along with the child's age, 6 years, and the year, 1835.

There was also a collection of eleven 20th century miniature needlepoints commemorating Arthur Laurents' work. Approximately 4 inches square, the needlepoints bear a single symbol reference to Hallelujah, Baby!, West Side Story, A Clearing in the Woods, Home of the Brave, Gypsy, Invitation to March, The Enclave, Do I Hear a Waltz? The Time of the Cuckoo, Anyone Can Whistle and The Bird Cage.



Engraved, red bound Gypsy script. Photo: Roland Antiques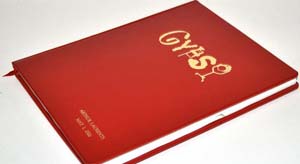 The auction house emphasized that "in addition, a fine collection of modern art, much of which was collected by him while abroad during his blacklisted period, was offered. Along with his many American modern paintings, these European works form a fine collection. Some highlights from the art collection included creations by Yves Tanguy, Claude Venard, Ben Shahn, Bernard Perlin, Ernest Fiene, and Xiang Zhang."

Personal keepsakes included dozens of engraved silver and crystal gifts from cast members and celebrities, as well as awards. Additionally, there were ink and paper costume design sketches by Tony award winners Theoni Aldredge and Irene Sharaff. Also on the podium were Arthur's leather bag and an early Royal typewriter presumed to be used in early writings.

A collection of books, including a copy of Gypsy, inscribed by Bernadette Peters, as well as other books like The Show Makers by Lawrence Thelen, The Gay Metropolis by Charles Kaiser, King of Broadway by Burton Stevenson and Meryle Secrest's Shoot the Widow.

There was a first edition of Joseph Heller's Catch 22, without the dust jacket and a rare Japanese Gypsy script book.

The auction included a lunch box given to him by Patti LuPone.

Furnishings from the Laurents' estate include traditional American and English tables and chests. Two cock fight chairs and a fine butlers secretary. There was also a group of 20th century lighting and furniture, a large painted break front, an antique English mahogany center table and server from Asprey. Other Asprey items included two aubergine velvet benches on turned wood legs and a large decorative tufted ottoman. Then there was the collection of art glass, Venetian furniture and vintage jewelry.

Proceeds from the sale of the house and Laurents' estate go to the Laurents/Hatcher Foundation, a charitable trust that supports new plays.


MEGA LAW FIRM BITES THE DUST


Several hundred lawyers are on the unemployment line. (Jokes are just begging to be written).

The gourmet bread line bonanza is because New York City based Dewey & LeBoeuf with 1,300 lawyers in 10 oversees offices, became the biggest law firm to collapse in the US when it filed for chapter 11 bankruptcy protection last week and said it intends to belly up its business.

Seems all those guaranteed payments - millions of dollars - to about 100 of its lawyers was the downfall.

Greedy, greedy, greedy.

When the firm ran out of cash earlier in the year, the majority of its partners bailed out the door.

In 2011-12, the firm's financial difficulties and indebtedness became public as did an investigation by the New York District Attorney into alleged false statements by firm chairman Stephen Davis.

The firm had strong ties to the world of entertainment and sports.

In September 2009, Dewey & LeBoeuf advised on two major M&A transactions. The firm played a leading role on Walt Disney's $4 billion cash and stock acquisition of Marvel Entertainment, a deal that gave Disney the rights to more than 5,000 Marvel characters, including Iron Man and the Incredible Hulk.

A team of Dewey & LeBoeuf lawyers also advised eBay in the company's agreement to sell a 65 percent stake of its Skype communications unit to a group of private investors, led by the Silicon Valley private equity firm Silver Lake Partners, in a deal valuing the business at $2.75 billion. The firm has also represented billionaire Dallas Mavericks owner Mark Cuban against the Securities and Exchange Commission's accusations of insider trading.

The firm was also known for its pro bono work.

In September 2009, Dewey & LeBoeuf agreed to act on a pro bono basis for Caster Semenya, the South African track athlete, to protect her civil and human rights in connection with the controversial gender testing to which she was subjected.

Previously, a team headed by Dewey partners Jeffrey Kessler, Marco Consonni and David Feher represented, on a pro bono basis, Oscar Pistorius, a South African double amputee runner who was seeking to qualify for the 400m event at the 2008 Summer Olympics, but was banned by the International Association of Athletics Federations (IAAF) from participating.


SPREADING THE WORD


KATHERINE JENKINS

For watching the horse race Jenkins changed into a regal blue outfit by Roland Mouret and a Philip Traecy hat. Her shoes were by Jimmy Choo and she was adorned in diamonds by Garrad. Photo: Wire

To sing for Queen Elizabeth, Jenkins selected a sexy lace and silk satin fishtail gown designed by Suzanne Neville. Photo:Getty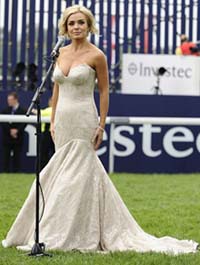 the sensational opera/cross-over star, who recently came in second on Dancing With the Stars returned to her native Great Britain, so she could sing the British National Anthem at the start of the Derby at Epsom, which officially began the four days celebrating the 60th anniversary of Queen Elizabeth's reign.

Hardly a novice to singing, this time the beautiful mezzo-soprano, who wore a sexy lace and silk satin fishtail gown designed by Suzanne Neville, admitted to a new experience.

It seems Her Majesty was only a few feet away from her.

A daunting close encounter of the most memorable kind.

After her show-stealing appearance, the Neath-born singer changed into a regal blue outfit by Roland Mouret and a Philip Traecy hat. Her shoes were by Jimmy Choo and she was adorned in diamonds by Garrad.

If you're going on cheer on the horses, you have to dress the part.

Prior to performing at Epsom, Jenkins was at Abbey Road Studio working on a new album.

Jenkins will be touring in American come November and December with Andrea Bocelli.

DAME MAGGIE SMITH the legendary Tony Award winning actress who currently stars in Downton Abbey as Violet Crawley, the Dowager Countess of Grantham, for which Smith has won an Emmy, has been reported in the British press to be fuming at quotes made by one of the show's American producers, which called Smith "difficult."

Rumors are that the great actress is demanding that the executive name caller be fired.

Smith has been named the 2012 recipient of the Stratford Shakespeare Festival's legacy award, to be presented in Toronto on September 10. The prize honors Smith for the four seasons she spent at the southwestern Ontario festival, from 1976 to 1980.

TALKING NOEL COWARD An informal panel of past friends, performers, and others in discussion of Noël Coward's body of work. Moderated by Geoffrey Johnson, casting director of Broadway's three longest running shows, and who was Noël Coward's American representative for his last ten years. June 11 at the Library for the Performing Arts in New York City.

This program is presented in conjunction with the exhibition Star Quality: The World of Noël Coward. ( See Broadway To Vegas column of March 11, 2012 )
OTHER PEOPLE'S MONEY


THE CENTRE FOR RETAIL RESEARCH based in Nottingham, England predicts that consumers will spend $489 million this summer on Queen Elizabeth Diamond Jubilee and Olympic souvenirs. 27% of all spending for these events will be carried out online.

WAYNE NEWTON was awarded a temporary restraining order against his landlord, Texas developer Steve Kennedy.

Last Thursday, Clark County District Court Judge Elizabeth Gonzalez's ruling temporarily stops construction to transform Newton's home, an estate called Casa de Shenandoah, from being turned into a tourist attraction. Kennedy, the manager of CSD LLC and Newton are embroiled in contentious lawsuits and counterclaims.


JUMPING THE BROOM . . . .


CYNTHIA NIXON the Tony, Emmy and Grammy award winning actor and her longtime partner Christine Marinoni were married May 27, 2012 in the state of New York.

Nixon wore a custom dress by Carolina Herrera.

Nixon, 46, and Marinoni, 45, an education activist, have been together since 2004 and announced their engagement in 2009.

Marinoni gave birth to their son, Max Ellington Nixon-Marinoni, in February 2011. Nixon has a son Charles and a daughter Samantha from her previous relationship with photographer Danny Mozes.


CURTAIN DOWN


DEATH OF A SALESMAN the Broadway revival of Arthur Miller's Tony Award and Pulitzer Prize-winning American classic concluded its limited engagement on June 2, 2012 at the Ethel Barrymore Theatre.

The production, which officially opened March 15, recouped its entire original investment of $3.1 million last month.

Directed by eight-time Tony Award winner Mike Nichols, the drama played a total of 78 regular performances and 31 previews. The production has been nominated for seven Tony nominations, including one for Best Revival of a Play.



LUV a comedy by Murray Schisgal.

Directed by Lonny Price.

Starring Ricardo Chavira, Obie-Winner Robert Stanton, and emerging star Jennifer Regan with Guild Hall Artistic Director Josh Gladstone stepping in for Chavira June 19-22.

Two college friends - misfit Harry and materialistic Milt - are serendipitously reunited when the latter stops the former from jumping off a bridge. Each tries to top the other as they trade hysterically funny, hard-luck stories...and Harry suddenly finds himself as the solution to Milt's most vexing question...how to get rid of his wife Ellen.

June 7 - July 1, 2012 at Guild Hall in East Hampton, New York.

ARKANSAS SHAKESPEARE THEATER presents Twelfth Night on the green at the Village at Hendrix in Conway, Arkansas and at Wildwood Park for the Arts in Little Rock. At the indoor Reynolds Performance Hall in Conway, Richard III and The Tempest will be performed.

The indoor stage will also feature the Huck Finn musical Big River. June 7-July 1 in Conway, Arkansas.

COMPANY Music and lyrics by Stephen Sondheim, book by George Furth.

Directed by Mark S. Graham. Musical Direction by Stan Wietrzychowski.

The pulsing rhythms of New York City underscore this landmark "concept" show, considered by many to have inaugurated the modern era of musical theatre. Company follows our anti-hero bachelor Robert as he makes his way through a series of encounters with April (the stewardess), Kathy (the girl who's going to marry someone else), Marta (the "peculiar" one), as well as with his married friends.

On the night of his 35th birthday, confirmed bachelor Robert contemplates his unmarried state. In vignette after hilarious vignette, we are introduced to "those good and crazy people," his married friends, as Robert weighs the pros and cons of married life.

June 8-July 1, 2012 at the Westport Community Playhouse in Westport, CT.

MY BRILLIANT DIVORCE by Geraldine Aron. Directed by Matt McGrath.

This American Premiere "proves that divorce can be fun! When American ex-pat Angela's irritatingly round headed British husband takes off, she's left to cope with a disapproving mother, a shifty attorney and a bad case of hypochondria. Poignant, insightful...and very, very funny. A real treat from across the pond!"

Starring Polly Draper.

Performances through June 24 at the Bay Street Theatre in Sag Harbor, NY.

LEADING LADIES Written by Ken Ludwig. Directed by Richard Israel.

Starring Corey Craig, David Engel¸ John J. Joseph, Lyndsi LaRose, Daniel Lench, Jamison Lingle, Katherine McKalip and Don Oscar Smith.

A rollicking comedy about two down-on-their-luck actors who dress as women to con a dying woman out of her millions.

This comedy finds two actors, Leo Clark and Jack Gable, so down on their luck that they are performing "Scenes from Shakespeare" on the Moose Lodge circuit in the Amish country of Pennsylvania.

When they hear that an old lady is about to die and leave her fortune to her two long lost English nephews, they resolve to pass themselves off as her beloved relatives and get the cash. Mayhem ensues when they find out that the relatives aren't nephews - but nieces.

Performances June 5-July 1 at the International City Theatre in Long Beach, CA.


WHO'S WHERE


BONNIE RAITT on stage Tuesday, June 5, at the Landmark Theatre in Syracuse, NY. Wednesday's show is at the Sovereign PAC in Reading, PA. On Friday she can be enjoyed at Mountain Park in Holyoke, MA. On Saturday the tour stops at the Mohegan Sun Arena in Uncasville, CT.

ELVIS COSTELLO continues his European tour with a performance Monday, June 4, at the Kongresshaus in Zurich, Switzerland. On Tuesday the show is at the Melkwg in Amsterdam, Netherlands. Thursday finds him at the Frits Philips Musiccentre in Eindhoven, Netherland. Friday's show is at the Rival in Stockholm, Sweden and next Sunday, June 10, he's on stage at the Harpa Concert Hall in Reykjavik, Iceland.

NEIL DIAMOND entertains Wednesday, June 6, at the Phillips Arena in Atlanta, GA. On Friday he'll sing his hits at the Jones Beach Theater in Wantagh, NY. Then next Sunday, June 10, he'll return to that venue for a second show.

NICKELBACK have a show Tuesday, June 5, at the Sprint Center in Kansas City, MO. On Thursday the performance is at the BOK Center in Tulsa, OK. Friday finds them at the Intrust Bank Center in Wichita. Next Sunday, June 10m the show is at the Pepsi Center in Denver.

ELTON JOHN on a UK tour performs at Taunton Somerset Country Cricket Club on June 3 and at Harrogate Great Yorkshire Showground on June 5. On June 7 the show is at the Belfast Odyssey Arena and he'll be on stage June 9 at the Chesterfield B2NET Stadium.

JUSTIN BIEBER will get the girls screaming when he performs at 95.8 Capital FM Summertime Ball on Saturday June 9 at Wembley Stadium in London.

MADONNA brings her star power to the Emirates Yas Island in Abu Dhabi, United Arab Emirates when she opens a two nighter on Sunday, June 3. On Thursday she performs at the Turk Telkom Arena in Aslantepe, Turkey.

ROGER WATERS brings his tour to the Joe Louis Arena in Detroit on Tuesday, June 5. On Wednesday the show is at the Van Andel Arena in Grand Rapids, MI. Friday he performs at Wrigley Field in Chicago.




FINAL OVATION


CARRIE SMITH a jazz and blues singer who starred in the Broadway show Black and Blue, died on May 20 at the Lillian Booth Actors Home of the Actors Fund in Englewood, N.J. She was 86. The cause of death was cancer.

She began her successful career as a gospel singer, performing at the 1957 Newport Jazz Festival.

There are no immediate survivors.

"DOC" WATSON an American guitarist, songwriter and singer of bluegrass, folk, country, blues and gospel music died May 29, 2012 at Wake Forest Baptist Medical Center in Winston-Salem, North Carolina. He was 89.

An eye infection caused Doc Watson to lose his vision before his first birthday. Despite this, he was taught by his parents to work hard and care for himself. He attended North Carolina's school for the visually impaired, The Governor Morehead School, in Raleigh, North Carolina.

In a 1988 radio interview with host Terry Gross on the Fresh Air show of National Public Radio (NPR), Watson explained how he got his first guitar. His father told him that if he and his brother chopped down all the small, dead, chestnut trees along the edge of their field, he could sell the wood to the tannery and make money. The brothers did the work and Watson bought a $10 Stella guitar from Sears Roebuck while his brother bought a new suit. Later in that same interview, Watson explained that his first high quality guitar was a Martin Guitar D-18.

Watson's flatpicking skills and knowledge of traditional American music are highly regarded. He performed with his son Merle for over 15 years until Merle's death in 1985, in an accident on the family farm.

In 2000, Watson was inducted into the International Bluegrass Music Hall of Honor in Owensboro, Kentucky. In 1997, Watson received the National Medal of Arts from U.S. President Bill Clinton.

In 1947, Doc married Rosa Lee Carlton, the daughter of popular fiddle player Gaither Carlton. Watson and Rosa Lee had two children - Eddy Merle (named after country music legends Eddy Arnold and Merle Travis) in 1949, and Nancy Ellen in 1951.

Neil Portnow President/CEO of The Recording Academy issued the following statement:

"Seven-time Grammy winner and Recording Academy Lifetime Achievement Award recipient Doc Watson was a singer, songwriter and guitar player known for his masterful skills as a musician and his beautiful, emotion-filled voice. He toured the country with various acts and family members for nearly six decades bringing Americana music to fans everywhere, and he is highly regarded as a major influence on today's country and folk artists. Watson's immense talent and spirit will be deeply missed, and our sincerest sympathies go out to his family, friends and all who were inspired by his music."

HENRY DECKER a prolific writer died May 15, 2012 at his home in Manhattan. He was 99. The cause was lung cancer.

Denker was admitted to the New York Bar in 1935, at the height of the Depression, and he soon left law practice to earn his living by writing. His legal training was reflected in many of his works. During Denker's brief legal career, he won a Workmen's Compensation case which, according to Denker, for the first time established that a physical trauma can induce a mental disease. In another case, Denker served a summons on heavyweight champion Jack Johnson.

In 1947, Denker wrote the first script for the religious radio series The Greatest Story Ever Told, which, in its first year, won the Peabody Award, the Christopher Award, the CCNY Outstanding Program of the Year Award, the Variety Award of the Year 1947, and others. Denker was to write every script in the series, which ran from 1947 to 1957.

Later, on television, Denker wrote, and David Susskind produced, the first dramatic treatment of a heart transplant, The Choice, which anticipated the challenge of so many patients in need and so few hearts to give. With a cast including Melvyn Douglas, George Grizzard and Frank Langella, the TV drama included film of an actual surgery provided by Dr. Michael E. DeBakey. Denker recalls that CBS allowed only 30 seconds of the surgical film for fear that the audience would shrink from seeing a beating heart in an open chest cavity.

While writing for radio and television, Denker branched out into the theater, which he described as "my first love."

He made his Broadway debut in 1956 with Time Limit!, about an American officer accused of treason while captive in a North Korean prison camp. He got the idea after watching Edward R. Murrow interview Gen. William F. Dean about his experiences being brainwashed by the North Koreans, and wrote the play in collaboration with Ralph Berkey, a chicken farmer. The play starred Arthur Kennedy and Richard Kiley and ran nearly half a year.

His longest run was A Case of Libel, a 1963 play adaptation from a memoir by noted trial lawyer Louis Nizer. The story concerned a famous libel case in which writer Quentin Reynolds sued the conservative columnist Westbrook Pegler for libel and won a large cash judgment.

Other Broadway credits included Venus at Large, What Did He Do Wrong?, Something Old, Something New and Horowitz and Mrs. Washington, an adaptation of his early novel. Time Limit! was made into a movie, and A Case of Libel into a television movie.

The 1951 Broadway work A Far Country starred Kim Stanley who was nominated for a Tony Award.

Denker sued playwright Alfred Uhry, claiming Uhry "had lifted characters, plot twists and ideas" from his 1980 play Horowitz and Mrs. Washington and used them in Driving Miss Daisy. Both works dealt with "an elderly white Jewish person who in the face of advancing age and resulting loss of independence requires the assistance of a black helper and, after initial resistance, develops a friendship with the helper."

A Federal judge ruled that Uhry did not plagiarize the work. About the verdict, Denker said, "I am numb. You don't want to sue anybody, but when I saw the movie I called my lawyer. I based the charges of plagiarism on the story, the characters and their relationships and on certain specific events that happened in my book that also happened in his play. This is not the end by any means."

He was married for 61 years to Edith Heckman.

EDGAR FREITAG a Broadway producer, died May 30, 2012 in New York City. He was 80. The cause of death was complications from a brain tumor.

Known as "Buddy," Edgar Freitag produced in conjunction with his wife Barbara a long list of successful Broadway productions. The couple entered the world of show business as a second career.

After serving two years in the US Army, Freitag began a 17-year career in advertising, rising to the position of vice-president at Grey Advertising Agency. He then co-founded United Financial of America, Inc., a national commercial mortgage banking and brokerage firm.

The Freitags began producing after he sold UFA. They then invested in Off-Broadway and Broadway productions, including Anna in the Tropics, The Goat, Or Who is Sylvia?, Caroline, Or Change, Dirty Rotten Scoundrels, The Drowsy Chaperone, West Side Story, Legally Blonde, In the Heights and All My Sons.

In 2007 Mr. Freitag produced the revival of Harold Pinter's The Homecoming. He then followed that venture by joining the producing teams on such Broadway shows as November, Passing Strange, The Miracle Worker, Catch Me If You Can, High and Blithe Spirit.

He is currently represented on Broadway with the productions of Memphis, Porgy and Bess, Nice Work If You Can Get It and End of the Rainbow.

He is survived by his wife Barbara, their four children, Larry Freitag, Eve Freitag, Harry Falk, Liz Freitag Dranoff, and seven grandchildren.








Next Column: June 10, 2012
Copyright: June 3, 2012. All Rights Reserved. Reviews, Interviews, Commentary, Photographs or Graphics from any Broadway To Vegas (TM) columns may not be published, broadcast, rewritten, utilized as leads, or used in any manner without permission, compensation and/or credit.
Link to Main Page
---
Laura Deni



For the snail mail address, please E-mail your request.
CLICK HERE FOR COMMENT SECTION