! >
Broadway To Vegas
  
 SHOW REVIEWS CELEBRITY INTERVIEWS GOSSIP NEWS

| | |
| --- | --- |
| | |
HANDYMAN ROSALYNN CARTER - -OPERA FRINGE FESTIVAL - - RICHARD DREYFUSS SPEAKS OUT - - HOLLYWOOD RE-WROTE GLENN MILLER'S LIFE - - HAMPTON COURT PALACE FESTIVAL - - NEWPORT FILM FESTIVAL - - FORMER WHITE HOUSE CHEF ROLAND MESNIER - - CAROL CHANNING-HARRY KULLIJIAN FOUNDATION - - DONATE . . . Scroll Down


HOLLYWOOD RE-WROTE GLENN MILLER'S LIFE: FAMED BANDLEADER NEVER SAW HIS ADORED DAUGHTER
Glenn Miller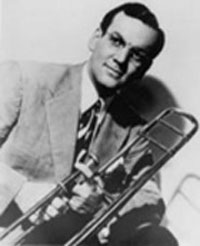 Beloved band leader Glenn Miller's life was immortalized in the movie The Glenn Miller Story, which starred Jimmy Stewart as Miller and June Allyson as his wife, Helen. Released January 8, 1954, writing credits are given to Valentine Davies and Oscar Brodney, who must have specialized in fiction writing.

A romantic, tear jerker of a flick, there is no doubt that Miller and Helen were a love match. Their two children were both desperately wanted and loved. In one scene after Helen miscarries and is informed that she can't have any more children, Glenn assures her that somewhere there are two children waiting for them - a boy and a girl.

The boy is adopted first and named Stephen. In the movie there is a scene purported to be their 10th wedding anniversary celebration. Helen arrives home in a taxi carrying a baby and presents the girl to Glenn as a surprise. He names the baby Jonnie Dee and is shown feeding her while Helen holds toddler Stephen.



Jimmy Stewart as Glenn Miller and June Allyson as Helen in The Glenn Miller Story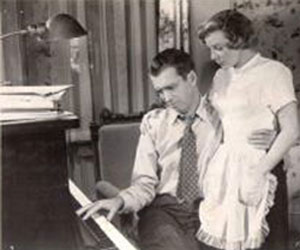 Later, as Miller heads overseas, Gen. Hap Arnold, USAAF (portrayed by Barton MacLane) brings Helen, Stephen and Jonnie Dee to the tarmac to offer Glenn a final farewell. Miller instructs his son to take care of his mother and baby sister.

Heart breaking, toughing scenes - except they weren't true.

"They took some liberties with the facts," Marvin Negley, Glenn Miller Birthplace Society (GMBS) President told Broadway To Vegas. "Stephen is the oldest. He was adopted before Glenn went overseas with his Army-Air Force band. In the movie The Glenn Miller Story with Jimmy Stewart, the movie showed Stephen being adopted, but it also showed Jonnie Dee, his daughter, being adopted as well. That part was not correct," divulged Negley. "She was not adopted until after Glenn left. Helen knew some people at the agency and was able to adopt and she got the little girl. Glenn never came home. So, Jonnie Dee feels bad that she never got to see him."

Stephen was adopted in 1942 and Jonnie Dee in late 1944. Both were adopted from the Cradle Society in Evanston, Ill. On December 15, 1944, Glenn boarded a single engine C-64 Norseman aircraft to travel to Paris, France where he was to make arrangements for a Christmas broadcast. Tragically, the plane never reached France and was never found.

"Jonnie Dee feels she would have liked for him to have seen her," continued Negley. "But, he never came home. Glenn Miller did give her her name - Jonnie Dee. She is very happy about that."

"Stephen is going to be on our panel," Negley said referring to the annual Glenn Miller Festival which takes place June 7-10 in Clarinda, Iowa - the birthplace of the famed musician.

"It is a tragedy when somebody is taken that way and never has a chance to see their children," reflected Negley."



George Montgomery, Glenn Miller, Carole Landis and Ann Rutherford in Orchestra Wives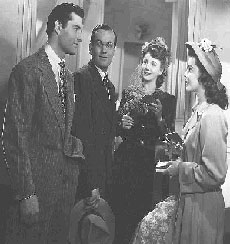 "The one thing that the children do have is that Glenn Miller made two movies, Orchestra Wives and Sun Valley Serenade. so they have those - where they can see their father."

Considering how his own biographical movie altered the facts, it's ironic that, in the making of Orchestra Wives and Sun Valley Serenade, Miller refused to participate unless he was satisfied that the script was "accurate and believable," according to historians.

"In coming to the festival Stephen and Jonnie Dee can visit with people who danced to the music of Glenn Miller, some who personally knew him, and musicians who were in their father's band," Negley reasoned.

"They have both been quite supportive of our society and what we have done to commemorate the memory of Glenn Miller," he continued. "They have been here several times. Stephen is also going to be the Grand Marshal of our parade this year."

"The daughter has been very active in our community in preserving her father's birthplace home," stressed Negley. "She purchased that back in 1989. Since then we have restored it to the way it was in 1904 when he was born here."

Following the purchase of the home, the Glenn Miller Foundation was formed to oversee the home's restoration.

Highlight of the year in Clarinda is the annual Glenn Miller Festival.

"A lot of people don't know that the festival opens up with a major scholarship competition for instrumentalists or vocalists, who are either high school seniors or college freshman. We take tape auditions and pick 10 finalists. They come in from all over the United States and compete for $12,000 in scholarships," emphasized Negley about the scholarships which are awarded without regard to any other award and may be used for any education-related expense.



The Jan Slottenäs Orchestra from Stockholm, Sweden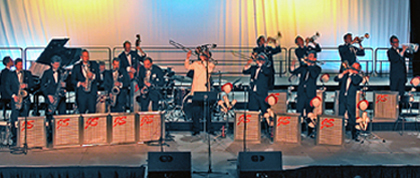 "On Thursday night we have a kick off concert with Jan Slottenäs Orchestra from Stockholm Sweden. They are one of the top Miller style bands in Europe. There are quite a number of excellent bands in Europe who are imitating the style of music of Glenn Miller," he said referring to clarinet led reeds and muted trumpets. Then Negley added, "they are even imitating Glenn Miler himself. Jan is a trombone player and wears similar glasses. He's a tall person. They have been here once before and they are a great bunch of people."

"We have two groups that have been coming from Japan. The Little Cherries from Kagoshima, Japan has been here eight times - and they come from half way around the world. They are a world class high school band - all girls. As a result of them coming to the Glenn Miller Festival in 1990 - we became sister cities with their city and sister schools with their high school. As an example, I've been to Japan 15 times since 1990," said Negley who is admits he needs to work on learning Japanese.



The Little Cherries from Japan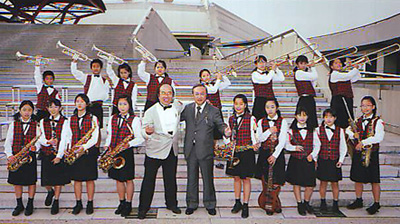 "We've had 72 girls go back and forth with the exchange that we started. We normally go over for two months during the summer." Since the program began Negley reported that they have had "35 students go to Japan from Clarinda and 37 students come from Japan to Clarinda."

As time passes historians become more important to the Glen Miller Birthplace Society and participation from the few remaining original musicians is something to treasure.

"Paul Cannor was a trombonist with the civilian band and later became a professor of jazz at UCLA," said Negley. "He's retired now and he's around 90. He came to the festival last year and has been a great supporter. Another one is Norman Leyden who is about the same age. He was an arranger with the

The Air Force Noteables from Offutt AFB, Nebraska will be performing at the Glenn Miller Festival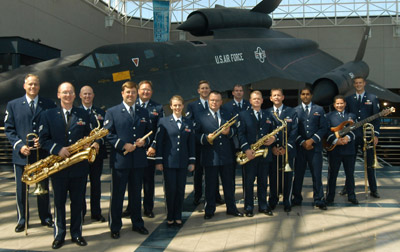 Glenn Miller Army-Air Force Band. He came back and got his doctorate degree and became the associate conductor for the Portland Oregon Symphony." Leyden also composed arrangements for Sarah Vaughan, among other people.

"Eventually that will become impossible," acknowledged Negley about the participation of original band members. Documentation has become significant.

"We have some videos of original band members. We have a panel discussion of people who are Miller experts and original band members. There are some people who have researched Glenn Miller and it's been their life. Ed Polic is perhaps the world's expert and knows more details of what the band did than the people who played in the band."

"He wrote a two volume book about just the Army-Air Force Band. It's incredible and he's a brilliant person. He's working on a similar type of book on the civilian band."

"We owe those people," he emphasized. "We are in debt to them for keeping this history alive."



Former Las Vegas resident Larry O'Brien leads the official Glenn Miller Orchestra. Larry was playing trombone in the Dunes Hotel Casino de Paris orchestra when Glenn Miller Productions, Inc., first asked him to front the band. In 1979, Larry settled in Las Vegas where he played with the Al Ramsey Orchestra at Ceasars Palace, backing up such stars as Tom Jones and Frank Sinatra. He also worked with Sergio Franchi, Wayne Newton, Roy Clark, and many other noted performers.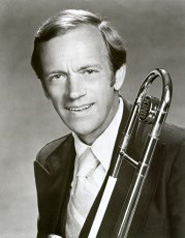 Always putting on a good show is Larry O'Brien conducting the official Glenn Miller Orchestra.

"Last year they were asked to play some of the music that is not so often heard and that went over well," Negley recalled. "Everyone usually plays about 20 Miller songs that were popular. If you buy a CD of anyone playing Miller it's usually the same pieces. The Miller civilian and Army-Air Force Bands played over 1000 songs, so you can imagine that there are a lot of them people haven't heard," said Negley who then clarified, "if you look over the titles, you'll recognize a lot of them because they were made famous by another band."

Glenn Miller music has never diminished in popularity.

"I think it is amazing," responded Negley. "The arrangements could have been written recently. Some are up tempo, there is jazz and then of course the beautiful ballads."

If Clarinda is the town that Glenn Miller put on the entertainment radar, ball bearings keep the town rolling along.

Both before and after our interview Nagley was busy teaching English to Japanese technicians.

"We have two Japanese plants in Clarinda. Ball bearing plants. One of them is a bearing manufacturer and the other one makes the precision balls that go into the bearings. They employ between 550-600 people. That is a really key thing," he stated.

NSK (a Japanese owned ball bearing manufacturer) first located in Clarinda in 1975. Since then, NSK has expanded its Clarinda operation 16 times. In 1988, NSK formed a joint venture with AKS (a Japanese steel ball manufacturer) to produce steel balls. According to Charlie Richardson, NSK-AKS Plant Manager, "The Clarinda plant has been very successful over the last 20 years. We are always looking for new and better ways to do business. This is possible because of the great team members we have. The City of Clarinda and Iowa Western Community College have been very cooperative during all of our expansion projects. NSK-AKS and the community of Clarinda are truly partners."

Okay, so the town needs their industry, but what do they think of Glenn Miller music?

"As a mater of fact, the World's President of the AKS corporation and the Chairman of the Board have both been members of the Glenn Miller Birthplace Society in Tokyo," answered Negley. "We established a branch of our society in Tokyo in 1996. They have plants all over the world and we are fortunate to have them in Clarinda."


NEWPORT INTERNATIONAL FILM FESTIVAL
In a scene from the documentary Chops, Wynton Marsalis (right) shares a moment backstage with members of the Douglas Anderson School of the Arts Jazz Ensemble before they perform at the Essentially Ellington Jazz Competition.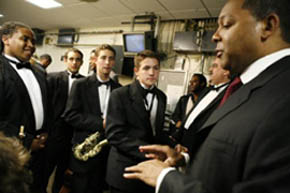 Founded in 1998 by Christine Schomer, Nancy Donahoe and Pami Shamir, in 10 years the Newport International Film Festival (NIFF) has grown dramatically into one of America's leading regional film festivals. Unspooling this year - June 5th to June 10th - the festival in Newport, Rhode Island, has been hailed by critics as a "low key Cannes." Annually attracting over 10,000 filmmakers, celebrities, journalists, and film enthusiasts of all kinds together in a less frenzied, less commercial, and more intimate environment, the Festival has distinguished itself as one where art ranks before commerce.

"It's a big year," Newport Film Festival executive Erica Tavares told Broadway To Vegas. "There are going to be three panel discussions and that's going to be one of them," she said referring to When World Collide: Music and Film. The symbiotic relationship of music and film will be discussed with those who have a foot in both camps.

"A lot of great stuff going on," she enthusiastically reported. "We are excited about the film Chops, she said about the Bruce Boder helmed feel-good flick about the Douglas Anderson School of the Arts Jazz Ensemble located in Jacksonville, Florida. The full-length documentary follows them through a grueling six months of rehearsals and practice performances, watching them tackle the most prestigious, most rigorous jazz showdown in the country. They call it the Super Bowl of jazz competitions - only the top 5 percent of bands are selected to showcase their chops and swing to the sounds of the great Duke Ellington, in the Essentially Ellington contest at Lincoln Center in New York, hosted by jazz legend Wynton Marsalis.

"Two of the student musicians featured in the film are going to be coming to the Festival along with the film makers and they are going to perform after the screening," reported Tavares.

Director Bruce Broder got introduced to middle school music through his son, Owen. The elder Broder calls his film "a love note to jazz and the musicians who find soul in the music." Middle school kids who, instead of obsessing over their social lives - or doing drugs - were completely engrossed in their music.

Broder, who left his job as president of a local advertising agency to pursue filmmaking, honed in on the stories of Jamison Ross (drums), Jeron Ricio Fruge (trumpet) and T.J. Norris (trombone), along with his son Owen Broder (clarinet).

Where are they now?

Ace Martin: Director of Douglas Anderson's Jazz Ensemble, is still teaching at Douglas Anderson

Owen Broder: Clarinet, studying music at the North Carolina School of the Arts

Jeron Ricio Fruge: Trumpet, freshman at Florida State University studying jazz

T.J. Norris: Trombone, in his junior year at Douglas Anderson

Jamison Ross: Drums, freshman at Florida State University studying jazz

"We are also having special screening of Focus Features' Evening," continued Tavares about the June 9 showing. Evening, which was filmed in Newport, was directed by Lajos Koltai and stars Claire Danes, Toni Collette, Vanessa Redgrave, Patrick Wilson, Hugh Dancy, Natasha Richardson, Mamie Gummer, Eileen Atkins, Meryl Streep, and Glenn Close. Many members of the star-studded cast are expected to attend the screening at the festival.

"Yes," said Tavares. "We just got Claire Danes' confirmation."

Evening is a drama exploring the romantic past and emotional present of Ann Grant and her daughters, Constance and Nina. As Ann lays dying, she remembers, and is moved to convey to her daughters, the defining moments in her life 50 years prior, when she was a young woman. Harris is the man Ann loves in the 1950s and never forgets.

The announced nonfiction titles to be screened at Newport this year (* denotes competition film):

Audience of One Dir. Mike Jacobs
A documentary following a Pentecostal minister who receives a vision from God to create an epic science fiction movie based on the biblical story of Joseph.

*Autism: The Musical
Dir. Tricia Regan
Optimistic documentary follows five children diagnosed with autism as they write and perform an original musical.

The Ballad of Esequiel Hernandez
Dir. Kieran Fitzgerald
Tommy Lee Jones narrates this film examining immigration policy through the death of a young man on the U.S. Mexican border.

*Blindsight
Dir. Lucy Walker
Six blind Tibetan teenagers attempt the impossible – to climb Mount Everest.

Chops
Dir: Bruce Boder
Jazz legend Wynton Marsalis hosts the national high school jazz band competition at the prestigious Lincoln Center in New York City.

Crazy Love
Dir. Dan Klores and Fisher Stevens
When Burt's unrequited love for Linda becomes too much for him to bear, he has acid thrown in her face, scarring her for life. Sixteen years later – and against all expectations – the two of them are united in marriage.

Deep Water
Dir. Louise Osmond and Jerry Rothwell
A stunning account of the inventor Donald Crowhurst as he competes in the first ever-solo circumnavigation sailing race around the world.

*The Devil Came on Horseback
Dir. Annie Sundberg and Ricki Stern
From the team behind The Trials of Darryl Hunt, this film exposes the genocide ragging in Darfur as seen through the eyes of a former U.S. marine who returns home.

Festival
Dir. Murray Lerner
Famed documentary chronicling the Newport Folk Festival from 1963-1966.

*Ghosts of Cite Soleil
Dir. Asger Leth and Milos Loncarevic
A shocking portrait of gang life in Haitian slums, which the United Nations deemed, "the most dangerous place on Earth."

The Killer Within
Dir. Macky Alston
An esteemed professor confesses to his colleagues and family that when he was in college he shot and killed a fellow student on campus.

King of Kong
Dir. Seth Gordon Two men vie for the world's highest score in the classic arcade game Donkey Kong.

*Kurt Cobain About a Son
Dir. AJ Schnack
A moving and abstract meditation on the late musician and artist Kurt Cobain, head of the groundbreaking band Nirvana.

Lake of Fire
Dir. Tony Kaye
Hard-hitting documentary on the abortion debate, one that isn't afraid to approach the controversy head-on and delve into the deep-rooted complexities of the issue.

*Protagonist
Dir. Jessica Yu
Academy Award -inner Jessica Yu's documentary explores the relationship between human life and Euripidean dramatic structure by weaving together the stories of four men: a German terrorist, a bank robber, an "ex-gay" evangelist, and a martial arts student.

Radiant City
Dir. Jim Brown and Gary Burns
Humorous critique of suburbia as the father of a "typical family" stars in a community theatre production.

Silver Jew
Dir. Michael Tully
An intimate portrait of reclusive poet/musician David Berman and his band the Silver Jews as they embark on a tour to Israel.

*Taxi to the Dark Side
Dir. Alex Gibney
Academy-Award nominated (Enron) director examines America's policy on torture following the death of an Afghani taxi driver in U.S. custody.

Twisted: A Balloonamentary
Dir. Naomi Greenfield and Sara Taksler
The world of balloon twisting conventions explored. (Includes an animated segment narrated by Jon Stewart.)

*War Dance
Dir. Sean Fine and Andrea Nix
Three children living in a displacement camp in war-torn Uganda travel to compete against 20,000 other students in their national music and dance festival.

In addition to daily panel discussions with well-known industry professionals, NIFF schedules over 100 screenings of feature length narrative films, documentaries and shorts, as well as both international and U.S. film premieres.


NO FLAMBÉ AT THE WHITE HOUSE AND DEMOCRATS EAT MORE THAN REPUBLICANS
Roland Mesnier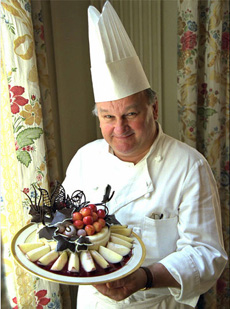 If you ever get invited to chow down at the White House, don't expect the customary cruise ship Parade of the Flaming Baked Alaska. According to former White House pastry chef, the legendary Chef Roland Mesnier, the White House used to serve flaming deserts and then stopped - "because on one Christmas a lady caught on fire. She was wearing a fox shawl around her neck, she leaned over on the dessert table and whoops she was on fire. So no flambé at the White House, thank you."

Mesnier will meet with visitors and sign copies of his newly published memoir, All the Presidents' Pastries: Twenty-Five Years in the White House, A Memoir. on Saturday, June 9, at the National Air and Space Museum in Washington, D.C.

As a young French pastry chef who baked his way to the top, Mesnier's life embodies the great American dream.

One of nine children, Roland Mesnier grew up in the tiny village of Bonnay, France, population 140. He began his career in the kitchen at age 14 as an apprentice. From there, he worked in many different kitchens throughout Europe and eventually found himself in Bermuda, where he met his wife Martha. After nine years in Bermuda, Chef Mesnier made his way to the Homestead Resort in Hot Springs, Virginia. In 1979, First Lady Roslyn Carter hired Chef Mesnier and he became the sole pastry chef, which allowed him to mold and shape the pastry kitchen into his own. He retired from the White House on July 30, 2004.

"I did not attend any fancy schools or universities. I started at the age of 14 in a French pastry shop and then traveled half of the world to learn different recipes and techniques from different countries. How did I get this job? Totally was at the right place at the right time. "

That enabled the personable Mesnier to observe and serve five U.S. presidents.

His memories are warm and funny.

For instance, why so many pastries and who eats them?

"Let's say there is a reception at the White House for 500 which is not uncommon. I'd have to have over 3,000 pastries ready," he said about planning the number of pastries according to who will be at the reception. Over the 25 years he served at the White House he noticed that "Democrats usually eat more than Republicans. I've also observed that if the guests are mostly ladies, they will usually eat more pastries then men."

"Also, some of our pastries tend to disappear into pocketbooks or pockets. And those usually end as Christmas ornaments in different people's homes. So you see why we had to plan for so many pastries at Christmas time."

Head of state dinners demand something beside pudding and a cookie.

"For one of the Italian state dinners we had blown sugar swans, for India we had chocolate white tigers, for Kenya we had blown sugar giraffes. We always tried to do something different for the visiting head of states."

Another that needed special attention was Amy Carter, daughter of Jimmy and Roslyn Carter.

"Amy Carter liked to bake cookies for school. I remember once when she came home from school and said, "Roland, can I have some ingredients for my recipe?" "I gave her the ingredients for sugar cookies. And I said, "So you are going to make these, right?" And she said, "Oh yeah." "So, she went upstairs and mix the ingredients, put them in the oven and then went roller skating. Next thing you know, the kitchen is full of smoke. I saw what happened, but I didn't say a word. Instead, I made some cookies. "The next morning, Amy came down to the kitchen in her pajamas and she said, "Roland...." "I said, I know what you want. I could smell it last night. You burned the cookies, didn't you? "She said, "Do you have anything for me?" "I said, "Of course, I do."

As for Mesnier is he could be any kind of a pastry -- "I would like to be a big, fat doughnut."



Broadway To Vegas is supported through advertising and donations. Priority consideration is given to interview suggestions, news, press releases, etc from paid supporters. However, no paid supporters control, alter, edit, or in any way manipulate the content of this site. Your donation is appreciated. We accept PAYPAL. Thank you for your interest.


SPREADING THE WORD


RICHARD DREYFUSS: THE URGENCY OF ACTIVE CITIZENSHIP Oscar-winning actor Richard Dreyfuss has spent nearly five decades on the stage and silver screen. However, through his longtime interest in political and social activism, Dreyfuss has emerged as a leading voice in the area of civic engagement and active citizenship, earning posts at St. Antony's College, University of Oxford and the Board of Directors of the Los Angeles ACLU Foundation. Just what are the responsibilities of citizens in a democratic society? Are civic roles in government and everyday life inherent, or do they need to be formally taught? Finally, what are the consequences of letting civic accountability wane?

Michael Kramer will serve as moderator. Kramer is a veteran political journalist, formerly serving as chief political correspondent for Time magazine and political editor of New York magazine.

Presented by the 92nd Street Y on Wednesday, June 6, at the Kaufmann Concert Hall in NYC.


SWEET CHARITY


HAMPTON COURT PALACE FESTIVAL 2007 among the UK's most eclectic, is renowned for presenting legendary artists from around the world. This London concert will be supporting the Prince's Trust.

The Festival will open June 5 with a performance by one of the world's greatest opera singers, Jose Carreras, followed on June 6 with the Festival debut of American singing sensation Josh Groban. Bryan Ferry will make much anticipated appearances on June 13 and June 21 and there will be a first time performance by one of Britain's most phenomenal live performers, Tom Jones. Also appearing is the nation's most popular soprano Lesley Garrett on June 16, the legendary Buena Vista Social Club from Cuba, M People featuring Heather Small and Festival favorites Van Morrison and Jools Holland with special guest Lulu on June 7. For classical connoisseurs this year boasts performances from Julian Lloyd Webber and Richard Hickox on June 9, and the not to be missed Festival Finale, hosted by Aled Jones on June 24.

Corporate guests will dine on an exclusive menu created specifically for the occasion by Gordon Ramsay.

Artists perform in the open-air court of Henry VIII's historical royal palace in front of an audience of 2,500.

JIMMY BUFFETT AND SPORTS ILLUSTRATED recently presented a $21,050 check to representatives of New Orleans Area Habitat for Humanity (NOAHH).

The money, which will go to support NOAHH's Musicians' Village, was raised by an EBay auction of a guitar signed by Buffett and 21 Sports Illustrated swimsuit models. The guitar sold for $42,100, half of which goes to the Musicians' Village, and the other half to the New Orleans Musicians' Clinic (NOMC).

The models, who also appeared in Buffett's music video Getting the Picture, signed and posed with the guitar in 14 different cities in four different countries. The guitar is the Jimmy Buffett Shellback guitar, the fifth of only 168 guitars in a line designed by renowned designer C. F. Martin.

DR. CAROL CHANNING-HARRY KULLIJIAN FOUNDATION FOR THE ARTS was started by legendary musical-comedy performer Carol Channing and her husband Harry Kullijian. In conjunction with that foundation Channing began a sojourn in 2005 to visit the 23 California State University campuses and establish a scholarship at each location. She appeared April 13 at the Fresno campus during which time she also lead a master class with Fresno State and University High School students, then joined in a lunch for advanced Fresno State theater students and invited guests.

"We deeply appreciate the gift that someone of Carol Channing's magnitude is giving to our theatre arts students," said Dr. Vida Samiian, dean of the College of Arts and Humanities, which is sponsored Channing's visit with the Department of Theatre Arts.

On June 5 a benefit for the foundation will be held at the Hideaway Room at Helen's, in New York City. Richard Skipper will be giving a special command performance of his show, Carol Channing In Concert Starring Richard Skipper! and Carol and Harry will be in attendance! After the show there will be a VIP reception area in a private room upstairs in the club. All proceeds from the evening will go to the endowment and are tax deductible. In addition to Carol and Harry, Marge Champion, Rex Reed and Ervin and Edith Drake will also be attending the show along with a few other surprise guests in the audience.

Channing, who made her Broadway debut in 1948's No for an Answer, is best known for two starring turns. In the 1950s, she famously played Lorelei Lee in Gentlemen Prefer Blondes, a character defined by the song Diamonds are a Girl's Best Friend. She also played matchmaker Dolly Gallagher Levi in Hello Dolly, which debuted in 1964. She received a Tony Award in 1995 for Lifetime Achievement.

In 2003, Channing married Modesto real estate developer Harry Kullijian, who had been her junior high school sweetheart in San Francisco 70 years earlier. The next year, she received an honorary doctorate from California State University, Stanislaus.



THE DROWSY CHAPERONE

Don McKellar in The Drowsy Chaperone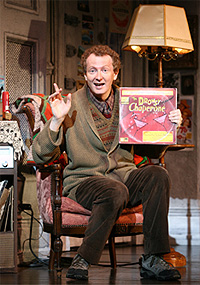 winner of five Tony awards. The score by Lisa Lambert and Greg Morrison. The musical's book was co-written by Don McKellar and Bob Martin who also stars as The Man in the Chair. Musical veteran Elaine Paige joins him for the London transfer of the Broadway production.

This show-within-a-show Man in Chair was an add-in as the material expanded. The piece began as a 35-minute pastiche put together by friends for Martin's stag party before his wedding to the Canadian performer Janet Van De Graaff. It then was presented the 1988 Toronto fringe followed by an engagement at the Ahmanson Theatre in Los Angeles (2005), and on May 1, 2006, The Drowsy Chaperone officially opened on Broadway.

The Drowsy Chaperone tells the story of a modern musical theatre addict who is feeling depressed. To cheer himself up he plays the record of his favorite musical, the 1928 comedy The Drowsy Chaperone. As the hi-fi crackles into life, so does the musical, in the middle of the stage.

Previewing at the Novello Theatre in London. Officially opening June 6. On June l The Drowsy Chaperone helped raise funds for the Breast Cancer Campaign by offering 150 charity tickets at the cost of about $109. which also included a souvenir brochure and entrance to a post-show champagne reception at which British musical theatre legend and The Drowsy Chaperone star Elaine Paige was present.

GEORGE GERSHWIN ALONE Music & Lyrics by George Gershwin and Ira Gershwin. Book by Hershey Felder. Written and performed by Hershey Felder. Directed by Joel Zwick.

Broadway To Vegas adored this show when viewed on Broadway. See Broadway To Vegas column of ( See Broadway To Vegas column of April 22, 2001. )

From June 5 - July 22 the show is at the Geffen Theatre in Los Angeles.

George Gershwin, arguably America's Mozart, died suddenly of a brain tumor at the age of 38, not knowing if his work would live on. With Hershey Felder's George Gershwin Alone, you will experience the bittersweet irony of Mr. Gershwin's interior life, while reveling in the wonder of his music. A Steinway Concert Artist, actor and playwright, Hershey Felder is the only individual to whom the Gershwin heirs have granted permission to create the role of George Gershwin on the stage.

George Gershwin Alone recreates the more important moments in the composer's life telling the story behind the composition of his most famous works.

CAMELOT by Lerner and Loewe. Starring Michael York.

Camelot, is a place where honor and chivalry reign. But can this idyllic land survive when Queen Guenevere falls in love with Sir Lancelot? The splendid, memorable score includes the romantic and haunting If Ever I Would Leave You, the captivating How to Handle a Woman and the majestic Camelot. Re-discover the grandeur of one of history's greatest love stories.

June 12 - 24 at the Broward Center for the Performing Arts in Ft. Lauderdale, FL.

LA CLEMENZA DI TITO Revived for five nights only, this thrilling realization of Mozart's late masterpiece – an intriguing drama of love, betrayal and forgiveness – employs seductive sets to frame the explosive action on stage, as the manipulative Vitellia plots the assassination of Emperor Tito, the man who dared to spurn her.

Recreating their passionate performances as Vitellia and Tito are Emma Bell and Paul Nilon, while the superbly talented Alice Coote makes her debut as Sesto. ENO's new Music Director Edward Gardner conducts Mozart's powerful score.

A co-production by the English National Opera with the Royal Danish Theatre.

ROMEO AND JULIET by Shakespeare. Directed by Michael Greif.

Featuring Opal Alladin, Lauren Ambrose, George Bartenieff, Ari Brand, Anthony Carrigan, Dan Colman, Michael Cristofer, Tiffany Danielle, Seth Duerr, Quincy Dunn-baker, Saidah Arrika Ekulona, Christian Felix, Brian Tyree Henry, Susan Hyon, Oscar Isaac, Camryn Manheim, Orville Mendoza, Owiso Odera, Jeffrey Omura, Lucas Papaelias, Austin Pendleton, Mary Rasmussen, Michael Rossmy, Cornelius Smith, Alexander Sovronsky, Timothy D. Stickney, and Christopher Evan Welch.

Since 1962, The Public Theater has staged productions of Shakespeare in the Park at The Delacorte Theater in Central Park. These performances are offered free of charge and are seen by approximately 80,000 New Yorkers and visitors each summer. In fact, since its inception over 80 free productions have been presented and have been seen by more than 4 million people.

June 5 - July 8 at The Delacorte Theater in Central Park, NYC.

OPERA FRINGE FESTIVAL Only a short drive from Belfast, Ireland and complementing this year's Castleward Opera summer season perfectly is the Opera Fringe Festival in Downpatrick staging no less than one World Premiere, six Irish Premieres, a leading international soprano in the form of Della Jones, a talk about Maria Callas and quite a few chickens.

The Festival opens with the Gala Concert with the Ulster Orchestra on June 8 under the baton of Irish conductor Fergus Sheil and featuring an all Irish line-up of singers, including Cara O'Sullivan. So, it's no surprise that alongside Mozart and Strauss the program will also include arias from Irish favorite Balfe's The Bohemian Girl and Benedict's the Lily of Killarney, all performed against the backdrop of Downpatrick's Great Hall with its beautiful Victorian interiors and grand sweeping lawns.

Thursday June 7- Sunday June 24 in various venues including The Down Arts Centre whose first floor auditorium has one of the best acoustics in Northern Ireland. The current building was built in 1882 and designed by the famous Victorian architect, William Batt. The building became an arts centre in 1989 and is the main concert venue for the Opera Fringe Festival. in Downpatrick, Ireland - which is one of the county towns of Ireland and an ancient site of the early kings of Ireland, as well as being home to Ireland's most famous Saint, Patrick, who built his first church in the area at Saul and is buried at the Down Cathedral.

CARMEN Book by Sarah Miles. Music by John Ewbank. Lyrics by AnnMarie Milazzo.A musical based on the Prosper Mérimée novella that inspired Bizet's opera, and directed by Franco Dragone, the force behind a gamut of Cirque du Soleil shows.

The gypsy enchantress of Prosper Merimee's novella captured the imagination of the world and now inspires daring and innovative Cirque du Soleil director Franco Dragone to bring Carmen to life for a new millennium. In this new adaptation, dazzling imagery, original and Flamenco music and dance infuse this tale of sensuality, passion and obsession.

June 5 - July 22, at the Mandell Weiss Theatre of La Jolla Playhouse in LaJolla, CA.

CAT'S CRADLE by Leslie Sands. directed by Jack Phillips. Twelve years after the murder of a baby, the Inspector returns to the scene before his retirement. This is the one case he never solved and he feels compelled to reopen the case, but is met by a conspiracy of silence in this modern psychological thriller.

The cast includes: Bill FitzGerald, Dorothy Attermeyer, Libby Hammack, Janette Quinn, Bill Hammack, Danny Fogarty and Denny Wise.

May 31 - June 10 at the Theatre of Western Springs in Western Springs, IL.

The Theatre of Western Springs (TWS) was founded under the leadership of Mary Cattell in 1929 when Mary gathered a play-reading group of 24 friends in her living room. Soon afterward, they conducted a door-to-door campaign for support using names garnered from the village water department's customer list. Finally, just three months after the stock market crash of 1929, the Theatre opened with three one-act plays performed at the Village Club. Nationally recognized for its artistic excellence and its position of respect among Chicago's creative community, in 1946 Ella Heimbrodt, one of the charter members of TWS, initiated the children's theatre program. Today the educational programs provide a well-rounded experience for more than 400 students, covering subjects from improvisation and movement to directing and technical crafts. Classes meet weekly from September through May. There are also over 300 Active Member volunteers who help put on the shows.

THE VALUE OF NAMES

Dan Lauria and Jack Klugman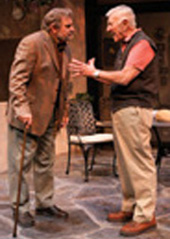 Written by Jeffrey Sweet. Original Direction by James Glossman.

Falcon Staging by Dan Lauria.

Starring Jack Klugman, Liz Larsen and Dan Lauria.

Benny Silverman (Jack Klugman) was an up-and-coming comedian before getting blacklisted at the height of the Red Scare when his name was given up by his best friend, Leo Gershen (Dan Lauria).

Now, fifty years later, he must come to terms with his daughter Norma (Liz Larsen), an actress who wants to give up the family name and, even worse, act in a play directed by his nemesis, Leo.

Performances through June 24 at The Falcon Theatre in Burbank, CA.


| | | |
| --- | --- | --- |
| | | |
WHO'S WHERE


BURT BACHARACH performs June 5 at Walt Disney Concert Hall in Los Angeles.

TONY BENNETT singing his hits Monday, June 4 at the Filene Center at Wolf Trap. On Saturday he can be enjoyed at Citi Performing Arts Center in Boston.

HARRY CONNICK, JR entertains Thursday, June 6, at the Red Rocks Amphitheatre in Morrison, CO.

PETER FRAMPTON in the spotlight Monday, June 4 at the Peace Center in Greenville, SC. Friday finds him at the Beau Rivage Theatre in Biloxi, MS. On Saturday he entertains at the Summit Arena in Hot Springs, AR.

HUEY LEWIS AND THE NEWS have a one nighter, Tuesday, June 5, at Turning Stone Casino in Verona, NY. On Wednesday they open a two night stand at Fallsview Casino in Niagara Falls, Ontario.

KEITH URBAN returns to America this week from his world tour. He performs Friday, June 8, at the US Airways Center in Phoenix, AZ. On Saturday he's in Las Vegas at Mandalay Bay. Next Sunday finds him at ipay One Center in San Diego.

GWEN STEFANI on stage Monday, June 4 at the Qwest Center in Omaha, NE. Tuesday the performance is at the Xcel Energy Center in Saint Paul, MN. On Thursday the show is at the Bradley Center in Milwaukee. Friday she is in the spotlight at the First Midwest Bank Amphitheatre in Tinley Park, IL. Next Sunday she can be enjoyed at the MTS Centre in Winnipeg.

DIANA KRALL opens a two night stand Friday, June 8 at Yoshi's at Jack London Square in Oakland, CA.

SHeDAISY entertains Friday, June 8 at the Grizzly Rose in Denver. On Saturday the show is at Cowboy's in Colorado Springs, CO.

BILL FRISELL performs June 9 in Las Vegas at the Clark County Amphitheater.




FINAL OVATION


GRETCHEN WYLER

Gretchen Wyler and Gypsy who Gretchen rescued from a slaughterhouse-bound truck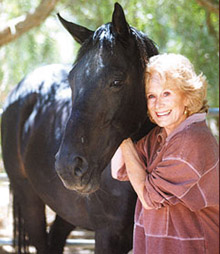 veteran Broadway/television actress and a leading animal rights activist died Sunday, May 27, at her home in Camarillo, Calif., of complications from breast cancer, the Humane Society of the United States said in a statement. She was 75.

Wyler made her Broadway debut in the chorus of Where's Charley? in 1951.,. She performed in eight Broadway productions, including the original Guys and Dolls, Silk Stockings, Damn Yankees, Bye Bye Birdie and Sly Fox opposite George C. Scott.

"The humane movement has lost one of its brightest stars," said Humane Society President and CEO Wayne Pacelle. "Gretchen Wyler devoted 40 intense years to protecting animals, and the cause gained so much ground during that time because of her extraordinary achievements and advocacy - in the media, in law-making, and in raising public consciousness."

Until last year Wyler served as vice president of the Humane Society in Hollywood. In 1966 she discovered poor conditions at an animal shelter in Warwick, NY. She turned her annoyance into activism. She quit eating meat, gave away her fur coats and opened a new animal shelter. Acting took second place to running shelter for 10 years. In 1970 became the first woman member of the board of directors of the American Society for the Prevention of Cruelty to Animals.

She formed The Ark Trust in 1991 and ran the organization until it joined forces with the Humane Society in 2002.

In 1986 she created the Genesis Awards, which honors the media and entertainment industry for shining a spotlight on animal cruelty. The films Fast Food Nation, Happy Feet and Charlotte's Web were among the honorees at this year's event, which featured actor James Cromwell and comedian Bill Maher. This year, the first Gretchen Wyler Award was bestowed on Paul McCartney, for a lifetime of activism for animals.

Wyler is survived by two siblings, Peggy Hanson of Pacific Palisades and Lou Wienecke of Granbary, Texas.

CHARLES NELSON REILLY

Charles Nelson Reilly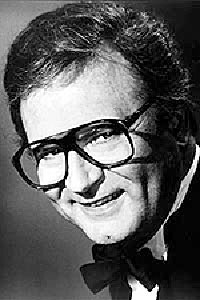 a Tony Award-winning, actor, director, author and drama teacher died from complications of pneumonia May 25 in Beverly Hills, CA. He was 76.

His Broadway break came in 1960 with a minor part of Mr. Henkel in the hit Bye Bye Birdie. Reilly would go on to win a Tony Award for his performance for his performance as Bud Frump in the original 1962 production of How to Succeed in Business Without Really Trying, and he was nominated for another Tony two years later, for his work as Cornelius Hackl in the Broadway production of Hello, Dolly!. His Broadway appearances also include Skyscraper, God's Favorite and Charlotte.

Beginning in 1965 he transferred his talents to television becoming a larger than life character on such shows as Match Game and Hollywood Squares. He also gained a respected reputation as a director. His first Broadway directing assignment was The Belle of Amherst, starring Julie Harris, who won a Tony for her performance. Harris and Reilly would work together on over ten plays together, including The Gin Game, which would earn Reilly a Tony nomination for Best Director of a Play; Ms. Harris was also Tony-nominated.

Other Broadway directing credits included Paul Robeson with James Earl Jones, Break a Leg and The Nerd.

He last helmed Harvey starring Charles Durning and Joyce and Dick Van Patten for the Laguna Playhouse in summer 2003.

His final work touring the country performing a critically acclaimed one man stage show chronicling his life Save It for the Stage: The Life of Reilly, about growing up in the Bronx. The title grew out of the fact that when he would act out as a child, his mother would often admonish him to "save it for the stage." The stage show was made into the 2006 feature film called The Life of Reilly. Reilly is survived by his partner Patrick Hughes III, a set decorator and dresser.


PIFFLE AND PROFUNDITIES


FORMER PRESIDENT JIMMY CARTER AND HIS WIFE ROSALYNN were on Bourbon Street in New Orleans the day after he declared George Bush to be the worst president ever. The Carters listened to a band play at a little jazz garden area on Bourbon, between Bienville and Conti. Reportedly, after listening to several songs, the Carters walked out onto Bourbon for a meet and greet while the Secret Service contingent tried to stay low-key as onlookers cheered and clapped. The Carters were in the Crescent City because that is where Habitat for Humanity is based.

On May 21 Jimmy and Rosalynn, joined dozens of other volunteers to finish framing a house in the 3300 block of Daniel Street in New Orleans, fulfilling Habitat for Humanity's goal to build 1,000 homes on the storm-ravaged Gulf Coast by the middle of this year.

Mrs. Carter was also given her just due - as a hammer and nails expert. A new name was unveiled for the weeklong Habitat building blitz to be held in May 2008, in the Gulf Coast . The weeklong house building event, will henceforth be known as the Jimmy and Rosalynn Carter Work Project. It had been known as the Jimmy Carter Work Project. Every year since 1984, the Carters have dedicated a week to building with Habitat for Humanity.

"He might have put in an hour or two more than I have," said Mrs. Carter. "After 24 years, I've become a fairly accomplished carpenter."

Next Column: June 10, 2007
Copyright: June 3, 2007. All Rights Reserved. Reviews, Interviews, Commentary, Photographs or Graphics from any Broadway To Vegas (TM) columns may not be published, broadcast, rewritten, utilized as leads, or used in any manner without permission, compensation/credit.
Link to Main Page
---
Laura Deni


CLICK HERE FOR COMMENT SECTION