! >
Broadway To Vegas
  SHOW REVIEWS CELEBRITY INTERVIEWS GOSSIP NEWS

| | |
| --- | --- |
| | |
SONDHEIM/PRINCE MUSICAL BOUNCE OPENS IN CHICAGO - - BROADWAY ROCKS - - BROADWAY BARKS - - JUDY GARLAND MUSEUM RECEIVES STREISAND GIFT - - NEW THEATRE NAMED AFTER SONDHEIM - -LIMP BIZKIT'S FRED DURST IS OBSESSIVE COMPULSIVE - - FRAULEIN ELSE - - CHRISTOPHER PLUMMER AND REBA McENTIRE HONORED - - DONATE . . . Scroll Down


SONDHEIM/PRINCE MUSICAL BOUNCE HAS WEAK SCRIPT, STRONG CAST



It's been almost two decades since Stephen Sondheim and Hal Prince have collaborated and that was on Merrily We Roll Along. Their latest effort, Bounce, which is Sondheim's first new musical since Passion nine years ago, began previews at the Goodman Theatre in Chicago on June 20th and officially opens tomorrow night, June 30th. This project has bounced back more times than the characters in the show - from re-writes to lawsuits.

In the mid 90's Stephen Sondheim and James Weidman were commissioned by the Kennedy Center to write Wise Guys, a musical about Addison and Wilson Mizner. Weidman co-created with Susan Stroman, Contact, the brilliant production which contains sparse dialogue. Weidman has also carted home nine Emmy awards for his writing on the PBS children's series Sesame Street.

In 1999 Wise Guys was headed to Broadway. A theater was booked and scenery was built. But a workshop production, starring Nathan Lane and Victor Garber, in October of that year proved to be unsatisfactory. Sondehim, Weidman and the producers thought the show needed more work. For two more years Sondheim and Wiedman re-tooled it and renamed it Gold! Plans were made open it at the Goodman Theatre with Hal Prince directing. Trouble erupted when Scott Rudin, a producer of the workshop, sent off cease and desist letters claiming rights to the show. The production was canceled, a lawsuit followed, which Sondheim won, and a settlement was reached. On February 5, 2003 Gold! was renamed once more - to Bounce.

The press got ticked off about Bounce when it was announced that only Chicago press were to review the production. Maybe somebody thought the only people permitted to read a Chicago newspaper were required to live within those city limits. In what may have been a reverse psychology ploy, scribes who might not have given the show more than middling interest, took note. We are no exception. Last Sunday Broadway To Vegas flew Michael Ashleman to Chicago to cover the production. He has reported for us before and came away from the theatre saying:

"Technically it was a good trip. The airplane flight was fine and for only $1.50 you can take the train from the airport to the theatre. The people in Chicago are nothing but nice."

Okay, now about Bounce.

(Pause) "The Goodman is a really beautiful theater."

Did you see Bounce??

"Yes. This is not West Side Story. This is not Sondheim's strongest work. The ability of the three stars of the show - Howard McGillin, Richard Kind and Michele Pawk - exceed the play.

"I'm not saying it will never make it to Broadway. I've seen shows of this quality on Broadway, but it's not the strongest show I've ever seen. It's not wrong. There is nothing that makes you say - this just stinks - there is never that. It is just never outstanding. It is never bad. It is just never all that good."



Wilson and Addison Mizner Photo: Palm Beach Historical Society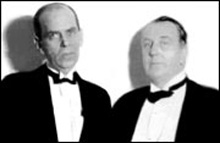 "Bounce is about two brothers, Addison and Wilson Mizner, who are separated by a half a continent. They are older and they die. They meet up with each other after being dead, and review their life," reported Ashleman about the production which is suppose to immortalize two of the most notorious and colorful characters from the Roaring Twenties as they con their way from the Alaskan Gold Rush to the land boom in Florida.

"The plot is too predictable," complained Ashleman. "On the curtain is an old western style map of the United States. Around it are posters listing their location. Very quickly into the show you realize, we're going to go to all these places. Now they are rich, now they are poor, now they are rich, time to be poor. The writing is so shallow that you can almost predict what the next line is going to be while you're watching the show. There isn't enough depth given to these characters, who is real life, were very complex, both achieving and conning their way through life."

"Since it starts off with the characters dying, you know where it is going," he continued about the two brothers who died in 1933. The 62-year-old Addison passed away in February. Three months 57-year-old Wilson did the same.

Addison, born in 1872, developed fanciful Mediterranean style architecture which launched a "Florida Renaissance" and inspired architects throughout North America. He built his opulent, glamorous mansions along the coast of southern Florida in the 1920s - buildings that came to define Palm Beach and Boca Raton, when affluence and celebrity came together in a triumph of excess. Addison went down in history as one of the country's greatest domestic architects of the twentieth century. An elementary school in Boca Raton is named after him.

"The brother that Richard Kind plays, Addison Mizner, drinks himself to death," continued Ashleman. "They have him being served with a summons. He says this makes it complete, 100 percent - everybody had now sued me. He sits there drinking himself to death."

"The other brother Wilson Mizner, played by Howard McGillin, dies in bed with a trollop in Los Angeles sniffing cocaine and drinking," Ashleman related.

Wilson Mizner gained fame as boxing manager who rigged fights, a playwright of three lesser known Broadway plays staged between 1909-1911. He was arrested in 1919 for running a Long Island gambling hall. After settling in Hollywood, Wilson managed and co-owned the Brown Derby Restaurant.

Wilson's witticisms have been quoted for generations.

Life's a tough proposition, and the first hundred years are the hardest; A drama critic is a person who surprises the playwright by informing him what he meant; God help those who do not help themselves; A good listener is not only popular everywhere, but after a while he gets to know something; You sparkle with larceny; I can usually judge a fellow by what he laughs at; To profit from good advice requires more wisdom than to give it; Be nice to people on the way up, because you'll meet them on your way down; A slave has but one master. An ambition man, has as many as there are people who helped him get his fortune; Gambling: The sure way of getting nothing for something; If you count all your assets you always show a profit.



Excellent singer Howard McGillin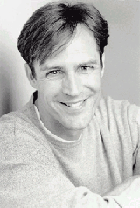 "The dialogue does incorporate a few of his witticism, but the historical importance of who and what these men were in real life doesn't come across to the audience," Ashleman complained. "You are told that this guy has quite the wit but you never really understand that this is the man who created all of these lines that are still said today."

"Bounce starts off with a very minimal stage, a bed and a chase lounge. The first third of the show there is almost no scenery. In fact, the characters are moving the props around themselves. That's not a complaint, it fits in well with the direction. Hal Prince is a smooth director. Nobody could have done a better job. He makes directing look easy."

"When the brothers meet up after they are dead they are standing at an opening in some light. And, they are arguing - I told you the next time I saw you I'd kill you. You can't kill me I'm already dead - It starts off on a dark comedy note."

"There are funny moments, thanks to the ability of Richard, Michele and Howard to pull this off."




Michele Pawk with her 2003 Tony Award for her performance in Hollywood Arms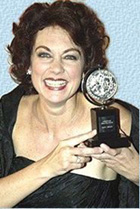 "The woman who plays Nelly, a Gold Rush dance hall girl who repeatedly marries well, is Michele Pawk. She is sensational. She did something that I thought was amazing. She has to be middle aged, yet she is playing the sexy trollop all the way through - and she pulls it off. She has both a great singing and speaking voice. Her vocal tones are excellent. When she is begging her love to give up the drugs, to stop drinking, she can - with her vocal tones and the meaning she puts her in voice - actually make you feel that this was real."

"She is up to anything a producer or director would expect from her. She gives just that kind of a performance. She doesn't hold anything back. She makes you believe her character."

"Her part is written to be a supporting character but Pawk is so strong, her ability elevates the role to lead quality. I was just very impressed with Miss Pawk. It is unfortunate that she doesn't have a part that is up to her," emphasized Ashleman.

"Howard McGillin does a really nice job of giving depth to Wilson Mizner. He has several songs and does an excellent job. He's the one who can really sing," said Ashleman about the actor that - in order to accept this part in Bounce - had to quit the lead in the Broadway production of Phantom of the Opera. When he left Phantom McGillin had earned the distinction of Broadway's longest-running Phantom, having played in over 1,200 performances since he began in the Broadway run Aug. 23, 1999.

"Are you serious? You mean some of these people actually gave up other shows to come do this one?" Ashleman questioned in complete astonishment. "Well, he gave his all. McGillin's interactions with Pawk's is very credible. Their duet on The Best Thing That Ever Happened to Me, make the audience believe they are lovers."



Richard Kind has impeccable comedy timing
"You have three strong performers. They need to be strong. The script and the songs are not strong. They aren't horribly weak, but this is a show that really needs strong performers in the leads. If you had actors of any less quality, this play wouldn't be any good. The script is not strong enough to tolerate a weak actor. You need a strong actor to hold up the script. The plot is too thin"

"These three exceed the play."

"Richard Kind's timing and his dry wit delivery are exactly what the show needs. He made some moments, that I thought were weakly written, very funny because of his ability to do timing. For those who know him only as a television sitcom actor, Kind could be a major Broadway star."

"Kind does an excellent job, both in the songs he sings - although he is not a singer - and in the way he delivers his lines, to establish that Addison is a tragic figure," continued Ashleman. "Addison has a dream that he wants to pursue. His brother, Wilson, is always pulling one scam or another. Addison gets hoodwinked a couple of times, and it's very painful for him."

"Addison's love is architecture. That seems to bring him some happiness. He goes to New York to catch up with Nellie, not knowing that Nellie was his brother's love in Alaska. His brother ends up marrying Nellie. Wilson repeatedly destroys Addison's dreams. Richard Kind makes you feel for the guy. Then Addison heads down to Florida and meets up with Hollis Bessemer, who may have been his lover, and realizes his architectural dreams. Then his brother comes along to pull another fast one and again destroys Addison's dream."

Gavin Creel, who received a 2002 Tony Nomination for his portrayal of Jimmy Smith in the musical Thoroughly Modern Millie is Hollis Bessemer. "His part isn't big," continued Ashleman, "although he is on stage for most of the second half. It is his presence that is there, but he doesn't have many lines - especially as compared to everybody else. He is important to the story, but this isn't a big part."

Receiving pre-opening publicity was that an American sweetheart, Jane Powell, 74, was cast as Mama. Jane had been quoted as saying it was a dramatic part with no singing or dancing. Unfortunately, that wasn't the case.

"Jane Powell was fine for her part. Her part isn't as big as it seems. She plays the mother and she delivers her lines very well and she gets a few laughs," commented Ashleman about Powell who plays the matriarch of a family whose forebears included the English landscape painter, Sir Joshua Reynolds. When her sons were teenagers their father, Lansing Mizner who never missed an opportunity - played by Herndon Lackey - was appointed U.S. minister to Guatemala.

"Lackey's part is over almost as soon as it starts," Ashleman reported. "He dies within fifteen minutes of the opening act. The first number is Bounce with Wilson and Addison followed by Opportunity performed by Papa, Addison, Wilson and Mama. This is where they set up the pattern that you always have to bounce back. As the song ends Papa dies. So, Lackey has very few lines, dies at the end of his only song which takes place within the first ten to fifteen minutes of the show."



An American sweetheart Jane Powell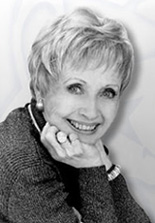 "Jane Powell does some singing - light things with other members of the cast. She has one solo Isn't He Something, but it's not what you expect from Jane Powell. She doesn't carry a tune the way she once did," he continued about the performer who starred in 20 major MGM musicals.

Powell has appeared on Broadway replacing Debbie Reynolds in Irene; toured in My Fair Lady, Peter Pan, and The Sound of Music; and has demonstrated a comedic flair in such non-musical successes as, Chapter Two, Marriage Go-Round, and Same Time, Next Year, for which she won a Drama-Logue Award. During the year 2000, she appeared in the New York production of Avow.

"The audience noticed that her singing isn't up to her standard and made comments. There were several older woman saying - she can't sing anymore. It's like Sinatra was - lost some notes. She does a couple of ballroom dance steps with the other characters, but this is not how she used to be or how her fans remember her. She can sing, but not like she used to and this hurts the memory fans have of her. If it is important that Jane Powell sing the song, then write it using the notes she can still sing."

"It is very minimal stage scenery," he repeated. "They slide stuff in from the left and right. A lot of times you have the actors coming out on stage pushing their props. There is no darkness, or a curtain and then everything opens up into a scene. No outstanding scenic design. The costuming and the scenery could have come out of a high school play. The light was very good and the sound quality was excellent."

"The music has Broadway type tunes but none of these are going to be tunes where everyone knows the words. You don't leave the theatre humming a tune. The song Bounce does have a catchy melody, but it isn't anything I can whistle. None of the songs are memorable in that sense."

"The major production number is Boca Raton, which is towards the end of the show. The brothers are in Florida overselling Boca Raton. It's a zippy tune and Sondheim has some clever lyrics. The song is all about conning the wealthy and famous with real estate deals. Boca Raton is sung by Wilson, Addison, Nellie and Hollis with all of the rich and famous that they are trying to rip off - opera singer Enrico Caruso, painter Salvador Dali, golfer Bobby Jones, sexy film star Mae West, Princess Ghika plus the Boca Girl, sportsmen, fashion models and yachtsmen."

"The last number of the show, Last Flight, is just Wilson and Addison and then those two reprise the title song."

"One thing I found surprising was the language. There are a lot of four letter words. There is no doubt about it, they are serious four letter words."

"That all could have been deleted and never affected the script. They were put in for shock value, not to move along or give any depth to the story line," Ashleman asserted.

"I don't think any other actors in the world - and you can pick whom ever you want - could have done the show better. But, Bounce is not a show people will talk about 20 years from now. You see Phantom of the Opera, Hello Dolly!, Cats, My Fair Lady, Les Miserables, Mame, Kiss Me, Kate - you either want to see it again, remember at least one song, or talk about the show. You see West Side Story and you remember all of the characters and find yourself whistling the tunes. That doesn't happen with Bounce. I'm finding that I have to go back to the program to even remember the characters. There is nothing in this show that really grabs you."

"This show doesn't have a problem due to any of the actors. The book is the problem and the songs are just - songs."

"But, the actors give you your money's worth. Nobody left early and the place looked like it was sold out. Nobody complained about being taken. There was no standing ovation and no thunderous, long applause. This is not Hello Dolly! or West Side Story. This was just a good, okay, average show."

Bounce, featuring music and lyrics by Stephen Sondheim, book by John Weidman, and directed by Harold Prince.

The production stars; Richard Kind, Howard McGillin, Michele Pawk, Jane Powell, Herndon Lackey and Gavin Creel. Completing the ensemble are: Sean Blake, Marilyn Bogetich, Tom Daugherty, Jeff Dumas, Deanna Dunagan, Nicole Grothues, Rick Hilsabeck, Jeff Parker, Harriet Nzinga Plump, Jenny Powers, Craig Ramsey, Jacquelyn Ritz and Fred Zimmerman.

The design team includes Eugene Lee (Sets); Miguel Huidor (Costumes); Howell Binkley (Lighting); Duncan Edwards (Sound); David Caddick (Music Direction); Michael Arnold (choreographer); Robert Nassif (Dance Arrangements).

Last night a performance of Bounce, was the centerpiece of the Goodman Theatre's annual benefit gala. The event began with cocktails and also featured a raffle and dinner and dancing at the Palmer House Hilton following the performance. Tickets began at $1,000.

Bounce runs through August 10 at the Goodman Theatre in Chicago. It then transfers to The Kennedy Center in Washington D.C. October 21-November 14.



Broadway To Vegas is supported through advertising and donations. Priority consideration is given to interview suggestions, news, press releases, etc from paid supporters. However, no paid supporters control, alter, edit, or in any way manipulate the content of this site. Your donation is appreciated. We accept PAYPAL. Thank you for your interest.


NEW JUDY GARLAND MUSEUM OPENS: BARBRA STREISAND MAKES MAJOR CONTRIBUTION
The Judy Garland Home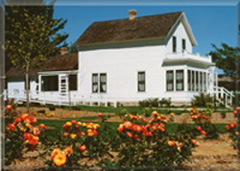 The 27-year-old Judy Garland Museum has moved to a new 1,500 foot facility in Grand Rapids, Minnesota, thanks in part to a major grant from The Streisand Foundation.

The Museum is attached to Garland's childhood home. The official opening took place Thursday, June 26, the first day of the 28th Annual Judy Garland Festival which culminated June 28.

The festival featured an evening with Hollywood great Margaret O'Brien who attended the ribbon cutting ceremony and shared her personal story of knowing and working with Judy Garland. There was brunch with four of the original Munchkins - Jerry Maren, Margaret Pellegrini, Karl Slover and Clarence Swensen. They appeared with Garland in the 1939 MGM film The Wizard of Oz.

Caren Marsh-Doll, the stand in for Judy during the making of the Wizard of Oz, offered a talk and signed copies of her just released book: Hollywood's Child: Dancing Through Oz.

Also on tap was a tribute to Judy Garland by pianist Richard Glazier and an question and answer evening with Donald O'Connor, star of Singin' in the Rain, and Judy's good friend going back to vaudeville days.

Judy's son, Joe Luft, offered an evening of his memories.

Born Frances Ethel Gumm on June 10, 1922 at Itasca Hospital, Grand Rapids, Minnesota the baby that would become Judy Garland spent her early childhood - 4-1/2 years - in Grand Rapids, until moving to California in October 1926. That is why the Judy Garland House is restored to the period prior to 1927.

The Garland House was built by Andrew and Mary Shook in 1892. Parents Frank and Ethel Gumm spent 12 years in Grand Rapids, from 1914 until 1926, living in the Judy Garland House for seven years - 1919-1926.

The new Garland Museum is large enough to show case the never-before displayed Wizard of Oz Carriage - the cart that brought Dorothy and company to see the Wizard of Oz in the 1939 movie. It is believed that Abraham Lincoln rode in that carriage in June 1863. The carriage was a gift to Lincoln from a group of New York businessmen. Lincoln's name is inscribed on the side of the carriage.

Garland, who received a special Antoinette Perry (Tony) Award for record-breaking Broadway engagements at the Palace, died in London on June 22, 1969. She was 47.

The Judy Garland Museum is open daily seven days a week from 10 am to 5 pm through October 13.


SWEET CHARITY


BROADWAY BARKS 5 with Mary Tyler Moore, Bernadetter Peters and Broadway friends paws to help their four footed friends in an adopt-a-thon in Shubert Alley on- Saturday, July 12. with Harvey Fierstein as special guest emcee.

Laura Benanti, Tammy Blanchard, Kate Buddeke, John Dossett, Linda Emond, Edie Falco, Sutton Foster, Julie Halston, Linda Hart, Dick Latessa, Heather Lee, Mary Stuart Masterson, Jon Secada, Leslie Uggams are just a few of the stars slated to appear in this star-studded dog and cat adoption event which benefits New York City animal shelters and adoption agencies. The event, produced by Broadway Care/Equity Fights AIDS, will take place on Saturday, July 12 in Shubert Alley. The festivities begin at 3:30 p.m. Celebrity presentations of pets from citywide animal shelters will take place between 5:30 and 6:30 p.m. In the event of rain, Broadway Barks 5 will be rescheduled for Sunday, July 13 at 12 noon.



CHRISTOPHER PLUMMER was one of 18 honorary degree recipients at the University of Toronto's June convocation ceremonies taking place June 4 to June 20.

The Tony award winner returns to the New York stage early next year when Stratford Festival's 2002 production of King Lear, starring Plummer, opens at Lincoln Center. The Shakespeare tragedy will be produced by Lincoln Center Theater in association with the Stratford Festival and will be directed by Jonathan Miller. Performances begin Feb. 11 with previews and the show opens March 4. Others in the cast include James Blendick, Domini Blythe, Benedict Campbell, Brent Carver, Ian Deakin, Claire Jullien, Barry MacGregor, Lucy Peacock, Stephen Russell and Brian Tree.

Lincoln Center Theater's production will have sets by Ralph Funicello, costumes by Clare Mitchell, lighting by Robert Thomson and original music by Berthold Carriere.

REBA McENTIRE received a career achievement award last Thursday night during the annual Country Music DJ/Radio Hall of Fame Induction Banquet at the Hilton Suites hotel in Nashville. Sara Evans and Trisha Yearwood presented Reba with her award.

NEW SONDHEIM THEATRE London's West End will have its first new theatre since 1973, and the 500 seater will be named after musical legend Stephen Sondheim. The venue will be part of Cameron Mackintosh's multi-million dollar project to improve his chain of seven theatres. The Sondheim Theatre will be on Shaftesbury Avenue between the Gielgud Theatre and the Queen's Theatre.


OTHER PEOPLE'S MONEY


$3 MILLION GIFT TO THE NASHVILLE SYMPHONY HALL has been given by recording industry executive Mike Curb. The Curb gift, one of the largest single donations received thus far, is part of the ongoing $120 million campaign to build a new downtown concert hall, create an endowment and enhance artistic quality. The Curb gift is specifically earmarked for educational activities at the new hall, including the continuation of the six-year-old Curb Young Musicians Concerto Competition. The $3 million addition brings the total raised to just over $80 million. Groundbreaking for the new hall is set for December.



FRAULEIN ELSE

Francesca Faridany (foreground) with Mary Baird and Julian Lopez-Morillas in a scene from Fraulein Else. Photo: Kevin Berne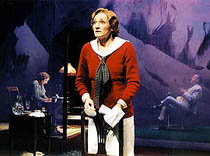 by Arthur Schnitzler. Translated and adapted by Francesca Faridany. Directed by Stephen Wadsworth. Francesca Faridany performs the title role.

A powerful portrayal of a woman torn between her childhood fantasies and the harsh realities of the adult world.

Else, a beautiful young Viennese woman vacationing with her wealthy aunt at a luxurious spa, receives a telegram from her mother that will forever change her destiny. Torn between her loyalty to her family and the moral dilemma that the request presents, Else teeters between two conflicting worlds.

Developed at the Sundance Theatre Lab. This is a co-production with Berkeley Repertory Theatre, The world premiere production, which contains nudity, runs at the La Jolla Playhouse through July 13. The cast of Fraulein Else also includes Mary Baird as Mother, Lauren Lovett as Cissy, Julian López-Morillas as Herr Von Dorsday, Garrett Neergaard as Porter and Michael Tisdale as Paul.

The design team is composed of; set designer Thomas Lynch, costume designer Anna Oliver, lighting designer Joan Arhelger and sound engineer Bill Williams.

La Jolla Playhouse was founded in 1947 by Gregory Peck and other Hollywood actors who wanted to practice the craft of the stage. La Jolla Playhouse received a Tony for outstanding regional theater in 1993.

OUR SINATRA: A MUSICAL CELEBRATION a full length celebration of the music and magic of Ol' Blue Eyes himself starring Hilary Kole, Christopher Gines, and Eric Comstock. The show features over 50 Sinatra classics, from At Long Last Love and All the Way, to Time After Time, These Foolish Things, Witchcraft and Where or When.

July 2 through July 12 at Guild Hall, East Hampton, New York.

LOVE A PIANO Music and Lyrics by Irving Berlin. Conceived and Written by Ray Roderick & Michael Berkeley. Musical Arrangements by Michael Berkeley. Directed by Ray Roderick.

Irving Berlin gave us so many ways and reasons to love a piano, and this bright new musical story of the life's journey of one particular piano is also America's story through Berlin's mind and music.

Starting life in 1910, at a small music shop selling sheet music, our beautiful little upright travels through the times and tales of the 20th century, all through the music narration of one of America's most beloved composers.

The stars of the show are a piano and the Berlin songs with assist from Lourelene Snedeker, Justin Brill, Joan Hess, James Madden, Ellie Mooney and Scott McGowan.

Musical arrangements are by Michael Berkley. John Glaudini is musical director. Designers are Larry Gruber (set), Richard Crowell (lighting), Suzette Pare (costume) and Matt Kelly (sound).

Chocked full of Berlin tunes the production opened June 27 at Florida Stage, Palm Beach County, Florida with performances through August 31.

THE GOOD GERMAN a world premiere drama by David Wiltse. Directed by James Naughton. THe production stars three-time Tony-winner Boyd Gaines. Also featured are Casey Biggs, Kathleen McNenny and Victor Slezak. Information on the production is given as: "We gathered a group of actors together to read The Good German this winter and quickly realized how powerful and relevant it is for today. Audiences will be moved by this riveting play set during WWII, in which a couple risk the consequences of harboring a Jewish publisher in Nazi-controlled Germany." Opened June 25 with performances to July 12 at the Westport Country Playhouse in Westport, Conn.

MAN OF LA MANCHA welcomes Marin Mazzie in the role of Aldonza July 1.

CABARET has welcomed Melina Kanakaredes to the cast as the new Sally Bowles. The star of television's Providence is making her Broadway debut.

ANNIE Book by Thomas Meehan. Music by Charles Strouse. Lyrics by Martin Charnin. Based on the Tribune Media Service Comic Strip, Annie. A 25th Anniversary production of one of the world's best-loved musicals. Returning to the Pittsburgh stage to reprise his role as Daddy Warbucks is veteran performer Conrad John Schuck who starred as Daddy Warbucks in the 1997 Broadway revival as well as the national tour. Two-Time Emmy Award-winning actress Sally Struthers, who currently has a recurring role on the WB's highly acclaimed Gilmore Girls, joins the cast as Miss Hannigan, a role she performed during the 20th Anniversary national tour. Meredythe Kimmel, a Pittsburgh CLO Academy student, stars as Annie. The production also features Lynne Wintersteller as Grace Farrell, Beth Glover as Lily St. Regis, Jim Walton as Rooster. Other featured performers are Tim Hartman, Jeff Howell, Scott P. Sambuco, and Tony Venneri. Through July 3. Pittsburgh Civic Light Opera at the Benedum Center, Pittsburgh, PA.

WINGS OF THE DOVE A drama by Henry James. Adapted from Henry James' 1902 novel by Guy Bolton. Darlene Hunter Chaffee directs the production that features Kerry Wieder, Dan B. Rodgers, Kelli Tager, David Tracq, Katy Woodruff, Annie Mezzacappa, Anne Rudd, Rowland Kerr, Bradford F. Kelly and David Perez.

Scenic design is by Vincent Roca; Sound Design by Ron Wyand, Costume Design by Donna Fritsche and Lighting Design is by Vincent Roca.

Through August 2 at the Long Beach Playhouse, which is celebrating its 74th year of continuous operation. Long Beach, California.


| | | |
| --- | --- | --- |
| | | |
WHO'S WHERE


BROADWAY ROCKS AT THE CAROLINA ROCKS FESTIVAL Terrence Mann, Lauren Kennedy, Alan Campbell and Roz Ryan singing Broadway tunes, rock favorites and original compositions. The July 3 concert at North Carolina's Amphitheatre at Regency Park will feature dancers from both the film and stage productions of Chicago. July 3 at The Amphitheatre at Regency Park.

THE OAK RIDGE BOYS perform Wednesday at the Grand Palace in Branson, Missouri, On Thursday the guys are on stage at the Boomtown Casino in Harvey, LA. On Saturday the show is in Union, Missouri at the Franklin County Youth Fair.

JO DEE MESSINA entertains tonight at the Country Fest in Cadott, Wisconsin. On Friday she performs, at Freedom Hall in Sterling Heights, Michigan and on Saturday the performance is at the Fait Faint Louis in Saint Louis, Missouri.

NEVILLE BROTHERS those five-time Grammy award winners, are at the Stardust Hotel in Las Vegas July 3-5.

AN EVENING WITH CAROL CHANNING STARRING RICHARD SKIPPER Richard performs his tribute to Carol Channing's amazing life and career with musical director John Bowen. Special guest- Cydney Halpin & Mari Eileen O'Brien. At The Duplex in NYC July 7.

WAYNE BRADY AND FRIENDS open a three night stand in Las Vegas at the Paris Hotel on Friday, July 4.

DIANE SCHUUR opens a four night gig Thursday at Yoshi's in Oakland, California.

NORAH JONES entertains tonight at the Careerbuilder.comOakland Theatre in Wallingford, Conn. On Monday she is centerstage at Proctor's Theatre in Schenectady, New York. A two-night takes place Thursday and Friday at Massey Hall in Toronto. She closes out the week, Saturday, at the Meadow Brook Musical Festival in Rochester Hills, Michigan.

MIKHAIL BARYSHNIKOV performing July2-3 at the Ann Arbor Summer Festival in Ann Arbor, Michigan.

PETER GABRIEL at the DTE Energy Music Theatre in Clarkston, Michigan today. On Tuesday, July 1, the show is at the Germain Amphitheatre in Columbus, Ohio. Wednesday finds the singer at the Verizon Wireless Music Center in Noblesville, Indiana. Friday the performance is at the Molson Amphitheatre in Toronto and on Saturday he is at the John Labatt Centre in London, Ontario.

HEART on stage Tuesday at the NTELOS Pavilion Harbor Center in Portsmouth, Virginia. On Wednesday they perform at wolf Trap Filene Center in Vienna, Virginia. Thursday the group in on stage at Kahunaville in Wilmington, Delaware and on Saturday they are center stage at the Trump Marina in Atlantic City.

FLEETWOOD MAC perform Tuesday, July 1, at the Ford Center in Oklahoma City. On Thursday they are on stage at the American Airlines Center in Dallas and then return to Las Vegas Saturday, July 5 for an engagement at the MGM Grand Garden Arena. In case you are curious, Christine McVie, who turns 60 in July, has moved back to England.

MICHELLE BRANCH appears at Summerfest in Milwaukee on Thursday, July 3. On the 4th of July she is at the Summer Celebration in Muskegon, Michigan and on Saturday, the young lady with the big talent is in Sioux City, Iowa at Saturday in the Park.


PIFFLE AND PROFUNDITIES


A TWO SIP KIND OF GUY Limp Bizkit frontman Fred Durst guesting on MTV's The New Tom Green Show admitting that, like the character Monk, he is obsessive/compulsive. Durst can't take a sip of anything, it's two sips. He also keeps objects neatly lined up.
















Next Column: July 6, 2003
Copyright: June 29, 2003. All Rights Reserved. Reviews, Interviews, Commentary, Photographs or graphics from any Broadway To Vegas (TM) columns may not be published, broadcast, rewritten, utilized as leads, or used in any manner without permission, compensation/credit.
Link to Main Page
---
Laura Deni


CLICK HERE FOR COMMENT SECTION