! >
Broadway To Vegas
  SHOW REVIEWS     CELEBRITY INTERVIEWS     GOSSIP     NEWS 
| | |
| --- | --- |
| | |
Copyright: June 28, 1999
By: Laura Deni
CLICK HERE FOR COMMENT SECTION

BREAK A LEG - WHO CARES?


DAVID CASSIDY Injured In The Line of Duty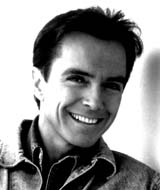 While great attention and adulation is paid to sports stars injured in the name of the game, performing artists who "break a leg" for their craft are frequently ignored, replaced with another performer and sometimes can receive inadequate care.

Theater injuries are a poor stepchild to the world of contact sports.

David Cassidy, the 1970s teen heartthrob who scored a success on Broadway in Blood Brothers and then impressed the Las Vegas crowds when he replaced Michael Crawford in the EFX show at the MGM-Grand, has joined the list of theatrical performers who have suffered serious injuries. Cassidy suffered nerve damage to his foot that was a result of nearly 1000 physically strenuous performances of his Las Vegas show EFX, stated the official release. Cassidy slated a summer tour which has been canceled due to doctor's orders. His foot is taking longer than expected to heal.

"Although the prognosis for a 100% recovery is very good, I have been advised by my Surgeon that to disobey his orders right now would be very short sighted and foolish for the long term picture of both my health and career," Cassidy announced.

The man Cassidy replaced in EFX, Michael Crawford, also sustained injuries while performing in EFX. A lawsuit ensued.

Crawford sued the MGM Grand claiming the show's stunts caused the injuries. The lawsuit, filed in District Court asserted that Crawford was suppose to "mount the saddle of a bicycle which was mechanically ridden across the stage. The lighting used to allow him to see the bike failed, causing him to miss the saddle as the bike continued to roll forward," the lawsuit explained.

The lawsuit continued that Crawford was required to slide down a rope from a roof to the stage. Instead, the special effect failed, causing (him) to strongly impact the stage, which was wet as a result of another special effect."

The lawsuit contended that when the first injury occurred Crawford did not know how badly he was hurt. In September 1995 he began feeling pain in his right leg. Despite the pain, he never missed a show.

Attached to the lawsuit is a letter from Dr. Lawrence Dorr of the University of Southern California Center for Arthritis and Joint Transplant Surgery. The letter confirmed that Crawford's injuries were consistent with the falls from the show.

The current star of EFX, Tommy Tune, suffered a broken foot in Tampa, Florida. That happened while he was starring in the Broadway bound musical, Busker Alley.Tune "landed wrong" during a number, broke his foot and couldn't dance for months. The show folded.

Sandy Duncan, who co-starred with Tune in My One and Only and Two for the Show, was set to stretch her image by stepping into the gun toting part of murderous Roxie Hart in the national company of Chicago. Two days before opening she wrecked her leg in rehearsals and had to bow out of the show.



PATRICK STEWART: Got beaned on stage.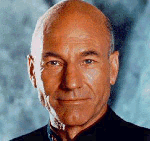 In 1998 Patrick Stewart starred on Broadway in The Ride Down Mt. Morgan. During the last five minutes of the final performance, Stewart as Lyman Felt lies in his hospital bed. The script called for the lights to go dark. Just as the stage was pitched into darkness something hard hit Stewart on the head.

What clobbered Stewart was an object - which Stewart now refers to as Exhibit One - falling from the grid.

Blood gushed from his huge open wound - a cut so severe that Stewart's pate wasn't protected by the gray wig he wore in the play. Dazed, not realizing how badly hurt, he was finally convinced he needed immediate medical attention. It wasn't until the shock wore off that the veteran actor realized he could have been killed or permanently injured. His noggin required both internal and external stitches.

The American Journal of Public Health published results of two studies on injuries of theater performers. Both studies were the brainchild of Drs. Randolph and Richard Evans The former, a neurologist with the Texas Methodist Medical Center and the later, a professor at the University of Houston. Both men admit to being theater buffs.

They surveyed the casts of 10 Broadway shows and 13 national touring companies, including 168 dancers and 151 actors in 23 productions.

The published findings indicated that 55 percent sustained injuries at some point in the performance run. Most common were strains and sprains of the lower extremities. Approximately 37 percent of the dancers and 28 percent of the actors incurred an injury serious enough to cause a missed performance, and 13 individuals required surgery.

Cited as the highest risk factor was performing on a raked stage, meaning a sloping stage floor, designed to provide the audience with a better view. The stage in which the EFX show takes place is not raked. However, it is a steel stage.

Miss Saigon had the highest number of injuries in the Evans surveys. Cats came in second. Both shows use a raked stage. The researchers discovered a correlation between a raked stage and injuries - the steeper the rake the higher the injury level. The stage for Miss Saigon is raked at 10 degrees.

On tour Cats had the highest injury level, followed by the Will Rogers Follies. That production doesn't have a raked stage, but it does feature an elaborate staircase on which many of the numbers are performed.

Gaining on them for the dubious distinction of "most injuries" is Fosse. The 37 dancers grind out 925 pelvic bumps in every performance. The cast consumes a minimum of 800 Advil tablets a week.



ANN-MARGRET: She Was Almost Killed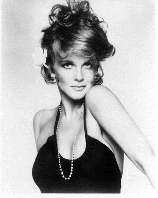 The Evans report listed other risk factors for performers That included: fog and smoke effects, which hindered visibility and caused upper respiratory irritation; heavy wigs, masks and costumes; even floor and trap doors. Women were injured more often than men, presumably because they often had to perform the same maneuvers wearing heels.

Just ask Ann-Margret.

In 1972 Ann-Margret was performing at the Sahara Hotel at Lake Tahoe. In the middle of her act, while standing on a lifted platform, she fell 22 feet from the platform landing on the stage. She almost died.

All she remembered was "the floor coming at me." Four days later she awoke in a hospital bed. She had sustained five facial bone fractures, a fractured left arm, a brain concussion, and a severely bruised knee - her broken jaw was wired shut. She made showbusiness history when she returned to the stage 10 weeks later.



PERRY COMO: In a cast for eight months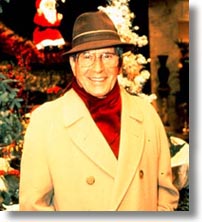 Perry Como wasn't so lucky. It took him two years to get back in front of the footlights. For a man who had never suffered anything more than a cold, 1971 was not a good year for Mr. C.

He was taping his television Christmas Special at the NBC studio. "I remember I was to walk up a platform that was to be split apart," he told me. "Something went wrong. The spotlight wasn't on me, and I moved to my left to compensate for it. Meanwhile the set was starting to separate. I fell off the platform and hit the other side with my knee, and dropped about five feet. All this with the camera on me. People started rushing over."

He crooner, who has sold more than 100 million records, was taken to a nearby hospital where he was told the X-rays showed no serious injury. The next day his knee was swollen to double its size. Alarmed, Como chartered a plane home to Florida.

Another doctor discovered that the knee had been not just broken, but seriously broken. It was reset and Como was placed in a plaster cast. He was to remain in it for eight months.

"I almost went out of my mind. What the hell can you do for eight months in a cast?"

After three months he was placed in a different type of cast and a metal brace. He spent two years in constant pain and can still predict the weather. Periodically the old injury forces him to walk with a cane. "I never had it operated on and it has given me trouble for a long time." He was taking over 40 pills a day.

Booking agents wanted the singer back on stage as soon as possible, but that wasn't Perry's style. "They wanted me to play Vegas with a cane. I said no thanks. When people pay money to be entertained, they don't want to know about the performer's problems. They just want a show."
GLENN MILLER'S HIDDEN SOD HOUSE BOYHOOD

Famed composer and band leader Glenn Miller spent years living in a sod house in Nebraska. That little known fact has caused the Cornhusker state to become embarrassed.

GLENN MILLER:No Glamorous Childhood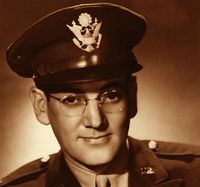 To honor the man who got everyone In The Mood, last Friday Nebraska officials approved a petition to name a highway after the man behind the big band sound.

According to the Omaha World Herald, the oversight was brought to the attention of the Nebraska fathers by North Platte funeral director Jim Connors, who discovered that Miller lived for 10 years in North Platte.

What wasn't depicted in the famous Jimmy Stewart/June Allyson movie The Glenn Miller Story is the trombone player's extremely humble beginning.

The famed musician was born March 1, 1904 in Iowa. Two years later the family moved to North Platte, where his father worked as a carpenter and did part time work on a railroad. About a year later, the Miller family homesteaded near Tyron, Nebraska living in a sod house from 1907 to 1912. The family then moved to Grant City, Mo., before settling in Morgan, Colorado, where Miller graduated from high school in 1921. The famous movie begins with the Colorado years.

According to Connor's documented research, families in North Platte remember the Miller family. Nebraska began feeling guilty about having ignored Miller when it was disclosed that Miller lived eight years longer in Nebraska that he did in Clarinda, Iowa, where he was born. Clarinda holds a Miller festival each year.

To rectify the oversight Nebraska is going to commemorate Nebraska Highway 97 between North Platte and Tryon as the Glenn Miller Memorial Highway. Miller Hwy will join 20 highways and bridges named after famous Nebraskans, including Henry Fonda and Johnny Carson, who was also Iowa born.

The commemorative highways are designated with green roadside signs. The North Platte-Lincoln County Commission and Visitors Bureau has agreed to ante up the $760 needed to purchase the signs.

The Glenn Miller Orchestra, celebrating it's 61st consecutive year of performing on tour, performs July 3, Stardust Hotel, Las Vegas. The 17-piece band, which performs under license from the Glenn Miller Estate, is directed by Larry O'Brien.


MAKING A SOUND LIVING

Last week's column contained the first part of an interview with Jonathan Deans, considered one of the world's best sound designers. He's designed over 120 productions including this season's Broadway productions of Fosse and Parade. In Las Vegas he did the same for Siegfried & Roy, EFX and the O show at the Bellagio Hotel. This week Deans discusses touring shows, Las Vegas and looks at "sound" employment opportunities.




JONATHAN DEANS in the Bellagio Showroom. Photo By: Laura Deni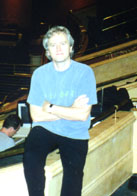 "Road shows can effectively present a performance, but they will all vary," Deans cautioned. "As the show goes out on tour you have different performers playing the parts, so what you see is not necessarily the original cast member. What you're going to hear is not necessarily the original way it was intended. It can't be, because it's moved from one place to another."

"But, if you're seeing a touring show, you're not going to be paying the price of seeing a Broadway show. It's expensive to tour and touring companies are aware they aren't able to reproduce a Broadway show. I don't think anyone should intend to do that. You can't reproduce Vegas. If possible, people need to actually go to New York and see Broadway shows, go to London and see the West End productions and come to Las Vegas and see the Vegas shows."




YOUR LIGHTS ARE TOO NOISY
A more recent noise problem is the result of sound coming from the lights.

Huh??

"The lights are motor driven and there are fans, so it can be very noisy," Deans explained.

The noise caused by lights is a problem that needs to be rectified before Fosse can tour. It's a problem that caused Patrick Stewart to threaten a walk out. The actor simply took an exit from his starring role in the Broadway production The Ride Down Mt. Morgan when the sounds of the lights moving bothered his performance. He told officials he'd show up when they fixed the problem. They did and he returned to the stage.


INSPIRATION FROM SIN CITY
For several years Deans taught M.F.A. students theatre sound design at UCLA. He sees Las Vegas as a natural training ground for teaching professionals.

With that in mind Deans intends to formulate university sound design classes and develop internship programs that utilize Las Vegas showrooms.



DEANS FLANKED BY O SHOW SOUND ENGINEERS. Photo By: Laura Deni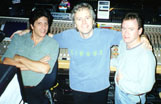 "What better place?" he asked as we walked around the Bellagio Hotel showroom. "I really loved teaching at UCLA but the Las Vegas showrooms have so much more to offer."

Deans is a firm believer of hands on training. It's how he got his start.

As a kid Deans was determined to become an actor and fascinated by electronic gadgets. He'd find old radios and other gizmos in London bomb shelters, which had been transformed into garbage dumps. The curious boy retrieved and dissected them. With three older brothers and a younger sister, his parents couldn't afford acting lessons. Besides, the closest school taught ballet. Undaunted, Deans walked over to the ballet school. The instructor saw both determination and promise. Deans became a student.

The Barbara Speake Stage School, which was also an agency, saw him in a recital and offered him a contract. They expected him to work professionally. "The money I made paid the school fees first and I got the remainder," he recalled.

"I was with the Barbara Speake Stage School until I was 18. I was doing West End and rep shows. When I was 15, one of the positions I got was with the Royal Shakespeare Company. I worked for them for two years and went to Stratford-Upon-Avon. I also went to Japan with them, which was the first time I had ever flown," he fondly remembered.

He was while he was part of the Royal Shakespeare Company that he'd meet someone who would significantly influence his life - a sound designer.

"The first time I met a sound person involved with the theater was at the Royal Shakespeare Company. While I was working with him I bought myself an old, big, reel-to-reel tape recorder, so that he could teach me how to edit, how to cut tape. I used to record people, cut them up, and make them say things they didn't really say. I used to do things like that and drive people crazy," he confessed.

The sound man that took Deans under his tutelage, made a lasting impression. "He showed me various things. That was the first time I came across sound effects, because the Royal Shakespeare Company used a lot of sound effects in plays. There really wasn't a lot of live miking of the auditorium. These days there is live miking in almost everything. That's more the audience expectation as opposed to the actors."

From that point on Deans' ear was turned toward sound design. Without somebody guiding him, Deans would have remained in front of the spotlight. He knows the impact that sound designer made in his life and has made an effort to pass on the education.

He sees Las Vegas as a Mecca of educational possibilities.



SIEGFRIED & ROY brought Deans to Las Vegas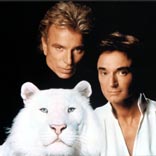 "I first came to Las Vegas 10 years ago as the sound designer for Siegfried & Roy, followed by Mystere at Treasure Island and EFX at the MGM-Grand." He fell in love with the place and extols its possibilities. "It's a true 24-hour town. I just love it. I find it both peaceful and exciting. More Broadway shows are coming to Las Vegas, which I think is brilliant. What an amazing place to teach sound design!"

"When I taught at UCLA the hardest thing was to show my students hands on training. Certain union houses wouldn't permit the participation and the theaters were far apart.

Referring to Las Vegas he stressed, "Las Vegas isn't afraid to try out new things. This is a town that has the money, new technology, ideas and theaters. What an incredible place for students! What a great way for the entire theatrical world to find new people who are well trained and have had hands-on experience. In this town you have the expertise of so many qualified people."

"I was going to do new show which is going into New York. That is an interesting show, because the set designer was inspired by Las Vegas," divulged Deans who was at the production meeting, and prefers that the show not be named. "There you have a major set designer looking at Las Vegas. It's not plagiarism. It's just input, stimuli to go off on your own.

"There are things that happen here that inspire creative professionals. So, there couldn't be a better place than Las Vegas to headquarter a program that teaches sound design," he reiterated.

"Here I have all of the toys that I want to play with. I can experiment. Even though the show is on, if I want to try something I can go into the theater and try it - see if it will work. Then when I do musical Broadway or legit shows, I have already tried something in my own back yard.

"Here I can go to the musicians at Mystere or O and ask them if they would mind coming in an hour early because I'd like to try something different. They might not even know what it is, but they'll do it because they are just so talented, secure and so into it that they aren't threatened by experimenting."

Although Deans wasn't a part of Lance Burton's Monte Carlo Hotel show, he had plaudits for the magician. "Burton has "current sound." It's very interesting." Deans called Burton's show "a step forward in sound design."

Then there is the EFX show at the MGM-Grand, which was Deans' sound design. The production originated with Michael Crawford, was reinvented by David Cassidy, and currently has the Tommy Tune imprint. Deans laughed when I suggested the show was misunderstood, because the original promotional materials ballyhooed that the "star" would be the special effects, hence the name EFX.

"I prefer Tommy Tune in the part to anyone else," Deans candidly offered. "I thought that the changes David Cassidy did were very good, interesting and going in the right way. But, I have to say that the original concept was that the four different characters would be played by four different people. The lead is actually the Effects Master.




MICHAEL CRAWFORD PLAYED FOUR PARTS IN EFX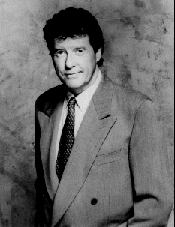 "Now, obviously, when you have someone like Michael Crawford come in, he wants to play all of the parts. So, it got rewritten for him. If the star gets sick they have to cancel the show. It becomes the tail wagging the dog. It's an interesting dilemma for the MGM-Grand and the show.

"But, the original concept was to have four different people play the four characters and I still think that is the best way. That fits the original intension of the writers and the director, which was Scott Faris. That's what was going to happen when I was hired.

Deans has some personally fond memories of EFX. That's where he met his wife, Jennifer. Married three years, this past June 2nd their first child, a daughter, was born. Named Marley, the beauty weighed in at 8 pounds, 13 ounces. Giving his new family top priority, Deans stopped working last February declining three shows, so that he could remain a full time husband and father until the middle of July. It was the first time in his career that he has ever taken time off and it's given him an opportunity to formulate what he hopes will turn Las Vegas into a teaching cornerstone for technical professionals.

Deans is about to head out on the theatrical trail with four projects back to back including The Music Man, which opens on Broadway. Said Deans, "That will be really nice." We agree.<



Broadway To Vegas is supported through advertising and donations. Priority consideration is given to interview suggestions, news, press releases, etc from paid supporters. However, no paid supporters control, alter, edit, or in any way manipulate the content of this site. Your donation is appreciated. We accept PAYPAL. Thank you for your interest.

AFTER THE FAIR a musical based on Thomas Hardy's short story On the Western Circuit, stages its New York premiere June 30-Aug 15 at the York Theatre Company. The romantic musical with book and lyrics by Stephen Cole has music by Matthew Ward. The musical, set in 1890's England is about the romantic entanglements that arise when a married women writes love letters to a handsome young man on behalf of her maid. The cast includes; James Ludwig, Michele Pawk, Jennifer Piech and David Staller. Travis L. Stockley directs the production which received five Dallas Theatre League Awards including Best New Musical.

THE FACTOR GIRLS starring Kate Burton opens July 14 at the Bay Street Theater, Sag Harbor.

HOLLYWOOD BABY a dark comedy about the price of fame, opens July 7 at the Stamford Center for the Arts, Stamford, Conn.


WHO'S WHERE

GEORGE BENSON eight-time Grammy winner, likes to keep his chops up by inviting young musicians to come over to his New Jersey home and jam with him. Benson brings his guitar to John Ascuaga's Nugget in Sparks, Nevada July 2-3.

CHERRY POPPIN' DADDIES July 2-3 Bally's Hotel, Las Vegas.

THE STEVEN SEGAL BAND slated to perform at Boulder Station Hotel, Las Vegas on June 26, rescheduled and will hit the down beat on July 16.


THIS AND THAT

TOBY KEITH a native of Oklahoma City, where his parents still live, will stage a day long party Tuesday, June 28, in Oklahoma City, to help tornado storm victims. Participating in the party will be Ronnie Dunn, Bryan White and Wade Hayes. Tody performs in Las Vegas July 2 at Boulder Station.

THE ATLANTA HISTORY CENTER offers a Civil War Encampment July 17-18 which features interpreters with authentic clothing and equipment showing how Confederate and Federal soldiers ate, slept, played and coped in camp.Call (404)814-4000.

BEETHOVEN BY THE BEACH Fort Lauderdale, Florida's summer festival - a casual celebration of symphonies - returns for the third year July 4-17.

TNN FILMS ROLLERJAM Get out the shin splints. The Nashville Network's series Rollerjam, which begins its second season August 27, rolls into the MGM Grand, Las Vegas for the Wild West Shootout, to be taped 30 through July 4. It's billed as the excitement of roller derby coupled with speeds of in-line skating. Teams competing include; New York Enforcers, the California Quakes. The Nevada Hot Dice, the Illinois Riot, the Florida Sundogs and the Texas Rustlers.

ROBERT DE NIRO was in Las Vegas having dinner with our new mayor, former mob lawyer, Oscar Goodman. They chowed down at Nobu, the new Japanese restaurant at the Hard Rock.

PETER MORTON owner of the Hard Rock forked over $42,000 last Friday to purchase Eric Clapton's l990 National Reso-phonic Model-M1 guitar. The guitar was used on the 1992 film soundtrack Rush and for Clapton's Royal Albert Hall performance in 1994. The guitar will be on display at the Hard Rock in Las Vegas.

NINETY NINE BOTTLES OF BEER ON THE WALL The New Brewer Magazine has ranked the Monte Carlo Brewery in Las Vegas second in annual beer production in the Mountain West Region and seventh in the entire nation in annual production as well. Last year the Pub & Brewery produced 3,200 bottles of beer - or 99,200 gallons - and was second only to the Wynkoop Brewing Company in Colorado that produced 3,958 bottles of beer or 122,698 gallons. Special labeled Las Vegas beers include; High Roller Red and Jackpot Pale.



Mention BROADWAY TO VEGAS for Special Consideration
Call (800) 942-9027









Next Column: July 5, 1999
Copyright: June 28, 1999. All Rights Reserved. Reviews, Interviews, Commentary, Photographs or Graphics from any Broadway To Vegas (TM) columns may not be published, broadcast, rewritten, utilized as leads, or used in any manner without permission, compensation and/or credit.
Link to Main Page
---
Laura Deni
broadway@broadwaytovegas.com

For the snail mail address, please E-mail your request.
CLICK HERE FOR COMMENT SECTION