! >
Broadway To Vegas
  SHOW REVIEWS     CELEBRITY INTERVIEWS     GOSSIP     NEWS 
| | |
| --- | --- |
| | |
Copyright: June 28, 1998
By: Laura Deni
CLICK HERE FOR COMMENT SECTION

A VIEW FROM THE BRIDGE


Australian actor Anthony LaPaglia walked away from this theater season with virtually ever honor that can be bestowed upon an actor. He deserved every one. His portrayal of Eddie Carbone, the emotionally tormented longshoreman who lusts after his niece, in Arthur Miller's A View From The Bridge, is awesome. Currently at the Neil Simon Theatre, in a limited engagement, that unfortunately must end all too soon.

First presented in 1956 the play has lost nothing in it's current rebirth. Exceptional writing lasts and Miller's play is a script that can live forever. The writing permits great acting and all of the actors live up to the highest expectations.



Anthony LaPaglia, Brittany Murphy and Allison Janney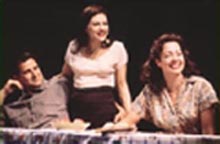 Eddie and his wife, Beatrice, brilliantly portrayed by Allison Janney, are raising her niece. Bravado masks Eddie's emotional insecurity. He's also a product of the times and his upbringing. He's proud that he provides for his family. He honestly means well. Thickheaded and stubborn, he doesn't have the coping skills necessary to deal with life's changes - be it his own or anybody else's. Overprotective, he can't bear his niece not to need him. Protectiveness crosses over into obsessive lust, a condition not lost on his wife.



Allison Janney and Brittany Murphy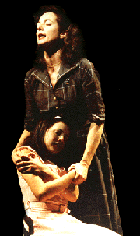 Making her Broadway debut is exceptionally talented Brittany Murphy. She is outstanding as the niece, Catherine. She portrayed Tia Fraiser in Clueless and stars opposite Sean Patrick Flanery and Debbie Reynolds in the upcoming movie Zack and Reba. Her acting range deftly delivers the innocence and allure that transport Eddie on his emotional roller coaster.

LaPaglia handles the issues of both incest and homosexuality with an acting skill that captures the audience and holds them spellbound. Intentness begins the second the production starts, soars and never drops an iota. There have been reports of an accident on stage when a fight scene became too real. The play's riveting conclusion leaves the audience almost emotionally drained, as if they were involved - part of the happening. That theatrical depth is rarely experienced by an audience. Only a great play performing by an outstanding cast, who don't just act the script, but become emotionally connected with their part, can offer an audience that experience. LaPaglia admits that it's been a difficult role. He takes the strain home and credits his girlfriend with putting up with a lot of mood swings.

This is a flawless production.The entire cast deserves low bows. In addition to LaPaglia, Murphy and Jenney, cast members include; Robert LuPone, Gregory Esposito, Mark Zeisler, Gabriel Olds, Jeffrey Donovan, John Speredakos and Christian Lincoln. They are all excellent. Sets by David Gallo and lighting by Kenneth Posner. Exceptional credit must be given to director Michael Mayer, who makes it all happen.


HAPPY BIRTHDAY!




Olivia de Havilland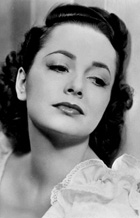 Olivia de Havilland, two time Oscar winner and only surviving member of Gone With the Wind celebrates her 82nd birthday on July 1st. She resides in Paris with her second husband, Paris Match journalist Pierre Galante.

If you don't know what to get her for her birthday consider lighting a candle. The actress told Larry Worth of New York Post that, although she is a Protestant, she has a favorite saint, St. Theresa de Lisieux, who has granted her many favors.

Coincidentally, New York's St. Patrick's Cathedral is celebrating the Centenary Year of the death of St. Theresa and has an easily understood and fascinating display This includes 37 posters, an impressionistic collage, from her Carmelite Monastery in Lisieux, France, of photographs, quotes from her writings, excerpts from her spiritual doctrine and people who have been enriched by her spirituality and heavenly intercession. Pope Pius X called St Therese "the greatest saint of modern times."

In a bulletin St. Patrick's Cathedral passes out to people viewing the exhibit, they state: "(St. Therese has been portrayed in the past in simple, over emotional and sentimental terms. This is farthest from the truth. In fact, St. Therese should certainly be looked upon as a role model for contemporary women." Head over to St. Pat's and light a candle for Olivia de Havilland. She swears by St. Therese.

Veteran Broadway producer Roy Solmyo takes over as president of the American Theater Wing when Isabelle Stevenson steps down Sept. 1.

Stevenson, 88, who made her Broadway debut as a dancer in Earl Carroll's Vanities, devoted 33 hard working years heading up the organization.


OTHER PEOPLE'S MONEY


JUDY TAYMOR who made history when she carried home a Tony as the first woman to direct a musical - The Lion King - doing commercials for American Express.

THE TONY AWARDS won't be returning to Radio City Music Hall next year. No, Rosie O'Donnell's Hilarious X-rated patter during commercial breaks didn't get the group banned from the place. The move is necessary because Radio City Music Hall, 65, undergoes extensive plastic surgery, taking a six-month recovery period and costing $30 million. The renovation begins next spring and will be complete in time for the Christmas Spectacular, which opens Nov. 8, 1999.

FRANK SINATRA, JR has received over $1 million in booking offers since his father's death. He is currently in Europe visiting his girlfriend.


HERE COMES ANOTHER ONE




Judge Mills Lane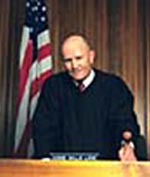 We're not sure if Judge Judy or Ed Koch know or care but Nevada judge and boxing referee Mills Lane begins taping his syndicated television show "Judge Mills Lane, Justice You Can Trust" on July 20 in New York. Since he'll be commuting from Nevada to New York he said his contract demands specified he must fly first class.

Lane really must want to be on television because he's hedging his bets. He's also testing the television waters as a sports analyst. He made his debut last Saturday offering color commentary for the FX Network, on a bout which pitted International Boxing Federation lightweight champion Shane Mosley against Wilfredo Ruiz, and undefeated middle weight David Reid, a 1998 U.S. Olympian against Simon Brown. Lane is a veteran boxing referee who was in the ring when Mike Tyson decided Evander Holyfield's ear looked like a canape'. Lane said he'll retire as a boxing judge if his television career as a color commentator is a knock out.


KNOCK THE STUFFING OUT OF EACH OTHER




Marvin Hagler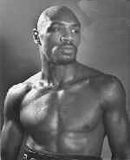 Being a color commentator must be a plum job. Legendary former world middleweight champion Marvelous Marvin Hagler will dish up the comments for K-1 "The New Fighting Sport" Aug. 7 pay-per-view at The Mirage in Las Vegas. If you want to come to Las Vegas and see it in person you'll need to cough up $30 to $250 per ticket. In case you haven't a clue what a K-1 event is - and I'd never heard of the thing - might even have thought it was a misprint for something involving police dogs - it has been explained to me that the fights are fast, exciting bouts consisting of three, three-minute rounds.

Attempting to knock the stuffing out of each other while wearing 10 oz. gloves will be; Former world kickboxing champion Rick "The Jet" Roufus, Milwaukee, Wis. Current super heavyweight champ Pedro Fernandez, Tijuana, Mexico. Six-time French kickboxing champ Jerome Turcan. WKO and WKP world heavyweight champ Espedito "Black Panther" Da Silva of Sao Paulo, Brazil. Current ISKA heavyweight freestyle champ Jean Claude Leuyer, San Jose, Calif. Four time Ultimate Test champ Tomacz Kucharzewski, Windsor, Canada. Jean Riviere from Montreal, Canada, is, at 6'2" and 275 pounds, the heaviest and Curtus Shuster from Belleville, Wash. is the current ISKA world superweight champion.

K-1 competition rules are designed to allow martial artists from different disciplines, such as Karate, Taekwondo, Kung-Fu, and Kickboxing, to fight in a format that favors no particular fighting style. Sounds like a street brawl to me, except choking and joing-locking are not allowed.


WANNA BE IN SHOW BUSINESS?

If you know people who have backed up sinks and garage doors that won't completely open and know how to operate a VCR this could be your big chance!

"Fix-It Line" is a new Discovery Channel television series in need of stringers.

The series about home repair will debut in September. It's a studio based show - think Tool Time on the Home Improvement series - produced in San Francisco that features viewer home videos of repair questions, live call-ins, guest experts, and in studio "fix-it" demonstrations.

Fix-It Line has an immediate need for people living throughout the United States to find and shoot a variety of stories on VHS or Hi-8 about home owners who would like their repair questions and problems solved by the show's experts.

The people in the videos can be friends, family, etc and must have a home repair problem which they need fixed and be available to speak live, via telephone, in late July, August or September with Fix-It Line's host on a specific, agreed-upon taping date.

Stringers will be paid $50. for every usable story (5-10 minutes) of raw video footage per story, shot according to guidelines. Stringers do not have to be video professionals, they just need to be proficient with home video equipment. Stringers will also be reimbursed tape costs and other expenses.

For more information contact; Fix-It Line (415) 397-0377. Or write: Michael Hoff Productions/A La Catre Comm. 901 Battery Street, Suite 301 San Francisco, CA 94111.


LENSING AROUND

THE 24th ANNUAL SEATTLE FILM FESTIVAL presented the top prize to God Said Ha!, Julia Sweeney's monologue about her battle with cancer. The former Saturday Night Live, star's directing debut was an adaptation of her off-Broadway play.

DONNIE WAHLBERG the now all grown up, former New Kid On The Block, came away with the American Independent Film Maker Award for his movie Southie. He was the executive producer and co-starred with James Cummings who also wrote the flick.

STEVE LAWRENCE returns to the film world playing the Queens, N.Y. borough president in The Yards. This 4th of July weekend Lawrence stars with wife Eydie Gorme, at The Concord at Klamesha Lake, N.Y. (aka The Catskills) performing before a clean if perhaps klutzy crowd. In the course of a year over 250,000 bars of soap are used at the Concord while 72,450 glasses of all shapes and sizes are accidentally broken.

PENN & TELLER chose the Luxor Hotel, Las Vegas as the site for the taping of their Penn and Teller's Sin City Spectacular. It's a new show from the bad boys of magic premiering Aug. 10 on FX.

SOFIA COPPOLA to direct The Virgin Suicides, a black comedy she authored. Signed to star; James Woods, Kathleen Turner and Kirsten Dunst. The low budget flick is produced by Sofia's proud father, Francis Ford Coppola, who knows a thing or two about the movie business.



Broadway To Vegas is supported through advertising and donations. Priority consideration is given to interview suggestions, news, press releases, etc from paid supporters. However, no paid supporters control, alter, edit, or in any way manipulate the content of this site. Your donation is appreciated. We accept PAYPAL. Thank you for your interest.


CURTAIN DOWN


WAIT UNTIL DARK has gone dark. The show, which stood out for its bad acting, starred professionals Quentin Tarantino, Oscar winner Marisa Tomei and Stephen Lang. It shuttered yesterday after 12 previews and 97 performances.

SUNDAY NIGHT was also the closing night for Tony Winner The Last Night of Ballyhoo and The Sunshine Boys, permitting Tony Randall to spend more time with his two children.

THE LAST NIGHT to catch John Leguizamo playing 39 characters in his one-man show Freak. is July 4th. He'll make a film this summer then return to Freak taking it on a national tour this fall.


THIS AND THAT


TWO THUMBS UP for Paul Reiser and Jon Voight when they recently visited famed illusionists Siegfried and Roy backstage at the Mirage Hotel, Las Vegas. Practicing their Siskel and Ebert illusion, Siegfried gives Reiser (left photo) a thumb up while Roy votes his thumb up approving old friend, Jon Voight (right photo)

Reiser star of Mad About You took the Warner Bros jet to Las Vegas for the night to celebrate his mother's birthday. Yes, he brought her along. Seems he asked his mom if there was anything special she wanted for her birthday and she said she wanted to see Siegfried and Roy.

It must be contagious because Academy Award winner Jon Voight celebrated his son Jamie's birthday by taking his family to see Siegfried and Roy.

Voight first met the master illusionists in l979 when they both appeared in the film, Looking to Get Out.

JULY 4th, CONEY ISLAND the annual hot dog eating contest sponsored by Nathan's Famous. World record holder is a slight, 130-pound, 5-foot-6-inch 23 year old Japanese man, Hirofumi Nakajimi, who proved he was no weenie by downing 24 « hot dogs and buns.

Hoping to gobble the world record away from him is the Las Vegas record holder, Cary DeGrosa. He won the Nevada event by consuming 13 hot dogs and buns, equivalent to 5,330 calories, in 12 seconds. Upon hearing he had won and would be traveling to Coney Island for the competition, he confessed, "I don't feel too good. I wish I could throw up."



Two years ago a white lion cub names Pride was introduced to the public with his sister, Joy, on the Fouth of July.

Siegfried & Roy chose the names to show their feeling about America. Pride (pictured with Roy) has grown to a robust 550 pounds and has become the leader of the illusionist' conservation efforts in saving the white lion and white tiger.

Siegfried & Roy's white lion pride now totals 14.


Next column July 6, 1998
Copyright: June 28, 1998. All Rights Reserved. Reviews, Interviews, Commentary, Photographs or Graphics from any Broadway To Vegas (TM) columns may not be published, broadcast, rewritten, utilized as leads, or used in any manner without permission, compensation and/or credit.
Link to Main Page
---
Laura Deni




For the snail mail address, please E-mail your request.
CLICK HERE FOR COMMENT SECTION