! >
Broadway To Vegas
  
 SHOW REVIEWS CELEBRITY INTERVIEWS GOSSIP NEWS

| | |
| --- | --- |
| | |
IT'S DE LOVELY CD - - QUEEN TO REIGN IN LAS VEGAS - - LE ANN RIMES INAUGURATES LAKE LAS VEGAS - - CHILDREN'S LETTERS TO GOD - - JOHN LITHGOW BACKS WIFE'S HOME TOWN - - GENE WILDER & JANET MASLIN - - TONY WALTON GETS CHATTY - - HEAVEN HELP US SPOTLIGHTS RAT PACK - - DONATE . . . Scroll Down


QUEEN TO ROCK VEGAS - KING ARTHUR MEETS THE MATRIX


Back when Freddie Mercury fronted for the rock group Queen the thought of their rock songs being turned into a Las Vegas show would have made them gag.

Mercury died in 1991. Last Wednesday Brian May, Roger Taylor and Ben Elton held a press conference announcing their intent for Queen to reign in Las Vegas - the times they are a changin'.

Did these legendary rockers ever dream that they would end up on a Vegas stage promoting a show based on their music?

"Musical theater? Ugh!," gasped Taylor. It was like something we hated. We like to think this isn't musical theatre sort of a musical. I suppose it is sort of a musical, I suppose," he conceded then quickly added, "but not like what you've seen before."

Ben Elton, the noted comedian, scriptwriter, film director and novelist is the musical's playwright and will adapt and direct the Las Vegas production. Elton previously collaborated with Andrew Lloyd Webber on the West End musical The Beautiful Game and won an Olivier award for his play Popcorn which ran in the West End for two years and at present is under option to Ridley Scott for a feature film.

Referring to We Will Rock You, the book writer described the show as "a cross between King Arthur and The Matrix. This is not My Fair Lady, folks."

"The spirit of blues and the spirit of rock is in this show," he attempted to explain.

The show, which features 25 of Queen's greatest hits including Bohemian Rhapsody, We Are The Champions, Another One Bites The Dust and Crazy Little Thing Called Love, has played to mediocre reviews and sell-out crowds bestowing standing ovations at every performance since it opened in London in May 2002, in a smash run at one of the largest venues in London's West End.

The rock musical features a large-scale spectacle with a futuristic plot about a group of rebels, the Bohemians, who are in search of a mythical guitar that was buried by the members of Queen themselves in the late 20th century.

Co-producers Robert De Niro and Jane Rosenthal had long been interested in working with Queen, and contacted the band's manager Jim Beach eight years ago about the possibility of developing a project together. The end result is a storyline which features a futuristic world where conformity rules and all musical instruments are outlawed. A group of underground radicals ultimately decides to rebel, and set to the sounds and lyrics of Queen's greatest hits, the story of the battle of the individual against the system.

The British production has already played almost 600 performances and to date grossed $50 million. In addition to its triumphant run in London's West End, We Will Rock You, has completed over 100 shows in Melbourne, Australia, recently opened in Madrid, and will open in Sydney, Moscow and Cologne in the Fall of 2004. The extended engagement at Paris Las Vegas marks the first run of the show in the United States. The show will have its Canadian premiere in spring 2005

Through auditions in major cities across America, the production has cast world-class singers and dancers for this high-energy rock theatrical experience.

Principals now rehearsing in Las Vegas include: Douglas Crawford (Pop), Rich Hebert (Khashoggi), Aspen Miller and Kacie Sheik (Scaramouche), Ty Talor (Britney), Carly Thomas (Oz), Tony Vincent and Jason Wooten (Galileo).

Ensemble cast members include: Timothy George Anderson, Rosalind Brown, Joey Calveri, Venny Carranza, Abbie L. Cooper, Maria Davidson, Jennifer DiNoia, Derek Ferguson, Rona Figueroa, Nam Holtz, Jenny Jackson, Chris Klink, Jeremy Kocal, Mychael Ludwin, Tim McGarrigal, Sarah McLellan, Luke Merryman, Michele Micholas, Kristen Oei, Aaron Paul, Keven Quillon, Niki Scalera, Annette Simmonds, Jimmy R.O. Smith, Megan Stephens, Will Swenson, Amir Talai, Andrew Turteltaub, Marcia Urani, Jonathan Warren, Tonya Wathen and Paula Wise.

We Will Rock You is designed and lit by a team responsible for some of the biggest international theatre productions and rock tours the world has seen: designer Mark Fisher has designed shows for Pink Floyd, The Rolling Stones and Janet Jackson. Lighting designer Willie Williams created the acclaimed U2 multi-media shows. Tickets are on sale for the Las Vegas production which begins August 16.


THE MUSIC GOES ROUND AND ROUND


DE LOVELY THE AUTHENTIC COLE PORTER COLLECTION and De Lovely it is!

The beloved music of Cole Porter has become legendary over the years - as much for the music and lyrics of his memorable composition - as for the sterling roster of artists who have performed and recorded his work.

This CD on Bluebird/RCA, released last Tuesday, is timed to the MGM picture release De-Lovely in some cities on June 25, and July 9th and nationally on July 16th. This CD stands alone as a truly authentic collection of his music, as it features recordings of Porter's era performed by some of his most esteemed contemporaries. This CD represents a variety of artists, from the big dance bands of the 30s and 40s to the great jazz and pop singers and soloists the 50s.

In addition, It's De-Lovely features Porter singing his own songs, with full orchestral accompaniment by world-class bandleader and multi-instrumental Vince Giordanoi. Through he did not often play outside of the occasional party atmosphere, Porter did record eight tracks for the Victor Corporation in 1934-35.



Cole Porter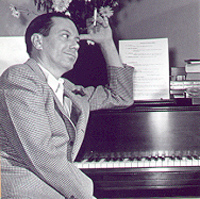 Among them, future standards from his Broadway landmark, Anything Goes. Two of these rare and wonderful performances, Anything Goes and You're The Top are on this CD; These tracks were stylistically overdubbed with period performances from Vince Giordanoi and The Nighthawks.

The CD opens with Porter's rendition of Anything Goes which Porter recorded November 27, 1934. Giordano added his touch to it on May 4, 2004 giving the listener the best of both recording worlds.

Lena Horne is featured on two cuts. Her definitive rendition of From This Moment On recorded April 4, 1956 at Webster Hall and Just One of Those Things, with Lena backed by the Lennie Haden Orchestra, was recorded March 4,1957.

You Do Something To Me has the wonderful clarinet of Sonny Rollins, featuring Jim Hall on guitar.

The up tempo, jazzy It's De Lovely showcasing Shorty Rogers and his Giants, was captured April 17, 1957. The pure, cool lyric sensitive sounds of Frank Sinatra are spotlighted in Night and Day, which was arranged and conducted by Axel Stordahl, recorded January 19, 1942 in Hollywood.

Taking a note right from hooch hidden in the garter decade, Let's Misbehave was put into wax March 1, 1928.

What follows is the 1952 recording of Roy Rogers singing Don't Fence Me In recalling the days when he was The King of the Cowboys - both in the movies and on the small screen.

The plaintiff, pure sounds of Dinah Shore delivering You'd Be So Nice to Come Home To, backed by the Paul Westein conducted orchestra, was recorded July 30, 1942 in Hollywood.

What Is This Things Called Love with the sexy, sassy trumpet player of Bubber Miley as Porter sings the lyrics that benchmark Porter's own confused life. I've Got You Under My Skin with Paul Desmond on alto sax and Bob Price arranging and conducting sweeping strings.

Tommy Dorsey and his Orchestra demonstrate what a horn section can deliver with fingerwork, breath control and those smooth as satin blending notes, in their version of I Get a Kick Out of You. The listener can almost feel Fred Astaire dancing as he sings an upbeat tempo of Night and Day.

You just might have an urge to jump up and cha-cha when Rosemary Clooney, backed by Perez Prado and his Orchestra, present You Do Something To Me from a recording session at Studio A in Hollywood on August 15, 1959

If you just don't drop everything and run out and buy this CD you should go stand in a corner and act embarrassed.

Broadway To Vegas is supported through advertising and donations. Priority consideration is given to interview suggestions, news, press releases, etc from paid supporters. However, no paid supporters control, alter, edit, or in any way manipulate the content of this site. Your donation is appreciated. We accept PAYPAL. Thank you for your interest.


SPREADING THE WORD


GENE WILDER & JANET MASLIN: YOUNG FRANKENSTEIN A frequent collaborator with Mel Brooks, comic legend Gene Wilder will show his black and white comedy Young Frankenstein.

Janet Maslin, film critic and board member of The Jacob Burns Film Center, will be on hand to direct the discussion.

Gene Wilder established his relationship with Mel Brooks while appearing in a 1963 Broadway production of Mother Courage and Her Children. In the cast was Anne Bancroft, who was dating Brooks at the time.

Wilder began his collaboration with Brooks as the frantic accountant Leo Bloom in The Producers (1967) for which he earned an Academy Award nomination as best supporting actor.

He starred as the candy impresario of Willy Wonka and the Chocolate Factory (1971) and reteamed with Brooks for Blazing Saddles (1974). Young Frankenstein garnered Wilder a second Oscar nomination for his screenwriting efforts with Brooks.

Tuesday, June 29 at Fairfield Community Theater in Conn. This event is sold out.

PRESIDENTS AND THEIR FIRST LADIES, DRAMATICALLY SPEAKING will portray Theodore and Edith Roosevelt. Veteran actors, William and Sue Willis will recapture the history of the times and provide an entertaining glimpse of the Roosevelts as a loving supportive couple and as individuals ready to put personal desires aside for the sake of the nation. People know much about Teddy Roosevelt, and some about Alice Roosevelt his daughter. But few know much about the two woman who were married to Theodore - his first wife of only 3 1/2 years, Alice, and his second wife, Edith - the woman who admired Thee with all his strengths and faults since they were playmates together at the ages of three and six respectively. Sunday, July 4, in the Museum Theatre of the Jimmy Carter Library and Museum in Atlanta, Georgia.

THE PLAY'S THE THING a project of Los Angeles Theatre Works, will air Falsettos, a 2 1/2 hour special presentation of the Tony Award-winning Broadway musical; music and lyrics by William Finn, book by William Finn and James Lapine.

Original cast members Michael Rupert, Stephen Bogardus and Chip Zien reunite in this story of a family turned upside down by Dad moving in with his male lover. Saturday, July 3 from 10 pm - midnight on 89.3 KPCC. Selected programs from LATW are also heard internationally over Voice of America, BBC World Service, Canadian Broadcasting, Australian Broadcasting, RTE (Ireland), Radio Hong Kong, and Radio New Zealand, and are distributed by satellite to over 30 college and community radio stations in the U.S.

TONY WALTON TALKS

Director Tony Walton watches rehearsals for Where's Charley? with Goodspeed Production Stage Manager Donna Cooper Hilton (right)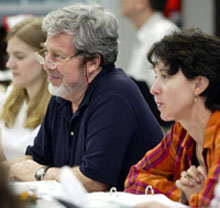 and everybody listened last Thursday when the director of Where's Charley? took part in Goodspeed Conversations held at the Rathbun Library in East Haddam, CT

The Oscar, Emmy and Tony Award - winning director and Goodspeed Education Director Will Rhys discussed Walton's approach to Where's Charley?, his background as a designer and the differences working in film, television and stage.

Walton's credits include direction of The Importance of Being Ernest and Major Barbara for the Irish Repertory Theatre and Broadway designs for Our Town, Annie Get Your Gun and Guys & Dolls, among many others.

A rendezvous without a chaperone? In Where's Charley?, two Oxford chaps run into trouble when they try to woo their ladies without proper supervision. Hilarious misunderstandings arise when Charley's "aunt" drops by for a visit, setting off a chain of unexpected antics. Sing along with this cheerfully energetic, Tony Award-winning musical packed with Frank Loesser hits: Once in Love with Amy, My Darling, My Darling,Where's Charley? and more!

Currently in rehearsals for Where's Charley?, plays the Goodspeed Opera House July 9 - September 25.


SWEET CHARITY


JOHN LITHGOW knows how to keep his wife happy. He'll be in her hometown of Conrad, Mont. for a July 2 benefit to help restore the local theater. The two time Tony award winner will perform as part of a benefit to help pay the $250,000 price tag for restoration of the Orpheum Theatre-Wiegand Auditorium.

The nonprofit Pondera Arts Council purchased the facility in 2001. Council president Helen Eliot said Lithgow plans to tailor his show to children ages 3-8.

Lithgow's wife, Mary Yeager Lithgow, is a UCLA professor from Conrad.

Conrad is the seat of Pondera County, located 54 miles northwest of Great Falls on the banks of the Pondera River near Lakes Elwell and Frances. Calling itself "the heart of the Golden Triangle," Conrad is an agriculturally-based community supported by farms and ranches, and several nearby Hutterite colonies.


OTHER PEOPLE'S MONEY


MUSICAL THEATRE WORKS the not-for-profit company which has spent 21 years creating and developing new musicals, has run out of funds and will shutter July lst, the Manhattan based company announced June 25.

We are deeply saddened to make this decision," said MTW's artistic director Thomas Cott, in a statement, "but the current adverse funding climate has made it impossible for us to sustain our artistic and educational programming. We take pleasure in knowing that MTW has helped a lot of musical theatre artists, and we thank everyone who played a role in making that possible."

During its existence, Musical Theatre Works "has nurtured over 200 new musicals with commissions, readings and workshops," according to the suspension announcement. "Many of these shows have been produced on and off Broadway, and at theatres across America, receiving numerous honors and awards."


CURTAIN DOWN


THE PRODUCERS the Toronto production of the Mel Brooks Musical, will end its engagement in Toronto after a seven-month run. The show's final performance will be on Sunday, July 4, 2004 at the Canon Theatre.

Patrons who have tickets for performances after July 4th, are told to contact TicketKing.

FAME ON 42N STREET played its final performance at New York City's Little Shubert Theatre on June 27 after 40 previews and 264 regular performances.



CHILDREN'S LETTERS TO GOD a new musical by Stuart Hampel.

"Dear God. How did you know you were God?"
"Dear God. Are you really invisible or is that just a trick?"
"Dear God. How come you did all the miracles in the old days and you don t do any now?"

These are just some of the hard-hitting questions and tell-it-like-it-is revelations that make up the new musical inspired by the international best-selling book. Taken directly from the letters of young people writing to "the Big G," the family friendly production features a cast of five young actors ranging in age from 10 15 years old.

Hample has adapted his best selling book from the page to the stage with music by David Evans and lyrics by Douglas J. Cohen. With direction by Stafford Arima and Musical staging by Patti Wilcox, stage the young ensemble featuring: Gerard Canonico, Jimmy Dieffenbach, Libbie Jacobson, Sara Kapner, Andrew Zutty. The set design is by Anna Louizos, lighting design by Kirk Bookman, sound design by Peter Hylenski and costume design by Gail Brassard.

"The book has sold well over one million copies and has fans around the world" says Carolyn Rossi Copeland, producer of The Lamb's Theatre. "This musical seemed like the perfect vehicle with which to launch the new theatre space. The Lamb's has always been dedicated to presenting quality theatre that is both accessible and affordable for families."

Children's Letters to God began performances Off-Broadway at The Lamb s Theatre on June 19th. Opening night is Wednesday, June 30th.

THE KING AND I Dallas Summer Musicals brings Tyler, Texas native Sandy Duncan back to the Music Hall in the starring role of Anna, with Martin Vidnovic as the King, in the new national tour of Rodgers & Hammersteinís The King and I.

Duncan made her professional theatrical debut as a 12-year-old in a DSM production of The King and I at the Music Hall at Fair Park in 1958, and went on to become a major star of stage, film and TV. Tony-nominated, Broadway leading man Martin Vidnovic will play the powerful and stubborn King of Siam in the lavish new production.

The tour kicks off in Pittsburgh and will also visit Atlanta, St. Paul, Philadelphia, Los Angeles, Houston, Chicago and San Francisco, among many others. Baayork Lee will direct the tour, with choreography by Susan Kikuchi. Musical direction will be provided by Kevin Farrell, Scenic Design by Kenneth Foy, Costume Design by Roger Kirk, Lighting Design by John McLain and Sound Design by Abe Jacob.

The King and I will play the Music Hall at Fair Park, presented and co-produced by Dallas Summer Musicals, Tues., June 29-Sun., July 11.

FOLLIES Directed by Charles Abbott. Choreographer is Mary Jane Houdina. Music Direction by Edward Reichert. Sets by Charles Kading. Costumes by Susan E. Picinich. Lighting designer Jeffrey S. Koger. Opens June 30 with performances through July 17 at the Maine State Music Theatre in Brunswick, Maine.

HEAVEN HELP US! The Swingin' New Rat Pack Musical written by James Hindman & Ray Roderick. Musical Arrangements by John Glaudini.

It's heaven on earth in Vegas as Frank, Dino and Sammy get sent back to correct a 30-year-old white lie -and God only knows if they'll recognize each other in time to save their souls.

It's a Wonderful Life meets Ocean's Eleven in this world premiere musical from the team that brought you I Love a Piano.

Heaven Help Us! - singing and savoring the days of highballs and high rollers stars Eddie Korbich, Marcus Neville.

The show features favorites such as Ain't That a Kick in the Head, High Hopes, Me and My Shadow, In the Wee Small Hours of the Morning and I've Got You Under My Skin.

Opened June 25 with performances through Sept. 5 at Florida Stage. The production then moves to the Buell Theatre in Denver.


| | | |
| --- | --- | --- |
| | | |
WHO'S WHERE


JULY 4TH FIREWORKS SPECTACULAR WITH MARILYN HORNE AND BRIAN STOKES MITCHELL backed by the Hollywood Bowl Orchestra conducted by John Mauceri. After intermission, special guests from Sesame Street-- including Big Bird and the Bowl debuts of Elmo, Grover, and Cookie Monster--drop by to sing some patriotic songs and American standards. Then the first ever fireworks display from the new Bowl shell! Excitement and fun for families of all sizes. July 2-4 at the Hollywood Bowl.

JOHN PIZZARELLI performs Monday at the Centre for the Performing Arts in Vancouver. On Wednesday he takes his talents to the Royal Theatre in Victoria, B.C. Thursday finds him on stage at the Francis Winspear Centre for Music in Edmonton, Alberta. Friday the performance is at the Broadway Theatre in Saskatoon, SK.

DIANA KRALL center stage Tuesday at the Bell Centre in Montreal.

DAVID BOWIE continues to play across the pond. On Tuesday he's at the Schloss Schonbrunn in Vienna, Austria. Wednesday the performance takes place at the Residenzplatz in Saltzburg, Austria and on Friday he's in the spotlight at the Roskilde Festival in Roskilde, Denmark.

KT SULLIVAN & MARK NADLER in Sondheim on a Summer Night June 29-July 17 at the Oakroom in NYC.

LE ANN RIMES inaugurates an on the water performance at Lake Las Vegas. The float along and be entertainer party takes place July 3 with a pre-concert VIP Party at the Ritz-Carleton, Lake Las Vegas Pontevecchio Park, priced at $85.

ERIC CLAPTON on stage June 28-30 at Madison Square Garden in NYC.

BEN FOLDS, GUSTER AND RUFUS WAINWRIGHT make their Wolf Trap debut Tuesday, June 29 in Vienna, Virginia.

GRAND FUNK RAILROAD on stage July 3 at Sunset Station in Las Vegas.

SIMON & GARFUNKEL featuring a special appearance by The Everly Brothers takes place July 3 at the MGM-Grand in Las Vegas.

JAMIE CULLUM the 23-year-old jazz sensation performs at London's Hammersmith Apollo on Wednesday, June 30.

GIPSY KINGS on stage July 3rd at Mandalay Bay in Las Vegas.
















Next Column: July 4, 2004
Copyright: June 27, 2004. All Rights Reserved. Reviews, Interviews, Commentary, Photographs or Graphics from any Broadway To Vegas (TM) columns may not be published, broadcast, rewritten, utilized as leads, or used in any manner without permission, compensation/credit.
Link to Main Page
---
Laura Deni


CLICK HERE FOR COMMENT SECTION