! >
Broadway To Vegas
  
 SHOW REVIEWS CELEBRITY INTERVIEWS GOSSIP NEWS

| | |
| --- | --- |
| | |
EDINBURGH FRINGE FESTIVAL GOES VEGAS - - FASHION - - SMELL THOSE MUSEUM DOORS - - JAMES EARL JONES' ILLNESS CLOSES SHOW - - WESTPORT COUNTRY PLAYHOUSE NAMES DIRECTOR - - GEORGE GERSHWIN ALONE - - MAE WEST SÉANCE - - CLASSIC STAGE COMPANY BENEFIT - - DONATE . . . Scroll Down


Copyright: June 26, 2005
By: Laura Deni

CLICK HERE FOR COMMENT SECTION
EDINBURGH FRINGE FESTIVAL TO HAVE LAS VEGAS THEME


The Edinburgh Fringe Festival - the largest arts festival in the world - has gone Vegas.

"This year we have gone with a Vegas-inspired theme for the program, and we think you'll agree that the retro-glam look suits the 59th Fringe down to the ground," declared officials of the Fringe, which takes place August 7-29. That Vegas theme includes "a big sparkly sign and some equally sparkly showgirls."

That "big sparkly sign" is a replica of the world famous Welcome To Fabulous Las Vegas sign - replacing Las Vegas with Edinburgh.

Owned by YESCO, the original Las Vegas sign has become perhaps the most copied icon of Las Vegas, as it was never copyrighted. It is a ubiquitous symbol of the city - and now the Edinburgh Fringe Festival.

The Fringe is all razzle-dazzle.

Headlining is Rain Pryor, the 35-year-old daughter of Richard Pryor. This will mark her first time in front of British audiences.



Rain Pryor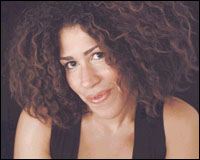 With her father's permission Rain will impersonate some of her father's notorious Las Vegas concert performances.

Richard Pryor is best known and loved for his live comedy, where he presented the truth as he sees it: hyperkinetically delivered, expletive-laced, and free form. Sometimes he delivered his message through characters such as the wino Mudbone. His subject matter included black life on the streets, the drug culture, sex and other topical issues, miming and mugging through a seemingly endless array of facial expressions.

Pryor's life away from the spotlight has continued to be as newsmaking as his on-stage doings, indeed often providing fodder for his act. He has five ex-wives, four children, including Rain, has suffered two heart attacks and undergone quadruple bypass surgery. In 1980 he made headlines when he was rushed to the Sherman Oaks Hospital and Burn Center with mostly third-degree burns over 50 percent of his body. In 1986 Pryor was diagnosed with multiple sclerosis, a degenerative disease of the central nervous system and is confined to a wheelchair, almost unable to speak.

Rain's show, Fried Chicken and Latkes, is about the contradictions of being black and Jewish. Tonight, June 26, she performs at The Comedy Store In LaJolla, CA. Her Fried Chicken & Latkes cast album will be released to coincide with the Fringe Festival.

While still remaining true to its founding principle of open-access for all performers, the Fringe has come a long way since its organizational beginnings in a disused pub with a leaky roof just off the Royal Mile.

The Fringe now sells over 1.25 million tickets, employ a year-round full-time staff of 10, which increases to around 120 in August.

There are more shows than ever, 1799 to be precise, and a range of shows that makes the mind boggle. The Fringe produces some of the hottest ticket sales during the dog days of August. This year they'll present 26,995 performances of those afore mentioned 1799 shows in 333 venues.

While this festival is sporting a Vegas look and a comedic feel, serious subjects also have a spotlight. Aidan Quinn will star in the off-Broadway hit The Exonerated. He'll appear in at least five performances during the run, with organizers hoping to add additional shows. Officials said the treatment of prisoners at Abu Ghraib prison in Iraq and the Israeli-Palestinian conflict would be among subjects addressed. "The widespread use of political themes demonstrates the fringe never ignores the real world but tackles it head on," said the festival director, Paul Gudgin.


CHARLIE AND THE CHOCOLATE FACTORY MUSEUM


The doors smell like chocolate.

Inside is a museum devoted to the late children's writer Roald Dahl – author of Charlie and the Chocolate Factory, Matilda, Willie Wonka, and the Big Friendly Giant and many other well-loved books. Born in Wales of Norwegian parents, Dahl also wrote the script for the James Bond film You Only Live Twice and Chitty Chitty Bang Bang. The museum is located in his home village of Great Missenden, in the Chiltern Hills of Buckinghamshire, 32 miles north-west of London.

Inside the chocolate doors you'll learn that it took Dahl seven attempts at James and the Giant Peach before he got it right - originally it was a cherry. Dahl had first made Matilda vicious and in his original version - she died.

Sophie Dahl, the author's granddaughter, and Cherie Blair, wife of the Prime Minister, were among a host of celebrity guests on hand for the grand opening of the Roald Dahl Museum and Story Centre.

Great Missenden was chosen as the site for the new museum because Dahl lived there from 1916 to 1990. It is also where he wrote all of his books for both children and adults.



Dahl Museum. photo © Bucks County Museum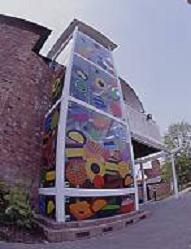 The Roald Dahl Museum and Story Centre features manuscripts, letters and treasured possessions, providing insight into one of the most intriguing writers of the 20th century. From the figure of the BFG (Big Friendly Giant) on the wall outside, to the bench that turns out to be a crocodile, the building is themed to his characters and stories. The museum design has been totally inspired by Roald Dahl's most memorable characters.

Sue Davies, director of the centre, said: "There are very few places which present reading, writing and creativity in a fun way. Our venue will rectify that, building on Roald Dahl's work and using that as the beginning of a magical journey into further reading and writing."

After passing under a shadow of the BFG, guests walk through the museum's chocolate-coated doors into the main building, being careful to avoid the crocodile cunningly disguised as a bench.

Many of his most treasured possessions are on display, and large video screens provide original footage of the author at work.

One of the largest literary archives in the world, the museum contains drafts of every major work, proof and correspondence with agents and editors that Roald Dahl ever recorded.



photo © Bucks County Museum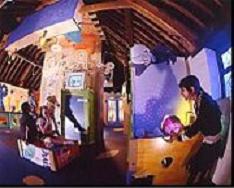 Designed by the architects Hawkins/Brown, the centerpiece of the museum is a series of video displays recounting the author's life. In the adjacent story centre, children will find an orchard featuring giant versions of artwork by Quentin Blake, Dahl's principal illustrator, and an exact replica of the garden shed in nearby Gipsy House where the author created many of his most enduring characters.

Museum director Sue Davies explained the basis for the center's foundation. "Dahl kept most of the items which form his archive in a hut in the garden. It was a very private space, but when he died, the family sorted everything out," she said.



Roald Dahl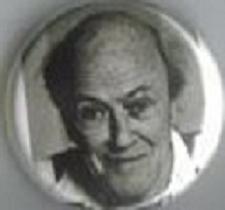 "It shows the process of writing: you can see how hard he worked, moving forward from the kernel of an idea to the finished product."

A replica of the hut has been created in the museum.

Dahl's granddaughter Sophie, the model and writer, told the gathering that when growing up she was occasionally allowed into his writing hut. "One had to be incredibly respectful," she said. "It was a bit of a sacred place."

In addition, visitors are able to browse an interactive bookcase, and Dahl's old school reports and hand-written manuscripts.

A wide gamut of activities range from talks on how to become the best story teller ever to lessons in chocolate truffle making.

Dahl's daughter, Tessa, accompanied by her 11-year-old son Ned, credited the revival of interest in her father's work to the boom in children's literature sparked by such contemporary children's authors as Jacqueline Wilson and JK Rowling.

She also told the gathering that it was comforting for her son to read her father's school report card from 1930. Then aged 14, Dahl was described by his English literature teacher as "a persistent muddler" who tended to write and say "the opposite of what he means". Nevertheless, she thought he had "possibilities".

Dahl's books have since been translated into more than 40 languages and last year his paperbacks sold 3.5m copies in the UK alone. "It just goes to show there's nothing wrong with being a late bloomer," said Tessa Dahl.

The new Tim Burton movie, Charlie and the Chocolate Factory, starring Johnny Depp, opens in July.

The museum will open daily and includes a shop and café.


SPREADING THE WORD


GEORGE GERSHWIN ALONE Hershey Felder's remarkable solo turn as writer, actor and pianist ( See Broadway To Vegas column of April 22, 2001 ) has been drawing audiences to the Royal George Theatre in Chicago since last September. Now he has teamed with 98.7-FM (WFMT), Chicago's classical station, where his show will be broadcast live at 8 p.m. July 2. Meanwhile, the show continues in its open-ended run.

BIRTHDAY PARTY AND SÉANCE FOR MAE WEST FUNDRAISER FOR COURTING MAE WEST hosted by Joe Franklin. A&E will film the evening as part of a reality TV Program August 17th - Mae's birthday at Bill's Gay 90s in NYC. The séance will be facilitated by Lauren Thibodeau, Ph.D., an intuitive and highly ranked Medium. Guests are invited to wear roaring 20's attire - or traditional business duds.



Broadway To Vegas is supported through advertising and donations. Priority consideration is given to interview suggestions, news, press releases, etc from paid supporters. However, no paid supporters control, alter, edit, or in any way manipulate the content of this site. Your donation is appreciated. We accept PAYPAL. Thank you for your interest.



NICOLE CABELL a 27-year-old soprano from California, won the 12th annual BBC Cardiff Singer of the World competition last Sunday, June 20. The contest, in Cardiff, Wales, is one of opera's most prestigious honors. The title carries a prize of 10,000 pounds - about $18,300.

Cabell is a third-year participant at Chicago's Lyric Opera Center. She and baritone Quinn Kelsey, who also advanced to the finals, were the only Americans invited to compete against 23 other artists.

The distinguished panel of international jurors included music legends Marilyn Horne and Dame Anne Evans.

The 27 year old Californian was presented with her Welsh Royal Crystal trophy by the competition's patron Dame Joan Sutherland.

Nicole's prize also includes engagements with the BBC and Welsh National Opera. The contestants were selected from 507 singers chosen to audition out of over 700 applicants worldwide. The competition has served as a springboard for a number of singers, including Bryn Terfel.

JEROME ROBBINS PLACE formerly known as the intersection of West 62nd Street and Columbus Avenue in New York City was christened in honor of the choreographer and director, who died at 79 in 1998. The site is adjacent to the stage door of the New York State Theater, home of the New York City Ballet, for which Robbins created more than 50 works. The site was also a location in the filming of West Side Story prior to the construction of Lincoln Center. Choreographer and director Jerome Robbins won a Tony Award for his work on West Side Story. For that 1961 film version, Robbins, who served as choreographer and co-director, shared an Academy Award for direction with Robert Wise.

Robbins also directed and choreographed Gypsy (1959) and Fiddler on the Roof (1964), after which he devoted his energies to classical ballet.

WESTPORT COUNTRY PLAYHOUSE has named Tazewell Thompson as its new artistic director. He will take the helm of the $17.8 million, newly renovated and expanded playhouse after Joanne Woodward, 75, steps down at the end of the year. Thompson has served as artistic director of Syracuse Stage in Syracuse, N.Y. He directed the New York City Opera revival of Porgy and Bess in 2002, and he staged his own play, Constant Star, at Hartford Stage the same year.

"We've been lucky to find the perfect person for the job," Woodward said in the statement. "Tazewell has wit and humor, and a real sense of the need for education, outreach and being a part of the community."


CURTAIN DOWN


ON GOLDEN POND couldn't recover from James Earl Jones' bout with pneumonia. The Broadway revival closes today, June 26, after 19 previews and 93 regular performances at the Cort Theater.


SWEET CHARITY


ANN HAMPTON CALLAWAY the Tony-nominated Broadway singer, will sing a June 28 benefit for Classic Stage Company, the award-winning Off-Broadway company dedicated to re-imagining the classical repertory for a contemporary American audience. Tuesday, June 28th at Café Deville in NYC. The performance is preceded by a private pre-show wine & cheese reception.



FASHION by Anna Cora Mowatt (1819-1870).

It's not everyday that one has the chance to see a play that so delighted Edgar Allen Poe that he saw it eight times. Fashion, Anna Cora Mowatt's comedy of Manhattan manners, was originally produced in 1845, one of the first plays by a woman to grace the New York stage, and one of the few surviving plays of the period.

Theatricum artistic director Ellen Geer directs a revival of this little-know gem, with added live music and songs of the era. Starring Jeff Bergquist, Abby Craden, Thad Geer, Willow Geer, Mark Lewis, Melora Marshall, Steve Matt, Eric Stein, Barbara Tarbuck, Elizabeth Tobias and Gaven Van Over.

Fashion pokes fun at nineteenth century America's enthrallment with European style, and Mowatt hilariously skewers consumerism, class consciousness, and the pitfalls of debt culture.

"My father (actor Will Geer) was in an Off Broadway production of Fashion when I was 16," says Geer. "It made an indelible impression on me and has stayed with me all these years. For this production, I've added wonderful tunes to help evoke the era, although the play and its themes transcend time."



Anna Cora Mowatt Circa 1841. Photo The Players Club, New York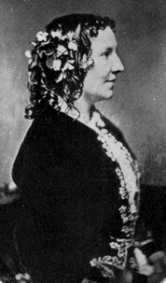 Fashion holds a special place in American history as one of the first successful plays written by an American woman.

In 1845, the theatrical profession was ridiculed by society. Mowatt was a woman born into a proper, blue-blooded family, and she helped to set the American theater on the path from social and moral contempt to respectability.

Fashion opened at the Park Theatre in New York on March 24, 1845 and instantly became a success, subsequently transferring to the Royal Olympic in London.

"She was the first American woman of society to make the stage a profession, and by her wit and charm and force of character, shift the position of actress from social leper to social lioness," wrote Eric Wollencott Barnes in The Lady of Fashion. his biography of Mowatt. "She broke down forever the prejudice of London critics and public against American plays and players. Fashion [is] one of the few American plays of the nineteenth century which is still worth reading or seeing."

Fashion opens on Saturday, July 2, continuing through the summer months until October 2 at the Theatricum Botanicum, a 299-seat, outdoor amphitheater in rustic Topanga Canyon, CA.

THE PRODUCERS welcomes Brad Oscar and Hunter Foster back, as they return to the roles of Max Blalystock and Leo Bloom respectively beginning Tuesday, July 5 at the St, James Theatre in NYC.

HIS GIRL FRIDAY an adaptation of The Front Page, a play by Ben Hecht and Charles MacArthur and the Howard Hawks film, His Girl Friday screenplay by Charles Lederer by John Guare. Directed by Joe Dowling.

A little mystery and a lot of fun come together as a 1920s Chicago press room awaits the pending execution or possible last-minute reprieve of a convicted killer. Caught up in the frenzy is former husband and wife team Walter Burns and Hildy Johnson, who join forces to uncover an even bigger story of corruption and scandal while managing to rekindle their old romance. It's a comic look at tabloid journalism and political corruption with a hilarious collection of unscrupulous, bumbling and lovable characters.

July 2 - 31 on the thrust stage of The Guthrie in Minneapolis.

THE PIRATES OF PENZANCE Mark Jacoby returns to the Pittsburgh Civic Light Opera stage as the Pirate King. The Pirates of Penzance will be directed by Leland Ball. The show will be choreographed by Dan Mojica.

Pittsburgh Civic Light Opera June 28-July 10.

FOOTLOOSE the musical stage version of one of the most explosive and popular contemporary movies ever. When free-spirited teenager Ren moves with his mother to a small town where rock music and dancing are prohibited by law, he takes on the local minister and shakes up the status quo. Celebrating the culture of youth, and propelled by the rockin' rhythm of an Oscar-nominated Top 40 score. June 27 - July 3 at the Starlight Theatre in Kansas City.


| | | |
| --- | --- | --- |
| | | |
WHO'S WHERE


CHRIS ISAAK in a two night stand, Thursday June 30 and Friday July 1, at Humphrey's By The Bay in San Diego.

PETER CINCOTTI AND CHRIS BOTTI perform June 5 at the Starlight Theatre in Kansas City.

BILLY IDOL performs Sunday, July 3 at the Hard Rock Hotel in Las Vegas.

LILY TOMLIN telling funny stories Saturday, July 2, at Fathing Auditorium in Boone, NC.

JOHNNY MATHIS on stage July 2-3 at the Hilton in Las Vegas, NV.

THE NEVILLE BROTHERS perform June 28 at the Botanic Gardens Amphitheatre in Denver.

MICHAEL BUBLE performs Tuesday, June 28 at the Grand Theatre in Quebec City. On Wednesday and Thursday he takes part in the Festival International De Jazz De Montréal at Salle Wilfrid-Pelletier in Montréal. Saturday finds him on stage at the Borgata Hotel in Atlantic City.

ALANIS MORISSETTE in the spotlight tonight, June 26, at the Bob Carr Performing Arts Center in Orlando, Florida. On Tuesday she is on stage at the Saenger Theatre in New Orleans. Wednesday finds her at Jones Hall for Performing Arts in Houston. On Thursday she entertains at Bass Performance Hall in Fort Worth. Saturday the singer is at the Fox Theatre in Saint Louis and next Sunday she can be enjoyed at the Midland Theatre in Kansas City.

BIG BAD VOODOO DADDY getting the rhythm going at Chastain Park Amphitheatre on July l in Atlanta, GA. On Saturday they'll be swinging at the Eyes to the Sky Fest in Lisle, IL.

BLIND BOYS OF ALABAMA perform Friday at the Metropolis in Montréal as part of the Festival International De Jazz De Montréal.

MICHAEL FEINSTEIN entertains at Davies Symphony Hall in San Francisco on July l.
















Next Column: July 3, 2005
Copyright: June 26, 2005. All Rights Reserved. Reviews, Interviews, Commentary, Photographs or Graphics from any Broadway To Vegas (TM) columns may not be published, broadcast, rewritten, utilized as leads, or used in any manner without permission, compensation and/or credit.
Link to Main Page
---
Laura Deni


CLICK HERE FOR COMMENT SECTION