! >
Broadway To Vegas
  
  REVIEWS INTERVIEWS COMMENTARY NEWS

| | |
| --- | --- |
| | |
BUCKS COUNTY PLAYHOUSE RE-OPENS - - BROADWAY CAST BONNIE & CLYDE CD REVIEW - - DAVID HYDE PIERCE DIRECTS NEW TAKE ON THE IMPORTANCE OF BEING EARNEST - - DIAMONDS: A JUBILEE CELEBRATION - - IOWA SUMMER REP - - NATIONAL PLAYWRIGHTS CONFERENCE - - AL PACINO TALKS - - WEST END THEATRES OFFER PLAYS ABOUT THE OLYMPICS - - DONATE . . . Scroll Down



A GRAND NIGHT FOR SINGING AT BUCKS COUNTY PLAYHOUSE
Bucks County Playhouse reopens July 2nd.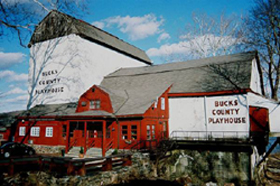 You can't keep a good theater down.

Many feared it had shuttered for good.

In 2010 Ralph Miller, who spent 35 years as owner/producer of the historic Bucks County Playhouse, bitterly cited financial reasons for dropping the curtain. Stonebridge Bank of West Chester had foreclosed on Miller, who allegedly failed to meet the terms of a $2 million loan.

Enter Broadway artistic director Jeb Bernstein and Kevin and Sherri Daugherty, founders of the Bridge Street Foundation. They made settlement on the one-time grist mill. That gave new hope to the playhouse located in New Hope, PA.

On July 2 the historic summer theatre will experience a re-opening ribbon-cutting ceremony and the first production of A Grand Night for Singing - 73 years (and one day) after it first opened in 1939.

It's an appropriate opening show.

The musical was written by Rodgers and Hammerstein.

Hammerstein lived in Bucks County and helped start the theatre.

"Bucks County was such an important place in the life of Oscar Hammerstein II," commented Ted Chapin, President and Executive Director of The Rodgers & Hammerstein Organization. "In Highland Farm he had a retreat where he did much of his creative work. The fact that a Rodgers & Hammerstein show - and one that celebrates the whole collaboration - is reopening the legendary Bucks County Playhouse is a thrill to us all. Congratulations!"



Tony Award nominee and Emmy Award winner Lonny Price directs.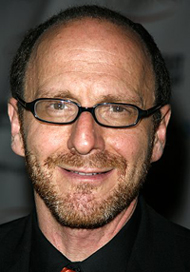 Directed by Tony Award nominee and Emmy Award winning Lonny Price, A Grand Night For Singing features more than 30 of Rogders and Hammerstein's greatest hits, from Oh, What a Beautiful Mornin' to Some Enchanted Evening.

Musical Arrangements by Fred Wells with Orchestrations by Michael Gibson & Jonathan Tunick. Conceived by Walter Bobbie. Originally produced by Roundabout Theatre Company, New York City in 1993.

Starring Courtney Balan, Ron Bohmer, Greg Bosworth, Erin Davie and Kenita R. Miller.

Lorin Latarro is the Choreographer. Phil Reno serves as the Music Director. Kirk Bookman is the Lighting Designer while Nicole V. Moody is the Costume Designer. James Noone is in charge of Scenic Design.

Performances are Monday, July 2 through Sunday, July 29.

A gala celebration on July 5th is planned to raise money to help fund the next phase of playhouse renovations.

A pre-show cocktail party will be held at Martine's RiverHouse Restaurant and a post-show reception at Marsha Brown.

The Bucks County Playhouse continues its celebration of Rodgers and Hammerstein with a one-night only screening of Sing-Along The Sound of Music on July 22.

On stage there will be three productions at the theatre this year. The second summer production will be Barefoot in the Park, in August, and then a third holiday production in December.

The summer continues with Barefoot in the Park by Neil Simon. First seen on the BCP stage nearly 50 years ago prior to its original 1963 Broadway run, this iconic and beloved play about the trials and tribulations of two newlyweds on the top floor of a New York brownstone has been leaving audiences breathless with laughter for generations. Directed by Tony Award nominee Sheryl Kaller this timeless comedy provides a breath of fresh air for the dog days of summer. Performances are Tuesday, August 7 through Sunday, August 26.

"I am so delighted that the Bucks County Playhouse, such an important place in my creative life, will be up and running again. For it to feature in its renaissance season, one of my own plays is icing on the cake," commented Neil Simon.

The re-opening accomplishes Bernstein's previously stated goals: "return live music to our stage, return to the BCP legacy of producing plays, and raise the quality of the performers and performances. These two productions allow us to accomplish that, as does our return to an Actors' Equity contract."

"We are so delighted that the Bucks County Playhouse has decided that a critical part of its revival will be its return to Actors' Equity contract status," added Mary McColl Executive Director of the Actors' Equity Association. "What a clear example of the advantage of using the most talented actors in the world. We are thrilled for Bucks County and our membership."

In addition to the summer and holiday productions, Bucks County Playhouse will present a cabaret series July 19 - 21, and Thursday, August 16 - 18 at Havana Restaurant & Bar. The series will invite Playhouse cast members, and other performers to step outside their traditional roles to perform in a 45 minute cabaret style show. The July edition will be hosted by award winning playwright Christopher Durang, a long time Bucks County resident.

Located 90 minutes from New York City, the Bucks County Playhouse opened in 1939 on the site of a grist mill dating from the late eighteenth century. Ironically, the structure was at that time in danger of demolition; however playwright Moss Hart and the local community rallied to save the building and re-opened it as a theatrical venue, which quickly became one of the country's most famous regional theaters.

In continuous operation until December 2010, a veritable who's who of American theatrical royalty has trod its boards, including Kim Hunter, Helen Hayes, Kitty Carlisle, Colleen Dewhurst, Shirley Booth, Lillian Gish, June Lockhart, Grace Kelly, Robert Redford, Bert Lahr, Leslie Nielsen and Walter Matthau.



Broadway To Vegas is supported through advertising and donations. Priority consideration is given to interview suggestions, news, press releases, etc from paid supporters. However, no paid supporters control, alter, edit, or in any way manipulate the content of this site. Your donation is appreciated. We accept PAYPAL. Thank you for your interest.



ART AND ABOUT


DIAMONDS: A JUBILEE CELEBRATION at Buckingham Palace. Diamond, the hardest natural material known, carries associations of endurance and longevity. These qualities, allied to the purity, magnificence and value of the stones, have for centuries led rulers to deploy diamonds in regalia, jewelry and precious objects. Individual diamonds have achieved great renown, passing down the generations and between enemies or allies as potent symbols of sovereignty and as precious gifts.

This spectacular exhibition at Buckingham Palace will show the many ways in which diamonds have been used by British monarchs over the last 200 years. The exhibition includes an unprecedented display of a number of Queen Elizabeth's personal jewels - those inherited by Her Majesty or acquired during her reign. The exhibition will reveal how many of these extraordinary stones have undergone a number of transformations, having been re-cut or incorporated into new settings during their fascinating history.

Diamonds: A Jubilee Celebration is part of a visit to the Summer Opening of the State Rooms at Buckingham Palace in 2012. However Buckingham Palace will be closed from July 9-30, then re-opens for visitors though October 7, 2012.

TEA ON THE GALLERIES

Thia McKann - the only Certified Tea Master in Texas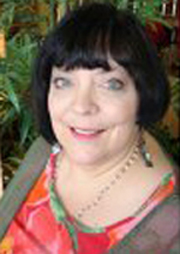 Experience the traditions of tea at the Museum of Fine Arts in Houston.

These afternoon events are presented in celebration of the exhibitions Rembrandt, Van Dyke, Gainsborough: The Treasures of Kenwood House, London and Unrivalled Splendor: The Kimiko and John Powers Collection of Japanese Art.

Whether your taste is for high English fare or for the ceremony of the Japanese "way of tea," each is accompanied by an assortment of beverages as well as savory and sweet treats.

Each seating for tea service requires a ticket and is paired with a 20-minute, docent-led highlights tour of the featured exhibition.

The tea service is led by the only Certified Tea Master in Texas: Thia McKann from Houston´s The Path of Tea.

These new afternoon events take place every Tuesday through July at the MFAH.

The British Afternoon Tea for June 26 is sold out. The next available date is July 3. Seated tea service includes an assortment of savory and sweet treats, a glass of sparkling wine, and a 20-minute highlights tour of the exhibition, Rembrandt, Van Dyck, Gainsborough: The Treasures of Kenwood House, London, located in the MFAH Audrey Jones Beck Building

The Japanese Tea Service is Tea and a Tour of Unrivalled Splendor: The Kimiko and John Powers Collection of Japanese Art, Seated tea service includes an assortment of savory and sweet treats, a "choko" of sake, and a 20-minute highlights tour of the exhibition, located in the MFAH Caroline Wiess Law Building. Dates for that tour are July 10, 17, 24, and 31.


SWEET CHARITY


WILL.I.AM has donated $780,000 to Prince Charles' charity known as The Prince's Trust.

The Black Eyed Peas frontman donated the money through his i.am.angel Foundation.

The funds will go toward providing the U.K.'s disadvantaged youth with education, training and "enterprise schemes," the Trust announced.

VINCENT one of the most successful and respected touring one-man shows in the world, is heading to Los Angeles for four special benefit performances for the Playhouse West Film Festival.

Written by Leonard Nimoy, Vincent stars actor/producer Jim Jarrett who has toured Vincent for over fifteen years.

The benefit shows will take place on Friday & Saturday, June 29th and 30th, and Friday and Saturday, July 6th and 7th. 100% of the proceeds from these Vincent shows will be donated to the Playhouse West Film Festival. After every performance Jarrett will also offer a post-show Q&A free of charge for all audience members.

Playhouse West is located in North Hollywood, CA.


THE MUSIC GOES ROUND AND ROUND


BONNIE & CLYDE the original Broadway cast recording released by Broadway Records.

The musical has music by Frank Wildhorn and lyrics by Don Black. The production starred Laura Osnes and Jeremy Jordan.

The score received a Tony nomination as Best Original Score and Laura Osnes was nominated as Best Actress in a Musical.

At the height of the Great Depression, two small-town kids from the middle of nowhere became the biggest folk heroes in all America. They craved adventure and each other. Their names were Bonnie and Clyde. Unafraid, unashamed, and irresistible, their daring story of love and crime captured the imagination of a country.

Most people know at least some of the history of their crime spree.

As a Broadway production Bonnie & Clyde got shot down. Don't let that discourage you from being interested in this original cast CD. You don't need to have seen the production to enjoy the CD. Nor do you have to be a fan of crime - either in general or B&C in particular.

Likewise, people seem to either like Wildhorn or - not. Why he polarizes critics can also fall into a mystery category.

His notes on this effort are well put together and enjoyable.

The opening horn wail of a jazz-era honky tonk How 'Bout a Dance soon transitions into a Charleston beat where younger versions of B&C played by Kelsey Fowler and Talon Ackerman performing Picture Show, mature into the adult couple played by Jeremy Jordan and Laura Osnes. They explain in This World Will Remember Me why "I want to be like Billy The Kid." They want attention. They want to feel they are important.



Jeremy Jordan and Laura Osnes in Bonnie & Clyde.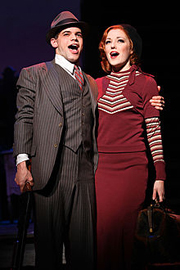 Each song moves along the plot line - again - you needn't have seen the Broadway show, although this CD would have been a ticket selling plus. Unfortunately, it was recorded three days after the production closed.

The lyrics make it easy to understand that B&C are convinced that going on a crime spree will make the world remember them.

The performers don't just toss away the songs. The actors demonstrate an excellent ability to project the intensity of the script, be that anxiety, fear, frustration, religious fervor, vulnerability, false bravado, melancholy or resignation. The excellent sound balance makes them easily understood.

Wildhorn effectively uses a variety of musical styles and specific musical instruments to denote characters.

Jeremy Jordan and Laura Osnes are standouts. Her rendition of the ballad How 'Bout a Dance?, is memorable.

When the emotionally needy Jordon gives warning with Raise A Little Hell there is no doubt that gunfire will follow. Together they touch heart strings with the waltz What Was Good Enough for You.

Giving balance to the score are performances by Claybourne Elder and Melissa van der Schyff as Clyde's dim-witted brother Buck and his overly-religious sister-in-law, Blanche.

The musical numbers actually make the audience care about the criminals. Dyin' Ain't So Bad has emotional impact.

This disc also includes a bonus track of This Never Happened Before, a song which, sadly, ended up for the Broadway version of the cutting room floor and never was part of the Broadway show. A beautiful ballad on its own, it's a duet performed by Jordan and Osnes - accompanied only by the piano, played by Frank Wildhorn.

Another plus for this CD is the accompanying booklet. All CDs have something to list the credits. In this case, the 30-page booklet is really a keepsake. Artistically and thoughtfully crafted, with design and layout by Van Dean, there are not only numerous color pictures from the Broadway production, but historical black and white photos of Bonnie Parker and Clyde Barrow. The synopsis and lyrics are also complemented by statements from Wildhorn, Black and McDaniel, and there's a reprint of one of Bonnie's original poems, The Trail's End (aka The Story of Bonnie and Clyde).

There is even the ancillary benefit of using this CD as a tool for teaching history to a bunch of kids who don't want to read a text book about B&C. Or, in teaching how invoking specific instruments, rhythm, and musical styles of a particular period, jazz, religious revival, etc help define characters as much as the spoken word. The orchestrations by John McDaniel on this CD make use of both the mandolin and the dobro which is a registered trademark now owned by Gibson Guitar Corporation and used for a particular design of resonator guitar made famous when it was added to the Bluegrass band line-up by Lester Flatt in the 1950s.

A well constructed, entertaining, lush CD which more than does justice to the show and deserves to enjoy brisk sales.

Musicians:

Music Supervisor John McDaniel who also arranged and orchestrated - Piano/Conductor Jason Howland - Synthesizer; Jeff Tanski - Violin; Cenovia Cummins - Drums/Percussion; Clint du Ganon - Acoustic and Electric Bass; Chris Lightcap - Acoustic and Electric Guitars; Brian Koonin - Acoustin and Electric guitars, banjo, pedal steel, Mandolin and Dobro; Gordon Titcomb - Flute, piccolo, English horn, clarinet, soprano sax; Rob Jacoby - Clarinet, bass clarinet , tenor sax; Dan Willis - Trobime; Charles Gordon.

Music Contractor David Lai. Synthesizer programming Randsy Cohen.


WEST END THEATRES OFFER PLAYS ABOUT THE OLYMPICS


Olympic fever is sweeping London and the West End theatre section is looking for ways to entice sports enthusiasts to attend something besides the sporting events.

Two productions have specific tie ins to the Olympics.

Presented by the Attic Theatre Company, 1936: A Play About the Olympics by Tom McNab opens at Sadler's Wells Lilian Baylis Studio on July 18 and runs through August 5, 2012.

1936 by Olympic coach and best-selling author Tom McNab is a thrilling take on the events that led up to the 1936 Olympics. The Berlin Olympics are remembered both for the American Jesse Owens winning five gold medals, and for being a pivotal moment in Hitler's rise to power.

This remarkable play balances the personal stories of the athletes with the politics and in-fighting leading up to the games, laying bare the greed and unscrupulous ambition of the key players at the time. In London's own Olympic year, 1936 is a fascinating examination of the political impact of hosting the games at a time when Hitler's position in Germany was precarious.

Hosting the games provided invaluable propaganda for the Nazi movement but presented a moral dilemma for the athletes and other nations involved, aware of Hitler's treatment of Jewish athletes. The extraordinary power politics prior to the Second World War are played out by a nine actor cast, portraying the people whose decisions could have changed history.

Performances of the play are followed by a discussion led by Tom McNab with eminent sports personalities on the panel.

Chariots Of Fire based on the extraordinary true story of Eric Liddell's and Harold Abrahams' quest to become the fastest men on earth is also a West End contender.

It's an electrifying and immensely moving tale of two men's rivalry, and their unwavering determination to conquer the world in the face of prejudice, immovable beliefs and overwhelming odds.

Adapted for the stage by award-winning writer Mike Bartlett and featuring the original, hugely iconic Vangelis score and a magnificent ensemble cast under the direction of Edward Hall whose brainchild it was to produce it on stage.

The production stars Jack Lowden as Liddell and James McArdle as Abrahams, who were described as having undergone "intensive boot camp" training for their roles, which involve a lot of running.

The production is honoring the memory of the late Dodi Fayed who died in the crash which killed Princess Diana. Fayed was the executive producer on the original Oscar-winning film.

Premiered at the Hampstead Theatre, and transferred June 22 to the Gielgud Theatre in London's West End.


SPREADING THE WORD


AL PACINO

Two-time Tony Award winner Al Pacino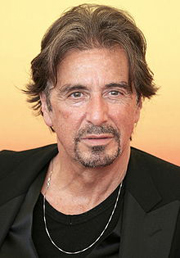 From Michael Corleone in The Godfather to Tony Montana in Scarface to his Academy Award-winning role as Frank Slade in Scent of a Woman, Al Pacino has created an unforgettable gallery of characters.

He worked at a string of low-paying jobs, including messenger boy, busboy, janitor, and postal clerk, in order to finance his acting studies.

He acted in basement plays in New York's theatrical underground but was rejected for the Actors Studio while still a teenager. Pacino then joined the Herbert Berghof Studio (HB Studio), where he met acting teacher Charlie Laughton, who became his mentor and best friend. During this period, he was frequently unemployed and homeless, and sometimes had to sleep on the street, in theaters, or at friends' houses.

After having spent four years at HB Studio, Pacino successfully auditioned for the Actors Studio.[ Pacino studied "method acting" under acting coach Lee Strasberg.

Pacino has won Tony Awards for Does a Tiger Wear a Necktie? and The Basic Training of Pavlo Hummel.

A longtime fan of Shakespeare, he made his directorial debut with looking for Richard, a quasi-documentary on the play Richard III.

In this riveting evening, Pacino shares backstage tales from a lifetime in the world of theater and film, clips of his films - some never seen before - and a question and answer session with you, the audience.

One night only, Thursday, June 28, as part of the Virginia Arts Festival. The event takes place at Chrysler Hall in Norfolk, VA.

NATIONAL PLAYWRIGHTS CONFERENCE takes place June 29-July 29. The conference, which includes development time and resources for the writers as well as staged readings open to the public, will include eight scripts chosen from nearly 1,000 submissions through the O'Neill's open submissions process, which allows any playwright – with or without agent representation – to submit.

Those selected include:

Provenance by Anne Garcia-Romero - Reclamation by Ken Weitzman - Two Lakes, Two Rivers by Laura Jacqmin - Fool, a new play by Theresa Rebeck - Hype Hero (King Patch) by Dominic Taylor - Alligator by Hiliary Bettis - Orange Julius by Basil Kreimendahl - The Tall Girls by Meg Miroshnik - Fool by Theresa Rebeck.

Greg Kotis will also be in residence working on a new play.

Under the leadership of Artistic Director Wendy C. Goldberg, each will undergo the O'Neill's signature development process, employing acclaimed professional creative and support staff, including directors, dramaturgs, actors, and designers. Playwrights spend the month of July developing and presenting staged readings of their work during NPC's 48th season.

The annual National Playwrights Conference in at the Eugene O'Neill Theater Center in Waterford, CT.

CHARLIE AND THE CHOCOLATE FACTORY based on Ronald Dahl's novel, is being turned in to stage musical as announced in 2009 by Oscar winner Sam Mendes. At that time the Oscar winning director stated that songs would be penned by Mark Shaiman and Scott Wittman while Scottish playwright David Greig would write the script.

Mendez has now announced that he will helm the musical and Olivier Award winner Peter Darling will provide the choreography.

The eagerly anticipated musical will have its world premiere on June 23, 2013 at the London Palladium.


OTHER PEOPLE'S MONEY


BROADWAY BARES: HAPPY ENDINGS had just that. The annual event held June 17 at the Roseland Ballroom in New York City, raised more funds than any previous Broadway Bares production - a record-breaking $1,254,176 to benefit Broadway Cares Equity Fights AIDS.

Last year's edition set the previous record at $1,103,072.

TRUSTEES FOR THE ESTATE OF HUGUETTE CLARK whose father the late Sen. William A. Clark, a copper magnate, founded Las Vegas - the county Clark County is named for him - wants all of the money and gifts Huguette gave to friends and employees returned.

Court-appointed Ethel J. Griffin who is overseeing her estate contends that recipients manipulated the Huguette, who died at the age of 104 last year, into bestowing extravagant gifts and salaries upon them. The public administrator is attempting to reclaim a $37 million for the $400 million estate.

Documents indicate that her nurse received almost $28 million in gifts, including three Manhattan apartments, two homes elsewhere and a $1.2 million Stradivarius violin. Her doctors' families received more than $3 million in presents. A night nurse received a salary plus money to pay for her children's school tuition and to assist in the purchase of two apartments.

Besides seeking an order for return those gifts, the administrator has requested that the court investigate whether a hospital where Clark lived should be forced to return a $6 million painting by French pre-Impressionist Edouard Manet and whether the prominent Corcoran Gallery of Art in Washington should have to return $250,000.

The public administrator's court papers portray a frail, secluded Clark exploited by a scheming retinue. But recipients say Clark was a generous, independent-minded woman who did exactly what she wanted in enriching people around her. The last will she apparently signed, in April 2005, leaves most of her money to charity, with a more than $30 million bequest to her private nurse. Another will, signed six weeks earlier, left her estate mostly to about 20 great-nieces and great-nephews. They are challenging the latest will.

"This was a very generous woman" who made gifts to people she rarely or never saw, said Peri's lawyer, Harvey E. Corn. "It's absurd to think that she would not give gifts to the individuals who worked with her."


HANG ON


AUDRA McDONALD the 5-time Tony Award winner is suffering from severe vocal inflammation and has doctor's orders to remain on complete vocal rest. Thus, she is temporarily out of the Tony Award-winning Broadway revival of Porgy and Bess at the Gershwin Theatre. McDonald is scheduled to return to the production July 3 for performances through September 30.

In McDonald's absence, her understudy, actress Alicia Hall Moran, will perform the role of Bess.

PATTI LUPONE whose engagement at 54 Below was extended, filling in for Andrea Martin who was battling a stubborn bronchial infection, had to cancel the last two nights - June 22-23 - because she is also ill.

JACK OSBOURNE who has announced that he is suffering from Multiple Sclerosis. Osbourne is the son of musician Ozzy and music manager/talker Sharon. He is also the brother of Aimee and Kelly. Osbourne and his fiancée, Lisa Stelly, have a daughter, Pearl Clementine, born on April 24, 2012. Having inherited a strong tenacity gene, he is expected to do quite well.



THE IMPORTANCE OF BEING EARNEST by Oscar Wilde. Directed by David Hyde Pierce.

What if a family of Guys and Dolls-style gangsters moved to Downton Abbey-style London in order to escape certain, shall we say, entanglements? What if two of these wise guys fell hard for two tough dolls? And what if the formidable dame who runs the aforementioned criminal family developed an appetite for cucumber sandwiches? Director David Hyde Pierce gives us Oscar Wilde's hilarious high society satire in a very new way. Welcome to the family.

Starring Marylouise Burke, Charlotte Bydwell, Louis Cancelmi, Helen Cespedes, Julian Cihi, Sean Cullen, Tyne Daly, Glenn Fitzgerald, Paul Anthony McGrane, Ariana Seigel, Amy and Harry Stram.

Scene Design - Allen Moyer; Costume Design - Michael Krass; Lighting Design - Ben Stanton; Sound Design - Jill BC DuBoff.

June 26 - July 14 at the Williamstown Theatre Festival in Williamstown, MA.

DOGFIGHT a world premiere musical with words and music by Ben J. Pasek and Justin Paul. Book by Peter Duchan.

Directed by two time Tony Award winner Joe Mantello.

Featuring Annaleigh Ashford, Becca Ayers, Nick Blaemire, Steven Booth, Diedre Friel, Adam Halpin, F. Michael Haynie, Derek Klena, Lindsay Mendez, James Moye and Josh Segarra.

It's November 21, 1963. On the eve of their deployment to a small but growing conflict in Southeast Asia, three young Marines set out for one final boys' night of debauchery, partying and maybe a little trouble. But when Corporal Eddie Birdlace meets Rose, an awkward and idealistic waitress he enlists to win a cruel bet with his fellow recruits, she rewrites the rules of the game and teaches him the power of compassion.

Dogfight received the 2011 Richard Rodgers Award from the American Academy of Arts & Letters.

Performances begin June 27 at the Second Stage Theatre in New York City.

THE ODD COUPLE by Neil Simon. Directed by Vincent J. Cardinal.

Starring Pat Sajak as fussy Felix Ungar opposite Joe Moore as sloppy Oscar Madison. This marks the fourth time Sajak and Moore have appeared together on stage.

Friends since their tour of duty in Vietnam, Moore and Sajak will join forces as the desperately mismatched roommates who find themselves sharing a not-so-swinging bachelor pad after their marriages break up. As wildly, irresistibly, and continuously funny as it was when it opened on Broadway.

The production also stars Brad Bellamy, Patrick Kerr, Tony Award nominee Liz Larsen, Kathleen McNenny, Murray Rubinstein and David Allen Stern.

The production team includes Michael Anania (scenic design), Sarah Ewing (costumes), Greg Purnell (lighting), Nathan Leigh (sound), David Alan Stern (dialect/speech coach), Sarah M. Delia (stage manager) and John W. Parmlee (technical director).

The Connecticut Repertory Theatre performances play to July 7 at The Harriet S. Jorgensen Theatre in Storrs, CT. CRT is the professional producing arm of the Department of Dramatic Arts at the University of Connecticut, Storrs. CRT productions are directed, designed by, and cast with visiting professional artists, including Equity actors, faculty members, and the department's most advanced student artists.

AVENUE Q conceived by Robert Lopez and Jeff Marx, who wrote the music and lyrics. The book was written by Jeff Whitty.

This staging is directed by Mark Martino.

Seven actors are in the cast. Four of them perform 48 different puppet characters. Jeffrey Correia is Princeton and Julie Kavanaugh is Kate Monster. Danielle K. Thomas plays Gary Coleman a part he has played in the Broadway production.

Winner of the Tony Awards for Best Musical, Best Score and Best Book, Avenue Q is part flesh, part felt and all heart. It's a laugh-out-loud musical that tells the story of a college grad who moves into a shabby New York apartment all the way out on Avenue Q. There, he meets his lovable and kooky neighbors, who help him finally discover his Purpose in life!

Presented by Theatre Aspen June 25 - July 21 at the Hurst Theatre in Aspen, CO.

IOWA SUMMER REP: CHILLS & THRILLS: A MYSTERY SEASON The Woman in Black, with a book by Susan Hill. Adaptation by Stephen Mallatratt.

Directed by Mary Beth Easley.

Yes, this play is based on the same book as the recent movie starring Daniel Radcliffe. It's a bone-chilling mystery of the imagination, especially notable for having only two actors-and one ghost-perform the entire play. June 28, 29, 30, July 5, 6, 7 at the Hancher Auditorium in Iowa City, Iowa.


WHO'S WHERE


TONY BENNETT returns to the royal Albert Hall in London for two nights - June 30-July 1 - following the release of his second Grammy-Award winning Duets albums.

DIANA KRALL appears Tuesday, June 26, at the State Theatre in New Brunswick, NJ. On Wednesday she stars at the American Music Theatre in Lancaster, PA. Friday's show is at the Cape Cod Melody Tent in Hyannis, MA. On Saturday she's in the spotlight at the South Shore Music Circus in Cohasset, MA. On Sunday, July 1, she takes part in the Freihofer's Jazz Festival at the PAC in Saratoga Springs, NY.

NEIL DIAMOND is in the spotlight Tuesday, June 26, at the Air Canada Centre in Toronto. On Thursday he stars at the John Labatt Centre in London, ON and next Sunday, July 1, he'll be delighting the audience at the Quicken Loans Arena in Cleveland, OH.

AEROSMITH brings their tour to the Air Canada Center in Toronto for a performance on Wednesday, June 27. On Friday they perform at the Times Union Center in Albany, NY. Next Sunday, they can be enjoyed at the Nassau Veterans Memorial Coliseum in Uniondale, NY.

MADONNA entertains Thursday, June 28, at the 02 World in Berlin.

BRYAN ADAMS is in Russia this week with a show on Thursday, June 28 at the Ice Palace in St. Petersburg. On Friday he's on stage at the Crocus Expo Hall in Moscow.

ROGER WATERS performs Monday, June 25, at the Scotiabank Place in Ottawa, Ontario. Tuesday's show is at the Bell Centre in Montreal. Thursday he entertains at the Times Union Center in Albany, NY and on Friday he has a show at the XL Center in Hartford, CT.

JACK JONES the legendary singer performs June 26-30 at Feinsteins at Loews Regency in New York City.

CELTIC THUNDER brings their Irish Summer Show to Harrah's Resort and Casino in Atlantic City for performances June 27-July 8.

PIA ZADORA has a two nighter July 27-28 at the Cabaret Jazz Club at the Smith Center in Las Vegas. Her act is the creation of Walter Painter, Larry Grossman and Joe Macks. Vinnie Falcone conducts.


FINAL OVATION


RICHARD ADLER Tony Award winning composer, died June 21, 2012 at his home in Southampton, N.Y. He was 90.

Adler co-wrote the music and lyrics for the Broadway hits The Pajama Game and Damn Yankees.

As a producer, he was responsible for the lavish Madison Square Garden fund-raiser of 1962 that featured Marilyn Monroe singing "Happy birthday, Mr. President" to John F. Kennedy.

With his partner Jerry Ross they wrote the Tony Bennett hit Rags to Riches.

Ross died at the age of 29, on November 11, 1955, from complications of the lung disease bronchiectasis.

Adler penned both the music and lyrics for Kwamina, a musical about Africa starring Brock Peters, Robert Guillaume and Sally Ann Howes, which ran for only 32 performances in 1961. However, Adler's work on the show was nominated for a Tony Award.

Adler also wrote music and lyrics for several successful television jingles including Let Hertz Put You in the Driver's Seat.

He was married five times, including to Ms. Howes. Survivors include his wife, Susan A. Ivory; three children, Andrew Adler, Katherine Adler and Charles Shipman; and three grandchildren. A son, Christopher Adler, died in 1984.








Next Column: July 1, 2012
Copyright: June 24, 2012. All Rights Reserved. Reviews, Interviews, Commentary, Photographs or Graphics from any Broadway To Vegas (TM) columns may not be published, broadcast, rewritten, utilized as leads, or used in any manner without permission, compensation and/or credit.
Link to Main Page
---
Laura Deni



For the snail mail address, please E-mail your request.
CLICK HERE FOR COMMENT SECTION