! >
Broadway To Vegas
  SHOW REVIEWS     CELEBRITY INTERVIEWS     GOSSIP     NEWS 
| | |
| --- | --- |
| | |
Copyright: June 24, 2001
By: Laura Deni
CLICK HERE FOR COMMENT SECTION

I LOVE LUCY 50th ANNIVERSARY TRAVELING ROAD SHOW AND GRAPE STOMP
For six seasons, I Love Lucy captured the heart of America in weekly broadcasts on CBS, winning five Emmys Awards. For the past 50 years, no other television show has come close to matching the ongoing love affair that the world has had with Lucy, Ricky, Fred and Ethel.


THE CAST OF I LOVE LUCY: Vivian Vance, Lucille Ball, William Frawley and Desi Arnaz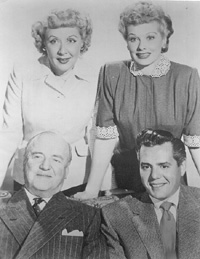 I Love Lucy even begot a Young Adult Bible Study Series which utilizes certain episodes to teach moral lessons. "The I Love Lucy television series was created in the 1950's when TV had a delightfully funny but moral sense of purpose. The episodes selected for use in the series are hilarious and full of points and subjects that are timeless. Your (Bible study ) class is in for a hilarious but effective hour of learning," states the sales pitch.

Now, The I Love Lucy 50th Anniversary Experience will give fans the chance to reach out and touch all of the magic that changed television history in a comprehensive, cutting-edge, interactive attraction.

For the first time ever, Americans can get up close and personal with all of their favorite Lucy memories by visiting a groundbreaking new traveling experience. The tour, produced by SFX and S.E.S.P. Inc., makes its debut at the Milwaukee's Summerfest on June 28.

"With this tour, our family wanted to give the legions of I Love Lucy fans throughout America a way to celebrate along with us and join in the fun that was the I Love Lucy experience 50 years ago," said Lucie Arnaz, daughter of Lucille Ball and Desi Arnaz. "Now they can experience the action and excitement that existed on the set 50 years ago as Lucy, Ricky, Fred, and Ethel made television history."

The I Love Lucy 50th Anniversary Experience features a plaza with three interactive games that encourage audiences to re-live three of the most memorable Lucy moments.

The 25,000-square-foot display includes replicas of I Love Lucy sets, a theater with highlight film, memorabilia, a Lucy shop and interactive games that let guests re-enact famous scenes from the series.

The first game is based upon the episode titled Lucy's Italian Movie, which aired on April 16, 1956. Stomping grapes into wine helps the Lucy Riccardo prepare to star in a movie!

You can stand in the wine vat, hike up your skirt or roll up your pants and compete against your friends to see who can stomp "grapes" the fastest to fill up the wine bottle.

In the second game, get your hands ready to wrap chocolates at lightening speed as they zoom toward you on a conveyor belt.

Job Switching is the classic episode that aired September 15, 1952. Ricky and Fred say housewives have it easy and Lucy and Ethel think they would rather work out of the home. When Ricky and Fred switch roles with Lucy and Ethel minds begin to change. Lucille Ball always said this show was a favorite of hers.

Lucy and Ethel were employed to wrap chocolates but couldn't keep up with the candies whizzing past them on an accelerating conveyor belt. They grabbed them as fast as they could and stashed them in their pockets, hats and mouths.

In the final activity, try not to trip over your tongue as you do your best to sell the miracle elixir "Vitameatavegemin."

This game is based upon the Lucy Does A TV Commercial show which aired on May, 5, 1952. This is the famous "Vitameatavegamin" episode.

Lucy gets a commercial, but the stuff she has to taste is terrible! She doesn't get it in one take either, but the alcoholic content gets her.

A Ricky and Lucy Ricardo look-alike contest, is also part of the fun. At the Summerfest location semifinalists received I Love Lucy merchandise packets. The finals will be held on July 7 at the Summerfest exhibit. The two winners will receive Northwest Airlines vouchers valued at $1,840.

Contestants are judged on physical resemblance, impersonation skills and audience reaction.



LUCILLE BALL AND DESI ARNAZ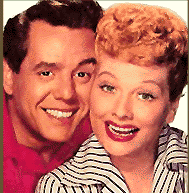 All of the plaza activity will be videotaped, and every participant has the chance to appear in the "I Love Lucy 50th Anniversary Special" to be broadcast Oct 15 on CBS television.

In addition to the plaza, the "I Love Lucy 50th Anniversary Experience" will offer fans their very first chance to visit exact replicas of the most famous sets in television history -- Lucy and Ricky's New York apartment, the Beverly Palms Hotel and the Tropicana Nightclub.

The "Trop" has been converted into a theater where fans can view a highlight reel created especially for this experience featuring great moments from the show, including the longest laugh of any episode which was Lucy Does The Tango. That clocked a 65 second long giggle fest.

The episode titled First Stop was the first to use scenes shot on location. That aired January 17,1955.

The reel includes clips from the long-lost pilot episode, which was broadcast on television only once over the past 50 years and bumpers featuring animated versions of Lucy and Ricky -- one of the many television firsts pioneered by Desi Arnaz.

Lucille Ball & Desi Arnaz produced that long lost pilot with $5,000 of their own money to convince the network to allow Desi to play Lucy's husband in the series. The network had reservations about whether Desi would be acceptable to the public since he was of Cuban descent.

The program was going to be called the Lucy and Larry Lopez Show, but Lucy and Desi decided that those names didn't sound "real"! It was the second name change for Lucille Ball. When she left home to become a model and chorus girl in New York City she changed her name to Diane Belmont. At the star of I Love Lucy Ball was on the first cover of TV Guide Magazine was on more covers than anyone else!

SFX Family Entertainment Executive Producer Lisa Davis commented, "In the most elaborate touring tribute to a TV series ever launched, we take people on a journey back in time, back to the glory days of I Love Lucy, allowing them to experience many of their favorite show moments first-hand!"

Display cases of priceless original props, costumes, scripts and rare photographs are located at almost every turn, offering fans an up-close, personal look.

"This tour is the culmination of two years of intense research and development, resulting in the largest collection of `I Love Lucy' material ever assembled," said S.E.S.P. Executive Producer Steve Kahn.

An on-site Lucy Store will be stocked with an array of 50th Anniversary Tour and "Ricky Ricardo's Club Babalu" branded items, including T-shirts, mugs, magnets, picture frames, mirrors, photo albums, clocks, snow globes, postcards, pencils and more, which will be available exclusively on this tour.

The tour will wend its way across the country over the next four years.

Currently taking place is the E Bay auction of Lucille Ball's childhood home. That's right! Lucy's childhood home at 59 Lucy Lane in Celoron, New York. The auction closes tomorrow, June 25, and the minimum reserve price has been met.

The three bedroom, 1.5 bath, with 1188 square feet was the Hunt Family home where Lucille Ball lived with her mom and maternal grandfather, Henry C. Hunt until she ran away to NYC at age fifteen. The residential zoned house is a one family frame dwelling, with one car detached garage situated on a 100x200 parcel of land.

Milwaukee, WI June 28 - July 8 before moving on to Orange County Fair, Costa Mesa, CA July 13 - July 29
Other stops include Sacramento, CA, Albuquerque, NM, and Dallas, Texas.



Broadway To Vegas is supported through advertising and donations. Priority consideration is given to interview suggestions, news, press releases, etc from paid supporters. However, no paid supporters control, alter, edit, or in any way manipulate the content of this site. Your donation is appreciated. We accept PAYPAL. Thank you for your interest.


COW MANURE PACKS POWER


Politicians use it to fuel their campaigns. They may have been on to something. All of that gas does have power. Manure may be the answer to our energy shortage.

Last Wednesday Wisconsin Gov. Scott McCallum flipped a switch that made the Carl Theunis family farm into Wisconsin's first cow-powered electric plant.

After years of planning, borrowing and building, Theunis, 53, his wife Sharon and their four sons,Mike, 32, Scott, 31, Todd, 25, and Jim, 23 - and 16 full time employees watched as Tinedale Farm became officially cow powered.

The fourth-generation dairyman has a herd of 1,800 Holsteins which annually produce 48,600 pounds of manure.

That's a lot of cow power.

That waste is loaded into an on-site chamber, where it is digested by anaerobic bacteria at two different temperatures.

The result is 300,000 cubic feet of methane gas, collected at the top of the chamber and piped to an on-site electric generator, where it is burned. The burned methane produces a constant flow of 750 kilowatts of electricity, enough to power 250 houses.

The solid and liquid by-products of the process, developed by Iowa State University researchers, can be spread as pathogen-free fertilizer.

Theunis developed the project with a $400,000 low-cost loan from the state Commerce Department and a $100,000 grant from Brown County.

Dick Griggs, president of Wisconsin Electric Power Co., which will buy the 750 kilowatts of power produced at the farm, was on hand to congratulate Theunis for "having the vision and the drive to get this project done."

According to calculations by Wisconsin Electric, if all the cow manure in the state were collected and processed in manure digesters, the resulting methane could produce 750 megawatts of electricity, 1,000 times as much as the Tinedale plant and three-fourths the amount produced by the Point Beach Nuclear Power Plant.


TURN TABLE


DUDLEY MOORE has released a new CD, Dudley Moore Live from an Aircraft Hangar. The compilation is from his 1992 concert at the Royal Albert Hall in London, a 5,000-seat hall he affectionately calls an "Aircraft Hangar." Some of the proceeds from the CD will go to the Dudley Moore Research Fund for PSP. Moore, 66, suffers from the degenerative brain condition called progressive supranuclear palsy, The CD will also support Music For All Seasons Inc., which brings live, professional music into facilities where people are confined.

ALICE RIPLEY has a solo CD recording, Everything's Fine, a collection of 13 original songs, on Sh-K-Boom Record's. Currently appearing as Janet in The Rocky Horror Show and best known for her Tony nominated performance in Side Show, this CD marks Ripley's crossover as a singer/songwriter of unique appeal. Following her sold out CD release performance at Joe's Pub, Alice performs live at the Sh-K-Boom Room at The Cutting Room - June 28th & July 12th. Adam Pascal joins Alice on a double bill - June 28th and July 12th. Both artists will perform full sets with their bands. The Sh-K-Boom Room is located at The Cutting Room, NYC.

JOHN McDANIEL who received Emmy Award last month, as producer of the Best Talk Show, The Rosie O'Donnell Show has recorded a Christmas CD due out in October.


EDDIE BRACKEN who is currently appearing as The Starkeeper in Carousel at the Paper Mill Playhouse, N.J .celebrated his 15,000 stage performance in 11 productions during the past 32 years. The 85-year-old actor was saluted opening night with his entire family in the front row. "We have five children," he said. "I did it the hard way: One wife." Carousel continues through July 15.

HARRY HAMLIN who is starring in House at the Falcon Theatre in Los Angeles had the birth of 7-pound 3-ounce Amelia Gray announced from the stage. The baby was born June 13. Mother Lisa Rinna is fine. The couple has been married four years. Their first daughter, Delilah Belle, is 3.



THE NEW YORK CENTRAL THEATER June 28 through July 22 starts its second season of al fresco Shakespeare with Macbeth. Performances take place at The Pool, 103rd Street entrance on Central Park West. No reservations required.

KISS ME KATE starring Rex Smith and Rachel York head the national tour which opened June 19 in the Shubert Theatre at New Haven, CT for a run through July 1. The cast includes; Nancy Anderson, Jim Newman, Michael Arkin, Susan Beaubian, Randy Donaldson, Herman Petras, Richard Poe and Chuck Wagner.

SIX DANCE LESSONS IN SIX WEEKS starring Uta Hagan and David Hyde-Pierce extended through July 8. Geffen Playhouse, Los Angeles.

FOSSE Toronto, ON Pantages Theatre June 19-24.


WHO'S WHERE


MICHAEL FEINSTEIN June 18 in London, UK at the Royal Festival Hall and then on Wednesday he's in Dublin, Ireland at the National Co.

BRIAN SETZER '68 COMEBACK TOUR June 24 in Spokane, WA at The Met. On June 26 it's center stage in Seattle, WA at the Showbox. On June 27 the guys can be found in Portland, OR at the Roseland Theater. The next night it's Jacksonville, OR at the Britt Festivals at Britt Pavilion. On Friday they round out the week in Kelseyville, CA at the Konocti Harbor Resort.

TONY BENNETT opens June 22 at Caesars Atlantic City, NJ for a three night stand.

JOAN JETT made headlines when she bolted from The Rocky Horror Show on Broadway. Now the rocker jett-propels herself into Las Vegas. House of Blues at Mandalay Bay Resort. Las Vegas on July 7.

MADONNA June 26-30 Paris, France at the Palais Omnisports.

LYLE LOVETT AND HIS LARGE BAND June 30 Summerlin Concert in the Gardens, Las Vegas.

BEBE NEUWIRTH will in star Everett Beekin by Richard Greenberg at Lincoln Center. The production will open in October. The comedy, which has its world premiere at South Coast Repertory Theatre, will also star Robin Bartlett.

TOM WOPAT AND CRYSTAL BERNARD who have toured in Annie Get Your Gun yesterday stepped into the Broadway production. For Wopat it is a return. He originated the role of Frank Butler in this incarnation.The Marquis Theatre, NYC.

DONNA McKECHNIE with her Inside the Music program. West Hampton, June 30.

PRINCE Marcus Amphitheatre June 28, Madison, Wisconsin.


PIFFLE AND PROFUNDITIES


A KODAK MOMENT during Siegfried and Roy's show at the Mirage in Las Vegas. Two of the animals didn't follow the script when they decided to get amorous on stage. The illusionists tried to cover up the X-rated event with their capes, while the audience laughed and applauded. It's not the first time love has been in the spotlight. Once when Wayne Newton was showing off his horses on the Merv Griffin Show the curtains were opened to discover two Newton horses "up on point" or as Wayne said - "beginning a new family."












Next Column: July 1, 2001
Copyright: June 24, 2001. All Rights Reserved. Reviews, Interviews, Commentary, Photographs from any Broadway To Vegas (TM) columns may not be published, broadcast, rewritten, utilized as leads, or used in any manner without permission, compensation and/or credit.
Link to Main Page
---
Laura Deni



U.S. Postal Address: Post Office Box 60538, Las Vegas, NV 89160
CLICK HERE FOR COMMENT SECTION