! >
Broadway To Vegas
  
  REVIEWS INTERVIEWS COMMENTARY NEWS

| | |
| --- | --- |
| | |
ROYAL PAINTBOX: ROYAL ARTISTS PAST AND PRESENT - - WORLD LARGEST MUSIC FESTIVAL TUNES UP - - CLAY WALKER CELEBRITY CHARITY CLASSIC - - ANNIE: IT'S THE HARD-KNOCK LIFE, FROM SCRIPT TO STAGE - - THEY'RE PLAYING HIS SONGS WORLD PREMIERE - - TERRY BRADSHAW OPENS IN LAS VEGAS - - RADIO STATION TO ONLY PLAY SHOWTUNES - - SUMMER MEANS SHAKESPEARE - - DONATE . . . Scroll Down





Copyright: June 23, 2013
By: Laura Deni
CLICK HERE FOR COMMENT SECTION


SUMMER MEANS SHAKESPEARE


Summer seems to mean Shakespeare. Maybe because they both start with the letter "S". While there are enough of his works to fill up a program, most Shakespeare festivals stage a variety of productions, many of which have absolutely nothing to do with the Old Bard.

In any event, Shakespeare festivals abound. When the heat drives you to distraction, head to an outdoor festival to help take your mind off the high cost of air conditioning.

The Illyrian Players Theatre Co. in Los Angeles is a unique company. "We are an ensemble committed to unveiling the relevance of classics, creating a haven for artists and opportunities for women in theatre, promoting a message of sex-positivity and tolerance, and reclaiming the power of theatre as a subversive art form with which to change the world," is a the position paper of artistic director Carly D. Weckstein.

Her group will be staging a 14 actor production of Taming of the Shrew, which they have billed as "an S&M love story, directed and adapted by Weckstein. "This will be a unique and stimulating production, a never before seen version of this classic battle of the sexes." The production will run three weekends in August.

The Pennsylvania Shakespeare Festival is doing a varied mix under the Shakespeare banner.

Yes, there will be some Shakespeare, such as Henry VIII and Measure for Measure, receiving their first productions at the Pennsylvania Shakespeare Festival. The season will also include Oscar Wilde's The Importance of Being Earnest, the award-winning comic-thriller, The 39 Steps, with performances through July 14 at the Schubert Theatre and Rodgers and Hammerstein's legendary musical, Oklahoma! currently on the Main Stage through June 30. Oklahoma! is the most produced of all the Rodgers and Hammerstein's musicals and is being directed by Associate Artistic Director Dennis Razze.

"For most of our patrons, the pulse quickens a bit when the opportunity presents to attend a Shakespeare play they haven't seen, or have seen infrequently," says Patrick Mulcahy, producing artistic director. "And we are all reminded of why the classics endure."

For the third consecutive season, PSF will produce two plays in repertory on its main stage: Measure for Measure and The Importance of Being Earnest.

Earnest will be directed by long-time Festival artist Jim Helsinger, who will also play the role of Lady Bracknell.

After garnering Tony and Olivier awards and audience raves around the country, The 39 Steps receives its professional Lehigh Valley premiere with the PSF production. "Even with our proximity to New York, many in our community have yet to experience this masterful, comic whodunit," Mulcahy says. "With four actors playing 150 characters, this play gives actors a great opportunity to showcase range and test their transformative abilities, and audiences a chance to come along for a wild and exhilarating ride." Matt Pfeiffer returns to direct.

Henry VIII – one of Shakespeare's final plays, loosely chronicling the opulent corrosive power struggles of the notorious king's reign – will be rehearsed similarly to the way Shakespeare's company would have. Actors will arrive with their lines learned, rehearse on their own, wear what they can find in a costume shop "raid," and open in a matter of days. No director – the position didn't exist in 1613 – and no designers. Certainly a different approach, since most productions at PSF rehearse for three-plus weeks, with a director and a full complement of designers.

"With two years of experience now, we've found that the actors and patrons embrace this process, and the final production gives our audiences something akin to what we think Shakespeare's audiences experienced – the thrill of the unexpected, the creative, and the unique power of adrenaline combined with discovery," says Mulcahy.

The season runs through August 4 in the Labuda Center for the Performing Arts on the Center Valley campus of DeSales University.

The Pennsylvania Shakespeare Festival in Center Valley, PA is a professional company in residence at DeSales University, is the Official Shakespeare Festival of the Commonwealth and a professional, not-for-profit theatre company.

The Idaho Shakespeare Festival, in Boise, Idaho is known as Shakespeare Under The Stars. Their 2013 lineup includes: Blithe Spirit, Much Ado About Nothing, Sweeney Todd: The Demon Barber of Fleet Street, King Richard III and The Foreigner.

There is no green show on Sundays.

The outdoor amphitheater and habitat reserve, offers a theatrical experience like no other.

In addition to all the magic, drama and passion of professional theater, and a 770-seat, state-of-the-art facility that was built to feature the human voice, the Festival Amphitheater & Reserve is nestled in a unique habitat that is home to an astonishing variety of plant and animal species.

The Festival operates under an agreement with the Idaho Foundation for Parks & Land and the Idaho Department of Parks & Recreation. Patrons wending their way into the theater proper, can enjoy native plants, the songs of water birds and glimpses of deer, heron, ducks, geese and an occasional fox.



A production by the Shakespeare Festival at Tulane in New Orleans.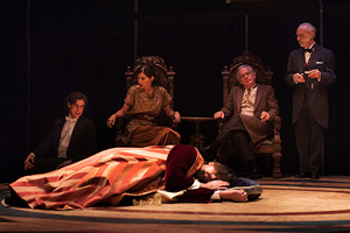 The Shakespeare Festival at Tulane in New Orleans opens with The Merry Wives of Windsor, Shakespeare's most famous farce. Directed by Clare Moncrief, that production runs through June 29. That is followed by Romeo & Juliet, directed by Amy Holtcamp, with performances July 12-27. The Complete Works of William Shakespeare (abridged) opened June 23 and will speed along under the guidance of Carl Walker through July 17.

This festival also offers The Shakespeare Jazz Show - a unique post show bonus event, which features the words of Shakespeare set to live jazz music. This bonus offering is directed by Alex Ates at Tulane's Lupin Theatre.

The Tony Award winning theatre at the Utah Shakespeare Festival in Cedar City, Utah has an eclectic season. Four Shakespearean classics, two hit musicals, an American stage icon about justice, and a regional premier of a new play are all scheduled as part of the 2013 season beginning June 24.

"Shakespeare is our cornerstone playwright, and we are excited for the next phase in our Complete the Canon campaign," said Artistic Director David Ivers. Starting in 2012, the Festival is committed to produce Shakespeare's entire canon of work over a period of twelve years, including completing his entire cycle of history plays in sequential order.



A regional premiere of Peter and the Starcatcher will take place at the Utah Shakespeare Festival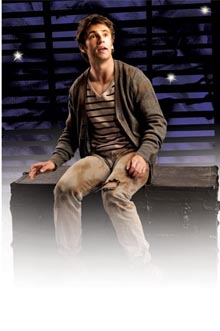 "With that in mind, the Festival will present in the world-famous outdoor Adams Shakespearean Theatre the first in that history cycle, King John. Also in the Adams Theatre will be Shakespeare's epic masterpiece The Tempest and the frothy romance Love's Labour's Lost. These three plays will run from June 24 to August 31.

"In addition to featuring works by the Bard, we will return to producing two musicals in the season," Ivers commented. Featured in the Randall L. Jones Theatre from June 24 to August 31 will be Cole Porter's high energy musical Anything Goes. During the late season, September 18 to October 19, guests can enjoy favorite songs from the 50s and 60s in Roger Bean's The Marvelous Wonderettes.

Also in the Randall L. Jones Theatre will be the American theatre classic Twelve Angry Men from June 24 to August 31 and the second in Shakespeare's history cycle, Richard II, from September 18 to October 19.

The final, and perhaps most exciting, 2013 production will be a regional premiere of the winner of five 2012 Tony Awards, Peter and the Starcatcher by Rick Elice based on the novel by Dave Barry and Ridley Pearson. Peter and the Starcatcher will run all season from June 24 to October 19.

The Colorado Shakespeare Festival is staging some of the usual offerings: A Midsummer Night's Dream, directed by Geoffrey Kent, Macbeth directed by Jane Page, The Complete Works of William Shakespeare (abridged). Directed by Gary Wright, this hilarious homage for Shakespeare lovers, haters and everyone in between has three actors who frantically attempt to perform the entire canon - all 37 plays - in a couple of hours.

Richard II will be directed by James Symons and the interesting Women of Will: The Overview, is under the helm of Eric Tucker. Tina Packer brings her fresh, funny, brilliant exploration of Shakespeare's women back to Boulder with the incomparable Nigel Gore. The overview is a comprehensive presentation of Shakespearean scenes, insights, and discussion taken from the full five-part series.

Making America: No Little Rebellion is a world premiere staged reading of internationally celebrated playwright Constance Congdon's new play about Shays' Rebellion. Daniel Shays' organizing raised questions about class, idealism and the treatment of war veterans in post-Revolutionary America and influenced the crafting of the Constitution. The play is the first in a cycle commissioned by CSF and Shakespeare & Co. of Lenox, Mass.

Speaking of Shakespeare & Co., their Artistic Director Tony Simotes has an interesting 2013 summer lineup of plays that will take place in the Tina Packer Playhouse and the Elayne P. Bernstein Theatre in Lenox, MA.



Olympia Dukakis in Mother Courage.
Two full productions of Shakespeare: Love's Labour's Lost directed by Lisa Wolpe, featuring Mark Bedard and Jonathan Croy and Richard II, directed by Timothy Douglas, featuring Rocco Sisto and Tom O'Keefe, both of which will be performed for the first time on the Tina Packer Playhouse stage.

Mother Courage and Her Children, directed by Simotes will star Academy Award winner Olympia Dukakis, Apollo Dukakis, and OBIE Award winner John Douglas Thompson.

Considered by many to be one of the greatest plays of the 20th Century, Mother Courage and Her Children is set against the backdrop of the Thirty Years War and follows the fate of Mother Courage, an artful canteen woman with the Swedish Army, intent on keeping her business and family alive amid the destruction of war. Mother Courage and Her Children still resonates today as a profound insight into the moral implications of war. As expected, the Bertolt Brecht classic is a hot ticket.

In the more intimate 197 seat Bernstein Theatre, the Berkshires will see some of the theatre's more contemporary classics, namely Terrence McNally's story of Maria Callas, Master Class with Annette Miller as the diva. Daniel Gidron directs.

Tom Stoppard's translation of Gérald Sibleyras' play Heroes - about three World War I veterans in a retirement home - will bring Jonathan Epstein back to Lenox, along with Malcolm Ingram and Robert Lohbauer. Kevin Coleman directs.

Martin McDonagh's harrowing play, The Beauty Queen of Leenane follows, with Tina Packer returning to portray the manipulative mother of spinster Maureen (Elizabeth Aspenlieder) which is almost a guarantee of an unforgettable evening of theatre.

The Houston Shakespeare Festival gives a Texas twang to the English writer. Since it's inception in 1975, the Houston Shakespeare Festival has grown into one of the major events on Houston's summer entertainment calendar, attracting more than 450,000 people.

The Pacific Repertory Theatre is a non-profit California corporation, based in Carmel-by-the-Sea, California, that produces theatrical productions and events, including the annual Carmel Shakespeare Festival, and is the only year-round professional Equity theatre in the Central California Coast.

Peter Pan the High Flying Musical, adapted from the book by James M. Barrie swings out over the outdoor Foret Theater August 22 - September 29. Directed by Walt deFaria, patrons will experience high-flying excitement with PacRep's dazzling musical adventure. Highlighted with dazzling flying effects by Las Vegas based ZFX, hearts will take flight with such musical favorites as I'm Flying, I Won't Grow Up, Never-Never Land and so many more.







Broadway To Vegas is supported through advertising and donations. Priority consideration is given to interview suggestions, news, press releases, etc from paid supporters. However, no paid supporters control, alter, edit, or in any way manipulate the content of this site. Your donation is appreciated. We accept PAYPAL. Thank you for your interest.


ART AND ABOUT


ROYAL PAINTBOX: ROYAL ARTISTS PAST AND PRESENT

Children at Osbourne by Queen Victoria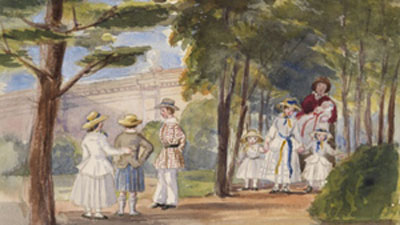 for generations, Britain's kings, queens and their families have been inspired to paint, sketch and sculpt. Accompanying the ITV program Royal Paintbox, an exhibition of the same name at Windsor Castle opened June 22, 2013 and is on display through January 23, 2014.

The exhibition charts the history of royal artists from the 17th century to the present day.

It includes works by George III and his children, Queen Victoria and Prince Albert and their children, King Edward VII and Queen Alexandra.

Also on display are a group of watercolors by Prince Charles, who played a leading role in the film. In that documentary, which first aired on ITV last April, The Prince traces his family's love of painting through the generations, touching on artwork produced by, among others, his father, the Duke of Edinburgh, Queen Victoria, King George III and stretching back to Mary Queen of Scots.

Royal Paintbox goes behind the scenes to discover how growing up against a background of great art inspired The Prince of Wales to paint and how painting fits into the busy life of the Heir to the Throne.

It features conversations with Prince Charles at his residences, along with contributions from a range of figures including Countess Mountbatten of Burma, professional working artist Lady Sarah Armstrong Jones Chatto, daughter of Princess Margaret, speaking in her first ever interview and Royal Academy of Arts chief executive Charles Saumarez-Smith.

Prince Charles, who is Chairman of The Royal Collection Trust, has described how his love of painting was inspired by his early years at Windsor Castle surrounded by great art - so it is fitting that the Castle's Drawings Gallery provides the backdrop for an exhibition dedicated to his family's work.

The story told in the exhibition, which brings together works from the Royal Collection and from the collection The Prince of Wales, begins during the aftermath of the English Civil War. Charles I's nephew, the military leader Prince Rupert of the Rhine, depicted the execution of St John the Baptist in a magnificent mezzotint entitled The Great Executioner (1658). His subject matter may refer obliquely to the execution in 1649 of his uncle Charles I, who is buried in St George's Chapel, Windsor Castle.

During the reign of Charles I's son and successor Charles II, Prince Rupert was appointed Governor and Constable of Windsor Castle.

Later in the exhibition, a familiar scene for visitors to Windsor is captured by George III's fifth son, Prince Ernest Augustus, Duke of Cumberland. Aged nine, he painted an accomplished view in gouache of Windsor Town and Castle (1780), presumably under the careful supervision of his art teacher.

In the 19th century, the teaching and practice of watercolor painting became widespread, and professional artists, such as William Leighton Leitch, were employed to teach Queen Victoria and her family. The exhibition includes teaching sheets of watercolor studies by the Queen copied from Leitch.

A selection of pages from Queen Victoria's sketchbooks are displayed, including intimate portraits of her children, and atmospheric landscapes made during her holidays at Osborne House on the Isle of Wight and Balmoral Castle in Scotland.

The story of royal artists concludes with a number of works by Prince Charles, chiefly from the last three decades. The Prince has painted throughout his adult life, during holidays and when his official diary allows. He often paints in watercolor in the open air, particularly on The Queen's Balmoral estate in Scotland, and takes pleasure in the specific challenges of observing and then recording his observations in this particularly British medium. The 15 watercolors by The Prince of Wales include a number that feature the same highland landscapes as were recorded by his great-great-great grandmother Queen Victoria, including views of the Cairngorms and Lochnagar.

IMPRESSIONISM, FASHION, AND MODERNITY

Édouard Manet. Woman Reading, 1879/80. Mr. and Mrs. Lewis Larned Coburn Memorial Collection.
Were the Impressionists fashionistas?

At a time in France when designers like Charles Frederick Worth changed how clothing was made and marketed into the first manifestations of the modern fashion industry, artists were using fashion to communicate modernity as an idea. Impressionism, Fashion, and Modernity covers this period between the 1860s and 1880s that saw not only the rise of the department store and the proliferation of fashion magazines but also serious interests among an artistic and literary elite in the ephemeral and constantly innovative qualities of fashion as a means of discovering new visual and verbal expressions.

Despite the many exhibitions and studies on the Impressionists, their achievement has never been examined in view of the physical reality of the fashions that they exploited for their own artistic aims.

Indeed, one could argue that these artists, along with less experimental painters of modern life, such as Alfred Stevens or James Tissot, responded to the vibrant consumer culture and need to be à la mode.

The exhibition includes about 90 major figure paintings by Gustave Caillebotte, Edgar Degas, Édouard Manet, Claude Monet, Pierre-Auguste Renoir, and Georges Seurat in addition to fashion portraitists such as Carolus-Duran, Stevens, and Tissot, among others.

A judicious selection of contemporary costumes will provide the physical reality for the sartorial nuances of dress and accessories that artists used to convey their modernity as well as that of their subjects.

The exhibition also includes photographs, fashion plates, advertisements, and other printed materials from the period that bring to life the period in which Monet and his colleagues created some of their most innovative compositions.

Organizer Impressionism, Fashion, and Modernity is organized by the Art Institute of Chicago in association with the Metropolitan Museum of Art, New York, and Musée d'Orsay, Paris.

On display Wednesday, June 26, 2013–Sunday, September 22, 2013 Regenstein Hall at the Art Institute Chicago.


SWEET CHARITY


CLAY WALKER CELEBRITY CHARITY CLASSIC is an annual event where friends and supporters of Clay Walker and Band Against MS (BAMS) gather at the world famous Pebble Beach Resorts for the Clay Walker Celebrity Charity Classic.

This event will take place on Saturday, June 29 through Wednesday, July 3, 2013.

Participants will enjoy three days of golf at the prestigious Pebble Beach Golf Links, Spyglass Hill Golf Course and The Links at Spanish Bay.

The tournament's main occasion, the Grand Gala Event and Dinner, will feature a special performance by Clay Walker and his band. During this memorable evening, guests will have the opportunity to meet and mingle with Clay Walker and other celebrity participants, enjoy fine dinner cuisine and cocktails as well as participate in the silent and live auction.


NEW ON-LINE RADIO STATION TO ONLY PLAY SHOWTUNES
Ramin Karimloo will host a show.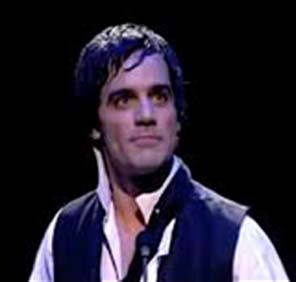 Showtunes. Not the type of format associated with radio air play. Not the type of format which normally attracts high end advertisers. If the song Taking a Change on Love proved to be a hit, production company Wise Buddah (sic) and the Mothership Management talent agent are taking a chance that an on-line radio show playing only show tunes will make for a popular listen.

The on-line station, to be called Stage Door, will sing out over the airwaves in November. DJs and commentary hosts will be actors from London's West End.

Ramin Karimloo, who has starred in productions of Phantom of the Opera and Les Misérables, will host a program for Stage Door, also the name of a British entertainment publication which is involved in the venture and broke the story.

Veteran performers who are also on-board include: Hadley Fraser whose critically acclaimed West End debut was as Marius in Les Misérables. He also originated the role of Tiernan in the Broadway production of The Pirate Queen; Kerry Ellis, the actress and singer who landed the role of Meat in the original London cast of We Will Rock You, and has subsequently played lead roles in West End musicals Oliver!, Les Misérables, and Wicked which also took her to Broadway; Louise Dearman who played the role of Glinda and currently plays Elphaba in the West End production of Wicked.



Alex Gaumond
Alex Gaumond will also host. He played Galileo in the Queen musical We Will Rock You and Emmett in the original London production of Legally Blonde. In early 2013 he returned to the West End starring as Alberto Beddini in Top Hat alongside Broadway actors Gavin Lee and Kristen Beth Williams. Earlier this month it was announced that Alex would be joining the cast of Matilda the Musical at the Cambridge Theatre, playing the role of Miss Trunchbull.

Also set to present programs are: Louise Bowden who plays Kathy Selden in Singin' In The Rain at the Palace Theatre London; and, Oliver Tompsett best known for his portrayal of Fiyero in the West End production of the musical Wicked. Tompsett also originated the role of Drew in the West End production of Rock of Ages

Heading up the project are Simon Willis, head of content at the independent production company Wise Buddah, which is setting up the station with the Mothership Management talent agency.

In an interview with Radio Today, Willis stated: "Last year 13,992,773 people bought a West End theatre ticket, and millions more bought a soundtrack CD or download. We're creating Stage Door to bridge the gap between listening to a CD and seeing a show, and catering for those fans that want to listen to their favorite songs throughout the year. It'll offer great songs from the best shows and presented by the leading men and women of the West End".

"We were trying to create a production that was 'inside-out' - by that I mean people inside the industry presenting shows to people who are outside of it. If a presenter was onstage last night and had a bad show, I'd like to hear about that - not just have a DJ playing songs."

The station is being touted to "feature news, gossip and interviews from West End and Broadway shows."

The companies behind the new venture intend to finance the first year via the crowd funding platform Indiego. Financed along the lines of television's PBS, musical theatre fans have been asked to pledge and would "have a voice in deciding what content they want to hear".

Just as PBS offers perks for pledges, the new radio station will also tempt the donor.

People pledging money at a certain level will receive two-hour lessons with some of the West End host/performers, as well as the opportunity to record something to be played on the station.


FISHERMAN'S WHARF WAX MUSEUM TO CLOSE
Wax figure of Jennifer Lopez at Wax Museum at Fisherman's Wharf.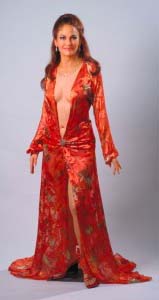 A lot of celebrity look-alikes - these in the form of wax reproduction - are looking for homes. Elvis, Elizabeth Taylor Jesus and his Apostles at the Last Supper, Dirty Harry, Freddy Krueger, Michael Jackson, Nelson Mandela, Princess Diana, Queen Elizabeth II, Prince Philip, U.S. presidents, Galileo, Albert Einstein, and a young Bill Gates. Also, composers, artists, current celebrities and movie stars.

The venerable San Francisco tourist attraction, which has been in business for 50 years, announced they will be close forever on August 15th.

The house of wax attraction was started by Thomas Fong who opened the museum in 1963 after seeing the wax figures at the Seattle World's Fair. The first exhibit boasted 150 human-scale figures, expanding to 270 life-like figures, attracting over 400,000 visitors a year.

Run by the Fong family, Thomas Fong's grandson 46-year-old Rodney Fong of San Francisco, is the third generation to run the museum. Thomas Fong passed away in 1999. Rodney Fong's father, Ron, died in 2000. Last month the family decided to close the museum. Fong is looking for a home for the wax figures hoping to keep them all together as a collection.

Merlin Entertainments, the world's second-largest visitor attraction operator, has signed a lease with the Wax Museum building to open both a world famous Madame Tussauds San Francisco wax attraction, and The San Francisco Dungeon at Fisherman's Wharf. Both of these new attractions are scheduled to open in Summer 2014, as part of a $35 Million investment by Merlin.


WORLD LARGEST MUSIC FESTIVAL TUNES UP


Summerfest - the world's largest music festival takes place June 26-30 and July 2-7 in Milwaukee.

11 Days. 11 Stages. Over 800 Acts. Over 1,000 Performances. Nearly 900,000 of your closest friends.

Located in the beer capital of the world.

Performers include Tom Petty and the Heartbreakers, Jason Aldean, New Kids on the Block, with special guests Boysz II Men and 98 Degrees, an evening with Rush, Tim McGraw. Celebrating its 45 year, the vision for Summerfest was the brainchild of the late Mayor Henry Maier in the 1960s. Following a visit to Oktoberfest in Munich, Germany, Mayor Maier dreamed of a festival for the people that would revitalize Milwaukee's downtown and bring the community together. In 1968, the first Summerfest debuted at 35 separate locations throughout the city.

Today it's a party on the lakefront. Set on the shore of Lake Michigan at Henry Maier Festival Park, even the hottest days are cool at Summerfest. Fest-goers can enjoy music, food and fun across the 75-acre permanent setting.





SPREADING THE WORD


ANNIE: IT'S THE HARD-KNOCK LIFE, FROM SCRIPT TO STAGE will debut June 28 on PBS. The one-hour program is described by PBS as: "It's been 35 years since the little orphan Annie first stepped onto a Broadway stage. The show-stopping musical Annie, its characters and its songs are timeless and classic, and for the musical's return to Broadway, this documentary offers a memorable behind-the-scenes look at every step of the production number It's the Hard-Knock Life, from the earliest phases of discussion among the creative team, rehearsals with actors, to opening night."

The revival of the iconic family favorite has performances at Broadway's Palace Theatre in New York City.

DIANE LADD the three-time Oscar nominee will star in the June 27 by invitation only industry reading of Scott Alan and Christy Hall's original musical Home, which will be directed by Olivier nominee Stafford Arima. Alan composed the music with the book by Hall.

Musical direction for the reading will be provided by Andy Einhorn.

Ladd will play the role of Wendy, the mother. Joining her will be Betsy Wolfe as Katherine, Allie Trimm as Kat and Lillia Crawford as Katie.

The musical is described as: "Having moved away from her place of birth in a small Texas town, Katherine returns home, nine years later, to confront her childhood, her mother, and most importantly, herself. Home celebrates the complex bond between mother and daughter and reveals how a fragile past can be brought back to life with forgiveness and understanding."

AIDAN LANG has been announced as General Director Designate of Seattle Opera.

Identified through a two-year, international search, Lang comes to Seattle from New Zealand Opera, Glyndebourne Opera Festival, the Buxton Festival and Opera Zuid. Lang will join Seattle Opera full-time in March 2014, and will then become the company's third General Director when Speight Jenkins steps down on September 1, 2014.

"Seattle Opera has been my life for the last thirty years," said Speight Jenkins. "As we head into the 50th anniversary season, my focus will be on the future – working closely with Aidan to transfer leadership of Seattle Opera in a seamless manner. I commend the search committee on their hard work and excellent decision. I embrace and celebrate their choice. I know that Aidan's breadth and depth of experience, from the artistic to the business side of leadership, will be an unbeatable combination and an invaluable asset to Seattle Opera going forward."

Born in 1957 in the UK, Lang is a graduate of The Tiffin School and the University of Birmingham. He will relocate to Seattle with his wife of 23 years, the former soprano Linda Kitchen, and their 16 year old daughter Eleanor. In addition to his operatic leadership skills and international directing experience, Lang is an accomplished musician, having studied clarinet since the age of 8.



THEY'RE PLAYING HIS SONGS a world premiere devised and directed by Academy Award Nominee David Zippel.

Musical Direction by Christopher Marlowe.

Marvin Hamlisch (1944-2012) was one of the most successful composers of the twentieth century. This theatrical version celebrates the life and music of Marvin Hamlisch.

Hamlisch was one of only eleven EGOTs - those who have been awarded an Emmy, Grammy, Oscar and Tony.

He was also one of only two people to have won those four prizes and a Pulitzer Prize, the other being Richard Rodgers.

Starring Tony winner Karen Ziemba, Tony Nominee Christiane Noll and Jason Graae.

The tribute includes video clips as well as the music that won him an Emmy, Grammy, Tony and Oscar, including music from The Way We Were, A Chorus Line, The Sting and The Goodbye Girl.

June 24-July 6 at the Cape Playhouse in Dennis, MA.

CHICAGO welcomes Wendy Williams. The Cook County Jail is going to spice it up for Mama this summer. Starting June 25th, come see what television star Wendy Williams as Mama has in store on Broadway at the Ambassador Theatre.

PERSONA Adena Jacobs' astonishing re-imagining of Ingmar Bergman's iconic film.

An actress loses her power to speak and soon finds the boundaries between her identity and that of her nurse dangerously unstable.

Performances June 27, 2013-July 14, 2013 at the Malthouse Theatre in Southbank, Victoria, Australia.

AMERICAN HERO by Bess Wohl. Directed by Leigh Silverman.

Three ounces of meat. Two ounces of cheese. Four ounces of lettuce.

Seventeen-year-old Sheri and her co-workers at a new submarine sandwich franchise have honed their skills making everything from the Turkey Torpedo to the Big Kahuna Tuna exactly as specified in the corporate manual. But when the franchise owner mysteriously disappears, they are forced to improvise, and Sheri takes charge of the ragtag band of "sandwich artists."

See just how far they'll go to keep their shop afloat in Bess Wohl's "hilarious, surreal tale of the struggle for optimism in tough times, the power of sandwiches, and the glorious, messy American Dream."

June 26 - July 7, 2013 on the Nikos Stage of the Williamstown Theatre Festival in Williamstown, MA.

SHREK THE MUSICAL directed by John Tartaglia, who was in the Broadway production.

Choreography by Vince Pesce and musical direction by Greg Anthony.

The cast features Stephen Wallem in the title role with Julia Murney as Princess Fiona, Rob McClure as Lord Farquaad, Michael James Scott as Donkey and Natalie Venetia Belcon as Dragon. A swamp dwelling ogre sets out on an adventure with his best friend, a very talkative donkey. Along the way he fights a fearsome dragon, rescues a feisty princess and learns that real friendship and true love aren't only found in fairytales. Nominated for eight Tony Awards, and featuring a terrific score of 19 all-new songs.

Scenic design by Steve and Sam Gilliam, sound design by Jason Krueger, lighting design by Nathan Scheuer and costume design by Andrea Lauer. Greg Anthony serves as the musical director, and the production stage manager is Michael Clarkston.

June 24-30 at St. Louis Muny in St. Louis, MO.

ANIMAL CRACKERS book by George S. Kaufman & Morrie Ryskind. Music and Lyrics by Bert Kalmar & Harry Ruby. Adapted and Directed by Henry Wishcamper.

Hooray for Captain Spaulding!

The intrepid African explorer, inveterate womanizer, and interminable jokester hobnobs with high society as the guest of honor at a swanky soiree. But when a priceless painting is pilfered, he and the guests are swept up in a screwball search for the thief. This new interpretation of the Marx Brothers' hit Broadway musical and classic film overflows with mirthful melodies, dynamite dancing, and seriously silly slapstick.

June 26 - July 14, 2013 on the Mainstage of the Williamstown Theatre Festival in Williamstown, MA.

THE WORLD GOES 'ROUND by John Kander & Fred Ebb.

A marvelous musical revue which celebrates the songwriting talents on Kander & Ebb.

Directed by Don Stephenson.

Starring Tony Award nominees Tom Hewitt and Emily Skinner. The cast includes Michelle Aravena, Janine DiVita, and David Josefsberg.

From Chicago and Cabaret to the Rink and Kiss of the Spiderwoman, this musical revue follows five individuals as they experience love, drama, and music! All of your favorite songs including All That Jazz, Maybe this Time, Mr Cellophane, and New York, New York make up this exciting production.

Members of the creative team include Lorin Latarro (choreography), Phil Reno (music direction), Narelle Sissons (scenic design), Gregory A. Poplyk (costume design), Travis McHale (lighting design) and Matt Kraus (sound design).

June 27-July 21 at Bucks County Playhouse in New Hope, PA.

OUR TOWN by Thornton Wilder.

Directed by Off-West End Award nominee Tim Sullivan.

After winning the Pulitzer Prize in 1938, this seminal American play by Thornton Wilder has been performed somewhere in the United States every night since. Following a generation of villagers in a small New England town - through their daily lives, loves, marriages and deaths - it is as famous for its portrayal of turn-of-the-century America as it is for its unique theatricality and timeless themes.

The UK's official 75th Anniversary production features a cast assembled from eight different countries around the world, the streets of tiny Grover's Corners stretch globally to underscore the true universality of Our Town.

June 26-July 20, 2013 at King's Head Theatre in London.

LES MISERABLES a multiple Tony Award winning sung- through musical based on the novel of the same name by French poet and playwright Victor Hugo. Music by Claude-Michel Schonbeg, original French lyrics by Alain Boublil and Jean-Marc Natel, with an English-language libretto by Herbert Kretzmer.

Directed by Mark Martino.

Starring Mike Eldred as Jean Valjean, Aloysius Gigl as Javert, Beth Malone as Fantine and Richard Vida as Thénardier. Andrea Ross as Eponine, Nikki Boxer as Mme. Thénardier, Chelsea Groen as Cosette, Daniel Berryman as Marius and Matt Bailey as Enjolras.

Ensemble members are: Franz Alderfer, Christopher Behmke, Andrew Diessner, Daniel Schwait, Jennifer Michaud, Chelsie Nectow and Meredith Owens. The show features all local children: Antoinette Caine, Carter Graham, Jaidyn Hurst, Anakeesta Ironwood, Karuna Owens and Sophie Schlosser.

Presented by Theatre Aspen with performances through August 17 at The Hurst Theatre in Aspen, Colorado.

TRIBES by Nina Raine. Directed by David Cromer.

Learning to Listen - this contemporary new play is a savage, funny look at family dynamics and the challenges of communication.

As the only deaf member of his sharp-tongued family, Billy has spent much of his life feeling out of place. But when he finds a new family in the deaf community, tensions reach an all-time high.

A provocative and touching play about membership in your tribe - and hearing what isn't said.

June 25–July 21 at the LaJolla Playhouse in La Jolla, CA.

TERRY BRADSHAW brings his one-man stage show, A Life in Four Quarters, to Las Vegas with performances June 28-29 at The Mirage in Las Vegas. Perhaps third time around will be the charm.

Bradshaw has been promising to take to the Vegas stage for several years. In April 2010 it was announced that Bradshaw was in rehearsals for a Vegas one-man romp titled Terry Bradshaw: American's Favorite Dumb Blonde. In the press report there was a even comedic quip from Bradshaw in which he stated that, at some point in the show, he's be in a spandex thong "to get the crowd going."

With or without the thong the show never opened.

Then in January 2012 the Fox NFL Sunday co-host announced that he had called off his one-man Las Vegas show, right before it's first rehearsal. He never stated the dates or the venue which were then left with an open slot. Bradshaw stated he had been planning on doing standup comedy, singing and dancing but was now bailing because, "I'm tired."

Bradshaw, who won four Super Bowl titles as quarterback for the Pittsburgh Steelers, is now slated to do standup comedy, singing and dancing in his show at the Mirage in Las Vegas.

THE MOMENT OF TRUTH by Peter Ustinov. Directed by Rob Laycock.

In its first professional staging since an acclaimed 1951 premiere, Peter Ustinov's largely forgotten play is about the mechanics of toppling governments, the pretences of war and the power of propaganda.

A republic is poised to fall. The only remaining members of an unpopular government are its cynical Prime Minister and a naïve, emotional Foreign Secretary. The invading army has it's boots upon the soil of this crumbling nation. Inside the cabinet office, toy soldiers and old icons of military glory veil the realities of war and bloodshed. Death, in a moment of truth was never so real.

The recent Arab spring that has swept up North Africa and the Middle East has powered the propaganda machines of domestic and foreign nations, sparking revolutions and toppling governments. As a military dictatorship rages with rhetoric and uprisings continue to gather pace, there couldn't be a more timely revival for The Moment of Truth.

June 26-July 20, 2013 at the Southwark Playhouse in London.

BELLEVILLE by Amy Herzog. Directed by Anne Kauffman.

Newly married American expats Zack and Abby live an enviably hip, do-gooder existence in the up-and-coming neighborhood of Belleville, Paris. But a single encounter in the apartment they rent drastically tips the scales, revealing their idyllic life's feeble foundations.

Starring Chris Boykin and Cliff Chamberlain. Featuring ensemble members Alana Arenas and Kate Arrington.

Scenic Design: James Schuette. Costume Design: Janice Pytel. Lighting Design: Matt Frey. Sound Design: Richard Woodbury.

Sign Language-Interpreted on Sunday, August 4 and Open Captioning on Saturday, August 10.

Performances June 27-August 25 at Steppenwolf in Chicago.

JERSEY BOYS book writers Marshall Brickman and Rick Elice, composer Bob Gaudio, lyricist Bob Crewe.

Directed by Des McAnuff. Choreography by Sergio Trujillo.

Wonderful Tony Award winning musical about Rock and Roll Hall of Famers The Four Seasons: Frankie Valli, Bob Gaudio, Tommy DeVito and Nick Massi. This is the story of how four blue-collar kids became one of the greatest successes in pop music history.

Starring Brandon Andrus, Brad Weinstock, Jason Kappus and Colby Foytik.

June 26 - July 7, 2013 National Arts Centre Southam Hall in Ontario, Canada.


WHO'S WHERE




JON BON JOVI takes to the stage on Monday, June 24, at the Synot Tip in Prague, Czech, On Wednesday he'll be rocking at the Bela Vista Park in Lisbon, Portugal. Saturday's show is at the Stadio Giuseppe Meazza un Milan, Italy. Next Sunday, June 30, he performs at the Stade De Suisse in Bern, Switzerland.

TAYLOR SWIFT stars Saturday, June 29, at the Place in Vancouver, BC.

JOAN RIVERS brings her topical sense of humor to the Imperial Palace Casino Resort and Spa in Biloxi, Mississippi on Friday, June 28th. On Saturday she'll be getting laughs at the Atlanta Symphony Hall in Atlanta, Georgia.

BRUCE SPRINGSTEEN AND THE E STREET BAND bring their tour to the Stade de France in Paris on Saturday, June 29.

ALICIA KEYS is center stage Monday, June 24, at the Palais Omnisports in Paris. On Friday she is in the spotlight at the Pavilhao Atlantico in Lisbon, Portugal.

DEPECHE MODE is slated to perform Monday, June 24, at the SKK Arena in St. Petersburg, Russia. On Tuesday the group appears at the Peace & Love Festival in Borlange, Sweden. Saturday finds them at the Olympic Stadium in Kiev, Ukraine.

MAROON 5 on Monday, June 24, they close out the second night of a two night gig at the 02 in London. Wednesday's show is at the Arena in Manchester, UK. On Thursday, they bring their tour to the Braehead Arena in Glasgow, UK. Saturday's gig is at the 02 in Dublin, Ireland.


FINAL OVATION


JAMES GANDOLFINI the Emmy Award winning and Tony nominated actor died of a massive heart attack on June 19, 2013, while on vacation in Rome, Italy with family members including his 13-year-old son, Michael, who had just graduated from middle school. The actor was 51.

Gandolfini was on his way to Sicily, where officials at the Taormina Film Festival were expecting him on June 20, 2013. He was scheduled to participate in an onstage conversation at the festival with Italian director Gabriele Muccino on June 22, 2013.

Best known for his role of Tony Soprano on The Sopranos, he became an actor late in life. Gandolfini, who had worked as a bartender and club manager, was introduced to acting when he accompanied a friend, actor Roger Bart, to a Meisner technique acting class.

His first break came in 1992 when he landed a role in a Broadway version of A Streetcar Named Desire that starred Alec Baldwin and Jessica Lange.

He last appeared on Broadway in 2009 in the Tony Award winning God of Carnage with Marcia Gay Harden, Hope David and Jeff Daniels.

In addition to his son, from his marriage to Marcy Wudarski, which ended in a 2002 divorce, he is survived by his wife Deborah Lin, whom he married in 2008, and their baby girl Liliana Ruth Gandolfini, born October 10, 2013.








Next Column: June 30, 2013
Copyright: June 23, 2013. All Rights Reserved. Reviews, Interviews, Commentary, Photographs or Graphics from any Broadway To Vegas (TM) columns may not be published, broadcast, rewritten, utilized as leads, or used in any manner without permission, compensation and/or credit.
Link to Main Page
---
Laura Deni



For the snail mail address, please E-mail your request.
CLICK HERE FOR COMMENT SECTION