! >
Broadway To Vegas
  
  REVIEWS INTERVIEWS COMMENTARY NEWS

| | |
| --- | --- |
| | |
BRUNO MARS KICKS OFF SUMMERFEST 2014 - - SAN DIEGO GLOBE'S 2014 SUMMER SHAKESPEARE FESTIVAL STARS RICHARD THOMAS - - HIGH-RESOLUTION AUDIO EXPERIENCE EVENT - - AHRENS & FLAHERTY: NICE FIGHTING YOU CD REVIEW - - THE ELECTRIC DAISY CARNIVAL (EDC) - - HOLLER IF YA HEAR ME HAS MIXED REVIEWS - - DUCHESS KATE HAS CONNECTION TO BLETCHLEY PARK GIRLS - - JEFF KOONS A RETROSPECTIVE - - DONATE . . . Scroll Down




Copyright: June 22, 2014
By: Laura Deni
CLICK HERE FOR COMMENT SECTION


BRUNO MARS KICKS OFF SUMMERFEST 2014
Bruno Mars will headline Summerfest. Photo: Burno Mars.com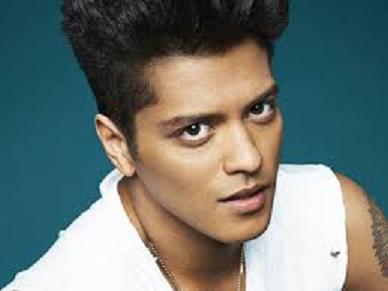 11 Days - 11 Stages - Over 800 Acts - Over 1,000 Performances - Nearly 900,000 of your closest friends. It's Summerfest.

The annual Milwaukee, WI happening takes place June 25-29 and July 1-6 providing the backdrop for the music industry's hottest stars, emerging talent and local favorites to create unforgettable live music experiences in a world-class festival setting.

In addition, the City of Milwaukee – Summerfest, along with The Greater Milwaukee Committee's Flying Car event have partnered to "help make Milwaukee a great place to be for creative, talented professionals."

"Flying Car 2014 is an annual three-day event designed to celebrate innovation, raise awareness of our region's innovative businesses and creative talent and inspire inventive minds to launch their own world changing ideas. Happening June 25 – 27, it will feature keynote speaker Steve "The Woz" Wozniak, as well as Summerfest performer Robert DeLong who will host a lab and provide an exclusive VIP performance at Flying Car."

Additionally, Briggs & Stratton will host Flying Car Day at the Briggs & Stratton Big Backyard on Thursday, June 26. That event will feature headliners: Clay Walker, Land the Big Gig, Buddy Rich Big Band, Pentatonix, Tegan and Sara, Dennis DeYoung: The Music of Styx, The Wild Feathers, The Head and the Heart, Rusted Root, Jake Miller, Ziggy Marley, Fitz And The Tantrums, Ingrid Michaelson, Crowder, and the Nitty Gritty Dirt Band.

Bruno Mars will headline opening day on Wednesday, June 25 with special guest, Aloe Blacc. The following night Lady Gaga takes over. She'll be followed by Brad Paisley with special guests Darius Rucker and Joel Crouse on Friday, June 27.

Luke Bryan and newcomer Danielle Bradbery will perform Saturday, June 28. Bryan is a two-time ACM co-host, who received the 2013 ACM Entertainer of The Year honor, recently celebrated the No. 1 debut of his digital EP Spring Break 6...Like We Ain't Ever. Combined. Luke's six Spring Break series releases have sold over 825,000 copies. His That's My Kind of Night Tour is currently playing across the US and Canada, selling out all concerts to date. His previous tour performed for 1.3 million fans in 2013.

He'll be joined by seventeen-year-old Danielle Bradbery who is the youngest winner ever of NBC's The Voice. She charmed her way into the national spotlight with a mix of country hits from several decades and her coach on The Voice, Blake Shelton, called her "the most important artist to ever walk across The Voice stage."

Some of the other performers are: performing June 28 The Yardbirds, REO Speedwagon with special guest Babe Ruth.

Bonnie Raitt with special guest James Hunter Six headline on July 2 as does Dave Matthews Band at the Marcus Amphitheater followed by the Zac Brown Band on July 3. Motley Crue with very special guest, Alice Cooper will headline on Friday, July 4. Also in a star turn on July 4, Kool and the Gang with special guest Harvey Scales and the Seven Sounds.

Fall Out Boy and Paramore with special guest New Politics will headline the Marcus Amphitheater on Saturday, July 5.

The vision for Summerfest was the brainchild of the late Mayor Henry Maier in the 1960s. Following a visit to Oktoberfest in Munich, Germany, Mayor Maier dreamed of a festival for the people that would revitalize Milwaukee's downtown and bring the community together. In 1968, the first Summerfest debuted at 35 separate locations throughout the city.





Broadway To Vegas is supported through advertising and donations. Priority consideration is given to interview suggestions, news, press releases, etc from paid supporters. However, no paid supporters control, alter, edit, or in any way manipulate the content of this site. Your donation is appreciated. We accept PAYPAL. Thank you for your interest.





ART AND ABOUT


JEFF KOONS A RETROSPECTIVE

Jeff Koons, New Hoover Convertibles, Green, Blue; Double Decker. 1981-87. Vacuum cleaners, plexiglass, and fluorescent lights. Whitney Museum of American Art, New York.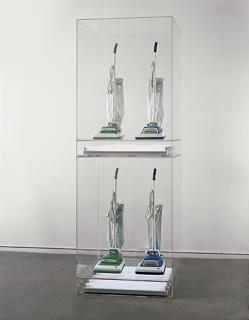 will be the artist's first major museum presentation in New York, and the first to fill nearly the entirety of the Whitney's Marcel Breuer building with a single artist's work.

It will also be the final exhibition to take place there before the Museum opens its new building in the Meatpacking District in 2015.

Jeff Koons is widely regarded as one of the most important, influential, popular, and controversial artists of the postwar era.

Las Vegas hotel mogul Steve Wynn recently purchased Koons' cartoon character Popeye the Sailor Man a 2,000-pound, nearly 7-foot-tall brightly colored, stainless steel sculpture for $28.2 million at Sotheby's auction house. The chairman and CEO of Wynn Resorts is a repeat customer. He also bought Koons' Tulips in late 2012 for $33.7 million, a then-record price for a work by Koons.

Wynn was quoted at the time as saying "many people believe that Jeff Koons is one of the most important living artists on canvas and in sculpture in the world today."

Throughout his career, Koons has pioneered new approaches to the ready-made, tested the boundaries between advanced art and mass culture, challenged the limits of industrial fabrication, and transformed the relationship of artists to the cult of celebrity and the global market.

Yet despite these achievements, Koons has never been the subject of a retrospective surveying the full scope of his career.

Comprising 120 objects dating from 1979 to the present, this exhibition will be the most comprehensive ever devoted to the artist's groundbreaking oeuvre. By reconstituting all of his most iconic works and significant series in a chronological narrative, the retrospective will allow visitors to understand Koons' remarkably diverse output as a multifaceted whole.

This exhibition Jeff Koons: A Retrospective is organized by Scott Rothkopf, Curator and Associate Director of Programs.

June 27–October 19, 2014 at the Whitney Museum of American Art in New York City.

MULTIPLE EXPOSURES: JEWELRY AND PHOTOGRAPHY is the first museum exhibition to explore the dynamic art created when studio jewelry and photography combine in surprising and compelling forms. The resulting designs explore personal, artistic, cultural and political issues; and question the broader relation of jewelry to society and personal identity, issues central to the contemporary experience.

The connection between photography and jewelry extends back more than 150 years to the invention of the photographic process. The exhibition will provide historical context for this evolving relationship by presenting outstanding nineteenth-century pieces, many of which have never before been exhibited. In recent years, both photography and art jewelry have changed dramatically, and the exhibition will present cutting-edge videos and installations that will provide viewers a broader perspective of contemporary jewelry now.

The six exhibition themes reveal the creativity and technical mastery of 80 jewelry artists from 20 countries as they explore familiar forms and invent new ones. Artists represented include: Gijs Bakker, Wafaa Bilal, Jordan Doner, Mari Ishikawa, Jiro Kamata, Sooyeon Kim, Iris Nieuwenburg, Kara Ross, Gabriela Sanchez, Bernhard Schobinger, Bettina Speckner, Joyce Scott, Kiff Slemmons, Andy Warhol and Noa Zilberman.

The six sections include: Saving Face which explores new representations of people and psychological states.

The Body in Play presents digitally manipulated and fractured imagery of the human body; Remembered Places, Imagined Spaces re-imagines city and country landscapes.

In Appropriation and Pastiche artists hijack and transform iconic imagery from art history, popular culture and film.

Dismantled camera components provide the ingredients in Displaced Lenses/Orphaned Apertures: Apparatus as Art in imaginative and unexpectedly wearable pieces of jewelry.

Beyond Wearability defies expectations of the functions and conventions of jewelry with visually stimulating and technologically advanced photographic and video works.

To unite the contemporary works with historical antecedents, Multiple Exposures also includes an introductory section that incorporates early daguerreotypes, tintypes, and albumen silver prints as they appeared in lockets, brooches, bracelets and other objects as relics, keepsakes, and signs of devotion.

Organized by Ursula Ilse-Neuman, Curator of Jewelry at the Museum of Arts and Design.

On display through September 14, 2014 at the Museum of Arts and Design in New York City.


SWEET CHARITY


TWENTYWONDER A Carnival of the Mind, is the annual fundraiser for the Down Syndrome Association of Los Angeles hosted by The L.A. Derby Dolls.

The 21 and older fundraising event, at the Doll Factory in Los Angeles will feature an all-star roller derby bout, music, comedy, art, sciences and plenty of last minute guest surprises. Proceeds will benefit DSALA's efforts to support those born with Trisomy 21/Down syndrome living in greater Los Angeles.

Previous participants have included Joel Hodgson, Black Rebel Motorcycle Club, Exene Cervenka, Lucha VaVoom, Mac King, Tim Biskup, Vaud and the Villians, David Koechner, The Lampshades with Kate Flannery, Dave Alvin, Jacksh*t, Wayne White, Steve O, Sam Phillips and The Section Quartet, Andy Kindler, among hundreds of other great talents and content providers.

Since 2010, TwentyWonder has raised over $400,000 with the proceeds helping to support DSALA's various programs offered to nearly 4,200 individuals with Down syndrome living in Los Angeles. Additionally, the monies from TwentyWonder have help to fund programs including: four basketball camps, reading programs, host Age of Change - a game-changing, nationally important conference on Alzheimer's and Down syndrome, partner with UCLA's medical research projects, give free seminars for parents on subjects ranging from endocrinology to potty training.

TwentyWonder will be held on Saturday, June 28, 2014 at the Doll Factory in Los Angeles.

The L.A. Derby Dolls are Southern California's premiere all-female, banked track roller derby league. Founded in October 2003 by Rebecca Ninburg (a.k.a.Demolicious) and Wendy Templeton (a.k.a. Thora Zeen), the L.A. Derby Dolls are a league of more than 150 skaters and volunteers, divided into five teams who skate on a banked track. Embodying the do-it-yourself ethos of modern roller derby, as resurrected in Austin, Texas in 2000, the L.A. Derby Dolls are an entirely volunteer-run organization, relying on the support of their fans and community. The L.A. Derby Dolls take all the thrills of the old game and update it with a fresh and feisty new face. And the hits and spills are 100% real. No script can write this kind of action.


THE MUSIC GOES ROUND AND ROUND


AHRENS & FLAHERTY: NICE FIGHTING YOU a 2-disc CD taped at 54 Below has been released by Broadway Records.

Those in attendance at 54 Below during the six performances taking place September 26-28, 2014 when this was recorded got more than their money's worth. The same can be said for anyone purchasing this CD.

The Tony Award-winning songwriting team of Lynn Ahrens and Stephen Flaherty are celebrating thirty years of musical theater collaboration. Their body of work is an abundance of riches. What makes this CD set especially wonderful is that the Ahrens/Flaherty songbook is sung by an amazing guest roster of Broadway stars, many of whom were in the original productions.

There's enough delightful and interesting patter to classify this CD as cabaret, while not distracting from the music. The vast musical score covered on this CD will have individual songs appealing to specific tastes be it gospel, inspirational, rock, blues, swing, etc, while the entire CD has strong mass appeal.

Broadway To Vegas first discovered that the music of Lynn Ahrens and Stephen Flaherty was important while becoming mesmerized by Ragtime, which starred Brian Stokes Mitchell as Coalhouse Walker, Marin Mazzi as Mother and Audra McDonald as Sarah. This CD contains several dramatic and poignant numbers from the production: the determination of The Wheels of a Dream powerfully sung by Brian Stokes Mitchell, who teams with LaChanze in the heartbreaking Sarah Brown Eyes. Quentin Earl Darrington offers a stirring rendition of Make Them Hear You.

Three time Tony nominee Marin Mazzie, who is currently appearing in Bullets Over Broadway, sings Goodbye, My Love/Back to Before from Ragtime, numbers she sang in the show. Kevin Chamberlin and Lewis Grosso offer another Ragtime number, The Show Bix.

Brian Stokes Mitchell also has the audience in the palm of his hand with I Was Here, from The Glorious Ones, while Tony winner LaChanze also performs Waiting for Life from Once on This Island and Something of My Own from Dessa Rose.

Referring to a few of the selections:

Veteran Liz Callaway delivers Times Like This, Really Knew The Guy and Journey to the Past, the latter from the animated, Anatasia.

Alone in the Universe from Seussical. Also from that production Solla Sollew offered by Kevin Chamberlin. Green Eggs and Ham performed by Kecia Lewis is an uplifting hoot. She also delivers on Mama Will Provide from Once On This Island.

Jessica Molaskey offers Love Who You Love from A Man of No Importance; Marin Mazzie sings Speaking French from Lucky Stiff.

Larger Than Life from My Favorite Year is sung by Bobby Steggert, and from the same production Funny/The Duck Joke is offered by Annaleigh Ashford and Julie Halston, while Rebecca Luker sings Something Beautiful from Legacy.

The inspirational The Streets of Dublin and, backed only by a piano, the reflective The Cuddles Mary Gave from Man of No Importance are performed by Sean McCourt.

Both the dynamic Mary Testa and Bobby Steggert knock it to the back of the room with Rita's Confession from Lucky Stiff with Flaherty as the comic foil, and Steggert doing the impassioned, The Night That Goldman Spoke At Union Square, also from Ragtime.

In addition to the composing team performing several of their own numbers, the CD also looks at the present and future. Raining, from the the current Broadway musical Rocky, first sung in German "The Hamburg Version" by Ahrens, and then in English by Callaway plus Stephanie J. Block and Jeremy Jordan singing two numbers Ballerina and Dancing Still from Little Dancer, a work scheduled to appear in 2014 at the Kennedy Center in Washington, DC.

There isn't a weak selection or the performer on this CD.

Lynn and Stephen end the CD with a song which explains their musical partnership: How Lucky We Are.

Band: Piano/Music Director & Director. Violin: Antoine Silverman. Guitar: Eric Davis. Bass: Charlie Rosen. Drums: Sean McDonald. Arrangements by Neil Douglas Reilly, Stephen Flaherty, Charlie Rosen, Antoine Silverman, Sean McDaniel and Eric Davis.

Recorded September 26-28, 2013 Mixed at Kontinuous Jams Studios. Mastered by Greg Reierson, Raree Firn Mastering. Engineer Billy LaGuardia.

The booklet is filled with pages of wonderful and colorful live shots by photographer Nathan Johnson, who also did the cover photography. CD Package Design and Layout: Van Dean.


SAN DIEGO GLOBE'S 2014 SUMMER SHAKESPEARE FESTIVAL STARS RICHARD THOMAS


From New York's Shakespeare in the Park to Balboa Park.

The Old Globe in San Diego opens their 2014 Summer Shakespeare Festival this week with Shakespeare's classic tragedy Othello.

Blair Underwood appears in the title role. Making their Globe debuts are Emmy Award-winner Richard Thomas as Iago and Kristen Connolly best known for playing the role of Christina Gallagher on the acclaimed Netflix series House of Cards as Desdemona are joined by Broadway and Globe veterans Noah Bean, Jonny Orsini, Mark Pinter, Angela Reed, and Mike Sears.

Rounding out the cast are Old Globe/USD M.F.A. Program actors Erin Elizabeth Adams (Bianca), Meaghan Boeing (Ensemble), Lindsay Brill (Ensemble), Charlotte Bydwell (Ensemble), Lowell Byers (Ensemble), Jamal Douglas (Othello's Aide-de-Camp), Adam Gerber (Ensemble), Kushtrim Hoxha (Montano), Stephen Hu (Ensemble), Tyler Kent (Ensemble), Robbie Simpson (Ensemble), Megan M. Storti (Ensemble), and Patrick Zeller (Lodovico).

Artistic Director Barry Edelstein is making his outdoor directorial debut in The Old Globe's Lowell Davies Festival Theatre with one of Shakespeare's greatest tragedies. Despite the prejudices in Venice, the brilliant general Othello excels both on the battlefield and in the halls of state. But when he marries Desdemona, his envious lieutenant Iago sets in motion a diabolical plan to destroy him. Edelstein gives us a riveting, intense, and intimate production where poetry soars and swords clash, where true love and wrenching jealousy collide.

"The gifted actors who have assembled for Othello this summer make the case for the Globe's preeminence among American Shakespeare theatres," said Edelstein. "This talented company, led by Blair Underwood, Richard Thomas, and Kristen Connolly, grace our stage with their skills and imagination, and it's my honor both to direct them and also to welcome them to San Diego."

The creative team includes Wilson Chin (Scenic Design), Katherine Roth (Costume Design), Stephen Strawbridge (Lighting Design), Sten Severson (Sound Design), Curtis Moore (Original Music), Jan Gist (Vocal and Dialect Coach), Caparelliotis Casting (Casting), and Leila Knox (Stage Manager).

Performances run June 22 – July 27, with Opening Night on Saturday, June 28.








DUCHESS KATE'S GRANDMOTHER WAS ONE OF THOSE BLETCHLEY PARK GIRLS
Kate, The Duchess of Cambridge meets Lady Marion Body, 90, who worked with Her Royal Highness's grandmother Valerie Glassborow at Bletchley Park.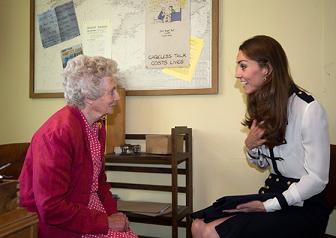 Kate, the Duchess of Cambridge has heard stories about her grandmother Valerie Glassborow's World War II role at the famous Bletchley Park - home of the code-breakers.

Last week the wife of Prince William visited the Bletchley Park museum and visitor's center. While there Lady Marion Body, friend of Her Royal Highness's grandmother described how as young women they worked together directing the efforts of listening stations.

She confessed that their job was "tedious" but said they were young women who still managed to have fun.

During her visit Kate, who left Prince George at home, met Second World War Code-breaker veterans including Lady Marion, viewed the interactive exhibitions and demonstrations, and met the design and management team and supporters who worked to deliver the $17 million Heritage Lottery Fund restoration project which has created a visitor center, and new exhibitions and interactive displays at the site, which fell into near-dereliction after the war.

Miss Glassborow, as she was known before marrying Kate's grandfather Peter Middleton, was a civilian member of staff along with her twin sister Mary at the Government Code and Cypher School and worked in Hut 16, now restored Hut 6.

Her role, like Lady Body's, was an administrative one, checking that listening stations, which monitored Axis diplomatic messages, were targeting the right areas.

Speaking about her grandmother's work Kate told Lady Body: "When I was a young girl, I did ask granny about it," but it is known that Mrs. Middleton respected the secret nature of her wartime duties and never would disclose the details.



Duchess Kate "listens in on the enemy" with event manager Steve Lumby during a visit to Bletchley Park. Photo: Clarence House
The 90-year-old said after talking to The Duchess: "It was tedious, we were monitoring what signals were being picked up.

"The radio stations, called Y stations, were listening and they used to send in, I think every 15 minutes, the call signs they were picking up and we had to check they were doing the right thing.

"The Duchess's grandmother worked on the same desk as me. I had been at secretarial college with those two girls so I knew them very well.

"They were fun, when you have such a boring job you had to get on well. We knew exactly what we were doing - it was part of the war effort."

The success of Bletchley Park in breaking the German cypher systems, Enigma and Lorenz, was key to defeating the Nazis and has been credited with shortening the war by two years.

Inspired by the girls who worked at Bletchley Park, The Bletchley Circle is a television mystery drama miniseries, set in 1952, about four women who used to work as codebreakers at Bletchley Park. The highly regarded series is aired in America on PBS.


SPREADING THE WORD


HIGH-RESOLUTION AUDIO EXPERIENCE EVENT IN NEW YORK

Bob Ludwig, President of Gateway Mastering Studios in his studio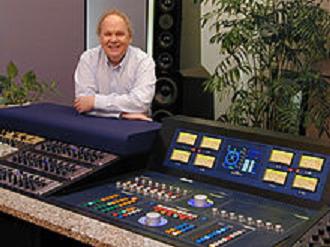 The Producers & Engineers Wing of The Recording Academy (Grammy to most folks) in conjunction with The Digital Entertainment Group (DEG) and the Consumer Electronics Association (CEA) will present a high-resolution listening event to celebrate the recent industry agreement for a formal definition for high-resolution audio.

Three-time Grammy winner Chuck Ainlay; six-time Grammy winner Frank Filipetti; seven-time Grammy winner Bob Ludwig; Grammy-nominated composer, engineer and producer David Chesky; Producers & Engineers Wing Senior Executive Director Maureen Droney and members of The Recording Academy P&E Wing, along with producers and other prominent music industry figures will be in attendance.

Ainlay, Filipetti, Ludwig and Chesky will be sharing their work experience and will play audio master selections from artists Miranda Lambert, Mark Knopfler, Frank Zappa, Bruce Springsteen, and Stevie Wonder, among others.

The audio masters will be provided by label partners Sony Music Entertainment, Universal Music Group and Warner Music Group and will be played in the state-of-the art Jungle City Studios control room.

The event will also feature high-resolution audio player demonstrations from manufacturers Astell & Kern, dCS Ltd., Onkyo USA, and Sony Electronics. Hi-res digital music retailers Acoustic Sounds and HD Tracks will also be presenting the latest in master-quality recordings available to the public.

The Listening Event twill be held at Jungle City Studios in New York City on June 24.

This Producers & Engineers Wing event will take place during the 2014 Consumer Electronics Week in New York and will be followed on Wednesday, June 25 by a panel discussion titled Making High Resolution Audio Accessible on Wednesday, June 25 at the Altman Gallery Topics to be covered include the benefits of high-resolution audio, the need to demonstrate hi-res audio in the retail market, the various options for delivering hi-res files to consumers, and the best ways to reach young music enthusiasts.

Moderated by Marc Finer, senior director, DEG: The Digital Entertainment Group, panelists include Aaron Levine, product marketing manager, home audio division, Sony Electronics; Paul Wasek, national marketing and product planning manager, Onkyo USA; Jim Belcher, vice-president, technology and production global digital business, Universal Music Group; Howie Singer, chief technology strategist, Warner Music Group; Droney; and John Jackson, vice president marketing, Sony Music Legacy Recordings.


OTHER PEOPLE'S MONEY


THE ELECTRIC DAISY CARNIVAL (EDC) has been taking place in Las Vegas this week-end June 20-22.

The event is financially important to Las Vegas. Last year's event - the largest multi-day electronic dance music festival in North America - was attended by 345,000 and pumped $278 into the Las Vegas economy.



ALL'S WELL THAT ENDS WELL by William Shakespeare.

Directed by Ellen Geer and Christopher W. Jones.

Theatricum continues its celebration of Shakespeare's 450th birthday with the Bard's bittersweet comedy. The beautiful but low-born Helena heals the king, winning the right to marry the man she loves - a count above her station. But no one is prepared for the severity and ruthlessness of Bertram's rejection of Helena as his royally-decreed wife, nor for the lengths to which Helena will go in order to win his love.

Co-directors Ellen Geer and Christopher W. Jones use a simple casting choice to explore our modern perceptions of wealth, status and class: the aristocrats are all portrayed by actors of color, with Caucasian actors playing the commoners.

"This is a remarkable play that scholars and editors love to fuss about," says Geer. "Helena is a great female role model who crosses class lines to follow her heart. I hope that our production will add another layer to the fascinating class and gender struggles here, heightening the humanity within the play and forcing us all to re-examine our values – all while we laugh and cry with the characters onstage."

Willow Geer takes on the role of Helena with Max Lawrence as the elitist Bertram. Earnestine Phillips plays the Countess of Rousillon,Wayne Stribling, Jr. is the King of France, Debi Tinsley is the Old Widow of Florence, Mark Lewis is the cowardly Parolles, Alan Blumenfeld and William Dennis Hunt alternate in the role of the Countess' old clown, Lavatch, Melora Marshall plays Lafeu and Chelsea Fryer portrays Mariana.

Performances through September 27 at Will Geer's Theatricum Botanicum in Topanga CA.

MY FAIR LADY book and lyrics by Alan Jay Lerner. Music by Frederick Loewe. Adapted from George Bernard Shaw's play and Gabriel Pascal's motion picture Pygmalion.

Directed by Joe Dowling.

You know the story, the songs and the characters, now see them come to life for the first time in Guthrie history.

Professor Henry Higgins loves language. Cockney flower girl Eliza Doolittle yearns to speak like a lady. Sparks fly when his curiosity and her determination launch a daring social experiment designed to turn a lower-class ugly duckling into a high-society swan - with unexpected results for both of them.

Based on George Bernard Shaw's delightful social satire Pygmalion, Lerner and Loewe's charming and beloved musical features such unforgettable numbers as I Could Have Danced All Night, The Rain in Spain and On the Street Where You Live, creating joyful, crowd-pleasing summer entertainment for the whole family.

June 28 - August 31, 2014 on the Wurtele Thrust Stage at the Guthrie in Minneapolis.

TARZAN Featuring music and lyrics by Phil Collins, the award-winning Tarzan is based on the smash-hit Disney film.

Directed by Tony nominee John Tartagalia.

Choreography by Chris Bailey.

Music Direction by Rick Bertone.

The story follows an infant boy, orphaned and left alone to be raised by a tribe of apes. As an adult, Tarzan's two worlds collide when the sudden arrival of humans, forces him to choose between a "civilized" life with the beautiful Jane and the life he knows and loves.

Featuring The Academy and Tony Award Winning You'll Be In My Heart, Two Worlds, Moves Like an Ape, Talks Like A Man and One Family.

June 25-July 2 at The Muny in St. Louis.

JOSEPH AND THE AMAZING TECHNICOLOR DREAMCOAT the first collaboration of composer Andrew Lloyd Webber and lyricist Tim Rice

Directed and choreographed by Tony Award-winner Andy Blankenbuehler.

Starring the husband-and-wife-team of Diana DeGarmo as the Narrator and Ace Young as Joseph. The cast will feature Paul Castree as Simeon, William Thomas Evans as Jacob/Potiphar, Brian Golub as Reuben, Will Mann as Judah and Ryan Williams as Pharaoh.

The ensemble will include Chip Abbott, Amanda Braun, Jonathan Burke, Claire Camp, Richard Cerato, Vincent D'Elia, Lisa Finegold, Lili Froehlich, Sasha Hollinger, Brandon Hudson, Patrick John Moran, Mark Roland, David Rossetti, Leigh Scheffler, Christine Cornish Smith, Brett Stoelker, Tricia Tanguy, Matthew Tiberi and Katie Whetsell.

One of the most enduring shows of all time, Joseph and the Amazing Technicolor Dreamcoat is the irresistible family musical about the trials and triumphs of Joseph, Israel's favorite son. blends pop, country and rock into an uplifting, technicolored story of biblical proportions.

Retelling the Biblical story of Joseph, his eleven brothers and the coat of many colors, this magical musical is full of unforgettable songs including Those Canaan Days, Any Dream Will Do and Close Every Door.

The tour will feature Scenic Design by Beowulf Boritt, Costume Design by Jennifer Caprio, Lighting Design by Howell Binkley, Sound Design by John Shivers and David Patridge, Projection & Video Design by Daniel Brodie, Music Supervision by David Kreppel and Music Direction by Wayne Green.

June 24 – 29, 2014 at the Civic Theatre, San Diego, CA.

LES MISERABLES Book By Alain Boubill & Claude-Michel Schönberg. Music By Claude-Michel Schönberg. Lyrics By Herbert Kretzmer.

Director Michael Baron.

Choreographer Ashley Wells

Music Director Edward G. Robinson

The cast will include 100 voices.

Starring Chuck Wagner, Victoria Huston-Elem and Danny Rothman as Jean Valjean, Fantine and Javert, respectively. Lyric favorites Julie Johnson and Tommy Cunningham will also appear as the scheming innkeepers, the Thenardiers.

Scenic designs by Michael Raiford. Lighting design by Helena Kuukka, sound design by Toby Algya, costume design by Jeffrey Meek and properties design by Courtney Strong.

Presented by the Lyric Theatre of Oklahoma June 24-28 at the Civic Center Music Hall in Oklahoma City.

HOLLER IF YA HEAR ME by Todd Kreidler.

Directed by Tony Award winner Kenny Leon.

Holler If Ya Hear Me the world inside Tupac Shakur's music and lyrics, is an original story set in the present day on the inner-city streets of a Midwestern industrial city, following two childhood friends and their extended families as they struggle to reconcile the challenges and realities of their daily lives with their hopes, dreams and ambitions. The non-biographical rap musical is based on and features Tupac Shakur's music. a troubled rapper who was shot and killed at age 25 in Las Vegas in 1996.

Starring slam poet, actor, singer, musician Saul Williams as John, Christopher Jackson as Vertus, Saycon Sengbloh as Corinne, Ben Thompson as Griffy, John Earl Jelks as Street Preacher, Joshua Boone as Darius, Dyllon Burnside as Anthony and Tonya Pinkins as Mrs. Weston.

The ensemble features Tracee Beazer, Afi Bijou, Mel Charlot (Three-time World Hip Hop Champion), Carrie Compere, Otis Cotton, Ryan Davis, Brandon Gill, Ariana Groover, F. Michael Haynie, Jared Joseph, Jahi Kearse, Muata Langley (freestyle Krump performer), Candace Maxwell, Valentine Norton, Christina Sajous, Charlene "Chi Chi" Smith, Jaime Lincoln Smith, Donald Webber, Jr. and Joaquina Kalukango.

The creative team includes choreographer Wayne Cilento, and musical supervisor Daryl Waters, scenic design by Edward Pierce based on original concepts by David Gallo, projections by Zachary G. Borovay, costumes by Reggie Ray, lighting by Mike Baldassari, sound by John Shivers and David Patridge and casting by Caparelliotis Casting.

The musical began previews on June 2 and opened to mixed reviews at the Palace Theatre in New York City on June 19.


WHO'S WHERE


KISS AND DEF LEPPARD will storm through 40-plus cities throughout North America kicking-off on Monday, June 23 in West Valley City, UT at the USANA Amphitheater. Wednesday's show is at the Pepsi Center in Denver following by a Friday stand at the Sleep Country Amphitheater in Ridgefield, Washington. Next Sunday, June 29, their tour stops at the White River Amphitheater in Auburn, Washington.

LADY ANTEBELLUM will be appearing at Nebraska Days in North Platte, NE on Friday, June 27.

KEITH URBAN continues his Australian tour with a stop Wednesday, June 25, at the Rod Laver Arena in Melbourne. Friday's show is at Collins Park in Narrabri and next Sunday, June 29, he is at the Arena in Perth.

BRUNO MARS headlines the Century Link Center in Omaha, NE on Monday, June 23. On Wednesday he appears at Summerfest in Milwaukee. Friday finds him at the U.S. Bank Arena in Cincinnati. Saturday's gig is at the Quicken Loans Arena in Cleveland.

DOLLY PARTON likes things in pairs. This week she has two, two nighters. The first begins Tuesday, June 24, at the Motorpoint Arena in Cardiff, UK and the second opens Friday at the 02 in London.

ROD STEWART performs in Germany this week with a show Tuesday, June 24, at the 02 World in Berlin. Friday's gig is at the SAP Arena in Mannheim. Next Sunday, June 29, he's on stage at the Olympiahalle in Munich.

KATY PERRY performs Tuesday, June 24, at the Verizon Center in Washington, DC. Friday's show is at the Bridgestone Arena in Nashville. On Saturday her tour stops at the Phillips Arena in Atlanta, GA.

BLACK SABBATH rock the Hanns Martin Schleyer Halle in Stuttgart, Germany on Wednesday, June 25. On Friday they perform at the Georg-Melchers Stadion in Essen, Germany.

LADY GAGA performs at Summerfest in Milwaukee, WI on Thursday, June 26. On Saturday she stars at the Broardwalk Hall in Atlantic City, NJ.

LIONEL RICHIE sings his hits Tuesday, June 24, at te Xfinity Center in Mansfield, MA. On Wednesday he's at Jones Beach in Wantagh, NY. Friday his tour stops at PNC Bank Arts Center in Holmdel, NJ.


FINAL OVATION


GERRY GOFFIN hit songwriter and former husband of Carole King, died early Thursday, June 19, 2014 at his home in Los Angeles. He was 75.

He was inducted into the Rock and Roll Hall of Fame in 1990 along with Carole King During his career Goffin, a lyricist, penned seven Billboard Hot 100 chart toppers, and a total of 59 Top 40 hits.

In 1995, Goffin remarried.

The songs of Goffin and King, and the story of their marriage, are the focal point of the hit Tony nominated Broadway show, Beautiful: The Carole King Musical. The production depicts not only the years when King and Goffin cranked out hits but also the breakup of their marriage, resulting from Goffin's infidelity and emotional problems.

Goffin and his wife were in the audience on opening night. The cast of Beautiful dedicated last Thursday night's performance to him. In the musical Goffin is portrayed by Jake Epstein

In addition to his wife, Michele, his survivors include four daughters, Louise Goffin, Sherry Goffin Kondor, Dawn Reavis and Lauren Goffin; a son, Jesse Goffin; six grandchildren; and a brother, Al.

Neil Portnow President/CEO of The Recording Academy issued the following statement: "A legendary songwriter and a 2004 Recording Academy Trustees Award recipient (along with Carole King), Gerry Goffin was a profound lyricist who penned chart-topping hits for various artists for more than 40 years. He began his career with King, embarking on a remarkable songwriting partnership that resulted in such timeless classics as Will You Love Me Tomorrow, (You Make Me Feel Like) A Natural Woman, and Up On The Roof. Goffin would later go on to compose such No. 1 songs as Theme From Mahogany (Do You Know Where You're Going To?) and Saving All My Love For You. His prolific career has left an indelible mark on our culture, and his exceptional legacy will continue to teach and inspire many generations to come. Our music community has truly lost one of its finest, and our deepest sympathies go out to his family, his friends, and all who have benefited from and have been moved by his extraordinary and heartfelt talent."

HORACE SILVER a pioneering jazz pianist, composer and bandleader who was one of the most popular and influential jazz musicians of the 1950s and '60s, died in New Rochelle, New York on June 18, 2014. He was 85.

Silver's big break came in 1950 backing saxophonist Stan Getz at The Sundown Club in Hartford, Connecticut. Getz liked Silver's band and took them on the road, eventually recording three of Silver's compositions. It was with Getz that Silver made his recording debut. Silver moved to New York City in 1951, where he worked at the jazz club Birdland on Monday nights, when different musicians would come together and informally jam. During that year he met the executives of the label Blue Note while working as a sideman. He eventually signed with them, remaining there until 1980. In New York, he formed the Jazz Messengers, a cooperatively-run group with Art Blakey.

Silver's music influenced such pianists as Bobby Timmons, Les McCann, and Ramsey Lewis.

Neil Portnow President/CEO of The Recording Academy issued the following statement: "Jazz pianist, composer and bandleader Horace Silver was one of the most popular and influential jazz musicians of the '50s and '60s. Widely regarded as the creator of the hard bop sound - a combination of R&B, gospel, and his unique piano style - he performed with some of the biggest names in jazz, including Stan Getz, Miles Davis, and Art Blakey, the latter with whom he founded the legendary Jazz Messengers. In Feb. 2005, Silver received the President's Merit Award at our GRAMMY Salute To Jazz event for his lasting contributions to jazz and the music community. His funky, unique and infectious piano-playing style set a standard for many pianists to follow, further cementing his well-deserved legacy. Jazz has lost one of its great masters, and our sincere condolences go out to his family, his friends, and all who continue to be inspired by his timeless repertoire."















Next Column: June 29, 2014
Copyright: June 22, 2014 All Rights Reserved. Reviews, Interviews, Commentary, Photographs or Graphics from any Broadway To Vegas (TM) columns may not be published, broadcast, rewritten, utilized as leads, or used in any manner without permission, compensation and/or credit.
Link to Main Page
---
Laura Deni



For the snail mail address, please E-mail your request.
CLICK HERE FOR COMMENT SECTION