! >
Broadway To Vegas
  
 SHOW REVIEWS CELEBRITY INTERVIEWS GOSSIP NEWS

| | |
| --- | --- |
| | |
HAROLD ARLEN SHOW OPENS IN VEGAS BUT BELONGS OFF-BROADWAY - -HARD ROCK CALLING AT HYDE PARK - - TIM ROBBINS & THE ACTORS GANG RECEIVE AWARD - - JEFF DANIELS GETS MUSICAL - - HADRIAN EMPIRE AND CONFLICT - - LONDON'S HAIRSPRAY RECOUPS INVESTMENT - - LOOPED - - PRINCE MUSIC THEATER GALA - - DONATE . . . Scroll Down


Copyright: June 22, 2008
By: Laura Deni

CLICK HERE FOR COMMENT SECTION
HAROLD ARLEN SONGS BELONG IN NEW YORK


Composer Harold Arlen may not be the household name of a George and Ira Gershwin or a Rodgers and Hammerstein but his songs are - 500 of them including; That Old Black Magic; Stormy Weather; One For My Baby; Blues in the Night; Get Happy; Come Rain or Come Shine; One for My Baby; The Man that Got Away and, oh yes - Over the Rainbow which was voted the twentieth century's No. 1 song by the Recording Industry Association of America.

A tribute show to Arlen, featuring Arlen's son, Sam, has opened in Las Vegas. In previews for the last week, the show officially opened last night at The Greek Isles Hotel.

The showroom was packed, with the show beginning about 15 minutes late due to patrons being seated.



Show producer Perry Damone. Photo; Laura Deni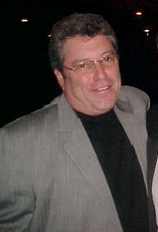 This show belongs off-Broadway. It's wasted in Sin City, though a great spot for the lovely rhinestone to be transformed into a sparkling diamond.

Missing is an overture of Arlen music or at least Arlen tunes being piped into the showroom as customers find their tables.

Harold Arlen's only child, son Sam Arlen, is a delightful surprise. His ability with the saxophone is well known. What this mounting permits is for the affable heir to project his personality as he connects the dialogue with the tunes - delivering homespun stories about his father and the music.

At one point Arlen sits on the stage as thought the showroom was his living room. He talks about his father's upbringing as well as his own, treating the showgoers as personal friends who are peeking into the family album.

More than making his father interesting, he makes music history fascinating. One of the production highlights is a segment of personal films his father shot on the set of Wizard of Oz.



Missy Shriver. Photo; Laura Deni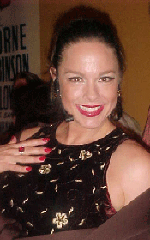 Paige Siggal. Photo; Laura Deni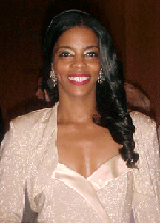 Set in a fictitious radio station WZRD, during an old time live radio broadcast, complete with toothpaste commercials, the show covers three phases of Arlen's career - The Cotton Club, Broadway and films.

In addition to the composer's son, the cast includes the Three Crooners, George Bugatti, Alistair Tober and Johnny K and two songbirds - Paige Siggal and Missy Shriver. While they are all talented, the soul of the show is the music and Arlen songs are priceless.

Other standout segments include Arlen delivering a rousing rendition of Blues in the Night, a snazzy Minnie The Moocher and a soulful Stormy Weather.

Naturally, the production wouldn't be complete without Over the Rainbow which is a company affair, complete with the 1939 Oscar that Harold Arlen received for penning that ditty, sitting on a stool.

One of the greatest saloon songs ever written One For My Baby (and One More for the Road), which Frank Sinatra transformed into one of his signature songs, has lyrics by Johnny Mercer. That standard needs to be a one man rendition, not the trio.

Unless you're going to go 90-degrees opposite and have Mel Brooks/Susan Stroman stage it as a tap dance; or a Saturday Night Live skit as a hooker's pick-up song, don't deviate from the one person, low-key, deliver the lyrics presentation.



Sam Arlen at the Wizard party. Photo; Laura Deni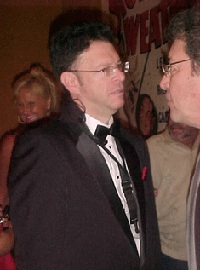 Enjoying the after show cast party. Photo; Laura Deni
Produced by Perry Damone, son of crooner Vic Damone, overcoming sound glitches that plagued the production during preview week has been one of Damone's biggest headaches.

Previously the venue was The Debbie Reynolds Hotel where the actress/singer also performed.

Reynolds' son, Todd Fisher, is an expert at sound design and just about anything technical. When Fisher was in charge, the showroom pleased both performer and audience.

So, what happened to all of Fisher's work?

"It's all been stripped. It's gone. There is nothing left," said Damone.

Perhaps the room's ability to permit excellent sound also became part of the forced auction.



The cast enjoyed meeting the audience. Missy Shriver even took pictures. Photo; Laura Deni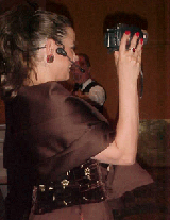 Perry Damone adjusting his camera to snap the line waiting to enter showroom. Photo; Laura Deni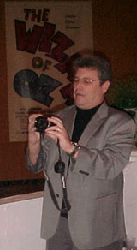 With virtually all Vegas shows four-walled, Damone has to keep an eye on the budget while setting his sites on The Big Apple.

Many people wrongly assume that children of celebrities have a personal money tree growing from their backside. Damone seems to know how to manage the dollars.

The after show party was tasteful, but not overblown for the sake of somebody else's pocketbook.

Watching the cash flow doesn't mean cheap arrangements or second rate musicians. Nor is this a show just for people of a certain age. Harold Arlen's music is loved by everyone. Sam Arlen is irreplaceable.

This show deserves to be seen. A great place would be off-Broadway.

Wizard: The Musical Journey of Oz Composer Harold Arlen, written by George Bugatti from a conceptualize with Nigel Wright, is at the Greek Isles in Las Vegas for a six-week run with an additional six-week option.


ART AND ABOUT


HADRIAN EMPIRE AND CONFLICT

Marble bust of the Roman Emperor Hadrian wearing military dress. From Hadrian's Villa, Tivoli, Lazio, Italy. c. AD 118-130. British Museum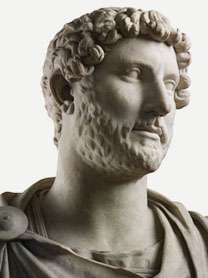 This special exhibition will explore the life, love and legacy of Rome's most enigmatic emperor, Hadrian (reigned AD 117–138).

Ruling an empire that comprised much of Europe, northern Africa and the Middle East, Hadrian was a capable and, at times, ruthless military leader. He realigned borders and quashed revolt, stabilizing a territory critically overstretched by his predecessor, Trajan.

Hadrian had a great passion for architecture and Greek culture. His extensive building program included the Pantheon in Rome, his villa in Tivoli and the city of Antinoopolis, which he founded and named after his male lover Antinous. This unprecedented exhibition will provide fresh insight into the sharp contradictions of Hadrian's character and challenges faced during his reign.

Objects from 28 museums worldwide and finds from recent excavations will be shown together for the first time to reassess his legacy, which remains strikingly relevant today.

This exhibition will be held in the Round Reading Room, often compared to one of Hadrian's architectural masterpieces, the Pantheon in Rome.

Hadrian was a man of great contradiction in both his personality and reign: a military man and homosexual, he combined ruthless suppression of dissent with cultural tolerance. He reacted with great ferocity against the Jewish Revolt in 132 AD (examples of poignant objects belonging to Jewish rebels hiding in caves near Jerusalem will be included in the exhibition), but he was also a dedicated philhellene, passionate about Greek culture. He took a young Greek male lover, Antinous, who accompanied him on his travels around the empire. In AD 130, Antinous drowned in mysterious circumstances in Egypt. Consumed by grief, Hadrian founded a new city, Antinoupolis, close to the spot where he died and had Antinous declared a god, linked to the Egyptian deity Osiris. A cult of Antinous-Osiris sprang up resulting in statues, busts and silverware featuring the image of the newly deified youth.

A central theme of Hadrian's life and his legacy can be found in his strong personal interest in architecture. Under his patronage, highly innovative, iconic buildings were constructed throughout the empire and form a major part of his legacy. The most famous are the Pantheon in Rome and his magnificent residence at Tivoli, a few miles east of the capital. The villa was like a small city, the empire in miniature. It evoked famous sites in Greece and Egypt and was a playground for new architecture, filled with exquisite works of art. The villa is still being excavated and exciting new finds and research will be presented in the exhibition.

Thorsten Opper, curator of the exhibition said: "This will be a unique opportunity to see important objects related to Hadrian in one exhibition. Hadrian was an extremely successful emperor who left an immense and enduring legacy, but one that is often not recognized or appreciated. This exhibition will allow for a reassessment of his character, his life, love and legacy".

July 24-October 26 at The British Museum in London.


SPREADING THE WORD


THEOLOGICAL DISCUSSION: MASTERING FATE Working in partnership with the Virginia Theological Seminary, Theological Discussions provide audience members another lens through which to examine the current season of the Shakespeare Theatre Company - the theological perspective.

By combining a discussion of the theological relevance of The Imaginary Invalid in its time and ours, the audience is given a thought-provoking view of the role of theatre in our society.

July 1, 2008 Shakespeare Theatre Company in Washington, DC.

CRISIS IN DARFUR with panelists Mia Farrow, Georgette Gagnon, Daoud Hari and Jill Savitt. Leonard Lopate is the moderator.

The conflict in Sudan's western region of Darfur, which has pitted rebel factions against government-backed militias, has killed more than 200,000 people and displaced 2.5 million since it began in 2003. Hear firsthand accounts of the crisis from those who have lived and worked in Dafur, including Georgette Gagnon, the acting director of the Africa Division, Human Rights Watch, Daoud Hari, the author of The Translator: A Tribesman's Memoir of Darfur, Jill Savitt, Executive Director of Dream for Darfur and Mia Farrow, actress and activist. Monday, June 30 at Kaufmann Concert Hall in NYC.

DEBRA WINGER IN CONVERSATION WITH ARLISS HOWARD Winger a three-time Academy award nominee for Best Actress in a Leading Role, and the author of a memoir, Undiscovered, in which she reveals how her creative talents have transformed a successful career into a fulfilling life. Winger is interviewed by her husband, actor, writer and film director, Arliss Howard, who is best known for his roles in Full Metal Jacket; Ruby and Big Bad Love, which he also directed. Monday, June 30, at the 92nd Street Y's Buttenwieser Hall in NYC.

TIM ROBBINS & THE ACTORS GANG

Tim Robbins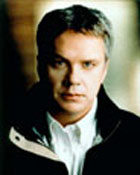 were honored yesterday, Saturday, June 21, with the Prize of Hope. The international award was established by Denmark's Institute for Popular Theatre that is given to a person or theater "who has worked for human hope in a daring, loving, vulgar, serious, poetic manner with sparkling energy" and is given to "those who encourage people to use their own eyes, ears and voice."

Oscar winner Robbins, along with Actors' Gang founding member Cynthia Ettinger; director of education Vanessa Mizzone; and The Gang's Summer Family Theater Initiative director Justin Zsebe, were on hand to accept the Prize of Hope from Dell'Arte International's producing artistic director, Michael Fields, during a dinner ceremony at the opening of the annual Mad River Festival in Blue Lake, CA, home of Dell'Arte International. Dell'Arte was the first organization in the U.S. to be awarded the Prize of Hope in 2005.

Denmark's Institute for Popular Theatre established the Prize of Hope in 1987 to recognize live theater as a popular and accessible art form and work against the role of art as passive consumerism. Today, the Institute for Popular Theatre has more than 30 theaters throughout Scandinavia.

"The Actors' Gang is the embodiment of the intent and spirit of the Prize of Hope," said Fields. "We considered many theater artists and companies working in the United States today, but it was the powerful combination of contemporary immediacy, public engagement and great theatrical craft created with a profound hope for changing the course of life for the better that made The Actors' Gang the clear choice."

The Actors' Gang, now in its 25th season of rule-breaking, thought-provoking, engaging theater, is one of Los Angeles' most enduring ensembles. Since its founding in 1982, The Gang has consistently won acclaim for its daring interpretations of Shakespeare, Buchner, Brecht, Moliere, Aeschylus, Ibsen and Chekhov, while also developing daring new plays that address today's world through a prism of satire, popular culture, and raucous stagecraft.

JAMES CONLON the American conductor will be awarded the Galileo 2000 Prize from the Fondazione Premio Galileo 2000 in a ceremony on Wednesday, June 25, at the Scuderie Peali della Pace in Florence, Italy. Maestro Conlon will be the 12th recipient of the prize, which is awarded each year to an artist who has made a significant contribution to music, art and peace. Past winners include Zubin Nehta, Riccardo Muti and Daniel Barenboim.

The Galileo 2000 Prize, founded in 1996, is awarded each year to an artist who has made a significant contribution to music, art and peace. Conlon is the person responsible for the Recovered Voices Project, devoted to presenting works suppressed by the Nazis.

AMERICANS FOR THE ARTS announced the recipients of the 2008 Leadership Awards last Friday at its annual convention in Philadelphia. The awards honor individuals and organizations that exhibit outstanding leadership qualities and a demonstrable dedication to the arts and arts advocacy. This year's celebrated recipients included:

George Irwin - recipient of the Selina Roberts Ottum Award for making a meaningful contribution to the arts through local arts leadership.
Julia Kirt - recipient of the Emerging Leader Award for her innovative thinking, a commitment to the advancement of the arts and exemplary leadership.
Joan Adams Mondale - recipient of the Public Art Network Award for her creative contributions and commitment in the field of public art.
Marilyn Moosnick - recipient of the Michael Newton Award for leadership in united arts fundraising for efforts to raise money for multiple community arts institutions.
The New Victory Theater in NYC - recipient of the Arts Education Award for changing public education through the arts, and producing the visible results to be seen as a national leader in the field of arts education.
Judith Kaufman Weiner - recipient of the Alene Valkanas State Arts Advocacy Award for affecting the political landscape through arts advocacy efforts at the state level.

Peggy Amsterdam also received the Ray Hanley Innovation Award for her outstanding contribution to arts and culture in Philadelphia.

SAMUEL J. FRIEDMAN will have his name in lights. The Manhattan Theatre Club has announced their Biltmore Theater will be rededicated as the Samuel J. Friedman Theater, after the longtime theater and film press agent who handled the publicity for shows like Finian's Rainbow; A Moon for the Misbegotten and The Blacks by Jean Genet, and who worked with performers like Bette Davis, Jackie Gleason and Gypsy Rose Lee. Mr. Friedman died in 1974. The Dr. Gerald J. and Dorothy R. Friedman Foundation, which was created by Mr. Friedman's brother and sister-in-law, will be making a substantial donation to the Manhattan Theater Club. The money will go toward the maintenance of the theater and to growing an endowment.

"I am thrilled that MTC is the recipient of a gift from the Dr. Gerald J. and Dorothy R. Friedman Foundation in memory of my father," stated Samuel Friedman's daughter, Jane Friedman. "MTC is an organization that for almost 40 years has been presenting some of the most compelling and innovative theatre. I can't think of a better way to honor my father."

As part of the arrangement a lobby in the theater will be named for Shirley. Herz and Bob Ullman, both of whom were associates in Mr. Friedman's office. A plaque will be installed in the lobby in tribute to "theatrical publicists past and present, who brought the excitement of theater to the public and who continue to serve as champions for the Bright Lights of Broadway."

ELTON JOHN last night, Saturday, June 21, celebrated the 2,000 performance of his Red Piano Show - which is built around 15 of his hits - at Caesars Palace in Las Vegas. In honor of the occasion, the first 3,000 patrons into 4,000-seat, state-of-the-art Colosseum at Caesars Palace received a feather boa.

In addition to playing to sell-out crowds in Las Vegas, the prolific songwriter is preparing for his latest Broadway composition, Billy Elliott. The stage musical is based on the successful 2000 movie about a young boy who longs to dance but lives in the bleak coal-mining area of Northern England. His story is set against the backdrop of a bitter miners' strike.

John has cast three boys in the demanding title role; The trio includes David Alvarez, 13, born in Montreal and now living in New York; 14-year-old Kiril Kulish of San Diego, and Trent Kowalik, 13, of Wantagh, N.Y., and already an alum of the show's London production, which opened in London in 2005 to rave reviews.

The $18 million musical opens November 13 at the Imperial Theatre. Preview performances begin October 1.



Broadway To Vegas is supported through advertising and donations. Priority consideration is given to interview suggestions, news, press releases etc from paid supporters. However, no paid supporters control, alter, edit, or in any way manipulate the content of this site. Your donation is appreciated. We accept PAYPAL. Thank you for your interest.


SWEET CHARITY


PRINCE MUSIC THEATER GALA An unforgettable evening Monday, June 30, with stars of great music celebrating Frankie Valli and The Four Seasons with Master of Ceremonies, Philly's own Jerry Blavat, the Geator with the Heater.

Not just an evening kicking off with a mingle while eating tidbits but a Swanky VIP Cocktail Reception and Lavish Hors d'Oeuvres.

Following the performance Dancing, Light Fare, and Desserts with Party Onstage and throughout the Theater A four-time Tony Award-winning musical, Jersey Boys is the Broadway hit show based on the lives of one of the most successful rock 'n' roll groups of the 1960s, The Four Seasons. Top Broadway performers will take the stage for one night only to perform signature favorites such as Sherry; Can't Take My Eyes Off You; Walk Like A Man; and Big Girls Don't Cry plus other classic hits from the 1950's and 1960's.

Blasts from the past perform up close, Monday, June 30, Prince Music Theater in Philadelphia.


OTHER PEOPLE'S MONEY


HAIRSPRAY The West End production of the Tony-winning show with music and lyrics by Marc Shaiman and Scott Wittman, has recouped its entire £3.5 million capitalization in just 29 weeks. The production opened at the Shaftesbury Theatre Oct. 30, 2007. Directed by Jack O'Brien, the cast currently features Olivier winners Michael Ball as Edna Turnblad and Leanne Jones as Tracy Turnblad with Ian Talbot as Wilbur Turnblad and Ben James-Ellis as Link Larkin.


CURTAIN DOWN


CRY-BABY a musical based on a John Waters film, will play its final performance at the Marquis Theatre June 22 having played 45 previews and 68 regular performances. Cry-Baby got its start last fall at California's La Jolla Playhouse and began Broadway previews March 15 and officially opened April 24, 2008.



LOOPED by Matthew Lombardo. Four-time Emmy Award-winner Valerie Harper stars in the world premiere as Tallulah Bankhead with Chad Allen Directed by Rob Ruggiero, the new play gives a glimpse into the eccentric life of true Hollywood legend Tallulah Bankhead.

Looped is loosely based on the true story of Tallulah Bankhead (Valerie Harper), the original celebrity bad girl, who was called into a sound studio to re-record ("or loop") one line from her final film Die, Die, My Darling. The session was to have only taken 5 minutes, but instead lasted well over eight hours. Southern, but by no means a belle, Ms. Bankhead was known for her wild partying that outshined even today's superstars, including innumerable affairs with male and female celebrities and outlandish exploits that were even investigated by the British secret service. Relish in the promiscuity, scandal and outrageous wit of this sultry-voiced stage and film star.

Joining the creative team with Ruggiero are Adrian W. Jones (scenic design), Alex Jaeger (costume design), Michael Gilliam (lighting design), Michael Hooker (sound design), Charles LaPointe (hair and wig design), Michael Donavan (casting), Lea Chazin (production stage manager), and Hethyr Verhoef (assistant stage manager). Looped plays at the Pasadena Playhouse, in Pasadena,CA. Performances begin June 27 and play through August 3, with the official press opening on Tuesday, July 8.

HERSHEY FELDER AS GEORGE GERSHWIN ALONE Book by Hershey Felder. Directed by Joel Zwick. Music & Lyrics by George and Ira Gershwin.

The smash hit of 2006 returns to San Diego for only 7 performances. From Broadway to London's West End, Hershey Felder's George Gershwin Alone has been thrilling audiences and critics. ( See Broadway To Vegas column of April 22, 2001 )

This acclaimed musical play showcases the Gershwins' classics - from The Man I Love and Someone to Watch Over Me, through passages and songs from An American in Paris and Porgy and Bess. An irresistible tribute to one of America's greatest composers.

June 25 - 29 at the Old Globe Theatre in San Diego, CA.

THE WAPPING ASSASSIN by Jimmy Flint. Directed by Paul Savage.

A one man play written by Jimmy Flint who was the Wapping Assassin in real life. This fast paced show charts the rise of an East End boy brought up in rough circumstances and easily turns to crime. He learns to box at the age of 10 and serves time in borstal. He becomes a light weight champion - leaving his precarious past behind. The story brings to life perverted prison officers, big time fighters, sleazy gangsters, and the sweat and the thrill of the boxing ring. The play climaxes at the fight of his life, at shot at the title.

June 23-26 at Wilton's Music Hall in London.

Wilton's is the world's oldest and last surviving grand music hall. Here, in the 1850s and 60s, classical overtures, dance, circus acts, opera, choral, and folk songs were enormously popular, long before "old time music hall" evolved. John Wilton built this theatre behind his public house, The Prince of Denmark in 1858, in Graces Alley, E1. The pub was locally famous as the first to use beautiful mahogany fittings and became known as The Mahogany Bar.

In Wilton's day, 1,500 people used to cram into the music hall to hear the top acts - artistes from the Covent Garden were lured over in full costume to perform late night favorite arias. Today the hall has a license to seat 300 people. In 1880 John Wilton died, aged 60.

PANHANDLE SLIM & THE OKLAHOMA KID a play-with-music by Jeff Daniels. Directed by Guy Sanville.

This winsome comedy tells the fateful tale of a prairie showdown between a vagrant outlaw and a singing cowboy. Thrown together by unfortunate circumstances, Panhandle Slim and The Oklahoma Kid argue the virtues of mayhem, music and the meaning of life. This World Premiere features original songs, as well as scoundrels, six-guns and a horse named Buttermilk.

The cast includes former Jessica Garrett, Phil Powers, John Seibert and Tom Whalen.

This production includes set design by Dennis G. Crawley, prop design by Danna Segrest, costume design by Christianne Myers, lighting design by Reid G. Johnson and sound design by Quintessa Gallinat. Michelle DiDomenico stage manages with Stephanie Buck as assistant stage manager. Previews began June 10 with an official opening on June 28. However, On Friday, June 27, mosey on down to the rootin'est tootin'est PRTC for a Special Event: Gala. The event begins with a chuck wagon dinner, wild west wine, beer and champagne, and a heap of high-steppin' cowboy music by the Hell Creek Ramblers, followed by an 8:00 PM curtain. Dress is casual, and cowpoke / cowgirl git-ups are encouraged. The Purple Rose Theatre is located in Chelsea, MI.

SPAMALOT welcomes Seventh Heaven Emmy nominee Stephen Collins and Grammy nominee Drew Lachey to the Broadway company on June 24.

Collins will assume the role of King Arthur. Lachey, who was the second season champion on ABC's Dancing With The Stars, will step into the role of Patsy, Arthur's trusted manservant.

1984 by George Orwell. Academy Award-winning actor-writer-director Tim Robbins, co-founder and artistic director of The Gang, directs Michael Gene Sullivan's stage adaptation.

The production features: Cameron Dye, Keythe Farley, Brian T. Finney, Kaili Hollister, V.J. Foster and Steven M. Porter

1984 tells of a world where people fear that their opinions cannot be expressed freely, where citizens are monitored at the government's discretion, where leaders are not held accountable for their deceptions and where perpetual war is waged against an unseen enemy: a world where Ignorance is Strength, Freedom is Slavery, and War is Peace. This is the world Orwell created more than half a century ago, and its prescience of today's world is startling.

"When I read Michael's adaptation, I thought he was making this stuff up," said Robbins. "When I went back and reread the book, I was stunned. I think we're left with the impression, if we haven't read it in, say, 20 years, about Big Brother watching you - a gray world where the government can see into every apartment. What you don't remember are the specifics: what Doublethink is, what [the book's arch nemesis] Emanuel Goldstein's theories are about why war is necessary, and how the ruling class uses the fear of war to propagate its hold on power. It's all so relevant today."

Performances at the Roy and Edna Disney CalArts Theater through July 6.

BALL GAME by Alan Ball.

Planned your own midlife crisis yet?
Ever had an orgasm over a pair of shoes?
Have you always wanted children because you enjoy pets?

From acclaimed writer of American Beauty; Six Feet Under and Five Women Wearing the Same Dress come four very funny plays, sparkling with wit and cynicism. It's 'game on' for the superficial, the neurotic, the egocentric and the tainted. Battle with the sexes, climb the corporate ladder and hold onto your seats - five actors, four directors in four bite-sized productions that promise to entertain.

Featuring four brilliant one act plays: Made For A Woman; Power Lunch; The M Word; Your Mother's Butt.

Directors; Alex Galeazzi, Anthony Skuse, Christopher Stollery & Jessica Symes.

Featuring Gianluigi Carelli, Ryan Gibson, Lisa Griffiths, Matthew Holmes, Alicia Jeffery and Ona Nurkkala.

Designer Alice Morgan. Lighting Designer Spiros Hristias. Sound Design Elliott Wilshier. Assistant Designer Anita Rose. Voice Coach Nick Curnow. Stage Manager Lydia Kellly.

Preview Wednesday June 25. Officially opens on June 26 with performances through Saturday July 19, 2008 at the Darlinghurst Theatre, Potts Point in NSW, Australia.




WHO'S WHERE


HARD ROCK CALLING AT HYDE PARK takes place June 28-29 A big stage in a big park with the biggest bands in the world will equal lots and lots of cash. The highlight will come next Sunday when - appearing at their last ever UK Show The Police put aside their differences and unite in a (if Sting has his way) tantric, consciousness raising act. And everyone else sings along to classics such as Every Breath You Take and Roxanne. Other acts on June 29 include KT Tunstall, Starsailer and '80s classic girlband The Bangles. The Stranglers, Arno Carstens, Carbon/Silicone and The Flying Padovanis.

Saturday's line-up is also pretty good, with performances from Eric Clapton, Sheryl Crow and John Mayer. Joining them will be Jason Mraz, Robert Randolph and The Family Band. The Charlatans will headline the second stage on Saturday, with support from Eddi Reader and Scott McKeon.

Hard Rock Calling, produced by Live Nation and presented by Hard Rock Cafe, is a unique and historic musical event with a main stage, second stage and many surprises in store for music and festival fans of all ages.

LIZ CALLAWAY the Emmy Award winner and Tony Award nominee is in the middle of her solo debut at Feinstein in New York City. Her show, The Beat Goes On features favorite songs from the 1960's – including the music of Jimmy Webb, Burt Bacharach & Hal David, Brian Wilson, and hit songs such as Feelin' Groovy; Leavin' on a Jet Plane; MacArthur Park; Moon River and Downtown. She is joined by Musical Director Alex Rybeck on piano, Jered Egan on bass and Ron Tierno on drums. The show is directed by Dan Foster. They can be enjoyed through June 28.

STEVE WINDWOOD performs at the Hollywood Bowl in CA on Wednesday, June 25.

THE POLICE entertain Thursday, June 26, at the Silesian Stadium in Chorzow, Poland. On Saturday the show is at the Zentralstation in Leipzig, Germany.

NEIL DIAMOND winds up the European leg of his tour, continuing with performances through Tuesday at the O2 Arena in London. On Friday the show shifts to Wembley Arena in London. The singer/songwriter doesn't have time for jet lag. On Saturday he's back home opening a two night stand at the Xcel Engergy Center in Saint Paul, MN.

EMMY LOU HARRIS in the spotlight Monday, June 23, at Charlottesville Pavilion in Charlottesville, VA. Wednesday finds her at the North Carolina Museum of Art in Raleigh, NC. On Thursday the show is at Florida Theatre in Jacksonville, FL. Friday she can be enjoyed at Chastain Patk Amphitheatre in Atlanta.

BRUCE SPRINGSTEEN is still in Europe entertaining Monday, June 23, at Sportpaleis D'ariver in Antwerp, Belgium. Wednesday he's headlining the San Siro in Milan, Italy. If it's Friday it must be France and the Parc Des Princes in Paris.

DAVE MATTHEWS BAND on Tuesday, June 24, open a two nighter at the Tweeter Center for the Performing Arts in Mansfield, MA. On Friday the show is at the Hersheypark Stadium in Hershey, PA. On Saturday they are on stage at the Nissan Pavilion at Stone Ridge in Bristow, VA.

CHRIS BOTTI on stage Tuesday, June 24, at Carnegie Hall in NYC. On Friday he appears with John Pizzarelli at the Fraze Pavilion for the Performing Arts in Kettering, Ohio.

ALISON KRAUSS, ROBERT PLANT, T. BONE BURNETT, SHARON LITTLE in a two night romp June 23-24 at the Greek Theatre in Los Angeles.

JAY JOSEPH performs next Sunday, June 29, at the Bootlegger in Las Vegas. Joining Joseph will be singer Lynn Steinhurst who was last seen performing in Sin City in the musical production Hats.

Next Column: June 29, 2008
Copyright: June 22, 2008. All Rights Reserved. Reviews, Interviews, Commentary, Photographs or Graphics from any Broadway To Vegas (TM) columns may not be published, broadcast, rewritten, utilized as leads, or used in any manner without permission, compensation and/or credit.
Link to Main Page
---
Laura Deni


CLICK HERE FOR COMMENT SECTION