! >
Broadway To Vegas
  SHOW REVIEWS CELEBRITY INTERVIEWS GOSSIP NEWS

| | |
| --- | --- |
| | |
THE NUTTY JIM NABORS - - PEGGY LEE REMEMBERED - - MARIAH CAREY'S IDEA OF SMALL - - HOLLYWOOD BOWL HONORS - - WILLIAM IVEY LONG'S $25,000 DRESS - - BROKER FINED FOR GALLAGHER'S WATERMELON PRANK - - B.B. KING AND JEFF BECK TEAM UP - - LAS VEGAN NORMA MILLER AWARDED GRANT - - DONATE . . . Scroll Down


JIM NABORS; STILL WAITING FOR HIS NUTS TO DROP
Jim Nabors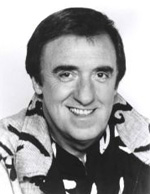 If you tell him he's nuts - it's a compliment. Since 1978 Jim Nabors has owned and operated a 500-acre Macadamian nut plantation in Hawaii. That's the same Jim Nabors who played the accident prone, bumbling Marine in Gomer Pyle, USMC for five straight years - after portraying the character for two years on The Andy Griffith Show. Along the way Nabors recorded albums - from the sserious to the silly - appeared in movies, had his own television variety series and spent decades performing in Las Vegas. He brings his nightclub act to the Drury Lane Theatre in Oak Lawn, Illinois June 25-28.

On Friday morning the Nabors spoke with Broadway To Vegas from his home in Hawaii.

If it hasn't been for his cabaret act, the personable performer would ever have been discovered.

Following graduation from the University of Alabama, Nabors first gained employment as a typing clerk at the United Nations. After a year, he returned to the south and worked as a film cutter in Chattanooga, Tennessee. till suffering from childhood asthma, he was advised to move west. He moved to Los Angeles and secured employment as an apprentice film cutter at NBC. He began performing at Horn, a local cabaret theater in Santa Monica. There he perfected an act that combined hillbilly monologues and operatic arias.

While performing there, Bill Dana invited Nabors to audition for Steve Allen's television program. After frequent appearances, Nabors returned to the cabaret where he was seen by Andy Griffith. Griffith offered the part of the bumbling gas station attendant Gomer Pyle as a one-time portrayal. He soon became a regular, then spun off the five year run of Gomer Pyle, USMC.



Jim Nabors, Andy Griffith, Don Knotts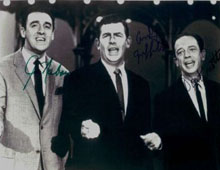 "That is true," Nabors chuckled. "It was funny, because I wasn't planning on a career in show business. I have a degree in business. I was working and I just started appearing in this club for fun. I had a silly act. I sang like this," he said in a booming voice, "and talked like this as he segued into the "Gawwwleee" and "Shazzayam" voice that the world came to love in Gomer.

"It made no sense what so ever," laughed Nabors referring to his early cabaret routine.

"But, anyway, after working there for a little bit, just for fun, I realized that I had sort of a following there. Finally, about three years later, Andy Griffith saw me there and that was it."

After viewing Nabors for the first time Griffith said; "I didn't know what he was doin', but he was doin' it awfully well. Jim might start to sing Vesti la Giubba from Pagliacci, then suddenly in the middle of the aria he'd stop to explain in that slow Southern drawl, 'Wal, you see, there was this clown fella, and everyone thawt that he was a real happy fella with that painted smile an' all, but he warn't happy a bit, 'cause..."

The affable Nabors is the kind of person you'd like for a relative, a neighbor, friend or business associate. He makes friends that he keeps for decades. In the back stabbing business of show Nabors has always remained outside the cutthroat arena.

"I never have (knifed anybody in the back). It was just not my nature at all and that is why I was so surprised that I made it in show business at all."

His nightclub show is one that wears well with the customer.

"I've always treated my shows like people who are visiting me in my home," he softly replied. "That's the way I look at it - that they are all friends. If they aren't friends, then they shouldn't be there is the first place - paying their money to see me. So, I like to think of them as good friends. I am really comfortable with that. Always have been."



Carol Burnett calls Nabors her lucky charm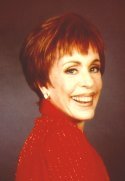 Nabors has his own TV variety series The Jim Nabors Show (1969-72), and appeared on the 1967 opening episode - and every subsequent season opener - of The Carol Burnett Show. Jim and Carol began a friendship that remains rock solid.

Nabors has been referred to as Carol Burnett's lucky charm. "Like she needs one," he fasciciously injected.

The January, 2002 death of Burnett's daughter, Carrie Hamilton, 38, from cancer was devastating to all who knew her and hit Nabors particularly hard.

"Devastated -- yes. I was very, very fond of Carrie. She would visit me over the years - just by herself - many, many times. I loved her very much. At the same time I lost my niece in a head on car crash. She was graduating from college the next month. It was ...." as his voice sadly trailed off. Then he softly added "...but life just goes on."

Life going on for Nabors has included five gold record albums and one platinum. He was awarded a gold record for his baritone rendition of The Lord's Prayer, the only singer to have ever received a gold record for that song, although many think Mario Lanza had the hit recording.

In the movie Because You're Mine Lanza delivered a peerless rendition of The Lord's Prayer. Lanza did recorded the number on September 10, 1959. But on September 25, plagued by ill-health, he was admitted to the Valle Giulia Clinic in Rome but then signed himself out. On October 7th, Lanza suffered a sudden massive heart attack and died. His recording of The Lord's Prayer was never released.

"This may sound really stupid but I've never kept up with the records or their history," stated Nabors. "A lady sent me a picture the other day and it shocked me. It was a big 8x10. She had taken a picture of her wall that was covered with all of my albums. So I got out my little magnifying glass and I started looking at all of those covers. I had no idea that I had done 46 albums. I had no idea. That's over 500 songs. Wow! I really had no idea. I've just always gone on to the next project."

One project was starting a Macadamia nut farm in Hawaii. The nut, originally native to Australia, is the costliest nut to produce from the long-term investment period, since they don't begin to bear nuts for five to ten years and they do not reach full production until they are 15 years old.

Did he realize that a risk he was getting into - how long it takes before those nuts are ready to harvest.

"I've never made a dime in that business." he confessed.

You didn't?

"Nope," he repeated. "Gosh, no. I've always loved the process and I've tried real hard to make a profit out of it. What happened was, once I started the orchards and they came finally to fruition, after about nine or ten years, the third world countries had gotten into it and then dumped on the market."

Then he goes for the joke.

"So, I'm still waiting for my nuts to drop."

His orchards provide employment for hundreds of employees. "That goes without saying," he replied. "I hope my voice doesn't change, because that is the cash flow."

Another cash flow streamed in from Gomer Pike, USMC, which is still being re-aired on TV throughout the world.

"I actually was one of the owners of Gomer," he divulged. "We sold out to Viacom after 25 years. I just lucked into it, (becoming one of the owners) but I understood what it meant. You have to look at the business side - ownership - because agents are real funny. They'll tell you you're making a million dollars. When you come right down to it, after you pay all of the percentages and all of the expenses and all the taxes, it cuts into it greatly."

Should aspiring entertainers have a knowledge of the business aspects?

"Absolutely," he seriously replied. "One of the lessons I learned is - if you don't care about what you've earned, then other people sure as hell don't. And, it's gone. Most people fall into that trap of thinking that their career is going to go on forever. And, it's a very fickle business. Or, they believe their own press releases," he chuckled. "That's dangerous," he continued using his Gomer Pyle twang for emphasis.

An Alabama native born on June 12, 1932 a couple of weeks ago Nabors returned to his Sylacauga High School thinking he was attending a ceremony honoring a prominent resident. Instead Nabors, who was inducted into the Alabama Music Hall of Fame in 2001, was astonished when his high-school buddy, Jim Pursell, announced a $25,000 grant to the Sylacauga City Schools Foundation in Nabors' honor. The foundation awards grants to teachers every year. A look of amazement crossed Nabors' face as his friend, who's chairman of Pursell Technologies, recognized him with the grant. "I don't know what to say. I'm very honored, Jimbo," said Nabors.

"That was really terrific," recalled Nabors referring to the surprise honor. "My birthday was good. At my age, are you kidding!"

In addition to remaining close to his hometown and childhood friends, Nabors is devoted to the Marine Corps.



Nabors' "Gomer" promoted to lance corporal. Photo Credit: USMC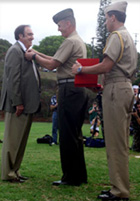 On August 9, 2001 the Marines officially promoted Gomer Pyle to the rank of lance corporal, a promotion the Marines felt was long overdue.

Before a crowd of 300, Nabors was pinned with the lance corporal insignia, a PFC stripe with crossed rifles, by Gen. James Jones, commandant of the Marine Corps. It took place during a no-nonsense ceremony, on a parade ground at Camp H.M. Smith, headquarters of the Marine Forces Pacific and the U.S. Pacific Command on Oahu.

Although Gomer "had trouble adjusting to the Marine Corps, he displayed the attributes of a good Marine," Jones said.

"He's honest and embodies integrity. He is filled with determination. He extensively attempts to do the right thing in every circumstance. He is selfless ... and he is loyal to a fault," he added.

"Even though Gomer wasn't the sharpest knife in the drawer," said Marine spokesman Chuck Little, "he maintained all the attributes that a Marine is supposed to have. He was honest, trustworthy and always gave 100 percent."



Jim Nabors, Carrol Connors, General James J. Jones and wife Diane at the Commandant's Ball commemorating the Marines' 227th birthday. Photo Credit USMC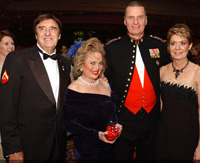 "When I was promoted all of the kids that marched in the parade - and all of those thousands of young Marines who know Gomer, they were the ones who went off to Iraq, so I was kind of emotionally involved with that."

Nabors also helped the Marines celebrated their 227th birthday during commemorations at Arlington National Cemetery. Nabors sang the Battle Hymn of the Republic and Carrol Connors sang American the Beautiful.

No stranger to the theatrical stage, Nabor's debut was as Harold Hill in The Music Man, a musical production at The Burt Reynolds Dinner Theatre with Florence Henderson. He recreated that role at the Birmingham Summerfest Theatre in Alabama.

At that time the entertainer stated the only arena he hadn't been on was the Broadway stage and he longed to have a script come his way.

The passing of time can alter goals. He's not apt to follow the lead of Jane Powell, who at 74, has a non-singing, non-dancing part in the new Steven Sondheim musical Bounce, which began previews last Friday at the Goodman Theatre in Chicago.

"Well, she is such a delight," he said referring to Powell. "She is a sweet, wonderful gal. But, I love my life out here. I grow flowers. I have a wonderful life. I've worked so hard for forty some years. It's time to just enjoy whatever it is that you do, instead of having to worry about a Broadway show, every night, going out there. That's too tough, at this age, for me."

Now he just does what pleases him, such as performing at the Drury Lane Thetre.

In 1994 Nabors joined an elite fraternity of those who have received a liver transplant. Other members include Larry Hagman. Thanks to that new liver Nabors is afforded the opportunity to live the life he chooses.

"The new liver is incredible!" exclaimed Nabors. "I had dinner with Larry (Hagman) and his wife in New York last fall. We were comparing our liver stories. Once a month I have to go get my shots for my liver. After I finish talking to you, I have a doctor's appointment. That's where I'm going - to get my maintenance shots. I only do it once a month, so it's not that bad. I am a very grateful person."

Jim Nabors performs at the Drury Lane Theatre in Oak Lawn, Illinois June 25-28.



Broadway To Vegas is supported through advertising and donations. Priority consideration is given to interview suggestions, news, press releases, etc from paid supporters. However, no paid supporters control, alter, edit, or in any way manipulate the content of this site. Your donation is appreciated. We accept PAYPAL. Thank you for your interest.


PRODUCING AMERICA: PREMIERE OUTDOOR PRODUCTIONS DELIGHT GENERATIONS


THE LOST COLONY

Cast of The Lost Colony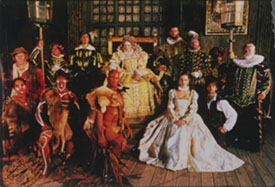 an outdoor symphonic drama, intended to run for just one season back in 1937, has since played to more than three million audience members and is still going strong.

The history of the this outdoor drama began in 1937 when Pulitzer Prize-winning Playwright Paul Green was commissioned to write the play. The subject: America's "lost colony" of men, women and children who sailed from Plymouth, England, in 1587 to begin a new life on Roanoke Island in the "New World." After establishing America's first English settlement, the 117 colonists disappeared with hardly a trace, leaving historians and archaeologists with a mystery that has never been solved.

To tell this story, Green envisioned a collaborative production that involved the blending of song, dance, drama, special effects, lighting and music "all working together like the cooperative sections of a symphony orchestra in moving the characterization and story line of the piece." He called it, "symphonic drama."

Roanoke Islanders, who had been staging and performing in a series of "pageant dramas" about the lost colony since the turn of the century, embraced Green's idea. And the play took on a special meaning in 1937, a year that marked the 350th anniversary of the birth of Virginia Dare, the first child born in the New World. Not even the Great Depression could dampen the community's spirits. The enthusiasm was contagious.

Work on the 2,000-seat Waterside Theatre was begun on the grounds of the Fort Raleigh National Historic Site, where the historic events took place. Thanks to the Civilian Conservation Corps, local men were hired to help build the theater and were cast as extras. The famous Westminster Choir was brought in to perform the musical segments of the show. As for the stars, the Federal Theatre Project of the Works Progress Administration made it possible to employ professional actors for the principal performing roles. A popular British stage performer, Katherine Cale, was cast as the heroine, Eleanor Dare. With its much-heralded debut, The Lost Colony opened to two, back-to-back performances on July 4, 1937. Brooks Atkinson, drama critic for the New York Times, reviewed the show that summer: "The Lost Colony has made an extraordinary versatile use of spectacle, pantomime and cadence speech. Paul Green has written a history with a compassion that turns its characters into unconscious symbols of a brave new world."

Thousands of visitors flocked to see the production. President Franklin Delano Roosevelt himself attended the Aug. 18 performance, watching from his car parked atop the hill at Waterside Theatre.



Andy Griffith as Sir Walter Raleigh. Photo from The Lost Colony photo archives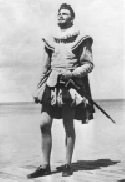 Cindi Griffith in the role of Eleanor Dare. Photo from The Lost Colony photo archives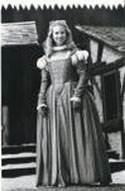 This season The Lost Colony officially dedicated its 66th production season to Cindi and Andy Griffith who are both alums of The Lost Colony. Andy performed in the production from 1947 to 1953, leaving the production as Sir Walter Raleigh. Cindi performed from 1976 to 1979, her final year in the role of Eleanor Dare.

Intended to run for just one season, The Lost Colony continued, at times, under trying circumstances. During World War II, production was suspended for four years when the threat of German U-boats prowling the coast made an extended blackout necessary. Local support was again tested in 1947, when a disastrous fire destroyed the theatre – rebuilt under the guidance of its architect, Albert Quentin "Skipper" Bell, in just six days. Not even a natural disaster could keep The Lost Colony down. When Hurricane Donna swept across Roanoke Island in 1960, the production opened the following summer with the help of the National Park Service.



William Ivey Long's $25,000 Act II Queen's dress being fitted on Lisa Bridge, who plays Queen Elizabeth. Photo courtesy The Lost Colony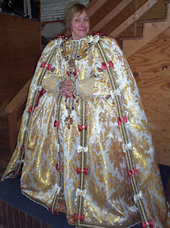 This year, the acclaimed Broadway actor Terrence Mann once again added his own theatrical flair to the show's direction. The lavish sets and costumes are designed by Tony Award-winning costume designer William Ivey Long who holds an undergraduate degree in history from The College of William and Mary and a master's of fine arts degree in stage design from Yale University. This is also the season when Long unveiled two new resplendent dresses, each valued at approximately $25,000 - made possible by a grant from the Josephus Daniels Charitable Trust, Raleigh, NC.

"William wanted to base the dress on actual portraits of Elizabeth from the 16th century," said Carl V. Curnutte III, who assisted Long throughout the entire process of creating the new costumes. "So, what we tried to do was actually find portraits that existed," Curnutte explained. "But, what we also had to keep in mind was the historical and theatrical aspect of the show as well. So, that's why the fabrics that were chosen…the colors…are not exactly like the portraits; because we have to bring it to life on stage."

The two new garments are based on the Armada Portrait at Woburn Abbey by George Gower ca. 1588, and the Hardwick Portrait by Nicholas Hilliard ca. 1575.

Along with the amazing new dresses, which were created by Werner Kulovits and Janet Bloor at Euro Co. Costumes, an entirely new set of accessories for the dresses were also designed.



A costumer puts some finishing touches on the Queen Dress used in Act I. Photo courtesy The Lost Colony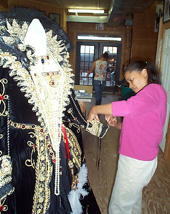 "When it came to the wigs," said Curnutte, "Brian Mear, who is also an assistant in New York, and I went shopping, chose the colors and everything like that. And, Paul Huntley, who is probably one of the most famous wig designers in the world, winning an honorary Tony this year - Hairspray - he actually gave of his time to design the wigs. So, that's quite remarkable in itself."

New jewelry to adorn the Queen's frock was created by Larry V'rba. Curnutte explained that the jewelry was, "all based on historical fact. If you look at any of Elizabeth's portraits you will see these kinds of pieces. And, [V'rba] really gets into historical detail. And, it's really not that often that you actually get to design things for the sixteenth century."

Even Waterside Theatre looks better than ever, having undergone an extensive renovation that includes new stadium-style seating, improved restroom and concession areas, state-of-the-art audio equipment, a new lighting system and new backstage facilities for the performers.

The 65th production season of The Lost Colony opened June 2 and runs nightly except Sunday through Aug. 22, at Waterside Theatre.

UNTO THESE HILLS This outdoor drama, performed each summer since 1950 at Mountainside Theater in Cherokee, North Carolina, portrays the history of the Cherokee from 1540 through 1838, the period of impact from European exploration and settlement. It culminates in the infamous forced removal of all but a remnant of the tribe from their native lands to Oklahoma, a journey known as "the trail of tears."

The drama is preceded by musical entertainment provided by the production company, approximately one-half of which are members of the Eastern Band of Cherokee.



Cherokee descendants play important roles in the drama and dances, highlighted by the colorful and world-famous Eagle Dance.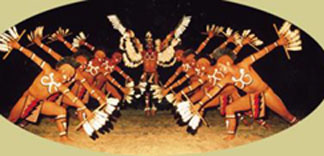 Adjacent to Mountainside Theater is the Oconaluftee Indian Village, a replica of a Cherokee community ca. 1750 containing structures from the period, including a seven-sided council house. Cherokee artisans demonstrate pottery making, bead working, basketry, flint chipping, carving, building a dug-out canoe, and weaving. Guided tours provide historical and cultural background for visitors to the village, which is open from mid-May to late October. Both the village and the drama are operated by the Cherokee Historical Association.

In 1948, the Cherokee Historical Association began seeking an author to write a play about the history of the Cherokee, a play that would be staged at the Mountainside Theater then under construction in Cherokee, NC. Samuel Selden, then-chair of the Department of Dramatic Art and director of the Carolina Playmakers, recommended Kermit Hunter, and the young playwright won the commission. Hunter completed the play, Unto These Hills, in early 1949 and offered it as his M.A. thesis. The same year, the North Carolina legislature appropriated $35,000 for the production. The Mountainside Theater opened the play on July 1, 1950.

Performances nightly except Sundays at Mountainside Theatre Cherokee Indian Reservation, Western North Carolina.



4th ANNUAL HOLLYWOOD BOWL OF FAME CONCERT AND GALA

Roger Daltrey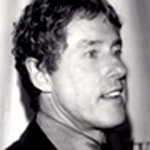 on Friday, June 27, benefits Music Matters, the Los Angeles Philharmonic's Music Education Programs. Inducted into the Hall of Fame will be; Rock 'n' roll legend Roger Daltrey, who will again be featured on the Bowl stage later this summer when he plays Alfred P. Doolittle in an August 3 production of My Fair Lady, also starring John Lithgow and Melissa Errico with the Hollywood Bowl Orchestra. Also being inducted into the Hall of Fame are; Tony and Olivier award-winning actress/singer Patti LuPone; The Smothers Brothers, Tom and Dick, America's legendary music and comedy team; Emmy and Tony award-winning actor Nathan Lane; and distinguished, trailblazing conductor Leopold Stokowski (1882 - 1977), who founded the Hollywood Bowl's 1940's symphony orchestra and is familiar to generations as the conductor in the Disney classic Fantasia.

Principal Conductor John Mauceri and the Hollywood Bowl Orchestra, celebrity presenters, and special performances by Daltrey, LuPone, and the Smothers Brothers. Mauceri leads the Stokowski tribute, performing some of Stokowski's orchestral arrangements and introducing film clips. Also on tap for the evening is the Unsung Hero award, which recognizes Los Angeles educators, presented by singer Josh Groban, newly appointed Music Matters spokesperson for the Los Angeles Philharmonic Association. The 2003 Hollywood Bowl Hall of Fame inductees join the distinguished company of John Williams and Garth Brooks (2000), Marilyn Horne, Monty Python, Stevie Wonder, Bonnie Raitt, and John Raitt (2001), and Bernadette Peters, Randy Newman, George Harrison, and Kathleen Battle (2002), who have been inducted into the Hollywood Bowl Hall of Fame since its inception in 2000.

THE MARTIN BECK THEATRE will be renamed the Al Hirschfeld Theatre in honor of the late illustrator whose drawings depicted the stars and personalities of Broadway for most of the 20th century. The official dedication and renaming ceremony, titled 100 Years of Al Hirschfeld -- A Celebration, will take place on Monday, June 23.

Supervised by Jerry Zaks, the ceremony will feature appearances by Marge Champion, Carol Channing, Barbara Cook, Jules Feiffer, Whoopi Goldberg, Kitty Carlisle Hart, Arthur Miller, Brian Stokes Mitchell, Nathan Lane, Hal Prince, Andy Rooney, and others. Hirschfeld died on January 20, 2003; he would have been 100 years old on June 21.

Hirschfeld becomes the only visual artist to have a theater named after him.

In addition to the renaming, the theater will undergo renovations including the installation of a new marquee and the establishment of a permanent gallery featuring 22 of Hirschfeld's drawings, each representing a show that played at the Martin Beck.

NATIONAL HERITAGE FELLOWSHIPS Las Vegas resident Norma Miller, one of the creators of the acrobatic style of swing dancing known as the Lindy Hop, is one of the recipients of prestigious 2003 NEA National Heritage Fellowships, the country's highest honor in the folk and traditional arts.

As a child, Miller watched the dancers at the legendary Savoy Ballroom perched on the fire escape outside her mother's Harlem apartment. When she was 12, she was "discovered" dancing outside the Savoy, and in 1934 was invited to join Whitey's Lindy Hoppers, soon to make an extended tour of Europe.

Upon her return, she appeared in the Marx Brothers' movie A Day at the Races (1937), and from 1937 to 1940 Miller performed with Ethel Waters. Pursuing a career in both dance and comedy, she began working with comedian Redd Foxx in 1963 and later joined him on the 1970's television series Sanford and Son serving as both a stand-up comic and choreographer.

In addition to a rich and long career as a dancer, Miller has become a seminal historian of swing dance. Her biography, Swingin' at the Savoy: A Memoir of a Jazz Dancer, documents the swing dance era, and her recollections on Ken Burns's Jazz documentaries provided a first-hand account of the Harlem music and dance scene. Today she teaches swing dance, including master classes at Stanford University and the University of Hawaii, and has choreographed dance scenes in Spike Lee's Malcolm X and Debbie Allen's Stompin' at the Savoy.

The 2003 recipients of National Endowment for the Arts National Heritage Fellowships are eleven fellowships, which include a one-time award of $20,000 each, are were presented to honorees from nine states and one special jurisdiction. Sixteen awardees were chosen for their artistic excellence, authenticity, and contributions to their field. Three of the fellowships will be shared by collaborative partners. Carmencristina Moreno will receive the Bess Lomax Hawes Award for service to the folk and traditional arts field as a whole.

2003 National Heritage Fellowship Recipients

Rosa Elena Egipciaco, Mundillo (Puerto Rican bobbin lace) (New York, NY)
Agnes "Oshanee" Kenmille, Salish beadworker and regalia maker (Ronan, MT)
Norman Kennedy, Weaver, singer, storyteller (Marshfield, VT)
Roberto and Lorenzo Martinez, Hispanic musicians (Albuquerque, NM)
Norma Miller, African American dancer, choreographer (Las Vegas, NV)
Ron Poast, Hardanger fiddle maker (Black Earth, WI)
Felipe and Joseph Ruak, Carolinian stick dance leaders (Commonwealth of the Northern Mariana Islands)
Monoochehr Sadeghi, Persian santur player, (Sherman Oaks, CA)
Nicholas Toth, Diving helmet designer/builder, (Tarpon Springs, FL)
Basque (Bertsolari) Poets Jesus Arriada (San Francisco, CA), Johnny Curutchet (South San Francisco, CA), Martin Goicoechea (Rock Springs, WY) and Jesus Goni (Reno, NV)

In 1982 the National Endowment for the Arts established the National Heritage Awards as a way of honoring American folk artists for their contributions to our national cultural mosaic. Based on the Japanese "National Living Treasures" concept, the idea began with Bess Lomax Hawes, then director of the Folk Arts Program. Since its inception, over 200 artists have received the Heritage Award.


PROJECT SALUTE DRAWS TOP STARS


The first entertainment tour to the Persian Gulf region since Operation Iraqi Freedom - Project Salute 2003 - took place this past week, with a host of entertainers and professional athletes paying tribute to the men and women of the U.S. and coalition armed forces. The tour included performances, movie screenings, basketball clinics and visits with service members in various locations in the region.

Participating were Project Salute celebrities:

Mr. Las Vegas Wayne Newton, the Dallas Cowboys Cheerleaders, Magic Johnson, Kid Rock, Rebecca Romijn-Stamos and her hubby, John Stamos, actor Gary Sinise, model-actress Alyssa Milano, model/TV hottie Leeann Tweeden, Troy Hudson, actress Brittany Murphy, the Nappy Roots, country stars Lee Ann Womach, Chely Wright, Neal McCoy, and Paul Rodriquez, Bubba Sparzzz, Cherokee Parks, Duce Staley, Bob Lanier, Jason Taylor, Mark Madsen and Shawn Marion.

The tour is a cooperative effort of the Defense Department's Armed Forces Entertainment Office, the USO, the Intrepid Museum Foundation, Tribeca Film Institute, Vanity Fair, MTV and the National Basketball Association. Northwest Airlines provided transportation.

Project Salute was founded in December 2002, when Robert De Niro visited service members at MacDill Air Force Base in Tampa, Fla., with General Tommy R. Franks. During that visit, the Tribeca Film Institute held a special screening of the film Analyze That for 1,500 service members.


SWEET CHARITY


THERE'LL BE ANOTHER SPRING: A TRIBUTE TO MISS PEGGY LEE

Peggy Lee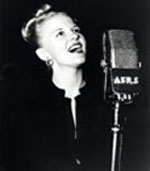 is being staged by Richard Barone. Presented by the JVC Jazz Festival. The gala benefit concert for the Society of Singers takes place Monday, June 23 at New York's Carnegie Hall. This event is the brainchild of singer/songwriter/event producer Richard Barone - the former leader of the Bongos and the guy who, at the age of 17, produced Tiny Tim, and before making it to the big time, worked as an extra on As The World Turns.

The uniquely vibrant evening will shed light on Peggy Lee's remarkable career as the epitome of pop- jazz sophistication. Featuring all-star special guest artists and Peggy's own favorite rhythm section: Mike Renzi, Grady Tate, Bucky Pizzarelli, and Jay Leonhart.

Guest stars include: Bea Arthur, Dee Dee Bridgewater, Jackie Cain, Ann Hampton Callaway, Peter Cincotti, Petula Clark, Freddy Cole, Cy Coleman, Eric Comstock, Chris Connor, Corky Hale, Deborah Harry, Shirley Horn, Marian McPartland, Ronnie Milsap, Jane Monheit, Rita Moreno, Maria Muldaur, Nancy Sinatra, Mike Stoller, and more. Don't expect the usual. Song choices will favor the late Lee's own compositions, with collaborators like Coleman, Duke Ellington, and Johnny Mandel and obviously include such classics as Manana and He's a Tramp, plus those written especially for her by the likes of Leiber & Stoller and Paul McCartney. Original arrangements by Gordon Jenkins, Nelson Riddle, and Quincy Jones, among others, will also be featured.

Expect Nancy Sinatra and Deborah Harry to sing a medley from Disney's Lady and the Tramp. Bea Arthur knockin' Big Spender to the rafters. With Marian McPartland at the piano Jackie Cain will put a bossa-nova beat to the Peggy Lee–Marian McPartland ballad In the Days of Our Love. After an introduction by Mike Stoller, a film of Miss Peggy Lee performing Is That All There Is will cap off the evening. Lee died in January 2002 at the age of 81.



THE LOVER AND BACCHANALIA

Graphic by Tony Walton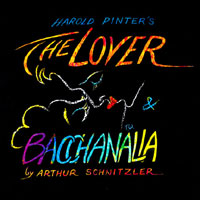 The Lover by Harold Pinter with Bacchanalia by Arthur Schnitzler, translated by Eugene Brogyanyi. Directed by Daniel Gerroll.

Lies, betrayal, deceit . . . three elements, two plays, one voyeuristic journey into relationships and the humorous complexity of life and love. In Pinter's witty mindplay, the merits of monogamy are put to the test, exposing an equation in which man plus wife equals quite an unexpected assemblage. Bacchanalia makes a mischievous partner for the evening . . .the repercussions of one simple night of unrestricted freedom prove "how paradoxical life can be".

Performances to Sunday, June 28th at the Bay Street Theatre in Sag Harbor, NY.

Bay Street Theatre is a not-for-profit 300-seat professional theatre, founded in 1991 by Sybil Christopher, Stephen Hamilton and Emma Walton. Operating from March through December.

LAST CHANCE FOR A SLOW DANCE by Zach Helm, the creator and executive producer of the television series Other People's Business for the upcoming WB season. He is a merit scholar graduate of DePaul University. This world premiere stars John Heard. Last Chance for a Slow Dance is one of the Main Stage attractions of New York Stage and Film's 2003 summer season at Vassar College's Powerhouse Theatre running June 28-July 12.

FLESH AND BLOOD by Peter Gaitens. Adapted from the novel by Michael Cunningham. Directed by Doug Hughes the Pulitzer Prize winner for The Hours. This play is the epic story of three generations of an American family, beginning in the 1930s with the arrival of Greek immigrant Constantine Stassos in New York City. The story spans one hundred years, illuminating how, like many American families, the dreams of a single immigrant are played out and transformed by succeeding generations. In an on-going cycle, each generation of the Stassos family both alters and is altered by its moment in time, until we find a family remarkably different than that of its roots.

The cast includes acclaimed performers Jessica Hecht, Cherry Jones, Martha Plimpton, Jeff Weiss, Patricia Buckley, Airrion Doss, Sean Dugan, Peter Frechette, Peter Gaitens, Chris McGarry and John Sierros.

Set design by Christine Jones. Costume design by Paul Tazewell. Lighting design by Scott Zielinski. Original Music and Sound design by David Van Tieghem.

Flesh and Blood is the third in an on-going series being produced by the Workshop entitled Cradle and All: The Changing American Family.

First preview, Saturday, June 28; opening night, Wednesday, July 16; final performance, Sunday, August 24. Post-performance discussions will take place on July 8, July 9, July 22 and July 23 at the New York Theatre Workshop in New York City.

FOREST CITY A World Premiere by Bridgette Wimberly, the author of Off-Broadway's St. Lucy's Eyes which starred Ruby Dee (See Broadway To Vegas column of April 29, 2001)

This new play will be staged at Drury Theatre Cleveland Playhouse beginning October 21. Seth Gordon will direct.

Forest City is based on the true story of Forest City Hospital. It's the 1960's, and J.T., a laborer for the railroad, does his best to raise his family, pay the mortgage and maintain self-respect, despite an ailing heart. Cleveland's first African-American hospital wants to expand to help people just like J.T. But others see the plan only as the destruction of a neighborhood that includes J.T.'s house.

WE ALL WENT DOWN TO AMSTERDAM a world premiere by Bruce Norris directed by ensemble member Amy Morton featuring Stephanie Childers, William Dick, ensemble member K. Todd Freeman, ensemble member Tom Irwin, Joanna Maclay and Jim Mohr

At a typically charmless nursing home, the resident troublemaker, Woody, is being confronted by a visitor from his past - past he can barely remember - a hilarious, dark comedy about the futility of trying to connect.

Scenic design - Todd Rosenthal; costume design - Mary Ellen Park; lighting design - JR Lederle; sound design - Ray Nardelli;stage manager - Michelle Medvin.

Performances to July 13 at the Steppenwolf Studio Theatre in Chicago.

SAY GOODNIGHT GRACIE The Life, Laughter & Love of George Burns and Gracie Allen starring Frank Gorshin, will launches its 26-city National Tour on September 2nd at Connecticut's acclaimed Hartford Stage. Penned by Tony and Emmy Award-winning writer Rupert Holmes and staged by veteran Tony-nominated director John Tillinger. Didi Conn will again supply the voice of Gracie Allen.

The play originally made its world debut two years ago in Ft. Lauderdale and garnered the Carbonelle Award for Best New Play in 2000. It was further developed and remounted for the Broadway and touring production.

Say Goodnight Gracie will feature scenery by Scenic Consultant John Lee Beatty, lighting designs by Howard Werner and multimedia design utilizing some never before seen film clips of Gracie and George from George's personal archives as well as classic footage from their various films and television shows by Howard Werner and Peter Nigrini. The production will play its final performance on Broadway, Sunday, August 24th.

LITTLE HOUSE ON THE PARODYa co-creation of Becky Eldridge and Amy Petersen, is a loving, campy homage to the popular Little House TV show and books. Protagonist Laura Ingalls struggles to find her place in a tough pioneer world where crops go bad, snowstorms last for weeks, sisters go blind, brothers get hooked on morphine, and where Nellie Oleson can attack at any moment. Complete with a live orchestra - banjo, mandolin, guitar, piano, drum, flute and ukulele.

Andy Eninger directs the cast which includes Lis Bill, Ross Foti, Amanda Buchthal, Dan Buchthal, Joseph Cranford, Todd Edwards, Becky Eldridge, Dori Goldman, Megan Hovde, Ed Jones, Christopher Karbo, Bob Ladewig, Amy Petersen, Pat Shay, Amy Starks.

Songs are by Eninger, with musical direction by Matt Denny, Thomas Pace and Stephanie McCullough. The musicians include; Chris Marshall, Debbie Flavell, David Goss, David Lykins, Lori Wagner, Darius Gross and Michael Powers. Set design by Remigio Gudin.

Opened June 21 with performances through August 16 at The Playground Theater, Chicago.


| | | |
| --- | --- | --- |
| | | |
WHO'S WHERE


MARIAH CAREY on various television programs touting her new world tour, emphasizing she is deliberately playing only small venues, so that she can have a personal, intimate feeling with her fans. Nothing says up close and personal quite like a throng of thousands. Carey is performing in such homey little places as the Colosseum at Caesars Palace in Las Vegas July 27. Other cozy stops include Air Canada Center, The Greek Theatre, the Dodge Theatre in Phoenix, the Broward Center in Ft. Lauderdale, Radio City Music Hall in NYC, the Trump Taj Mahal, and that establishment always noted for its intimate warmth - the Kremlin Palace in Moscow. She must still go by that same yard stick she used when she staged the small intimate wedding she shared with now ex-husband Tommy Mottola.

2003 HAMPTON JAZZ FESTIVAL with Anita Baker, Earth, Wind & Fire, India.Arie, Gladys Knight, Maze featuring Frankie Beverly, George Benson, Michael McDonald, The Isley Brothers featuring Ronald Isley, The Crusaders featuring special guest Randy Crawford, BWB featuring Rick Braun, Kirk Whalum and Norman Brown, David Sanborn, The Emotions, The Dramatics, Ray, Goodman & Brown, The Jeff Golub Band and The Harold Blanchard Trio.

Hampton Coliseum in Hampton, Virginia. June 16-19.

ELAINE STRITCH brings her Tony-winning one-woman show, Elaine Stritch at Liberty, to Toronto's Elgin Theatre for six-performances June 23-28. This will be Stritch's only Canadian date on her Liberty tour.

LYLE LOVETT on stage Wednesday in Post Falls, Idaho at the Greyhound Park Amphitheatre. On Thursday and Friday he performs at the Summer Nights @ The Pier festival in Seattle, Washington. Saturday the show is at the Arlene Schnitzer Hall in Portland, Oregon and next Sunday he is centerstage in Bend, Oregon at the Les Schwab Amphitheater.

PEARL JAM perform tonight at the DTE Energy Music Theatre in Clarkston, Michigan. On Monday they are at the Air Canada Centre in Toronto. On Wednesday the show is at the Merriweather Post in Columbia, MS. Thursday they are at Madison Square Garden in NYC. Saturday the place is the Mohegan Sun Casino in Uncasville, CT and next Sunday the they are in Wantagh, New York at Tommy Hilfiger at Jones Beach Theatre.

GALLAGHER that watermelon basher and stock exchange attention getter, brings his hammer and sense of humor to the Sandia Casino in Albuquerque, New Mexico on Thursday, June 26. Raincoats are needed for those in the front rows. However, nobody will be fined for letting him into the venue. Arthur Gross, a floor broker at the New York Stock Exchange, was recently fined $1,000 as punishment for sneaking the unusual comedian onto the trading floor as part of a prank again another trader, Peter Tuchman. Gallagher had a large chunk of watermelon hidden in his pocket. He removed the fruit and smashed it over Tuchman's head. Video surveillance cameras on the floor of the Big Board captured the action and Gross was promptly disciplined. Insiders say he could face a hearing and further prosecution, including suspension.

PETER CINCOTTI entertaining Wednesday at the World Financial Center Plaza in NYC. He has a two nighter Thursday and Friday at the Montreal Jazz Festival. On Saturday he'll be pleasing the crowds at the Munson Williams Proctor Institute in Utica, New York. Next Sunday he can be enjoyed at the Performing Arts Center in Westhampton Beach, NY.

MIKHAIL BARYSHNIKOV dancing up a storm June 25-26 at the Grand Opera House in Wilmington, Delaware. On June 28-29 he'll show off those moves at the James Rouse Theatre in Columbia, MD.

HEART singing tonight in Atlanta, Georgia at the Chastain Park Amphitheatre. On Tuesday they'll perform their hits at the Mizner Park Amphitheatre in Boca Raton, Florida. Thursday finds the group at the House of Blues in Lake Buena Vista, Florida. On Friday the show is at the Beau Rivage in Biloxi, Mississippi and on Saturday they are on stage at the AmSouth Amphitheatre in Antioch, Tennessee.

AN EVENING WITH CAROL CHANNING STARRING RICHARD SKIPPER as Richard performs his tribute to Carol Channing's amazing life and career with musical director John Bowen. Special guest is Diana Templeton. June 23 at The Duplex in NYC. On June 25 at The Duplex Skipper will present "Working or How to make a living on the road in Cabaret." This two hour symposium, given by Skipper and his manager Stefi Sanev, hones in on how to maximize your earning potential on the road as a Cabaret performer. Topics include: Maximizing your visibility through the Internet - Setting up a Home Office, Self Promotions & Marketing - Getting the Gig - Finalizing the Deal, Maximizing Ticket Sales - Presenting the Show - Networking & Follow-up. Seating is limited so reservations are required. Call 212-591-1957 for reservations and information.

B.B. KING AND JEFF BECK team up on a summer tour kicking off in Las Vegas July 25 at Mandalay Bay Events Center.

OLIVIA NEWTON JOHN centerstage tonight at the Fox Theatre in St. Louis, Missouri.

MICHAEL BUBLE in the spotlight tonight at the Fox Theatre in St. Louis, Missouri. On Wednesday he's performing at the Birchmere in Alexandria, Virginia. On Friday and Saturday he entertains at Zanzibar Blue in Philadelphia.

PETER GABRIEL performs this evening at the Nissan Pavilion in Bristow, Virginia. On Tuesday he entertains at Tommy Hilfiger at Jones Beach Theatre in Wantagh, New York. Thursday finds him at the Marcus Amphitheatre in Milwaukee and on Saturday he is in the spotlight at the Tweeter Center in Tinley Park, Illinois.

MONTEREY BLUES FESTIVAL considered one of the premiere Blues Festivals in the country The 18th Annual Monterey Bay Blues Festival will be held the weekend of June 27-29.

Among the numerous acts performing, during the 18th annual event, are; Average White Band, the Temptations, Paul Wood, Reno Jones, Blind Boys of Alabama, Lisa Carr, Mae Jackson, Lou Rawls, Karen Tyler, Willie Clayton, Lonnie Brooks, Bishop Mayfield, Sam Taylor, Kelley Hunt, Shane Dwight, Annie Sampson and Charlie Musselwhite.

DOOBIE BROTHERS perform Saturday, June 28th at the Nemacolin Woodlands Resort in Farmington, PA.

NORAH JONES on stage Monday and Tuesday at the Beacon Theatre in NYC. On Friday the show is in Holmdel, New Jersey at the P.N.C. Bank Arts Center. On Saturday the performance moves to the Fleet Boston Pavilion in Boston, MA.

PRESERVATION HALL JAZZ BAND have a full week. Today they perform at the Jazz Festival in Calgary. Tomorrow they are at the Jazz City International Music Fest in Edmonton, Alberta. Tuesday finds them on stage at the Vogue Theatre in Vancouver. Wednesday the McPherson Playhouse in Victoria, B.C. will be jumpin' and then the gang crosses the border to perform Thursday in Santa Monica, California at the Santa Monica Pier and on Friday at the Barclay Theatre in Irvine, California.

ARLO GUTHRIE participating in the Tollwood Festival in Munich, Germany on Saturday.

TONY BENNETT next Sunday, June 29, in Birmingham, England at Symphony Hall.

DIANE SCHUUR next Sunday, June 29, at the Athletic Stadium in Rohnert Park, California.

ORNETTE COLEMAN father of "free jazz," brings his trio to Carnegie Hall Wednesday night. Charlie Haden and Michael Brecker are also performing.

CHICK COREA & FRIENDS Thursday night. at Avery Fisher Hall at Lincoln Center, NYC.

DAVE AND SHIRLEY that's the Dave Brubeck Quartet followed by the Shirley Horn Trio. Friday night at Carnegie Hall.
















Next Column: June 29, 2003
Copyright: June 22, 2003. All Rights Reserved. Reviews, Interviews, Commentary, Photographs or graphics from any Broadway To Vegas (TM) columns may not be published, broadcast, rewritten, utilized as leads, or used in any manner without permission, compensation/credit.
Link to Main Page
---
Laura Deni


CLICK HERE FOR COMMENT SECTION