! >
Broadway To Vegas
  SHOW REVIEWS     CELEBRITY INTERVIEWS     GOSSIP     NEWS 
| | |
| --- | --- |
| | |
Copyright June 22, 1998
By: Laura Deni
CLICK HERE FOR COMMENT SECTION

THE JUDAS KISS
A man and woman are in bed engaged in a convincing portrayal of oral sex. They definitely had the audience's attention.

The play about Oscar Wilde, running through August 2nd at The Broadhurst Theatre, contains 20 minutes of male nudity, all with dramatic purpose and none of it in the form of the show's star, Liam Neeson. He's made it clear that he's not showing himself in the altogether for the paltry sums thrown at Broadway actors. He's saving his naked body for the big bucks movie deal. Nobody can blame him. Nor does he have to take it all off to deliver a poignant portrayal of the gifted playwright Oscar Wilde.

Unfortunately, Neeson was passed over during this season's theatre awards. Perhaps, to his credit, Liam makes acting the emotional duality of the flawed literary icon look just too easy. He does such an understated, delft interpretation of Wilde that it's easy to think the skill he delivers on stage must not take any work - one of the marks of an excellent actor.


Liam Neeson as Oscar Wilde and Tom Hollander as Lord Alfred Douglas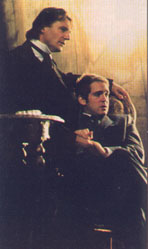 This is a play about a real man. One whose words will live forever and whose lifestyle destroyed him. Wilde was married to a lawyer's daughter and fathered two sons. A Protestant, he was curious about Roman Catholicism. He was a homosexual who was betrayed by his lovers. In 1891 he began an affair with Lord Alfred Douglas. In l895, shortly after his play The Importance of Being Ernest opens in London his private world begins to crumble. He receives a card, sent to him by The Marquis of Queensberry, addressed to him as "Oscar Wilde posing as a Somdomite (sic) " That so ticked off Wilde that he attempts to sue The Marquis of Queensberry for libel. Among other things, the Marquis of Queensberry was also the father of Wilde's lover, Alfred Douglas. The public airing of the private dirty laundry opened up a can of worms that would be Wilde's downfall.



OSCAR WILDE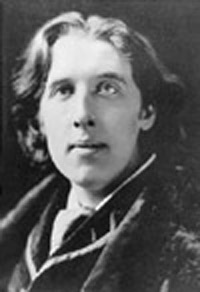 His case against the Marquis of Queensberry doesn't stand up. At that point Wilde is arrested on charges of engaging in homosexual practices. After three trials, Wilde was convicted of sodomy, sentenced to two years in prison with hard labor and subjected to orchestrated humiliation.

His destitute family had to auction off his possessions. His wife was forced to flee England. To protect the children, their surnames were changed to Holland. They were enrolled in schools in Monaco and Germany, while she found refuge in Genoa, Italy. That is where she died in 1898 at the age of 39, still in love with her husband. Not so with Wilde's lover and nemesis, Lord Alfred Douglas, who bailed out. Oscar Wilde died in a cheap Paris hotel room in l900.

The Judas Kiss begins with Wilde arriving back at his hotel suite after losing the libel trial. He refuses to flee England while the getting out is still good. His concern is not over his forthcoming arrest, which he knows is a given. Rather, his coping skills coupled with his alcoholic consumption have him concerned over the preparation and quality of his luncheon lobster. His life is in an out of control downward spiral. Wilde grasps at dignity by overtipping the servants with other people's money. He's manipulated and destroyed by the men he loved.

This is a marvelous production, which is better appreciated if one already has knowledge of Wilde's life.

The Judas Kiss is brilliantly written by David Hare, and effectively directed by Richard Eyre. In addition to Neeson, the play stars Tom Hollander as Lord Alfred Douglas, Stina Nielsen, Alex Walkinshaw, Richard Clarke, Peter Capaldi and Daniel Serafini-Sauli.

Effective set designs by Bob Crowley and lighting by Mark Henderson are right on. It's a production not to be missed, although you might because the show closes Aug, 2nd. The closing notice isn't because of poor box office, but because that is the time frame for which Liam Neeson committed to the production. As he recently told me, he needs to get back to movies to make some real money. It's a gift to all theater goers that he has given so much of his time to this production. Make an effort to see it before it closes. You won't be disappointed.


IT'S A BOY!!


Congratulations to Heather and Tony Randall, who welcomed their second child, and first son, into the world on Monday, June 15th. The 7-pound, 2-ounce boy was named Jefferson Salvini Randall, after two performers of the late 1800's. Joseph Jefferson was a comic actor and Tommasso Salvini, an Italian actor highly acclaimed for his interpretations of Shakespeare's tragedies.

Tony had said that if he had a son he'd like to teach the boy how to act. It appears that little Jefferson is already a trooper. The lad graciously made his bow into the world on a Monday, the one day of the week The National Actors Theatre, home of The Sunshine Boys, in which Randall co-stars with Jack Klugman, is dark.

Waiting at home is Jefferson's sister, Julia Laurette. Prior to Viagra possibilities, the age of 77, Randall became a first time father. Julia was born April 11, l997 and named Julia for Randall's mother and Laurette for Laurette Taylor, a Broadway actress who died in 1948.



Tony and Heather Randall Photo By: Laura Deni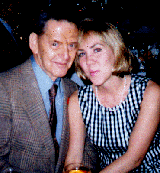 The doting father, who had attended all prenatal doctor visits with his wife and Lamaze birthing classes, immediately announced he had been extremely close to his own sister while growing up, and wanted Julia to have a brother.

When Randall was 75 he married the then 25-year old Heather Harlin. The emotional five-minute ceremony on November 17, 1995 took place in the Blue Room at City Hall, officiated by Mayor Rudolph Giuliani, who selected the 17th century British marriage service. Randall's wife of 54 years, Florence, died in 1992. The couple had been childless, although they had once considered adoption, but the blessed event never materialized. The union with Randall was Heather's first marriage. Heather, and now their two children, have provided Tony with happiness and fulfillment he never dreamed he'd ever experience.

In addition to endless television, movie and stage credits, Randall is the life force behind The National Actors Theater. He has contributed more than $1 million of his own money. Thanks to his tireless promotional efforts and unyielding commitment, he has provided a top-level repertory company. The massive project also had a fringe benefit - it's how he met Heather. She was an actress at his theater. On their wedding the night the couple reported for work. Tony was starring in the farce The School for Scandal, and his bride was the understudy for the role of his ward.


DEAN MARTIN LOVED HER
Dorothy Hamill Photo By: Laura Deni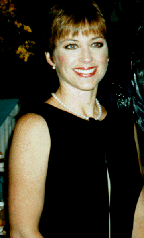 Dorothy Hamill captured America's hearts in Innsbruck, Austria bringing home the 1976 Olympic gold medal as well as winning the 1976 U.S. Figure Skating Championship.

In 1984 she was Skater of the Year, skating's equivalent of an Oscar. She also took home an Emmy as hostess and star of CBS-TV special Romeo and Juliet on Ice. On June 29th she will open in Las Vegas in the Stardust's Hotel's award-winning stage extravaganza Enter The Night. Her special engagement runs through Aug. 30th.

The talented lady is no stranger to the lights and lifestyle of Las Vegas. For two years she was Dean Martin's daughter-in-law, married to his beloved son, Dean Paul. The marriage ended in a l984 divorce and both went on to other marriages.

Dean Martin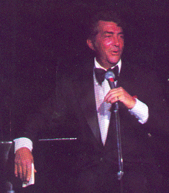 Dean-Paul was killed two weeks after she remarried, when the fighter plane he was piloting crashed. Hamill always spoke lovingly of Dean-Paul. "We still love each other and we remain best of friends."

Dean Martin once told me that he adored Dorothy and as far as he was concerned he would always love her and view her as a daughter-in-law. Dean also told me that Dorothy had taught him to ice skate. Dean never owned up to how many lessons or whether he even had any aptitude for being balanced on anything other than a bar stool.

The artist who created the ice skating maneuver The Hamill Camel, a hair style called The Hamill Wedge, and even launched a Dorothy Hamill doll, is the author of the 1984 Children's Book of the Year, Dorothy Hamill, On and Off the Ice. While she has performed many times in Las Vegas the Stardust Hotel engagement is her first as part of a production show.


TENOR IN THE TOMATO PATCH
Michael Crawford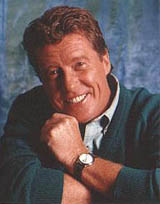 The original Phantom of the Opera star, that's Michael Crawford, in concert at Radio City Music Hall June 30th and July 1st, with special guest Dale Kristin and featuring Windham Hill recording artist David Arkenstone.

After leaving Phantom of the Opera Crawford starred at the MGM-Grand Hotel, Las Vegas in EFX.

The gracious Crawford was born in Britain, drinks English breakfast tea with milk sipped through a straw, and remains a country gentleman at heart.

While living in Las Vegas he planted some tomato plants. After his second show of the night, Crawford returned home at about 2 a.m. and determined his cherished tomato plants were thirsty. So, he decided to water them. Suddenly his boyish looking face was staring into police spotlights.

It seems the neighbors heard rustling noises in the yard. Thinking there was a criminal about to do serious damage they summoned the police, who converged upon the neighborhood. Crawford, clad in a bathroom and bedroom slippers, holding a garden hose, explained to the bemused gendarmes that he was simply watering his tomatoes.



Broadway To Vegas is supported through advertising and donations. Priority consideration is given to interview suggestions, news, press releases, etc from paid supporters. However, no paid supporters control, alter, edit, or in any way manipulate the content of this site. Your donation is appreciated. We accept PAYPAL. Thank you for your interest.


TAP YOUR TROUBLES AWAY

Tap Dogs, a non-traditional high-energy tap sensation featuring unique music, dance and theatrical elements that originated in Australia, finds a permanent home in Las Vegas, with a July 3rd opening at the Stratosphere Hotel. Previously, "Tap Dogs" performed a limited engagement at the MGM-Grand Hotel earning rave reviews.

The international award winning show was created and choreographed by Australian Dein Perry. Tap Dogs depicts the themes of Dein's six years as an industrial machinist in Newcastle, a steel town north of Sydney. Dein and his Newcastle tap dancing mates including younger brother Sheldon, first formed Tap Brothers, an early incarnation of Tap Dogs, in l990.

From this, Dein was offered the chance to choreograph the West End musical Hot Shoe Shuffle, which brought the group to London and earned Dein his first London West End Olivier Award in l995. A subsequent offer from the Sydney Theatre Company led to the collaboration with designer director Nigel Triffitt and composer Andrew Wilkie, which resulted in the creation of Tap Dogs.

Awards raked in include; the London West End Olivier Award for choreography, which is the UK's equivalent of a Tony - and a 1997 Drama Desk Award nomination for Best Choreography. The production was also honored with a 1997 Obie Award as well as the prestigious Spoletto Festival's Pegasus Award.

In Las Vegas they'll be tapping their screws loose in a contract that calls for a six-night per week performance schedule, dark Mondays, with two shows nightly. Tickets priced at $24.95 per person, plus tax.


EVERYBODY NEEDS A HOBBY; FOOTBALL, PAINTING, YARD SALES

LYNN ANDERSON former Country Singer of The Year, is out of the hospital and hobbling around, recovering from having a hip totally replaced.

Anderson, 50, who picked up a Grammy for her recording of I Never Promised You a Rose Garden picked up a few thorns in her backside when she was tackled too hard while playing her favorite sport - football. Lynn now lives in Taos, New Mexico and when she isn't watching Monday Night Football on TV she is playing it in her own back yard.

She's not sure exactly what happened - she was running, got tackled and went splat. Next thing she knew she was in the operating room receiving a new hip. The hard nosed football fan can't wait until she is fully recovered - so she can get back to playing football.

In the meantime, Lynn opens June 25th at John Ascuaga's Hotel-Casino in Sparks, Nevada. She'll be performing with Tony D'Andrea through July 8th.


NATASHA RICHARDSON, star of Cabaret makes her "yard sale" necklace look like the crown jewels.
With her is her handsome husband, LIAM NEESON, who stars in The Judas Kiss.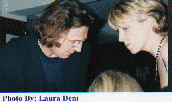 NATASHA RICHARDSON recently attended a New York function wearing a big ticket, designer label, black number that showed off her figure to perfection.

Dangling from her swan like neck was a fabulous necklace.

Complimented on her choice of elegant jewelry, the delightful Cabaret star divulged that she and her hunk of a husband, Liam Neeson, enjoy shopping at New York street fairs.

The bobble was a cheap bit of jewelry that they ran across while bargain hunting.

Goes to prove that if you're beautiful enough the most inexpensive item can look like a million bucks.

RANDY TRAVIS who will be appearing in Chicago, Ill., and Des Moines, Iowa this week spends his free time sitting in his hotel room painting.

He's now working in acrylics.

To keep his creative juices flowing the performer downs a breakfast of three eggs, grits and tomatoes.


WHO'S WHERE

ALEC BALDWIN will narrate 26 episodes of Thomas the Tank Engine & Friends on the Fox Family Network.

ROSELAND BALLROOM in New York City is the place to be June 25 if you'd like to audition for Goosebumps - Live On Stage, slated to open Sept. 23rd at the Saenger Theater, Pensacola, Florida. Cross country tour includes 30 cities. Thursday's casting call is for talent ages 9 to 40.

LINDA EDER who portrays the prostitute Lucy in Dr. Jekyll and Mr. Hyde and, in real life, is the lady married to the show's composer, Frank Wildhorn, leaves the production Aug. 30th.

NOAH WYLE is spending his ER hiatus on the boards at a Burbank, California theater.

Next Column June 28, 1998.
Copyright: June22, 1998. All Rights Reserved. Reviews, Interviews, Commentary, Photographs or Graphics from any Broadway To Vegas (TM) columns may not be published, broadcast, rewritten, utilized as leads, or used in any manner without permission, compensation and/or credit.
Link to Main Page
---
Laura Deni




For the snail mail address, please E-mail your request.
CLICK HERE FOR COMMENT SECTION