! >
Broadway To Vegas
  
  REVIEWS INTERVIEWS COMMENTARY NEWS

| | |
| --- | --- |
| | |
CAST RECORDING OF NEVERMORE CD REVIEW - -PUNK ROCK - - TONY WINNER ANNALEIGH ASHFORD PERFORMS IN LAS VEGAS - - THE MELBOURNE, AUSTRALIA CABARET FESTIVAL - - THE 19TH ANNUAL ELECTRIC DAISY CARNIVAL - - 2015 LATIN RECORDING ACADEMY PERSON OF THE YEAR - - BRAVO TO RICKY GERVAIS - - HABSBURG SPLENDOR: MASTERPIECES FROM VIENNA'S IMPERIAL COLLECTIONS - - DONATE . . . Scroll Down
















Copyright: June 21, 2015
By: Laura Deni
CLICK HERE FOR COMMENT SECTION


CAST RECORDING OF NEVERMORE - THE IMAGINARY LIFE AND MYSTERIOUS DEATH OF EDGAR ALLAN POE IS INTRIGUING AND BIZARRE


Eerie, Steampunk, gothic, haunting and beautiful, Nevermore – The Imaginary Life and Mysterious Death of Edgar Allan Poe is a unique opera-like musical play about the strange life and mysterious death of one of the world's most famous and fascinating writers. The original cast recording has been released on Broadway records.

The stage version didn't contain live musical accompaniment - rather all music was pre-recorded. Thus, the CD is precisely what was heard on stage.

It has been released as a double-disc CD, which consists of underscored verse and songs ranging from Weimar cabaret tunes to rock power ballads, blending fact and fiction to tell the fascinating story of Edgar Allan Poe's tormented yet transcendent life.

Nevermore, taken from the title of Poe's famous 1845 poem, is a macabre musical written, composed, and directed by Jonathan Christenson, with production design by Bretta Gerecke, sound design by Wade Staples, and voice, music track production by Matthew Skopyk, and speech and text direction by Betty Moulton.

Both the CD and digital versions of the Nevermore album contain stunning photographs of the show's unique characters, designs and stage imagery contributed by photographers Joan Marcus, Richard Termine, David Cooper, and Ryan Parker. The surreal imagery - lampshade hoopskirts, mile-high top hats, horrifying prosthetic and puppet effects - are crucial in bringing to life the author's inner demons, agony and unthinkable torments, which oozed into his literary successes.

The Nevermore album's liner notes provide a detailed synopsis that, in addition to the show's plot, also includes historical details of Poe's life, thus "making the Nevermore album an ideal tool for educators and students of Poe's life and writings," according to the official description.

Indeed, this 2-disc CD is a God-send to anyone attempting to educate about Poe. A gold standard for how to use a theatrical production to educate.

If you don't know zip about Poe before listening to Neverland, you'll become transfixed. When the CD ends, you'll not only be glad you listened, but want to learn more.



Scott Shpeley as Edgar Allan Poe. Photo: Joan Marcus.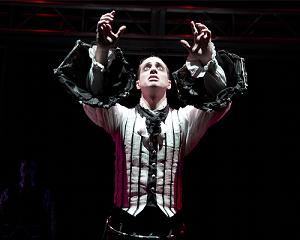 Told almost entirely in nursery-rhyme couplets, punctuated by gothic power ballads, the songs contains lyrics which are taken from Poe's poetry: To One in Paradise, Eulalie, A Dream Within a Dream, Eldorado, Israfel, Tamerlane, Spirits of the Dead, Tamerlane, Hymn, To F -, To F-s S, O--d, Lenore, The Raven, The Happiest Day/The Happiest Hour, Annabel Lee, To Helen, The Conqueror Worm as well as Poe's book Marginalia and the Valentine's Day poem written by Virginia Clemm Poe.

Edgar Allan Poe was an American author, poet, editor, and literary critic, considered part of the American Romantic Movement. Best known for his tales of mystery and the macabre, Poe was one of the earliest American practitioners of the short story, and is generally considered the inventor of the detective fiction genre. He is further credited with contributing to the then emerging category of science fiction. He was the first well-known American writer to try to earn a living through writing alone, resulting in a financially difficult life and career.

Born in Boston on January 19, 1809, he was the second child of English-born actress Elizabeth Arnold Hopkins Poe and actor David Poe, Jr. He had an elder brother, William Henry Leonard Poe, and a younger sister, Rosalie Poe.

He was also a troubled alcoholic and gambler.



Scott Shpeley as Edgar Allan Poe and Shannon Blanchet as Elmira Royster. Photo: Joan Marcus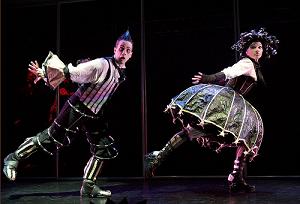 According to historians, his father abandoned the family in 1810, and his mother died the following year. Thus orphaned, the child was separated from his siblings when he was taken in by John and Frances Allan, of Richmond, Virginia, who had been admirers of his actress mother. Although they never formally adopted him, Poe was with them into young adulthood and assumed their surname as his middle name.

John Allan and Edgar repeatedly clashed over debts, including those incurred by gambling, and the cost of Edgar's secondary education. Poe attended the University of Virginia for one semester but left due to lack of money when his new father figure disinherited him. His new mother figure, Frances Allen, succumbed to mental illness in 1829.

His first attempt at love to Sarah Elmira Royster was destroyed by the girl's disapproving parents.

Poe secretly married Virginia Clemm, his first cousin, on September 22, 1835. He was 26 and she was 13, though she is listed on the marriage certificate as being 21. On May 16, 1836, he had a second wedding ceremony in Richmond with Virginia, this time in public.

One evening in January 1842, Virginia showed the first signs of consumption, now known as tuberculosis, while singing and playing the piano. Poe described it as breaking a blood vessel in her throat. She only partially recovered. Poe began to drink more heavily under the stress of Virginia's illness. On January 29, 1845, his poem The Raven appeared in the Evening Mirror and became a popular sensation. Though it made Poe a household name almost instantly, he was paid only $9 for its publication.

Virginia died on January 30, 1847. Biographers and critics often suggest that Poe's frequent theme of the "death of a beautiful woman" stems from the repeated loss of women throughout his life, including his wife.

Increasingly unstable after his wife's death, Poe attempted to court the poet Sarah Helen Whitman, who lived in Providence, Rhode Island. Their engagement failed, purportedly because of Poe's drinking and erratic behavior. There is also strong evidence that Whitman's mother intervened and did much to derail their relationship. Poe then returned to Richmond and resumed a relationship with his childhood sweetheart, Sarah Elmira Royster, who was now a widow. They and they lived happily together until his truly mysterious death a short time later.



The Ghost Bride. Photo by David Cooper.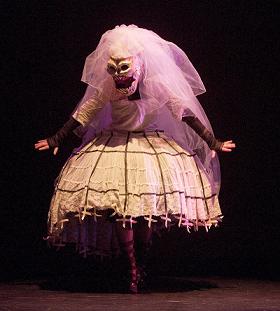 On October 3, 1849, Poe was found on the streets of Baltimore delirious, "in great distress, and. . . in need of immediate assistance", according to the man who found him, Joseph W. Walker. He was taken to the Washington Medical College, where he died on Sunday, October 7, 1849, at 5:00 in the morning. He was 40. Poe was never coherent long enough to explain how he came to be in his dire condition, and, oddly, was wearing clothes that were not his own. Poe is said to have repeatedly called out the name "Reynolds" on the night before his death, though it is unclear to whom he was referring. All medical records, including his death certificate, have been lost. Newspapers at the time reported Poe's death as "congestion of the brain" or "cerebral inflammation", common euphemisms for deaths from disreputable causes such as alcoholism.

The cause of his death is unknown and has been variously attributed to alcohol, brain congestion, cholera, drugs, heart disease, rabies, suicide, tuberculosis, and murder.

Nevermore's poetic dialogue, eerie sound effects, Steampunk aesthetic, underscored verse, and haunting songs are stunning.

From the first bars of the bombastic opening the listener is given notice that what they are about to hear will transport them into another realm.

Nevermore could have turned into the intellectual's version of Rocky Horror - annual stagings around Halloween with patrons dressed as their favorite characters - except there is no barn burner of a Time Warp, leading a march to the Altar of Poe. Not one song to serve as an anthem.

Rather, Nevermore is fascinating, consistent story telling about the macabre life and death of one of the world's greatest writers.



Fanny and Jock Allan. Photo: joan Marcus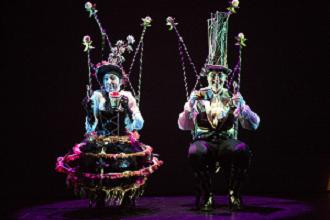 The cast, young Canadians most of whom have been with the production since the beginning, are excellent.

The cast recording features performances from Scott Shpeley as Poe. When Shpeley's not performing in theatre he's the frontman of the band The Play Plays. The Canadian based actor/musician is a graduate of the professional actor training program from the University of Alberta.

Gaelan Beatty as Henry Poe, Shannon Blanchet as Elmira Royster, Beth Graham doing triple play as Rosalie Poe, Fanny Allan, and Sissy Clemm, Ryan Parker as Rufus Griswold, Garett Ross as David Poe and Jock Allen, and Lindsie VanWinkle as Elia Poe, Louise Gabrielle, and Muddy Clem.

Listening to this CD comes close to what it must have been like listening to an old time radio drama. You become mesmerized, almost starring at the player, as people once stared at the red light on the radio, permitting the mind and ear to create listening magic.

Nevermore was first work-shopped in 2008, at Keyano College in Fort McMurray; premiered in Canada in 2009 at Catalyst Theatre, a limited 2010 run at The New Victory Theatre in New York in addition to a London run, before moving Off-Broadway to New World Stages where it was mounted from January 14, 2015 to March 29, 2015. Nevermore was expanded since its first New York appearance in 2010, with several new songs added and structural revisions made to the original script.



Broadway To Vegas is supported through advertising and donations. Priority consideration is given to interview suggestions, news, press releases, etc from paid supporters. However, no paid supporters control, alter, edit, or in any way manipulate the content of this site. Your donation is appreciated. We accept PAYPAL. Thank you for your interest.






ART AND ABOUT


HABSBURG SPLENDOR: MASTERPIECES FROM VIENNA'S IMPERIAL COLLECTIONS

Diego Rodriguez de Silva y Velázquez, Infanta Maria Theresa, c. 1652/53, oil on canvas, Kunsthistorisches Museum, Vienna.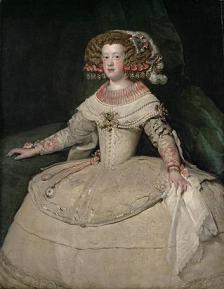 see the spectacular treasures amassed by one of Europe's longest-reigning dynasties. This major exhibition showcases masterworks and rare objects from the collection of the Habsburg Dynasty - the emperors of the Holy Roman Empire and other powerful rulers who commissioned extraordinary artworks now in the collection of the Kunsthistorisches Museum in Vienna.

Largely composed of works that have never traveled outside of Austria, Habsburg Splendor explores the dramatic rise and fall of the Habsburgs and their global empire, from their political ascendance in the late Middle Ages, to the height of their power in the 16th and 17th centuries, to the expansion of the dynasty in the 18th and 19th centuries, and ultimately its end in the early 20th century at the conclusion of World War I.

The story unfolds through more than 90 works of art, including arms and armor, sculpture, Greek and Roman antiquities, court costumes, carriages, decorative-art objects, and paintings by masters such as Caravaggio, Correggio, Giorgione, Rubens, Tintoretto, Titian, and Velázquez.

Habsburg Splendor comes to the Museum of Fine Arts, Houston, after debuting at the Minneapolis Institute of Arts (MIA) in February 2015. At the Museum of Fine Arts Houston through September 13, 2015, the exhibit will open at the High Museum of Art in Atlanta in October 2015.

ENERGIES: HAINES AND HINTERDING Australian artists David Haines and Joyce Hinterding live and work in the Blue Mountains, NSW.

Their collaborative practice incorporates experimental and traditional media to investigate Hinterding's fascination with energetic forces and Haines' attraction to the intersection of hallucination and the environment.

Both artists are captivated by the unseen energies that surround us and seek to reveal them to audiences through work that draws upon aspects of science, the occult and philosophy.

The artists work across a range of media and processes, including sound, installation, moving image, performance, sculpture, photography and drawing.

This exhibition is the first comprehensive survey of their work and includes a number of key collaborative projects, solo works by both artists, and a new commission. Curated by MCA Curator, Anna Davis.

June 25 - September 6, 2015 at the Museum of Contemporary Art (MCA) in Sydney, Australia.









SWEET CHARITY


THE 19TH ANNUAL ELECTRIC DAISY CARNIVAL wrapping up today, Sunday, June 21, 2015 at the Las Vegas Motor Speedway.

With triple digit heat, extra cooling stations and misters were installed, as were pop up hospitals and water stations. 150 thousand party goers tripped out to performances by more than 200 DJ's performing on eight newly designed stages, as well as carnival rides, a firework show, and performances by Above&Beyond, Andy C, Andrew Rayel, Astrix, Calvin Harris, Carl Cox, Dieselboy, Fatboy Slim,Justin Martin, Kaskade, Moby, Myon & Shane54, Nicky Romero Z-Trip, and about 200 more artists.

Along with mind blowing events, there is a charity aspect to the EDC. A new partnership with eBay Giving Works, an EDC Week Charity Auction, has proceeds going to Culture Shock Las Vegas, a group using dance to steer youth away from substance abuse, violence and hatred. Auction experiences include Making Sushi with Krewella at Nobu, Flight from LA to Vegas with Datsik, DJ booth experiences with some of the biggest artists in the world including Above&Beyond, Martin Garrix, Steve Angello and more.

CLAY WALKER CHARITY CLASSIC GOLF TOURNAMENT takes place June 26 – 30, 2015 in Pebble Beach, CA.

Annually, friends and supporters of Clay Walker and Band Against MS (BAMS) gather for the Clay Walker Celebrity Charity Classic.

This event will feature three days of golf at the prestigious Pebble Beach Golf Links, Spyglass Hill Golf Course and The Links at Spanish Bay. The tournament's main occasion, the Grand Gala Event and Dinner, will feature a special performance by Clay Walker and his band. Guests will have the opportunity to meet and mingle with Clay Walker and other celebrity participants, enjoy fine dinner cuisine and cocktails as well as participate in the silent and live auction.


OPERA ON TAP GETS SEXY AT THE BRICK'S F*CKFEST JUNE 23-29


Do you like a little sex with your opera? Opera On Tap does. Are you curious to learn more about your own sexual proclivities? Opera On Tap is.

June 23-29, Opera on Tap presents an immersive evening of sex education, opera-style, as part of The Brick's first ever F*ckfest (a "sextival" featuring new works with unique, playful, and subversive approaches to sexuality).

Coursework includes scenes from The Inner Circle a sexually blunt new opera about the charismatic visionary Dr. Alfred Kinsey, by composer Daniel Felsenfeld paired with provocative performances and readings by burlesque star Nasty Canasta (and friends). Eye candy and condoms provided free of charge with class enrollment.

Opera on Tap has been bringing opera to the uninitiated in bars, rock venues, and other alternative spaces since 2005. Born in the backroom of Freddy's Bar in Brooklyn, Opera on Tap now has sixteen national chapters.

The Brick and its company, The Brick Theater, Inc, were founded in 2002 by Robert Honeywell and Michael Gardner. Winner of the The Caffe Cino Fellowship Award, The Brick is Williamsburg, Brooklyn's "destination for cutting-edge theatrical experience." The Caffe Cino Fellowship Award is presented to an Off-Off-Broadway theatre company that consistently produces outstanding work. This award also includes a grant ($1,000-$5,000) to be used toward an Off-Off-Broadway production.







SPREADING THE WORD


BRAVO TO RICKY GERVAIS for taking a public stand again the China Solstice Yulin Dog Meat Festival during which thousands of dogs and cats are cruelly and sometimes brutally slaughtered for their meat.

The Summer Solstice takes place today, Sunday, June 21, 2015.

Last week the actor took to his Twitter account calling the festival organizers "disgusting" and "sub human."

"They believe torturing the dog makes the meat tastier," he wrote. "They beat them, burn them, skin & boil them alive! They steal people's pets to torture & eat. What would you do to someone who you caught torturing your dog? I hope you'd stop them somehow," penned Gervais.

The Humane Society International said the animals, "many still wearing their collars," are being transported to the city in the country's southern Guangxi province to be slaughtered and then eaten during the annual event.

Humane Society International sponsored a workshop to help people in China fight the event, and protests were staged in 50 Chinese cities. The agency said that as many as 10,000 canines could be killed for this event and stressed that up to 10 million dogs are killed in China for meat every year.

The so-called 'festival' was reportedly banned by the local government, but animal welfare advocates have no faith in the ban which, thus far, has not stopped the slaughter of the animals, according to numerous press reports.

According to The Independent, the slaughter of cats and dogs for meat is not outlawed in China, and the local government in Yulin says it cannot stop legitimate businesses preparing the meat.

The tradition of eating dog and cat meat on the summer solstice is ages old

JANE AUSTEN SUMMER BALL themed Emma, in celebration of the 200th anniversary of the publication of the book, takes place June 27 at The Guild Hall in Bath, England.

The ball is a "costumed event and all ladies and gentlemen dress in the style of the Regency or 18th Century period. The look is known as the Empire line, with a high waist just below the bust, very flattering and feels wonderful to wear."

Tickets for the Ball include entrance, the dancing, entertainment and a light buffet with tea and coffee after the meal and water available on the tables. The food prepared by Abstract Occasion is billed as "delicious."

"There is no need to bring a partner of the opposite sex or indeed a partner at all, as you will be made most welcome even if you come on your own. Dances are called by the wonderful Diana Campbell and the live music is supplied by the superb trio Green Ginger. For those wishing to take a break and try another popular 18th Century pastime, the card tables are organized by our good friends from Select Society."

AUSTRALIAN INTERNATIONAL MUSIC FESTIVAL celebrating its 26th year in 2015 the Australian International Music Festival is one of the most popular and best attended events. With an average of 900 - 1,300 participants each year, there are groups from Australia, China, New Zealand, Japan, Singapore and the USA providing a fantastic musical and cultural experience.

This Music Festival is open to groups of all types but in particular Wind Bands, Orchestra, Choirs and Jazz Bands. As well as performing at the Sydney Opera House, participants will also perform at venues such as the City Recital Hall and Darling Harbour.

World Projects South Pacific aim to expand your mind with workshops from world class clinicians flown in from around the world and cultural exchanges with other bands most of whom share your passion but speak another language, "an experience not to be missed."

June 27-July 4, 2015 in Sydney, Australia.

THE MERRY WIDOW

Renée Fleming and Kelli O'Hara in The Merry Widow. Photo: The Met.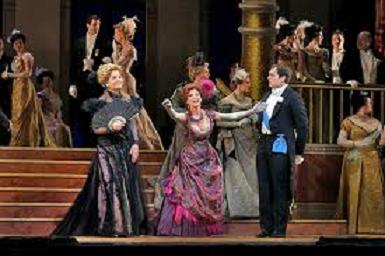 a lavish new mounting of Lehár's effervescent operetta was staged by The Metropolitan Opera in December 2014. It was seen live in movie theaters on January 17, 2015 as part of the groundbreaking The Met: Live in HD series, which transmits live performances to more than 2,000 movie theaters and performing arts centers in over 70 countries. The production used a superb talent mix from the worlds of Opera and Broadway.

Last Friday night it aired on PBS as part of the Great Performances at the Met series. It will be rerun tonight, June 21 - and hopefully have encore performances.

Making her Met debut as director and choreographer was Tony Award winner Susan Stroman who didn't miss a step. Also making his Met debut was six time Tony Award winner William Ivey Long whose costumes were the epitome of perfection. The color combinations made ever scene look as though a Rembrandt painting had come to life. Lush lighting design by Paule Constable. Effective set design by Julian Crouch.

The breathtaking performance stars soprano Renée Fleming as Hanna, the widowed Pontevedrian millionairess. Sir Andrew Davis conducts the stellar cast that also includes baritone Nathan Gunn as Hanna's lover Danilo; tenor Alek Shrader as the young nobleman Camille de Rosillon; and baritone Sir Thomas Allen as the scheming Baron Zeta. Broadway star and newly minted Tony Award winner Kelli O'Hara, made her Met debut as the Baron's coquettish wife Valencienne.

The frothy operetta composed by Franz Lehar with librettists Viktor Leon and Leo Stein, is performed in English, in Jeremy Sams' new translation. While Lehár's best-known composition has been an audience favorite since its 1905 premiere and features a great deal of well-known music, including the Vilja Song, Then Off to Chez Maxim, and the Merry Widow Waltz, this presentation is revitalizing.

Mezzo soprano Joyce DiDonato hosts the broadcast.

THE MELBOURNE, AUSTRALIA CABARET FESTIVAL curtained up on June 18 with an Opening Gala hosted by Rob Mills. Two weeks of atmospheric, seductive and soul-stirring entertainment across the city is now underway with 30 shows spread across Melbourne's four most exciting cabaret venues.

The Closing Gala, slated for June 28, at the Melba Spiegeltent includes: Mike McLeish as the auctioneer - The Narelles; Alan Brough & Casey Bennetto - Christie Whelan Browne performing excerpts from Show People, accompanied by Mathew Frank - Mikelangelo - Multiple-award winning and uber-talented songstress Gilliam Cosgrief - Alysia Rose - Alice Tovey accompanied by Ned Dixon and The Glee Club.

THE HUMMINGBIRDS by Garret Jon Groenveld will have staged reading on Monday, June 22, 2015 at the SoHo Playhouse, NYC.

This two-hander will feature Ellen McLaughlin and Eric Berryman and will be directed Eric Tucker who was named by The Wall Street Journal as Director of The Year, 2014.

Welcome to a very special room in the Bureau of Unemployment in a possible near future where unemployment, multiple wars, and domestic terrorism are just a bit worse than they are today. Not to mention that if you've been out of work for too long, a job is assigned to you. It may not be a job you are qualified to do. It may not be a job that's safe for anyone to do. But you have to do it. Your future is in their hands.

The Hummingbirds was developed as part of the inaugural Writers in Residence program at the Playwrights' Foundation in San Francisco. It was the winner of the 2012 Global Age Project as well as the winner of the 2012 Internationalists' Global Playwriting Competition. It has had development support from the Playwrights' Foundation, Red Fern and the Lark Play Development Center and is being developed by producers Molly Morris and Patrick Blake for a New York production.

The evening is part of The 2015 TRU Voices Play Reading Series, the 17th annual series of new plays by TRU writers produced by TRU producers. The reading will be followed by a Dollars and Sense panel discussion with industry leaders Georgia Buchanan, Neil Danoff and Jeremy Handelman. Attendees will be given an insider's look at the producing process and the development track for a new play. An encore presentation of The Hummingbirds will be held Tuesday June 23rd at the Desotelle Black Box theatre, in the Times Square Arts Center.

AN UNUSUAL CLOUD COVER

Cloud cover over Dubai taken from the top of Burj Khalifa. Photo by: Luo Zhenni.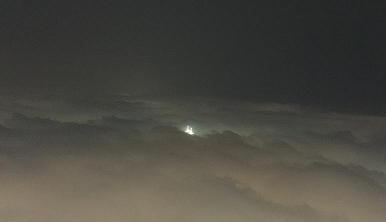 took place last Thursday, June 18, 2015, in Dubai, United Arab Emirates.

This photo was taken from the top of the tallest building in the world - the 2,722 ft tall Burj Khalifa.

Clouds virtually covered the entire city of Dubai, which has a population of over two million.

According to the photographer Luo Zhenni, "It's very unusual. Normally, the cloud cover only happens in the winter, and only after the rain. It lasts only 40 minutes. Those clouds come from sea."

Ironically, the only thing visible are minaretes from a Mosque on what was the first night of Ramadan, which honors the time when Prophet Mohammed, via the angel Gabriel, first received the words of Allah.



ROBERTO CARLOS who has been selected as the 2015 Latin Recording Academy Person of the Year.

The internationally acclaimed Brazilian performer and singer/songwriter will be honored at a star-studded tribute concert on Wednesday, November 18 at the South Pacific Ballroom of the Mandalay Bay Convention Center in Las Vegas.

Recognized as O Rei (The King) Roberto Carlos was chosen for his important artistic and social contributions to Latin music and culture. The celebration will feature songs from Roberto Carlos' vast catalog performed by an impressive array of notable artists and friends to be announced in the months to come. A significant portion of the net proceeds from the gala will benefit the Latin Grammy Cultural Foundation - which provides scholarships, fellowships, grants, and educational programs year-round. The prestigious event will precede the 16th Annual Latin Grammy Awards, taking place at the MGM Grand Garden Arena in Las Vegas, and broadcasting live on the Univision Network on Thursday, November 19.

BEN CORBETT-SMITH formerly Associate Professor of Voice and Acting at Oklahoma City University, has joined the William Inge Center for the Arts at Independence Community College in Kansas as Theatre Instructor for Fall 2015.

Corbett-Smith is a Designated Linklater Voice Teacher (Shakespeare & Co. 2012). He teaches Utah Hagen's approach to acting, Kristin Linklater's vocal progression, phonetics, and accents, using Louis Colaianni's Phonetic Pillows. His professional vocal coaching credits include Shakespeare Dallas, City Rep, the William Inge Theatre Festival, Nashville Shakespeare Festival, Oklahoma Shakespeare in the Park, Barter Theatre, Burning Coal Theatre Company, Bare Theatre, and Shakespeare Santa Cruz.


HANG IN THERE


SIR JOHN HURT the twice Oscar nominated actor who has been diagnosed with pancreatic cancer.

The 75-year-old said he would continue working despite the diagnosis and undergoing treatment.

Some of his most famous roles include 1978's Midnight Express, for which he was Oscar nominated. His performance as the deformed Joseph Merrick in The Elephant Man many consider his greatest role.

He was knighted earlier this year for his services to drama.

TOMMY CHONG who has disclosed that he is battling rectal cancer. In 2012 he was diagnosed with prostate cancer.

The Cheech and Chong star, now 77, doesn't let medical issues slow him down. He appeared in season 19 of ABC's Dancing with the Stars two years after his first diagnosis. He became the oldest contestant to make it to the semifinals.

RENEE BAIO 42, wife of Happy Days star Scot Baio who announced on his Facebook page that his wife has been diagnosed with a brain tumor.

"Just a few days ago we learned my wife, Renee has a meningioma brain tumor. Although 90% of these type of tumors are benign they can cause serious problems depending on the size of the tumor and the location. We are waiting to learn the exact location to see if its operable.

"Renee has been down some rough roads in her life, yet each time with her strong faith in God, she comes through a better and stronger person," he adds. "During this time we ask for your prayers and support.

"My wife is my rock. She refuses to even shed one tear, nor will she question God's will. Renee, Bailey and I will get through this and along the way maybe help educate others to get checked out (MRI with contrast) as 6,500 people each year, mostly women get these tumors."

Bailey is the couple's 7-year-old daughter.

Treatments for meningioma can include chemotherapy, radiation therapy or surgery.



PUNK ROCK by Simon Stephens.

Directed by Lara Macgregor.

Billed as "ferociously funny and unnerving, Punk Rock explores underlying jittery tensions, hormonal headiness and potential violence in a group of affluent seventeen-year-old students as they begin to plan for university and the rest of their lives. But, when a new classmate arrives, suddenly friendships are tested and allegiances shift amidst the pressures of everyday adolescence. They are faced with a very real danger that could swallow them whole."

In a first-time collaboration with the University of Otago Theatre Studies Programme, Fortune Theatre "this collaboration brings together a raw young cast that exposes the violence simmering under the surface of achieving success."

June 27 - July 18, 2015 at the Fortune Theatre in Dunedin, New Zealand.

OTHER PEOPLE'S MONEY A drama by Jerry Sterner.

Directed by Lonny Price.

Starring Jason Alexander.

It's the good-bad old days-of 1987, the later Reagan years, when all was fair in love and business. Lawrence Garfinkle is an expert at buying up undervalued companies and liquidating them for a profit, and he's the kind of guy you love to hate. But will he win in his newest attempt at domination when he comes up against a surprising adversary, the brilliant and beautiful lawyer Kate Sullivan?

Suspenseful and funny, this greed-filled drama is as timely and titillating today as it was when it first premiered.

June 23 - July 26 at the Bay Street Theatre in Sag Harbor, NY.

DISNEY'S MY SON PINOCCHIO features songs by Academy and Grammy Award-winning songwriter Stephen Schwartz, and book by David Stern. It premiered under its former name Disney's Geppetto & Son at The Coterie Theatre, Kansas City, MO June 27 to August 6, 2006.

In Disney's My Son Pinocchio, the classic tale of toymaker Geppetto's little wooden puppet is given new life. This new musical, which retells the classic Disney story from Geppetto's perspective, features the beloved classic songs When You Wish Upon a Star and I've Got No Strings, alongside a host of new songs by Oscar- and Grammy Award-winner and master melodist Stephen Schwartz, tackling timely issues about what it means to be "the perfect child" – and what it means to be "a real father."

The Blue Fairy, the puppeteer Stromboli, and a lively cast of characters are involved with Geppetto as he journeys beyond the toy shop to discover the meaning of family. When the Blue Fairy grants Geppetto's wish to bring his beloved puppet to life, the new father quickly learns that being a parent is full of challenges. He struggles to make his son "the perfect boy" only to lose him to a gang of Roustabouts. It is only when faced with the thought of never seeing Pinocchio again that Geppetto truly learns the joys of being a father and loving your child unconditionally.

This family-friendly musical is appropriate for all audiences and is a magical mix of heartwarming fairytale and action-packed adventure. Audiences will love following Pinocchio's journey from an awkward wooden puppet to a real, live boy and will be charmed by Geppetto's transformation from demanding creator to a real, live father.

June 24-28 at the Music Theatre Wichita in Wichita, Kansas.

LA TRAVIATA by Giuseppe Verdi.

Director and Librettist: Robin Norton-Hale. Re-orchestrator: Harry Blake.

The story of Violetta, a so-called 'fallen woman' who sacrifices her own happiness for the sake of her lover's family and future, this production is set in the 1920s underworld of speakeasies and bootlegging and reveals the hypocrisy and heartache behind the glittering façade of parties.

With Verdi's much-loved melodies orchestrated for a trio of clarinet, cello and piano by composer Harry Blake, this La traviata "will serenade you, seduce you, and break your heart."

Piano: Elspeth Wilkes, Alex Beetschen.
Violetta: Elinor Jane Moran, Prudence Sanders, Louisa Tee.
Alfredo: Robin Bailey, Philip Lee, Lawrence Olsworth-Peter.
Germont:David Durham, James Harrison, Andrew Mayor.
Flora: Flora McIntosh, Rosie Middleton, Zarah Hible.
Baron / Doctor: Dario Dugandzic, Christopher Jacklin, Tom Bullard.
Clarinet: Sarah Douglas, Chris Goodman.
Cello: Alison Holford, Jay Jenkinson, William Rudge.

Set Designer: Katie Bellman Costume Designer: Jonathan Lipman Lighting Designer: Andrew May.

Olivier Award winning OperaUpClose's debut performance at the Tricycle Theatre in Kilburn, UK takes place June 22 - July 4. Some of the performances were sold out as far back as January.

THE ADDAMS FAMILY book by Marshall Brickman and Rick Elice. Music and lyrics by Andrew Lippa. Based on characters created by Charles Addams.

Directed by Carolyn Coulson. Music Direction by Karen Keating. Choreography by Edward Carignan.

Charles Addams' kooky, spooky cartoon family is brought to life as Morticia and Gomez fret over daughter Wednesday, who invites her new boyfriend and his "normal" family to visit, with comically chaotic results.

June 25 – July 5 at the Shenandoah Summer Music Theatre which produces four Broadway musicals each summer in the beautiful 630-seat Ohrstrom-Bryant Theatre on the campus of Shenandoah University in Winchester, VA. Eleven performances are given of each musical over a two-week period, drawing audiences from a 150-mile radius with groups traveling in from as far away as Ohio and North Carolina.

THE PRODUCERS music and lyrics by Mel Brooks. Book by Mel Brooks and Thomas Meehan.

Directed by Mark Waldrop.

Choreographed by Tara Jeanne Vallee.

Based on the hit 1968 film of the same name, this Mel Brooks comedic masterpiece follows the hilarious adventures of washed-up Broadway producer Max Bialystock, and his mousy accountant Leo Bloom, as they scheme to get rich quick by producing the most notorious flop in the history of show biz! The Producers won a record twelve Tony Awards, including Best Musical, Best Book of a Musical, and Best Musical Score.

June 24-July 26, 2015 at the Olney Theatre in Olney, Maryland.

TWELFTH NIGHT by William Shakespeare.

Directed by Rebecca Taichman.

Everything we love about Shakespeare - romance, music, poetry, laughter, swordplay, great characters, and even a girl in pants! -is in Twelfth Night, one of the Bard's true comic masterpieces. Shipwrecked and alone in foreign Illyria, young Viola masquerades as a boy and becomes the go-between for the lovesick Duke Orsino and the beautiful Countess Olivia. Soon Viola finds herself in the middle of a topsy-turvy love triangle with lunacy on every side. Visionary director Rebecca Taichman returns to the Globe with a stunning production of one of Shakespeare's most perfect plays.

Featuring: Amy Aquino (Maria), Terence Archie (Orsino), Manoel Felciano (Feste), Robert Joy (Malvolio), Patrick Kerr (Andrew Aguecheek), LeRoy McClain (Sebastian), Tom McGowan (Sir Toby Belch), Rutina Wesley (Viola), and Sara Topham (Olivia), with Old Globe/USD M.F.A. Program actors Amy Blackman (Ensemble), Lindsay Brill (Ensemble), Charlotte Bydwell (Ensemble), Lowell Byers (Antonio, Sea Captain), Ally Carey (Ensemble), Jamal Douglas (2nd Officer), Tyler Kent (Curio), Makha Mthembu (Ensemble), Daniel Petzold (Fabian), Megan M. Storti (Ensemble), Nathan Whitmer (1st Officer), and Patrick Zeller (Valentine).

The Creative Team includes: Chase Brock (Choreographer), Riccardo Hernandez (Scenic Design), David Israel Reynoso (Costume Design), Christopher Akerlind (Lighting Design), Sten Severson (Sound Design), Todd Almond (Original Music), Ursula Meyer (Voice and Text Coach), Jim Carnahan, CSA (Casting), Samantha Greene (Production Stage Manager).

June 21 – July 26, 2015 at Lowell Davies Festival Theatre of The Old Globe in San Diego's Balboa Park.

BEHIND THE MASK - A PLAY by Feng BaiMing and Huang WeiRuo. Adapted by Yangtze Repertory Theatre.

Directed by Chongren Fan.

A play-within-a-play takes place in a theater space somewhere in China, where a nine-person troupe is rehearsing for a story about a Chinese mythical hero, Mei Jian Chi. As the myth is popularly known within Chinese culture, it depicts a tyrant, the King of Chu, who orders the death of his two master sword smiths as part of a ritualized process to forge the world's sharpest blades, using human blood. Their son, Mei, seeking revenge, devises a death ploy with an errant by offering his own living but decapitated head to the King. Fragments of the mythical story switch in and out from snippets of mundane and personal follies of the struggling troupe during rehearsal. Through the play, we get to learn about the troupe and the pressures of the artistic life in contemporary China.

The production features an ensemble of nine who play various roles in the play. The actors are: Shan Y. Chuang, Esther Chen, Chien-Lun Lee, Xiao Quan, Viola Wang, Neil Redfield, Hui-Shurn Yong, Chris Smith and Francisco Huergo.

Set and costume design are by K. K. Wong. Lighting design is by Yi-Chung Chen. Mask design is by Andrew Diaz.

The play will be performed in Mandarin Chinese with English subtitles English translation is by Kristen Hung. This U.S. premiere will be presented by Yangtze Rep June 25 to July 12 at Theater for the New City.

OFF THE KING'S ROAD a new play by former publicist/talent manager/producer-turned-playwright Neil Koenigsberg.

Directed by Golden Globe Award-winning, Academy Award-nominated actress Amy Madigan.

Tom Bower stars as retired American businessman Matt Browne. After the death of his wife, Matt escapes to his favorite city, London, for a week's respite at a small hotel. The five person cast also includes Casey Kramer, Thaddeus Shafer, Michael Uribes and Maria Zyrianova.

A founding partner of high profile entertainment public relations company PMK, Koenigsberg sold his interest in the company after 11 years to become a talent manager and film producer, involved with projects such as Pollock, A Walk on the Moon, High Art, American Heart, Hidden in America and The Giver. Most recently, he also acted as a producer on two documentaries: Jeff Bridges: The Dude Abides for American Masters/PBS, and Tab Hunter Confidential.

A graduate of Boston University with a BA in Film, Koenigsberg was born and raised in New York and currently divides his time between N.Y.C. and Los Angeles.

Amy Madigan most recently co-starred with husband Ed Harris in the acclaimed world premiere of Beth Henley's The Jacksonian at the Geffen Playhouse in Los Angeles, which went on to a sold-out production with the New Group in N.Y.C. Both she and Harris will return to New York in 2016 in a revival of Sam Shepard's Pulitzer Prize-winning Buried Child, again for the New Group.

Set design for the West Coast premiere of Off the King's Road is by Joel Daavid; lighting design is by Christina Schwinn; sound design is by Joseph "Sloe" Slawinski; costume design is by Sharell Martin; properties design is Katherine S. Hunt; graphic design is by Kiff Scholl; and casting is by Michael Donovan, CSA. The stage manager is Rita Cofield.

Off the King's Road begins previews June 19 with the official opening set for June 27 and continues through August 2 at The Odyssey Theatre in West Los Angeles.


WHO'S WHERE




ANNALEIGH ASHFORD who won the Tony for her performance in You Can't Take it With You brings her Annaleigh Ashford: Lost in the Stars show to Cabaret Jazz at The Smith Center in Las Vegas on June 27 and 28. It will be her first gig as a 30-year-old. She celebrates that milestone on June 25.

TAYLOR SWIFT is in the spotlight at the SSE Hydro in Glasgow, Scotland on Tuesday, June 23. On Wednesday the show is at the Arena in Manchester, UK. On Saturday she's appearing at Barclaycard British Summer Time at Hyde Park in London.

NEW KIDS ON THE BLOCK wrap up a two nighter Monday, June 22, at Madison Square Garden in NYC. Wednesday's show is at the TD Garden in Boston. They appear at the MixTape Festival at Hersheypark Stadium in Hershey, PA on Saturday, June 27. Next Sunday, June 28, the show is at the Air Canada Centre in Toronto, ON.

NEIL DIAMOND entertains Tuesday, June 23, at the Zenith in Paris. On Thursday her performs at the Ziggo Dome in Amsterdam. On Saturday he returns to that venue for another show.

IDINA MENZEL entertains Monday, June 22, at Symphony Hall in Birmingham, England. On Tuesday she tour stop at the 02 Apollo in Manchester, England. On Wednesday she performs at the Royal Concert Hall in Glasgow, Scotland. Friday's gig is at International Centre in Bournemouth, England. Saturday's stop is at the SSE Arena, Wembley in London.

NICKELBACK performs Tuesday, June 23, at the Sleep Train Amphitheatre in Wheatland, CA. On Wednesday they're in the spotlight at the Shoreline Amphitheatre in Mountain View, CA. Friday finds them at the Verizon Wireless Amphitheatre in Irvine, Ca. On Saturday their tour stops at the Sleep Train Amphitheatre in Chula Vista, CA.

RUSH are in the spotlight Tuesday, June 23, at the TD Garden in Boston. Thursday's gig is at the Wells Fargo Center in Philadelphia. On Saturday they stops at the Prudential Center in Newark, NJ.

BETTE MIDLER performs Monday, June 22, at the Verizon Center in Washington, DC. Thursday's show is at Madison Square Garden in New York City.

U2 iNNOCENCE + EXPERIENCE TOUR begin a two nighter Wednesday, June 24 at the United Center in Chicago.

CHICK COREA AND BOBBY McFERRIN have a busy week in Germany with a show Monday, June 22, at the Gewandhaus in Leipzig. Thursday's show is at the Konzerthaus in Dortmund. Friday finds them at the Festspielhaus in Baden-Baden. On Saturday they're in the spotlight at the Kolner Philharmonia in Cologne and next Sunday, June 28, they appear at the Philharmonia in Munich.

BILLY IDOL entertains Monday, June 22, at the Zenith in Paris.

ART GARFUNKEL performs his hits Sounds of Silence, Scarborough Fair, Bookends, Bridge over Troubled Water, All I Know, and Breakaway, June 25, 2015 the State Theatre of New Jersey in New Brunswick.


FINAL OVATION


KIRK KERKORIAN an eighth-grade dropout who traded his way to a $15-billion fortune and helped create Las Vegas, died Monday, June 15, 2015 at his home in Beverly Hills. He was 98.

Raised in poverty, his first big deal, in 1962, involved 70 acres of vacant land that became the home of Caesar's Palace. Land he sold also became home to the Wynn and Encore, and the Sands Convention Center.

In six years, his investment appreciated sevenfold. The International (which became The Hilton and now the Westgate), opened in 1969, and was billed as the largest resort hotel in the world. He opened the first MGM Grand in Las Vegas in the 1970s, the world's largest resort hotel at the time, and years later, he built another MGM Grand, then also the world's largest.

He orchestrate the $6.4 billion merger between MGM Grand and Steve Wynn's Mirage Resorts Inc.

Jim Murren, chief executive of MGM Resorts International, said in a statement that the company was "honoring the memory of a great man, a great business leader, a great community leader, an innovator, and one of our country's greatest generation."

In honor of his memory, the resort flew their flags at half mast.

in a period of more than 30 years, Kerkorian also bought, sold and then again bought and sold the historic MGM movie studio.

In 2011, Kerkorian's Lincy Foundation transferred $200 million to UCLA and ceased operation. Founded in 1989 and named for Kerkorian's daughters Linda and Tracy, the foundation reported giving away more than $1 billion before closing. Half the money given to UCLA was earmarked for medical research, scholarships and other projects. The other $100 million created the Dream Fund for charitable causes around the country.

Kerkorian was married three times, although the union with his last wife, former tennis pro Lisa Bonder, became legal only in 1999 after Bonder had given birth to a baby girl. The child became the subject of a headline making child-support fight. The final court bombshell - Kerkorian was not the child's biological father.

His survivors include daughters Tracy Kerkorian and Linda Ross Hilton Kemper from his second marriage to former dancer Jean Maree Hardy. and three grandchildren.

LAURA MYERS award winning journalist who covered the political scene for The Las Vegas Review Journal died June 19, 2015 of colon cancer. Despite severe pain, she continued working until six weeks before her death. She was 53.

According to her official obit, written by Jane Ann Morrison, her friend and colleague, Myers, a Nevada native and former member of the Peace Corps, began her journalism career "in 1984 at the Reno Gazette-Journal, and she showed her passion for politics covering the Nevada Legislature in 1987. . . The Associated Press hired her in 1988, first to cover news in Carson City, then San Francisco-San Jose, Calif., where she covered the Rodney King riots. . . Movies were her joy, and Myers did more than just watch them. She left AP in 2003 to study at the New York Film Academy, learning directing, editing and producing first, then joining the Atlantic Theater Company to study acting."

Survivors include her mother, Monte Myers of Sparks, her sister Kathy Wiechers (Manfred) of Sparks, brothers Bill (Claudia) of Westchester, Calif., and Mike (Lisa) of Lake Elsinore, Calif., and several nieces and nephews. No services were planned.

AS THE CENTURIES GO BY technology advances; people do not. Human beings are as evil as ever.

RIP: Susie Jackson; Sharonda Coleman-Singleton; DePayne Doctor; Ethel Lance; Tywanza Sanders; Cynthia Hurd; Clementa Pinckney, Myra Thompson and Daniel Simmons Sr.

















Next Column: June 28, 2015
Copyright: June 21, 2015 All Rights Reserved. Reviews, Interviews, Commentary, Photographs or Graphics from any Broadway To Vegas (TM) columns may not be published, broadcast, rewritten, utilized as leads, or used in any manner without permission, compensation and/or credit.
Link to Main Page
---
Laura Deni



For the snail mail address, please E-mail your request.
CLICK HERE FOR COMMENT SECTION