! >
Broadway To Vegas
  SHOW REVIEWS     CELEBRITY INTERVIEWS     GOSSIP     NEWS 
| | |
| --- | --- |
| | |
Copyright: June 21. 1999
By: Laura Deni
CLICK HERE FOR COMMENT SECTION

A MOTHER FLIPPING COCKROACH
You're watching the acting of Robert DeNiro, Joe Pesci, Robert Wagner or Sean Connery and assume they are also speaking. Not necessarily.


FRED TRAVALENA: HIS VOICE IN THEIR MOUTHS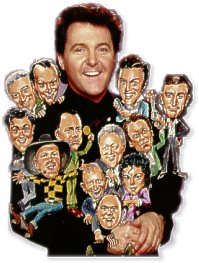 The sounds coming from the mouths of your favorite movie stars may well be the voice of impressionist, comedian, actor, song writer Fred Travalena, who has worked Las Vegas with such mega stars as Julie Andrews, and Shirley MacLaine. He's in constant demand to put his voice into another actor's body.

When the movie Casino spent over four months filming in Las Vegas the language used paralleled the real life verbiage spewed forth by mob bosses and gambling honchos. The big screen had no problem. Converted to television, the powers that be began to hyperventilate. That's when Travalena got the call.

He was brought in to loop - a phrase that means recording dialogue, or sound effects over an existing soundtrack. Travalena impersonated the voices of Joe Pesci and Robert DeNiro replacing forbidden words with something more sanitized. An oft said "forbidden" phrase became - You're a mother flipping cockroach.

Travalena, who starred off-Broadway at the LaMama Theatre in Alice Through The Looking Glass Darkly, and in Paradise Lost, has a genetic tree that's a bounty of interesting people - all named Fred.

His grandfather, Fred I, was an Olympic coach in 1948 and 1952. His father, Fred II, was a singer who worked with Frank Sinatra.



FRED TRAVALENA II, taken, May 1979. Worked with Sinatra in Jersey.
Photo By: Laura Deni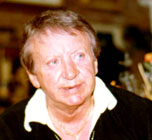 "I started out as a singing waiter in the Rustic Cabin with Frank Sinatra in Jersey," Travalena's father had recalled back in 1979. I'd gone to the impressionist's house to interview him and his father became an even more colorful interview.

Fred II was referring to a roadhouse joint in Englewood Cliffs where Frank and Fred sang with the Harold Arden band when they weren't waiting on tables."We all had times to sing," continued Fred. "One hour you were on. You served the food when you weren't singing and your station was covered while you were singing. We were paid $15 a week. That was for waiting on tables. We weren't paid extra for singing, but the tips were big if you were singing. The customers liked having their food served by the guy who was going to get up on the stage and sing.

"Frank hated the place, but he said he knew how to put a plate in front of somebody and he'd do anything to be able to sing. If you got the orders messed up or spilled anything and the customer complained, they'd take it out of your check.

"Frank was a really skinny kid and some of the food orders weighed more than he did. You also had to dance with the customers. I think that was the only place that ever told Frank he had to get out and dance with people chewing food. When you were serving, if you didn't have any orders and the other guy was singing and it was slow, you had to go ask the women to dance to keep the interest up.



FRANK SINATRA; Started out as a singing waiter.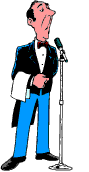 "That's what caused him to get arrested, because that's how he met the girl he started dating," remembered Travalena, referring to Toni Della Penta Francke. "She was in the audience sucking a lemon from her drink and that bothered him while he was singing. Sucking a lemon in front of any singer can cause them to pucker up to go dry. So, he asked her to dance and they started dating, only he was also dating Nancy (Barbato) at the same time and promising both women that he'd marry them. It really got to be a mess."

"Frank was okay until he got arrested, right there at the Rustic Cabin," said Travalena recalling to the Future Chairman of the Board being hauled off to the hoosegow on Dec. 22, 1938. He was charged with committing adultery. The rejected girlfriend not once, but twice, had Sinatra arrested. The first arrest was on the morals charge termed "seduction." He was held in jail for 16 hours.

"All of that gave Frank a bad taste in his mouth about New Jersey about the Rustic Cabin," recalled Travalena.

"I sang there for about four months and I left. Frank was still there, working as a singing waiter when I got a job singing at the Steppin' Club. Three weeks later Frank left and joined the Dorsey Band."


SOUNDING OFF

As a general rule people don't notice sound unless they don't like what they're hearing. All too often our eardrums tell us to complain. Why can't the sound guy get it right or why doesn't he fix it? What are those guys - deaf?



JONATHAN DEANS
Photo By: Laura Deni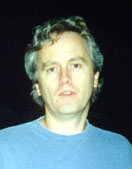 Jonathan Deans is one of the top sound designers in the world. "I've been fortunate enough to do some nice projects," modestly replied the man whose Broadway sound designs this season include the Tony award winning Fosse and Parade. In Las Vegas he put his sound stamp on EFX at the MGM-Grand, Mystere at Treasure Island the O production show at the Bellagio Hotel. We've never found fault with any of his aural projects. We asked him to explain just what goes wrong and why. The man who has designed over 120 productions of musicals, plays, operas, and Las Vegas spectaculars sat down and discussed his misunderstood, maligned and underappreciated profession.

Deans is a sound designer, not a sound engineer - there is a difference. "A sound engineer stays with the show every night," explained English born and bred Deans."A sound designer makes the specifications of the equipment, makes sure the equipment is set up correctly and makes the sound work - does all of the creative effects, mixing of orchestra and voice. The sound designer directs the sound engineer in how the sound should sound for the production. The sound designer works with the actors, musicians, composers, producers and finally the audience. After the opening the sound designer - like all the other designers - leaves. The sound engineer continues and tries to maintain that goal every night, show by show."

Whatever happened to a stage actor projecting his voice?

"It's not that the actors have gotten worse and aren't able to project. It's that the audience doesn't want to listen anymore - especially when they've paid $70-$80 - you want it delivered to you," he answered. "If you'd paid $80 to see a show you want to be able to sit there and hear 100%. In the past the reality was, when you went to shows your concentration level had to be so high to actually hear. We listened differently then, because we weren't spoiled or damaged - however you want to look at it - by all of the high-tech equipment that we have in our homes, cars and pockets. Therefore, there is some attempt to bring that into the theater."

If you guys are so good why do so many events sound so bad? "There are handfuls of problems," Deans patiently answered. "If the equipment supplied is cheap - you get what you pay for. Sound checks are important. Was the equipment set up properly? It could be brilliant equipment, but if it's been set up incorrectly, then you have a problem." During the recent Tony Award telecast the audience could occasionally hear Tony winner Martin Short perform.

"Martin Short's microphone was cutting in and out. His microphone was on the center of his head, in his hairline, because it's the best - cleanest - way to make the sound get to the mike," explained Deans.

"When he came out his hat was right on top of the microphone, pushing the microphone head. He probably squeezed his hat on so it wouldn't fall off. As he pushed the hat on he probably broke the mike. Therefore, who is responsible? " the sound designer questioned and then answered, "I think Martin Short. This happens all the time, especially on big occasions, which are opening nights and live transmission. Sighed Deans, "it sucks."
FOR A FAT LADY YOU DON'T SWEAT MUCH
HATS ARE ALWAYS A PROBLEM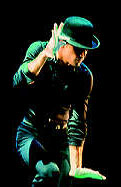 "It's also the sweat level that gets into the microphone," he explained. "We' re talking a microphone that is half the size of your little fingernail. A little drip of sweat goes across the microphone head and covers the tiny hole that the sound was transmitting into.Scale wise, that's like a swimming pool to listen through. So, it sounds like it's under water, which in effect, it is."

"Then the sweat has salt in it and the salt gets into the electronics that are sitting on the microphone head. It stars crackling and then it dies. That was a situation that was very bad for 10-12 years. In the last couple of years people have started to deal with it because people were saying - this is awful!.
"We have to deal with hats," continued Deans. "When hats come down it makes a little shelf. It's like cupping your hand over your mouth. It changes the sound of your voice. So, one has to deal with rims and brims, to see what effect that has on the microphone.
IT'S ALL BASIC PHYSICS
People listen to a cast recording or hear a song played on the radio and decide they'd like to see the show. What you'll hear in person is not necessarily going to equal what you heard on a recording. "When a performer is recording, they are singing in front of a microphone as big as your fist and singing especially to that microphone," emphasized Deans.

"There is basic physics here," Dean elaborated."You double the distance of the microphone to the source - in this case the mouth - you half the level and half the quality. If I'm singing into a microphone that is one inch away from my mouth, let's say that is the optimum recording distance. When I take the microphone two inches away, I've just halved my level and halved the quality. Then at four inches away, I have halved it again. So, now I have 25% of the quality that I should be and I'm only four inches away from the microphone. Usually the head area of the microphone is about eight inches away, so I am then down to 12% of the quality and level that I should be compared to a regular recording.

"A pit orchestra can sound beautiful, because my microphones are where I want them. No one cares where the microphones are because the audience is watching the performer not (or can't see) the orchestra.

"But, we have an actor on stage who sounds only 12% as good as they should - and- you can't make anything sound better than the actor. So, you have to degrade the orchestra down lower than 12%, so you just make the orchestra sound - bad.

"The other thing is the musicians," added Deans. "There are some instruments that are loud by nature. But there are instruments that are played loud because the musician doesn't care about what he is playing. This is a problem in the pit when you have musicians who have been playing a piece for six months or longer. It's a job. They go in and are just playing. I'm generalizing here," quickly cautioned Deans who added, "they don't care what they are playing.

"I'll have an individual on stage that I'm miking as little as possible - just enough so I can get him over the orchestra. Now, the orchestra has to be tightly controlled by the conductor. When they are allowed to play otherwise, it will bury the performer on stage - and - up goes the sound level of the microphones. What was a nice acoustical show is now sounding neither amplified nor acoustical. It's just sounding shameful!



SPEAKERS MEAN NEGOTIATIONS

"I think the toughest thing in a Broadway show is being able to place the loud speakers where you need them to actually get the best sound in the theater," Deans related. "That means negotiating with the set designer and lighting designer.

The second biggest problem is getting the performer to respect the mike that they are wearing, and make sure the microphone is as close to the same place night after night as possible."

Few acting classes teach microphone techniques beyond a hand held mike. What if an actor doesn't fully understand that the little hidden mike is not junk jewelry?

"A microphone gets strapped onto the actor's head and they believe it's up to the sound person to fix the problem," replied Deans. "But, if you look at it that way, then all of that acting training that have had has gone out the window - because they are letting some engineer sit there and make choices of how loud or quiet they should be throughout the evening. The engineer is also making choices for the other 40 people on the stage as well, So, the whole feel and control are actually being done by the sound person.
GET YOUR SOUND OUT OF MY FREQUENCY
"Who else is in the area of that performance space is transmitting frequencies very close to the frequency you are transmitting," questioned Deans. "It's like driving from one town to another while listening to the radio. You might find the classical station you are listening to becomes country, because it's suddenly a completely different station. The same thing happens in a theater. Except we are dealing with tiny transmission levels, smaller than a cell phone. That is all that is allowed (by the FCC) who are the regulators on the equipment we use. We have to make sure that no one is anywhere close to our transmissions. Otherwise, you get sound dropping in and out, or you might hear something else coming through.

"Some people see sound as not being creative, but it's the one thing that is constantly changing. If you look at lighting - there is a color that they put in front of the light bulb and that never changes. There is voltage that is put into that light bulb, which is fixed. There is a fixed color and a fixed voltage, but with sound - that is changing constantly."

"The perception of "turn it up" becomes a perception of being exciting. Certainly, some things are. But, if you have something that is rubbish and you magnify it - all you have is a louder pile of rubbish."

Next week Jonathan Deans discusses Las Vegas shows, touring Broadway shows and what the future holds for sound engineers/designers.


EXECUTIVE PRODUCER'S NIGHTMARE

Due to numerous problems the Denver Center Theater Company has dropped three shows. Executive producer Randy Weeks has been busy regrouping.

Poor ticket sales caused; Picasso at the Lapin Agile, to get the heave ho. The Wizard of Oz, currently in California, has been struck from the Sept. 21- Oct. 3 Buell Theatre stage because it takes too long to set up. Also off the boards is A Man For All Seasons announced as the Jan. 4-23 offering because Derek Jacobi didn't commit.

Replacing will be the third of the Tuna Trilogy Red, White and Blue Tuna, starring Joe Sears and Jaston Williams. Cathy Rigby, currently on Broadway in Peter Pan will be hoisted around the country on the nation tour. She'll be flying into Denver's Buell Theatre Jan 11-23.



Broadway To Vegas is supported through advertising and donations. Priority consideration is given to interview suggestions, news, press releases, etc from paid supporters. However, no paid supporters control, alter, edit, or in any way manipulate the content of this site. Your donation is appreciated. We accept PAYPAL. Thank you for your interest.



THE LAST NIGHT AT BALLYHOO runs through July 10 at the Intiman Theatre, Seattle Center. Author Alfred Uhry just picked another Tony for his book for Parade. He isn't relaxing after his third Tony win. His next projects include: an upcoming made-for-TV movie of Ballyhoo, which will be directed by Bruce Beresford, who also did the same for Uhry's Driving Miss Daisy; a new musical based on the love story Light On The Piazza, and a movie about the New York murder of Kitty Genovese. As for Parade the serious musical about an innocent Jewish man, Leo Frank, who was lynched by a bigoted mob in 1915 Georgia, goes on a nationwide tour next year, beginning in Atlanta.


WHO'S WHERE

MICHAEL LEARNED AND RALPH WAITE are reunited for the first time since they starred in the 1970's TV series The Waltons. Victor Slezak, who plays JFK in the Broadway production of Jackie co-stars They open June 28 at the Westport Playhouse, starring in press agent turned playwright, Kevin Rehac's Chasing Monsters, a comedy about a stolen painting and a monster in a lake.

POLLY DRAPER best known as Ellyn Waren on the hit series thirtysomething, for which she received an Emmy nomination, has joined the cast of Patrick Marber's award-winning Broadway play Closer. The part was rewritten so Draper doesn't have to use an English accent. Yankee speak is okay. Draper, who received her Master's degree from Yale School of Drama.has numerous Broadway credits. Upcoming films include Eighteen Shades of Dust and The Tic Code, which she wrote, produced and stars in with Gregory Hines.

KENNY KIRKLAND: A MUSICAL CELEBRATION with Branford Marsalis, Jeff Watts, Sting, Harry Connick, Jr., Mulgrew Miller and others. Beacon Theater, NYC June 25.

JOHN TRAVOLTA expected to join Barbra Streisand at the MGM Grand, Las Vegas, New Year's Eve. Rumors are being solidified in ink.


THIS AND THAT

EMILY SKINNER who received a Tony nomination for her co-starring role in Side Show was in Denver over the weekend to lend her expertise to the Physically Handicapped Amateur Musical Actors League performers in their production of Side Show, which is playing through July 25 in the Space Theater. Side Show is the story inspired by the lives of Siamese twins Daisy and Violet Hilton. On Broadway Skinner co-starred with Alice Ripley, who is currently in the Broadway production of Les Miserables.

MAYNARD FERGUSON is the featured entertainment at the 25th Omaha Summer Arts Festival June 25-27. Set in downtown Omaha the Festival features 275 of the country's finest visual artists and three stages of continuous entertainment.

SPECIAL OLYMPICS WORLD SUMMER GAMES expected to be the world's largest sporting event this year. About 7,000 athletes from 150 countries will compete in 19 events. June 26-July 4. Raleigh, the capital of North Carolina is the host city.

WWF GIVES UP on the Debbie Reynolds Hotel, which they purchased in Las Vegas. The World Wrestling Federation, owned by the Stamford, Conn. Based Titan Sports, Inc.is reported to be looking at other properties for its wrestling-themed resort. Debbie's old place, with time-share units, is now deemed too small and the WWF will sell the place.Weighing in on the matter; the recent death of wrestler Owen Hart and difficulty in the WWF working out a deal with the owners of the time share units.



Mention BROADWAY TO VEGAS for Special Consideration
Call (800) 942-9027









Next Column: June 28, 1999
Copyright: June 21, 1999. All Rights Reserved. Reviews, Interviews, Commentary, Photographs or Graphics from any Broadway To Vegas (TM) columns may not be published, broadcast, rewritten, utilized as leads, or used in any manner without permission, compensation and/or credit.
Link to Main Page
---
Laura Deni
broadway@broadwaytovegas.com

For the snail mail address, please E-mail your request.
CLICK HERE FOR COMMENT SECTION