! >
Broadway To Vegas
  
 SHOW REVIEWS CELEBRITY INTERVIEWS GOSSIP NEWS

| | |
| --- | --- |
| | |
COMPOSERS DONATE LEGACY - - SALLY RAND CENTENNIAL CELEBRATION - - TRIBUTE TO NINA SIMONE - - DONNA REED FESTIVAL - - THE FROGS WITH NATHAN LANE JUMP ON STAGE - -PATRICIA ROUTLEDGE & PRINCE CHARLES - - GLASTONBURY FESTIVAL MUSICIANS CARBON NEUTRAL - - THEATRICAL DYNASTY REUNITED IN EXHIBITION - - DONATE . . . Scroll Down


WE'RE GLAD THEY NEVER THREW ANYTHING AWAY
At the press conference left to right: Harold Prince, Jerry Bock, Sheldon Harnick, Fred Ebb, and John Kander. Photo; NYPL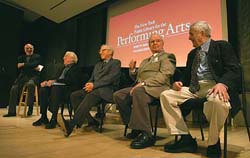 Pack rats are the butt of jokes, the object of talk shows and the profit line for companies who wish to teach them how to throw away the clutter.

Unless, of course, you are famous.

Then every scrap of paper becomes not only valuable but historically significant. If you are important enough - you get your own archive.

When singer Sally Mayes opened a press conference last Tuesday singing A Trip to the Library, from the Bock and Harnick Broadway show She Loves Me, the staging couldn't have been better.

Held at the New York Library for the Performing Arts, Hal Prince hosted the press conference announcing that the professional archives of two of the most illustrious songwriting teams in American musical theater history - Bock & Harnick and Kander & Ebb - will become part of the extensive musical theater collections of The New York Public Library for the Performing Arts. The gifts include boxes of music, lyrics, letters, documentation of rehearsal and production materials, and original music compositions.

The gloves handling the priceless acquisitions may be plastic rather than kid, but library officials assured Broadway To Vegas that the touch is blue-ribbon tender.

"We just renovated the Library for the Performing Arts. In the stacks - storage area - they have state of the art conditions," library executive Herb Scher told Broadway To Vegas in discussing this latest display.

New kid on the block, in the preserving department, is a spray being touted to collectors, which claims to preserve paper while not diminishing its financial value.

"I doubt that they would spray the documents with anything," Scher responded. "This library tends to be pretty conservative about those kind of things. We would be taking the approach that it is probably better to do less to the document than to try something that later on will prove to be detrimental. You can see what other people have done to try to preserve that have turned out to be wrong - that have actually damaged the material."

"The main point is that these documents will be at the library," said Scher about a facility that has over 400,000 visitors a year. "Instead of these shows closing and that being the end of it, they will have a life that people in the future can and see the record of the shows and how they developed."

At the press conference, Dr. Paul LeClerc, President of The New York Public Library, announced that the newly acquired collection includes thirty-five boxes of music, lyrics, letters and other materials - scrawled, hand-printed or typed on everything from manuscript paper to yellow pads and hotel stationery. These shed light on the enigmatic combination of expertise and inspiration that led composer Jerry Bock and lyricist Sheldon Harnick to create such landmark musicals as Fiddler on the Roof and She Loves Me.

The gifts from composer John Kander and lyricist Fred Ebb include not only the synergistic wealth of their original musical compositions for Cabaret but also documentation of every detail of the show's rehearsal and production process, from pencil-frenzied blocking notes and dialogue changes such as a series of opening numbers for that were discarded before they decided on Willkommen. That decision led to upgrading the nightclub emcee who sang it from a minor character to the focal point of the show - to discounted vendor contracts such as a quote on the price for a gorilla suit to be used in the original production of Cabaret ($1,100).

The Cabaret collection contains spiral-bound sketch books, copyist transparencies, original holographs, lyric sheets, letters, contracts, production and rehearsal scripts showing revisions and rewrites and director's notes, prop lists, and more.

All the show's well-known songs are here, as are Down, Down, Down, Never in Paris, It Must Be Love, and several others left out of the final production which opened on Broadway on November 20, 1966, running for 1166 performances. It starred Jill Haworth as Sally Bowles, Lotte Lenya as Fraulein Schneider and Joel Grey as the Master of Ceremonies. Grey won a Tony Award for the portrayal, which he reprised in the 1972 film version - in turn winning an Academy Award - and again on Broadway in 1987-88.



Joel Grey in Cabaret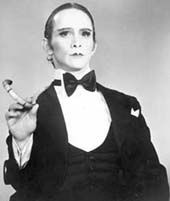 "Significant dialogue changes, character and thematic interpretations, and all the conceptual, practical, and legal intricacies of producing a Broadway musical are chronicled in their various, original forms, from the days of the working title Welcome to Berlin through the shocking Broadway debut and on to a 1987 reworking of the musical," according to the library.

Indeed, the story of Broadway itself would be missing a crucial, cohesive chapter without the contributions of Bock and Harnick, Kander and Ebb. Both teams combined an intrinsic understanding of classic stage song construction with an innovative bent that revolutionized musical theater in the 1960s and beyond while honoring its past.

Begun in 1958 with The Body Beautiful,which opened on Broadway January 23, 1958 at the Broadway Theatre and ran for 60 Performances - the Jerry Bock and Sheldon Harnick partnership soon flourished with classics of the musical theater genre including Fiorello!, She Loves Me, and the unqualified phenomenon, Fiddler on the Roof.

Directed and choreographed by Jerome Robbins, Fiddler on the Roof opened on September 22, 1964 with Zero Mostel in the leading role and featured Bert Convy, Beatrice Arthur and Maria Karnilova. It ran for 3,242 performances at the Imperial Theatre. The 1971 screen version featured Topol, Norma Crane, Molly Picon, Leonard Frey, and Paul Mann.



Sheldon Harnick and Zero Mostel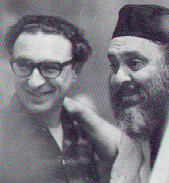 The display includes 16 songs cut from Fiddler on the road, including If I Were a Woman and My Dear Sweet Sewing Machine.

Early versions of the show's signature song, Tradition, are documented by the re-writes this classic endured en route to its Broadway opening in fall 1964.

A succession of yellow-lined, pencil-printed pages shows the development of the meter and lyrics of Tradition from the abandoned "What is the link joining joy and sorrow what keeps the fiddler on the roof " through "Who must devote each minute he can spare/ to studying the words in all the holy books" to the familiarly rousing "Who, day and night, must scramble for a living,/Feed a wife and children, say his daily prayers?"

Said Harnick, "Fifty years ago when I started writing lyrics for the professional stage, I never imagined that the thought process that went into writing the lyrics for a song, like If I Were a Rich Man, for example, would be something worth saving and studying. But I've come to understand how seeing the evolution of an effective song is invaluable to anyone interested in learning this craft. I'm very happy our materials have found a good home at the Library."

The continuing, 40-year collaboration between John Kander and Fred Ebb is responsible for such milestones of the musical stage as Cabaret, Chicago, Woman of the Year, and Kiss of the Spider Woman.

Multiple versions of scripts and lyrics and melodies in-the-works provide a window onto the ineffable, now open to public view, while production notes, cost estimates, call sheets, and correspondence give a master class in the business of mounting a Broadway show.

The evolution of the 1976 Richard Rodgers/Sheldon Harnick musical Rex is present in scripts, scores, and perspicacious revision notes from Harnick for a 2000 revival.

The original opened April 25, 1976 at the Lunt-Fontanne Theatre, and ran for 49 performances. It was a musical about Queen Elizabeth I of England and her father, King Henry VIII. Her mother, Ann Boleyn, has already been beheaded and her father has invited her to spend Christmas at court with his new wife and his other children.



Nicol Williamson starred in Rex and got slap happy with another actor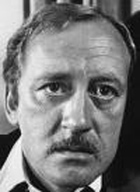 The cast included: Merwin Goldsmith, Glenn Close, Tom Aldredge, Barbara Andres, Penny Fuller, Ed Evanko, Michael John, April Shawhan and Nicol Williamson who's behavior included slapping a fellow actor during curtain calls and reportedly causing all sorts of problems behind the scenes.

The program from the 1945 Flushing High School production of the musical comedy My Dream - starring George "Mahairas" - states that its young composer, Jerrold Bock, intends to forsake music for advertising; second thoughts prevailed shortly as evidenced by a college-years musical based on the Paul Bunyan legend and programs from The Tamiment resort where Bock's colleagues included Neil and Dan Simon, Jack Cassidy, and Barbara Cook.

"Jerry and Sheldon, John and Fred are the American musical theater at its best and I've been lucky enough, as director and/or producer, to have worked on ten musicals with them. The addition of their collections to the Library for the Performing Arts' vast treasure trove is invaluable," said Prince who pitched the profession to keep their material in New York, rather than being sent to elsewhere - to a library out of town.

Jerry Bock has transferred to the Library the entirety of his own collection. Sheldon Harnick has already donated many of his professional papers and musical compositions, with the rest to join the Library's holdings as a bequest. Kander and Ebb have made an immediate gift of all of their materials from Cabaret and have stated their intention to bequeath to the Library the full remainder of the archives of their careers.

Acquiring acquisitions of this importance is not an easy task.

"It has taken a number of years," stressed Scher. "There was someone who was kind of like a friend of the Library who reached out to these composers and made the connection. Our librarian then carried through with the arrangements. But, it did take a number of years to work it all out."

The accomplishments are due in large part to the efforts of Curator George Boziwick of the Library's Music Division.

"If it weren't for George, I wouldn't be here," commented Jerry Bock. "I have seldom had both arms so gently and persuasively twisted to convince me of giving to the Library for the Performing Arts whatever I may have saved along the way. In the end, however, it was learning that Sheldon would also deliver his savings that made it all worthwhile since I do believe that the musical, unlike the poem or the painting or the novel, is the art of collaboration. So with both Sheldon's and my accumulated savings of our work deposited in the Library for the Performing Arts, I hope that those who come in, either out of curiosity or research, leave at least with something of value. And, by the way I mean by the Broadway; I'm glad that New York City is the place they'll have to come to find it."

"We'd like to encourage others," stressed Scher. "One of the reasons we did a press conference is to try to get the word out that other songwriters and theater people would be interested in having their collections come to our Library. We've got people like Harold Prince's Archives and Jerome Robbins, Comden and Green, Abe Burrows. It's nice to be able to remind people that we are there."

For composers and lyricists it can be six degrees of separation.



Hal Linden recording the cast album of The Rothchilds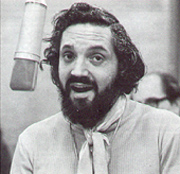 "This Library is the premiere resource for preserving the archives of the American musical theatre. Artists should know that the Library is there to preserve their work for future generations Because, in the case of the Library, it is possible for researchers to make so many connections to other collections," explained Scher

"I hope that the young up and coming writers of musicals today - people like Adam Guettel - will have in mind, at some point, to grant the Library the honor of preserving their work," Scher reiterated. "Or, other more senior writers who haven't yet decided what to do with their collections. We would like people who are actively working to create the performing arts to know that we are there to preserve their works."

"By giving our collections to the Library for the Performing Arts, John and I are insuring that the fun and inspiration that has always fueled our collaboration will never end. To be among the likes of Richard Rodgers, Frank Loesser, Yip Harburg, Jerry Robbins, Hal Prince, Bock and Harnick, and so many others who've already donated their work is like attending a party in perpetuity with all our greatest heroes and friends. I hope those who come after us will do the same," said Fred Ebb.

Added Prince; "These guys represent the best of American musical theater. A time in our history when things were better, and the fields were greener."

Thirty-five additional boxes from Bock are currently being sorted and categorized at the Library's annex in Clinton. Scher estimated that these new archives will be open to the public "by the end of the year."

For the foreseeable future one must head to The Big Apple to enjoy the fruits of these donations.

"The Library has thousands and thousands and thousands of documents," emphasized Scher. "At some point many will be digitized and put on the internet. That's not going to happen too quickly because this is so labor intensive. For now, people are going to have to come to the Library to use the archives. These documents will be available free of charge to people who come to the Library to do research work."

Eat your mustard covered hotdog and wash your hands before entering the building.

"There might be some restrictions - like you have to use them in a supervised setting," Scher continued. "You have to show up, ask for the materials. You don't have to make an appointment. But, it would probably pay to call ahead to make sure you know what you are doing, so you don't waste time."

"The Research Library usually prefers that people be 18 or over," advised Scher. "But, it is not a hard and fast rule. I think if a teenager was doing some sort of serious research and made a case, they would be admitted. It would be a case by case basis."



Broadway To Vegas is supported through advertising and donations. Priority consideration is given to interview suggestions, news, press releases, etc from paid supporters. However, no paid supporters control, alter, edit, or in any way manipulate the content of this site. Your donation is appreciated. We accept PAYPAL. Thank you for your interest.


ART AND ABOUT

ARTS AND KIDS FOUNDATION

Tony award winning actress Patricia Routledge and Prince Charles chat with students at a rehearsal of the London Symphony Orchestra. Photo: Clarence House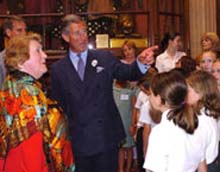 Thirty children from the Priory School in Slough, UK joined Prince Charles and Tony award winning actress Patricia Routledge for a rare behind-the-scenes view of the London Symphony Orchestra rehearsing at Windsor Castle.The children were invited by The Prince of Wales's Arts and Kids Foundation as part of the London Symphony Orchestra's own arts education program LSO Discovery.

Arts and Kids works alongside businesses to give children and young people the opportunity to get involved with the arts.

Formed in 2002, the Arts and Kids Foundation was the brainchild of Prince Charles. At the time he said: "The arts are a window on our world that can capture a child's imagination and let it grow - we should all have the opportunity to look through that window."

Routledge was also present at the rehearsal and joined the orchestra for a rendition of I Am Easily Assimilated from Leonard Bernstein's Candide as part of a special concert being hosted by The Prince to mark the orchestra's centenary later that evening.

The song was chosen because Bernstein was a former President of the orchestra.

She said she was "thrilled" to be singing with the London Symphony Orchestra on its centenary.

"I have a very happy relationship with the London Symphony Orchestra," she said adding, "I did a performance of Leonard Bernstein's Candide at the Old Vic in the 1980s and then the London Symphony Orchestra asked me if I could sing the same role for two concerts at the Barbican."



Patricia Routledge as Hyacinth, and Clive Swift as Richard in Keeping Up Appearances.Photo: Brian Ritchied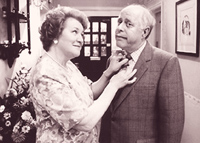 Best known to American audiences for her starring role as Hyacinth Bucket (pronounced Bouquet!) in the BBC television series Keeping Up Appearance, Routledge, one of the best physical comedians to ever grace a stage, has said Lucille Ball was her hero. Frequently on Keeping Up Appearances her character's singing ability - or lack-there-of - is mocked in storylines. In real life Routledge had enjoyed a long career in musical theatre.

She is proof that talent wins out - having the unusual distinction of receiving rave reviews - and a Tony award - while appearing only in flops.

Routledge played the three leading ladies (Violet, Nell and Rover) in the 1965 comedy How's The World Treating You? and went with the play from London to New York in October 1966.

She starred opposite Vincent Price in an E. Y. Harburg-Jule Styne adaptation of Arnold Bennett's novel Buried Alive, which reached Broadway as Darling of the Day. The show opened January 27, 1968, at the George Abbott Theatre running for only for 32 performances. Never-the-less Routledge won the 1968 Tony Award for best Actress in a Musical.

That was followed by the lead as Queen Victoria in a show called Love Match. She received rave reviews, although the show closed before opening on Broadway.

In 1976 she was the First Lady in a musical about the White House by Alan Jay Lerner and Leonard Bernstein, 1600 Pennsylvania Avenue. The British lady was lauded for playing every First Lady over a century of American history, and the singing was demanding. But, 1600 Pennsylvania Avenue didn't win the vote of the people, closing after a week.

Her last stab at Broadway was as Veta Dowd, the eccentric sister of the man whose friend was a huge white rabbit, in the musical Say Hello To Harvey, adapted from the play and film, Harvey. That show also closed on the road to New York.

Returning to her native country in 1988 she received an Olivier Award for her Old Lady in Candide. In 1991, she received a British Comedy Award for Best Comedy Actress for Keeping Up Appearances. In 1992, she was voted BBC Television Personality of the Year, and a year later was awarded the OBE by Queen Elizabeth. In the 60th anniversary awards for the BBC, she was also voted by viewers as the nation's favorite actress. In 1999 Routledge starred in the Chichester Festival Theatre Production of The Importance of Being Earnest. Her portrayal of Lady Bracknell was hailed in its 17 week sell-out season in London.

After her impromptu performance at the Arts and Kids Foundation event she joined Prince Charles as he chatted with the children about their own musical involvement at school.

The Prince of Wales launched his Arts and Kids Foundation at Buckingham Palace in June 2002 to encourage young people to engage with the arts.

Arts & Kids is a nationwide campaign to enable every child and young person in the UK to engage directly with all art forms, including dance, theatre, opera, literature and the visual arts.

On December 4th 2003, The Prince launched the Arts and Kids One Million Kids Challenge at Hackney Empire in London. During the evening, teenagers from St Aidan's School from Harrogate in North Yorkshire performed a comic excerpt from A Midsummer Nights Dream. The challenge aims to give one million children a new experience of the arts by 2008.

At the launch of the challenge, The Prince stressed the importance of the arts in creating a link between generations. He said: "So much of that connection, that thin thread, is being destroyed. What we need is to reintroduce something that they can all share in.

THEATRICAL DYNASTY REUNITED IN EXHIBITION

John Gielgud in the title role of Hamlet in the 1936 Broadway production. Photograph by Vandamm. The New York Public Library for the Performing Arts, Billy Rose Theatre Collection.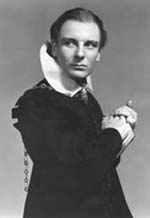 the evolution of modern theatre can be traced in part through the bloodline of one exceptionally gifted English family group: Ellen Terry; her children, Edith and Edward Gordon Craig; and her great-nephew, John Gielgud, whose centennial celebration inspired this exhibition.

To illuminate the scene: Ellen Terry, Edith Craig, Edward Gordon Craig, and John Gielgud is a fascinating convergence of these four lights of a brilliant legacy in an exhibition based on rare artifacts, photographs, designs, correspondence and audio selections culled from The New York Public Library for the Performing Arts' archival collections of theater, music, dance, and audio.

In a span of 150 years, their individual talents bore significant influence on the realms of acting, directing, dramaturgy; lighting, stage and graphic design.

to illuminate the scene: Ellen Terry, Edith Craig, Edward Gordon Craig, and John Gielgud, will be on view from June 25 through August 21 in the Donald and Mary Oenslager Gallery of The New York Public Library for the Performing Arts. Admission is free.


SPREADING THE WORD


19TH ANNUAL DONNA REED FESTIVAL FOR THE PERFORMING ARTS takes place June 21-26 in Denison, Iowa.

This year's festival theme is The Far Horizons, remembering Donna Reed's 1955 film of the same title which starred Fred MacMurray as Meriwether Lewis, Charlton Heston as William Clark and Donna Reed as Sacajawea

This historical adventure chronicles Lewis and Clark's expedition through the Louisiana Purchase territory.

Festival organizers felt this theme was particularly appropriate theme for three reasons:

Western Iowa's current bicentennial celebration of the nearby Lewis and Clark exhibition trail; Donna Reed's starring role as the beautiful Shoshone Indian girl, Sacajawea, whose fearless leadership and guidance was instrumental in Lewis and Clark's success, and the students of the Donna Reed Performing Arts Workshops and Scholarship programs as they pioneer their way into their own future of The Far Horizons.

THE INTERNATIONAL THESPIAN FESTIVAL takes pace June 21-26 at the University of Nebraska at Lincoln. The event features more than fifty high school productions presented by schools from throughout North America and abroad. Plus: a full schedule of workshops presented by theatre professionals, individual performance events, a student playwriting program, opportunities to audition for college and university representatives and for Thespian scholarships, and a chance to hang out with 2,000 or so other Thespians.


SWEET CHARITY


FANS! A SALLY RAND CENTENNIAL CELEBRATION BENEFIT FOR ANIMAL HAVEN

Sally Rand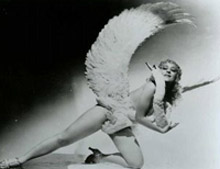 An evening of fans, bubbles, dance, stories, and song. Some of the hosts and performers for this dance / entertainment tribute will include Kelly Bishop, Barbara Bruno, Carleton Carpenter, Caitlin Carter, Marge Champion, Mercedes Ellington, Eileen Fulton, Carlin Glynn, Eileen Kristen, Michael McGrath, Donna McKechnie, Patrice Munsel, Bebe Neuwirth, Portanti Sisters, Rex Reed, Angie Schworer, Julie Wilson, Deborah Wingert and others including showgirls, dancers and dogs.

Music will be by Lounge-O-Leers. The musical celebration is directed by Tony Stevens and written by Deborah Grace Winer with costumes by Paul Foltz. The infamous Bubble Dance and Fan Dance will be performed.

Sally Rand is an American icon, best known for her famous "fan dance." She was born as Harriet Helen Gould Beck in the Ozark Mountain town of Elkton, Missouri on Easter Sunday, the 3rd of April, 1904. She was interested in dance from an early age and, literally, ran away with a carnival as a teenager. She later pursued such career opportunities as night club cigarette girl, artist's model, and cafe dancer. Experience with the carnival led to employment with the Adoplh Bohm Chicago Ballet Company and the Ringling Brothers Circus. Later she started acting.



Sally Rand

While appearing in Los Angeles, Rand caught the eye of the famous Keystone Cops director, Max Sennett, who gave her a role in one of his films. She also worked for Cecil B. DeMille in the biblical film, King of Kings. Rand made several more. Rand used her dancing talent and flamboyant style as an exotic dancer in burlesque houses across the country. Best known for her sexually provocative dance, using ostrich feather fans, that she introduced at the 1933 Chicago World's Fair (supplemented in 1934 by a bubble dance), Sally Rand eventually made her form of erotic movement more acceptable to mainstream audiences than strip-tease had been. She thought of herself as a "terpsichorean artiste" rather than a stripper or exotic dancer. She became an American institution, performing into her seventies.

The evening benefits Animal Haven, a nonprofit organization that finds homes for abandoned cats and dogs throughout the Tri-State area, and provides lifetime care to animals that can't be placed. Founded in 1967, it operates a no-kill shelter in Queens, and an animal sanctuary and rehabilitation center (Animal Haven Acres) in Delaware County, New York, for special needs and hard-to-place animals. Through its Mobile Adoption Program, it brings animals in need of homes to community events throughout the Tri-State area. In 2003 Animal Haven opened a storefront adoption center at Biscuits & Bath on Manhattan's East Side. Sunday, June 27th at The Town Hall in New York City.


MUSICAL GROUPS PROMISE TO BE CARBON NEUTRAL


From Macca to Mozzer, Sister Sledge to opera, Franz Ferdinand to the Glastonbury Town Band and the irrepressible James Brown, the Glastonbury Festival 2004 is the largest greenfield music and performing arts festival in the world.

The crowds at the Glastonbury festival are being urged to plant a tree to offset the fuel consumed by the generators powering their entertainment. The trees will be planted in a special "Glastonbury" woodland on the Isle of Skye. The charity hopes to add 1,700 trees to the wood during the festival.

Top bands and celebs participating have chosen to plant trees with Future Forests - to create great green spaces and help protect the climate.

David Gray, Beth Orton, Super Furry Animals, Grandaddy and the Polyphonic Spree are carbon neutral, ensuring that all the carbon dioxide emitted by their tour buses and CD production are offset by planting enough trees to absorb it.

The idea is that the trees soak up the global warming gas, carbon dioxide, produced by making CDs or running tours. They then become Carbon Neutral. So - Coldplay have planted 10,000 mango trees in India, David Gray has planted enough trees to reabsorb the C02 produced from the making of his latest album, Massive Attack have their trees in Germany, Mel C has hers in Mozambique and Atomic Kitten's are in Scotland.

This year's sold out Glastonbury festival takes places June 25-27 in Glastonbury, an area of 900 acres with a population of 9,000. It's in the Vale of Avalon on a former island in the Somerset marshes - the Isle of Avalon, an area steeped in symbolism, mythology and religious traditions dating back many hundreds of years.

It has been a megalithic center, a place of the Goddess and a Druid college. Its medieval abbey became a famous pilgrimage place. It's where King Arthur may be buried, where Joseph of Arimathea walked, where leylines converge and - now - forests are born.



THE FROGS a musical. This comedy written in 405 B.C. by Aristophanes, Has been freely adapted by Burt Shevelove and even more freely adapted by Nathan Lane. Music and Lyrics by Stephen Sondheim. Direction and Choreography by Susan Stroman.

Stephen Sondheim and Burt Shevelove's adaptation of Aristophanes' The Frogs premiered in 1974 featuring students of the Yale Drama School in a university swimming pool. After appearing in a concert of the rarely performed Sondheim score in 2000, Nathan Lane approached the composer/lyricist with the idea of further adapting Shevelove's adaptation into a full-length work, switching the setting from a swimming pool to the Beaumont stage.

In The Frogs, the Greek god Dionysos - played by Nathan Lane - troubled by the world's ills, embarks on a perilous and frog-infested journey to Hades with his slave Xanthias - played by Chris Kattan - to bring back an extraordinary writer who, by providing words of wit and wisdom, will help save mankind from destruction.

At the Vivian Beaumont Theater in NYC. Opening June 22 with performances to October 10.

THE KING AND I starring Sandy Duncan. East meets West in the timeless love story between a powerful and stubborn king and a determined governess. Based on the real life adventures of the English widow Anna Leonowens, and the best-selling novel, Anna and the King of Siam by Margaret Landon.

Sandy Duncan, star of stage, film and television, headlines this sumptuous new production featuring such memorable songs as Hello, Young Lovers, I Whistle A Happy Tune, Shall We Dance? and Getting To Know You.

June 22 June 27 at the Fox Theater in Atlanta.

SOMEONE WHO'LL WATCH OVER ME by Frank McGuinness Directed by Ethan McSweeny.

An American, an Irishman, and an Englishman walk into Beirut and it's not a joke. Inspired by a true story, Someone Who'll Watch Over Me depicts the imprisonment of three Westerners in Lebanon and their struggle for sanity and survival. This timely drama explores the bonds that can form among the least likely of compatriots thanks to wit, imagination, and the indomitable spirit of humanity.

June 24 July 11 at The Ridgefield Playhouse in Conn., which is where Joanne Woodward and her Westport Playhouse have camped out while the Westport venue is undergoing renovations.

SAY GOODNIGHT, GRACIE Written by Rupert Holmes and starring Frank Gorshin. Stage Theatre, Denver Performing Arts Complex, in Denver, Colorado. Opened June 18 with performances through August 15.

HOW WHATEVER HAPPENED TO BABY JANE HAPPENED an irreverent behind-the-scenes look at how one of the great modern camp classics was created. Dick O'Day dives back between the covers of the best of the worst in bad books! This all-new show includes a cast of Annoyance Theatre veterans, and each week Dick welcomes a special guest. On June 22 Steve Hickson and David Cerda show up. Cerda wrote the play of the same name, which combines parody, backstage gossip, imaginative conjecture and high melodrama, as well as a sober look at the passing of an era for two once-major, now-fading stars of the silver screen In the play Cerda and Hickson who is Managing Director Hell In A Handbag Productions, played Hollywood legends Joan Crawford and Bette Davis.

According to Cerda; "This is a summer reading program for lazy people, for gossipy and petty people who'd rather have a drink and laugh while somebody else does all the work. We'll skip all the boring pages and cut straight to the juicy stuff, and all you have to do is enjoy the ride." Beginning June 22 at the Green Mill nightclub in Chicago.

CATS so popular that it's been translated into ten languages, Cats holds the record for Broadway's longest-running musical ever. This summer is your chance to see the glamour and splendor that have made this Andrew Lloyd Webber signature production a favorite with audiences of all ages, year after year. June 22-27 at the Starlight Theatre in Kansas City, MO.

TRIUMPH OF LOVE with book by Stephen Magruder, music by Jeffrey Stock and lyrics by Susan Birkenhead; is part of Starlight's Ovation Series of rarely-produced unique musicals.

Directed by Steven A. Glaudini, with costumes designed by Catherine Zuber from the original Broadway production.

The cast includes Michael G. Hawkins as Hermocrates, Richard Israel as Harlequin, Paul James Kruse as Dimas, Bets Malone as Princess Leonide, Debbie Prustman as Hesione, Leigh Scarritt as Corine and Robert Townsend as Agis.

Two hard-nosed philosophers hide their nephew in a sequestered garden until he can take his place as the rightful prince of Sparta. Headstrong Princess Leonide stumbles in and falls madly in love with the clueless young man unaware that he is her sworn enemy, plotting to usurp her throne. What's a girl to do? This one cheats, lies about her past, dons disguises - and even cross-dresses as a man all to be near the one she loves. Mistaken identity, multiple disguises and conniving servants straight from commedia dell'arte contribute to the bawdy shenanigans, as the philosophers learn the hard way that love conquers all.

A delightfully tongue-in-cheek musical adaptation of Marivaux's classic French farce, Triumph of Love premiered on Broadway in 1997 starring Betty Buckley, F. Murray Abraham, and Susan Egan as the inhabitants of a fairy-tale kingdom where love puts perfectly sensible people into utterly preposterous situations as well as fabulous gowns and hair.

An opening night celebration backstage follows the performance. Thursday, June 24 through Sunday June 27 at Balboa Park in San Diego, CA.


| | | |
| --- | --- | --- |
| | | |
WHO'S WHERE


TRIBUTE TO NINA SIMONE featuring two of her bands led by long-time musical director Al Schackman with a diverse all-star line-up including Toni Morrison, Oscar Brown, Jr., Tracy Chapman, Floetry, her daughter Simone, James "Blood" Ulmer with Vernon Reid, Lizz Wright, Odetta and others. Monday, June 21 at Carnegie Hall, NYC.

DAVE MASON a 2004 Rock and Roll Hall of Fame inductee, was one of the founding members of the group Traffic and penned the song Feelin' Alright. This song has since become a rock and roll anthem having been recorded by well over 300 artists. Mason performs June 23 at B.B. King Blues Club in NYC.

HARRY CONNICK, JR performs Thursday, June 24, at Finger Lakes Performing Arts Center in Canandaigua, N.Y. On Friday he's on stage at State University of New York in Binghamton, N.Y. Saturday finds him at the NTELOS Pavilion at Harbor Center in Portsmouth, VA.

DIANA KRALL in the spotlight tonight at the Oakdale Theatre in Wallingford, CT. On Tuesday, June 22, she stars at the Fleet Boston Pavilion in Boston. Friday she's center stage at the Palace Theatre in Columbus, Ohio and she ends the week, Saturday, at the Blossom Music Center in Cuyahoga Falls, Ohio.

ERIC CLAPTON performs Wednesday, June 23, at the Pepsi Arena in Albany, New York.

DIANNE REEVES celebrates Sarah Vaughan along with young singing sensation Peter Cincotti on Thursday, June 24, at Carnegie Hall, NYC.

TOM JONES makes his Wolf Trap debut, performing hits like What's New Pussycat, and It's Not Unusual, June 22 at Wolf Trap in Vienna, Virginia.

MICHAEL BUBLE will be singing and swinging with his band in the tradition of Sammy, Dean and Frank June 22 at the Kentucky Center in Louisville, KY.

STEVE TYRELL performs Wednesday, June 23, at the Sylvia & Danny Kaye Playhouse in Manhattan. On Thursday he is on stage at the North Shore Music Theatre in Beverly, MA.

JOHNNY MATHIS in a two nighter, Friday and Saturday, at Heinz Hall in Pittsburgh, PA.

MANHATTAN TRANSFER center stage Thursday at the P.N.C. Bank Arts Center in Holmdel, N.J. On Saturday they can be enjoyed at Music By The Lake in Wiliams Bay, WI.

DAVE MATTHEWS BAND enjoy a week of two nighters. This evening they kick one off at the Verizon Wireless Music Center in Noblesville, IN. On Wednesday they begin a two-nighter at the Germain Amphitheater in Columbua, OH. Saturday the double date starts at the Post-Gazette Pavilion @ Star Lake in Burgettstown, PA.
















Next Column: June 27, 2004
Copyright: June 20, 2004. All Rights Reserved. Reviews, Interviews, Commentary, Photographs or Graphics from any Broadway To Vegas (TM) columns may not be published, broadcast, rewritten, utilized as leads, or used in any manner without permission, compensation/credit.
Link to Main Page
---
Laura Deni


CLICK HERE FOR COMMENT SECTION