! >
Broadway To Vegas
  
  REVIEWS INTERVIEWS COMMENTARY NEWS

| | |
| --- | --- |
| | |
IMPRESSIONISM, FASHION AND MODERNITY - - THE 23rd INTERNATIONAL HARM REDUCTION CONFERENCE - - THE IRISH REP 25TH ANNIVERSARY GALA - - THE SILENT FILM WINGS - - I'M CONNECTICUT - - NAKED DARROW - - MASTERWORKS BROADWAY CLOWNAROUND CD REVIEW - - BROADWAY GROSSES FLAT, AUDIENCE DOWN - - DONATE . . . Scroll Down





Copyright: June 2, 2013
By: Laura Deni
CLICK HERE FOR COMMENT SECTION


FAMOUS FLOP WITH A BACK-STORY CAPTURED ON CD


There have been a lot of flops. Few have a heart wrenching back-story. Fewer still have their original cast recordings melted down.

Meet ClownAround, re-released by Masterworks Broadway, the first time this recording has been available in any form since the show's original run in 1972.

The musical was suppose to be a lavish touring musical stage spectacle that featured real circus acts. It was produced by Gene Kelly who was set to both star in and choreograph the extravaganza.

This is one of the few CDs where the history is as important as the score.

Conceived and written by television producer Alvin Cooperman with lyrics by Cooperman and music by the father of jazz pianist Bill Charlap, Morris "Moose" Charlap, who penned the music for Peter Pan.

Cooperman died in 2006 at the age of 83. No truth to the rumor that he was scared to death by a clown - although ClownAround: A Funny Kind of Musical was more scary than enjoyable.

This production is the perfect example of what happens when somebody gets it into their brain that they can do something other than what made them successful. Most people who are in one occupation, longing to do something else, get stopped because they need to pay the bills. When there is money and power behind an ego, odd things happen. In this case it's called ClownAround.

On paper people thought it looked good.

A traveling show suitable for the entire family - a clown show set to music. There were certainly enough heavy weights connected with the production: Moose Charlap, Jack Elliott, Allyn Ferguson and Gene Kelly. Somebody should have fired the lyricist and book writer. The problem is that it's the amateur lyricist and book writer who had all the money and power. His name again was - Alvin Cooperman.

The famed Cooperman served as executive director of the Shubert Organization, executive vice president and director at Madison Square Garden and vice president of special programs at NBC television. It is Cooperman who produced The Untouchables, and Damn Yankees.

Among the shows Cooperman booked for the Shubert Organization were Love, Fiddler on the Roof and Cabaret.

The shows he produced from NBC's famed Studio 8H in Rockefeller Center, one on Jerome Robbins and one on Arturo Toscanini, who once conducted there, both won Emmy Awards.

Cooperman could neither write a script nor lyrics and should have stuck to producing television shows.

A guess is that because Elliott and Ferguson enjoyed successful careers writing for television, and Cooperman carried a big stick in TV land, they agreed to this project in order to protect their small screen employment.

Elliott and Ferguson were part of a small handful of go-to arrangers.

Elliott died August 18, 2001 of a brain tumor. He was 74. On Broadway he was an orchestrator and dance arranger for such musicals as Fiorello! and Tenderloin.

Elliott was also a jazz pianist at The Stork Club and, in the early 1960s, was musical arranger on Judy Garland's TV program. He wrote music for numerous TV programs and films, from The Unsinkable Molly Brown to Barney Miller. He also was musical director of The Henry Mancini Institute, which brings gifted students from around the country to Los Angeles for summer music studies. He helped found the New American Orchestra, which presents new works from American composers.

Allyn Ferguson died June 23, 2010 at the age of 85. He was best known for composing the themes for 1970's television programs Barney Miller and Charlie's Angels, which he co-wrote with Elliott. In its obituary, Variety called Ferguson "among the most prolific composers of TV-movie scores in the past 40 years".

During the 1970s, he collaborated extensively with Elliott, creating scores for episodes of Banacek, Fish, Police Story, Big Hawaii, Starsky and Hutch, S.W.A.T. and The Rookies. The duo also collaborated to form the Foundation for New American Music in 1978. Ferguson was among the founders of the Grove School of Music in Los Angeles.

During the 1980s, he produced Emmy Award-nominated scores for April Morning Ivanhoe, The Last Says of Patton, Master of the Game and Pancho Barnes, winning in 1985 for his work on Camille. He worked on dozens of films for Norman Rosemont, including A Tale of Two Cities, Captains Courageous, Les Misérables, Little Lord Fauntleroy, The Count of Monte Cristo and The Man in the Iron Mask.

Other credits include being music director for television presentations of the American Movie Awards, Emmy Awards, Grammy Awards, Kennedy Center Honors and the Oscars. Ferguson was musical director for Julie Andrews, Johnny Mathis and for Steve Lawrence and Eydie Gorme.

The fact that Elliott and Ferguson did the arrangements for ClownAround gives this CD significance. The problem for an arranger is that you are restricted to working with the notes that the composer wrote. This is not Charlap's best work, and his music had to accommodate amateur lyrics.

Entertainment icon Gene Kelly was approached by the show's creators. Kelly loved clowns. The project caught Kelly's fancy and he became committed to its success.

Called A Funny Kind of Musical for the Entire Family, there was an enormous, moveable Clown Machine set that actors, clowns and acrobats would perform on top of, into and around.

Kelly was billed as the star. Second billed co-stars were Ruth Buzzi and Dennis Allen, both veterans of TV's Laugh-In, along with "a cast of 70".

That group of 70 included Joanna Kerns, best known for her role as Maggie Seaver on the family sitcom Growing Pains. She got her start in this production.



Gene Kelly with wife Jeanne Coyne. They married in 1960 and had two children. He left ClownAround after she was diagnosed with leukemia.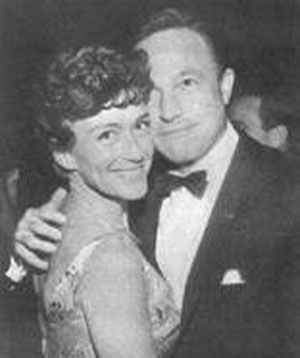 While she was attending UCLA, majoring in dance, she saw an advertisement for a Gene Kelly production called ClownAround. Joanna jumped at the chance to audition. She joked in an interview that she sent the casting crew a high school senior picture of herself and all of her grades, hoping to get the part.

There were big plans and high hopes for this family-themed spectacle to tour the country. Then everything went wrong.

The reasons for the show's demise had elements of tragedy. During rehearsals in 1972, Gene Kelly's second wife, Jeanne Coyne, whom he married in 1960, was diagnosed with leukemia. Kelly immediately withdrew from the production to stay by her side and care for their two young children, Bridget and Tim. Jeanne died May 10, 1973.

Choreography credit shifted from Kelly to Howard Jeffrey. Kelly retained credit as producer.

With Kelly dropping out, co-stars Ruth Buzzi and Dennis Allen moved in the star slots. On the program and posters Buzzi is given bold faced credit above the title. Allen received secondary billing.

From the time of Jeanne Coyne's diagnosis until her death Kelly made few professional appearances. One of those was on The Merv Griffin Show, which was taped before a live audience and then aired in syndication on a tape delayed basis.

Before ClownAround opened at the Oakland Coliseum on Thursday, April 27, 1972, Gene Kelly, Ruth Buzzi and Dennis Allen had taped the Griffin Show in which they hyped ClownAround. That Griffin Show - Season 9, Episode 140, aired on April 26, 1972. Not even that type of promotion could save the musical.

From the still shots it appears that both Buzzi and Allen gave it their physical best - neither of whom resembled anything that would have been an employment threat to a then circus or a future Cirque performer.



Ruth Buzzi and Dennis Allen in ClownAround.
Following the Oakland gig, ClownAround played the scheduled San Francisco's Cow Palace, closing after a total of 14 performances.

Rumors swirled that the gigantic production ran out of money. Gossip also was strong that two of the performers were seriously injured after falling from the Clown Machine structure.

The unanswered question is always going to be: What would have been the results had Kelly not dropped out of the production?

A cast recording was made, with Grover Helslet as recording engineer. Recorded in RCA's Music Center of the World, Hollywood, CA and released on the RCA label, but only sold on-site at performances of the production. Thus, only a handful were sold. All the unsold copies were reportedly melted down, meaning only a few dozen of the albums were ever issued. If you've got one, it's worth between $300-$500.

The music is almost too vibrant. The orchestrators were furthered hampered trying to distract from the fact that television executive turned wanna be lyricist had trouble putting words together.

A little circus music can go a long way and the over-the-top hyped up score can drive you to distraction. All of the circus required whistles, kazoos, snare drums and trumpets are played.

You're A Clown is racing and upbeat. A musical scale on caffeine.

Here Are You Children is the most powerful song on the CD with excellent music and even three important lines: "These are your children, we wish that we had children, but ... clowns have no children of their own."

Silhouette sounds like something from a 1920's musical - with banal lyrics. Animal Band is another revved up tune. Without the benefit of seeing the performance it sounds like a bad chorus line. The performers sing like an impersonation of a bleached blonde, chewing gum set of bimbos.

Balloon is at least a different tempo, and the music does offer the feel of that hot air wonder.

Being a happy circus - not Pagliacci - the tempo is on uppers. Thingamajig is one of the cutest songs on the CD. That is followed by Laugh Song which falls right back into the hyper. I kid you not, Theda Bara is mentioned in the lyrics. This show came out in 1972 and Theda Bara was born in 1885 or 1890, depending upon which bio you believe. What seems definite is that she died in 1955. What 1972 first grader knew the name Theda Bara?

Sunny Day is just that, another upbeat, cheerful musical romp with no lyrics of any significance. I Need a Ship is a pre school song. "I think I'll need a crew. Don't you?" . . . ."Ya ho. Ya ho. It's off to sea we go." Clown Alley is (what else?) upbeat. Then, instead of ending the show on a high point, the only ballad comes into play, which can have the audience walking out feeling . . . well, sad.

Nobody knows how the audience felt when they left. What is known is that they did leave and stayed away - in droves.

This newly released CD is a must have for collectors of production scores. Also, as a study on how not to write a musical. The sound quality maintains the excellence that you'd expect from Masterworks Broadway, who deserve low bows for their consistent effort to preserve unusual production scores.

The original album had musical supervisor by Harper MacKay, Musical Direction Boris Kogan, Music published by Famous Music Corporation, a Gulf + Western Company.

The accompanying booklet is difficult to read because of pale olive lettering on high gloss white paper.







Broadway To Vegas is supported through advertising and donations. Priority consideration is given to interview suggestions, news, press releases, etc from paid supporters. However, no paid supporters control, alter, edit, or in any way manipulate the content of this site. Your donation is appreciated. We accept PAYPAL. Thank you for your interest.


ART AND ABOUT


IMPRESSIONISM, FASHION AND MODERNITY

The 1860s-1880s saw the rise of the department store and the proliferation of fashion magazines. Photo: Art Institute of Chicago.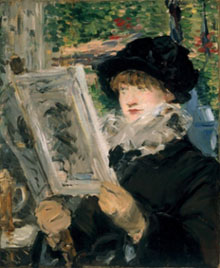 Were the Impressionists fashionistas? At a time in France when designers like Charles Frederick Worth changed how clothing was made and marketed into the first manifestations of the modern fashion industry, artists were using fashion to communicate modernity as an idea.

Impressionism, Fashion, and Modernity covers this period between the 1860s and 1880s that saw not only the rise of the department store and the proliferation of fashion magazines but also serious interests among an artistic and literary elite in the ephemeral and constantly innovative qualities of fashion as a means of discovering new visual and verbal expressions.

Despite the many exhibitions and studies on the Impressionists, their achievement has never been examined in view of the physical reality of the fashions that they exploited for their own artistic aims. Indeed, one could argue that these artists, along with less experimental painters of modern life, such as Alfred Stevens or James Tissot, responded to the vibrant consumer culture and need to be à la mode.

The exhibition includes about 90 major figure paintings by Gustave Caillebotte, Edgar Degas, Édouard Manet, Claude Monet, Pierre-Auguste Renoir, and Georges Seurat in addition to fashion portraitists such as Carolus-Duran, Stevens, and Tissot, among others.

A judicious selection of contemporary costumes will provide the physical reality for the sartorial nuances of dress and accessories that artists used to convey their modernity as well as that of their subjects.

The exhibition also includes photographs, fashion plates, advertisements, and other printed materials from the period that bring to life the period in which Monet and his colleagues created some of their most innovative compositions.

Impressionism, Fashion, and Modernity is organized by the Art Institute of Chicago in association with the Metropolitan Museum of Art, New York, and Musée d'Orsay, Paris.

June 26, 2013–Sunday, September 22, 2013 at the Art Institute of Chicago.


SWEET CHARITY


THE 23rd INTERNATIONAL HARM REDUCTION CONFERENCE takes place in Vilnius, Lithuania, June 9-12, 2013.

The Elton John AIDS Foundation is a major supporter of the conference. EJAF is also the official sponsor of the International Drugs and Harm Reduction Film Festival, which runs parallel with the conference. The festival will premiere director Eugene Jarecki's documentary film The House I Live In on Thursday, June 6.

Produced by Brad Pitt, Danny Glover, John Legend, Russell Simmons, Nick Fraser and Joslyn Barnes, the Sundance Grand Jury Award winning film examines America's war on drugs by telling the stories of people whose lives have been affected by it, and it poses urgent questions about the future of drug policy in the United States.

The EJAF hopes the conference "shines a bright light on an important issue that is so often ignored by policy makers and the press," said EJAF Chairman David Furnish. "Syringe access and other harm reduction approaches have been proven time and again to save lives, but the stigma surrounding drug use and AIDS has prevented some policy makers from taking action. Through this conference, we can raise our collective voice, and raise awareness, about this urgent issue."

"Study after study has shown that syringe access is a very effective way of stopping the spread of HIV. Unfortunately, in certain countries, it's also highly controversial. In the United States, it is against the law to use federal funds for syringe access programs. That's why EJAF is proud to participate in the International Harm Reduction Conference, where global experts will gather to discuss the latest research and raise awareness about how governments can prevent HIV transmission.

"EJAF is one of the largest funders of syringe access in the United States, and the Foundation supports a range of programs that mitigate the HIV-related impact of drug use in Eastern Europe. We will continue to be a leading advocate for syringe access and harm reduction worldwide."

THE IRISH REP 25TH ANNIVERSARY GALA takes place June 10th with Tom Hanks serving as host.

Special guests are Shirley Jones and Patrick Cassidy.

Directed by Charlotte Moore, the evening is titled Something Wonderful! The Songs of Rodgers and Hammerstein.

With musical direction by Mark Hartman, the evening will feature classic Rodgers & Hammerstein favorites from iconic musicasl Oklahoma, Carousel, State Fair, South Pacific, The King and I and The Sound of Music, performed by Tony Award winner Paulo Szot, Olivier Award winner Alexandra Silber, Howard McGillin, Max Von Essen, Donna Kane and Ciaran Sheehan.

The performance takes place at The Broadhurst Theater followed by dinner at Sardi's. Dinner and performance packages begin at $1,000.

THE SILENT FILM WINGS

Charles 'Buddy' Rogers and Clara Bow in a scene from Wings (1927), the silent World War I drama that won Best Picture at the first-ever Academy Awards.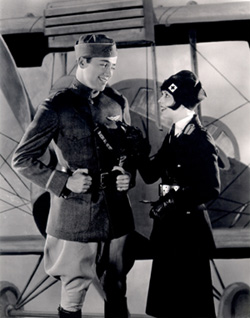 with live musical accompaniment, will be shown at the Stratford Theatre, the home base of Square One Theatre in Stratford, Connecticut, on Saturday, June 8 to benefit Square One Theatre's William A. Barry Scholarship.

Set in World War I, this film epic drama won Best Picture honors at the very first Academy Awards ceremony.

The screening will allow audiences to experience silent film in the way they were originally staged: on the big screen, with live music and sound effects, and with an audience. The screening of Wings will feature live musical accompaniment by Jeff Rapsis, a New Hampshire-based composer/keyboardist who specializes in creating music for silent film presentations.

Wings, a blockbuster hit in its original release, recounts the adventures of U.S. pilots flying combat missions behind enemy lines at the height of World War I. Wings stunned audiences with its aerial dogfight footage, vivid and realistic battle scenes, and dramatic love-triangle plot.

Wings stars Clara Bow, Charles 'Buddy' Rogers, and Richard Arlen. The rarely-seen film also marked one of the first screen appearances of Gary Cooper, who plays a supporting role. Directed by William Wellman, Wings was lauded by critics for its gripping story, superb photography, and technical innovations.

According to composer/keyboardist Rapsis, "Live music was an integral part of the silent film experience. However, most films at the time weren't released with sheet music or scores. Studios relied on local musicians to come up with an effective score that was different in every theater. At its best, this approach created an energy and a connection that added a great deal to a film's impact. That's what I try to recreate."

As the movie unfolds, composer Rapsis will spontaneously create the musical score,' to enhance the action on the screen as well as in response to audience reactions. He will perform the music on a digital synthesizer, which is capable of producing a wide range of theatre organ and orchestral textures.

Film star Clara Bow, known as "The It Girl" personified the flapper of the 1920s, was one of the top five Hollywood box-office attractions. She appeared in 46 silent films and 11 talkies.

After marrying actor Rex Bell (born George Francis Beldam) in Las Vegas in 1931, Bow retired from acting and became a rancher in Nevada. Her husband would later become the 21st Lieutenant Governor of Nevada. The couple had two sons; George Beldam, Jr and Tony Beldam, who changed his name to Rex Anthony Bell, Jr., and served as Clark County (Las Vegas) District Attorney. He died in 2011.

Those boys grew up on their parents' Walking Box ranch about 65 miles south of Las Vegas near Searchlight. There is a Clara Bow Ave in Las Vegas, ironically located near Za Zu Pitts Ave.

The ticket prices for the screening of Wings include a pre-showing reception in the lobby of the theatre.

Saturday, June 8, at the Square One Theatre in Stratford, Connecticut.


SPREADING THE WORD


LES MISERABLES RE-IMAGINED is returning to Broadway, producer Cameron Mackintosh first announced on February 19 and then repeated on May 30, this time mentioning a specific theatre - the Imperial, which was the show's home on Broadway for almost 13 years and 5,244 performances. Mackintosh's acclaimed 25th-anniversary, re-imagined revival of Alain Boubil and Claude-Michel Schönberg's Tony Award-winning musical Les Misérables will begin previews March 1, 2014, with an official opening set for March 23, 2014.

This latest Les Misérables does not include the massive and dramatic revolving turntable. The Broadway bound version has been touring the United States for the last two years. It features redesigned scenery based on Victor Hugo's paintings for his original novel, as well as new orchestrations by Christopher Jahnke and additional orchestrations by Stephen Metcalfe and Stephen Brooker that, as Mackintosh declared, "get away from the crude electric-piano sound of the original."

The staging also has more emphasis on the gritty nature of the 19th century downtrodden in France.

The original New York production of Les Misérables premiered first at the Broadway Theatre March 12, 1987, and later moved to the Imperial Oct. 17, 1990, where it played until May 18, 2003, for a total Broadway run of 6,680 performances.

Casting is underway for the new production and will be completed this summer.

The new production is directed by Laurence Connor and James Powell, designed by Matt Kinley inspired by the paintings of Victor Hugo with costumes by original designer Andreane Neofitou and additional costumes by Christine Rowlands, lighting by Paule Constable, sound by Mick Potter and projections by Fifty-Nine Productions.





CELEBRITIES ROCK THE WORLD OF AARP CONVENTION ATTENDEES
Fabulous Palm Springs Follies dancers Wayne and Greta Albritton were a big draw at the Palm Springs booth. Photo: Laura Deni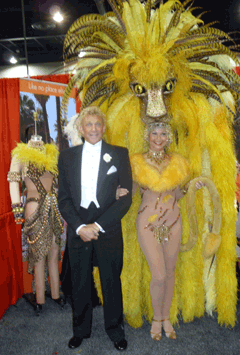 If you think of false teeth, walkers and old people who dress like they came from a thrift store when you hear the phrase AARP Convention, you are living in the dark ages.

The semi-annual get together wrapped up June 1 in Las Vegas with over 11,000 in attendance. The activities included a day of service toplined by Dan Marino, famed sports commentator and Football Hall of Famer, plus a two day convention at the Las Vegas Convention Center. You don't have to be a member to attend AARP Conventions. The $25 fee for AARP members or $35 for non-members entitled the patron to almost everything for the entire convention. It became the entertainment bargain of the year in Sin City, and there were enough freebies to fill the over-sized fabric bags that most booths were giving away.

Receiving wild applause were Bob Newhart and Don Rickles, sharing a stage for the first time. Rickles enthralled the crowd with stories of the days when the mob ran the town.

Jane Pauley conducted a Life Reimagined Experience session with Emilio Estefan. Natalie Cole also participated in a Life Reimagined Experience and then performed a concert, which was sold out days before the convention even opened.

Women in particular couldn't stop talking about Sex and the City author Candance Bushnell who was part of a featured session. Best selling author Amy Tan who penned The Joy Luck Club appeared, as did Terry McMilllian author of Waiting to Exhale.

Extremely popular were the Movies for Grown-Ups Film Festival which featured Twenty Feet from Stardom, a pre release screening with a post screening audience Q&A with director Morgan Neville and one of the singers featured in the documentary, Grammy, Oscar and Steller award nominee Tata Vega. Jayne Mansfield's Car also unspooled as a pre-release screening with a special appearance by actors Billy Bob Thornton and Katherine LaNasa. Another pre-release screening was Max Rosen, with a special appearance by actor writer/director Daniel Noah and actor Jerry Lewis in an audience Q&A following the screening.



Manning the Palm Springs booth were Senior Sales Manager Dolores Dey, who has been with the Fabulous Palm Springs Follies for 13 years, and Hillary Angel, PR manager of the Palm Springs Bureau of Tourism. Photo: Laura Deni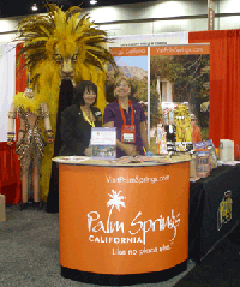 Cities and states making a strong presence were Palm Springs, home of The Fabulous Palm Springs Follies. Their booth was located across from the Oklahoma booth where those hearty citizens have no intention of letting a few pesky tornadoes get them down.

North Carolina was encouraging film makers to come to their state. Texas, Hawaii, Louisiana and even Israel all want visitors. There are a zillions tour packages available for Europe and an assortment of Triple Crown Baseball tours from the Baseball Hall of Fame to Fenway Park, Yankee Stadium, Wrigley Field and Camden Yards.

Giveaways included: Southeast Louisiana Gumbo handing out a Spicin' up Life 5th Edition Cookbook and a gigantic package of Creole Gumbo Seasoning Mix with Roux.

Key chains with flash lights and lipchap boasting flavors of chocolate, strawberry/banana, grape and green tea were in bags from the Palm Springs Tourism Bureau.

Corazonas healthy snack had a big booth. "Snack to your heart's content" bars with seven varieties (I tried them all) and then they gave me bars to take home.



Whoopi Goldberg headlines the October AARP convention in Atlanta.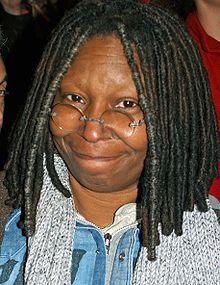 The Bryan College Station Convention and Visitors Bureau in Texas passed out Texas Bluebonnet flower seeds. The back of the package touts the Museum of the George Bush Library, Fine Dining, Historic Downtown Bryan, Texas A&M University, Messins Hof Winery & Resort, Art Galleries, Golf and Recreation, and Unique Shopping.

Shredded Wheat offered bowls on their cereal with a choice of 2%, no fat or soy milk and topping of cranberries, raisins or brown sugar. There were also muffins made with the popular cereal.

There were the usual pens, cup holders, first-aide kits, note pads, and miniature playing cards which are great for taking on planes.

In addition to virtually every medical screening decent to conduct in public, there were computer games to improve the brain and the games played for prizes rivaled a carnival midway. I spun a wheel at the Cellular Booth and won $5.00 cash. Somebody else won $10.00. People applauded and cheered.

I experienced no hard sell tactic at any booth. Rather, the vendors were focused on signing up attendees to win an assortment of prizes, including computer items and trips.

The next AARP convention - Fall 2013 Life@ 50 - takes place in Atlanta where multi-award winner Tyler Perry will join Whoopi Goldberg in conversation, live on stage, on Friday morning, October 4, in the Georgia World Congress Center. If you're down that way, consider attending.


OTHER PEOPLE'S MONEY


BROADWAY GROSSES FLAT, AUDIENCE DOWN was the disappointing end of season 2012-2013 statistics released by the Broadway League.

For the 2012 – 2013 which began May 28, 2012 and ended May 26, 2013, Broadway shows yielded $1.14 billion in grosses, and total attendances reached 11.6 million. All new and continuing productions ran a total of 1430 playing weeks.

The 2012 – 2013 Broadway season concluded with virtually flat grosses (-0.1%) and down in attendance (-6.2%), on par with a decrease in playing weeks (-6.0%).

"Each season has unique factors that contribute to the overall story. In the fall, our grosses and attendance numbers were above last fall's numbers until Hurricane Sandy devastated our region. The lost performances and the understandable slower return to Broadway by our Tri State area theatregoers contributed to the decline in both grosses and attendance," commented Charlotte St. Martin, Executive Director of the Broadway League.

"Plus with early closings of some of our open-ended runs creating a loss in playing weeks, comparable to the decrease in attendance, there just wasn't time to recover. While this is the first year in many that we have seen such a decline, we are pleased to report that the new season is filled with many exciting new shows and we anticipate that the numbers will return to previous season highs."

There were 46 new shows (including 2 return engagements) that opened during the 2012-2013 season: 15 musicals (9 new, 2 r/e, 4 revivals), 26 plays (14 new, 12 revivals), and 5 specials. The 26 plays produced this season is a record number (the previous record for plays produced in a season was 25 in 2010-2011).

I'LL EAT YOU LAST starring Bette Midler has recouped its entire original investment of $2.4 million, according to a May 30 announcement.

Written by John Logan, the play at the Booth Theatre began April 5, officially opening on April 24. The limited engagement will conclude June 30.

Directed by Tony winner Joe Mantello, the one woman show casts Midler as the legendary Hollywood agent Sue Mengers.

DOMA THEATRE COMPANY has announced it will sponsor the 2013 Hollywood Fringe Festival's Best Fringe Festival Musical award, to be accompanied by a $1,000 check designated for further development of the winning production.

DOMA staff members will attend and rate Fringe Festival musicals in ten overall categories, including music/lyrics, book, direction, choreography and acting, as well as set, costume, lighting, sound and prop design. The highest score will determine the winning production, to be announced at the closing festivities on June 30.

"We see this as a way to give back to the local theater community," says DOMA executive producer Marco Gomez. A joint venture between Dolf Ramos and Marco Gomez, DOMA has carved a name for itself by presenting large-scale, Broadway-style musicals in a small intimate setting at Hollywood's MET Theatre.

INTERNATIONAL CITY THEATRE in an effort to cultivate the next generation of theatergoers, is offering high school students free tickets to preview performances for the remainder of the 2013 season.

"To ensure that younger audiences are exposed to the theater, we are making it easy and affordable with complimentary tickets to preview performances," says the Long Beach, CA based ICT Artistic Director caryn desai [sic]. "We all know that a well-rounded education includes an appreciation for the arts. But even more important, we want to help kids learn to connect on a human level - not through texting or emails, but people-to-people through theater, the most human art form."

This special year-round invitation is limited to high school students only, but is not restricted to Long Beach and is open to any high school student from anywhere in the world with a valid ID. Reservations are required, and students must present their ID at will call. Free tickets are available for high school students on the following dates.

Wednesday, June 5 and Thursday, June 6: Dead Man's Cell Phone by Sarah Ruhl. A quirky comedy about our need to connect in a technologically obsessed society.

Wednesday, August 21 and Thursday, August 22: Red by John Logan. Tony Award winner for Best Play about radical artist Mark Rothko.

Wednesday, October 9 and Thursday, Oct 10: Don't Dress for Dinner by Marc Camoletti, translated by Robin Hawdon. A fast-paced, mischievous comedy in the French tradition.

International City Theatre is Long Beach's Resident Professional Theater Company and is the recipient of the Los Angeles Drama Circle's prestigious Margaret Harford Award for "Sustained Excellence in Theater. All performances take place at International City Theatre in the Long Beach Performing Arts Center, Long Beach, CA,



NAKED DARROW

Gary L. Anderson as Clarence Darrow. Photo: Petronella J. Ytsma.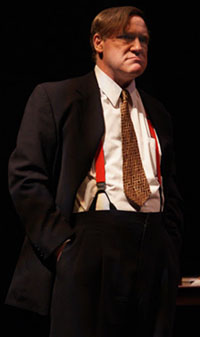 written and performed by Gary L. Anderson, who is the Co-Founder and Artistic Director of River District Theatre in Wausau, WI which is devoted to works dealing with issues of racism and social justice.

The play is performed to a bassoon score composed by Rich McKinney.

Naked Darrow, looks at America's most hated and revered attorney, Clarence Darrow, as his great mind slips away. The play, based on the most current and intimate details of Darrow's private life, is a new and revelatory portrait of the man, not the legend. It presents an end-of-life scenario which promises to "bring a shock of recognition to audiences who have, or may have imagined, their own struggle to face aging and to leave a legacy that may endure."

Clarence Darrow (1857-1938) confounded titles: he was a freethinker, hedonist, anarchist, infidel, cynic, and master storyteller. He was best known for defending teenage thrill killers Leopold and Loeb (1924) and for defending John T. Scopes, a Tennessee schoolteacher who taught evolution, in the Scopes "Monkey" Trial (1925). In the latter, he opposed William Jennings Bryan, the devout Christian orator and enemy of the gold standard, who had been three times a presidential candidate on the Populist ticket. Called a "sophisticated country lawyer," Darrow was notorious for his wit and agnosticism, which marked him among America's most famous lawyers and civil libertarians. He took on racism, social injustice and the death penalty, all the while haunted and scarred by personal demons.

While other plays on Clarence Darrow have portrayed him at earlier points in his career, this portrait is of an older, struggling Darrow at 79. In an end-of-life scenario, Darrow is being kept in seclusion by his family, who are concerned with his health and his legacy as he is moved from one experimental clinic to another.

Darrow, however, fiercely refuses to submit to the trappings of old age and death, all the while knowing the odds are once more against him. He remains, to the end, loyal to his motto, "Lost are the only ones worth fighting for."

Slipping into either dementia or Alzheimer's disease, he talks candidly - and at times unawares - about his cases, addressing the audience directly as if addressing a jury. He recalls clients he saved from execution, including the bombers of the Los Angeles Times building who killed 21 men; his fight against racism, his resistance to attacks on unions and his celebrity child murder trials - cases that reflect issues that are still eerily current in today's headlines.

He revisits episodes of professional fearlessness and personal recklessness, his bouts of drinking, his beloved mistress and his jury tampering charges, even as his memories elude him. With his mind racing between the decades of his past, he recalls his mother, father, and childhood sweetheart, recalling episodes from his life at various ages from 16 to 79.

This production was originally directed by Richard Cook, Artistic Director of Park Square Theater, St. Paul Minnesota. Dramaturg for the New York production is Maggie Lally. Set design is by Daniel Ettinger. Lighting design is by Eric Nightengale. Sound design by Michael Keck.

River District Theatre presents the play's first full production June 5 to 30 at The Drilling Company Theatre, New York City.

BOB: A LIFE IN FIVE ACTS Peter Sinn Nachtrieb's hilarious, award-winning comedy. Directed by Echo artistic director Chris Fields.

Born and abandoned in the bathroom of a fast food restaurant, Bob travels across America determined to become a "great" man.

Bob explores the American mythology of happiness and success. Born on Valentine's Day in the bathroom of a White Castle in Kentucky, Bob is left to fend for himself by his birth mother, Helen. Determined to make his mark in the world, armed with nothing but an unfailing optimism, Bob takes off on a sweeping cross-country journey. Along the way, he encounters inspiring generosity, crushing hardships, blissful happiness, stunning coincidences, wrong turns, lucky breaks, true love and heartbreaking loss. Will Bob's real life ever be able to live up to his dream?

Jeff Galfer takes on the title role. The remaining 30-plus speaking parts are all played by four actors. For the Echo production, eight ensemble members have been double-cast, with two actors alternating in each set of multiple roles: Ahmed Best, Alana Dietze, Hutchi Hancock, Michael McColl, Tara Karsian, Rich Liccardo; Jud V. Williford and Jacqueline Wright.

Scenic design for Bob is by Angel Herrera; lighting design is by Matt Richter; sound design is by Drew Dalzell; and costume design is by Kathryn Poppen. Julie Ann Harris is production stage manager.

Originally commissioned by South Coast Repertory, Bob received the 2010 Barrie and Bernice Stavis Award from the National Theatre Conference. It premiered at the Humana Festival for New American Plays at Actors Theatre of Louisville in March 2011.

The Echo Theater Company presents the Los Angeles premiere in a limited 4-week run, June 8 through June 30 at Atwater Village Theatre in Los Angeles.

I'M CONNECTICUT a brand new play from Mike Reiss, one of the writers of The Simpsons.

I'm Connecticut is billed as "a wacky, fast-paced, sweet romantic comedy about Marc, a Connecticut native who struggles with relationships and feelings of inadequacy – why? Because he comes from Connecticut – land of steady habits, sanity and politeness. A must-see comedy for anybody from the Nutmeg State!"

June 5th - June 23, 2013 at the Ivoryton Playhouse in Ivoryton, CT.

BRACKEN MOOR by Alexi Kaye Campbell. A world premiere directed by Polly Teale.

"He calls me sometimes. Usually in the dark hours of the morning. 'Mummy' he cries. 'Where are you? Come and find me.'"

After years apart, two families come together to rediscover their lost friendship. Instead, they conjure up the spirit of a buried tragedy.

Set against the economic crisis of the 1930s, this boldly theatrical tale of grief and denial is vividly brought to life by Shared Experience and the Tricycle Theatre.

Performances June 6 - July 20, 2013 at the Tricycle Theatre in London.

THE CRIPPLE OF INISHMAAN by Martin McDonegh. Directed by Michael Grandage.

Daniel Radcliffe plays the title role in the first major London revival since its premiere at the National Theatre in 1996.

"I shouldn't laugh at you Billy, but I will"

Set on the remote island of Inishmaan off the west coast of Ireland, word arrives that a Hollywood film is being made on the neighboring island of Inishmore. The one person who wants to be in the film more than anybody is young Cripple Billy, if only to break away from the bitter tedium of his daily life. Martin McDonagh's comic masterpiece examines an ordinary coming of age in extraordinary circumstances and confirms his position as one of the most original Irish voices to emerge in the second half of the twentieth century.

Set and Costume Designer: Christopher Oram. Lighting Designer: Paule Constable.

June 8-August 31, 2013 at the Noel Coward Theatre in London.


WHO'S WHERE




BARBRA STREISAND, CHRIS BOTTI, JASON GOULD AND ROSLYN KIND continue their European tour with a second show at the 02 in London on Monday, June 3. Then the show moves to the Ziggo Dome in Amsterdam, NL on Thursday, June 6.

BERNSTEIN NIGHT BY THE ROYAL PHILHARMONIC ORCHESTRA takes place Saturday June 8 at the Royal Concert Hall in Nottingham and on Tuesday, June 11 at Cadogan Hall in London. Mary Carewe, Sarah Eyden and Graham Bickley vocalists offering a sumptuous array of film and theatre music by Leonard Bernstein, conducted by David Charles Abell. With songs from West Side Story, Candide, On the Town, Wonderful Town and Trouble in Tahiti, this is an essential concert for Bernstein fans – and for anyone who loves the glamour of Broadway show-tunes. There are some orchestral gems too, including the irresistible love theme from On the Waterfront.

FAITH PRINCE the Tony Award winner, performs every night this week, except Wednesday, at 54 Below in New York City.

MANDY PATINKIN the legend of stage and screen performs for one night only at the intimate Ford Theatres in Hollywood. Backed by the Pasadena POPS, Tony Award-winner Patinkin sings popular standards and Broadway classics on Sunday, June 9.

ERIC CLAPTON continues his overseas tour with a stop Tuesday, June 4, at the Zalgiris Arena in Kaunas, Lithuania. On Wednesday he's on stage at the Arena in Riga, Latvia. Friday finds him at the Arena in Lodz, Poland. Next Sunday, June 9, he entertains at the Olympiahalle in Munich, Germany.

BRUNO MARS entertains Monday, June 24, at the Wells Fargo Center in Philadelphia. On Wednesday the show is at the TD Garden in Boston. Thursday finds him at the Mohegan Sun Arena in Uncasville, CT. On Saturday he's on stage at Barclays Center in Brooklyn.

ALICIA KEYS is still in Europe performing Tuesday, June 4, at the Festhalle in Frankfurt. Germany. Wednesday's show is at the Lanxess Arena in Cologne, Germany. On Friday she is on stage at the Ziggo Dome in Amsterdam. Saturday's show is at the Sportpaleis Antwepen in Merksem, Belgium.

DEPECHE MODE perform Monday, June 3, at the Open Air Buhne in Stuttgart, Germany. Wednesday finds them at the Commerzbank Arena in Frankfurt. On Friday they can be enjoyed at the Stade De Suisse in Bern, Switzerland. Next Sunday, June 9, the performance is at the Olympiastadion in Berlin.

FLEETWOOD MAC in the spotlight Tuesday, June 4, at the American Airlines Center in Dallas. Wednesday's show is at the Toyota Center in Houston. On Friday the group is at the Times Forum in Tampa, FL. Saturday the tour stops at the BB&T Center in Sunrise, FL.

ROD STEWART opens a split two-nighter with performances Tuesday and Thursday, June 4 and 6, at the 02 in London. On Saturday, June 8 he opens a two night gig at the Arena in Manchester, UK.

JON BON JOVI entertains Thursday, June 6, at the Patken National Stadium in Copenhagen, Denmark. On Saturday he's in the spotlight at the Stadium in Manchester, UK. Next Sunday June 9, the show is at Villa Park in Birmingham, UK.

BRUCE SPRINGSTEEN AND THE E STREET BAND entertain Monday, June 3, at the Stadio Giuseppe Meazza in Milan, Italy.

PINK opens a four performance engagement at the Arena in Perth, Australia on Tuesday, June 25. Other performance dates are Wednesday, Friday and Saturday.


FINAL OVATION


ED SHAUGHNESSY famed drummer died May 24, 2013 from a heart attack at his Calabasas, CA home. He was 84.

Before he was 20 he played with Jack Teagarden, George Shearing and Charlie Ventura.

His big band career began in the 1950s with the Benny Goodman and Count Basie bands. He replaced Buddy Rich in Tommy Dorsey's band. Shaughnessy performed with Aretha Franklin, Jimi Hendrix, John McLaughlin, Leonard Bernstein and the New York Philharmonic, George Balanchine and the New York City Ballet, Charles Miongus and trumpeter-bandleader Don Ellis.

In the mid-1950s, he was a staff musician at CBS, performing on the Steve Allen and Gary Moore shows. From 1963 to 1992, Shaughnessy was the drummer with Doc Severinsen's band on The Tonight Show.

He was inducted into the Percussive Arts Society Hall of Fame in 2004.

He is survived by his son Daniel Shaughnessy, his daughter-in-law Nicah Shaughnessy and three grandchildren. Another son, Jimmy, died in a 1984 traffic accident. He was also preceded in death by his wife Ilene Woods who died in 2010. A singer, she was the voice of Disney's Cinderella in 1950.

JEAN STAPLETON the stage trained, Emmy award winning actress who gained fame playing Edith Bunker on the television series All in the Family died Friday, May 31, 2013 at her home in New York. She was 90.

Her stage career began in 1941 as a New England stock player and moving to Broadway in the 1950s and '60s. In 1964, she originated the role of Mrs. Strakosh in Funny Girl with Barbra Streisand. Others musicals and plays included Bells Are Ringing, Rhinoceros, Juno and Damn Yankees.

In 1979, she appeared in the original Canadian production of the musical Something's Afoot, which was later broadcast on Showtime. In 1982, Stapleton portrayed Eleanor Roosevelt in a television production of the First Lady's later life. In 1998, and for a few years afterward, Stapleton took her "Eleanor" characterization to live theaters, now adapted as a one-woman show.

She enjoyed a long professional relationship with playwright Horton Foote, appearing in one of his first full-length plays in 1944, People in the Show, and continuing with performing in six other of his works through the 2000s.

For 30 years, Stapleton's husband William Putch (1924–1983) directed a summer stock theater, Totem Pole Playhouse, at Caledonia State Park in southern Pennsylvania. Stapleton performed occasionally at the theatre with the resident company. In 1983 while the couple was touring with a play, in which she starred and he directed, he suffered a fatal heart attack.

Stapleton went on stage in Syracuse, N.Y., that night and continued on with the tour. "That's what he would have wanted," she told People magazine in 1984.

She is survived by their two children, John and Pamela, who followed their parents into the entertainment industry.








Next Column: June 9, 2013
Copyright: June 2, 2013. All Rights Reserved. Reviews, Interviews, Commentary, Photographs or Graphics from any Broadway To Vegas (TM) columns may not be published, broadcast, rewritten, utilized as leads, or used in any manner without permission, compensation and/or credit.
Link to Main Page
---
Laura Deni



For the snail mail address, please E-mail your request.
CLICK HERE FOR COMMENT SECTION