! >
Broadway To Vegas
  SHOW REVIEWS     CELEBRITY INTERVIEWS     GOSSIP     NEWS 
MUNCHKIN LAND - $30 A WEEK, 14 HOUR DAYS AND JUDY GARLAND


It was a hit Broadway musical before it ever became a classic movie - the star was a replacement - and the cast was underpaid and overworked.

Judy Garland's hometown of Grand Rapids, Minn., will roll out the yellow brick road to welcome one of the largest gatherings of Munchkins since the film they helped make famous debuted 61 years ago, and the legions of fans from around the world who will be attending the 25th Annual Judy Garland Festival June 22-24.



JUDY GARLAND AS DOROTHY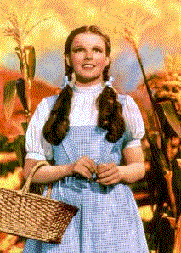 The festival will mark the 100th Anniversary of the publication of L. Frank Baum's beloved story, The Wizard of Oz. It will also celebrate the 61st anniversary of the "Oz" film that rocketed Judy to fame although the studio's first choice had been - Shirley Temple. Casting Garland etched Judy forever in the hearts of generations of children the world over.

On June 22, the anniversary of Judy's passing in 1969, a Candlelight Vigil will take place at dusk outside in front of the Judy Garland House. Fans will join in an emotional tribute to "America's Treasure," Baby Gumm.

Mickey Rooney, one of Judy's closest pals when they were teen-age stars at MGM, will be making a return engagement to Grand Rapids with his singer-actress wife, Jan.

Last year, during the town's Tall Timber Days celebration, they rode through town in one of the original carriages used in the 1939 film. The shiny black carriage that carried Judy, as Dorothy, Scarecrow, Tin Man and the Cowardly Lion into the Emerald City, is housed at the Children's Discovery Museum in Grand Rapids. Among the many attractions to be featured at the festival, the carriage was bought in a 1995 auction by Minneapolis businessman Jonathan Miner, a major supporter of the museum.



MICKEY ROONEY riding through town in last year's celebration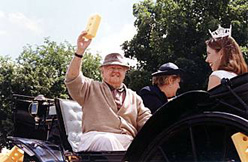 A highlight this year will be a special matinee performance by Mickey and Jan on stage at the town's Reif Performing Arts Center.

There will also be an exclusive screening of The Legend of O. B. Taggart written in 1994 by Mickey Rooney and starring Mickey Rooney, Randy Travis, Ned Beatty, Ernest Borgnine, and Gloria DeHaven.

Although The Wizard of Oz made cinema history the production wasn't a roll in the hay.

"We got paid $50 a week," said Munchkin Ruth Robinson Duccini. "That was a lot of money in 1939."

"Yeah, but Toto got $125," added Jerry Maren. "He had a better agent."

Maren remembers that filming the movie was a tedious and exhausting job. "We had to wear these skull caps to make us bald, and they laid the glue on pretty thick," said Maren. "The make-up guys didn't want to be disturbed during their coffee breaks to fix the caps. 'Dance more--sing more,' they told us. It was very uncomfortable."



The Munchkins regularly attend conventions and are frequent visitors to Las Vegas where they do interviews, sign autographs and help promote the legend of Oz.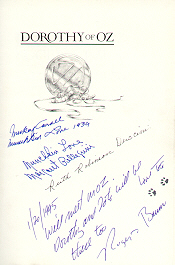 The 124 Munchkins pulled 13 to 14-hour workdays for six weeks to perfect a movie sequence Maren calls the greatest in film history. While the work was relentless, the Munchkins have many fond memories of their brief time with the Wizard of Oz in Culver City, Calif.

"We didn't have much room when we all converged there," said Maren. "We had to double up. I had two other little guys with me in the same bed. We got in late one night and I heard a big band start playing. We looked out and saw a parade. I thought it was for us - a welcome. I looked closer and saw it was Armistice Day."

The personable Duccini remembers that she met her future husband while on the set of Oz. "He was there with the World's Fair. He came to visit the little people he knew and I met him in our cafeteria."



MICKEY ROONEY and the cast greeting the fans at last year's convention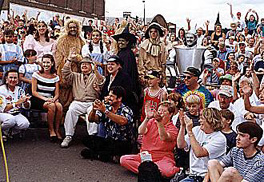 A Minnesota native, Duccini lived in Sawyer and McGregor during her childhood and graduated from Rush City. "You can take the girl out of the country, but you can't take the country out of the girl," she said.

After filming was completed, the war started and Duccini became a riveter, working on C54s for Douglas Air Force Base. She got married and had two children.

Margaret Pellegrini and Meinhardt Raabe, remembered as a sleepyhead and the coroner. A Wisconsin farm boy, Raabe went on from movie life to become a horticulturist.

Pellegrini said that Judy Garland was a very sweet girl. "Judy got her own private dressing room on wheels," she said. "We got to look at it, and she gave each and every one of us an autographed eight-by-ten photo. She just went on down the line."

"I think she was more amazed at us then we were of her," added Maren. "We were 124 little people running around and she was just a typical teenager. She would just sit and watch us."



JUDY GARLAND introducing daughter Liza Minnelli on stage at the Flamingo Hotel, Las Vegas May, 1957.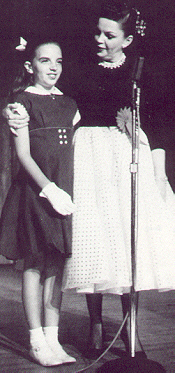 Before being turned into a classic movie the book was turned into a successful Broadway musical called The Wizard of Oz: A Musical Extravaganza in Three Acts. The song and dance team of David C Montgomery and Fred Stone played the Tin Woodsman and the Scarecrow. They were successful vaudevillians who were on their way to Broadway stardom.

The musical's hit song was Hurrah for Baffin's Bay. Baum had brought in composer Paul Tietjens, a serious Chicago musician, who wrote the main score and the show's original shows with Baum supplying the lyrics.

This theatrical version was based upon the Baum book and the author was instrumental in bringing the story to the stage, thanks to Chicago producer Fred Hamlin, who enjoyed backing blockbusters. He also enjoyed changing things and he replaced most of the songs with tunes by A Baldwin Stone, a popular but critically scorned composer.

The Broadway production was expensive and awesome. There was even a cyclone conjuring up objects, appearing to blow through the air, thanks to a magic lantern projecting slides onto a sheet of gauze. A series of curtains opened to reveal the progress of the cyclone, working its path of destruction. When the cyclone ended the lights faded to blue and Munchkinland rolled onto the stage.

The director padded the cast with 100 girls in tights, who portrayed most of the Munchkins. Harlin also sank an unheard of $30,000 into special effects. It was a winner, opening in Chicago in l902. In its first 14 weeks the show netted $50,000 and made a profit every single night. It arrived on the Great White Way in January 1903, inaugurating the Majestic Theatre on Columbus Circle. The production ran for nearly 300 performances, at a time when 100 constituted a hit.



Broadway To Vegas is supported through advertising and donations. Priority consideration is given to interview suggestions, news, press releases, etc from paid supporters. However, no paid supporters control, alter, edit, or in any way manipulate the content of this site. Your donation is appreciated. We accept PAYPAL. Thank you for your interest.


DONNA REED FESTIVAL


A remarkable gathering of professional talent from Hollywood to Broadway descends upon the small rural hometown of Academy Award winning actress Donna Reed for one week each June to contribute their time and expertise to students from across the nation.



DONNA REED

Committed to encouraging aspiring young talent to reach for their dreams, the Donna Reed Performing Arts Workshop Program offers an authentic look inside the exciting, elusive, extraordinary world of the performing arts. Beginning today and continuing through the June 24 a week of workshops will involve participants in creating live TV specials, musical theater productions, talk shows and documentaries; honing auditioning and acting skills for stage and screen; studying improv, commercials, soaps, sitcoms and Shakespeare; directing, writing, and shooting videos; dancing, preparing for fashion and photo shoots; learning stage presence and stage combat; writing scripts for comedy and drama; singing; composing songs and learning how to sell them; getting the inside track on what it takes to break into show business.



SHELLEY FABARES President of the Donna Reed Foundation played Donna's daughter on The Donna Reed Show.

Born Donna Belle Mullenger in Denison, Iowa, at age 16, she left Denison by train for Los Angeles to pursue her dream of becoming an actress. Her dream became a reality as she captivated the country with her sensitive portrayals in films like the great American classic It's a Wonderful Life and From Here to Eternity for which she won the coveted Academy Award for Best Supporting Actress.

Donna is perhaps best remembered for her work on her own television series, The Donna Reed Show, which aired from 1958 through 1966. Behind the cameras, she was the uncredited producer and director of the show, studying and mastering both lighting and cinematography--roles rarely handled by women of that time. She also raised four children and was the founder of Another Mother for Peace.

Notwithstanding the fame and fortune she found in Hollywood, Donna never forgot her hometown of Denison. She was proud of being an Iowa farm girl, returning to Denison often throughout her career. Following her death in 1986, her Oscar was left to the City of Denison to be displayed at the historic McHenry House. The Donna Reed Foundation for the Performing Arts continues to perpetuate her legacy of helping other young artists and developing a cultural heritage in Denison.

The Donna Reed Festival and Workshops for the Performing Arts is regarded by students, parents, teachers, and professionals as one of the most unique educational experiences in America. Students have a rare opportunity to interact with some of the entertainment industry's most gifted artists in theater, television, movies, music, and dance.

A hands-on workshop with the newest digital video equipment used in film making led by director Gary Graver, who was Orson Welles cinematographer for 20 years. Graver has also worked with such notable directors and Stephen Spielberg and Ron Howard.



DAN WEAVER

Hollywood talk show producer Dan Weaver, who has produced for Good Morning America, Donahue, Montel Williams and Geraldo (to name a few) will discuss the exploding opportunities for directors, producers and filmmakers on the internet.

He created the talker, Jim J & Tammy Faye. His first book, Breaking into Television, is just out, offering students insight into television networking. Dan is based in Los Angeles where he resides with his Dalmatian, Tammy Faye Barker.

Actress/producer Jillian Kesner (Happy Days, Mork and Mindy) will talk about what goes on Behind The Magic, the Nuts and Bolts of Production.



GORDON HUNT

The filmmaker series continues through the week, featuring Mad About You director Gordon Hunt who will teach acting for voice overs and commercials. Hunt was recently recognized as the 1997 Director's Guild Award Winner for best director of a TV comedy show. Hunt has also directed episodes of Frazier, Coach, Caroline In The City, and Hudson Street. As director of the Voice Department at Hanna Barbera Productions, Hunt directed the voices for hundreds of hours of network and syndicated cartoons. He has directed plays and musicals in New York and Los Angeles and also teaches scene study classes. He is the author of the best-selling theatre book, How To Audition. And - yes, Gordon is the proud father of Helen Hunt.

Joan Darling, creative advisor to the Sundance Film Labs and director of MASH among hundreds of other credits has a seminar entitled From Sundance to Iowa.

Regional filmmakers will join Iowa Film Office Director Wendol Jarvis to discuss opportunities and challenges of creating independent films in the Midwest. Brady Bunch writer/producer Lloyd Schwartz will discuss creating independent films v.s. working in a major studio production. Producer Jimmy Hawkins offers a seminar which introduces how a motion picture is created, Alan Young and Eddie Foy 111 are among the other notables teaching classes.


MOO YORK, MOO YORK, AN UDDERLY WONDERFUL TOWN

Destined to be the biggest event of the Moo-llennium, CowParade New York 2000 kicked off June 15, when 500 life-sized fiberglass cow sculptures stampeded through the five boroughs of New York City.

The cows are uniquely designed by area artists and sponsored by corporate and individual patrons. The cows will graze in the urban pastures of New York City through Labor Day. This fall, they'll be put up for auction, with net proceeds to benefit New York area charities supporting children, education, the arts and the Parks.



FERRAGAMOO DIAMONDS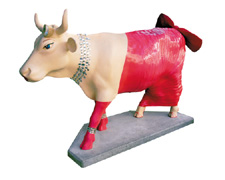 The bovines can be found in a myriad of locations around New York City, from rooftops to boats and landmarks like Shea Stadium and the Coney Island Boardwalk. Outside the Peninsula Hotel on Fifth Avenue at 55th Street, a cow is dressed like a hotel page in a jaunty white pillbox hat. Another, at the South Street Seaport, mimics Lady Liberty.

There'll be a Broadway cow decorated with marquees, a taxi cow and one named Radio City Moosic Hall.

Introduced in 1998 in Zurich, the organizing body that was to become CowParade Holdings developed the concept as a unique event to showcase the local arts community. The Swiss exhibit started with 400 cows in the retail centers of Zurich, and by the time the event closed, more than 800 cows were roaming the downtown streets.

While in Zurich on business, a prominent Chicago businessman saw the cow parade and decided to bring the concept back to the United States. The Chicago herd of 340 cows set off summertime cow-mania on North Michigan Avenue and across the city, with over 10 million people seeing the decorated bovines. The local business community got in on the craze and milked the exhibition for the benefit of its customers.

Official cow merchandise, hotel packages offering cow tours and restaurants serving black cow ice cream specialties were just some of the offerings.

Mr.Elbaum, a former lawyer who "has always liked cows," is now full-time president of CowParade. He says it's "first and foremost an art event," reflecting local culture and history through New York themes.The Roebling Cow, for instance, honors John Augustus Roebling, designer of the Brooklyn Bridge. Roebling, the cow, is wrapped in 5,000 feet of rope of varying diameters and painted the gray of the bridge so "it gives the appearance of cable."



UNCLE SAM COW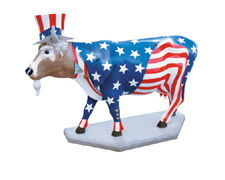 Future CowParades are planned for Honolulu, Kansas City, Houston and Australia. "These are new events and they're totally different, except for the cow shapes," says Elbaum.

The cow forms come in three poses - grazing, sitting or standing - and each weighs about 100 pounds, is about 7 feet long and is attached to a concrete base. Some famous artists such as Peter Max and Woody Jackson, who designed bovines for Ben & Jerry's containers, are among the creators of the New York cows.

Stamford, Cow-necticut and West Orange, Moo Jersey will also host herds of these beautiful bovines this summer.

"One thing you should know," says Elbaum, "is that the cow is the right animal." Its bone structure, for instance, presents some very interesting angles for artists to use. Cows are happy animals. They're benign, quirky, whimsical and lovable."


SWEET CHARITY


TONY BENNETT was back in Salt Lake City last Friday, his first performance there since a standing-room-only audience in Abravanel Hall three years ago. Bennett no sooner walked on stage than he received a standing ovation. The charity event included a pre-concert reception, dinner and auction. Bennett won his ninth Grammy this year in the Best Traditional pop category for "Bennett Sings Ellington Hot & Cool," his tribute to the late Duke.Ellington. All proceeds from the concert will benefited the Caring Foundation for Children, which will go toward sending Utah children and teens to YMCA Camp Roger.


OTHER PEOPLE'S MONEY


KELSEY GRAMMER currently starring in Macbeth at the music Box Theatre, looks like he's dropped 30 pounds and walks stiffly.
"He walks like he's had orthoscopic surgery," said a friend who has had the procedure. Then again, maybe the star of the hit Frazier TV series looks and walks differently because he's removed as much as $1.5 million from his pants' pockets. The actor, who hasn't been on Broadway in 14 years, is putting the greenbacks where his performance is. In trouble and ready to close out of town, Grammer saved Macbeth- and the jobs of fellow performers - by coming up with the desperately needed funds. It's a non binding loan. If the production doesn't make it, Grammer loses the money. Bravo to Kelsey and we're hoping if he doesn't make a profit he at least recoups most of it. Macbeth has never been known to be a get rich quick production - but Kelsey knows that.



CELEBRATION OF THE LIZARD Break on through to the other side in this world premiere of a new musical based on the music and lyrics of The Doors. Through July 2nd at the San Diego Repertory Theater. It's getting its act together taking it on the road to Broadway. The Celebration of the Lizard,written by Joel Lipman, has been five years in the making. The production is based on a musical poem conceived by Jim Morrison and the Doors in the 1960s.


JIM MORRISON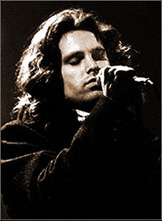 Produced with the cooperation and support of Door's keyboardist Ray Manzarek, this extraordinary musical journey takes its hero - and you - on a wild rollercoaster ride through the glittering wreckage of a futuristic urban landscape in search of a deeper humanity and The Dream. You can't help but hear Jim Morrison's voice in your head as scenes unfold around his poetry and 36 songs by The Doors including Light My Fire, Riders on the Storm and L.A. Woman. For a growing legion of Doors fans, this event promises to be a blinding catapult into the 21st century.Said to be a post-apocalyptic look at Los Angeles, Joel and Ray are currently courting financial backers to mount the production. "The whole point is to get to Broadway," says Manzarek, who is also the artistic director of the show. "Think of San Diego as Hartford. We're just trying out." Manzarek says Lizard" is "just another way of interpreting the Doors. "It beats the hell out of the Oliver Stone movie," he insists, referring to the controversial director's 1991 film The Doors, starring Val Kilmer as Jim Morrison. Manzarek says he never a fan of Stone's take on the band.

STAGE FRIGHT a new black comedy concerning the conflict between artists and critics, premiered June 16 at the Malibu Stage Co.'s theatre. The play, starring Nan Martin, Alan Mandell and Jeremy Lawrence, is written and directed by Charles Marowitz, Malibu Stage Co.'s artistic director, and is produced by company co-founder Jacqueline Bridgeman. Originally presented as a staged reading at Pepperdine University several years ago with Academy Award winner Richard Dreyfus, Nan Martin and James Whitmore, Stage Fright will be the company's first full-fledged production in nearly a year.Stage Fright opened June 16 for the first of four consecutive weekends at Malibu Stage Co.'s theatre, on the Pacific Coast Highway

THE CRUMPLE ZONE a new play by Buddy Thomas, will open off-Broadway on Wednesday, June 28th at The Rattlestick Theatre (formerly Theatre Off Park), 224 Waverly Place. The Crumble Zone, directed by Jason Moore - Associate Director, Les Miserables - is presented by Marcus Kettles. The cast includes; Mario Cantone, Joshua Biton, Gerald Downey, Paul Pecorino and Steve Mateo.Set design by Dawn Robyn Petrlik, costume design by David Mills, lighting design by Ed McCarthy, sound design by Laura Brown, choreography by Peter Kapetan and fight direction by BH Barry. CRUMPLE ZONE (N.) - An area of the car that is designed to compress during an accident to absorb the energy from impact.Winner of the 1998 New Voices Play Award, The Crumple Zone is a dark, fast-paced comedy that follows five very different men as they confront questions of love, infidelity, and friendship over one frantic holiday weekend.

EAT THE RUNT by Avery Crozier, produced by the Mefisto Theatre Company has been extended at Altered Stages, NYC as an open-ended Off-Broadway production. Eat The Runt concerns a surreal interview which leads to the hiring of a grants manager at an art museum All 8 actors have learned all 8 roles in this comedy, and at the beginning of each performance, audience members will choose which actor plays which character. Under the direction of Peter Hawkins and ready to meet the challenge of audience casting the cast included: Kelli K. Barnett, Lora Chio, La Keith Hoskin, Katrishka King, Myles O'Connor, Weil Richmond, Curtis Mark Williams, and Jama Williamson. Prior to the beginning of each performance, the audience will be given a brief, written description of each role and will be able to look at photos of the cast. It has been calculated that there are 40,320 casting possibilities.

ANNIE replaces the postponed Annie Get Your Gun at the San Diego Playgoers.


WHO'S WHERE


LES PAUL celebrates his 85th birthday by playing his usual Monday night gig at Iridium in NYC.


LES PAUL performing at Iridium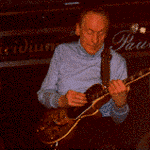 It's Les Paul that made rock 'n' roll possible by inventing the solid-body electric guitar and also helped develop revolutionary recording techniques, such as multi-tracking and echo delay. During the almost eight decades that he's been in the business he's had a string of 1950s chart topping records -Vaya Con Dios and How High the Moon, wife, Mary Ford -who died in 1977-, and along with his late wife, had a hit TV show The Les Paul and Mary Ford Show. Paul is also a member of two Hall of Fames- the Rock and Roll one and the Inventors Hall of Fame.

VICTOR BORGE For more than 60 years the pianist affectionately known as "The Great Dane" has been filling audiences with a unique mixture of mirth and passion for classical music. He did just that last night at the California Center for the Arts in Escondido.

REBA MC ENTIRE to replace Bernadette Peters in Annie Get Your Gun The Oklahoma born singer, who has sold more than 40 million albums, will reportedly join the hit revival in January, playing sharpshooter Annie Oakley. This will be Reba's first Broadway musical. Tom Wopat will also leave the production when Peters departs. His replacement has not yet been announced.Wopat may reprise his role in the national tour with Marilu Henner.

JOSH BROLIN AND ELIAS KOTEAS now starring in True West Circle in the Square Theatre, NYC. They are in the interchangeable roles for 10 weeks. Brolin plays Austin and the soft-spoken screenwriter and Koteas is Lee, his drifter brother. The two will switch roles in July and begins alternating the parts in August.

DAVID SHINER the delightfully talented gent last appeared on Broadway in Fool Moon is set to star as The Cat in Seussical, the Dr. Seuss musical which opens in October at the Richard Rogers Theatre NYC. Since this is Shiner's first musical, David will be spending the summer taking singing lessons.

MATTHEW BRODERICK on the short list to join Nathan Lane in the Broadway version of The Producers.

LINDA ASHER brings her new show to Don't Tell Mama in New York City, accompanied by her Bistro award winning musical director Jeff Waxman. June 24 and June 30.

DIANE KRALL JVC Jazz Festival appearance, on June 21 at the Supper Club, NYC.


THIS AND THAT


LEE ANN WOMACK didn't let a little thing like - her bus smashing into a jack-knifed truck, running off the road and falling onto its side, forcing the singer, her daughter and her husband to crawl out the bus windows - bother her. The spunky performer, who was returning to Tennessee from Houston, climbed into the band bus and made it to Fan Fair in time to put on 4-inch Lucite heels and signed autographs for four hours

ELVIS ADDITIONS The Elvis-A-Rama Museum in Las Vegas has added more personal items of the King of Rock and Roll, bringing the total value of the museum's display to more than $3.5 million. New items include the Cisco Kid black and green leather trimmed jumpsuit that was pictured on the sleeve of the 1971 album He Touched Me, another jumpsuit that Elvis wore in 1975 at the Las Vegas Hilton, and Elvis' 1956 black address book that includes the names and telephone number of Natalie Wood and Nick Adams. Also added is one of only two Army trunks Elvis shipped from Germany containing fatigues and eight pages of correspondence. Those blue suede shoes Elvis didn't want anybody to step on, signed by Presley, are part of the memorabilia.






Mention BROADWAY TO VEGAS for Special Consideration
Call (800) 942-9027









Next Column: June 25 2000
Copyright: June 18, 2000. All Rights Reserved. Reviews, Interviews, Commentary, Graphics, Photographs from any Broadway To Vegas (TM) columns may not be published, broadcast, rewritten, utilized as leads, or used in any manner without permission, compensation and/or credit.
Link to Main Page
---
Laura Deni


CLICK HERE FOR COMMENT SECTION