! >
Broadway To Vegas
  
  REVIEWS INTERVIEWS COMMENTARY NEWS

| | |
| --- | --- |
| | |
OLYMPIC GREEN AND PLEASANT OPENING CEREMONY WILL NEED A POOPER SCOOPER PATROL - - TONY WINNER JUDITH LIGHT STARTS JEWELRY AND HANDBAG LINE - - QUEEN ELIZABETH'S BIRTHDAY HONORS LIST TAPS CELEBRITIES - - SHAKESPEARE THEATRE COMPANY FILES LAWSUIT - - AUCTION OF FOLIES BERGERE COSTUMES KICK UP A RECORD - - YOKO ONO: TO THE LIGHT - - NASTY TRIAL STEPHEN BALDWIN vs KEVIN COSTNER - - DIRECTOR GRANDAGE STARTS OWN THEATRE COMPANY - - DONATE . . . Scroll Down


Copyright: June 17, 2012
By: Laura Deni
CLICK HERE FOR COMMENT SECTION

OLYMPIC GREEN AND PLEASANT OPENING CEREMONY WILL NEED A POOPER SCOOPER PATROL


Mock-up of the landscape for the opening ceremony. Photo: Handout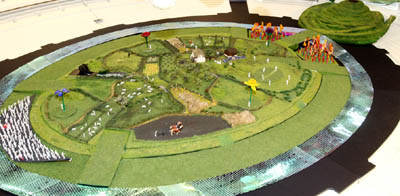 Someday people will be able to proudly tell their grandchildren that they participated in the 2012 London Games ceremony - as a pooper scooper.

The Olympic Stadium will be transformed into a "British countryside" for the opening London Games 2012 ceremony. Entitled Isles of Wonder, inspired by Caliban's speech in Shakespeare's The Tempest that will be referenced throughout the four ceremonies of the Olympic and Paralympic Games, according to artistic director Danny Boyle whose film Slumdog Millionaire won eight Oscars.

The $42 million, three-hour July 27th opening ceremony, dubbed Green and Pleasant, will feature live farmyard animals which will be grazing in the "countryside", composed of real grass, real ploughs, real soil as the playground for a menagerie of 70 sheep, 12 horses, three cows, two goats, 10 chickens, 10 ducks, nine geese and three sheepdogs.

No word on how many it takes to clean up after the "actors."

However, a cast of 10,000 volunteers has already taken part in 157 rehearsals in which they will bring to life a sweet concept - recreating country scenes, against a backdrop featuring farmyard animals and Glastonbury's Tor (Hill), known for the world-famous music festival. There will also be two mosh-pits - one representing the Glastonbury festival and another the Last Night of the Proms - each filled with 100 teens.

Children will dance around a giant maypoles representing the flower symbols of the four nations in the United Kingdom - the rose of England, the thistle of Scotland, the daffodil of Wales and flax from Northern Ireland.

The set will feature meadows, fields and rivers, with families enjoying picnics, people playing cricket on the village green and farmers tilling the soil.

Also part of the design plan is a stand-in for Mother Nature - "clouds" suspended from wires above the stadium - one of which will produce rain, should the British weather not cooperate by provide the drops.

One billion people worldwide are expected to watch the opening ceremony which will include a parade of NHS nurses.

The world's largest "harmonically-tuned" bell, weighing 23 tons and measuring 6.5 feet tall x 9.8 feet wide, will ring inside the Stadium to start the Shakespeare-inspired spectacle, featuring 900 children from the six Games host boroughs.

The bell, which was produced by the Whitechapel Bell Foundry and is inscribed with a quote from The Tempest's Caliban: "Be not afeard, the isle is full of noises", has already been installed in the Stadium.



Artistic Director Danny Boyle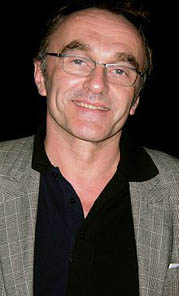 Boyle said the bell was appropriate because: "That's how communities notified each other that something important was going to happen...after the war the bells were rung in London to announce the peace and we will begin our Games with a symbol of peace."

London Games chief Sebastian Coe said organizers had designed "one of the biggest sets ever built" for the stadium, - 161,458,656 sq feet - which will be equipped with a million-watt sound system with 500 speakers, in 50 tons of sound gear and 1,100 automated lamps.

Boyle is collaborating with electronic musical duo Underworld, whose 1990s rave classic Born Slippy was featured in Trainspotting. They have already mixed two tracks at London's Abbey Road studios.

However, the director emphasized that it was not a musical show but a narrative set to music. Stephen Daldry, the Billy Elliott director who is overseeing all four ceremonies, said the ceremony was Boyle's "singular vision" rather than being developed "by committee".

The production team at East London's 3 Mills Studios is completing work on nearly 12,956 props, while staff in the production department are creating 23,000 costumes for the four Olympic and Paralympic ceremonies. The costumers' duties includes sewing 24,570 buttons onto the costumes for just one of the opening sequences.

Last Wednesday Prince Charles and his wife Camilla The Duchess of Cornwall toured the 3 Mills Studios. The couple were given a sneak peek and met volunteers producing costumes for the ceremonies.



Prince Charles and his wife and Camilla The Duchess of Cornwall discuss Olympic costumes with one of the designers. Photo: PA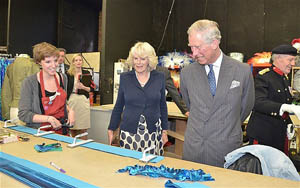 Prince Charles was impressed and enjoyed a laugh with an opening ceremony costume designer. Photo: PA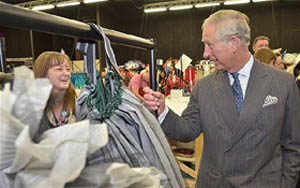 The Prince of Wales was impressed.

Their Royal Highnesses met some of the volunteers taking part as the helpers tried on their outfits. Prince Charles asked a man who had just squeezed into his costume: "Is this the first time you've put it on? I love it."

The volunteer, one of thousands who have given up their time to take part in the event, gave a brief demonstration for Their Royal Highnesses. The Duchess joked: "That's one way of keeping fit."

Jenny Bigland, from Finchley, north London, a ceremonies workforce volunteer, is also a member of the Women's Institute and has been helping out with the Games preparations since March.

She said: "It was a complete surprise and an honor to meet The Prince and The Duchess, particularly after the Jubilee. "The Prince was fascinated to learn all about the costumes we were working on and asked what each costume is for."

A full dress rehearsal will be held for a capacity crowd of 80,000 in the Olympic Stadium.

The closing ceremony will be a more traditional celebration of British music. Ex-Beatle Sir Paul McCartney is to close the ceremony, which will be attended by Queen Elizabeth.

The London Olympics run July 27-August 12.





Broadway To Vegas is supported through advertising and donations. Priority consideration is given to interview suggestions, news, press releases, etc from paid supporters. However, no paid supporters control, alter, edit, or in any way manipulate the content of this site. Your donation is appreciated. We accept PAYPAL. Thank you for your interest.



ART AND ABOUT


YOKO ONO: TO THE LIGHT a major exhibition of the work of celebrated artist Yoko Ono for the London 2012 Festival, which will include #smilesfilm, a large-scale participatory project.

On display June 19-September 9, 2012.

The Serpentine's timely exhibition will reflect upon the enormous impact that Yoko Ono has made on contemporary art, exploring her influential role in art, music, film and performance.

Her first exhibition in a London public institution for more than a decade, Ono will present new and existing works, some of which have rarely been shown in the UK.

These will include installations, films and performances, as well as architectural alterations to the galleries.

Ono's continuing interest in the relationship between the roles of artist and viewer is evident throughout the exhibition.

A number of works in this exhibit position both artist and viewer as agents of change. For example, a series of instruction pieces written especially for the Serpentine Gallery can be completed physically or mentally by the viewer, while the large-scale installation Amaze transforms the viewer from the observer to the observed.

Ono also presents #smilesfilm, a worldwide participatory project that will be exhibited at the Serpentine Gallery and encourages participation online. Conceived as a way of connecting people across the world, the project invites people to upload and send images of their smiles by hash-tagging #smilesfilm, creating a global string of smiles covering the planet.

Yoko Ono will also be in conversation with Waldemar Janusczak on Tuesday, June 19.

Yoko Ono will discuss her pioneering work with prominent art critic and film-maker Waldemar Januszczak in the Serpentine Gallery Pavilion 2012 by Herzog & de Meuron and Ai Weiwei. Januszczak is the art critic for The Sunday Times and the Director of ZCZ Films.

To The Light at the Serpentine Gallery is part of the London 2012 Festival, a spectacular 12-week UK-wide celebration featuring internationally-renowned artists to the final day of the Paralympic Games on September 9, 2012.


SWEET CHARITY


DUCHESS KATE

Duchess Kate wearing a teal dress from the High Street store, Zara, and a Whistles black jacket is pictured talking to cast members after the show. Photo: Getty.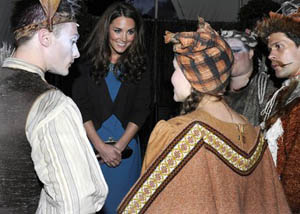 left her husband Prince William at home to watch the Euro 2012 football match between England and Sweden on television (England beat Sweden in the European Championship by a score of 3-2) while she took 150 children from one of her charities, The Art Room, to see a production of The Lion, The Witch and The Wardrobe which took place in an 85-foot high tent in Kensington Gardens.

The children who accompanied her attend six schools in London and Oxford to which the charity, which helps children from disadvantaged or challenging backgrounds to express themselves and develop confidence through art, are linked. Most of them had never before seen a stage show.

The voice of the lion Aslan is provided by actor David Suchet.

During intermission Kate chatted with the children about what they had seen in the first half.

Asked whether she knew the story, she said: "Of course! I read it as a child and have seen many adaptations. This was spectacular though."

"Did you see all the animals on stilts and wasn't Lucy cute?" she asked.

"Some of the characters are really quite frightening. I hope you don't get too scared," she added.

Turning to another group she asked: 'What I really want to know is have any of you tried Turkish Delight?" referring to the sweet treat in C. S. Lewis' famous book which was used to trick Edmund Pevensie by The White Witch into betraying his siblings and the fawn Mr Tumnus.

Before she left the Duchess met members of the cast including several fawns and badgers as well as a spectacular life size Aslan.

One member of the cast kidded: 'She has got to meet us baddies - we are the interesting ones!'

The show, which runs all summer, is a dazzling retelling of the C.S.Lewis classic by renowned company Threesixty and is performed on a circular stage.

GENE SISKEL FILM CENTER'S ANNUAL SUMMER FUND-RAISER will honor Oscar winner Reese Witherspoon during the June 23 fete at the Ritz-Carlton Hotel in Chicago.

The evening begins with a reception followed by dinner and the evening's program.

A Q&A discussion with Witherspoon will feature film clips from Witherspoon's career. At the conclusion of the program, SAIC President Dr. Walter E. Massey will present Witherspoon with the Gene Siskel Film Center Renaissance Award.

R.S. Owens, the Chicago-based manufacturer of the Oscar statuettes, will create the award specifically for A Summer Evening with Reese Witherspoon.

Suggested attire for the evening is Cocktail Glam.

Proceeds from A Summer Evening with Reese Witherspoon will support the Gene Siskel Film Center's presentations as well as lecture series and discussions with visiting scholars and filmmakers that provide the opportunity for students and the Chicago community to experience the best in film presentation.

THE PHILHALLMONIC SOCIETY "Swingin' On A Star a musical celebration of the 1940's" takes place Saturday, June 23 at the Bruno Walter Auditorium at Lincoln Center.

This free concert is"Singing So Others Can Soar."

Get on board the A-train as The Philhallmonic Society delight you with the magical songs of the era that still captivates with such song classics as Boogie Woogie Bugle Boy, The Fleet's In, Jukebox Saturday Night, In The Mood, Laura, I'm Gonna Wash That Man Right Outta My Hair, There's No Business Like Show Business, You'll Never Walk Alone and La Vie En Rose.

The Philhallmonic Society is made up of professional Broadway, cabaret and classical singers including Karen Arlington, Mary Lou Barber, Dolly Ellen Friedman, Lenore Fuerstman, Jani Gerard, Valerie Lemon, Linda Sue Moshier, Rachael Robbins and Diana Silva. The production is musically staged by Broadway dancer and choreographer Sharon Halley. Musicians Phil Hall (arranger and pianist), Keith Crupi (drums) and Paul Nowinski (bass) will raise the roof with this exuberant music.

Under the leadership of Phil Hall, The Philhallmonic Society is a bevy of beautiful Broadway, cabaret and classical singers who contribute their talents to support humanitarian causes. They sing their hearts out to send a message which is all too often forgotten: it is never too late to follow your passion, and, by doing so, find fulfillment and help others. For over the past year, these multi-talented ladies have been performing free of charge at various charitable organizations from The Actors Fund Home to The Salvation Army residence.


DIRECTOR MICHAEL GRANDAGE FORMS NEW THEATRE COMPANY
Michael Grandage at the 2010 Tony Awards. His production of Red by John Logan won 6 Tony Awards including Best Play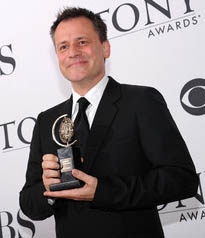 Sometimes new theatrical companies have a difficult time persuading bankable names to take to the new stage.

Not so in the case of respected director Michael Grandage when he announced he was launching a new company to produce theatre, film and television mainly in London and New York.

The man who served as artistic director of the Donmar Warehouse in London from 2002-2012 has a high powered roster that includes Jude Law, Judi Dench, Daniel Radcliffe, Simon Russell Beale, Sheridan Smith, David Walliams and Ben Whishaw.

The 15-month season of five plays will run at the Noel Coward Theatre from December 2012 to February 2014.

One of the purposes of The Michael Grandage Company is to reach out to new audiences through lower ticket prices.

Over 200 tickets will be available for every performance at just $15.50

Every production will also have at least one free performance for schools and colleges from London which will focus on first-time theatregoers. This will launch MGC Futures, a program aimed to introduce young people to the theatre.

"This unique West End season brings together writers, actors and other artists in a single venture over 15 months dedicated to presenting work of the highest quality at affordable prices," Grandage said in a joint statement with his partner in the venture, executive producer James Bierman.



Judi Dench will return to the stage in Peter and Alice.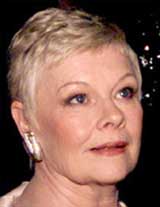 The season commences with a new production of Peter Nichols' Privates on Parade, with music by Denis King. The cast will include Simon Russell Beale as the cross-dressing Captain Terri Dennis. It will begin performances December 1, 2012.

It will be followed by the world premiere of John Logan's Peter and Alice, starring Judi Dench and Ben Whishaw. It will begin performances March 9, 2013.

Set in the 1930s, Dench will portray Alice Liddell Hargreaves the 'original' Alice In Wonderland and Whishaw will plays Peter Llewelyn Davies, the 'original' Peter Pan who meet at the opening of a Lewis Carroll exhibition in 1932. In this play that brief encounter lays bare the lives of these two extraordinary characters.

Martin McDonagh's The Cripple of Inishmann is to receive it first major London revival since its 1996 premiere at the National Theatre. Daniel Radcliffe will return to the London stage to play the title role of Cripple Billy. It begins performances June 8. A Midsummer Night's Dream, which begins performances Sept. 7 will feature Sheridan Smith as Titania and David Walliams as Bottom.

Jude Law will play the title role in Shakespeare's Henry V, which begins performances November 23, 2013


TONY AWARD WINNER JUDITH LIGHT STARTS LINE OF JEWELRY AND HANDBAGS
Newly minted Tony Award winner Judith Light with her award. Photo: Getty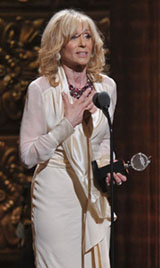 Emmy Award winning actress Judith Light, who last Sunday captured a Tony Award for her featured performance in Jon Robin Baitz's Other Desert Cities, is espousing the belief that you can never own too much jewelry or too many handbags by introducing her own product lines.

She has a 45 second video touting the bauble line which includes Who's The Boss clips with co-star Tony Danza as well as several scenes from Ugly Betty.

Two trademark applications on behalf of the performer were filed Tuesday, April 10, 2012.

The correspondent listed for JUDITH LIGHT is SIDNEY D. BLUMING of MEISTER SEELIG & FEIN LLP, 140 E 45TH ST FL 19, NEW YORK, NY 10017-7143.

The jewelry trademark filing was given the serial number of 85593772. The handbag filing bears the serial number of 85593785.

According to the document filing, the jewelry is listed under a primary class of:

Precious metals and their alloys and goods in precious metals or coated therewith, not included in other classes: jewelry, precious stones; horological and chronometric instruments.

The handbag trademark application is under Leather Products (not including clothing.)

The description provided to the USPTO for Judith Light is Handbags. That is described as:

Leather and imitations of leather, and good made of these materials and not included in other classes; animal skins, hides; trunks and travelling bags; umbrellas, parasols and walking sticks; ships, harness and saddlery.

Her handbag line is available and while her jewelry collection has had a limited test run, the baubles are about to be launched on HSN.


NEW ORLEANS JURY VOTES FOR KEVIN COSTNER OVER STEPHEN BALDWIN IN MESSY TRIAL
Kevin Costner says he will counter-sue.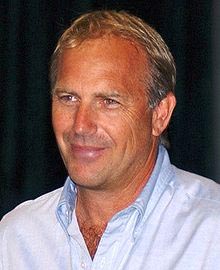 And, the winner is . . .

The envelope the judge opened indicated that it took an eight-person federal jury less than two hours Thursday to reject claims made by Stephen Baldwin that Kevin Costner, and his business partner Ocean Therapy Solutions, duped him and his friend Mr. Spyridon C. Contogouris out of millions of dollars from a BP contract for using oil cleanup devices in the aftermath of the 2010 Gulf of Mexico spill. Contogouris was identified as a wealthy businessman who attends the Cannes film festival in the south of France.

( See Broadway To Vegas column of June 20, 2010 )

The trial, which began June 4 and heard eight days of testimony, became as messy as the oil spill, including charges that Baldwin - a born-again Christian - threatened to feed personal information about Kevin Costner to The New York Times.

Costner refused to settle, testified Scott Smith, CEO of Opflex Solutions, a company that contracted with BP after the spill. He added he didn't know if Baldwin followed through on the threat which was allegedly made during a car ride from New Orleans to Grand Isle, La., in November 2010.

Smith, who was called as a witness by Costner's lawyers, testified that he was shocked by his exchange with Baldwin, whom he had hired as a spokesman for Opflex Solutions, a company which makes foam that repels water but absorbs oil.

"I said, 'Stephen, that's blackmail,'" Smith recalled.

He quoted Baldwin as saying, "I have to be careful how I do it."

Costner testified he has lost $24 million since the 1990s trying to perfect the centrifuge devices, which separate oil from water.

"I've lost more money in cleaning up oil spills than anyone in the world," he said, adding that he became frustrated by the way in he depicted in the press.

"I had to get over the mythology of Kevin and his crazy machine," Costner declared.

Baldwin, who was seated at the plaintiffs' table, but had avoided eye contact with Costner - reacted.

Costner turned to him. "Are you amused by this?" Costner asked.

Baldwin's lawyer, James Cobb, intervened. "Are you talking to me?" he queried.

"No, I was looking at your client, Mr. Baldwin," Costner shot back.

US District Judge Martin Feldman stopped them. "This is going to stay civil," the judge intoned.

It was the second time the judge admonished Costner.

"I'm finished with you being loud with me," chastised the judge after the actor had interrupted.



The jury ruled against Stephen Baldwin. Photo by Gage Skidmore.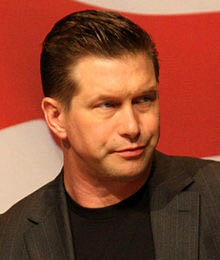 Baldwin testified regarding his buying into the firm with partner Contogouris. They sold their shares for $1.4 million and $500,000, respectively, in 2010, losing out on a windfall profit.

Costner's company scored a $52 million deal with BP. Baldwin and Contogouris were asking for $17 million.

The jury awarded them nothing.

However, two days before deliberations - while the jury was out of the room having lunch - Judge Feldman told attorneys that if the case were his to decide he had no idea which way he would rule, but that some elements of it "don't pass the smell test."

After Baldwin testified on June 11, Judge Feldman told the lawyers that was not persuaded that Baldwin and Contogouris has been taken for their shares, according to the Courthouse News Service (CN). "Contogouris did testify that as of May 13 he was the managing member" of Ocean Therapy Solutions, Feldman said, without the jury present.

Although it was established that Baldwin was not particularly involved with Ocean Therapy Solutions, he did help open at least one important door, said the judge.

"Mr. Baldwin helped somebody meet (Plaquemines Parish President) Billy Nungesser, but he was off on the side trying to work on his film that was never really pursued," the judge said referring to Baldwin's testimony that at the time he was busy at work on a feature-length documentary about the oil spill.

The test for evidence in a trial is "whether reasonable people would differ," Feldman said. "As it is now, a lot of reasonable people could differ" about the facts.

According to CN, Feldman added he was stumped by the "peculiar way" the money BP put up for the centrifuges "is woven" throughout this trial.

A bank account that Patrick Smith opened in California, to which Smith asked BP to wire the $18 million initial payment for the centrifuges, "doesn't pass the smell test" Feldman said. He wondered if it will pass the test for the jury.

Ocean Therapy Solutions had a Louisiana bank account at First NBC Bank. On June 19, 2010, Smith opened a bank account in California in the name WestPac Development, a similar but different name from the company he jointly owned with Costner, which was called WestPac Resources.

According to CN, Smith testified under questioning by Costner's attorney Wayne Lee that when the account was opened, Costner was not a signatory. In the middle of June 2010, Smith sold some of Baldwin's and Contogouris' shares to Ted Skokos, a millionaire developer he knew from Aspen, Colo.

Skokos put up $3 million; $1.9 million went toward the purchase of 17 percent of Baldwin's and Contogouris' shares in OTS. The other $2.1 million was a loan to OTS.

Smith told Skokos to transfer the money into the California bank account. Smith told BP to wire the $18 million for the centrifuges to the same bank, according to trial testimony, as reported by CN.

When in December 2010 Skokos learned that the money he put up for Ocean Therapy Solutions went into a California bank account and that part of it was used to repay Baldwin and Contogouris for their shares in OTS, Skokos told Smith the arrangement was "outright theft," according to Baldwin's attorney, James Cobb.

Smith repaid Skokos everything, plus $1.85 million in interest, on Jan. 10, 2011. Their contract would have enforced a penalty if the money were repaid sooner.

Skokos testified he was "misled" by Smith and his investment in OTS, and that "apparently" he was the "only dummy" in the company who was actually putting up money after Contogouris, the other paying member, sold his interest.

Baldwin testified that he never was asked to invest in the company, and that if he had been he could have found the money, even though he was in the midst of filing bankruptcy. He said he would have asked his older brother, actor Alec Baldwin, for the money.

Skokos called Smith's actions "theft, pure and simple."

Beginning in May 2010 and continuing for some time, Baldwin's attorney James Cobb said, Smith, Costner and the CEO of Ocean Therapy Solutions, John Houghtaling, submitted invoices for work performed 24 hours a day, seven days a week. They billed at $600 an hour.

Costner testified he would have done things differently if he had been in charge.

"It wasn't what I would have done, to be honest," Costner said. "But I wasn't the one driving the car." But he said he understood the logic behind Smith and Houghtaling's reasoning.

"Listen, I have five companies. I've never paid myself a salary," Costner said.

Costner said he was grateful for the opportunity to clear his name.

"My name means more to me than money and that's why we didn't settle," he said shortly after the verdict.

Costner and Smith have countersued Baldwin and Contogouris for damages.

"We're disappointed. We thought we proved rather convincingly that these two guys, Mr. Costner and Mr. Smith, defrauded us," Baldwin's attorney James Cobb said after the verdict. "The jury saw it a different way but we respect the jury's verdict."

Cobb also speculated that celebrity was a major factor in the outcome "because I believe we proved our case and because the bigger celebrity won."


AUCTION OF FOLIES BERGERE COSTUMES KICK UP A RECORD
Costumes from the Folies Bergère are displayed at the Palais de la Bourse as part of the pre-auction viewing for the 'Ventes de folie' auction in Paris. Photo: Getty for Bailly-Pommery & Voutier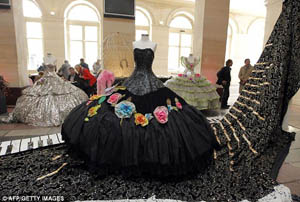 The Folies Bergère inspired the Ziegfeld Follies in the United States and other similar shows, including a longstanding revue at the Tropicana Resort & Casino in Las Vegas and the Teatro Follies in Mexico.

The Las Vegas Folies Bergere, which opened in 1959, closed at the end of March 2009, after nearly 50 years in operation.

The costumes from the French productions were gaveled down in an auction staged by Bailly-Pommery & Voutier in Paris.

In all, a treasure trove of about 1,000 items were put on sale, raking in a total of $516,762 - beating expectations.

If only those costumes could talk.



This incredible avant garde dress is typical of the out-there, hedonistic spirit of the Folies Bergère. Photo: Getty for Bailly-Pommery & Voutier.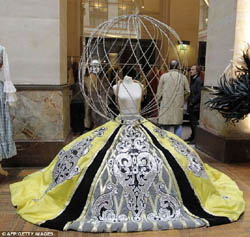 Thirteen letters and the word "Folie", that was the rule for naming all the shows produced by Paul Derval, who became the director of the Folies Bergère in 1918 and who "lorded over" the most beautiful women in Paris for nearly half a century.

In August 1974, Hélène Martini (whose name is made up of 13 letters), who had all the required qualifications to ensure the survival of the very last music-hall in history, became the 13th director of the Folies Bergère.

This auction sale conducted by auctioneer Florent Magnin was dubbed "Ventes de Folie" to maintain the thirteen-letter tradition dear to the heart of the superstitious Paul Derval who, in the 1920s, invented the Folies Bergère style - an extravaganza of costumes, sets and stage effects to showcase the beauty of his "little naked ladies".



Helene Martini saved over 6,000 costumes. Photo: Getty for Bailly-Pommery & Voutier.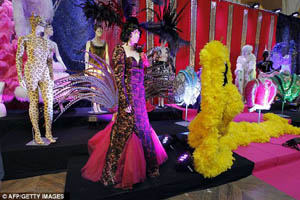 Nicknamed the "empress of the night", Helene Martini ran the Folies Bergere - Paris's biggest music hall, founded in 1869 - from 1974 until September 2011, when it was acquired by the Lagardere group.

The famous music hall is the venue that launched both Maurice Chevalier and Josephine Baker.

Helene Martini has a background as intriguing as her profession.

The Polish-born Martini narrowly escaped death during World War II when she and her family were arrested by the Russians then held by the Germans for three years in the Koenigsberg prison camp. She was the only member of her family to survive.

She migrated to Paris where, at age 20, she was hired as a nude showgirl at the Folies Bergere.

When she won 3 million francs in the national lottery her life again changed. She met Syrian born Nachat Martini in a book store. The lawyer and secret agent for France had been compelled to exile himself to France in 1947.

Their love was immediate and deep.

They opened a cabaret in Pigalle, then the center of the raunchy side of Paris' nightlife. Eighteen months later the two were out of business. "Everyone was dishonest and we were robbed," Hélène told the press at a pre auction viewing. Theft in business is on-going, she conceded, but added with a cautionary tone, "It must be done with elegance and kept to a minimum."

The Martinis engaged in the buying and selling of cabarets. In fact, a new cabaret became Nachat Martini's favorite birthday gift to his wife.

Together, they transformed their cabaret kingdom into a world empire. In public she also addressed him as "Monsieur Martini". In private, he was the love of her life.



Josephine Baker, who became on overnight sensation at the club with her Danse sauvage gowned in a banana skirt and less else.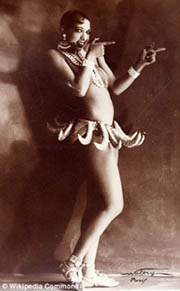 "Nachat Martini, 50, kissed his wife goodbye, waddled from the door of his chateau in suburban Servon, and got behind the wheel of his Buick. The horn began to sound insistently, and his statuesque wife Helene rushed out to find her 5-ft. 5-in., 220-lb. husband sprawled over the steering wheel, his body quivering from a massive heart attack. In a few moments, the uncrowned "King of the Place Pigalle" was dead," wrote Time in a January 6, 1961 article. At 35, the widow Hélène Martini had increased tenfold the estate she had inherited.

Also dubbed "the Iron Lady", with 900 employees, whom she speaks to in any of their five native languages, Hélène Martini purchased a string of theatres, including the Bouffes Parisiens, the Mogador, the Comédie de Paris, and cabarets, such as the Raspoutine and Shéhérezade.

She also bought clubs in America, including Los Angeles. "When Sinatra saw me, he would said to his wife: 'That's my boss'," she told Le Parisien.

Asked why she was selling she said: "I've worked enough, I'm almost 90." "It's all going. That's the end of the story. I'm not a girl who makes a song and dance about the past."



Costume mock-ups. Nearly 170 staff worked full time to create the costumes. Photo: Getty for Bailly-Pommery & Voutier.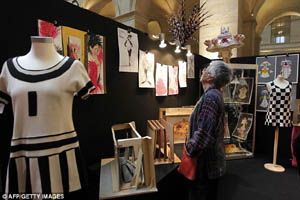 Corsets, hats, feathers, laces, sequins, shoes and frills were offered at pocket change starting prices.

Crinoline dresses, French cancan costumes, movie star gowns, spectacular revue cloaks, sequined evening gowns, as well as men's capes and frock coats were hammered down.

"With six crinolines, I can fill up a stage", said Michel Gyarmathy, who served as scriptwriter, stage director and scenic designer of the Folies for 56 years.

A staff of nearly worked full time at the Folies to create fairy-tale shows in which the costumes were meant to express imagination and joie de vivre. Martini saved 6,000 of the stage costumes.

Most of Martini's glittery collection, in European sizes 36 to 38, British sizes eight to 10, was designed and sewn in the music hall's own workshops from 1970 to 2000.

Many drawings by Erté (1882 - 1990), Hélène Martini's faithful friend, who knew how to express the Folies' excess went up for bid. The mad, the monstrous, the magnificent, the grandeur that would inspire Hollywood came through in Erté. Famous in the 20s, Erté enjoyed new success thanks to Hélène Martini. Fascinated by dance and the theatre, he went to design costumes and sets, shuttling between Paris, New York and Hollywood. Over 18,000 drawings by Erté were inventoried, and have been a major influence on the fashion industry.


SPREADING THE WORD


L.A. THEATRE WORKS RECORDS The Browning Version, Terence Rattigan's classic drama with a distinguished British cast headed up by Martin Jarvis.

Stuck in a broken marriage and facing the prospect of a retirement with no money, classics master Mr. Crocker-Harris is a tyrant hated by his students. But an unexpected act of kindness breaks his emotional shell, bringing out the deep-rooted dignity and heartbreaking sadness that give this play its power.

Directed by Peter Levin. In addition to Jarvis the cast features Steven Brand, Ian Ogilvy, Darren Richardson, Devon Sorvari, Daniel Stewart.

All performances will be recorded to air on L.A. Theatre Works' syndicated radio theater series, which broadcasts weekly on public radio stations nationwide.

June 21-24 at the James Bridges Theater, UCLA School of Theater, Film and Television Los Angeles, CA.

BROADWAY RECORDS will record the live cabaret performance of Tony Award nominee Laura Osnes for release in September. Osnes will make her cabaret debut at the legendary Café Carlyle in an exclusive two-week engagement, Tuesday, June 19- Saturday, June 30. Three performances (Thursday June 28-Saturday June 30) will be recorded for the Broadway Records release.

Osnes will present an evening of songs culled from Broadway, the Great American Songbook, as well as from the worlds of jazz and folk. During the recording dates, she will be joined by special guests Jeremy Jordan on June 28th, Tom Wopat on June 29th and Max Crumm on June 30th.

There will be other surprise special guests during the Carlyle engagement. The talented lady will be accompanied by a quartet led by her Musical Director Fred Lassen on piano. Joe Langworth directs.

The album will be produced by Fred Lassen and Aaron Ankrum and executive produced by Van Dean and Kenny Howard.

The Café Carlyle is located in The Carlyle Hotel in New York City.

OLNEY THEATRE CENTER in Olney, MD has announced Martin Platt as their new Artistic Director. Platt comes to Olney Theatre Center from his current position as Co-Director of Perry Street Theatricals (PST), a New York based producing company.

Platt was selected after a nation-wide search which began Fall 2011. Spearheading the search as an advisor to the Search Committee was David Mallette, from Management Consultants for the Arts. Olney Theatre Center Board of Directors member Halo Wines served as Chair of the Search Committee.

Amy Marshall is Olney Theatre Center Managing Director.

KATHERINE JENKINS the operatic singing great who impress on Dancing With The Stars says she wants to appear in a musical.

"I really feel confident about my dancing now, so I hope there could be a place for me in the West End or on Broadway - maybe a musical, maybe my own show," announced thee mezzo-soprano.

In the meantime, the 31 year-old from Wales is ready to kick up her heels in her cabaret shows. "I'm going to try and include dance in my shows now".

The awesome talent apparently can do anything well. Her live performance taped at the 02 in London is currently being aired on PBS. During the telecast she let it slip that Andrew Lloyd Webber had called her, which may be a clue that she is headed to the theatrical stage.

Before she hits The Great White Way she'll be on tour with Andrea Bocelli. The two will perform in Sin City at the MGM-Grand on November 24 the day after the duo headline the HP Pavilion in San Jose, CA. The Las Vegas performances will be followed by dates in Dallas, Chicago and New York.

ON THE ICONIC BARBRA STREISAND As her highly anticipated show at Brooklyn's new Barclays Center approaches, the 92Y Tribeca looks at one of the most commercially and critically successful woman in modern entertainment history, and the best-selling female recording artist of all time. Speaker Marc Courtade is business manager for Tilles Center for the Performing Arts at Long Island University and an adjunct professor in the arts management program.

Wednesday, June 20 at 92Y Triceca, NYC.

SEATTLE REP is now accepting applications for its 2012 - 2014 Writers Group cycle. This program provides a structure for writers to challenge, encourage and motivate each other through a two-year conversation about their work and includes a modest stipend, biweekly meetings, and complimentary tickets to the Rep, among other benefits.

COLORING THE GREAT WHITE WAY Where are the Producers of Color? Panel and Discussion.

Theater Resources Unlimited (TRU) presents its next monthly networking panel, Coloring the Great White Way; Part 2: Where are the Producers of Color?, an expansion of the April panel discussion that will focus on the experience of Latino and Asian American producers. The panel will take place Tuesday, June 19, at the Players Theatre, NYC.

Panelists will include Pun Bandhu, producer (Spring Awakening, Glengarry Glen Ross revival); Debra Ann Byrd, founder/producing artistic director Take Wing And Soar Productions; Tisa Chang, artistic producing director Pan-Asian Repertory; Lily Fan, producer (Ching-lish, The Mountaintop, Jesus Christ Superstar); Lou Moreno, artistic director of INTAR Theatre; Stephanie Ybarra, Artistic Associate at The Public Theater.

A follow-up to the March panel, this discussion will explore a comparison between diversity in commercial and not-for-profit theater, and whether the commercial environment is viable for developing works and audiences of diversity. Attendees will hear about the experiences of a producer of color in the tradition-bound business of theater, examine the current state of the industry as it relates to producers of color, and address the best ways to cultivate and encourage diversity on Broadway and in other commercial arenas.

PAYING TRIBUTE TO BABY Hosted by Tony nominated original cast members Liz Callaway & Todd Graff The evening will feature a talkback with David Shire, Richard Maltby Jr., and members of the original cast.

Three couples, each newly expecting a child, have different but familiar reactions: Lizzie and Danny are university juniors who have just moved in together; Athletic Pam and her husband, Nick, a sports instructor, have had some trouble conceiving; Arlene, already the mother of three grown daughters, is unsure of what to do, contemplating abortion while her husband, Alan, is thrilled at the prospect of a new baby. Throughout the show, these characters experience the emotional stress and triumphs, the desperate lows and the comic highs, that accompany the anticipation and arrival of a baby.

Baby opened on December 4, 1983 at Broadway's Ethel Barrymore Theatre. The production received seven Tony Award nominations, including Best Musical and six Drama Desk Award nominations, including Outstanding Musical, winning two Drama Desk Awards - Outstanding Featured Actor and Actress in a Musical.

Transport Group's Artistic Director Jack Cummings III says: "Baby has always been one of my absolute favorite musicals and Transport Group is thrilled to revisit this beautiful score and story that is funny, timeless, and deeply poignant. We're excited to be a gathering a star-studded group of actors to pay tribute to the stunning achievement of Baby and all the original artists who created this magnificent show."

Presented by The Transport Group,June 18, 2012 at The Lucille Lortel Theatre in NYC.

THE AWESOME 80s PROM the interactive off-Broadway show at Webster Hall described as a "blast-from-the-past party in the style of Tony n' Tina's Wedding and The Donkey Show set at Wanaget High's Senior Prom... in 1989. The production has played numerous cities, including Chicago, Boston, and Baltimore. Now it's coming to Las Vegas in July with auditions slated in Sin City the evening of June 18 and all day on the 19th at David Saxe Productions.

Producer Ken Davenport will be present.

Needed: singers, dancers, stand up comedians, impersonators, actors, and "anyone with a fun personality. Acting experience is not a prerequisite for this show."


OTHER PEOPLE'S MONEY


WICKED which is returning to the San Diego Civic Theatre with performances June 20-July 15 is staging a day-of-performance lottery for a limited number of orchestra seats.

Two and one-half hours prior to each performance, people who present themselves at the Civic Theatre box office will have their names placed in a lottery drum; thirty minutes later, names will be drawn for a limited number of orchestra seats at $25 each, cash only. This lottery is available only in-person at the box office, with a limit of two tickets per person. Lottery participants must have a valid photo ID when submitting their entry form, if chosen, when purchasing tickets.


TONY AWARD WINNING SHAKESPEARE THEATRE COMPANY STAGES THEIR OWN LEGAL BATTLE


The drama of the theater.

One week you're celebrating receiving the 2012 Regional Tony Award and the next you're filing a lawsuit.

Chris Jennings Managing Director of the Shakespeare Theatre Company sent out the following e-mail:

"I am writing to you today to let you know about a legal issue we are currently addressing in regard to the Lansburgh Theatre, our home for the past 20 years.

"For some time now we have been in negotiations with the management company that oversees the Lansburgh Theatre regarding our rent. Thus far we have been unable to resolve the issue and therefore, as a last resort, have filed a lawsuit this week including a request that the court issue an injunction so that we may continue to perform at the Lansburgh Theatre.

"The particulars of the issues are complicated, so I'd like to offer a bit of detail about the creation of the Lansburgh Theatre. In 1992, the developer of the Lansburgh apartment building gained the development rights from the city of D.C. in exchange for building and donating the Lansburgh Theatre for use solely by the Shakespeare Theatre Company. Also established was Lansburgh Theatre, Inc (LTI) a specialized non-profit charity that only exists to support STC and serve as our landlord. By law, as long as the Shakespeare Theatre Company performs its charitable purpose, LTI lacks the power to terminate either STC's status as the supported organization or STC's/our right to occupy the Lansburgh Theatre.

"In the current dispute, LTI has demanded a rent increase of 700%, a demand that we feel is unfounded given the unique relationship of an organization that exists only to support STC. Additionally, through these discussions, it has become very clear that LTI is not operating and abiding by the charter by which it was created and the best course of action was to allow a court to resolve these matters.

"We are very confident that a judge will honor STC's long standing and clear rights to perform at the Lansburgh Theatre. Please be assured, this will not affect any of our current performances."


JUNE IS BUSTING OUT ALL OVER - BE OUT THERE
A stroll in the park. Photo By Jenny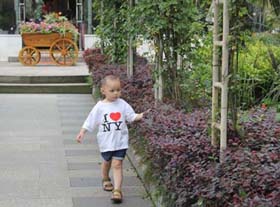 New Yorkers enjoying a break. Photo: Laura Deni


The 27th National Wildlife Federation's Great American Backyard Campout takes place June 23, 2012.

All you need is a taste for adventure and a desire to share the great outdoors with your family, friends, and especially children.

"The NWF's programs to get kids outdoors as part of their Be Out There movement - dedicated to getting children outside so they can enjoy a lifetime of healthy, outdoor play. Step up and turn your family fun into an activity the whole family can rally around."



Stop and smell only the flowers. Photo: Laura Deni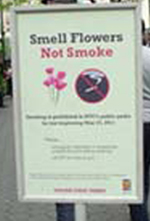 Families are encouraged to "spend the night under the stars with National Wildlife Federation and take your family's first step into a lifetime filled with healthy, outdoor fun."

On June 23rd, thousands of families will come together for a night of exploration and fun as part of Great American Backyard Campout.

Ken Burns produced a documentary, The National Parks: America's Best Idea.

If you don't have a backyard - take a walk in the park.

New York City has more than 1,700 parks, playgrounds, and recreation facilities across the five boroughs.

Parks properties range from swimming pools to wetlands and from woodlands to skating rinks.

There are 3,675 designated state parks in the U.S.

Nevada has 24 of them. There are around 400 green spaces or parks in the City of London.

Use them.


QUEEN ELIZABETH'S BIRTHDAY HONORS LIST TAPS CELEBRITIES


The newly minted knights and dames include many in the entertainment industry.

They include:

Actor and director Kenneth Branagh has been knighted. He is known not only for his work in Shakespearean film adaptations but as Prof Gilderoy Lockhart in the Harry Potter films.

Ex-Olympic minister Tessa Jowell was made a Dame.

Take That singer Gary Barlow - the brains behind the Diamond Jubilee concert - received an OBE.

Oscar winner Kate Winslet received a CBE. She said she was "surprised and honored" to become a CBE.

Sarah Burton, the designer of the Duchess of Cambridge's wedding dress, has been made an OBE.

Others receiving knighthoods include Michael Boyd, artistic director of the Royal Shakespeare Company, and Scottish opera director David McVicar.

Charles Dunstone founder of the Carphone Warehouse - and lyricist, musician and long-serving pundit on TV's Countdown Richard Stilgoe are knighted for their philanthropy. Stilgoe, 69, who has worked on hit musicals Starlight Express, Cats and The Phantom Of The Opera and has given away millions to good causes, said he was "thrilled - and a bit embarrassed".

Mary Berry, cookery writer and judge in hit BBC series The Great British Bake-Off, was made a CBE.

Gareth Malone, the choirmaster behind the chart-topping Military Wives, becomes an OBE as does Edward Gardner, renowned conductor and musical director at the English National Opera.

Comedy writer Armando Iannucci, the creative genius behind the BBC's political satire The Thick of It, is appointed an OBE.

Judith Kerr, who wrote the popular children's story The Tiger who came to Tea and Jean Marsh actress and co-creator of Upstairs Downstairs received and OBE.

Kwame Kwei Armah, playwright and former Casualty, actress Jenny Agutter were honored.

Amanda Redman, star of TV's New Tricks, who has helped train dozens of actors at her Artists Theatre School was recognized with an MBE.

Assistant editor of the Times Peter Riddell, and former Spectator editor Alexander Chancellor both receive honors for services to journalism.

Authors recognized included: Susan Hill, the writer of ghostly thriller The Woman in Black and Judith Kerr, creator of popular children's series Mog.


CURTAIN DOWN


GODSPELL the Broadway revival by Stephen Schwartz and John-Michael Tebelak will close June 24 having played 30 preview performances and 264 regular performances. A national tour will launch next season.



NO AWAY AROUND BUT THROUGH

Melanie Griffith and Scott Caan in No Way Around But Through.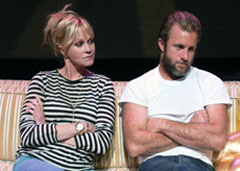 Written by Scott Caan. Directed by Val Lauren.

Starring Bre Blair, Scott Caan, Robyn Cohen, Melanie Griffith and Val Lauren.

When Jacob (Scott Caan) discovers that his girlfriend Holly (Robyn Cohen) might be pregnant, he drags his friend Frank (Val Lauren) into the maddening wormhole that is his psyche, a venture that lands them on the doorstep of Lulu (Melanie Griffith): Jacob's mother and the matriarch of madness herself.

However, Holly and her friend Rachel (Bre Blair) are one step ahead of them.

No Way Around But Through is a dark, thoughtful and quirky romantic comedy about facing the inevitable dysfunctions of life and love head-on, and a reminder to never let where you've been get in the way of where you're going.

The world premiere continues through July 8, 2012 at the Falcon Theatre in Burbank, CA.

IOWA SUMMER REP: CHILLS & THRILLS: A MYSTERY SEASON What The Butler Saw by Joe Orton. Directed by Eric Forsythe. What the Butler Saw is one of the great satiric comedies of modern theatre, and, like a good detective, it requires curiosity and a quick mind. It may be the craziest spoof of detective mysteries ever written.

June 21, 22, 23, 24, 26, 27, July 1, 3, 4, 8, 10, 11 at the Hancher Auditorium in Iowa City, Iowa.

AS YOU LIKE IT By William Shakespeare. Directed by Daniel Sullivan.

Featuring Brendan Averett, Andre Braugher, Donna Lynne Champlin, Grantham Coleman, Jon DeVries, MacIntyre Dixon, Susannah Flood, David Furr, Renee Elise Goldsberry, Andrew Hovelson, Robert Joy, Jesse Lenat, Erik Mathew, Omar Metwally, Oliver Platt, Lily Rabe, Will Rogers, Michael Rudko, Justine Salata, Paul Saylor, Anna Phyllis Smith, Stephen Spinella, and Brendan Titley.

In As You Like It, Rosalind, Shakespeare's most breathtaking heroine, and her boyfriend Orlando find themselves in the enchanted Forest of Arden, where all the world's a stage, and where sudden infatuation is as confusing as it is beautiful. Along with other "country copulatives," they discover that nothing transforms, redeems, or enriches experience quite as powerfully as love.

As You Like It has everything we adore about Shakespearean comedy: mistaken identity, cross-dressing, madness, mayhem, rage, lust, laughter, and of course plenty of romance, both heartbreaking and joyous.

Scenic Design by John Lee Beatty. Lighting Design by Natasha Katz. Costume Design by Jane Greenwood. Sound Design by Acme Sound Partners. Original Music by Steve Martin. Additional Music by Greg Pliska.

Continues performances through June 30 at the Delacorte Theater in Central Park in New York City.

FREE tickets to Shakespeare in the Park are distributed on the day of the performance beginning at 1PM at The Delacorte Theater.

7th MONARCH a new play by Jim Henry. Directed by Scott C. Embler.

Featuring Tony Award winner Michael Rupert. In addition to Rupert, the cast of 7th Monarch features Michael Cullen, Gretchen Hall, Leslie Hendrix and Matthew Humphreys.

Miriam, a math prodigy who was on the fast track to becoming an astronaut, mysteriously dropped out of college and has been living in seclusion with her parents for the past 20 years. When Raina, a criminal investigator, knocks on her door seeking the parents, Miriam offers an inconceivable explanation for their disappearance. Jarring discoveries are soon revealed as the two women struggle to overcome their own personal tragedies.

Set design is by Shoko Kambara, with costume design by D.W. Withrow, lighting design by D.M. Wood and sound design by David Pinkard.

Previews begin June 21 at Theatre Row's Acorn Theatre, New York City.

THE BOOK OF MORMON opens at the Prince of Wales Theatre in London in February, 2013.

JASON ANDREWS originally from Las Vegas, brings his tricky hands to The Magic Castle in Hollywood for performances June 25-July 1.

JITNEY South Coast Repertory's (SCR) production of August Wilson's Jitney, directed by Ron OJ Parson.

Led by Charlie Robinson as Becker, the cast features (in alphabetical order): Larry Bates as "Youngblood", Rolondo Boyce as "Shealy", Gregg Daniel as "Philmore", Kristy Johnson as "Rena", David McNight as "Fielding," Montae Russell "Booster" James A. Watson, Jr. as "Doub" Ellis Williams as "Turnbo".

The creative team includes Shaun Motley as scenic designer, Brian Lilenthal as lighting designer, Vincent Olivieri as sound designer and Dana Woods as costumer designer.

Jitney is the first play August Wilson wrote in his renowned Pittsburgh Cycle which chronicles the African-American experience in his childhood neighborhood, decade by decade, over the course of the 20th century. Of the ten plays in the Cycle, Jitney is the seventh in the series


Jitney will play from June 21 - July 15, 2012 with the official press opening on June 24, 2012, at The Pasadena Playhouse in Pasadena, CA.

ZARKANA the Cirque du Soleil production which will replace Viva Elvis at the Aria Resort in Las Vegas is staging a pre-Vegas try-out so to speak in New York City. The surreal acrobatic spectacle by Cirque du Soleil, is making its final engagement at the legendary Radio City Music Hall.

Zarkana opened June 6, and will dazzle through Sunday, September 2 before moving to Aria Resort & Casino in Las Vegas this fall, where it will make its permanent home.

TO prepare for the Las Vegas mounting, Zarkana underwent significant changes. The show now runs 90 minutes with no intermission and the lyrics have been translated into "Cirquish" – the invented language that Cirque has made famous.

Zarkana is an acrobatic spectacle that blends circus arts with the surreal to create a world where physical virtuosity rubs shoulders with the bizarre. Zarkana is a visual vortex set in a slightly twisted fantasy universe. The diverse cast of more than 75 international artists transports the audience into a fantastical and suspenseful world, blurring the boundaries between the real and imaginary. Zarkana is written and directed by François Girard.


WHO'S WHERE


BONNIE RAITT on stage Tuesday, June 19, at the Wellmont Theatre in Montclair, NJ. On Wednesday she opens a two nighter at the Beacon Theatre in New York City. Saturday's show is at the Bank of American Pavilion in Boston. Next Sunday, she's in the spotlight at the Cape Cod Melody Tent in Hyannis, MA.

DIANA KRALL has a busy week. On Monday, March 26, she's at the Kravis Center in West Palm Beach, FL. Tuesday's show is at the Van Wezel Performing Arts Hall in Sarasota, FL. Wednesday finds her at Ruth Eckerd Hall in Clearwater, FL. On Friday she's in the spotlight at the Sandler Center for the Performing Arts in Virginia Beach, VA. On Saturday she's on stage at the Ferguson Center for the Arts in Newport News, VA.

NEIL DIAMOND takes to the stage Monday, June 18, at the Wells Fargo Center in Philadelphia. On Thursday he'll sing his hits at the Bell Centre in Montreal, QC. Saturday finds him a the TD Garden in Boston.

MADONNA continued her tour by opening a two nighter Wednesday, June 20 at the Palau Sant Jordi in Barcelona, Spain. Next Sunday the show is at the Coimbra Stadium in Coimbra, Portugal.

NICKELBACK entertain Monday, June 18, at the HP Pavilion in San Jose, CA. Wednesday the show is at the Idaho Center in Nampa, ID. On Thursday they are on stage at the Rose Garden Arena in Portland, OR. Saturday the tour stops at the Tacoma Dome in Tacoma, WA and next Sunday, June 24, the gig is at the Arena in Spokane, WA.

AEROSMITH on stage Tuesday, June 19, at the Quicken Loans Arena in Cleveland. On Friday the show is at the United Center in Chicago.

BRYAN ADAMS is in Canada this week, performing Tuesday, June 19, at Rexall Place in Edmonton. On Wednesday the show is at the Saddledome in Calgary and Thursday's gig is at the Brandt Centre in Regina. Friday he can be found at the MTS Centre in Winnipeg.

ROGER WATERS in the spotlight Tuesday, June 19, at Bridgestone Arena in Nashville. Thursday the show is at the First Niagara Center in Buffalo. On Saturday he's on stage at the Rogers Centre in Toronto.

PETER ASHER performs June 19-23 at Feinstein's at Loews Regency in New York City.




FINAL OVATION


FRANCES WILLIAM PRESTON former BMI (Broadcast Music Inc.) President died June 13, 2012 at her home in Nashville from congestive heart failure. She was 83.

She was a pioneering executive in the music business for more than six decades. Preston served as President and CEO of BMI from 1986 to 2004. Her appointment as Vice President of the organization in 1964 reportedly made her the first female corporate executive in Tennessee, and the first full-time performing rights organization representative in the South. In 1985, she became Senior Vice President, Performing Rights, and was named President and CEO the following year.

A tireless advocate for creators' rights, she was instrumental in several key initiatives benefiting songwriters, including the Copyright Amendments Act of 1992, which extended copyright protection to older compositions. She also served as a member of the Panama Canal Study Committee, as well as on the commission for the White House Record Library during the Carter administration, and in 1995 and 1996, was a member of Vice President Al Gore's National Information Infrastructure Advisory Council. In 1994, she oversaw the development and launch of BMI.com, one of the music's industry's first websites.

She was also the first non-performing woman invited to join New York's prestigious Friar's Club and in 1993, she became the first woman appointed to their Board of Directors. That same year, she received the Friar's Applause Award for Lifetime Achievement.

Preston is survived by her three sons, Kirk, David, and Donald, as well as six grandchildren and one great-grandchild.

Neil Portnow President/CEO of The Recording Academy issued the following statement:

"Recording Academy Trustees and Heroes Award recipient, and former GRAMMY Foundation® Board member Frances Preston was a pioneer for female executives in the music industry. During her six-decade long career with BMI she fought for songwriters and publishers rights and encouraged the development and support of new artists. Her success with BMI artists in Nashville, especially in the country music genre, helped the industry recognize the talent and creativity of the city and put it on the music map. During her eight-yearlong term as President/CEO of the company, BMI saw consistent increases in revenue and royalties distributed to its composers, publishers and songwriters. She was also a staple on Capitol Hill, fighting for legislation to ensure compensation of songwriters as music entered the digital age. She served on additional boards within the music community, including BMI and CMA - and was also recognized for her philanthropic work for AIDS, Cancer and Leukemia research. The music industry has suffered a great loss of one of its true visionaries. Our thoughts and condolences go out to her family, friends and all of those whose careers she influenced."

ROBERT LEYSEN 83, jazz musician and founder of the Psychic Eye Book Shops, the country's largest chain of new age and occult bookstores, died June 11, 2012, at Nathan Adelson Hospice in Las Vegas. He was 83.

He worked extensively with the Ringling Bros., Barnum and Bailey Circus early in his life, "instilling in him an innate sense of all things theatrical."

An accomplished jazz musician, he toured the country in the 1940's and 1950's with his own act, the Bob Leysen Combo. Throughout his musical career, he played with such notables as The Captain and Tennille, Holiday On Ice, Bob Hope, and Tony Orlando.

Called "his most successful endeavor and the pride of his existence" were his stores, the Psychic Eye Book Shops. Originally opened in Los Angeles in 1985, "through Robert's unceasing guidance and sense of 'showbiz,' the stores soon grew to 14 west coast locations and remain mainstays of the Las Vegas and Los Angeles scenes to this day."

He is survived by his partner, of 26 years, Mary Karahalios; sons, Craig Leysen of Orlando, Fla., and Gary Leysen of Hilton Head, S.C. and granddaughters, Brittnee and Bridgett Leysen, also of Hilton Head.








Next Column: June 24, 2012
Copyright: June 17, 2012. All Rights Reserved. Reviews, Interviews, Commentary, Photographs or Graphics from any Broadway To Vegas (TM) columns may not be published, broadcast, rewritten, utilized as leads, or used in any manner without permission, compensation and/or credit.
Link to Main Page
---
Laura Deni



For the snail mail address, please E-mail your request.
CLICK HERE FOR COMMENT SECTION