! >
Broadway To Vegas
  
 SHOW REVIEWS CELEBRITY INTERVIEWS GOSSIP NEWS

| | |
| --- | --- |
| | |
COLE PORTER BIRTH HOME IS BREAD AND BREAKFAST - -OFF-BROADWAY THEATRES HELP STRANDED PRODUCTIONS - - OPENING NIGHT AT HOLLYWOOD BOWL - - FREE SUMMER SHAKESPEARE FESTIVAL - - MIRROR OF THE INVISIBLE WORLD - - STAX RECORD LABEL CELEBRATES GOLDEN ANIVERSARY - - NEW JERSEY OPERA - - SAVING OF THE CABLE CARS - - DONATE . . . Scroll Down


JUST CALL ME COLE
Cole Porter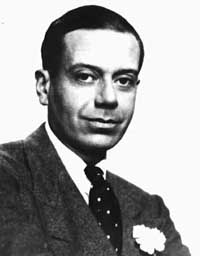 "His eyes were so striking. It wasn't possible to look away from him. You were his and he was yours," recalled Joey Cole Kubesch about her third cousin - Cole Porter.

"My father and Cole were first cousins. My grandfather and Cole had the same grandfather," she explained.

"I met him and talked to him two times. I was a self-conscious teenager at the time. We were told to wear our good clothes and call him Mr. Porter. The first thing he said was - 'Call me Cole.'"

Today Joey is the one of the main reasons the birthplace home of Cole Porter, located in the Indiana city of Peru, has been transformed from a meth lab into an elegant bed-and-breakfast museum.

The hardworking, zippy lady spoke with Broadway To Vegas while she was in the middle of a major crisis involving the Cole Porter family farm where Joey and Sid, her retired Air Force pilot husband, call home.

"If I could just get this cow to move," said an exasperated Joey as the bovine mooed. "The cows are covered with biting horn flies and deer flies. They are hot - out of the pasture - need shade. We had a fire raging along a back lane, from a thoughtless lighting of a pile of cut grass and hay leavings - the fire department men are dispatching that. It's never dull."

An interesting troika. Receiving the Cole Porter star on the Hollywood Walk of Fame - opening the restored Cole Porter birth home - getting flies off the backsides of cows.

The cows are actually prize winning, registered Black Angus. The Cole Porter family farm, Westleigh, has historical barns honored as some of the best in the nation. Step around cow piles and you're apt to stumble upon Cole Porter memorabilia.

Joey's great-great-grandfather, James Omar Cole, returned to his home of Peru, Indiana - located about midway between South Bend and Indianapolis - after making his fortune inventing a flume system to bring water to the mines in the California Gold Rush. That made Cole Porter's multimillionaire grandfather the richest man in Indiana. James Cole invested in rich farmlands at the confluence of the Wabash and Mississinewa Rivers, some of which he bought from Miami Indians.



Westleigh Farm. Cole Porter's family farm also includes a 1913 brick farm house.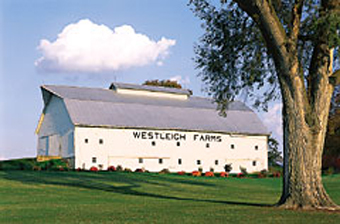 Westleigh Farm was purchased by James Cole for his daughter, Kate Cole Porter, who was the mother of the Broadway composer, who used the farm as his home base during his visits back to Indiana. Memorabilia from his career can be found in the 1916 brick farm house.

As proud as Joey is about preserving the farm, she is overjoyed that last week the home in which Cole Porter was born was finally opened to the public.

"My father tried for 20 years to get it purchased and turned it into a museum and he wasn't able to get it done. So he died in '97 and here we are ten years later. I picked up his quest and I think he'd be proud of me. He had his law degree but never practiced law. He managed family properties."



Restored Cole Porter birthplace home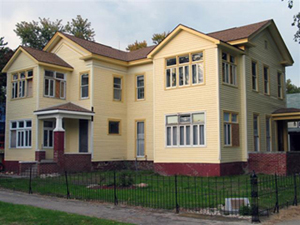 Porter was born in the house at the corner of Huntington and Third to Samuel and Kate (Cole) Porter in 1891. He learned to play the piano and violin there, and it was where he composed his first song - dedicated to his mother, a piano piece called Song of the Birds, separated into six sections with titles like The Young Ones Leaning to Sing, The Cuckoo Tells the Mother Where the Bird Is and The Bob-O-Link Waltz. His mother paid to have one hundred copies printed so that the song could be sent to friends and relatives. Cole lived in the house until he was ten-years-old when the family moved. They didn't go far - just down the road to Westleigh Farm.

The home changed hands several times after the Porter family moved to the Westleigh Farm. It was later divided into apartments, and in 2003, police discovered a methamphetamine lab there in one of the apartments.

On more than one occasion Porter family members thought preserving the old homestead was a lost cause. Then the phone rang.

"I got a called from Mayor Jim Walker. He said - 'Joey, we got a drug bust and I think the Porter place is going to be available for back taxes.' That's how we got it."

The house was sold in a tax sale in 2003, and the Ole Olsen Memorial Theater group bought it in 2004, with plans to restore it for use as a museum, gift shop, and bed and breakfast.

"When I saw the house and the disrepair it was in, it could have been put on a condemnation list and torn down," Mayor Jim Walker told Broadway To Vegas. "I thought there is no way that this guy, who was one of the greatest composers of all time - born in our community - that we should let his birth home go in that disrepair. So, I decided we needed to restore it. We started making some calls and getting some supporters and got that accomplished. Two years later we have it ready to go."



Room in Cole Porter birthplace home during drug meth days. Photo: Ole Olsen Memorial Theatre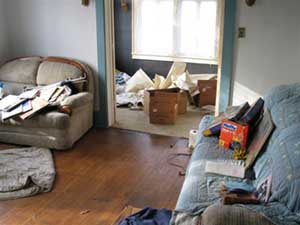 Cole Porter birthplace home after renovation, Photo: Ole Olsen Memorial Theatre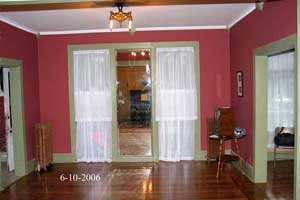 The renovations include repairing the foundation, rebuilding four porches, replacing wiring and plumbing and installing heat and air conditioning. The new owners, the Ole Olsen Memorial Theatre group, indicated that nearly $52,000 has been donated toward the renovations, which officials say will cost about $105,000. Mildred Kopis, curator of the Miami County Museum where much of Porter's memorabilia is displayed said the cost just to replace the roof was estimated at $40,000.

While Mayor Walker was born in Peru, Joey has lived there since 1952.

"We came to Peru when Kate Porter died," she recalled. "My father was asked to bring his family, come and live at Westleigh with the understanding that it would be Dad's someday. And now Westleigh and my grandparent's home next door are old houses that I keep up."

Joey also maintains the graves located at Mount Hope Cemetery.



Cole Porter's grave. He is buried next to his wife, Linda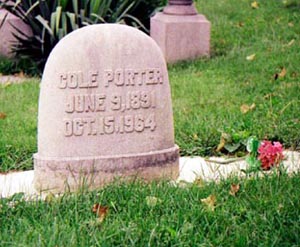 "Both of Cole's parents are buried there. Linda is buried there," said Joey about wealthy divorcee Linda Lee Thomas who escaped from an abusive first marriage. Her platonic marriage to Cole Porter would last for thirty-five years until her death. Their partnership was one of the greatest loving friendships ever to have existed in the entertainment community.

"If you saw De-Lovely you saw them burying her in Williamstown MA. Well, she is buried in Peru! She is right between Cole and Sam," Joey exclaimed.

"Yeah, I saw the movies. Night and Day was kind of a fairytale and not set anywhere around here," complained Joey about the 1946 movie which stared Cary Grant as Porter and Alexis Smith as Linda. The composer decried the flick as "fiction."

"It bothered my father a lot that most of the scenes in that movie were not true. Dad was dead when De-Lovely came out. I think that probably would have offended him. Our family - we were pretty much raised with the idea that whatever stories you hear about Mr. Porter - they aren't true. So, they all had their heads in the sand and wanted us to have our heads in the sand about his dual life."



Mayor James Walker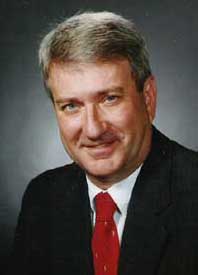 "When I watched De-Lovely I kind of chuckled a few times," added Walker. "I'm thinking that's not where they're buried. They showed them being buried in the front yard of their Mass home. They are buried right here in Peru, Indiana. The movie didn't highlight Peru too much. He would come back home and visit family and friends. If they do another movie they could come here and do a segment on his early years because we have restored the birth home. Show the early years and when he came back home to Westleigh Farm. It would be a more accurate representation of his life. An accurate movie would have been just as interesting," Walker insisted.

"Very soon we'll have the bed and breakfast ready for occupancy," continued Joey. "We have three suites; The Cole Porter Suite, the Anything Goes Suite and the Night and Day Suite. Each suite has six rooms. The house was kind of sub divided into apartments," she said about the 1860s-era house, which has about 21 rooms.

"They are just all just beautifully appointed by our volunteer interior decorators."

"We don't yet have a caretaker for the bed and breakfast part of it - somebody to be there and handle the merchandising. After the dedication we sold $1,000 worth of books, music, and books."

"The important thing to remember is that the credit is not mine," Joey emphasized. "I'm kind of in the middle of the mix and I do a lot of different things, but there are people who work so hard. Our Mayor Jim Walker has been so involved. The president of the Ole Olsen Memorial Theatre group went to school to learn how to make windows so he could replace all of the dry-rotted windows. Ole Olsen members have just been a terrific help. They have pitched in. We have a man who drives from Chicago to volunteer, she said referring to Richard Milczarek who helped with the exterior work. "A lady, who is a professional painter, has driven 277 times the 40 miles from Kokomo, Indian to volunteer and paint," Joey continued.

"We're about 90% finished. You can look at a wall and say - I helped clean that, paint that, caulk it. It's emotionally fulfilling."

The cry is still sounding for more period furniture.

"I need smaller chairs and tables and maybe another sofa with an early 1900's look to it with exposed wood - I've learned a lot about what comes from what period," she laughed.



left to right--Rex Smith who starred in revivals of Anything Goes and Kiss Me Kate, composer Carol Conner, the Honorary Mayor of Hollywood Johnny Grant, Ann Jeffreys took Pat Morison's place as Kate, when Pat went on the road with Kiss Me Kate, the Broadway musical for which Porter wrote the music and lyrics, Joey Cole Kubesch who accepted the honor on his family's behalf, Irwin Winkler who directed DeLovely, Betty Garrett who got her big break on Broadway in the Cole Porter show Something for the Boys, composer Richard Sherman, and cabaret singer Mark Nadler who played some of the late composer's songs on a baby grand piano on Hollywood Boulevard. Photo by Bob Freeman from Hollywood Chamber of Commerce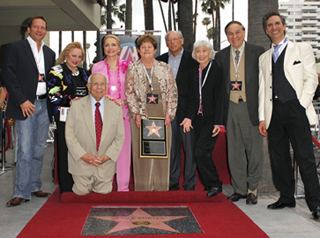 "We had a donation from Irwin Winkler. He came to our ceremony in Hollywood on May 21 for the Cole Porter star. That was a major moment."

"We had three things coming together at once. The restoration of the birthplace, the Cole Porter Festival and the star on the Hollywood Walk of Fame."

"The Cole Porter festival was started by the Miami County Museum curator in 1993 and it has gotten a little bit bigger every year," related Joey. "This year we had some real star power coming in. We had Mark Nadler and K.T. Sullivan. They came for the Museum."

Tour groups have been inquiring, which pleases all involved. Tourists need to visit the Ole Olsen Memorial Theatre, The Cole Porter Birthplace Home, Westleigh Farms, the Old-Fashioned Gardens, Porter's grave site and the Miami County Museum which includes the history of circus in Miami County including three stagecoaches - one belonging to movie star legend, Tom Mix. Also, on the first floor are exhibits of the Miami Indians, pioneer living and railroads. All compliment each other.

"Absolutely," stressed Mayor Taylor. "The Ole Olsen Theatre Memorial has a specific theater group that has shows in the summer time. You can come and see and enjoy those. Ole Olsen was born here. He was a Vaudeville comedian back in the day when Cole Porter was having his time as well," said Walker referring to Olsen who hit the big time in 1938 with the Broadway show Hellzapoppin, which became - at the time - the third longest running Broadway production. On January 26, 1963, Olsen died at the age of 71. He is buried at Palm Desert Memorial in Las Vegas, NV.

"There is a lot to see in Peru, Indiana," Walker stressed. "For a small community of about 13,000, we have a lot of heritage here and want to share it with the world."

The annual Peru City Circus Festival begins July 14 and continues through July 21. That annual event celebrates Peru's history as the winter quarters for important circus corporations from the 1880's to 1930's.

Unlike most communities who are trimming budgets by slicing away at the arts, Peru is expanding.

"We want to improve the arts and culture," said Walker. "We're putting together an Arts Council, which could promote some cultural events in our community. I really want to push to make Peru a destination point where you can to come for a weekend and see shows, what we have to offer, enjoy our restaurants, go to places in the evening where you can have other entertainment - the night life kind of thing."

Can the town handle the tourist traffic?

"Of course!" responded the Mayor. "We are trying to negotiate through the city to get another hotel to come into our community."

"If you were to rate the safety, I'd say you can come to Peru, Indiana and feel nice and safe. I think that is a very important aspect of quality of life."



Cole Porter's 1955 Fleetwood Cadillac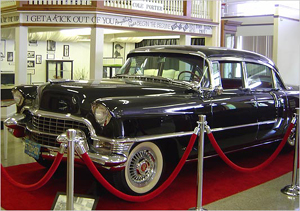 The Miami County Museum houses extensive Porter artifacts. Along with Porter's specially built sofa, extra deep to accommodate his injured legs, his menus and many photos, there is the star attraction - his 1955 Cadillac Fleetwood.

Painted glistening black, with shiny chrome trim and red leather seats, the Cadillac bears a tiny red "CP" monogram on the rear left-hand door and has no Cadillac insignia on the trunk because he preferred a smooth appearance.

Built to his specifications for $6,836.14, according to the invoice in a display case. Porter, who got a new Cadillac every year, ordered this Fleetwood specially built for a trip to Europe. It cost 77,511 French francs to ship across the Atlantic, or about $116.42 in 1955 dollars.

When he was finished with it, Porter gave the car to his housekeeper, who gave the car to her son. In the early 1970's, it was rented by the crew of The Godfather for $125. The car was restored by Hibernia Auto Restoration in New Jersey in 1989 for $180,000.

Patricia Morison, who played Kate on Broadway in Kiss Me Kate, attended the birth home renovation opening. Having recently undergone hip replacement surgery, Pat sat on the piano bench, used one of her new hips to scoot Mark Nadler over, and began singing So In Love from Kiss Me, Kate. "Sing, Pat! I'll find your key!" urged Mark. Photo courtesy Joey Cole Kubesch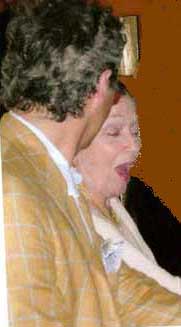 One person who came to see the car was the late cabaret singer Bobby Short, who made his own pilgrimage to Peru a few years back when he was in Indianapolis to perform. A picture shows Short behind the wheel.

The museum sells fudge made with recipes from the now-closed Arnold's Candies of Peru. Cole Porter had nine pounds of fudge from Arnold's Candies shipped to him each month. At his shows, Porter gave away boxes of the candy as presents.

The renovated portion of the Cole Porter birthplace was opened to the public for the first time last week as part of the annual Cole Porter Festival.

This year's Festival events included several fund-raisers for the restoration including a black-tie dinner at Westleigh farm, and Ole Olsen Theater staged a dinner theater production with proceeds earmarked for the restoration and the Miami County Historical Society.

Restoration committee members include; Joey Kubesch, Cathy Compton, Michelle Boswell, Jim Walker, Mildred Kopis, Robert Kimball and Marsh Davis. Cole Porter Birthplace Colleagues Committee - honorary board members, whose entertainment careers are highlighted by appearances in Porter shows and films include; Patricia Morison - Kiss Me, Kate, Betty Garrett - Something for the Boys, Taina Elg - Les Girls, Paula Laurence - Something for the Boys, Celeste Holm - High Society, and Gretchen Wyler - Silk Stockings, who passed away last month. Memorial services for her will be held on Saturday, June 23, at the Paramount Theatre in Hollywood.

Porter, who died in 1964, wrote more than 1,500 songs for stage, movies and television, including such standards as I Get a Kick Out of You, Night and Day, Begin the Beguine, Be A Clown, Friendship, and Anything Goes.
OFF-BROADWAY THEATRES HELP ACTORS LEFT IN THE LURCH


Sounds like a script for an old Judy Garland/ Mickey Rooney musical. A group of kids set to unload their stuff for a three day performance, when the theatre goes bankrupt leaving the kids and their theatrical props out in the cold.

Only this was last week and the kids are members of the Our Time Theatre Company, an artistic home for young people who stutter. ( See Broadway To Vegas column of April 11, 2004. )

"A group of stuttering kids (as well as other theatre companies) got some bad news last week. They were getting set to present their new productions at The Studio Theatre (the old Blue Heron), until they found out TSI, Inc was bankrupt and evicted - leaving them in the lurch, reported Joe Trentacosta of Springer Associates PR. "They needed to load-in today, Joe said referring to the June 11 loan-in date for the double-bill Slammin' Events and The Importance of Being Wanted.

"They searched high and low for a theatre that would fit their needs, financially as well as space –wise (large company kids) as well as just be available on short notice."

"Luckily, The Cherry Lane Theatre – after hearing the story of the displaced company, stepped up and is making sure their shows goes off without a hitch."

On December 30, 2005, the Blue Heron Arts Center closed its doors. The seven-year old space, installed in an abandoned health club in 1998, had hosted more than two hundred theater companies and innumerable individual artists. The lobby and entranceway also served as an art gallery curated by Patrick Christiano. Offices and three rehearsal spaces were located on a lower level.

Since then the venue has been rented - the last being The Studio Theatre.

"I've had a lot of trouble getting anyone on the phone," admitted Trentacosta. "So, the story I've heard is that about six months ago this other theater, The Studio Theatre company, came on board to run the space," Trentacosta told Broadway To Vegas. "They have only been around for about six months is the rumor I've heard. I guess they were artists without the business know how."

"A couple of others are actually out a lot of money and who knows when and if they will get their money out," complained Trentacosta about theatrical companies who had booked their productions.

"Some of their supporters are from the real estate world," he said referring to Our Time Theatre Company. "They were going to go in, look at the books and see if there was a way to make it work, help them out and have everyone come out unscathed. But, that wasn't really in the cards," said Trentacosta.

"The Cherry Lane loves the work that these kids do. I'm hoping it could be a more permanent home, but a lot more things have to be decided."

For now, the shows goes on Friday, June 22 – Sunday, June 24 at The Cherry Lane Theatre in New York City.

Also affected is the production of Guilty, which was originally scheduled to play TSI Theater.

"A week and half ago a sign was posted on the theater door saying that TSI had been evicted thus leaving many theater companies including The Cell Theater Company and Our Time Theater Company without a home," reported Shane Marshall Brown of Springer, Assoc. "TSI went bankrupt also leaving the companies without their deposits and rental fees. Theatre Row has worked quickly to make this production happen and Our Time found a home at The Cherry Lane Theater. The shows will go on!"

The world premiere of Guilty by Nancy Manocherian directed by Kira Simring presented by The Cell Theater Company begins previews July 1 with performances through July 29 at The Acorn Theater. The ensemble cast features Emmy Award winning actor Darnell Williams, Tracee Chimo, Mary Ann Conk, Glory Gallo, Heather Kenzie, and Ned Massey.

Guilty follows the unraveling of a group of friends in the top echelon of New York society enjoying their lives of plenty. However, the enjoyment falters when sorted secrets come to light. As the characters' indiscretions culminate, linings of corruption and deceit are stripped away to reveal universal frailty underneath the facade of the social elite. Sex, Lies... and Botox. White-collar crime never looked so good.

The design team includes scenic design by Tim McMath, lighting design by Ben Zamora, costume design by Jason A. Bishop and sound design by Ken Hypes.



Broadway To Vegas is supported through advertising and donations. Priority consideration is given to interview suggestions, news, press releases, etc from paid supporters. However, no paid supporters control, alter, edit, or in any way manipulate the content of this site. Your donation is appreciated. We accept PAYPAL. Thank you for your interest.


SWEET CHARITY


OPENING NIGHT AT HOLLYWOOD BOWL staring 2007 Hall of Fame inductees Plácido Domingo and John Mauceri take the stage for an unforgettable opening night celebration.

Proceeds benefit Music Matters, the Los Angeles Philharmonic's education programs.

Gala packages including cocktail reception, and dinner served in your box.

Friday, June 22, Hollywood Bowl.


OTHER PEOPLE'S MONEY


NEW JERSEY OPERA has received $12,500 from the New Jersey State Council of the Arts in addition to the $32,500 previously given to the opera company for general operating support.

The additional funding is not designated for a specific purpose, but will be utilized during this summer season. In addition to master classes, concerts, family activities and a kids' camp, New Jersey Opera is presenting three fully staged operas: Gounod's Roméo et Juliette, Mozart's The Magic Flute, and Gilbert & Sullivan's The Pirates of Penzance.



MIRROR OF THE INVISIBLE WORLD adapted and directed by Tony Award winner Mary Zimmerman from a 12th century Persian epic Haft Paykar by Nizami Ganjavi (1141 – 1209) who is considered one of the great poets of the Persian literary tradition - a master of epics and romances, as well as didactic poems dealing with ethics, history, religious doctrine, medicine and cookery.

In the Haft Paykar, the poet Nizami tells the story of a legendary king of Persia from seven centuries before the author's time. Bahram Gur. Born to an aged king, Bahram is sent as a young prince to the court of an Arab king. There he is trained in all the arts of a prince and a palace is built for him. On returning one day from a hunt, Bahram discovers an unknown room in his palace. On its walls are portraits of beautiful princesses from the seven climes of the world: China, India, Russia, Africa, Turkistan, Byzantium and Persia.

He learns that he is destined to make these beauties his brides. After further adventures and the death of his infamously cruel father, Bahram returns to Iran to claim his throne. He orders his messenger to travel the world and bring back the seven princesses from the portraits, and he commands his architect to build a palace with seven domes, each a different color, one for each of the princesses.

The central portion of the poem shows Bahram visiting a princess each day of the week to feast, love and hear a story, starting on Saturday in the black dome and ending on Friday, the holy day, in the white dome. This is the section Zimmerman has adapted into Mirror of the Invisible World.

The production stars; Liza Tejero (Chinese Princess), Nicole Shalhoub (Persian Princess), Sofia Jean Gomez (Russian Princess), Angali Bhimani (Indian Princess), Atley S. Loughridge (Greek Princess), Charlette Speigtner (Moorish Princess), and Stacey Yen (Turkish Princess). Faran Tahir as King Bahram.

Set design by Dan Ostling.

June 23 - July 29 in the Albert Theatre of the Goodman in Chicago.

SEA OF FOOLS by actor Matt Letscher. Set in the height of the McCarthy era, this World Premiere farce glimpses a company of actors who live in an elaborately-constructed fantasy world. As they mourn the passing of their leader, an undercover FBI agent infiltrates the funeral in the guise of a gossip columnist's assistant.

The entire company freely admits to being "Commies," and when Elia Kazan joins the party, it's anyone's guess what that actually means.

Directed by the playwright, the cast will include Sandra Birch, John Lepard, Janet Maylie, John Seibert and Guy Sanville.

Sea of Fools will run for eleven weeks, at the Purple Rose Theatre in Chelsea, Michigan, Thursday, June 21 through Saturday, September 1.

BEYOND GLORY a solo performance by Stephen Lang in which he will portray eight veterans from World War II, the Korean War and Vietnam, as they look back on courageous moments in their lives. The show is adapted it from Larry Smith's 2003 book of the same title, which contains interviews with winners of the Congressional Medal of Honor.

This is the New York debut. The show opened in the Goodman's Owen Theatre on September 20, 2005

Beyond Glory will be directed by Robert Falls and will run Off Broadway at the Laura Pels Theater opening on June 21 for a limited run through Aug. 19.

CHICAGO welcomes Harry Hamlin and his wife, Lisa Rinna, to the cast on June 19. This marks their Broadway debuts and they will be on board at the Ambassador Theater for a run through July 29.

18TH ANNUAL SUMMER SHAKESPEARE FESTIVAL Since 1990, Olney Theatre Center in Olney, MD has produced a summer tour, with the purpose of bringing Shakespeare's plays to summer audiences in outdoor venues.

Olney Theatre Summer Shakespeare seeks to develop new appreciation for "the bard" by experiencing Shakespeare's drama in a "festival" atmosphere. Olney Theatre Summer Shakespeare tour hires actors who are members of the Actors' Equity Association, who are also veterans of the National Players tour. By reuniting National Players veterans in a spirit of summer fun, Shakespeare's texts are reinvigorated with new meaning and new excitement.

The last of Shakespeare's plays, The Tempest, is richly filled with music, magic, romance, and comedy. The play's theme of love and reconciliation offers a splendid feast for the senses and the heart. Bring a blanket, lawn chair, or take a seat in the bleachers to spend a joyous evening under the stars. The Tempest June 21 - July 1 on the Root Family Stage at Will's Place. The performances are free.


| | | |
| --- | --- | --- |
| | | |
WHO'S WHERE


STAX RECORD LABEL celebrates its golden anniversary with these legendary R&B artists: Isaac Hayes, William Bell, Booker T & the MGs, Mavis Staples, Rance Allen Group, Mable John, The Soul Children, The Reddings, Eddie Floyd, Angie Stone, Boney James, Chuck D and Randy Jackson.

VIP orchestra seating at The Orpheum VIP Parking A pre-show private party at The Orpheum Broadway Club. A gala Gibson Lounge after-concert party, featuring Stax performers and special friends. A private celebrity-led tour of the Stax Museum. The 50th Anniversary Stax CD Box set. A Stax 50th Anniversary lithographed poster and a Stax 50th Anniversary commemorative T-shirt. Dress your soulful best. June 22 at The Orpheum Theatre in Memphis, TN.

ANDY WILLIAMS on a tour of England. He performs Friday, June 22, at The Bridgewater Hall in Manchester. On Saturday he's in the spotlight at City Hall in Sheffield and next Sunday, June 24, he sings at the Empire Theatre in Liverpool.

GWEN STEFANI performs Monday, June 18, at Sleep Train Amphitheatre in Marysville, CA. On Tuesday she is on stage at Shoreline Amphitheatre in Mountain View, CA. Friday she opens a two night stand at Verizon Wireless Amphitheater in Irvine, CA.

DIANA KRALL on stage Tuesday, June 19 at Wente Brothers Winery in Livemore, CA. On Wednesday she opens a two night stand at The Mountain Winery in Saratoga, CA.

HARRY CONNICK, JR on stage at the National Arts Centre in Ottawa, Tuesday, June 19. On Thursday he can be enjoyed at the Filene Center at Wolf Trap in Vienna ,VA. Next Sunday the show is at Chastain Park Amphitheatre in Atlanta.

BOB DYLAN in a two night stand Friday and Saturday, June 22-23, at the Borgata Hotel in Atlantic City. Next Sunday he's starring at Jersheypark Stadium in Hershey, PA.

LYLE LOVETT AN KD LANG perform Tuesday, June 19 at the Mann Center in Philadelphia, PA. On Wednesday the show is at the Filene Center at Wolf Trap in Vienna, VA. Thursday finds them at Radio City Music Hall in NYC. On Saturday they entertain at Foxwoods Resort Casino in Mashantucket, CT. Next Sunday, June 24, they can be enjoyed at Bank of American Pavilion in Boston.

SHeDAISY perform at the Sonoma Marin Fair in Petaluma, CA on Thursday, June 21. On Friday the show is at 4th & B Concert Theater in San Diego. Saturday finds them at the Alameda County Fair in Pleasanton, CA.




PIFFLE AND PROFUNDITIES


CLANG, CLANG, CLANG WENT THE TROLLEY

Friedel Klussmann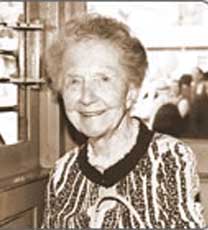 on Tuesday, June 26, the 60th Anniversary of the Saving of the Cable Cars will be celebrated in San Francisco. In 1947, the lower operational costs of buses prompted San Francisco Mayor Lapham to declare, "the city should get rid of all cable car lines as soon as possible."

In response, Friedel Klussmann founded the Citizens' Committee to Save the Cable Cars. The committee began a public campaign showing that the cable cars value to San Francisco was far greater than their operational cost. They succeeded in placing an amendment on the November ballot, Measure 10. Newspapers picked up the story and public support grew quickly. Life magazine did a photo spread on gripmen. Celebrities rallied for the cable cars. Businesses realized tourists don't come to San Francisco to ride the busses.

Measure 10 passed in a landslide victory - ordering the city to maintain the Powell Street cable car system.

In 1997, a celebration was held at Victorian Park to name the Powell-Hyde line turnaround the Freidel Klussmann Memorial Turnaround in honor of the woman who saved the cable cars.

Next Column: June 24, 2007
Copyright: June 17, 2007. All Rights Reserved. Reviews, Interviews, Commentary, Photographs or Graphics from any Broadway To Vegas (TM) columns may not be published, broadcast, rewritten, utilized as leads, or used in any manner without permission, compensation/credit.
Link to Main Page
---
Laura Deni


CLICK HERE FOR COMMENT SECTION