! >
Broadway To Vegas
  
  REVIEWS INTERVIEWS COMMENTARY NEWS

| | |
| --- | --- |
| | |
GRAMMY AWARDS COURT CHINA - - ZAM: THE UNCOMMON MUSEUM - - OPENING NIGHT AT THE HOLLYWOOD BOWL - - THE RECORDING ACADEMY HONORS - - ANYTHING GOES - THEATRE LOOK-IN - - 200th ANNIVERSARY PRIDE AND PREJUDICE - - DAVID SCHWIMMER DIRECTS BIG LAKE BIG CITY - - DUCHESS KATE AND COUNTESS SOPHIE ARE FASHION TRENDSETTERS - - DONATE . . . Scroll Down





Copyright: June 16, 2013
By: Laura Deni
CLICK HERE FOR COMMENT SECTION


GRAMMY AWARDS COURT CHINA
Neil Portnow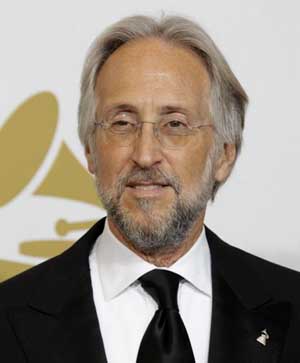 Musically, it's East meets West.

The East wants Grammy events. The West wants piracy to end and royalties to be paid.

Hopes are high that the twain shall meet.

Neil Portnow, president and chief executive of The Recording Academy, has been in Chengdu, China where he told members of the press that, over the next one to two years, he would like to develop a company in China to hold official Grammy events.

Soon to be featured at the Grammy Museum in Los Angeles, an exhibit of Chinese music.

Portnow would also like the Chinese to pay something besides lip service to the issue of piracy. Currently, musicians have trouble turning Chinese record sales into money. Pirated records don't pay royalties.

The methodology Portnow is implementing involves more honey than vinegar.

On Saturday, June 8, 2013 Portnow attended a concert of nine Grammy award-winning musicians in Chengdu, which is located in the Sichuan province. The concert including performances by Michael Bolton, Leo Sayer, Jody Watley, Shawn Colvin, Richard Marx, Yolanda Adams, Patti Austin, Diane Shuur and Rodney Crowell. Along with Chinese musicians, such as Grammy winners singer Song Zuying and pianist Lang Lang, the artists performed their biggest hits.

Previously unseen video clips of late pop legends Michael Jackson and Whitney Houston were also shown publicly for the first time.

The performance was supervised by Zeng Qinghuai, directed by Chen Weiya and produced by Zhu Hai.

This was Portnow's second trip to China. In August 2008, at the invitation of Chinese pianist Lang Lang, Portnow came to Beijing to watch the Opening Ceremony of the Beijing Olympic Games.

The mastermind of the Grammy awards left determined to bring the Grammys to China.

"When I watched the Opening Ceremony of the Beijing Olympic Games, I was so inspired by the country's culture. I thought we must find a way to work together," Portnow told China Daily.

"The Grammys are open to music of different kinds. This year we have 82 categories, including classical, jazz, pop and country music," he explained to the Chinese. "We know that China has thousands of years of musical history, which is very diverse. We are very interested in Chinese music and Chinese musicians."



Yo-Yo Ma plays the cello during the Annual Meeting 2008 of the World Economic Forum in Davos, Switzerland, January 25, 2008.
Chinese musicians pick up their share of Grammy awards.

"Yo-Yo Ma has 17 Grammys," commented Portnow referring to the famed cellist. Portnow then stated the obvious. "That is a tremendous amount."

Intellectual property rights have been a difficult concept for Chinese adults to comprehend. Upper class school children do get it drummed into their heads, but it's going to take hard work and years of being carefully taught to get everyone on board with the don't steal concept.

"There are many young people growing up without knowing what is right and wrong about music. If you take a bottle of water without paying, it's called stealing. When you download free music, it is theft, too," China Daily quoted Portnow as saying.

Portnow has a strong reputation for working with the Academy and within the music industry to secure the future of modern recordings, as well as in the fight against illegal downloading and piracy. He has also been at the forefront of the digital music revolution. He has been influential in making progress on Capital Hill over artist compensation rights, including the Performance Rights Act which requires artists to be paid for airplay on the radio.

The Grammy Concert was held to coincide with the annual Fortune Global Forum. Making a serious presence were Hollywood film and music movers and shakers. The Forum was the occasion for Time Warner CEO Jeff Bewkes to announce a partnership to invest in Chinese media company China Media Capital (CMC) which is joint venture with Shanghai Media Group (SMG), China's second largest media company.

CMC is also the partner chosen by Oriental DreamWorks joint venture animation studio last year.

Expected to be a major player in the American-Chinese Grammy duet is Albert Yeung who used his private jet to travel to Chengdu and attend the Grammy Fest Concert.

Yeung is the founder and chairman of the Emperor Group which was established in 1999. With its beginning as a watch retailer with distribution rights of Rolex and Omega, Emperor Group has grown and expanded into a diversified group of listed companies that includes financial services, property, watch and jewelery, entertainment and films, hospitality, publishing and printing, furniture as well as catering.

In recent years, the Group has ventured into overseas markets outside Hong Kong and expanded its foothold in Mainland China, Macau, Thailand, Indonesia, the United States and Europe. The Group now has more than 7,000 employees and over 500 subsidiaries and branch offices.

Its major businesses include production and distribution of local and foreign records, music publishing, talent management and concert production. The company is also engaged in theater, film and TV production, multimedia and merchandise licensing, retail and other businesses.

In 2012 Yeung was named on the Forbes' lists of "Hong Kong's 40 Richest list" and "The World's Billionaires. He received "The Most Caring Individual Donor Award - "China Charity Award" from the PRC's Ministry of Civil Affairs. He was also elected as one of the "Top 10 Philanthropists 2012.

Hopefully, they will stay on key and make some beautiful music - and money - for the musicians.



Broadway To Vegas is supported through advertising and donations. Priority consideration is given to interview suggestions, news, press releases, etc from paid supporters. However, no paid supporters control, alter, edit, or in any way manipulate the content of this site. Your donation is appreciated. We accept PAYPAL. Thank you for your interest.


ART AND ABOUT


ZAM: THE UNCOMMON MUSEUM is a complex of seven Guinness award winning museums depicting original themes, all in the same building, in the heart of Munich, Germany.

Chamber-pots, pedal scooters, locksmiths, Easter bunnies, perfumes and guardian angels Each museum is the only one of its kind in the world.

The museums are a culmination of Manfred Klauda's dream. His vision was to open a museum that would attract the 95 percent of the public who had visiting a museum on the bottom of their want-to-do list.

In 1990, Klauda opened the Zentrum für Aussergewöhnliche Museen (ZAM - center for unusual museums) in Munich.

Klauda was himself a frustrated artist - his parents put him on the path to law school and discouraged any of his creative impulses. To satisfy his own artistic urges he began collecting - chamber pots - 40 of them which he purchased at an auction.

The chamber pot collection, which now contains some 2,000 models, features toilets of the illustrious, such as the over-sized royal Topf owned by Ludwig II of Bavaria, Bismarck's porcelain convenience as well as an early "porto-potty," which Austrian Emperor Franz Josef kept at the home of his mistress. Also on display are "bourdalous" which are oblong porcelain pots considered as luxury items and used in the 18th and 19th centuries by high class women.

Those who want to take home a souvenir came buy a chamber pot in the gift shop.

Klauda's museum now houses seven different collections of everyday objects of cultural and historical interest.

Another display comprises 130 pedal cars - including rare models built in Germany, England, France, Italy and the United States. Among other offerings are perfume bottle and padlock collections and the world's first Easter bunny museum.

The Easter bunny - in German, Osterhase - can most likely be traced back to a hare, allegedly kept by Ostara, a fertility goddess. The German word for Easter, Ostern, is a derivation of her name. The one thousand Easter bunnies displayed at the ZAM are among the most popular exhibits, and not just among the young.

The rabbits, in fact, fill two entire rooms of the museum.

But the Easter bunny was not always so popular: in the mid-eighth century, the sexually active animal was frowned upon on account of its pronounced virility and daunting productivity.

This reputation led Pope Zacharias to forbid the eating of hare, describing it as "the devil's roast" - a threat to all Christians.

One of the earliest rabbit tin forms on view at the ZAM dates from 1890. Unique porcelain bunny molds, many in the shape of egg cups, stem from the potters of Thuringia, craftsmen who left their mark on the turn-of-the-century chocolate Osterhase.

During both World Wars, the Easter bunny was somewhat exploited. The once neutral character was now often portrayed as a patriot - enthusiastically waving banners or dressed in soldiers' uniforms. A Hitler Youth bunny in full dress complete with a swastika-decorated egg, sheds a more sober light on Klauda's cast of curiosities. On a lighter note, a series of amusing Easter postcards, a variety of books and a magic lantern camera with slides, plates and cut-out motifs round out the ZAM exhibition.


SWEET CHARITY


A READING OF AUGUST WILSON'S RADIO GOLF produced by he Oregon Shakespeare Festival will support the Penumbra Theatre Company in St. Paul, Minnesota. The reading will be held on Monday, June 24 in the Angus Bowmer Theatre as part of OSF's Juneteenth Celebration.

In 2012, due to an income shortfall, Penumbra Theatre Company, one of the largest and most significant African-American theatre companies in the United States, suspended its fall programming. In addition, its 2013 budget was reduced by $800,000, and the theatre cut six full-time staff positions. Through strong leadership, a committed board, and the generosity of donors from around the country, the theatre was able to open its doors in 2013 after the suspension.

Recognizing the national importance of Penumbra Theatre Company and OSF's collaborative relationship with artists from the Twin Cities area, OSF chose to join in the fund-raising effort.

"We find ourselves at a time and space wherein the diversification of major stages in the US threatens the health of culturally specific theater companies," said Lou Bellamy, founder and artistic director of Penumbra and director of this season's OSF production of August Wilson's Two Trains Running. "The threat is such that national foundations and theater networks (such as Theatre Communications Group) are focusing intently on developing strategies to ensure our survival.

The reading of an August Wilson play has OSF significance.

"We are proud to have given August Wilson his first professional production, and proud as well of Oregon Shakespeare Festival for valuing Penumbra's unique role in nurturing artists of color, many of whom go on to find careers throughout the United States."

Constanza Romero, August Wilson's widow, noted: "August's final play, Radio Golf, was written during the final months of his life. In 2005, before the play was to open in Los Angeles, he was diagnosed with a terminal illness, and was forced to face the fact that he could not usher this work to New York, as he had done all the other plays. I witnessed the Herculean determination, and the insurmountable courage he had to summon in order to finish the last installment of the American Century Cycle. I consider Radio Golf August's final gift to all of us, and we are all the richer for it."

The reading will be directed by Donya K. Washington. The cast features Rodney Gardiner as Harmon Wilkes, Christina Acosta Robinson as Meme Wilkes, Jerome Preston Bates as Roosevelt Hicks, Ken Robinson as Sterling Johnson, and Terry Bellamy as Elder Joseph Barlow. Bakesta King is providing stage directions.

Juneteenth commemorates the announcement in Texas on June 19, 1865 of the abolition of slavery, two and one-half years after the effective date of the Emancipation Proclamation. Juneteenth is a holiday celebrated in 42 states.

OPENING NIGHT AT THE HOLLYWOOD BOWL takes place Saturday, June 22.

The star-studded Opening Night, one of the most anticipated highlights of the season, honors music legends with the Hollywood Bowl Hall of Fame concert, culminating in a spectacular fireworks display.

The Hollywood Bowl Orchestra will be conducted by Thomas Wilkins.

Proceeds benefit the LA Phil and its education programs.

4th ANNUAL PALACE THEATRE GALA will star Steve Martin and The Steep Canyon Rangers featuring Edie Brickell. A gala celebration and benefit concert for SCA and its Arts Education Programs takes place June 21, 2013 at the Palace Theatre in Stamford, CT.

THE RECORDING ACADEMY HONORS Gala Event Will Benefit Advocacy, Education, And Professional Development Programs Of The New York Chapter, will take place Tuesday, June 25, 2013 at 583 Park Avenue in New York City.

Songwriters/performing artists Ashford & Simpson, Grammy-winning violinist Joshua Bell, Grammy-winning artist Melissa Etheridge, Grammy-winning creators of Les Misérables - Alain Boublil, Herbert Kretzmer and Claude-Michel Schönberg - and R&B singer/songwriter Trey Songz are recipients of the New York Chapter Recording Academy Honors 2013.

Presenters include Steve Bartels, Michael Bolton, Charles Hamlen and Kevin Liles.

Those performing include: Samantha Barks, Stephanie J. Block, Michael Bolton, Kristian Bush, David Caddick, Ray Chew, Peter Cincotti, Frankie Moreno, and Joan Osborne.

The Recording Academy Honors was established to celebrate outstanding individuals whose work embodies excellence and integrity and who have improved the environment for the creative community.

The evening will begin with a VIP cocktail hour followed by dinner and the tribute presentations with celebrity presenters and performers.


GIVING PREGNANCY A FASHIONABLE FLARE
Duchess Kate arrives for the christening of the Royal Princess ship. Photo: Chris Jackson / AFP/Getty Images

In days of yore pregnant ladies wore maternity outfits which always seemed to have a big bow at the neck. Presumably, if people looked the bow they wouldn't notice that the woman was as big as a blimp.

The next generation of expectant moms donned oversized bib overalls which were available in a variety of colors. Unless the soon-to-be in labor woman was a carpenter desperate to finish a project before her water broke, the look was something only to be worn around the house or to a picnic.

Then came the current generation of letting it all hang out. Bare midriffs and bulging abdomens show the world inner belly buttons which have expanded to almost become outies. The pr spin is that everyone is suppose to gush at how pregnant women glow.

Then along came Kate.

She is doing what some have done in the days when the shift, A-line and empire dresses were in vogue. Buy two sizes larger than you normally wear. The dresses are stylish, because they are normal dresses and, in some cases, the future mother won't even look pregnant, or just barely show a bump until the last month or two.

Last Thursday Duchess Kate turned heads when she christened a Royal Cruises ship, the Royal Princess, a 3,600 passenger ship which replaced the original Royal Princess ship, launched in 1984, but no longer in service.

The ship which has 19 decks, embarks on its maiden voyage today, June 16, and features a glass-bottomed walkway extending almost 28 feet beyond the edge of the ship, and boasts about having the largest pastry shop at sea.

For the ship christening Kate wore a House of Fraser Dalmatian Print Mac from Hobbs, a popular London chain retail store. A blend of linen and rayon, this is not a maternity dress. Rather, a normal coat/dress which Kate purchased reportedly at only one size larger than she usually wears. Keep in mind, this is a woman who was runway model thin before her pregnancy. The purchase set the royal household back about $264.

Within minutes of Kate being photographed in the dress, it sold out at Hobbs.



Prince Edward and bride Sophie. Her choice of a wedding dress started a new trend.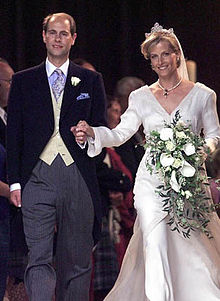 Kate wore black Episode Angel pumps, Annoushka Pearl earrings and a black fascinator by Sylvia Fletcher for Lock & Co. Her clutch handbag was a 2011 Alexander McQueen Wicca Mini Satchel, which may have been a special order version.

In related royal fashion news, Kate's sister-in-law, Sophie, Countess of Wessex recently accepted the position of Patron of the College of Fashion, part of the University of the Arts London. The wife of Prince Edward becomes the first ever College of Fashion patron. Her participation will "focus mainly on the college's Better Lives scheme, which aims to use fashion to drive change, build a sustainable future and improve wellbeing."

In a three year Patron agreement, one of her projects is a magazine for female prisoners called The Beauty's Inside, which aims to give them fashion-related skills that will help them once they're released.

Always stylish, Sophie's choice of a wedding gown earned rave reviews and immediately altered the style of wedding gown from puffy and frilly to sophisticated.

The dress was designed by Samantha Shaw. The dress was fashioned of hand-dyed silk organza and hand-dyed silk crepe. Full-length, with long sleeves, and the detail consists of rows of pearls and crystal beading around the neck, sleeves and train, with further beading down the back and front of the dress-coat. 325,000 cut-glass and pearl beads were sewn on the dress, which is corseted, with a v-neck. The full-length veil was one inch longer than the train. It was made of hand-dyed silk tulle, and hand-finished with spotted crystal detail.

Prince Edward and Sophie were married June 19, 1999 in St George's Chapel at Windsor Castle. The couple has two children and will celebrate their 14th wedding anniversary on Wednesday.





SPREADING THE WORD


KINDERTRANSPORT by Diane Samuels will be recorded by L.A. Theatre Words for radio broadcast and digital download at UCLA's James Bridges Theater June 20 through June 23.

Five performances will be recorded in front of a live audience. Jeanie Hackett directs.

Starring Molly C. Quinn, Jane Kaczmarek, Susan Sullivan, Hugo Armstrong, Shannon Lee Clair and Angela Paton.

Both Quinn and Sullivan are regulars on ABC's hit show Castle. On that series Quinn plays Sullivan's granddaughter. In Kindertransport, Quinn will play opposite Sullivan as her daughter.

"Kindertransport" (Children's Transport) brought thousands of refugee Jewish children to Great Britain from Nazi Germany, Austria and Czechoslovakia between 1938 and 1940, most of whom never saw their parents again. 2013/14 marks the 75th anniversary of that rescue operation.

Inspired by true-life accounts from surviving 'Kinder', Samuels' play tells the poignant fictional story of seven-year-old Eva Schlesinger who, in early 1939, was put aboard a train with other Jewish children and evacuated from Nazi Germany. Torn between her Jewish-German heritage and her desire to wipe the Kindertransport experience from her memory, Eva strives to become "English" like the British woman who adopts her. The audience witnesses the kaleidoscope of emotions encountered by Eva at four different points in her life as she remains burdened by a painful past, her own fears, and the secrecy that threatens her relationship with her daughter.

L.A. Theatre Works is the leading radio theater company in the United States, committed to using innovative technologies to preserve and promote significant works of dramatic literature and bringing live theater into the homes of millions. The company's public radio series, featuring stage plays performed by America's top actors augmented by interviews with the artists and others, can be heard in over 100 markets nationwide and on SiriusXM Book Radio and can be streamed on demand. L.A. Theatre Works audio plays are available at over 11,000 libraries throughout the U.S., and recordings and teaching materials are used by over 3,000 middle and high schools across the country.

ANYTHING GOES - THEATRE LOOK-IN an insider's look, complete with lively discussion and the opportunity to ask questions of the artists. Tuesday, June 25, 2013 at the Terrace Gallery, The Kennedy Center in Washington, DC.

Anything Goes winner of three Tony Awards, including Best Musical Revival, Cole Porter's first-class comedy features some of musical theater's most memorable standards, including I Get a Kick out of You, You're the Top, and, of course, Anything Goes. has performances through July 7 at the Opera House at The Kennedy Center.

THE FUTURE PERFECT Book by Jonathan Caren, music and lyrics by Emmy Award-winning composer and songwriter Ben Decter, directed by Tony Award nominated Kristin Hanggi with musical direction by Kyle Puccia.

The staged reading will take place Tuesday, June 25, and Wednesday, June 26, 2013, in the Carrie Hamilton Theatre at The Pasadena Playhouse in Pasadena, CA.

The Future Perfect is a story about a singer and his band on the verge of their dreams, but behind the scenes his family is falling apart. While the band deals with their newfound fame, Daniel is dealing with his newfound daughter and her ensuing medical crisis, which will require more love than he ever imagined. It's a musical about going for your dreams, and being surprised by what you find along the way.

This staged reading is part of the Hothouse at the Playhouse Series which cultivates writers, actors, and directors of all backgrounds through new play development. Several of The Playhouse's most successful Mainstage productions have emerged from the Hothouse program, enjoying long production runs subsequent to Playhouse premieres, such as: Sleepless in Seattle – The Musical; One November Yankee; the Tony-nominated Sister Act – The Musical, Looped, and the upcoming Broadway production of Can-Can by David Lee.

KINKY BOOTS AND PIPPIN which scored big at the Tony Awards, have announced national tours.

Kinky Boots, which won six Tony Awards including the coveted Best Musical, will step off its national tour September 2014 in Las Vegas, at the Smith Center.

A book by Tony winner Harvey Fierstein and a score by Grammy and Tony Award-winning songwriter Cyndi Lauper.

Tony Award winner Jerry Mitchell, who has both a home and productions playing in Las Vegas, created the high-energy choreography and also directs the musical.

Kinky Boots plays on Broadway at the Al Hirschfeld Theatre.

At the same time, the Diane Paulus directed Pippin, which won four Tony Awards including Best Revival, will bring their high-energy magic to the Buell Theatre in Denver.

SEBASTIEN DE LA CRUZ an 11-year old San Antonio native with a gorgeous voice, could give lessons to others on how to sing the National Anthem. The mariachi singer has twice performed the anthem at major events - games three and four of the NBA finals. He didn't miss a note nor forget or garble a word.

Initially, De La Cruz was asked to step in at the last minute to sing the national anthem after country star and former Hootie & the Blowfish frontman Darius Rucker cancelled because of travel issues. Sebastien nailed it and was invited back to sing at Game Four.

The handsome charmer has been singing mariachi music since he was six. He made it to the semi-finals in Season 7 of America's Got Talent.

Hopefully, he'll enjoy a long career in the music business.

THE 2013 TONY AWARDS proved to be one of the best in years - starting with that magnificent, over-the-top opening number, directed by Glenn Weiss and written by Dave Boone and Paul Greenberg.

In addition to the Tony Awards, multiple Emmy Award winner Boone - just in 2013 - has also written: The 2013 Writers Guild Awards, Betty White's 2nd Annual 90th Birthday, 19th Annual Screen Actors Guild Awards and the 70th Annual Golden Globe Awards.

Greenberg was the host and producer of the 2013 Juno Awards.

Neil Patrick Harris was, as usual, the perfect host, although he was almost upstaged by a dog. Don't know if somebody put essence of peanut butter on NPH's face, or if "Sandy" was just smitten, but it worked. Executive producers were Ricky Kirshner and Glenn Weiss while Harris received credit as producer, proving he is a smart businessman. Among his numerous credits as producer include the upcoming 65th Primetime Emmy Awards, to be broadcast from the Nokia Theater in Los Angeles on Sunday, September 22. Harris will also host. Ken Ehrlich will serve as Executive Producer.

Boxer Mike Tyson, who sometimes has demonstrated trouble uttering comprehensible paragraphs, establishing he can deliver a knock out punch with his mouth, and even executed a kick-ball-change foot maneuver, although the man should stick to dancing in a boxing ring..

The Matilda musical number set the gold standard for what musical excerpts should look like.


OTHER PEOPLE'S MONEY


THE OREGON SHAKESPEARE FESTIVAL has received a three-year grant from the National Endowment for the Humanities (NEH) of $200,000 for Digitizing and Creating Access to the Audiovisual Collection in the Oregon Shakespeare Festival Archives.

The grant will enable OSF to complete the preservation process to make public the work of its founders, artists and innovators, which are documented in an extensive audiovisual collection.

The deteriorating reel-to-reel tapes, 8mm and 16mm films and other aging and obsolete audiovisual formats are the cornerstone of the Archives and in immediate need of digitization. Seventy-five percent of the collection is unusable until now due to preservation concerns and technological obsolescence. With digitization, these 2, 655 at-risk tapes, films and videos will be preserved for future use and available for the first time.

"George Blood, L.P. has been chosen as the company to continue the digitization of the collection," Broadway To Vegas was told. George Blood clients have included The Philadelphia Orchestra, Boston Symphony Orchestra, Chicago Symphony Orchestra, Museum of Jewish Heritage, National Park Service, and the Library of Congress.

"We began this process about two years ago, but as you can imagine it's a costly project. We send the tapes to George Blood, L.P. in Philadelphia, PA and they are processed there. We receive various format copies for our archives, which are then processed for the collection," continued Amy E. Richard Media & Communications Manager of the Oregon Shakespeare Festival.

The audiovisual collection spans the 77-year history of the Festival and comprises an unparalleled and comprehensive record of Shakespearean and theatrical performance by a single U.S. theatre company.

The production recordings are supplemented by recordings of 44 adaptations for radio broadcast, artist interviews (in more than 100 hours of oral histories), Shakespeare lectures by nationally and internationally renowned scholars and educators, production music, promotional recordings, and recordings of significant events in the company's history.

NICOLAS CAGE was instrumental in Nevada passing a film tax credit bill. Nevada doesn't want film companies lensing in Georgia where there is a 30% tax credit. Nevada legislators are betting that, for a 20% tax credit, film producers would rather locate in the Silver State.

Actor Cage is credited with convincing lawmakers to pass the bill year. In years past previous bills have failed. Cage spoke on behalf of the bill proposing tax incentives to entice filmmakers to produce in Nevada.

Cage came to the Legislature to testify in favor of the bill, which was sponsored by Sen. Aaron Ford, D-Las Vegas. Cage lives in Las Vegas with his wife and seven-year-old son.

Last Tuesday Gov. Brian Sandoval's signed the bill affording filmmakers an incentive to shoot in Nevada.

The bill grants transferrable tax credits to major filmmakers.

However, the original bill was amended to allow the implementation of a pilot program to provide up to $20 million in tax breaks a year for film productions - giving lawmakers a loophole to reverse course if the economic promises don't pan out.

The bill sets up a pilot program that expires in 2023. To get the incentive, which would be capped at $6 million per production, 60 percent of a film's costs would need to be spent in Nevada. Filmmakers have to spend a certain amount in state to receive a tax credit that they can then sell to an in-state company to use as a deduction on its annual state taxes.


NEVADA REP. JOE HECK OFFERS WEAK APOLOGY FOR SON'S SLURS AND THREATS
Nevada U.S. Congressman Joe Heck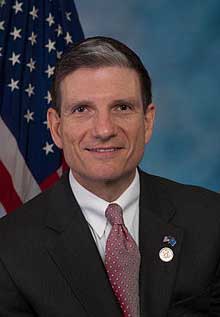 Nevada U.S. Congressman Joe Heck issued an apology for racist, sexist, religious and homophobic insults posted on Twitter by his son, Joey. The vile insults have made world-wide headlines.

Rep. Heck's apology:

"I am extremely disappointed in my son's use of the offensive and inappropriate language on Twitter: That type of language has never been permitted in our home," Heck said in a statement. "I apologize to everyone he may have offended. My son also apologizes for his insensitive behavior. My wife and I have addressed this family matter directly with him and he has learned from it."

Talk about a limp apology. Nowhere does it indicate that Congressman Heck and his wife were horrified, repulsed, sickened or shocked and have taken immediate steps to see to it that their son gets help. No, they were "saddened."

It's a wiggle room apology. Stating "he may have offended." Why wasn't it worded has offended?

That apology only raises more questions.

From August 2012 through May 2013 Joey Heck, 16, posted 3,196 tweets, a good segment of them being insulting and inflammatory slurs.

Many times the words "faggot" and "nigga" are used as well as threats of violence.

Conservative Heck's apology didn't occur until after Buzzfeed broke the story.

That says several things.

Do Heck or his wife monitored their son's Twitter account? Most parents at least occasionally call up their child's Twitter account to see what their offspring are posting. Or, do the Hecks share their son's opinions and are apologizing because he got caught?

The apology says: "That type of language has never been permitted in our home."

More than the words, it's the meaning of the vocabulary that's reprehensible. The question becomes, while the words may be banned from the Heck's household, are the feelings and beliefs the words describe a part of the Heck personal lifestyle? That wasn't addressed in the apology.

Some of the tweets refer to his mother and father. Regarding fanny-packs the teen tweeted: "fanny pack = fag bag." "That's what my mom calls them."

One of several tweets about his father who sits on military and intelligence panels: "I'm pretty sure I know more about politics than any of you. I mean it's not like my dad's a politician and I grew up with this or anything." During the Oct. 16 debate he tweeted "Obama didn't make the call to kill Osama… That was the intelligence committee #iwouldknow." He also appears to quote his father as saying "Romney raped Obama" in a debate and made him "his slave."

Congressman Heck, a Roman Catholic, ended his apology with: "My wife and I have addressed this family matter directly with him and he has learned from it."

What is that suppose to mean?

In fact, at Broadway To Vegas deadline, Joey Heck's Twitter account was still up!

Random examples of families "saddened" by a teen's behavior and "addressed this family matter directly with him and he has learned from it" would be a kid who repeatedly cuts across the neighbors' grass, making a path. You make that child pay for grass seed from his/her allowance, giving up a Saturday with friends to repair the damage. You are "sadden" by your child's actions and hope it has learned a lesson. A kid soaps the neighbors' car on Halloween. Your offspring gets to pay for the cleaning supplies and then use them to make that vehicle shine like new. You are "saddened" by the behavior and hope the youth has learned a lessons. That's the type of teen-age nonsense that causes parents to be "saddened" by behavior.

When your child's vile, disgusting, inflammatory posts make international headlines it's more than a family matter. When the tweets are, in many cases, threats of violence, it's more than a family matter.

To his schoolmates: "I'll stab you in the throat" if they talked to him about the president.

He tweeted that hitting a "ginger" (a person with red hair) might make a fun game.

Full disclosure. I'm a natural redhead. That makes me one of the people Joey would think it fun to hit.

Does this kid have access to a gun or explosive devices? Is he under the care of a mental health professional? Is he on medication?

Referring to his son, Rep Heck closed his apology with "he has learned from it." When such vile and hateful comments are spewed about over a prolonged period of time, this isn't some teen-ager having a one night meltdown. The comments are indicative of much deeper belief issues. It's far more than being "insensitive." And, a one time - ooops, you got caught, see the embarrassing position you've put your father in - may result in a printed apology, but it doesn't begin to address the serious underlying issues.

Heck's kid isn't the only congressional off-spring that needs to have their Twitter account yanked, their cell phone taken away, sent to their room only to come out to see a counselor and to toil full time all summer at LGBT centers, homeless shelters, NAACP and Mexican charities - assuming any of those organizations would permit them in the facilities.

A day before Heck's apology, Arizona Senator Jeff Flake, a devout Mormon and father of five, apologized for raciest comments posted online by his 15-year-old son Tanner Flake.

The website NewNowNext wrote the following:

"Flake served in the House from 2001–13 and was elected to the Senate in 2012. He supports a constitutional amendment banning same-sex marriage and an amendment defining marriage as between a man and a woman. He has a 0% rating from the Human Rights Campaign. He has a 0% rating from the NAACP. He has a 7% rating from the ACLU. What's that old saying about the apple and the tree?"

Congressman Heck has yet to receive ratings for his actions in the House of Representatives.



BIG LAKE BIG CITY by Keith Huff. The world premiere will be directed by Lookingglass ensemble member and co-founder David Schwimmer.

Starring ensemble members Thomas J. Cox (Divot and others), Anthony Fleming III (Moss and others), Philip R. Smith (Bass), Kareem Bandealy (Peter and others), Katherine Cunningham (Ally), Danny Goldring (Getz), Beth Lacke (Susan), Eddie Martinez (Stewart), J. Salome Martinez (Trent and others) and Wendy Mateo (Maria).

Explained as: "Detective Bass can't catch a break: his boss is a hard-ass, his partner's a knucklehead, his wife's a cheat, and now he has to chase down a perp who has a screwdriver in his head. An eclectic set of shady characters - crooked coroners, a TV-personality doctor, a femme fatale, and one extraordinarily valuable sculpture - run roughshod through a hilarious maze of double-crosses and double-identities."

The creative team includes ensemble member Sibyl Wickersheimer (scenic), Ana Kuzmanic (costumes), artistic associate Christine A. Binder (lighting), artistic associate Rick Sims (sound/composition) and Maria DeFabo (props). Narda E. Alcorn is the production stage manager, and Tess Golden is the assistant stage manager.

Performances June 19-August 11 at the Lookingglass Theatre Company in Chicago.

PRIDE AND PREJUDICE by Jane Austen. The production celebrates the 200th anniversary of the beloved novel.

Simon Reade, former artistic director of the Bristol Old Vic, helms Austen's timelessly pertinent tale of the Bennet sisters, their impossible parents, and the frustrations of husband-hunting to the stage.

"It is a truth universally acknowledged, that a single man in possession of a good fortune, must be in want of a wife"

As the Bennet sisters haplessly search for love in Jane Austen's ultimate romantic comedy, it is Mr Darcy who unwittingly finds his match.

The venue does post an "important weather policy."

"The auditorium and stage are completely uncovered. We will make every effort to complete the performance and reserve the right to stop and start the action as necessary. Performances are never cancelled or abandoned before the advertised starting time and then only in the event of very bad weather. If cancellation or abandonment is unavoidable, ticket holders will be entitled to equivalent seats for any other performance in the main season (excludes comedy and music events), subject to availability. Music and Comedy events (which are one-off events and not part of the main repertoire) take place regardless of weather conditions. Refunds are not given for cancellation or abandonment as a result of the weather."

Performances June 20-July 20, 2013 at the Regent's Park Open Air Theatre in London.

MONTY PYTHON'S SPAMALOT Lovingly ripped off from the classic film comedy, Monty Python and the Holy Grail. Directed and choreographed by Denis Jones.

The production will feature music direction by Ben Whiteley.

Spamalot musically tells the legendary tale of King Arthur and his Knights of the Round Table. Nominated for 12 Tony Awards, and winner of the 2004 Tony for Best Musical.

Performances June 17-23 as the first production of St. Louis Muny's 2013 summer season.

LES MISERABLES the 1862 French Novel by Victor Hugo adapted for the stage with music by Claude-Michel Schönberg, original French lyrics by Alain Boublil and Jean-Marc Natel, with an English-language libretto by Herbert Kretzmer.

One of the finest novels of the 19th century comes to the stage of the Woodstock Playhouse opening their 2013 Summer Season.

June 20th thru June 30th at the Woodstock Playhouse in Woodstock, NY.

THE HOUND OF THE BASKERVILLES by Sherlock Holmes.

This masterpiece gets a gloriously funny makeover with a new production which spoofs the famous detective.

Returning to his family's manor house on the lonely moors after his father dies under mysterious circumstances, Sir Henry Baskerville is confronted with the mystery of the supernatural hound that supposedly takes revenge upon the Baskerville family. The famous detective Sherlock Holmes and his assistant Dr. Watson are brought in to investigate.

A cast of three play all the roles as they unravel a mystery with comedy and slapstick which promises "a mad hilarity that will make you feel quite sane."

June 21 to July 6 at the Hackmatack Playhouse in Berwick, ME.

MILES & ELLIE a World Premiere by Don Zolidis. Directed by Guy Sanville.

Miles and Ellie are two American teenagers in love when a youthful misunderstanding breaks them apart. Flash forward 20 years and a divorced and disenchanted Ellie has come home to lick her wounds. There isn't much time to mope, however, when she learns that Miles is still in town and carrying a torch for her. Is it possible to get a second chance at your first love? Billed as "charming and funny" a production which promises to make you " wonder 'what if?'" Contains adult language and content.

Starring Rhiannon Ragland, Rusty Mewha, Cheryl Turski, Bill Simmons and Michelle Mountain.

Set Designer: by Bartley H. Bauer. Properties Designer: Danna Segrest. Costume Designer: Rhiannon Ragland. Lighting Designer: Reid G. Johnson. Sound Designer: Tom Whalen. Stage Manager: Stephanie Buck.

June 20, 2013 through August 31, 2013 at the Purple Rose Theatre in Chelsea, Michigan.

IT'S JUST SEX by Jeff Gould.

Directed by Emmy nominated Rick Shaw who is Producing Director of the Secret Rose Theater and the NoHo Playhouse in the heart of the NoHo Arts District, North Hollywood, CA.

It's Just Sex is billed as "a thought-provoking and hilarious look at monogamy, infidelity, lust, trust and the boundaries of relationships. With the kids away at camp, three couples get together for an innocent cocktail party. But as the liquor flows, games are played, secrets are revealed, trust is tested, boundaries are broken and reality gets 'swapped' for fantasy."

Featured in the cast are Jackie Debatin, Elaine Hendrix, Michael Colby Jones, Gina LaPiana, Matt Walton, Salvator Xuereb and Molly Fahey.

Scenic and lighting design by Josh Iacovelli, costumes by Molly Maginnis-Tippe, and sound design by Paul Bourgeois.

It's Just Sex has enjoyed over two years of sold-out performances in Los Angeles. Beginning previews in New York City on June 17, officially opening June 25 at the Actors Temple Theatre.


WHO'S WHERE




BARBRA STREISAND headlines the Bloomfield Stadium in Tel Aviv, Israel on Thursday, June 20.

THE HUDSON VALLEY SINGERS present Hymm of Love, featuring the music of Weber, Schumann, and Nielsen conducted by Eugene Sirotkine and joined by the Masters School Young Singers directed by Jennifer Carnevale and The New York Metamorphoses Orchestra. Willy Pogeny's 1921 murals Scenes from Children's Literature, is the backdrop for Hymm of Love which celebrates the love of children and youth in a time when violence against them is all too common. The performance's soloists include: Eleni Calenos, Liana Brooke, Alexandra Lushtak, and Robert Garner. The performance will take place on Saturday, June 22, 2013 at the Heckscher Theatre, NYC.

MAROON 5 take to the stage of the LG Arena in Birmingham, UK on Saturday, June 22. The next night they open a two nighter at The 02 in London.

BRUCE SPRINGSTEEN AND THE E STREET BAND are in the spotlight, Tuesday, June 18, at Hampden Park in Glasgow, Scotland. On Thursday the show is at Ricoh Arena in Coventry, UK. On Saturday they can be enjoyed at the Goffertpark in Nijmegen, Netherlands.

TAYLOR SWIFT is in the spotlight Saturday, June 22, at Investors Group Field in Winnipeg, MB.

JUSTIN BIEBER will appear live in concert at The Staples Center in Los Angeles June 24 & 25.

ROD STEWART opens a two night on Wednesday, June 19, at the LG Arena in Birmingham, UK. On Sunday, June 23, his tour stops a Motorpoint Arena in Sheffield, UK.

ERIC CLAPTON entertains Tuesday, June 18, at the Arena Versicherung in Nuremberg, Germany. On Wednesday the show is at the 02 Arena in Prague, Czech.

JOAN RIVERS performs her uncensored, uninhibited standup comedy at Humphrey's in San Diego on Friday, June 21st On Saturday she flings the comments at the Grand Theatre in Reno, NV.

HARRY CONNICK, JR kicks off his national tour with a show Wednesday, June 19, at the Lyric in Baltimore, MD. On Thursday he'll be singing at the PAC in Providence, RI. Friday finds him at Symphony Hall in Boston. Saturday's show is at the PAC in Simsbury, CT.

DEPECHE MODE will perform Monday, June 17, at the Imtech Arena in Hamburg, Germany. On Saturday the show is at the Lokomotiv Stadium in Moscow.

JON BON JOVI on Tuesday, June 18, performs at the Olympiastadion in Berlin, Germany. Wednesday's show is at the PGE Arena in Gdansk, Poland. On Friday his tour stops at the Cannstatter Wasen in Stuttgart, Germany. Saturday's show is at the Rhein Energie Stadion in Cologne, Germany.

BRUNO MARS on stage Saturday, June 22, at the Verizon Center in Washington, DC.

ALICIA KEYS performs Friday, June 21, at the Salle Des Etoiles in Monte Carlo, Monaco.








Next Column: June 23, 2013
Copyright: June 16, 2013. All Rights Reserved. Reviews, Interviews, Commentary, Photographs or Graphics from any Broadway To Vegas (TM) columns may not be published, broadcast, rewritten, utilized as leads, or used in any manner without permission, compensation and/or credit.
Link to Main Page
---
Laura Deni



For the snail mail address, please E-mail your request.
CLICK HERE FOR COMMENT SECTION