! >
Broadway To Vegas
  SHOW REVIEWS     CELEBRITY INTERVIEWS     GOSSIP     NEWS 
| | |
| --- | --- |
| | |
BRITNEY SPEARS SHOPPING SPREE - -CHIPPENDALES MODEL UNDERWEAR - - SPITTING OUT PEZ - - TREKERS APPEAR - -ALL THE PEOPLE IN ELLEN DeGENERES' JEANS - - ROBERT BLAKE IN JAIL BUT HIS GUITAR HAS VEGAS GIG - - PSYCHIC READING ACTORS - - PAUL NEWMAN ON STAGE - - MELISSA MANCHESTER PENS MUSICAL . . . Scroll Down


Copyright: June 16, 2002
By: Laura Deni

CLICK HERE FOR COMMENT SECTION
PAUL NEWMAN RETURNS TO THE STAGE
Paul Newman on stage in Our Town Photo By: Larry Merz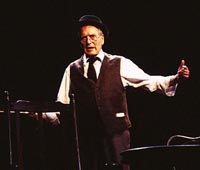 Paul Newman last appeared on stage in 1964's Baby Want a Kiss. Thanks to some convincing from his wife, Joanne Woodward, Artistic Director of The Westport Country Playhouse, the blue eyed actor is on stage starring in Our Town. The production is sold out and getting rave reviews. You expected something else???

To get a ticket you need to know somebody who already has tickets and then beg for one of the ducats. The groveling is worth the performance.

The Pulitzer Prize winning classic play by Thornton Wilder is the first production of the Westport Country Playhouse's 72nd summer season. The show runs through June 22.

The play paints a picture of small town America in the setting of Grover's Corners, New Hampshire in 1903. The story explores the classic themes of life, love and loss, appreciating every day and the pleasure of simple things. Yeah, yeah, yeah. We all grew up on this classic.

Not quite.

Both director James Naughton and Newman have put an edge to the dialogue and the acting. This isn't your grandfather's Our Town. It's poignant, timely and terrific. This execution of his work must has been what Wilder intended. High school acting classes should be required to study this production. The plot and words are the same that we've all heard and said. The difference is in the ability of the actors and director. A nuance is the difference between ordinary and great.



Mrs. Gibbs (Jayne Atkinson) and Mrs. Webb (Jane Curtin. Photo by Larry Merz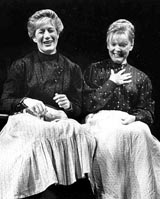 Tony-award winning Broadway veteran Naughton steers the high-profile cast which includes Jane Curtin, Jayn Atkinson, Frank Converse, Jeffrey DeMunn, Mia Dillon, Jake Robards John Braden, and Stephen Spinella.The young leads of George and Emily are played by Playhouse newcomers Ben Fox and Maggie Lacey. Set design by Tony Walton. Newman plays the central role of the Stage Manager.

Our Town has been staged at the Playhouse before. In fact, Thornton Wilder appeared in the 1946 production of the play in Westport as the Stage Manager, and earned his Actors' Equity card for that performance.

If you missed Newman in this production he'll be on stage Nov. 5 at the Kodak Theatre in Hollywood. This time the arm twisting came from A.E. Hotchner, who partnered with Newman in their line of Newman's Own food products, in which all profits go to charity - especially Hole in the Wall Gang Camps, which were started by Newman.

Hotchner will produce Ernest Hemingway's The World of Nick Adams a repeat of what he did last year at Lincoln Center's Avery Fisher Hall. That one nighter with an all start cast, which benefited the Hole in the Wall Gang camps, raised one million dollars.

The Hollywood performance will benefit the new Painted Turtle camp, another Hole in the Wall Camp for kids with life-threatening diseases. Newman and Hotchner hope the blue-ribbon cast will be repeated. That would be: Matt Damon, Julia Roberts, Morgan Freeman, Kevin Kline, Alec Baldwin, James Naughton, Meryl Streep, Paul and Joanne - who doesn't like to fly.



Broadway To Vegas is supported through advertising and donations. Priority consideration is given to interview suggestions, news, press releases, etc from paid supporters. However, no paid supporters control, alter, edit, or in any way manipulate the content of this site. Your donation is appreciated. We accept PAYPAL. Thank you for your interest.


MELISSA MANCHESTER PENS MUSICAL


Melissa Manchester, currently starring in Las Vegas with Peabo Bryson in Signed, Sealed, Delivered; A Tribute to Stevie Wonder at the Venetian Hotel, has written a musical, which will have its New England premiere beginning September 3 at the North Shore Music Theatre in Beverly, Massachusetts.

I Sent a Letter to My Love is a story of deep yearning about a physically challenged man and his sister, both seemingly trapped in a world of loneliness. This touching story of a family's love will be directed by Patricia Birch, the Emmy Award-winning director and choreographer of the motion pictures Grease, The First Wives Club and Working Girl.

Music by the Manchester, a Grammy award winning actress/singer/songwriter, created the music with a book and lyrics by Jeffrey Sweet. The musical is based on the novel by Bernice Rubens.

The show features veteran Broadway actress Cass Morgan, Tony-award nominated actor Stephen Bogardus and Diana Canova of television's Soap fame.

September 3 - 22.


HAVE YOU BEEN IN ELLEN DeGENERES' JEANS?
Britney Spears likes to mall shop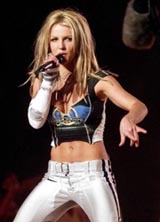 Shopping is important. After all, even the Roman Emperor Nero never wore the same clothes twice. Some celebrities do their own leg work while others use personal shoppers.

Britney Spears is a mall gal. Wearing a baby blue hat, frayed jeans, pink sunglasses, sandals with her belly button covered by a shirt, Britney, her mother, younger sister, her sister's friend, and a bodyguard hit the Scottsdale Fashion Square for some shopping prior to her Wednesday performance at the America West Arena in Phoenix.

The 20-year-old Spears and her shopping buddies managed to visit three clothing stores - Abercrombie Kids, bebe, and Abercrombie & Fitch. Spears even spent 15 minutes trying on clothes at Abercrombie & Fitch before customers noticed her. Bad scene - within minutes the gaggle of fans became so excited and "crazy" - as the store manager described it - that her bodyguard had to whisk her away.

Britney's mother managed to spend about $300 on summer clothing such as shorts and tank tops, and store personnel who were almost falling over themselves to talk to reporters, labeled mom as "very nice" even arranging for a young fan to obtain two tickets to her daughter's concert.

At least that person got to see a show. On Friday Britney's performance at a Texas Tech arena was cut short after two songs because of a power failure. The arena had lights, but Spears needs extra wattage for her pyrotechnic effects. A member of Spears' management came on stage with the performer and announced the show was over. Fans booed. "Please don't boo," she responded and then left the stage.

Spears' tour began May 24 in Las Vegas and ends July 22 in Dallas.



Ellen DeGeneres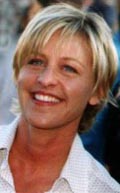 Then there is Ellen DeGeneres. She's had a lot of people in her jeans. A Las Vegas newspaper insert, Southwest View, in an article extolling the junque one can find in thrift stores, interviewed Christie Moeller - identified as a fashion stylist who shops in thrift stores "for the celebrities she dresses for commercials, television shows, and magazine layouts for clients..."

The article quoted Moeller as saying: "Like last week for VH-1's Divas Las Vegas' Ellen DeGeneres wanted some aged jeans and she didn't want jeans from the mall, so I went to thrift stores around town to find jeans that were her size. It didn't take that long. I got her a big stack of them and she tried them on and found the ones she liked."


BLAKE'S GUITAR HEADS TO VEGAS


While accused killer Robert Blake cools his heels in a jail cell, the sunburst acoustic guitar he held in the 1967 film In Cold Blood, which was based on Truman Capote's nonfiction account of the murder of a Kansas family by two young drifters, played by Blake and Scott Wilson, has a gig in Las Vegas.

Currently on display at Norm's Rare Guitars in Los Angeles, the steel-stringed 1966 Gibson LG-1, was given to store owner and movie fan Norm Harris by Blake about nine years ago. It is not for sale. But the guitar will be on display at Axeville, a vintage guitar show in Las Vegas at the Hard Rock Hotel the weekend of August 10.

Using a pen with blood red ink the actor inscribed "In Cold Blood 67, Robert Blake" on the dark-chocolate brown guitar. At the store, the guitar is kept in a glass case that also includes stills from the film showing Blake playing and carrying it. There's also an issue of People magazine featuring the Blake arrest on its cover.

In the opening scenes of In Cold Blood, a man on a darkened Greyhound bus is pictured strumming the guitar. At first the man's face is unseen until a flash of light reveals Blake. His Perry Smith character carries the guitar with him until he sells it for desperately needed cash.

Blake, 68, was arrested last month and charged in the 2001 fatal shooting of his wife, Bonny Lee Bakley, near a Studio City restaurant. His close friend, Earle Caldwell, is charged with conspiracy in planning the killing. Both men pleaded not guilty



TREK ON OVER


Trek Expo 2002 takes place in Tulsa, Oklahoma June 21-23.

The Sci-fi/fantasy convention, sponsored by Starbase 21, will feature appearances by Majel Barrett Roddenberry, Colm Meaney, Terry Farrell, Nichelle Nichols, Michael Dorn, Connor Trinneer, Amanda Tapping, Nana Visitor, Suzie Plakson, Laura Bertram, Keith Hamilton Cobb, Dean Devlin, Gary Lockwood, Lou Ferrigno, Peter Mayhew, William Windom, Dirk Benedict, Richard Gant, Vaughn Armstrong, Trevor Goddard, Chase Masterson, Joanna Cameron, Richard Biggs, Chris Demetral, Aron Eisenberg, Max Grodenchik and Cecily Adams.

A Supper with the Stars and The Ferengi Family Hour both take place on June 22.


SWEET CHARITY


CHERING FOR CHILDREN FOUNDATION benefit June 19 at Radio City Music Hall, NYC stars Bernadette Peters.

ACTORS' FUND PERFORMANCE of Metamorphoses takes place Sunday June 23, at The Circle in the Square Theatre in NYC.

BACK FROM BROADWAY hosted by Center to benefit the 120-year-old Actor's Fund of America. Hershey Felder and Jim Barbour entertain with their two-man show about overcoming adversity and regaining hope post 9/11. The show features the music of George Gershwin, Rodgers & Hammerstein, Lerner and Lowe and Beethoven. Joel Zwick directs. Sponsored by Kenneth Cole and chef/owner Jean Jacques Rachou, there's an after party at La Cote Basque.



SPITTING THEM OUT AFTER A HALF CENTURY
Pez, the quirky plastic statues that spit candy from their necks, is celebrating an anniversary. For 50 years Pez has fascinated both the young and old, spawning a world wide network of collectors.

It all started when Austrian candy executive Eduard Haas invented Pez candy in 1927. The first little candy bricks were peppermint. In fact, the word Pez is an abbreviation of the German word for peppermint - PfeffErminZ. Pez was originally marketed as an adult mint for people trying to quit smoking and were sold in small tins.

The first Pez dispensers, known to collectors as "regulars," was a no character head contraption, invented in 1948, and designed to look like a cigarette lighter. Around 1952, cartoon heads and fruity flavored candy were introduced. Since then, over 250 different heads have been made.

Pez dispensers have appeared in such movies as Stand By Me, and E.T. There was an "Elvis" dispenser used in The Client. That was not an actual Pez dispenser, but a dispenser concocted just for the movie. Unfortunately, the Pez people have never manufactured an "Elvis" dispenser, nor do they have any plans to do so in the future.

That would be against corporate policy of not putting real people on a Pez dispenser.

After Pez candy and dispensers were brought to the United States in 1952, more than 250 different types of character heads were made. Licensed cartoon characters, movie and TV personalities, and original designs are divided chronologically into five series, usually indicated by patent dates on the dispensers. New character dispensers are introduced regularly to capitalize on current trends.

A Tweety-Bird Pez had a guest appearance on Seinfeld. Besides popular T.V. and movie characters, Pez has created many characters of their own, the latest being the Pez-A-SAURS, Pez 'N Pets, Mr. Ugly and Friends, Pez Pals, and Pez Circus Characters.



A rare owl whistle Pez dispenser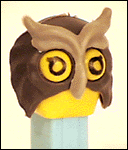 The dispensers are manufactured and imported from Hungary, China, and Slovenia. The candy, both Regular and Sugarfree, as well as Pez Peppermint mints are produced and packaged with the dispensers at the headquarters in Orange, Connecticut.

Pez regular candy is produced in Orange, Grape, Lemon and Strawberry flavors. The Sugarfree is available in Orange, Lemon and Strawberry flavors. Cherry flavor Pez was discontinued several years ago and was replaced with the Grape flavor.



From the 1950s is this Pez dispenser with a witch's head

As Baby Boomers reach middle age, many of the things they grew up with have become museum pieces.

Of course there is a Pez Museum.

The one-of-a-kind museum exists to honor this symbol of American childhood.

Shaped like an "outer space gun" this PEZ dispenser is from the 50s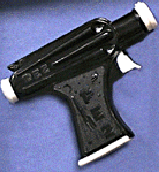 Thousands make a pilgrimage to Gary Doss' Pez museum in Burlingame, California.

Marketed in more than 60 countries, over 3 billion Pez are consumed annually in the U.S.A. alone.

Pez is more than just a candy - it's the pioneer of "interactive candy" that is both enjoyable to eat and fun to play with.

As a hot pop culture collectable for adults and children alike, conventions become a cottage industry.

The Minnesota convention of PEZHeads takes Place Aug 15-17 at the Thunderbird Hotel and Convention Center.

Among the events is a Costume Contest where participants come dressed as their favorite Pez dispenser.



FIRST LOVE

Risa Whiting originated the role of Evelyn in Paddy Chayefsky's Tony-nominated The Tenth Man on Broadway.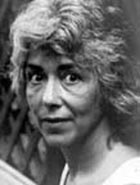 by Charles L. Mee stars Robert Whiting and his wife Risa Whiting who began her career in the Yiddish Art Theater of New York. She originated the role of Evelyn in Paddy Chayefsky's Tony-nominated The Tenth Man on Broadway. She also appeared as the mother in the American musical Fiddler on the Roof in the '60s, a role she played years before in Yiddish.

Both Risa and Robert are active in the rapidly growing new age community located in Hawaii. They are considered experts in all forms of the metaphysical and serve as Pychic Hotline readers.

First Love had its premiere this past fall by the New York Theater Workshop and concerns two 70-year-olds who fall in love at first sight.

Playing all of the other roles in the production including a tightrope walker, waitress, flower seller and singer is Blanche Case.

Members of the production team are; Daniel Bissler, Marsha Kelly, and Virginia Sandell.

Tim Wolfe directs the production which opened last night at the Maui Academy of Performing Arts running through June 23. Wailuku, Hawaiian Islands.

SQUABBLES a comedy by Marshall Karp. Directed by Giovanna "Gigi" Fusco Meese. One family's confrontation with a comedic succession of squabbles, ending in a heart-warming finale of realization. June 21 through July 7. Huntington Beach, Playhouse, CA.

THE NOTEBOOK by Wendy Kesselman stars Lisa Harrow, Peter Van Wagner, Portia Reiners and Miles Puritan. Evan Yionoulis directs.

Four students' lives are forever altered by an influential English teacher in The Notebook, which begins at a private school where a Miss Jean Brodie like English teacher called Ms. Thorne holds considerable sway over her students. The Notebook was commissioned by Second Stage Theatre through the Lila Wallace/Reader's Digest Fund in 1994. Currently in previews at the McGinn/Cazale Theatre in Manhattan. The show is part of Second Stages' New Plays Uptown series. Official opening is June 23 running through June 30.

PLAY YOURSELF a comedy by Harry Kondoleon, who graduated from Hamilton College and the Yale School of Drama and passed away in 1994 at the age of 39 of complications from AIDS.

Marian Seldes will star as an aging film star living with her former East Village-bartop-dancing daughter. As a forgotten Hollywood movie "bad girl" nears the end of her years, she attempts to re-write the script of her daughter's life. The two are visited by an unknowing fan and a man who runs a sanctuary for the desperate. Craig Lucas directs the cast which also includes Ann Guilbert, Juan Carlos Hernandez and Elizabeth Marvel.

The scenic design is by John McDermott; the costume design is by Catherine Zuber; the lighting design is by Ben Stanton; the sound design is by David Van Tieghem; the production stage manager is Antonia Gianino.

Century Center for the Performing Arts, NYC. June 19-Aug. 4.

42ND STREET welcomes Tom Wopat who takes over the role of Julian Marsh on June 21.

LOVE'S LABOR'S LOST

William Shakespeare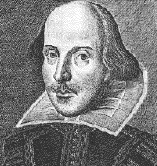 by William Shakespeare. The delightful comedy is presented by the Boomerang Theatre Company, NYC from June 22nd- July 27th.

Ferdinand, the King Of Navarre, and his fellow scholars have sworn off women for three years, in order to devote themselves to study. Unfortunately, Ferdinand has forgotten a planned visit by a Princess from France, who arrives accompanied by numerous female companions

Directed by Marc Parees who conceived this production as a lively garden party with the park becoming an integral part of the story. Set in contemporary times, the park plays host to lawn games and picnics, as actors in colorful costumes hold court on blankets and under beach umbrellas. Kind of a tropical playground for the wealthy. "I wanted to add the color of the tropics to the parks and bring in that sense of fun and freedom," Parees explained.

Although performed rather infrequently, Love's Labor's Lost contains some of Shakespeare's wittiest dialogue. Such as "Pray you sir, who's daughter? - Her mother's, I trust," and "What buys your company? - Your absence only."

The cast of 13, playing 17 roles, features Erika Bailey, Patrick Dobson, Marissa Duricko, Phillip Emeott, Trevor Jones, Justin Kraus, Peter Morr, Wil Petre, Mike Sears, Meghan Shea, Glenn Stoops, Siobhan Towney, and Evan Zes.

Scheduled through July 27th, will performances at various locations Admission is free. June 22nd & June 23rd in Central Park, NYC.

FOLLIES REPRISE! BROADWAY'S BEST stars Vikki Carr, Patty Duke, Harry Groener, and Hal Linden.

The star studded cast includes; Tom Bosley, Trevor Brackney, Mary Jo Catlett, Barbara Chiofalo, Carole Cook, Grover Dale, Melissa Driscoll, Kevin Earley, Abby Feldman, Justine Johnson, Jean Louisa Kelly, Carol Lawrence, Amanda McBroom, Austin Miller, Ken Page, Steven Reed, Tia Riebling, Stella Stevens, Carole Swarbrick, Liz Torres, Robert Towers, and Dick Van Patten.

Book by James Goldman with Music and Lyrics by Stephen Sondheim. Directed by Arthur Allan Seidelman. Music Direction by Peter Matz.

Follies marries one of musical theatre's greatest scores which includes I'm Still Here, Broadway Baby, and Losing My Mind to a story about a party for the closing of the theatre that will be torn down for a parking lot. Two former Ziegfeld girls (played by Duke and Carr) and their husbands, who met and fell and love during the heyday of Follies. - all now in their 50s. They attend a reunion at a theater slated for demolition. As they look back over their past choices and mistakes, they come face to face with younger versions of themselves. In the now-deserted theatre, the ghosts of the past co-exist on-stage with their older, middle-aged selves of the present, each living in their own stage space, as well as emotionally colliding in musical numbers and book scenes.

The original production was budgeted at close to $800,000 - a whopping figure in 1971. Even after running more than a year on Broadway, Follies lost its entire investment. The Broadway company then went out on tour with Follies, ending up being the opening attraction of the Shubert Theatre in Century City July 21, 1972. Reprise! producers dreamed of having their Follies close the now-shuttered Shubert, but it didn't happen.

REPRISE! Broadway's Best entering its sixth season the UCLA's Freud Playhouse and founded by Producing Artistic Director, Marcia Seligson, celebrates the greatest of American art forms - the Broadway Musical.

At the Wadsworth Theatre in Brentwood, California - only to June 23.

SOUTH PACIFIC staring Robert Goulet June 18-23 at the Paramount in Seattle, Washington.

PLAZA SUITE by Neil Simon directed by Toni Lynd starring Cindi East, Sam Nisbett, with Julie Kirkpatrick, Debra Wade, John Lynd, and Rhes Richards. Opened Friday at the Seventh Street Theatre in Chino, CA with performances through July 6.

THUNDER KNOCKING ON THE DOOR the musical blues fable about the Devil and a Southern-fried guitar-licks competition, makes its New York City premiere starring Tony Award winners Leslie Uggams and Chuck Cooper. Currently in previews the official opening is June 20.

Oskar Eustis directs.

The work by playwright Keith Glover, with original music by Keb' Mo' and Anderson Edwards played regional theatres this past decade. In preparation for Broadway, librettist Glover penned additional music and lyrics.

The cast includes Cooper, Peter J. Fernandez, Marva Hicks, Michael McElroy, and Uggams.

Glover's musical play concerns the family of a great but undiscovered bluesman who dies from black lung disease. With his family in financial and emotional need, in steps Marvell Thunder, a guitar-wielding stranger who may be their salvation or ruination.

Thunder takes place at "the crossroads of here and there," where a "shape shifter" challenges a songstress to a magical duel on the delta blues guitar.

The show is set in 1966 rural Alabama and is the story of "the Dupree family, whose lives are turned upside down by the arrival of Marvell Thunder (Fernandez), a mysterious stranger with amazing powers. A devilish charmer, Marvell challenges Glory (Hicks), the Duprees' blind daughter, to a blues guitar 'cutting contest.' At stake are her family's musical legacy both past and future her sight, and perhaps her best chance at love."

Designers are Eugene Lee (scenic), Toni-Leslie James (costume), Natasha Katz (lighting) and Acme Sound Partners.

Thunder was commissioned by the Alabama Shakespeare Festival, where it was first produced in 1996. It went on to receive productions at the Arena Stage and the Cincinnati Playhouse, winning the 1997 Osborn Award for Best Play from the American Theatre Critics Association.

Minetta Lane Theatre in New York City.

JIM'S GARAGE

Jim Wann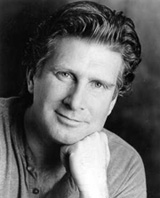 by Jim Wann, one of the creators of Pump Boys and Dinettes. This World Premiere is billed as "a High Octane Country Musical full of homespun characters, foot-stompin' music, and heart-warming ballads you've grown to expect from this Blue Ridge Mountain story-teller. So stop your idling, fill'er up, and hit the road for a high-octane summer celebration." Flatrock Playhouse, Flat Rock, N.C.

Flat Rock Playhouse is a professional playhouse, celebrating its landmark 50th season this year. The official state theater of North Carolina, Flat Rock is an Equity house.

Ritt Henn will be taking his third turn as an on-stage upright bass-wielding character in a Jim Wann play. The first two were Pump Boys & Dinettes and The People vs. Mona. Rehearsals begin June 18 with the show opening July 3 running through July 20.


WHO'S WHERE


BARRY MANILOW center stage this evening in Kansas City, MO at the Starlight Theatre. On Friday he is in the spotlight at the Del Mar Fair in Del Mar, CA.

MICHAEL FEINSTEIN performs June 20 at Carnegie Hall, accompanied by the New York Symphony.

DON RICKLES will be insulting the happy crowds June 20-23 at the Stardust Hotel, Las Vegas.

TONY DANZA closes out his Las Vegas engagement tonight at the Suncoast and then heads up the road to Utah where tomorrow he'll perform in Layton, Utah at the Kenley Centennial Amphitheatre. On Tuesday he's on stage in Orem, Utah at the Shell Outdoor Theatre.

JACKIE MASON performs Friday, June 21, in Red Bank, New Jersey at the Count Basie Theatre.

HUEY LEWIS AND THE NEWS entertain June 21 at the Konocti Harbor Resort in Kelseyville, Ca. On June 22 they are center stage in Stockton, California at the University of the Pacific.

GEORGE GOOBER LINDSEY appears June 21 at the City Lights Fest in Columbus, Georgia.

MAUREEN McGOVERN June 22 Music by the Lake, Lake Geneva, WI.

JIMMY BUFFETT takes the party to Cincinnati, Ohio at the Riverbend Music Center on June 18. Then on Thursday and again on Saturday he'll be at the Tweeter Center in Tinley Park, IL.

BARBARA COOK June 23-Aug. 26 at the Vivian Beaumont Theater in New York, NY performing her Mostly Sondheim program.

PETER, PAUL AND MARY return to Las Vegas for a three nighter at the Orleans Hotel June 21-23.

KEELY SMITH opens June 24 at the Hilton Grand Hotel in Atlantic City, New Jersey for an engagement running through June 28.

USHER performs Thursday in Toronto, Ontario at the Air Canada Centre. On Friday the show takes place in Albany, New York at the Pepsi Center. On Saturday he's in the spotlight in Hartford, Conn. at the ctnow.comMeadows Music and next Sunday the performance is in Buffalo, New York at the HSBC Arena.

CHICAGO headlining Tuesday in Williamsport, PA at the Community Arts Center. On Wednesday the group is in Providence, RI at the Providence Performing Arts Center. On Friday the gang performs in Wallingford, CT at the Careerbilder.com Oakdale Theatre. They close out the week Saturday in Manchester, NH at the Singer Family Park.

STEVE ROSS June 18 - June 30 at the Plush Room in San Francisco, CA.

JARS OF CLAY performing June 19 in New Orleans, at the House of Blues. On Friday they are in Atlanta, Georgia at the Atlanta Fest.

BETTY BUCKLEY June 27-28 at the Zellerbach Theatre in the Annenberg Center of the University of Pennsylvania in PA with Jay Leonhart. June 29 at the Planting Fields Arboretum in Oyster Bay, Long Island, NY.

EMMY LOU HARRIS center stage Thursday in Telluride, Colorado for the Bluegrass Festival.

TONY BENNETT crooning June 20 in Charlotte, North Carolina at the Ovens Auditorium.

JOHNNY MATHIS June 20-21 at the Westbury Music Fair in Westbury, N.Y.

WYNTON MARSALIS June 20 at the Paramount in Denver, Colorado.

ETTA JAMES performs at the Botanic Gardens in Denver on June 20.

MANHATTAN TRANSFER & CSO center stage at City Lights, Denver on June 21.

HERBIE HANCOCK in the spotlight on June 22 at Jazz Aspen in Aspen, Colorado.

PETER FRAMPTON entertaining Tuesday in Oroville, California at Feather Falls Casino. On Thursday the show is in Stockton, California at the San Joaquin Country Fair. On Friday Frampton begins a two nighter at Caesars Tahoe at Lake Tahoe, Nevada.

JEWEL has a busy week. Tonight she performs in Orlando, Florida at Hard Rock Live. Tomorrow night she's all over the stage in Atlanta, Georgia at the Chastain Park Amphitheatre. Wednesday finds her in Vienna, Virginia at Wolf Trap Filene Center. The singer performs Friday in Holmdel, New Jersey at the P.N.C. Bank Arts Center. She closes out the week Saturday, June 22, in Wantagh, New York at the Jones Beach Amphitheatre.

ELVIS COSTELLO on stage tonight in Vienna, Virginia at the Wolf Trap Filene Center. On Tuesday and Wednesday he has a two nighter at the Beacon Theatre in New York City. Thursday finds him in Asbury Park, N.Y. at the Convention Hall and on Saturday the show is in Upper Darby, PA at the Tower Theatre.


PIFFLE AND PROFUNDITIES


THE MEN OF CHIPPENDALES are going to be strutting around modeling underwear - including a KISS line of male bottom covers.

Ten of the 80 guys who worldwide compose the Chippendale entourage, are being flown to New York to model the Summer 101 Collection of INTIMO's underwear for men on Tuesday, June 18 at Bloom Ballroom.

The party kicks off at 7 p.m. with the strutting down the runway part stepping off at 8:15. The collection includes boxers, briefs, thongs and sleepwear. The line includes the Luxe - that's yarn dyed and stretch silk. The Modern is micro knit stretch fabrics with spandex and the Kiss line combines sex appeal and humor with dragons, hearts and spider-web mesh and metallic fabrics.

The Chippendales, founded in 1979, are believed to have performed in front of 200 million women over the past 25 years - and no one has complained.













Next Column: June 23, 2002
Copyright: June 16, 2002. All Rights Reserved. Reviews, Interviews, Commentary, Photographs or Graphics from any Broadway To Vegas (TM) columns may not be published, broadcast, rewritten, utilized as leads, or used in any manner without permission, compensation and/or credit.
Link to Main Page
---
Laura Deni



U.S. Postal Address: Post Office Box 60538, Las Vegas, NV 89160
CLICK HERE FOR COMMENT SECTION