! >
Broadway To Vegas
  
  REVIEWS INTERVIEWS COMMENTARY NEWS

| | |
| --- | --- |
| | |
BROADWAY CAST RECORDING OF BULLETS OVER BROADWAY REVIEW - -BROADWAY CAST RECORDING OF IF/THEN REVIEW - - ANGELIA JOLIE AND CAMILLA THE DUCHESS OF CORNWALL FIGHT RAPE - - QUEEN ELIZABETH MAKES ANGELINA JOLIE A DAME - - LOBSTERPALOZA AT THE BASILE OPERA CENTER - - OREGON SHAKESPEARE FESTIVAL'S JUNETEENTH CELEBRATION - - CLAY WALKER AND BAND AGAINST MD CHARITY CLASSIC - - THE ART OF VIDEO GAMES - - DONATE . . . Scroll Down




Copyright: June 15, 2014
By: Laura Deni
CLICK HERE FOR COMMENT SECTION


TONY NOMINATED BROADWAY MUSICALS RELEASE CAST RECORDINGS


Recently two Tony nominated Broadway musicals If/Then and Bullets Over Broadway have released original cast recordings. The musicals couldn't be more different and both are deserving of attention.

BULLETS OVER BROADWAY is a delightful hoot. Kicky, zingy and altogether uproarious. This is a struttin', jazzy, vibrant and fun Broadway original cast CD, released by Masterworks Broadway.

You don't need to have seen the Broadway show to get a musical kick from this CD. However, after a listen, you'll no doubt want to see the production.

Drummer Bruce Doctor should take a bow. This is a score that allows the musicians to do more than just sit there, occasionally playing a few non-offensive, back-up musical bars. This is a Broadway score which many jazz musicians dream about - being able to get off the road and actually, really, dynamically play in a Broadway show.

Not exactly what could be called an original Broadway score; rather a compilation of mostly famous songs of the 1920's and 30s.

The Broadway show is the stage adaptation of Woody Allen's Oscar-winning 1994 film comedy about financially strapped playwright David Shayne (Emmy nominee Zach Braff) forced to cast a mobster's moll, the talentless Olive Neal (Helene Yorke), in his show in order to get the mobster's financial backing.

Tony nominee Marin Mazzie plays the goofy but glamorous Helen Sinclair. Nick Valenti is the mobster played by Vincent Pastore and Tony nominee Nick Cordero is cast as his henchman, Cheech.

Bullets Over Broadway has Brooks Ashmanskas as Warner Purcell, Betsy Wolfe as Ellen, Lenny Wolpe as Julian Marx, and Tony Award winner Karen Ziemba as Eden Brent.

The musical also features Clyde Alves, Jim Borstelmann, Preston Truman Boyd, Janet Dickinson, Bryn Dowling, Kim Fauré, Paige Faure, Casey Garvin, Kelcy Griffin, Dan Horn Sarah Lin Johnson, Andy Jones, Amanda Kloots-Larsen, Kevin Ligon, Synthia Link, Brittany Marcin, Paul McGill, James Moye, Beth Johnson Nicely, Eric Santagata and Kevin Worley.

Vibrant orchestrations by Doug Besterman.

Up A Lazy River is a whailin' strut while I'm Sitting on Top of the World is a two-step toe tapper rolling into a dramatic finish. Let's Misbehave is delivered by the campy chorus, known as the Atta-Girls. There's A Broken Heart for Every Light on Broadway is fabulously over-the-top dramatic. The thugs deliver their rollicking rat-a-tap-tap T'ain't Nobody's Biz-ness If I Do. I'll be Glad when You're Dead is hilarious, delivered by the chorus that brings up visions of being able to walk and chew gum at the same time. The effervescent Runnin' Wild, is hopeful. There's A New Day Comin' is Karen Ziemba's moment to shine.

Sounds of the jazz age tunes, including Yes, We Have No Bananas, may be the first time members of the Broadway audience or those listening to this CD have ever heard the ditty.

Worth the price of Broadway admission is watching the totally tasteless but utterly delicious dancing-hot-dog number. The difference between raunchy and laugh out loud funny is costumer William Ivy Long cleverly using a strip of mustard. While no picture of the dancing hotdogs is included in the CD booklet, use your imagination. The 6th track The Hot Dog Song is a double entendre number penned in 1917 as I Wanna a Hot Dog with music by Clarence Williams and lyrics by Tausha Hammed.

Verses include:

I want a hot dog for my roll
I want it hot, I don't want it cold.

Give me a big one
That's what I said
I want it so it will fit my bread

I want a hot dog for my roll
I want it young. I don't want it old.

I sure will be disgusted
If that dog isn't full of mustard
Don't want an excuse
It must have lots of juice

I want a hot dog for my roll

Orchestra:

Andy Einhorn, music director/conductor - Greg Anthony Rassen, associate conductor, piano, keyboards - Chuck Wilson, Daniel Block, Deborah Avery, Roger Rosenberg, reeds - Kenny Lavender (Lead), Tanya Darby, Randy Reinhart, trumpets - John Allred, Harvey Tibbs, trombones - Joe Barati, trombone, tuba - Adam Krauthamer, French horn - Mark Vanderpoel, bass - Scott Kuney, guitar, banjo - Bruce Doctor, drums - Andrew Blanco, percussion - Mark Berman, piano, keyboards - Antoine Silverman, violin.

Recorded by Frank Filipetti on April 14, 2014 at MSR Studios, New York City. Mixed by Frank Filipetti at The Living Room, West Nyack, NY Mastered by Gavin Lurssen and Rueben Cohen at Lurssen Mastering, Los Angeles.

Musical Supervision, Adaptation and additional lyrics Glen Kelly. Vocal Arrangements by Andy Einhorn.

Additional Engineering by Derik Lee. Pro-Tools Operator Dan Fyfe Additional Engineers: Rafael Lee and Jack Mason. Music Assistant - Roberto Sinha . Music Coordinator Howard Joines . Recording Production Manager - Janet Weber. Keyboard Programmer - Randy Cohen.

Booklet photography by Paul Kolnik.

IF/THEN an original Broadway musical with music by Tom Kitt and book and lyrics by Brian Yorkey. The original Broadway CD cast recording has been released by Masterworks Broadway.

If/Then made its debut at #19 on Billboard's Top 200 Chart. This is the highest debut for a Broadway cast album since Rent in 1996. If/Then cast recording also debuted at #1 on the Top Broadway albums chart.

This is the musical that lured Tony Award winner Idina Menzel back to Broadway for the first time since winning the Tony Award for Wicked.

Menzel carries the stage show. The different with the production and this cast recording is that the CD permits the musical numbers to star, offering the listener a deeper appreciation of the music and lyrics.

If/ Then is a contemporary new musical that follows two distinct story lines in the life of newly divorced 39-year-old Elizabeth, an urban planner who moves to New York City for a fresh start. She meets her friends Kate, a lesbian kindergarten teacher, and Lucas, a bisexual community organizer, in Madison Square Park. Kate suggests that Elizabeth start using the name "Liz" and seek out new experiences. Lucas suggests that she go back to her college nickname, "Beth," and start making professional connections in the city. "Liz" stays in the park with Kate while "Beth" leaves with Lucas, and the remainder of the show depicts two paths that Elizabeth's life could take.

It is a portrait of alternative existences, of roads taken or not, of the person a person might have been if they had only done this instead of that. If/Then is set where choice and chance collide. In one moment, Elizabeth will lead parallel lives. This is the story of both.

The show is about reflection and introspection, thus this original score has numbers which project those thoughts.

To debate over an if/then scenario, yearning for what might have been; as the poet John Greenleaf Whittier expressed: "For all sad words of tongue and pen, The saddest are these, 'It might have been'", from the 1856 poem Maud Muller. This quote is about regret and sadness. It is about what might have been, if only action had been taken. The poem Maud Muller, is about a young and beautiful girl who meets a wealthy judge from the local town. Both are attracted to the other, but neither says anything. They each go on with their lives, wondering what might have been.

And so it is - what might have been - with If/Then.

In addition to Menzel the company features Tony Award winner LaChanze, Anthony Rapp, James Snyder, Jerry Dixon, Jenn Colella, Jason Tam, Tamika Lawrence and Jackie Burns.

The production also features Joe Cassidy, Miguel Cervantes, Curtis Holbrook, Stephanie Klemons, Tyler McGee, Ryann Redmond, Joe Aaron Reid, Ann Sanders, Marc delaCruz, Charles Hagerty, Janet Krupin and Pearl Sun.

The songs are not hum along, toe tapping perky. This is a score reflecting unrequited life.

If/Then features musical direction by Carmel Dean, vocal arrangements by Annmarie Milazzo, and orchestrations by Tony Award-Winner Michael Starobin.

Within a few bars of the hopeful sounding prologue, drama ensues with the title song. That is followed by the forceful It's a Sign, exemplifying the lost and desperate trying to find a 'sign' in anything and everything ("the universe has a message for you") including "Patterns in your latte cup".

A Map of New York builds on the concept of 'if you write down what you want and give yourself a year to get it' self-help program.

"You and I, we can draw a brand new grid
Everything you dreamed of as a kid
Give it a year - and go with me
Soon enough, you'll say "Look at what we two did!"

The song is a tinkling, winding road traveling number building to a frenzy questioning: Are you building a map of New York, or a map of pain?

You Never Know begins as a soft think piece pondering if things were really that bad. Ain't No Man Manhattan is sassy, which offers the horn section a few bars of interesting note play.

You Don't Need To Love Me is misplaced love and desperation set to music as sung by Lucas.

You don't need to love me
Or tell me that you do
Don't make me any promises-
Just promise that we're not through
Don't give me one one damn thing - I won't let you call this greed -
Just let me give to you - that's the only thing I need

No More Waster Time is a long, complicated, strong number which allows a variety of musical elements. Surprise begins in almost a revival genre before shifting to a softer sound blend.

Best Worst Mistake begins with a bar or two sounding film noire cynical, quickly turning into almost perky. I Hate You is the common conflict of emotion - saying you hate the person you love.

You Learn To Live Without voices the successful woman who tells herself that "you're rich at last, in money and in time . . . . but then "goes to bed alone."

Always Staring Over is one of final acceptance.

"Starting Out
With the end in doubt
We can leave life for tomorrow
Or grieve all that we thought we'd do
Or make each moment new.

This is an intriguing score which showcases Menzel's distinctive voice and range - thus the musical structure on Menzel's numbers can cause one to sometimes think of Menzel's singing in Wicked. The CD is a perfect keepsake for those who have seen the production and should spark interest in seeing the production for those whose introduction to If/Then is through this CD.

Orchestra: Carmel Dean, conductor. Marco Paguia, associate conductor, piano . Randy Cohen, assistant conductor - piano, keyboards. Sylvia D'Avanzo, concertmaster. Matthew Lehmann, Paul Woodiel, Louise Owen, Entcho Todorov, Robin Zeh, violin. Alissa Smith, Liuh-Wen Ting, Whitney Lagrange, viola. Alisa Horn, Jeanne LeBlanc, Diane Barere, cello. David Noland, Rick Hockman, reeds. Bud Burridge, trumpet. Alec Berlin, Jim Hershman, guitar. Brian Hamm, bass. Damien Bassman, drums, percussion.

Recorded and mixed by Todd Whitelock. Mastered for CD by Steven Epstein and Todd Whitelock. Pro-Tools engineer Fred Sladkey. Assistant engineers Raphael Lee, Dan Fyfe, Jack Mason, Tim Knowlton, Irving Gadoury and Trevor Fedele. Recorded on April 7, 2014 at MSR Studios, New York City.

The CD booklet contains beautiful color photography by Joan Marcus.

If/Then, opened on Broadway on Sunday, March 30, 2014 at the Richard Rodgers Theatre.





Broadway To Vegas is supported through advertising and donations. Priority consideration is given to interview suggestions, news, press releases, etc from paid supporters. However, no paid supporters control, alter, edit, or in any way manipulate the content of this site. Your donation is appreciated. We accept PAYPAL. Thank you for your interest.





ART AND ABOUT


THE ART OF VIDEO GAMES shows the striking visual effects, player interactivity and creative use of new technologies in games.

By focusing on four game types - action, adventure, target and combat/strategy - the exhibition reveals the emergence of video games as a means of storytelling and audience engagement.

Visitors will be able to connect with the content of the show across generations, from those who remember classics such as Pac-Man and Super Mario Brothers to those playing more recent games like Flower and Super Mario Galaxy 2.

Plan to celebrate the arrival of The Art of Video Games on June 21 at the Museum. There will be hands-on activities, a cash bar, food trucks, dancing, a rock-paper-scissors tournament and more. Dress code ranges from graphic tees to video game character costumes and everything in between. Admission is free for Museum members, $20 for adult nonmembers and $10 for nonmembers ages 6–12. The party takes place from 8 p.m.–midnight.

The Art of Video Games is organized by the Smithsonian American Art Museum.

June 19–September 28,2014 at the Canaday Gallery. Toledo Museum of Art in Toledo, Ohio.


SWEET CHARITY


LOBSTERPALOZA AT THE BASILE OPERA CENTER a fundraising event for the Indianapolis Opera with a traditional Maine lobster boil, clam chowder, steamed clams, fresh veggie and corn on the cob, plus live music and entertainment. Saturday, June 21, 2014, at the Basile Opera Center, in Indianapolis.

CLAY WALKER AND BAND AGAINST MD CHARITY CLASSIC takes place at the world famous Pebble Beach Resort on Wednesday, June 18 through Sunday, June 22, 2014.

This event will feature three days of golf at the Pebble Beach Golf Links, Spyglass Hill Golf Course and The Links at Spanish Bay. The tournament's main occasion, the Grand Gala Event and Dinner, will feature a special performance by Clay Walker and his band. During the evening, guests will have the opportunity to meet and mingle with Clay Walker and other celebrity participants, enjoy fine dinner cuisine and cocktails as well as participate in the silent and live auction.


ANGELIA JOLIE AND CAMILLA THE DUCHESS OF CORNWALL FIGHT RAPE
Camilla, The Duchess of Cornwall, Angelina Jolie and Foreign Secretary William Hague. Photo: Clarence House.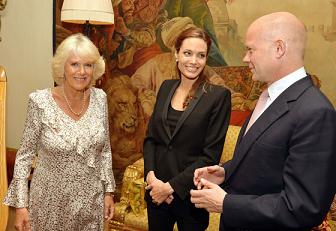 Two high profile women coming together to champion the plight of rape victims.

Camilla, The Duchess of Cornwall and the newly minted Dame, Hollywood superstar Angelina Jolie have met for informal discussions about their work to improve conditions for victims of sexual abuse.

In recent years, Her Royal Highness and Jolie, the Hollywood version of royalty have worked to highlight the issue of sexual violence and they were joined for their meeting by Foreign Secretary William Hague.

The discussions covered the common ground between their work, with the pair sharing ideas.

Angelina Jolie is in London co-chairing the global summit to End Sexual Violence in Conflict with Hague, and they were joined at the event earlier by the actress's partner, Brad Pitt.

The Duchess has visited rape crisis centers across the UK and abroad and is pioneering programs to provide victims of sexual abuse with toiletries after undergoing forensic examinations.

The intent is to help the victims restore their sense of dignity.

Jolie who is special envoy for the UN High Commissioner for Refugees, has focused on trying to raise awareness about the use of rape as a weapon of war.

She also directed the film In The Land of Blood And Honey, set during the Bosnian War, which highlights the issue of sexual abuse. At the start of the four-day summit in east London, which began on Tuesday, June 10, Jolie dedicated the event to an unnamed and "abandoned" victim of rape in Bosnia.

The actress added that the summit must send a message around the world that there is "no disgrace" in being a survivor - "that the shame is on the aggressor".

A few months ago The Duchess visited a rape and sexual abuse support center in Guildford, Surrey, where she met volunteers and had a private meeting with a survivor - one of many visits she has made to centers over the past four years.

The wife of Prince Charles came up with the idea of providing rape survivors with toiletries after speaking to women during a visit to a rape crisis center in Derbyshire. Last year she said she hoped the project would help people feel better at a traumatic time in their lives. The two-year pilot program will see shower and bath products donated by firms placed into bags and given to victims.

On June 13, 2014 Queen Elizabeth's 2014 Birthday Honors list was announced and included Angelina Jolie, a rare occurrence of honoring an American citizen.

Jolie has been made an honorary dame for services to UK foreign policy and campaigning to end sexual violence in war zones.

Jolie co-founded the Preventing Sexual Violence Initiative with UK Foreign Secretary William Hague. She said receiving "an honour related to foreign policy means a great deal to me as it is what I wish to dedicate my working life to".

"Working on the Preventing Sexual Violence Initiative and with survivors of rape is an honour in itself. I know that succeeding in our goals will take a lifetime and I am dedicated to it for all of mine."

Over the years the significant honor of being bestowed the honorary title of dame or knight has gone to a few Americans including: Douglas Fairbanks Jr., Eugene Ormandy, Andre Previn, Steven Spielberg, Bill Gates, Paul Mellon, Edward R. Murrow, and former NYC Major Rudy Giuliani.








SPREADING THE WORD


ROGER BART a Tony Award winner who was cast in Finding Neverland has been fired, replaced by Tony Award winner Michael McGrath. The role McGrath takes over is that of Charles Frohman, the American producer who staged the first adaptation of Peter Pan in London in 1904, and then brought it to New York in 1905.

This isn't the first change for the production in progress. Original writers Scott Frankel, Michael Korie and Allan Knee were replaced by playwright James Graham and songwriter/singer Gary Barlow.

Director Rob Ashford discovered he had a scheduling conflict and was replaced by Diane Paulus.

Finding Neverland begins previews July 23 at the American Repertory Theater in Cambridge, Mass.

THE OREGON SHAKESPEARE FESTIVAL (OSF) will mount a concert reading of OSF Presents: Ameriville by UNIVERSES, in honor of the Festival's annual Juneteenth celebration, on Monday, June 23 in the Angus Bowmer Theatre. UNIVERSES is OSF's company-in-residence.

"Using Hurricane Katrina as a jumping-off point, Ameriville fuses hip-hop, poetry, flamenco, standup comedy, music and spoken word. UNIVERSES weaves this electrifying 90-minute theatrical exploration of race, class, poverty, immigration and political awareness into a great adventure about what it means to be American."

UNIVERSES consists of Steven Sapp, Mildred Ruiz-Sapp, Gamal Chasten and Ninja (aka William Ruiz). Chay Yew directed the original production at the Humana Festival in 2009.

A free, interactive, educational Juneteenth pre-show, directed by OSF actor Christiana Clark, will take place in the Festival courtyard an hour before the show. This family-friendly performance with OSF company members will involve live music, dance and physical art.

Juneteenth is the oldest-known celebration commemorating the ending of slavery in the United States. On June 19, 1865, Major-General Gordon Granger led his Union soldiers into Galveston, Texas with the news that the Civil War had ended and that the enslaved were now free. This was 2˝ years after President Lincoln's Emancipation Proclamation became official January 1, 1863. Today, Juneteenth commemorates African-American freedom and emphasizes education and achievement. In cities across the country, people of all races, nationalities and religions come together to acknowledge a period that shaped our history and continues to influence our society.

QUEENSTOWN WINTER FESTIVAL taking place June 20-29, 2014 Queenstown Winter Festival is New Zealand's biggest winter party.

The iconic Queenstown event, now into its 40th year, officially kicks off winter in the stunning four-season resort with a 10-day action-packed program of new events, established favorites and plenty of entertainment and celebration.

The festival focuses on entertainment for all ages with activities both up on the ski field and down in the township. Featuring everything from ice skating to all-star snowboarding and dog derbies, this event culminates with a Mardi Gras spectacular.

THE PENGUIN PROJECT launched in Nebraska by the Lincoln Community Playhouse casts children with disabilities in theatrical productions. A successful debut took place this past week-end June 13-15 with a production of Annie.

"The Penguin Project was conceived by Dr. Andrew Morgan to give children with disabilities an opportunity to participate in the performing arts. "Dr. Andy" is a developmental pediatrician and the former Head of the Division of Child Development at the University of Illinois in Peoria. He is the primary medical specialist in Central Illinois involved in the diagnosis and treatment of children with disabilities, but has also directed and performed in many community theater productions in the area.

"He created The Penguin Project recognizing that theater not only provides children with a valuable recreational experience and an opportunity to display their creative talents, but also enhances social interaction, communication skills, assertiveness, and self-esteem. The Penguin Project strives to demonstrate that individuals with disabilities are fully capable of participating in community activities with the same dedication and enthusiasm as others, if given opportunity and support.

"The origin of the name Penguin Project comes from the unique characteristics of penguins. They are extremely playful and curious, and work well together. More importantly, they have a "disability" that distinguishes them from other birds – they can't fly! Instead, penguins waddle and toboggan on their bellies over the snow, and are excellent swimmers in the water. So like our young artists, they have adapted to the challenges of their environment, and have not allowed their unique difference to interfere with their lives."

Lincoln Community Playhouse is one of the first Community Theatre's outside of Illinois to partner with The Penguin Project to produce a production.


OTHER PEOPLE'S MONEY


BOSTON UNIVERSITY COLLEGE OF FINE ARTS

Bonnie Comley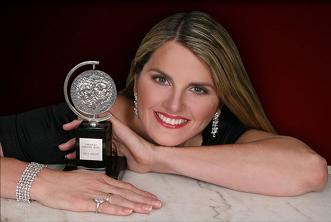 has announced the Stewart F. Lane and Bonnie Comley Musical Theatre Fund, a generous commitment from the Tony Award winners to launch a new musical theatre track within the School of Theatre, and to endow a new musical theatre curriculum in perpetuity at the College.

Six time Tony Award winner Stewart F. Lane ('73), Co-Chair of The College of Fine Arts Campaign and member of the College of Fine Arts Dean's Advisory Board, and three time Tony Award winner Bonnie Comley are long-time supporters of the College of Fine Arts. When combined with previous gifts, the endowment for the Stewart F. Lane and Bonnie Comley Musical Theatre Fund moves the couple into the ranks of $1 million-plus lifetime donors of Boston University.

BU College of Fine Arts will celebrate the gift through a series of special events planned throughout the 2014-2015 academic year.

"It fills us with enormous pride and satisfaction to provide the resources needed to create this new program for BU School of Theatre," said Stewart F. Lane and Bonnie Comley. "It's an honor to impact the students' growth and development as artists, and this enhancement in musical theatre studies will only make for more versatile actors and more possibilities for them in the field. We look forward to seeing the students and the program develop.



Stewart Lane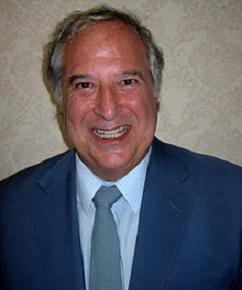 "We are very proud and honored to count Stewart Lane and Bonnie Comley loyal champions of the College of Fine Arts," says Benjamín Juárez, Dean of the College of Fine Arts at Boston University. "They are truly passionate about the craft and about supporting young artists preparing for the profession. It is in this spirit of innovation that the Lane-Comley Musical Theatre Fund will help CFA to provide a more in-depth experience in this area of theatre and open up new opportunities for our students."

Last week Lane and Comley, who are husband and wife with five children, took home the 2014 Tony Award for Best Musical for A Gentleman's Guide to Love & Murder They have collectively produced more than 40 Broadway productions.

The first in the series of celebrations will coincide with New Repertory Theatre's October 2014 production of Assassins directed by Jim Petosa at the Arsenal Center for the Arts in Watertown, MA. This production by New Rep, a member of the BU School of Theatre Professional Theatre Initiative, features BU alumni in its acting company and design team. Petosa, Artistic Director of New Rep and Director of BU School of Theatre, will also host a symposium to explore American Musical Theatre, an event that will be open to both students and the general public.

"We are so proud of Stewart and Bonnie's many accomplishments in the Broadway arena," says Petosa. "Their life-long commitment to the musical theatre form is now extended to the training of future generations of theatre artists through their legacy gift to the Boston University School of Theatre. Our ability to educate has been exponentially enhanced by this generous gift."


GET WELL SOON TO . . .


WALTER TROUT blues-rock guitarist who is at the University of Nebraska Medical Center in Omaha, recovering from a liver transplant.

The blues rocker, 63, spent decades as an ace sideman, playing guitar behind the likes of Percy Mayfield, John Lee Hooker, Big Mama Thornton, and Joe Tex.

In 1981 he became the guitarist for Canned Heat This led to an invitation to play in John Mayall's Bluesbreakers where he shared the stage with fellow guitarist Coco Montoya. He left the Bluesbreakers in 1989 and formed the Walter Trout Band which developed a successful following in Europe.

In 1994 the official Walter Trout Fan Club for the Netherlands and Belgium was founded, followed in 1996 by the official International Fan Club which has members in 14 countries in Europe, America, Asia and Australia. In 2006 the official International Fan club celebrated its tenth anniversary by giving fan club members an exclusive live CD recorded in Las Vegas, which was the last performance of the late bassist, Jimmy Trapp, who died in 2005.



WAITING FOR GILGAMESH: SCENES FROM IRAQ world premiere by Iraqi playwright Amir Al-Azraki.

Directed by Marc S. Miller.

The ensemble cast features Preston Graveline, Sally Nutt, Bari Robinson, Kria Sakakeeny and Kari Soustiel.

The musicians are: Faraz Firoozabadi, Stephen Lamb and Jacques Pardo.

This production explores diverse Iraqi points of view about the events leading up to and following the US-led invasion of their country in 2003. Al-Azraki dramatizes the problematic lives of Iraqis and the tricky situation before and after the war. In its exposition of truth as rooted in perspective, Waiting for Gilgamesh challenges the one-sidedness of our way of thinking. "The spectators are nowhere to find ready-made answers," Al-Azraki has written, "but are left with a clash of voices, each cudgeling his views."

During the first years of the Iraq War, Al-Azraki, born in Basra, taught English drama at the University of Basra and also worked as a fixer and translator for such international news outlets as The New York Times and The Dallas Morning News, later working for Al Mirbad TV and Radio run by the BBC World Service Trust.

In conjunction with Waiting for Gilgamesh, FPTC has commissioned a companion piece entitled Reconciliation (working title). This counterpoint, by the American writer, playwright, and director Charles Dumas, will explore various U.S. points of view about the conflict in Iraq. A reading of this new play will take place in conjunction with the performances of Waiting for Gilgamesh and the Joiner Institute's annual Writers Workshop.

Anne Loyer, production designer - Trip Venturella, stage manager - Jacques Pardo, composer, sound designer - Chris Bocchiaro, lighting designer - Mario Avila and Hana Pegrimkova, puppets & masks - Julie Dauber, costume designer - Asmaa Najim Alhadidi, literary advisor - Sam Lasman, dramaturg - Nicholas Schaffer, master carpenter.

Fort Point Theatre Channel (FPTC) continues its collaboration with the Joiner Institute for the Study of War and Social Consequences and the Joiner's artist in residence Anne Loyer of the Odysseus Project on the project Tamziq: Scattered and Connected. The partners are joined this year by the Center for Arabic Culture.

June 26-28 at the Arsenal Center for the Arts, Black Box Theatre Watertown, MA.

THE COLBY SISTERS OF PITTSBURGH, PENNSYLVANIA by OBIE award–winning Canadian playwright Adam Bock.

Directed by Trip Cullman.

A black comedy In a world of champagne and canapés, the five Colby sisters are the glamorous faces of New York high society. With wealth, style and desirable husbands, they appear to have it all.

But privately, the sisters' squabbles distort the picture of this perfect family. Image is everything, and struggling to maintain it could have life-changing consequences.

A world premiere June 19 - July 26, 2014 at The Tricycle Theatre in London.

ONCE written by Enda Walsh. Music and lyrics by Glen Hansard and Marketa Irglova.

Directed by John Tiffany. Choreography by Steven Hoggett.

On the streets of Dublin, an Irish musician and a Czech immigrant are drawn together by their shared love of music. Over the course of one fateful week, an unexpected friendship and collaboration quickly evolves into a powerful but complicated love story, underscored by the emotionally charged music that has made Once an international sensation.

Starring Dani De Waal as as Girl and Stuart Ward as Guy.

The cast includes Ray Bokhour, Matt DeAngelis, John Gardner, Donna Garner, Evan Harrington, Ryan Link, Benjamin Magnuson, Alex Nee, Erica Swindell, and Kolette Tetlow.

The Ensemble: Claire Wellin - Reza Estelle Bajou, Stephen McIntyre, Zander Meisner, Tina Stafford, Tiffany Topol and Matt Wolpe - Ensemble Once features sets and costumes by Tony Award-winning designer Bob Crowley, lighting by Tony Award-winner Natasha Katz, and musical supervision by Martin Lowe. Sound design by Clive Goodwin.

June 17-July 13, 2014 at the Curren Theatre in San Francisco.

THE LEARNED LADIES by Moličre.

Directed by Brian B. Crowe is in his nineteenth season with The Shakespeare Theatre where he is currently a resident director and the Director of Education.

Moličre's satirical masterpiece follows the trials of the young couple Henriette and Clitandre while Henriette's female relations voice their high-brow disapproval. These women fancy themselves culturally "learned" and are great patrons of the pseudo-scholarly Trissotin, a poet with lofty aspirations which include receiving Henriette's hand in marriage. The bourgeois family's conflict provides the comic foundation for Moličre's signature farce. As Henriette's father Chrysale wearily exclaims, "Is there a stranger house in Christendom/Than mine, where women are as mad as hatters/And everything is known except what matters?"

Marion Adler plays Philaminte, the indomitable mother obsessed with "learning." As Trissotin, the scholar and aspiring poet, Clark Scott Carmichael returns for his twelfth season with the Theatre , He appeared on Broadway as Jumper in Tom Stoppard's Jumpers, directed by David Leveaux and starring Simon Russell Beale. Rachael Fox plays the headstrong young lover Henriette. Shakespeare Theatre veteran John Hickok does "double duty," portraying Henriette's father Chrysale and the visiting scholar Vadius. On Broadway he played opposite Frank Langella in Man and Boy at the Roundabout and originated the roles of Governor Slaton in Parade, Zoser in Aida, and Professor Bhaer in Little Women.

As Henriette's paramour Clitandre, Maurice Jones makes his Shakespeare Theatre debut. His Broadway credits include the recent productions of Julius Caesar with Denzel Washington and Romeo and Juliet. Susan Maris plays Henriette's "learned" and embittered sister Armande. Lindsay Smiling portrays Henriette's uncle Ariste. Alison Weller is cast as Henriette's vivacious aunt Belise. Felix Mayes and Christine Sanders round out the cast.

Creating the world of The Learned Ladies are scenic designer Charlie Calvert, lighting designer Hamilton E.S. Smith, and costume designer Paul Canada. Denise Cardarelli and Christine Whalen are the production stage managers.

The Shakespeare Theatre of New Jersey's Outdoor Stage production of Moličre's comedy The Learned Ladies brings theatre alive under the stars at the enormously popular summer venue on the campus of the College of Saint Elizabeth in Morris Township. This replica of an ancient Greek theatre nestled into the hillside of the bucolic campus offers a unique theatrical event. The Learned Ladies begins on June 18th and continues through July 27th.

WILLIAM SHANTER brings his one man show Shatner's World: We Just Live in It to the MGM Grand in Las Vegas for shows June 19-21.


WHO'S WHERE


JUDY CARMICHAEL a Grammy-nominated pianist/vocalist and Public Radio host, whom Count Basie nicknamed "Stride," acknowledging the command with which she plays this technically and physically demanding jazz piano style, performs on Wednesday, June 18 with Harry Allen (saxophone), Chris Flory (guitar) and Pat O'Leary (bass). The concert, presented by 92Y takes place at SubCulture, in New York City.

LADY ANTEBELLUM will be appearing Friday, June 20, at the County Jam USA in Grand Junction, CO.

BRUNO MARS entertains Tuesday, June 17, at the Van Andel Arena in Grand Rapids, MI. Wednesday's show is at The Palace of Auburn Hills in Auburn Hills, MI. On Friday he tour stops at the First Midwest Bank Amphitheatre in Tinley Park, IL. On Saturday he'll be pleasing the crowd at the Xcel Energy Center in Saint Paul, MN.

KATY PERRY brings her Prismatic Tour to the PNC Arena in Raleigh, NC on Sunday, June 22.

THE MUSIC OF JOHN WILLIAMS live performances of fabulous John Williams scores, including E.T. the Extraterrestrial, Jaws, Superman, the Indiana Jones and Harry Potter movies, War Horse, and, of course, Star Wars. In a special appearance, Pinchas Zukerman - NAC Orchestra Music Director and violinist extraordinaire - returns to the Pops as soloist in Williams's stirring music from Schindler's List. Long associated with director Steven Spielberg, the iconic, five-time Academy Award-winning composer's enduring favorites have thrilled movie fans for six decades; and these performances promise to thrill the audiences, too. June 19-21 at the NAC in Ottawa, Canada.

THE EAGLES have three shows this week at the 02 in London. They take place on Monday, June 16, following by performances on Wednesday and Friday.

KEITH URBAN opens a two nighter at the Brisbane Entertainment Centre in Boondall, Australia on Tuesday, June 17. On Saturday he begins another two nighter. This one is at the Allphones Arena in Sydney, Australia.

DOLLY PARTON opens a two night gig Tuesday, June 17, at the SSE Hydro in Glasgow, Scotland. On Friday she's on stage at the First Direct Arena in Leeds, UK. Saturday finds her at the Phones 4U Arena in Manchester and next Sunday, June 22, she stars at the LG Arena in Birmingham, UK.

MORRISSEY AND CLIFF RICHARD and Missouri singer Kristeen Young will perform June 21 at Braclays Centre in New York City.

ROD STEWART continues his tour in the UK this week with a show Wednesday, June 18, at the Country Cricket Club in Somerset. Friday's show is at the Bloomfield Road Football Club in Blackpool and on Saturday he'll be delighting the fans at the Falkirk Stadium in Falkirk.

BLACK SABBATH are on stage Wednesday, June 18, at Unipol Arena in Bologna, Italy. On Sunday, June 22, they appear at Hellfest in Clisson, France.

LIONEL RICHIE on stage Tuesday, June 17, at the KFC Yum! Center in Louisville, KU. On Wednesday he takes to the stage at the FedEx Forum in Memphis. Friday's gig is at the DTE Energy Music Theatre in Clarkston, MI. On Saturday he can be enjoyed at the Blossom Music Center in Cuyahoga Falls, OH. Next Sunday, June 22, he's in the spotlight at the Riverbend Music Center in Cincinnati.


FINAL OVATION


RUBY DEE civil rights activist and Emmy and Grammy Award winning and Oscar nominated actress died June 11, 2014 at her home in New Rochelle, New York. She was 91.

The stage and screen legend was the recipient the Screen Actors Guild Lifetime Achievement Awards as well as the National Medal of Arts and the Kennedy Center Honors.

Dee joined the American Negro Theater as an apprentice, working with Sidney Poitier, Harry Belafonte, and Hilda Simms. She made several appearances on Broadway. In 1965, Dee performed in lead roles at the American Shakespeare Festival as Kate in The Taming of the Shrew and Cordelia in King Lear, becoming the first black actress to portray a lead role in the festival. Her career in acting crossed all major forms of media over a span of eight decades, including the films A Raisin in the Sun, in which she recreated her stage role as a suffering housewife in the projects, and Edge of the City. She played both roles opposite Poitier.

She made her stage debut in the 1940 production of On Stivers Row. Her famed performance in A Raisin in the Sun took place in 1959.

Other Broadway credits include: Checkmates, Purlie Victorious, The Smile of the World, A Long Way From Home, Jeb, Anna Lucasta, and South Pacific.

She won an Obie Award for the title role in Athol Fugard's Boesman and Lena and a Drama Desk Award for her role in Wedding Band. Dee performed her one-woman stage show, My One Good Nerve: A Visit With Ruby Dee, in theaters across the country.

Her last role on Broadway was in the 2003 production of St. Lucy's Eyes. ( See Broadway To Vegas column of April 29, 2001 ) and ( See Broadway To Vegas column of April 15, 2001 )

Ruby Wallace married blues singer Frankie Dee Brown in 1941, and began using his last name as her stage name. The couple divorced in 1945. Three years later she married actor Ossie Davis, whom she met while costarring in the 1946 Broadway playJeb. Together, Dee and Davis wrote an autobiography in which they discussed their political activism and their open marriage. Together they had three children: son, blues musician Guy Davis, and two daughters, Nora Day and Hasna Muhammad. Dee was a breast cancer survivor of more than three decades. She was married to actor Ossie Davis until his death in 2005.

The Broadway community mourns the loss of Ruby Dee by dimming the marquees of Broadway theatres in New York in her memory, Friday, June 13th, at exactly 7:45pm for one minute.

"Ruby Dee inspired so many people both on stage and off. At the Tony Awards last Sunday, both Audra McDonald and Kenny Leon paid tribute to Ruby Dee during their acceptance speeches," said Charlotte St. Martin, Executive Director of the Broadway League. "I've long admired Ruby Dee's talent as a performer and her tireless activism for civil rights. Our thoughts are with her family and she will be deeply missed."

Neil Portnow President/CEO of The Recording Academy issued the following statement: "Grammy winner Ruby Dee was a true renaissance woman - a stage and screen actress, author, activist, playwright, poet and trailblazer. A highly accomplished artist with a career that spanned seven decades, she helped break color boundaries within the entertainment industry, landing prominent roles on Broadway, television and film. Her performances were powerful and commanding, influencing generations of fellow artists, and it was that passion and commitment that made her a formidable force in fighting for civil rights. As an eloquent writer, Dee penned poems, films and books - including a memoir with her long-time husband, Ossie Davis, which garnered the pair a Grammy for Best Spoken Word Album. We have lost a gifted, cherished, and inspiring member of our creative community, and our sincerest condolences go out to her family, friends and all who have been transformed by her remarkable work."

She is survived by three children and seven grandchildren. Dee was cremated, and her ashes placed in the same urn as those of Davis, with the inscription "In this thing together".















Next Column: June 22, 2014
Copyright: June 15, 2014 All Rights Reserved. Reviews, Interviews, Commentary, Photographs or Graphics from any Broadway To Vegas (TM) columns may not be published, broadcast, rewritten, utilized as leads, or used in any manner without permission, compensation and/or credit.
Link to Main Page
---
Laura Deni



For the snail mail address, please E-mail your request.
CLICK HERE FOR COMMENT SECTION