! >
Broadway To Vegas
  
  REVIEWS INTERVIEWS COMMENTARY NEWS

| | |
| --- | --- |
| | |
54 BELOW RECORDING OF SIDE SHOW REVIEW - -VICES OF LIFE: THE PRINTS OF WILLIAM HOGARTH - - QUEEN'S GRANDDAUGHTER ZARA PHILLIPS LAUNCHES JEWERLY LINE - - DODGERS' ORGANIST GETS LIFETIME CONTRACT - - THE ART OF SOUND DESIGN Q&A WITH WALTER MURCH - - HOW TO BE A ROCK CRITIC - - FIGHTING HISTORY - - ALZHEIMER'S THE LONGEST DAY - - DONATE . . . Scroll Down
















Copyright: June 14, 2015
By: Laura Deni
CLICK HERE FOR COMMENT SECTION


54 BELOW RECORDING OF SIDE SHOW REVITALIZES MUSICAL


On Monday night March 9, 2015 the trendy 54 Below, known as Broadway's Supper Club, featured Side Show: Added Attractions a reunion concert hosted by Bill Russel, who penned the book and lyrics. Also there - a majority of the original cast of the revival. The two performances were recorded; resulting in this CD available on Broadway Records.

Releasing this CD came with an unusual marketing concept.

"We believe this album is the first of its kind - a CD of additional material, extended versions and cut songs, all with the original cast and released directly on the heels of the Broadway cast recording," said Broadway Records founder, Van Dean, who calls the release "a fitting companion" to the original 2014 Broadway Cast Recording.

Those comments don't do this CD justice.

Promoting this CD as an "added attraction" does little to encourage a purchase among anyone other than the most ardent of Side Show fans. Most Broadway productions have cut numbers. Buying what you already own to hear an addition number or two, in a different venue, can be asking a lot.

It's easy to understand why family, friends and fans of Side Show would want both CDs. But, why so narrow the focus?

The entirely too similar cover can be confusing and misleading.

If you're a music fan who already owns the Broadway version, why would you want to hear the same songs recorded in a different setting?

Because they are almost totally different. In some ways the Below 54 version is the best. It's certainly the most dynamic, vibrant, and listener inclusive.

This CD stands on its own. You don't need to have seen the Broadway show or own that cast recording to enjoy this CD.

What this CD is - is unique, wonderful and enjoyable. This Below 54 version is a totally different concept - a cabaret performance - and it's awesome!

The Below 54 rendition is relaxed and intimate. You hear the audience responding to each number, which adds to the enjoyment of those listening at home. Instead of a full Broadway orchestra, the performers are backed by a three piece band. That means different arrangements. If anything, this CD allows the listener to fully appreciate the enormous talents of the singers: For instance The Choice I Made which was cut from the show, sung by David St. Louis, backed by only a piano. Or, the ensemble version of Who Will Love Me As I Am featuring each of the performers; first backed by a piano, and then joined by the other musicians. Truly dynamic.

There is the powerful singing rendition of You Should Thank Me Every Day by Blair Ross, backed by a piano. Or, the acoustic version of All in the Mind sung by Javier Ignacio.

There is even a role reversal song, Like Everyone Else, performed by Erin Davie as Daisy and Emily Padgett as Violet.

Singer Henry Kreiger does double duty, playing the piano on tracks 5, 6, and 7.

The marvelous performers are: Erin Davie, Charity Angel Dawson, Lauren Elder, Derek Hanson, Matthew Hydzik, Javier Ignacio, Henry Krieger, Kelvin moon Loh, Barrett Martin, Con O'Shea-Creal, Emily Padgett, Blair Ross, Hannah Shankman, Ryan Silverman, David St. Louis, and Josh Walker.

Low bows to musicians Piano: Greg Jarrett on piano who also served as musical director and arranger. Bass: Ray Kilday. Drums: Larry Lelli.

Again, don't let a similar cover and an odd promo stop you from enjoying this CD. It's Side Show like you'd never heard it before - and you very well may enjoy it more than any other version.

That doesn't mean the original revival cast CD isn't worth owning. It is. See Broadway To Vegas column of March 1, 2015.

Mixed at Kontinuous Jams Studios. Mastered by Greg Reierson Rare Form Mastering.



Broadway To Vegas is supported through advertising and donations. Priority consideration is given to interview suggestions, news, press releases, etc from paid supporters. However, no paid supporters control, alter, edit, or in any way manipulate the content of this site. Your donation is appreciated. We accept PAYPAL. Thank you for your interest.






ART AND ABOUT


FIGHTING HISTORY

John Singleton Copley The Death of Major Peirson, 6 January 1781-1783 Oil on canvas support: 2515 x 3658 mm frame: 2790 x 3920 x 160 mm Purchased 1864
this exhibition focuses on the conflict, martyrdom and catastrophe found in history painting from the eighteenth century to the present day. In England.

History painting first emerged in the eighteenth century.

Artists such as John Singleton Copley (1738–1815) and Benjamin West (1738–1820) presented recent British battles and deaths in the grandest possible manner and depicted scenes from ancient history to remind viewers of the timeless virtues to which they should aspire.

This exhibition will show how these traditions of history painting have persisted in the work of British modernists such as Winifred Knights and Stanley Spencer, in Richard Hamilton and Rita Donagh's work of the 1980s, in the work of Dexter Dalwood and in recent installations such as Jeremy Deller's Battle of Orgreave 2001.

The exhibition, which opened last week, celebrates the emotional power of history painting and shows its persistent place in art.

Tate Britain in London Exhibition through September 13, 2015.

VICES OF LIFE: THE PRINTS OF WILLIAM HOGARTH

Gin Lane, Hogarth's print of 1751 depicts the spirit as a one-way street to ruin. Photo: Gin Lane/William Hogarth/Städel Museum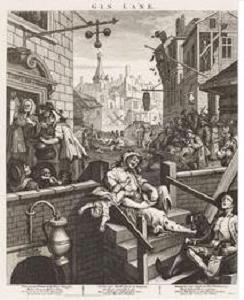 relentlessly realistic, critical and witty, all at the same time - the prints of the English artist William Hogarth (1697-1764). Curated by Annett Gerlach, The Städel's Department of Prints and Drawings is now showing seventy choice examples in a special exhibition.

With his famous tragicomic visual narratives such as A Harlot's Progress (1732), A Rake's Progress (1735) and Marriage à la Mode (1745), Hogarth founded a new genre he called "modern moral subjects". In them he combined the critical portrayal of real conditions with the classical narrative of history painting.

With keen powers of perception and caustic humor, he responded to the vices and downsides of life in the London metropolis. He conceived of his artworks as printed theatre of his times and with them he laid the cornerstone for socio-critical caricature in England.

His vigorous, swarming, low-life scenes, set in brothels and other nefarious nooks of the city, proved so popular that they inspired an adjective – 'Hogarthian' – to evoke the shady milieu that they depict. And the quintessential example of Hogarth's squalid subject matter is his infamous print of 1751, Gin Lane.

The Städel Department of Prints and Drawings has in its possession all of the series that earned him international fame. Staged in the exhibition gallery of the Department of Prints and Drawings within the framework of the Städel's bicentennial celebrations, the show is on display through September 6, 2015.

Following its presentation at the Städel Museum in Frankfurt, the show will be on view at Neuhardenberg Castle.









SWEET CHARITY


ALZHEIMER'S THE LONGEST DAY thousands of teams raising millions. On The Longest Day, teams around the world come together to raise funds and awareness for the Alzheimer's Association. Held on the summer solstice, June 21, 2015, this event calls on participants to raise funds and awareness to advance the efforts of the Alzheimer's Association.

This sunrise-to-sunset event symbolizes the challenging journey of those living with the disease and their caregivers. Teams are encouraged to create their own experience as they fund raise and participate in an activity they love to honor someone facing the disease.

Thousands of teams raising millions.

HOLLYWOOD BOWL OPENING NIGHT CELEBRATION takes place Saturday, June 20, at The Hollywood Bowl in Hollywood, CA. The evening entertainment includes rock icons Journey who launch the season with a spectacular show to benefit the LA Phil and its education/community programs.

The Hollywood Bowl Orchestra will be conducted by Thomas Wilkins. Also performing will be the Youth Orchestra Los Angeles.

Opening Night at the Bowl is one of the most anticipated highlights of the summer season and culminates in a spectacular fireworks display.


SPREADING THE WORD


KEAN UNIVERSITY offers a free staged reading of Kate Cortesi's provocative new play, Great Kills, June 19 – 21 in Kean's Murphy Dunn Theatre, Union, N.J.

Selected from over 440 submissions, Great Kills is the first of two scripts scheduled for expanded development as part of the 2015 Premiere Stages Play Festival. An annual competition for unproduced scripts by playwrights with ties to the greater metropolitan area (New Jersey, New York, Pennsylvania, and Connecticut), the Premiere Stages Play Festival is committed to supporting emerging artists through the development and production of new plays. Ms. Cortesi has received an honorarium and the opportunity to further develop the play through a professional, 29-hour rehearsal process culminating in three public readings.

Great Kills, directed by Kel Haney, will feature actors Stori Ayers, Gardiner Comfort, Valerie Hager, Grant Shaud, Ali Stoner, Lindsay Torrey and Azul Zorrilla.

In this play, a high school achiever's college application reveals a secret from her past, sending her Staten Island family into a tailspin. But is this ambitious young woman traumatized by violence, as her essay claims, or by a culture of achievement that has trained her to market herself at any cost?"

THE ART OF SOUND DESIGN Q&A WITH WALTER MURCH Asian Dub Foundation perform live their new soundtrack to George Lucas's cult sci-fi classic – a chilling dystopian fantasy.

The group's brutal, beautiful, sparse and thick interpretation of the score, set to the visuals, transports you to a world where mood-stabilizing drugs are mandatory, sex is prohibited, and a young Robert Duval rages against the system.

Produced by Francis Ford Coppola, THX 1138 has gained cult status over the years, with the soundtrack by Lalo Schiffrin and sound design by triple Oscar winner Walter Murch having been sampled by a host of influential electronic artists including Nine Inch Nails, UNKLE, Orbital and many more.

Frequent collaborators, Asian Dub Foundation have mixed their trademark fusion of punk, electronic beats, reggae, bhangra and hip-hop with artists such as Radiohead, Chuck D, Primal Scream and Sinead O'Connor, criticizing control and oppression.

Before the performance starts, there will be a Q&A session with Walter Murch, the influential film and sound editor who co-wrote THX 1138 with Lucas and edited the sound. His celebrated credits include The English Patient and Apocalypse Now. Hosted by film critic and editor of Little White Lies David Jenkins. June 19 at The Barbican in London.

SHAMEFUL: UN PEACEKEEPERS TRADE SEX FOR HELP according to a report from the UN Office of Internal Oversight Services (OIOS). That draft document says it has found that hundreds of poverty stricken women in Haiti and Liberia have been coerced into selling sex to UN Peacekeepers in order to receive help.

The report states 480 sexual exploitation and abuse claims were made in 2008-13. One-third of the allegations involved children.

The hungry women are paid with cash, jewelry, mobile phones and other items which can then be used to purchase necessities.

The UN currently has about 125,000 peacekeepers deployed in a number of countries around the world.

EDDIE IZZARD the British actor-comedian announced that he will run for Mayor of London in 2020 as an atheist. Izzard who describes himself as a "a transgender heterosexual," brought his Force Majeure World Tour to the Palms in Hotel in Las Vegas for shows this past weekend.

Tickets were $53 to $83. No political contributions were sought.


OTHER PEOPLE'S MONEY


ZARA PHILLIPS

The Coronet Suite, which represents the band on a horse's hoof. Each piece is hand-finished in platinum or white, yellow or rose gold, and set with white diamonds. Official photo.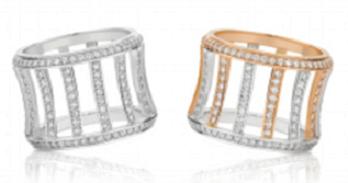 daughter of Anne, the Princess Royal, granddaughter of Queen Elizabeth and Prince Philip, wife to Mike Tindall, and mother to Mia Grace, had branched out. In 2010 the accomplished equestrian teamed with Musto to launch her own fashion collection, Musto's Zara ZP 76 collection of equestrian clothing. Now she is launching her own line of horse inspired jewelry.

The Zara Phillips Collection is a collaboration with Australian designer John Calleija. One collection is called the Saddle Suite. It's a line of saddle-shaped rings, earrings and pendants. The other is the Coronet Suite, which represents the band on a horse's hoof.

All of the pieces are hand-finished in platinum or white, yellow or rose gold, and set with white diamonds.

Zara and her husband receive no funds from the royals. Instead, they support themselves and have no personal servants. Zara has engaged in sponsorship deals with firms such as Land Rover and Rolex and last year signed a deal with an online gaming firm for a video game Howrse, in which players own, train and race a virtual horse.

Tindall, a former England rugby captain, has starred in two reality TV shows a Bear Grylls survival program and a skiing show The Jump. He told an interviewer in January that the couple runs their own life.

DODGERS' LONGTIME ORGANIST NANCY BEA HEFLEY was feeling off-key about her playing time and last Thursday complained on Facebook about her musical notes being shortened at games and announced she would not be returning to the team. The longest-tenured stadium musician in Los Angeles sports history confirmed to the Los Angeles Times that at the end of her 27th year as Dodgers' organist, she would be shutting the sheet music.

After a social media backlash and calls from reporters, the Dodgers offered her a lifetime contract and - to stop their phones from ringing off the hook - requested that she post that news, which she did. "To all my faithful fans, I WILL be coming back next year. Thank you for your support. The Dodgers have stated I have a job as long as I want." She also received a pay raise.


LOVE IS IN THE AIR


SWEDEN'S PRINCE CARL PHILIP third in line to the throne after his sister and her daughter, was married Saturday, June 13, in a lavish ceremony at the Royal Chapel, Stockholm. The bride, Sofia Hellqvist, 30, is a former reality TV star, topless model, yoga instruction and waitress. In 2010 she co-founded the Project Playground charity which helps disadvantaged children in South Africa.

In 2005 Hellqvist was a participant in the Swedish reality show Paradise Hotel, where scantily-clad men and women stayed at a luxury resort and competed to be the last contestant voted off the show, which promised "intrigue, scheming and drama."

The year before that she posed topless with a boa constrictor for the men's magazine Slitz, winning its Miss Slitz title. Vivacious and charming, she is quite popular among the Swedes and indicates she regrets nothing about her past.

On Friday evening, more than 200 wedding guests attended a dinner in honor of the couple on the island of Skeppsholmen. Chef Mathias Dahlgren helmed gastronomic team which included world renown chefs Fredrik Erikssonm, Markus Aujalay, Henrik Norström, and Mattias Ljungberg.

On her wedding day the bride look lovely. Her gown, in three shades of white, was created by Swedish designer Ida Sjöstedt. Fashioned of silk crepe overlaid with Italian silk organza, it featured intricate couture lace made by José María Ruiz. The train was hand-cut and stitched in the designer's atelier in Stockholm.

A veil in thin bridal tulle hand-embroidered with sheer cotton lace was tucked into Sofia's low chignon, On her head was a diamond and emerald tiara.

Joining King Carl XVI Gustaf and Queen Silvia for the nuptials of their only son were about 550 guests. They included Queen Sonja of Norway, her son Crown Prince Haakon and his wife Princess Mette-Marit. Representing Denmark were Queen Margrethe II, Crown Prince Frederik, Crown Princess Mary, Prince Joachim and Princess Marie. Queen Máxima of the Netherlands was also in attendance, as was Princess Takamado of Japan and Britain's Prince Edward and the Sophie, Countess of Wessex.

The always stylish Sophie, the first ever patron of the London College of Fashion, wore a stunning shell pink-colored gown and carried a matching clutch bag.

The bride is now known as HRH Princess Sofia.

TONY AWARD WINNER LAURA BENANTI announced her engagement to Patrick Brown by posting a picture and comment on her Instagram account.

This will be the bride's third marriage. She was previously married to musician Chris Barron, from 2005 to 2006, and actor Steven Pasquale, from 2007 to 2013.

Benanti is due back on Broadway next season in She Loves Me, which was at the Roundabout Theatre Stage Right in 1993. The utterly delightful - one of the most enjoyable and romantic musicals ever written - has a book by Joe Masteroff, music by Jerry Bock and lyrics by Sheldon Harnick.


CURTAIN DOWN


THE VISIT the Kander and Ebb musical that stars two-time Tony winner Chita Rivera, will end its run June 14, 2015.

The musical, which received four Tony nominations, began previews March 26 at the Lyceum Theatre. It officially opened April 23, 2015.

GIGI an adaptation of Alan Jay Lerner and Frederick Loewe's musical comedy, will play its final performance on Sunday, June 21 at the Neil Simon Theatre.

The production, which began previews March 19 and opened officially April 8, will have played 20 previews and 86 performances.



HOW TO BE A ROCK CRITIC

Erik Jensen in How to be a Rock Critic. Photo by Craig Schwartz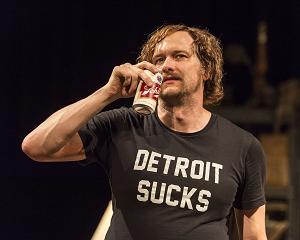 based on the writing of Lester Bangs by Jessica Blank and Erik Jensen.

Performed By Erik Jensen.

Directed by Jessica Blank.

Manic. Impossibly creative. Dead of an overdose at 33. Gonzo journalist Lester Bangs was America's greatest rock critic and the first missionary of the movement he dubbed "punk." His faith was shattered as the rebel ethos of the '70s gave way to the corporate pop of the '80s. Through his own words, this solo play sheds light on a groundbreaking, pioneering voice in music.

How to Be a Rock Critic is a Center Theatre Group (CTG) completion commission, which is given to collective creators who have developed the piece elsewhere but desire further support to complete the work. World premiere production takes place June 17 - 28, 2015 at the Kirk Douglas Theatre Downtown Culver City, CA.

AUGUST: OSAGE COUNTY written by Tracy Letts.

Directed by Mary Jo DuPrey.

Starring Susan Angelo, Alan Blumenfeld, Abby Craden, Judy Durkin, Ellen Geer, Willow Geer, Jeanette Godoy, Tim Halligan, Aaron Hendry, Mark Lewis, Melora Marshall, Paul Sroili and Sam Trueman.

A vanished father. A pill-popping mother. Three sisters harboring shady little secrets. When the large Weston family unexpectedly reunites after Dad disappears, their Oklahoman family homestead explodes in a maelstrom of repressed truths and unsettling secrets. A major new play that unflinchingly - and uproariously - exposes the dark side of the Midwestern American family. Winner of the 2008 Pulitzer Prize for Drama and Tony Award for Best Play.

Saturday, June 20 through September 27, 2015 at Theatricum Botanicum in Topanga CA.

The outdoor amphitheater at Will Geer's Theatricum Botanicum is terraced into the hillside of the rustic canyon. Audience members are advised to dress casually (warmly for evenings) and bring cushions for bench seating. Snacks are available at the Hamlet Hut, and picnickers are welcome before and after the performance.

THE HEIR APPARENT by David Ives. Adapted entirely in hilarious rhyming verse from a comic masterpiece by Jean-François Regnard.

Meet young Eraste. He has it all: good looks, a beautiful fiancée and a huge inheritance from an ancient uncle. There's just one little problem: the uncle won't die and has bequeathed his entire fortune to a distant relative. Oh, and did we mention the uncle also intends to marry Eraste's fiancée? What's a fine 18th-century fellow to do? What else but enlist the aid of his resourceful servant, Crispin, who could "out-Figaro" Figaro.

Los Angeles premiere has previews June 17-18; officially opens June 19 with performances through July 12, 2015 at the International City Theatre which is Long Beach's resident professional theater company at the Long Beach Performing Arts Center in Long Beach, CA.

THE GOSPEL AT COLONUS conceived and adapted by Lee Breuer with music by Bob Telson.

Directed by Andi Chapman.

Starring Tony Award-winner Roger Robinson as Oedpius.

Billed as "a soul stirring dramatic-musical which takes place within the framework of a Pentecostal church service set against the tragic Greek background of the story of Oedipus at Colonus, in which the exiled king Oedipus seeks a place where he may be properly buried.

The gospel musical will also feature Kim Staunton as Antigone, Ellis Hall as Singing Oedipus.

Performances will run June 18 – July 19, 2015 at the Nate Holden Performing Arts Center in Los Angeles.

MR LINCOLN by Herbert Mithang. Directed by ELTC's artistic director, Gayle Stahlhuth.

On April 14,1865, the President and Mrs. Lincoln were enjoying a comedy at Ford's Theatre when John Wilkes Booth entered the President's box. In Herbert Mitgang's play, Lincoln's life flashes before him from his early days as a flatboatman on the Mississippi River, to President of the United States, as Booth fires his pistol.

Starring Tom Byrn as Lincoln.

Mr. Lincoln was presented as the first Hallmark Hall of Fame drama on PBS.

Selected to commemorate the 150th Anniversary of the President's assassination, the production runs From June 17 - July 25, 2015 at the East Lynne Theater Company in West Cape May, NJ.

LUNA GALE

Michael Attenborough in rehearsals, directing Sharon Small. Photo: Hamstead Theatre.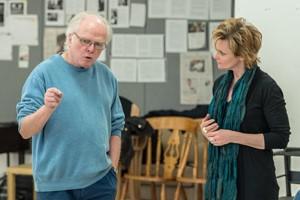 by Rebecca Gilman.

Directed by Michael Attenborough.

Caroline Cox has been working in The Department of Human Services for twenty-five years. She thinks she has a typical case on her hands when she meets troubled teenagers Peter and Karlie, the parents of newborn Luna Gale. But as she digs deeper she discovers an array of unspoken motives amongst all the parties with an interest in Luna's future. Everybody believes they offer the best solution. But who is right and who is wrong?

Starring Sharon Small as Caroline, Alexander Arnold as Peter, Ed Hughes as Cliff, Rachel Redford as Karlie, Abigail Rose as Lourdes, and Corey Johnson as Pastor Jay.

Designer: Lucy Osborne. Lighting: Jon Clark. Sound: John Leonard.

Opens the Main Stage of the Hampstead Theatre, London.


WHO'S WHERE




IDINA MENZEL thanks to the time zones she has two shows in two different locations on the same day - Tuesday, June 16, at the Royal Theatre Carre in Amsterdam and Tuesday, June 17, at Stadsschouwbug in Antwerp. Saturday's stop is at the Board Gais Energy Theatre in Dublin.

TONY DANZA who starred on Broadway in Honeymoon in Vegas and will headline the national tour, brings his cabaret act to the Cafe Carlyle in New York City for shows June 16-27, 2015.

RUSH open a split two nighter on Wednesday, June 17 and then repeat the gig on Friday at the Air Canada Centre in Toronto. Next Sunday their tour stops at the Bell Centre in Montreal, Quebec.

BETTE MIDLER stars at the Wells Fargo Center in Philadelphia on Tuesday, June 16. On Thursday she can be found at the United Center in Chicago. On Saturday she stars at the Air Canada Centre in Toronto, ON.

TAYLOR SWIFT opens a two nighter Friday, June 19 at the Lanxess Arena in Cologne, Germany. Next Sunday, June 21, she's at the Ziggo Dome in Armsterdam, Netherlands.

NICKELBACK entertains Friday, June 19, at the Sleep County Amphitheatre in Ridgefield, WA. On Saturday they're on stage at the Gorge Amphitheatre in Quincy, WA.

NEW KIDS ON THE BLOCK perform Tuesday, June 16, at the Nationwide arena in Columbus, OH. Wednesday's stop is at the Quicken Loans Arena in Cleveland. Friday they stop at the Wells Fargo Center in Philadelphia. On Saturday they are in the spotlight at the Nassau Veterans Memorial Coliseum in Uniondale, NY. Next Sunday, June 22, they open a two nighter at Madison Square Garden in New York City.

CHICK COREA AND BOBBY McFERRIN entertain Tuesday, June 16, at the Church of St. Maximilian Kolbe in Bielsko Biala, Poland. On Friday they can be enjoyed at the Kultur und Kongresszentrum Liederhalle in Stuttgart, Germany. Saturday's gig is at the Graf Zeppelin Haus in Friedrichshafen , Germany. Next Sunday, they'll be making music at the Meistersingerhalle in Nuremberg, Germany.

BILLY IDOL will be appearing at the Rock The Ring Festival in Hinwil, Switzerland on June 20.

FRANK SINATRA JR: SINATRA SINGS SINATRA - THE CENTENNIAL CELEBRATION 2015 will see celebrations all around the world to mark 100 years since the birth of the most loved entertainer of all time, Frank Sinatra. This special evening will see singer Frank Sinatra Jr. pay homage to his late father in a unique multimedia show taking in archive audiovisual material. Saturday, June 20, 2015 at The Smith Center in Las Vegas.

NEIL DIAMOND brings his tour to Europe with a show Wednesday, June 17, at the Lanxess Arena in Cologne, Germany. Friday's performance is at Olympic Hall in Munich. Next Sunday, June 21, he'll be singing his hits at the Antweps Sportpaleis in Merksem, Belgium.

KEVIN JAMES brings his widely loved comedy to the Palace in Stamford, Ct on Saturday, June 20.


FINAL OVATION


JAMES LAST the German born composer, arranger and popular band leader died June 9, 2015 at his home in Florida. He was 86.

During his career Last sold well over 100million albums and had 52 hit records in Britain alone between 1967 and 1986, a total only surpassed by Elvis Presley.

Over a career spanning five decades, Last produced more than 190 records as his signature 'easy listening' sound brought him worldwide acclaim.

In 1946 he and his two older brothers began performing on radio, and in 1956 he started making arrangements for orchestras.

A recording contract with Polydor followed in 1962, and Last began touring the world, performing to packed crowds.

At his peak, Last was producing two albums a month.

As well as making his own music, Last also composed for other artists including Happy Heart and Music From Across the Way, both recorded by Andy Williams; Games That Lovers Play, recorded by Eddie Fisher, and Fool, recorded by Elvis Presley. His work was featured in Quentin Tarantino film Kill Bill Vol. 1.

Last married his first wife Waltraund Wiese in 1955 and they moved to Florida. Waltraund died in 1997. Two years later Last married Christine Grundner, who survives him along with his daughter, Caterina, and son, Ronald, from his first marriage.

RON MOODY Tony and Oscar nominee, perhaps best known for his starring role as Fagin in Lionel Bart's stage and film musical Oliver! died on June 11, 2015. He was 91.

Moody created the role of Ragin in the original West End production in 1960, and reprised it in the 1984 Broadway revival, garnering a Tony Award nomination for Best Actor in a Musical. For his performance in the 1968 film version, he received an Academy Award nomination.

He reprised his role as Fagin at the 1985 Royal Variety Performance in Theatre Royal, Drury Lane before Queen Elizabeth II and The Duke of Edinburgh.

He played Ippolit Vorobyaninov alongside Frank Langella (as Ostap Bender) in Mel Brooks' version of The Twelve Chairs (1970).

On June 30, 2010, Moody appeared on stage at the end of a performance of Cameron Mackintosh's revival of Oliver! and made a humorous speech about the show's 50th anniversary. He then reprised the Pick a Pocket or Two number with the cast.

Moody married a Pilates teacher, Therese Blackbourn, in 1985. The couple had six children.

ORNETTE COLEMAN one of the major innovators of the free jazz movement of the 1960s, having also invented the term, died June 11, 2015. He was 85.

His album Sound Grammar received the 2007 Pulitzer Prize for music.

In 2004 Coleman was awarded The Dorothy and Lillian Gish Prize, one of the richest prizes in the arts, given annually to "a man or woman who has made an outstanding contribution to the beauty of the world and to mankind's enjoyment and understanding of life."

On February 11, 2007, Ornette Coleman was honored with a Grammy award for lifetime achievement, in recognition of this legacy. On July 9, 2009, he received the Miles Davis Award, a recognition given by the Festival International de Jazz de Montréal to musicians who have contributed to continuing the tradition of jazz.

Neil Portnow President/CEO of The Recording Academy issued the following statement:

"With his prodigious saxophone skills, improvisational prowess and innovative compositions, Ornette Coleman was a true pioneer of jazz in America. A recipient of The Recording Academy Lifetime Achievement Award in 2007, Ornette's willingness to break barriers propelled the jazz genre to new heights, and influenced countless fellow musicians in the process. We have lost a truly dynamic member of our creative community, and our deepest condolences go out to his family, friends and all who have been moved by his remarkable work."

Coleman married poet Jayne Cortez in 1954. The couple divorced in 1964. They had one son, Denardo, who survives him.

CONDOLENCES TO country singer Randy Rogers and his wife Chelsea on the death of their six day old daughter, Rumer Rain Rogers, who died Tuesday, June 8, 2015 from a very rare brain condition. The baby passed away "in her parents' loving arms at Seton Memorial Hospital" in Austin, Texas the Randy Rogers Band posted on their website.

The Texas based band, composed of Randy Rogers (lead vocals), Geoffrey Hill (guitar), Jon Richardson (bass guitar), Brady Black (fiddle), and Les Lawless (drums). They have recorded four studio albums and two live albums, and have charted seven singles on the Billboard Hot Country Songs charts. Currently on tour, the band canceled last Friday's show saying, "We are working on a make up date to come back as quickly as possible. Thanks in advance for all your understanding during this difficult time."

















Next Column: June 21, 2015
Copyright: June 14, 2015 All Rights Reserved. Reviews, Interviews, Commentary, Photographs or Graphics from any Broadway To Vegas (TM) columns may not be published, broadcast, rewritten, utilized as leads, or used in any manner without permission, compensation and/or credit.
Link to Main Page
---
Laura Deni



For the snail mail address, please E-mail your request.
CLICK HERE FOR COMMENT SECTION