! >
Broadway To Vegas
  
 SHOW REVIEWS CELEBRITY INTERVIEWS GOSSIP NEWS

| | |
| --- | --- |
| | |
GOD OF CARNAGE HAD MISHAP BEFORE TONY AWARDS - - PHEDRE STARRING HELEN MIRREN OPENS IN LONDON AND MIRREN CARRIES ON AFTER THEATRE PATRON BECOMES ILL - - WOOLLY MAMMOTH THEATRE NEEDS 100 VOLUNTEERS - - THE RODGERS AND HAMMERSTEIN SONGBOOK NEW CD - - PRINCE CHARLES AND CAMILLA TO ATTEND PETER PAN; YOUNGER ROYALS ATTEND SISTER ACT BENEFIT - - SAMUEL FRENCH OFF-OFF BROADWAY SHORT PLAY FESTIVAL - - MICHELE OBAMA AND DAUGHTERS SEE THE LION KING - - WHITE FEATHER: THE SPIRIT OF LENNON - - DONATE . . . Scroll Down


GOD OF CARNAGE HAD MISHAP BEFORE TONY AWARDS


When the vomit doesn't come, what do you do?

That was the worst case scenario faced by the cast of God of Carnage during the Sunday, June 7, matinee performance at the Bernard Jacobs Theatre. A few hours later the production would be awarded the Tony for Best Play, and the cast would be celebrating. The applauding audience and television viewers never guessed that a few hours earlier the award winning cast had been in an improvisational Plan B performance mode.

God of Carnage stars Tony nominees James Gandolfini, Hope Davis, Jeff Daniels and Tony winner Marcia Gay Harden. In the play two ostensibly civilized married couples meet up to sort out a playground fight. The son of one couple Alan and Annette Novak (Jeff Daniels and Hope Davis) has broken two of the teeth of the son of Michael and Veronica (James Gandolfini and Marcia Gay Harden). At first diplomatic niceties are observed, but as the meeting in the apartment of Michael and Veronica progresses and the rum flows, huge tensions emerge and the gloves come off, leaving more than just their liberal principles in tatters.



Marcia Gay Harden, Hope Davis, Jeff Daniels and James Gandolfini in God of Carnage. Photo by Joan Marcus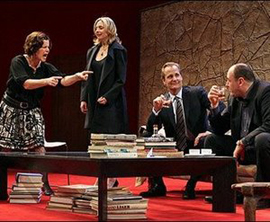 Pivot point of the scene is projectile vomit. Annette Novak played by Hope Davis is suppose to remain ladylike while heaving all over her host's red carpet and valuable art book covered coffee table.

This vomit segment has been called the greatest upchucking scene since Linda Blair tossed her cookies in The Exorcist.

During rehearsals Davis, who majored in cognitive science at Vassar College, spent six hours in a waterproof suit practicing the scene, which reportedly takes four people to pull off.

Usually the throw up gets thrown out without a hitch.

Not Sunday afternoon.

An audience member sitting in the orchestra section told Broadway To Vegas what they witnessed.

"James Gandolfini and Hope Davis are sitting next to each other on the couch. Suddenly James Gandolfini started doing something to Hope Davis' back. You're watching a play with professional actors, so it wasn't clear whether James Gandolfini doing something to her back was in the play or not. But it was going on for too long. It became clear that something was the matter, because it wasn't of interest in terms of moving the play forward."



Hope Davis. Photo by Joan Marcus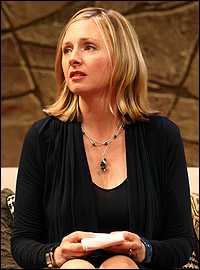 "Then you realize that they are stuck on something. You could kind of see the look on Marcia Gay Harden's face. She was looking anticipatory like - let's hope this happens soon. The audience knew that something wasn't working, but at that point we didn't know it was vomit - that the vomit machine isn't working."

"The audience was definitely laughing - more than giggling. The audience started to laugh when they realized something was happening that was not part of the play. I think people closest to the stage almost immediately began to realize there was a mishap and there were smaller giggles from them. When it became more apparent to the entire audience that something was afoot, the laughed became definitely louder."

"Finally proficient vomit came out. The minute she threw up, Gandofini said; 'This is the way it normally works.' Then they proceeded," said the witness referring to the cast returning to their characters.

"People like me were annoyed that they had broken character and had taken us out of the play."

"Marcia Gay Harden never broke character," clarified the audience member. "She left the stage and then returned carrying this beige, plastic rectangle container - the kind of bucket that you'd put stuff in to wash the kitchen floor. She seemed very tentative when she came back with the bucket. It was almost like she was trying to help, but wasn't sure what to do next. But, she was totally in character. It was a perfect solution for Hope Davis to just throw up into the bucket. They could have totally faked that. The problem was, they have all this dialogue that happens right afterwards about her throwing up on this beloved coffee table book. None of that dialogue would have made any sense had she not vomited on the book, or only vomited into the bucket."

"It probably would have been better if Gandofini hadn't said - 'This is the way it normally works,'" was the observation. "But, in the moment, that's what he did. Since she vomited, we all got the idea that that's what they were trying to fix. He didn't really need to say that. His comment was funny, but if you are somebody who has paid $126.00 for your ticket, and you're not seeing a summerstock production in Vermont on a nice summer evening, you're not really thrilled that, at the most exciting part of the play, something goes wrong."

"But, audiences do eat that stuff up. They love it when that kind of thing happens," conceded our source. "They feel that they've seen something that nobody else has seen."

God of Carnage, will extend its run through November 15 with its cast intact. The cast members were under contract through late July. In a statement, the lead producers Stuart Thompson and Robert Fox said the show would shut down after the July 26 performance so that its stars could fulfill other commitments, and resume on Sept. 8 and run through November 15. The play, which opened at the Bernard Jacobs Theater on Broadway in March saw all four actors nominated for Tony Awards. Marcia Gay Harden took home the award as did Matthew Warchus for best director of a play; and the production won for best play.


THE MUSIC GOES ROUND AND ROUND


THE RODGERS AND HAMMERSTEIN SONGBOOK Originally compiled in 1993 to celebrate the 50th anniversary of the Rodgers and Hammerstein collaboration, The Rodgers and Hammerstein Songbook has been a best-selling title on the Sony Classical label ever since - an essential collection of the team's greatest songs.

This expanded edition is an even more complete representation of "the essential Rodgers and Hammerstein." It takes advantage of Masterworks Broadway's newly comprehensive catalogue, which now includes the original cast recordings of Allegro and Me and Juliet, as well as definitive revivals of Oklahoma!, Carousel, South Pacific, The King and I and The Sound of Music.

All are sampled here, along with the original cast recordings of South Pacific, Cinderella, Flower Drum Song and The Sound of Music.

This brilliant CD leads off with three selections from Oklahoma - Oh, What a Beautiful Morning sung by baritone Laurence Guittard, a scion of the Guittard family of chocolatiers, who starred as Curly in the 1979 revival. The Surrey with the Fringe On Top features Guitttard, Christine Andreas and Mary Wickes. Oklahoma/Finale and Oh, What a Beautiful Morning (Reprise) spotlights and entire company.

First mounted in 1943, this recording features an orchestra conducted by Jay Blackton. Recorded January 7, 1980 at RCA's Studio A in NYC.

Carousel which made its debut in 1945 is represented with three sections; Prologue: The Carousel Waltz performed by the Orchestra. If I Love You sung by John Raitt and Eileen Christy, in which Raitt actually sings the word hell in the line - There are a hell of a lot of stars out there - back in the days when that word was rarely if never used on stage. You'll Never Walk Along is dynamically performed by soprano Katherine Hilgenberg who was on the roster of the San Francisco Opera, as one of the leading contraltos, from 1955 through 1961, with over 35 roles.

This section features an orchestra conducted by Franz Allen. Recorded August 15, 1965 at Webster Hall in New York City.

Allegro, a 1947 effort, is represented through The Gentleman is a Dope sung by Liza Kirk. Orchestra conducted by Salvatore Dell'Isola. Recorded October 19, 1947, at NBC Studio 3A, NYC.

South Pacific had its premiere in 1949. This CD features two songs - Song Enchanted Evening performed by Ezio Pinza. Orchestra conducted by Salvatore Dell'Isola. Recorded April 19, 1949. There Is Nothing Like a Dame features Danny Burstein and the chorus. Orchestra conducted by Ted Sperling. Recorded April 14, 2008, at Legacy Recording Studios, New York City.



Oscar Hammerstein and Richard Rodgers. Sony music photo archives.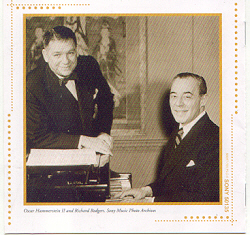 The curtain went up in 1951 for The King and I. This section highlights Getting to Know You with Risa Stevens and the chorus and The March of the Siamese Children with the Orchestra, which is conducted by Franz Allen. Recorded July 12, 1964, at Hotel St. George, Brooklyn, NY.

Me and Juliet was a 1953 production with the role of Jeanie, the chorus girl, created especially for Bronx-born Isabel Bigley. She had been playing the role of Laurey in the London production of Oklahoma! in 1951 when she was offered the role of Sarah Brown, the "mission doll," in Guys and Dolls. Originating that role earned her the Tony for Best Performance by a Featured or Supporting Actress in a Musical. On this CD she performs the song No Other Love.

Her singing partner is Bill Hayes who is perhaps best known for his role as Doug Williams on Days of Our Lives. Hayes originally played the role from 1970 to 1984. His singing career was even incorporated into the storyline on Days of Our Lives. Hayes as Doug was introduced as a convict who was also a lounge singer. On this CD they are backed by an orchestra conducted by Salvatore Dell'Isola. Recorded May 31, 1953, at The Manhattan Center, New York City.

Cinderella is represented through Do I Love You Because You're Beautiful performed by Jon Cypher and Julie Andrews. The orchestra is conducted by Alfred Antonini and was recorded March 19, 1957, at Columbia 30th Street Studio in New York City.

Flower Drum Song bowed at the St. James Theatre on December 1,1958, running for 600 performances. The musical is represented on this CD with two selections - Love, Look Away a song created for Arabella Hong, a Juilliard graduate who originated the role of Helen Chiao in The Flower Drum Song on Broadway. The singer/actor/teacher/author also played the kindly Chinatown shopkeeper who starts Big Bird on his quest in Big Bird in China. California born Pat Suzuki best known for her role in the original Broadway production of Flower Drum Song, and her performance of the song I Enjoy Being a Girl which is deemed to be the definitive recording - is captured on this CD. The orchestra is conducted by Salvatore Dell'Isola. Recorded December 7, 1958, at Columbia 30th Street Studio in New York City.

The Sound of Music which premiered at the Lunt-Fontaine Theatre on November 16, 1959 closes out this CD with four selections; The Sound of Music with Mary Martin; Do Re Mi featuring Martin, Lauri Peters and the children. Tony nominee Patti Cohenour, who played the Mother Abbess in the 1997 revival of The Sound of Music, sings Climb Every Mountain. Cohenour was last seen on Broadway in Lincoln Center's production of The Light in the Piazza in which she original the role of Signora Naccarelli. Theodore Bikel, Mary Martin and the children end the CD with Edelweiss. The orchestra is conducted by Frederick Dvonch and was recorded November 22, 1059.

Masterworks Broadway is offering this expanded version in special digital-only editions. These digital download versions will also be made available in CD format, with each album's original cover art and liner notes, from ArkivMusic.com.



Broadway To Vegas is supported through advertising and donations. Priority consideration is given to interview suggestions, news, press releases, etc from paid supporters. However, no paid supporters control, alter, edit, or in any way manipulate the content of this site. Your donation is appreciated. We accept PAYPAL. Thank you for your interest.


ART AND ABOUT


BAROQUE BAROQUE Explore the exuberance, decadence and theatricality of the Baroque style in an evening of burlesque, performance and spectacle.

The Irrepressibles take performance to the next level with costumes made of mirrors and origami. Ringleader Jamie McDermott admits to being "unashamed, flamboyant, fantastical and emotionally intense - a performance orchestra that is purportedly fronted by a man who sounds like the ghosts of Billy McKenzie and Jeff Buckley". The Irrepressible are "an orchestra featuring electronic manipulation by sound artist William Turner-Duffin. He transforms my counter tenor warble into birdsong and orchestral instruments into electronic insects," says McDermott.

The Irrepressibles will be showcasing their re-interpretation of Baroque fantasy and sound.

Christopher Green as US Cultural critic Jedd O'Sullivan, author of the Art History classic 'Who Do You Do? The Eternal Question Asked of the Impressionists' comes to the V&A with a performative/experiential, lecture/happening.



Christopher Green as US Cultural critic Jedd O'Sullivan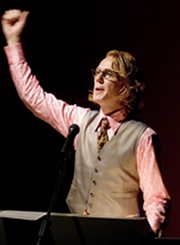 Asking fundamentally essential questions about the relationship between our age and that of the Baroque period - musically, aesthetically, politically, spiritually - O'Sullivan ponders whether we are so different from consumers of art then. Does the global financial crisis change our perception of the lavish? Dare the dawn of the age of Obama worship at this shrine of kitsch? Will Michelle Obama see the V&A's exhibition and furnish the White House guest bedrooms accordingly? Only the perceptive, perspicacious and perpetually peppy Dr. O'Sullivan can answer in this interactive lecture you will never forget.

Jedd O'Sullivan is the creation of character comedian Christopher Green. He has been commissioned by a range of prestigious arts venues including Tates Modern and Britain, the Barbican Art Gallery, the Science Museum and the RSC.

Designer Laurence Llewelyn-Bowen leads a tour of Baroque 1620-1800 and students from Wimbledon College of Art model extravagant Baroque-inspired costumes.

Join in the Baroque Ball; learn Baroque dances and create a light and sound piece inspired by Baroque style.

Friday, June 19 at the Victoria and Albert Museum in London.

WHITE FEATHER: THE SPIRIT OF LENNON Opening on Wednesday, June 17th in John Lennon's home town of Liverpool, the world famous Beatles Story gives visitors the opportunity to experience a unique personal narration of life with John - by his son Julian, and Julian's mother, Cynthia with the opening of White Feather: The Spirit of Lennon.

Through personal on-screen conversations, Julian whose godfather was Beatles' manager Brian Epstein, and Cynthia take visitors on a journey through their family life - re-living the various phases of a story which begins in Liverpool in the band's early days, and ends with the tragic and untimely death of John Lennon.

Beginning in Merseyside with the meeting at art college of John and Cynthia it follows the journey from their clandestine marriage and the birth of Julian, both of which coincide with the sharply increasing trajectory of the band's fame and fortune. The exhibition culminates in the story of Cynthia and John's separation and divorce, giving visitors the chance to immerse themselves in the personal journey of a normal family's struggle to cope with the effects of fame thrown upon them; particularly relevant in today's celebrity conscious society.



Cynthia and Julian Lennon at Kenwood in 1968 after John had left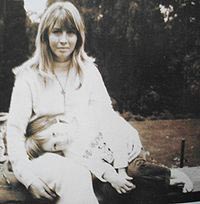 In one of the key features of the exhibition, Cynthia recounts how she felt ostracized by The Beatles when her marriage to John broke down, and how she was left to look after their son Julian following the split. Paul McCartney, sympathetic to the emotions of Cynthia and her then five-year-old son Julian, wrote Hey Jude in order to console him during the divorce.

The lyrics for the multi-million selling chart topper were composed by McCartney on a car journey as he traveled to visit his fellow Beatle's wife and son. Originally titled Hey Jules for Julian, he later changed the wording to Hey Jude as it was easier to sing.

Julian also played a significant role in the song Lucy In The Sky With Diamonds. As a toddler Julian attended nursery school in Surrey. One day the three-year-old came home and showed his father a picture he had drawn of his school friend Lucy O'Donnell, which he had surrounded with star-like shapes. He told his father that it was 'Lucy in the sky with diamonds'.

Lennon then used the phrase as a title for a song he wrote for the Sgt Pepper's Lonely Hearts Club Band album, which was released in 1967.

Recently Julian discovered that Lucy O'Donnell - now Vodden after her marriage 13 years ago - is battling lupus, an autoimmune disease which causes the body to attack its own cells, causing immense pain and organ breakdown.

He sent her a flower bouquet with a personally written card. He then followed up with garden center gift certificates, because he had learned that she received pleasure from taking care of her plants.



Julian Lennon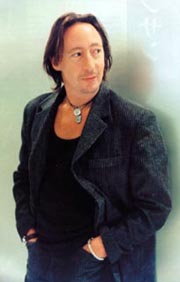 "I've been able to help out a bit,' Julian told the British press. 'I was so upset to hear what had happened.'

The whereabouts of Julian's painting of Lucy is uncertain, although at one stage it was in his mother Cynthia's possession. Since they were four, Mrs. Vodden and Julian had seen each other only once - 23 years ago at one of Julian's concerts. Julian spoke of the song's creation in his promotional interviews for this exhibition.

He has lent the museum his own collection of memorabilia which for him marks a 'reconnection' with his father's memory.

Following Lennon divorcing his mother Cynthia, to marry Yoko Ono, Julian rarely saw his father. They were later partly reconciled and Julian made his musical debut at the age of 11 on his father's Walls and Bridges album, playing drums on Ya Ya.

But the two had almost no contact with each other, and only began to rebuild a relationship in the late 1970s, at the instigation of Lennon's then girlfriend May Ping. His father's murder in 1980 (when Julian was 17) came just when the two were beginning to grow closer.

Julian says he has forgiven his father for the way he treated both him and his mother - and the hostility between him and Ono, and his half-brother Sean, is in the past. 'There is nothing but love now,' he said. 'If he was able to come into the room now, we'd hug and cry,' Julian told the press.

After Lennon was gunned down outside his Upper West Side apartment building on Dec. 8, 1980, Julian had few keepsakes from his father. During the past two decades he has spent almost $2 million buying up a collection of Lennon's possessions.

"It is, in a way, horrendous that this is what I needed to do to get my father's possessions," said Julian.



Jerry Goldman, Managing Director of the Beatles Story and Marketing Officer Lisa Coates released 300 balloons, each containing a White Feather to officially launch the world premiere of White Feather: The Spirit of Lennon.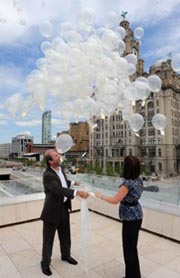 They include hand-written recording notes by Paul McCartney of Hey Jude, Lennon's Afghan coat and his cape from the film Help! Other personal possessions Julian has purchased are Lennon's Honda 'monkey bike' motorbike and an electric guitar inscribed with the message 'To Julian from Daddy, Christmas 1973'.

Nothing demonstrates the 20-year tale of John Lennon's home life and music career more acutely than the title of the exhibition, White Feather. During a tender moment when Julian was a child, John first spoke to him about the white feather.

As Julian explains: "The white feather is so prevalent in my life. One thing for sure is that it's always represented peace to me. And one of the things my father said to me was that should he pass away, if there was some way of letting me know he was going to be ok, or that we were all going to be ok, it was by in some way, shape or form presenting me with a white feather."

Then, around ten years ago while Julian was on tour in Australia, a group of Aborigines presented him with a white feather, asking him to be the voice for their plight.

It was a breathtaking and inspirational moment for Julian.

This episode motivated Julian to set up The White Feather Foundation, a charity that embraces environmental and humanitarian issues and helps to raise funds to improve the life of others.




SWEET CHARITY


THE ROYAL GALA PREMIERE OF PETER PAN, KENSINGTON GARDENS

Prince Charles and the Duchess of Cornwall will attend Peter Pan in Kensington Gardens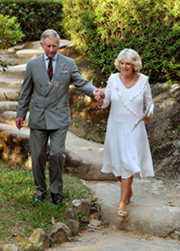 For the first time in 100 years Peter Pan, a new production of JM Barrie's classic written by Tanya Ronder, is coming home and guests will be able to fly with Peter to Neverland, stand on the deck of Hook's ship, and soar high over Kensington Gardens, thanks to award-winning theatre designer - William Dudley's 360-degree projected scenic design. The Neverland Pavilion, a temporary 'palace' in the heart of Kensington Gardens, will offer guests a breathtaking live experience with over 1000 seats, offering unimpeded views for everyone. Adults and children alike will be whisked away on a magical journey.

For one night only, this Royal Gala performance is set to be the cultural highlight of the European Summer, with worldwide celebrities, VIPs and media in attendance.

On June 17, 2009 Their Royal Highnesses The Prince of Wales, Prince Charles and The Duchess of Cornwall will attend a very special Gala performance of Peter Pan in aid of The Prince's Foundation for Children and the Arts – an educational charity that helps children to experience the arts in a high quality and sustained way. As President and Founder of The Prince's Foundation for Children & the Arts, HRH The Prince of Wales believes that 'every child, whatever his or her circumstances, should have the chance to experience the artistic excellence of our cultural heritage, the very best of dance, theatre, opera and music, our museums and galleries, art and literature.'

This new production of Peter Pan, starring Jonathan Hyde as Captain Hook, Abby Ford as Wendy and Ciaran Kellgren as Peter Pan, is directed by Ben Harrison, a former associate director of The Almeida Theatre and one of the world's leading exponents of site-specific theatre.

Staging this in Kensington Gardens has specific significance. Kensington Gardens is where JM Barrie first met the children on whom Peter and the 'Lost Boys' are based, where he told them the stories that were woven together and published as Peter Pan and where he found the landmarks that he transformed into the magical Neverland.

SISTER ACT THE MUSICAL the West End production being staged at the London Palladium had a blue blood audience for a June 10th charity performance. Princess Beatrice, the 20-year-old daughter of Prince Andrew and Sarah Ferguson was accompanied by her 24-year-old American boyfriend Dave Clark. Also in the royal circle, Chelsy Davy the former (reported to still be very good friends) girlfriend of Prince Harry and Pippa Middleton, the sister of Prince Williams' girlfriend Kate.

The evening was in aid of the Henry van Straubenzee Memorial Fund, set up in memory of a friend of Princes William and Harry who died in a car crash in 2002, aged 18.

The Princes, who became joint patrons of the fund in January, were not present but several of their friends were, including Guy Pelly, the actress/model Isabella Calthorpe and Astrid Harbord, who is said to have been close to Prince Harry following his break-up with Miss Davy.

TIME UP FOR BID As part of this year's Tony festivities, eight Tony-nominated shows decorated a series of timepieces that lined the Red Carpet at Radio City Music Hall on June 7. The Red Carpet was presented by Audemars Piguet, considered one of the world's finest watch manufacturers, which supplied the clocks. Each thematic clock is set on a unique stand customized by one of the shows nominated for Best Musical and Best Musical Revival. These one-of-a-kind clocks are now up for auction to benefit The Actors Fund, a nationwide human services organization that helps all professionals in performing arts and entertainment. The auction takes place through June 18 on E-Bay.


SPREADING THE WORD


L.A THEATRE WORKS GOES WILDE

Charles Busch stars as Lady Bracknell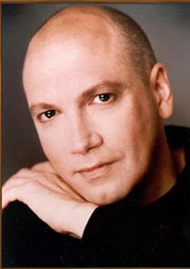 with The Importance of Being Earnest, recording five performances for radio June 17-21.

Actor, playwright, novelist, screenwriter, director and drag legend Charles Busch will take on the role of the irrepressible Lady Bracknell. In addition to Busch the cast includes; Emily Bergl, Neil Dickson, Jill Gascoine, James Marsters, Christopher Neame, Matthew Wolf, Sarah Zimmerman.

Michael Hackett directs five performances at the Skirball Cultural Center June 17-21 that will be recorded for broadcast on LATW's nationally syndicated radio theater series.

Subtitled A Trivial Comedy for Serious People, - The Importance of Being Earnest is Irish playwright Oscar Wilde's last and perhaps best-known play - a comedic send up of Victorian courtship and manners in which love conquers all - as long as one is truly earnest.

Jack and Algernon are best friends, who, in order to impress their beloveds, pretend that their names are Ernest, a name that both ladies believe confers magical qualities on the possessor. The two young men lead busy double lives in the highest of style: creating false identities, avoiding family, visiting imaginary invalids and (equally imaginary) wayward brothers. But now their carefully constructed Ernestor earnest will get them what they want.

The first staging of The Importance of Being Earnest took place at the St. James Theatre in London, in February, 1895. It was an immediate popular success.

Wednesday, June 17-21 at the Skirball Cultural Center in Los Angeles, CA

THEATRE ON THE COUCH But what would Freud say? After attending Edward Albee's At Home at the Zoo, directed by Rebecca Bayla Taichman, join members of the San Francisco Center for Psychoanalysis for exciting discussions that explore the psychological aspects of the play and address audience questions. June 19 at the American Conservatory Theater in San Francisco.

SAMUEL FRENCH OFF-OFF BROADWAY SHORT PLAY FESTIVAL announced that Playwrights Charles Busch, Jordan Harrison, Arthur Kopit, Leslie Lee and Billy Van Zandtwill Jury the 34th annual Short Play Festival July 14th – July 19th at the Peter Jay Sharp Theatre in NYC.

The week-long festival features a full program of 40 selected plays performed for the panel of judges. The 40 plays presented in the festival have been chosen from over 700 submissions by playwriting workshops, university theatre programs, and professional companies from across the country. Six winners are chosen to have their plays licensed and published by Samuel French, Inc.

The Off Off Broadway Festival started in 1975 and is New York City's oldest continuous short play festival. Samuel French Inc. was founded in 1830 with offices in New York City, Los Angeles and London, and retail bookstores in Hollywood and Studio City, making it the oldest and largest publisher and licensor of plays in the world.

THE WHITE ROSE a developmental reading with book and lyrics by Jenne Wason. Music by Alan Cancelino. Directed by Jonathan Stuart Cerullo; Music Direction by Adam Wiggins

The cast of The White Rose will feature Ashley Kate Adams, Drew Gehling, Nicholas Marinucci, William Ryall, AJ Shively, Carly Rose Sonenclar, Jarrod Spector and Allison Strong.

While everyone around them endured in silence, a group of university students chose to speak out against the atrocities happening in their country in Munich in 1942. Sophie Scholl, her brother Hans, and their friends started a resistance movement in a time when movements seemed impossible. Their words offered hope to a desperate nation, and in this new musical drama, their voices live on.

Each year, York's Developmental Reading Series presents between 30 to 40 readings and workshops of new musicals by emerging and established authors, all free of charge and open to the public. This developmental reading takes place Tuesday, June 16, 2009 at The York Theater Company in Saint Peter's Church, NYC.

SCOTTSDALE CENTER FOR THE PERFORMING ARTS in Scottsdale, Arizona is undergoing renovation. Kristin Chenoweth has been signed for the first performance in the new center on Saturday, October 24, 2009. On Thursday, June 25, the center is staging an exclusive preview and video presentation of the 2009-10 Season presented by Dr. Jeffrey N. Babcock, Vice President, Scottsdale Cultural Council and Artistic Director, Scottsdale Center for the Performing Arts. The event includes VIP "hard-hat" tour of the Virginia G. Piper Theater's renovation-in-progress with the warning that open-toed sandals, high heels and photography are not permitted on the renovation tour. Hard hats will be provided.

The Scottsdale Center for the Performing Arts opened in 1975 as part of the Scottsdale Civic Center complex designed by Arizona architect Bennie Gonzales. The City of Scottsdale, the owner of the facility, is funding the $14-million capital-improvement project through its general fund.

WOOLLY MAMMOTH THEATRE NEEDS 100 VOLUNTEERS Full Circle by Charles L. Mee, based on the Chinese legend, will be produced next season by Woolly Mammoth Theatre in Washington, DC. This piece is inspired by The Chalk Circle (Huilan ji) a Chinese zaju play by Li Qianfu, written in the Yuan Dynasty (1271-1368), which inspired The Chalk Circle by the German poet Klabund, which inspired Bertolt Brecht's Caucasian Chalk Circle, which inspired the Beijing opera production of Huilan ji by Hu Zhifeng. Got that?

Full Circle is written to be performed by 10 or 11 speakers and a host of non-speaking actors - thus Woolly Mammoth has issued an unusual call for volunteers.

The upcoming production will be directed by Michael Rohd of Sojourn Theatre in Portland OR. Woolly Mammoth stressed that; "It will be a unique production that will incorporate staging that takes place on stage and throughout the Woolly space."

"We need 100 volunteers to help us explore crowd traffic, pathways, and human volume in a variety of sites in the building in preparation for this production. Volunteers of all ages and mobility are encouraged to attend to help us out with logistics and to give you a taste of the creative process." The first call for Volunteers is Wednesday, June 17. Show up at the theatre.


HEAVY BAGGAGE


MARIAH CAREY arrived in London a few days ago with 23 suitcases, topping her previous record of 20 suitcases.

THE JONAS BROTHERS are taking along enough stuff - including all new costumes - to require 19 trucks for their current tour.



2009 SONGHALLl AWARDS GALA

Jon Bon Jovi holding microphone to capture Richie Sambora's guitar playing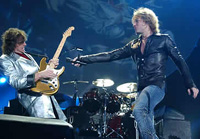 This year, the Songwriters Hall of Fame (SHOF) celebrates 40 years of recognizing the work and lives of enduring composers and lyricists who create popular music around the world. The 2009 Songwriters Hall of Fame Awards inductees will be Jon Bon Jovi and Richie Sambora; Felix Cavalieri and Eddie Brigati (The Young Rascals); Roger Cook and Roger Greenaway; Crosby, Stills & Nash; Galt MacDermot, James Rado and Gerome Ragni (deceased); and Stephen Schwartz. The induction and awards dinner is scheduled for Thursday, June 18 at the Marriott Marquis Hotel in New York City.

Presenters and/or performers include; Clint Black, Daughtry, Kara DioGuardi, Berry Gordy, Marilyn McCoo & Billy Davis, Jr., Joe Nichols, John Ondrasik, James Taylor, Ryan Tedder, Rob Thomas and Paul Williams.

Special awards include;

The Johnny Mercer Award will be presented to Brian Holland, Lamont Dozier and Eddie Holland of Holland-Dozier-Holland. The Towering Song this year is Moon River and the Towering Performance Award will be presented to Andy Williams. The Hal David Starlight Award will be presented to Jason Mraz. The Howie Richmond Hitmaker Award will be presented to Sir Tom Jones.

The Abe Olman Publisher Award will be presented to Maxyne Lang.

The Abe Olman Publisher Award, named after one of the Songwriters Hall of Fame's founders, goes to music publishers who have had a substantial number of songs that have become world-renowned and have furthered the careers and successes of many songwriters.



Maxyne Lang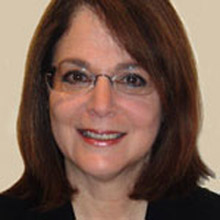 Maxyne Lang began her publishing career at the legendary Chappell/Intersong Music Group, where, during her 11-year tenure, she rose through the ranks to become Vice President of Special Products and Standards. Lang represented a broad spectrum of music, including the catalogues of Rod Stewart, the Bee Gees, Leiber and Stoller, Pomus and Shuman, George and Ira Gershwin, Cole Porter, and Rodgers and Hammerstein. Since 1988, Lang has served as President of Williamson Music and Williamson Music International, the U.S. and global publishing divisions, respectively, of The Rodgers & Hammerstein Organization. Founded in 1944 by legendary writing duo Richard Rodgers and Oscar Hammerstein II (both sons of men named William), Williamson Music (ASCAP) was created by and for writers.

Under Lang's leadership, Williamson Music remains committed to writers of today while celebrating standards by the giants of the past. Williamson Music's current and diverse successes include: In The Heights (2008 Tony Award, Best Musical), with a Tony Award winning score by Lin-Manuel Miranda; Legally Blonde, with a 2007 Tony Award nominated score by Laurence O'Keefe and Nell Benjamin; Grey Gardens, with a 2007 Tony Award nominated score by Michael Korie and Scott Frankel; The Light In The Piazza, with a 2005 Tony Award winning score by Adam Guettel; Avenue Q (2004 Tony Award, Best Musical), with a Tony Award winning score by Lopez & Marx; the 2008 Broadway musical [title of show] with a score by Jeff Bowen; and such long-running Off-Broadway musical hits as Altar Boyz (score by Gary Adler and Michael Patrick Walker), and I Love You, You're Perfect, Now Change (score by Joe DiPietro and Jimmy Roberts).



Tom Jones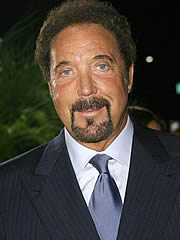 The Howie Richmond Hitmaker Award, named after one of SHOF's founders, is specifically tailored for artists or "star makers" in the music industry who have been responsible for a substantial number of hit songs for an extended period of time.

For more than five decades, swivel hips Tom Jones has remained an iconic figure and a living legend in music. Since the mid-'60s, Jones has sold over 100 million records. In 1965, Jones garnered the Grammy Award for Best New Artist.

Jones is also known for his live performances. In 1967, he played his first show in Las Vegas where he has honored engagements without interruption for 42 years. Tom Jones was awarded an Order of the British Empire (OBE) in 1999 and was made a Knight Bachelor for his service to music by Her Majesty Queen Elizabeth II at Buckingham Palace in London in March 2006.

The Gala, once again produced by Phil Ramone, begins with VIP cocktails followed by dinner and the show. Net proceeds from the event will go towards the Songwriters Hall of Fame programs.

SOUTH PACIFIC the Tony Award winning revival played its 500th performance at Lincoln Center's Vivian Beaumont Theater June 13. The production began previews March 1, 2008 and opened to critical acclaim April 3, 2008. The musical begins its national tour at San Francisco's Golden Gate Theatre in September.

EFREM ZIMBALIST, JR is now a special FBI Agent. On June 8, 2009, FBI Director Robert Mueller presented 90-year-old Zimbalist, with a plaque of an honorary special agent for his work on the TV series The F.B.I. Being named an honorary special agent is the FBI's highest civilian honor. The actor portrayed Inspector Lewis Erskine on the TV series The F.B.I. which ran on ABC from 1965 to 1974. FBI Director Robert Mueller praised Zimbalist as an icon who inspired a generation of FBI agents.

Zimbalist said he was humbled and called the agency America's "guardian."

A 1940 graduate of Yale University, Zimbalist began his career in stage as both actor and producer.

DEBBIE REYNOLDS currently making her New York City cabaret debut, starring at Cafe Carlyle, will be made an Honorary Friar June 15.

Friars Dean Freddie Roman will lead the ceremony, and theatre writer Ellis Nassour will interview the Academy Award and Tony nominated Reynolds about her life and work.

THE 2009 PELL AWARDS FOR EXCELLENCE IN THE ARTS

Kevin Spacey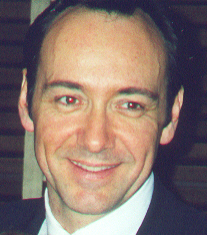 will honor Academy Award-winner Kevin Spacey, featuring a special tribute to the late Senator Claiborne Pell, who helped create the National Endowment for the Arts.

Together with business, political and social leaders, guests will mix and mingle, enjoy live music and fine cuisine under the stars at Mrs. Nuala Pell's oceanfront home in Newport, Rhode Island on June 20, 2009.

The event is co-chaired by Suzanne and Ira Magaziner.

Proceeds from ticket sales benefit Trinity Rep.

Artistic Director Curt Columbus said, "Kevin Spacey is a natural choice to receive this award because of his commitment to the live theater, the medium of film, and good works around the globe. He is a great director, actor, artistic director, and humanitarian. We are honored to have him as a part of this year's important celebration."



Senator Claiborne Pell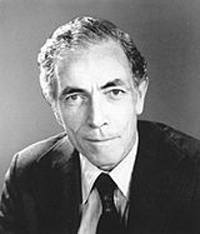 Now in their second decade, the Pell Awards were established to honor Senator Claiborne Pell and recognize artistic excellence in Rhode Island and on the national level. Pell, who passed away on January 1, worked throughout his career to support the arts and provide new opportunities for artists. He sponsored the landmark legislation that established the National Endowments for the Arts and Humanities in 1965, and chaired the Senate Education and Arts subcommittee. He also served a four-year term on the board of Trinity Repertory Company.

"Senator Claiborne Pell was a democrat in the truest sense of the word, in that he believed that everyone should have access to arts, education, and culture. While his presence will be sorely missed, we are honored to be able to keep his memory alive through the Pell Awards," stated Curt Columbus.

Mrs. Nuala Pell will accept the National Pell Award for Outstanding Leadership in the Arts on behalf of her husband.

Previous Pell Award honorees include Jason Robards, Arthur Miller, Beverly Sills, Stephen Sondheim, Toni Morrison, Robert Redford, Maurice Sendak, Jane Alexander, Ruby Dee and Ossie Davis, Chita Rivera, Olympia Dukakis, and Trinity Rep's resident acting company. Since the inception of the Pell Awards in 1997, there have been thirty-five New England and Rhode Island winners, including Peter Geisser, Consuelo Sherba, Roger Mandle, Howard Ben Tre, Dorothy Jungels, Chris Van Allsburg, Paula Vogel, Eugene Lee, David MacCaulay, Rose Weaver, Thomas Sgouros, Dave McKenna, Maria Spacagna, William Warner, Brian Dennehy, Barbara Meek, Ruth Frisch Dealy, Gretchen Dow Simpson, Dan Butterworth, Virginia Lynch, Toots Zynsky, George Kent, Bob Colonna and Duke Robillard.

BETTE MIDLER The Showgirl Must Go On extravaganza at the Caesars Palace Colosseum in Las Vegas, celebrated the 100th show last Sunday, June 7. That Sunday performance also kicked off a four-week run at the Caesars Palace Colosseum; Midler has another 100 shows left on her contract.

ENTERTAINERS HONORED

Sir Christopher Lee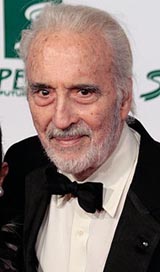 Queen Elizabeth's Birthday Honours list, announced June 13, revealed 984 names being rewarded with knighthoods, MBEs and other honors.

That list included the Scottish-born Tony Award winning actor, Alan Cumming, 44, who was appointed an OBE in the Diplomatic List for services to film, theatre and the arts and for his work as a gay rights advocate. Actor Christopher Lee, 87, best known for his parts in some of cinema's most memorable horror films, also received a knighthood for services to drama and charity. Celebrity hairdresser Vidal Sassoon who created an empire with his hair care products and salons was also honored.

The actress Anna Wing, who played EastEnders' Lou Beale, was appointed an MBE for services to drama and charity. The 94-year-old actress became a household name by playing the role from the soap's start in 1985 until 1988.

Peter Howson, an artist who famously depicted the singer Madonna in the nude, received an OBE for services to the visual arts. It was revealed that the official letter informing him of his honor had been sent to the wrong address and it took some time for it to finally reach the proper destination.

Sue Johnston, 65, who spent eight years on the television soap Brookside before playing the long-suffering Barbara Royle in the BBC sitcom The Royle Family, was appointed an OBE for services to drama and charity.

In broadcasting, Kay Mellor, the writer of a succession of British TV programs including Band Of Gold; Fat Friends; Playing The Field and Between The Sheets was appointed an OBE for services to drama, while Dotun Adebayo, the host of Up All Night on BBC Radio 5 Live, was appointed an MBE for services to the arts.

In descending order, the main honors are knighthoods, Commander of the Order of the British Empire, and Officer of the Order of the British Empire, OBE, and Member of the Order of the British Empire, or MBE.

Knights are addressed as "sir" or "dame," while recipients of CBEs, OBEs and MBEs have no title but can put the letters after their names.


CURTAIN DOWN


GUYS AND DOLLS the revival of the famous Frank Loesser, Abe Burrows and Jo Swerling musical close June 14. The production opened at the newly refurbished Nederlander Theatre March 1 after previews from Feb. 5 At closing, the show will have played 28 previews and 113 performances. A national tour is being planned for 2010-11.

REASONS TO BE PRETTY will play its final performance at Broadway's Lyceum Theatre June 14. Reasons To Be Pretty tranferred from Off-Broadway to Broadway on April 2. When it closes, the Tony nominated production will have played 106 performances on Broadway.



PHEDRE

Helen Mirren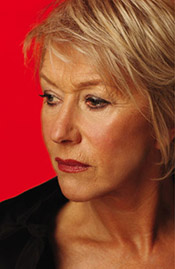 the 1677 classic tragedy based on a Greek myth by Jean Racine, in a version by the late Poet Laureat Ted Hughes, whose version of Phedre premiered just weeks before his death in 1998.

Directed by Nicholas Hytner. Starring Academy Award winner Helen Mirren in the title role, Margaret Tyzack, as Oenone, the nurse and confidante of Mirren's character, Dominic Cooper as the stepson Hippolytus, Stanley Townsend as Theseus, John Shrapnel as Theramene, Ruth Negga as the captive princess Aricia, Chipo Chung as Ismene, Wendy Morgan as Panope and John Shrapnel as Théramène.

The cast includes Portia Booroff, Alexander D'Andrea, Elizabeth Nestor, and Tristram Wymark.

Consumed by an uncontrollable passion for her young stepson Hippolytus (Dominic Cooper) and believing Theseus (Stanley Townsend) , her absent husband, to be dead, Phèdre confesses her darkest desires and enters the world of nightmare. When Theseus returns, alive and well, Phèdre, fearing exposure, accuses her stepson of rape. The result is carnage.

Look at me – see a woman in frenzy. I am in love.

This production is in such demand that tickets are limited to 4 per customer. Nobody is balking that the running time is 2 hours, without an intermission.

Phèdre presented by the National Theatre on June 25 will be broadcast live to cinema screens as part of NT Live and audiences are advised that there will be several cameras in the auditorium. The production team includes; Breathtaking set design by Bob Crowley. Lighting design by Paule Constable. Music by Adam Cork.

During the final preview performance last Wednesday, the production was halted after a theatregoer screamed "Is there a doctor in the house?" It seems a patron had become ill. Once that person was attended to, the production resumed.

Phèdre officially opened on June 11. The production will also tour to Epidaurus, Greece on July 10 & 11, and Washington DC, from September 17-26, 2009.

Mounted at the Lyttelton Theatre in London.

THE TIN PAN ALLEY RAG by Mark Saltzman. Stafford Arima directs. Music by Irving Berling and Scott Joplin

The production stars Michael Boatman as Scott Joplin and Michael Therriault as Irving Berlin. The cast also includes Randy Aaron, Derrick Cobey, Jenny Fellner, Rosena M. Hill, James Judy, Mark Ledbetter, Michael McCormick, Erick Pinnick, Tia Speros and Idara Victor.

In The Tin Pan Alley Rag, two of America's greatest composers, Irving Berlin and Scott Joplin, share an evening of fascinating stories and toe-tapping rhythms. The Tin Pan Alley Rag weaves their tales together into one syncopated rhythm, as two great icons discover they have more in common than they ever imagined.

The score includes such classic songs as Irving Berlin's I Love a Piano; Play a Simple Melody; Alexander's Ragtime Band and Scott Joplin's Maple Leaf Rag and The Entertainer, among others.

Choreography by Liza Gennaro and musical direction by Michael Patrick Walker. The design team includes Beowulf Boritt (sets), Jess Goldstein (costumes), Howell Binkley (lights) and Walter Trarbach (sound).

Presented by the Roundabout Theater at the Harold and Miriam Steinberg Center for Theatre (Laura Pels Theatre) in NYC. Previews began June 12. The official opening is July 14, 2009 with performances through September 6, 2009.

DEALER'S CHOICE by Patrick Marber the writer of the smash-hit films Notes on a Scandal and Closer comes a beautifully constructed play about risk, status, gambling, men and self-identity. Winner of the Best West End Play - Writer's Guild Awards and winner - Best Comedy - Evening Standard Awards.

Directed by Craig Ilott.

There's no such thing as easy money…

In a London restaurant after closing time, six men meet every week to play poker. When one of the regulars can't make it, the last dinner guest lurking in the restaurant volunteers to join the game, and as the stakes are raised, so too does the chance of boys becoming men, fathers becoming friends and losers just maybe getting a fresh start.

Starring John Leary, Ashley Lyons, Sam North, Christopher Stollery, David Terry and David Webb.

Set Design by Nicholas Dare. Lighting Designer is Matthew Marshall.

Previews begin June 17 with the official opening slated for June 19. Performances through July 4 at the Darlinghurst Theatre in Kings Cross NSW, Australia.

NEXT TO NORMAL has welcomed Kyle Dean Massey to its cast. Massey is temporarily replacing Aaron Tveit in the role of Gabe through Sept. 6. Tveit is taking a leave of absence from the Tony Award winning musical to star in the world premiere of the Scott Wittman-Marc Shaiman-Terrence McNally musical Catch Me If You Can, July 23-Aug. 16 at Seattle's 5th Avenue Theatre. Next To Normal can be enjoyed at the Booth Theatre in NYC.

UP By Bridget Carpenter. Directed by ensemble member Anna D. Shapiro. Featuring ensemble members Ian Barford and Martha Lavey, with Rachel Brosnahan, Jake Cohen, Tony Hernandez and Lauren Katz.

On the best day of his life, Walter Griffin built a flying machine that reached the clouds. Ever since, he's tried to recapture that authentic moment of feeling completely free. His son Mikey dreams of a different path to freedom: getting rich. And his wife Helen just dreams of a husband who will keep his feet on the ground. Up is a quirky, bittersweet tale about an American family trying to escape the boundaries of the everyday by harnessing the power of the imagination.

Enjoy complimentary pre-show summer snacks and have your picture taken for the company's lawn chair photo album - you could win a hot air balloon ride. Stay after the performance for a post show discussion with members of the Steppenwolf artistic staff.

In the Downstairs Theatre of Steppenwolf, Chicago. June 18, 2009 — August 23, 2009.




WHO'S WHERE


MICHAEL FEINSTEIN opens a two night stand Friday, June 19, at Symphony Hall in Boston.

THE PRIESTS that would be David Delargy, siblings Martin O'Hagan and Eugene O'Hagan who love their day jobs as Irish Catholic priests. The singing priests watched their album The Priests become the fastest selling debut by a classical act. Now they are using their vacation time for some singing gigs. They have shows scheduled for Glasgow, Manchester, Dublin, Belfast and London, from June 16-24.

JEFF DANIELS who received a Tony nomination for his starring role in God of Carnage uses his day off, June 22, to perform his cabaret show at City Winery, NYC.

KEYSHIA COLE on stage Thursday, June 18 at Nokia Theatre L.A. Live in Los Angeles. On Friday she performs at Humphrey's Concerts by the Bay in San Diego. Next Sunday, June 21, she is in Las Vegas at the Pearl Concert Theater.

DIANA KRALL has a busy week. On Tuesday, June 16, she is at Meyerhoff Symphony Hall in Baltimore, MD. Wednesday finds her at the Filene Center in Vienna, VA. On Friday she's in the spotlight at the Mann Center for the Performing Arts in Philadelphia. On Saturday the show is at the Borgata Hotel in Atlantic City.

COLDPLAY brings their tour to Canada this week. On Monday the show is at the MTS Centre in Winnipeg. Wednesday finds the group at the Pengrowth Saddledome in Calgary. On Thursday they are on stage at Rexall Place in Edmondton. On Saturday they open a two night gig at General Motors Place in Vancouver.

JONAS BROTHERS at Wembley Arena in London on Monday, June 15. On Friday the are part of the Today Show performing on Rockefeller Plaza. Saturday finds them at the New Dallas Cowboys Stadium in Arlington, TX.

NO DOUBT on stage at the Air Canada Centre in Toronto on Tuesday, June 16. On Wednesday they perform at the Bell Centre in Montreal. Friday finds them at the Darien Lake Performing Arts Center in Darien Center, NY. On Saturday they can be enjoyed at the Comcast Center in Mansfield, MA.

NEVILLE BROTHERS on Saturday, June 20, appearing at City Stages in Downtown Birmingham, AL.

CHRIS BOTTI performs at Jazz Aspen Snowmass on Friday, June 19, at the Benedict Music Tent in Aspen, CO. On Saturday he appears at the Konocti Harbor Resort in Kelseyville, CA.

DAVE MATTHEWS BAND takes to the stage at the Riverbend Music Center in Cincinnati on Tuesday, June 16. On Wednesday the show is at the Verizon Wireless Amphitheatre in Maryland Heights, MO. On Friday they opens a two nighter at the Post-Gazette, Pavilion in Burgettstown, PA.

SIMONE has taken on her mother Nina Simone's mantle, breathing new life into Nina's greatest hits while still nurturing her own extraordinary musicianship and talent Simone performs Thursday, June 18, at the Brooklyn Academy of Music, NY.




PIFFLE AND PROFUNDITIES


MICHELLE OBAMA last Tuesday took daughters Malia and Natasha, affectionately known as Sasha, to a performance of The Lion King, at the Lyceum Theatre in London's West End in celebration of Sasha's 8th birthday on Wednesday.. Police blocked off the roads surrounding the venue as the presidential cavalcade passed through. Surprised theatregoers on The Strand watched as the Obamas arrived, with the First Lady smiling at well-wishers from the window of her armored SUV. According to British reports, the family sat in a private box overlooking the stage. The Obama girls were reported to be disappointed that, for security reasons, they had to leave shortly before the end of the performance - making a discrete exit.

The birthday celebration also included a tour of the Harry Potter movie set.

Next Column: June 21, 2009
Copyright: June 14, 2009. All Rights Reserved. Reviews, Interviews, Commentary, Photographs or Graphics from any Broadway To Vegas (TM) columns may not be published, broadcast, rewritten, utilized as leads, or used in any manner without permission, compensation and/or credit.
Link to Main Page
---
Laura Deni


CLICK HERE FOR COMMENT SECTION