! >
Broadway To Vegas
 
 SHOW REVIEWS     CELEBRITY  INTERVIEWS     GOSSIP     NEWS 
| | |
| --- | --- |
| | |
Copyright: June 14, 1999
By: Laura Deni
CLICK HERE FOR COMMENT SECTION

JERRY HERMAN PENS VEGAS MUSICAL

Jerry Herman in charge of Miss Spectacular
What prolific composer Jerry Herman has been talking about for nine months, hotel mogul Steve Wynn finally officially announced to his stockholders - Jerry Herman is opening a show in Las Vegas. The composer of Hello Dolly!, Mame, La Cage, Mack and Mable and other Broadway shows has composed Miss Spectacular, an original musical, which will debut in a new 1,500-seat theater at the Mirage hotel.



Steve Wynn Photo By: Laura Deni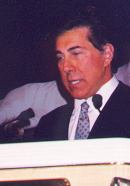 Hotel mogul Steve Wynn made the announcement at last week's annual Mirage Resorts, Inc. stockholders meeting, but failed to deliver any details about the production.

Six months ago an energized Herman had already completed five songs for the book written by Robert Freedman, who wrote the highly rated television special Cinderella.

Miss Spectacular is a love story centering around a girl from Indiana who arrives in Las Vegas as a finalist for "Miss Spectacular." Frank Galati, who directed Ragtime, does the same for Miss Spectacular.

Late last year people involved in this new Las Vegas show were promising that Miss Spectacular would bring to Las Vegas a "Broadway style musical with characters, a plot line and a big production."

At the stockholders meeting Wynn touted the importance of entertainment.

"The big migration on the Strip each night is determined by entertainment," Wynn told the stockholders. "Twenty percent of our audience comes from our rooms and the rest comes from other hotels. We're net receivers of bodies because of our entertainment."

"Entertainment is product driven, not price driven," he continued.

He termed Herman "a giant who is a legendary creator of great musicals who is in charge of overseeing production of Miss Spectacular." Herman was not present at the stockholder's meeting.

Wynn told the investors that "they" as stockholders own all production rights. "If the show goes on the road to New York or Chicago, we get the money."

Herman is no stranger to Las Vegas. When the not to be missed Jubilee production show at Bally's Hotel underwent a $6 million face lift, the first segment became a tribute to Jerry Herman, showcasing only music from his Broadway productions. Ironically Herman has termed Jubilee a "mindless revue."

Wynn joined forced with Hollywood agent Sandy Gallin to put the properties of Mirage Resorts at the cutting edge of Vegas entertainment. "We've engaged in a number of very serious discussions with people in the American and British Theater," Wynn informed the stockholders. "This activity is in full swing. "

"We have been discussing projects with every important director, set designer, lyricist and choreographer active in the past 10 or 15 years," Wynn emphasized.

Wynn provided a glowing account of entertainment in Las Vegas Mirage owned properties.

Mystere at Treasure Island and Siegfried and Roy at the Mirage Hotel draw 15,000 customers, while the Bellagio Hotel-based production show O pulls in another 18,000. Annual theatrical gross for the three properties totals $160,000 million and bragged Wynn, "a nice portion of that is profit."


MUSICAL HUNCHBACK AT VEGAS PARIS RESORT

A musical version of The Hunchback of Notre Dame is slated to be staged at the soon to open Paris Resort in Las Vegas. The Paris Resort is the place which features a - looks like a kid constructed it with an erector set - scaled down Eiffel Tower on their front lawn. Powers that be considered theme continuity as one of its decisive factors in bringing the massive Broadway style musical to Vegas.

Above the city of Paris, the great Cathedral of Notre Dame. Every day the Cathedral's bells ring out but few have seen the bell ringer who lives in the tower. The 1831 Victor Hugo classic novel centers around the love of Quasimoto the hunchback, for Esmeralda a street dancer, and draws a vivid picture of medieval Paris. It's a story of impossible love, although there is really no love story, since as the composer of the Vegas show said: "They all die before they can go to bed together."

The grade G Disney 1996 animated film was a semi-classic money maker spawning an urge to jump on the hump and ride Quasimoto to the bank.

There has been the rock musical version of Hunchback written and directed by C. Rainey Lewis and produced by the Seattle First Artists at King Cat Theatre had its world premiere on Oct. 28, 1998 and was skewered by the local critics.

The expensively produced musical, which runs nearly three hours, was likened to a "Vegas showroom." Perhaps it was the scene where nuns removed their habits to reveal filmy gowns over black bikini underwear - or - perchance it was the scene with male palace guards marching around in lacy body suits with peek-a-boo midriffs that immediately brought Vegas to mind.

Insisting that she remained true to the novel, the three-time star search winner wrote over 20 songs for the rock musical, some being reviewed as "catchy melodies."

At the other end of the spectrum is Disney, who took some interesting liberties with the book to make the content appealing for children. They have launched their own, almost three hour long stage version. The Disney Hunchback unveiled its world premiere in Germany in the Musical Theater at the Potsdamer Platz. Stella Ag, the German production and entertainment company, staging the musical.

Steve Barton, the original Raoul in the London and New York productions of Phantom, is cast to play Frollo. Drew Sarich is Quasimodo and Judy Weiss, who had a hit with Andrea Bocelli called Vivo perLei signed on as Esmeralda. Alan Menken composed nine new songs to augment the existing film tunes. Stephen Schwartz penned the lyrics, while James Lapine handled the libretto.

Neither of those will be the Quasimodo that limps forth to the Paris Resort in Las Vegas.

It's the highly touted Canadian production Notre dame de Paris, the brainchild of Quebec born lyricist Luc Plamondon that is set to take Vegas by storm.

The musical, with music by Richard Cocciante recently completed a six-month sold out engagement at a 3,800 seat theater in Paris. The production is now fine tuning in Canada with stops in Montreal, Ottawa, Quebec City and Toronto.

Gilles Maheu directs. The English language translation was completed by Will Jennings, who is the same guy that translated L'Amour existe encore into Celine Dion's Titanic chart topper My Heart Will Go On.

Vegas production meetings take place in Los Angeles with lyrics tweaked and about fifteen minutes snipped from the two-and-half-hour show. Expect this production to become a long running, mega Las Vegas hit.


HAVING HER FOR DESERT
Robin Leach:The TV host and cookbook author created his own dessert
Robin Leach, 57, former host of Lifestyles of the Rich and Famous displayed an unusual lifestyle of his own while dining at the Delmonico Steakhouse at The Venetian Hotel in Las Vegas. Apparently the guy who likes caviar wishes and champagne dreams arrived at the upscale restaurant with six female beauties. They were seated in a glass enclosed private dining room dubbed The Kitchen Table, where they ordered steak and potatoes.

Before the Emeril of New Orleans owned eatery could offer up their dessert cart, Leach began concocting his own. In complaints made, it is alleged that the women turned themselves into sundaes, all in full view of restaurant employees and customers

Leach reportedly stood and clapped his hands as the women deliberately walked to the window and revealed portions of their naked breasts and bare bottoms. One woman removed all of her clothes, hopped on top of the dining table, lay on her back spread eagle while another woman squirted whipped cream onto her body.

A second woman climbed on top of the naked woman and began licking the whipped cream. Leach, who remained fully clothed, - thank goodness for small favors and it probably is - poured chocolate on the buttocks of one woman. We don't know where the cherries and nuts went.

Instead of saying "I'll have what she's having," many customers complained the food orgy gave them indigestion and walked out. The employees didn't appreciate the double dip dessert, either. Besides, neither Leach nor his companions are employed as food servers and had no business helping themselves.

Problems for the restaurant involve their business license, a requirement to stay open. The Clark County business code forbids sexual activity and nudity in a restaurant that has a liquor license. Disgusted and offended workers complained and the incident is being investigated.


SCOTT WOLF'S CATHARTIC SIDE MAN
Scott Wolf: From Party of Five to Side Man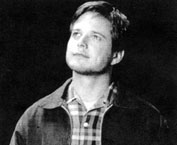 Scott Wolf, the hunk from Party of Five has taken to the Broadway stage in the Tony winning Side Man. I caught Scott's opening performance in the production which garnered a Tony for writer Warren Leight and actor Frank Wood, who is making his Broadway debut in this play, in the role of Gene which he originated from the workshop at West Bank Cafe to this Broadway production.

Scott steps into the role of Clifford, the son trying to understand his alcoholic, bitter mother and his father, a big band era jazz musician who couldn't cope when the tempo changed.

Scott as Clifford acts as narrator, the tether line that enables the audience not to get lost in the flash back structure of a weak plot line memory play.

The play is structurally well written, with playwright Leight being lauded and applauded as much for being an American as for his ability to script a scene. Leight is the only American playwright to have a show on Broadway. He's got a great future and just when you were wondering where the next great playwright was coming from, theater goers have discovered one was in their back yard all along.

Anxious to capitalize that America has actually produced Leight, some desperate attempts to make this play more than it is, have tried to elevate Side Man into a social chronicle of American music and the musicians of the big band era. That is a sham and a crock.

What can be faulted is the lack of character development, the broad brush strokes that imply the doped up, dysfunctional four musicians whose lives we see decaying on stage is indicative of all musicians. The play lacks emotional depth that gives the audience any glimpse into either the big band era, musicians or even the life of a drug addict. Too many references, and no character is fully developed. The audience can't buy into the emotion.

The Days of Wine and Roses offered great insight into the problems of alcoholism. The Glenn Miller Story and The Benny Goodman Story captured dedicated musicians looking for "a sound." The Man With a Golden Arm, with a score by Elmer Bernstein, earned Frank Sinatra an Oscar nomination for his portrayal of Frankie Machine, a drummer that shoots heroin. The film is a classic. The audience feels. You can't watch the picture without being moved. The same cannot be said for Side Man

Leight has honed in on four guys who apparently weren't all that musically great to begin with. They don't appear hard working or even driven by music. They aren't jamming all night, looking for a sound, or playing gigs they don't want because they have to be making music. It's a wonder the horn blowers got a gig at all. They are shallow bums and proud of it. They think the welfare system should do more. Being on the dole is passed down father to son. When Scott Wolf's character collects his first unemployment check, the event is celebrated.

These musical miscreants are not indicative of musicians of any era. Attempts to give a rationalization to drugs, booze and irresponsible behavior, spotlighted in guys who talk music more than they play, does a disservice to both audiences and musicians.

Shooting heroin into your eyeball is not a casual encounter with dope, although Kevin Geer's performance as the junkie Jonsey is commendable. It's explained that Gene is so strung out that every time he comes off the road he has to stay in a hotel room for two weeks before he goes home to his parents.

There were a lot of musicians that were drunks and more that loved their music more than any woman, but Side Man neither provokes understanding, sympathy nor appreciation for a bunch of near-do-wells who happened to own instruments, nor historically documents anything.

Even the few purposeful lines are thrown away.

There is a subculture of musicians who turned "legit" - insurance agents, car salesman, - you did business with the guy you sat next to in the band. Post cards arrive from the musicians who left New York for Las Vegas. The messages insist Las Vegas is a land of never ending sheet music and the pay is golden. There was a time when that was true. "Las Vegas is a mirage," said Wood as musician Gene. He promises to put down the horn if he is ever unemployed on a Saturday night. When that happens, he can't. That is given a total of three lines - one line in the one scene and two lines in another.



Edie Falco steals the show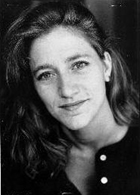 The one character who can evoke some audience empathy is Edie Falco as Terry - the white trash, four letter proffer who can almost play the flute. Impressed with any musician and desperately needing both attention and love, she alternately caters to Gene (Frank Wood) then periodically threatens to abort his baby. If Wood becomes her husband it's alcohol that becomes her lover. She changes from a young, star struck girl into a bitter old woman consumed by hated. It is the only character in the play that has depth.

New Jersey native Scott Wolf, who earned a theater-arts degree from George Washington University, was obviously brought on board by producers, in an attempt to capitalize on his celebrity to sell tickets. He does a fine job. I didn't enjoy the play anymore when I saw it with Christian Slater, who also brought in paying customers. What is sad is that Wolf has said he accepted the role because he came from a dysfunctional family and was using this role as his own personal attempt for catharsis. We hope this role has brought him that personal closure.



Broadway To Vegas is supported through advertising and donations. Priority consideration is given to interview suggestions, news, press releases, etc from paid supporters. However, no paid supporters control, alter, edit, or in any way manipulate the content of this site. Your donation is appreciated. We accept PAYPAL. Thank you for your interest.


NIGHT MUST FALL

Before the curtain does fall on this production we felt it only fair to revisit what had first been viewed during a period of production chaos. Major cast changes took place days before the curtain rose on a delayed opening.



MATTHEW BRODERICK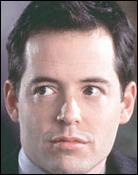 Some things are better the second time around, and so it is with this production.

If nothing is black or white and everything is a shade of gray, then set designer James Noon and costumes designer Jess Goldstein have brilliantly conveyed an emotional rainbow with their use of only shades of gray.

Night Must Fall was written by Ellyn Williams (1905-87) a Welsh actor who was a noted author, playwright, and director who acted in many of his own plays. Fascinated by abnormal psychology Night Must Fall was his first acclaimed hit as a playwright and was a Broadway smash in 1934.

Broderick is cast as Danny the bellhop, who enjoys killing people. He has a sealed hatbox, which may contain a head.

In this revival director John Tillinger has kept the play in the 30s but changed the dialect of Broderick's character - Dan - from a Welsh accent to an Irish brogue. When I first saw the play, I thought Broderick wasn't cunning, maniacal enough. The second time out I changed my mind. Broderick is charming, cute, and ingratiating. If his character wasn't all of that he would never have been able to charm his way into the household. No purpose in tipping off the ending - but when Dan suddenly grabs and kisses Olivia Grayer, played by J. Smith-Cameron and then flips a lighted cigarette - he's maniacal! You have until June 27 to enjoy this show. Broderick had extended his stay in the play, but the actor has other commitments. Broderick heads to upstate New York with Laura Linney, Gaby Hoffman and Mark Ruffalo to film the movie You Can Count On Me. Kenneth Lonergan directs his own screenplay.


DONNA REED FESTIVAL THIS WEEK

The 14th Annual Donna Reed Festival in her hometown of Denison, Iowa is a week long event of celebrity sightings and scholarship presentations.



Donna Reed

The Donna Reed Foundation was formed in 1987 by members of Reed's hometown community of Denison, her husband, Grover Asmus, and actresses Shelley Fabares and Norma Connolly. Based in Denison, the Donna Reed Foundation awards scholarships, presents workshops taught by outstanding industry professionals and promotes stage concerts. The Foundation is also working towards a performing arts center, a full film archive, a museum and professional studio facilities dedicated to developing new artists.

During the festival five $4,000 scholarships, which may be used at any accredited university or approved program of study, will be awarded in five divisions; acting, musical theater, vocal, instrumental and dance.



Shelley Fabares

More than 70 performing-arts workshops taught by show biz experts are being held. Celebrities participating include Alan Young, the human star of Mr. Ed; actress Kathleen Freeman; and Star Trek director Michael Rhodes. The week long event includes lessons, celebrity appearances and movie screening. More than 500 students from around the country are attending.

On Monday, June 14, Shelley Fabares, the Foundation President and the Festival's Roving Ambassador, actor Paul Petersen will reminisce about starring together as Donna's television children on The Donna Reed Show.

This year's festival honors the 45th anniversary of Reed's 1954 Best Actress Academy Award for From Here To Eternity. The movie opened nationwide on August 17, 1953, grossing more than $80 million in its first year. The box office demand was so enormous that New York's Capitol Theater remained open 24 hours a day to accommodate the crowds. The movie garnered seven Oscars.
Reed passed away in 1986 after appearing in more than 40 feature films. Her Oscar resides in the McHenry House Museum in Denison. The festival concludes of June 19.


CURTAIN DOWN

YOU'RE A GOOD MAN CHARLIE BROWN closed Sunday after 150 performances. Last week the production won two Tony awards - for performers Kristin Chenoweth and Roger Bart.

THE CIVIL WAR closed Sunday after 61 performances. The musical by Frank Wildhorn begins a national tour in January. First stop is Cincinnati.

NOT ABOUT NIGHTINGALES closed Sunday, two weeks early after 124 performances.

THE LONESOME WEST shuttered Sunday after 55 performances.

THE SOUND OF MUSIC ends a successful year long run on June 27 with star Richard Chamberlain heading up a year long national tour which debuts August in Minneapolis.



CRAZY FOR YOU June 15-20 Fox Theatre, Atlanta.

THE WORLD CLASS MUSIC FESTIVAL swings into Birmingham Alabama June 18-20, featuring more than 270 national, regional and local performers on 15 stages.

THE WIZARD OF OZ starring Mickey Rooney, Jo Anne Worley and Jessica Grove June 16-July 4 at the Pantages Theatre in Los Angeles. The production then moves to the Segerstrom Hall, Orange County Performing Arts Center July 7-18.

AL PACINO opens June 19 at the Mark Taper Forum, Los Angeles in Eugene O'Neill's Hughie. The engagement which runs through July 25 is sold out, but a limited number of $12 public rush tickets are being offered up through a daily lottery system. Nobody permitted to show up before 5:30 p.m. for the 6 p.m. drawings for evening tickets or noon for the 12:30 p.m. drawings for matinees. No drawings on June 27, Saturday evenings, Sunday matinees or after July 18.


WHO'S WHERE

WARREN LEIGHT'S new effort The Glimmer Brothers will have Scott Ellis directing Friends David Schwimmer.

HERBIE HANCOCK & WAYNE SHORTER, ROY HARGROVE QUINTET Carnegie Hall as part of the JVC Jazz Festival. June 18. Cassandra Wilson and Shirley Horn Trio with Miles in Mind follow June 19. "Take Five," An Evening With Dave Brubeck with special guest James Moody is June. 20.

PAUL ANKA at the Mirage Hotel, Las Vegas June 17-20 and 24-26.

LORNA DALLAS whose album The Girl That I Knew, the music of Novello and Kern, has been named Record of the Year by BBC Music Magazine, performs in a Cole Porter Celebration with Peter Howard, Howard McGillin and Lee Davis. Westhampton Beach Performing Arts Center, Westhampton, N.Y. June 19.

WOODY HARRELSON stars as Bill Starbuck in a revival of N. Richard Nash's The Rainman at the Brooks Atkinson Theatre beginning in October. Jayne Atkinson co-stars. Scott Ellis directs. The play was produced on Broadway in 1954.

JEFF FOXWORTHY rejected by Star Search six times for being too southern is the greatest-selling comedy recording artist in history. His latest CD, Totally Committed, launched in conjunction with an HBO special of same title, received a 1999 Grammy nomination. His previous three comedy recordings, have sold over 8 million copies, surpassing all comedy recording sales, including those of his idol, Bill Cosby. Foxworthy will be saying "Greetin's Y'all at John Ascuaga's Nugget, Sparks, Nevada, June 18-19.


THIS AND THAT

PAMELA ANDERSON LEE who admits that she puts her make up on with a trowel showed off her war paint last Saturday in Las Vegas.



PAMELA ANDERSON LEE:USING HER OWN PRODUCT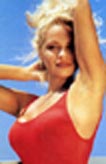 The star of V.I.P showed up at Cleopatra's Barge at Caesars Palace, making her entrance on an ornate throne carried by Roman Centurions. All the fuss is over "Pamela" her new line of animal cruelty-free cosmetics. She's joined forced with PETA to showcase heart-shaped make up kits which include: Sheer Heaven and Pink Angel Lip Colors, Baby's Breath Cheek Gel, Sequin Glitter Eye Pencil, Backlash Eyelash Goo and Pamela Pink Nail Paint.Says Pamela: "If you're still using cosmetics tested on animals, it's time for a make over."

ALL GUITAR MARCHING BAND with Chet Atkins as the "strum major" is being put together by the Country Music Hall of Fame. Strumming and picking You Are My Sunshine and Wildwood Flower. The first and perhaps last of it's kind will three chord it as they hoof on over to the Hall of Fame ground breaking June 17, Nashville. All participants receive a T-shirt

LES PAUL who performs with his trio every Monday at the Iridium restaurant nightclub, NYC will be feted June 14 on his 84th birthday. No word on whether the guitar legend has been asked to be a part of the above mentioned marching band.

TOM WOPAT who co-stars with Bernadette Peters in Annie Get Your Gun, told me that while most performers go on stage with an empty stomach and then eat after the show, he eats a huge meal right before the evening performance. According to Wopat, "It doesn't bother me because I don't tap dance."


Mention BROADWAY TO VEGAS for Special Consideration
Call (800) 942-9027









Next Column: June 21, 1999
Copyright: June 14, 1999. All Rights Reserved. Reviews, Interviews, Commentary, Graphics or Photographs from any Broadway To Vegas (TM) columns may not be published, broadcast, rewritten, utilized as leads, or used in any manner without permission, compensation and/or credit.
Link to Main Page
---
Laura Deni
broadway@broadwaytovegas.com

For the snail mail address, please E-mail your request.
CLICK HERE FOR COMMENT SECTION