! >
Broadway To Vegas
  
 SHOW REVIEWS CELEBRITY INTERVIEWS GOSSIP NEWS

| | |
| --- | --- |
| | |
ALICIA KEYS MAKES HISTORY - - PAUL McCARTNEY'S BIRTHDAY - - AVENUE Q'S ROUGH ROAD TO LAS VEGAS - - SUNDANCE & THE POWER OF AMERICAN SONG - - MARIA DE BUENOS AIRES - - HAROLD PRINCE CALLS PRESS CONFERENCE - - JOURNEY BY FOURPLAY - - WIT AND WISDOM OF IRA GERSHWIN - - DONATE . . . Scroll Down


AVENUE Q MOVES TO LAS VEGAS


When hotel mogul Steve Wynn announced that the triple Tony award winning, quirky musical Avenue Q was booked for an open ended run in Las Vegas, the road to Sin City became littered with accusations and hard feelings.

Avenue Q became caught in the cross hairs of failure and success.

The intelligently inventive musical, about job challenged college grads living on low rent Avenue Q, moving to high rent Wynn Las Vegas - a $2.5-billion, 235-acre resort, opening next April with 2,700 rooms, 110,000 square foot casino, eighteen restaurants, 18-hole golf course and a full service Ferrari and Maserati dealership at the property - is a decision that stunned and disappointed venues hoping for a tour.

The low budget production beat out Wicked for the Tony as Best Musical and then deserted the traditional Broadway road tour for the Las Vegas one stop. It is expected to open around Labor Day 2005 in a new $40-million theater built especially for the show - a theater with 800 seats on the floor and 400 in the balocny. Wynn promises that no seat will be more than than 25 feet from the stage, which is a plus for this production.

In addition to Avenue Q the resort will have Le Reve,a lavish, multimedia spectacle in a 2,100-seat theater, developed by Franco Dragone, a director of Cirque du Soleil shows.



Steve Wynn. Photo by Laura Deni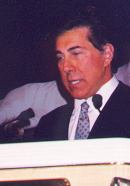 At issue is whether, in an effort to romance Tony voters, the Q producers had signed a deal with Wynn while still promising Tony voters they'd tour.

Like all nominated shows, Avenue Q launched a campaign to attract the attention of Tony voters. That campaign which - after the fact - seemed deceptive, wasn't when it was launched.

A producer's obligation is to turn a profit - virtually a long term effort if not a goal bordering on flight of fancy.

Negotiating a Vegas contract with Steve Wynn is mercurial at best. Remember all of the hype about Jerry Herman's Miss Spectacular being staged by Wynn in Las Vegas? Broadway To Vegas insisted that it would never happen, even though Wynn declared at a stockholders meeting it would. (See Broadway To Vegas Column of July 14, 1999 and July 21, 2002)

When Avenue Q producers Robyn Goodman, Kevin McCollum and Jeffrey Seller told a crowd of road show venue operators, attending their New York City pizza party May 12th at John's Pizzeria; "We're coming to your city," they thought they were.

While Wynn had been in to see the show and put out a few interest feelers, no contracts to either tour or come to Vegas had been signed.

Nor did producers of Avenue Q think they had a chance of winning the Tony for Best Musical. Virtually everyone thought Wicked had that one in the bag.

On June 3rd, less than 72 hours before the airing of the Tony Awards, the deal with Wynn was finalized.

Had Avenue Q announced on June 4th they had signed a multi-million dollar contract to bring the show to Las Vegas, the headlines on June 5th would have accused the low budget production of trying to detract from the Tony Awards themselves and Wicked in particular - again, the show which everyone thought was going to capture the Tony.



Rod and John Tartaglia. Photo by Carol Rosegg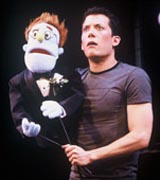 With an assumption that Wicked was going to seize the Tony, a more reasonable announcement would have been made after the show - we may have lost the Tony but we won Las Vegas.

Nobody was more surprised at the Avenue Q Best Musical Tony win than the producers of Avenue Q.

Show business, which isn't fair and many times not even decent to their own, took a shine to the clever musical and then resented it when the upstart grabbed the best deal that came along.

Of course they signed with Steve Wynn. Why wouldn't they?

Wynn is a man who generally gets what he wants. To kick Wynn's offer in the face, opting for a grueling road tour, predicated upon venue interest, weighed against the acceptance of Bible belt and mid-America to puppets that are sexually activet and vulgar, would seem to ignore the best interest of the show's investors.



Kate Monster and Stephanie D'Abruzzo. Photo by Carol Rosegg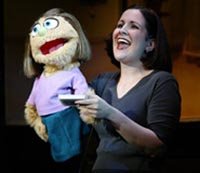 Within hours of Wynn announcing the Vegas deal, an E-mail satirical song from disgruntled tour interests starting arriving in computer message boxes saying;

"Your town is barred/ To Sin City we'll go/ . . . And from our big Vegas stay/ We'll have lots of dough."

We can only hope so. If they sold out cheap then they have only themselves to blame. Industry insiders say Wynn bought the production at between $5 and $7 million.

Hurt feelings will heal as venues book other shows which will sell tickets and please fans. Avenue Q will find the welcome mat in Las Vegas.

Both the show and the subsequent CD are delightful. (See Broadway To Vegas column of September 28, 2003)

Las Vegas has had numerous entertainment incarnations. Slowing moving into Vegas territory have been Broadway Shows - Mamma Mia! and Blue Man Group, with We Will Rock You forsaking Broadway to open at the Paris-Las Vegas. The addition of sassy Avenue Q will be a perfect balance for a town that is swinging back to the adult themed escape that made it famous in the first place.

As for the Tony voting crowd being ticked off - If voting the Tony category of Best Musical is based upon the show ignoring Las Vegas and going on tour, then the category needs to be re-titled Best Musical with a Contracted Road Tour.



Broadway To Vegas is supported through advertising and donations. Priority consideration is given to interview suggestions, news, press releases, etc from paid supporters. However, no paid supporters control, alter, edit, or in any way manipulate the content of this site. Your donation is appreciated. We accept PAYPAL. Thank you for your interest.


THE MUSIC GOES ROUND AND ROUND


JOURNEY

The men of Fourplay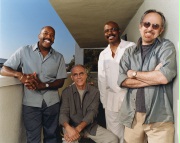 by the group Fourplay. If you told anyone who writes about music that they could use only one word to describe Journey, the latest Bluebird Jazz/RCA album by Fourplay - a good bet is that the word you'd see most often is - smooth.

Smooth and cool, well balanced and beautifully blended, bordering on improvisational jazz with a dash of pop and R&B - in other words music that offends nobody and pleases every ear.

Fouplay is comprised of keyboardist Bob James, bassist/vocalist Nathan East, guitarist Larry Carlton, and drummer Harvey Mason -- each a major studio artist in his own right.

Journey is also the band's first all-digital album, a milestone for a group known for its embrace of analog sound. Journey includes nine Fourplay originals and one cover of Sting's Fields of Gold.

Nathan East lends his vocal talents to Play Around It and the title track Journey, which also features Bikki Johnson on background vocals and shaker.

Recorded at Firehouse Recording and produced by longtime Fourplay producer, Don Murray. Great addition to a musical library.


SPREADING THE WORD


THE WIT & WISDOM OF IRA GERSHWIN

Rob Fisher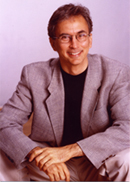 with Tony and Pulitzer Prize winner Sheldon Harnick as narrator is part of the Lyrics & Lyricists 2004 season at the 92nd St. Y in Manhattan.

Gershwin aficionado Rob Fisher and his guests examine the lyrics Ira Gershwin wrote with his brother George and with subsequent collaborators such as Burton Lane and Kurt Weill.

Written by David Ives with vocals provided by Rebecca Luker, Darius de Haas, and David Garrison. Chris Fenwick, piano and Dick Sarpola, bass. The program began yesterday, June 12, continuing today and tomorrow, June 14, at the 92nd Street Y, NYC.

HAROLD PRINCE has called a press conference. He'll be joined by Sally Mayes, New York Library President Paul Le Clerc, Jacqueline Z. Davis, Barbara G. and Lawrence A. Fleischman who is executive director at the The New York Public Library for the Performing Arts, in what they promise will be a major announcement of interest to the musical theater community. Tuesday at the Bruno Walker Auditorium in NYC.

THE POWER OF AMERICAN POPULAR SONG presented by The Sundance Theatre Program and the Johnny Mercer Foundation. This is a weekend designed for professional musical theatre and film actors, and songwriters to focus on the interpretation and personalization of the American songbook. Running August 4-7 at the Sundance Village, UT, the weekend is centered around master classes conducted by award-winning performers, composers, and directors. Panel discussions and performances round out the weekend's programming slate.

Through an open application process, 30 professional performers will be selected to participate in the weekend's events. Master classes will be taught by Grammy Award winning singer and songwriters Melissa Manchester and Jimmy Webb; Tony Award-winning and legendary Broadway composer Charles Strouse, musical director and performer Billy Stritch; legendary singer and recording artist Margaret Whiting; musical director Don Rebic, and writer/director Jack Wrangler.

Interested professionals should apply no later than June 30. Applications and more information about the program are available on the Sundance Institute website.

DESIGN FOR LIVING by Noel Coward will air Saturday, June 19 from 10 pm - midnight on 89.3 KPCC, as part of The Play's the Thing series produced by LA Theaterworks.

Design For Living stars Claire Forlani, Hamish Linkletter, and Douglas Weston.

Written in 1932, this stylish and sensuous, cross Atlantic menage a trois comedy challenged conventional sexual mores, and even by today's standards is considered controversial in its frank and funny take on sex.

Yesterday, Saturday, June 12, The Play's the Thing aired Pretty Fire, written by and starring Charlayne Woodard. In five autobiographical vignettes, Woodard tells the moving and personal tale of her African American family through three generations of love, struggle, and triumph. A one-woman tour-de-force that is a celebration of life and the winner of the Los Angeles Drama Critics Circle Award.

The broadcast includes a supplemental piece titled 1955 by Alice Walker, performed by Whoopi Goldberg as part of a BBC coproduction.

The Play's the Thing is streamed live on the KPCC website for one week following each broadcast so that people worldwide can hear the show.



YANKEE DOODLE DANDY! the brand new musical about George M. Cohan - the man who invented the Broadway musical - is written and co-directed by David Armstrong, producing artistic director of Seattle's 5th Avenue Theatre, and co-produced by Dallas Summer Musicals.

Yankee Doodle Dandy! includes the music of George M. Cohan, with new music and lyrics by Albert Evans. Songs include: Give My Regards to Broadway, Over There, You're a Grand Old Flag and Yankee Doodle Dandy.

This new stage musical is set against the colorful backdrop of "Old Broadway," and highlights the brash, colorful, cocky, charismatic, and uncompromising character who brought about a new style of Broadway musicals in the first quarter of the 20th century.

From the hard-knock days of his family's adventures on the vaudeville circuit to his reign as the star-spangled "King of Broadway," Cohan's life was a roller coaster ride of professional highs and lows and personal triumphs and heartbreak. His work touched the lives of generations and inspired a new and thoroughly American art form. Like the 1942 film version of Yankee Doodle Dandy starring James Cagney, this stage production also includes huge toe-tapping production numbers based on Cohan's actual stagings. But the story of Cohan's life and his impact on musical theatre is told in a substantially different way than the film.

The cast includes Sean Martin Hingston as the young George M. Cohan. Richard Sanders plays the elder George and is best remembered for his role as Les Nessman on the TV hit show WKRP in Cincinnati. Judy Blazer performs in dual roles: Ethel, Cohan's first wife, and Georgette, Cohan's daughter.

Jason Schuchman plays George's best friend and business partner Sam Harris and Sean G. Griffin plays the doorman Old Lou. Dirk Lumbard and Cynthia Ferrer play Cohan's parents Jerry and Nellie, and Danette Holden plays Cohan's sister Josie. Rounding out the ensemble are: Greg Michael Allen, Kathryn Arnett, Alan Boswell, Adam Brozowski, Kari Lee Cartwright, Tony Curry, Taryn Darr, Marc dela Cruz, David Drummond, Brigitte Graf, Brittany Jamieson, Joey Matta, Jayme McDaniel, Amanda Paulson, John Scott, Jesse Stoddard, Pamela Turpen and Kathryn Van Meter.

Spectacular new scenery and costumes have been designed for this brand new musical. David Armstrong and Jamie Rocco will co-direct and choreograph the show. Richard Gray is the musical director, Ian Eisendrath is the associate musical director and Bruce Monroe is the conductor. Tom Sturge is the lighting designer, Kurt Fischer is the sound designer, James Wolk is the set designer, Greg Poplyk is the costume designer, and Mary Pyanowski is the hair/make-up designer.

Dallas Summer Musicals at Music Hall at Fair Park, June 15 through June 27. Dallas, Texas.

MARIA DE BUENOS AIRES the only opera by tango composer Astor Piazzolla, featuring the heraled U.S. debut of Noelia Moncada, who brings authentic Argentinian passion to the Long Beach stage in this Tango Operita. This marks the first time she has sung, danced and acted in one performance.

Also stars tenor Richard Miro and Tonyo Melendez. Conducted by Andreas Mitisek. Director/Designer John Lloyd Davies, who is making his American debut with this production. Choreographer is Nicola Bowie.

Sung in Spanish with English supertitles.

A modern Argentinean classic with the essence of cabaret and tango, a dance-inspired dream with its feet firmly on the streets of Buoenos Aires. The exotic story of Maria's life is part a passionate dance celebration, part a spiritual pilgrimage. This mysterious and uplifting tale thrills to the pulse of Piazzolla's tangos - the rhythm of Latin life.

Saturday June 19 at the Carpenter Performing Arts Center in Long Beach, CA.

110 IN THE SHADE Music by Harvey Schmidt. Lyrics by Tom Jones. Book by N. Richard Nash. Directed by David Lee.

In the middle of a heat wave in the 1930 ís, when everyone is longing for rain, or a breeze, Lizzie meets a dashing rainmaker and her life is forever changed. Based on the famous play and movie, The Rainmaker, this deeply moving musical features a sweeping and passionate score by the team that gave us The Fantasticks and I Do, I Do. One of the most beautiful and memorable musicals ever written, this sometimes overlooked gem is a tale of faith and the miracles of life and love.

June 18-July 25 at the Pasenda Playhouse in Pasadena, CA.

HOW TO BUILD A BETTER TULIP a world premiere by Mark Giesser starring Lois Nettleton. The cast includes; Paul Amodeo, Tessa Auberjonis, Prentiss Benjamin and Mitchell Greenberg.

Loosely adapted from Alexandre Dumas' classic novel, The Black Tulip, the comedy explores what happens when two rival plant breeders compete to create the world's first black tulip, egged on by meddling ancestors and spies seeking weapons of mass destruction hidden behind the petunias.

Previews begin June 18th opening June 30th at the Acorn Theatre, NYC.

THE ADIRONDACK THEATRE FESTIVAL will launch its 10th season with Elaine Stritch performing her one-woman show At Liberty June 17-19.

Written by Elaine Stritch and John Lahr. Musical Direction by Rob Bowman.

June 17, 8PM performance includes post-show reception behind the Charles R.Wood Theater. June 18 & 19, 8pm performances include post-show champagne toast. Glen Falls, N.Y.

THE SILENT WOMAN by Richard Strauss. Comic Opera Conductor: Andreas Mitisek. Director: Isabel Milenski. Set Design: John Collins. Costume design: Sarah Brown.

Sung in English with English supertitles.

"This is my comic opera, a comedy idea to set beside the best of its kind," wrote Richard Strauss about The Silent Woman his only comedy.

Without question a Strauss masterpiece, it's the story of an old bachelor who impetuously enters into a relationship with a younger woman and is made to suffer for his impudence. Stefan Zweig's witty libretto inspired a score illuminated by the mellow wisdom and humor of the experienced heart.

The opera stars; Rod Nelman, Susan Nicely, Michael Chioldi. The comedians include; Ryan MacPherson, Anna Vikre, Shaherezade Mowlavi, Cynthia Jansen, Jeff Morrissey, Wojciech Bukaslski and Nathan Stark.

June 13 and June 19. Long Beach Opera in Long Beach, CA.

ROUGH CROSSING

Photo callage by David Rodgers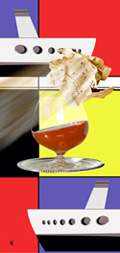 Written by Tom Stoppard. Directed by Daniel Gerroll.

The production stars; Dylan Baker, Christine Ebersole, Edward Hibbert, Richard Kind and Tony Roberts.

Welcome aboard the S.S. Italian Castle to New York, where two world-famous playwrights are Broadway-bound with their latest triumph...if only they can finish the play!

Mid-Atlantic misadventures abound in this screwball farce guaranteed to have audiences drowning in laughter.

With music by Andre Previn.

Tuesday, June 15, - Sunday, July 4 at Bay Street Theatre in on Long Wharf, in Sag Harbor, NY.


| | | |
| --- | --- | --- |
| | | |
WHO'S WHERE


ALICIA KEYS makes history on June 16, when she becomes the first pop artist to give a concert in the 18th-century Royal Theater in Copenhagen. The rhythm-and-blues singer will perform in the 1,330-seat Old Stage, the theater's main auditorium. In less than 16 minutes, all tickets were sold.

PAUL McCARTNEY will spend his 62nd birthday on June 18 in Russia, where he is scheduled to play a concert on June 20 in Palace Square in St. Petersburg. Seats only hold 10,000. Another 50,000 will be permitted to stand.

K D LANG in the spotlight Tuesday at the Jubilee Auditorium in Edmonton, Alberta. On Thursday she opens a two nighter at Roy Thomson Hall in Toronto and next Saturday performance at the JVC Jazz Festival in New York City.

BARBARA COOK has added 12 performances to the current engagement in New York's Lincoln Center. In this intimate and exhilarating evening, Cook shares her favorite songs and insider's stories from the Golden Years of Broadway. Now in performances through June 26 in the Newhouse Theatre, the performer has added performances July 12 - 24.

DAVE MATTHEWS BAND on stage Thursday, June 17, at the UMB Bank Pavilion in Maryland Heights, Mo. On Friday the gang stars at the Tweeter Center in Tinley Park, IL.

FLEETWOOD MAC at the Smirnoff Music Centre in Dallas on June 16th. The following night they are at the C.W. Mitchell Pavilion in The Woodlands, Texas.

PAUL ANKA who last week, at the Century Plaza Hotel in Century City, CA., taped a segment about Frank Sinatra for a British television special on the Chairman of the Board, brings his own blue ribbon talent to Spirit Mountain Casino at Grand Ronde, Oregon on Tuesday and then heads to Las Vegas where he opens a six night engagement at the MGM Grand Hotel.

HUEY LEWIS AND THE NEWS perform Thursday at the Marymoor Amphitheatre in Redmond, WA. On Friday they open a two nighter at the Chinook Winds Casino in Lincoln City, Oregon.

HOOTIE AND THE BLOWFISH center stage Thursday at Casino Rama in Rama, Ontario. Saturday finds them at Churchill Downs in Louisville, KY.

JOURNEY performs today, Sunday June 13, at the San Diego County Fair in Del Mar, CA. On Thursday the show is at Mystic LAke Casino in Prior Lake, MN. Friday the performance is at Steamboat Days in Burlington, Iowa and on Saturday they are at the Red River Valley Fair in Fargo, ND.

PETER CINCOTTI on stage Thursday at the Garden Theatre at Montalvo in Saratoga, CA. On Friday he'll be at Humphrey's By The Bay in San Diego.

PAULA POUNDSTONE on Thursday opens a four night stand at Zanies in Nashville.
















Next Column: June 20, 2004
Copyright: June 13, 2004. All Rights Reserved. Reviews, Interviews, Commentary, Photographs or Graphics from any Broadway To Vegas (TM) columns may not be published, broadcast, rewritten, utilized as leads, or used in any manner without permission, compensation/credit.
Link to Main Page
---
Laura Deni


CLICK HERE FOR COMMENT SECTION