! >
Broadway To Vegas
  
  REVIEWS  INTERVIEWS COMMENTARY NEWS

| | |
| --- | --- |
| | |
FRINGE FESTIVALS HEAT UP THE SUMMER - - BEACH BLANKET BABYLON GEARS UP FOR WILL AND KATE - - BEATLES CELEBRATED IN LAS VEGAS AND CLEVELAND - - 2011 TONY AWARD WEEK - - SHREK THE MUSICAL STAGES ROYAL GALA - - TWIST BEGINS AT THE PASADENA PLAYHOUSE - - TRACE ADKINS SAYS PRACTICE A HOME FIRE DRILL - - TALES OF THE CITY WITH OLYMPIA DUKAKIS - - DONATE . . . Scroll Down



FRINGE FESTIVALS HEAT UP THE SUMMER


It's the summer phenomenon known as Fringe Festivals. Located in all parts of the world, they come in all sizes and varieties. Fringes - where people can go to be bad, where embarrassingly awful productions and performers can get their 15 minutes of - if not fame - at least spotlight. It's also where new gems are discovered.

The Edinburgh Festival Fringe, founded 1947, is the largest arts festival in the world. This year over 21,000 performers in search of fame and infamy will gather in Edinburgh in August to put on 2,542 shows in a record year for the city's Fringe. The outrageous and flamboyant Fringe, running from August. 5-29, covers the full range of theatrical artistry, from cabaret through to comedy, opera, theatre and music.

Several productions will mark the 10th anniversary of the 9/11 terror attacks, with the American High School Theatre Festival presenting War at Home, "created out of the journals of students, teachers and community members after the attacks". In a one-man show, American Chris Wolfe explores how 9/11 affected a generation through television and the internet. Edinburgh's Cutting Edge Theatre Productions will premiere a new musical 11 weaving in stories of people whose lives have been affected by two world wars and 9/11 itself.

In the United States, no one organization or individual owns, controls or regulates the name "Fringe." There are no national rules for how each individual festivals operate; the festivals' content, finances and structure vary from city to city. Generally, however, all the festivals are committed to an open forum of expression that minimizes the financial risks for both artists and audiences. Fringes strive to keep application fees and ticket prices low so that more people can participate in the festivals.

The New York International Fringe Festival (FringeNYC) is the largest multi-arts festival in North America, with more than 200 companies from all over the world.

Celebrating their 15th anniversary this year Fringe NYC takes place August 12-28 in more than 20 venues.

Kicking the Fringe concept up a notch this year is RADAR L.A. an International Festival of Contemporary Theater which takes place in Los Angeles June 14-19, 2011.

Center Theatre Group (CTG) is co-producing this adventurous new festival in collaboration with REDCAT (Roy and Edna Disney/CalArts Theater) and the Public Theater's Under the Radar Festival (New York).

It's billed as "a vibrant mix of influential theater artists from around the world."

Ensembles from Chile, Japan, Mexico, Australia and Ireland are featured alongside Los Angeles artists next week when this groundbreaking festival presents more than 80 performances of 15 productions that are fueling the dialogue about the evolution of contemporary theater.

The Method Gun is a CTG presentation at the Kirk Douglas Theatre in Culver City, June 14-26.

Created by Rude Mechs, written by Kirk Lynn and dircted by Shawn Sides.

The Austin, Texas-based collective Rude Mechs takes a wild and inventive look at the cult of acting in The Method Gun. Presenting themselves as the abandoned disciples of a questionable acting guru, the company attempts to realize their mentor's vision of a radically reduced production of A Streetcar Named Desire.

Shifting from the moving, if minimal, Streetcar to the methods of a company that is now the sole vessel of an acting technique called "The Approach," The Method Gun follows a misfit ensemble as it courageously pursues its craft, touching upon the mechanisms of process and passion, doubt and devotion, in the pursuit of art.

Others hoping to attract the right kind of attention and respect are Chelfitsch: Hot Pepper, Air Conditioner, and the Farewell Speech (Japan); Latino Theater Company Solitude (Los Angeles); Teatro Linea de Sombra Amarillo (Mexico); The company: As you are now so once were we (Ireland/Chile): Los Angeles Poverty Department: State of Incarceration (Los Angeles); Steve Connell and Sekou Andres The World Begins (Los Angeles): Teatro en el Blanco: News (Chile): Pomo Afro Homos: Fierce Love (Remix) (San Francisco): CalArts Center for new Performance/Poor Dog Group: Brewsie and Willie (Los Angeles): Moving Arts The Car Plays: LA Stories (Los Angeles): Fleur Elise Noble: 2 Dimensional Life of Her (Australia): The New American Theatre & Not Man Apart Physical Theatre Ensemble: Titus Redux (Los Angeles): Christine Marie & Ensemble: Ground to Cloud (Los Angeles): Mowa Matreyek: Myth and Infrastructure (Los Angeles).

"With six days of innovative new performances at REDCAT, LATC, the Kirk Douglas Theatre and more, we hope you'll immerse yourself in the fast paced festival along with hundreds of theater professionals who are converging on Los Angeles for the national conference of Theater Communications Group, marking TCG's 50th anniversary," states the organizers.



Sound designer Cricket Myers. In 2011, she received a Drama Desk Award and a Tony Nomination for her design of Bengal Tiger at the Baghdad Zoo.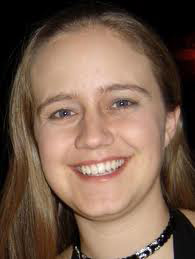 A few miles away The 2nd Annual Hollywood Fringe Festival takes place June 20-23. It's an experimental celebration of the emerging arts scene featuring theatre, music, dance, art, parties, and plays located in a wide range of venues.

This year's events include Theatre of Note industry discussions. Each panel discussion will feature experts in the field exploring issues that impact the Los Angeles theatre community. They are Pay-What-You-Can and open to the public.

On Monday, June 20th it's Tech/Designers' Forum. The panelists include Cricket Myers (Tony nominated Sound Designer), John Iacovelli (Scenic Designer Taper/Geffen/SCR), Stephanie Kerley-Schwartz (Costume/Set Designer), Matt Richter (Lighting Designer), and Lyla Forlani (Stage Manager LA Opera).

Tuesday, June 21st Normalizing Diversity with panelists Anna Khaja (Ovation winning actor/playwright), Tom Jacobson (Garland award-winning Playwright), Ann Stocking (Actress, Performers With Disabilities Committee for the Screen Actors Guild), Guillermo Aviles-Rodriguez (Watts Village Theatre), and Adam Davis (Managing Director Ford Theatres).

Wednesday, June 22nd Developing Your Next Project. The panelists include Anna Khaja (Ovation winning actor/playwright), David Elzer (Demand PR), Damaso Rodriguez (Furious Theatre Company Co-Founder), and Marja-Lewis Ryan (Writer/Producer 6140 Productions).

Thursday, June 23 Women Breaking the Glass Ceiling. Panelists include Diane Rodriguez (Obie winning theatre artist and Associate Producer/Director of New Play Production at CTG, Cricket Myers (Tony nominated Sound Designer), and Iris Bahr (Writer/Performer).

All panel discussions will take place at Theatre of NOTE, located in Hollywood.

The Cincinnati Fringe is a 17-day celebration of art outside of the box that seeks to challenge perceptions as to what art is.

The 7th Annual Kansas City Fringe Festival runs July 21 - 31. The 11-day festival will present live theater, dance, performance art, visual art, spoken word, puppetry, storytelling, film and fashion. At 17 venues throughout Kansas City, the KC Fringe Festival presents 358 live performances, 327 in the performing arts category alone, and exhibitions by 82 participating companies. Local and regional artists from Missouri and Kansas are featured along with national artists from an additional 14 states including New York, Washington, Florida, California, Texas, Illinois, Minnesota, Iowa, Tennessee, Indiana, Arkansas, New Jersey and Georgia.

A few of the shows include Kyle Hatley, Associate Artistic Director of KC Rep Theatre who will offer a new adaptation of Woyzeck, a show with stage fight choreography. Burlesque & BOYlesque Downtown Underground stages a performance that "embodies the game of life humans have been playing throughout the centuries: the battle of the sexes, burlesque style!" Steven Eubanks, Artistic Director, Egads Theatre Company presents Neverland. Borrowing from Jim Steinman's original concept musical, Neverland, is sci-fi/rock/'n/'roll adaptation of J.M. Barrie's Peter Pan. Bryan Colley and Tara Varney, producers of the KC Fringe's 2010's Khaaaaan! the Musical present Hexing Hitler. In 1941, six people gathered in a remote Virginia cabin to kill Adolph Hitler using witchcraft. This is the true story of what happened that night.

Stephanie Roberts, Slow Burn Productions & UMKC Theatre Faculty, presents The Mask of the Broken Heart. From the Creator and Director of Boom! and Tallahassee, this thriller combines humor, pathos and beauty while paying tribute to film-noir and Commedia dell'Arte. Roberts plays 13 characters in this masked mystery.

New in 2011 at the KC Fringe Festival:

1-day ECOFringe to educate people about sustainable options including co-op farms, recycling, food not lawns, and organic culinary vendors.

Two LGBT world premiere plays performed by high school and college students

New fiber arts project launches spearheaded by local artist Becky Blades.

The Minnesota Fringe is an annual performing arts festival in Minneapolis-St. Paul. For eleven days, over a thousand artists present works in every discipline and genre. No one selects the participating shows. Instead, a lottery determines which of nearly 400 applicants win production slots in the festival.

This year the Minnesota Fringe takes place August 4-11, celebrating their 19th anniversary. There will be 168 different productions on 18 stages with no show more than 60 minutes.

Fringe Wilmington in Delaware is a five-day, no-holds-barred celebration of unconventional and experimental art in all major art disciplines: performance art (theater, spoken word and music), visual art, and cinematic arts. The festival offers nightly after party activities, including outrageous musical acts, game shows, and more-all in the "fringe" spirit. Fringe Wilmington draws artists and audiences from several nearby metropolitan areas, including Philadelphia, New York, Baltimore, and Washington D.C. - all less than two hours away.

Fringe Wilmington was first held in 2009. This year the theatrical clam bake takes place September 21-25. The application fee is $75.00. Production fee(s): $1.00 – $1.00. Fringe Wilmington does not offer technical support of any kind; "you are expected to be fully self-supporting, which includes supplying your own technicians, if needed".

Fringe festivals have spawned to the point that there is even a United States Association of Fringe Festivals. They state:

Very generally speaking, Fringes are;

Focused on the performing arts: Theater, dance, puppetry, spoken word and the like make up the Fringe core, but festivals often may include film and visual arts elements. Fringes don't have a focus on a single discipline or genre, but are a performing-arts smörgåsbord.

Uncensored: No one gets too fussy about swears or nudity but squeaky-clean content isn't marginal or discouraged, either.

Festivals: They last from just a few days to a few weeks and involve boatloads of people at multiple venues.

Original: Fringes feature a huge array of original material - sometimes by design, but usually because that's what Fringes naturally do well.

Rapid-fire: Typically, tech is minimal and time is a factor. Shows are often kept brief (Fringes most frequently have shows right around 60 minutes in length) and technical requirements kept simple (minor sets, streamlined cues, nothing elaborate.



Broadway To Vegas is supported through advertising and donations. Priority consideration is given to interview suggestions, news, press releases, etc from paid supporters. However, no paid supporters control, alter, edit, or in any way manipulate the content of this site. Your donation is appreciated. We accept PAYPAL. Thank you for your interest.



ART AND ABOUT


TOULOUSE-LAUTREC AND JANE AVRIL: BEYOND THE MOULIN ROUGE

Toulouse-Lautrec and Jane Avril: Beyond the Moulin Rouge, The Courtauld Gallery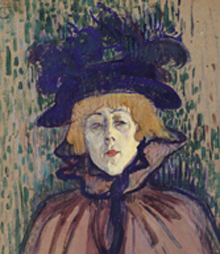 an exhibition which is the first to celebrate the importance of their creative collaboration.

Nicknamed La Mélinite after a powerful form of explosive, the dancer Jane Avril (1868-1943) was one of the stars of the Moulin Rouge in the 1890s.

Known for her alluring style and exotic persona, her fame was assured by a series of dazzlingly inventive posters designed by the artist Henri de Toulouse-Lautrec (1864-1901). Jane Avril became an emblematic figure in Lautrec's world of dancers, cabaret singers, musicians and prostitutes.

However, she was also a close friend of the artist and he painted a series of striking portraits of her which contrast starkly with his exuberant posters.

This exhibition examines Avril as a private individual, looks at the staging of her public identity and reveals the range of Lautrec's responses to his muse.

Organized around The Courtauld Gallery's painting Jane Avril in the Entrance to the Moulin Rouge, the exhibition explores these different public and private images of Jane Avril. Toulouse-Lautrec and Jane Avril: Beyond the Moulin Rouge brings together a rich group of paintings, posters and prints from international collections to celebrate a remarkable creative partnership which captured the excitement and spectacle of bohemian Paris.

June 16 – September 18, 2011 at The Courtauld Gallery in London.

PICASSO: MASTERPIECES FROM THE MUSEE NATIONAL PICASSO, PARIS

Pablo Picasso, Portrait of Dora Maar, 1937. Musée National Picasso, Paris. Photo: Jean-Gilles Berizzi/Réunion des Musée Nationaux/Art Resource, New York. © 2010 Estate of Pablo Picasso/Artists Rights Society (ARS), New York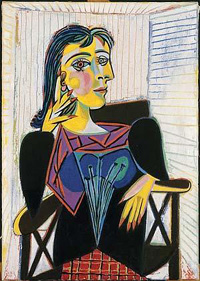 The de Young in San Francisco hosts an extraordinary exhibition of more than 100 masterpieces by Spanish artist Pablo Picasso (1881–1973) from the permanent collection of Paris' world-renowned Musée National Picasso.

The once-in-a-lifetime exhibition, made possible only because of the temporary closure of the Musée Picasso until 2012 for extensive renovations, comprises paintings, sculptures, drawings, and prints drawn from every phase of the artist's career.

The works on view demonstrate the wide range of artistic styles and forms that the artist mastered, including:

La Celestine (1904), from the artist's Blue Period; Two Brothers (1906), from the Rose Period; Expressionist studies for Les Demoiselles d'Avignon (1907); the Cubist Man with a Guitar (1911), the Neoclassical Portrait of Olga (1917), the artist's wife; the proto-Surrealist Two Women Running on a Beach (1922).

Also shown are Portrait of Dora Maar (1937), the artist's lover and famed French artist; six Surrealist bronze heads of the artist's mistress, Marie-Therese Walter; the Head of a Bull (1942) fabricated from a bicycle seat and handlebars; the bronze Goat (1950); the six life-size bronze Bathers (1956); and the late self-portrait, The Matador (1970).

Opened last night June 11, 2011 and is on display through October 9, 2011 at the deYoung in San Francisco.

THE CONSULATE GENERAL OF SWEDEN

Green Birds by Josef Frank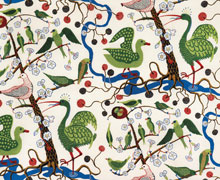 Barbro S. Osher, Mr. Bernard Osher and the SFO Museum are hosting a reception for The Enduring Designs of Josef Frank, a new exhibition presenting Josef Frank's timeless textile and furniture designs. Attending the reception will be His Excellency Jonas Hafstrom Ambassador of Sweden and Mrs. Eva Hofstrom.

Austrian-born designer and architect Josef Frank (1885–1967) was a pioneer of Swedish Modern design. While many of his contemporaries took a severe approach to modernism, Frank emphasized comfort and informality, using bright, bold colors and floral patterns to produce whimsical designs inspired by nature. Frank's lavish use of bright, bold colors and floral patterns quickly became popular with a host of Swedish designers and clientele. Many of Frank's timeless textile designs and furnishings remain in production today.

The objects on exhibition include: Primavera, a pattern designed for his home furnishings business in Vienna in the 1920s; an asymmetrical nineteen-drawer cabinet-on-stand designed in 1938 for Svenskt Tenn, one of the foremost design centers in Sweden; and numerous New York-inspired patterns such as Green Birds and US Tree created during his stay in Manhattan in the 1940s.

The Enduring Designs of Josef Frank is located pre-security in the International Terminal Main Hall Departures Lobby, San Francisco International Airport. The exhibition is on view to all Airport visitors to October 9, 2011. There is no charge to view the exhibition.


THE BEATLES: LOVE CELEBRATES 5TH YEAR IN LAS VEGAS: ROCK AND ROLL MUSEUM UNVEILS BEATLES' EXHIBIT


The incredible Cirque du Soleil show The Beatles: Love headquartered at The Mirage Resort in Las Vegas celebrated its 5th anniversary with a family and friends celebration last Wednesday. ( See Broadway To Vegas column of June 18, 2006 )

Normally a dark night, the must see production staged a special show with most of the audience being invited guests.

Those included former Beatle Sir Paul McCartney and fiancée Nancy Shevell, producer George Martin and his son Giles, John Lennon's widow Yoko Ono and son Sean Ono Lennon, Olivia Harrison, the widow of George Harrison who is credited with having conceived the project in 2000 with friend and Cirque founder Guy Laliberté. The Harrisons' son, Dhani, was there as was famed violinist Joshua Bell and Love director Dominic Champagne.

Others on the red carpet included Gayle King, Guns N' Roses and Velvet Revolver drummer Matt Sorum, actors Elijah Wood and Marcia Gay Harden, rock star illusionist Criss Angel, Patricia and Rosanna Arquette and Sugar Ray singer Mark McGrath.

Ringo Starr is on tour overseas, but sent a videotaped message which aired at the beginning of the special show. Following the performance McCartney was joined on stage by Yoko Ono, the Harrisons and the Martins and other members of the Cirque family.

Then the invited quests attended a private party.

Just as Cirque is celebrating their Las Vegas production, the Rock and Roll Hall of Fame and Museum in Cleveland is putting the final touches on their first redesign in its 15-year history, which includes the most comprehensive collection of Beatles' items; a number of which are on display to the public for the first time.

"The Rock Hall's extensive redesign includes the most comprehensive, artifact-driven Beatles exhibit in the world," said Jim Henke, the Museum's Vice President of Exhibitions. "For many years now, we have been fortunate to have a great relationship with Yoko Ono, which enabled us to have many John Lennon artifacts. This time around, we were able to work with Ringo Starr and with George Harrison's estate, so they are well-represented in the exhibit. We also worked with some collectors who had other key Beatles pieces, and before we knew it, we had an absolutely incredible collection."

The exhibit includes nearly 70 artifacts, including a few that have not been exhibited before:

- George Harrison's striped suit from the 1966 US tour.
- Ringo Starr's red military-style jacket from the Strawberry Fields Forever promo film.
- John Lennon's black wool coat worn in Help!
- Paul McCartney's handwritten arrangement for Birthday.

Additional highlights include:

- John Lennon's Gibson J-160E acoustic guitar. Lennon used this guitar to record Norwegian Wood and Give Peace a Chance and numerous other classics.
- George Harrison's Rickenbacker 425 electric guitar. Harrison purchased the guitar in 1963 on his first visit to the U.S. He played it throughout the fall of 1963.
- Ringo Starr's "drop-T" Beatles logo drum head from the kit he used on The Ed Sullivan Show in February 1964.
- Paul McCartney's jacket from Help!
- A page from Stuart Sutcliffe's sketch pad that shows his self-portraits, his illustration of John Lennon and Lennon's illustration of Sutcliffe.

The Beatles were inducted into the Rock and Roll Hall of Fame in 1988.


SWEET CHARITY


SHREK, THE MUSICAL

Prince Charles shares a laugh with Amanda Holden and Nigel Lindsay. Photo: Press Pool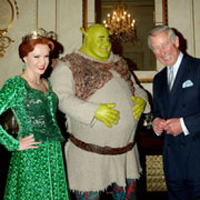 gave a special charity performance which was attended by Prince Charles, who was accompanied by his god-children, Princess Maria Olympia of Greece, 14, and Rowan Brudenell, 10.

Afterwards they met the costumed actors, Nigel Lindsay as Shrek and Amanda Holden as Princess Fiona. Lindsay - who is better known for his more serious roles - told The Prince he spends nearly an hour and a half in make up every night creating his gruff appearance. The huge padded outfit which he dons on stage every night makes him extremely hot, he said. The actor also thanked The Prince for a grant he received 20 years ago from The Prince's Trust which enabled him to go to drama school and become an actor.

Also meeting Prince Charles were Richard Blackwood, who stars as Donkey in the show, and Nigel Harman, who acts his role as Lord Farquaard. When The Prince arrived at London's Theatre Royal, he was also introduced to comedian Jack Black, who stars in animation film Kung Fu Panda 2. Black admitted he was nervous before he met The Prince. "I don't know how to behave," he told reporters. He said it was the first time he had met a royal.

The black-tie, red-carpet event at the Theatre Royal was a fund-raiser for the Prince's Foundation for Children and the Arts. The organization brings the arts to disadvantaged children, and Prince Charles is termed "deeply involved" as its president.

Jeffrey Katzenberg, chief executive of DreamWorks Animation SKG, the company behind Shrek, hosted the evening. Mr Katzenberg said: "I think it is important that children have access to the arts. Art is very much what defines a generation. Encouraging kids to be artistic and to express themselves in all forms of art, but especially in theatre, is a wonderful thing. I think this is a fantastic charity and we're thrilled to be part of it tonight"

After the Prince left the theatre, Katzenberg told the cast: "Prince Charles did not stop laughing from beginning to end."

The event marks the start of a collaboration between his firm and the Prince's Foundation.

The musical's team will be providing educational programs to introduce such children to the workings of musical theater and production.

Shrek has performances at the Theatre Royal, Drury Lane. London.

OPENING NIGHT AT THE HOLLYWOOD BOWL is a star-studded, eagerly anticipated highlight of the season. The evening will honor Harry Connick, Jr. Proceeds benefit Music Matters, supporting the LA Phil and its education programs.

Friday, June 17, 2011 at the Hollywood Bowl.

2011: A SPACE OPERA-SSEY billed as an epic evening of adventure and exploration. Presented by the Nashville Opera, patrons can immerse themselves in an original full-dome planetarium experience set to a dazzling operatic soundtrack! The Moon, planets, and millions of stars will perform in the Sudekum Planetarium at the Adventure Science Center in Nashville.

Friday, June 17, there are two showings and events. One begins with Hors d'oeuvres and drinks followed by the Planetarium experience. Proceeds benefit Nashville Opera and Adventure Science Center.

ARK 10th ANNIVERSARY GALA in London took place last Thursday. Prince William and Kate attended as did Elizabeth Hurley, David Furnish, Academy Award winning actor Colin Firth, Jemima Khan, Mariella Frostrup and Oscar and Tony Award winner Kevin Spacey. Mark Ronson and Kings of Leon entertained. Held at Kensington Palace, the evening raised $28 million on behalf of Absolute Return for Kids (ARK).

Prince William spoke of a "new joint initiative between ARK and The Foundation of Prince William and Prince Harry and The Duchess of Cambridge. [This is a] joint venture based on our shared vision and commitment to transform lives of thousands of young people," he said.

SEE TALES OF THE CITY WITH OLYMPIA DUKAKIS

Olympia Dukakis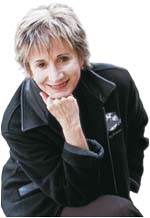 Friday, June 24, Olympia Dukakis who played Mrs. Madrigal in the Tales television miniseries hosts a special performance benefiting A.C.T.'s arts education programs and the Richmond/Ermet AIDS Foundation. A.C.T. in San Francisco, CA.

The top tier tickets include an intimate dinner with Olympia Dukakis and other special guests at Fleur de Lys restaurant before the performance, and entrance to the VIP after-party.

This will be the first time Ms Dukakis has seen the production. She will join Tony Award winner Judy Kaye, and the rest of the dynamic cast, onstage for their final ovation and a toast to the City by the Bay.

The party goes on after the curtain comes down. A limited number of tickets permit patrons to join Olympia Dukakis and the cast of Armistead Maupin's Tales of the City at an exclusive after party at Clift Hotel immediately following the production.


TONY AWARDS DOMINATE WEEK
Host Neil Patrick Harris needs to remember not to block the exits.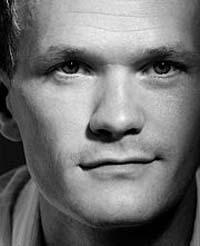 Tonight Neil Patrick Harris hosts the Tony Awards. Some very deserving people will go home with the statue, while many deserving people will not.

For the remainder of the week there will be musing and hand wringing over which shows will now close, which will be given a boost in ticket sales and - less we forget - the revamped Spider-Man: Turn Off the Dark will officially open on Tuesday.

The Tony Awards production, in itself, has been one of drama. Local One IATSE threatened to picket the red carpet entrance because some non-union employees had been hired.

On Friday the two sides agreed and issued a joint statement.

"The Tony Awards and Local One IATSE are very pleased that, together, we were able to reach an agreement, to produce the Tony Awards red carpet on Sunday evening. The fact remains that Sunday is a true celebration of the Broadway community and all of the outstanding work that has been nominated this season," James J. Claffey, Jr., president of Local One IATSE, and Allan Williams, general manager of Tony Award Productions Inc., said in a joint statement.

The agreement is confidential between the two groups.

However, the red carpet staging area for this and future Tony Award shows at the Beacon Theatre will be staffed by union labor.

After many years at Radio City Music Hall the Tony Awards has now moved to the smaller Beacon venue, which seats approximately half the audience as Radio City.

The stage has also been a point of concern. Proscenium width 50 feet 3 inches; Proscenium Height: 28 feet 7 inches; Grid Height: 63 feet 6 inches and Stage Depth: 42 feet 9 inches, the problem is that the Beacon was originally a movie house and thus doesn't have stage wing space nor a backstage area, causing concern as to how the musical numbers will get on and off.

Host Neil Patrick Harris, who knows his way around a variety of stages, will be doing his nimble footed best to stay out of the way of both people and props.

( For a list of the nominees and winners )


SPREADING THE WORD


TALES OF THE VICTORIANS the popular East Lynne Theater Company's series returns this week for its twenty-second year.

Take tea at one of Cape May, New Jersey's finest inns or tea shops, indulge in homemade tasty treats, and listen to stories by famous American authors, like O. Henry and Louisa May Alcott, all for only $10.00. Children are always welcome, and, like other East Lynne events, ages 12 and under are free.

Costumed performers include Stephanie Garrett, Lee O'Connor, Michele LaRue, Suzanne Longacre, Hope Gaines, and Gayle Stahlhuth.

The summer schedule is every Thursday at 4:00p.m., beginning on June 16, at The Butterfly Tea Room.

On June 23 the tea and Tales of the Victorians takes place at the Mad Batter; June 30 at : The Inn of Cape May, July 7: The Dormer House; July 14: The Fairthorne, July 21: Victorian Lace Inn; July 28: Cliveden Inn; August 4 at Chalfonte Hotel, August 11: SeaVilla Hotel, August 18: Victorian Lace Inn; August 25: The Fairthorne, and on September 1: SeaVilla Hotel.

AN EVENING WITH DIRECTOR AMON MIYAMONTO On June 23 The Japan Society in New York City hosts a talk between acclaimed Japanese director Amon Miyamoto, director of The Temple of the Golden Pavilion, and Nigel Redden, Director of Lincoln Center Festival. The two will discuss the Yukio Mishima book of the same name which inspired the play, and illuminate various aspects of the creation of this powerful theatrical work.

AN EVENING WITH MEN OF A CERTAIN AGE in person, Ray Romano, Scott Bakula and executive producer Mike Royce.

TV's favorite trio of middle-aged men are back this summer as TNT's Men of a Certain Age returns with six all-new episodes. Hailed by critics and viewers for its funny, smart, and honest look at the ups and downs of midlife, the series was recently the winner of a prestigious Peabody Award. A preview screening of an episode followed by a panel and Q&A with members of the cast and creative team. Tuesday, June 21, 2011 at The Paley Center in Los Angeles.

L.A. THEATRE WORKS RECORDS LOBBY HERO by Kenneth Lonergan. Starring original Off Broadway cast member Tate Donovan and Laz Alonso, directed by Bart DeLorenzo.

A wryly comic modern morality play about crime and personal responsibility. Jeff is a security guard on the night shift in a New York apartment building. When his supervisor lies in a murder investigation, Jeff's loyalty is put to the test. Will Jeff do the right thing for the wrong reasons or the wrong thing for the right reasons? All performances will be recorded to air on L.A. Theatre Works' syndicated radio theater series. June 15-19 at L.A. Theatre Works at the Skirball Cultural Center in Los Angeles.

THE FIX a staged reading of a new musical billed as "a hard-edged, hard-boiled rock musical that follows the mercurial rise of a charismatic young politician and the political machinery that created him. As a mother and her brother-in-law scheme to have her son elected as president of the United States, the three of them compose one of the most dysfunctional almost-first families this side of real-life Washington politics.

Book & Lyrics by John Dempsey. Music by Dana P. Rowe. Directed by Randy Brenner. Musical Direction by Darryl Archibald.

Free and open to the public Monday, June 20 at the International City Theatre, Long Beach Performing Arts Center in Long Beach CA.

TRACE ADKINS the popular country singer who gained even more fans after his turn on Celebrity Apprentice suffered the loss of his beautiful home in a tragic June 4th fire. Fortunately no humans or pets were injured.

A message on his website stated: "The Adkins family request that you take time to practice Fire Safety drill with your family, learn more at firesafety.gov and firehouse.com."

His wife urged: "Please, everybody, practice fire safety, and back up all your pictures," referring to the fire consuming all their wedding pictures and negatives.

Trace is slated to perform June 17 at the Show-Me-Music & Festival in Springfield, MO.

SHANIA TWAIN'S under wraps announcement last Wednesday that she will perform at Caesars Palace in Las Vegas beginning December 1, 2012 was one of the most bungled secrets in recent history. First the "secret" announcement was posted on her own website. Then it was removed. Last Wednesday Caesars Palace announced what had been on the website site in the first place - that she was coming to Caesars in Las Vegas.

Twain will perform 60 shows in a two-year contract. Her first segment takes place during National Finals Rodeo.


BEACH BLANKET BABYLON HOPE WILLIAM AND KATE SEE THE SHOW
Ellen Toscano and Doug Magpiong as Catherine the Duchess of Cambridge and Prince William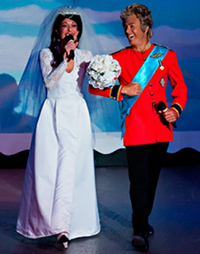 William and Kate are already in the show, so the producers hope the newly minted Duke and Duchess of Cambridge become the third generation of royals to see America's longest-running musical revue - Steve Silver's Beach Blanket Babylon.

William and Kate will travel Los Angeles and the Bay Area July 8-10 following their official visit to Canada.

William's grandmother, Queen Elizabeth attended a San Francisco performance in 1983. She so enjoyed it that when Prince Charles and Camilla came to American in 2005, she urged them to see the show. They did on November 6 and enjoyed it immensely. ( See Broadway To Vegas column of November 6, 2005 )

"No word yet, but we are hoping," Beach Blanket Babylon spokesman Kevin Kopjak told Broadway To Vegas, regarding the young royals attending a special performance.

Packed with hilarious spoofs of pop culture and political characters, outrageously gigantic hats to make even Princess Beatrice jealous, and one show-stopping number after another, the show continues to dazzle audiences at Club Fugazi in San Francisco's North Beach district.

Beach Blanket Babylon follows Snow White as she takes a fast-paced journey around the world in search of her "Prince Charming." Along the way she encounters a star-studded, ever-changing line-up of hilarious pop-culture characters, including Lady Gaga, President Barack & Michelle Obama, Charlie Sheen, Justin Bieber, Sarah Palin, Snooki (from Jersey Shore), Governor Jerry Brown, Prince William and Kate Middleton portrayed by Ellen Toscano and Doug Magpiong and the Queen of England portrayed by Curt Branom, Oprah Winfrey, The Cast of Glee, Taylor Swift & Kanye West, Michael Jackson and the San Francisco Giants.



JAY BRAZEAU the Winnipeg born, famed Vancouver actor was honored during a June 2 luncheon by his peers among the Union of British Columbia Performers at a lunch with the Sam Payne Lifetime Achievement Award, for a body of work on stage and screen that stretches back to his arrival in British Columbia in 1982.

Brazeau played Ashley Judd's lawyer in the thriller Double Jeopardy and was the sheriff chasing Robert de Niro and Sean Penn in the period comedy We're No Angels.

Brazeau, 57, was on stage last month starring as Edna Turnblad in Hairspary, when he suffered a small stroke during a preview performance at the Arts Club Theatre in Vancouver Stanley Industrial Alliance Stage. The show was stopped and Brazeau was taken to a hospital for observation and released the next day to return home.

Two performance were cancelled with Andy Toth now appearing in the role.

Brazeau is now on blood-thinning drugs that have resulted in his switching to an electric razor, so that he doesn't cut himself. He has also submitted to an angiogram on doctor's orders, Tests so far have given him a clean bill of health and he hopes to be back on stage in the near future.

COLIN FIRTH who won a Best Actor Oscar for playing Queen Elizabeth's father, King George VI, in The King's Speech was made a Commander of the Order of the British Empire (CBE). last Saturday. Others in the entertainment arena acknowledged by The Queen include actress Janet Suzman, who became a "Dame," and singer-songwriter Bryan Ferry, who received a CBE. Bruce Forsyth, 83, picked up a knighthood, while comic actors Bernard Cribbins, Tim Brooke-Taylor and Graeme Garden were all made Officers of the Order of the British Empire (OBE).

PELL AWARD WINNERS were honored June 11 at a Hollywood 1940s themed Gala in Cranston, Rhode Island.The annual honors were established for late Senator Claiborne Pell to recognize artistic excellence in Rhode Island and on the national level.

Those honored included:

Tony Award-nominated actress Amy Morton who received the 2011 Pell Award for Distinguished Achievement in the Arts. Trinity Repertory Company founding artistic director Adrian Hall who was honored with the 2011 Pell Award for Lifetime Achievement in the Arts. Hall arrived at Providence, RI, in 1964 where he aided in founding Trinity Rep. In 1983 he simultaneously took on artistic management of the Dallas Theatre Center, creating a connection between the two iconic resident theatre companies.

Glass artist Steven Weinberg received the Rhode Island Pell Award for Excellence in the Arts and Brown University Professor Lowry Marshall was bestowed the Charles Sullivan Award for Distinguished Service in the Arts.


OTHER PEOPLE'S MONEY


THAT CHAMPIONSHIP SEASON the revival of Jason Miller's 1972 drama, which closed May 29, 2011 at the Bernard B. Jacobs Theatre, announced that the producers had recouped their $2.75 million investment.

THE STAGE DIRECTORS AND CHOREOGRAPHERS SOCIETY (SDC) the theatrical union representing more than 2,400 professional stage directors and choreographers throughout the United States, filed an arbitration claim June 9 on behalf of ousted director Julie Taymor against Spider-Man Broadway, LLC, the producer of Spider-Man: Turn Off the Dark for failure to pay royalties to Taymor who was the musical's original director.

Laura Penn, executive director of SDC, said in a statement, "Taymor has given nine years of her life to this project. The Producer has absolutely no right, legally and ethically, to withhold royalties that are due to her. In fact, the right to use her work, on Broadway or anywhere else, is dependent upon the payment of royalties."

The producers have, according to an official statement, "failed to pay to Ms. Taymor any royalties for the run of the production in violation of both the SDC collective bargaining agreement (CBA) and her individual contract. SDC is asking for an accounting from the Producer to determine the precise amount of royalties due to Ms. Taymor, payment of all royalties due to Ms. Taymor, and continued payment of royalties and all other compensation due now and in the future."



HAPPY BIRTHDAY TO . . .


CELEBRITIES Neil Patrick Harris is the birthday boy on June 15.

Barry Manilow who stars in Las Vegas at the Paris Resort opens his presents on June 17.

Sir Paul McCartney and Isabella Rossellini blow out the candles on June 18.



TWIST an American musical, based on Charles Dickens' classic Oliver Twist. Book by Tony Award-nominee William F. Brown, music and lyrics by Grammy Award-winner Tena Clark, and music by Gary Prim.

Multi-Emmy Award-winner Debbie Allen does double duty as director and choreographer.

is a timely adaptation of Charles Dickens' classic with a contemporary score, set in New Orleans on the eve of the Great Depression. Twist tells the story of a young orphan boy born of a courageous white mother and an incredibly talented black father who navigates the colorful and sometimes rough waters of street life and racial indifference in his quest to find his family and to find love.

The cast includes: Paul Aguirre, Cliff Bemis, Joshua Bolden, Diane Delano, Cleavant Derricks, Alaman Diadhiou, Chad Doreck, Kyle Garvin, Ava Gaudet, Tamyra Gray, Jared Grimes, Chantel Heath, Holly Hyman, Matthew Johnson, Olivia-Diane Joseph, Chase Maxwell, Vivian Nixon, Carla Renata, Malaiyka Reid, Terrance Spencer, Dougie Styles, Armando Yearwood. The Children's Ensemble: Nickolas Eibler, John Fisher, Joshua Horton, Wayne Mackins, Micah Patterson, Julianna Rigoglioso, Issac Spector and Dempsey Tonks.

The creative team includes: Scenic design by Tony Award winner Todd Rosenthal. Costume design by Emilio Sosa. Lighting design by Tony Award winner Howell Binkley. Sound design by Peter Fitzgerald. Orchestrations by Tony Award nominee Harold Wheeler. Musical direction and vocal arrangements by Jim Vukovich.

"We've been very happy with the development of Twist, from our earlier productions through our most recent staging at The Alliance Theatre in Atlanta," said producer Willette Klausner.

"As we continue our journey to Broadway, we are very excited about the opportunity to work closely with Sheldon Epps, Stephen Eich and their team at the historic Pasadena Playhouse," added producers Michelle Seward and Forbes Candlish.

Performances begin June 14, 2011 and play through July 24, 2011 with the official press opening on Saturday, June 25, 2011 at The Pasadena Playhouse, Pasadena, CA.

GREAT BALLS OF FIRE - A LEGACY OF THE FIFTIES The songs of the Fifties were feel-good tunes, genuinely reflecting the mood of post war America. Artists like Elvis Presley, Chuck Berry and Jerry Lee Lewis dominated the music charts and changed pop music forever.

Relive this nostalgic time as Keith Baker and the Bristol Riverside Theater Band open the summer musicale season with favorites from the fifties like Hound Dog, Great Balls of Fire and Jailhouse Rock. June 16 - June 26 at the Bristol Riverside Theatre in Bristol, PA.

AN EVENING WITH LUCILLE BALL: THANK YOU FOR ASKING! Directed by Lucy's real life daughter, Lucie Arnaz, and starring Suzanne LaRusch, this is a special peek behind the curtain of that unforgettable redhead's life.

Comedic sketches, video clips and personal memories bring to life Lucy's 30-year show business career, her time on TV's I Love Lucy, and some never-before-heard personal stories about Lucy's marriage to Desi Arnaz - all presented by "Lucy" herself.

At times touching, at times uplifting and always funny.

June 13-26 at the Cape Playhouse in Dennis Village, MA.

MASTER CLASS Friedman Theatre by Terrence McNally. Directed by Stephen Wadsworth.

Starring Sierra Boggess as Sharon and Tyne Daly as Maria Callas. The cast also includes Clinton Brandhagen, Jeremy Cohen, Alexandra Silber and Garrett Sorenson.

Terrence McNally's award-winning play about Maria Callas takes us to one of her famous master classes, where, late in her own career, she dares the next generation to make the same sacrifices and rise to the same heights that made her the most celebrated, the most reviled and the most controversial singer of her time. Previews begin June 14, 2011 at the Manhattan Theatre Club in NYC.

I'M GETTING MY ACT TOGETHER AND TAKING IT ON THE ROAD AND STILL GETTING MY ACT TOGETHER

Gretchen Cryer and Nancy Ford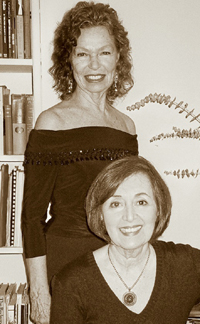 Book and Lyrics by Gretchen Cryer. Music by Nancy Ford. Presented as part of the York's Musicals in Mufti series.

I'm Getting My Act Together and Taking It on the Road will play in repertory with the world premiere of the show's sequel, Still Getting My Act Together.

I'm Getting My Act Together will feature Lisa Birnbaum, Jenn Colella, Jillian Louis Daniel Robert Sullivan, Louis Tucci and Jeremy Yaddaw, directed by West Hyler with music direction by John Di Pinto.

Still Getting My Act Together a world premiere of thwill feature three cast members from the original production of I'm Getting My Act Together, Betty Aberlin, librettist Gretchen Cryer and Margot Rose. Also featured in the cast are Lynne Halliday, John Hillner, Greg Landes, Dennis Michael Keefe and Scott Wakefield, directed by West Hyler with music direction by Christopher McGovern.

I'm Getting My Act Together and Taking It on the Road is one of the most enduring and empowering Off-Broadway musicals of all time. The show premiered in the late 1970s Off-Broadway at the Public Theater and ran for years, becoming a sensation for all theatre-goers. The story follows a fictional cabaret singer, Heather Jones, as she evolves her traditional act of romantic pop tunes to a bold new act full of emancipating, feminist pieces. As she performs the new show, song by song, Heather fights to achieve an artistic metamorphosis while her dominating manager, Joe, tries to keep her act in the past.

The never-before-seen-or-heard sequel, Still Getting My Act Together, takes place 30 years after the original and will also be presented Mufti-style for the first time ever onstage. In this new show, Heather and her daughter take center stage and will uncover just what happened in the three decades since Heather got her act together and took it on the road.

The two productions will run together in rep - and require two tickets - June 19-26, 2011 at The York Theatre at Saint Peter's in New York City. The York Theatre Company is the only theater in New York City– and one of very few in the world– dedicated to developing and fully producing new musicals and preserving neglected, notable shows from the past.

MARTHA GRAHAM CONQUERS RUSSIA AT DIANA VISHNEVA GALA PERFORMANCE With the participation of Vladimir Malakhov, Desmond Richardson, Benjamin Robert Schultz, Roberto Bolle, Noah D. Gelber, Katherina Markowskaja. Conducted by Pavel Bubelnikov.

The ballet Errand into the Maze with music by Gian Carlo Menotti, was created by the great American choreographer Martha Graham in 1947. Like several other of her productions, this ballet was based on an ancient Greek myth. She created a total of thirteen such ballets (which are often referred to as the "Greek cycle", although Graham herself preferred to call them "pieces"). The ballet Errand into the Maze is a free interpretation in the language of dance of the story of Ariadne and the Minotaur's labyrinth.

Such great stars of world ballet as Makarova, Baryshnikov and Nureyev have performed with Martha Graham's company and in her ballets, but her works have never before been staged in Russia - until now. Thursday, June 23 at the Mariinsky Theatre in St. Petersburg, Russia.

COLIN QUINN: LONG STORY SHORT Directed by Jerry Seinfeld. Straight from Broadway.

In Long Story Short, Colin Quinn focuses his "articulate brand of comedy" on the demise of empires, including our own. More than standup comedy, Long Story Short is a hilarious blend of incisive observation, sharp commentary, and Colin's channeling of the personalities of the past. From Socrates to Snooki, Quinn is at his satirical best, taking on the attitudes, appetites and bad habits that toppled the world's most powerful nations.

Performances through June 26 at Guild Hall in East Hampton, NY.

UNNATURAL ACTS a new play created by members of the Plastic Theatre, conceived and directed by Tony Speciale.

Unnatural Acts is inspired by events that occurred at Harvard University in the spring of 1920, when a student's suicide sparked a campus-wide investigation by a panel of administrators who convened to investigate, expose and ultimately expel a group of homosexual students. Both intimate and epic, Unnatural Acts explores themes of fear and societal intolerance that are as relevant today as they were 91 years ago.

For more than eighty years the events surrounding the incident were covered-up, until in 2002 when Amit Paley, a student journalist for The Harvard Crimson, came upon a reference to the Secret Court while combing university archives. After initial resistance, Harvard granted Mr. Paley access to the long-abandoned files of over 500 pages of documents describing the systematic persecution of these students. The revelation of this controversy motivated conceiver & director Speciale's own journey into the court transcripts, family correspondence, and countless records revealing the lives of these promising young men. Speciale and his team of writers (the Plastic Theatre) devoted countless hours of research and development decoding the long-hidden records from the Court, identifying witnesses and accused individuals, and piecing together a timeline of events and experiences. Through meticulous research, study and improvisation, Unnatural Acts emerged.

The cast will feature Jess Burkle, Joe Curnutte, Frank De Julio, Roe Hartrampf, Roderick Hill, Max Jenkins, Brad Koed, Jerry Marsini, Devin Norik, Will Rogers and Nick Westrate.

Set design is by Walt Spangler, lighting by Justin Townsend, costumes by Andrea Lauer and original music and sound design by Christian Frederickson.

Unnatural Acts will begin performances Tuesday, June 14 at CSC for a limited engagement through Sunday, July 10. The official press opening is Thursday, June 23.

NAKED IN A FISHBOWL welcomes Alicia Goranson to the production as its first guest star on Monday, June 13, 2011.

Goranson is best known to audiences for her role as Becky Connors on the award winning TV show Roseanne.

Naked in a Fishbowl is an outrageous improvised sitcom that chronicles the hilarious and startling honesty between six friends in New York City with raw humor and infectious comedy. Fully improvised this breakthrough show is the first web sitcom to be filmed in front of a live audience, blurring the lines between theater, TV, and webisodes. The resulting web series has garnered over 250,000 hits online in over 80 countries.

Naked in a Fishbowl is at The Peoples Improve Theatre in NYC.

DON'T HUG ME COUNTY FAIR a musical comedy spoof of a small town beauty pageant with book and lyrics by Phil Olson and music by Paul Olson.

Directed by Nikki Bettcher Erickson.

Starring Tim Ostby as Gunner, Charlie Olson as Clara, Connie Olson Dornbusch as Bernice, Matt Schiller as Aarid and Tim Miller as Kanute.

It's county fair time in Bunyan Bay, Minnesota, the biggest thing that's happened since the winter carnival snowplow parade. This year the Bunyan County Fair means two things to Gunner and Clara Johnson, owners of a little bar called The Bunyan; The big County Fair Fishing Contest and The Miss Walleye Queen Competition.

Bernice, the pretty waitress, sees this as her big chance to win Miss Walleye Queen, to be discovered, and more important, to have her face carved in butter at the Minnesota State Fair.

The trouble begins when Gunner's wife, Clara, decides she also wants to win Miss Walleye Queen, and when Gunner's estranged twin sister, Trigger, shows up to try to win the beauty pageant, things get ugly.

Featuring 18 original songs including Our Butter Face Queen, Pontoon Ladies, I'm Just a Pretty Forest Ranger, My Campfire is Burnin' For You, If I Could Win Miss Walleye Queen and I'm a Bunyan Woman.

Tech director is Carol Olson. Stage Manager and Vocal coach is Kelsey Moe. Laura Miller serves as the stage hand. Costumes by Barb Schneider. In charge of props are Paulette and David Korsmo.

The Barn Theatre is one of a few community theatres in the country that has its own building and full time director. This production will be staged June 15-18, 21-24, 2011 at The Barn Theatre in Willmar, Minnesota.


WHO'S WHERE


KEITH URBAN entertains Thursday, June 16, at the Coast Coliseum in Biloxi, MS. On Friday the show is at the Veterans Memorial Arena in Jacksonville, FL. Saturday he's in the spotlight at the St. Pete Times Forum in Tampa, FL.

PHISH open a two nighter Tuesday, June 14, at the Verizon Wireless Amphitheatre in Alpharetta, GA. On Friday the tour stops at Verizon Wireless Amphitheatre in Charlotte, NC. Saturday's show is at the Time Warmer Pavilion in Raleigh, NC. Next Sunday they entertain at the Ntelos Wireless Pavilion in Portsmouth, VA.

JAMES BLUNT appears as part of the Hampton Court Festival on Tuesday, June 14, at the Hampton Court Palace in Surrey, England.

GLEE LIVE IN CONCERT on stage Monday, June 13, at The Palace of Auburn Hills in Auburn Hills, MI. On Tuesday they are in the spotlight at the Quicken Loans Arena in Cleveland. Thursday they opens a two nighter at the IZOD Center in East Rutherford, NJ. Saturday performance is at the Nassau Veterans Memorial Coliseum in Uniondale, NY.

JOSH GROBAN entertaims Tuesday, June 14, at the Rochmond Coliseum in Richmond, VA. On Wednesday he stars at the GIANT Center in Hershey, PA.

EDDIE VEDDER embarks on a month long US tour beginning June 15 with a performance at the Performing Arts Center in Providence, RI Thursday's show is at the Wang Theatre in Boston and on Saturday he's on stage at the Bushnell Center for Performing Arts in Hartford, CT.

OZZY OSBOURNE rocks on with a show Monday, June 13, at the Konig-Pilsener Arena in Oberhausen, Germany. On Wednesday the performances is at the Olympiahalle in Munich. On Friday the crowds will be yelling at the Rockhal in Luzembourg.

CHELSEA HANDLER on stage Friday, June 17, at the Verizon Wireless Theater in Houston. On Saturday the show is at the Verizon Theatre at Grand Prairie, Texas.

CELTIC WOMAN bring their shows to Germany this week with a show at the Alte Oper in Frankfurt, Germany on Tuesday, June 14. On Thursday they're on stage at the Kulturpalast in Dresden. Friday finds them at the Tempodrom in Berlin and on Saturday they can be enjoyed at the Philipshalle in Dusseldorf.

A CLASSIC EVENING OF LILLY TOMLIN starring the Tony Award winning cutting edge comedic icon, takes place June 18-19 at the Orleans Hotel in Las Vegas.




FINAL OVATION


TOMMY BRENT theatrical producer died June 4, 2011. He was 88.

He was a legendary producer on the New England straw hat circuit, most notably for over two decades at Rhode Island's historic Theatre-by-the-Sea theatre.

Brent acted as producer and manager of the Theatre from 1967 to 1988, producing over 100 musicals and plays overseeing the hiring of actors, technical crew, and stage managers. He fought hard to be the first summer theatre to receive the producing rights of Broadway shows which created a special opportunity for new actors to try their hands at popular roles as well as audiences to see recent New York hit shows. He also created a brand new tradition and future for the fabled theatre, by producing very elaborate shows—all on site – sets, costumes, everything. During Brent's time as producer and manager, then-Governor John Chafee proclaimed Theatre-By-The-Sea Week from July 28-August 3, 1968, and the Theatre was named to the National Register of Historic Places in 1980.

Born in Washington, D.C., Thomas Brent Cheseldine got his start at a barn theater in Arlington, Virginia and headed for New York in 1941 when he was 18 to "go on stage, become a star and make a million dollars." But he landed an usher's job at the New Amsterdam Theater on 42nd St., where for six days of work a week he was paid $12. He began producing when he was 20, when he learned that he "couldn't count the house and act at the same time and remember my lines. I wanted to make some money, so I became a producer."

Over the years, he discovered many talents who moved on to some fame and success in various areas of the entertainment world, including Cherry Jones, Tovah Feldshuh, Frances Sternhagen, and Michael McGrath.

He was preceded in death by his parents and five sisters and brothers. He is survived by over 45 nieces and nephews. He was buried at Cedar Hill Cemetery, Maryland in his family plot.

STEVEN VANDERVORT theatrical sound engineer died in Las Vegas from colon cancer. He was 51.

He served as a sound engineer at the EFX production show at the MGM. He also worked on productions at the Bellagio, Wynn Las Vegas and Encore Las Vegas. He most recently worked as a private audio and visual design consultant for the New York based firm of Shen, Milson & Wilke.

He is survived by his wife the former Jill Knight and their two children Spencer Ryan, 6 and Morgan Elizabeth, 4. He was preceded in death by his father, William Francis Vandervort. Survivors also include his mother, Helen McKelvey and brother, Jeffery (Heidi) Vandervort.








Next Column: June 19, 2011
Copyright: June 12, 2011. All Rights Reserved. Reviews, Interviews, Commentary, Photographs or Graphics from any Broadway To Vegas (TM) columns may not be published, broadcast, rewritten, utilized as leads, or used in any manner without permission, compensation and/or credit.
Link to Main Page
---
Laura Deni



For the snail mail address, please E-mail your request.
CLICK HERE FOR COMMENT SECTION