! >
Broadway To Vegas
  
 SHOW REVIEWS CELEBRITY INTERVIEWS GOSSIP NEWS

| | |
| --- | --- |
| | |
ERNEST HEMINGWAY'S ENDANGERED HOME - - BROADWAY BARES 15 - - 34TH ANNUAL WOLF TRAP GALA - - ABBY MANN IN RESIDENCE - - GLEN CAMPBELL AND JIMMY WEBB - - NATHAN LANE AND MATTHEW BRODERICK SELL TICKETS - - TOMMY STEELE HONORED - - FASHION ROCKS - - DONATE . . . Scroll Down


Copyright: June 12, 2005
By: Laura Deni

CLICK HERE FOR COMMENT SECTION
PAPA HEMINGWAY'S RUN DOWN HOME


Despite President Bush trying to stop the project, permission has been given to try to save Ernest Hemingway's home in San Francisco de Paula, Cuba. That's where the literary great penned - writing while standing in his leather moccasins - For Whom the Bell Tolls and The Old Man and the Sea. The home has been named to the list of America's 11 Most Endangered Historic Places, issued by the National Trust for Historic Preservation.

Until the addition of this property many didn't realize there was such an endangered list.

Drawing international interest is not only the name Hemmingway, but the fact that this property is not located in the United States and on soil which has a trade embargo.

Thus, the interest of the White House.

"Even though it stands on foreign soil, this house is part of the shared cultural heritage that defines us as Americans," said Richard Moe, president of the trust, which defines itself as a private nonprofit organization dedicated to protecting the irreplaceable.

In 2004 The International Herald Tribute reported that The Hemingway Preservation Foundation applied for a license that would exempt it from the 40-year-old U.S. economic embargo against Cuba and allow it to provide money and expertise to help restore the finca. The foundation, led by Frank and Jenny Phillips, estimated that the project would cost $2 million to $3 million.

The Bush administration denied the foundation's request in June, 2004 saying its project would support tourism and thus help the economy of the hemisphere's last Communist outpost.



Ernest Hemingway portrait Cuba 1957
Previously, in 2002, the Bush administration did approved a license request by the Hemingway Preservation Foundation to save a trove of papers and photographs stored in Hemingway's basement at the finca. Hemingway biographers say the papers - including early drafts of major works, a copy of the screenplay for The Old Man and the Sea with notes scribbled in the margins, letters from people including Ingrid Bergman and the editor Maxwell Perkins, and recipes - promise to shed light on a part of the author's life that Cuba has kept locked away.

Under the agreement between the United States and Cuba, the documents are being repaired and preserved, and copies sent to the Hemingway collection in the John F. Kennedy Library in Boston. But sending American money to help save Hemingway's house is a different matter.

Molly Millerwise, a spokeswoman for the Office of Foreign Assets Control at the Treasury Department, which administers the embargo against Cuba, said, "We do not want to facilitate something that puts dollars into Castro's hands."

Saving precious documents is legal, she says. Saving a tourist attraction is not.



Actor Spencer Tracy and Ernest Hemingway seated at the Floridita Bar in Havana, Cuba. Picture was taken in 1955 during the filming of The Old Man and the Sea, which starred Tracy in the story written by Hemingway. Hemingway's wife, Mary, is on the right.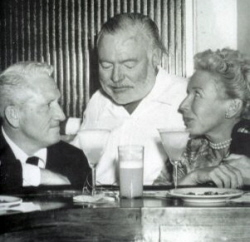 According to The International Herald Tribune, Cubans have kept Hemingway's memory alive. Four decades after he left Cuba, there are still people who can remember him sitting in their kitchens for coffee, dancing at their weddings. They have made small shrines of his favorite room at the Ambos Mundos Hotel, his favorite bar stool at La Floridita and his favorite table at La Terraza. And the Cuban government gave Hemingway's first mate, Gregorio Fuentes, a free meal at La Terraza every day until he died in 2002, at 104.

Thomas Herman, a specialist in international law who represents the Hemingway Preservation Foundation, said the government's denial reflected a "narrow interpretation of the law." The finca is much more than a tourist attraction, he said. It is an invaluable part of America's heritage. The foundation appealed the Treasury Department's decision - and won.

Structural instability and damage by the elements have caused the site to deteriorate so severely that experts now call it a "preservation emergency." The National Trust and the Hemingway Preservation Foundation - under a license from the United States government it and the Hemingway Preservation Foundation - have assembled a team of architects and engineers who recently received permission to go to Cuba this summer to prepare an emergency stabilization and preservation plan. But unless significant restoration funding can be raised and used to restore the property, these preliminary efforts will come to nothing.

The deteriorating property, near Havana. Finca Vigía, or Lookout Farm, built in the late 1800's, has a wealth of materials relating to the life of Hemingway, who lived there from 1939 to 1960.

Mary Hemingway donated the house to Cuba in 1962, one year after her husband's suicide in Ketchum, Idaho.



Portrait of Hemingway in American Red Cross uniform, ca. 1918 Photo from Hemingway collection in the John F. Kennedy Library, Boston.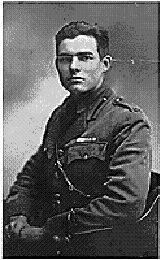 The place is cluttered with books about war and hunting - the library, decorated with African animal trophies and bullfight posters, contains about 9,000 volumes. Works of art include a ceramic sculpture by Pablo Picasso and an engraved bowl from President Franklin D. Roosevelt. The massive record collection, of over 800 albums, are mostly jazz music. There's a Glenn Miller album on the record player.

The bar is stocked with rum and Cinzano bottles. The table is set for guests.

Correspondent uniforms in the closet recall Hemingway's coverage of World War II.

There are copies of photographs of triumphant deep-sea fishing expeditions and of drunken parties with Ava Gardner and Errol Flynn. A photo recalls the day he won the Nobel Prize.

Obsessed about his weight and worried about his health, Hemingway took to weighing himself each day and writing on the bathroom wall what the scales said. accompanied by comments about his various diets. On the bathroom walls, there are his daily notes recording both his weight and blood pressure. The last notation is from March 6, 1960.

Other Sites on the 2005 list of America's 11 Most Endangered Historic Places are:

Belleview Biltmore Hotel, Belleair, Fla. – One of West Florida's most beloved landmarks, the Belleview Biltmore has welcomed presidents, business tycoons and other luminaries since 1897.

Camp Security, York County, Pa. – The sole remaining site of a Revolutionary War prison camp

Daniel Webster Farm, Franklin, N.H. – The Daniel Webster Farm was home and family farm of Daniel Webster (1782-1852), one of America's pre-eminent orators and statesmen. In 1871, the farm became the site of a home and school for children orphaned in the Civil War – one of the first such institutions to be located in a healthful rural environment.

Eleutherian College, Madison, Ind. – The first college in Indiana – and one of the first anywhere in pre-Civil War America – to admit students regardless of race or gender was founded in 1848, and served as a busy stop on the Underground Railroad with many college leaders and students active in the movement to shelter and shepherd fugitive slaves. Today, the building shows the effects of prolonged neglect and vandalism.

Ennis-Brown House, Los Angeles, Calif. – The grandest of Frank Lloyd Wright's textile-block houses, the Ennis-Brown House was badly damaged in the 1994 Northridge earthquake and further ruined by recent rains. Today, the house is unsafe and off-limits to visitors until critical repairs are made. Estimates of stabilization cost run as high as $5 million, an amount that far exceeds the resources of the nonprofit organization that owns the property.

Historic Buildings of Downtown Detroit, Detroit, Mich. – Downtown Detroit boasts a rich array of architectural treasures reflecting its role as a major station on the Underground Railroad, an industrial powerhouse, the world-famous "Motor City," and the home of Motown – but today, many of these treasures are threatened by neglect and lack of vision. A "hit list" was recently issued by the city calling for the demolition of more than 100 buildings, and just last month, the Madison-Lenox Hotel, a 2004 11 Most site, was demolished. Detroit's leaders need to work with developers and preservationists to breathe new life into old buildings and save the history of one of America's great cities.

Historic Catholic Churches of Greater Boston, Mass. – A record number of historic Catholic churches in Boston have been slated for sale, redevelopment and possible demolition. To avoid the loss of these treasures, it is essential that local governments, preservationists, developers, architects, realtors and the Archdiocese work together to find viable and appropriate new uses for these buildings.

King Island, Alaska – Located 95 miles west of Nome, King Island is in imminent danger of being washed into the Bering Sea. For centuries, King Island was occupied by the Inupiat Eskimos, known as "King Islanders" or "Ugiuvangmiut." In 1959, the Bureau of Indian Affairs closed the Island's school, forcing King Islanders to relocate with their children to Nome. Today, the last surviving Inupiat families are seeking to seasonally return to the Island. The King Island Native Corporation, which owns the land, is working to protect and rebuild the remaining structures.

National Landscape Conservation System (NLCS), Western States– Encompassing 26 million acres in 12 Western states, the System includes dozens of national monuments, conservation and wilderness areas, historic trails, and wild and scenic rivers. Established by the Bureau of Land Management (BLM) with the purpose of protecting entire landscapes of cultural and natural values, the System – threatened in part by theft and vandalism – and BLM's ability to provide protection of these sites is seriously hampered by chronic understaffing and underfunding.

"The Journey Through Hallowed Ground" Corridor, VA, MD, PA – Encompassing hundreds of historic sites including, six homes of U.S. presidents, the largest collection of Civil War battlefields, Native American and African American historic sites, and numerous scenic rivers, roads and landscapes, the land is imminently threatened by suburban sprawl. The Journey Through Hallowed Ground initiative, a tri-state collaboration, is a public-private effort seeking 21st century solutions to balance growth and historic preservation in ways that celebrate and protect the region's heritage. If this initiative fails, 400 years of American heritage may be lost.



Broadway To Vegas is supported through advertising and donations. Priority consideration is given to interview suggestions, news, press releases, etc from paid supporters. However, no paid supporters control, alter, edit, or in any way manipulate the content of this site. Your donation is appreciated. We accept PAYPAL. Thank you for your interest.



Veteran entertainer Tommy Steele was recognized for headlining more shows at the London Palladium than any other performer. A plaque commemorating this achievement was unveiled at the theatre on June 9th. Steele hasn't retired. Rather he returns to the Palladium this holiday season, starring in the musical Scrooge. That show replaces the musical Chitty Chitty Bang Bang, which is touring.


SWEET CHARITY


THE 34TH ANNUAL WOLF TRAP GALA The Art of Romance: An Evening with Tony Bennett, will take place on June 18 in Vienna, Virginia.

This famous black-tie event includes an evening of cocktails, fine dining, and music under the stars.

All proceeds go to Wolf Trap's acclaimed Education Programs. Tables may be purchased at $20,000, $11,000, $7,000, and $5,500. Individual seats may be purchased at $1,100 and $450.

BROADWAY BARES 15 This hotly anticipated annual event combines the naughtiness of burlesque and the razzle-dazzle of Broadway and has been a smashing success since its inception in 1992.

Created by Jerry Mitchell, the event features the hottest male and female dancers on Broadway and has become one of Broadway Cares / Equity Fights AIDS' signature events.

Must be 21 to attend. No photography or video allowed.

Sunday, June 19 at Roseland Ballroom in NYC.

SWAROVSKI FASHION ROCKS FOR THE PRINCE'S TRUST The Prince's Trust has announced that Fashion Rocks will return to the international stage as the world's most glamorous fundraising event.

Icons of fashion and music will perform live on stage at Swarovski Fashion Rocks for The Prince's Trust at the Grimaldi Forum in Monaco on Monday October 17.

The first Fashion Rocks event hosted by Elizabeth Hurley and Denis Leary at London's Royal Albert Hall in 2003 received world acclaim. Beyoncé and Armani, Robbie Williams and Versace, Bjork and Alexander McQueen were just a few of the performances that wowed the sell out crowd.

Swarovski Fashion Rocks for The Prince's Trust will feature Burberry, Calvin Klein, Roberto Cavalli, Chanel, Dolce & Gabanna, Giorgio Armani, McQueen, Prada, Ralph Lauren, Tommy Hilfiger, Versace and Vivienne Westwood. A-list international artists that will rock the Monaco stage at one of the year's most exciting events.


SPREADING THE WORD


ANNA IN THE TROPICS is next in line to be preserved on CD by L.A. Theatre Works. All performances are recorded to air on L. A Theatre Works' nationally-syndicated radio theater series, The Play's The Thing, which broadcasts weekly on public and satellite radio.

Starring Jimmy Smits, Alma Martinez, Jonathan Nichols, Winston Rocha, Onahoua Rodriguez, Adriana Sevan and Herbert Siguenza. Produced by Susan Albert Loewenberg.

Nilo Cruz's 2003 Pulitzer Prize winner is a poignant and poetic play which captures 1929 Florida at a time when cigars are still rolled by hand and "lectors" are employed to educate and entertain the workers.

The arrival of a new lector is cause for celebration, but when he reads aloud from Anna Karenina, he unwittingly becomes a catalyst in the lives of his avid listeners, for whom Tolstoy, the tropics and the American dream prove a volatile combination.

June 15- 17 and June 19 at the Skirball Cultural Center in Los Angeles, CA.

DAVID KENNEY'S EVERYTHING OLD IS NEW AGAIN conducts an in studio interview Sunday, June 12, with Jack Donohue prior to his engagement at The Oak Room at the Algonquin Hotel in NYC.

Everything Old Is New Again can be heard every Sunday 9-11 PM (ET-USA) over WBAI 99.5 FM.


OTHER PEOPLE'S MONEY


SPAMALOT which won the Tony for Best Musical is music in the ears of its investors. Blumenthal Performing Arts Center, an investor in the show, expects to double or triple its $25,000 investment in the show, thanks to a planned national tour. The Blumenthal - part of a consortium called the Independent Presenters Network - had a low monetary risk. Usually, investors ante up at least $50,000 with an additional l0 percent on demand contract stipulation. The Independent Presenters Network has at least 25 members - which range from nonprofit theater groups to commercial theater chains. The group spent two months raising $1 million to help back the show.

The Independent Presenters Network, which has Steven Spielberg as a member, helped fund Bombay Dreams and Thoroughly Modern Millie.

THE ODD COUPLE which will star Nathan Lane and Matthew Broderick instantly sold more than $5 million in individual tickets when the ducats went on sale last Monday. The revival of the Neil Simon comedy is scheduled to open at the Brooks Atkinson Theater in previews on Oct. 4 and officially on Oct. 27. Lane is to play the slovenly sportswriter Oscar Madison and Broderick his roommate, the fussy photographer Felix Unger.



NO TIME FOR COMEDY

Photo collage by David Rodgers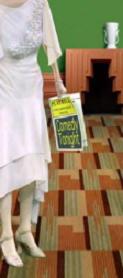 By S.N. Behrman. Directed by Daniel Gerroll.

Starring Mark Blum, Daniel Gerroll, Edward Hibbert, Gabriel Nassbaum, Gammy Singer,

What would you say to the playwright, famous for his Broadway comedies, when he despairs that he's never written an "important" play?


What if you were his actress wife, famous for appearing in his shows, when you discover he's taken up with a beautiful "muse" to inspire his serious sensibilities?

In war weary 1939, this witty and winning comedy explores the value of laughter and true love.

June 14 through July 3 at the Bay Street Theatre in Sag Harbor, NY.


HECUBA by Euripides, adapted by Tony Harrison. Starring Vanessa Redgrave. This Royal Shakespeare Company's production opens at the Brooklyn Academy of Music on Friday with performances through June 26. Brooklyn Academy of Music, NY.

THE FANTASTICKS featuring author Tom Jones as The Shakespearian Actor.

"Let me tell you a few things you may want to know before we begin the play – a list of all the characters: A boy. A girl. Two fathers. And - a wall."

New York's longest running musical will transport you to a time when life was simpler and when all we hoped for was a happy ending. The Fantasticks is a musical for everyone!

June 14-26 at the Rich Forum in Stamford, CT.

TWO GENTLEMEN OF VERONA by William Shakespeare. A Play About The Trials And Tribulations Of Being In Love - Taking Place In The World Of F. Scott Fitzgerald's 1920s.

The Boomerang Theatre Company kicks off its 2005 Season with a free outdoor production of one of William Shakespeare's rarely-seen comedies - The Two Gentlemen of Verona. Directed by Kate Ross, the show will be performed at various locations around New York City, beginning on June 18th, in Central Park.

This is one of Shakespeare's earliest plays and contains numerous elements which appear time and again in his works. These include verbal duels between servants and masters; with the servants taking great pleasure at seeing what fools their lords can be. We also see Shakespeare's perception of women - who are often portrayed as perfect creations who have the power to transform life - not to mention dressing up as a man if the circumstances warrant.

This production of takes place in an Italian version of the 1920s of F. Scott Fitzgerald; a place of innocence, wealth, and a wonder for all that the world had to offer. The work will use the Shakespeare text and be performed in 1920s dress.

The cast includes Jeremy Beck, Mac Brydon, Ronald Cohen, Patrick Connolly, Benjamin Ellis Fine, Henry Martone, Ron McClary, Dennis McNitt, Peter Morr, Jessica Myhr, Sharon Paige, Sara Thigpen, and Bill Weeden. This Equity Showcase production has Sue Abbott as stage manager. Costumes are designed by Marion Talan.

The award-winning Boomerang Theatre Company is a non-profit theatre dedicated to presenting new, classic and neglected plays.

6 WOMEN WITH BRAIN DEATH (OR EXPIRING MINDS WANT TO KNOW) This musical revue by Oklahoma's own Mark Houston skewers contemporary life and American pop culture that conspire to make women feel insecure or disillusioned. The linking device for the musical revue are tabloid newspaper headlines. "I Was Bigfoot's Love Slave."

Scenes include a soap opera that comes to life, a wacky game show, a twenty-year high school reunion that runs amuck, Barbie and Ken's disappointing wedding night, and an aging prom queen's severed head that sings from her kitchen countertop. Houston's clever lyrics and music are the driving forces for the piece.

Beautiful ballads, gospel, country and western, doo-wop and good old rock 'n' roll are all wrapped into this fast-paced, irreverent, hilarious musical revue that is CST's signature piece. June 17 - July 9 at Carpenter Square Theatre in Oklahoma City.

I AM MY OWN WIFE Written by Doug Wright. Directed by Moisés Kaufman. Starring Jefferson Mays. 2004 Tony Award-winner for Best Play & Best Actor. 2004 Pulitzer Prize for Drama.

More than 500,000 people came to see this incredible play during its New York run.

The true story of Charlotte von Mahlsdorf, a soft-spoken but tenaciously gender-bending biological male, a real-life East-German transvestite who managed to survive both the Nazi onslaught and the repressive Communist regime that followed.

June 14 — July 10 at the Wadsworth Theatre of the Geffen Playhouse, Los Angeles.

THE ROYAL FAMILY by George F. Kaufman and Edna Ferber.

The Royal Family introduces audiences to a celebrated theatrical family, The Cavendishes. Their daily interactions paint a portrait of a loving, charismatic family who simply can't remove the drama masks, even after leaving the stage. June 16 to June 25 - at SMT Downtown Theater in Datona Beach, Florida.

THE CONSTANT WIFE by W. Somerset Maugham. Directed by Mark Brokaw. The revival stars Kate Burton. Opens Thursday at the American Airlines Theater, NYC.

DISNEY'S ON THE RECORD a new musical that sparkles with more than 60 of the most extraordinary songs ever written, from some of the most popular films ever made - including The Lion King, The Little Mermaid, Aladdin, Cinderella, Snow White, Tarzan, The Hunchback of Notre Dame, Sleeping Beauty, Dumbo , Peter Pan, Beauty and the Beast, Pinocchio, and Lady and the Tramp.

On The Record whisks you to an enchanted recording studio, where a group of performers and musicians are brought together to record the most beloved songs of all time. June 14 - 19 at the Starlight Theatre in Kansas City. Starlight Theatre was founded in 1950 and is now celebrating its 55th season. It is Kansas City's largest and oldest performing arts organization and is the 2nd largest theatre of its kind in the United States. The theatre seats approximately 7,900 people and is located on 14 acres in Swope Park next to the Kansas City Zoo.

FINIAN'S RAINBOW A Musical Play in Two Acts with Music by Burton Lane. Book by E.Y. Harburg & Fred Saidy. Lyrics by E.Y. Harburg. Book revised in concert form by Charlotte Moore who also directs.

Everyone in the world knows that all Americans are rich, and Finian McLonergan knows why - the soil of Fort Knox is imbued with magical properties. Traveling to America, with his daughter Susan from their home in Ireland, Finian plants a pot of gold stolen from a Leprechaun, and awaits his fortune. Fantasy, folklore, romance and humor combine to produce an American success story. June 16 - July 2 at the Westport Country Playhouse in Westport, Conn.

JUDGMENT AT NUREMBERG

Abby Mann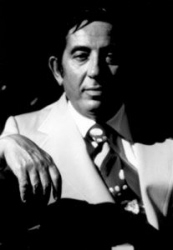 Academy Award-winning playwright Abby Mann is in residence at International City Theatre for rehearsals. Artistic director Shashin Desai and a 15-member ensemble take on the Southern California premiere of Judgment at Nuremberg at International City Theatre, with playwright Abby Mann in residence for rehearsals of the stage adaptation of his own Playhouse 90 teleplay and 1961 Academy Award-winning screenplay.

Featuring Gil Amelio, Chris Foreman, Matt Foyer, David Fruechting, John Gilbert, Dyan Kane, Neil Larson, Henry LeBlanc, Alexander Leeb, Barry Lynch, Silvia Moore, Edmund L. Shaff, Maury Sterling, MaryAnn Strossner and David Lloyd Wilson,.

Judgment at Nuremberg continues ICT's 20th Anniversary Season, opening on June 17 for a four-week run. Low-priced previews begin June 14.

Must a judge uphold the laws of a state, regardless of the moral and social consequences? Can civilians be held accountable for their country's atrocities? Should an international court have jurisdiction over defendants who committed crimes against people within their own country? Can what happened in Germany happen anywhere?

Unlike the higher profile trials of Goebbels, Goerring and Speer, the later Nuremberg War Crimes Trials of businessmen, government workers and judges proved divisive and complex. Instead of assigning specific culpability to Hitler and his associates, these trials asked whether the entire German people were responsible for allowing unspeakable crimes to be committed without protest. The issues explored in Judgment at Nuremberg reverberate through history and challenge humanity to this day.

Judgment at Nuremberg began life in 1957 as a live TV drama on CBS's famed Playhouse 90 series. It was adapted into a feature-length film in 1961, directed by Stanley Kramer and starring Spencer Tracy, Burt Lancaster and Maximillian Schell, and winning two Oscars: for Mann's screenplay and for Schell as defense attorney Rolfe. In 2001, Tony Randall and his acclaimed National Actors Theatre commissioned Mann to adapt his screenplay to the stage for a Broadway production.

Judgment at Nuremberg is produced and directed by Shashin Desai; set design is by Don Llewellyn; lighting and sound design are by Bill Georges; costumes are by Kim DeShazo; and casting is by Michael Donovan Casting. International City Theatre is the Resident Professional Theater at the Long Beach Performing Arts Center, and the recipient of the Margaret Harford Award from the Los Angeles Drama Critics' Circle for "Sustained Excellence in Theater."

Judgment at Nuremberg runs June 17 through July 10.

THE SOUND OF MUSIC Paige Davis, known to millions of television viewers as the host of The Learning Channel's Trading Spaces will make her Pittsburgh Civic Light Opera debut as Maria. She will be joined on stage by CLO favorite and Tony Nominated actor Robert Cuccioli as Captain Von Trapp. James Brennan returns to CLO to direct this remarkable production. The Sound of Music will be choreographed by Dan Mojica.

Pittsburgh Civic Light Opera June 14-26.

HILLBILLY ANTIGONE A compelling new musical inspired in equal measure by Sophocles, early country music and old time religion. Directed by Lookingglas Theatre Company Member Heidi Stillman.

Book, music and lyrics by Artistic Associate Rick Sims, and story by Sims and Stillman.

Using rural mountain music traditions, Hillbilly Antigone paints late 19th century mountain feud folklore on a Greek tragedy backdrop, creating a highly original and compelling piece of musical theatre.

"Originally, I came up with the idea of Hillbilly Antigone as a joke," says writer Rick Sims, "but as I started writing, I realized how much the Hillbilly stereotypes of "God-fearin'", incest, feuding, and crimes of passion have in common with ancient Greek drama and how much depth these themes of betrayal, family and religion demanded. This isn't a "Sillybilly" romp".

America's traditional folk music and heritage struck Sims as particularly applicable: "Using a three piece country band singing songs of heartache to play the role of Chorus couldn't be more perfect".

The score of 12 songs includes; A Horse Called Disaster and The Ballad of a Snake Bitten Bride.

Full of bizarre, wicked and all too human characters, Hillbilly Antigone tells the tale of the ongoing feud between the Flicks and the Wallers, who have been fighting on Badd Mountain for as long as anyone can remember. Antigone Flick and Harmon Waller have created a place in their hearts where the feud can't touch. But when County Judge and Preacher Creon Waller, espousing a flammable potion of religion and law, declares the body of Antigone's brother Amos is to be strung up as an example of the wages of sin, she is forced to take a stand.

The Hillbilly Antigone cast features: Ensemble Members Lawrence E. DiStasi, Christine Dunford, Philip R. Smith, Tracy Walsh, Andrew White, Artistic Associate Rick Sims, Cynthia Baker, Mattie Hawkinson, Keith Kupferer, and Matt Ziegler.

The production designers are: Ensemble Members Mara Blumenfeld (Costumes) and Dan Ostling (Set), Artistic Associate Andre Pluess (Sound), and Chris Binder (Lights).

Through July 10 at The Lookingglass Theatre in Chicago.


| | | |
| --- | --- | --- |
| | | |
WHO'S WHERE


MICHAEL BUBLE performs today, Sunday, June 12 at the Round Up in Calgary, AB. On Tuesday he's on stage at the Royal Theatre in Victoria, BC. Thursday finds him at the Queen Elizabeth Theatre in Vancouver, BC. He heads back across the border for a show Friday at the Paramount Theatre in Seattle and on Saturday he'll be singing at the Arlene Schnitzer Hall in Portland, OR.

DURAN DURAN continue their German tour. On Monday, June 13, they perform at Freilichtbuhne Stadtpark in Hamburg. On Wednesday they are on stage at the Olympiahalle in Munich. Thursday finds them at Museumplatz in Bonn and on Friday the show is at Hassentag in Weilburg.

PETER CINCOTTI on stage Monday, June 13, at The Shedd ion Eugene, Oregon. On Wednesday he performs at the Historic Mountain Winery at Saratoga, CA.

JIMMY WEBB AND GLEN CAMPBELL The singer and songwriter team up for this gig at Feinstein's. Campbell has sold more than 45 million albums and recorded 27 top-10 hits. Jimmy will be performing new and vintage songs from his new CD Twilight of the Renegades, which was released last month. This is his first solo CD since 1996. He will also perform classics like MacArthur Park, By The Time I Get To Phoenix, Wichita Lineman, Galveston, Didn't We and Up, Up and Away. June 14th - 18th at Feinstein's at the Regency in NYC.

PLAY IT AGAIN - THE MOVIE MUSIC OF WOODY ALLEN with Dick Hyman, musical director; Ann Hampton Callaway; Nellie McKay; Hollywood Jazz Orchestra. July 20 at the Hollywood Bowl, Los Angeles, CA.

LYLE LOVETT AND HIS LARGE BAND take to the stage of John Ascuaga's Nugget in Sparks, NV on June 17-18

DAMON WAYANS For three seasons Damon Wayans co-starred and wrote for the critically acclaimed Emmy Award-winning series In Living Color. He can currently be seen starring in his hit show, My Wife and Kids, for ABC, which he co-created and serves as Executive Producer. June 19 at the State Theatre in New Brunswick, N J.

ALANIS MORISSETTE performs Wednesday June 25 at Radio City Music Hall in NYC. On Friday she is at the Wang Canter in Boston. Saturday finds her show at Meyerhoff Symphony Hall in Baltimore, MD.

BIG BAD VOODOO DADDY entertaining today, Sunday, June 12, at the Crystal City Festival in Arlington, VA. On Thursday they are jumpin' at Waterfest in Oshkosh, WI. Saturday they can be enjoyed at the Pechanga Resort and Casino in Temecula, CA.

BLIND BOYS OF ALABAMA on stage at the Ravinia Festival in Highland Park, IL on Wednesday, June 15.

WAYNE SHORTER in the spotlight Friday, June 17 at Carnegie Hall in NYC.

TONY BENNETT entertaining this evening,Sunday, June 12, at the Pala Casino in Pala, CA. On Saturday he's in the spotlight at Wolf Trap's Filene Center in Vienna, VA.

MICHAEL FEINSTEIN performing this evening, June 12, at The Greenbriar in White Sulphur Springs, WV. On Saturday the show is at the Midland Theatre in Kansas City.


FINAL OVATION


ANNE BANCROFT

Anne Brancroft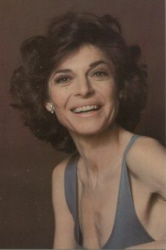 73, one of only eight actors to win an Oscar, a Tony and an Emmy - passed away from uterine cancer at New York City's Mount Sinai Medical Center on Monday.

She won first Tony for her first starring role on Broadway - in 1958 opposite Henry Fonda in Two for the Seesaw in 1958. Two years later she took home another Tony as Annie Sullivan, Keller's teacher, in The Miracle Worker. She and reprised that role in the 1962 film version and was awarded the Oscar.

Bancroft was nominated four other times for Academy Awards: The Pumpkin Eater (1964), The Graduate (1967), The Turning Point (1977) and Agnes of God (1985).



Bancroft made the December 21, 1959 cover of Time Magazine for a personal and professional profile regarding her role in The Miracle Worker.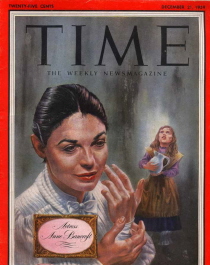 Her greatest public fame was as Mrs. Robinson, the seducer of her daughter's boyfriend in the 1967 movie The Graduate, which propelled Dustin Hoffman into stardom.

She made a triple play when her performance in Deep in My Heart won her a 1998-99 Emmy for Outstanding Supporting Actress in a Miniseries or Movie. Her husband, Mel Brooks, also was a winner that night picking up his Emmy as . Outstanding Guest Actor in a Comedy Series for his appearance in Mad About You.

Bancroft met Brooks when he visited the set of The Perry Como Show. It was instant attraction. They wed in 1964. Their only child, Maximillian, was born in 1972.

Brooks credited his wife with suggesting that The Producers be turned into a Broadway musical. In an interview during the peak of The Producers Tony glory, Brooks said that God must have told him that he'd be given one really good thing in his life "and it was Anne."

The lights on Broadway were dimmed Wednesday in her honor. Funeral services were private.
















Next Column: June 19, 2005
Copyright: June 12, 2005. All Rights Reserved. Reviews, Interviews, Commentary, Photographs or Graphics from any Broadway To Vegas (TM) columns may not be published, broadcast, rewritten, utilized as leads, or used in any manner without permission, compensation and/or credit.
Link to Main Page
---
Laura Deni


CLICK HERE FOR COMMENT SECTION