Broadway To Vegas
  
 SHOW REVIEWS CELEBRITY INTERVIEWS GOSSIP NEWS

| | |
| --- | --- |
| | |
CHRISTIE'S TO AUCTION OFF ROYAL JEWELS - - AMERICAN SHOWS DOMINATE WEST END LIVE - - RED SKELTON PERFORMING ARTS CENTER AND MUSEUM - - JERRY LEWIS WANTS THE NUTTY PROFESSOR AS A MUSICAL - - NOBODY SHOULD BE SURPRISED THAT HAIRSPRAY CLOSES IN VEGAS - - NAKED BUTLERS ARE POPULAR - - NEW ADDITION FOR MINNEAPOLIS INSTITUTE OF ARTS - - PATRICK SWAYZE IN GUYS AND DOLLS - - DONATE . . . Scroll Down


IN A TIZZY OVER A TIARA - ROYAL JEWELS AND ART UP FOR AUCTION
Princess Margaret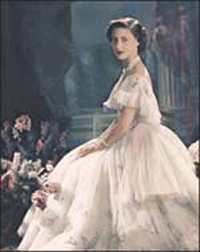 It's amazing the things kids and grandkids don't want. One might assume that you can never have too many diamonds, but when you're a royal those glittery objects can just be so ordinary.

There is also that horrific thing called estate tax.

Prizes possessions get gaveled down. The government gets paid.

Many a blood feud has erupted over the issue of sentiment versus paying the taxes. None are immune - that includes the estate of Princess Margaret.

In London on June 13-14 auction house Christie's puts on the auction block jewelry and works of art from the collection of Queen Elizabeth's sister. Her Royal Highness The Princess Margaret, Countess of Snowdon.

Grand by even Christie's standards - this important and unparalleled historic sale will celebrate and pay tribute to the glamorous Margaret's renowned beauty, style and taste. Comprising over 800 items, with estimates ranging from under $100 to over $950,000, the auction will feature a superb selection of nearly 200 lots of royal jewelry and Fabergé as well as more than 600 other lots in a broad range of furniture, silver, works of art and decorative objects. Christie's said it expects the sale to bring in several million dollars, with the jewelry most likely to draw the greatest interest and eclipse pre-sale price estimates.

Princess Margaret's collection of jewelry spans every stage of her life. A ruby, cultured pearl and diamond necklace she wore on her second birthday is estimated at $2,100 to $2,600, while a ruby and diamond ring made a few years before her death in 2002 is estimated at $26,000 to $35,000. It's a ring that Margaret took a hand in creating. She'd had it made from some rubies that she kept in a matchbox that the Queen Mother had once given her.

The collection includes pieces that were inherited, given or personally acquired by The Princess and reflects her celebrated style and timeless elegance. Many of the lots in the sale will be highly sought after not only for their provenance but also because they remain fashionable today.



Diamond rivière, composed of 34 diamonds totaling about 85 carats, circa 1900. Photo: Christie's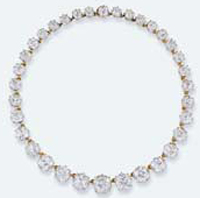 Items selected to be gaveled down include the cherished five-row Art Deco pearl and diamond necklace which Princess Margaret wore when photographed by Cecil Beaton for her 19th and 21st birthday portraits (estimate $27,640-36,854), and a marquise-cut diamond ring of 5.17 carats (estimate: $110,562-128,989).

There are numerous important and historic pieces including an antique diamond rivière, composed of 34 diamonds totaling about 85 carats, circa 1900, accompanied by three handwritten notes naming the necklace after a previous owner as the 'Lady Mount Stephen' which was given to Princess Margaret by her grandmother Her Majesty Queen Mary (1867-1953) who wore it at her son King George VI's coronation. That is expected to fetch $350,000 to $520,000.

Highlights range from a gilt hedgehog brooch valued at $92.00 to the historic Poltimore Tiara - and it is that tiara which is causing the chatter.



Poltimore Tiara. Photo; Christie's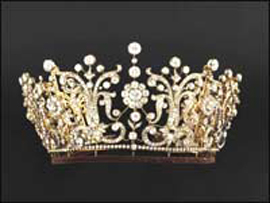 It is a most treasured piece. The Poltimore Tiara - originally created by Garrard in 1870 for Lady Poltimore, the wife of the second Baron Poltimore. The estimated sale is at $260,000 to $350,000. The Princess wore it on several occasions including her wedding and, in its alternative form, as a stunning diamond fringe necklace and scroll brooches prior to the wedding.

The life of Princess Margaret marked the end of an era: a transition that gently combined the respected formality of her ancestors with the regal elegance of a beloved young princess watched by the world. Her mother was the last Empress of India, her cousin the last Tsar of Russia, and hers was the last royal birth, on August 21, 1930 at Glamis Castle, her mother's ancestral home in Scotland, to be witnessed by a minister of the Crown. Fourth in line to the throne following her father and elder sister Princess Elizabeth and with her father's accession to the throne as H.M. King George VI in 1936, the young princess became H.R.H. The Princess Margaret and, in her own words, "heir apparent to the heir presumptive".

Able to maintain her own identity among protocol, Margaret headlined 'best dressed' fashion lists, embraced the Dior 'New Look' and epitomized the grace and glamour of the 1950s. She was also headstrong and outspoken.

The culmination of her status as the leading beauty and fashion icon of her time was her wedding day on May 6, 1960, as she arrived by horse-drawn carriage at Westminster Abbey wearing a simple yet understatedly elegant Norman Hartnell gown accompanied by Queen Mary's riviere and the Poltimore tiara. Her marriage to Antony Armstrong-Jones was the first televised royal wedding, and over 20 million viewers tuned in to watch her take her vows as the perfect fairytale princess.



Sarah Armstrong-Jones, Lady Sarah Chatto; Princess Margaret; David Albert Charles Armstrong-Jones, Viscount Linley by Norman Parkinson Date: 1981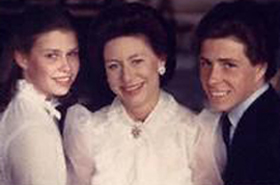 The marriage produce a son, David, and daughter, Sarah, both of whom appear to have been perfect children and matured into accomplished adults. Sarah is now Lady Sarah Chatto, the mother of two. David, known as Lord Lindley, is married to Lady Serena Stanhope, and they have two children, the Charles Armstrong-Jones born in 1999 Margarita Armstrong-Jones, born in 2002.

To understand why her children would auction off some of these possessions, it helps to know a little about Margaret's heirs.

David, who is on the board of Christie's, is a manufacturer of furniture, upholstery and interior design products. He has his own company, called LINLEY. Over the years, the company has built up both a national and international presence with 20% of its customer base from overseas.



From the LINLEY Attica collection, an extendable dining table in ripple sycamore with rosewood stringing and burr ash inlays. This table has additional leaves hidden within the table and can extend to seat up to 12 people. Photo:Linley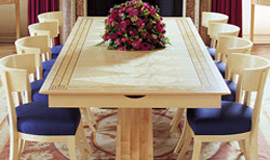 Past commissions have ranged from modest domestic pieces to prestigious projects such as the boardroom table at the Metropolitan Museum of Art in New York and the entrance lobby to London's Savoy Hotel. LINLEY has also made furniture for yachts (Lady Moura, Savannah and Phocea) and worked on corporate projects for Credit Suisse and Polygram. Clients include Mick Jagger, Elton John and many exceptional designers such as Peter Marino, David Easton, Nina Campbell, Kelly Hoppen and David Mlinaric.

LINLEY has become known for its imaginative use of wood in the design of furniture, and in particular marquetry, a meticulous discipline whereby veneers are cut to a design and pieced together to form a pattern before being applied to a solid base.



From the LINLEY St Petersberg collection. David Linley's visit to the former capital of imperial Russia inspired this collection. The overall opulence of the Russian style has been pared down to make designs more appropriate to modern living. Employing traditional cabinet-making skills, the pieces are made of mahogany and Macassar ebony with decorative brass beading and brass roundels. Photo: Linley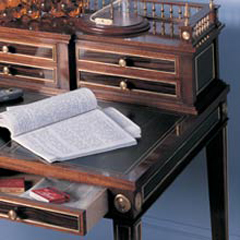 In 1985, Sir Roy Strong, director of the Victoria & Albert Museum commented that "David Linley's furniture will become the antiques of the future". In other words, the kind of furniture that you pass on to your children which will one day be up for auction at Christie's.

Lady Sarah Cahaato is the mother to Samuel, born in 1996, and Arthur, born in 1999. Sarah gave birth to Arthur shortly after her mother's funeral - having been helped down the steps of St. George's Chapel in Windsor by Queen Elizabeth, who gently held onto her arm.

Sarah attended the Camberwell School of Art and Middlesex Polytechnic and is a professional painter. She met Daniel Chatto, the illegitimate son of theatrical agent Ros Chatto and impresario Robin Fox, in India on the set of Heat & Dust. Their beautiful, low key wedding was an equal mix of royals and thespians. Lady Sarah plays down her lineage and, in 1996, submitted pictures anonymously to the Royal Academy's Summer Exhibition. It is reported that she shares her mother's passion for line-dancing.

She is also Vice President of the Royal Ballet, an appointment she accepted in 2004, following the example of her mother who was a patron for the Royal Ballet.

Rumors circulated that Margaret's ex-husband questioned why the tiara wasn't given to Sarah. However, Sarah chose not to wear it at her own wedding and has produced no daughters. David has a daughter but she is only four. There aren't a lot of occasions to don it. It could spend more than 20 years collecting dust before again holding a bridal veil - assuming Margarita wanted to wear it. Also keep in mind that the tiara was used to hold a bridal veil for a marriage that ended in divorce. Most brides would consider that a bad omen.

As for the party loving Princess Margaret, the 1960s also marked a new period in the way she purchased jewels for herself. She started exploring new techniques being developed in London at the forefront of jewelry design. She began collecting from innovative British craftsmen-jewelers such as John Donald and Andrew Grima, commissioning jewels whose design she would directly inspire and influence and that were far removed from the traditional world of diamond rivieres.



Fabergé clock was a gift from Queen Mary. Photo; Christie's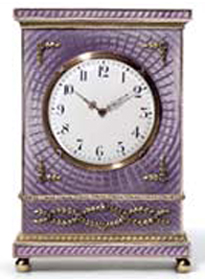 One brooch was cast from a piece of lichen collected by Princess Margaret who wished to have it transformed into gold and diamonds, while other pieces in her collection incorporated the newest technologies of synthetic gemstones. For many years of her life, in her involvement in designs of her own jewelry, Princess Margaret expressed her creativity within a traditional format.

Like her grandmother, Margaret valued the work of Fabergé and there are several wonderful pieces in the sale. A superb translucent mauve enameled silver clock applied with gold decorative elements was a gift from Queen Mary. Estimate - minimum of a million dollars. Another green hardstone Fabergé clock in the collection was originally purchased in 1914 for £65 by Grand Duke Mikhail Mikhailovich, grandson of Tsar Nicholas I of Russia (estimate: $128,989-184,271).

Princess Margaret's love of horticulture is also reflected throughout the collection, adding emotional significance to the selection of rose and marguerite jewels. Whether an important diamond rose brooch by Cartier, dating from 1938 (estimate: $27,640-36,856) or a simple 9 carat gold and cultured pearl daisy pin presented to commemorate the anniversary of Saint Margaret (estimate: $184.27-276.41), Princess Margaret, whose middle name was Rose, treasured and wore each jewel with equal affection and panache.

She also had a natural ability to charm an audience. Her first solo engagement, as a royal, was the traditional ship launch of the Union Castle liner Edinburgh Castle in 1947, for which she was presented with an appropriate Scottish heather brooch of emeralds and diamonds.

Spotting the Mayor and Mayoress of Cape Town among the dignitaries, she spontaneously informed them that it had been a bottle of South African wine smashed against the ship's hull rather than the customary champagne. Earlier that same year, Princess Margaret commenced her first major official tour, and indeed her first journey abroad at the age of sixteen, accompanying her parents and sister on a three month tour of South Africa.



Confirmation brooch was a gift from Queen Mary. Photo; Christie's

This was the trip during which Princess Elizabeth would celebrate her coming of age, and departing for which, Princess Margaret could be seen wearing a touching art deco sapphire and diamond bar brooch given to her for her confirmation by H.M. Queen Mary. The personally annotation by Queen Mary read, "For darling Margaret on her confirmation day from her loving Grannie Mary R God bless you April 15th 1946" (estimate: $2764-3,685).

Some of her oldest pieces were antique snake bracelets akin to those popularized by Queen Alexandra, while art deco jewels in her collection, such as the confirmation brooch, could be attributed to the influence of Queen Mary. A small but charming antique Victorian bee brooch, initially a christening gift to Lady Elizabeth Bowes-Lyon, was later given to Princess Margaret by her mother in 1945. That is accompanied by a note in Princess Margaret's hand "Almost the first bit of jewellery given to Mum…given to me 10 Feb 1945" (estimate: $921–1,290)

A further selection of silver, furniture and works of art from Princess Margaret's private collection will be offered in a day sale at Christie's London on Wednesday June 14. The sale comprises 600 lots of furniture, works of art, ceramics, glass, pictures, books, silver and other more personal effects. The auction offers collectors a chance to acquire interesting items with estimates starting from under £100 to over £30,000.

Leading this section of the sale is Portrait of Princess Margaret painted in 1957 by society and state portrait artist, Pietro Annigoni (1910-1988). Annigoni rose to fame in 1954 following a commission from the Worshipful Company of Fishmongers to paint the young Her Majesty Queen Elizabeth II. The painting became his most recognized and famous work. Sir Alfred Munnings, former President of the Royal Academy declared Annigoni to be 'the greatest painter of the age'.



Dressing table service by Paul Storr. Queen Mary purchased it from a household staff member and gave it to Princess Margaret. Photo; Christie's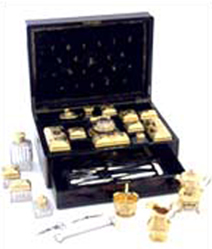 The silver and object of vertu section of the sale features some 250 lots, led by a magnificent and extensive dressing table service by Paul Storr, London, 1837 (estimate:$46,067-64,485). It was a gift from Queen Mary circa 1952. A fascinating fact is that the service had belonged to a member of the household staff who sold it privately to Queen Mary.

Among the fine selection of English and Continental silver is a pair of silver-gilt wine coasters made in 1803 for the Royal goldsmiths and jewelers Rundell, Bridge and Rundell by the London goldsmiths Digby Scott and Benjamin Smith (estimate: £10,000-15,000). Also by Benjamin Smith is a pair of silver-gilt sauceboats of 1835 (estimate: £4,000-6,000). The sale features a broad range of domestic and personal items such as muffin dishes, photograph frames, inkstands and other useful objects, many pieces engraved with the initial and coronet of The Princess; estimates start from £50.

In addition to those already mentioned, many other gifts from Queen Mary also feature prominently in her granddaughter's collection. Included among the furniture and works of art is a French giltwood firescreen inset with a charming floral needlework banner which is stamped with Queen Mary's initial 'M', while also being marked with her Private Property inventory label (estimate: £800-1,200). Additional works of art with fascinating historical importance include Queen Alexandra's fan, presented to her by her sister Marie Empress of Russia and given to Princess Margaret by her grandmother Queen Mary in 1932. It is signed by Ch-Vuillemot and M.Dumas and dates from the late 19th century (estimate: £400-600).

Among the 100 lots ceramics and glass included in the sale is Princess Margaret's French porcelain casket painted with the initial 'M' in the form of a painted garland and inscribed "Specialement pour S.A.R. La Princesse Margaret d'Angleterre" (estimate: $921-1,473) and a wide range of commemorative wares, dinner and tea services with estimates ranging from $184 to $9,214 which will appeal to collectors of Royal memorabilia.

Princess Margaret was an individual with a clear sense of style, a modern woman defining herself within a family steeped in history. Her collection of jewelry represents an unchallengeable era of the past which incorporated breakthroughs in contemporary design. It is a collection as personal and touching as it is historically significant; a collection notable for its breadth in date, value and style; a collection which, in its entirety, is a superb reflection on the life and tastes of a remarkable Princess.


AMERICAN CREATIONS DOMINATE WEST END LIVE


West End Live is the Leicester Square event that offers two free days of the very best in West End entertainment. The event takes place June 17-18.

It turns out that the "very best in Wend End entertainment" happens to be American creations.

Casts from several top West End shows will be performing, including Blue Man Group, Chicago, Footloose, Guys an Dolls, Mamma Mia!, Stomp, The Lion King, and The Producers.

There will also be music and dance contributions from The Royal Philharmonic Orchestra, The Borderline, Ain't Nothin' But, MTV, Sound London, Zoo Nation and many others.

But it's a lot more than just a stage show.

Fantastic interactive exhibits and displays will provide an incredible variety of family entertainment throughout the weekend. Madame Tussauds, the Theatre Museum, Hamleys, the British Film Institute, the National Gallery and the National Portrait Gallery will all be contributing, along with a host of entertainers from magicians to make-over artists and storytellers to stuntmen.

The two day event is expected to attract several hundred thousand people.



RED SKELTON HONORED On Saturday June 10, Vincennes University in Red Skelton's home town on Vincennes, Indiana showed off the new Red Skelton Performing Arts Center, which has been officially dedicated on February 24. The building includes an 850-seat theater dedicated to the extraordinary life and years of exemplary professional work by a great Hoosier and American. Red Skelton touched the lives of every generation during his more than 70 years in the entertainment business. Although Red died in 1997, he continues to influence people of all ages through his achievements as a clown, comedian, actor, writer, painter, patriot and humanitarian.

In addition to the theater, the Performing Arts Center includes classrooms, rehearsal rooms and dressing rooms. The grand foyer serves as a gallery for Red Skelton paintings, statues, and movie posters. A variety of uses are envisioned for the Performing Arts Center. The theater will host Vincennes University theatrical and musical productions along with special events, convocations and conventions.

The week-end festivities kicked off a multi-million dollar fundraising effort to construct a Red Skelton museum which will house the actor's scripts, costumes, songs, writings, painting and props.

The events stepped off with a Parade of Clowns - 300 from all over America on their scooters, bikes, firetrucks, or big feet - ending with the sold out, red-tie Grand Opening Gala.

Gertrude and Heathcliffe flew in just for this show as Tom Mullica presented his impersonation of Red's many characters. Then the scene shifted to the bevy of talented and beautiful VU alumni from one of America's top 100 community colleges, who came home from Broadway as their gift to Red. Shani Nielsen, Diana Steckler Sacino, and Melissa Cary Sandullo joined Kirk Hunkler to fill the rafters with song. Following intermission Dick and Tommy Smothers burst into the spotlight for a gala performance of music and wit.

"His legacy is a clown of all times," said Tom Smothers.

Attending was Red's widow, Lothian, who flew in from her own in Rancho Mirage, CA.

She said; "It was always quite clear to me that Red Skelton's personal memorabilia should go to Red's hometown, for his memory and good works to be cherished and enjoyed forever. Red himself had this same feeling and expressed it many times with no interest in having a memorial in Hollywood...This is a dream come true for the Skelton Family and for Red himself."

"He loved the theater. It was his living room. He really believed the audience was family. He said they're like palaces."

THE TONY AWARD WINNERS who will party the night away after receiving their coveted awards this evening at Radio City Music Hall. Go see a Broadway show. Buy an original cast CD. Can't get to New York? Enjoy a touring production. Support live theater.



Broadway To Vegas is supported through advertising and donations. Priority consideration is given to interview suggestions, news, press releases, etc from paid supporters. However, no paid supporters control, alter, edit, or in any way manipulate the content of this site. Your donation is appreciated. We accept PAYPAL. Thank you for your interest.


THE MUSIC GOES ROUND AND ROUND


SWEENEY TODD Broadway revival with music and lyrics by Stephen Sondheim. Originally produced in 1979, and not staged on Broadway in more than sixteen years, opened at the Eugene O'Neill Theater to unanimous raves and garnered six Tony nominations.

This version has no orchestra in the pit with performers doubling as musicians. A guitar-strumming Michael Cerveris stars as the murderous barber and a tuba-playing Patti LuPone who doubles on percussion - cast as the owner of a pie shop who helps him dispose of his victims is preserved as a cast recording. Donna Lynne Champlin (Pirelli) plays accordion, piano, and flute. Manoel Felciano as Tobias plays the piano, clarinet and violin. Alexander Gemignani plays piano and trumpet in his role as the Beadle, Diana DiMarzio in the role of the Beggar Woman okays the clarinet, and John Arbo on bass as Jonas Fogg. Lauren Molina performing on the cello plays Johanna, Benjamin Magnuson on cello and piano is Anthony, Mark Jacoby on trumpet and percussion as Judge Turpin. Each member of the 10 person ensemble is on stage the entire time and plays one or more instruments.

The innovative directing is brilliant - and the CD captures all of the musical talent. Enjoyable listening by itself, the CD also inspires the listener to see the show.

Sarah Travis' arrangements may be minimalist but massive star power makes the most of each note.

If you already own the CD from the original production, you still need this one. The style, arrangements and execution are different. The two version complement each other. Nonesuch Records has produced this two CD set of the new production which was produced by Tommy Krasker. Engineered and mixed by Tom Lazarus. A must have. The CD also includes an interesting booklet and glorious production pictures. Tonight's Tony Awards should peak interest in owning this cast recording.

LOVE WITH A TWIST by opera singer Nancy Evans - a Not Just Opera Production. An entertaining CD that makes the listener want to hear more of the dramatic soprano - which those in New York City can do when Evans presents her one woman show at The Theatre at Saint Peter's Church, June 13-28.

This is a woman with an incredible voice backed by talented musicians - Octavio Brunetti, Franco Pinna, Pedro Giraudo and Pablo Aslan. The selections are interesting and varied.

Evans opens with Habamera from Carmen followed by Almost Like Being In Love. She delivers an up beat, jazzy version of Can't Help Loving That Man. One of her strongest renditions is an emotional Kiss of Fire by Lester Allen and Robert Hill. A drawback is a lack of balanced sound. Sometimes Evans is overshadowed by the musicians.

"We did not have individual mikes. That was intentional. We recorded it live at The Knitting Factory in New York City," Evans told Broadway To Vegas in discussing the CD.

A delightful and clever segment - billed as a Three Way Conversation - is an interweaving of lyrics from Adelaide's Lament, I'm Just a Girl Who Can't Say No and What Kind of Fool Am I?- which would be a show stopper of a segment for a cabaret performance.

The witty compilation was put together by Evans. "I went through the music and picked which lines to intertwine. I went through the lines as if there were three girlfriends talking - what would they say to each other. I just had such a good time with this. I have wonderful girlfriends who are always talking about life and problems and things. So, when I was putting together this show I thought there really should be a moment, even though I don't have other people in the show, where it should be as if I was talking to my girlfriends."

As to the legalities of combining lines penned by different composers, Evans explained that "the CD company helped us go to the royalty company and pay a fee up front, before they would even the CD. On the live show we got clearance for the licensing."

That is followed by Jerome Kerns' Smoke Gets in Your Eyes. Final cut on the CD is a reprise of Besame Mucho.

While the CD captures audience applause only at the beginning and showcases the music, the stage show incorporates dialogue. Why the addition of a story line?

"Officially in the opera world I am considered a dramatic soprano, so I can sing from before middle C to above a high C," said Evans who was schooled at Carnegie Mellon University.

"I have a lot of fun with music," said Evans. "I do Carmen, which usually means a mezzo is hired. A dramatic soprano wouldn't be hired. But I just loved the piece so much. Because the songs are so different and because I am singing all of a sudden in French, German or Italian - how do you get there? What is the audience thinking? The central character is a girl. So, we decided to link it and create a story based on these emotions of the wonderful men that she could meet. So, each song then became a different love experience."


ART AND ABOUT


THE MINNEAPOLIS INSTITUTE OF ARTS

Calder's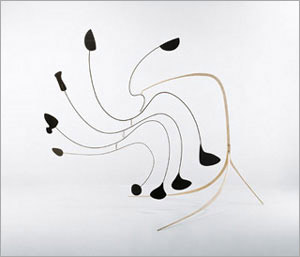 will open it's glass doors on an elegant new addition and reinstalled galleries Sunday, June 11.

The new Target Wing, designed by celebrated American architect Michael Graves, is itself a work of art, forming an aesthetic bridge between the neoclassical elegance of the original building with the stark minimalist of the 1974 addition.

The new Target Wing, a $50 million expansion and renovation project, has added 34 galleries and put a new emphasis on 20th-century art and design It was paid for partly by a donation of more than $10 million from Target, the superstore chain based in Minneapolis.

The premiere exhibition in the Target Wing, on display through Sept. 10, will explore the Surrealist origins of Alexander Calder.

Alexander Calder is a ubiquitous presence in the story of modern art, and yet he is rarely seen in the context from which he initially emerged as an artist. His artistic parentage consisted of Marcel Duchamp, who provided the name of and concept for the mobile, Mondrian, who introduced pure abstraction to him, and Miró, who communicated the central thesis of Surrealism.

The Surreal Calder consists of 70 works, including 13 paintings and objects by artists other than Calder, to put Calder back in the midst of Surrealism so that his achievement is more profoundly understood within that context.

The exhibition is conceived as a suite of six distinct galleries. The first gallery includes works by Miró, Max Ernst, Yves Tanguy, and René Magritte, and delineates the Surrealist milieu and its chief aspects. In the following galleries, themes will explore Calder's relationship to that milieu during his early years, culminating in 1947 with the theoretical end date of Surrealism. Those works show Calder's wit, caricature, and linear flights of fancy, his "marvelous" (in the surrealist sense of that word) personages--fantastic, never-before-seen creatures, poetic constructions of unlikely materials, biomorphic forms from an imaginary vision of nature, and Calder's constellations; apparent views of celestial spa.

The museum has also purchased the Louis XV-era painting Comtesse d'Egmont Pignatelli in Spanish Costume by Alexander Roslin. The acquisition was obtain from the New York gallery Wildenstein & Co., at a cost of a little more than $3 million, paid for with museum funds. It is the Institute's priciest purchase since the 1998 acquisition of Claude Lorrain's Pastoral Landscape (1638), which cost about $5 million.

Privately owned and on display at a chateau south of Paris until recently, it has been exhibited publicly only twice since making its debut two-and-a-half centuries ago.


OTHER PEOPLE'S MONEY


FAITH HEALER the Broadway revival of the play by Brian Friel, starring Ralph Fiennes, Cherry Jones and Ian McDiarmid recoups its entire $2 million investment today, Sunday, June 11. The Gate Theater of Dublin production opened in previews at the Booth Theater on April 18, and its run, originally scheduled to end on July 30, has been extended through Aug. 13.

HISTORY BOYS has recouped it's entire $1.9 million investment only six and a half weeks after opening at the Broadhurst Theater in NYC.
History Boys, imported from the National Theater in London, paid back its production cost during the week that ended May 28, after 10 previews and 41 regular performances. Its limited engagement ends Sept. 3.


SPREADING THE WORD


DIRECTORS the final Working in the Theatre seminar of the season will be held on Thursday, June 15th. Presented by The American Theatre Wing, the 90 minute seminar will include directors from some of this year's biggest hits, both on Broadway and off-Broadway. Moderated by Howard Sherman, the scheduled panelists include: Scott Ellis The Little Dog Laughed, Joe Mantello Three Days of Rain, Kathleen Marshall The Pajama Game, John Rando The Wedding Singer, and Leigh Silverman Well.

The seminar will be held at Elebash Hall The Graduate Center, City University of New York, NYC.

BEHIND THE SCENES Director Valerie Curtis-Newton talks with Wine in the Wilderness set designer Matthew Smucker, costume designer Melanie Taylor Burgess, lighting designer Kathy A. Perkins, and sound designer Dominic Cody Kramers. Sponsored by KING-FM. Free, open to the public. No reservations needed. Tuesday, June 13.

Against the backdrop of a race riot, Bill, a college-educated painter, gains insight into more than his art when he clashes with his working-class model over everything from food to politics. Written in 1969, this black classic tells a truthful, tender story of two people reaching toward intimacy, artistic truth, and a vision of community they can share.

A significant piece by the first African American woman to have her work professionally produced on the American stage, Wine in the Wilderness uses laughter and straight talk to paint its own portrait of love and longing in turbulent times.

Wine in the Wilderness opens June 15 and runs through July 9 at the ACT Theatre in Seattle.

THE OLD GLOBE THEATER IN SAN DIEGO will host a free Open House on Saturday, June 17. The event will include presentations by the 2006 Shakespeare Festival company, backstage tours, a costume display, free snacks, musical performances, family activities such as face painting and Rad Hatter crafts, circus performers, and much more. The Open House also kicks off the 2006 Shakespeare Festival season, featuring A Midsummer Night's Dream, Othello and Titus Andronicus, running in nightly rotation in the outdoor Lowell Davies Festival Theatre June 18 – October 1.


CURTAIN DOWN


HAIRSPRAY which began performances at the Luxor Hotel in Las Vegas on Feb. 6 will close today, June 11, which should come as no surprise. What this Vegas production had going for it was star power in the presence of the two Tony award winning role originators - Harvey Fierstein and Dick Latessa.

Vegas is not your typical Broadway playground. Hairspray had trouble because there is no identifiable music. Unless you've seen the John Waters' movie, the storyline is a difficult one to follow - especially in a truncated version. And, you must understand English to enjoy the show.

For some of the same reasons, Broadway To Vegas predicts that Spamalot won't have an easy time of it. To enjoy that production you not only need to understand English, you need knowledge of the Monty Python experience and relish a sophomoric sense of humor. What the Broadway show had going for it was a broader demographic base than Vegas will ever offer it. The Broadway show also had not just one - but a stage load of name talent. Vegas likes name talent. Las Vegas ticket buyers prefer a name they can drop over performers with great ability who appeal to an intelligent soirée. While Vegas has a plethora of sophomoric personalities, those aren't the creatures that will plunk down over $100 for a ticket and watch somebody else act like they are an idiot.

Chicago sold tickets because the music and the production were well known - and - more important - every few weeks different name stars came into the production. Mamma Mia! is a smash because the story line is easy to follow and, even if you don't understand English very well, virtually the entire planet adores the music. While Blue Man Group had a better venue to showcase their identity when it was staged at the Luxor rather than almost being lost in it's current location of the Venetian, Blue Man Group succeeded in Sin City because it is quirky, not over exposed on the Strip with copycat productions and you don't need to understand any language to have a good time. Phantom of the Opera opening June 24 should do well.

TRYST a new play by Karoline Leach starring Maxwell Caulfield and Amelia Campbell will play its final performance on Sunday, June 11th at Off- Broadway's Promenade Theatre. Tryst started previews on March 22nd and opened on April 6th 2006. The production will have played 17 preview performances and a total of 77 regular performances.

It's been a long time since a show closing also denoted the shuttering of a theatre. Such is the case with Tryst. The 399-seat Promenade will no longer be an Off Broadway theater. The space will be converted to another use - the owner Ben Sprecher, hasn't announced his intentions.



BRIGHT LIGHTS, BIG CITY A ROCK OPERA Based on a novel by the best-selling novel Jay McInerney; Music and Lyrics by Paul Scott Goodman.

It's 1984. Fresh off the bus from Kansas, Jamie works as a fact-checker for a major New York magazine. His wife, a fast-rising super-model, just left him; he's still reeling from the death of his mother a year earlier. He plunges into a New York night life of partying, drinking, and drugs with his glib best friend, and as a result he's on the verge of getting fired.

A uniquely moving and touching coming-of-age story, Bright Lights, Big City is set against the backdrop of the excessive yet glossy chaos of the 1980's. Composer Paul Scott Goodman has created a pop and rock infused score that generates a strong musical heartbeat for the hit novella and movie, Bright Lights, Big City.

June 14 - July 2 at The Prince Music Theatre in Philadelphia.

SISTERS OF SWING The Story of the Andrews Sisters. Sisters of Swing tells more than a story about three sisters from Minneapolis who made it big. It tells a story about the American dream. It's wartime, and the Andrews Sisters are making their mark.

From the cradle to the grave, follow the funny and heartfelt story of three women who helped define an era. There's Laverne, the "little mother." Maxene, the big mouth who always steps a little outside of the lines. And Patty, lead singer and the youngest of the trio, who simply adores the spotlight…all of the time.

Experience their loves, losses, and laughs through all the popular music that made them famous! Songs of note: Boogie Woogie Bugle Boy, Bei Meir Bist Du Schon (Means That You're Grand), Ac-Cen-Tchu-Ate the Positive.

June 15 – July 9 at the Seaside Music Theater in Daytona Beach, Florida.

NIXON IN CHINA Peter Sellars's powerful production of Adams's Nixon in China if revived for the first time since its London stage premiere in 2000.

Nixon in China is based on U.S. President Richard Nixon's historic visit to China to meet Chairman Mao Tse-tung in 1972, the first official U.S. visit since the Communist take-over in 1949. Former ENO Music Director Paul Daniel conducts the electrifying score with a world-class cast, including James Maddalena as Richard Nixon and Janis Kelly as Pat Nixon with thrilling choreography by Mark Morris.

Featuring Henry Kissinger portrayed by Roland Wood, Chiang Ch'ing played by Judith Howarth, Mae Tse-tung portrayed by Adrian Thompson, First Secretary played by Serena Kay. Alexandra Sherman as the Second Secretary, Rebecca de Pont Davies as Third Secretary, Wu Ching-hua played by Ayako Toyama, Hung Chang-ching played by Nikolas Kafetzakis.

Conducted by Paul Daniel.

Costume Designer is Dunya Ramicova. Revival Choreographer is Peter Wing Healey.

Performances June 14, 17, 23, 29 and July 6. English National Opera at the London Coliseum, England.

BILLY BISHOP GOES TO WAR A play with music by John Gray with Eric Peterson. Directed by David Rose. Starring Larry Cedar and Jeffrey Rockwell.

Witness the trials and tribulations of a World War One flying ace as he struggles to reconcile his joy of being a pilot with the horrors of the war he's asked to fight. Set to music, this tale of heroism takes you down in the trenches, up to the skies, through the halls of Buckingham Palace, and inside the human spirit.

Previews begin June 14, officially opening on June 17 with performances through July 16 at The Colony Theatre in Burbank, CA.

TEN BY TWENTY In honor of Atlantic Theater Company's 20th Anniversary Season - and to inaugurate the new 99-seat Atlantic Stage Two - twenty of their past playwrights have been commissioned to write ten-minute plays. Each of the three weeks will feature different short plays. Week 1 - June 14-17 will showcase plays by Hilary Bell, Jez Butterworth, John Guare, Rolin Jones, Quincy Long, David Mamet, Bill Wrubel. New York City.

THE NUTTY PROFESSOR a musical version of the 1963 film will have Las Vegas resident Jerry Lewis as the director. The production will star singer/comedian Michael Andrew, 41, who fronts the Atomic Big and whose Michael Andrew Company will produce it. Rights to the musical version of The Nutty Professor, which was remade in 1996 as a film starring Eddie Murphy, were bought by the company in March. Lewis hopes to mount the show on Broadway by October 2008.

GUYS AND DOLLS Book by Jo Swerling and Abe Burrows. Composer: Frank Loesser.

Patrick Swayze is set to make his British stage debut in the West End, performing in this production at the Piccadilly Theatre.

Swayze, best known for his role in the film Dirty Dancing, will star as Nathan Detroit in the hit musical for an eight-week run starting on July 10.

He will be joined by Claire Sweeney who stars in the show for the first time as Miss Adelaide, also for eight weeks, before she embarks on a national tour of the musical.

The pair will lead the cast at the Piccadilly with Adam Cooper and Kelly Price who continue in their roles as Sky Masterson and Sarah Brown.

Currently starring as Nathan Detroit and Miss Adelaide are Sally Anne Triplett, and Neil Morrissey. Michael Grandage directs. Design by Christopher Oram. Sound by Terry Jardine and Chris Full. Lighting by Howard Harrison. Choreography by Rob Ashford. Musical direction by Jae Alexander.

WONDER OF THE WORLD running June 16th through July 8th at the Carpenter Square Theater in Oklahoma City.

Seven-year marital itch and a shocking discovery about her husband prompt Cass to leave home to do all the things she feels she's missed out on. It's a wild ride to Niagara Falls in a barrel of laughs as she encounters a wild series of off-kilter characters.

Patrons are invited to remain following the June 17th performance for Theatre Exchange...a Q&A session with the actors, director, and production team.


| | | |
| --- | --- | --- |
| | | |
WHO'S WHERE


FAITH HILL AND TIM McGRAW bring their tour to the Blue Cross Arena in Rochester, NY on Monday, June 12. On Tuesday they can be enjoyed at the Pepsi Arena in Albany, NY. Thursday finds them beginning a two night stand at the Wachovia Center in Philadelphia. On Saturday the open another two nighter at the Giant Center in Hershey, PA.

CAROL CHANNING IN CONCERT STARRING RICHARD SKIPPER a loving musical-comedy tribute to Carol Channing will be performed at the Hideaway Room at Helen's NYC for four performances , June 15th, 20th, 30th and July 5th. and at The Octavia Lounge in San Francisco on June 23rd with Barry Lloyd on Piano. Starring as Channing is two time MAC (Manhattan Association of Cabarets and Clubs) Award winner Richard Skipper. Musical arrangements and direction by Paul Stephan. Additional charts by Seth Weinstein. The Paul Stephan Group featuring Edward Carignan, Kristopher Monroe and Adam Enright singing back-up vocals will be joining Skipper along with Marc Daine on banjo/guitar, Claire Daly on saxophone, Brian Fishler on drums, and Ritt Henn on Bass

This fast moving production is filled with singing, dancing, chorus boys and comedy that will take you back to yesteryear! Miss Channing made her official nightclub debut July 8, 1957 at the fabulous Tropicana Hotel in Las Vegas. Conceived, written, and produced by Richard Skipper. This show marks a return to NYC after a three year hiatus, having performed An Evening With Carol Channing in a cross country and Canadian tour.

LEE GREENWOOD performs Saturday, June 17, at Lake of Torches Casino in Lac Du Flambeau, WI.

BRUCE SPRINGSTEEN on stage Tuesday, June 13, at the First Midwest Bank Amphitheatre in Tinley Park, IL. On Wednesday the show moves to the Bradley Center in Milwaukee. Friday the performance is at the Blossom Music Center in Cuyahoga Falls, Ohio. On Saturday they'll be thrilling fans at the DTE Energy Music Theatre in Clarkston, MI.

MICHAEL FEINSTEIN brings his musical talent to Seafair in Newport, RI on Saturday, June 17.

THE DOOBIE BROTHERS are in the spotlight Thursday, June 15, at the Naval Air Base in Willow Grove, PA. On Friday they are on stage at the Cape Cod Melody Tent in Hyannis, MA. On Saturday the show is at the So. Shore Music Circus in Cohasset, MA.

MELISSA ETHERIDGE performs at Caesars Palace in Las Vegas on Saturday, June 17.

JAMIE CULLUM has an interesting time zone week. On Monday June 12 he performs at the Shibuya Club Quattro in Tokyo. Then on Saturday, June 17 he's at the Hollywood Bowl in Los Angeles as part of the Playboy Jazz Festival.

CHERYL CROW performs Monday, June 12 at the Murat Theatre in Indianapolis. On Tuesday the show is at The Centre in Evansville, UN. On Wednesday the performance is at the U.S. Cellular Coliseum in Bloomington, IL. Friday she is in the spotlight at the Orpheum Theatre in Minneapolis. On Saturday she is on stage at the U.S. Cellular Center in Cedar Rapids, Iowa.

JESSICA MOLASKEY brings her new cabaret show, After Midnight, to the Oak Room of the Algonquin Hotel in Manhattan from June 13 through July 1. She will be accompanied by her husband, guitarist John Pizzarelli, bassist Martin Pizzarelli and pianist Larry Fuller.


PIFFLE AND PROFUNDITIES


FROM SINGING WAITERS TO NAKED BUTLERS Singing waiters are so yesterday. To add some zip to your party try the naked variety.

The London firm Butlers in the Buff is such a hit that the firm is expanding with franchise branches in American, Australia and South Africa.

The company, whose waiters wear only a bow tie, collar, cuffs and a bottom-revealing apron, came as an inspiration of Jason Didcott, a former Royal Marine who served in the Gulf and Bosnia.

Didcott and his partners, Will Jones and Stacey Lynn, require that all applicants must pass a scrupulous police check and playful clients are firmly told to keep their hands to themselves. The ideal waiter is "James Bond in a butler outfit."

Most of the waiters work part time and are actors, dancers, students or personal trainers. At the end of the party guests can have their photo taken with the butler. However, it is hands off and no attempts to untie the apron are permitted.
















Next Column: June 18, 2006
Copyright: June 11, 2006. All Rights Reserved. Reviews, Interviews, Commentary, Photographs or Graphics from any Broadway To Vegas (TM) columns may not be published, broadcast, rewritten, utilized as leads, or used in any manner without permission, compensation/credit.
Link to Main Page
---
Laura Deni


CLICK HERE FOR COMMENT SECTION