! >
Broadway To Vegas
  
  REVIEWS INTERVIEWS COMMENTARY NEWS

| | |
| --- | --- |
| | |
RULE YOUR KINGDOM LESLI MARGHERITA LIVE AT FEINSTEIN'S 54 BELOW CD REVIEWED - - QUEEN ELIZABETH AND MEGHAN, THE DUCHESS OF SUSSEX TRIP OFF TOGETHER - - ACTRESS EMMA THOMPSON MADE A DAME - - ON THE SUNNY SIDE OF THE STREET: THE LYRICS OF DOROTHY FIELDS - - LONDON'S WEST END LIVE - - BRITISH INSTALLATION ARTIST REBECCA LOUISE LAW - - ON A CLEAR DAY YOU CAN SEE FOREVER - - THE CHER SHOW MUSICAL - - DONATE . . . Scroll Down





Copyright: June 10, 2018
By: Laura Deni
CLICK HERE FOR COMMENT SECTION


OLIVIER WINNER LESLI MARGHERITA IS A MUSICAL MOTIVATIONAL INSPIRATION


Take it from singer/performer Lesli Margherita you need to wear your own crown, take control of your own kingdom -"because if you don't, somebody else will - and that would suck."

The talented, outspoken, Olivier winning performer Lesli Margherita presents a totally entertaining and empowering performance in her signature cabaret show, Rule Your Kingdom, which was successfully crowd funded, then recorded over several performances in August 2017 at Feinstein's/54 Below in New York City, and released on Broadway Records.

She is clever, charming in an outrageous way, on-point, but not preachy. Her well positioned thoughts are appropriate and inspirational for people of all ages, races, creeds and sexual orientations - in other words - everybody.

So many motivational speakers border line on pandering to morphing into an out of touch zealot. Lesli is conversational, in touch with reality, using songs to emphasize her point that whatever you are is okay - and don't let anyone control or destroy you.

To appreciate Lesli you need to think outside the stereotypical pigeonhole. At the very least, her voice is versatile. When she speaks she comes across as one tough cookie - a prone towards nasal, mash up of Brooklyn/Long Island and Valley Girl.

When singing - she can handle anything.

Having trained at UCLA she was chosen to star in MGM's television series Fame L.A. directed by Kenny Ortega. On stage she played in Zorro the Musical in London's West End, for which she won an Olivier Award. She played Mrs. Wormwood on Broadway in Matilda the Musical for over two years; followed by a shorter run as the diva, Mona Kent in Dames at Sea which ran for about a year. She then returned to Matilda a year later to close the acclaimed Broadway production.

Among her numerous credits are portraying Esmeralda in The Hunchback of Notre Dame, at the 2016 Sacramento Music Circus in collaboration with Deaf West Theatre, and Miss Adelaide in Guys and Dolls at the Bucks County Playhouse.

In 2011 she won an Ovation Award as Lead Actress in a Musical for starring in Kiss Me Kate.

Audience approval indicates that this was a most delightful show. Listening to the CD is an amazing experience.

This CD is powerful for several reasons. The performer uses the engagement to project and encourage self empowerment. Her commentary is appropriate, funny, uplifting - but not preachy.

She refers to Dolly Parton as her "spirit God."

The Tract 3 Country Medley offering up Parton's Joleen, followed by Bobbi Gentry's tough Fancy leaves no doubt that Margherita can sing country with the best of 'em.

Tract 7 titled Don't Poop on my Pathway offers Don't Rain on My Parade and I Am What I Am - definitely two empowerment songs and she nails both of them. Tract 9 is addressed to anyone who has ever felt bullied. Lesli seems to prefer the aggressive, statement making, takes no prisoners approach to music - and she is spectacular. Her voice can transition from back alley tough to the most angelic of gentle notes, as is demonstrated in Meet/Titanium.

Tract 10 Woman encourages people to speak their mind. Backup vocals are provided by Cameisha Cotton and Nicole Vande Zande.

The energetic arrangement by Brett Rybank are perfect for all aspects of the live performances, which gave the world this CD.

The Olivier award winning performer even gives self-effacing instructions on how - you, too - can win a Olivier Award.

After winning the prestigious Olivier Award she was invited to perform at The Royal Performance where - at the after show reception - she was presented to Prince Charles and Camilla - although she confesses she wasn't paying to attention to where Prince Charles was and, instead, was staring at Rihanna. Suddenly, she was presented to Camilla, the Duchess of Cornwall. Her embarrassing comment? Listen to the CD to find out.

Lesli Margherita knows timing - she knows how to tell an interesting story - she seems to have a kind heart who is sincere when she wants people to be the King/Queen of their own universe and not be beaten down or beaten up by others. Oh, yes, Lesli Margherita knows how to sing and perform.

Keep Calm & Carry On is a tribute to Queen Elizabeth and encourages all to have the courage and grace to get back up when you've been knocked down - leading into Wouldn't it Be Good with the beginning backed by the piano. Her gentle voice reaches for the highest aspirations as a hope to the listener before That's Life is aimed at the back row.

Her conversational segment titled Rule is powerful.

Track 16 Ain't Nobody's Bizness is snazzy, followed by introducing her musicians - guitars: Andrew Zinsmeister. Drums - Steve Picataggio - Bass: Lloyd Kikoler with Brett Ryback on piano.

Track 18 is an Umbrella Medley showcases a variety of vocal styles - all of which Lesli knows how to control and deliver. The CD ends with the poignant My Man.

Because there is such a divergence of singing styles - from power to gentle, you may find that you need to adjust your sound volume.

A most interesting and enjoyable CD Put in on your must have it list.

Based upon this CD, her nightclub act would make an excellent PBS special during the fund raising weeks when they air their self improvement shows - some of which are getting a bit long in the tooth. Rule Your Kingdom attracts younger demographics. The sooner the population learns not to let others control, manipulate and destroy your life for their pleasure - the better. This dynamite musical presentation uses a powerful performance by Lesli Margherita to deliver the message.

Since this performer has already won a Olivier Award and has some British contacts, my idea is that the Heads Together campaign created and championed by Princes William and Harry and Duchess Kate, and now Meghan, be approached to determine the feasibility of using this CD in their teen and adult prevention and treatment programs.

The young royals have already commissioned ten films of celebrities talking about their problems and the times when talking about it made a huge difference.

America's First Lady Melania Trump's Be Best campaign is also an appropriate partner.

The CD was mixed at Kontinuous Jams, Youngstown, Ohio. Mastered by Greg Reierson at Rareform Mastering. The booklet contains several interesting and dramatic photographs by Sarah Jenkins Photography.






E-Book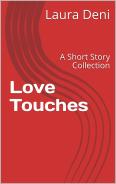 Soft back Book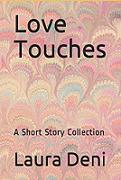 Broadway To Vegas is supported through advertising and donations. Priority consideration is given to interview suggestions, news, press releases, etc from paid supporters. However, no paid supporters control, alter, edit, or in any way manipulate the content of this site. Your donation is appreciated. We accept PAYPAL. Thank you for your interest.



E-Book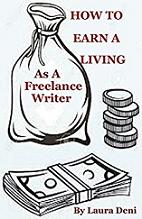 Soft back Book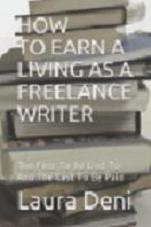 This is not your typical, totally boring textbook.

In the pages of How To Earn A Living As A Freelance Writer (the first to be lied to and the last to be paid) you'll find sex, celebrities, violence, threats, unethical editors, scummy managers and lawyers, treacherous press agents, sex discrimination; as well as a how-to for earning money by writing down words.





ART AND ABOUT


DOUBLE EXPOSURE: EDWARD S. CURTIS, MARIANNE NICOLSON, TRACY RECTOR, WILL WILSON

Image: Chief Joseph–Nez Perce, 1903, Edward S. Curtis, American, 1868–1952, photogravure, 16 x 12 in., Courtesy Foundation for the Exhibition of Photography.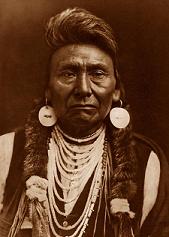 150 years after Edward S. Curtis' birth, his haunting portraits of Native Americans have an indelible place in the American consciousness.

This major exhibition of more than 180 works by Curtis, as well as contemporary works by indigenous artists Marianne Nicolson, Tracy Rector, and Will Wilson seeks to evaluate this photographic legacy from 21st-century perspectives.

In 1906, J. P. Morgan provided Curtis with $75,000 to produce a series on Native Americans. This work was to be in 20 volumes with 1,500 photographs. Morgan's funds were to be disbursed over five years and were earmarked to support only fieldwork for the books, not for writing, editing, or production of the volumes. Curtis received no salary for the project, which was to last more than 20 years. Under the terms of the arrangement, Morgan was to receive 25 sets and 500 original prints as repayment.

Eventually 222 complete sets were published. Curtis's goal was not just to photograph but also to document as much of Native American traditional life as possible before that way of life disappeared.

This exhibition is organized by the Seattle Art Museum.

Thursday, June 14 - Sunday, September 9, 2018 at the Seattle Art Museum in Seattle, Washington.

BRITISH INSTALLATION ARTIST REBECCA LOUISE LAW

Rebecca Louise Law, The Beauty of Decay. Chandran Gallery, 2016.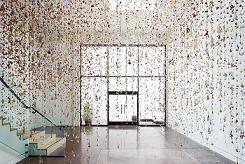 infuses flowers and natural materials as her medium to "paint in the air." The Toledo Museum of Art (TMA) has commissioned this vanguard contemporary artist to design and implement her largest site-specific installation to date exploring the relationship between humanity and nature.

Sourcing approximately 150,000 plants and flowers native to the Toledo region and requiring 4,000 volunteer hours of assistance from community members over 15 days, Law will create an immersive environment that will thematically and literally represent northwest Ohio. A proponent of sustainability, Law also plans to reuse flowers from her previous installations around the world for the TMA project.

Curated by TMA Director of Curatorial Affairs Halona Horton-Westbrook, Rebecca Louise Law: Community will be on view exclusively in Toledo from June 16, 2018, through January 13, 2019.

Law uses both dried and fresh flowers in her work, and the process of decay is part of her time-based installations. Inspired by the dried flowers that hung in her attic as a child, Law's "sculptures" are suspended from above and held together with copper wire.

Drawing on the theme of community, the coordinated volunteer effort will begin in May, with local residents assisting with stringing together garlands of plants and flowers and taking some ownership over the ambitious installation, an aspect of the project that the artist feels passionate about.

Based in London, Law has been commissioned to create installations at the Onassis Cultural Centre in Athens, Chandran Gallery in San Francisco, Kew Royal Botanic Gardens in London and in New York City's Times Square, among other venues. Her work has been exhibited at a range of galleries and at major institutions, including the Royal Academy and the Victoria and Albert Museum in London.



E-Book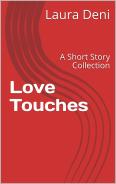 Soft back Book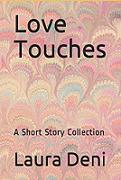 SWEET CHARITY


DAVID AND VICTORIA BECKHAM have announced that they will donate the outfits they wore to the wedding of Prince Harry and Meghan Markle to the paid drawing benefiting the We Love Manchester Emergency Fund, which will raise money for victims of the Manchester bombing last year.

David wore a charcoal grey Dior morning suit - with his initials sewn on the inside - while Victoria wore a navy blue dress from her own collection to the ceremony.

We Love Manchester Emergency Fund posted: "Maybe you'll just never take them off. Whatever you decide to do with these beautiful outfits is up to you."

NEW YORK CITY OPERA AND THE CITY OPERA THRIFT SHOP will host this year's fashion event, DIVAS Shop for Opera in celebration of the store's 40th anniversary. Fashionistas in attendance will shop a spectacular array of high-end vintage and designer clothing, accessories, and furniture while enjoying cocktails, hors d'oeuvres, and music.

All proceeds benefit New York City Opera.

First 50 shoppers will receive a gift bag!

Wednesday, June 13th at in New York City.

WALTZ ON THE WILD SIDE benefits the Tulsa, Oklahoma zoo. Attendees can prowl the park after dark while enjoying local cuisine, adult beverages and live music in the zoo's premier annual fundraiser.

Standing for "We All Love the Tulsa Zoo," WALTZ on the Wild Side will benefit the zoo's capital campaign, Building Beyond Your Wildest Dreams, which launched in 2012. Building Beyond supports the zoo's 20-year master plan. In 2017, WALTZ raised more than $251,000 to build a bigger, better zoo. For the past 28 years, these exceptional WALTZ evenings have generated millions of dollars for many exhibits zoo guests know and love, including the Helmerich Sea Lion Cove, the Mary K. Chapman Rhino Reserve and the Lost Kingdom exhibit complex. WALTZ on the Wild Side is a 21-and-up event. Safari black tie optional. Takes place June 15, 2018.




E-Book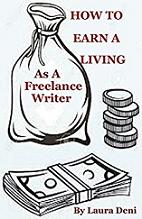 Soft back Book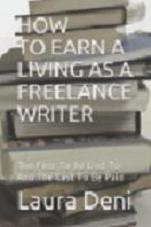 This is not your typical, totally boring textbook.

In the pages of How To Earn A Living As A Freelance Writer (the first to be lied to and the last to be paid) you'll find sex, celebrities, violence, threats, unethical editors, scummy managers and lawyers, treacherous press agents, sex discrimination; as well as a how-to for earning money by writing down words.





SPREADING THE WORD


QUEEN ELIZABETH II AND THE DUCHESS OF SUSSEX

Having a good time last Saturday, June 10, Meghan, the Duchess of Sussex (wearing a draped, off-the-shoulder, soft pink Carolina Herrera dress and a hat by Philip Treacy), stands next to Camilla, Duchess of Cornwall (in powder blue hidden directly behind Her Majesty whose stylish outfit was a vibrant blue) and her father-in-law Prince Charles (red sleeve). Meghan smiles at her great-grandmother in-law Queen Elizabeth II who was celebrating her official birthday at the trooping of the colors, on the balcony of Buckingham Palace. Meghan and Her Majesty will take the train on Wednesday. Photo: Kensington Palace.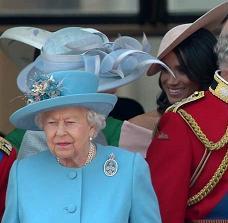 that's Prince Harry's wife, will formally open the Storyhouse Live Theatre in Chester, England on Thursday, June 14, 2018.

The Queen and her granddaughter-in-law arrived in tChesterhe city following an overnight train ride in the Royal Train.

This first official engagement involving just Her Majesty and new granddaughter-in-law has attracted worldwide interest, with Chester on "security lockdown" According to the Chester Chronicle "Armed police will be visible on the day due to the terrorism threat level"

All guests must report to Chester Racecourse that morning for security checks.

The day is filled with engagements with Meghan watching as Queen Elizabeth cuts the official ribbon at Storyhouse, a theatre, cinema and library based in Chester's historic city center. As well as mainstream blockbuster, independent, classic films and world cinema, Storyhouse screens productions from the National Theatre, and the Royal Opera as well as live stage productions.

Invited guests will be treated to a short performance. A lunch will then be hosted for the royal guests at nearby Chester Town Hall involving local politicians and civic dignitaries including the Lord and Lady Mayoress.

According to the official release regarding the first visit made together by the Queen and the Duchess of Sussex: "This amazing visit has been made possible by the tremendous support we have in Chester and in the region, and is testament to the degree to which our community has taken us to their hearts and for that we are immensely grateful and proud.

"Storyhouse is a library, theatre and cinema. It is one of the country's most successful cultural buildings, with one million customers in its first year.

"The company also runs a highly successful theatre company which has gained national acclaim for its new stage adaptations, including the first ever version of Enid Blyton's The Secret Seven. Storyhouse also runs the country's most successful regional open-air theatre company, in the city's main park.

"We offer over 2,000 activities each year for local marginalized groups, including autism friendly coloring sessions, sewing groups for refugees and regular classes for isolated and older communities.

Storyhouse has sold more than 180,000 tickets to theatre shows and events and had more than 250 cinema screenings with 30,000 cinema tickets purchased. On stage, opening June 15, is The Crucible Arthur Miller's classic American thriller and "the greatest play of the 20th Century," with performances through July 7, 2018.

LONDON'S WEST END LIVE takes place in Trafalgar Square on June 16 and 17.

Now in its fourteenth year, the show features stellar performances from London's most celebrated West End musicals on a specially built stage in Trafalgar Square. In 2017 more than 30 shows performed over the course of the weekend to an audience of thousands.

A range of merchandise, refreshments and interactive, family-friendly exhibits will also be available in Trafalgar Square. The event is completely free to the public and no tickets are required. However, entry is on a first come, first served basis.

West End LIVE is presented by Westminster City Council and the Society of London Theatre with support from the Mayor of London. The event celebrates and promotes London's cultural offering and is a key fixture in the capital's event calendar. This year musicals offerings include segments from: Disney's Aladdin • Bat Out Of Hell The Musical • Brief Encounter • Chicago • Circolombia • Dreamgirls • Eugenius! • Everybody's Talking About Jamie • Heathers The Musical • Kinky Boots • Kiss Me, Kate • Knights Of The Rose • Disney's The Lion King • Little Shop Of Horrors • Madagascar – A Musical Adventure • Mamma Mia! • Matilda The Musical • Les Misérables • Motown The Musical • The Phantom of the Opera • Six • A Spoonful Of Sherman • Strictly Ballroom the Musical • Thriller Live • Tina: The Tina Turner Musical • Wicked.

SHIRLEY McLAINE appears June 18 at the McCaw Hall at the Seattle Center in Seattle, Washington. This appearance will be somewhat of a different format that her previous engagements. This time instead of presenting a lecture, she's going to take questions from the audience - as she feels this will promote a more open discussion. "And you know me; there aren't any questions I won't field," she states.

CHICAGO PRIDE FESTIVAL featuring Mya, Belinda Carlisle, Brian Justin Crum, Jessica Sanchez, La Bouche and more. June 16-17, with the Chicago Pride Parade on June 24.

FRESH TALK: OUT LOUD a night of spoken word performance and conversation about the power of poetry to create social change with award-winning poets Elizabeth Acevedo and Emi Mahmoud. whose work explores and celebrates cultural heritage, womanhood, and imagines better futures.

Followed by Catalyst, a cocktail hour with a topic and a twist.

June 13, 2018 at the National Museum of Women in the Arts in Washington, DC.

THE IMPROVISED SHAKESPEARE COMPANY Chicago's critically acclaimed improv troupe returns to 92Y in New York City for a one-night-only performance on Saturday, June 16.

Created and Directed by Blaine Swen.

Featuring Joey Bland, Ross Bryant, Greg Hess, Blaine Swen, & Steve Waltien.

Based on one audience suggestion (a title for a play that has yet to be written) The Improvised Shakespeare Company - using the language and themes of William Shakespeare - creates a fully improvised Shakespearean masterpiece right before your eyes. Nothing is planned-out, rehearsed, or written. All the dialogue is said for the first time, the characters are created as you watch, and if ever you're wondering where the story is going...so are they!

HYPERCON is Nashville's Convention for fans of Comics, Sci-Fi, Fantasy, Horror, Steampunk, Gaming and more - from the page to the stage to the screen.

"Enjoy over 120 hours of programming, a premium Consuite, fascinating guests and speakers, the region's only convention Luau, our new Barcade, the best Cosplay experience in the region, and the exciting social scene of your fandom peers, round-the-clock for three days."

June 15-17 in Nashville, TN.

QUEENSLAND THEATRE IN AUSTRALIA is introducing the new Bille Brown Theatre. "After nearly fifty years, we are finally creating our own home theatre," the venue announced.

We are transforming our existing Bille Brown Studio into a state-of-the-art venue that will allow us to create the very best theatre. The new Bille Brown Theatre will be intimate (351 seats, wrapped around a corner stage and only nine rows deep), comfortable (with permanent seating), accessible (with a lift and sound enhancement) and welcoming, with additional spaces for meeting friends."

LEGO EXPO see amazing LEGO creations at Brickworld Chicago, with displays and vendors at Renaissance Schaumburg Convention Center. June 16 - 17, 2018.

DISNEYLAND has reopened its Pirates of the Caribbean attraction without the bride auction.

JUNE 13 is International Axe Throwing Day. Friday, June 15 is National Lobster Day, and Saturday, June 16, is National Fudge Day.






E-Book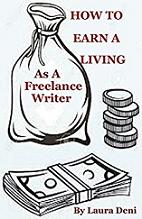 Soft back Book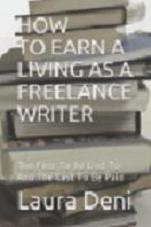 This is not your typical, totally boring textbook.

In the pages of How To Earn A Living As A Freelance Writer (the first to be lied to and the last to be paid) you'll find sex, celebrities, violence, threats, unethical editors, scummy managers and lawyers, treacherous press agents, sex discrimination; as well as a how-to for earning money by writing down words.






E-Book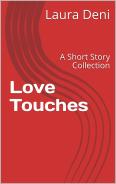 Soft back Book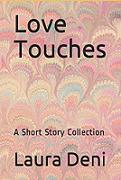 THE 2018 TONY AWARD WINNERS will receive their coveted awards and bragging rights tonight. The presentation co-hosted by Josh Groban and Sara Bareilles featured a performances by Bruce Springsteen followed by Bernadette Peters presenting the award for Best Musical.

Others making appearances included: Uzo Aduba, Christine Baranski, Mikhail Baryshnikov, Melissa Benoist, Erich Bergen, Rachel Bloom, Matt Bomer, Rachel Brosnahan, Tituss Burgess, Claire Danes, Jeff Daniels, Robert De Niro, Brandon Victor Dixon, James Monroe Iglehart, Christopher Jackson, Billy Joel, Patti LuPone, Tatiana Maslany, Katharine McPhee, Matthew Morrison, Carey Mulligan, Leslie Odom, Jr., Kelli O'Hara, Jim Parsons, Zachary Quinto, Andrew Rannells, Kerry Washington, Ming-Na Wen, Marisa Jaret Winokur; Tony nominees Tina Fey, John Leguizamo, and Amy Schumer.

Also present - Tony Award Lifetime Achievement recipients Andrew Lloyd Webber and Chita Rivera.

In addition there were performances by the casts of Mean Girls, The Band's Visit, Carousel, Frozen, My Fair Lady, The Donna Summer Musical, Once on This Island and SpongeBob The Musical.

There was also a special performance from the 2017 Tony Award-winning musical Dear Evan Hansen.

The Tony Awards after party at the Carlyle will honor Andrew Lloyd Webber. The party even promises to showcase Webber's talents - should he decide to venture forth into a new career as a platter spinning DJ headlined: "Disco Lloyd Webber at 1 A.M."

Broadway To Vegas will post the winners as soon as possible after the awards. 2018 Tony Award Nominees and Winners

QUEEN ELIZABETH'S BIRTHDAY HONORS GO TO more than 1,000 people in the latest honors list, which is drawn up by the government and approved by the Queen. The list is released twice a year -- at New Year's and for the Queen's official birthday in June.

A knighthood or damehood is the highest honor awarded. Men are given the title "Sir," while women are given the title "Dame." Below that is a CBE, which stands for Commander of the Order of the British Empire; an OBE, or Officer of the Most Excellent Order of the British Empire; followed by an MBE, or Member of the Order of the British Empire.



Emma Thompson has become Dame Emma Thompson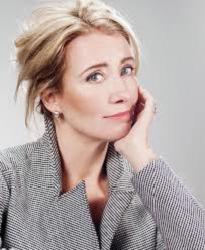 Among those being recognized this year are:

Oscar-winning actress Emma Thompson (Dame)
Historian and broadcaster Professor Mary Beard (Dame)
Japan-born Nobel prize-winning author Kazuo Ishiguro (Knighthood)
Historian and broadcaster Professor Simon Schama (Knighthood)
Former Liverpool footballer and manager Kenny Dalglish (Knighthood)

Television presenter and author Bamber Gascoigne (CBE)
Actor Tom Hardy (CBE)
Broadcaster Kate Adle (CBE)
Luxury perfumer Jo Malone (CBE)

Actress Keira Knightly (OBE)
Writer Jeanette Winterson (OBE)
Premier League and England striker Jermain Defoe (OBE)
World heavyweight champion boxer Anthony Joshua (OBE)
Rapper and singer Ms Dynamite (MBE)

Those honored in The Arts, Music and Dance

In the Arts are:
a knighthood for Dr Charles Saumarez Smith, Chief Executive of the Royal Academy, marking its 250th year
a CBE for Dinah Casson for her services to design
an OBE for curator, Gus Casely-Hayford

In music:
a knighthood for baritone Simon Keenlyside
a CBE for composer, pianist and conductor Thomas Ades
an OBE for prominent jazz musician, Julian Joseph
There is also an MBE for musician Niomi McLean-Daley, aka Miss Dynamite

There are CBEs for:
Director of the Royal Ballet, Kevin O'Hare
Director of Music at the Southbank Centre, Professor Gillian Moore

There are MBEs for:
actor Gary Wilmot
underwater photographer, Alexander Mustard

New Zealand soprano Dame Kiri Te Kanawa was made a Companion of Honour, a special award granted to those who have made a major contribution in their field over a long period of time.

Pensioner Rosemary Powell, 102, was awarded an MBE for devoting 97 years volunteering for the Royal British League - selling poppies for wounded veterans - becoming the oldest woman in living memory to receive an honor.

She began helping her mother Evelyn sell poppies in south west London, in 1921, when she was just six.

THE DANES HAVE GONE BONKERS

Lars Eller with The Stanley Cup. Photo: Washington Capitals Facebook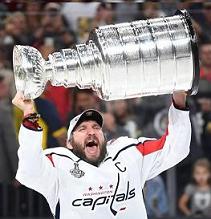 over ice hockey player Lars Eller who scored the winning goal on June 7, 2018 to secure the Washington Capitals the Stanley Cup, thus becoming the first ever Dane to win the sport's most prestigious trophy.

The country of Denmark is celebrating. So is Washington, DC.

Eller was the first player born, raised and trained in Denmark to be selected in the first round when he was chosen by the St. Louis Blues with the No. 13 pick in the 2007 NHL Draft. There are a growing number of Danes who are part of the NHL

The Capitals acquired Eller from the Canadians on June 24, 2016. He's 29 years old, stands 6'2" and in 2010 married his wife Julie. They are the proud parents of one daughter.

In 2018 it is expected that he will be paid $4.75m. In February 2018 the Washington Capitals signed him to a five year extension.

The evening was also a first for the Capitals - their first ever title in 44 years of playing. Perseverance pays off.

The fifth game was played in Las Vegas with Capitals winning 4 games to 1.

Both teams are composed of international players. Twenty-percent of the Golden Knights boast Canadian French as their first language.

For the amazing underdogs the Las Vegas Golden Knights - in their first season of play - they may not have won the Stanley Cup (yet) but they have won the hearts and respect of all of Las Vegas.



THE CHER SHOW MUSICAL featuring her beloved chart-topping hits, with a book by Tony Award winner Rick Elice.

Directed by Tony Award winner Jason Moore. Choreography by Tony Award-winner Christopher Gattelli.

Stephanie J. Block steps into the role of the real-life Cher along with Teal Wicks, and newcomer Micaela Diamond. They will portray the legendary singer and Oscar-winner at different stages of her career.

Also featured in the cast are Tony Award nominee Jarrod Spector as the late Sonny Bono (Cher's first husband and longtime singing partner), Tony Award nominee Michael Berresse (as legendary fashion designer Bob Mackie), Michael Campayno as Rob Camilletti (Cher's famously young boyfriend), Matthew Hydzik as Gregg Allman (Cher's second husband), and Tony Award nominee Emily Skinner as Georgia Holt (Cher's mother).

Orchestrations, arrangements and musical supervision by Tony Award-winner Daryl Waters.

Costumes by Emmy Award-winner the legendary Bob Mackie, set design by Christine Jones and Brett J. Banakis, video projections by Darrel Maloney, lighting design by Kevin Adams and sound design by Nevin Steinberg.

Pre-Broadway premiere June 12-July 15, 2018 at the Oriental Theatre in Chicago.

ON THE SUNNY SIDE OF THE STREET featuring the lyrics of Dorothy Fields, created by two-time Barrymore Award nominee Charles Gilbert.

Directed by East Lynne Artistic Director Gayle Stahlhuth.

Hey, Big Spender, I Feel a Song Coming On, and Pick Yourself Up, are just three of many popular songs with lyrics written by the incomparable Fields. The musical revue On the Sunny Side of the Street, takes it title taken from another Fields' hit.

Another Barrymore Award nominee, Karen Cleighton, is the choreographer. The cast-of four includes Joilet F. Harris, Scott Harrison, Annemarie Rosano, and Melissa Zimmerman.

During her almost 50-year career, Dorothy Fields wrote lyrics for more than 400 songs, worked on 15 Broadway musicals, and almost 30 films. Her film music with Jerome Kern included them winning the Academy Award for Best Song in 1936 for The Way You Look Tonight from Swingtime. Cy Coleman, twenty-years her junior, asked Fields to write the lyrics for his music for the Broadway shows Sweet Charity (1965) and Seesaw (1973). Other collaborators with whom she worked include: Sigmund Romberg, Morton Gould, Arthur Schwartz, Harold Arlen, Albert Hague, Fritz Kreisler, Max Steiner, Oscar Levant, Harry Warren, and Burton Lane.

On the Sunny Side of the Street runs from June 13 - July 21, at the First Presbyterian Church of Cape May, where ELTC is in residence.

ON A CLEAR DAY YOU CAN SEE FOREVER music by Burton Lane. Book and lyrics by Alan Jay Lerner.

Directed and Adapted by Charlotte Moore.

The all-star cast features Stephen Bogardus as Dr. Mark Bruckner, John Cudia as Edward Moncrief, and Melissa Errico as Daisy/Melinda.

With Florrie Bagel, William Bellamy, Rachel Coloff, Peyton Crim, Caitlin Gallogly, Matt Gibson, Daisy Hobbs, and Craig Waletzko.

Daisy Gamble is a woman of extrasensory talents - she sings and flowers bloom, and she always knows where you've placed your keys - but it's her smoking habit that leads her to Dr. Mark Bruckner, a psychiatrist who will attempt to hypnotize her addiction away. In Daisy, Dr. Bruckner discovers the case - and perhaps the love - of his life as he unlocks Daisy's past self, an 18th century British aristocrat named Melinda Welles. Mark becomes increasingly enamored of Melinda as he watches her relive her great love affair with Edward Moncrief. All is going well until Mark decides to publish his findings, and Daisy realizes she's been unwittingly along for the ride.

This 1965 musical boasts one of Broadway's most beautiful scores, with songs including What Did I Have That I Don't Have? and the title song On a Clear Day You Can See Forever, performed at Irish Rep by an on-stage ensemble led by Conductor Gary Adler.

June 15 – August 12, 2018 on the Francis J. Greenburger Mainstage at the Irish Rep in New York City.

WICKED based on the acclaimed, best-selling novel by Gregory Maguire that ingeniously re-imagines the stories and characters created by L. Frank Baum in The Wonderful Wizard of Oz, and with music and lyrics by the multi award-winning Stephen Schwartz. Book by Winnie Holtzman.

Directed by two time Tony award winner Joe Mantello.

UK Associate Director Hannah Toy.

Musical staging is by Tony Award-winner Wayne Cilento.

Wicked, the West End and Broadway musical phenomenon tells the incredible untold story of an unlikely but profound friendship between two sorcery students. Their extraordinary adventures in Oz will ultimately see them fulfill their destinies as Glinda The Good and the Wicked Witch of the West.

The cast stars: Amy Ross (Elphaba), Helen Woolf (Glinda), Steven Pinder (The Wizard and Doctor Dillamond), Kim Ismay (Madame Morrible), Emily Shaw (Nessarose), Iddon Jones (Boq) and Nikki Bentley (Standby for Elphaba), Aaron Sidwell (Fiyero).

Charli Baptie, Jason Broderick, Samantha Brown, Hannah Cadec, Grace Chapman, James Davies-Williams, Howard Ellis, Amy Goodwin, Daniel James Greenaway, Jack Harrison-Cooper, Charlie Karlsen, Nicole Lupino, Stuart MacIver, Stacey McGuire, Sara Morley, Emily Olive Boyd, Georgia Rae Briggs, Paul Saunders, James Titchener, Helen Walsh, Amy Webb, Luke Woollaston and Benjamin Yates complete the touring cast.

Dance Arrangements. Gregory Maguire. Author of Original Novel. Edward Pierce. Associate Scenic Designer. Petra Siniawski. UK Dance Supervisor. James Draisey. UK Music Supervisor. Jim Arnold CDG for Pippa Ailion Casting. UK Casting. Richard Bullimore. UK Production Manager.

Around the world, Wicked has now been seen by over 50 million people in 15 countries, and won over 100 major awards.

Performances June 13 - July 7, 2018 at the Grand Theatre in Leeds, UK.

THE WIZ with a book by William F. Brown as a contemporary retelling of L. Frank Baum's classic. Music and lyrics by Charlie Smalls.

Directed by Tony nominee Denis Jones.

Choreography by Camille A. Brown.

Musical direction by Darryl Archibald.

Starring Nathan Lee Grahamin the title role of The Wiz. The cast will also feature Jared Grimes as Scarecrow, Mykal Kilgore as Lion, and James T. Lane as Tinman.

The Tony Award-winning score includes such musical theatre favorites as Home, Ease on Down the Road, and If You Believe.

June 19-25 at the St. Louis Muny in St. Louis, Missouri.

CHICAGO welcomes NFL Legend and Heisman Trophy Winner Eddie George in the role of Billy Flynn June 12 -17, 2018 at the Ed Mirvish Theatre in Ontario, Canada.


WHO'S WHERE




U2 entertain Wednesday, June 13, in Philadelphia, PA at the Wells Fargo Center. Next Sunday, June 17, they are in the spotlight in Washington, DC at the Capital One Arena.

THE NEW YORK POPS and Music Director Steven Reineke unite with Roger Daltrey on Sunday, June 17 at Forest Hills Stadium in New York for a special, one-night-only performance of The Who'sTommy. The orchestra and Daltrey are joined by a band of seasoned Who players, including guitarist/backup singer Simon Townshend, guitarist Frank Simes, keyboardist Loren Gold, bassist Jon Button, and drummer Scott Devours.

PAULA COLE the Grammy winner whose robust vocals and fearless songwriting remain as fresh and compelling as the start of her 20-plus-year career opens a two nighter Friday, June 15, 2018 at The Smith Center in Las Vegas.

GUNS N' ROSES on stage Tuesday, June 12, in Gelsenkirchen, Germany at the Veltins-Arena. On Friday they take part in Firenze Rock in Florence, Italy.

THE HOLLYWOOD VAMPIRES the supergroup made up of Alice Cooper, Johnny Depp and Aerosmith guitarist Joe Perry are on stage Tuesday, June 12, at Torwar in Warsaw, Poland. On Wednesday they can be found at Prague Rocks in Prague, Czech Republic. Thursday's gig is at the Sparkassenpark Monchengladbach, Germany. On Saturday they invade England with a show at the Genting Arena Birmingham, UK.

HARRY STYLES performs June 12 at the Bridgestone Arena in Nashville, TN.

ED SHEERAN begins a four night engagement Thursday, June 14, at Wembley Stadium in London.

BILLY JOEL in the spotlight June 16, 2018 in Manchester, UK at the Old Trafford Football Ground.

ROGER DALTREY performs The Who's Tommy with members of the Who Band and the Wolf Trap Orchestra. Sunday, June 10, and Tuesday, June 12, at Wolf Trap in Vienna, Virginia.

TIM McGRAW AND FAITH HILL perform Tuesday, June 12, at the Giant Center in Hershey Park, Hershey, PA. Thursday show is at the Nassau Veterans Memorial Coliseum, Uniondale, NY. Friday they tour stops at the Mohegan Sun Arena, Uncasville, CT.


FINAL OVATION


CLARENCE FOUNTAIN a founding member of the Grammy-winning gospel group the Blind Boys of Alabama died Sunday, June 3, 2018 in a hospital in Baton Rouge, La., where he had been taken two days earlier. . He was 88.

Fountain stopped touring with the group in 2007 because of complications from diabetes, but sang on its 2017 album, Almost Home, which was recorded when the group realized that Fountain, the group's longtime leader, and its current leader, Jimmy Carter, remained of the original members.

Fountain and friends started their first singing group as students at the Alabama Institute for the Negro Deaf and Blind in Talladega, where Fountain was enrolled when he was 8. The Happy Land Jubilee Singers sneaked off campus to sing for soldiers at a nearby training camp.

They won national acclaim in 1983 for the off-Broadway stage production of Gospel at Colonus, an adaptation of Sophocles' tragedy Oedipus at Colonus set in a black Pentecostal church. Morgan Freeman played young Oedipus and the Blind Boys sang the part of the blinded Oedipus. The play received two Obie awards and was nominated for a Pulitzer Prize.

The group won four Grammys, a Grammy Lifetime Achievement Award and a National Endowment for the Arts National Heritage Fellowship, and is in the Gospel Music Hall of Fame.

Fountain is survived by his wife, Barbara.

Neil Portnow President/CEO of the Recording Academy issued the following statement: "Clarence Fountain was a founding member of the Grammy-winning gospel group Blind Boys Of Alabama, and was seen as a pillar of inspiration in the music industry. He lent his distinctive vocals to the ensemble's extensive catalog of recordings for more than 70 years and helped drive the group to mainstream success in 1948 with I Can See Everybody's Mother But Mine. With the Blind Boys, he earned four Grammy Awards in the Best Traditional Gospel Soul Album category and the group was honored with the Recording Academy's Lifetime Achievement Award in 2009 for their remarkable contributions to gospel music. Clarence will be dearly missed, and our thoughts go out to his loved ones during this difficult time."

KATE SPADE the fashion designer whose purses became a status symbol committed suicide by hanging herself with a scarf on a doorknob in her Upper East Side New York City apartment on June 5, 2018. She was 55.

The majority of the Kate Spade brand was sold to Neiiman Marcus in 1999 for a reported $34 million, and then the rest in 2006 for another $59 million. Last year, Coach bought the company for $2.4 billion.

She is survived by her husband Andrew Spade — the brother of comic actor David Spade — and their 13-year-old daughter Frances Beatrix Spade. She was the aunt of The Marvelous Mrs. Maisel star Rachel Brosnahan.

JERRY MAREN actor died May 30, 2018 in a San Diego nursing home. He was 98.

At 4'3" he was the last surviving Munchkin of the 1939 MGM film The Wizard of Oz, in which he portrayed a member of the Lollipop Guild.

He also had a major career in commercials, playing Mayor McCheese for McDonalds and driving the Weinermobile.

Maren was married to Elizabeth Barrington from 1975 until her death at age 69 on January 27, 2011.

JIMMY GONZÁLEZ the frontman for the Grammy-winning Tejano group who had health problems related to diabetes, died of cardiac arrest June 6, 2018 in the Methodist Hospital of San Antonio, Texas hospital. He was 67.

Gonzalez had performed in Victoria, Texas the week-end before his death. He was returning to his native Brownsville, Texas following a show and stopped in San Antonio to see relatives when he became ill with low blood sugar issues.

He had been scheduled to perform at KXTN's 30th anniversary festival on June 15 and 16 in San Antonio. The San Antonio Tejano station honored Gonzalez by playing his songs all day.

Gonzalez was remembered Wednesday by the record company he worked with for the last 20 years, Corpus Christi based Freddie Records. "It's a tremendous loss for the entire Tejano music community, as well as Latin music in general," said Freddie Martinez Jr. of Freddie Records. "Jimmy was truly an icon of Tejano music."

Neil Portnow President/CEO of the Recording Academy and Gabriel Abaroa Jr. President/CEO of The Latin Recording Academy issued this joint statement: "Jimmy González was an influential artist who combined his U.S. roots with traditional Mexican music to create his unique Tejano crossover sound. González earned three Grammy nominations between 1990-2003 and was awarded the Best Tejano Album Grammy with his band, Jimmy González y Grupo Mazz, for Si Me Faltas Tu at the 46th Grammy Awards. He was also widely recognized by The Latin Recording Academy, earning six Latin Grammys throughout his career. His passion for creating music deeply connected to his cultural heritage was admired by many and made a significant impact on the Tejano music community. Our sincerest condolences go out to his family, friends, and loved ones during this difficult time."

He was divorced from Yolanda Solis and survivors include his wife Lisa Gonzalez.

ANTHONY BOURDAIN famed chef, travel host, best selling author and TV personality was found dead of apparent suicide byhanging in Strasbourg, France apartment on June 8, 2018. He was 61.

He was in Strasbourg shooting an episode of Anthony Bourdain: Parts Unknown.

A 1978 graduate of the Culinary Institute of America, between 2012 and 2016, he served as narrator and executive producer for several episodes of the award-winning PBS series The Mind of a Chef. He most recently starred in CNN's award-winning series Parts Unknown.

Ecco Press, a division of HarperCollins, announced in September 2011 that Bourdain would have his own publishing line, which would include acquiring three to five titles per year that "reflect his remarkably eclectic tastes".

Bourdain had a public persona that was characterized by Gothamist as "culinary bad boy". Because of his liberal use of profanity and sexual references in his television show No Reservations, the network placed viewer discretion advisories on each segment of each episode.

He was twice divorced. Bourdain married his high school girlfriend, Nancy Putkoski, in 1985, and they remained together for two decades, divorcing in 2005. On April 20, 2007 he married Ottavia Busia. Together, they have a daughter, Ariane, born in 2007. The couple divorced in 2016. He is survived by his daughter.

DANNY KIRWAN singer, songwriter and guitarist who joined the Fleetwood Mac band when he was 18 died in London on Friday, June 8, 2018. He was 68

He was with the blues rock band Fleetwood Mac between 1968 and 1972 and appeared on five of the band's albums.

During the late 1970s Kirwan's mental health deteriorated significantly and since then he played no further part in the music industry. During the 1980s and 1990s, he endured a period of homelessness living in London.

Kirwan was inducted into the Rock and Roll Hall of Fame in 1998 for his work as part of Fleetwood Mac, although he did not travel to the induction ceremony.













Next Column: June 17, 2018
Copyright: June 10, 2018 All Rights Reserved. Reviews, Interviews, Commentary, Photographs or Graphics from any Broadway To Vegas (TM) columns may not be published, broadcast, rewritten, utilized as leads, or used in any manner without permission, compensation and/or credit.
Link to Main Page
---
Laura Deni



For the snail mail address, please E-mail your request.
CLICK HERE FOR COMMENT SECTION