! >
Broadway To Vegas
  
  REVIEWS INTERVIEWS COMMENTARY NEWS

| | |
| --- | --- |
| | |
2012 TONY AWARDS - - THE DRAW OF THE NORMANDY COAST - - ELVIS PRESLEY TO MATERIALIZE AS PEPPER'S GHOST - - HUMAN HEART CD BY RAMIN KARIMLOO - - THE ELECTRIC DAISY CARNIVAL TAKES OVER LAS VEGAS - - BERNADETTE PETERS HONORS LATE HUSBAND - - ROCKIN' ROYALS HAVE HIT RECORDS - - BROADWAY MAKES SIGNIFICANT ECONOMIC IMPACT - - DONATE . . . Scroll Down


Copyright: June 10, 2012
By: Laura Deni
CLICK HERE FOR COMMENT SECTION

ELVIS PRESLEY TO MATERIALIZE AS PEPPER'S GHOST - A HOLOGRAM


This isn't a real women. It's AVA a virtual person. Photo: AirportOne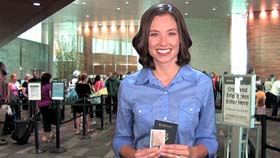 How about submitting to an enhanced airport pat down by Elvis?

If you're going through the grope and feel it might as well be done by ol' swivel hips.

Or, at least hearing him offer a 'Thank you, very much'.

The concept of a security scanning wand cloaked to look like The King of Rock 'n' Roll isn't all that far fetched.

After all Ava the Avitar, the new airport greeter at New York City's airports, is a life-size virtual person.

Three of the virtual assistants begin duty next month at New York City's John F. Kennedy International and LaGuardia Airports, as well as New Jersey's Newark Liberty International Airport.

The Port Authority has purchased three of the holograms to take part in a six month trial to see how customers respond to them. The holograms, which are the first of their kind in North America, have been programmed to answer some of the questions most frequently asked by consumers. This includes providing directions to the nearest taxi stands and bus stops as well as giving general airport safety and convenience tips, according to a Port Authority spokesman.

"She works 24 hours a day, seven days a week and doesn't charge for overtime. She never gets sick and doesn't require a background check," touts AirportOne, the creator of the AVA - airport virtual assistance.

The technology exists to make more interactive avatars that respond to airport traveler questions in multiple languages, said Patrick Bienvenu, CEO at AirportOne.com.



Elvis Presley is coming back to life as a Virtual Elvis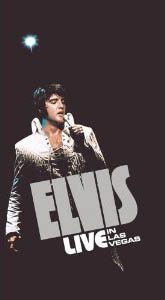 Kick it up a notch and create an Elvis avatar to perform those enhanced TSA patdowns.

Presley is a dead celebrity who has never been permitted to rest in peace.

He been rumored to be still alive working as a gas station attendant to having been incarnated by a variety of Elvis impersonators, each claiming The King has possessed their bodies.

Now the magic and music of Elvis will be brought back to life as Pepper's Ghost - a hologram.

The Oscar-winning Digital Domain Media Group - co-founded by Avatar director James Cameron - is creating a "virtual" Elvis Presley to bring the idol up from the grave into a venue near you.

This is the same group which made headlines during the 2012 Coachella Valley Music and Arts Festival in Indio, California last April - when rapper Tupac Shakur - who was gunned down in Las Vegas - was resurrected into a performance with Dr. Dre and Snoop Dogg.

Now Digital Domain Media Group, has signed a deal with Elvis Presley Enterprises to bring to virtual life the swivel-hipped music icon.



Hologram Tupac performing with Snoop Dogg at the Coachella Valley Music and Arts Festival in Indio, California last April. Photo: Getty Images for Cochella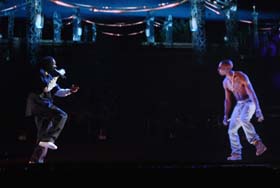 "This is a new and exciting way to bring the magic and music of Elvis Presley to life," Jack Soden, president and chief executive of Elvis Presley Enterprises, said in a statement. "His lifelong fans will be thrilled all over again and new audiences will discover the electric experience of Elvis the performer."

DDMG and CORE Media Group will produce "a series of 'virtual' Elvis Presley likenesses for a range of entertainment projects — from shows and appearances to film, TV and multi-platform productions throughout the world," they said.

DDMG boss John Textor called Presley "the most recognized performer on the planet," adding: "We are thrilled to have been chosen to bring new performances and original shows where fans can have their own, new experiences of Elvis."

"In addition to being a dream project on the creative side, this agreement enables us to participate in the success of any number of potential virtual Elvis appearances."

Presley, who died in 1977, at the age of 42, is having an identity problem. He left the building 35 years ago, meaning that younger generations never saw him live, and only know him from films, videos and songs.

Thus, a virtual Elvis is a natural.

DDMG, based in Port Saint Lucie, Florida, was founded in 1993 and has contributed to hundreds of commercials and more than 90 films, including Titanic, the Transformers series, Real Steel and TRON: Legacy.

Although the life like, 3D images are commonly called "holograms", they were first known as Pepper's Ghost - the result of a Victorian era optical illusion.

The Hungarian-British physicist Dennis Gabor, was awarded the Nobel Prize in Physics in 1971 "for his invention and development of the holographic method".

But first there was Pepper's Ghost, an illusionary technique used in theatre and in some magic tricks. Using a plate glass and special lighting techniques, it can make objects seem to appear or disappear, to become transparent, or to make one object morph into another. It is named after chemist John Henry Pepper, who attempted to popularize the effect.

Pepper first staged the effect, which received wild approval, when it was incorporated into a scene of Charles Dickens's The Haunted Man.

What Pepper did was to refine what inventor Henry Dircks developed in 1862 - the Dircksian Phantasmagoria. This technique was used to make a ghost appear on-stage. He tried unsuccessfully to sell his idea to theatres; it required them to be completely rebuilt just to support the effect, which proved too costly for them to consider. Later in the year, Dircks set up a booth at the Royal Polytechnic, where it was seen by John Pepper.

Pepper realized that the method could be modified to make it easy to incorporate into existing theatres. Though Pepper tried many times to give credit to Dircks, the title Pepper's Ghost endured.



Both the live and TV audiences who watched the 2006 Grammy Award performance had no clue that what they were watching, at least in the first few minutes of Madonna's performance with Gorillaz, was just virtual reality. Gorillaz is a virtual band co-created in 1998 by Brits Damon Albarn and Jamie Hewlett. Photo: Grammy Awards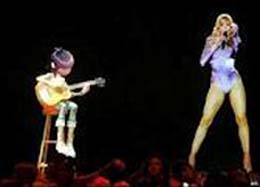 Today the effect is routinely used in haunted houses such as the Haunted Mansion Phantom Manor at several Walt Disney Parks and Resorts theme parks and in the James Bond movie Diamonds Are Forever.

An example which combines the Pepper's ghost effect with a live actor and film projection can be seen in the Mystery Lodge exhibit at the Knott's Berry Farm theme park and the Ghosts of the Library exhibit at the Abraham Lincoln Presidential Library and Museum in Springfield, Illinois, which were both created by the company BRC Imagination Arts using the patented technique known as Holavision.

At the 2006 Grammy Awards the Pepper's Ghost technique was used to project Madonna with the virtual members of the band Gorillaz onto the stage in a "live" performance.

The effect was accomplished using the Musion Eyeliner system, which typically consists of a projector (usually DLP) or LED screen, with a very high resolution (1280x1024 or higher) and a very high brightness (at least 5,000 lumens), a high-definition video player, Musion's patented Eyeliner foil, a 3D set/drawing that encloses three sides, plus lighting, audio, and show control."

Now, Elvis Presley will again perform "live."

It's enough to make you believe in ghosts - at least the Pepper kind.





Broadway To Vegas is supported through advertising and donations. Priority consideration is given to interview suggestions, news, press releases, etc from paid supporters. However, no paid supporters control, alter, edit, or in any way manipulate the content of this site. Your donation is appreciated. We accept PAYPAL. Thank you for your interest.



ART AND ABOUT


THE DRAW OF THE NORMANDY COAST (1860-1960)

Claude Monet (France, 1840-1926), La Manneporte Vue en Aval (The Manneporte Seen from Below), circa 1884. Portland Museum of Art, Maine. Scott M. Black Collection. Photo by meyersphoto.com.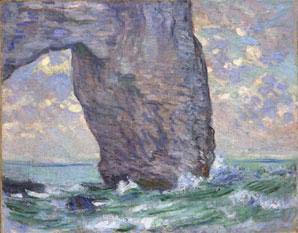 on view June 14 through September 3, 2012 at the Portland Museum of Art in Portland, Maine.

This exhibition will focus on the impressive Normandy coast which proved to be an artistic crucible for European and American artists during the course of the 19th and 20th centuries.

Geographically convenient to Paris, accessible by train, with dramatic cliffs and rock formations, and picturesque and active ports, Normandy was an attractive haven. Realists, Impressionists, Neo-Impressionists, Fauves, Cubists, and Surrealists all gravitated to the area, including Claude Monet, Henri Matisse, Auguste Renoir, Camille Pissarro, James Abbott McNeill Whistler, and Pablo Picasso.

The Draw of the Normandy Coast (1860–1960) will examine the importance of the towns and villages of Honfleur and Le Havre, and such unique destinations as Étretat and showcase the ways in which the landscape was rendered by a spectrum of artists.

The Draw of the Normandy Coast (1860–1960) was inspired by Claude Monet's, La Manneporte Vue en Aval (The Manneporte Seen from Below) (ca. 1884). The exhibition will also include Chefs d'oeuvres including Félix Vallotton's Vuillard Drawing at Honfleur (Montreal Museum of Fine Arts), George Inness' Étretat (Wadsworth Atheneum, Hartford), and Gustave Courbet's M. Nodler, the Elder at Trouville (Smith College Museum of Art, Northampton).

The exhibition includes loaned works from Bowdoin College Museum of Art, the National Gallery of Art, Washington, D.C.; the Museum of Modern Art, New York; the Detroit Institute of Arts, Michigan; the Museum of Fine Arts, Boston; and the Dixon Gallery and Gardens, Tennessee.

The exhibition is curated by Margaret Burgess, the Susan Donnell and Harry W. Konkel Associate Curator of European Art at the Portland Museum of Art.


SWEET CHARITY


BERNADETTE PETERS, THE CENTER FOR DISCOVERY AND THE MONDERER FOUNDATION have announced the naming of the Michael Wittenberg Center for Imagination at The Center for Discovery in Harris, NY.

The center in named in honor of Wittenberg, the husband of Tony Award winner Peters, who was tragically killed in a helicopter crash on September 27, 2005. He was 43 and an investment adviser.

In a statement Peters said, "The Center for Discovery has created a remarkable program-unique in the area-that supports the most severely disabled children and adults. Michael was deeply connected to the environment, good health, and the protection of all living creatures. With its focus on promoting wellness and health to expand life's possibilities for a very vulnerable group of people, The Center for Discovery is the embodiment of Michael's life passions."

The Center for Discovery is noted for its more than 60 years of service to children and adults with severe disabilities. The Center offers educational, clinical/health, residential, family supports in addition to other programs and services. The Center features universally designed facilities specifically built to meet the physical, intellectual, emotional, social, and creative needs of children and adults it serves.


THE MUSIC GOES ROUND AND ROUND


HUMAN HEART – RAMIN KARIMLOO in American the name Ramin Karimloo might not be instantly recognizable. On London's West End, he's a superstar.

On June 5, Broadway Masterworks released his debut album Human Heart which will please his existing fans and be the magnet for acquiring new ones.

Ramin is an Iranian-born Canadian vocalist performer who had played leading roles in both of the West End's longest running musicals; Raoul in The Phantom of the Opera; and Jean Valijean, Enjolras and Marius in Les Miserables.

He also originated the role of the Phantom in Andrew Lloyd Webber's Love Never Dies, which continues the story of The Phantom of the Opera.

On October 1 and 2, 2011, he played The Phantom for three performances alongside Love Never Dies co-star Sierra Boggess as Christine Daae in the unique 25th anniversary production of The Phantom of the Opera at the Royal Albert Hall and was streamed live to cinemas across the world. That event is currently bring broadcast on PBS.

Although you can't see it on the CD, Ramin is both handsome and interesting.

With an arm full of tattoos - everything from trees to angels to poetry - a trilby straight from Shoreditch and a huge on-trend jumper he bagged from a fashion shoot, he looks more like someone from Red Hot Chilli Peppers that you never noticed before. Masterworks Broadway explains: "Except you would have noticed him: the man is stunning, with looks somewhere between Latin matinee idol and ruggedly handsome Brando-esque actor."

It may be his looks that initially caused some to buy tickets to see him in person but it's his voice and delivery that keep them coming back.

This easy listening CD offers a well thought out selection of tradition as well as new; all richly constructed. Well balanced sound which permits the listener to enjoy all aspects of the recording - from Ramin's sensuous voice to the musical arrangements and the compositions including Ramin's own successful efforts at composing.

"I have a huge love for country and bluegrass, I love rock 'n' roll and I love what I'm doing, so it was how to balance all that," he says of what was going on in his head when he was approached to make an album. "I didn't want to be just a theatre star putting out an album. It was only when they started talking about writing and bringing in other writers that I got interested. I wanted to have lived the songs. I wanted an album that was like a diary."

The 12 track CD includes four songs written by Ramin and his songwriting partners Don Mescall, Tom Nichols, and Mathias Wollo. Two of the offerings are from Andrew Lloyd Webber. Music of the Night with Charles Harr and Richard Stilgoe and Til I Hear You Sing, with Glenn Slater. Songs of the Human Heart, a new offering by Duncan Sheik and Steven Sater is showcased. Constant Angel was written by Don Mescal and Mike Reid.

Ryan Tedder and Greg Wells composed Coming Home, and Matthew Bellamy is responsible for Guiding Light.

Everything I Do (I Do for You) is the collaborative effort of Bryan Adams, Robert 'Mutt' Lange, and Michael Kamen. The final track Cathedrals is the work of Jay Clifford.

Musicians:
Drums and Percussion: Pete Huntingdon and Tom Nichols. Acoustic guitar: Mathias Wollo and Tom Nichols. Electric Guitar: Steve Young and Mathias Wollo. Classical Guitar on Music of the Night Pablo Sainz Villegas. Bass: Mathias Wollo and Owen Stephen Piano: Mattias Bylund and Tom Baxter. Keyboards: Chris Hall, Mathias Wollo and Tom Nichols. Hammond Organ: Mattias Wollo. Background vocals: Tom Nichols. Orchestra: The Oxford Williamson Orchestra. Orchestra Arranger and Conductor John Metcalfe.

Human Heart Tracklisting:
1. Show Me Light
2. Coming Home
3. Music of the Night
4. Broken Home
5. Guiding Light
6. Song of the Human Heart
7. Constant Angel
8. Til I Hear You Sing
9. Eyes Of A Child
10. Inside My World
11. Everything I do (I Do It For You)
12. Cathedral

Ramin will be on a North American tour throughout September.


ROCKIN' ROYALS HAVE HIT RECORDS
Hey, Mr. Tambourine Man: Prince Harry practicing the tambourine as Gary Barlow looks on. Picture: Decca Records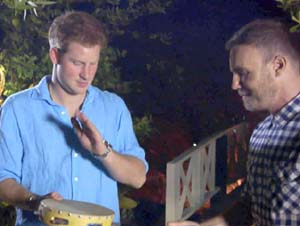 Queen has a Gold Record.

We're not referring to the rock group Queen which does indeed have a Gold Record - a wall full, in fact.

The Queen we're talking about is Queen Elizabeth.

Oh, and Prince Harry currently has an album on the charts.

Those rockin' royals.

It seems Prince Harry is quite the tambourine player.

Gary Barlow's album Sing, which features Harry shaking a tambourine opened at #1 in its first week on the charts.

Sing is the official Diamond Jubilee song.

Take That star Gary Barlow who produced last week's Jubilee Concert, didn't' have to do much coaxing to get Harry to jingle the disks of the percussion instrument on the studio version of the song, which is the album's title track.

The official album, which was recorded at Abbey Road Studios by Barlow and the Commonwealth Band, was presented to the Queen to commemorate the celebration of her 60 years on the throne.

As for Her Majesty, The Queen has a gold album, for Party at the Palace, a recording of a 2002 concert at Buckingham Palace to celebrate her Golden Jubilee. One hundred thousand copies of the album were sold within the first week of its release.

Last Monday's Jubilee Concert will no doubt be turned into another gold record.

The playlist:
1.Robbie Williams - Let Me Entertain You
2. Will.i.am and Jessie J - I Gotta Feelin'
3. Jessie J - Domino
4. JLS - Everybody In Love and She Makes Me Wanna
5. Garry Barlow & Cheryl Cole - Need You Now
6. Cliff Richard - Medley including Devil Woman, Wired for Sound and Congratulations
7. Lang Lang - Hungarian Rhapsody
8. Alfie Boe - O Solo Mio
9. Jools Holland & Ruby Turner - You Are So Beautiful
10. Grace Jones - Slave To The Rhythm
11. Ed Sheeran - A Team
12. Annie Lennox - There Must Be An Angel
13. Renee Fleming - Un Bel Di Vedremo
14. Tom Jones - Mama Told Me Not To Come and Delilah
15. Robbie Williams - Mack The Knife
16. Gary Barlow and the Commonwealth band featuring The Military Wives - Sing
17. Shirley Bassey - Diamonds Are Forever
18. Kylie Minogue - Medley including Spinning Around, Can't Get You Out of My Head and All the Lovers
19. Alfie Boe and Renee Fleming - Somewhere
20. Elton John - I'm Still Standing, Your Song and Crocodile Rock
21. Stevie Wonder - Sir Duke, Isn't She Lovely, Happy Birthday, Superstition
22. Madness - Our House, All You Need Is Love
23. Paul McCartney - Magical Mystery Tour, All My Loving, Let It Be, Live and Let Die, Ob-La-Di Ob-La-Da


SPREADING THE WORD


WEST SIDE STORY Celebrate the 50th anniversary of this iconic film, as the Royal Philharmonic Concert Orchestra conducted by Jayce Ogren play Leonard Bernstein's electrifying score live while the re-mastered film is shown in high-definition on the big screen with the original vocals and dialog intact. Winner of ten Academy Awards, the film, directed by Robert Wise and Jerome Robbins, features Robbins' choreography, screenplay by Ernest Lehman, book by Arthur Laurents and lyrics by Stephen Sondheim. June 22-24 at the Royal Albert Hall in London.

CIVIL WAR MUSIC by Bob Schieffer and Honky Tonk Confidential. The National Museum of American History celebrates Flag Day with a performance of Civil War music by Bob Schieffer and Honky Tonk Confidential in Flag Hall, right outside the gallery that houses the Star Spangled Banner.

Music selections include songs from the recently acquired BMI Archives Confederate Music Collection as well as songs popular with Union troops and supporters.

All of the pieces of music are from the museum's collection of Civil War-era music. Bob Schieffer and Honky Tonk Confidential follow a public ceremony in which the museum formally accepts the donation of the Confederate Music Collection by Broadcast Music Inc.

Thursday, June 14 at the Museum of American History in Washington, DC.

ROCK OF AGES producers waited until the movie was about to debut to confirm the not very well kept secret - that the Tony Award nominated musical would open in December at the Venetian Hotel in Las Vegas.

THE SIXTIES ON BROADWAY Songstress Jenny Lynn Stewart with her accompanist William Lewis perform highlights from Broadway's magical moments in the 1960s. Enjoy a memorable musical journey hearing hits from Hello Dolly, Mame, Camelot, Fiddler on the Roof and others, with a nostalgic look at the events and cultural trends of the decade. Saturday, June 16, 2012 at the Library for the Performing Arts in New York City.

LONNY PRICE has been announced as director of Sleepless in Seattle - The Musical. The world premiere of the new production will be at The Pasadena Playhouse in June 2013. David Stern will serve as the production's musical director.

BOTANICUM SEEDLINGS The Will Geer Theatricum Botanicum's development series for playwrights, celebrates its 10th year of supporting new works and new voices in theater with readings of three exceptional new plays:

The readings open on June 10 with BLISS (or Emily Post is Dead!) by Jami Brandli. Directed by Randee Trabitz. A domestic comedy of mythological proportions set in 1960 in North Orange, NJ, where pill-popping housewives Clytemnestra, Medea and teenage Antigone look to Emily Post for advice, until Cassandra questions their fate.

BLISS will be also presented as a Mainstage Reading at the upcoming 2012 Great Plains Theatre Conference.

On June 17 is Shannon Lee Clair's Dancer in Kandahar, directed by Sabina Ptasznik takes place. In this theatrical tale of politics and identity, a young journalist travels to Afghanistan to report on women's issues, and returns with an unexpected story she struggles to understand.

The readings conclude on June 24 with Recipe by Michael Gene Sullivan, featuring veteran performers Ellen Geer, Melora Marshall and Barbara Tarbuck, and directed by Jen Bloom. Recipe follows the exploits of The Morning Glory Baking Circle for Revolutionary Self Defense, women of a certain age who are talented chefs and self-styled revolutionaries - Black Panthers with a little Betty Crocker thrown into the mix. They bake to raise funds for revolutionary causes, but their latest scheme might just be a recipe for disaster.

Botanicum Seedlings was created and is run by Theatricum playwright-in-residence Jennie Webb with Seedlings literary manager Julie Retzlaff. The Botanicum Seedlings Spring Playreadings take place Sundays on June 10, 17 and 24 in Theatricum's intimate S. Mark Taper Foundation Pavilion in Topanga, CA . Admission to the playreadings is free and open to the public.

CARSON KRESSLEY currently performing in Las Vegas as part of a 12-week run of Dancing With The Stars stage show, will star in the Tony Award winning musical Damn Yankees.

Kressley will play the devil - aka Mr. Applegate - in the production which runs July 25-August 18 at the Ogunquit Playhouse in Ogunquit, Maine.

With a revised book by Tony Award-winner Joe DiPietro based on the original script, the new Red Sox version of Damn Yankees moves the action from Washington, D.C., and plants it firmly in Fenway Park, home of the Boston Red Sox. The Ogunquit production will be directed and choreographed by song and dance man Jeffrey Denman, with musical direction by Ken Clifton.

Kressley was last seen at the Ogunquit Playhouse in his critically acclaimed performance as Man in Chair during the 2010 run of The Drowsy Chaperone.


OTHER PEOPLE'S MONEY


BROADWAY CONTRIBUTED $11.2 Billion to New York City in 2010 – 2011 Season, a 9% increase from the 2008 – 2009 season.

Those figures were announced by The Broadway League in its 2010-2011 Broadway's Economic Contribution to New York City report, the eighth biennial report in this series. The report measures the full economic impact of spending by Broadway production companies, theatre operators and those visitors drawn to NYC by Broadway. As the official source for statistical information about Broadway theatre productions in the United States, The Broadway League's report demonstrates that Broadway not only offers entertainment, art and culture, but that it is an industry whose financial contributions nourish the economy of its city and state.

The new report states that during the 2010-2011 season, Broadway as an industry contributed $11.2 billion to the economy of New York City. This amount was comprised of direct spending in three areas: spending by producers to mount and run shows; spending by theatre owners to maintain and renovate venues; and ancillary purchases by "Broadway Tourists" (defined as non NYC residents who said that Broadway was a very important reason in their coming to New York City). The money that was directly spent in these areas was then re-spent in multiple subsequent rounds.

The subsequent rounds make the original spending exponentially more valuable. In total, the full contribution of Broadway Tourists amounted to $9.0 billion; shows contributed $2.2 billion; and theatres $22.3 million, for a total of $11.2 billion on NYC's economy. Broadway supports 86,000 jobs and generates $550 million in taxes to NYC.

HAPPY DAYS CAST MEMBERS won a victory last Tuesday when Los Angeles Superior Court Judge Elizabeth Allen White denied a motion by CBS Studios and Paramount Pictures, the makers of the popular television sitcom, to dismiss claims by several former cast members that they are owed royalties on DVD sales, claiming the actors were properly compensated.

That ruling permits a trial on whether actors Anson Williams, Marion Ross, Don Most, Erin Moran and the widow of Tom Bosley are still owed royalties on the use of their images in DVD packaging.

Attorney Jon Pfeiffer stated the group has received payments for several other types of merchandise since they sued in April 2011. He indicated the unpaid royalties are worth an estimated $250,000 to $500,000.

THE ELECTRIC DAISY CARNIVAL which, this past Friday, opened up three days of electrifying performances on the biggest free standing stage in North America - constructed at the Las Vegas Motor Speedway - is expected to generate upward of $136 million for the Sin City economy.


FATHERS COUNT, TOO


Attention all fathers.

Forget about another tie, another shirt, sweater, cap or whatever - the Summer Theatre of New Canaan, CT has something very special to Celebrate Father's Day this year.

Offering All Fathers a free ticket to a live theatre performance of either The Wizard of Oz and/or My Fair Lady when accompanied by their child/children this Father's Day, Sunday, June 17.

Artistic Director, Melody Meitrott Libonati enthused;

"This is a special time for families to be together. We introduced our Father's Day Celebration last season and the response was tremendous! We now offer it as our way of giving back and sharing the arts with area families searching for something new and unique for their Fathers. Families may also take advantage of picnicking prior to either performance. Our box office personnel will assist with whatever is needed for this special day."






66th ANNUAL TONY AWARDS will be presented this evening, June 10, at the Beacon Theatre in a ceremony telecast on CBS.

Hosted by Emmy Award winner Neil Patrick Harris, the evening will feature appearances by Nick Jonas, Amanda Seyfried, Tyler Perry, Jessica Chastain, Jim Parsons, Paul Rudd, Ellen Barkin, Angela Lansbury, Bernadette Peters, Candice Bergen, Christopher Plummer, James Marsden, Mandy Patinkin, Sheryl Crow, Trey Parker and Matt Stone, among others.

The Tony Awards are presented by The Broadway League and the American Theatre Wing.

( For a list of nominees and winners click here )



HARVEY by Mary Chase. Directed by Scott Ellis.

Starring Jim Parsons (Elwood P. Dowd), Jessica Hecht (Veta Louise Simmons), Charles Kimbrough (William R. Chumley, M.D.), Larry Bryggman (Judge Omar Gaffney), Carol Kane (Betty Chumley), Peter Benson (E.J. Lofgren), Tracee Chimo (Myrtle Mae Simmons), Holley Fain (Ruth Kelly, R.N.), Angela Paton (Mrs. Ethel Chauvenet), Rich Sommer (Duane Wilson), and Morgan Spector (Lyman Sanderson, M.D.).

Emmy Award winner Parsons stars as one of modern theatre's most lovable characters, Elwood P. Dowd.

Charming and kind, Elwood has only one character flaw: an unwavering friendship with a 6-foot-tall, invisible white rabbit named Harvey.

In order to save the family's social reputation, Elwood's sister Veta (Jessica Hecht) takes Elwood to the local sanatorium. But when the doctors mistakenly commit his anxiety-ridden sister, Elwood - and Harvey - slip out of the hospital unbothered, setting off a hilarious whirlwind of confusion and chaos as everyone in town tries to catch a man and his invisible rabbit.

Jane Greenwood costume design; Kenneth Posner lighting design; Tom Watson hair and wig design; Angelina Avallone make-up design; David Rockwell set design; Obadiah Eaves original music and sound design; Kate Wilson dialect coach; Peter Samelson magic consultant.

Presented by the Roundabout Theatre Company, Harvey opens officially on Thursday, June 14, 2012 at Studio 54 in New York City.

SORRY, WRONG NUMBER Written by Lucille Fletcher. Directed by Sherldon Marema. Mentor director Keamogetswe Moeketsanw.

Haughty, wealthy invalid Leona Stevenson waits home alone impatiently for her husband Henry. When she call his office, the wires get crossed and she overhears what thinks is a plot to murder. As a sheer exercise in melodrama and in cumulative suspense, this play has highly vivid episodes and a grimly exciting finale.

According to the State Theatre:

"Nowadays melodrama has come to mean something else-drama in which characters are one dimensional, atmosphere is threatening and the plot relies on a series of coincidences. For all these apparent weaknesses, the best melodrama, as used in tense dramas like Sorry, Wrong Number, can have a strong grip on its audience, making us keen to see what happens next."

June 12-29, 2012 at the State Theatre of South Africa in Pretoria.

THE BEST MAN welcomes Mark Blum to the cast. He has taken over the role of campaign manager Dick Jensen, succeeding Michael McKean who received numerous injuries, including a badly broken leg, when he was struck May 22, 2012 by a car in Manhattan.

The Best Man nominated for a 2012 Tony Award for Best Revival of a Play as well as a Best Performance by an Actor in a Leading Role in a Play nomination for James Earl Jones, continues to September 9 at Broadway's Gerald Schoenfeld Theatre in NYC.

THE BOOK OF MORMON welcomes two new Mormon missionaries to the cast of the Tony Award winning musical at the O'Neall Theatre. Josh Gad as Elder Cunningham completed his mission at the June 6 fan free performance and Andrew Rannells as Elder Price will stop baptizing on June 10.

Taking over converting the audience is Jarel Gertner as Brother Cunningham while Rannell will turn over his Elder Price white shirt and black tie to Nic Rouleau.

The outrageously delightful musical has also added a new Friday matinee performance which will replace the Sunday evening staging. The Sunday matinee offering will continue.

Created by Trey Parker and Matt Stone, and Tony-winning Avenue Q songwriter Robert Lopez the hit production will hold services Tuesday-Thursday at 7 PM; Friday and Saturday at 8 PM; 2 PM matinees on Friday and Saturday; Sunday at 3 PM.

THE OREGON SHAKESPEARE FESTIVAL opens its flagship theatre the weekend of June 15–17, with two Shakespeare productions, Henry V and As You Like It, and a Shakespeare-inspired adaptation, The Very Merry Wives of Windsor, Iowa, by Alison Carey, director of OSF's American Revolutions: the United States History Cycle.

The opening performance begins Friday, June 15, with William Shakespeare's Henry V, directed by Joseph Haj.

Brent Hinkley returns for the third time in the role of Bardolph, and also returning for the third time in this Henry trilogy are Richard Howard, Jeffrey King, Howie Seago, Christine Albright and Daisuke Tsuji. Other cast members include U. Jonathan Toppo as Pistol, Bernard White as the King of France, Brooke Parks as the Princess of France and Judith Marie Bergan as Mistress Quickly.

Designers are Richard L. Hay (sets), Jan Chambers (costumes), Justin Townsend (lights), Todd Barton (music and sound). The dramaturg is Alan Armstrong, David Carey is voice and text director and Sara Becker is voice and text assistant. Henry V runs through October 12.

On June 16, the Elizabethan Stage will be filled with the denizens of a small, fictitious Midwestern town in Alison Carey's rapid-fire adaptation of the Shakespeare play, The Very Merry Wives of Windsor, Iowa, directed by Christopher Liam Moore. After losing the Iowa caucuses, Senator John Falstaff tries to recoup his financial war chest. Plotting to seduce not one, but two wives (one married to a man, the other to a woman, this being Iowa, where gay marriage is legal), to gain access to their spouses' coffers, he finds that the town doesn't take too kindly to such shenanigans by an oily outsider who doesn't honor love and commitment. Falstaff gets his comeuppance at the eagerly awaited Iowa State Fair, but not before he has a fateful run-in with a recycling bin.

Senator John Falstaff is played by David Kelly, Margaret Page by Terri McMahon, George Page by Ted Deasy, Alice Ford by Gina Daniels, and Robin Goodrin Nordli is Francie Ford. Other cast members include Isabell Monk O'Connor as Roberta Shallow, Miles Fletcher as Fenton, and Tala Ashe as Anne Page.

Designers are Christopher Acebo (sets), Alex Jaeger (costumes), Jane Cox (lighting), Paul James Prendergast (music/sound), Ken Roht (choreography) and Lynn Jeffries (puppets). Lezlie Cross is dramaturg and Rebecca Clark Carey is voice and text director.

The Very Merry Wives of Windsor, Iowa runs through October 13.

On stage June 17 is As You Like It. Jessica Thebus directs Shakespeare's romantic comedy.

Rosalind is played by Erica Sullivan, Celia by Christine Albright, Orlando by Wayne T. Carr, Oliver by Kenajuan Bentley, Duke Senior by Howie Seago, Duke Frederick by Michael J. Hume, Jacques by Kathryn Meisle, Touchstone by Peter Frechette.

Designers are Todd Rosenthal (sets), Linda Roethke (costumes), Jane Cox (lighting) and Andre Pluess (music/sound). Lezlie Cross is dramaturg and Sara Becker is voice and text director visit the OSF website.

As You Like It runs through October 14.

WHAT WE DO FOR LOVE OR OTHER DESPERATE MEASURES a new musical comedy by Dorothy Marcic. Directed and choreographed by three time Tony Award winner Hinton Battle.

What We Do For Love Or Other Desperate Measures is billed as "a non-stop electrifying, fast-paced musical about relationships, looked at through nostalgic Top-40 hit songs of the past four decades. A company of six takes audiences on a journey from high school through adulthood tracing the paths that each friend eventually follows."

Featuring Gilbert Bailey, Natalie Hill, Simon Pearl, Morgan Reed, Carla Stewart and Ryan Williams who incorporate hits from Neil Diamond to Cher, Connie Francis to Elton John, and Liza Minnelli to india.arie.

Dramaturgy by Kenneth Ferrone and musical direction by Jon Balcourt. 4th Annual Planet Connections Theatre Festivity June 13th – 24th at the Bleeker Street Theatre as part of the 4th Annual Planet Connections Theatre Festivity in New York City.

WAR HORSE Based on a novel by Michael Morpurgo. Adapted for the Stage by Nick Stafford in association with Handspring Puppet Company.

England, 1914. As World War One begins, Joey, young Albert's beloved horse, is sold to the cavalry and shipped from England to France. He's soon caught up in enemy fire, and fate takes him on an extraordinary journey, before finding himself alone in no man's land.

But Albert cannot forget Joey and he embarks on a treacherous mission to find him and bring him home.

An incredible production. This epic tale is both highly inventive spectacle and powerfully moving drama, with one of the largest casts (over 30) ever assembled on the Ahmanson stage.

This odyssey of a boy and his horse took London by storm before opening on Broadway in Spring 2011.

The Tony Award winning production opens June 14 at the Ahmanson Theatre in Los Angeles but runs only through July 29, 2012.


WHO'S WHERE


BONNIE RAITT opens a two night stand at the Ntelos Wireless Pavilion in Portsmouth, VA on Tuesday, June 12. On Thursday the show is at the Filene Center in Vienna, VA. Saturday finds her at the Academy of Music in Philadelphia. Next Sunday, June 17, she's in the spotlight at the Pier Six Pavilion in Baltimore, MD.

NEIL DIAMOND performs Thursday, June 14, at the Verizon Center in Washington, DC. On Saturday he stars at the Mohegan Sun Arena in Uncasville, CT.

NICKELBACK perform Tuesday, June 12, at the Energy Solutions Arena in Salk Lake City. On Friday the show is at the Staples Center in Los Angeles. Saturday's gig is as part of the Seether My Darkest Days event at the MGM Grand Garden Arena in Las Vegas.

MANDY PATINKIN presents his Broadway theatre concert, Mamaloshen June 16-17 at the Harold Green Jewish Theatre Company in Toronto.

ELTON JOHN continues his UK tour with a stop at Falkirk Stadium on June 10. On June 13 the show is at the (10) Newcastle Metro Radio Arena. On the 15th he can be enjoyed at the Birmingham LG Arena. The next night the show is at Blackpool Tower Festival Headland.

AEROSMITH performs Saturday, June 16, at the Target Center in Minneapolis.

MADONNA continues her tour with a performance Tuesday, June 12, at the Olympic Stadium in Rome. On Thursday she performs at the Stadio Giuseppe Meazza in Milan. Saturday finds her performing at the Curva Stadio Framchi in Florence, Italy.

BRYAN ADAMS entertains Friday, June 15, at the Memorial Centre in Victoria, BC. On Saturday he's in the spotlight at the Rogers Arena in Vancouver, BC and next Sunday he brings his tour to the Interior Savings Centre in Kamloops, BC.

ROGER WATERS on stage Monday, June 11, at Bakers Life Fieldhouse in Indianapolis. On Friday he's in the spotlight at the BankAtlantic Center in Sunrise, FL. Saturday's gig is at the Amway Center in Orlando.

MITZI GAYNOR IN CONCERT one night only, June 16, at Sam's Town in Las Vegas.




FINAL OVATION


GEORGE MARINO three time Grammy Award winning sound engineer died June 4, 2012. The cause of death was lung cancer.

He worked at New York's Sterling Sound for almost 40 years.

Neil Portnow President/CEO The Recording Academy issued the following statement:

Grammy winner George Marino was a dynamic influence in his craft as a studio engineer. Working with Sterling Sound mastering studios for more than four decades, he collaborated on a wide range of musical projects including some of rock's most classic albums such as AC/DC's Highway to Hell, Bon Jovi's Slippery When Wet, Guns N' Roses Appetite for Destruction, and Metallica's self-titled disc. He also mastered some of the annual Grammy Nominee CDs and recently garnered an Album Of The Year Grammy for his work on Arcade Fire's Suburbs. Marino's passion, talent, and genuine love of music was a true gift, and the music industry has suffered a tremendous loss. Our thoughts and condolences are with his family, friends and all those who had the distinct privilege of working with him.

RAY BRADBURY author of such science fiction classics as Fahrenheit 451 and The Martian Chronicles, died June 5, 2012. He was 91.

He penned more than 27 novels and 600 short stories.

Bradbury married Marguerite McClure in 1947. She passed away in 2003. Bradbury is survived by daughters Tina, Ramona, Susan and Alexandra; and grandchildren.

BOB WELCH a former member of Fleetwood Mac who also had a solo career, died at his Nashville home on Thursday, June 7, 2012. He cause of death was a self-inflicted gunshot wound to the chest. He left a suicide note. He was 65 and had suffered with health issues.

Welch was a guitarist and vocalist for Fleetwood Mac from 1971 to 1974. He formed the British rock group Paris in 1976, and had hits including Sentimental Lady in 1977 and Ebony Eyes in 1978.

Bart Herbison, executive director of the Nashville Songwriters Association, quoted his wife Wendy as saying Welch had spinal surgery three months ago and doctors told him he would not get better, and he did not want her to have to care for an invalid.

The couple had no children.

BARRY UNSWORTH the historical fiction author who shared the Booker Prize in 1992, died June 5, 2012 in Perugia, Italy, of lung caner. He was 81.

Unsworth was a British novelist who wrote historical fiction. He published 17 novels, and was shortlisted for the Booker Prize three times, winning once for the 1992 novel Sacred Hunger.

The joint Booker victory of Unsworth's Sacred Hunger and Michael Ondaatje's The English Patient prompted a rule change preventing split decisions.

Born in 1930, the British novelist was renowned for his extensive research.

His first novel The Partnership was published in 1966, while his most recent - The Quality of Mercy, a continuation of Sacred Hunger - came out last year.

In 1999 he was a visiting professor at the University of Iowa's Iowa Writers' Workshop. In 2004 he taught literature and creative writing classes at Kenyon College in Ohio.

In the last years of his life, he lived in Italy. His first marriage, to Valerie Moor, ended in divorce. He is survived by his second wife, Aira; three daughters from his first marriage, Madeleine Reiss, Tania Unsworth and Thomasina Unsworth; a brother, Peter; and six grandchildren.








Next Column: June 17, 2012
Copyright: June 10, 2012. All Rights Reserved. Reviews, Interviews, Commentary, Photographs or Graphics from any Broadway To Vegas (TM) columns may not be published, broadcast, rewritten, utilized as leads, or used in any manner without permission, compensation and/or credit.
Link to Main Page
---
Laura Deni



For the snail mail address, please E-mail your request.
CLICK HERE FOR COMMENT SECTION