! >
Broadway To Vegas
  SHOW REVIEWS     CELEBRITY INTERVIEWS     GOSSIP     NEWS 
| | |
| --- | --- |
| | |
Copyright: June 10, 2001
By: Laura Deni
CLICK HERE FOR COMMENT SECTION

EQUITY ESTABLISHES NEW LAS VEGAS RULES
In a move being heralded as a competitive breakthrough, Equity has established a new code for bringing Equity shows into Las Vegas


STEVEN HOOD while performing at the Venetian Hotel, Las Vegas. Photo By Laura Deni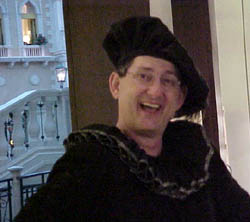 "Equity has instituted a special contract for Las Vegas that enables producers to bring in Equity shows in a more competitive basis. It wasn't fair to make a Las Vegas production compete with New York," reported singer/actor Steven Hood, vice liaison for the Las Vegas branch of Equity.

"In the past it was impossible for a producer to do a matinee and evening show in Las Vegas and compete with New York. They couldn't afford to bring a production here," reiterated Hood, who performs at the Venetian Hotel. He indicated he hasn't yet received a copy of the new rules. "Now there are some modifications. Actors will be paid almost as much as in New York, be eligible for pension provisions, but give up some of the other benefits.

Hood stated that the first show to operate under the new guidelines is Men Are From Mars, Women Are From Venus which has been running in Las Vegas at the Flamingo Hilton Hotel with Equity permission. They now move into the status of an Equity production. "With the exception of the touring shows that is the only Equity production in Las Vegas,"continued Hood.

"At any time Las Vegas has between 200-300 Equity members. Many are retired performers. There are also several major stars who are Equity members who live in Las Vegas such as Jerry Lewis, Robert Goulet and Phil Ford and Mimi Hines."


ELI'S COMIN - A TRIBUTE TO LAURA NYRO

Laura Nyro died of ovarian cancer at the age of 49 in 1997. She left more than one child born in this world to carry on, she left a legacy of music.



LAURA NYRO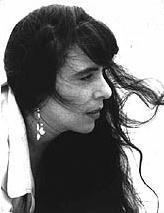 Off-Broadway's Eli's Comin' currently in a world premiere engagement at the Vineyard Theater offers a music-theatre piece inspired by that music. It stars a five member cast including; Judy Kuhn a three time Tony nominee for She Loves Me, Chess and Les Miserables as Emmie, a woman journeying into the heart and soul of New York City. Wilson Jermaine Heredia, who won a Tony Award for Rent, plays the captain - as in the Nyro song Captain St. Lucifer. Along the way Emmie, encountering mothers, daughters, angels, demons, lovers and a tarot card reader played by Anika Noni Rose who exhibits a fabulous, powerful voice that knocks the socks off a song - all of whom play a part in Emmie's salvation. Ronnell Bey and Mandy Gonzalez are excellent. The group is backed by an outstanding six piece jazz ensemble led by pianist and musical director Joe Rubinstein, with guitarist Marvin Sewell and trumpeter Eddie Allen.

Eli's Coming is not a biographical piece about Nyro, nor a traditional book musical or revue; rather, it is a music-theater piece inspired by the emotional and musical landscapes of Nyro's songs, which experiment with form and feeling, sharing a connection with modern poetry and art, inspiring musicians and music lovers for over three decades.

Co created by Diane Paulus and Bruce Buschel, Eli's Coming is directed by Paulus. The musical arranger is Diedre Murray.



ANIKA NONI ROSE, MANDY GONZALEZ, RONNELL REY and JUDY KUHN in Eli's Comin. Photo By Carol Rosegg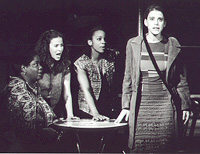 Nyro's unprecedented string of popular hits in the 60s and 70s include Stoned Soul Picnic, Stony End, Wedding Bell Blues, Sweet Blindness and Eli's Coming, which she recorded on such groundbreaking albums as Eli and the Thirteenth Confession and New York Tendaberry - was without question, one of the most influential singer/songwriters of her day. She blended jazz, rhythm and blues, rock, gospel and folk music. Her own music was influenced by the likes of Debussy, Coltrane, Burt Bacharach and the doo-wop groups she sang with on the street corners where she grew up in her native Bronx.

"I would go out singing, as a teenager, to a party or out on the street, because there were harmony groups there, and that was one of the joys of my youth," Laura had said of her musical roots. "I mean you could just go out and sing. If I look back now, all these years later, I must have had a spiritual, holistic feeling from all of that."

A conservative approach was never her road. "I'm not interested in conventional limitations when it comes to my songwriting. For instance, I may bring a certain feminist perspective to my songwriting, because that's how I see life. I'm interested in art, poetry, and music."

By age 17, she had written the classic And When I Die, popularized by Peter, Paul and Mary, and later Blood, Sweat and Tears. The radio airwaves of the late 60's and 70's were filled with her songs. Wedding Bell Blues, Stoned Soul Picnic, Blowin' Away, Save The Country, and Sweet Blindness, a bouquet of compositions, all became hits for The Fifth Dimension, as did Eli's Comin' for Three Dog Night, and Stoney End for Barbra Streisand.

Laura's work draws from soul, jazz, blues, R&B, and folk-rooted music, along with a modern classical influence. Her songs have been recorded by artists as diverse as Carmen McCrae, Suzanne Vega, Phoebe Snow, Roseane Cash, Sweet Honey in the Rock, Jane Siberry, Mongo Santamaria, Junior Walker and the All Stars, Chet Atkins, Frank Sinatra, Linda Ronstadt, George Duke, Maynard Ferguson, Thelma Houston, Patti Larkin, and The Roches. The prestigious Alvin Ailey Dance Company includes Laura's music in their performance piece Cry. And the Canadian Ballet has danced to Emmie, which Laura had said was her mother's favorite song.

Born in New York on October 18, 1947, Laura was brought up on city life. She listened to the late 50's and 60's girl groups, Nina Simone, John Coltrane, Miles Davis, Smokey Robinson and the Miracles, Curtis Mayfield and The Impressions, Mary Wells, Dusty Springfield, and the early Burt Bacharach-Hal David songs of Dionne Warwick. While Laura read poetry at home her mother played records by Leontyne Price and impressionist classical composers such as Ravel, Debussy and Persicetti.

Throughout her high school years at Manhattan's Music and Art Institute Laura's ear was tuned into the protest music of Pete Seeger, Joan Baez, early Bob Dylan, the Beatles and "adored" the music of Van Morrison. "I was always interested in the social consciousness of certain songs. My mother and grandfather were progressive thinkers, so I felt at home in the peace movement and the women's movement, and that has influenced my music," she explained at the height of her career.

At the age of 18 Laura made her first extended professional appearance, singing at the legendary Hungry i coffeehouse in San Francisco.

Nyro's life was played out on the road. Her Nested tour of 1978 found a pregnant Laura on stage up until a few weeks before the baby was born. Performing to four sold out performances at The Bottom Line, the eight-month pregnant Laura told the crowd "We're both really happy to be here."

In 1984 Mother's Spiritual, a major work of 14 original songs, was released. The lyrics were presented at the Chicago Peace Museum. Her second "live" recording - Laura-Live At The Bottom Line, released on Cypress/A & M, 1989 drew upon a combination of Laura's classic compositions and eight original new songs featuring Roll of the Ocean, and the Japanese Restaurant Song. The tour was dedicated to the Animal Rights Movement.

In 1993 Walk The Dog And Light The Light arrived with the studio version of Broken Rainbow, about the unjust relocation of the Navajo people., considered one of Laura's most important songs of social protest. It was written for the film of the same name, which won the Academy Award for Best Documentary of 1985.

This past March Angel in the Dark an album featuring 16 songs recorded by Nyro in the years prior to her death was released by Rounder Record.



Broadway To Vegas is supported through advertising and donations. Priority consideration is given to interview suggestions, news, press releases, etc from paid supporters. However, no paid supporters control, alter, edit, or in any way manipulate the content of this site. Your donation is appreciated. We accept PAYPAL. Thank you for your interest.


DONNA REED FESTIVAL FEATURES EXPERTS

The annual Donna Reed Performing Arts Festival takes June 17-23 in Denison, Iowa. The respected Festival brings in experts conducting seminars in a wide variety of entertainment categories.

Donna Reed was born Donnabelle Mullenger in Denison, Iowa. She captivated the country with her sensitive portrayals in films like the great American classic It's a Wonderful Life and From Here to Eternity for which she won the coveted Academy Award for Best Supporting Actress.



DONNA REED

Perhaps best remembered for her work on her own television series, The Donna Reed Show, which aired from 1958 through 1966, she played the role of an honest, humorous, and nurturing mother much like her real self.

Behind the cameras, she was the uncredited producer and director of the show, studying and mastering both lighting and cinematography--roles rarely handled by women of that time.

The Donna Reed Foundation was formed in 1987 by members of the actress' hometown community of Denison, Iowa her husband, Grover Asmus, actress Shelley Fabares who played her television series daughter and Norma Connolly.

Based in Denison the Donna Reed Foundation operates to recognize, encourage, and support talent through national, state, and local scholarships, conduct workshops taught by outstanding industry professionals from across the country, and promote stage plays, concerts, and other cultural activities throughout the year. It also works towards supporting a performing arts center, full film archive, a museum, and professional studio facilities dedicated to developing new artists.

This year's Performing Arts Festival Masters' Seminars Include:

THE BUSINESS OF SHOW BUSINESS Learn what happens behind the scenes in negotiations with casting directors, agents, and business affairs professionals to get you jobs in New York, Hollywood, or anywhere between Moderator: Lisa Dalton Panel: David Windsor, Eddie Foy III, Executive in Charge of casting for Dick Clark Productions. Vic Sutton, Meryl O'Loughlin, Aviva Bergman, and Danny Goldman.

THE INS AND OUTS OF THE DEAL

AVIVA BERGMAN

taught by attorney Aviva Bergman, currently the Senior Vice President of Business Affairs at Lifetime Television.

Bergman is responsible for all business affairs for all types of programming including reality, scripted, movies of the week, and documentaries.

THE WORLD OF WORKSHOPS: USING THE NETWORKS TO MAKE IT IN HOLLYWOOD by Hannah Sussman.

WHAT AGENTS LOOK FOR by Instructors: David Windsor and Vic Sutton with Guests: Ryan Kirk Buechler and Ben Lang.

DEVELOPING YOUR CHARACTER taught by Gigi Perreau. Starting as a baby in the MGM film Madame Curie and one of the first to be honored with a star on the Hollywood Walk of Fame, Gigi has over 50 years of acting experience, 20 years as a director and most recently a teacher and coach.

SPONTANEOUS CHARACTER: OUT OF CONTROL, IN FULL CONTROL

DARRYL HICKMAN

Instructors are Tony Sears and Darryl Hickman.

One of Hickman's first roles when he was just nine years old was in the film classic The Grapes of Wrath with Henry Fonda.

He went on to perform in over 70 films.

IMPROVISATIONAL TECHNIQUES by Instructor Howard Storm. Snatched from the comedy club circuit to direct Valerie Harper in Rhoda, Storm has helmed Laverne and Shirley, Mork and Mindy, Taxi, Major Dad, Alf, and Everybody Loves Raymond, directing comedic giants Robin Williams, Billy Crystal, Steve Martin, Tony Danza, Ray Romano, and Jim Carrey.

A MUSICAL THEATER WORKSHOP with Guest Instructors: Meryl O'Loughlin, Alan Young, Gigi Perreau, Candy Olson, Kristen Oei, and Darryl Hickman.

WRITING THE NOVEL by Instructor: Joyce Burditt.

JOYCE BURDITT
Her first novel, The Cracker Factory, was a national best seller before becoming an ABC-TV movie starring Natalie Wood and Shelley Long.

Joyce has worked at NBC as Vice President of Comedy Development, written and produced Matlock starring Andy Griffith, Perry Mason starring Raymond Burr, and Father Dowling Mysteries starring Tom Bosley and Tracy Nelson. She created Diagnosis Murder starring Dick Van Dyke.

Joyce is currently working on a pilot for the Lifetime television network.

DRAMA OF DANCE and SPIRIT OF DANCE FOR THE DISABLED by instructor Zina Bethune. Her Broadway work includes a starring role as Greta Garbo in Tommy Tune's Grand Hotel. She has also directed or choreographed over 50 plays, films, videos, and ballets.


APPLAUSE, APPLAUSE

WPP ANNUAL WOMEN OF ACHIEVEMENT AWARDS GALA takes place tomorrow night at Pier 60 at Chelsea Piers with actress Mariska Hargitay serving as emcee.

Co-Chairs: are Wila H. Jordan, founder/CEO of Jordan Edmiston Group and Suzanne Wright.

The honorees include:

EVELYN CUNNINGHAM Founder, Coalition of 100 Black Women; journalist, author, feminist, tap dancer;

AUDRA McDONALD the Tony award winning actress and recording artist.

LAURA PELS the producer who created the Laura Pels Foundation.

TWYLA THARP the ground breaking choreographer/director of dance, film, stage and television/video.

IRENE WORTH an inestimable actress on stage and film.

EUGENIA ZUCKERMAN a distinguished concert and recording artist.

The presenters include: Richard Parsons Co-Chief Operating Officer, AOL/Time-Warner, Inc. Richard Parsons, composer Marvin Hamlisch, artistic director of the Roundabout Todd Haimes, Robert Batscha President, Museum of Television, author Edward Albee, and film maker David Seltzer.

Celebrating its 23rd Anniversary Season, Women's Project & Productions is the nation's preeminent non-profit Off-Broadway theatre company dedicated to producing and developing new plays by women. Founded in 1978 by Julia Miles, WPP has produced over 100 plays by women playwrights and sponsored almost 400 readings and workshops, featuring a veritable Who's Who of women in American theatre - playwrights Anna Deavere Smith, Maria Irene Fornes, Emily Mann, Pearl Cleage; actors Mary McDonnell, Frances Sternhagen, Jayne Atkinson, Deirdre O'Connell, Lizbeth Mackay, Daphne Rubin-Vega; and directors Lisa Peterson and Liz Diamond, among others. Each year their successful curriculum - based arts education program Ten Centuries of Women Playwrights serves over 1,900 students in 20 New York City public intermediate and high schools. In addition the Women's Project publishes anthologies of the plays produced, and hosts conferences and panels on women in theatre and Community outreach events.

BACK TO BROOKLYN HOMECOMING FESTIVAL founded in 1983 to commemorate the centennial of the Brooklyn Bridge, this high-profile festival showcases the cultural and ethnic diversity of Brooklyn and honors its own by dedicated one of the 135 bricks in the Garden Celebrity Path.



Lilias White

The bricks were designed by artist April Kinser and feature bronze plaques inscribed with the name of the Brooklyn son or daughter and the phrase The Greatness of Brooklyn is its People. Today brick laying honors are bestowed upon Broadway's Tony Award-winning diva Lillias White. Inducted alongside White will be Las Vegas resident comedian Pat Cooper, lawyer and author Alan M. Dershowitz, writer Pale Marshall and folksinger son of Woody Guthrie, who also is the Brooklyn Homecoming King. Past Celebrity Path recipients include Walt Whitman, Jackie Robinson, Jimmy Smits, Mary Tyler Moore and Woody Guthrie.


CURTAIN DOWN


JANE EYRE which was nominated for five Tony's but won none, closes tonight. Previous closing notices had been posted, but the inevitable was delayed in hopes of a Tony win. Losses are about $9 million.

BELLLS ARE RINGING which probably never should have opened in the first place closes tonight. The production which has bounced checks to its stars and lost more than $7 million, mutilated the talents of Faith Prince.

A CLASS ACT the musical about the late lyricist Ed Kleban, will also close tonight. This is an excellent production. Nominated for five Tony awards, expect a national tour. If it hits your town go see it.



KENNEDY CENTER SALUTES STEPHEN SONDHEIM making theater history as it celebrates the accomplishments of one of the theater's great creative talents. In this unprecedented festival, to be staged May 10-August 25, 2002, six of Stephen Sondheim's greatest musicals in brilliant new Kennedy Center productions featuring some of the most exciting performers, directors, and designers in the theater today.

The shows will be performed in repertory, a format that will allow you to see all six musicals in a short period of time. In fact, the Weekends with Sondheim option that the Kennedy Center is offering permits a patron to see all six shows in two weekends.

Expected to sell out early, the packages include The Opening Night Series for $2,000 includes a $1,500 tax-deductible contribution plus one Premium ticket to each of the six Sondheim musicals on the Saturday Opening Nights, plus an invitation to each of the six Opening Night parties.

At a press conference at Sardi's in New York City, the shows' directors were announced by Michael M. Kaiser, president of the Kennedy Center. Sondheim was not present. Kaiser noted that the Center's Sondheim musicals will be augmented by its presentation of the New National Theatre Tokyo's Pacific Overtures in Japanese with English subtitles. Also, the Kennedy Center Education Department will present a family-friendly adaptation of Into the Woods. And, to top it all off, Barbara Cook will offer her popular Mostly Sondheim concert at the Terrace Theater in June.

The directors are: Christopher Ashley for Merrily We Roll Along and Sweeney Todd, Mark Brokaw for A Little Night Music, Sean Mathias for Company, and Eric Schaeffer the artistic director of the entire Celebration for Passion and Sunday in the Park With George. Each of the Kennedy Center shows will be performed by full-size orchestras playing the original orchestrations. Kay Cameron is musical director of The Sondheim Celebration, which will be presented in the Eisenhower Theatre at the Center.

ROCKY HORROR SHOW undergoes some cast changes. Luke Perry, known for his role as the alcoholic bad boy Dylan on Beverly Hills, 90210, plays the straight-laced Brad Majors June 26-July 29. In a nasty headline making exit, Rocker Joan Jett left the musical revival, to be replaced as super groupie Columbia by Saturday Night Live star Ana Gasteyer.

THOU SHALT NOT the new musical from Susan Stroman, and composer Harry Connick, Jr., produced by Lincoln Center Theater is progressing. Based on Therese Raquin, Emile Zola's harrowing novel about adultery and murder, the play was originally set in Paris. Stroman and Connick Jr. shifted the action to Connick's home town of New Orleans at the turn of the 20th century.

Kate Levering, now starring in 42nd Street, will play the title character of Therese Raquin, who conspires with her lover, Laurent, played by former Music Man star Craig Bierko, to kill her husband, Camillem, played by Norbert Butz. Debra Monk and Leo Burmester are also in the cast. Thou Shalt Not will run at the Plymouth Theatre from Sept. 20 to Jan. 6. Opening night is Oct. 25. A preview of the show - which features a big Mardi Gras production number - will be held tomorrow for group-sales ticket agents.

HOLLYWOOD ARMS written by Carol Burnett and her daughter Carrie Hamilton, will be directed by Hal Prince. The production stages its premiere at the Goodman Theater in Chicago in the fall of 2002.

NIGHTFALL a new play by Joanna Murray Smith, the author of Honour, which ran briefly on Broadway. In the psychological drama, two parents are forced by a stranger to examine the disappearance of their daughter. Max Mayer directs. Opens June 27 at Vassar College's Powerhouse Theatre in Poughkeepsie, NY.

THE CIVIL WAR Dallas, TX - June 12 - June 24.

FOSSE Schenectady, NY at the Proctors Theatre June 12-17.

MONKEY AND THE BONE DEMON as part of Wolf Trap's Kay Shouse Great Performance Series, developed to honor the founder's vision for artistic excellence, Wolf Trap commissioned an original dance piece by contemporary masters Pilobolus. The performance includes the world premiere of Monkey and the Bone Demon, a work choreographed by Pilobolus Artistic Director Alison Chase. A phantasmagoric experience based loosely on the classic Chinese saga of magic and danger, the dance is two parts beauty, one part breathtaking high-risk adventure, and a healthy dose of lighthearted fun. June 13th at Wolf Trap Filene Center.

AND THEN THERE'S BEA starring Bea Arthur. June 12-17 at the Brown Theatre in Louisville, KY.

DAME EDNA in Denver, Colorado at the Auditorium Theatre June 13 - July 2.

THE VAGINA MONLOGUES at the Alcazar Theatre in San Francisco features Las Vegas resident Susan Anton, five time Emmy nominee Christina Pickles, and Diana Ross' daughter, Tracee Ellis Ross through June 24.

BEST LITTLE WHOREHOUSE IN TEXAS June 12-17 in San Antonio, Texas at the Majestic Theatre. Led by the stars Ann-Margret and Gary Sandy the entire cast went into the recording studio with producer Bruce Kimmel to record the cast album. The production is currently in the middle of a 50-city tour which marks Ann-Margret's musical-theater debut. On the album she chirps five songs including a new ballad written just for her. The album comes out on June 29 on the Fynsworth Alley label.


WHO'S WHERE


TONY DANZA tonight in Easton, PA at the State Theatre. On Tuesday Tony opens at Feinstein's At The Regency NYC for an engagement running through June 30.

NATALIE COLE June 15 in Detroit, Michigan at the Fox Theatre.

FRANK SINATRA, JR June 16 Lincoln Center, NYC.

JOHNNY MATHIS June 14 in Antioch, TN at the AmSouth Amphitheatre.

DON RICKLES June 15 in Brownsville, TX at the Rancho Viejo Country Club. The next night Mr. Warmth takes center stage in Bay St. Louis, MS at Casino Magic.

ROY CLARK June 14 in Santa Rosa, CA at the Luther Burbank Center and then on June 15 in Medford, OR at the Craterian Ginger Rogers.

'N SYNC June 19 in Toronto, ON at the Toronto Skydome.

TONY BENNETT June 22-24 at Caesars in Atlantic City.

BRIAN SETZER'68 COMEBACK SPECIAL June 15 in Saratoga, CA at the Historic Mountain Winery and then a two nighter June 16-17 at Caesars Tahoe, Lake Tahoe, Nevada.

ALANIS MORISSETTE winds up her European tour this week. Tomorrow she is in Paris, France at the Olympia June 12 Shepherd's Bush, London. June 13 - Dublin, Ireland - Vicar Street June 15 it's a performance in Vienna, Austria at Libro Musichalle and on June 16 she is in Imola, Italy at the Heineken Jammin Festival.

MADONNA Thursday and Friday performing in Milan, Italy at the Fila Forum.

THE IRISH TENORS at the Orpheum Theater, in Minneapolis on June 15.

NATIONAL SYMPHONY ORCHESTRA WITH ITZHAK PERLMAN with Leonid Grin, conducting. A stellar night of music featuring one of the great virtuosos of our time. The program includes Mendelssohn's Violin Concerto in D minor, Handel's Royal Fireworks Music, Elgar's majestic Pomp and Circumstance, and Ravel's passionate Bolero. June 14 Wolf Trap Filene Center.

BERNADETTE PETERS stars with the National Symphony Orchestra Henry Charles Smith, conductor. Marvin Laird, conductor at the Wolf Trap Gala. Tony Award-winning Broadway diva Peters joins the NSO performing selections from her Broadway and recording careers, and personal favorites. June 15 at the Wolf Trap Filene Center.


THIS AND THAT


PRINCE CHARLES has a potential back-up profession in case that future king gig doesn't work out. Camilla's boyfriend has always had a deep love for architecture and recently designed an Islamic garden for the Chelsea Flower Show. The garden - combining the elements of water, shade and perfume - will be will be transplanted at his Highgrove country home. The centerpiece is an octagonal fountain. The Prince won a silver medal for the garden, which is based on designs of Turkish rugs at his Highgrove home. The Prince of Wales's interest in the built environment and in the importance of re-establishing an integrated approach to traditional building crafts is well known. In 1988 he presented a major television documentary on architecture in Britain, A Vision of Britain.













Next Column: June 17, 2001
Copyright: June 10, 2001. All Rights Reserved. Reviews, Interviews, Commentary, Photographs or Graphics from any Broadway To Vegas (TM) columns may not be published, broadcast, rewritten, utilized as leads, or used in any manner without permission, compensation and/or credit.
Link to Main Page
---
Laura Deni



U.S. Postal Address: Post Office Box 60538, Las Vegas, NV 89160
CLICK HERE FOR COMMENT SECTION