! >
Broadway To Vegas
  
  REVIEWS INTERVIEWS COMMENTARY NEWS

| | |
| --- | --- |
| | |
CELEBRATE FRIDAY THE 13th AT THE 2014 BONNAROO FESTIVAL - -ANDROCLES AND THE LION CD REVIEW - - THAE PLAY THAT GOES WRONG - - TWO GENTLEMEN OF VIRGINIA - - OPERA ON THE MOUNTAIN - - D-DAY 70 YEARS ON - - THE IRISH REPERTORY THEATRE 2014 GALA - - 2014 WIZARD OZ OF FESTIVAL - - DONATE . . . Scroll Down




Copyright: June 1, 2014
By: Laura Deni
CLICK HERE FOR COMMENT SECTION


CELEBRATE FRIDAY THE 13th AT THE 2014 BONNAROO FESTIVAL




Get ready to howl! You can even take a shower.

Rain or shine The 2014 Bonnaroo Music & Arts Festival takes place June 12-15 Manchester, Tennessee.

Organizers are suggestions that attendees "Count your unlucky stars because for the 13th annual Bonnaroo Festival we will be celebrating Friday the 13th under a full moon! To play into the supernatural wonders of this spooky scenario, we ask that everyone raid their costume closets and come dressed to kill for an evening filled with horror and mystery. So channel your inner gremlins and get out your weird wear because we will be scouting for the best of the best to bestow tickets for Bonnaroo 2015, as well as other terrifyingly awesome prizes. Have no fear, if costuming ain't your thing, you can still play along. Stop by the Christmas Barn at night for a Friday the 13th party, or chill out in The Cinema Tent for a screening of the original Friday The 13th film from 1980.

For those coming for the music - there will be plenty.

Elton John, Kanye West, whose 2008 appearance was a debacle, Jack White, Lionel Richie, Vampire Weekend, Lauryn Hill, Ice Cube, Frabk Ocean, and Bobby Womack, are just a few of the performers who will by plying their trade at the annual romp which annually draws over 80,000 happy campers to 700 acres of Tennessee nature.

It's where a first timer becomes a Bonnarovvian - "A person that has had their mind blown by the full Bonnaroo whammy and has a great passion for finding and celebrating good stuff."

The Bonnaroo Music and Arts Festival is an annual four-day music festival created and produced by Superfly Presents and AC Entertainment, held at Great Stage Park in Manchester, Tennessee. The main attractions of the festival are the multiple stages of live music, featuring a diverse array of musical styles including indie rock, world music, hip hop, jazz, Americana, bluegrass, country music, folk, gospel, reggae, pop, electronica, and other alternative music. Musical acts play from around noon until 4a.m. or later.

The festival began with a primary focus on jam bands and folk rock; it has diversified greatly in recent years but continues to pay tribute to its roots.



Kanye West performing during his latest tour, returns to Bonnaroo following a 2008 debacle in which West blamed everything, including his need to ice his knees after every show. Before Bonnaroo, the newlywed performs June 7 in Austin, Texas. Photo: The Yeezus Tour.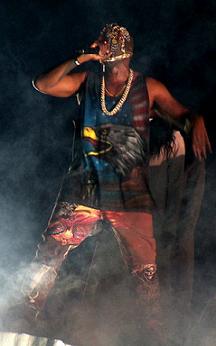 Past notable acts include Nine Inch Nails, Radiohead, Paul McCartney, Tool, The Beach Boys, Phish, My Morning Jacket, Stevie Wonder, The White Stripes, Neil Young, Pearl Jam, Tom Petty, The Dead, The Allman Brothers Band, James Brown, Wilco, Bon Iver, The Flaming Lips, Willie Nelson, Jay-Z, Bob Dylan, The Black Keys, Dave Matthews Band, Buffalo Springfield, The Police, Arcade Fire, Jack Johnson, The Strokes, The Black Crowes, Metallica, Red Hot Chili Peppers, Bruce Springsteen, Beastie Boys, and Widespread Panic.

The festival features craftsmen and artisans selling unique products, food and drink vendors, a comedy tent, silent disco, cinema tent, and ferris wheel.

The festival doesn't just miraculously appear. In March "official spring training' began for the staff, which means checking things out and promoting. "A bunch of Bonnaroo staff went down to Austin, TX to do the SxSW shuffle, which consists of walking back and forth between bars while juggling freebie branded sunglasses, BBQ tacos and CD compilations (yes, they still exist) - but mostly it's a ton of freakin' shows," is the official definition.

In case you're curious, the word Bonnaroo, popularized by New Orleans R&B singer Dr. John with his 1974 album Desitively Bonnaroo means "a really good time." It is a Ninth Ward slang construction taken from the French "bon" meaning "good," and "rue" from the French "street," translating to "the best on the streets." The name was chosen both for its literal meaning and to honor the rich Louisiana music tradition.

The first Bonnaroo took place in 2002 and took inspiration from music festivals in the 1990s, including those put on by the band Phish, Coachella and Glastonbury. With no traditional advertising, the festival sold out in nearly two weeks. By 2003, the festival had been named by Rolling Stone as one of the top 50 moments in rock & roll. Comedy acts such as Jim Breuer were first added in 2005. In 2007, Bonnaroo purchased the land for the festival, creating Great Stage Park with all of its iconic features. A permanent main stage was installed in 2010.

Available to the Bonnaroo public throughout the week are various activity tents. These tents become most popular with the night crowd, with such activities set up as The Silent Disco tent and several other club or bar-themed venues. In the Silent Disco, each person upon entering the tent is given a set of headphones that syncs with the DJ and the music, so everyone is listening to the same song through the headphones while appearing from the outside to be dancing to no music at all. Other activities include the Comedy Tent where comedians from Mike Birbiglia to Flight of the Conchords have performed. The Cinema tent, showing a variety of mainstream and independent movies, is also popular as it is one of the air conditioned tents, and the Broo'ers Festival tent is a popular attraction featuring a variety of breweries from all over the United States.

Outside the big tents, Planet Roo hosts a variety of non-profit organizations sharing information on healthy lifestyles and resource conservation, and Splash-a-Roo (a giant slip-n-slide area) and a giant mushroom fountain provide a practical way to beat the heat. Bonnaroo creators designated the wall surrounding Centeroo, colloquially called "the Graffiti Wall", as a place for street artists to paint whatever they feel like painting.

Outside the music venue, in the packed campgrounds known to Bonnaroovians as Tent City, there are also about 11 pods set up by festival organizers with activities and services for the campers. Each pod has an information and medical booth and a community art project. Often these are joint projects between invited artists and the campers themselves: past festival pods have featured birdhouse construction and decorating, stretched canvas and paints open to anyone with a message or picture in his or her mind, a giant Lite Brite-like panel, and huge frames and raw clay which Bonnaroovians shaped and moulded to their taste. Some of the art installations are finished prior to the festival and have offered visitors an opportunity to walk through a bamboo forest 15 to 20 degrees cooler than the surrounding farm and to peer through a series of large kaleidoscopes. In addition to information, medical services and an art project, each pod offers public showers for a small fee.





Broadway To Vegas is supported through advertising and donations. Priority consideration is given to interview suggestions, news, press releases, etc from paid supporters. However, no paid supporters control, alter, edit, or in any way manipulate the content of this site. Your donation is appreciated. We accept PAYPAL. Thank you for your interest.





ART AND ABOUT


2014 WIZARD OZ OF FESTIVAL takes place June 10-15 at the Judy Garland Museum in Grand Rapids, Michigan.

The opening day will feature the official unveiling of a new Wizard of Oz 3000 piece exhibit. In the evening there will be a Get Happy Birthday Party and a Judy Karaoke & Welcome Social. The Sawmill Inn Ballroom will be decorated as Land of Oz. Guest are invited to "enjoy a cupcake as our treat to celebrate Judy's 92 Birthday – today!"

On Wednesday there is a Welcome Dorothy event held at the Old Central School House, one block from the original location of Judy's birth home. There will be rides on the Horse of a Different Color Carriage, games and activities as well as costumed characters from the movie. There will be a Munchkin Baby Shower – to help our littlest residents – all proceeds go to Baby Steps Boutique, which provides help to families in need.

Other events during the convention include a scavenger hunt, a Land of Oz Mystern Dinner Party, a film fest, Wizard of Oz Jeopardy Game, a dog talent contest

On Friday, June 13 a presentation on the making of The Wizard of Oz will be conducted by John Fricke, Judy Garland and Oz Historian & Author, movie, slide show & lecture at the Sawmill Inn.

That is followed by The Impact of Oz Presentation in which Fricke will discuss how the film has impacted popular culture over the Last 75 years.

A Guinness World Record Attempt is aimed at having the "most dressed up Wizard of Oz Characters" who will gather on the Evergreen Terrace Lawn, next to museum. $1 donation collected per Oz character will go to Habitat for Humanity in honor of the famous line from the movie "There's no place like home".


THE MUSIC GOES FOUND AND ROUND


ANDROCLES AND THE LION There are Bible stories and then there are biblical stories. Androcles and the Lion is not a tale from the Bible. While the Book of Daniel does have a story of Daniel being thrown into a lion's den, the event had nothing to do with a lion and a sore paw. Rather, Androcles and the Lion is a wry comedy by George Bernard Shaw with a biblical theme - Christians being thrown to the lions. The moral of Androcles and the Lion is to be nice to animals. A similar fable was penned by Aesop, which is probably what inspired Shaw.

The story is a classic. The fable gained a wider audience with the release of a mediocre 1952 movie, and more noteworthy appeal when it was re-written for television by Peter Stone and set to music by Richard Rodgers for the 1967 NBC special, which was preserved through a studio recording.

Androcles and the Lion recounts the story of Androcles, the simple-hearted Christian tailor whose friendship with a lion saves himself and his friends from martyrdom in the Roman Colosseum.

Androcles and the Lion as an album was released in 1967 by RCA Victor and now issued by MasterworksBroadway with the CD available on June 10, plus downloads through digital service providers the same day.

This is a comedy by George Bernard Shaw, turned into a play with a book by Stone. The underlining messages, delivered with sparkling, satirical wit, are not lost on this CD.

For instance: "I'll strike you on the cheek . . . so you'll know the pleasure of turning the other one."

Important is that dialogue is included, making this even more interesting for those who are too young to have seen the NBC airing. Since this was a prime time television special, it goes without saying that the show is family friendly. This new CD release is also an important preservation of a prime time television special.

Going on a summer road trip and are looking for ways to entertain the kids in the back seat? Put on this CD. Let the kids discover what their grandparents watched on television. Listening to the CD just might inspire the little ones to read the book.

Although this aired in 1967, this CD is a fresh look at an old story. Androcles and the Lion is charming, while making some interesting social observations.



Noel Coward as Caesar, Inga Swenson as Lavinia and multiple Tony Award winner John Cullum as the Roman Captain.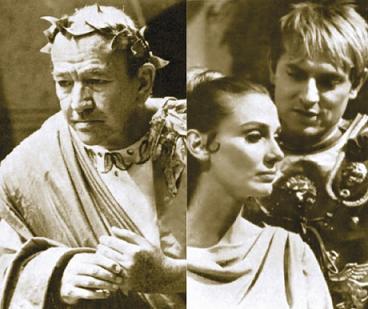 The all star cast included many Tony Award winners and other respected luminaries. Starring as meek tailor Androcles on this CD is Norman Wisdom whom Charlie Chaplin once referred to as his "favorite clown". Wisdom forged a career on Broadway and in his later years starred in the BBC series Last of the Summer Wine and Coronation Street.

Cast as Caesar is Noel Coward the famed playwright, composer, director, actor and singer. Former Las Vegas headliner, actor and singer Ed Ames is Ferroyius. Tony Award winner and American Theatre Hall of Famer Brian Bedford is Lentulus; multiple Tony Award winner and Theatre Hall of Famer John Cullum, currrently starring on Broadway in Casa Valentina, portrays Roman Captain and Broadway, film and television actor Clifford David is cast as Metelius.

The stellar case also includes multiple Tony Award winner Geoffrey Holder as the Lion; Tony Award nominee Kurt Kasznar as the Gladiator's Manager; George Matthews who had an extensive stage career is Centurion, Founding member of New York's Actors Studio William Redfield is Spintho. Also on board is Broadway actor George Reeder. Tony and Olivier Award winner Patricia Routledge, who is also known in American for starring as Hyacinth Bucket in the British television series Keeping Up Appearances portrays Megaera, Androcles' wife. Tony Award nominee Inga Swenson is cast as Lavinia. Aldo in the cast are Oscar nominated William Hickey and television actor Bill Starr.

In order of dialogue appearance, you'll hear spoken lines from Norman Wisdom, Patricia Routledge, Inga Swenson, John Cullum, Ed Ames, Brian Bedford, Noel Coward, Kurt Kasznar, Clifford David and Bill Hickey.

The CD opens with a stirring overture with an emphasis on the brass and woodwind sections, leading into a sprightly waltz, then a march.

Velvet Paws a waltz sung by Norman Wisdom, is a delightfully sweet tune about the lion with a thorn in his paw and Wisdom's character of Androcles removing the painful object. The dramatic and inspirational Follow In Our Footsteps declares - "Love is there to guide us; Love with set us free."

The romantic ballads No More Waiting and Strangers promise: "If you stumble, I'll break your fall" sung by Inga Swenson and John Cullum. Gentle and sensitive, coupled with pithy observations.

Sung by Norman Wisdom and Ed Ames, Strength is My Weakness is a hilarious romp regarding "The meek shall inherit the earth."

Leading into The Animal Pantomime in which a scared Norman Wisdom (Androcles) is about to be thrown to the lions. He states: "If my wife turns up, tell her I love her and wish her happiness with her next husband . . . the poor fellow."

Noel Coward as Caesar is entertaining with The Emperor's Thumb.

Taking trip to a zoo or going on an animal safari? A great song for kids to sing (or adults with a couple of glasses of wine in them) is the bouncy Don't Be Afraid of an Animal.

Don't be afraid of an animal
Let him howl, let him yowl, let him bawl
He's only trying to communicate
For an animal's only human after all.

Don't let an animal frighten you
Let him nip, let him scratch till he's through
He only wants to be a pal of yours
He is probably less an animal than you!

Tigers are intuitively gracious
Even when their jaws are extra spacious
Bears are only trying hard to please you
Love is why they really want to squeeze you!

Don't be afraid of an animal
Let him run. Let him leap, let him crawl
He's only trying to keep up with you
For an animal's only human after all!

Don't let an animal frighten you
Let him nip, let him scratch till he's done
It's just his way of saying play with me
For an animal likes to have a bit of fun

Rhinos are ridiculously gentle
Elephants in love are elemental
Meeting a hyena will delight you
He's so busy laughing he can't bite you!

Be sure to welcome an animal
Be polite, be at home should he call
He likes you better than he likes himself
For an animal's only human after all!

Recorded in 1967, at Webster Hall in NYC. Recording Engineer Ernie Oeirich. Musical director Jay Blackton. Music arranged by Robert Russell Bennett. Entire production supervised and directed by Joe Layton.


SWEET CHARITY


D-DAY 70 YEARS ON

Katherine Jenkins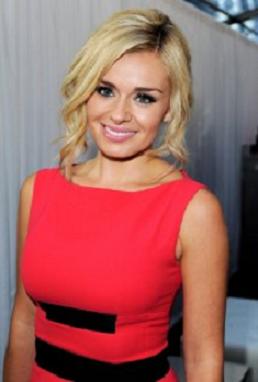 the UK's largest concert to commemorate the 70th anniversary of D-Day takes place Friday, June 6, at Royal Albert Hall in London. The concert is sold out.

Hosts Jeremy Vine, Dermot O'Leary and Louise Minchin will re-tell the D-Day story alongside a cast of actors led by Patrick Stewart.

Katherine Jenkins will perform a virtual duet with Dame Vera Lynn, with other performers including Beverley Knight, The Military Wives Choir and Seth Lakeman, accompanied by the BBC Concert Orchestra and musicians from the Central Band of the Royal Air Force, the Royal Artillery Band and Her Majesty's Royal Marines.

The D-Day operation during World War II was the largest amphibious invasion in world history and was executed by land, sea and air.

Launched on 6 June 1944, the simultaneous landing of allied forces took place on five separate beaches - Utah, Omaha, Gold, Juno and Sword - in Normandy, France. It marked the beginning of the end of World War II.

Profits raised from this event will be donated to SSAFA and SkillForce whose Royal Patron is Prince William.

As the UK's longest-serving national military charity, SSAFA has been providing support to the serving and veterans' communities for over 125 years.

Every year the charity helps more than 50,000 members of the serving and veterans' community and their families, through our worldwide network of over 7,000 volunteers, ranging from D-Day veterans to the families of young servicemen and women killed or wounded in recent conflicts.

800 professional staff also deliver health and social care services to UK Armed Forces personnel and their families in 13 countries across the world, on contract to the MoD.

THE IRISH REPERTORY THEATRE 2014 GALA featuring the spectacular songs of Lerner & Loewe.

Introduced by Joel Grey.

The evening's performance directed by Charlotte Moore with music direction by John Bell will feature songs from hit shows such as My Fair Lady, Gigi, Camelot, Paint Your Wagon and Brigadoon!

Performances by a galaxy of Broadway stars including: Nathan Gunn, John Cullum, Melissa Errico, James Naughton, Max Von Essen, Josh Grisetti, Donna Kane and Ciarán Sheehan.

Gala dinner and performance takes place Monday, June 9, at the Al Hirschfeld Theatre in New York City.


SPREADING THE WORD


JESUS CHRIST SUPERSTAR an arena version of Andrew Lloyd Webber and Time Rice's mega hit abruptly cancelled its 50-city North American tour which was to have launched June 9 in New Orleans.

The official promo listed the show this way: "Jesus Christ Superstar, the global phenomenon that has wowed audiences for over 40 years, has been reimagined for the 21st century as an arena rock spectacular and is now set to tour North America. Tim Rice and Andrew Lloyd Webber's ground-breaking rock musical now features an extraordinary cast of rock, pop and R&B superstars including: Incubus' lead vocalist Brandon Boyd as Judas Iscariot, NSYNC vocalist JC Chasez as Pontius Pilate, Destiny's Child's Michelle Williams as Mary Magdalene, John Rotten Lydon from Public Image Ltd and Sex Pistols as King Herod, and introducing Superstar Winner Ben Forster as Jesus."

The cast and the venues were informed that the tour was off on May 30, 2014.

The 50-city tour ranged from New York City's Madison Square Garden on August 5 to Los Angeles. There was also a Las Vegas July 25 date at the Mandalay Bay Events Center.

Mandalay Bay listed the date as "cancelled" and posted "All purchased tickets will be refunded. Tickets purchased online and via telephone will be automatically refunded. Tickets purchased from outlets/venue box office must be returned to that location for refund."

OPERA ON THE MOUNTAIN the annual event presented by Nashville Opera and Vanderbilt University combines picnic basket dining, an outdoor concert, and an opportunity to gaze at the stars through the Seyfert telescope. A cast of professional opera singers will present a casual evening of popular arias and Broadway standards performed outside under a large open-air canopy which takes place Saturday, June 7, 2014 at Vanderbilt University - Dyer Observatory in Brentwood, TN.

After the show, Saturn viewings through the Dyer's magnificent telescope put a celestial touch on the whole affair.

PEN NEW ENGLAND SONG LYRICS AWARD takes place Monday, June 2, 2014 at the J.F. Kennedy Presidential Library and Museum in Boston.

Master of Ceremonies Elvis Costello, and special guests including T Bone Burnett, Rosanne Cash, Lyle Lovett, Allen Toussaint and Peter Wolf will celebrate 2014 honorees Kris Kristofferson and Randy Newman.








OTHER PEOPLE'S MONEY


HIGHEST GROSSING AND BEST ATTENDED MEMORIAL DAY WEEK IN RECORDED HISTORY states The Broadway League which released end-of-season statistics for the 2013 – 2014 season, which began May 27, 2013 and ended May 25, 2014. For the 2013 – 2014 season, Broadway shows yielded $1.27 billion in grosses, and total attendances reached 12.21 million. All new and continuing productions ran a total of 1496 playing weeks.

The 2013 – 2014 Broadway season concluded with grosses up (+11.4%), attendance up (+5.6%), and playing weeks up (+4.6%).

Furthermore, this past Memorial Day week was both the highest grossing and best attended Memorial Day week in recorded history.

BROADWAY CONTRIBUTED NEARLY $12 BILLION TO NEW YORK CITY during 2012 – 2013 Season, a 2% increase from the 2010 – 2011 season; 11% increase from the 2008-2009 season, according to The Broadway League's 2012-2013 Broadway's Economic Contribution to New York City report, the ninth biennial report in this series. The report measures the full economic impact of spending by Broadway production companies, theatre operators and those visitors drawn to NYC by Broadway. "As the official source for statistical information about Broadway theatre productions in the United States, The Broadway League's report demonstrates that Broadway not only offers entertainment, art and culture, but that it is an industry whose financial contributions nourish the economy of its city and state," stated the release.

The new report states that during the 2012-2013 season, Broadway as an industry contributed $11.9 billion to the economy of New York City. This amount was comprised of direct spending in three areas: spending by producers to mount and run shows; spending by theatre owners to maintain and renovate venues; and ancillary purchases by "Broadway Tourists" (defined as non NYC residents who said that Broadway was a very important reason in their coming to New York City). The money that was directly spent in these areas was then re-spent in multiple subsequent rounds.

The subsequent rounds make the original spending exponentially more valuable. In total, the full contribution of Broadway Tourists amounted to $9.6 billion; shows contributed $2.2 billion; and theatres $17 million, for a total of $11.9 billion to NYC's economy. Broadway supports 87,000 jobs and generates $500 million in taxes to NYC.

LEVAR BURTON AND HIS READING RAINBOW TEAM raised more than $1.4 million on Kickstarter in just 11 hours. With these funds, Burton and his colleagues plan to "bring Reading Rainbow back for every child, everywhere." The funds will be used to launch Reading Rainbow in a new, Web-based format that would bring an unlimited digital library to kids everywhere and schools most in need.

Burton was host and executive producer of Reading Rainbow starting in 1983 for PBS. The series ran for 23 seasons.

It was launched as an app in 2012.

"We can genuinely change the world, one children's book at a time," Burton said in a video announcing the project. "'Reading Rainbow is back for every child, everywhere."



THE PLAY THAT GOES WRONG

Dave Hearn, Jonathan Sayer, and Henry Lewis in The Play That Goes Wrong. Photo: Mischief Theatre Company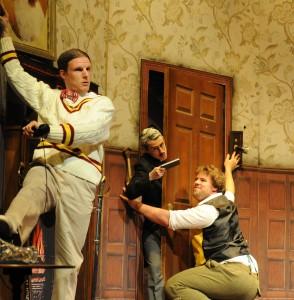 performed by Mischief Theatre Company.

The British cast stars in this production.

Mischief Theatre was founded in 2008 by a group of graduates of The London Academy of Music and Dramatic Art and began as an improvised comedy group. Over the last five years the company has grown and developed into one of the countries leading comedy theatre companies. Mischief Theatre performs across the UK and internationally with improvised and original scripted work. This is the Company's first No.1 UK tour. The company is led by Artistic Director Henry Lewis and Company Director Jonathan Sayer.

The Play That Goes Wrong is billed as: "a hysterical study of all the possible things that could go wrong in an amateur dramatic theatrical production. As we arrive in the theatre the stage management are trying to repair a wonky set and dramatic music is loudly played to set the mood.

"The accident-prone Cornley Polytechnic Dramatic society is producing the ambitious 1920s murder mystery Murder at Haversham Manor. Chris, the arrogant head of the drama society, has decided to direct the piece himself as well as choosing the leading role of the dynamic police inspector. As the title suggests, everything that can go wrong does. Doors don't open, sound cues are late, props go missing, actors are knocked out and the harassed stage manager has to take over the leading lady's role, reading from the script. Lines are forgotten, prompts are late and in the end the set collapses in spectacular style with perfect comic timing. Perkins, the totally inept butler who gets his words confused, serves white spirit rather than whiskey with sidesplitting results. The romantic interest is provided by wannabe actress Sandra, who plays the heroine and hypes up the sex appeal with the doting Max. The acting is over-the-top, melodramatic madness and it's a wonderful romp."

The play was the sell out smash hit at the Edinburgh Festival with sensational reviews, numerous accolades and awards and enjoyed two successful runs in the West End.

Performed June 5-7 at the 442-seat Madinat Theatre in Dubai, United Arab Emirates.

MUCH ADO ABOUT NOTHING by William Shakespeare.

Directed by Tony Award winner Jack O'Brien, in his Delacourt debut.

Starring Lily Rabe and Hamish Linklater.

June 3 - July 6 at the Delacorte Theater as part of the famed Shakespeare in the Park, New York City.

Tickets to Shakespeare in the Park are free and are distributed, two per person, at the Delacorte Theater in Central Park the day of the show.

LOS MONOLOGOS DE LA VAGINA the groundbreaking production of Eve Ensler's The Vagina Monologues performed entirely in Spanish at off-Broadway's Westside Theatre in New York City.

Mexican director Jaime Matarredona helms the production.

This marks the first time that a mainstream off-Broadway theatre has hosted a commercial Spanish language play for an ongoing run.

From June 3-22, the show's cast features Daphne Rubin-Vega, Maria Cellario, and Flor De Liz Perez.

Beginning this week, the production will offer complimentary English translation headsets to all patrons.

ONCE by Enda Walsh. Music and lyrics by Glen Hansard and Markéta Irglová.

Directed by John Tiffany.

Winner of eight 2012 Tony Awards including Best Musical, Once is a truly original Broadway experience.

Featuring an impressive ensemble of actor/musicians who play their own instruments onstage, Once tells the enchanting tale of a Dublin street musician who's about to give up on his dream when a beautiful young woman takes a sudden interest in his haunting love songs.

As the chemistry between them grows, his music soars to powerful new heights… but their unlikely connection turns out to be deeper and more complex than your everyday romance. Emotionally captivating and theatrically breathtaking, Once draws you in from the very first note and never lets go. It's an unforgettable story about going for your dreams... not living in fear... and the power of music to connect all of us.

June 3-8, 2014 at Seattle Rep in Seattle, Washington.

TWO GENTLEMEN OF VIRGINIA an original Endstation Shakespeare adaptation. Directed by Walter Kmiec.

This production of Two Gentlemen of Verona Virginia is an original adaptation of Shakespeare's classic. Who are the two gentlemen you may ask? A young Thomas Jefferson and James Madison. What better place for this production to spend its opening weekend but at Thomas Jefferson's summer home, Poplar Forest. Then it will run the remainder of the summer on the beautiful grounds of Sweet Briar College.

Bring a picnic, enjoy local wine or beer and experience Shakespeare like only Endstation can produce.

June 6 at Poplar Forest. June 7- July 19 at Sweet Briar College in Sweet Briar, Virginia which is about 12 miles north of Lynchburg.

THE EFFECT by Lucy Prebble.

Directed by Sarah Goodes.

Psychology student Connie signs up for the clinical trial of a new, super anti-depressant where she meets charming, cocky, cheeky fellow volunteer Tristan. Sealed off together, with no contact with the outside world, it's not long before their attraction becomes fully-fledged flirtation. Soon, the naturally occurring chemicals running rampant through their youthful bodies ignite clandestine canoodling. This threatens to throw the drug trial off track - much to the annoyance of the supervising clinicians, who have secrets of their own to keep.

This gripping work pierces the unknown mysteries of the brain, and plumbs the depths of sanity, neurology, destiny and loyalty.

Featuring Eugene Gilfedder, Anna McGahan, Angie Miliken, and Mark Winter.

Set & Costume Designer: Renee Mulder. Sound Designer/Composer: Guy Webster.

June 7-July 5, 2014 on the Mainstage of the Queensland Theatre Company in Queensland, Australia.

JOSEPH AND THE AMAZING TECHNICOLOR DREAMCOAT the first collaboration of composer Andrew Lloyd Webber and lyricist Tim Rice.

Directed and choreographed by Tony Award-winner Andy Blankenbuehler.

Starring the husband-and-wife-team of Diana DeGarmo as the Narrator and Ace Young as Joseph. The cast will feature Paul Castree as Simeon, William Thomas Evans as Jacob/Potiphar, Brian Golub as Reuben, Will Mann as Judah and Ryan Williams as Pharaoh.

The ensemble will include Chip Abbott, Amanda Braun, Jonathan Burke, Claire Camp, Richard Cerato, Vincent D'Elia, Lisa Finegold, Lili Froehlich, Sasha Hollinger, Brandon Hudson, Patrick John Moran, Mark Roland, David Rossetti, Leigh Scheffler, Christine Cornish Smith, Brett Stoelker, Tricia Tanguy, Matthew Tiberi and Katie Whetsell.

One of the most enduring shows of all time, Joseph and the Amazing Technicolor Dreamcoat is the irresistible family musical about the trials and triumphs of Joseph, Israel's favorite son. It blends pop, country and rock into an uplifting, technicolored story of biblical proportions.

Retelling the Biblical story of Joseph, his eleven brothers and the coat of many colors, this magical musical is full of unforgettable songs including Those Canaan Days, Any Dream Will Do and Close Every Door.

The tour will feature Scenic Design by Beowulf Boritt, Costume Design by Jennifer Caprio, Lighting Design by Howell Binkley, Sound Design by John Shivers and David Patridge, Projection & Video Design by Daniel Brodie, Music Supervision by David Kreppel and Music Direction by Wayne Green.

June 3 – 22, 2014 at the Hollywood Pantages, Los Angeles, CA.

TWILIGHT OF THE GOLDS by Jonathan Tolins.

Directed by Brent Wooldridge.

A controversial dramedy that tackles the issue of fictional genetic testing to determine sexual orientation of an unborn child.

When Suzanne Gold-Stein discovers her son is destined to be gay, she considers aborting the fetus, much to the dismay of her gay brother David, whose sexual orientation has never been fully accepted by his conservative family.

June 5-8 and June 12-15 at Spotlight Players Theatre, Beech Grove, Indiana.

ABBAMEMNON by the Troubadour Theater Company.

Directed by Matt Walker.

Billed as "a hysterical musical reimagining of the classic Greek tragedy Agamemnon, the sordid story of seduction and scheming, with the sweet Swedish sounds of the Seventies. In this irreverent Dancing Queen-filled romp, the Ovation Award-winning Troubadour Theater Company brings the noise, the funk, and the dysfunctional-family vibe to this masterwork of the Greek canon. Why does Cassandra's S.O.S. plea to Take a Chance on Me fall on the deaf ears of the Elder Chorus? Will Clytemnestra's plan to kill Agamemnon come to fruition and will The Winner Take All? Will the Watchman ever get to sleep and say I Have a Dream? Will Aegisthus be able to pronounce his own name at Waterloo? Bloody and bold, fierce and funny, this production by the masters of mayhem is sure to entertain and enlighten."

Troubadour Theater Company is "a free-wheeling, no holds barred, Commedia Del Arte flavored, slapstick driven Los Angeles based ensemble of actors, musicians, and comedians that has been performing for audiences throughout Southern California and beyond since 1995."

June 6 - July 13, 2014 at the Falcon Theatre in Burbank, CA.


WHO'S WHERE


BRUNO MARS headlines the BOK Center in Tulsa, OK on Wednesday, June 4. Friday finds him at the FedEx Forum in Memphis. On Saturday he'll be delighting the crowd at the Arena in New Orleans.

THE EAGLES singing their hits Monday, June 2, at the SSE Hydro in Glasgow, Scotland. They finish out these week performing two shows at the O2 in Dublin. The first is on Wednesday; the second on Friday.

BLACK SABBATH rocks the Russia lce Palace in St. Petersburg on Tuesday, June 3. Then they appear at Sweden Rock Festival in Solvesborg on Friday. Next Sunday, June 8, they're on stage at the Kindl-Buehne Wuhlheide in Berlin, Germany.

LADY GAGA appears at the Viejas Arena in San Diego on Monday, June 2. Tuesday's gig is at the SAP Center in San Jose, CA.

AEROSMITH performs Wednesday, June 4, at the Odderoya Amphitheatre in Kristiansand, Norway. On Friday they're on stage at the CASA Arena in Horsens, Denmark.

ROD STEWART has a show Tuesday, June 3, at the KFC Yumi Center in Louisville, KY. On Friday he's at the Scottrade Center in St. Louis, MO. Saturday he can be enjoyed at the Pinnacle Bank Arena in Lincoln, NE.

TIM McGRAW with Kip Moore and Cassadee Pope perform Saturday, June 7, at the Klipsch Music Center in Noblesville, Indiana.

LIONEL RICHIE performs Tuesday, June 3, at the Honda Center in Anaheim, CA. On Friday he's on stage at the Mandalay Bay Events Center in Las Vegas. Saturday finds him at the Sleep Train Amphitheatre in Chula Viata, CA. Next Sunday, June 8, he can be enjoyed at the Ak-Chin Pavilion in Phoenix.


FINAL OVATION


MATTHEW COWLES Emmy nominated television and stage actor died May 22, 2014. He was 69.

Son of Broadway producer Chandler Cowles, in 1966 Cowles played the title role in Edward Albee's adaptation of James Purdy's comic novel Malcolm on Broadway at the Shubert Theatre. He also appeared on Broadway in revivals of Sweet Bird of Youth and The Time of Your Life.

His lengthy television career included playing Joe Czernak in the series NYPD in 1969. He was best known for his 1984-90 role as Billy Clyde Tuggle on the soap opera All My Children. He was nominated for a Daytime Emmy as Outstanding Actor in a Daytime Drama Series in 1978 and for Outstanding Supporting Actor in a Daytime Drama Series in 1981 for his part as the evil Tuggle, a role that he created and wrote.

He is survived by his second wife, Emmy and Tony winner Christine Baranski and their two daughters, Isabel and Lily.

BOB BAILEY performer and broadcaster who broke the Las Vegas color barrier by becoming the first African-American television personality died May 24, 2014. He had suffered from Parkinson's Disease and was 87.

His positive contributions to Las Vegas are everlasting.

After finishing high school at age 16, he was contracted to sing with the Count Basie Band He also attended Morehouse College in Atlanta, where he studied business law, and the School of Radio and Television in New York City Later in life, Bailey studied real estate and land law at the University of Nevada, Las Vegas. He received a doctorate of humane letters at National University in San Diego in 1987.

In 1955 Bailey came to Las Vegas from New York City to serve as emcee for the Tropi-Can-Can Revue at the Moulin Rouge Hotel

He also produced Talk of the Town, a weekly TV variety show on KLAS-TV Channel 8. The television show was hosted by Alice Key, a former dancer at New York's famed Cotton Club who later served as Nevada's deputy labor commissioner. The show featured a-list guest stars, including "Mr. Television" Milton Berle, Nat King Cole, Duke Ellington and Sammy Davis Jr.

While producing the television show Bailey hosted a radio show on KENO, making him Las Vegas' first black disc jockey. He then served as road manger for his cousin, singer Pearl Bailey who went on a national concert tour

Returning to Las Vegas he was the weatherman and movie host on Channel 8. Later, he moved to Channel 13, hosting a variety talk show from the Fremont Hotel.

Bailey was a leader in the civil rights movement and is credited with helping establish equal rights for African-Americans and other minorities. President George H.W. Bush appointed Bailey to serve as deputy director of the Minority Development Business Agency. A Las Vegas Middle School was named in his honor.

He is survived by his wife, Anna; son John R. Bailey; daughter-in-law, Terri; daughter Kimberly Bailey Tureaud; son-in-law, Charles Tureaud; and grandchildren Jonathan Backers, Jordan Bailey, Gabrielle Bailey, Alexandra Bailey and Brandon Tureaud.

MAYA ANGELOU renowned author, poet and civil rights activist, three time Grammy Award winner and Tony Award nominee, was found dead in her Winston-Salem, N.C., home Wednesday morning, May 28, 2014. She was 86 and has been in frail health.

She has published seven autobiographies, three books of essays, and several books of poetry, and is credited with a list of plays, movies, and television shows spanning more than fifty years. Her landmark book was I Know Why The Caged Bird Sings.

In February 2011, President Obama presented her with the Presidential Medal of Freedom, the country's highest civilian honor.

She began her career as a calypso dancer and singer under the name Maya Angelou, a variant of her married name Angelos. Her first husband was to a Greek sailor named Tosh ANgelos. Ms Angelou was six feet tall and occasionally partnered in San Francisco with Alvin Ailey in a nightclub dance act known as Al and Rita.

She was cast in the Truman Capote-Harold Arlen musical House of Flowers, which opened on Broadway in 1954. But she chose instead to tour the world as a featured dancer in a production of Porgy and Bess by the Everyman Opera Company, a black ensemble.

She later settled in New York, where she became active in the Harlem Writers Guild where she hoped to be a poet and playwright. She sang at the Apollo and eventually succeeded Bayard Rustin as the coordinator of the New York office of the Southern Christian Leadership Conference, the organization that he, Dr. King and others had founded. In the early 1960s, Ms. Angelou became romantically involved with Vusumzi L. Make, a South African civil rights activist. She moved with him to Cairo, where she became the associate editor of the magazine, The Arab Observer. After leaving Mr. Make, she moved to Accra, Ghana, where she was an administrative assistant at the University of Ghana.

In 1973, Angelou appeared on Broadway in Look Away, a two-character play about Mary Todd Lincoln (played by Geraldine Page) and her seamstress. Though the play closed after one performance, Ms. Angelou was nominated for a Tony Award. On the screen, she portrayed Kunta Kinte's grandmother in the 1977 television mini-series Roots and appeared in several feature films, including How to Make an American Quilt (1995).

Ms. Angelou's marriage in the 1970s to Paul du Feu, who had previously been wed to the feminist writer Germaine Greer, ended in divorce.

She was married at least three times but never specifically disclosed the number of marriages "for fear of appearing frivolous."

Neil Portnow President/CEO of The Recording Academy issued the following statement:

"Three-time Grammy winner Maya Angelou was a true Renaissance woman who literally did it all. Fearless and uninhibited, she was a trailblazer who broke color and gender barriers through her passionate and articulate prose and poetry, ultimately becoming 'the people's poet.' Her eloquence and honesty led to her well-earned success, and she fully appreciated the sound and music of language and the spoken word. This world citizen was and always will be a national treasure, and our culture is infinitely better because of her indelible contributions. Our deepest sympathies go out to her family, friends and all of us who have benefited from her infinite wisdom."















Next Column: June 8, 2014
Copyright: June 1, 2014 All Rights Reserved. Reviews, Interviews, Commentary, Photographs or Graphics from any Broadway To Vegas (TM) columns may not be published, broadcast, rewritten, utilized as leads, or used in any manner without permission, compensation and/or credit.
Link to Main Page
---
Laura Deni



For the snail mail address, please E-mail your request.
CLICK HERE FOR COMMENT SECTION