! >
Broadway To Vegas
  
  REVIEWS INTERVIEWS COMMENTARY NEWS

| | |
| --- | --- |
| | |
PARTY PEOPLE - - THAT WIMBLEDON COVETED CENTRE COURT ROYAL BOX - - ALEC BALDWIN DONATES TO THE NEW YORK PHILHARMONIC - - LYSISTRATA JONES CD REVIEW - - PRESS AND PHOTO JOBS AT BUCKINGHAM PALACE - - LONDON 1612: SHAKESPEARE'S THEATRE OF THE WORLD - - BROADWAY BARKS 14 - - BY WAY OF THESE EYES - - DONATE . . . Scroll Down


Copyright: July 8, 2012
By: Laura Deni
CLICK HERE FOR COMMENT SECTION

LONDON 1612: SHAKESPEARE'S THEATRE OF THE WORLD
The exhibition will feature the Ides of March coin, left, the Lyte Jewel, right, and one of the most famous portraits of Shakespeare, centre, by the English engraver Martin Droeshout. Photo: PA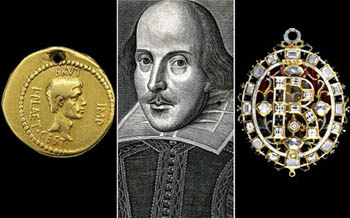 In the run-up to the London 2012 Olympics and to look at the role of Shakespeare's theatre in the world London 1612 explores the role of London as an emerging international city 400 years ago, interpreted through his plays.

In collaboration with the Royal Shakespeare Company, this blockbuster show includes more than 190 exhibits, including important paintings from national and private collections, rare jewels and manuscripts including a First Folio of Shakespeare's plays.

Leading Shakespearean actors, including Simon Callow, will take part in a "performance" section of the exhibition, where actors will be filmed and recorded performing excerpts from Shakespeare's works.

One of the key innovations of the period was the birth of the modern professional theatre: purpose-built playhouses and professional playwrights were a new phenomenon, with the most successful company being the Chamberlain's/King's Men at the Globe who worked alongside their house dramatist, William Shakespeare. The exhibition shows how the playhouse informed, persuaded and provoked thought on the issues of the day; how it shaped national identity, first English, then British; and how the theatre opened a window on the wider world, from Italy to Africa to America, as London's global contacts were expanding through international trade, colonization and diplomacy.

The exhibition creates a unique dialogue between an extraordinary array of objects – from great paintings and rare manuscripts to modest, everyday items of the time – and the plays and characters that have had a richer cultural legacy than any other in the western world.



Simon Callow will take part in a performance section.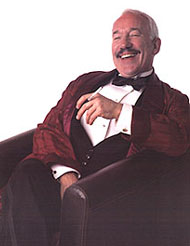 Among the objects linked to Shakespeare and his works is the Ides of March coin, the gold aureus commissioned by Brutus shortly after the assassination of Julius Caesar in 44 BC; a plot in which he was a key figure and the subject of Shakespeare's Julius Caesar.

The striking portrait of Abd el-Ouahed ben Messaoud ben Mohammed Anoun, Moroccan Ambassador to Queen Elizabeth I, depicts the head of a delegation of soldiers from Barbary who came to London in 1600 on a state visit. The presence of these men had a great impact on London at the time. They were a source of fascination and of fear. El-Ouahed and his men were in the city for six months and would certainly have been known to Shakespeare: they may well have informed the character of Othello, the soldier and 'noble moor'.

The exhibition also explores the theatre-going experience at the time, which was very different to that of today. The newly built playhouses were situated in the suburbs: Bankside was an area with a dangerous and notorious reputation. The theatres needed to attract large numbers of playgoers and so performances had to appeal to a wide spectrum of society, from groundlings to courtiers.

Objects excavated from the sites of the Globe and Rose theatres, such as a sucket fork for sweetmeats and the skull of a bear, illustrates the Southwark of Shakespeare's day, the cultural world inhabited by the playhouse, which rubbed shoulders with bear-baiting arenas as well as brothels and pubs.

The exhibition also features the Lyte Jewel, an enameled and diamond-studded gold locket dating from 1610, which bears a portrait of King James VI and I by the celebrated miniature painter Nicholas Hilliard.

The locket was presented by King James to the historian and courtier Thomas Lyte, in thanks for his royal genealogy which traced the King's ancestry back to the first king of the Britons, through the Scottish nobleman Banquo, whose murder is central to Shakespeare's Macbeth.

The Lyte Jewel is being exhibited to document King James' preoccupation with lineage and succession, themes that Shakespeare explored in several of his plays such as Macbeth and Hamlet.

The king gained the English throne after the death of Elizabeth I, his first cousin twice removed.

Dr Dora Thornton, curator of Renaissance at the British Museum and curator of the exhibition, said: "The playhouse and the role of playwright were relatively new phenomena during Shakespeare's time, yet his audience spanned royalty to the common man, and this exhibition will show what they were finding out about the world through the eyes of the playwright.

"Through linking objects like the Ides of March coin and the Lyte jewel with Shakespeare's texts, we can see how he played a considerable role in informing his audience of major historical events and the current political issues of his day. His text is one of the greatest literary legacies in the western world, and it is important to highlight that when London comes under the world spotlight in 2012."

As part of the exhibition, the British Museum is also displaying a rare copy of Shakespeare's First Folio, published seven years after his death in 1623, which features one of the most famous portraits of the playwright by the English engraver Martin Droeshout.

Fewer than 40 complete copies of the First Folio are still in existence, with some valued at up to $25 million. Last year, Raymond Scott, an unemployed antiques dealer, was jailed for eight years for handling a stolen copy of the First Folio belonging to Durham University.

Jonathan Bate, professor of Shakespeare and Renaissance Literature at the University of Warwick, who is contributing to the exhibition, said: "The exhibition will be a kind of "history of Shakespeare and his world".

"We will be using Shakespeare's amazing characters and evocative locations as a way of showing how all the world was a stage, full of dramatic encounters between cultures and nationalities.

"Shylock is our way into early modern Jewish culture, Othello takes up to Africa and Caliban to the New World."

London 1612: Shakespeare's Theatre of the World opens on July 12, 2012, at the British Museum ahead of the Olympics on July 27. On display through November 25, 2012.





Broadway To Vegas is supported through advertising and donations. Priority consideration is given to interview suggestions, news, press releases, etc from paid supporters. However, no paid supporters control, alter, edit, or in any way manipulate the content of this site. Your donation is appreciated. We accept PAYPAL. Thank you for your interest.



ART AND ABOUT


BY WAY OF THESE EYES

David Deal Ball in Hands – Springfield, Illinois 2000 © David Deal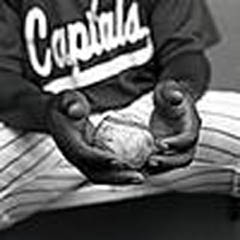 The Hyland Collection of American Photography, is the evocative title for an exhibition of the work by some of the most important American photographers of the 20th century.

Comprising some 100 photographs, all the images in this exhibition come from the respected photography collection of Christopher Hyland, founder of one of the world's leading textile manufacturing and importing firms and a collector since his youth.

Hyland, who has put together a body of work informed by his exceptional eye and world travels, describes collecting photography as the greatest adventure of his life.

Amongst the world-famous photographers to be represented in the exhibition are Edward Steichen (1879-1973), Edward Weston (1886-1958), Paul Strand (1890-1976), Andreas Feininger (1906-1999), Brett Weston (1911-1993), Joyce Tenneson (b. 1945), Robert Mapplethorpe (1946-1989), Shelby Lee Adams (b. 1950), Herb Ritts (1952-2002), Thomas Barbéy (b. 1957), John Dugdale (b. 1960) and David Deal (b. 1970).

Iconic images from the early 20th century by artists in awe of the colossal scale of American cities will be displayed alongside 'paintings in film' crafted by later generations of photographers working in the United States who spurned urban monuments for the minutiae of the natural world – the abstract in reality.

The Hyland collection also includes monumental abstractions by contemporary photographers experimenting in new technologies, most notably the work of Bill Armstrong.

To commemorate the Queen's Diamond Jubilee celebrations taking place across Britain this year, Hyland has commissioned Bill Armstrong - fittingly born in 1952 - to produce a portrait of Queen Elizabeth II.

2012 is also Olympic year in Britain and so this new work by Armstrong will be displayed at the American Museum together with his 'Olympians' series and alongside a famous portrait by Herb Ritts of British Olympian hurdler Jacqui Agyepong.

The images selected are all-American perhaps best summed up by the superlative portraits from David Deal's study of minor league baseball – its bleachers, dugouts and little-known teams. Nine works will be displayed from this timeless baseball series which has been acclaimed as a journey straight through the heart of an American pastime. Although the rules of the game may be unfamiliar to British audiences, the hope glimpsed in the eyes of these ballplayers of some day making the big time, or at least a better life for themselves and their families, is universal.

Christopher Hyland comments: "In photography, I seek poetry, panache and beauty. I am also looking for something new, something remarkable. By way of your eyes, your mind computes where the subject is placed in negative or positive space, the use of light and dark, and whether the resulting image speaks to the ages. If a photograph resonates with you, it is truly something wonderful – a bit of the divine in the resulting emotions you experience as a viewer. I am delighted to have this opportunity to share my collection of American photography with a British audience in so important a year for their country. I can think of no better UK venue to showcase my collection than the American Museum in Britain which was founded to deepen understanding of American art and culture in Europe – the birthplace of photography."

In addition, the exhibition will present work by Christopher Hyland, himself a photographer, such as his provocative Transformation series.

July 14 to October 28, 2012 at The American Museum in Britain in Bath, England.


SWEET CHARITY


BROADWAY BARKS 14 the free, star-studded dog and cat annual adopt-a-thon created and hosted by pals Bernadette Peters and Mary Tyler Moore to find homes for pets from city animal shelters, will be held July 14 in Broadway's Shubert Alley.

Celebrities participating include: Tracie Bennett, Bill Berloni, Jackie Burns, Michael Cerveris, John Dossett, Richard Fleeshman, Montego Glover, Joel Grey, Julie Halston, Jeremy Jordan, Carol Kane, Judy Kaye, Steve Kazee, Angela Lansbury, Dick Latessa, Linda Lavin, Caissie Levy, Audra McDonald, Michael McGrath, Judy McLane, John McMartin, Christin Milioti, Bebe Neuwirth, Rory O'Malley, Bryce Pinkham, Andrew Rannells, Chandra Lee Schwartz.

Also, Nina Arianda, Stephanie J. Block, Adam Chanler-Berat, Michael Cumpsty, Tom Edden, Martyn Ellis, Jessica Hecht, Megan Hilty, Celia Keenan-Bolger, Claire Lams, Norm Lewis, Kara Lindsay, Rita Moreno, Nancy Opel, Da'Vine Joy Randolph, Jemima Rooper, Matt Saldivar, Natalie Smith, Ben Vereen, Syndee Winters, with a special performance by The Craze.

Broadway Barks helps many of New York City's shelter animals find permanent homes by informing New Yorkers about the plight of the thousands of homeless dogs and cats in the metropolitan area.

Funds raised from a raffle, silent auction, signed memorabilia sales, and donations are distributed to the participating shelters and rescue groups and to the Picasso Veterinary Fund, which is administered by the Mayor's Alliance for NYC's Animals and provides grants to shelters and rescue groups to cove extraordinary veterinary costs.


THE MUSIC GOES ROUND AND ROUND


LYSISTRATA JONES the Broadway cast CD has been released by Broadway Records.

From the first notes of a Greek choir quickly leading into high energy cheerleading musical selections, this CD with keep you awake and entertained.

A rousing, effervescent score by Lewis Flinn captures teen-age emotional intensity. However, rather than being hyper-active annoying, the musical is a blast of musical fun.

There is even a Bonus Track Hold On with Jennifer Holliday.

The Athens University basketball team hasn't won a game in 30 years. But when spunky transfer student Lysistrata Jones (Patti Murrin) dares the squad's fed-up girlfriends to stop 'giving it up' to their boyfriends until they win a game, their legendary losing streak could be coming to an end. In this boisterous new musical comedy, Lyssie J. and her girl-power posse give Aristophanes' classic comedy a sexy, modern twist and take student activism to a whole new level.

Patti Murin as Lysistrata Jones and Liz Mikel as Hetaira - a madam who coaches the girls - are powerhouse vocalists. Murin can belt out enthusiasm without losing a certain innocent charm and Mikel gets her message across without sounding crude. Josh Segarra as Mick, the team captain and Lysistrata's boyfriend, effectively captures the dual personalities of teens in general - cool which covers insecurity.

Others in the cast who are all talented and know how to sing are: Jason Tam as Xander; Lindsay Nicole Chambers as Robin; Alexander Aguilar as 'Uardo; Ato Blankson-Wood as Tyllis; Katie Boren as Lampito; Kat Nejat as Cleonice; LaQuet Sharnell as Myrrhine; Teddy Toye as Harold; and Alex Wyse as Cinesias.

This CD oozes happiness and that spawns a curiosity about the show - a ticket selling asset for touring and regional productions.

Conductor: Brad Simmons. Associate Conductor Chris Haberl. Keyboards Brad Simmons and Chris Haberl. Guitar - Freddy Hall. Bass - Alan Stevens Hewitt. Drums - Marques Walls. Percussion - Wilson Torres. Vocals/Percussion - Biti Strauchn. Music Coordinator - Dean Sharenow. Keyboard/ Electronic Drum Programmer - Randy Cohen.

The delightful booklet presented in the form of a high school year book, includes liner notes penned as essays from the creative team, as well as complete lyrics.


STATUS SEATS AT WIMBLEDON CENTRE COURT BOX
Prince William greets Steffi Graf with a proper but warm cheek kiss when she shared the Centre Court Box with Will and Kate. The German tennis great won seven Wimbledon singles crown seven times in a stellar career. Married to Andre Agassi since 2001, the couple lives in Las Vegas. Photo: Getty Images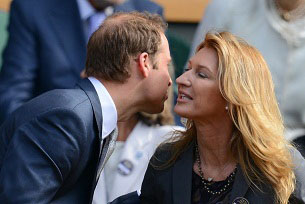 The glitterati cramming into the prized Centre Court Box at Wimbledon included everyone from Prince Charles who attended after an absence of 43 years to tennis greats and Las Vegas residents Andre Agassi and his wife Steffi Graff, who was greeted by Prince William like a long lost friend. They exchanged proper but warm kisses on the cheek.

Those invited to sit in the royal box are described by Wimbledon as "British and overseas Royal families, heads of government, the world of tennis, commercial partners, British armed forces prominent, media organisations, supporters of British tennis and other walks of life."

Invitations come from the chairman of the All-England Lawn Tennis Club, based on recommendations from members. Guests are served lunch, tea and drinks at the end of the day. The dress code is "smart" and women are asked not to wear hats "as they tend to obscure the vision of those seated behind them."

"Smart" for Kate on July 4 was wearing a lovely outfit, which it just so happened she had worn a year ago on the 4th of July, when she visited Province House in Charlottetown during the royal couple's Canadian tour.

The dress of choice was a cream-colored cable-knit from Sarah Burton of Alexander McQueen. The semi-nautical look with the navy blue piping, fit in quite well with some observers said the style reminded them of tennis uniforms of the 1920s.



Kate's sister, tennis enthusiast Pippa Middleton, who is a member of the Queen's Tennis Club, was chic in a navy and white, three-quarter sleeved macramé jacket covering a navy knee-length dress by designer Orla Kiely. On her feet were patent leather peep-toe wedges. Inside her structured, quilted white leather purse with a gold chain handle were black and gold "Obsedia" sunglasses by Givenchy. She watched a second round women's singles match between Serena Williams of the United States and Melinda Czink of Hungary. Photo: Getty Images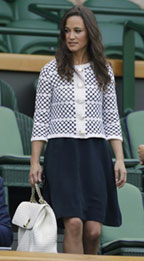 Will and Kate and Andre and Steffi watched Roger Federer of Switzerland defeat Mikhail Youzhny of Russia in the men's quarter-final tennis match. By the way, Federer became the first man to reach eight Wimbledon finals with victory over defending champion Novak Djokovic.

Joining Will and Kate in the box were Anthony and Jane Henman, whose son Tim was Britain's top player a decade ago. Others in the royal enclosure included tennis great Rod Laver, England's soccer coach, Roy Hodgson, Gill Brook, the wife of the chairman of the All England Lawn Tennis Club, Philip Brook.

While William kissed Steffi, as he left the Centre Court Box with Kate, he shook the hand of Rod Laver. The Australian-born Laver, 73, won Wimbledon four times in the 1960s.

Others who showed up during the two-plus week tournament included Prince Charles, making his first appearance at Wimbledon since 1970, was joined by his wife Camilla, in the Royal Box for the Roger Federer-Fabio Fognini match on June 27. The entire Middleton family also made appearances. Kate's sister tennis enthusiast Pippa Middleton, who is a member of the Queen's Tennis Club, was chic in a navy and white, three-quarter sleeved macramé jacket covering a navy knee-length dress by designer Orla Kiely. On her feet were patent leather peep-toe wedges. Inside her structured, quilted white leather purse with a gold chain handle were black and gold "Obsedia" sunglasses by Givenchy.

Pippa sat with her brother James, Felicity Kendal and Kendal's son, Jake Rudman to watch four-time Wimbledon champion Serena Williams and Hungary's Melinda Czink duke it out. They also watched Andy Murray battle through the third round.

Their parents Carole and Michael Middleton also watched some matches from their Royal Box perch. Carole selected a delicate pink boucle skirt suit. She and her husband were seated alongside the Queen's cousin Prince Edward, the Duke of Kent, the All England Club president and Bahraini royal Sheikh Mohammad bin Mubarak al-Khalifa.

Fashion model and actress Brooklyn Decker, wife of Andy Roddick watched her husband compete in the men's singles match. Singer Grace Jones attended on day two while singer/dancer Katherine Jenkins watched on day eight.

Retired tennis players Ilie Nastase, a finalist in 1973 and '76 and three time champion Boris Becker also caught some of the action.

Martina Navratilova was there. She's a nine-time champion at Wimbledon in singles, from 1978 to 1990. She also won seven doubles titles at the famed London facility.

The mother of British tennis star Andy Murray, Judy, and his girlfriend Kim Sears attended his fourth round match between against Marin Cilic of Croatia on July 3. Murray won. Mirka Federer watched as her husband Roger beats Fabio Fognini of Italy.

Retired golfer Jack Nicklaus was greeted with warm applause when he appeared in the Royal Box.

British golfer Paul Casey and his girlfriend, television host Pollyanna Woodward, arrived in the Royal Box on July 2.

Ex-Formula One racing driver Sir Jackie Stewart was seen in the Royal Box on the first day of the tournament on June 25.

Manchester United football player Ryan Giggs talked to Olympic gold medal winner Amy Williams in the Royal Box. Williams won gold for Britain in skelton at the 2010 Vancouver Winter Olympics.

Harry Potter author J.K. Rowling with her husband Neil Murray also took their turn in the Royal Box.

Actor Dustin Hoffman and former U.S. tennis player Justin Gimelstob had Royal Box seats as did Sir Richard Branson who brought along his mother Eve. Anna Wintour, the British-born editor-in-chief of American Vogue is a Wimbledon regular. Friends with Roger Federer, she's a Wimbledon Centre Box regular. Former British Prime Minister John Major also enjoyed the match.

Agassi looked handsome in a white suit - a shade which has been a problem for him in the past.

The reason that Agassi had skipped playing three Wimbledons was he was annoyed that the All England Club would not allow him to wear his multi-colored clothing. His denim shorts, the hot pink lycra shorts, and the neon green and blue shirts - all on the banned list. So, on his return in 1991, there was great interest in what he would wear. He walked on court, peeled off a white tracksuit, and revealed an all-white shirt, all-white shorts, all-white socks and all-white shoes.


PRESS AND PHOTO POSITIONS AVAILABLE AT BUCKINGHAM PALACE


A bright note in a down economy.

While so many news outlets are laying off, Buckingham Palace is hiring press reps and photographers - and that includes paid internship positions.

The job location is excellent and the environment is considered high class.

Although British citizenship isn't listed as a job qualification, being not only a British subject, but one who approves of Her Majesty, her extended family and her country - would no doubt be a boon.

Internships in pictures, photographs and works of art in the Royal Collection at St. James Palace have openings. You'll need to "possess a Degree (or equivalent) in art history."

The experienced Senior Press Officer position in Buckingham Palace offers "a unique opportunity to work with a professional team in a fast moving and constantly challenging environment where every day is different."

You'll also need "a cool head under pressure". Think Rick Miramontez and the way he handled Spider-Man.

The job involved some overseas travel, pays in the $100,000 range, has benefits and lists a work week of 37.5 hours. That last part we don't believe.

Photographer for the Royal Collections is a position which requires a minimum of two years experience of Fine Art Photography.

Part of the duties involve being "responsible for executing all aspects of Colour Management and the processing of digital files, using studio and darkroom equipment; and working closely with other members of the Photographic Services team in order to ensure quality control."

"The Photographic Services department is responsible for the management, and marketing, of the Royal Collection Picture Library of images of paintings, drawings and watercolours and prints, and other works of art in the Royal Collection, and also of Royal Residences themselves. It is also responsible for the photography of items within the Royal Collection."

The person hired with also need;

"a driver's license and practical experience with digital backs and professional RAW processing software; knowledge and practical experience with Colour Management and Photoshop; knowledge in the use of studio and darkroom equipment; understanding of film and chemical processes; good organisation and communication skills; excellent attention to detail; and the ability to work alone and as part of a team."


SPREADING THE WORD


PAINT ALONG OPERA Enjoy light refreshments as Artistic Director, John Hoomes discusses the combination of visual and artistic elements that are used to design the set of an opera. A Paint Along Nashville visual artist will lead a painting workshop on canvas using, as inspiration, Nashville Opera's production of Madama Butterfly.

Finished paintings will be displayed at Tennessee Performing Arts Center during Nashville Opera's Madama Butterfly, October 11 and 13, 2012, then available to take home with the artist. Space is limited.

Opera @ The Liff Center - Paint Along Opera takes place Thursday, July 12, 2012 at The Noah Liff Opera Center in Nashville.

ON THE LEGENDARY ANGELA LANSBURY Her remarkable career spans more than 60 years, from an auspicious film debut in 1944's Gaslight to her triumphant appearances on television (notably as the beloved Jessica Fletcher in Murder, She Wrote) and Broadway, including her current role in Gore Vidal's The Best Man.

Marc Courtade is business manager for Tilles Center for the Performing Arts at Long Island University and an adjunct professor in the arts management program will lead a discussion about the legend.

Wednesday, July 11, at the 92Y Tribeca, NYC.


OTHER PEOPLE'S MONEY


ALEC BALDWIN has donated $1 million to the New York Philharmonic, according to an announcement issued by the famed orchestra. The donation is in honor of outgoing President and Executive Director Zarin Mehta. The 30 Rock actor is a Philharmonic board member and hosts its radio show, The New York Philharmonic This Week.

Newlywed Baldwin said in a statement that Mehta had made his dream of becoming part of the world of classical music come true.

Mr Mehta said Baldwin's "remarkably generous gift is just the latest in his steadfast and inspiring support" of the Philharmonic.

The Philharmonic said the gift is a donation of proceeds Baldwin received from a Capital One advertising campaign.



PARTY PEOPLE a world premiere presented by the Oregon Shakespeare Festival. Written by UNIVERSES (Mildred Ruiz-Sapp, Steven Sapp, William Ruiz, a.k.a. Ninja), the play is directed by Liesl Tommy.
Commissioned in 2009 for American Revolutions: the United States History Cycle, the play examines the turmoil of the 1960s and 1970s through the collective memory of veterans of the Black Panthers and the Young Lords, whose social movements during that period left a complicated legacy. It is this legacy that Party People explores.

OSF is especially pleased that this production will play in repertory with another American Revolutions commission, All the Way, set in 1963 and 1964, the first 11 months of Lyndon B. Johnson's presidency. Robert Schenkkan's play takes audiences far from the impoverished neighborhoods where the Black Panthers and Young Lords labored into the halls of power where Johnson wielded his influence to pass the Civil Rights Act, thereby laying the groundwork for Voting Rights Acts of 1965 and his other Great Society victories.

The Black Panther Party was a revolutionary leftist African-American organization active from 1966 to 1982 and was founded on the principles outlined in their Ten-Point Program: "Land, Bread, Housing, Education, Clothing, Justice and Peace."

They instituted a number of social programs to alleviate poverty and improve health among inner city black communities. Likewise, the Young Lords, a Puerto Rican nationalist group founded as a human rights movement in 1968, championed health care, education and tenants' rights for Latinos. J. Edgar Hoover saw the organized activity of these groups as a threat to the nation's internal security, and had them and other revolutionary movements infiltrated by his FBI Counterintelligence Program. These agents escalated the growing distrust and violence in the parties, and in time, the community and political achievements of the Black Panther Party and the Young Lords have been overshadowed by the often confrontational and militant tactics.

UNIVERSES spent months traveling the country speaking with members of the two organizations and listening to their recollections, inspiring a theatrical re-imagining of this significant period in American history. The interweaving of the stories moves us to reconsider these movements, the impetus for their formation, and work toward a better future for all Americans.

The set was designed by Clint Ramos, costumes by ESosa, lighting by Marcus Doshi, video design by Pablo N. Molina, original music and sound by Broken Chord. Julie Felise Dubiner is dramaturg on the project, David Carey is voice and text director, Millicent Johnnie is choreographer, and U. Jonathan Toppo is fight director.

Party People was developed with generous support from the Center Theatre Group, and made possible with funding by the New England Foundation for the Arts' National Theater Pilot, with lead funding from The Andrew W. Mellon Foundation.

Officially opened July 7 in the New Theatre with performances through November 3.

CAROUSEL the 1945 musical by composer Richard Rodgers and lyricist-librettist Oscar Hammerstein II, based on Ferenc Molnar's Liliomby.

Directed by Rob Ruggiero. The choreographer is Parker Esse.

Starring Teal Wicks as Julie Jordan to the Billy Bigelow of James Snyder.

Jenn Gambatese will play Carrie Pipperidge, and Jeff Kready will be Mr. Snow.

Carousel focuses on the dysfunctional relationship between a carnival barker and his millworker wife in Maine. Their lives are changed with the birth of their daughter. The score, tinged with regret and unspoken declarations of love, includes I Loved You, You'll Never Walk Alone, hat's the Use of Wondrin', June Is Busting Out All Over and more. The cast also includes Ronn Carroll as Starkeeper, Deanne Lorette as Mrs. Mullin, Anne Kanengeiser as Nettie Fowler and Tally Sessions as Jigger.

The ensemble includes Jessica Bishop; Beth Crandall; Belle Doraz as a Snow Child; Jennifer Evans; Eloise Kropp as Louise, the daughter of Billy and Julie; Edward Lawrence; Leisa Mather; Jonathan Rayson as Mr. Bascombe; Sam Rodgers; Michael Scirrotto; Jet Thomason; Travis Waldschmidt; Aaron Young. The Swings are Maria Briggs and Andrew Scott Holmes.

The production team includes scenic designer Michael Schweikardt; costume designer Alejo Viettii; lighting designer John Lasiter; sound designer Jay Hilton; music director Michael O'Flaherty; assistant music director F. Wade Russo; orchestrator Dan DeLange.

July 13-September 23 at the Goodspeed Opera House in East Haddam, CT.

VIEUX CARRE by Tennessee Williams. Directed by Robert Chevara.

The first London revival of Tennessee Williams' autobiographical play about an aspiring young writer, and the bizarre, poignant and funny characters he encounters at a New Orleans boarding house.

Written with his characteristic passion and compassion for the damaged and dispossessed, Vieux Carré is in many ways the condensation of all Williams' plays, yet it is unique in its depiction of his loneliness, despair and longing for something new. Stripped bare of the huge sets and endless scene changes that have dwarfed previous productions, the inmates of '722 Toulous Street' in the French Quarter of New Orleans promises to come into dazzlingly sharp focus in the intimate confines of the King's Head.

July 10-August 4 at the King's Head Theatre in London.

IOWA SUMMER REP: CHILLS & THRILLS: A MYSTERY SEASON opens with Sherlock's Last Case by Charles Marowitz. Directed by Matt Hawkins.

Described as a black comedy, Sherlock's Last Case takes what we know about Holmes and Watson, gives it a delightful twist, and cranks it up a notch to the point where it becomes absurdly comedic. It will keep you guessing!

July 12, 13, 14, 18, 19, 20, 21 at the Hancher Auditorium in Iowa City, Iowa.

JOSEPH AND THE TECHNICOLOR DREAMCOAT the first musical blockbuster from the team of Sir Andrew Lloyd Webber and Sir Tim Rice.

Directed by Melody Meitrott Libonati.

Set to an engaging cornucopia of musical styles, ranging from country-western and calypso to bubble-gum pop and rock 'n' roll, this Old Testament tale emerges both timely and timeless. Joseph is the favorite son of Jacob, but resenting the attention their father showers upon him his siblings sell him into slavery, and eventually the favored son finds himself in jail. However, his favorable interpretations of the dreams of the Pharaoh win him the admiration of the all-powerful leader, and soon Joseph is one of the most powerful men in Egypt.

Eventually his brothers, having suffered greatly, unknowingly find themselves groveling at the feet of the brother they betrayed but no longer recognize. After testing their integrity, Joseph reveals himself leading to a heartfelt reconciliation of the sons of Israel.

The professional cast members include: Chris DeRosa as Joseph, Corrine Curtis as the Narrator, Ben Simpson as Gad, Kenneth Linsley as Simeon, Brian Silliman as Jacob plus Christian Libonati, Carissa Massaro and Richard Weidlich.

Other cast members include William Hammons as Pharaoh, Daisy Bishop, John Galas, Johann George, Nicholas Giuliani, Bobby Godas, Grace Hardin, Adam Hill, Chase Jansen, Elysia Jordan, Nancy Leville, Sharon Malane, Anna Oxman, Katie Oxman, Allie Potenza, Dru Serkes and Ali Tesluk.

Following the precedent of Sir Andrew Lloyd Webber when casting his most recent London revival of Joseph and. the cast of the Summer Theatre of New Canaan also includes a choir of area children specially selected for this production.

For the entire family - performances Saturday, July 14 through Sunday, August 5, 2012 at The Summer Theatre of New Canaan in New Cannan, CT.


WHO'S WHERE


STEPHEN SONDHEIM, BRIAN STOKES-MITCHELL AND CHRISTINE EBERSOLE appear in an evening of talk and song. Saturday, July 14 at The Smith Center in Las Vegas.

ARETHA FRANKLIN in a one nighter, Sunday, July 15, at Caesars Palace in Las Vegas.

THE COLLEGIATE CHORALE has announced an Israel Tour conducted by Zubin Mehta. Ernst Bloch, Sacred Service, featuring Thomas Hampson. Anton Bruckner, Te Deum, Noam Sheriff, Mechaye Hametim and Arnold Schoenberg, Kol Nidre. 11 concerts in Tel Aviv and Haifa July 8-20, 2012.

NEIL DIAMOND performing his hits at the Energy Center in St. Paul, MN on Wednesday, July 11. On Friday he's on stage at the Credit Union Centre in Saskatoon, Canada.

A PRAIRIE HOME COMPANION WITH GARRISON KEILLOR The celebrated American humorist hosts his much-loved radio show come to the Hollywood Bowl, including his most popular skits and bits. Friday, July 13, at The Hollywood Bowl, Los Angeles.

AEROSMITH brings their tour to Quebec where they'll perform at the Mondial Loto-Quebec Laval on Tuesday, July 10. On Thursday they'll do another show in Quebec only this one is part of the Festival d'ete de Quebec. Saturday's show is at Grand Falls-Windsor as part of the Exploits Valley Salmon Festival.

MADONNA headlines the show Tuesday, July 10, at the Lanxess Arena in Cologne, Germany. Thursday she is at the King Baudouin Stadium in Brussels, Belgium. Saturday's performance takes place at the Stade de France in Paris.

ROGER WATERS entertains Monday, July 9, at the PNC Arena in Raleigh, NC. Tuesday's show is at the Time Warner Cable Arena in Charlotte, NC. On Thursday the tour stops at the Verizon Center in Washington, DC. Saturday's performance is at the Citizens Bank Park in Philadelphia.

PAULA POUNDSTONE brings her razor-sharp wit to Jonathan's in Ogunquit, Maine for performances July 13-14. On July 15 she's be telling funny stories at the Stone Mountain Arts Center in Brownfield, Maine.

MUSIKKAPELLE PRUTZ The Austrian Concert Band Musikkapelle Prutz is from western Austria near Innsbruck. Its 52 members will present a concert of Austrian classics and popular concert band favorites, under the direction of Dr. Rudi Pascher. This award winning band performs over 20 programs a year in Austria as well as Italy, Switzerland, and Germany. This is their first American tour. Saturday, July 14, 2012 at the Olney Theatre Center in Olney, MD.


FINAL OVATION


ANDY GRIFFITH a two-time Tony nominated actor died at his home on Roanoke Island in Dare County, North Carolina on July 3, 2012 at the age of 86.

He gained prominence in the starring role in director Elia Kazan's A Face in the Crowd and became a household name playing the lead characters in the 1960–1968 situation comedy The Andy Griffith Show and in the 1986–1995 legal drama Matlock.

In March 1955 Griffith starred in a one-hour teleplay version of No Time for Sergeants. He expanded that role in a full-length theatrical version of the same name starring on Broadway in October of that year, earning a Tony nomination. He returned to Broadway in 1959 to play the title character in a musical version of the Western film Destry Rides Again, co-starring Delores Gray. The show, with a score by Harold Rome, ran for 472 performances and Griffith earned his second Tony nomination.

Griffith also had a nightclub act which he took to the Sahara Hotel in Las Vegas and Lake Tahoe, earning $25,000 a week.

His comedic monologue titled What It Was, Was Football, about a bumpkin attending a college football game, was priceless.

Performing on the Nevada stages with Griffith has special memories for several people.

Maggie Peterson who appeared as Charlene Darling on The Andy Griffith Show began her career as a singer. She opened the 1968 nightclub act for Andy at a casino in Lake Tahoe. It was there she met jazz musician, Gus Mancuso, who was playing bass in a lounge act. The two married and have been together ever since.

Phantasm's Reggie Bannister got his draft notice in Lake Tahoe while his group was playing with Andy Griffith.

Griffith received the Presidential Medal of Freedom in 2005.

Neil Portnow President/CEO of The Recording Academy issued the following statement: "Grammy winner Andy Griffith was an American television icon bringing beloved characters into family homes for more than 50 years with shows such as The Andy Griffith Show and Matlock. In addition to acting, Griffith had a passion for music and recorded a number of albums, including I Love To Tell The Story — 25 Timeless Hymns, which garnered him a Grammy Award for Best Southern Gospel, Country Gospel Or Bluegrass Gospel Album. He was an immense talent and a true gift to the entertainment industry and will be greatly missed. We extend our deepest sympathies to his family, friends and fans."

He is survived by his third wife, Cindi Knight, and a daughter. His first two marriages ended in divorce. A son predeceased him in 1996.

NATAASHA VAN KAMPEN a film director and daughter of composer Claire van Kampen and Chris van Kampen and the step-daughter of Tony Award winner Mark Rylance, died on Sunday, July 1, 2012. She was 28.

A statement issued by Shakespeare's Globe said that she passed away suddenly due to "unsuspected natural causes".

Claire and Mark have been married since 1992.

The untimely death has caused Rylance to withdraw from participating in the opening ceremony of the Olympics.

In a statement, he said: "Our beloved daughter and sister Nataasha passed away of unsuspected natural causes early on Sunday morning. Because of our bereavement, I have decided to withdraw from my commitment to the opening ceremony of the Olympics but Claire and I will continue our work with the productions, Richard III and Twelfth Night at Shakespeare's Globe and in the West End.

Rylance had been asked to recite Caliban's speech from The Tempest at the Olympic ceremony. A London 2012 spokesman said: "Our thoughts are with Mark and his family and we of course respect any decision he makes about his role with London 2012 and the London 2012 Festival."

The Olympics opening ceremony is being created by Slumdog Millionaire director Danny Boyle. Titled Isle Of Wonder, it was inspired by Caliban's speech in The Tempest, which contains the lines: "Be not afeard. The isle is full of noises, sounds and sweet airs that give delight and hurt not."

A 2008 graduate of the London Film School, London born Nataasha Van Kampen was beginning her career as a director, having previously worked as a production designer on commercials and music videos.

Her own short film, Nocturne, which she wrote, produced, directed and designed was her graduation piece for the LFS. It starred Mark Rylance. The short not only marked Nataasha's debut as a film director, but achieved notable success in the London Young Film-makers Festival.

A month ago she posted her one and only Twitter message - that she was looking for an apartment in London.








Next Column: July 15, 2012
Copyright: July 8, 2012. All Rights Reserved. Reviews, Interviews, Commentary, Photographs or Graphics from any Broadway To Vegas (TM) columns may not be published, broadcast, rewritten, utilized as leads, or used in any manner without permission, compensation and/or credit.
Link to Main Page
---
Laura Deni



For the snail mail address, please E-mail your request.
CLICK HERE FOR COMMENT SECTION