! >
Broadway To Vegas
  
 SHOW REVIEWS CELEBRITY INTERVIEWS GOSSIP NEWS

| | |
| --- | --- |
| | |
PRINCESS GRACE TRAIL - -THE PEOPLE'S DIVA BEVERLY SILLS DIES - - THE TREASURES OF THE BLUE HOUSE: FRIDA AND DIEGO - - THE ROETHKE SYMPOSIUM - - BROADWAY BARKS 9 - - THE BOY WHO HEARD MUSIC BY PETER TOWNSHEND - - IN DARFUR FREE READING - - JAMES NAUGHTON DIRECTS SURFACE TO AIR - - DONATE . . . Scroll Down


Copyright: July 8, 2007
By: Laura Deni

CLICK HERE FOR COMMENT SECTION
EXHIBITIONS FROM MONACO TO MEXICO COMMEMORATE THE LIVES OF PRINCESS GRACE AND FRIDA KAHLO


THE LIFE AND LEGACY OF PRINCESS GRACE OF MONACO TO BE COMMEMORATED IN MONACO AND NEW YORK

Grace Kelly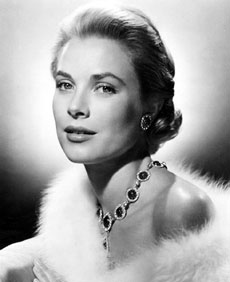 To mark the 25th anniversary of her death at the age of 52 in a car accident above Monte Carlo, the world's second-smallest independent state - after the Vatican - is staging the first retrospective exhibition tracing the life and legacy of Princess Grace.

To capitalize on the endearing popularity of the Princess, who was born in Philadelphia in November 1929, tourism chiefs in Monaco have created a special Princess Grace Trail.

The itinerary is made up of 25 stops with commentary in five languages - French, English, Italian, German and Japanese. The trail stops at some of the most significant landmarks in Grace's life in the principality. These include the Place du Palais where the Hollywood star wed Prince Rainier in a civil ceremony in April 1956. The couple were later married in a full church wedding. Thirty million people worldwide watched the "wedding of the century" on April 16, 1956. It was a star-studded affair attended by the Aga Khan, Somerset Maugham, David Niven, Cary Grant, Aristotle Onassis and Ava Gardner. That church - St Nicholas Cathedral - is also on the trail. It is also where Grace and Rainier are buried. Grace's tomb is the only one honored daily by fresh flowers. Rainier died in 2005 at the age of 81.



Princess Grace and Prince Rainier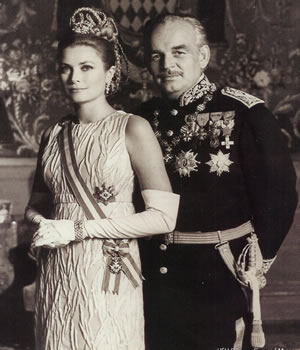 The tour takes you to Grace's rose garden, where her statue stands, and the offices of the Red Cross, for whom she worked. It goes past the nursery she founded, the headquarters of AMADE (World Association of Children's Friends), her daughters' homes and the Hotel de Paris, where she celebrated her 25th wedding anniversary with a party in the wine cellars.

This trail supports The Grace Kelly Years, Princess of Monaco exhibition which takes place at the 43,000 square foot Espace Ravel in the Grimaldi Forum between the July 12 and September 23, 2007. The exhibit was crafted by noted curator Frédéric Mitterrand and exhibition designer Nathalie Crinière in cooperation with the Prince's Palace.

"Princess Grace has bequeathed us an image of immutable elegance. We may never have seen any of her films or visited the Principality of Monaco, yet this image remains present in all our minds like a necessary antidote to the harshness of the world we live in," explains Mitterrand.

"It is the elegance of a wealthy young woman from Philadelphia personifying the American dream and of the debutante in sophisticated magazines and sentimental comedies expressing the optimism of the immediate post-war years; it is the elegance of Technicolor Hollywood glamour; the elegance of a woman in love who freely chose to alter the course of her existence, of a princess of one of Europe's oldest dynasties, of a devoted mother and monarch who dedicated herself efficiently and unsparingly to her family and people; it is the elegance of her smiling reserve that so fascinated the media, her immensely sensitive and poetic lifestyle that retained its share of mystery, and her beauty preserved by its perpetually youthful charm."



Clark Gable and Grace Kelly in Mogambo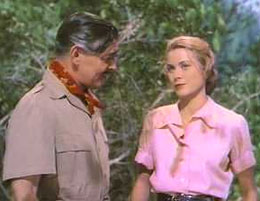 The exhibition will reveal letters, personal belongings, dresses and fashion accessories, sound recordings, film extracts, news reports. Films shown will not only include the Hollywood movies she made but all other film relating to her career - screen tests, advertising, interviews, news reels. There are also photo journals and the cinema press that followed her until the end.

Also shown, for the first time, are a selection of home movies that Princess Grace herself filmed. There are also amateur films shot by Monegasques which help emphasize the importance of the work Princess Grace consistently devoted to the Principality.

Says her son Prince Albert: "For my sisters and myself, this exhibition will revive happy memories we shared with our mother, who was a peerless woman."

The Monte Carlo exhibition features Grace's wedding gown, made from 125-year-old Brussels lace and silk net. It was designed by Helen Rose, chief costume designer of MGM Studios, and three dozen seamstresses worked on it for six weeks.

Also on display will be the black-and-white Rolls-Royce convertible Grace used after her marriage.

The exhibition - spread over 15 rooms, including the Chamber of Love and the Glamour Room - includes private correspondence, photos and personal memorabilia never seen before, as well as jewelry and clothing such as the dresses she wore in High Society and to receive her Oscar for The Country Girl in 1955.

Grace Kelly starred in 11 films during a five-year career, including three by Alfred Hitchcock - Dial M For Murder, To Catch A Thief and Rear Window. The exhibition includes letters from the legendary director, as well as from Jacqueline Kennedy.



Grace Kelly, Frank Sinatra and Celeste Holm in High Society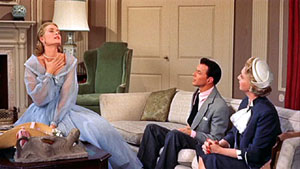 There are hats, brooches and bracelets, Kelly's famous signature Hermes Kelly bag and her 12-carat emerald-cut diamond engagement ring. One room is an exact replica of her studio in Roc Angel, where she painted and pressed flowers.

"From the moment she arrived, she personified the optimism of the post-war years, and became a symbol of glamour," Mitterand said.

"We want this exhibition to recreate the incomparable world of Princess Grace and evoke the reasons the memory of her persists in all our minds. She bequeathed us an image of immutable elegance. It is the elegance of the era that was hers, and for which we feel nostalgic," continued Mitterand.

This fall, Sotheby's New York will be the setting for Grace, Princess of Monaco – A Tribute Exhibit, planned for October 15 – 25, 2007. That includes a first ever auction of some of her personal belongings to benefit the Princess Grace FoundationUSA. Two of the princess's dresses will be auctioned. They're expected to fetch more than that raised recently by the black Givenchy dress worn by Audrey Hepburn in the film Breakfast At Tiffany's.

In its 25th year, the Princess Grace FoundationUSA, will hold its annual Awards Gala in New York on October 25. The Foundation, established to continue Princess Grace's deep commitment to the performing arts, bestows grants to emerging theater, dance and film artists in America, carrying on the tradition of supporting excellence in many forms of artistry.

THE TREASURES OF THE BLUE HOUSE: FRIDA AND DIEGO

April 13, 1939: Mexican artists Diego Rivera and Frida Kahlo.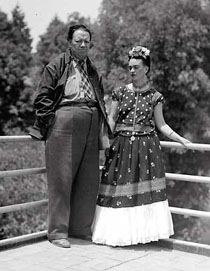 exhibit - including 22,105 documents, 5,387 photos, 179 pieces of clothing and more than 6,000 magazines and books - has the goal to dispel myths about tormented painter Frida Kahlo's life, stated Hilda Trujillo, director of The Blue House museum located at Calle Allende, Coyoacán, Mexico City, Mexico.

Titled Treasures of the Blue House, Frida and Diego, the exhibition opened July 6 and will run until September 30 as part of celebrations marking the 100th anniversary of Kahlo's birth.

The Blue House is where Kahlo was born in 1907 (not 1910, as she wanted people to believe) and died 47 years later. The small structure is both a museum and shrine.

The personal effects went on display after been hidden over half a century. Most of the material was locked away in trunks and cabinets, covered in tape and hidden a walled-up room.

Interest in Kahlo's art and life has elevated to almost cult status. Her ambiguous sexuality and preoccupation with overtly female themes have made her a feminist icon. Kahlo's life has inspired several plays and films, including the 2002 movie Frida, directed by Judy Taymor, starring Salma Hayek as Frida and Alfred Molina as Diego.



Salma Hayek as Frida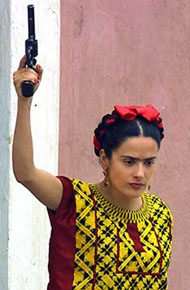 In an interview with View London regarding the movie, Hayek explained why she admired Kahlo. "She was bisexual at a very young age. Her paintings were not liked by many. She never changed her style whether people liked them or not. She had quite an unconventional relationship with Diego and I am sure people thought he was not the best thing. She did everything in life her own way."

"The way she dressed, cooked - everything about her was unique. She didn't care about what anybody thought and never apologized for who she was. On the contrary, she celebrated some of the things that made her different. For example her moustache; which she exaggerates in the paintings and her eyebrows, which she also exaggerates. Sometimes she makes them into a symbol of freedom like a bird."

"Frida had one eyebrow, a moustache and a leg shorter than the other one… bad teeth," continued Hayek in the printed interview. "I won't begin to start to describe Diego! He was a man who had gluttony for life. They enjoyed every moment and were very sensuous characters. They slept with everyone!"

Married twice, Kahlo, who died in 1954, and Rivera, whose death followed three years later, are among Mexico's most famous artists. The archive contains thousands of letters detailing their tortured relationship and numerous infidelities, including Kahlo's reported affair with exiled Russian revolutionary Leon Trotsky.



In this undated photo, released by the Frida Kahlo Museum, the artist Frida Kahlo lies on a bed; she suffered from back injuries caused by a streetcar accident when she was a youth.
Included in the display is Kahlo's wheelchair and pictures of her in bed. Also discovered in the trunks were corsets Kahlo used to support her back. She had polio as a child leaving her with a withered leg. At age 18 she was crippled in a bus accident, leaving her in pain and unable to bear children. That event is thought to have focused her art on themes of female suffering and mutilation.

Also discovered were 30 photos that Kahlo's father, photographer Guillermo Kahlo, had taken of himself, possibly inspiring Kahlo's self portraits which she used to deal with her accident, her tumultuous marriage and her inability to have children. In contrast, Rivera's murals portraying capitalism, communism and imperialism in Mexican history adorn Mexico City's National Palace.

"Diego left instructions that any information that could cause scandal in Mexican public life be kept secret," the exhibition's curator, Ricardo Perez, told journalists.

Riviera had entrusted the collection to art patron Dolores Olmedo, with a request that the collection not be made public until 15 years after Kahlo's death. Olmedo decided that the artifacts should remain private until after she herself died. She passed away in 2002. Her son, Carlos Phillips Olmedo, runs several museums, including The Blue House.

As well as the couple's love life, the show includes details of their militancy as communists and links to politicians of the times including Soviet leader Josef Stalin.

Curators also found a trolley car ticket with a scribbled note, a napkin stained with a lipstick kiss, letters from European artists and 102 never-before-seen drawings by Kahlo.

As part of the commemoration over forty Cuban artists met last week in Havana, Cuba to pay tribute in an display titled: Frida and Diego, Voices of the Earth, and will last until November.

The opening day was also July 6, with a visual arts exhibition, where works by outstanding Cuban artists are on display. They include works by; Zayda del Rio, Nelson Domínguez, Cosme Proenza, Vicente R. Bonachea and Eduardo Roca (aka "El Choco").

The exhibition will last until August, and also features expressions by Alejandro Reyes, Marcos Guerra and Ney Díaz, from the Dominican Republic.

The Cuban event, dedicated to Frida and Diego - considered paradigms of the Visual Arts in Latin America - also encompasses two contests, children's creative workshops, several lectures, a movie exhibition, and the inauguration of a collective mural. The event will be attended by a delegation headed by the researcher Teresa del Conde.

A wide program to remember Frida and Diego has widespread Latin American support. Chile has also joined the tribute.



Broadway To Vegas is supported through advertising and donations. Priority consideration is given to interview suggestions, news, press releases, etc from paid supporters. However, no paid supporters control, alter, edit, or in any way manipulate the content of this site. Your donation is appreciated. We accept PAYPAL. Thank you for your interest.


SPREADING THE WORD


IN DARFUR FREE READING on Monday, July 9, at the Delacorte Theater in Central Park, NYC.

Speakers include: Mark Hanis, Daoud Ibarahaem Hari, Omer Ismail, Nicholas Kristof, Samantha Power and John Prendergast.

Featuring Ron Brice, Leon Addison Brown, Zainab Jah, Aaron Lohr, Heather Raffo, Maduka Steady, Sharon Washington and Rutina Wesley.

Working as Research Assistant to Nicholas Kristof, Pulitzer Prize-winning journalist from The New York Times, playwright Winter Miller is immersed in the issues surrounding the ongoing genocide in Darfur, Sudan. In Darfur is the provocative account of three intertwined lives at a camp for internally displaced persons in Darfur. The story follows an aid-worker's mission to save and protect lives, a journalist's pursuit to deliver a Page One story and a Darfuri woman's quest for safety. It is a searing story of urgency and international significance. Join The Public Theater in drawing attention to the genocide in Darfur at this one-night-only event.

WARS I HAVE SEEN is a unique commission by Heiner Goebbels uniting the London Sinfonietta and the Orchestra of the Age of Enlightenment. In this work based on Gertrude Stein's text about Paris in the Second World War, Goebbels explores the different performing styles of the two orchestras, which represent the outer edges of the history of western classical music. This world premiere will be spoken by the female musicians from the two ensembles.

As a prelude to the evening performance of Wars I Have Seen, Jude Kelly, Artistic Director of Southbank Centre discusses Gertrude Stein, and the themes of war, music and theatricality with the composer, Heiner Goebbels. Admission free. Thursday, July 12 at the Southbank Centre in London.

THE ROETHKE SYMPOSIUM The speakers include Kurt Beattie, ACT Artistic Director and the director of First Class; David Wagoner, poet and playwright of First Class; John Aylward, actor playing Roethke in First Class; and Lyall Bush, Executive Director of the Richard Hugo House.

Renowned Washington poet David Wagoner applies his keen eye to this affectionate one-act remembrance of his friend and mentor, the legendary poet (and UW professor) Theodore Roethke. Seattle master actor John Aylward plays the lead. In this world premiere, you're a student in Roethke's classroom. Why does art matter? When does genius become madness? And what does it mean to live a passionate life? Please discuss.

The Roethke Symposium will explore Roethke's influence on the poetry world, specifically in the Northwest; Roethke's teaching methods; and David Wagoner's reasons for writing First Class and his recollections of Roethke. Several of Roethke's poems will be read, and John Aylward will present a sneak peek at a scene from First Class,which will be presented July 27 - August 26 In The Falls Theatre.

The Roethke Symposium is free and open to the public. No tickets required. July 11, ACT's Bullitt Cabaret in Seattle, WA.


SWEET CHARITY


BROADWAY BARKS 9 is a star-studded dog and cat adopt-a-thon benefiting New York City animal shelters and adoption agencies will take place on Saturday, July 14th in Shubert Alley.

The full line up of Broadway stars who will join Bernadette Peters and Mary Tyler Moore for this special benefit include;

Angela Lansbury (Deuce); Audra McDonald (110 in the Shade); Harry Hamlin and Lisa Rinna (Chicago); David Hyde Pierce, Edward Hibbert, Jason Danieley , Michael McCormick, Debra Monk, and Karen Ziemba (Curtains); Jerry Mathers and Paul Vogt (Hairspray), Priscilla Lopez and Mandy Gonzalez (In the Heights); Christine, Ebersole, Mary Louise Wilson, John McMartin and Maureen Moore (Grey Gardens); Cheyenne Jackson, Kerry Butler and Mary Testa (Xanadu); Michael Cerveris (LoveMusik); Jo Anne Worley, Beth Leavel, John Glover, Gerry Vichi and Patrick Wetzel (The Drowsy Chaperone); Ashley Brown, Jane Carr, Daniel Jenkins, and Gavin Lee (Mary Poppins); Marin Mazzie, Jonathan Hadary, David Hibbard and Martin Moran (Spamalot); Xanthe Elbrick (Coram Boy); Charlotte D'Amboise and Michael Berresse (A Chorus Line); John Earl Jelks (Radio Golf); Michael Mulheren (Deuce); Christian Hoff, J. Robert Spencer and John Lloyd Young (Jersey Boys); Judy McLane (Mamma Mia); Laura Belle Bundy, Orfeh and Andy Karl (Legally Blonde); Lea Michele (Spring Awakening); Sebastian Arcelus, Jayne Houdyshell, and Kendra Kassebaum (Wicked); Stephanie J. Block (The Pirate Queen); among others.

In the event of rain, Broadway Barks 9 will be rescheduled for Saturday, July 28.

KATHLEEN BATTLE the renowned soprano makes her Aspen debut in the Aspen Music Festival's all-Gershwin Season Benefit entitled Rhapsody in Blue on Saturday, July 14.

Legendary for her glamour, dramatic performances, and lyric soprano voice, Battle will offer a selection of Gershwin songs, including Summertime and Embraceable You, most of which she will be performing for the first time in her career.

Joining her will be Macedonian pianist Simon Trpceski playing Gershwin's Rhapsody in Blue. David Zinman will lead the evening.

Benefit tickets include wining, dining, and dancing. An intoxicating mix of rhythm and rhyme, melody and moonlight.


OTHER PEOPLE'S MONEY


THE ORPHEUM THEATRE in Memphis is having a summer sale of office furniture, theatre merchandise, show posters and various Broadway show memorabilia on July 27. They are also accepting applications from vendors or artisans who would also like to participate in this event.



HATS the Chicago premiere of this new musical starring Grammy Award-winner Melissa Manchester in the role of MaryAnne.

Inspired by The Red Hat Society, Hats! an original musical about a 49.999 year old woman who reluctantly faces the inevitable big five-O birthday until she meets several remarkable women who show her about fun and friendship after 50.

Directed by Tony Award nominee Lynne Taylor-Corbett, Hats! features a score of original songs by some of today's most celebrated songwriters, including two-time Tony Award winner Doug Besterman, Tony nominated lyricist Susan Birkenhead, Michele Brourman, Pat Bunch, Gretchen Cryer, Anthony Dodge, Marcia Milgrom Dodge, Beth Falcone, David Friedman, Kathie Lee Gifford, David Goldsmith, Tony nominated composer-lyricist Carol Hall, Tony and Oscar nominated composer Henry Krieger, Stephen Lawrence, Grammy Award winner Melissa Manchester, Golden Globe winner Amanda McBroom, Grammy Award winner Pam Tillis and Sharon Vaughn.

Performances extended to August 18 at the Royal George Theater in Chicago.

SWEET CHARITY starring Paige Davis, the performer who achieved national fame as the host of TLC'S home-repair show Trading Spaces, and was invited to spend five weeks starring as Roxie Hart in the Broadway revival of Chicago. Davis was a theater major at Southern Methodist University in Dallas and spent 2 1/2 years playing Babette in the national tour of Disney's Beauty and the Beast. She comes to Kansas City to star in Sweet Charity the Cy Coleman/Neil Simon/Dorothy Fields adaptation of a Fellini movie, at the Starlight Theatre July 10-15.

The tuneful score of Sweet Charity features such hits as Hey, Big Spender, There's Gotta Be Something Better Than This and If My Friends Could See Me Now.

HAY FEVER by Noel Coward. Directed By Robert Longbottom. One of the most popular and hilarious comedies of all time from the master of style and wit, Noel Coward. Politeness quickly becomes pandemonium when members of a family of artists each invite a guest home for the weekend. Trysts are arranged, flirtations exchanged, passions unleashed and ultimatums pronounced – in this dizzying, dazzling portrait of self-absorption, volatility, and the quest for personal fulfillment.

July 14-August 19 at The Old Globe in San Diego.

HIGH BUTTON SHOES

Lovable conman Harrison Floy (Stephen Bienskie) rides into town with sidekick Pontdue (Ken Jennings) and falls in love with Fran (Russell Ardin Koplin)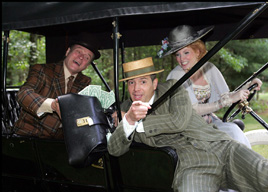 Music by Jule Styne. Lyrics by Sammy Cahn. Book by Stephen Longstreet. Directed by Greg Ganakas. Choreographed by Linda Goodrich.

Take a peek back at the Model T era as the stage bursts with bathing beauties and fraternity brothers, keystone cops chasing madcap robbers and even a dancing gorilla!

This lively and lovable musical will leave you laughing as a fast-talking conman returns to his old hometown in hopes of striking it rich.

Filled with toe-tapping classics such as Papa Won't You Dance With Me, I Still Get Jealous, and You're My Girl.

July 13-September 22 at the Goodspeed Opera House in East Haddam, CT.

ONE THOUSAND CRANES written by Colin Thomas, interweaves two powerful stories. For Sadako, a thousand origami cranes are a symbol of good luck and longevity that does not prevent her death from radiation-induced leukemia following World War II. For Buddy, maturation means going from playing war games to becoming actively involved in working for world peace.

( See related article Broadway To Vegas column of August 13, 2006 )

The Tramway Theatre Denver Center for the Performing Arts from July 10-21.

THE BOY WHO HEARD MUSIC Story, music, and lyrics by Pete Townshend. Adapted and directed by Ethan Silverman.

A new rock opera, The Boy Who Heard Music is a hallucinatory tale of the rise and fall of a band made up of three teenagers from different ethnic backgrounds – seen through the eyes of an aging rock star. Is he a madman or a prophet?

Thought to be autobiographical on Townshend's relationships with Roger Daltrey, Keith Moon and John Entwistle, with whom he formed The Who. About half the score is made up of songs from The Who's 2006 album Endless Wire. The rest was written especially for the musical.

July 13 and 14 in the 325-seat Martel Theater, the Vogelstein Center for Drama and Film at Vassar College in Poughkeepsie, NY.

REGRETS ONLY written by Paul Rudnick.

James Brennan will direct the cast featuring Tony nominee Dee Hoty, Joel Higgins,Tony nominee Harry Groener and Emmy Winner Eden Riegal.

A screwball comedy for the 21st century. Taking place in a stylish Park Avenue Penthouse, a powerhouse attorney, his socialite wife and their closest friend, a world famous fashion designer - add a maid, a wedding, and the President of the United States and watch them lock horns and laugh over romance, marriage and friendship with hilarious results.

Set design by Dan Meeker. Costume design by Gail Baldoni.

Through July 14 at The Cape Playhouse in Dennis, MA.

SURFACE TO AIR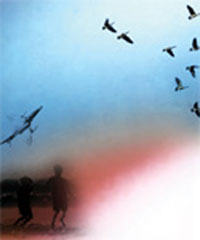 a world premiere, written by David Epstein.

Directed by two-time Tony Award-winner James Naughton.

Starring Bruce Altman, Larry Bryggman, James Colby, Marisa Echeverria, Cady Huffman, Lois Smith and Mark J. Sullivan.

An American forced to confront repressed emotions and reconnect when they come together to receive the remains of a family hero, recovered 30 years after he was shot down in Vietnam .

James Noone (set design), Laurie Churba (costume design), Clifton Taylor (lighting design) and Ray Schilke (sound design).

July 11-August 5 at the Peter Jay Sharp Theatre, Symphony Space, NYC.


| | | |
| --- | --- | --- |
| | | |
WHO'S WHERE


QUEEN LATIFAH in a Jazz at the Bowl event, Wednesday, July 11, Hollywood Bowl, California.

JOHN WILLIAMS has a two night stand, July 13-14, delivering his Masetro of the Movies program conducting the Los Angeles Philharmonic Orchestra at the Hollywood Bowl.

LYLE LOVETT AND KD LANG on stage Tuesday, July 10 at the Music Pavilion in Fayetteville, AR. On Thursday they be entertaining at the Sandia Casino in Albuquerque, NM. Friday finds them at the Red Rocks Amphitheatre in Morrison, CO. On Saturday they are in the spotlight at Lincoln Center in Fort Collins, CO. Next Sunday, July 15, they can be enjoyed at Deer Valley Resort in Deer Valley, UT.

ROD STEWART performs Tuesday, July 10, at Ricoh Arena in Coventry, UK.

BIG BAD VOODOO DADDY on stage Saturday, July 14, at the Louisville Zoo in Louisville, KY.

THE BEACH BOYS on stage in California this week. Thursday, July 12 finds them at the Tachi Palace Hotel in Lemoore. On Friday they open a two night stand at the Pechanga Resort and next Sunday, July 15, they bring their surfer sounds to Humphrey's Concerts by the Bay in San Francisco.

LARRY GATLIN in the spotlight Saturday, July 14, at Great Waters Music Festival in Wolfeboro, NH.

JAY LENO telling funny stories July 13-14 at the Mirage Hotel in Las Vegas.

SARA EVANS performs Friday, July 13, at Dunn Tire Park in Buffalo, NY.

HOOTIE AND THE BLOWFISH on stage Tuesday, July 10 at the North Fork Theatre at Westbury, NY. On Wednesday they can be enjoyed at Innsbrook Pavilion at Glen Allen, VA. Friday finds them at the Naval Base in Norfolk, VA. On Saturday the show is at Enjoie Golf Club in Endicott, NY. Next Sunday, July 15, the show is at the Volunteer Fire Station in Saint Leonard, MD.

KATHY GRIFFIN getting laughts Wednesday, July 11, at Symphony Hall in Springfield, MA. On Thursday she's on stage at the Yachting Center in Newport, RI. Friday finds her at the South Shore Music Circus in Cohasset, MA. On Saturday her lfinny lines will be delivered at Cape Cod Melody Tent in Hyannis, MA and next Sunday, July 15, she's in the spotlight at the Hampton Beach Casino Ballroom in Hampton Beach, NH.




FINAL OVATION


BEVERLY SILLS

Beverly Sills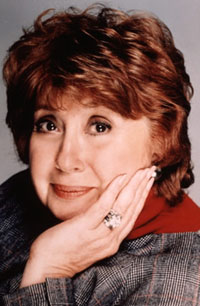 78, died July 2 in New York with her daughter at her bedside. Sills who has underwent successful surgery for cancer in 1974 had recently been diagnosed with lung cancer.

Absolutely beloved by anyone who had ever met her, her effervescent nature and glorious coloratura sopranos catapulted her into one of the most honored and respected opera stars of all time.

Her numerous prestigious awards included in 1980 the Presidential Medal of Freedom, and, in 1985, the Kennedy Center Honors Award.

Born Belle Miriam Silverman, on May 25, 1929, one of three children of Russian-Jewish immigrant parents, she adopted the stage name of Bubbles when she appeared as a child star on a local radio show in Brooklyn, New York. By age ten she performed professionally as Beverly Sills - a winner on the radio show Major Bowes' Amateur Hour and subsequently made weekly appearances on radio.

She made her operatic debut when she was 18, singing Frasquita in a Philadelphia Civic Opera production of Carmen. She made her San Francisco opera debut in 1953 as Helen of Troy in Boito's Mefistofele and sang Donne Elvira in Don Giovanni there the same season. Her debut at the New York City Opera was in 1955 as Rosalinde in Die Fledermaus. While there, she sang almost 90 roles during her career.

Her April 1969 La Scala debut as Pamira in Rossini's Siege of Corinth landed her on the cover of Newsweek magazine; two years later she was on the cover of Time, labeled America's Queen of Opera.

Her acclaimed debut at London's Covent Garden came with Donizetti's Lucia di Lammermoor in December 1973. In 1975, Sills made her Met debut in the opera of her La Scala success, The Siege of Corinth. She received an 18-minute ovation.

She recorded 18 full-length operas and her Victor Herbert album won a Grammy Award in 1978.

Sills gave her farewell performance on October 27, 1980, at New York City Opera, of which she had become general director the previous year. When she took over management of the company, it was $5 million in debt and seen as teetering. She restored public confidence, greatly increased fundraising - charming money out of corporate donors - led the company through the traumatic loss of most of its costume stock in a warehouse fire, introduced supertitles, and made City Opera into a viable and stable enterprise. She retired as general director in 1989 and became president of the company's board; she stepped down from that role in 1991, went across the street and joined the Met's board of directors.



Cover of Beverly Sills' recording of Donizetti's three queens as Anna Bolena, Maria Stuarda, and Elizabeth I in Roberto Devereux.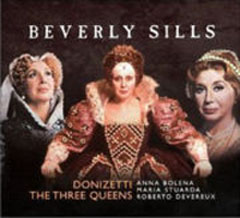 In 1994 Sills became chairman of Lincoln Center, Inc., where she was similarly successful as fundraiser and administrator, skillfully mediating between the complex's sometimes-contentious constituent companies.

Sills stepped down from the chair at Lincoln Center in 2002, saying that she was ready to retire — but within a couple months she returned as chairman of the Metropolitan Opera's board. Retirement didn't agree with her. Among her most notable achievements in her three years at the Met were raising the money to save the company's Saturday afternoon radio broadcasts after longtime sponsor Chevron Texaco withdrew its support and recruiting Peter Gelb to succeed Joseph Volpe as general manager.

Sills resigned suddenly from the Met in January 2005, due in particular to the deteriorating health of her long-ailing husband Peter Greenough, who died at the age of 89 on September 6, 2006, shortly before their 50th anniversary.

On tour with the City Opera in Cleveland in 1955, Beverly had met Peter B. Greenough, a Boston Brahmin descendant of John Alden, whose family holdings included The Plain Dealer of Cleveland. With a degree from Harvard and a master's degree from the Columbia School of Journalism, Mr. Greenough was then an associate editor at The Plain Dealer. When he met Beverly, he was going through a messy divorce in which he fought for custody of his children. Eight weeks after the divorce was made final, he married Sills in a small civil ceremony.

In 1959 Beverly gave birth to a daughter, Meredith Holden Greenough. Two years later she bore the couple's second child, a son, Peter Bulkeley Greenough Jr. At the time Meredith, called Muffy, was 22 months old but unable to speak. Tests revealed that she had a profound loss of hearing.

Within six weeks it became obvious that their son, called Bucky, then 6 months old, was significantly mentally retarded, with additional complications that eluded diagnosis. "They knew nothing about autism then," Ms. Sills later wrote.

With support, their daughter thrived over time. But the boy's problems were severe, and he was eventually placed in an institution.

For months thereafter, Sills turned down all singing engagements to be at home. Eventually convinced to return to the stage she wrote that when she reported for work, she felt like a totally different artist.

"I felt if I could survive my grief, I could survive anything," she said. "Onstage I was uninhibited, and I began to have a good time." After becoming an operatic super-star she devoted a great deal of time and effort to raising money for the March of Dimes, a charity dedicated to the battle against birth defects.

She is survived by her son and daughter, two step-daughters Lindley Thomasett and Nancy Bliss, both of New York; and one granddaughter, Allyson Bliss and a legend of fans and friends.

Flags at Lincoln Center flew at half-staff and several of its halls dimmed their lights in tribute to her last Tuesday night. The New York Philharmonic will dedicate Tuesday's (July 10) Central Park concert to her memory. A moment of silence was observed before the Midsummer Night Swing dance event on Lincoln Center's plaza last Tuesday. Live From Lincoln Center, the PBS broadcast hosted by Sills will honor her during its next broadcast, on Aug. 16.

Services will be private; donations may be made in Sills' name to the Multiple Sclerosis Society, 733 3rd Ave., New York, NY 10017.

Next Column: July 15, 2007
Copyright: July 8, 2007. All Rights Reserved. Reviews, Interviews, Commentary, Photographs or Graphics from any Broadway To Vegas (TM) columns may not be published, broadcast, rewritten, utilized as leads, or used in any manner without permission, compensation/credit.
Link to Main Page
---
Laura Deni


CLICK HERE FOR COMMENT SECTION