! >
Broadway To Vegas
  
  REVIEWS INTERVIEWS COMMENTARY NEWS

| | |
| --- | --- |
| | |
HUGH JACKMAN ON TOUR - -SMOKEY ROBINSON AND ST JUDE KIDS - - THE LATIN RECORDING ACADEMY CONFERENCE - - THE FABRIC OF INDIA - - THE UNMANAGEABLE SISTERS - - REVEALING COSTUMES AND ACTORS "BLACKING UP" WERE A CONTROVERSY AS FAR BACK AS 1611 - - ROCK ISLAND LINE 65th ANNIVERSARY - - ICELANDIC-DANISH ARTIST OLAFUR ELIASSON - - DONATE . . . Scroll Down





Copyright: July 7, 2019
By: Laura Deni
CLICK HERE FOR COMMENT SECTION


REVEALING COSTUMES AND ACTORS "BLACKING UP" WERE A CONTROVERSY AS FAR BACK AS 1611
Drawing of a Lady Masquer' by Inigo Jones, 1610. © Devonshire Collection, Chatsworth. Reproduced by permission of Chatsworth Settlement Trustees/Royal Palaces. The fairy costume was fairly revealing, with the masquer's breasts barely covered by gauzy material and only supported by a corset. This was standard attire in the Jacobean masque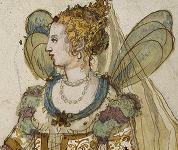 There is ample documentation to substantiate that Anna of Denmark, consort to King James I of England performed on stage in blackface, while serious rumors giggle that she also permitted her nipples to show through flimsy gauze fabric, which was all the rage. Besides, she felt nobody would recognize her corked up and - only invited gusts were permitted to view the show. It wasn't as though common folk could sneak a peek.

Those in the cheap seats probably had trouble getting a good view while those in the orchestra seats got an eye full.

While it must be strongly emphasized that the current royal family isn't racist that wasn't always the case. Nor, one might quess, will you ever find the elegance and gracious Queen Elizabeth II bouncing around bare breasted and the same might be said for Camilla, the equally polite and stylish wife of Prince Charles.

The royal family of King James I exhibited a different mindset and had an attraction to the stage.

Prince Harry - the one who died in 1612 at the age of 18 leaving his brother to become King Chares 1 - both sons of King James 1 of England and Anna of Denmark - performed the part of Oberon, dressed in "short scarlet hose and white brodequins full of silver spangles coming half way to the calf." in addition to the Royal Shakespeare Company the performance also featured female masquers who played the parts of fairies.

Oberon is a masque written in 1611 by Ben Jonson for the then 16-year-old Prince Henry.

"The fairy costume was fairly revealing, with the masquer's breasts barely covered by gauzy material and only supported by a corset. This was not unusual in the Jacobean masque. While female performers were often limited to non-speaking parts, they often used costume and make-up as an alternative form of expression. In this way women could challenge accepted gender roles and hierarchies, and intervene in court politics," according to the University of Glasgow & Historic Royal Palaces.

In 1605 Queen Anna herself commissioned and performed in Ben Jonson's Masque of Blackness in the Banqueting Hall of Whitehall Palace on Twelfth Night, January 6, 1605. It was King James I who instructed to Jonson that the masquers be disguised as Africans.

Benjamin Jonson (c. 11 June 1572 – c. 16 August 1637) was an English playwright and poet, whose artistry exerted a lasting impact upon English poetry and stage comedy. He popularised the comedy of humors. He is best known for the satirical plays Every Man in His Humour(1598), Volpone, or The Fox (c. 1606), The Alchemist (1610) and Bartholomew Fair (1614) and for his lyric and epigrammatic poetry. "He is generally regarded as the second most important English dramatist, after William Shakespeare, during the reign of James I."

Jonson was a classically educated, well-read and cultured man of the English Renaissance with an appetite for controversy - both personal and political, artistic and intellectual - whose cultural influence was of unparalleled breadth upon the playwrights and the poets of the Jacobean era (1603–1625) and of the Caroline era (1625–1642).

As for that Masque of Blackness staging, Anna appeared on stage along with her court ladies, all of whom appeared in black face makeup.

The cast included: Queen Anne as Euphoris - Countess of Bedford as Aglaia - Lady Herbert as Diaphane - Countess of Derby as Eucampse - Lady Rich in the role of Ocyte - Countess of Suffolk playing Kathare - Lady Bevill as Notis - Lady Effingham as Psychrote - Lady Elizabeth Howard as Glycyte - Lady Susan Vere in the role of Malacia - Lady Mary Wroth cast as Baryte and Lady Walsingham as Periphere.

An account of the event in a letter from courtier Sir Dudley Carleton describes Anna and her ladies as they danced in the masque: 'Their Apparell was rich, but too light and Curtizan-like for such great ones'. He also explains that 'their Faces, and Arms up to the Elbows, were painted black, which was Disguise sufficient, for they were hard to be known'.

According to the British Royal Palaces: "To our eyes, this 'blacking up' is offensive and unacceptable, but Anna was using costume and face-paint in this masque to oppose the requirements of court decorum and to highlight the ineffectual nature of female containment."

According to Project Gutenberg: The plot of the masque follows the ladies arriving at the English Court talking amongst themselves of how black complexions used to be beautiful, "that in their black, the perfect's beauty grows." Reflecting the historical context of the masque, the ladies go on to discuss how black skin is now deemed the least attractive, "now black, with black despair" in favor of skin that has been "blanch[ed]" meaning whitened or lightened. They also agree that while black skin is exotic, light-skinned people are ultimately the best. During the Jacobean era, dark skin was associated with corruption, while white or lighter skin was associated with purity. Whereas Ethiopians (then a general term for black Africans) were viewed as impatient and ill-tempered due to the hot, dry weather in their native country, the light-skinned English were seen as more in control of themselves because their climate was cool and wet. As a result of this trend, The Masque of Beauty was written as a sequel to The Masque of Blackness to convey a greater disdain for darker skin tones.

The sets, costumes, and stage effects were designed by Inigo Jones; Blackness was the first of many masques for the Stuart Court on which Jonson and set designer Jones would collaborate. The music for Blackness was composed by Alfonso Ferrabosco.

Jones designed a raised and mobile stage for the masque, forty feet square and four feet off the floor; this was employed for many subsequent masques. The stage contained inner space for the machines that produced stage effects and the technicians who operated them. The King was often stilling on a stool, resembling the sun. Blackness introduced effects that Jones would repeat with variation throughout his career as a stage designer: it opened with a tempestuous seascape, simulated by flowing and billowing cloths.

Plot summary: The text begins with Niger talking to his father Oceanus. Oceanus asks him why he has left his usual eastward course and flowed westward, into the Atlantic. Niger tells him that he has come to request help. Niger's daughters are upset because they thought of themselves to be the most beautiful goddesses in the world, but they found out that paleness is more attractive and no longer feel beautiful. The moon goddess, Aethiopia, tells the daughters to find a country that ends in "tannia" and they will be beautiful once more. The daughters desperately tried finding the country and even went to Mauritania (North Africa), Lusitania (Portugal), and Aquitania (France). They prayed once more to Aethiopia and she told them the country is Britannia. She told them that the king was sun-like and he would be able to bleach the black away. Aethiopia stated that once a month for the next year, the daughters should bathe in sea-dew and at the same time next year, they will appear before the king again, and his light will make them beautiful and white.[4] The masque was controversial in its day, in part for the production's use of body paint instead of masks to simulate dark skin. One observer, Sir Dudley Carleton, expressed a view tinged with the prevailing social biases of an era which saw the growing prominent role of the British in the Atlantic slave trade:

Regarding the blackened up royals in the flimzy attire, Sir Dudley Carleton in his review stressed: "you cannot imagine a more ugly sight...."

Controversy also stemmed from the predominant role of female actresses playing what were considered traditionally male roles.

The masque was expensive, costing £3000, and caused consternation among some English observers due to the perceived impropriety of the performance. The texts of The Masque of Blackness and The Masque of Beauty were published together in quarto form in 1608, by the bookseller Thomas Thorpe; they were reprinted in the first folio collection of Jonson's works in 1616.






E-Book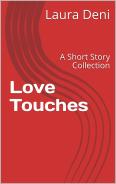 Soft back Book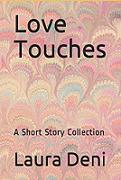 Broadway To Vegas is supported through advertising and donations. Priority consideration is given to interview suggestions, news, press releases, etc from paid supporters. However, no paid supporters control, alter, edit, or in any way manipulate the content of this site. Your donation is appreciated. We accept PAYPAL. Thank you for your interest.



E-Book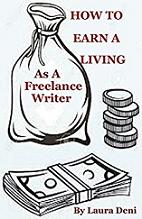 Soft back Book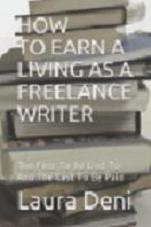 This is not your typical, totally boring textbook.

In the pages of How To Earn A Living As A Freelance Writer (the first to be lied to and the last to be paid) you'll find sex, celebrities, violence, threats, unethical editors, scummy managers and lawyers, treacherous press agents, sex discrimination; as well as a how-to for earning money by writing down words.





ART AND ABOUT


A NEW SONG (TO AN OLD TUNE) a display of new work by contemporary British artist, Nicola Bealing.

Using both print and painting, Bealing's work takes as its starting point the subjects and narratives found within 18th-century broadside ballads – descriptive or narrative songs on popular themes, often sung or sold in the form of cheap sheet music in the streets.

Vibrant, bawdy, surreal and humorous in its nature, her work bears many similarities to that of Hogarth's, an artist she cites as having inspired her.

On display through September 1, 2019 at The Foundling Museum in London.

THE FABRIC OF INDIA spanning more than 500 years, The Fabric of India showcases the remarkable techniques of weaving, dyeing, printing and embroidery of the Indian textile industry.

Organized in six thematic sections, the exhibition features a wide range of objects such as a Kashmir Map Shawl, a large, finely-woven pashmina intricately embroidered with a bird's-eye view of the city of Srinagar, capital of the territory of Kashmir; a border for a woman's dress from the 19th century embroidered with green iridescent beetle-wing cases; and a more-than-50-foot Gujarati room hanging that was found abandoned on a New York City street.

Fabrics and clothing from contemporary designers that engage with India's rich heritage of textiles will also be displayed, including pieces by Osman Yousefzada, Dries Van Noten, Hermès, Rahul Mishra and Manish Arora.

The Ringling's first major exhibition of Indian art, The Fabric of India will showcase the variety, technical sophistication and adaptability of Indian textiles from the 15th to the 21st century. Featured will be more than 140 examples drawn from the internationally-renowned holdings of London's Victoria and Albert Museum and international partners. Historical dress, carefully preserved fabrics and cutting-edge current fashion will be displayed, giving visitors an opportunity to explore not just the superior craftsmanship of the textiles, but the story they tell about the social, economic and political exchanges that drove their creation and consumption.

July 7-October 13, 2019 at The John and Mable Ringling Museum of Art in Sarasota, Florida.

ICELANDIC-DANISH ARTIST OLAFUR ELIASSON

Yellow versus Purple 2003 by Eliasson. Photo: Tate Modern.
renowned for his captivating installations like The weather project in 2003 and for his social and environmental projects like Little Sun, will return to Tate Modern for a large-scale exhibition and an outdoor artwork.

In Yellow versus Purple which is installed in a darkened room, Yellow versus Purple 2003 comprises a transparent yellow disc of color-effect glass (750 mm in diameter), which is suspended from a steel cable linked to a motor attached to the ceiling, and a floodlight mounted on a tripod that shines a wide beam of light directly at the disc and onto a white wall behind. The disc and the floodlight are both positioned 140 cm off the floor so that as the light passes through the glass it creates a yellow shadow on the wall behind that changes shape, from a circle to an ellipse and back again, as the disc rotates. At the same time, the particular properties of the glass also serve to reflect the light, producing a purple form that moves along the walls of the room as though orbiting the space. Like the yellow shadow, this purple light changes shape in accordance with the angle of the disc, but it also changes size depending on the distance between the disc and the wall. Viewers are able to walk through the installation so that the shapes and colors cover their bodies. The choice of colors for Yellow versus Purple, and the title's playful suggestion of competition between them, reflects the fact that they occupy opposite positions on a color wheel.

Eliasson creates experiences that can be shared by young and old – the exhibition includes a selection of these captivating immersive installations. Some, like Beauty, recreate natural phenomena such as rainbows. Others involve reflections and shadows to play with the way we navigate or perceive the world.

Within the exhibition will be an area which will explore Eliasson's deep engagement with social and environmental issues, such as his Little Sun project which has brought light and income to people around the world without electricity.

The exhibition will continue with a spectacular installation in the landscape around Tate Modern. Eliasson will also be taking over the Terrace Bar, creating a new version of the innovative vegetarian canteen from his Berlin studio.

July 11, 2019 – January 5, 2020 at the Tate modern in London.

STAINED GLASS WORKS BY JUSTIN TYNER Tyner's work mixes salvaged and repurposed glass to manipulate light in his distinctive psychedelic style. July 12-September 8, 2019 at the Philadelphia's Magic Garden in Philadelphia, PA.






E-Book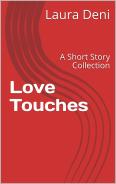 Soft back Book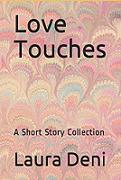 SWEET CHARITY


ROCK ISLAND LINE 65th ANNIVERSARY with Van Morrison and Billy Bragg. An all-star evening celebrating the impact of Lonnie Donegan's first British Music Industry Changing hit – Rock Island Line.

All proceeds go to Lonnie's grandson's therapy for Autism Spectrum Disorder.

Performers include: Peter Donegan, Van Morrison, Billy Bragg, Lonnie Donegan Junior, Dave Peacock, Joe Brown, Jim Carter, Chris Farlowe, Paul Jones and The Lonnie Donegan Band.

This sold out benefit takes pace Saturday July 13, 2019, at Cadogan Hal in London.

SIR ELTON JOHN Founder of the Elton John AIDS Foundation (EJAF), received the highest French order of merit – the Légion d'Honneur – from President Emmanuel Macron in a small private ceremony at the Élysée Palace in Paris.

The award honors Elton for his lifetime contribution to the arts and the global effort to end AIDS. Among the attendees at the ceremony were Elton's husband and EJAF Chairman David Furnish and their two young sons, as well as global health leaders including Peter Sands, Executive Director of the Global Fund to Fight AIDS, Tuberculosis and Malaria, and Lelio Marmora, Executive Director of Unitaid.

Elton urged world leaders to commit to the replenishment of the Global Fund. Following Elton and President Macron's call to arms from the Élysée, Then UK Prime Minister Theresa May and International Development Secretary Rory Stewart announced that the UK would contribute £1.4 billion to Global Fund replenishment. This represents a very substantial increase and will have a positive impact on countless lives.

SMOKEY ROBINSON taught patients at St. Jude's Hospital in Memphis to sing Get Ready as he helped a new fund raising campaign for the famed children's hospital started by the late entertainer Danny Thomas. Robinson is featured in a new video that captures special, and sometimes comical moments as the Grammy Award winner interacts and performs with the patients.

The visit was part of Robinson's participation in the Music Gives to St. Jude Kids initiative, which inspires bands, their fans, and the music industry to raise funds and awareness for St. Jude Children's Research Hospital and Robinson's steadfast support to raise awareness for the St. Jude mission: Finding cures. Saving children.

Launched in 2011, Music Gives for St. Jude Kids is led by musician, Jason Thomas Gordon, grandson of hospital founder. The initiative is a core component of a major music industry partnership started by Danny more than 50 years ago, when he first opened the doors to the hospital. Support from musicians, the industry and fans has since helped raise hundreds of millions of dollars in funding to support St. Jude.



BROADWAY STARS, GRAMMY WINNERS JOIN MENTOR TEAM FOR SONGBOOK ACADEMY
Laura Osnes joins Michael Feinstein at the Songbook Academy. Photo: Great American Songbook Foundation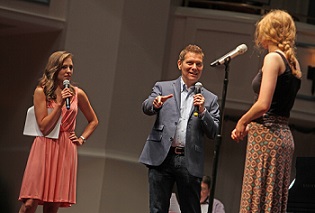 Singer-songwriter Melissa Manchester and Broadway stars Laura Osnes and Michael McElroy will join Michael Feinstein as professional mentors at this year's Songbook Academy summer intensive, the nation's only youth music program focused on the timeless standards of jazz, pop, Broadway and Hollywood. In the 10th year of the Great American Songbook Foundation's flagship education program, 40 top high school vocalists from 16 states coast to coast will spend the week of July 13-20 at the Foundation's home, the campus of the Center for the Performing Arts. In classes, workshops and rehearsals led by professional mentors, music directors and vocal coaches, they will learn music history as well as performance technique and song selection and interpretation, all in preparation for the Songbook Academy Finals concert, where they will compete for titles and opportunities to perform at prestigious venues across the nation.

This year's mentors are: Michael Feinstein, five-time Grammy Award nominee and founder of the Great American Songbook Foundation who also emcees the week's public performances.

Melissa Manchester, actress and Grammy-winning singer-songwriter known for such hits as Midnight Blue - Don't Cry Out Loud and Through The Eyes Of Love.

Michael McElroy, Tony-nominated performer, composer and arranger whose Broadway resume includes roles in Sunday in the Park with George, Rent, Big River and Miss Saigon.

Sylvia McNair, two-time Grammy-winning vocalist whose globe-trotting career spans the worlds of opera, oratorio, cabaret and musical theater.

Laura Osnes, Tony-nominated star of Broadway shows including Grease, Bonnie and Clyde, Rodgers + Hammerstein's Cinderella and the Tony-winning Bandstand.

Nat Zegree, New York-based pianist, composer, music director, actor and son of the late Indiana University music Professor Stephen Zegree.

Before a live audience, 10 randomly selected participants perform and undergo critiques from Michael Feinstein and Laura Osnes takes place on Wednesday, July 17. Songbook Showcases is on Thursday, July 18. All 40 national finalists perform solo, with 10 chosen by judges to compete for awards at the Saturday finals. Michael Feinstein hosts as all 40 singers perform, and the Top 10 compete for awards before a panel of judges including Manchester, McElroy, McNair and Zegree.

The mission of the Great American Songbook Foundation, founded in 2007 by five-time Grammy Award nominee Michael Feinstein, is to inspire and educate by celebrating the Great American Songbook – the timeless standards of pop, jazz, Broadway and Hollywood. Headquartered at the Center for the Performing Arts in Carmel, Indiana, the Foundation advances this rich legacy by curating physical artifacts of its creators, performers and publishers; operating a multimedia exhibit gallery; overseeing the Songbook Hall of Fame; offering programs for the public and research opportunities for scholars and artists; and providing educational opportunities for student musicians, including the annual Songbook Academy summer intensive. The Foundation is a Cultural Affiliate of the Los Angeles-based Grammy Museum.


SPREADING THE WORD


TO KILL A MOCKINGBIRD will welcome two-time Golden Globe Award winning actor Ed Harris to the cast on November 5 when he replaces Jeff Daniels in his Tony Award-nominated role of Atticus Finch in Aaron Sorkin's acclaimed adaptation of Harper Lee's classic 1960 novel. Harris' return to Broadway is after an absence of 23 years.

THE LATIN RECORDING ACADEMY in association with the Latin Alternative Music Conference, will stage a joint concert featuring Latin Grammy winners ChocQuibTown; three-time Latin Grammy winner Vicente García; emerging artist Guaynaa; and Latin Grammy nominee Macaco as part of their 20th anniversary celebrations. The concert will take place on Saturday, July 13 from 2–7 p.m. at SummerStage, Central Park in New York City.

Tomas Cookman, founder of the The Latin Alternative Music Conference (LAMC) says, "We've had the pleasure of being supporters and friends of the Latin Grammy for these past two decades, and we thought it was fitting to celebrate both of our milestone 20th anniversaries together at the LAMC's big, free show at SummerStage, Central Park. The show's lineup is a testament to the diverse sounds in Latin music and to the crossroads where the LAMC's efforts to promote and nurture left-of-center genres of Latin music meets the Latin Grammy celebration of Latin music in all its shapes, forms, and sounds. And what better way to celebrate que un verano en Nueva York!"

The concert is one of many Latin Academy events scheduled ahead of the 20th Annual Latin GRAMMY Awards. The Biggest Night in Latin Music® will air Thursday, November 14, live on the Univision Network from the MGM Grand Garden Arena in Las Vegas.

The Latin Alternative Music Conference (LAMC) returns for the 20th time to New York City this summer from July 9–13, boasting dynamic panels, powerhouse showcases, and a wide range of events. With past conferences averaging more than 1,250 music industry attendees and 25,000 concert fans each year, this LAMC promises to be yet another exciting year.

HISTORY ON FOOT INVESTIGATION: DETECTIVE MCDEVITT Looking for a unique activity this summer? Join Detective James McDevitt as he revisits the sites and reexamines the clues from the investigation into the Lincoln Assassination Conspiracy. This unique walking tour is led by a costumed actor and covers 1.5 miles in downtown Washington, D.C. Participants become deputies, discovering clues that aid McDevitt's investigation into the assassination co-conspirators and the events of April 14, 1865.

Presented through October by Ford's Theatre.

DID YOU KNOW THAT fashion is the second most polluting industry in the world.

BUYING VODKA BUY THE CASE a cleaning tip which has been used for hundreds of years. Vodka spray is still used today in theatres to clean costumes that cannot be wet or dry cleaned easily and so that they stay fresh between shows or when shared by actors.

JULY 7 is National Strawberry Sundae Day and National Macaroni Day. July 8 celebrates National Chocolate with Almonds Day. July 9 is National Sugar Cookie Day. July 10 honors National Pina Colada Day and 'Pick Blueberries' Day. July 11 is National Blueberry Muffin Day and National Mojito Day. July 12 is National Pecan Pie Day while July 13 is National French Fry Day.



E-Book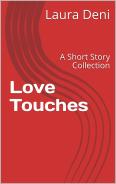 Soft back Book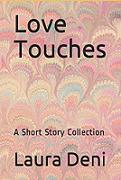 STEVEN SONDHEIM is to have a West End theatre named after him. The Queens Theatre is slated to close on July 13 for renovations. When it reopens on December 18, 2019 it will be rechristened to honor the award-winning composer who turns 90 next March. The move will make Sondheim the only living artist to have a theatre named in his honor on both Broadway and in the West End.

Regarding having a theatre on the West End named after him Sondheim said: "I have loved British Theatre since I saw my first play here in 1958. I have treasured Cameron Mackintosh's support and friendship ever since he produced Side by Side by Sondheim in 1976. Cameron is synonymous with British Theatre, so the confluence on this occasion is truly exhilarating. I am chuffed, as you say in British English, to a degree I wouldn't have imagined. Or as we say in American English, it's awesome." Theatre owner Cameron Mackintosh stated: "For the past 25 years I have tried to build a studio theatre in central London named after Sondheim, but it wasn't to be. I felt this major refurbishment of a building that has housed his brilliant work was the perfect moment to put his name 'on some marquee all twinkling lights - a spark to pierce the dark'. Stephen Sondheim has always been that spark to all of us."

BRUCE LABADIE Artistic Director of the San Jose Jazz has been honored as San Jose's 2019 Cornerstone of the Arts, the city's highest honor for those in the Arts field. "Bruce was chosen for his more than three decades of work bringing live music to the people of San Jose and for his priceless contributions to our cultural life, including the founding and nurturing of Summer Fest."

He directed all programs at the Mountain Winery in Saratoga for 18 years, and has served as the performing arts director at the Montalvo Arts Center, in Saratoga, Calif., for 12 years. As the founder, artistic and festival director of the San Jose Jazz Festival, now the San Jose Jazz Summer Fest, since 1990, and San Jose Jazz Winter Fest, Labadie programs over 120 concerts annually for San Jose Jazz. He is currently programming consultant for the Musco Center at Chapman University in Orange, Calif., and the California Center for the Arts in Escondido, Calif. He also served as artistic director for San Jose's Music in the Park and Music in the Other Park summer series for 22 years, was producer for San Jose's 01SJ Festival of art and technology, is artistic director of the Jazz on the Plazz, and Music in the Park series in Los Gatos, and has been director of the Redwood City Salsa Festival and Cultural Concerts, and immediate past president of California Presenters. He has produced most of the major festivals in San Jose including the San Jose Mariachi Festival, the San Jose America Festival, Brew Ha Ha and many others. He graduated with a Bachelor of Sciences degree from Santa Clara University in 1972.



THE UNMANAGEABLE SISTERS Deirdre Kinahan's new version of Michel Tremblay's fêted Quebecois comedy, Les Belles-Soeurs.

Directed by Graham McLaren.

Green Shield stamps, a million of them, and Ger Lawless has won them all.

It's Ballymun in 1974 and happiness is at her fingertips.

But when 15 friends and family gather to help her claim her winnings, all bets are off!

Rose O'Brien: Karen Ardiff - Gabby Joyce: Clare Barrett - Lilly de Courcey: Charlotte Bradley - Olive Doyle: Noelle Brown - Angie Smith: Catherine Byrne - Ruthie Barrett: Rachael Dowling - Patsy Guerin: Lisa Lambe - Janet Mooney: Sarah Madigan - Marie Boyle: Deirdre Molloy - Linda Lawless: Clare Monnelly - Teresa Doyle: Helen Norton - Yvonne Long: Mary O'Driscoll - Ger Lawless: Marion O'Dwyer - Dolly Snow: Rynagh O'Grady - Lisa Pearse: Caoimhe O'Malley --Additional Voices: Owen Roe.

Set Designer: Colin Richmond - Costume Designer: Joan O'Clery - Lighting Designer: Sinéad McKenna - Sound Designer: Carl Kennedy - Movement Coordinator: Eddie Kay - Hair and Make up: Val Sherlock - Voice Director: Andrea Ainsworth - Associate Sound Designer: Derek Conaghy - Casting: Maureen Hughes and Sarah Jones.

Running until August 3 at The Abbey Theatre in Dublin, Ireland.

THE PLAY THAT GOES WRONG Written by Henry Lewis Jonathan Sayer and Henry Shields.

Directed by Mark Bell.

What would happen if Sherlock Holmes and Monty Python had an illegitimate Broadway baby? You'd get The Play That Goes Wrong, Broadway and London's hilarious, award-winning smash comedy. This classic murder mystery is chock-full of mishaps and madcap mania. With an unconscious leading lady, a corpse that can't play dead, and actors who trip over everything including their lines.

Featuring Scott Cote Peyton Crim, Brandon J. Ellis, Angela Grovey, Ned Noyes, Jamie Ann Romero, Evan Alexander Smith, Yaegel T. Welch, Blair Baker, Jacqueline Jarrold, Sid Solomon and Michael Thatcher.

Set Design Nigel Hook. Lighting Design Ric Mountjoy. Costume Design Roberto Surace. Sound Design Andy Johnson.

July 9 - August 11, 2019 t the Ahmanson in Los Angeles.

ROALD DAHL'S CHARLIE AND THE CHOCOLATE FACTORY by David Greig, adapted from the popular Roald Dahl novel of the same name. Music by Grammy, Emmy, and Tony winner Marc Shaiman, lyrics by Grammy and Tony winners Scott Wittman and Shaiman. Additional songs by Leslie Bricusse and Anthony Newley from the 1971 Warner Bros. motion picture.

Directed by three-time Tony Award winner Jack O'Brien.

Choreography by Tony nominee and Emmy winner Joshua Bergasse.

Willy Wonka is opening his marvelous and mysterious chocolate factory...to a lucky few. That includes Charlie Bucket, whose bland life is about to burst with color and confection beyond his wildest dreams. He and four other golden ticket winners will embark on a mesmerizing joyride through a world of pure imagination. Now's your chance to experience the wonders of Wonka like never before – get ready for Oompa-Loompas, incredible inventions, the great glass elevator, and more, more, more at this everlasting showstopper.

The perfect recipe for a delectable treat: songs from the original film, including Pure Imagination: The Candy Man and I've Got a Golden Ticket, alongside a toe-tapping and ear-tickling new score. Get ready for Oompa-Loompas, incredible inventions, the great glass elevator, and more, more, more at this everlasting showstopper.

Starring Noah Weisberg as Willy Wonka.

Sharing the role of Charlie will be Henry Boshart, Collin Jeffery, and Rueby Wood.

The production also features scenic and costume design by Mark Thompson, lighting design by Japhy Weideman, sound design by Andrew Keister, puppet design by Basil Twist, projection design by Jeff Sugg, orchestrations by Doug Besterman, and music direction and supervision by Nicholas Skilbeck. Casting is by Telsey & Co.

July 9-28, 2019 at the Denver Performing Arts Complex in Denver, Colorado.

THE BAND'S VISIT Original Score by David Yazbek, Book by Itamar Moses.

Directed by David Cromer.

After a mix-up at the border, an Egyptian Police Band is sent to a remote village in the middle of the Israeli desert. With no bus until morning and no hotel in sight, these unlikely travelers are taken in by the locals. Under the spell of the desert sky, their lives become intertwined in the most unexpected ways. The Band's visit celebrates the deeply human ways music, longing, and laughter can connect us all.

The creative team includes Patrick McCollum (Choreography), Scott Pask (Set Design), Sarah Laux (Costume Design), Tony Award winner Tyler Micoleau (Lighting Design), Tony Award winner Kai Harada (Sound Design), Maya Ciarrocchi (Projection Design), Charles G. LaPointe (Hair Designer), Tony Award winner Jamshied Sharifi (Orchestrations), Andrea Grody (Music Supervisor, Music Director & Additional Arrangements), and Dean Sharenow (Music Supervisor & Music Coordinator).

Winner of 10 Tony Awards, The Band's Visit continues its national tour with performances July 9 - August 4, 2019 at the Eisenhower Theater at The Kennedy Center in Washington, DC.

DISNEY'S FREAKY FRIDAY a new book by Bridget Carpenter ( and a pop/rock score by Tony Award and Pulitzer Prize-winners Tom Kitt and Brian Yorkey.

Directed by Gabriel Barre.

Choreographer: Jennifer Paulson Lee.

The madcap body swap musical comedy about a mother and daughter who magically spend a day in each other's shoes. Katherine and Ellie face a variety of challenges trying to get through the day as each other and ultimately learn a lot about what life is really like on the other side of the generation gap. A beloved classic story which has s been given a contemporary fairy tale spin.

July 9 – July 21, 2019 at North Shore Musical Theatre in Beverly, MA.

MY WAY A Musical Tribute to Frank Sinatra created by David Grapes and Todd Olson. Book by Todd Olsen.

My Way relives the legendary career of Frank Sinatra as four actors share more than 50 of his beloved hits that span the breadth of his career from the 1950s to the 1990s. Performing songs that include Fly Me to the Moon; Chicago; New York, New York, and That's Life are four professional performers straight from the stages of New York City.

July 12 - 14, 17 - 21 and 23 - 28, 2019 at the Warehouse Theater Academy Center of the Arts in Lynchburg, Virginia.



E-Book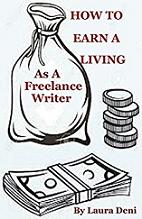 Soft back Book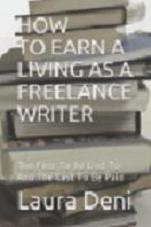 This is not your typical, totally boring textbook.

In the pages of How To Earn A Living As A Freelance Writer (the first to be lied to and the last to be paid) you'll find sex, celebrities, violence, threats, unethical editors, scummy managers and lawyers, treacherous press agents, sex discrimination; as well as a how-to for earning money by writing down words.





WHO'S WHERE




JON BON JOVI performing July 10 at Letzigrund in Zurich, Switzerland. On July 12 the show is at PGE Norodowy in Zurich, witzerland. On July 14 they're on stage at the Werchter Classic in Belgium.

AEROSMITH wraps up their current gig at the Park Theater, Park MGM Las Vegas with shows Tuesday , July 9 2019.

QUEEN kicks off their 23-date North America 'Rhapsody' tour with Adam Lambert on lead vocals July 10 in Vancouver, British Columbia at the Rogers Arena. On July 12 the performance is in Tacoma, Washington at the Tacoma Dome. On July 14 the gig is in San Jose, Calif. at the SAP Center.

HUGH JACKMAN backed by an orchestra and dancers in a production which showcasing material from his roles on both screen and stage performs Wednesday, July 10 in Denver, CO at the Pepsi Center. Thursday's stop is in Salt Lake City, UT at the Vivint Smart Home Arena. Saturday's gig is in Las Vegas, NV at the MGM Grand Garden Arena. Next Sunday, July 14 he can be enjoyed at the Gila River Arena in Glendale, Arizona.

JOHN FOGERTY the frontman of the legendary band Creedence Clearwater Revival (CCR), will perform at the Royal Arena in Copenhagen, Denmark on July 11 as part of his 50-year anniversary tour. It's his first trip to Copenhagen since 2010.

WEIRD AL YANKOVICon his String Attached - The 2019 Tour stops July 8 in Toronto, ON for a show at Budweiser Stage. Thursday, July 11, the performance is in Syracuse, NY at the Landmark Theatre. Friday's show is in Philadelphia, PA at Metropolitan Opera House. On July 13 the show can be enjoyed in Cary, NC at Koka Booth Amphitheatre. July 14 finds them in Charlotte, NC at Charlotte Metro Credit Union Amphitheatre.


FINAL OVATION


SID RAMIN Academy Award, Daytime Emmy and Grammy winning orchestrator, arranger, and composer died July 1, 2019 at his New York City home. He was 100.

His first Broadway credit was in 1953 with Wonderful Town. 18 shows later- including Gypsy and Jerome Robbins' Broadway - his last Broadway productions were 1992's Crazy for You and The Red Shoes the following year.

He won a 1983 Daytime Emmy for music for TV's All My Children.

Ramin married Gloria Breit, a singer and model, on January 9, 1949. They had one son, Ronald "Ron" Ramin, who also works as a television and film composer. He is also survived daughter-in-law Cathryn, an author; and grandsons Avery and Oliver.

Neil Portnow President/CEO of the Recording Academy issued the following statement: "Sid Ramin was a versatile figure in the entertainment industry who achieved notable success as an orchestrator, arranger, and composer. Having launched his career in television arranging for the variety show "Texaco Star Theatre," Ramin's career continued to evolve leading to successful crossover into the live theater and film industries. In 1961, Ramin earned a Grammy in the Best Sound Track Album Or Recording Of Original Cast From Motion Picture Or Television for West Side Story at the 4th Grammy Awards. He will be remembered as a multitalented musician who made significant contributions to our creative community. We are thinking of his loved ones during this difficult time."


















Next Column: July 14, 2019
Copyright: July 7, 2019 All Rights Reserved. Reviews, Interviews, Commentary, Photographs or Graphics from any Broadway To Vegas (TM) columns may not be published, broadcast, rewritten, utilized as leads, or used in any manner without permission, compensation and/or credit.
Link to Main Page
---
Laura Deni



For the snail mail address, please E-mail your request.
CLICK HERE FOR COMMENT SECTION