! >
Broadway To Vegas
  
  REVIEWS INTERVIEWS COMMENTARY NEWS

| | |
| --- | --- |
| | |
HAPGOOD STARS KATE BURTON - -MIMI HINES CELEBRATES 80th BIRTHDAY - - ELTON JOHN PERFORMS IN HYDE PARK - - MURDER FOR TWO - - CHILDREN NEEDED FOR THE KING AND I - - THE 4th ANNUAL TWENTYWONDER - - KITTY WELLS: LIONFISH - - CELEBRATING THE ROYAL WARRANTS AN OUTDOOR SWAP MEET FOR THE UPPER CRUST - - DONATE . . . Scroll Down


Copyright: July 7, 2013
By: Laura Deni
CLICK HERE FOR COMMENT SECTION

CELEBRATING THE ROYAL WARRANTS AND THE ROYAL WARDROBE


A 400 seat raised catwalk surrounded by a bed of flowers in the Buckingham Palace Gardens will be the location for a series of unique fashion shows at the Coronation Festival. Using themes of Vintage Picnic, Reinvention, Best of British and the elegant Diamonds & Pearls which is a red carpet fashion show, from a 'day at the races' to a 'masquerade ball'. Each garment will be made top to toe, complete with accessories, from Royal Warrant holder products including items from Stewart Parvin, Lock & Co, Lock Couture by Sylvia Fletcher, Mappin and Webb, Veritas, John Lewis / Peter Jones, DAKS, House of Fraser and Launer London Ltd.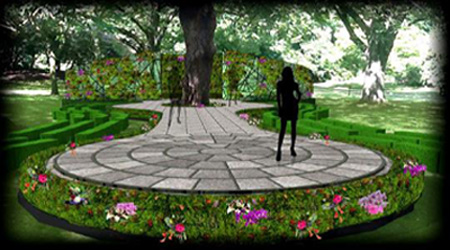 An outdoor swap meet for the upper crust.

From July 11-14 the Gardens at Buckingham Palace will be the venue for a one-off event celebrating tradition, innovation and excellence, showcasing the goods of over 200 companies who hold the prized Royal Warrants of Appointment.

You don't have to be a British Blue Blood to attend. The Festival is open the public.

Being able to attach a royal warrant to your product is a big deal - both for the ego and the pocketbook. It means the royals have approved.

Royal Warrants are a mark of recognition to individuals or companies who have supplied goods or services for at least five years to the Households of HM The Queen, HRH The Duke of Edinburgh, that's Prince Philip or HRH The Prince of Wales aka Prince Charles.

Warrant Holders may display the relevant Royal Arms with the words 'By Appointment' on their product, stationery, buildings, vehicles, advertising and packaging.

At present 800 companies hold Royal Warrants of Appointment. They represent the widest cross-section of British trade and industry from traditional crafts to large firms equipped with the latest cutting-edge technology. Always regarded as demonstrating excellence and quality, some Royal Warrants date back more than 200 years.

If you haven't shopped till you drop during the day you can always get cleaned up and return for the Evening Gala.

The Coronation Gala will take place on the evenings of July 12 and 13 when the Gardens, with Buckingham Palace as the back-drop, will be the setting for a spectacular Gala celebrating cultural life during the reign of Queen Elizabeth II, showcasing music and dance from the past 60 years.

Those performing at the Gala "will represent some of the finest young talent in the UK and the Commonwealth, featuring singers, dancers and entertainers from a wide range of disciplines. Something for everyone!"

Then there are those royal dresses.

Down the road apiece (2.57 miles) from Buckingham Palace is Kensington Palace. There you'll find workmen frantically trying to get Princess Margaret's old apartment brought up to code, refurbished and redecorated so that Prince William, Kate and their brood can move in and call it home.

For the next two years Fashion Rules, an exhibit which opened on July 4th, permits visitors to view the fashion trendsettting styles of the royals. Duchess Kate and her sister-in-law Countess Sophie aren't the only ones who have displayed fashion prowess.

Queen Elizabeth II, her younger sister, the fun loving party princess, Margaret, and the glamorous Princess Diana all have made fashion history.

This exhibition provides a feast for the eyes and a nostalgic glance back at recent decades. Nipped-in waist in the 50s. Diaphanous fabrics and short hemlines in the 60s and 70s. Sparkles and shoulder pads in the 80s. These are the fashion rules we all dressed by - even members of the Royal Family.



London designer Murray Arbeid created this evening dress for Princess Diana with the drama and glamour of Milan and Paris courture. Photo: Historic Royal Palaces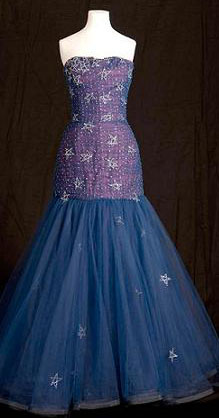 Starting with the young Queen Elizabeth in the 50s, an exquisite strapless peach silk Norman Hartnell gown from the early 1950s, on display for the first time in over 15 years, typifies the post-war look with its full skirt and sweetheart neckline. The narrower skirt of a later 1961 Hartnell gown shows the Queen's style changing to adopt the rules of a new decade and is fashioned in the colors of the Pakistani flag, the country where it was first worn. When she visited Canada she sported a dress embroidered with mayflowers, the provincial flower of Nova Scotia. The Queen has always used her wardrobe to show respect for the country she was visiting. ( See Broadway To Vegas column of July 19, 2009 )

The full-length gowns worn by the queen when she was in her 30s, featured a feminine nipped-in waist and were designed in pale creamy shades of peach, cream or grey - royal designers preferred light-colored clothes because they show up better in a large crowd and on black and white television.

The wardrobe of Princess Margaret reflected the rule breaking of a more liberal era as well as Margaret's vivacious personality.

Her parties at Kensington Palace are legendary. The princess, who died in 2002, was a trendsetter in the Swinging London scene of the 1960s and '70s.

From the bold jewel-like colors of her more formal dresses, such as the never before displayed Dior gown worn for the Queen's Silver Jubilee celebrations, to her more informal wear, including a stunning full length kaftan of ivory sari silk worn, designed by Carl Toms and worn by Princess Margaret on holiday in Mustique in the 1970s, Margaret frequently collaborated with Marc Bohan, then creative director at Christian Dior.

On display is a Dior fur coat and a glam jeweled ball gown with a halter-neckline which she wore in 1951 to a film premier. The creation has been called "more Marilyn Monroe than monarchy". Apparently Margaret wore it several times or had a long night dancing the night away, because perspiration required that the area under the arms had to be repaired.

Among the outfits worn by Margaret on show was a dramatic long kaftan and turban set, reflecting the "ethnic dressing" trend of the '70s, worn at a party on the Caribbean island of Mustique in 1976.

A final room featured five dresses worn by Diana that showcased her "Dynasty Di" days: All big padded shoulders, dropped waist, lots of sparkles and high drama. There is that blue velvet sequined dress with a flirty, flouncy skirt and an oversized bow. Some call it 'tacky', while others use it as a comparison to a sleeker white one-shouldered column gown that showed how Diana progressed toward a more sophisticated look in the 1990s.

A highlight of the exhibit is the midnight blue strapless gown with a theatrical fish-tail skirt of multiple layers of tulle, that Princess Diana debuted at Claridges Hotel in 1986. She obviously loved the dress as she wore it on several other occasions right up until the year she died, 1997.



Broadway To Vegas is supported through advertising and donations. Priority consideration is given to interview suggestions, news, press releases, etc from paid supporters. However, no paid supporters control, alter, edit, or in any way manipulate the content of this site. Your donation is appreciated. We accept PAYPAL. Thank you for your interest.


ART AND ABOUT


KITTY WALES: LIONFISH

Kitty Wales, Lionfish sculpture in progress, 2012, welded steel and heavy paper. Photo credit: Kathryn Osgood, 2012.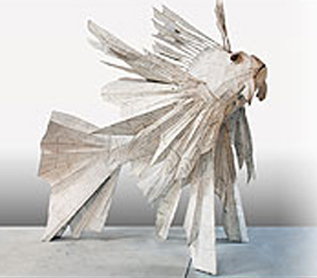 Fascinated by the anatomy and movement of living creatures, Kitty Wales creates sculpture and installation art based on her direct observations of animals.

She has traveled to the Scottish Hebrides to study wild goats, the Spanish Pyrenees to observe bearded vultures, and the Caribbean to document reef sharks in their underwater habitat.

As part of a collaboration between the Lyman Allyn Art Museum and the Mystic Aquarium, Wales visited the Aquarium to observe their collection of marine life, taking photographs and preparing sketches that would later fuel her creations in the studio.

Inspired by the textural, feathery forms of the lionfish, Wales then set to work envisioning a site-specific installation intended for the Lyman Allyn.

Three larger-than-life lionfish sculptures constructed of welded steel, heavy paper, and recycled pencils will transform the gallery into a "deep-sea" environment for visitors of all ages.

Based in Massachusetts, Kitty Wales has worked on many site-specific installations at museums throughout New England and elsewhere, including DeCordova Sculpture Park and Museum, Lincoln, MA; the Fuller Craft Museum, Brockton, MA; the Currier Museum of Art, Manchester, NH; and the Fort Lauderdale Museum, FL.

On display July 2013-December 2013 at the Lyman Allyn Art Museum in New London, CT.


SWEET CHARITY


THE 4th ANNUAL TWENTYWONDER A Carnival of the Mind, presented by Down Syndrome Association of Los Angeles (DSALA) returns to the Doll Factory on Saturday, July 13, 2013.

The famed L.A. Derby Dolls, for the third year in a row, will host the fundraiser.

The evening features a bursting expo of art, science, music and comedy, plus an all-star roller derby bout featuring the L.A. Derby Dolls vs. the San Diego Derby Dolls. Proceeds will benefit DSALA's efforts to support those born with Trisomy 21/Down syndrome living in greater Los Angeles.

The 4th Annual TwentyWonder event will feature performances and attractions by:

L.A. Derby Dolls vs. San Diego Derby Dolls, Lucha VaVOOM, Artist Tim Biskup & The Ego Killers, The Lampshades: Kate Flannery who plays the role of Meredith Palmer on the NBC hit series The Office, Magician Mac King who headlines his own Las Vegas show at Harrah's, Vaud And The Villians, Cinefamily, David Koechner, Physics Of Nascar's Diandra Leslie-Pelecky and others.

Last year's sold-out event raised over $100,000 with the proceeds helping to support DSALA's various programs offered to nearly 4,200 individuals with Down syndrome living in Los Angeles. With the monies raised last year, the DSALA was able to reach into new neighborhoods of Los Angeles providing support for those families living with Down syndrome/Trisomy 21; fund programs including basketball camps in El Segundo and Koreatown, yoga for teens and newborns, Born-to-Act Players junior division, partner with UCLA's medical research projects and a variety of seminars from genetics to reading workshops to conservatorship; and serve as a stronger hub for Down syndrome awareness in the greater Los Angeles area.

AMANDA SELWYN DANCE THEATRE presents Green Afternon II a Performance and Installation at the Home of Architects Marcia Previti and Peter Gumpel, East Hampton, NY on July 13, 2013.

The evening begins with cocktails, hors d'oeuvres, and several outdoor sitting rooms featuring performance installations. A more formal performance then takes place followed by a reception.

Amanda Selwyn will be presenting an excerpt of her newest work It's a Game, which will bring a chess game to life through character, movement, line, pattern, relationship, and human drama.

Inspired by the work of Alexander McQueen and the magic of Harry Potter, the piece will create a moving fantasy of power dynamics, competition, and strategy. With Selwyn's fresh and vibrant movement language of extended limbs, physical risk, athleticism, gesture, energy, release, touch, and balance, she will activate emotional expression and offer many in-roads for audiences to make meaning for themselves.

Dancers performing are: Sarah Buscaino, Jenny Gillan, Victor Larue, Emily Pacilio, Torrey McAnena, and Randall Smith.

A VERY WOOLLY BIRTHDAY BASH with an open bar, dessert and birthday fun featuring the cast of The Second City in their America All Better revue, takes place Saturday, July 13, at the Woolly Mammoth Theatre in Washington, DC.


TRAGIC DEATH OF LAS VEGAS CIRQUE PERFORMER INVESTIGATED BY OSHA
Sarah Guyard-Guillot playing with her two children. Photo Facebook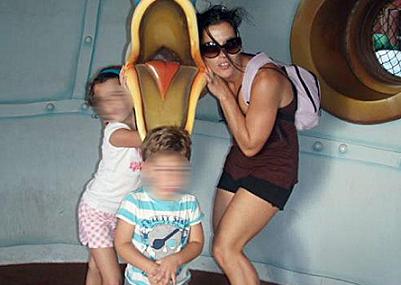 The tragic death of Sarah (Sassoon) Guyard-Guillot, an artist in the Cirque du Soleil Las Vegas spectacle, Ka has been ruled an accident.

The Cirque organization immediately ordered an indefinite shut down and OSHA is investigating.

OSHA officials indicated that no updates or progress reports on the investigation will be issued prior to the final report, which could take up to six months. During the investiation, it is expected that the scene in which the death occurred will be removed from the show. A decision when to resume the production is expected this week.

The Cirque du Soleil company is currently working with the appropriate authorities and is offering full cooperation.

Contrary  to published reports that the "harness apparently slipped free from its safety wire, causing her to fall into a pit" the acrobat did not slip out of her safety wire and she was still attached to the harness during the fall.

A major priority for OSHA is investigating any fatality. This isn't the first time OSHA has examined the death of a performer.

One of the most unusual performing arts deaths investigated by OSHA was the January 2013 death of a lap dancer. Lauren Block, a 22-year-old exotic dancer died Jan. 9 of injuries she suffered several days earlier while working at Christie's Cabaret in Cleveland.

Police determined that Block was critically injured when she fell head first over a railing at the club while performing a move in her lap dance routine being performed on a New Jersey man.  Authorities ruled the incident accidental.

There have been numerous accidents in Cirque du  Soleil productions:

  Three days before the Ka fatality, a performer in the new  Las Vegas Michael Jackson Cirque show at Mandalay Bay. The acrobat slipped through the slack rope during a preview performance and suffered a concussion. He is expected to be able to return to the show.

Two artists in Zumanity at New York-New York were seriously injured in an onstage fall in November 2007.

A 2009 death of Cirque artist Oleksandr Zhurov, 24, occurred after he fell off a trampoline during training in Montreal and suffered head trauma.

Guyard-Guillot's tragic death was the first on stage performance casualty in the acrobatic show's 30-year history - sending shock waves throughout the Cirque Empire.

Guyard-Guillot had been a performer in Ka since it opened in 2006.   All Cirque shows are dramatic and intricate, but this show has an extra edge of violence.  The stage is moved into different positions throughout the show by a massive gantry arm, which swings a performance area into a near vertical position. Performers also rappel along the wall while suspended on wires nearly 120 feet in the air.   Each performer wears a harness attached at the waistline to the back of the costume, equipped with hand controls to help steer their guide wires.

On the Cirque website the following safety information is posted:

"There are more than 160 harnesses for the artists, comprised of 21 different types. Each harness is hand-fitted to the individual artist and is inspected weekly, daily, before and during each show.

Acrobatic safety nets are used for artists falling less than 20 feet. For falls over 20 feet, air bags are used in addition to the safety nets.

There are a total of 18 winches used to pull two safety nets into the many different configurations needed for the show. Each winch rope (5/8-inch diameter) has a tensile strength of over 30,000 pounds."

She fell during the final scene called the Final Battle, in which performers engage in a Battle Wall, staged approximately 70-feet high. She was performing as a tattooed spearman who would soar through the air while battling the protectors of the imperial twins.

Within a few second of the accident the music was cut off. Audience members reportedly sat in stunned silence.  Minutes later, an announcement asked the audience to leave and said refunds or vouchers to future shows would be issued.

Guyard-Guillot was transported to University Medical Center and pronounced dead at 11:43 p.m. Saturday, June 29, 2013.

The coroner ruled her death was the result of blunt force trauma.

She leaves behind her two children, an 8-year-old daughter and 5-year-old son.

Sarah Guyard-Guillot was born in Paris, France and began her circus career in childhood. She graduated from the Annie Fratellini Art & Circus Academy, where she specialized as an acrobat and aerialist. She worked as an acrobat and aerialist for 22 years. In 2006 she opened  a Las Vegas branch of Cirquefit. The program focuses on physical fitness blended with circus skills, which are lead by experienced cirque professionals.

Just hours before her death she participated in an end-of-session performance with her students at Cirquefit located at The Fit Labs.

Their website posted that due to "unforeseen circumstances, all current sessions, camps, etc., are canceled until further notice."

An official statement by Cirque du Soleil reads:

"The entire Cirque du Soleil family is deeply saddened by the accidental death of Sarah (Sassoon) Guyard. I wish to extend my sincerest sympathies to the family. We are all completely devastated with this news. Sassoon was an artist with the du Soleil tight family. We are reminded, with great humility and respect, how extraordinary our artists are each and every night. Our focus now is to support each other as a family."

The use of the word 'family' is not taken lightly by those in the Cirque organization.

Sarah's ex-husband is performer Mathieu Guyard now married to Kelly Tucker Guyard, who like Sarah and Mathieu performed in Ka.

Mathieu posted the following on their Facebook account:

"To each and every one of our friends:

Thank you, deeply and sincerely for all of your love and support. It is a very difficult time, and we are so blessed to have you in our lives. Please know that while we are not able to respond to all the messages and calls, we are feeling every ounce of your love. Considering the circumstances, the kids are doing well and have support from their friends too.

Our first priority is helping them to adjust and move forward at their own pace to a life without Sarah. Her family will be here soon and will be a big part of making the decisions for how to move forward and honor her best.

Thank you for understanding that we are not able to see everyone right now. Please know that we love you, we appreciate you, and we will be sure to let everyone know when arrangements for Sarah's memorial have been made.

"All that we need is exactly what you have given us, your love and support. However, we'd like to thank the members of our Cirque family that have set up this wonderful website to share memories, stay informed, make donations to benefit the kids and enhance their future in whichever way possible and celebrate Sarah.

With all our love and gratitude.

Mathieu and Kelly

 



SPREADING THE WORD


A BOOK ENDING in the Meg Ryan, Tom Hanks movie You've Got Mail, the book store, The Shop Around the Corner, was forced to close. A real life version is taking place in San Pedro, CA.

Williams' Book Store, which has been in business 104 years, considered the oldest book store in Los Angeles, is closing the cover.

According to published reports, the book store which "managed to survive two world wars, recessions and trendy chain bookstores with coffee bars. But ultimately, changing technology and the Internet looks like it will land the fatal blow. . . Popular discount bookstores like Crown landed another blow."

Just like the movie.

THE MALTZ JUPITER THEATRE in Jupiter, Florida will be holding an audition on Wednesday, July 17, for Asian looking children to appear in a professional production of The King and I March 18-April 6, 2014.

"Since most of the characters in the musical are Asian, we are committed to make sure the Maltz Jupiter Theater's professional production of The King and I is as authentic as possible," said Andrew Kato, the Theatre's producing artistic director. "We are delighted to be inviting local families to take part in one of the great theater classics of our time."

Youth auditions for The King and I (ages 5 to 16) will take place from 5 p.m. to 7 p.m. on Wednesday, July 17, at the Maltz Jupiter Theatre Paul and Sandra Goldner Conservatory of Performing Arts, located at the back side of the Theatre building. Participants will learn a dance routine and learn a song as part of the audition. Students are asked to wear dance clothing and dance shoes or sneakers (no sandals or open-toe shoes).

Mothers may also have an opportunity to be supplemental extras in the musical alongside their children.

ROD STEWART an avid model railroader informing the BBC that "every three years Model Railroader magazine puts me on their cover, which is better than Rolling Stone."

The disclosure came during the filming of a new BBC documentary about his career, called Can't Stop Me Now, which mixes archive footage and interviews with himself and his family.

MISTAKES IN PRESS AGENT RELEASES ARE ANNOYING They're paid to get it right. Time and time again a release will be received, followed up by another "correction" release, because the paid flak got a name misspelled, a date wrong or some other blunder. The "got it wrong" release usually has some trite phrase like "thanks for understanding," with a correction request for something they should have gotten right in the first place.

However, everyone is human - bound to oops. Comes the cutest and most clever "Whoops" e-mail every received.

The company is the Tony Award winning Williamstown Theatre Festival. The message is headlined "WHOOPS!" On the missive is a photograph of a young, good looking blonde, holding a fire extinguisher.

The message reads: "MEET ANNA. Anna accidentally just sent our pre-show reminder email to our whole email list, not just to the folks who are coming to tomorrow's performance. ANNA IS SORRY. Unless you have tickets to tomorrow's performance, PLEASE DISREGARD."

Anna sounds like she is a hard worker, who is good sport. Hope all of those who attended had a good time.

PRINCE CHARLES has already proved adept at being a television meterologist. Now, the heir to the throne has given a voice over audition earning him a job offer.

When Prince Charles and his wife Camilla, The Duchess of Cornwall visited the set of Doctor Who located at the BBC Wales' Roath Lock studios, the Prince of Wales tried his hand at being a sci-fi baddie by uttering the Daleks' famous "exterminate" catchphrase into a voice modulator. Writer Steven Moffat was impressed.

He said: "I haven't thought about how I could weave a meeting between the Doctor and the royal family. But Prince Charles's attempt at being a Dalek was great. There would be a part in the show for him if he wanted it."

The royal couple also met Matt Smith, who currently plays the Doctor but is stepping down, and Jenna Coleman, who plays his companion.

Last week's tour included the set of the Tardis, the Doctor's time travelling ship, as well as a display of some of the show's monsters, including a weeping angel and a cyberman. Nicholas Briggs, who voices the Daleks, demonstrated some of their famous catchphrases, while production staff showed how a green screen set is used to generate some of the program's special effects.

Doctor Who is celebrating its 50th anniversary this year.


OTHER PEOPLE'S MONEY


VANYA AND SONIA AND MASHA AND SPIKE the Best Play Tony Award winner has recouped its entire $2.75 million investment.

Directed by Nicholas Martin, the comedy stars Sigourney Weaver, David Hyde Pierce, Kristine Nielsen, Billy Magnussen, Shalita Grant, and Liesel Allen-Yeager. Weaver will play her final performance July 28, and Tony Award winner Julie White will assume the role of Masha beginning July 30.

The production recently extended its premiere Broadway engagement at the Golden Theatre for a second time and will now end August 25. Vanya and Sonia and Masha and Spike began previews March 5 and opened March 14, 2013.


HAPPY BIRTHDAY TO . . .


MIMI HINES who will celebrate her 80th birthday with a concert on Sunday, July 17, at 54 Below in New York City.

Hines made her Broadway debut when she replaced Barbra Streisand in Funny Girl, performing the lead role for 18 months.

Streisand and Hines never worked together, but they did meet.

Hines was a Las Vegas resident and attended Barbra's show at the MGM Grand, enjoying the show from a front row VIP seat. In a profound moment, these two funny girls arrived full circle when Barbra gave Mimi a special welcome from the stage. Introducing Mimi to the audience, applause erupted when Barbra informed her fans that Mimi was her replacement in Funny Girl.

Hines kept Funny Girl running on Broadway, quite successfully, until 1967. She gave nearly the same number of performances as Barbra. They are the only two women in history ever to star on Broadway in the musical, Funny Girl.

For decades the Canadian born Hines was a major Las Vegas headliner, starring with her partner and then husband, Phil Ford (he died in his sleep at the age of 85 in his Las Vegas home) whom she met when. they were working different nightclubs in Anchorage, Alaska.

The couple starred at the Flamingo, El Rancho, Desert Inn, Sahara, Riviera and Tropicana hotels.

Part of the Phil Ford and Mimi Hines Las Vegas show included Hines doing impersonations. Though they never actually worked together Mimi's impersonation of Streisand would garner laughter and standing ovations.

Over the years Hines has appeared on Broadway as Miss Lynch in the Tommy Tune production of Grease! and in the York Theatre Company's production of 70, Girls, 70, part of its Musicals in Mufti series, as well as the City Center Encores! production of Follies.

For her 54 Below concert she will be joined by music director Russ Kassoff.



PRESIDENT BARACK OBAMA will present 12 recipients with the prestigious National Medal of Arts during an East Room White House ceremony on Wednesday, July 10. The First Lady will also attend.

The recipients are being recognized for their cultural contributions.

The newly minted inductees are:

Star Wars director George Lucas, Herb Alpert, the co-founder of A&M Records and the Tijuana Brass; Playwright and screenwriter Tony Kushner; Comedienne/screenwriter Elaine May, Lin Arison, co-founder of the National Young Arts Foundation and the New World Symphony; Joan Myers Brown, the founder of the Philadelphia Dance Company; Opera singer Renée Fleming; Author Ernest Gaines.

Artist Ellsworth Kelly; Landscape architect Laurie Olin; Composer Allen Toussaint; The Washington Performing Arts Society will also be honored for "bringing world-class performances to our Nation's capital".

The National Medal for the Arts is this country's highest national award for artists and supporters of the arts. It's been awarded annually since 1985.



RIP a new musical about Jack The Ripper. Written and composed by Sonnie Beckett and Joe Morrow.

Directed by Hannah Kaye.

Whitechapel, 1888. The most infamous serial killer of all time has brutally murdered five women. Their mutilated bodies lie in a cold morgue ready for dissection and their souls remain in perpetual limbo as they witness their own post-mortems and desperately wait for justice to prevail.

Police surgeons, Dr Phillips and Dr Bond, guide theatergoers through this world of secrets, where no stone is left unturned.

According to the production company, "in recent years there have been many attempts to stage plays and musicals about The Ripper, but this new musical version is like none you have ever seen before.

Taken from the writings of the people who knew these women best,RIP will have you clinging to your seats all the way home."

Until July 21, 2013 Kings Head Theatre in London.

SOUTH PACIFIC by Rodgers and Hammerstein. Directed by Rob Ruggiero.

Choreography by Ralph Perkins and musical direction by Brad Haak.

As haunting and evocative as Bali Hai itself, this masterful and lyrical love story between Army nurse Nellie Forbush and the mysterious French planter, Emile deBecque won the 1949 Pulitzer Prize for drama. Filled with fantastic and familiar songs, this musical remains Rodger's and Hammerstein's most eloquent musical drama and their most deeply felt musical romance.

South Pacific returns to The Muny after last being produced in 2003. Performance dates are July 8-14 at The Muny in St. Louis, MO.

MURDER FOR TWO a musical comedy with book and music by Joe Kindsian, book and lyrics by Kellen Blair.

Directed by Scott Schwartz.

Mixing classic musical comedy with a dash of Agatha Christie, everyone is a suspect in this house of eccentric characters unfazed by the dead body on the floor. But this whodunit comes with a killer twist: one actor investigates the crime, the other plays all thirteen suspects, and they both play the piano! This madcap mystery promises to tickle the ivories and your funny bone.

Featuring Jeff Blumenkrantz and Brett Ryback.

Performances begin July 10, 2013 at the 2econd Stage Theatre in New York City.

THE PIRATES OF PENZANCE by Gilbert & Sullivan.

Long before Johnny Depp swaggered his way across the Caribbean, a band of swashbuckling (but tenderhearted) pirates set hearts aflutter with their high seas hijinks. This cheeky farce fairly explodes across the stage with damsels in distress, a sexy Pirate King, a delightfully dotty Major-General, and a score you will hum all the way home.

July 11-August 4, 2013 at the 5th Avenue Theatre in Seattle, WA.

SWEET CHARITY Book by Neil Simon. Music by Cy Coleman, Lyrics by Dorothy Fields. Conceived, Staged, Choreographed by Bob Fosse. Cape Playhouse Directed by Mark Martino and Choreographed by Shea Sullivan.

Sweet Charity, set in New York of the swinging '60s, is the story of Charity Hope Valentine - a dance hall girl with a heart of gold who is looking for love in all the wrong places. But it's her attitude towards life that makes her unique. As an incurable optimist, she knows, in her heart of hearts, that great things lie just ahead. Sweet Charity is a great recipe for fun: Take a generous helping of movement by Bob Fosse, add some clever writing by Neil Simon, stir in jazzy music by Cy Coleman, with tasty lyrics by Dorothy Fields, and, presto, you've got an enduring crowd-pleaser, a perfect entrée for an entertaining theater experience.

Featuring show-stopping production numbers including Big Spender, There's Gotta Be Something Better Than This, and If My Friends Could See Me Now. An ensemble of triple threat performers will act, sing and dance their way to your heart in this sizzling, enchanting show.

July 8 through July 20 at the Cape Playhouse at Dennis Village, MA.

FORTUNIO by Andre Messager, based on Alfred de Musset's comedy Le Chandelier.

Directed by Daniel Slater. Conducted by Toby Purser.

The cast includes:

Fortunio: Alex Vearey-Roberts as Fortunio, with Jacqueline played by Ilona Domnich, Maître André portrayed by Timothy Dawkins and Clavaroche played by Quirijn de Lang.

Designer - Francis O'Connor. Choreographer - Nick Winston. Lighting Design - Warren Letton.

Jacqueline, the beautiful young wife of a stuffy old lawyer is having an affair with the handsome soldier Clavaroche. In order to put her husband off the scent, she has been flirting in public with a boy Fortunio. He is the decoy, the "chandelier". Alas, Fortunio falls for Jacqueline.

A knotty situation is played out in a hilarious bedroom scene with Jacqueline having to hide her admirers from her husband. She pops one into the wardrobe and must find somewhere for the other... while her husband hammers on the door.

First performed Opéra-Comique at the Salle Favart, Paris on June 5,1907. Sung in French with surtitles. July 10-13 at the Grand Park Opera in Hampshire, England.

HAPGOOD by Tom Stoppard. Directed by Evan Yionoulis.

Starring Kate Burton.

Treacherous twins and double (or triple?) agents abound in a twisty-turny look at the unlikely interrelation of quantum physics and international espionage. Simultaneously channeling John le Carré, Albert Einstein, and Mel Brooks, Tom Stoppard's Cold-War thriller boasts equal shares of brains, guts, and sly humor. WTF mainstay Kate Burton takes on the tour-de-force title role, the brilliant but eccentric British intelligence chief working to expose a Soviet double agent while attempting to keep her personal life under wraps.

July 10 - 21, 2013 on the Nikos stage of the Williamstown Theatre Festival in Williamstown, MA.

YOUNG FRANKENSTEIN the hilarious musical comedy is a wickedly inspired re-imagining of the Frankenstein legend based on Mel Brooks' film masterpiece.

The story follows young Dr. Frankenstein (that's Fronkensteen) as he attempts to bring a corpse to life, but not without scary and hilarious complications.

A kooky cast of characters delivering all your favorite moments from the classic film - hunchback sidekick Igor (that's Eye-gor),the curvaceous lab assistant Inga, the stern housekeeper Frau Blucher, madcap fiancé Elizabeth and of course, the tap dancing monster.

The Broadway production completely recreated with the Tony nominated sets by Robin Wagner and the William Ivey Long original costumes. With eye-popping special effects on all new show-stopping numbers including, The Transylvania Mania, He Vas My Boyfriend and Puttin' On The Ritz, you'll have a monstrously good time!

July 10 – July 27 at the Ogunquit Playhouse in Ogunquit, Maine.

THE BOOK OF MORMON whose ticket sales for this mounting twice crashed the phone lines and their website opens July 9 with performances through August 18 at the Opera House, Kennedy Center in Washington, DC.

Created by Trey Parker, Matt Stone and Robert Lopez.

A sensational, not to be missed musical, provided you are an adult. The production has an extremely explicit vocabulary.

THE RAINMAKER by N. Richard Nash. Directed by Maria Mileaf.

A classic romantic comedy set against the sweeping landscape of the American West. On her family's drought-ridden ranch, Lizzie's hopes and dreams have run as dry as the barren fields. When the irresistible Starbuck arrives in town, selling the promise of rain, Lizzie must decide: is he a con man, or does he hold the key to everything she desires?

Previews July 13-17, opens July 18, closes August 11 at The Old Globe in San Diego, CA. Insights Seminar, featuring a panel of artists from the current show takes place Monday, July 15. Post-show forums, which are informal question-and-answer sessions with cast
WHO'S WHERE




SUMMERGARDEN: NEW MUSIC FOR NEW YORK in collaboration with The Juilliard School and Jazz at Lincoln Center, MoMA's beloved Sunday concert series returns to The Abby Aldrich Rockefeller Sculpture Garden. Members and Alumni of The New Juilliard Ensemble: Joel Sachs, conductor; Jessica Han, flutes; Weixiong Wang, clarinets; Sam Budish, percussion; Naomi Causby, piano; Alex Shiosaki and Alexandra Boyanova, violins; Jiwon Kim, viola; Jonathan Lo, cello perform July 7. A jazz concert featuring Melissa Aldana, tenor saxophone; Glenn Zaleski, piano; Pablo Menares, bass; Jochen Rueckert, drums entertains July 14.

BRUCE SPRINGSTEEN AND THE E STREET BAND take to the stage tonight, Sunday, July 7, at the Ippodromo Delle Capannelle in Rome, Italy. On Saturday they can be enjoyed at the Festivalpark in Werchter, Belgium where they be be appearing at the TW Classic.

PINK has eight performances set for the Rod Laver Arena in Melbourne, Australia. She opens tonight, July 7, with additional performances this week on Monday, Wednesday, Thursday, and Saturday.

PHISH on stage Tuesday, July 9, at the Molson Canadian Amphitheatre in Toronto. On Wednesday the tour stops at the PNC Bank Arts Center in Holmdel, NJ. Friday's show is at the Nikon at Jones Beach Theater in Wantagh, NY. On Saturday they open a two night stand at the Merriweather Post Pavilion in Columbia, MD.

PAUL REISER will be telling funny stories Monday, July 15, at the Bay Street Theatre's Comedy Club in Sag Harbor, NY.

JUSTIN BIEBER brings his tour to the United Center in Chicago on Tuesday, July 9. On Wednesday he performs at the Bankers Life Fieldhouse in Indianapolis, IN. Friday finds him at the Nationwide Arena in Columbus, OH and on Saturday the show is at the Quicken Loans Arena in Cleveland.

BRUNO MARS performs Wednesday, July 10, at the Schottenstein Center in Columbus, OH. On Thursday the show is at the Palace in Auburn Hills, MI. On Saturday the gig is at the United Center in Chicago.

MICHAEL BUBLE performs four nights London's O2 arena in show running from Monday, July 8th through Saturday, July 13th.

NEW KIDS ON THE BLOCK perform Tuesday, July 9, at the Dome In Tacoma, WA. Friday's show is at the Allstate Arena in Rosemont, IL. On Saturday they can be enjoyed at the Target Center in Minneapolis.


FINAL OVATION


CHARLOTTE BROSNAN daughter of actor Pierce Brosnan, 41, died from ovarian cancer last week in London, surrounded by her family. A mother of two, she was 41.

The Irish actor's wife, Cassandra Harris, died from the disease in 1991. Charlotte's grandmother, also died from ovarian cancer.

The actor issued the following statement: "On June 28 at 2 p.m. my darling daughter Charlotte Emily passed on to eternal life, having succumbed to ovarian cancer," Brosnan, 60, said in a statement. "She was surrounded by her husband Alex, children Isabella and Lucas and brothers Christopher and Sean. "Charlotte fought her cancer with grace and humility, courage and dignity. Our hearts are heavy with the loss of our beautiful dear girl," he said.

"We pray for her and that the cure for this wretched disease will be close at hand."

The London Telegraph reported that Brosnan was filming the spy thriller November Man in Eastern Europe when he received the news that she had taken a turn for the worse. He immediately rushed back to his daughter's bedside.

Charlotte and her brother Christopher were products of their mother's previous marriage, Cassandra wed Brosnan in 1980. The actor adopted the youngsters who took his last name after their father died.

PAUL SMITH a jazz pianist, composer and arranger died June 29, 2013 at a hospital in Torrence, Ca, He was 91.

Smith worked with such greats as Bing Crosby, Nat "King" Cole, Anita O'Day, Buddy DeFranco, Stan Kenton, Sammy Davis, Jr., and Dizzy Gillespie.

He began his musical career playing playing with Johnny Richards in 1941. After playing with a military band led by Ziggy Elman during World War II, he worked with the Les Paul Trio (1946–1947) and Tommy Dorsey (1947–1949) before moving to Los Angeles and becoming astudio musician.

Smith recorded more than five dozen albums both with his trios and as a soloist.

Between 1956 and 1978, Smith was active as a conductor and pianist for Ella Fitzgerald.

Smith also arranged and performed TV and movie scores as a studio musician. He spent more than 25 years as pianist and music director for The Steve Allen Comedy Hour.

Smith authored a number of educational books and CDs, most of which focus on explaining his particular approach to jazz piano.

He was married for more than 54 years to singer and pianist Annette Warren. They developed a theatre show: A Marriage of Music and Mirth featuring themselves as duo pianists.

In addition to his wife he is survived by their daughter, actress Lauri Johnson, sons Gary and Paul, eight grandchildren and two great-grandchildren.








Next Column: July 14, 2013
Copyright: July 7, 2013. All Rights Reserved. Reviews, Interviews, Commentary, Photographs or Graphics from any Broadway To Vegas (TM) columns may not be published, broadcast, rewritten, utilized as leads, or used in any manner without permission, compensation and/or credit.
Link to Main Page
---
Laura Deni



For the snail mail address, please E-mail your request.
CLICK HERE FOR COMMENT SECTION