! >
Broadway To Vegas
  
  REVIEWS INTERVIEWS COMMENTARY NEWS

| | |
| --- | --- |
| | |
WHERE THE SKY ENDS: THE SONGS OF MICHAEL MOTT CD REVIEW - - 16th ANNUAL BROADWAY BARKS - - FAMED ACTIVIST AND THEATRICAL DIRECTOR JOANNA CHAN RETIRES - - 23rd ANNUAL BAY STREET THEATER SUMMER GALA - - THE NORTH SEA JAZZ FESTIVAL - - JUST FOR LAUGHS FESTIVAL - - 2014 LAGUNA FESTIVAL OF THE ARTS AND PAGEANT OF THE MASTERS - - QUEEN ELIZABETH AND PRINCE PHILIP TO APPEAR ON ANTIQUES ROADSHOW - - DONATE . . . Scroll Down




Copyright: July 6, 2014
By: Laura Deni
CLICK HERE FOR COMMENT SECTION


FAMED ACTIVIST AND THEATRICAL DIRECTOR JOANNA CHAN RETIRED JULY 1
Joanna Chan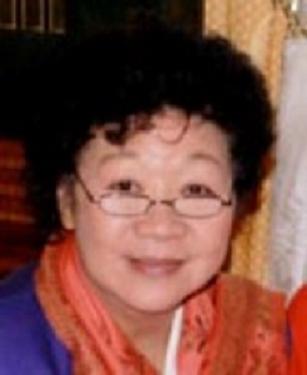 To say Joanna Chan has lived an interesting life is an understatement. Chan, whose theatrical career spans over four decades, co-founded Yangtze Rep in New York City and led it as Artistic Director for 22 years. She handed over leadership of the company on July 1 to the three-man team of K. K. Wong and Wayne Chang as Co-Artistic Directors and Jason HaoWen Wang as Executive Director, with Chan as Emeritus Director. She will continue writing for the theater, tend to publishing her 40 manuscripts, resume painting, and go on with her service in Sing Sing Correctional Facility in upstate New York. She is also a nun.

Sister Joanna grew up in south China. A graduate of Chung Chi College of the Chinese University in Hong Kong, majoring in mathematics, she taught secondary students at Maryknoll Convent School until 1964, when the movie The Nun's Story inspired her to enter the Maryknoll novitiate in the Philippines. Her family was shocked. It took them over 30 years to come to terms with her decision.

Recently, her part in getting justice for a prisoner wrongly convinced of murder was featured on NBC's program Dateline.

The NBC story begins, "Within the walls of Sing Sing, a convicted murderer has convinced a nun that there has been a terrible miscarriage of justice."

The NBC news team, led by Lester Holt, reported on the case of Eric Glisson, a Bronx resident who was wrongfully convicted of murder nearly 20 years ago. Glisson was an inmate in Sing Sing when in 2006 he met Chan through her work in the prison's theater program.

Dateline's cameras followed Glisson as he fought to prove his innocence and expose a miscarriage of justice in New York City. Glisson's conviction has been overturned thanks to Sister Joanna (known in Sing Sing as "Grandma") and the efforts of lawyer Peter A. Cross, who has represented her theater company, and of Mr. Cross's assistant, Charmaine Chester.



Joanna Chan (in red) directing Oedipus Rex at Sing Sing. Photo by Brent Buell.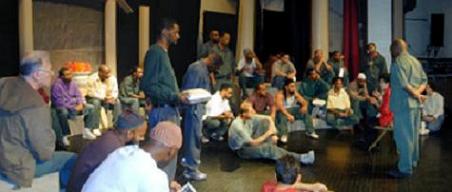 She began involved with arts within the prison system when she read a small article about "rehab through the arts. She wrote the maximum-security prison, "offering my 30 years of experience in theatrical arts." Nobody jumped at her offer. As Chan has explained in print, the prison "was reluctant to accept my offer because I was a woman, an Asian and a nun, and it was too risky to confront an all-male prison of murderers and arsonists. I made it there nevertheless, on a probation basis, every Tuesday night. The inmates at first addressed me as Ms Chan, but now everyone calls me Grandmama. Of late, I have been teaching them Chinese and they are due to recite Su Dongpo's famous poem Red Cliff, which they became familiar with through the John Woo movie (of the same name). My fondest memory of Sing Sing was helping an inmate, who had served 11 years of a 25-year prison term on a murder charge, to be proved innocent and released."

Chan numerous facets have sparkled in many directions.

An honoree at An All-Star Salute to Chinese American Cultural Pioneers at City Hall in New York City in 1993, she is also the recipient of the 1994 Distinguished Alumni Award from Teachers College of Columbia University, where she earned her M.A., M.Ed. and Ed.D. degrees, majoring in theatre and communications. Sister Joanna Chan has been a prolific playwright and stage director in China, Hong Kong, Canada and the U.S. for over thirty-five years.

Co-founder and artistic director (1970-1977; 1983-1992) of the Four Seas Players in NYC, and artistic director of the Hong Kong Repertory Theatre (1986-90), Sister Joanna co-founded Yangtze Repertory Theatre of America in New York in 1992 to produce works for and by Asian artists. The nearly 60 productions written, adapted and directed by her include Shakespeare's Othello; Wilder's The Match Maker (as an opening event of the Hong Kong Cultural Centre in 1989); and the Chinese literary masterpiece Dream of the Red Chamber for the 1987 and 1988 Hong Kong Arts Festival; Raymond To's Where Love Abides, which she directed and took to China in 1987.

Sister Joanna's own plays include: Before the Dawn-wind Rises, commissioned by the Hong Kong Urban Council for the 10th Asian Arts Festival; and Crown Ourselves with Roses, commissioned by Sing Tao Newspapers, which toured North America in 1989. Her One Family, One Child, One Door, a black comedy on the human cost of China's one-child policy, was named one of two finalists in the national Jane Chambers competition.



Zhang Chun Zhi as the Emperor, Ashley Liang as Yu-Huan in The Story of Yu-Huan. Photo by Jonathan Slaff.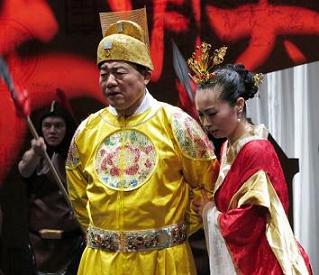 Her play The Story of Yu-Huan was Chan's final project for Yangtze Repertory Theatre of America. The successful run closed June 22, 2014. Yu-Huan, of the House of Yang, has been an undiminished subject of literature and fine arts throughout thirteen centuries. Her death marked the end of 130 years of unprecedented prosperity in China's Middle Kingdom and a golden age of artistic outpourings. Her life story is the subject of Chan's The Story of Yu-Huan which she also directed. The choreographed was by Ashley Liang.

As for her work behind bars, since 2002, Sister Joanna has been working in the Rehabilitation through the Arts Program at Sing Sing state prison in New York, directing the inmates in August Wilson's Jitney and the critically-acclaimed production of Sophocle's The Oedipus Rex.

Her arrival in New York was an interesting sojourn. After she entered the Maryknoll novitiate in the Philippines, she was assigned to New York City's Chinatown, where she served as director of youth services at Transfiguration Church from 1970 to 1986.

In 1977, at the invitation of Hong Kong's Cardinal John Baptist Wu, she returned there to create the Diocesan Audio-Visual Center. In 1996, she was appointed artistic director of the Hong Kong Repertory Theatre.

At the Maryknoll Sisters Center, Sister Joanna was manager of the communications office, and in 1980, she was appointed coordinator of Maryknoll's China History project. In 1991, she created the heritage exhibit that chronicles the mission and history of the Maryknoll Sisters and has been its director since. A vocational video, Ordinary People, Extraordinary Deeds, that she conceived and co-directed, won a Clarion Award for excellence in early 2000.



Joanna Chan in June 2001 at her solo exhibition at the Gallery, Pace University, NYC. Photo by Margaret Hurley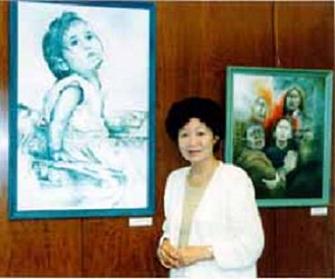 An accomplished painter and designer, Sister Joanna trained in oil for six years under the great HON Chi-Fun in her youth. After a 28-year hiatus, she resumed painting in earnest in the late 1990s. Her artworks have been presented in solo and group exhibitions throughout New York.

In 2003, her oil painting, An Outburst in Late Spring, was honored at the Best of America! art show by the National Oil & Acrylic Painters' Society. In late 1999, her oil painting, Jerusalem '98, was one of the top 60 selections among nearly 1,700 entries from 19 countries in the National Catholic Reporter's Jesus 2000 contest.

A member of the Dramatists Guild in the United States and a columnist for The New Evening Post in Hong Kong from 1986 to 1997, Joanna was featured prominently in the PBS special, Harmony & Spirit: Chinese Americans in New York, in 2000.

Her scripts raise questions, rather than impart messages. She has been quoted as saying that her productions "inquires into how an ancient culture tried to find a place in the modern world; whether ordinary people have a responsibility in the emergence of tyranny; why the United States - as much as it did in Nicaragua, the Philippines and Iran - has always ended up supporting the wrong government; and the conversion of China, which was the hope and dream of many churches, including the Maryknoll, which was founded for China, and why it failed."

Sister Joanna Chan, MM, an award-winning artist, playwright and director, will celebrate celebrated 50 years with Maryknoll Sisters at a Mass for seven Maryknoll Sisters marking 50 years with the congregation on October 12, 2014, at Maryknoll Sisters Center in Maryknoll, New York.



Broadway To Vegas is supported through advertising and donations. Priority consideration is given to interview suggestions, news, press releases, etc from paid supporters. However, no paid supporters control, alter, edit, or in any way manipulate the content of this site. Your donation is appreciated. We accept PAYPAL. Thank you for your interest.





ART AND ABOUT


COMMON CAUSE: COMMONWEALTH SCOTS AND THE GREAT WAR

World War I 4th Division of the Scottish South African Infantry. Photo: National War Museum Scotland.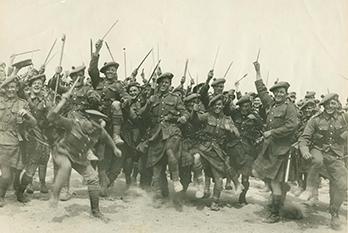 this exhibition will explore the stories of the Scottish diaspora and the war experiences of the nations of the Commonwealth during the First World War.

In 1914, as the world prepared for war, thousands of men enlisted in Scotland. But thousands more Scots and those of Scottish descent joined up across the world, and the exhibition will show how they emphasized, adapted or in some cases downplayed their Scottish identities within the context of the armed forces of their home countries.

The exhibition will be built around key objects borrowed from the UK and international partners in Canada, South Africa, Australia and New Zealand, some of the main destination countries of the Scottish diaspora. Through contemporaneous newsreel and photography and the words of participants, the exhibition will explore how the war was experienced and commemorated in different parts of the British Empire, and how military service was related to other expressions of Scottish identity and culture such as Caledonian societies, Presbyterianism and piping.

Artefacts from the collections of National Museums Scotland associated with individual war experiences will reinforce the main themes of migration, dual identity and loss, and extend the geographical scope of the exhibition.

This exhibition is supported by the International Division, Scottish Government and is part of the Year of the Homecoming 2014.

July11 – 12 October 12, 2014 at the National Museum of Scotland in Edinburgh..

2014 LAGUNA FESTIVAL OF THE ARTS AND PAGEANT OF THE MASTERS takes place July 9 to August 30, 2014, featuring the theme The Art Detective.

Last December auditions were held for men, women and children to volunteer as living statues. Those who wanted to step into a famous piece of art as part of the world's most famous presentation of tableaux vivants needed to be able to stand still for 90-seconds.

"Over 500 volunteers, both onstage and behind-the-scenes, are needed to put on the show," said Pageant director Diane Challis Davy. "Everyone has a great time backstage and many return year after year to take part in this one-of-a-kind performance. The Pageant just simply wouldn't be possible without our volunteers!"

Pageant volunteers also lined up for positions in the wardrobe, make up, and headdress departments, as well as cast area coordinators and refreshment servers, among other positions.

Volunteering for the Pageant is a great way to spend your summer and it is common to have several generations of the same family volunteering for different aspects of the show. Additionally, by volunteering for the Pageant, students can earn credit towards community service requirements.

Those selected to help portray works of art were measured and photographed, so they could be properly placed in a work of art and costumed accordingly.

The 2014 Pageant of the Masters, The Art Detective, capitalizes on everyone loving a good mystery.

"You don't have to be Sherlock Holmes to figure out whodunit when The Art Detective, the 2014 Pageant of the Masters, is on the case. The Festival of Art's world famous theatrical celebration of art in tableaux vivants – living pictures – will reveal how lost treasures were discovered, where crimes of passion were uncovered (or covered up) and how creative riddles were unraveled, with a gallery of the world's great masterpieces providing the clues! The stories and revelations are sure to provide fun for the whole family and be anything but elementary.

SANTA FE INTERNATIONAL FOLK ART MARKET takes place in Santa Fe, New Mexico July 11-13.

More than 150 Master Folk Artists from over 50 countries will gather on Museum Hill to display their creations.

Dancing, music, entertainment and international foods add atmosphere.

A special part of the Folk Art Market is the Children's Passport Program. After receiving a passport, children collect flag stickers from each country they visit, to put in their passports. This program strives to awaken children's awareness about the many countries and cultures represented at the Market.

The Santa Fe International Folk Art Market, a non-profit organization, produces the largest international folk art market in the world, and their success led to Santa Fe's designation as a UNESCO City of Folk Art.


SWEET CHARITY


BROADWAY BARKS stages their 16th annual star-studded dog and cat adoption event which will feature celebrities from the hottest shows on Broadway. Broadway Barks benefits New York City animal shelters and adoption agencies. Founded by Mary Tyler Moore and Bernadette Peters, the event, produced by Broadway Cares/Equity Fights AIDS will take place on Saturday, July 12 in Shubert Alley.

Prospective pet parents can meet all the adoptable dogs and cats. Celebrity presentations of pets from animal shelters citywide will take place between 5-6:30 p.m. The event is free and open to the public.

Marking its 16th anniversary of the organization, Broadway Barks will again help hundreds of New York City's shelter animals find permanent homes by informing New Yorkers about the plight of the thousands of homeless dogs and cats in the metropolitan area. This year's sponsors include the ASPCA (The American Society for the Prevention of Cruelty to Animals,) the Shubert Organization, Jujamcyn Theaters, Daryl Roth, Clarence Nederlander, Michael David of The Dodgers, Marty and Perry Granoff, Mary Jo and Ted Shen and The New York Times.

Celebrity participants include:

Sierra Boggess (The Phantom of the Opera) - (Krystal Joy Brown (Motown The Musical) - Danny Burstein (Cabaret) - Jane Carr (A Gentleman's Guide to Love and Murder) - Victoria Clark (Rodgers & Hammerstein's Cinderella) - Lauren Cohn (Mamma Mia!) - Jenn Colella (If/Then) - Colin Donnell (Violet) - John Dossett (Newsies) - Christine Dwyer (Wicked) - Linda Emond (Cabaret) - Felicia Finley (Mamma Mia! - Jessie Fisher (Once) - Alexander Gemignani (Violet ) - Sarah Greene (The Cripple of Inishmaan) - Justin Guarini (Wicked) - Lena Hall (Hedwig and the Angry Inch) -- Samantha Hill (Les Misérables) - Jackie Hoffman (The Addams Family) - James Monroe Iglehart (Aladdin) - Rachel Bay Jones (Pippin) - Andy Karl (Rocky) - Anika Larsen (Beautiful – The Carole King Musical) - Adriane Lenox (After Midnight) - - Kyle Dean Massey (Pippin) - Audra McDonald (Lady Day at Emerson Bar & Grill) - Judy McLane (Mamma Mia!) - Andy Mientus (Les Misérables) - Bebe Neuwirth (Blue Bloods ) - Jim Norton (Of Mice and Men).

Matilda The Musical will be represented by Paige Brady, Matt Harrington, Lesli Margherita, Jill Paice, Gabriella Pizzolo, Christopher Sieber, Ripley Sobo and Ava Ulloa.

Also performing: Karine Plantadit (After Midnight), Courtney Reed (Aladdin), Ciara Renee (Pippin), Cliff Saunders (Les Misérables), Margo Seibert (Rocky), Jarrod Spector (Beautiful – The Carole King Musical), Will Swenson (Les Misérables), and Mary Testa (Wicked)

Bullets Over Broadway; performers are; Brooks Ashmanskas, Zach Braff, Nick Cordero - Marin Mazzie, Vincent Pastore, Betsy Wolfe, Lenny Wolpe, Heléne Yorke and Karen Ziemba.

23rd ANNUAL BAY STREET THEATER SUMMER GALA takes place Saturday, July 12, at the Long Wharf in Sag Harbor, NY.

The event will honor art visionaries actress Kate Burton, American landscape painter April Gornik and Tony Award winning lyricist Sheldon Harnick.

Special performances by Tony Award winner Patina Miller and Obie award winning Tovah Feldshuh who will serve as guest auctioneer.

Cocktail reception, awards ceremony and farm to table dinner by Hamptons Chef Peter Ambrose. Dancing follows.

The Chairs are: Christine Wachter-Campbell and Bill Campbell and Pia and Jimmy Zankel.

All proceeds benefit Bay Street Theater's educational and theatrical programs.

FORD'S THEATRE GALA held Sunday, June 22, 2014, was a success. The annual get together benefits the Theatre and its programming, including exhibitions at the Ford's Theatre Center for Education and Leadership.

Vice President Joe Biden, Dr. Jill Biden, Senate Majority Leader Harry Reid, President pro tempore of the Senate Patrick Leahy, House Majority Leader-Elect Kevin McCarthy, House Minority Leader Nancy Pelosi, Defense Secretary Chuck Hagel, National Security Advisor Susan Rice, actress Debbie Allen, members of Congress and other distinguished guests attended the event.

The evening included the presentation of the Ford's Theatre Lincoln Medal to actor James Earl Jones and the U.S. House of Representatives' longest-serving member, the Honorable John D. Dingell. The award was given in recognition of their extraordinary character, service, accomplishments and work reflecting Lincoln's legacy of humanity, wisdom, eloquence and vision.

Additional highlights from the Ford's Theatre Annual Gala included a joyful chorus of Pharrell Williams' Happy performed by Scott Bakula and the ensemble, the flirtatious aria Meine Lippen, sie küssen so heiß (My lips' fiery kiss) from Giuditta performed by soprano Alyson Cambridge, Lennon and Maisy Stella singing Ho Hey (originally by The Lumineers), So You Think You Can Dance's Melinda Sullivan performing to I Could Have Danced All Night as sung by Tony-winner Laura Benanti, Cheyenne Jackson performing I'm Blue, Skies.


THE MUSIC GOES ROUND AND ROUND


WHERE THE SKY ENDS: THE SONGS OF MICHAEL MOTT has been released by Broadway Records. Mott is an up and coming composer with enormous talent, who has a serious future in the music side of the business.

He pens jazz, pop and swing tunes all showcased on this CD with performances by Broadway talents, including Sierra Boggess, Bryan Terrell Clark, Ben Fankhauser, Justin Guarini, Tony nominee Jeremy Jordan, Zachary Levi, Tony nominee Orfeh, Tony nominee Laura Osnes, Jacqueline Petroccia and Tony Award nominee Josh Young.

Born and raised in New Hartford, New York, Mott graduated from Ithaca College with a Bachelor of Fine Arts Degree in Musical Theatre Performance. In 2012 he was accepted into the prestigious BMI Lehman Engel Musical Theatre Writer's Workshop.

A highly enjoyable CD. Whether any one track is more interesting than the other will be determined by personal preference, rather than Mott's ability. Mott is definitely a composer who is to be taken seriously. He has major break-out potential.

All of the songs come from shows he has written or from his catalogue.

A pop ditty Just Like Me sung by Justin Guarini grabs the listener's attention in kicking off the CD, which leads into Zachary Levi's The Left Side of the Moon, a bouncy offering perfect for a nightclub/cabaret performance as customers sip champagne. Excellent horn section which is also featured in Sierra Boggess' cooingly reflective rendition of The Devil. Bryan Terrell Clark takes no prisoners with Don't Stop Dancin'.

A gentle piano begins Dare to Dream, from the show Faustus, which is lyrically charming while musically vibrant and dynamically inspiring, perfectly sung by Laura Osnes and Jeremy Jordan. The romantically beautifully Her Embrace from the same production is powerfully rendered by Josh Young I don't know where this song was placed in Faustus, but it's the type of number that crates a standing ovation at the close of Act 1.

The gorgeous Hold Me Tight is longing building to a desperate lament by Orfeh. The orchestrations could also be done with sweeping violins in the section which now features a hard beat, almost overpowering Orfeh. The mellow shifting to intense passion of Try is performed by Jerry Jordan

The insightful, powerful and poignant lament of a woman who is trying to find the courage to leave a cheating husband in Let You Go, from Mod Wife is given powerhouse pathos by Jacqueline Petroccia.

Gone by Ben Fankhauser is followed by the closing number Sky sung by the composer.

Well structured musical creations which are tuneful, though not terribly complex, allowing for arrangements to broaden performance possibilities. When the CD finished my first thought was - that was over fast. In other words, I wanted more.

Mixed by Jeremy Roberts. Mastered by Joel Moss and Charlie Eble Woods end Recording, Saratoga Springs, NY. Orchestrations by Kim Scharnberg:

Piano: Jon Werking - Keyboard: Jeremy Roberts - Acoustic and electric Guitar: bob Mann - Acoustic and Electric Bass: David Finck - Drums: Clint de Ganon - Flute and Alto Flute: Gwynn Griffin - Violin: Suzanne Ornstein - Cello: Stephanie Cummins - Trumpet: Toy Kadleck - Alto and Tenor Saxophones: David Mann - Trombone: Kim Scharnberg - Musicians contracted by David Finck - Rhythm Section recorded at Deep Diner Music Studios, NYC. Rhythm Section Engineered by Darwin Best - Vocals and overdubs recorded by Jeremy Roberts a Studio 276, NYC.

Track Listing: 1. Just Like Me – Justin Guarini
2. The Left Side of the Moon – Zachary Levi
3. The Devil – Sierra Boggess
4. Don't Stop Dancin' – Bryan Terrell Clark with Shauna Goodgold, Bruce Landry & Lindsay Rider
5. Dare To Dream (from Faustus) – Laura Osnes & Jeremy Jordan
6. Her Embrace (from Faustus) – Josh Young
7. Hold Me Tight – Orfeh
8. Try – Jeremy Jordan
9. Let You Go (from Mob Wife) – Jacqueline Petroccia
10. Gone – Ben Fankhauser with Shauna Goodgold, Bruce Landry & Lindsay Rider
11. Sky (Interlude) – Michael Mott
12. Sky - Michael Mott


QUEEN ELIZABETH AND PRINCE PHILIP TO APPEAR ON ANTIQUES ROADSHOW
Queen Elizabeth II with Antiques Roadshow experts (from left) Hilary Kay, Paul Atterby and John Axford inspect several items, including at the far left, a piece by French sculptor Pierre-Jules Mene of the 1863 Derby winner Macaroni, five figurines from a Meissen money orchestra and an 18th century Chinese tureen on a George IV library table. Photo: British Monarchy/Brian Lawless/Getty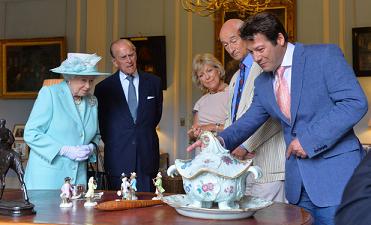 While they didn't indicate they wanted to put anything up for auction, Queen Elizabeth and Prince Philip made a guest appearance on Antiques Roadshow, the extremely popular, long running BBC-program airing on PBS.

The TV show came to the Queen, visiting her and the Duke at their home at Hillsborough Castle, the monarch's official residence in Northern Ireland.

Experts invited into the castle were Hilary Kay, Paul Atterbury, and John Axford who are ceramics and Far East specialists. The Queen discussed several items with them, including a George IV library table, an 18th century Chinese tureen and five figurines from a Meissen monkey orchestra.

Hilary Kay showed them a silver christening cup, saying: "This is a piece unlike the other objects as it has a direct family connection." Reportedly, the cup was a present for the newborn daughter of a transatlantic liner's chief engineer from Lady Granville, the Queen's aunt. She had been sailing to America with her husband Lord ­Granville, who was then Governor of Northern Ireland. Upon being informed of the birth, Lady Granville said she would send a gift for the baby. When the girl grew up she gifted the cup to Hillsborough.

Prince Philip, who is sharp as a tack and never hesitant to speak his mind, wasn't necessarily buying the story - asking for proof. He commented that they receive so many items, that it's difficult to know which stories are true, and which aren't.

The comments and avid interest pleased the Roadshow experts.

Hilary said: "The Queen had a genuine interest in finding out how the Roadshow works. She loved the silver and she was very interested in the stories behind the items - they were both interested in everything on the table."

Another favorite was a small, bronze sculpture of a horse and jockey, which is believed to be of the 1863 Derby winner Macaroni.

The royal couple's sculpture was not given a value. But, a similar statue by Pierre-Jules Mene was appraised at $20,000-$30,000 in 2004.

The Queen and the Duke of Edinburgh were anxious to learn when the program would be broadcast so they could watch themselves on TV.

Revealing they were fans of the long-running BBC show, Prince Philip, 93, asked presenter Fiona Bruce when the royal episode would be aired. The Queen, 88, referring to her annual August vacation, then said: "If it is in August then even better, because we might have a chance to see it."

Suggestion: Hey, Antiques Roadshow, send the couple a tape of the show!! Yoo-hoo, royal housekeepers: isn't there a VCR or a DVD player at any of the palaces? If not, surely you could find one on sale someplace. Let the senior citizens, who are employed full time, be able to put their feet up and enjoy the program when it suits their fancy.


THE NORTH SEA JAZZ FESTIVAL DRAWS MUSICAL HEAVYWEIGHTS
Grammy Lifetime Achievement Award winners The Isley Brothers return after an absence of 20 years.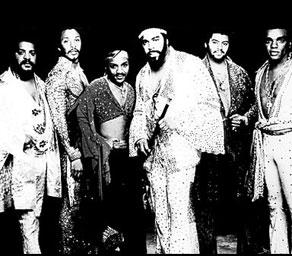 The North Sea Jazz Festival is an annual event held the second weekend of July in the Netherlands at the Ahoy venue.

This year's three day North Sea Jazz Fest takes place Friday, July 11, through Sunday, July 13.

According to Festival director Jan Willem Luyken the Festival will feature Pharrell Williams and Outkast. And, The Isley Brothers are returning, 20 years after their Festival debut.

Further confirmed are Al Jarreau, Daryl Hall & John Oates, Mavis Staples and Darkside.

An extra-long time slot is reserved for The Daptone Super Soul Revue featuring Sharon Jones & the Dap-Kings, Charles Bradley and his Extraordinaires, Antibalas, The Sugarman 3 with special guests Saun and Starr and Master of Ceremonies Binky Griptite.

Also performing at the 39th edition of the North Sea Jazz Festival will be Tedeschi Trucks Band, Oscar D'Leon, Martial Solal Trio, Snarky Puppy & Friends, Children of the Light Trio: Danilo Perez, John Patitucci, Brian Blade and PRISM featuring Dave Holland, Kevin Eubanks , Craig Taborn and Eric Harland.

The first edition of the North Sea Jazz Festival took place in 1976 in the Nederlands Congresgebouw in The Hague. Some numbers in those early days: six venues, three hundred artists and about nine thousand visitors. In this very first festival year internationally renowned jazz legends performed, such as Sarah Vaughan, Count Basie, Dizzy Gillespie and Stan Getz, as well as most Dutch avant-garde artists.

In 2006, the festival moved to its current, bigger, location in Rotterdam. This year, the organization expects more than a thousand musicians, spread out over 150 performances and thirteen different stages. Though the numbers of visitors were between 65,000 and 70,000 in recent years, the festival still manages to retain its intimate character.


INTERESTING THAT THE MORMON CHURCH LIKED MY IDEA


Inspired by ... purloined ... ripped off ... sneaky. All interesting words.

At the bottom of every Broadway To Vegas column is a Copyright section which addresses commentary being used as "leads" or "re-written."

In the May 15, 2011 column of Broadway To Vegas, in commenting on the outrageously funny, not to be missed Broadway musical The Book of Mormon, I questioned why the Mormon church didn't have their missionaries proselyting by the theater, I wrote: "The Mormon hierarchy in Salt Lake City have all but damned The Book of Mormon. They missed a golden tablet opportunity. They should have stationed missionaries around the theatre who ask patrons laughing as they leave - "Now that you've seen the musical, would you like to read the book?" ( See Broadway To Vegas column of May 15, 2011 )

I was shot down by all sorts of nasty emails informing me that Mormons would never use the musical to promote their religion.

Somebody in high places must have had one of those position altering dreams because - in September 2012 - the Mormon church announced they would be taking out ads, in select touring productions, of The Book of Mormon playbills.

True to their word, they did, first in Los Angeles. They also bought ads in playbills for the hugely successful Las Vegas month long run which closes today, July 6, at The Smith Center.

There are three ads. Two of the three ads being used say "I've read the book," while another states "The book is always better."

The third ad proclaims to show goers: "You've' seen the play . . . now read the book."








SPREADING THE WORD


JUST FOR LAUGHS FESTIVAL the largest comedy festival in the world turns Montréal into a laughing frenzy with galas, street art, theatre productions, and stand-up performances.

Hosting some 1,700 artists from 19 countries as well as over 2 million festival-goers, Just For Laughs offers 1,600 performances, including 1,200 free outdoor shows.

July 11-27 in Montréal, Canada.

SING-ALONG MARY POPPINS presented by Opera@Franklin Theatre. Come sing along to the wildly popular Mary Poppins on the big screen with subtitles. Come as you are or dress in character. Prizes given for the best costumes. Sunday, July 13, at the Franklin Theatre in Franklin, TN.

THE WAR OF THE ROSES the stage adaptation by Warren Adler based on his original best-selling novel of the same name, will bow on Broadway during the 2015-2016 season.

The War of the Roses follows the explosive chandelier shattering storyline of Barbara and Jonathan Rose's confrontational filled divorce drama gone terribly wrong. A clever dark comedy about the breakup of a marriage which leads to the ugliest divorce imaginable, one that is both frightening and revealing.

The now classic 1989 hit feature film starring Michael Douglas, Danny DeVito and Kathleen Turner further expanded the worldwide recognition of the novel. Adler's stage adaptation has already played to spectacular reviews and packed houses world-wide.

LINCOLN CENTER HAS ANNOUNCED a new production of Rodgers & Hammerstein's The King and I. Based on the novel Anna and the King off Siam by Margaret Landon the new production will be directed by Bartlett Sher and begin previews Mach 12, 2015.

With music by Richard Rodgers and book and lyrics by Oscar Hammerstein II the production will star the outrageously talented, five-time Tony Award nominee Kelli O'Hara as Anna Leonowens, and - making his American stage debut - will be Oscar, Golden Globe and Screen Actors Guild award nominee Ken Watanabe in the role of the King of Siam.

Watanabe is currently preparing to shoot Gus Van Sant's Sea of Trees and Martin Scorsese's Silence.

The Lincoln Center Theater production of Rodgers & Hammerstein's The King and I will feature the musical's original Jerome Robbins choreography, with musical staging by Christopher Gattelli.

Sets will be by Michael Yeargan, costumes by Catherine Zuber, lights by Donald Holder, sound by Scott Lehrer, orchestrations by Robert Russell Bennett, and music direction by Ted Sperling.

Meanwhile, Tony Award-nominated actor Lou Diamond Phillips who delivered an award winning portrayal of The King of Siam in the 1996 Broadway revival (with Donna Murphy as Anna) will return to the role in the Australian remounting of the production, which is currently playing Melbourne's Princess Theatre.

Phillips replaces Jason Scott Lee, who was forced to withdrawn from the production due to a torn calf muscle. Phillips will begin Melbourne performances July 10.

Following the Melbourne staging the production will have Sydney performances beginning September 9 with actor Teddy Tahu Rhodes playing the King. Actress Lisa McCune plays Anna Leonowens.

The Australian production features the original Jerome Robbins choreography, recreated by Susan Kikuchi. Christopher Renshaw directs alongside the original creative team from the 1996 revival, including Tony-winning costume designer Roger Kirk, Tony-winning scenic designer Brian Thomson and Tony-nominated lighting designer Nigel Levings. Sound design is by Michael Waters. Peter Case is the musical director. Neil Rutherford is associate director.

THE ACTORS STUDIO will present a new staging of Anton Chekhov's The Cherry Orchard, translated by Jean-Claude van Itallie.

John Gould Rubin will direct.

Oscar, Emmy and Tony winner Ellen Burstyn will star. She'll be joined by Actors Studio members Robert Adrian, Patrik Baldauff, Lash Dooley, Gabriel Furman, Gabriel Fazio, Beau Gravitte, Timothy Doyle, Sam Hamill, Conn Horgan, Joe Maruzzo, Mihaela Mihut, Sarah Anne Miles, Evgeniya Radilova and Dena Tyler.

Burstyn, who serves as co-president and artistic director of The Actors Studio, said in a statement: "When The Cherry Orchard was first performed at the Moscow Art Theater, the director Stanislavsky called it a 'great tragedy.' Chekhov insisted it was a 'comedy.' The Actors Studio finds it is both. We look forward to sharing our vision of this great classic work with the supporters of The Actors Studio."

This production will feature scenic and costume design by Andreea Mincic, lighting by Isabella Byrd, sound by Iggy Hung, choreography by Katherine Crockett and musical compositions by Andrea Fratto. The production manager is Libby Jensen, production stage manager Catherine Beckett, stage managers Emily Ballou and Katy Moore, prop manager Liana Jackson, and technical interns Anita Clay, James Lentini and Paul Lehrman.

Performances at The Actors Studio July 10-21. are free to the public but require a reservation.

TIM HOWARD considered one of the best goalies in the world was the backbone of the USA soccer team in their impressive performance, a 2-1 overtime defeat to Belgium. Another exciting match preceded USA/Belgium was the Switzerland/Germany high energy knock-the-ball around with Switzerland going home after a valiant 1-0 overtime loss.

Rumors keep swirling that soccer great Pele will present the winner's cub.

Funny moment - Jürgen Klinsmann, previous head coach of the German national team, who now is head coach for the USA team, knows how to choose his words in order not to get bleeped on TV. In the age of everything on camera and subjected to close-up shots, when a camera panned in to capture a tight shot of 'Jurgens excitement, he put his hands to his face and exclaimed: "Mama mia!"

As for Howard, don't expect him to be in the next World Cup. The father of two is 35. Little children and the sport of soccer consider thirty-five to be ancient. As if being a great goalie isn't enough, Howard was diagnosed with Tourette syndrome when he was in the sixth grade.

BELCH Miki Sudo, 28, from Las Vegas scarfed down 34 hotdogs and buns in 10 minutes to win the women's division of the annual Nathan's Famous Fourth of July Hot Dog Eating Contest at Coiey Island.

Defending champion Sonya Thomas, 47, lost her hot dog-eating title, as she was only able to devour 27 3/4 hot dogs and buns.

In the men's division, famed eater Joey "Jaws" Chestnut of San Jose, Calif., packed away 61 hot dogs and buns in 10 minutes. He won last year with 69. While he didn't beat his own record, he still retains his mustard yellow belt.


OTHER PEOPLE'S MONEY


READING RAINBOW got the kick they needed from Kickstarter. LeVar Burton and his collaborators raised $5 million in 35 days. In addition to crowdfunded money, actor Seth MacFarlane agreed to donate $1 million which brings the total to more than $6 million.

The extra money will allow Reading Rainbow to do several things, including the creation of mobile apps and free subscriptions for thousands of in-need classrooms. A promise on their Kickstarter page promises: "We have reached our $5M stretch goal and can help 7,500+ classrooms. Now, every $100K helps another 500+ classrooms!"



FAMILY ALBUM a world premiere, with book and lyrics by Tony Award winner Stew, music by Stew and Heidi Rodewald, created with and directed by Joanna Settle.

Family Album was commissioned by the Oregon Shakespeare Festival (OSF).

"Told through soul-stirring rock 'n roll music, Family Album is the story of middle-aged rocker Heimvey and his hip and influential, but relatively low-income band. Seasoned by years of touring throughout the country and on their way to NYC to open for a popular young band at Madison Square Garden, they land at the home of a former band member. Cleo, Heimvey's ex-girlfriend and former muse, and her art dealer husband/stockbroker Norman, live with their precocious child. The visit stirs deep questioning about choosing the artist's life or the homeowner's, and as alliances are formed and frayed, everyone starts to itch for what someone else seems to have, and assumptions and expectations are shuffled and shattered."

The cast features Luqman Brown as Heimvey, Casey Scott as Claudia, Christian Gibbs as Gibbs, Vinnie Sperrazza as Charles Andy, Alex Emanuel as Norman, Miriam A. Laube as Cleo, Lawrence Stallings as Paul, Daniel T. Parker as The Kid, Dana Lyn as Clara, and Marika Hughes as Kika.

Music direction is by Stew and Dana Lyn, with choreography by David Neumann. Scenic design is by Andrew Lieberman (associate scenic designer Eric Southern), costumes by Tilly Grimes, lighting by Jane Cox, and sound design by ACME Sound Partners. Dramaturg on the project is Lue Morgan Douthit; voice and text director is David Carey; fight director is U. Jonathan Toppo and stage managers are Jeremy Eisen and M. William Shiner.

The show runs through August 31 at the OSF's Thomas Theatre in Ashland, Oregon.

WRECK choreographed and directed by Carl Flink.

Original music by Mary Ellen Childs.

In Black Label Movement's riveting Wreck, 13 survivors caught in the hold of a fast sinking ship grapple with seemingly inevitable destruction. Plunging towards an emotional event horizon where violence and cooperation, obsession and compassion, and fear and tenderness meet, the work asks how a community of strangers might face the Abyss.

Created by 2012 McKnight Choreography Fellow Carl Flink and set to an original score by local composer Mary Ellen Childs, Wreck is billed as "a visceral feast for both eyes and ears."

July 11 - July 20, 2014 in the Dowling Studio of the Guthrie in Minneapolis.

BUYER & CELLAR by Jonathan Tolins.

Starring Michael Urie.

Directed by Stephen Brackett.

A fabulously fictitious imagining of what might transpire when an underemployed Hollywood actor finds the ultimate retail gig: sole sales clerk (and eventual confidant) to a mega-star in her subterranean sanctum sanctorum teeming with treasured mementos, career collectibles and a frozen yogurt machine.

July 9 - Aug 17, 2014 at the Mark Taper Forum in Los Angeles.

JOSEPH AND THE AMAZING TECHNICOLOR DREAMCOAT the first collaboration of composer Andrew Lloyd Webber and lyricist Tim Rice

Directed and choreographed by Tony Award-winner Andy Blankenbuehler.

Starring the husband-and-wife-team of Diana DeGarmo as the Narrator and Ace Young as Joseph. The cast will feature Paul Castree as Simeon, William Thomas Evans as Jacob/Potiphar, Brian Golub as Reuben, Will Mann as Judah and Ryan Williams as Pharaoh.

The ensemble will include Chip Abbott, Amanda Braun, Jonathan Burke, Claire Camp, Richard Cerato, Vincent D'Elia, Lisa Finegold, Lili Froehlich, Sasha Hollinger, Brandon Hudson, Patrick John Moran, Mark Roland, David Rossetti, Leigh Scheffler, Christine Cornish Smith, Brett Stoelker, Tricia Tanguy, Matthew Tiberi and Katie Whetsell.

One of the most enduring shows of all time, Joseph and the Amazing Technicolor Dreamcoat is the irresistible family musical about the trials and triumphs of Joseph, Israel's favorite son. blends pop, country and rock into an uplifting, technicolored story of biblical proportions.

Retelling the Biblical story of Joseph, his eleven brothers and the coat of many colors, this magical musical is full of unforgettable songs including Those Canaan Days, Any Dream Will Do and Close Every Door.

The tour will feature Scenic Design by Beowulf Boritt, Costume Design by Jennifer Caprio, Lighting Design by Howell Binkley, Sound Design by John Shivers and David Patridge, Projection & Video Design by Daniel Brodie, Music Supervision by David Kreppel and Music Direction by Wayne Green.

July 8 – 13, 2014 at the Starlight Theatre, Kansas City, MO.

SUNSET BOULEVARD music by Andrew Lloyd Webber and a book and lyrics by Don Black and Christopher Hampton.

Directed by Larry Raben, musical direction by David Lamoureux and musical staging by John Todd.

Valerie Perri, who will portray faded silent-screen star Norma Desmond. She will be joined onstage by David Burnham (Joe Gillis), Norman Large (Max von Mayerling), Ashley Fox Linton (Betty Schaefer), Jeff Skowron (Sheldrake & Manfred) and Marc Ginsburg (Artie) with Lucas Coleman, Peyton Crim, Marisa Field, Brad Fitzgerald, Karla Franco, Juan Guillan, Caitlin Humphreys, Will Huse, Tom McMahon, Tiana Okoye, Kirklyn Robinson, Trance Thomas and John Todd.

Sunset Boulevard, "weaves a magnificent tale of faded glory and unfulfilled ambition. Silent movie star Norma Desmond longs for a return to the big screen, having been discarded by tinsel town with the advent of 'talkies.' Her glamour has faded in all but her mind. When she meets struggling Hollywood screen-writer Joe Gillis in dramatic circumstances, their subsequent passionate and volatile relationship leads to an unforeseen and tragic conclusion."

The creative team also includes Mary Ritenhour as production manager with Kelly Marie Pate as stage manager, Kevin Clowes as technical designer, Jean-Yves Tessier as lighting designer, Julie Ferrin as sound designer and Kate Poppen as costume coordinator.

Based on the famed motion picture the stage musical opened in London's West End starring LuPone and Kevin Anderson at the Adelphi Theatre July 12, 1993, where it ultimately ran for 1,529 performances.

Presented July 12-28 at the Richard and Karen Carpenter Performing Arts Center in Long Beach, CA, exactly 20 years to the day after the show's London world premiere.

THE BOOK OF MORMON with book, words and music by Trey Parker, Robert Lopez and Matt Stone.

Co-directed by Trey Parker and Casey Nicholaw who also is the choreographer.

The second National Tour of the Tony Award winning Broadway show stars David Larsen as Elder Price, Cody Jamison Strans as Elder Cunningham, Denee Benton as Nabulungi, Pierce Cassedy as Elder McKinley, and James Vincent Meredith as Mafala Hatimbi.

Scott Pask scenic design - Ann Roth costume design - Brian MacDevitt lighting design - Brian Ronan sound design - Larry Hochman and Stephen Oremus co-orchestrators with Oremus serving as musical director and vocal arranger. Dance arrangements by Glen Kelly.

Performances July 8-20 at the Keller Auditorium in Portland, Oregon.

THE BIG BANG Book and Lyrics by Boyd Graham. Music by Jed Feuer.

Directed by Rob Roznowski.

Starring Matt Gwynn and Zev Steinberg.

Jed and Boyd need your cash! Have you ever wanted to invest in a Broadway Musical? As the production explains: "In this outrageous musical comedy, two wanna-be tycoons are desperate to line up funding for their new project, "The Big Bang", so they've set up a "backers' audition" and you're invited! With a cast of hundreds, the overblown extravaganza they've written is the biggest thing Broadway has ever seen and depicts the entire history of the world – from the formation of the planets right through the most important events – Adam and Eve! The Pyramids! Cher! Will Broadway ever be the same? This zany song-and-dance romp will leave you breathless!"

July 10 – August 17, 2014 at Williamston Theatre in Williamston, Michigan. Williamston Theatre is mid-Michigan's only professional resident theatre.

SEX WITH STRANGERS by Laura Eason.

David Schwimmer directs the New York premiere.

How far will you go to get what you want? Will you be the same person if you finally do? When star sex blogger and memoirist Ethan tracks down his idol, the gifted but obscure novelist Olivia, he finds they both crave what the other possesses. As attraction turns to sex, and they inch closer to getting what they want, both must confront the dark side of ambition and the near impossibility of reinventing oneself when the past is only a click away.

With Emmy Award winner Anna Gunn as Olivia and Tony Award nominee Billy Magnussen as Ethan.

Performances begin July 8, 2014 at Second Stage Theatre in New York City.

INTO THE WOODS Music and Lyrics by Stephen Sondheim. Book by James Lapine.

Originally directed on Broadway by James Lapine As reimagined by Fiasco Theater Directed by Noah Brody and Ben Steinfeld.

One of the greatest musicals of all time returns in triumph to its birthplace, nearly three decades after its world premiere at The Old Globe, Fiasco Theater, critically acclaimed for its reinventions of the classics, conjures a mythical world of theatrical invention with 10 actors and a handful of musical instruments. An ordinary rope becomes Jack's famous beanstalk, a ladder becomes Rapunzel's enchanted tower, and the power of transformation creates a beguiling theater of the imagination.

Previews July 12-July 16, opens July 17, closes August 10, 2014 at the Old Globe Theatre, Conrad Prebys Theatre Center in San Diego, CA.

An informal question-and-answer session with cast members takes place Tuesday, July 22, Wednesday, July 23, and Tuesday, July 29.

DISNEY'S THE LITTLE MERMAID Music by Alan Menken. Lyrics by Howard Ashman & Glenn Slater. Book by Doug Wright.

Director Lyn Cramer.

Choreographer Brian J Marcum

Music Director Michael Lavine

The Oklahoma Premiere of the Broadway version of Disney's classic fish tale.

Starring Tony nominee Emily Skinner as the evil Ursula with Amanda Lea LaVergne as Ariel.

Set Designer Adam Koch. Resident Costume Designer Jeffrey Meek. Sound Designer Toby Algya. Lighting Designer Helena Kuukka. Props Designer Courtney Strong. Hair Designer Cindy Ludwig. Production Stage Manager Julie Meyer.

Presented by the Lyric Theatre of Oklahoma July 8-12 at the Civic Center Music Hall in Oklahoma City.

ROMANCE, ROMANCE Book and Lyrics by Barry Harman. Music by Keith Herrmann.

Directed by Rick Simas.

Featuring: Jeffrey Scott Parsons, Lance Arthur Smith, Jill Townsend, Melissa Wolf Klain.

The Tony nominated Romance, Romance takes a look at love and temptation in elegant late 19th century Vienna in Act I and in a contemporary summer rental house in the Hamptons in Act II.

Jill Gorrie is the choreographer, Ron Councell is the music director, Stephen Solook, percussionist, and David Burnett, woodwinds. The design team includes Marty Burnett, scenic design, Matt Novotny, light design, Alina Bokovikova, costume design, Melanie Chen, sound design, Benjamin Cole, props, Peter Herman, hair and wig design and Amy Duffy*/ Cindy Rumley* are the stage managers. Crew includes: Andrea Gutierrez, productions assistant, John Finkbiner, scenic artist, Aaron Rumly, production manager and Ryan Ford, associate production manager.

Previews begin Wednesday, July 9. Opening night, Saturday, July 12 at North Coast Repertory Theatre in Solana Beach, CA.


WHO'S WHERE


KATY PERRY in the spotlight at Madison Square Garden on Wednesday, July 9. On Thursday sh opens a two nighter at the Prudential Center in Newark, NJ.

CHER AND CYNDI LAUPER entertain Monday, July 7, at the Staples Center in Los Angeles. Wednesday's show is at the Honda Center in Anaheim, CA and on Friday they'll be delighting the crowds at the Valley View Casino Center in San Diego, CA.

KEITH URBAN is appearing at Craven Country Jamboree at Qu'Appelle Valley in Craven, SK, next Sunday, July 13.

MONTE-CARLO PHILHARMONIC ORCHESTRA conducted by Semyon Bychkov with Katia & Marielle Labèque, pianos. On the program: Francis Poulenc and Hector Berlioz. July 17, 2014 at the Cour d'Honneur, Palais Princier, Monaco.

DOLLY PARTON brings her tour to the Forum in Frederiksberg, Denmark for a show on Tuesday, July 8. On Wednesday she's on stage at the Spektrum Arena in Oslo, Noway. On Friday she can be enjoyed at the Ericsson Globe in Stockholm, Sweden.

BRUNO MARS entertains Wednesday, July 9, at the Xfinity Theatre in Hartford, CT. Friday's show is at the Jiffy Lube Live in Bristow, VA. Saturday's performance takes place at the Star Pavilion in Hershey, PA.

LADY GAGA has a sold out show Wednesday, July 9, at the Air Canada Centre in Toronto, Canada. Her Friday sheow is at the United Center in Chicago.

MIRANDA LAMBERT appears st Country Concert at Hickory Hills Lakes in Fort Loramie, Ohio on Thursday, July 10.

KRISTIN CHENOWETH has a one-night-only concert at London's Royal Albert Hall on July 12.

JAY LENO telling funny stories Friday, July 11, at the Terry Fator Theatre at The Mirage Hotel in Las Vegas.

LIONEL RICHIE sings his hits Monday, July 7, at the Chastain Park Amphitheatre in Atlanta. On Thursday he's on stage at Austin 360 Amphitheater in Austin, TX. Friday finds him at the Gexa Energy Pavilion in Dallas. Saturday's show is at the Cynthia Woods Mitchell Pavilion in The Woodlands, TX.

TITO PUENTE, JR nurturing the musical legacy left by his father in a high voltage celebration that takes place on stage July 11 and 12 at the Arts Garage in Delray Beach, FL.















Next Column: July 13, 2014
Copyright: July 6, 2014 All Rights Reserved. Reviews, Interviews, Commentary, Photographs or Graphics from any Broadway To Vegas (TM) columns may not be published, broadcast, rewritten, utilized as leads, or used in any manner without permission, compensation and/or credit.
Link to Main Page
---
Laura Deni



For the snail mail address, please E-mail your request.
CLICK HERE FOR COMMENT SECTION