! >
Broadway To Vegas
  
 SHOW REVIEWS CELEBRITY INTERVIEWS GOSSIP NEWS

| | |
| --- | --- |
| | |
STRANDED SAILORS INVITED TO SHOW - - NERO STARS TONY AWARD WINNER IDINA MENZEL - - AMERICAN PREMIERE OF MAMMA MIA! INCLUDES WEDDINGS - - PHANTOM OF THE OPERA SETS ANOTHER RECORD - - CAPE COD THEATRE PROJECT' - - AMERICAN MUSICAL VOICES PROJECT - - RUNNING WITH MARTIN CREED - - DANCING WITH THE DRAGON - - DONATE . . . Scroll Down


Copyright: July 6, 2008
By: Laura Deni

CLICK HERE FOR COMMENT SECTION
STRANDED SAILORS INVITED TO SHOW


Earlier this month, hundreds of sailors were stranded in San Diego, when the aircraft carrier USS George Washington, had to make an emergency stop after catching fire on its way to Japan. The fire aboard the Norfolk, Va.-based ship injured 24. Navy authorities say that it will take at least two to three months for the USSGW to be fixed.

To help boost the crews' morale, the Navy has commissioned The Yellow Ribbon Team to organize a series of activities in which the sailors and their families may participate.

Miracle Theatre Productions will be contributing to this effort by inviting troops from the USSGW to enjoy a night out on the town by attending the July 10 performance of Robert Dubac's Male Intellect: The 2nd Coming! at the Lycium Theatre.

The 2nd Coming! is described as a hard-hitting comic, social satire that is timely, relevant and hilarious. Following in the footsteps of the late George Carlin, Robert Dubac's raw humor points out the disparity between truth and the illusions we accept as reality. Dubac tackles the differences between men and women as well as religion and hot button political issues. The result is nonstop laughs and sudden, unexpected clarity.

On the 4th of July Dubac spent the evening with the troops as they watched the fireworks aboard the USS George Washington. Dubac will also be participating in The Yellow Ribbon Team's Day of Champions on July 15 with the Charger girls, Padres Players and folks from Nascar.

Sailors extinguished the fire several hours after flames were spotted Thursday, May 22, near the auxiliary boiler room and air conditioning and refrigeration space in the rear of the nuclear powered ship. The Navy said the fire spread through a passageway for cables. It also said the carrier's propulsion plant was not damaged and the fire did not threaten the safety of the ship's nuclear reactor. The Navy said it was investigating the cause of the fire and assessing damage to the ship.

Injured sailors were treated and have returned to duty, said Lt. Cmdr. Charlie Brown, a spokesman for Naval Air Forces in San Diego.

The carrier was either resupplying the USS Crommelin or being resupplied by the guided missile frigate when sailors noticed smoke.


ART AND ABOUT


DANCING WITH THE DRAGON; CONTEMPORARY ART FROM BEIJING

Zheng Xuewu, East 2, 2007. Acrylic on canvas. Image courtesy of the artist.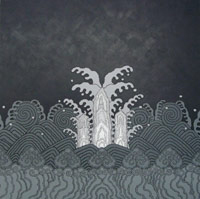 Zheng Xuewu, East 3, 2007. Acrylic on canvas. Image courtesy of the artist.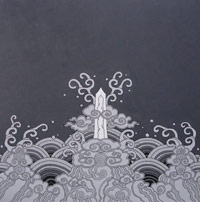 The eyes of the world are focused on China, a country rising to meet the needs of its people after a devastating earthquake, and one inviting the world to enjoy its culture while viewing the 2008 Summer Olympic Games in Beijing. Those who visit the Turchin Center for the Visual Arts (TCVA) at Appalachian State University, don't have to pony up outrageous air fares to experience Chinese culture. The exhibit, which grew out of a new partnership in the visual arts between TCVA and colleagues within China explores contemporary work being created in China. The center also established an art and education exchange with the newly opened Shanghai Institute for Visual Arts (SIVA).

"After spending two weeks in China last fall, we are incredibly pleased to bring Dancing with the Dragon to the Turchin Center this summer," says TCVA Director and Chief Curator Hank Foreman. "Highly regarded Beijing artist Zheng Xuewu helped us coordinate art district and studio tours last fall, which resulted in this phenomenal exhibition. Mr. Zheng's work is a cornerstone of this exhibition.

"He also will facilitate outreach programs for our Community Art School and will serve as a visiting professor in the ASU Department of Art this fall. His wife, Guo Xinxin, will teach the history of Chinese craft," Foreman says. "This exhibition is a cross-section of what is happening in the larger art community. Our meetings with SIVA also resulted in an agreement to establish a mutually beneficial partnership to explore exhibition, student and faculty exchanges, as well as artist residencies."

Visitors to the exhibition will see 76 works ranging from paintings and drawings to mixed media sculpture. In a special video installation, viewers will experience the traditional Chinese art of paper cutting. Visiting Professor Zheng will have 20 pieces in this collection, including paintings, installations and printmaking.

An opening reception for Dancing with the Dragon: Contemporary Art from Beijing takes place July 11th. The exhibition runs through October 4, 2008 in the Main and Mezzanine Galleries, East Wing. Turchin Center for the Visual Arts at ASU in Boone, North Carolina.

MARTIN CREED: THE DUVEEN GALLERIES COMMISSION 2008 an unusual exhibition at through November 16, 2007 at the Tate Museum in London. An exhibition where patrons receive the request: For reasons of safety, we ask the public not to run or obstruct the runners.

Since 1987, when Creed was an art student, he has used numbers to title his work. Work No. 850 as it is called, centers on a simple idea: a person will run as fast as they can every thirty seconds through the gallery - all day, every day. Each run is followed by an equivalent pause, like a musical rest, during which the grand Neoclassical gallery is empty.

Tightly choreographed by Martin Creed, about 50 athletes work in shifts. The event is curated by Sophie O'Brien and Katharine Stout here were assisted by Sandra Adler and Alice Teng. This work celebrates physicality and the human spirit - or the sprint as art marathon. Creed has instructed the runners to sprint as if their lives depended on it. Bringing together people from different backgrounds from all over London, Work No. 850 presents the beauty of human movement in its purest form, a recurring yet infinitely variable line drawn between two points.

What inspired minimalist artist Creed, 40, was his own not-enough-time vacation.

"In Palermo we went to see the catacombs of the Capuchin monks. We were very late and only had five minutes to see it all before closing time. To do it we had to run. I remember running at top speed with my friends through the catacombs looking desperately left and right at all of the dead people hanging on the walls in their best clothes, trying our best to see it all... it was a good way to see it. It was that kind of delirious running which makes you laugh uncontrollably when you're doing it. I think it's good to see museums at high speed. It leaves time for other things.," said Creed in a statement.

The pop icon won the Turner Prize in 2001 for his controversial installation entitled The Lights Going On and Off which centered around an empty gallery with a pair of flashing lights. That award was presented to him by Madonna who said she was keen to back artists who had the nerve to express themselves. Then she uttered a four-letter outburst during the live broadcast, for which Channel 4 had to apologize because it aired before the 9pm.

RICHARD PRINCE CONFERENCE

Richard Prince Covering Hannah (1987 Grand National) 2008 248.9 x 332.7 cm © 2008 Richard Prince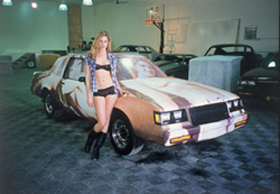 This conference, organized on the occasion of the exhibition Richard Prince: Continuation, brings together artists, curators and writers to examine its uniquely personal installation and literary collection from popular culture and pulp fiction.

Speakers at the July 11th event at the Goethe-Institut in London include: Nate Lowman, artist and curator living in Brooklyn, New York; Richard Meyer, Associate Professor, University of Southern California; Collier Schorr, artist, photographer and former assistant to Richard Prince; Nancy Spector, Chief Curator, Solomon R Guggenheim Museum, New York; and Gilda Williams, Artforum London correspondent and Lecturer at Sotheby's Institute of Art, London.

Richard Prince (born 1949) is one of the world's most celebrated artists and artistic innovators. Prince came to prominence in the 1980s through his celebrated series such as Cowboys, Jokes and Hoods, which appropriate images from magazines, popular culture and pulp fiction to create new photographs, sculptures and paintings that respond to ideas about American identity and consumerism. These works have been critical in challenging ideas of authorship and raising questions about the value of the 'unique' artwork.

The exhibition runs through September 7 at the Serpentine Gallery in London.



Broadway To Vegas is supported through advertising and donations. Priority consideration is given to interview suggestions, news, press releases, etc from paid supporters. However, no paid supporters control, alter, edit, or in any way manipulate the content of this site. Your donation is appreciated. We accept PAYPAL. Thank you for your interest.



SIGNATURE THEATRE IN ARLINGTON,VA has announced the commencement of the American Musical Voices Project: The Next Generation. In 2007, The Shen Family Foundation donated one million dollars to fund the American Music Voices Project, which supports emerging composers in the creation of new work for musical theater. The first installment of this project of their gift will be seen next season with Michael John LaChiusa's Giant.

As a continuation of their commitment to the development of new musical theater, the Shen Family Foundation has awarded Signature an additional $300,000 grant in order to fund American Musical Voices Project: The Next Generation. Three emerging composers, Matt Conner, Adam Gwon, and Gabriel Kahane, have been given $25,000 to develop full-length musicals under the guidance of Artistic Director Eric Schaeffer. Their year-long work will culminate in summer 2009 with staged readings at the 21/24 Signature Lab, an intense three-week-long rehearsal program, and will be featured in a cabaret performance.

In addition to the composer grants, The Shen Family Foundation awarded $5,000 stipends to two honorees, Peter Foley and Marisa Michelson. The honorees will use their funds to write new songs in hopes of being extended the composer grants next season.

Together, these five budding composers make up the American Musical Voices Project: The Next Generation.

The Shen Family Foundation is committed to supporting and encouraging excellence, originality, and high aspiration in musical theater music-writing through its Musical Theater Composers Project. Inspired by the extraordinary, innovative musical theater works of Stephen Sondheim, the Foundation has engaged with non-profit theater organizations to help fund more than 40 projects since 2002.

PHANTOM OF THE OPERA The longest-running show in Broadway history, Andrew Lloyd Webber's The Phantom of the Opera reached another unprecedented milestone with its evening performance on Thursday, July 3. When the curtain rose, the musical became the first Broadway show ever reach 8,500 performances. Now in its phenomenal 21st Year, the Cameron Mackintosh/Really Useful Group, Inc. production, directed by Harold Prince, continues to play at The Majestic Theatre in The Big Apple with no end in sight.

The Phantom of the Opera had its world premiere on October 9, 1986 at Her Majesty's Theatre in London, winning every major British theatre award including the Olivier and Evening Standard Awards. The New York production opened on January 26, 1988 with a then record advance of $18 million. The musical went on to sweep the 1988 Tony Awards, winning seven, including Best Musical. The production also won seven Drama Desk Awards and three Outer Critics Circle Awards. The original London cast recording was the first in British musical history to enter the charts at number one. It has since gone both gold and platinum in Britain and the U.S. selling over 25 million copies worldwide.


SWEET CHARITY


ANTE UP FOR AFRICA a celebrity charity poker tournament last Wednesday, July 2, at the Rio Hotel in Las Vegas. Paying $5,000 to enter were 87 celebrities including; Tony Award winner Jason Alexander, Don Cheadle, Matt Damon, Ben Affleck, George Lopez, Adam Sandler, Ray Romano, Alice in Chains guitarist Jerry Cantrell and talk show host Montel Williams.

Since Nevada law prohibits poker tournaments from designating a certain amount of prize money for charity, players in the no-limit tournament were asked to donate at least half their winnings evenly to two charities working in the Darfur region of Sudan - ENOUGH, a project co-founded in 2007 by the International Crisis Group and the Center for American Progress and Not On Our Watch, a group co-founded by Cheadle, Damon, George Clooney and Brad Pitt.

Cheadle and poker pro Annie Duke began the celebrity poker event last year to raise money and awareness for the region, where more than 300,000 people have died and 2.5 million have been displaced since ethnic warfare began in 2003, according to the United States presidential envoy to Sudan.

BROADWAY BARKS STAGES 10th ANNIVERSARY ADOPT-A-THON Christine Baranski, Victoria Clark, Glenn Close, Harvey Fierstein, Boyd Gaines, Shuler Hensley, Cheyenne Jackson, Andy Karl, Lacey Kohl, Nathan Lane, Mario Lopez, Priscilla Lopez, Matthew Morrison, Judy McLane, Orfeh, Faith Prince, among others. PIck up something to love Saturday, July 12, Shubert Alley in NYC.

Bermadette Peters will also be signing her new Best Selling Children's book, Broadway Barks.

Broadway Barks 10 will feature a sampling of potential pets from several New York City animal shelters and adoption agencies, including A Cause for Paws, Adopt A Boxer Rescue, Animal Haven, Anjellicle Cats Rescue, ASPCA, AC&C, BARC, Bide-A-Wee, Bobbi & the Strays, City Critters, Humane Society of New York, Husky House, Kitty Kind, Long Island Greyhound Rescue, Loving Touch, Metropolitan Maltese Rescue, Mid Atlantic Great Dane Rescue, NYC Siamese Rescue, Pet-I-Care, PLUTO, Russell Refuge, Staten Island Council for Animal Welfare, Stray from the Heart, Tigger Foundation, Arf, and Save Kitty. Representatives from these organizations will be on hand to offer educational information on spaying and neutering.

The event will also feature an auction of celebrity-autographed memorabilia. Proceeds from the auction and other donations received during the day will benefit the shelters and organizations attending Broadway Barks 10.


OTHER PEOPLE'S MONEY


THE LA SCALA OPERA HOUSE IN MILAN, ITALY has been forced to cancel the first three performances of La Bohème. Scenery and costume workers, chorus members and the orchestra are in contract renewal talks which thus far have not reached a happy conclusion. Last Wednesday union representative Giancarlo Albori said talks with management on-going and a strike decision would be made at the end of meetings, possibly on Friday. At that time it was announced that a strike would take place targeting the July 7, 9 and 11th performances of Puccini's La Bohème - a production by Franco Zeffirelli.

A short statement from La Scala reads:

"The management of the theatre deeply regrets to announce that due to a strike organized by the SLC-CGIL, FISTEL CISL, UILCOM UIL and FIALS trade unions, the performances of La Bohème due to take place on Monday 7, Wednesday 9 and Friday 11 July 2008 are cancelled." Opera unions are demanding pay raises totaling $20.3 million over the next four years, but the opera is offering workers $18.2 million, with conditions, the management said.

The statement said the unions had a responsibility to the public and the opera house for the strike's economic consequences and went on to threaten that their action would have repercussions on the pay talks.

This isn't the first time La Scala has been hit by a strike. On November 16, 2007 La Scala's 800 workers, including 135 musicians and 107 in the chorus, staged its second strike in a week, forcing the famous Milan opera house to cancel two shows.

The strike over better wages and working conditions contended that between 2001 and 2007 the number of performances staged had increased from 164 to 273.

That walk-out followed a similar walkout the previous Friday which cancelled a performance of Verdi's Requiem. La Scala was forced to again cancel Requiem - a performance which was to have been conducted by Daniel Barenboim in Parma as part of 50th-anniversary celebrations of the death of celebrated Italian conductor Arturo Toscanini. A Saturday evening performance of Mozart's Cosi Fan Tutte also went dark.

Prior to that a 2005 strike was a protest at musical director Riccardo Muti, who later resigned.


THE CAPE COD THEATRE PROJECT'S 14TH SUMMER SEASON
Director Loretta Greco is the newly appointed Artistic Director of the Magic Theatre in San Francisco. Greco received her MFA from Catholic University and is the recipient of two Drama League Fellowships and a Princess Grace Award.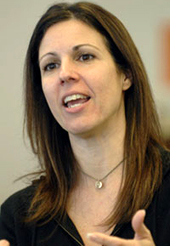 The mission of Cape Cod Theatre Project is to contribute to the vitality of American theater by developing new plays that enable fresh voices to emerge. Each season CCTP develops new American plays through weeklong workshops followed by three staged readings. Each new play is read by professional actors with minimal staging and costuming on summer evenings at Falmouth Academy in Falmouth, Mass. With audience feedback, the playwrights hone their scripts on each of three successive nights. The CCTP play development process has resulted in 29 of 46 new plays progressing to on to full productions.

First up is a comedy, Evie's Waltz, written by Carter W. Lewis and directed by Loretta Greco. A gripping rumination on the state of America's youth, Evie's Waltz is a riveting thriller about a troubled teen who makes his parents answer for the sins of their generation. This new play will be read on Thursday, July 10; Friday, July 11; and Saturday, July 12.

Mr. Lewis was co-founder and resident playwright for Upstart Stage in Berkeley, California. He is the winner of several national playwriting awards including: The Julie Harris - Playwriting Award; The State Theatre - Best New American Play; The Cincinnati Playhouse Rosenthal New Play Prize (1996 and 2001); and New Dramatist Arnold Weissberger Playwriting Award. His work has been produced in 30 other theaters around the country, including Wellfleet Harbor Actors Theatre on Cape Cod and in London at the Royal Court Theatre.

Directing Evie's Waltz is Loretta Greco who was named artistic director of San Francisco's Magic Theatre at the end of March. Previously she spent three years as artistic director of Manhattan's Women's Project, served as a producer at the McCarter Theater in Princeton and directed new plays at the Long Wharf, The Public, La Jolla Playhouse and many others. She will direct the world premier of Evie's Waltz at Repertory Theatre of St Louis and then take it to San Francisco.



Book by Itamar Moses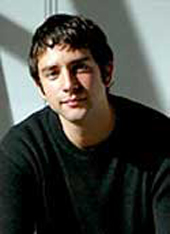 Gaby Alter composed both the music and lyrics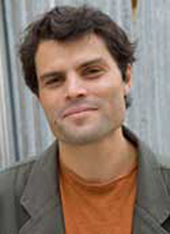 Reality!, a musical, book by Itamar Moses, lyrics by Gaby Alter and Itamar Moses, music by Gaby Alter and directed by Michelle Tattenbaum, will rock the hall on Thursday, July 17; Friday, July 18; and Saturday, July 19. One of only two musicals ever to be staged at CCTP, Reality! is an irreverent parody of the reality behind reality television shows. Fueled by high-octane pop songs, Reality! charts the rise and inevitable fall of media sensations.

Moses is the winner of a 2008 Jonathan Larson Award, the 2004 New York Fringe Festival Songwriting Award and the 1998 San Francisco Bay Area Theatre Critics Circle Award.

Director Michelle Tattenbaum directed 'Til Sunday at the Abingdon Theatre Arts Complex. Currently Tattenbaum is directing Souvenir at Women's Theatre Company at the Parsipanny Playhouse in New Jersey.



John Cariani began a career as a playwright when he ran out of audition material and started writing his own.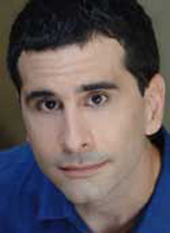 There's something funny at the fillin' station, in Last Gas, by CCTP alumnus, John Cariani. CCTP states they are "proud to commission this new play from Cariani, author of the charming hit comedy, Almost, Maine, which began its national and world tour at CCTP in 2002." Last Gas follows the hapless story of two wildly different brothers in a gas station in northernmost Maine. The play will be presented on Thursday, July 24; Friday, July 25; and Saturday, July 26.

Cariani is an American actor and playwright best known for his role as CSU Tech Julian Beck on television's Law & Order, and for his Tony-nominated performance as Motel the Tailor in the 2004 Broadway revival of Fiddler on the Roof.

Reality! will be directed by Andrew Polk, the artistic director of CCTP.



Annie Baker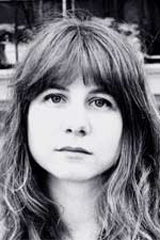 Nocturama, by Annie Baker, one of America's most exciting new playwrights, is an ironic examination of melancholia and the trials of homecoming. Race, sex, video games, a dead poet and hidden chocolate all intertwine in this new play set in a New England town. Nocturama will be read on Thursday, July 31; Friday, August 1; and Saturday, August 2.

Baker's plays have been developed and performed at the Soho Rep, Atlantic Theater Company, Playwrights Horizons, the Ontological-Hysteric, the Magic Theatre (New Voices West), the Brick, EST, and the 2007 Bay Area Playwrights Festival. Her play Body Awareness is currently being produced at the Atlantic Theater Company. She is the recipient of a Sloan Foundation Grant for screenwriting and a Michener Fellowship in playwriting.

Hal Brooks, directing this new play, recently directed the regional tour of the Obie Award-winning No Child by Nilaja Sun. He also directed the smash hit Tom Pain (based on nothing) by Will Eno at the Edinburgh Fringe Festival, the Soho Theatre in London and DR2 in New York. He is a recipient of the 2007-2009 NEA/TCG Career Development Program for Directors.

The Project's work is supported, in part, by the National Endowment for the Arts and the Massachusetts Cultural Council.



BROADWAY BOUND

Jobeth Williams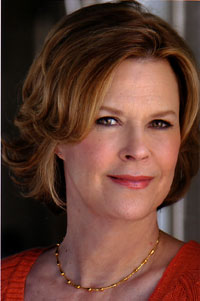 Winner of the 1987 Tony Award for Best Play, this is the final installment of Neil Simon's acclaimed autobiographical Eugene Trilogy - preceded by Brighton Beach Memoirs and Biloxi Blues.

Upon returning home from World War II, Eugene Morris Jerome and his brother Stanley pair up to break into the world of professional comedy writing. Inspiration strikes when they aim their sights on their dysfunctional family - and then the network broadcasts it nationwide,

All performances are recorded to air on LATW's nationally-syndicated radio theater series, The Play's The Thing, which broadcasts weekly on public and satellite radio. L.A. Theatre Works has already recorded the first and second plays in Simon's series: Brighton Beach Memoirs.

Jenny Sullivan directs the cast which includes; Josh Radnor, Jonathan Silverman, Dan Castellaneta, Caroline Aaron, Alan Mandell. Produced by Susan Albert Loewenberg.

Wednesday July 9-July 13. Skirball Cultural Center, Los Angeles.

IF YOU SEE SOMETHING SAY SOMETHING created and performed by Mike Daisey. Directed by Jean-Michele Gregory.

Called "the master storyteller" by The New York Times, Mike Daisey spins tales both historically epic and caustically personal. His new comic monologue takes aim at one of our era's best kept secrets: the history of the Department of Homeland Security.

Weaving in the untold story of the father of the neutron bomb, Daisey illuminates a time when atomic fire rewrote history and ushered in an age of American supremacy. Combining eye-opening research and witty autobiography, he bores into the dark heart of America to discover the meaning of security and the price we are willing to pay for it.

World Premiere July 11 – 20 at Woolly Mammoth Theatre in Washington, DC.

DAY IN HOLLYWOOD/NIGHT IN THE UKRAINE Book and Lyrics by Dick Vosburgh, Music by Frank Lazarus. Directed and Choreographed by James Brennan Musical Direction by Matt Castle. Starring Jonathan Brody, Susan Cella, Jeffrey Denman, Michelle Dyer and Michael McGrath.

Act One is a singing and tap dancing tribute to screen stars of old as Ain't We Got Fun; too Marvelous for Words; Sleepytime Gal and Beyond the Blue Horizon fill the first half of this double feature.

The action then switches to Mrs. Pavlenko's stately mansion, where door slamming, madcap lunacy and The Marx Brothers reign supreme.

Set Design: Dan Meeker Costumes: Paul Favini.

July 7- July 19 at the Cape Playhouse in Dennis Village, MA.

DANCE WITH ME with a book and score by Robert Bartley and Danny Whitman. Starring Emmy Award winner Jai Rodriguez as Desi Arnaz.

The musical about the lives of the late Lucille Ball and Desi Arnaz will have four concert stagings in West Hollywood July 10-13 as part of the Festival of New American Musicals.

Dance With Me is described as - Escaping the bloodshed of his native Island, a young Cuban boy sets sail on a turbulent journey that leads him all the way to Hollywood and into the arms of a fiery, redheaded movie star named Lucille Ball. At the climax of Dance With Me, Desi and Lucy put their money, their trust and their dreams on the line in a gamble to save one thing - their marriage. They risk it all on an untested medium called television.

Rodriguez has been seen on Broadway as Carmen Ghia in The Producers and as Angel in Rent. He also starred in Off-Broadway's Zanna, Don't!, performed in Lincoln Center Theater's Spinning Into Butter and appeared in the acclaimed concert benefit version of Hair. He took home a 2004 Emmy as creative consultant/host on Queer Eye for the Straight Eye.

Dance With Me was recently part of the York Theatre Company's Developmental Reading Series and is a finalist for both the 2008 National Alliance for Musical Theatre Festival and the 2008 Eugene O'Neill Music Theatre Conference.

ASSASSINS Music and Lyrics by Stephen Sondheim. Book by John Weidman. Musical Direction by Johanna Kent. Directed by Richard Israel.

The bold, surreal and darkly humorous Tony award-winning musical is Sondheim at his twisted best - a musical exploration of nine individuals who assassinated or attempted to assassinate the President of the United States. From John Wilkes Booth to Lee Harvey Oswald, this controversial and ultimately American musical takes us on a roller coaster ride in which one man's American dream becomes a nation's nightmare.

The cast features Sterling Beaumon, Christopher Davis Carlisle, Steve Connor, Andrea Covell, Jim Holdridge, Beth Lane, Larry Lederman, David Nadeau, John O'Brien, Darrin Revitz, Dana Reynolds and Shannon Stoeke.

Set design is by Stephen Gifford. The lighting design is by Lisa D. Katz. The costume design is by A. Jeffrey Schoenberg. The sound design is by Cricket S. Myers. The play is produced for WCE by Flip Laffoon and Michelle Exarhos.

Assassins will open Friday, July 11 and continue through Sunday, August 31 at The El Centro Theater, in Hollywood, CA.

STAIN Written By Tony Glazer. Directed by Scott C. Embler.

Stain is billed as an edgy, dark comedy that centers on the quickly-crumbling life of 15-year-old Thomas and the complicated relationships he has with his father, mother, grandmother, best friend George, and his much-older girlfriend, Carmen. When dark family secrets are revealed, Thomas is confronted with a choice that will either save him or mark him forever.

The cast includes: Karina Arroyave, Joanna Bayless, Peter Brensinger, Summer Crockett Moore, Jim O'Connor and Tobias Segal.

Creative team includes: Eddy Trotter (Scenic Designer), Cully Long (Costume Designer), Nick Kolin (Lighting Design), Andrew Eisele (Sound Design/Original Music) and Judy Bowman (Casting)

The world premiere will begin performances on Friday, July 11, open on July 23 and run through August 23, 2008 at The Kirk at Theatre Row in NYC.

THE SCHOOL FOR SCANDAL by Richard Brinsley Sheridan. If you love to dish and gossip, don't miss the malicious and delicious The School for Scandal, running through September 27 at The Will Geer Theatricum Botanicum, a beautiful outdoor amphitheater carved into California's Topanga Canyon hillside.

Richard Brinsley Sheridan's sparkling comedy of manners may have been written in the 18th Century, but its comic look at human frailty and hypocrisy is as scathing and hilarious today as it was back then. Brimming with witty dialogue, mistaken identities, supposed infidelity, eavesdropping and scandal, both real and invented, The School for Scandal is a madcap and delightfully catty romp. Widely regarded as one of the finest comedies in the English language, its wit, humor and social commentary still touch a nerve nearly 330 years after its premiere at London's Drury Lane Theater in the spring of 1777.

"Some things never change," notes director Ellen Geer. "Sheridan nailed our unerring ability to tear others down in order to build ourselves up."

Centuries before Jerry Springer, Inside Edition and the National Enquirer appeared on the scene, Sheridan gave us such gossip-mongers as Lady Sneerwell, Widow Snake, Lady Candour and Benjamin Backbite in a comic story filled with complications, ironies, surprises and schemes that go horribly wrong - a prototype of situation comedy that reveals many of the same guilty pleasures and petty obsessions we know today.

Richard Brinsley Sheridan was manager of the Drury Lane Theatre where he had a great influence on the theater of his time. The School for Scandal is studied around the world in high schools and theater schools, making him one of the most well-known traditionalist playwrights, second only to Shakespeare. He later became a distinguished parliamentary orator. The School for Scandal was a favorite play of General George Washington, who was an inveterate theatergoer.

The cast includes Theatricum company members Willow Geer as Lady Teazle; Franc Ross as Sir Peter Teazle; Susan Angelo as Lady Sneerwell; Melora Marshall as Widow Snake; Katherine Griffith as Lady Candour; Tim Halligan as Sir Oliver Surface; Mark Lewis as Joseph Surface; and Jeff Wiesen as Charles Surface.

On Monday night, July 7 from 7-9 pm, playgoers will have a chance to explore the language and themes of The School for Scandal more deeply and intimately with Ellen Geer and members of the cast. The evening is part of a new event series called Herta's Roundtables; with all proceeds from the separate admission fee going to benefit the Herta Ware Scholarship Fund.

ALL ALONE TOGETHER by Lawrence Roman.

Helena and George Butler are a couple sandwiched between the demands of their aging parents and their growing children.

Looking forward to being alone together again, now that their children have flown the next, Helena and George think they have finally achieve the quiet and privacy they've longed for. Not for long.

Performances through July 19 at Flat Rock Playhouse which is the State Theatre of North Carolina.

DON GIOVANNI by Mozart. A brand new production. Tall, handsome and very, very dark.

Meet the ultimate Love Rat. Charming and unscrupulous, Don Giovanni has stolen kisses and broken hearts across the continent. And wouldn't you fall for a man who looks into your eyes and sings a melting Mozart serenade?

Caught in flagrante, on the run from an ex, and wanted for murder, life is getting complicated, but the Don cannot resist another quick affair. Has opera's great Casanova gone a step too far? Find out as Mozart makes the simplest of melodies reveal the most profound truths.

Joshua Bloom is Leporello, Rachelle Durkin and Kate Ladner play Donna Anna and Catherine Carby is Donna Elvira. As the Don, we welcome Hungarian Gabor Bretz, fresh from appearances in Budapest, Salzburg and La Scala, Milan, for his Australian debut.

Prepare to be seduced by a new production of this timeless tale, directed by the fearless Elke Neidhardt and conducted by Mikhail Agrest.

Set design by Michael Scott-Mitchell. Costume design by Jennie Tate. Lighting Designer is Nick Schlieper.

Performed in Italian with surtitles. Opened July 5 with performances through Sept 10, 2008. Presented by Opera Australia at the Sydney Opera house in Sydney, Australia.

HALF A SIXPENCE Music and Lyrics by David Heneker. Book by Beverley Cross. Based on the Novel by H. G. Wells. Directed by Gordon Greenberg. Choreographed by Patti Colombo.

A bouncy, romantic, musical that will leave you laughing and wanting more. Enjoy the antics of young Arthur Kipps - a Cockney shop clerk who inherits a fortune, flirts with "society", loses his money and winds up happier without it. Chock full of lively dancing and memorable tunes: Party's on the House; If the Rain's Got to Fall; Flash Bang Wallop and more. July 11, 2008 - September 19, 2008 Goodspeed Musicals in East Haddam, CT.

RICKY JAY AND HIS 52 ASSISTANTS After a sold-out run 18 months ago, the Geffen Playhouse is thrilled that starting July 9th, Ricky Jay and His 52 Assistants will dazzle and amaze their patrons with sleight of hand artistry. Performances through August 26, Los Angeles.

NERO

Steven Sater and Duncan Sheik
Script and Lyrics by Steven Sater. Music by Duncan Sheik. Directed by Daniel Kramer.

Starring Tony Award winner Idina Menzel, Jeffrey Carlson and Lea Michele.

The newest project from the Tony Award-winning writer and composer of the groundbreaking musical and Broadway phenomenon Spring Awakening.

Nero is a black-comic tale of the bad-boy Emperor who fiddles as all faith in his country burns.

Part of the Powerhouse Theater summer season at Vassar college in Poughkeepsie, NY. July 11 – July 13, 2008.




WHO'S WHERE


ANDREW LLOYD WEBER MEETS PUCCINI the California Philharmonic Orchestra under the direction of Maestro Vener reinvent the concert with a critically acclaimed combination of world-class performances and compelling dialog in Andrew Lloyd Weber Meets Puccini. Featuring Valeri Perri, soprano; Angel Blue, soprano; Robert MacNeil, tenor; Phil Smith, organist performing; Phantom of The Opera, Madame Butterfly, La Bohème, Cats, Evita, and Tosca. Sunday, July 13 at Walt Disney Concert Hall in Los Angeles.

BROADWAY IN BRYANT PARK SERIES presented by the radio station 106.7 Lite FM, is back for the seventh year, offering lunchtime concerts by cast members from Broadway and Off Broadway shows. The first show this year, on July 10, will include performances from Chicago; Monty Python's Spamalot; Cry-Baby and Stomp. The series runs consecutive Mondays through Aug. 14, NYC.

BON JOVI stars at The Palace of Auburn Hills in Auburn Hills, MI. On Monday, July 7. On Wednesday he opens a two nighter at the TB Banknorth Garden in Boston.

TOM PETTY AND THE HEARTBREAKERS AND STEVE WINDWOOD entertain Tuesday, July 8, at the Riverbend Music Center in Cincinnati. On Wednesday the show is at the Verizon Amphitheatre at Encore Park in Alpharetta, GA. On Friday they bring the show to the Verizon Amphitheatre in Charlotte, NC. Saturday they are in the spotlight at the Time Warner Cable Music Pavilion in Raleigh, NC.

THE POLICE performs at The Amphitheater at Clark County in Ridgefield, WA. On Saturday they take to the stage at the Gorge Amphitheatre in Quincy, WA.

BRUCE SPRINGSTEEN continue their European tour with a two-nighter opening Monday, July 7, at Vallehovin Stadium in Oslo, Norway. On Friday they can be enjoyed at the Olympic Stadium in Helsinki, Finland.

KATHY GRIFFIN brings her pithy observations to the Mountain Winery in Saratoga, CA on Friday, July 11. On Saturday she'll be getting laughs at the Sleep Train Pavilion in Concord, CA.

MELISSA ETHERIDGE in a two night stand Wednesday and Thursday at Madison Square Garden in NYC. On Friday she's on stage at The Pines Theater in Northampton, MA.

LYLE LOVETT entertains Tuesday, July 8, at The Kentucky Center for the Performing Arts in Louisville, KY On Wednesday the show is at Lakewood Civic auditorium in Lakewood, OH. Thursday finds him at the Frederik Meijer Gardens in Grand Rapids, MI. On Friday he performs in the Common Ground Festival at Adado Riverfront Park in Lansing, MI. On Saturday he performs at part of the Ravinia Festival in Highland Park, IL.




PIFFLE AND PROFUNDITIES


THE LONDON FILM PREMIERE FOR MAMMA MIA which benefited The Prince's Trust charities took place July 1 at the Odean Cinema Leicester Square. Benny Anderson of Abba was there. So was Pierce Brosnan and his wife Kelly Shaye Smith, Tamara Beckwith and designer Valentino; Colin Firth and his wife Italian producer Livia Giuggioli, Tom Hanks and his wife Rita Wilson, the fashionable Ashley Liley and Rachel McDowall, Bjorn Ulvaeus and Frida Reuss, Amanda Seyfried, Julie Walters and double Oscar winner Meryl Streep who plays the mother, singing Dancing Queen and Take a Chance on Me, in her first musical film.

Abba songwriters Bjorn Ulvaeus and Benn Andersson were executive producers on the film version, alongside Tom Hanks and his wife Rita Wilson.

The film is an adaptation of the hit musical and features the songs of Seventies supergroup Abba. Seyfried stars as a young bride-to-be who invites three of her mother's old flames - Firth, Pierce Brosnan and Stellan Skarsgard - to her wedding in the hope of finding out which one of them is her father. The movie opens on July 10 in Europe and July 18 in America.

IKEA in the US held a contest to select 20 couples who will consent to be married in the Swedish furniture company's Burbank, CA store on July 17.

The PR stunt had would be vow takers informing IKEA why they wanted to be married, renew their vows, or participate in a commitment ceremony.

According to the promo announcement IKEA will take care of the rest: Wedding/Reception: From the justice of the peace to the wedding cake, IKEA will have everything laid out in a Mamma Mia! The Movie - themed Swedish spread. A $500 IKEA gift card and a Mini-honeymoon which means taking a "trip" to an exclusive, pre-screening of Mamma Mia! The Movie at Universal CityWalk following the July 17th ceremony.

Next Column: July 13, 2008
Copyright: July 6, 2008. All Rights Reserved. Reviews, Interviews, Commentary, Photographs or Graphics from any Broadway To Vegas (TM) columns may not be published, broadcast, rewritten, utilized as leads, or used in any manner without permission, compensation/credit.
Link to Main Page
---
Laura Deni


CLICK HERE FOR COMMENT SECTION