! >
Broadway To Vegas
  SHOW REVIEWS CELEBRITY INTERVIEWS GOSSIP NEWS

| | |
| --- | --- |
| | |
ROMA DOWNEY BECOMES ANGEL IN HO CHI MIN - - - - BRETT SOMERS IN THE SKYLIGHT - - RAY KLAUSEN LIKES TO WORK - - TONY WINNER MELBA MOORE GOES GOSPEL - - MEL BROOKS ANXIOUS TO OPEN YOUNG FRANKENSTEIN ON BROADWAY - - STARDUST HOTEL THROWS A PARTY - - WILLIAM REFRIGERATOR PERRY AT A PARTY - - DONATE . . . Scroll Down


LEONARD NIMOY LOOKS TO THE LIGHT
Leonard Nimoy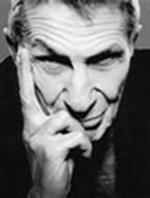 Leonard Nimoy, who played Mr. Spock, the logical and emotionally suppressed Vulcan science officer on the original Star Trek series in the 1960s, has taken his own advise - live long and prosper.

Along with William Shanter, who played Captain Kirk, the two frequently attend Star Trek conventions, as they did last week-end in Oklahoma at the Tulsa Trek Expo.

During one of the paid events, Nimoy led a slide show and discussion on how that V-shape Vulcan salute - that has became an American iconoclast - developed and why that prompted him to create his book, Shekhina, which was published last fall.

It's a gesture that came from a deeply moving childhood experience.

Nimoy grew up as an Orthodox Jew in Boston. His family spoke Yiddish at home and he sang in the Temple choir.

During a ritual blessing in synagogue, the all-male congregation were required to either cover their heads with their shawls, or cover their eyes with their hands.

Leonard's father cautioned the eight-year-old not to look.

"We were at prayer in the synagogue and we were listening to the benediction, which says, 'May the Lord bless you and keep you' and so forth, and my father said to me, 'Don't look.' I didn't know why, but it was true that the entire congregation was covering their eyes or covering their heads with prayer shawls."

The temptation was too great and Nimoy peeked.

What he saw would impact his life.

The men blessing the congregation had also covered their heads, with arms outstretched, each hand splayed in a bizarre three-pointed symbol. Leonard never told anyone he had looked, but he constantly practiced the intriguing hand-gesture.

"It was a magical gesture," he said. "It wasn't explained to me, but I was struck by it. It was mystical, theatrical, fascinating."

"Decades later in talking with a Rabbi, he explained to me that you cover your eyes because the belief is that Shekhina enters the sanctuary at that time to bless the congregation."

According to Kabbalah (Jewish mysticism), during the blessing, the shekhina - the feminine essence of God - appears, and would be too much for mere mortals to look upon. The split-fingered salute approximates the Hebrew letter Shin, which is the first letter in Shaddai, a name for the Almighty.

"The belief is that the Shekhina, the feminine presence of God, enters the sanctuary to bless the congregation at that moment. We're told that the light that emanates from God is too powerful for a human to endure, that it might be fatal."

"That was the first I became really aware of what this is all about," Nimoy admitted.

Intrigued by this new information, Nimoy set out on an eight-year project to create a "photographic essay" exploring the shekhina.

"I became excited about the idea of doing a photo essay on that subject," said Nimoy. "To see if I could find her, sort of, with my camera. That's how the work began to evolve, and it's been a terrific experience for me. It's led me to a lot of research, a lot of reading and it's put me in touch with the magic of spirituality, the mysticism of spirituality. That has come to mean a lot to me."

The story of the famous split-fingered Vulcan salute is now legend within the Trek community.

The original Star Trek episode Amok Time introduced the Vulcan home world, and was in fact the first time viewers would see Vulcans interacting with one another.



Leonard Nimoy giving the infamous Vulcan salute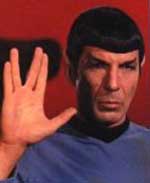 During the shooting of the episode, Nimoy felt that something was missing, that Vulcans should be seen as having a deep and complex culture. So, rather than shaking hands like Westerners, or bowing like Asians, Nimoy suggested to director Joseph Pevney that Vulcans should have their own distinctive greeting. Pevney was receptive to the idea and asked Nimoy want he had in mind. Nimoy thought about it and then held his hand up in an unusual but now familiar gesture. Pevney liked the sign. The rest is history.

"I introduced it to Star Trek not intending to introduce it as a religious symbol so much as kind of a mystical symbol for the Vulcans, and it kind of took hold. I was surprised myself at how it's resonated through the years. People flash me that sign on the street. When I'm walking down the street I get it from policemen, truck drivers, people on the sidewalk, whatever. I get a kick out of that. I think it's kind of charming."

Artistically, Nimoy deserves a place in history as one of the most brilliant photographers in the utilization of light and form to ever stand behind a camera. He shoots only black-and-white photography with lighting used to create effect. In Shekhina, his frequently nude models are bathed in shadow, with stark contrast between light and dark.

"It's all about the battle between spirituality versus materialism and light versus darkness, the light representing spirituality and the dark representing the negative forces," he explained.

"It took me many, many years of study and practice to be able to do that," Nimoy told the gathering. "The light is the reason the congregation must cover their eyes, he said, because the light of God is coming into the sanctuary and might be overwhelming, even fatal, for humans. As a viewer of the photographs, one must look at the light, which is intentional."



Hidden Thoughts by Leonard Nimoy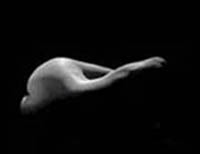 "I'm also dealing with a quote from one of the psalms of David, where addressing God, he wrote, 'Thou didst clothe thyself in light as with a garment.' So I have the Shekhina in some of my images dressed in light."

Nimoy divides his work into sections: The Blessing, The Spirit in the Flesh, Prayer Against the Darkness, The Gathering, and Embracing the Light.

Figures emerge from darkness into ambient light, the tallit (prayer shawl) is lifted to reveal far-seeing eyes, light pours through the hand of a prayerful woman.

These intangible moments of emergence represent the creation of the female spirit.

He employed eight models over the years - some Jewish, some not - including his wife, whose cousin is a Los Angeles rabbi.

Photography is nothing new to Nimoy - he became a shutterbug during his teenage years in the 1940s.

"I got hooked on photography when I was about 13 or 14 years old, using an old Kodak bellows camera, and I still have the camera," he said. "In 1970, I studied photography pretty seriously at UCLA. At that time I was actually considering changing careers. My teacher was Robert Hannighan, the man that started the photography program at UCLA. He was a great teacher on the subject of Humanic Photography - using photography as a personal expression."



Nimoy has authored several poetry books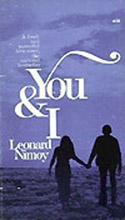 Nimoy also served a two-year stint as an artist-in-residence at the American Academy in Athens, Greece.

Nimoy personally developed the thousands of photographs in the Shekhina project before selecting the 55 which actually made it into the book.

Nimoy's use of nude and semi-nude women clothed only in prayer shawls - worn in more conservative Jewish circles, only by men - to convey a religious theme has raised a few Spocklike eyebrows.

Reactions have varied from enthusiastic support to open condemnation - a controversy that was even parodied on Saturday Night Live.

"There has been some intense discussion from some quarters about whether or not it is appropriate subject matter, because it does mix sexuality and religion," Nimoy admitted. "And when you put those together, there are going to be some people who have strong opinions about it, and I understand it."

"But it's a very reverential book, in my opinion, totally reverential in terms of religion, and I think also it elevates women in the hierarchy of the religion, which makes some men uncomfortable," he charged.

"It's always been a patriarchal religion. And the idea for some men that a woman would have this kind of power and authority is uncomfortable."

The protests centered around the nudity, and the combination of sacred objects and symbols in what some see as heretical contexts. The cover of the book features a semi-nude model - who is not Jewish - with her arm wrapped with a ritual binding traditionally reserved for men alone. Many of the photos within depict the Shin - which inspired the Vulcan salute - juxtaposed with various nude and semi-nude figures.

Nimoy introduces each of the photographic chapters with poetic interludes which deepen understanding of the Shekhina concept. In the earliest Kabbalistic writings, marked by mysticism and the belief in creation through emanation, the Shekhina is described as the feminine principle in the world of the divine Sefirot, the powers emanating from God, through which the world is created and its order sustained.

Nimoy stressed that he consulted with both rabbis and artists during the creation of this book.

"The Kabbalists have always been very comfortable with the idea of sexuality in their religion," he said. "The Shekhina in some of the writings, in a lot of the writings, is referred to as the Sabbath bride, the idea that she mates with God every weekend to introduce the Sabbath. The Shekhina, in mythology, lived with Moses as husband and wife, and when Moses died, the mythology tells us that Shekhina carried him to his resting place on her wings. There has always been a very strongly charged element of sexuality in the cabalistic view. So I'm very comfortable with it. There may be some people who are not, but I think it's worth talking about."

This exhaustive and eerily beautiful photographic study of the female form reveals Nimoy's intrigue with scriptural mythology and ancient spirituality. Through black and white, light and shadow, figuration and abstraction, Nimoy's luminous photographs in Shekhina capture poetic images of the female form. His evocations of spirit and flesh, prayer, gathering, and embrace provide a visual portal.

The final product is an exquisite volume nearly 100 pages long, with an introduction by Nimoy an essay by art critic Donald Kuspit. Many of the photos are accompanied by explanatory passages, traditional verses, or poetry written by Nimoy, who has had several poetry books published.



Joy Picus, Friends of the Observatory President (left) and Dr. Edward C. Krupp, Director of the Los Angeles Giffith Observatory (right) accept a $1 million check from Nimoy and his wife Susan Bay Nimoy.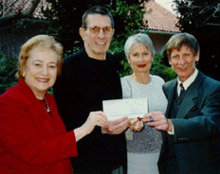 Nimoy and his wife are dedicated to the arts and education.

"We have been given a lot, and we are trying to give some back," he said.

Along with scholarships they have endowed around the country at various institutions and schools, their support has included generous donations.

The Nimoys gave $1 million to the Griffith Observatory expansion in Los Angeles, where ground has been broken on the Leonard Nimoy Event Horizon Theater; $1 million to the Los Angeles Museum of Contemporary Art to endow a fund for emerging artists; and $1.5 million to the Manhattan Arts Center Symphony Space, which recently opened the 176-seat Leonard Nimoy Thalia Theater.

"We really enjoy doing this. We get a tremendous amount of pleasure out of it," he said.

Nimoy announced he recently commissioned a dance piece based on the Shekhina images that will be produced in New York in December and then hopefully will tour the country.

Some of Nimoy's black-and-white photos have been on display at the Skirball Cultural Center, a Jewish display and performing arts complex in Los Angeles, the museum of Hebrew Union College-Jewish Institute of Religion, Reform Judaism's clergy training academy in New York, and at the Sierra Arts Gallery at the Riverside Artists Lofts in Reno, Nevada. Nimoy maintains a home at Lake Tahoe. Nimoy is represented by Bonni Benrubi Gallery in New York and Louis Stern Fine Art in Los Angeles.

A traveling exhibition of Shekhina will tour through 2004. When it beams up in your town, don't miss it.



Broadway To Vegas is supported through advertising and donations. Priority consideration is given to interview suggestions, news, press releases, etc from paid supporters. However, no paid supporters control, alter, edit, or in any way manipulate the content of this site. Your donation is appreciated. We accept PAYPAL. Thank you for your interest. Laura Deni P.O. Box 60538 Las Vegas, NV 89160


STARDUST IN THEIR EYES


The place was noted for beautiful showgirls and mobsters. Now Wayne Newton calls it home. On Tuesday, Absolut Vodka teams up with the Stardust Hotel to throw a party, observing the 45th Anniversary of the historic opening, when the Stardust Hotel and Casino made its debut as the world's largest resort in Las Vegas.

After the invitation only guests slam back a few Stardust Absolut cocktails - "A unique concoction that will serve as the official libation of our 45th Anniversary Celebration," you can expect some of those memory stories to be wild and sexy. Chances are they are all true and needed no alcoholic punch up.

Colorful gambling figure Tony Cornero was the energizer, organizing the Stardust Company in 1954. He wanted to attract visitors in masses, not just the sophisticated and high rollers. He decided that by charging $5.00 a day for rooms and giving guests $5.00 for gambling, he could turn a profit. Hundreds of shares were sold in the company. The new resort was to be called "Tony Cornero's Starlight".

At high noon on July 2, 1958, the world's largest resort complex opened to the public. The 1065 room reality, with what was architecturally little more than a warehouse, charged just $6.00 a day. The resort contained the Big Dipper swimming pool measuring 105 feet in length, a 13,500 square foot lobby, 16,500 square foot casino, and a decor featuring rich red and deep brown colors and indirect lighting. The attendees of the opening included Governors, Senators, city and county officials and Hollywood celebrities.

Tony Cornero never lived to see it.

A gambler from the word dice, he died from a massive heart attack while shooting craps at the Desert Inn in July, 1955. The unfinished shell of a casino sat empty almost two years while the asking price plummeted.

The hotel was bought by John Factor, brother of cosmetics magnate Max Factor. The casino was leased to the group that opened the successful Desert Inn, led by Moe Dalitz and Morris Kleinman, Allard Roen and their Desert Inn associates. With their experience and "referral business," the casino was a winner.

The Stardust marquee was a jagged galaxy of electric lettering spelling out Stardust. The neon-emblazoned sign used 7,100 feet of neon, tubing and 11,000 lamps along its 216 foot front. The "S" alone contained 975 lamps. At night the glow it put out was visible 3 miles away.

The entertainment was a milestone event, the first major French spectacular, Lido de Paris, conceived by Pierre-Louis Guerin & Rene Fraday. Staged by Donn Arden it featured Jacqueline De Bief.

The Lido set the stage for productions shows of the future. The premiere edition, the first show ever brought intact from Europe to Las Vegas, was titled C'est Magnifique.



Lido de Paris 1958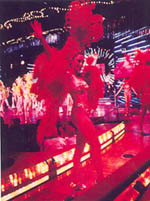 Direct from the internationally acclaimed Lido Club on the Champs Elysees, the show boasted a cast of 100.

From the moment special guest host George Jessel slipped through the curtain to offer opening greetings, the Lido was destined for success.

It begame the longest running production show on the Strip until it was replaced in 1992 with Enter the Night, which closed in 1999.

In October of 1999, 57 year old Wayne Newton signed the biggest entertainment deal in Las Vegas history performing exclusively at the Stardust 40 weeks per year at approximately $25 million per in the 920-seat Stardust Theater, renamed the Wayne Newton Theater.



Lido de Paris 1958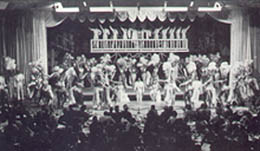 That 1955 Stardust opening night lounge lineup offered dusk to dawn entertainment featuring; Billy Daniels, The Happy Jesters, Dianne Payne and Her men of Note, the Stardusters, The Vera Cruz Boys and the Jack Martin Quartet. Daniels became the first entertainer to sign a long-term residency contract in Las Vegas when he agreed to appear for 40 weeks per year for three years.

By 1961, Stardust's management included Credit Manager Hy Goldbaum, listing seven aliases, had 14 convictions, including one for assault, and had received a three-year sentence for income tax invasion. Casino Manager and 5% owner Johnny Drew, was a veteran associate of Al Capone and was once fined for running a crooked dice game at an Elks convention, and Morris Kleinman who was part of the general management team, had served three years for tax evasion.

In 1966, Howard Hughes attempted to buy the Stardust for $30.5 million but the antitrust division blocked his takeover on the grounds that his acquisition of any more gambling resorts might violate the Sherman Antitrust Act.

Played by Robert De Niro in the movie Casino, no one knew more about casinos than Frank "Lefty" Rosenthal, the gambling mastermind who, with his best friend and partner Anthony Spilotro virtually ran Las Vegas for the mob - based out of the Stardust Hotel.

For years it was the perfect arrangement - Lefty provided the smarts and obsessive attention to detail, while Tony made sure the bosses stayed happy with their weekly suitcases filled with millions of dollars in skimmed cash.

It was so sweet it should have lasted forever, but Lefty's obsession with running the town - and Tony's obsession with Lefty's beautiful showgirl wife Geri - eventually led to the betrayals and investigations that exploded into one of the greatest debacles in the mob's history.

Rosenthal now runs a bar in Florida. In a 1998 PBS interview, Rosenthal stated: "We had four properties: four casinos, Stardust Hotel, Fremont Hotel and Casino, Hacienda, and the Marina. Our command post was the Stardust."

For much of his professional life, the Chicago-born and casino-bred, Rosenthal has been the country's top handicapper. He was one of a handful of men who literally set the line for thousands of bookmakers from coast to coast.

Rosenthal is also credited with creating the first Race & Sportsbook in Las Vegas when he opened a space-age theater-like Race and Sportsbook at the Stardust Hotel & Casino that was copied by every casino on the strip.



Frank Rosenthal interviewing Frank Sinatra.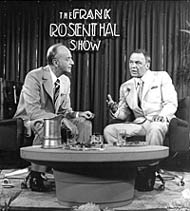 In the 1970's, Rosenthal hosted a television variety show direct from the Stardust. Every show was nothing short of amazing - because of the guests and the roster of regular viewers.

Frank was joined on stage by a galaxy of Las Vegas brightest stars, TV and Hollywood celebrities, sports champions and handicappers including; Sammy Davis Jr., Telly Savalas, Don Rickles, Bob Hope, Liberace, O.J. Simpson, Dick Butkus and Siegfried & Roy. Guests on his show airing September 19, 1977, included Frank Sinatra, Robert Conrad and Jill St. John. His show that aired on Nov 17, 1977 had guests Muhammad Ali and Tommy Lasorda.

Regular viewers included the FBI, police and state gaming board investigtors.

In running a casino Rosenthal felt that, if you virtually gave away the food and liquor, people would stay to gamble. In his PBS interview "Lefty" recounted a memory.



Stardust Hotel opening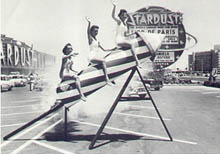 "While I was working in the Stardust Hotel we had a promotion where by you can [come] into the hotel at our restaurant. We've got a 49 cent breakfast, complete; two eggs, any way you wanted them, bacon, sausage, ham, toast, coffee, 49 cents. And it was a lure and we didn't put it on a little billboard. We put it on a big neon that costs hundreds of thousands of dollars to put it on and it revolved. And every car that came down that strip could see it. There's no way to miss it. And yet we were soliciting. We wanted you to walk in that casino, our casino, go enjoy yourself and get that 49 cent breakfast."

"I remember one situation where by the family - a husband, wife and two children, as I recall--from the state of Arizona that saved up for a vacation to come to Las Vegas, Nevada for three, four days. And they saw the sign, 49 cent breakfast, complete and because of the line that we had to get into the breakfast room the husband decided to venture over to a black jack table for a few moments. When those few moments expired that man, that father, was broke. He had lost $18,000 in a period of about half an hour. He then approached an executive in the casino and they asked if he could be given help to get back to Arizona. He needed gas money because he was low and he had no money."

"This man and his wife and his children were coming by to try to save some money for a 49 cent breakfast and lost the entire savings that he had brought in and our casino gave him the money to get back to Arizona."

In 1984, Nevada Gaming Commission gave the highest fine ever issued in Nevada with the $3 million fine against the resort for skimming.

Suspicions, accusations and controversy about the Stardust's mob owners over the years were finally squelched when Sam Boyd purchased the Stardust in March of 1985.

Today the Stardust features 1,500 rooms and suites, world class entertainment, an outdoor recreational complex, a 100,000-gallon Olympic size Villa Pool, spa, fitness center, a variety of restaurants including a steak house, Tony Roma's and Sushi King offering a menu with more than 140 sushi, sashimi and other Pacific Rim delicacies.


SWEET CHARITY


ROMA DOWNEY has accepted an assignment with Operation Smile, the charitable organization in which doctors donate their time and skills to perform surgery on disfigured children in Third-World countries. Operation Smile asked the star, who just wrapped the final season of Touched By an Angel, to be their personal angel, serving on its board of governors as well as hosting a televised fund-raising video that will be filmed in Vietnam this month. Downey accepted and will fly to Ho Chi Minh City on July 13, and from there she will be driven to a small town where she will live for two weeks at the mission, going into the field with the physicians. Downey will be there while doctors operate on cleft palates, deformities, tumors and burns, while also teaching local doctors how to do the procedures.


REFRIGERATOR PERRY GOT DOG TIRED


They are calling him a weenie.

Former Chicago Bears lineman William "The Refrigerator" Perry withdrew from the annual Nathan's Famous Fourth of July International Hot Dog Eating Contest, less than five minutes after it started - only able to stomach four dogs.

Even Virginian Sonya Thomas beat him - swallowing 25 dogs and setting a women's record.

Perhaps what slowed down Perry was that party the evening before. That night out even resulted in a would-be contestant, four-time Canadian hot-dog eating champ Christopher Eyre, being arrested for wife beating. He is to be arraigned on an assault charge for allegedly punching his wife, Justine Wheeler, in the face.

According to published reports Police said Eyre slugged his 30-year-old wife in a fit of jealousy over a hot-dog-chomping rival — that would be William The Refrigerator Perry. Eyre and his wife, both of Surrey, British Columbia, and several contenders — including The Fridge — attended a press dinner in the South Street Seaport the previous evening. Then they and Perry continued to party at Sequoia, another Seaport restaurant.

"Justine became too friendly with William Perry," Eyre told police when he was arrested in their Holiday Inn hotel room around 3 a.m.

Managing to keep his mind focused on his wiener, 145-pound Takero Kobayashi, claimed top dog victory for the third year in a row, by eating 44 and a half franks and buns in 12 minutes. From Japan, his feat was a few dogs short of his count last year, when he wiener-wolfed 50 and a half hot dogs. He was awarded the "Coveted International Mustard Yellow Belt, " the title and a year's supply of hot dogs.

Ed "Cookie" Jarvis of Long Island broke the American record, taking second place by stuffing his face with 30 and a half frankfurters. Subway conductor Eric "Badlands" Booker won third place, gulping 29 hot dogs.

Twenty-one contestants took part in the 88th annual summer tradition.



YOUNG FRANKENSTEIN next up for Mel Brooks. When the creative genius announced, over a year ago, that this was going to be his next project, he wasn't making idle chit-chat. The production is in a full steam ahead mode and Brooks couldn't be happier. Brooks is on the road promoting the tour of The Producers and is talking up his Broadway bound Frankenstein, a stage version of his 1974 movie Young Frankenstein. Brooks is sticking with his winning team - book writer Thomas Meehan and director-choreographer Susan Stroman - both of whom worked their magic with The Producers. Brooks says two-thirds of the book and six songs have been completed for Young Frankenstein.

It should surprise nobody that Brooks' Young Frankenstein ranks among the funniest movies of all time. His film is both a loving tribute and a raucous, irreverent parody of Universal's classic horror films Frankenstein (1931) and Bride of Frankenstein (1935). Filming in glorious black and white, Brooks re-created the Frankenstein laboratory using the same equipment from the original Frankenstein - courtesy of designer Kenneth Strickfaden. The film starred Gene Wilder as Frederick Frankenstein who attempted to resume experiments in re-animation pioneered by his late father - thanks to a book his dad left behind titled How I Did It. Assisting him is the hapless hunchback Igor (Marty Feldman) and the buxom but none-too-bright maiden Inga (Teri Garr), and when Frankenstein succeeds in creating his monster (Peter Boyle), the stage is set for an outrageous revision of the Frankenstein legend. Brooks guided his brilliant cast which included Cloris Leachman, Madeline Kahn, Kenneth Mars, and Gene Hackman in a classic cameo role.

With the same group that turned his movie The Producers into the Broadway mega-hit, it should be a safe bet that they will do the same for Young Frankenstein.

MY FAIR LADY STAR ANTHONY ANDREWS who appears as Professor Higgins, in the London production at the Drury Lane Theatre, hopes to be well enough to return to the stage this week. Higgins, 55, collapsed last week-end after doing a matinee and evening performance, Saturday June 28. He developed water intoxication after consuming a bottle of water ever time he went off stage in the highly demanding role. The over hydration caused a chemical imbalance in his blood.

He had been looking forward to attending his granddaughter's christening the following day in the town of Sussex. However, as he was being driven to Sussex he became delirious and collapsed. His driver rushed him to East Surrey Hospital in Redhill where he spent three days in the intensive care unit.

Medical books explain that water intoxication happens when the body takes in more water than it excretes and its normal sodium level is diluted. That can result in digestive problems, behavioral changes, brain damage, seizures, coma or even death.

My Fair Lady starring Anthony Andrews as Professor Higgins opened July 21, 2001 at the Drury Lane. The long running production is slated to close on August 30.

WILL ROGERS FOLLIES starring Larry Gatlin as Will Rogers with former President George Bush Sr. as the voiceover of Flo Ziegfeld. Jane Bodle is Will Rogers' wife and George Riddle plays his father.

This production returns to the world of Florenz Zeigfeld, the show business entrepreneur who, with his dazzling showgirls and over-the-top productions, helped a nation forget their troubles during the Depression era. America's favorite country boy and philosopher, Will Rogers, became the unexpected central figure for the Follies with his aw-shucks demeanor and gentle comedy routines. The curtain rises on a Follies-style tribute to the man whose daily newspaper column sent America on its way each morning with a smile on its face. Between rope tricks which entertain the audience while the show girls are changing their costumes for The Follies, Will soothes us with his old-fashioned common sense.

Directed and choreographed by Jeff Calhoun. Dallas Summer Musicals July 8-20.

VERY GOOD EDDIE Book by Phillip Bartholomae and Guy Bolton. Lyrics by Schuyler Greene. Music by Jerome Kern.

This is one of the most famous revivals ever staged by Goodspeed and will be remounted July 11 to Oct. 4. Goodspeed first revived the show, with music by Jerome Kern and lyrics by Schuyler Greene, in 1975, and it later made its way to Broadway and London.

Chaos ensues when two honeymooning couples cross paths and trade partners…. accidentally. The vaudeville adventure continues while the mismatched couples find their way to each other and somehow, true love prevails.

The new production will be directed by BT McNicoll and will have Dan Siretta, who was a Goodspeed regular for years, returning to the theater after 14 years, to choreograph the show. Siretta choreographed the 1975 revival.

Goodspeed Opera House, East Haddam, CT July 11 - October 4.

CHICAGO the Tony-winning Broadway musical, at the Ordway Center in St. Paul, Minn. July 8-20.

THE FISHERMAN OF BEARAID EARTH TO BUCKY

Graphic by Tony Walton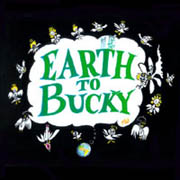 World Premiere by Jack Heifner, the author of Vanities. Directed by Tom Caruso.

This play is an irreverent comedy filled with insights about love, life, death and the family ties that bind us together.

Into the quiet, small town life of two brothers enters a grieving woman who is simultaneously trying to bury her Mama and ignite an old flame. Throughout events both uproariously funny and poignantly powerful, decisions are made that change the direction of the characters' lives forever.

July 8 to Sunday, July 27 at the Bay Street Theatre in Sag Harbor, NY.

EPIC PROPORTIONS by Larry Coen and David Crane. Set in the 1930s, this outrageous comedy tells the story of two brothers, Benny and Phil, who go to the Arizona desert to be extras in the huge Biblical epic Exeunt Omnes. The brothers find themselves falling for the same girl while dealing with gladiator battles, the Ten Plagues and a cast of thousands. July 9 thru August 17 at the Backstage Theatre in Breckenridge, Colorado.

GEORGE GERSHWIN ALONE - music & lyrics by George Gershwin and Ira Gershwin book & performance by Hershey Felder, directed by Joel Zwick is an excellent production - see Broadway To Vegas column of April 22, 2001.

This celebrated one-man play about the legendary American composer who "made a lady out of jazz" broke attendance records last summer and returned July 3 for a three week run - through July 26 - at the American Repertory Theatre in Cambridge, MA.

GREASE STARRING FRANKIE AVALON July 8-13 Fox Theatre in Atlanta, Georgia.

BERLIN TO BROADWAY Kurt Weill's Berlin to Broadway will take you back to a different time, a time when you enjoyed life itself. You'll laugh, you'll smile, you'll grin, and you'll dance in your seats as you remember September Song, Mack the Knife, Alabama Song, and more. You'll thrill to the music from Threepenny Opera, Happy End, Street Scene, and Knickerbocker Holiday. Did coming to America dull one of the twentieth century's most talented composers of music for the German theater? Nonsense! Kurt Weill simply turned into one of the century's most talented composers of music for the American theater. Arriving in America in 1935, it was only a few years before he was writing theater music for Broadway that was idiomatic and of the very highest quality. "Show me the way to the next whiskey bar…don't ask why." Just enjoy the spirit… July 9, 12, 17, 20 at The Drury Theater at The Cleveland Play House in Cleveland, Ohio.

HOMEBODY/KABUL A bold and controversial play about a bored and opinionated Englishwoman who travels to Afghanistan, then disappears. Written by Tony Kushner and directed by Frank Galati. July 10-August 31 Steppenwolf in Chicago.

HARVEY a revival of Mary Chase's 1944 Pulitzer Prize-winning classic comedy starring Charles Durning, Joyce Van Patten and Dick Van Patten, and directed by Charles Nelson Reilly. Following an eight-week Laguna Beach run, the Playhouse production will be moved to Broadway by producer Don Gregory.

This famous play centers on amiable tippler Elwood P. Dowd (Durning), whose best friend Harvey just happens to be a 6 foot 3-1/2 inch tall white rabbit that no one else can see. Elwood's social-climbing aunt Veta (Joyce Van Patten) thinks he has finally flipped and should be put into an asylum, run by Dr. Chumley (Dick Van Patten), which sets off a series of hilarious misunderstandings and delicious complications.

The cast also includes; William H. Bassett, Jack Betts, Leslie Easterbrook, Pamela Gordon, Stephen O'Mahoney, Erica Shaffer and Jill Van Velzer and Dick's son James Van Patten.

Harvey can be enjoyed at California's Laguna Playhouse, July 8-Aug. 31.


| | | |
| --- | --- | --- |
| | | |
WHO'S WHERE


BRETT SOMERS who celebrates her birthday July 11th, says good-by to a personal year and hello to a new age, while performing at Danny's Skylight Room in New York. Somers, who became famous among game show fans for her appearances on the 1970s hit The Match Game, where she traded comical insults with host Gene Rayburn and fellow panelists Richard Dawson and Charles Nelson Reilly. An Evening With Brett Somers is described "a musical memoir of a life in and out of show business - the act contains hilarious and poignant moments of romance, marriage, career and, of course, Match Game." Somers co-wrote the program with Mark Cherry, her musical director and arranger. July 7, 14, 21 and 28. Danny's Skylight Room in New York City.

RAY KLAUSEN the set designer who has over 250 shows for theatre and television to his credit has lent his skills to Weight on the Roof, a comedy by Eric Houston which has been extended through August 10 at the Court Theatre in Los Angeles.

On Broadway Klausen designed such shows as the upcoming Big River for Roundabout Theatre Comedy. His television credits include sets for Diana Ross, Martha Graham, Michael Jackson, Liza Minnelli, Ann-Margret, Elton John, Princess Grace, Barbra Streisand, Madonna and Elvis. He created the set designs for 27 American Music Awards, 6 Academy Awards, 10 Kennedy Center Honors, 11 American Film Institute Tributes, 2 Tony Awards,, A Night of 100 Stars and series for the Smothers Brothers, Pearl Bailey, Sammy Davis Jr., Andy Williams and Cher. He is the recipient of 3 Emmy Awards and 11 nominations.

THE EAGLES Tuesday and Wednesday at the First Union Center in Philadelphia. On Friday and Saturday they are at the MCI Center in Washington, D.C.

JOHN PIZZARELLI performing Saturday, July 12, at the Boch Center for the Performing Arts in Mashpee, Mass.

JERRY SEINFELD telling tales Saturday, July 12 at the Orpheum Theatre in Omaha, Nebraska.

WYONNA center stage Sunday, July 13 at the Ector County Coliseum in Odessa, Texas.

MICHAEL FEINSTEIN performing Saturday, July 12 at the Historic Mountain Winery in Saratoga, California.

AN EVENING WITH CAROL CHANNING STARRING RICHARD SKIPPER Richard performs his tribute to Carol Channing's amazing life and career with musical director John Bowen. Special guest - Cydney Halpin and Mari Eileen O'brien. July 7 at The Duplex in NYC. On July 14 it's Dueling Divas. An Evening with Carol Channing featuring Richard Shipper and Jana Robbins in a musical tribute to Cy Coleman, Jerry Herman & Jule Styne with Doyle Newmyer on piano. This is a benefit for Parkinson's. Tickets are $20.00 plus a two-drink minimum. The Duplex, NYC.

LYLE LOVETT has a two nighter tonight and tomorrow July 6-7 at the Luther Burbank Center in Santa Rosa, California.

CHRIS ISAAK performs Thursday at Foxwoods Casino in Mashantucket, Conn. On Friday he is at the Fleet Boston Pavilion in Boston and on Saturday the show is at the Cape Cod Melody Tent in Hyannis, Mass.

RICK SPRINGFIELD on stage , Saturday, at the Moondance Ham in Walker, Minn. Next Sunday he is starring at Mystic Lake Casino in Prior Lake, Minn.

DAVE MATTHEWS BAND Target Center in Minneapolis on July 9.

MELISSA ERRICO backed by a full band in her Blue Like That program featuring originals and modern day standards, plus new tunes. Blue Like That is also the title of her first CD, featuring 12 tracks arranged and produced by Grammy winner Arif Mardin. Tuesday, July 8, Joe's Pub, NYC. Tonight, July 6th, is closing night for The Threepenny Opera at The Williamstown Theater Festival. Melissa has been starring in the production, playing opposite Jesse Martin and Betty Buckley.

MELBA MOORE performing at Joe's Pub in New York City on Sunday, July 13. The Tony winner recently released her first gospel album I'm Still Here.

SAY THE WORD Hollywood's top writers and comedians step out from behind the scenes to read pieces written for their own voices. Lounge-style with cocktails and snacks. Hosted by Un-Cabaret's Beth Lapides. Performers include Winnie Holzman (My So Called Life), Scott Carter (Politically Incorrect), and Peter Mehlman (Seinfeld). For ages 21 and up. July 11, at the Skirball Center in Los Angeles.


FINAL OVATION


KATHARINE HEPBURN the larger than life 4 time Oscar winning actress, who died at the age of 96 last Sunday at her home in Old Saybrook, was honored last Tuesday on Broadway.

The lights on The Great White Way dimmed in honor of the star who had received two Tony nominations, 12 Academy Award nominations and won four Oscars.

She made her New York debut in These Days in 1928. Her Broadway role in Warrior's Husband resulted in a movie offer from RKO. She starred in the Broadway musical Coco in 1969. When she broke an ankle during A Matter of Gravity in 1976, she went on in a wheelchair. She last appeared on Broadway in the 1982 production of West Side Waltz.

BUDDY HACKETT 78, passed away at his California Malibu Beach house on Monday.

The veteran Las Vegas stage comedic genius made his Broadway debut in the 1954 farce Lunatics and Lovers, for which he received a Donaldson Award. He also appeared in a 1960 Broadway comedy, Viva Madison Avenue! and starred in the 1964 production of I Had a Ball (See Broadway To Vegas column of May 11, 2003 )

Hackett made his film debut in 1953 with Walking My Baby Back Home. Other roles in his notable 50 year career included; The Music Man, The Love Bug and It's a Mad, Mad, Mad, Mad World. In Disney's The Little Mermaid, he was the voice of the seagull Scuttle.

He is survived by his wife, Sherry, a son comedian Sandy Hackett of Las Vegas; two daughters, Ivy Miller of Denver and Lisa Hackett of Los Angeles; and two grandchildren.

HERBIE MANN who turned the flute into a jazz instrument, passed away from cancer last Tuesday at his home in New Mexico. He was 73.

In 1962 the Brooklyn born musician became one of the first American jazz artists to embrace Brazilian music and work with Brazilian musicians, recording an album with Antonio Carlos Jobim, Sergio Mendes and others. He later incorporated elements of African, Japanese and Middle Eastern music into his repertory.

His last album, finished a few weeks before his death, was a collaboration with alto saxophonist Phil Woods.

When he learned five years ago that he had prostate cancer Mann established the Herbie Mann Prostate Cancer Awareness Music Foundation and began giving concerts at which he offered free screening to all men in attendance between 40 and 75.

He is survived by his wife, Susan Janeal Arison; a son, Geoffrey, who played drums in his band Sona Terra; another son, Paul; two daughters, Claudia Mann-Basler and Laura Mann; his mother, Ruth Solomon; and a sister, Judy Bernstein.
















Next Column: Julyl 13, 2003
Copyright: July 6, 2003. All Rights Reserved. Reviews, Interviews, Commentary, Photographs or graphics from any Broadway To Vegas (TM) columns may not be published, broadcast, rewritten, utilized as leads, or used in any manner without permission, compensation/credit.
Link to Main Page
---
Laura Deni


CLICK HERE FOR COMMENT SECTION