! >
Broadway To Vegas
  SHOW REVIEWS     CELEBRITY INTERVIEWS     GOSSIP     NEWS 
| | |
| --- | --- |
| | |
Copyright: July 5, 1999
By: Laura Deni
CLICK HERE FOR COMMENT SECTION

FLUSH WITH SUCCESS
Touting toilet paper flushed Dick Wilson's acting career right down Thomas Crapper's invention.


DICK WILSON never thought the commercial would succeed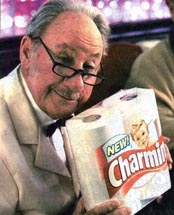 There were years when the guy who made "Please don't squeeze the Charmin" an instantly recognizable phrase, wished he's never done the original commercials.

After a 14 year hiatus, Wilson 82, has recycled back into the two-ply world. His new Charmin commercials began airing last Thursday.

The original 504 ads ran from 1965 until 1989 putting Wilson in the Guinness Book of Records for having the longest running television commercial.

Wilson never dreamed the spots would catch on, much less become an advertising icon that ruined his promising acting career.

Four years ago Wilson, who has homes in Los Angeles and Las Vegas, was crabbing about being synonymous with the bathroom wipe.

"I did Charmin for 25 years and it absolutely ruined my career," he had complained. "I was in films, but once I did Charmin nobody ever remembered any of the movies I did. I couldn't get another job. Now, all I get is Charmin. One guy, at the company, sends me a case of Charmin every month. I need another job. If they won't hire me for the movies, the least somebody can do is get me a food commercial." Quipped Wilson, "Then, maybe the food company will send me food so I can use the Charmin."

Prior to his Charmin involvement, Wilson had been a stand up comic, stuntman, acrobat, and a movie and television actor.

"My acrobatic skills came in handy when I filled in for a stuntman who never showed up in Mutiny on the Bounty, Wilson recalled. "I had to do a back flip off the ship's 40 foot high mast and fall into eight feet of water.

"While I was living in Hamilton, British Columbia, I developed a knack for speaking with a French-Canadian accent. A Hollywood producer heard it and offered me a part in the 1960's television series Sergeant Preston of the Yukon. When I came to do the reading, he said - Didn't you get my telegram?

"I was supposed to be Sergeant Preston's sidekick, but I got replaced by King the dog.

"I did do eight episodes of the show and played a prisoner in the Perry Mason series. I also played a drunk for nine years in Bewitched.

"In 1932 I made a movie with Jane Withers, Handle With Care. She went on to become Josephine the Plumber, who did the commercials for Comet cleanser.




SHIRLEY MACLAINE The Charmin pitch man co-produced her Vegas show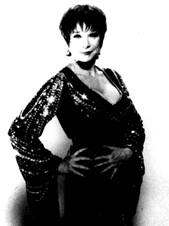 Wilson was co-producing Shirley MacLaine's Show at the old Aladdin Hotel in Las Vegas when he was summoned to do the first Charmin commercial in New York He thought it was a one flush deal. Furthermore, the ad agency wanted the shoot in Flushing, N.Y. - an idea which Wilson thought was - a load of.

"I thought it was a one day job and that would be it. I took a lot of creative liberties with the script and they let me get away with it. They wanted me to come out and demand that the ladies stop squeezing the Charmin. I told them that a small grocery store owner wouldn't do it that way. He'd be more polite - please don't squeeze the Charmin.

"It was my idea to get caught squeezing the Charmin afterwards. And, I wore reading glasses, because I couldn't read the script. They told me to keep them on because they added a nice touch. I did the one commercial and thought that was it. Then they called me back for 8 more and then I kept coming back for more and that lasted for 25 years.

"I thought doing those commercials would make my life easy. I didn't think it would drive me out of the business. But after the commercials ended production companies wouldn't hire me. They said - we can't have Mr. Whipple playing a passionate love scene or blowing someone away like Dirty Harry." In 1979 a poll showed that the Mr. Whipple character was the third best known American, behind Richard Nixon and the Rev. Billy Graham. Even today market research studies indicated that 90 percent of consumers 25 and older could identify Mr. Whipple. Knowing a solid "Q" score when they see it, Proctor & Gambler has re-employed Wilson, who has recovered from two strokes and brain surgery.

The adorable "Mr. Whipple" has been married for over 40 years to Meg, a blonde beauty, whom he met while they were both performing in a USO Show in Tokyo. Meg danced on the Jackie Gleason Show and was a tap dancer in the Allan Jones show at the old Thunderbird Hotel in Las Vegas. Their three children, Melanie, Stuart and Wendy grew up being teased by schoolmates for being the kids of the toilet paper guy. Having a father who earned over $300,000 in making the commercials, the kids learned that living well was the best revenge.


A PASSIONATE & CLANDESTINE LOVE AFFAIR
MARIAN SELDES plays Shaw's lover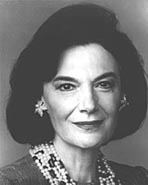 Marian Seldes, the Tony Award winning actress who was inducted into the Theatre Hall of Fame in 1996 and received a Tony nomination for her role this season in Ring Around the Moon, returns to the stage as George Bernard Shaw's lover.

At the end of the nineteenth century, Shaw fell instantly in love with Mrs. Patrick Campbell, one of the most celebrated actresses on the London stage and the originator of the role of Eliza Doolittle in Shaw's Pygmalion.

Dear Liar is a comedy of letters adapted from 40 years of correspondence chronicling the stormy, passionate and clandestine love affair between Shaw and his fair lady.

Portraying Shaw in the Irish Repertory Theater production will be Donal Donnelly who previously was seen as Shaw in his one-man show My Astonishing Self. The original Broadway production of Dear Liar opened on March 17, 1960 at the Billy Rose Theatre (now the Nederlander), starred Katharine Cornell and Brian Aherne, and was directed by Donald Onslaughter.

The new Irish Rep production begins preview performances on Friday, July 16, opening on July 22 - Aug. 29. Dear Liar will be directed by Charlotte Moore, with set design by David Raphel, costumes by David Toser, lighting by Gregory Cohen and sound by Murmod, Inc. The play is produced by Ciara'n O'Reilly.


CANADIAN PERKS LURE FILMMAKERS


State film commissions are complaining that an increasing number of American movie projects are heading towards Canada.

The country to the north has been luring films their way by wiping out sales taxes on materials purchased there, offering rebates on production costs and providing income-tax incentives.

The exchange rate - nearly $1.50 for every U.S. dollar, means an American company can stretch the budget across the border.

A consortium of state film commissioners, FILM US, is lobbying Congress for federal trade reforms. Currently, Canada permits only a couple of U.S. film production workers to accompany shoots, forcing the hiring of almost exclusively Canadian crews. The United States has no such restrictions.

In statistics released Friday, July 2, film production activity outside of studio lots in Los Angeles - considered a barometer of overall entertainment industry activity - fell 6.6% from a year earlier. The cutbacks are called an overall trend that sees studios cutting back to save money on feature film work.

Recently Michigan lost out to Canada on filming a Michigan based story, Reindeer Games, because the monetary exchange rate meant that producers could save $5 million on a budget of $30., reported Janet Lockwood director of the Michigan Film Office.

Instead of getting permits and helping Michigan prepare for a movie project, Lockwood found herself shipping Michigan highway and lottery signs to British Columbia - so that the movie would appear to have been shot in Michigan.


SWEET CHARITY

TOM SKERRITT will not only emcee Denver's Red Lady River Festival, he's brining the beer. Not just any beer, but Red Lady beer from his Idle Spur brewpub in Crested Butte. The July 17 charity event in Denver, which is sold out, helps at-risk kids.

CARNEGIE HALL composer's chair is named for Richard and Barbara Debs, who have given $2 million to endow it, announced Isaac Stern, Carnegie Hall President. The purpose of the chair is that the appointed composers collaborate with the Carnegie Hall staff in creative aspects, including concert programming, educational projects and the commissioning program. Pierre Boulez will hold the chair for the 1999-2000 season. Richard A. Debs was the founding President of Morgan Stanley International in 1987. Previously, he served as the COO of the Federal Reserve Bank in NY. Holder of a Pd.D. from Princeton and an LL.B. from Harvard Law School, he's been a Carnegie Hall Trustee since 1970. Barbara Knowles Debs is former President and Director of the New York Historical Society, and former President of Manhattanville College. She is a graduate of Vassar College, and holds a Pd.D. from Harvard.



Broadway To Vegas is supported through advertising and donations. Priority consideration is given to interview suggestions, news, press releases, etc from paid supporters. However, no paid supporters control, alter, edit, or in any way manipulate the content of this site. Your donation is appreciated. We accept PAYPAL. Thank you for your interest.



JOLSON a spectacular musical about one of America's greatest entertainers has a July 13-18 run at the Fox Theater, Atlanta. Jolson was famous for his pioneering work in vaudeville, musical comedy, radio, recordings and stage. He also appeared in the first motion picture with sound, The Jazz Singer.

TIM CONWAY, PAXTON WHITHEAD AND BETSY PALMER star in A Bench in the Sun, a new comedy by Ron Clark, directed by John Tillinger. Westport Country Playhouse July 5-17.

THE DEAD a musical version of James Joyce's short story, with a book by Richard Nelson, will open the fall season of Playwrights Horizons, NYC. Produced in conjunction with Gregory Mosher and Arielle Tepper. The production will star Alice Ripley and Daisy Egan.

THE WIZZARD OF OZ starring Mickey Rooney as The Wizard, Jo Anne Worley as the Wicked Witch and Jessica Grove as Dorothy. July 7-18 Orange Grove Performing Arts Center.

WEST SIDE STORY July 12-18 Sacramento, CA Light Opera Association

THE DAYS BEFORE by Robert Wilson has its world premiere July 7-10 at Lincoln Center Festival 99. The play is based on an Umberto Uco novel about a sailor, a shipwreck and surrealism. The production stars Tony Randall, Isabella Rossellini and Fiona Shaw. Festival' 99 runs through July 25 featuring 113 performances of 34 fine-arts productions from around the world.

HOLLYWOOD BABYLON a dark comedy about the price of fame opens July 7 at the Stamford Center for the Arts, Stamford, Conn.

THE CRUCIFER OF BLOOD a steamy gothic Sherlock Holmes tale of narcotic greed by Paul Giovanni, directed by Christopher Renshaw continues through July 10 at the Berkshire Theatre Festival, Stockbridge, MA. The production features; David Adkins, J. Paul Boehmer, Alex Draper, Joanna Going, Michael Hollick, Ronobir Lahiri, Gary Sloan, Stephen Spinella and James Warwick.

KISS ME KATE the first revival of Cole Porter's 1948 Broadway musical set to open at the Martin Beck Theater, NYC. Previews begin Oct. 25. Starring in the Howard Keel, Kathryn Grayson roles will be Brian Stokes Mitchell and Marin Mazzle, who were both in Ragtime.

JIMMY was an original Broadway musical starring Frank Gorshin, William Griffis, Jack Collins, Julie Wilson, Dorothy Claire and Anita Gilette, produced by Jack L. Warner in association with Don Saxon and Harry Mayer. One toe tapping, pithy number after another. More in line with the politics of today than during its Broadway outing. Why hasn't anybody staged a revival?


WHO'S WHERE

VANESSA WILLIAMS performs July 9-10 at the Venetian Hotel, Las Vegas.

RODNEY DANGERFIELD seeking respect at the MGM Grand, Las Vegas July 8-14.

DANNY PINTAURO opens his one-man show The Velocity of Gary at the Duplex Cabaret, NYC. The actor who played Judith Light's son on Who's The Boss will play a street hustler.

PETER FRAMPTON AND ERIC STUART hop on the House of Blues Stage, Mandalay Bay Hotel, Las Vegas July 8.

TERI HATCHER who put her own stamp on Chicago in Los Angeles has taken Chicago to Chicago at the Shubert Theater through July 24.

TOMMY TUNE leaves his starring role in the EFX show at the MGM Grand at the end of this year when his contract expires. He's headed back to Broadway. No word yet on who will replace him.

JUDY COLLINS July 10 - Long Island Summer Festival, Planting Fields Arborerum, Oyster Bay, NY

THE DOOBIE BROTHERS & CHICAGO July 9 outside The Today Show window in Rockefeller Plaza as part of The Today Show's Summer Concert Series.
THIS AND THAT

SPAM JAM that eagerly anticipated annual event in Austin, Minn. drew more than 20,000 Spam lovers - or as a Spam Jam official told us - "Oh, boy are there a lot down there!" The 9th annual festival honoring the canned meat included the Spam Gelatin Jump, a Spam carving contest and the singing group The Spamettes. The three day party ends today, July 5.

BEIGNETS AND BRIE Bastille Days, a celebration of French heritage and culture which commemorates the start of the French revolution, storms Milwaukee Thursday through Sunday.

Over 150,000 Francophiles are expected to participate in America's largest authentic French festival. There's going to be a 43-foot replica of the Eiffel Tower and even an Arc de Triompe.

Entertainment runs the gamut from Edith Piaf cabaret songs to the high-energy kicks of the can-can.

KEITH WHITLEY drank himself to death in 1989, leaving Lorrie Morgan a widow. On Thursday a Vegas financed 7-ft. bronze statue of the country singer will be dedicated in Whitney's birthplace, Sandy Hook, KY. Footing the bill is Richard Snowden who coughed up more than $200,000 for the memorial. Snowden owns Rick's Tally-Ho, an all-nude club. Business must be good.

THE OOBR'S ARE HERE at least on July 12 they will be - at the Union Square Theatre NYC. If you haven't a clue what OOBR means - it's the Off-Off-Broadway theatre awards, which salute an egregiously overlooked aspect of the theatre, while giving co-star status to the deli food. A lifetime achievement award will be given to the Split Britches theatrical troupe, which was established in the early 1980s. Entertainment for the evening will be provided by the casts of The Cover of Life (Thanks Mom! Productions), Bo (Willie Ann Gissendanner), King Lear, (the Chekhov Theatre Ensemble), and Cary & Gall in Who Is That Guy? (Josh Cary and Patrick Gallo). Receiving equal billing is the food, supplied by Katz Deli at the after awards party.

A SUMMER READ Seems that everyone is offering up the good word. Jackie Collins' Dangerous Kiss, is an instant national bestseller, which should come as no surprise. Dr. Amelia M. De Luz Montes of the University of California-Santa Barbara says "a must read" is Molly Brown: Unraveling the Myth a new biography of the legendary Leadville, CO woman known as The Unsinkable Molly Brown. Written by Kristen Iversen, with a forward by Muffet Brown, a great granddaughter of Molly. More than 100 people in period costumes were on hand at the Grant-Humphries Mansion in Denver for a party celebrating the book's publication. Digby Diehl guesting on the KTLA Morning Show, Los Angeles, had his list headed by Thomas Harris' much anticipated Hannibal sequel to The Silence of the Lambs. He also had kind words for Ralph Ellison's Juneteenth, The First Victim the twelfth thrilled by Ridley Pearson and The Elvis and Marilyn Affair a novel by press agent turned author Robert S. Levinson. In real life Presley and Monroe never met. That doesn't stop a novelist. In Levinson's tomb missing love letters possibly exchanged by Presley and Monroe cause all sorts of problems.



Mention BROADWAY TO VEGAS for Special Consideration
Call (800) 942-9027









Next Column: July 12, 1999
Copyright: June 5, 1999. All Rights Reserved. Reviews, Interviews, Commentary, Photographs or Graphics from any Broadway To Vegas (TM) columns may not be published, broadcast, rewritten, utilized as leads, or used in any manner without permission, compensation and/or credit.
Link to Main Page
---

broadway@broadwaytovegas.com

For the snail mail address, please E-mail your request.
CLICK HERE FOR COMMENT SECTION