! >
Broadway To Vegas
  
 SHOW REVIEWS CELEBRITY INTERVIEWS GOSSIP NEWS

| | |
| --- | --- |
| | |
A VIRTUAL NESPERENNUB - - BILL KURTIS INTERVIEWS "RON BURGUNDY" - - MARLON BRANDO'S ANTICS - - BEYONCE HEADLINES LA DOLCE VITA BLACK TIE BALL - - REVENGE OF THE MUMMY ATTRACTION - - LORNA LUFT BRINGS SONGS MY MOTHER TAUGHT ME TO THE WEST END - - ECHOES OF THE WAR STARS STERNHAGEN AND EASTON - - BARBARA COOK SPEAKS OUT - - DONATE . . . Scroll Down


GETTING ALL WRAPPED UP IN THE MUMMY CRAZE


Whether you want the real thing or the Hollywood version - it's the mummy season.

Mummies, jealously guarding their secrets, are a constant source of fascination and mystery.

This past week has been a busy one in the mummy world.

The British Museum virtually unwrapped a 3,000 year-old mummy and Universal Studios in Hollywood unleashed Revenge of the Mummy.

The mummy fascination and an acknowledgement that visualization delivers the fastest path to fully engage the mind resulted in both projects calling upon California based Silicon Graphics (SGI), the world's leader in computing technology for 3D graphics and animation, to bring the concepts into reality. These are the guys that animated the fearsome dinosaurs in Jurassic Park.

The British Museum has Nesperennub, a priest from the temple of Karnak in Ancient Egypt, who has been sealed inside his coffin for 3,000 years.

Hieroglyphics and paintings on the coffin reveal that he was a priest around 800 BC, at the temple of Karnak in the ancient city of Thebes, the forerunner of modern-day Luxor - the one in Egypt, not the hotel in Las Vegas, which was patterned after the real thing.

The scientists at the British Museum have been desperate to find out the secrets inside the coffin, but they've been unable to do so, because to tamper with the bandages required destroying the coffin in the process.

Thanks to dazzling three-dimensional graphic computer technology Nesperennub has been stripped to the bone.

Egyptologist John Taylor smuggled the British Museum's sealed coffin containinig Nesperennub into the National Hospital for Neurology and Neurosurgery in London. Using the hospital's computerized tomography (CT or CAT) scanner after hours, the resulting 1,500 flat scans were taken to SGI technicians who, using a powerful computer, pieced them together to create the first interactive virtual-reality mummy.



Photo By SGI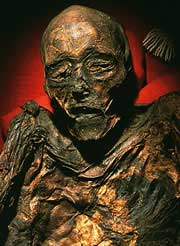 This wasn't the first time Nesperennub had his picture taken. In the 1960s, X-rays showed something like a cap over Nesperennub's head. It was thought to be his placenta, saved since birth for luck. But the new graphics reveal it to be a clay bowl, the purpose of which remains "a very puzzling thing", reported officials. Zooming inside the skull reveals a small hole in his temple, which may be connected to his death.

Dr. John Taylor, assistant keeper for the Department of Ancient Egypt and Sudan at the British Museum said, "The project has solved some of the unanswered questions about this particular mummy and has opened up exciting new avenues of investigation. We are delighted to bring these revelations to the public, where they can not only discover the secrets of Nesperennub, but also experience the world of ancient Egypt in a way that has never been possible before."

During the 70-day mummification process, internal organs, except the heart, were usually removed from the body. A rectangular plate covers the incision where they were scraped out of Nesperennub. Images also reveals the presence of a clay bowl near to Nesperennub's head. It's exactly the type of bowl that would have been used to contain resin, used in the mummification process. It's not understood why the clay bowl was left, stuck to the back of Nesperennub's head.

Like other mummies, he peers through glass fake eyes, inserted by embalmers because the ancient Egyptians believed glass eyes would help the dead to see in the afterlife.

Dried with salts and coated with resins and oils to prevent deterioration, the body was then wrapped in linen cloths, alongside a protective winged amulet.

"It's technology meets archaeology," said David Hughes of SGI.

The new software reveals surface textures - users can roam freely and zoom in to any feature using an interactive magnifying facility called volume revving. "You can see the pieces of grit in the clay," marvels Hughes, and even the impression left by nerve endings under Nesperennub's skull.



Ian McKellen narriates the program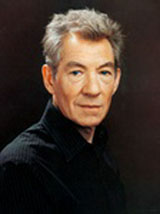 Visitors to the British Museum's special exhibitions gallery will enter an introductory area where they will learn about the world of ancient Egypt, the practice of mummification, and how 3D technology can reveal the secrets of an unopened Mummy-case. A spectacular 20 minute Virtual Reality experience,narrated by Ian McKellen, will then be shown in a specially designed immersive theatre which is equipped with a 12m curved screen and stereo projection equipment. Wearing 3D glasses, visitors will experience a virtual tour of the mummy's body, discover how it was preserved 3,000 years ago and what special objects were placed in its wrappings.

The experience features snazzy computer generated models and historical reconstruction showing how Nesperennub would have lived. The final area of the exhibition features Nesperennub's mummy displayed in its spectacular painted coffin alongside examples of the fascinating artifacts featured in the 3D projection. Explanatory panels and labels tell the stories from the hieroglyphs and inscriptions on the mummy's beautifully decorated case and coffin.

He was buried near the Valley of the Kings on the banks of the Nile, and was brought to the British Museum in 1899, probably by travelers or diplomats. A modern ban on the export of antiquities from Egypt means that museums' mummies are a finite resource.

This virtual Nesperennub enables the viewer - by simply pressing buttons - to look at what's inside the coffin, from any angle. It's easy to see that he's been wrapped up in bandages and placed in a sheet. The software can even melt away the bandages and reveal the ornaments inside such as the amulet on his chest. It's also possible to zoom in on any part of the body. For instance, his toes are perfectly preserved, showing the toes on one foot have a curve.

The British Museum houses the most comprehensive collection of Egyptian Antiquities outside of Cairo. The Egyptian galleries are the most popular in the Museum with 70% of their 5 million yearly visitors citing those galleries as their primary reason for visiting the Museum.

Across the pond in Hollywood, executives at Universal Studios Hollywood have nicknamed it The Ride of the Living Dead. It's the new $45 million Revenge of the Mummy attraction. Queue up to get on board and you're greeted by the Book of the Dead, a pair of statues with their faces hacked away and a hole in the wall exposing countless flesh-eating scarab beetles.

The theme is inspired by two popular movies, The Mummy, a 1999 adventure yarn starring Brendan Fraser and Rachel Weisz, and its 2001 sequel, The Mummy Returns.

Those cinematic wonders earned nearly $850 million at the box office worldwide and sent their creator, Steven Sommers, laughing all the way to the bank and looking for new ways to engage in his two big loves - haunted houses and roller coasters.

Basically he combined the two to develop this experience, with the narrative of the ride being a sequel to the "Mummy" movies. Going along for the production ride are Sommer's buddies from the "Mummy" movies - producer and editor Bob Ducsay, production designer Allan Cameron and composer Alan Silvestri.

"On the ride there is no obstacle between Imhotep and the audience. Imhotep is now a living, breathing, lurking three-dimensional character. Revenge of the Mummy marks a new threshold in technology - CGI and immersive storytelling - in many ways accomplishes more than what we can achieve in the movies," confessed Sommers.

"The difference between a ride and a movie is that we only have a few minutes to get people's adrenaline pumping. To create an unforgettable screaming, riveting experience, to scare the hell out of our riders, fear has to be unleashed immediately and it has to be extreme."

"I'm really energized to have the world of The Mummy films turned into a thrilling, scary, scream-worthy ride," Sommers said in a press release. "This is in many ways the next sequel of The Mummy.

During the first Mummy sequel, the movie theater's seats didn't move. This time, they go at a 45-mph clip through the cavernous sound stage that once housed the old attraction based on E.T. - The Extra-Terrestrial.

The track features linear-induction motors designed to slowly push the vehicles through the first segment of the attraction, then quickly launch them for the coaster part along 1,800 feet of sweeping turns and drops. Once the cars approach the midpoint of the coaster section, they switch tracks although it is assumed that few riders will notice because it happens when an army of scarab beetles are on the attack. Then the ride resumes the journey backward.

A companion Revenge of the Mummy ride opened last month at Universal Studios in Orlando, Fla., where it has been well-received.

The Universal Studios Hollywood attraction is the centerpiece of the park's 40th anniversary celebration, with other special events coming this summer.

See Inside a Mummy narrated by Ian McKellen, featuring Nesperennub opened July l and is a British Museum special exhibition. Revenge of the Mummy opened June 25 and is at Universal Studios theme park in Hollywood, CA.


THE MUSIC GOES ROUND AND ROUND


AMERICA is a compilation that reminds listeners of America's great cultural heritage - by composers ranging from Stephen Foster and the Gershwins to Bob Dylan and Duke Ellington. A smooth flowing hour of acoustic music performed by Paul McCandless, Philip Aaberg, George Winston, Chris Botti and more.

The Tracks include:

The Water Is Wide performed by Paul McCandless on English horn. John R. Burr playing the piano with Robert Ward playing the French horn and Michael Manring on the fretless bass. O Shenandoah by arranged and performed by Philip Aaberg. Summertime by George and Ira Gershwin. Performed by David Grisman on the mandolin with guitar work by Tony Rice. Solace by Scott Joplin performed by Dick Hyman on piano.

Angelina Baker by Stephen Foster performed by Barbara Higbie on piano, fiddle, guitar and hammered dulcimer with Blake Richardson on acoustic bass. It Ain't Necessarily So by George Gershwin. Arranged and performed by George Winston on piano.

One Hand, One Heart by Leonard Bernstein and Stephen Sondheim. Arranged and performed by Tracy Silverman on electric violin, acoustic violin and keyboards. This is a bittersweet piece for Silverman. As she was playing the violin take as a rough cut, an almost overpowering feeling of sadness engulfed her. The next day she learned that - at that exact time - her best buddy in California, Sam, had been killed. Hit by a car while on a bike he had just arrived at the hospital when Silverman began recording. She decided not to change a single note from that demo and dedicates her version of One Hand, One Heart to Sam and Les.

The Times They Are A-Changin' by Bob Dylan performed by Fred Simon on piano. Prelude No. 2 by George Gershwin. Performed by Chris Botti on trumpet with Dominic Miller on Piano. Christian McBride playing the bass and Manu Katche on drums.

Sophisticated Lady by Duke Ellington. Arranged and performed by Steve Erquiaga on nylon string guitar.

In A Mist by Bix Beiderbecke. Performed by Philip Aaberg on piano and Darol Ange playing the fiddle.

On The Threshold Of Liberty by Mark Isham. Synthesizers, trumpets, flugelhorn, piano, Steiner EVI, and electric percussion performed by Mark Isham.Peter Van Hooke joins in on snare drum and electronic percussion.

Produced by Dawn Atkinson and released on Windham Hill.



Broadway To Vegas is supported through advertising and donations. Priority consideration is given to interview suggestions, news, press releases, etc from paid supporters. However, no paid supporters control, alter, edit, or in any way manipulate the content of this site. Your donation is appreciated. We accept PAYPAL. Thank you for your interest.


OTHER PEOPLE'S MONEY


HOLD' EM AND FOLD 'EM John Ostwald an assistant professor Hudson Valley Community College in Troy, New York teaches a four-week class in how to play poker.

Students ante up $149 to attend the noncredit class where they watch videos such as 1997 World Series of Poker and study books with titles like The Tao of Poker.

The game of choice for the class is Texas Hold 'Em. Some students are there for the lingo and rules - to better understand the proliferation of poker shows on television.

Others have an itch to try their luck at Turning Stone Resort and Casino in Verona, which has added seven poker tables within the past year. Some even have Vegas aspirations. Then there are those who think it's a kick just to be able to bluff your way through class.


SWEET CHARITY


TAILS OF THE CITY INVADE SHUBERT ALLEY as Mary Tyler Moore, Bernadette Peters and Broadway friends paws to help four footed friends with Broadway Barks 6, a star-studded dog and cat adopt-a-thon in Shubert Alley on Saturday, July 10.

Gary Beach, Stephanie L. Block, Christy Carlson Romano, Patrick Cassidy, Michael Cerveris, Kristin Chenoweth, Beth Fowler, Jordan Gelber, Shirley Jones, Sandra Joseph, Isabel Keating, Swoosie Kurtz, Audra McDonald, Idina Menzel, Michael Mulheren, Denis O'Hare, Brad Oscar, Angie Schworer, Eric Stoltz, John Tartaglia, Jennifer Westfeldt, Rachel York, and more are slated to appear at this special event for New York City Animal Shelters And Adoption Agencies.

Celebrity presentations of pets from citywide animal shelters will take place between 5:30 and 6:30 p.m. In the event of rain, Broadway Barks 6! will be rescheduled for Saturday, July 24th at 3:30pm.

"Over 300 hundred animals have been adopted through the Broadway Barks! events," said Bernadette Peters, "and we're hoping that through this new partnership with the Mayor's Alliance, we will be able to double that number." Peters has adopted both her dogs, Kramer and Stella, from city shelters.

LA DOLCE VITA BLACK TIE BALL which directly supports the Cantor Foundation, is considered one of the most elegant charity balls in the world. It takes place this year at Stowe's Hotel, the night before the British Grand Prix. The black tie evening begins with champagne on the lawns of Stowe, with a supporting cast sent from heaven, The Royal Philharmonic Concert Orchestra.

Britain's most celebrated chef Gordon Ramsay - and one of the youngest chefs in the world to receive three coveted Michelin stars - is in charge of providing the guests with the dining experience of their dreams. Sorcha Ra - fire artiste - ignites the evening's entertainment . Headliner the 'bootilicious' Beyonce Knowles, is donating half her 1 million pound fee to The Cantor Foundation, which raises money for the victims of 9/11.

Beyonce is followed by an explosive display of pyrotechnics, perfectly synchronized with dramatic music. Kid Creole and The Coconuts then take to the stage and patrons are invited to "dance or chill" in the unique surroundings of the Paris Lounge, where DJ Michael Adam, has created a sensual mix of music especially for La Dolce Vita.

The up scale event - tickets are 1,500 pounds each - takes place July 10 at Stowe House in Bucks, England.

A TRIBUTE TO LYNN REDGRAVE presented by Women Center Stage. The first annual tribute to a gifted woman who has made significant contributions to the arts, this year Allan Buchman and Julie Ratner will inaugurate our Women Center Stage festival with an evening dedicated to the celebrated actress Lynn Redgrave.

Throughout the entire festival, donations will be collected on behalf of Lynn Redgrave in support of Ellen's Run, a breast cancer foundation - Creating a Legacy for Women's Health.

Ms. Redgrave and her closest friends will be in attendance for an evening of speeches, songs, and reading in her honor.

By invitation only, July 7th at The Culture Project, NYC.


SPREADING THE WORD


BARBARA COOK will discuss her career in musical theater and the process that went into her current show at New York's Newhouse Theatre. After the Platform discussion, the performer will autograph CDs of the newly-released Barbara Cook's Broadway recording, which will be available for sale at the event. Thursday, July 8 in the Beaumont Theatre lobby at Lincoln Center.

JANE POWELL PRESENTS

Jane Powell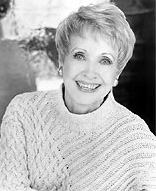 will be on hand as the Westport Country Playhouse's Film Series presents her musical film, Seven Brides for Seven Brothers, followed by a discussion led by Turner Classic Movies host Robert Osborne. Tuesday, July 6, at the Community Theatre in Fairfield, Conn.

Howard Keel and Russ Tamblyn co-star with Ms. Powell in the 1954 musical directed by Stanley Donen and choreographed by Michael Kidd. Seven brothers in the backwoods of 19th century Oregon realize what they've been missing when the oldest one, Adam (Keel) brings home a wife, Milly (Ms. Powell), who teaches the uncouth siblings the manners to win wives of their own. Lyrics are by Johnny Mercer with music by Gene de Paul.

Jane Powell sang on the radio and performed in theatre before her screen debut in 1944. Through the 1940s and '50s she had a successful career in movie musicals, including Royal Wedding with Fred Astaire. She later had a variety of roles on stage, including the musicals Oklahoma! and My Fair Lady, and a one-woman show The Girl Next Door and How She Grew, from which she took the title of her 1988 autobiography. Ms. Powell appeared on the Westport Country Playhouse stage in 1997 with Jerry Stiller and Anne Meara in After-Play.

The not-for-profit Westport Country Playhouse is under the artistic direction of Joanne Woodward. While the Playhouse undergoes major renovation during the 2004 summer season, plays, films and other events will take place at interim locations.

A SPECIAL SCREENING OF ANCHORMAN: THE LEGEND OF RON BURGUNDY FOLLOWED BY A CONVERSATION WITH RON BURGUNDY MODERATED AT A&E'S BILL KURTIS at The Museum of Television & Radio. Along with DreamWorks Pictures, the MT&R will present this sold out event Wednesday, July 7.

In their sly release they state: "The Museum is pleased to honor Ron Burgundy, San Diego's trailblazing anchor of the 1970s. A&E's Bill Kurtis will moderate this discussion of Mr. Burgundy's distinguished career. Please Note: It has come to our attention that Ron Burgundy does not exist, but is in fact a character portrayed by one Will Ferrell, late of Saturday Night Live and the feature films Elf and Old School. Bill Kurtis does exist, however; the documentary producer, host, and news anchor will interview Mr. Ferrell, who will appear in character as Ron Burgundy. We apologize for any inconvenience or emotional distress caused by the above. "

Like we said, it should come as no surprise that this July 7th event is sold out.



SWEENEY TODD: THE DEMON BARBER OF FLEET STREET will be a production in which people, who are eating meat pies in the audience, will be watching people being made into meat pies on stage, when the Actors Theatre of Eugene, Oregon stages what they call "probably the first dinner theater production" of this musical thriller.

Director Joe Zingo has even created new meat pie items to compliment the menu for dinner performances! The special menu for this production will include Shepherd's Pie, Meat Pies and Bar-B-Qued Ribs along with Lasagna, Beef Stroganoff, Portobello Mushroom Pasta and Gorgonzola Pasta.

Sweeney Todd has a book is by Hugh Wheeler, the music and lyrics are by Stephen Sondheim and it is based on an adaptation by Christopher Bond. The thirty-one member cast will be directed by Joe Zingo with music direction by Blake Hodgetts and Jim Roberts. The show will open on July 9 at the Actors Cabaret and play for twelve performances over five weekends.

The rare instance of a musical thriller, Stephen Sondheim and Hugh Wheeler's chilling, suspenseful, heart-pounding masterpiece of murderous barber-ism and culinary crime tells the infamous tale of the unjustly exiled barber who returns to 19th century London seeking revenge against the lecherous judge who framed him and ravaged his young wife. His thirst for blood soon expands to include his unfortunate customers, and the resourceful proprietress of the pie shop downstairs soon has the people of London lining up in droves with her mysterious new meat pie recipe.

At the show's core is a challenging score of epic proportion with two tasty tour de force roles in Sweeney played by Kevin Boling, and his comic female accomplice Mrs. Lovett played by Christina Seleshanko.

Sweeney Todd is presented through special arrangement with and all authorized performance materials are supplied by Music Theatre International.

UNDER MILK WOOD by the great Welsh poet Dylan Thomas. Fifty years after it stunned radio audiences with its imagery, verse and cast of weird and wonderful characters, The Will Geer Theatricum Botanicum presents Thomas' intensely beautiful, poignant, and sublimely funny linguistic tour-de-force.

Theatricum artistic director Ellen Geer directs members of the Theatricum repertory company, including Ted Barton, Gillian Doyle, Terrence Evans, John Farrell, Willow Geer, Elizabeth George, Richard Gould, Katherine Griffith, Aaron Hendry, Melora Marshall and Elizabeth Tobias.

Reflecting the places Dylan Thomas knew and grew up in, Under Milk Wood is a voyeuristic slice of life in a typical Welsh town set over a period of 24 hours one spring day. It recounts the dreams, gossip and waking hours of the sleepy seaside village of Llareggub a town that looks innocent enough until you look at its name backwards! At once comic in caricature and surprising in subtlety, Under Milk Wood exposes the dirty knees of over 50 characters in the salty fishing town.

Opens Saturday, July 10 and continues through October 9 in the Theatricum's outdoor amphitheater in rustic Topanga Canyon in Topanga, CA.

YANKEE DOODLE DANDY billed as a world premiere.

The life and times of legendary showman George M. Cohan explode onstage in this sensational world premiere production. Set against the colorful backdrop of old Broadway, it's the saga of the brash, colorful, cocky, charismatic, and uncompromising character who almost single-handedly invented the Broadway musical.

From the hard-knock days of his family's adventures on the vaudeville circuit to his reign as the star-spangled "King of Broadway," Cohan's life was a roller coaster ride of professional highs and lows and personal triumphs and heartbreak.

With classic songs, including Give My Regards to Broadway, You're a Grand Old Flag and Harrigan, this new musical presents a fresh, contemporary view of a celebrated theatrical icon.

July 6 July 11 at the Fox Theater in Atlanta.

WHERE'S CHARLEY?

Noah Racey stars as Charley Wykeham in Where's Charley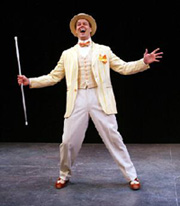 A rendezvous without a chaperone? Two Oxford chaps run into trouble when they try to woo their ladies without proper supervision. Hilarious misunderstandings arise when Charley's "aunt" drops by for a visit, setting off a chain of unexpected antics.

Sing along with this cheerfully energetic, Tony Award-winning musical packed with Frank Loesser hits: Once in Love with Amy, My Darling, My Darling, Where's Charley? and more!

Where's Charley is based on Brandon Thomas' Charley's Aunt. Music and Lyrics by Frank Loesser with a book by George Abbott.

Directed and Designed by Tony Walton. Choreographed by Lisa Shriver. Noah Racey stars as Charley Wykeham.

Goodspeed Opera House, East Haddam, CT July 9 September 25.

LADY MACBETH SINGS THE BLUES a one woman show starring Amanda McBroom, who wrote the Bette Midler anthem The Rose. This production is a musical play based on Shakespeare's heroines written by McBroom and collaborator Joel Silberman who also directs the production.

McBroom stars as Kate, a successful, modern-day songwriter who has the opportunity to go to Cleveland to work on a Broadway-bound musical called Cleo and Tony that's based on Shakespeare's Antony and Cleopatra.

In the middle of a mid-life crisis, Kate turns to Cleopatra and other women from Shakespeare's plays for advice. They "speak" to her through the musical's 17 songs.

Currently in its world premiere - through July 11 - at the Rubicon Theatre in Ventura, CA.

COSI FAN TUTTE by Mozart is an extraordinary opera - both funny and insightful, it asks an age-old question: how much can you really trust your lover? A light-hearted wager, seeking to find an answer to that question, turns out to have earth-shaking consequences for all concerned.

Two young men, boasting about how faithful their fiancées are, accept a wager to test the women's fidelity; each will disguise himself and try to seduce the other man's fiancée. At first, the women resist the wooing and it's all very amusing. But soon the two couples find themselves learning a memorable lesson in love.

Cosi Fan Tutte is both a sparklingly tuneful romp and a penetrating look at the games that lovers play. Harmonious and perfectly proportioned, Cosi contains some of Mozart's most appealing music. Its story of lovers and mistaken identity develops with wit and comedy. This second opera tour from The NBR New Zealand Opera is delivered to 14 regional stages. Carmel Carroll directs, and Michael Vinten conducts, an energetic cast of burgeoning Australian opera talent. Among them are rising young stars - Benjamin Fifita Makisi, Andrew Conley, Katherine Wiles, Zan McKendree-Wright, Stephanie Acraman and Brendon Mercer.

Fresh but traditional designs from John Parker and Elizabeth Whiting see this new production pay homage to a bygone era echoing the dawn of the age of Romanticism - in an 18th-century Naples setting true to Mozart's original. Parker's setting reflects an idealized romantic mood with elegant simplicity. Whiting's costumes include glorious period dresses with elegance and sweep and buccaneer outfits with swashbuckling flair! Romantic, flirtatious, seductive - this touring Cosi Fan Tutte is accompanied by a live chamber orchestra of players from the Auckland Philharmonia and NGC Wellington Sinfonia. The production is on tour with performances at Sky City Theatre in Auckland, Founders Memorial Theatre in Hamilton, TSB Showplace Theatre Royal in New Plymouth, Royal Wangamui Opera House in Wanganui, Regent on Broadway in Palmenston North, Marlborough Centre in Blenheim, Theatre Royal in Nelson, Regent Theatre in Greymouth, Hawkes Bay Opera House in Hastings and a July 6-7 engagement at the Bruce Mason Centre in Takapuna.

SONGS MY MOTHER TAUGHT ME A Celebration of the Music of Judy Garland, a one-woman show starring Garland's daughter, Lorna Luft will open on July 6 at the Savoy Theatre in London's West End.

In Songs My Mother Taught Me, Luft reflects on what it was like growing up as Garland's daughter and delivers some of her mother's signature songs. Tunes in the show include Come Rain or Shine, For Me and My Gal, I Can't Give You Anything But Love, You Made Me Love You and The Trolley Song.

ANNIE Leapin' Lizards! In one of the world's best-loved musicals, Annie is a spunky depression-era orphan determined to find her parents. Annie's fun-filled adventures with a loveable mutt named Sandy and billionaire Oliver Warbucks delight audiences of all ages. And the bright and cheerful score - filled with favorites like It's a Hard-Knock Life and the classic Tomorrow - will fill your heart with joy! July 5-11 at the Starlight Theatre in Kansas City, MO.

ECHOES OF THE WAR

Frances Sternhagen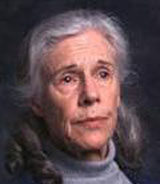 Richard Easton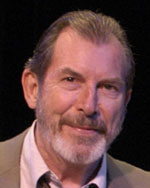 an evening of two of J.M. Barrie's most charming and poignant one-act plays - originally produced in 1919. The shorts — The Old Lady Shows Her Medals and The New Word — will be billed as Echoes of the War, about mothers and sons and fathers and sons featuring Frances Sternhagen and Richard Easton, two of New York's most esteemed stage actors and directed by Eleanor Reissa.

Ms. Sternhagen has been nominated seven times for a Tony Award and received the award twice, for The Good Doctor and The Heiress. Mr. Easton received the 2001 Tony, Drama Desk and Outer Critics Circle Awards for his performance in The Invention of Love.

Performances begin on July 6th staged at the 13-year old, award-winning New York City Mint Theatre, which has the clever slogan, "that truffle hound of half-buried treasures from the past." Mint has a celebrated reputation for excavating such worthy but neglected treasures as Far and Wide by Arthur Schnitzler and D.H. Lawrence's The Daughter-in-Law.


| | | |
| --- | --- | --- |
| | | |
WHO'S WHERE


ROD STEWART on stage tonight at the Sound Advice Amphitheatre in West Palm Beach, Florida. On Saturday he's headlines the Atlantic City Boardwalk Hall in Atlantic City, N.J.

KD LANG on stage Wednesday at the Place des Arts in Montreal. On Friday the show is at the FleetBoston Pavilion and she closes out the week, Saturday, with a performance at the Chemical Abstract Service Grounds in Columbus, Ohio.

JIMMY BUFFET stages the party Tuesday and Thursday at the Verizon Wireless Music Center in Noblesville, Indiana. On Saturday he'll be in the spotlight at the Alpine Valley Music Theatre in East Troy, Wisconsin.

DAVE MATTHEWS BAND in a two nighter Tuesday and Wednesday at the Tweeter Center in Mansfield, MA. On Saturday the show is at Hersheypark Stadium in Hershey, PA.

FLEETWOOD MAC entertaining the crowds Monday at the Amphitheater at Clark County in Ridgefield, Washington. On Tuesday the show is at Pengrowth Saddledome in Calgary, AB. On Friday the group is on stage at the Brick Breeden Fieldhouse in Bozeman, MT.

HOOTIE AND THE BLOWFISH stage a two-nighter Friday and Saturday at the Tournament Players Club in Dearborn, Michigan.

CHICAGO AND EARTH, WIND AND FIRE on stage Tuesday at the Verizon Wireless Virginia Beach Amphitheatre in Virginia Beach, VA. On Thursday the performance moves to the Nissan Pavilion in Bristow, VA. Friday finds them at the Alltel Pavilion @ Walnut Creek in Raleigh, N.C. They close out the week, Saturday, at the Verizon Wireless Amphitheatre at Charlotte in Charlotte, N.C.

JOURNEY in the spotlight Monday at the Frazze Pavilion in Kettering, Ohio. ON Wednesday they are center stage at the SeaGate Convention Centre in Toledo, Ohio. Friday the performance takes place at the Fort McCoy Army Base in Sparta, Wisconsin and on Saturday they can be enjoyed at the Prairie Knights Casino in Fort Yates, N.D.

JOHN PIZZARELLI performs July 7th at Theatre Maisonneuve in Montreal.

LINDA EDER opens a two night stand Saturday at the Westbury Music Fair in Westbury, New York.

THE KREMLINAIRES (see Broadway To Vegas column of January 4, 2004) a seven pieces band "trained to highest standards in top secret Moscow Conservatoire of Swing to combine ideologically correct Russian folk themes with proletarian 1940's swing jazz" bring their downbeat on July 10th to the Marlbourgh Jazz Festival, which the guys have renamed Seige of Marlbrograd.

RICHARD SKIPPER IN AN EVENING WITH CAROL CHANNING - with George Fulginiti-Shakar on piano. Private event at Ramblewood Resort in Darlington, MD July 4-9.

CHRIS ISAAK on stage Friday at the Electric Factory in Philadelphia, PA. On Saturday he begins a two-nighter at Resorts International in Atlantic City, New Jersey.

ZZ TOP perform tonight at the Tweeter Cewnter in Tinsley Park, ILL. On Monday they take part in the Common Ground Music Festival in Lansing, Michigan. Thursday finds them at the Rock The Bluff Festival in Kelowna, B.C. They close out the week on Saturday at Rock 'n The Valley in Craven, SK.

REBA McENTIRE performs at the Redding Rodeo in Redding, CA on Friday, July 9.

FRANK SINATRA, JR brings his show to the American Music Theatre in Lancaster, PA on July 11th.

BIG BAD VOODOO DADDY entertaininig tonight at Lisle Community Park in Lisle, IL. On Thursday the guys are at the Beloit Riverfest in Beloit, Wisconsin. Friday finds them on stage at the Oneida Casino in Green Bay, Wisconsin. Saturday they will be performing at Conner Prairie in Fishers, Indiana and next Sunday are having fun at Bastille Days in Milwaukee, Wisconsin.

BOSTON POPS ANNUAL JULY FOURTH EXTRAVAGANZA will feature former Van Halen frontman David Lee Roth and Jennifer Holliday. Backed by Keith Lockhart, Roth will perform California Girls and Jump, and Holliday will belt out a medley of The Battle Hymn of the Republic, When the Saints Go Marching In, and America the Beautiful.

They will be joined by the POP Search winner (See Broadway To Vegas column of May 16, 2004 ) Tracy Silva, 36, who beat out 730 contestants to earn the right to sing with Keith Lockhart and the Boston Pops on the Esplanade at the annual Fourth of July extravaganza.

The mother of two, who sang Fools Fall in Love, lives in Taunton, MA. She works as a van driver for special-needs children in Brockton. She also sings at the Brockton Assembly of God Church and performs as a member of a family gospel group, Love Divine.

The concert, to be broadcast nationally on CBS, climaxes with the orchestra's signature performance of Sousa's The Stars and Stripes Forever.





FINAL OVATION


MARLON BRANDO 80, called the greatest actor of his generation, died Thursday from pulmonary fibrosis at UCLA Medical Center in Los Angeles.

Born in Omaha, Nebraska, he was named Marlon Brando Jr. His father had changed the family French/Irish heritage surname from Brandeaux to Brando. Raised in Illinois, as a child he stammered and was taken to Northwestern University for speech therapy.

Brando moved to New York and studied with Stella Adler at Lee Strasberg's Actors' Studio, where he adopted the "method approach," which emphasizes characters' motivations for actions.

In 1944 he made his Broadway debut in John Van Druten's I Remember Mama.. Two years later, New York theater critics voted him Broadway's Most Promising Actor for his performance in Truckline Café, which ran for only eight performances.



Brando in the Broadway play A Street Car Named Desire. During the production he would break his nose in a backstage accident. Brando opted not to get it fixed deciding that the crooked nost gave his face character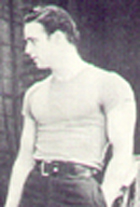 Brando shot to fame in the 1947 Broadway production of Tennessee Williams'A Streetcar Named Desire, playing Stanley Kowalski - the tortured brute who rapes his sister-in-law, the fragile Blanche du Bois, played by the young and beautiful Jessica Tandy.

The two did not get along.

The formally trained Tandy accused Brando of mumbling his lines so that she could not understand her cue. In retaliation, he told sailors milling about Times Square, that Tandy was available for sexual favors in her dressing room after the show.

About his own performance he wrote; "I wasn't Stanley Kowalski; I was the antithesis of him."

He appeared in more than 40 films and received eight Oscar nominations. He won twice for best actor, in On the Waterfront and The Godfather.

He refused his second Academy Award as a protest of Hollywood's treatment of Native Americans. He sent a woman, posing as Native American Sacheen Littlefeather, to deliver his refusal and negative opinions of policies toward the Indians. Later, she was identified as actress Maria Cruz, a winner of the 1970 Miss American Vampire competition.



Brando, Simmons, Sinatra and Blaine in Guys and Dolls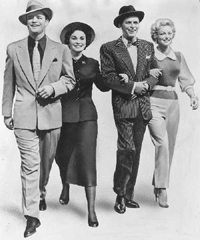 In 1979 he won an Emmy Award for a supporting role as George Lincoln Rockwell, the American Nazi, in the television miniseries Roots: The Next Generations.

His parts were not confined to the dramatic. He co-starred opposite Frank Sinatra, Jean Simmons and Vivian Blaine in the 1955 musical film Guys and Dolls - a role that required him to sing. He also enjoyed playing pranks on the set. In one scene, as gambler Guy Masterson, he'd go into Vivian Blaine's dressing room and - instead of reading the Racing Forum, would pull out The Jewish Daily Forward.

As to his singing, Brando had said, "The sound engineer sewed my words together on one song so tightly that when I mouthed it in front of the camera I nearly asphyxiated while trying to synchronize my lips." He also played Jor-El, Superman's father in the 1978 film.

The exact number of children he fathered by three wives and series of lovers - is unknown. Claims range from seven to eleven. He is survived by at least six children. A daughter, Cheyenne, committed suicide in 1995.

On Friday night Broadway honored the icon by dimming theatre lights.
















Next Column: July 11, 2004
Copyright: July 4, 2004. All Rights Reserved. Reviews, Interviews, Commentary, Photographs or Graphics from any Broadway To Vegas (TM) columns may not be published, broadcast, rewritten, utilized as leads, or used in any manner without permission, compensation/credit.
Link to Main Page
---
Laura Deni


CLICK HERE FOR COMMENT SECTION